Some posts on this site contain affiliate links, meaning if you book or buy something through one of these links, I may earn a small commission (at no additional cost to you!). Read the full disclosure policy here.
---
Looking for some incredible Airbnbs in Cincinnati? Luckily, this city is full of charming spots to stay!
Cincinnati is such a fun city! It has incredible breweries, amazing museums, and delicious cuisine. You could spend a lot of time exploring the ins and outs of this town. After having lived in Cincinnati for a time I still love going back for a visit.
Aside from having some truly incredible areas to explore, ranging from unique museums like the American Sign Museum to the colorful murals in Over-the-Rhine (or OTR), there are some really unique Cincinnati Airbnbs.
So whether you're here to enjoy the city's fun festivals like Oktoberfest or you want a romantic weekend getaway, these are the best Cincinnati vacation rentals you'll want to book ASAP!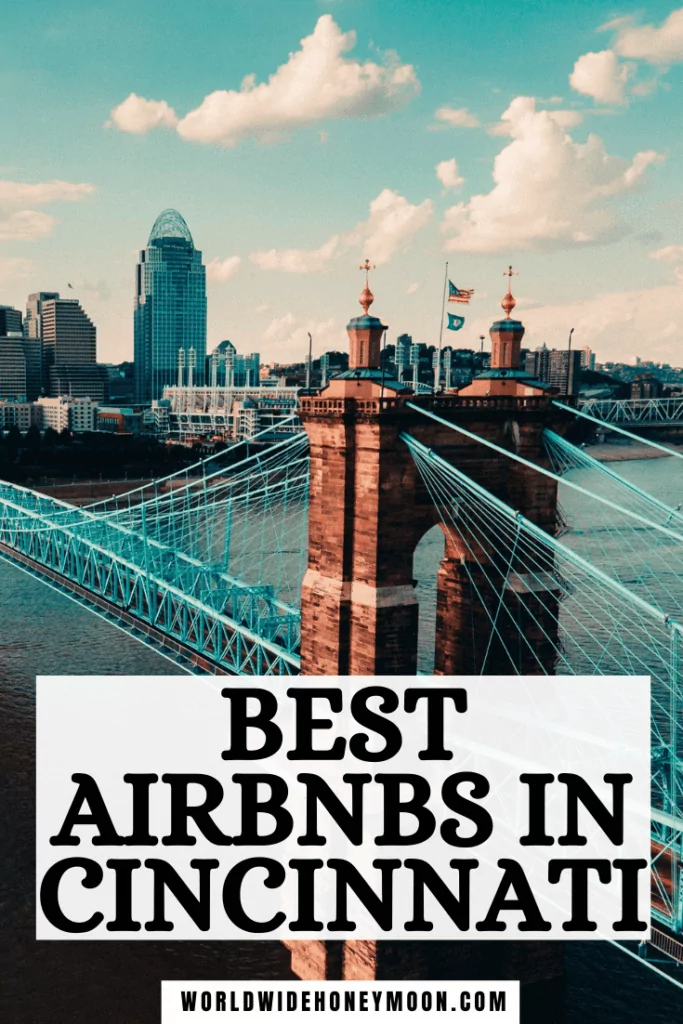 Most Unique Airbnbs in Cincinnati (Plus VRBOs!)
From Airbnbs in Over-the-Rhine to really awesome farm stays, these are the best Airbnbs near downtown Cincinnati for the perfect escape!
The Swing House is Iconic
This is easily one of the best Airbnbs in Cincinnati for the perfect couples getaway. At first glance outside you would never guess that the inside looked like this, but it is a dream come true upon opening the doors!
Marc de Jong is the artist and genius behind this gorgeously designed house. This passion project was 30 years in the making and took 3 years to build. Marc is from The Netherlands and relocated to Cincinnati where he studied art and also worked in construction. He then combined both to create this visually interesting home.
This place is perfect for 2 people and you can enjoy the 30-foot swing and the basement full of art. If you want to enjoy an art exhibit-turned home then this is a really unique place to stay!
This Boho Loft is Steps Away from Entertainment
Located in Northern Kentucky in Covington, you're just across the river from downtown Cincinnati. Also, this area is teeming with entertainment including the many bars and restaurants on Mainstrasse. You're also within easy driving or walking distance from Newport on the Levee, and you can easily cross the John A. Roebling Suspension Bridge into downtown Cincinnati.
So aside from a fantastic location, this apartment is boho-chic to the max. This premium apartment in Cincinnati has gorgeously made decor, mid-century modern furniture, and a really nice patio to sit out and enjoy a Cincinnati beer or two! The apartment can host up to 4 people.
Enjoy an Art and Plant Filled Paradise Airbnb in Over-the-Rhine
Full of unique handcrafted pieces and plenty of greenery, you'll never want to leave this stunning Airbnb in Over-the-Rhine!
Luckily, however, if you do leave the place, you're in a great spot for exploring. This place is located in the trendy OTR neighborhood and close to downtown meaning you're in a convenient spot for walking or quick drives to some of the city's best bars and restaurants.
Cook up a meal in the dreamy kitchen or sleep in the charming bedroom full of light. If you want to be near the action of one of the city's most trendy neighborhoods but also stay in a cozy spot, this is definitely a great Airbnb for a romantic getaway or a group of friends.
Get Away From it all at an Old Vineyard
Located only about 15 minutes from downtown Cincinnati by car, this Cincinnati vacation rental is located on a charming former winery. The guest house features a lofted bedroom, wooden beams, a rustic-chic interior, and a handblown glass chandelier. The attention to detail at this place is truly beautiful.
Other things to enjoy around the home include the cozy fireplace in the living room, 20 acres of woods to explore, and the outdoor pool. This 2 person Cincinnati Airbnb is the perfect romantic escape from the hustle and bustle of the city.
This Airbnb in Cincinnati is Great for a Friend's Getaway
Located in the heart of OTR, this Airbnb in downtown Cincinnati, Ohio is great for a small friend's trip! Meant for 4 people, this condo has a beautiful interior with minimalist decor, a full kitchen, a small balcony, and all the comforts of home.
This condo is within walking distance to some of Over-the-Rhine's best bars and restaurants. Walk around to spot the beautiful murals, the architecturally stunning Cincinnati Music Hall, grab a beer at Taft's Ale House or even pick up ingredients at Findlay Market to create an amazing meal at your Airbnb in Over-the-Rhine.
Oh, and there is a free parking spot too, which is super helpful for staying in downtown Cincinnati.
Enjoy a Farm Stay at a Brewery
Located just 10 miles north of downtown Cincinnati, this urban farm stay Airbnb is also a brewery! The Airbnb itself is the upstairs part of the farmhouse and you can spot goats, chickens, and beehives (which the owners use the honey for their brewery)!
The private room for 2 is cozy with a king size bed and spacious bathroom. Aside from hanging out with the animals, there is a working brewery onsite so you'll want to check out their latest on tap!
It also isn't far from many other eateries and shops in the area to explore!
Walk to Markets, Museums, and Parks!
Located just a tiny bit east of downtown is the charming, hilly neighborhood of Mt. Adams. This neighborhood is a great spot to be in for views over the Ohio River, downtown Cincinnati, and across the river into Kentucky.
There are also ample bars, restaurants, parks, and museums within walking distance! This delightful VRBO in Cincinnati has a very romantic aesthetic and offers cozy vibes. There is also a patio to relax outside and enjoy a beer from one of Cincinnati's best breweries after a full day of exploring!
Meant for 2 people, this is the perfect romantic getaway escape with easy access to downtown!
Be Awe-Inspired by this Airbnb in Downtown Cincinnati's View
Cincinnati is known as the "City of Seven Hills," for its very hilly landscape. So if you want a fantastic view over the city and the Ohio River, then an Airbnb in Cincinnati, Ohio in the Mt. Adams neighborhood is ideal.
This neighborhood has some of the best viewpoints over the city! This place is no exception (as evidenced by the photo from VRBO)! Aside from this amazing view, there are plenty of great bars and restaurants in the area! Plus, you're not too far from the Cincinnati Art Museum, Krohn Conservatory, and many beautiful parks. This is a great Airbnb for up to 8 people to enjoy a getaway in Cincinnati.
And if you want to explore more of the downtown area, you're also super close to that too! This is less than a 10-minute drive to the action of downtown Cincinnati!
This Dreamy Loft is Ideal for a Friend Trip
Looking for a place for up to 7 people for a fun friend trip? This is perfect! This bright and airy apartment has plenty of space and is within steps of some of the best spots in downtown Cincinnati. This property is located in the famous Over-the-Rhine neighborhood.
The area is super walkable to places like Fountain Square, the Banks, the Great American Ballpark, and more! You'll also enjoy having laundry, high ceilings, cozy sitting areas, a full kitchen, and 2 beautiful bedrooms. This may be a place you'll never want to leave!
Check Out this Airbnb in Over-the-Rhine With a Mix of Modern and Vintage
There are a lot of great Airbnbs in Cincinnati, and this place is no exception. This eclectic Airbnb features various pops of color, nostalgic knick-knacks, and a balcony with views of OTR.
This place is also in the heart of OTR so you can easily walk to all of the bars, restaurants, shops, and more in the area!
This property can host up to 4 people so this is great as a romantic urban getaway to Cincinnati or as an exciting friend's trip to the Queen City.
These VRBOs and Airbnbs in Cincinnati may range from rustic farm stays to industrial-chic condos downtown, but they are all truly unique stays that will make your visit to this city a memorable experience!
Which Airbnb in Cincinnati would you most like to stay at? Check out more vacation rentals in Cincinnati here!
PS- For more stays in the US, check out these great spots in the Smoky Mountains, Asheville, and Vermont! And also check out these honeymoon Airbnbs around the world!
Pin it here!