Some posts on this site contain affiliate links, meaning if you book or buy something through one of these links, I may earn a small commission (at no additional cost to you!). Read the full disclosure policy here.
---
If you want to drink awesome beer at the best breweries in Cincinnati, let this post guide you on your beer-drinking journey!
If there is one thing that we love to do in cities, it is to explore the local beer scene. From "researching" and writing an entire guide to drinking beer in Belgium, to exploring the craft beer scenes in Asheville, Portland, Maine, and Portland, Oregon, you could say it is kind of our thing.
And before making it my mission to drink at every brewery in Cleveland, I also drank at my fair share of breweries while living in Cincinnati.
So if you are ready for the best breweries in Cincinnati, let me tell you all about it from a former local!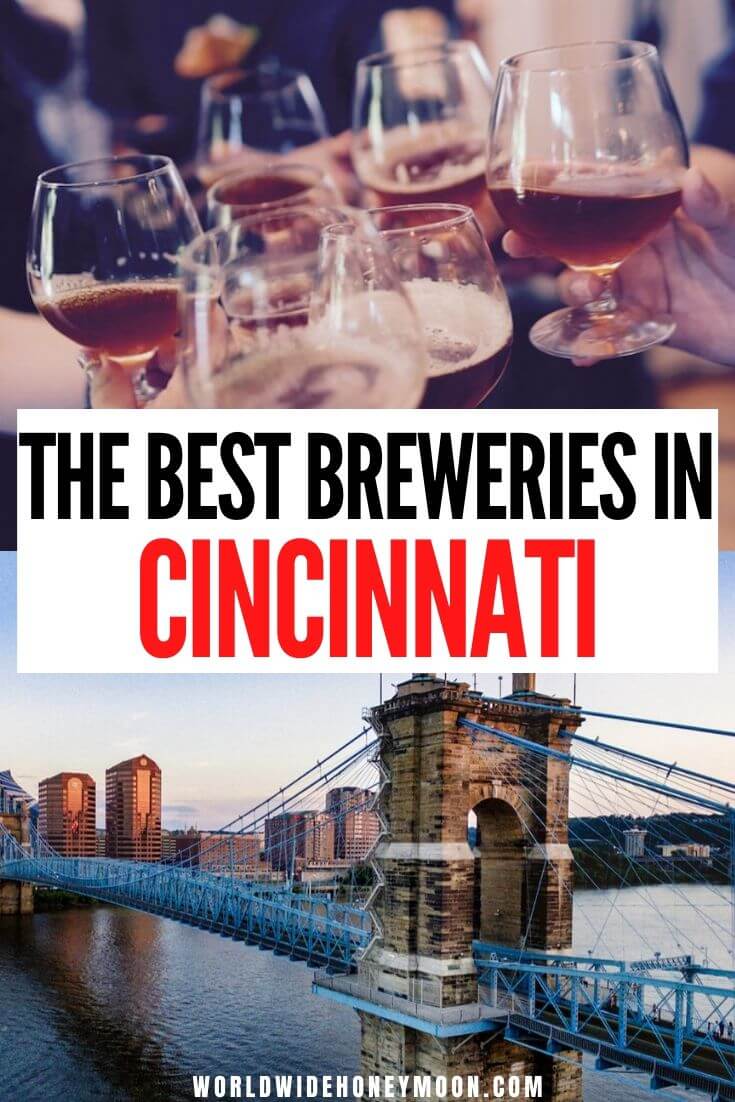 A Bit of Cincinnati Beer History
Long, long ago (okay like 200ish years ago), Cincinnati was a bit of a beer-producing fiend. With loads of German immigrants pouring into the Cincinnati and northern Kentucky area (including my own ancestors!), they brought with them the beer-making practices from their old country.
Combine that with the English, Irish, and French influences from earlier immigrants in the area, and you've got a hell of a combo of great beer makers!
I mean there is a reason that the first Hofbauhaus outside of Munich popped up in the Cincinnati area in 2003. This city was built on beer. And that is something we can all cheers to!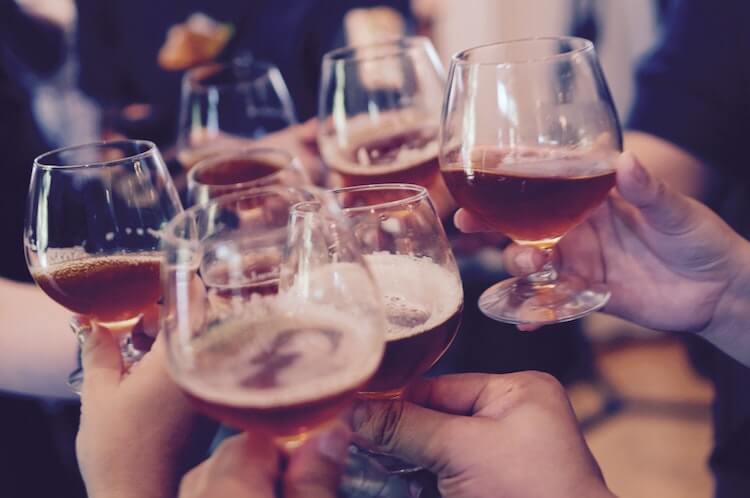 The 8 Best Breweries in Cincinnati
There is a city to explore and beer to drink, so let's dive into the best beer in Cincinnati.
View this post on Instagram
1. Rhinegeist Brewery
When it comes to Cincinnati beer, this is one of the first places that come to mind. And trust me, it's for a good reason- they have fantastic beer!
Founded in 2013, and after a long journey that involves South America, coffee, and a love affair with Cincinnati, this place has been serving fresh beer for about 7 years.
But the best is stepping into their industrial taproom and getting a beer from the source. Try a classic like The Truth IPA or Cheetah Lager or enjoy one of their many seasonal brews like Slangria Fruited Ale or Dad Holiday Ale.
Basically, from fruit ales to hazies and more, they have it all…and it's definitely worth it to grab a flight and test them out!
If you are looking for breweries in downtown Cincinnati, this is the spot to visit!
Pro-tip: While they don't serve food at their taproom, you can bring your own. Findlay Market is within walking distance and the perfect spot to grab food to enjoy while you drink your brews!
Rhinegeist Brewery Taproom Address: 1910 Elm St, Cincinnati, OH 45202
Rhinegeist Brewery Taproom Hours: Monday-Thursday 3 pm-12 am. Friday 3 pm-2 am. Saturday 12 pm- 2 am. Sunday 12-9 pm.
Top Beers to Try: The Truth IPA, Bubbles Rosé Ale, and Dad Holiday Ale.
View this post on Instagram
2. MadTree Brewing Company
I used to live in the Hyde Park and Oakley area of Cincinnati on the east side and loved it. And when one of the best breweries in Cincinnati is located in your neighborhood, you better believe I visited it a time or two.
While it has grown a lot since I moved from the neighborhood, they've always been committed to sustainability and donate 1% of their sales to environmental non-profits. From recyclable plastic handles to donating saplings, they're committed to creating great beer and protecting the environment.
I'll drink to that! And with delicious beers like their classic Psychopathy IPA or the first beer that made me like beer Happy Amber, you'll enjoy both the beer and the spacious taproom that serves up some pretty darn tasty pizza too.
MadTree Brewing Company Address: 3301 Madison Rd, Cincinnati, OH 45209
MadTreet Brewing Company Hours: Monday-Thursday 11 am-11 pm. Friday 11 am-1 am. Saturday 10 am-1 am. Sunday 10 am-11 pm.
Top Beers to Try: Psychopathy IPA, Shade Tart Fruit Ale, Happy Amber, and Rubus Cacao Chocolate Raspberry Stout.
View this post on Instagram
3. Taft Ale House (Taft's Brewing Company)
Another great downtown Cincinnati brewery, located in Over the Rhine (like Rhinegeist), you'll love the unique setting at the alehouse. Located in a former church with multiple levels of seating, it is a really distinctive brewery, whether you're going for post-work drinks or on a brewery tour of Cincinnati.
And from their traditional German Dunkel beer to the modern Nellie's Key Lime Caribbean Ale Wheat Pale Ale, you'll find a great brew in their historic church setting.
While the alehouse itself is iconic, they also have other locations in both Cincinnati and Columbus at their Taft's Brewporium.
Taft Ale House Address: 1429 Race St, Cincinnati, OH 45202
Taft Ale House Hours: Monday-Wednesday 11:30 am-10 pm. Thursday 11:30 am-11 pm. Friday-Saturday 11:30 am-12 am. Sunday 11:30 am-9 pm.
Top Beers to Try: Gavel Banger IPA, Dunkel, and Nellie's Key Lime Caribbean Ale Wheat Pale Ale.
View this post on Instagram
4. Braxton Brewing Company
Located across the river from Cincinnati in Covington, this classic American taproom is complete with leather couches, plenty of space, and great beer.
The founder has such a passion for beer that he started brewing at a very young age in the garage. Now that has blossomed into inventive beers like the limited release collab with Cincinnati-famous ice cream shop Graeter's Black Raspberry Chocolate Chip Stout. Aside from that, they always have new experiments brewing like the Tropic Flare NE IPA or Storm Golden Cream Ale!
In fact, they even have Braxton Labs where they create new brew experiments!
Braxton Brewing Company Address: 27 W 7th St, Covington, KY 41011
Braxton Brewing Company Hours: Monday 3-11 pm. Tuesday-Thursday & Sunday 11 am-11 pm. Friday-Saturday 11 am-1 am.
Top Beers to Try: Storm Cream Ale, Tropic Flare NE IPA, and Summertrip Sour-Berliner Weisse.
View this post on Instagram
5. Darkness Brewing
Dark beer lovers- rejoice!
If you are looking for craft beer in Cincinnati and LOVE porters, stouts, and just unique and unusual beer in general, this is the place to visit.
This brewery is located in Bellevue, Kentucky and is well-known in the area for great beer like Toastonut Coconut Cascade Dark Ale, Stonebreaker Porter, and loads of creamy, dark beer creations.
Darkness Brewing Address: 224 Fairfield Ave, Bellevue, KY 41073
Darkness Brewing Hours: Monday-Thursday 3-10 pm. Friday-Saturday 12 pm-12 am. Sunday 1-8 pm.
Top Beers to Try: Toastonut Coconut Cascade Dark Ale, Stonebreaker Porter, Man on the Moo Milk Stout.
View this post on Instagram
6. Listermann Brewing Company
Inspired to brew from an old make-your-own beer kit during his college days, founder Dan Listermann tried…and failed a few times to make the perfect brew.
But he never gave up, and it paid off! He opened his brewery supply business in 1995 and eventually started the brewery in 2008. Since then, they have created award-winning beers like Nutcase Peanut Butter Porter and Chickwow! Brown Ale.
Listermann Brewing Company Address: 1621 Dana Ave, Cincinnati, OH 45207
Listermann Brewing Company Hours: Monday-Tuesday 10 am-9 pm. Wednesday-Thursday 10 am-10 pm. Friday-Saturday 10 am-12 am. Sunday 11 am-9 pm.
Top Beers to Try: Nutcase Peanut Butter Porter, Triple-Digit Series: Chickwow! Brown Ale, and Team Fiona NE IPA.
View this post on Instagram
7. Fifty West Brewing
Located a bit further east from downtown Cincinnati, if you want to have fun with friends and have a great time drinking beer, this is the place.
On one side of the street, you've got their brewpub- perfect for grabbing a pint of their Doom Pedal Witbier or American Lager. On the other side of the street, you've got sand volleyball courts!
This place promotes outdoor fun with volleyball courts, canoeing and kayaking, cycling, and running meet-ups! So get active and join them for a beer afterward!
Fifty West Brewing Address: 7668 Route 50, Cincinnati, OH 45227
Fifty West Brewing Hours: Monday 11 am-9 pm. Tuesday-Thursday 11 am-10 pm. Friday-Saturday 11 am-11 pm. Sunday 10 am-9 pm.
Top Beers to Try: Punch You in the EyePA IPA, Coffee Please Stout, and Doom Pedal Witbier.
View this post on Instagram
*Photo by Hannah Vosel.
8. The Woodburn Brewery
Last but not least when it comes to breweries in Cincinnati, Ohio and the Cincinnati craft beer scene is The Woodburn Brewery.
With unique styles of beer like Chocolate Cherry Stout, and Han Solo Blond Ale, the beers here are fantastic, and the taproom with beautiful lighting and brick walls make it the perfect spot to relax after a long day with a pint.
The Woodburn Brewery Address: 2800 Woodburn Ave, Cincinnati, OH 45206
The Woodburn Brewery Hours: Monday-Thursday 4-11 pm. Friday-Saturday 12 pm-12 am. Sunday 12-11 pm.
Top Beers to Try: Chocolate Cherry Stout, Han Solo Blonde Ale, and Pineapple Saison.
Best Breweries in Cincinnati Map
Top Tips For Visiting Cincinnati Microbreweries
If you plan to visit a brewery in Cincinnati (or multiple!) here are some top things to know before you go!
Don't drink and drive. Y'all, I point this out in every article when it comes to drinking. But Uber and Lyft are readily available in this city. Also, depending on where you're staying, you could walk to a few!
Don't want to worry about transportation? Go on a Cincinnati brewery tour!
Need a hotel recommendation? I always love

21c Museum Hotel

,

Renaissance Cincinnati Downtown

, or for a really unique stay, check out the best rentals in Cincinnati including the iconic

Swing House.

Looking for more things to do in Cincinnati? Be sure to visit the Cincinnati Zoo, Newport Aquarium, American Sign Museum, Contemporary Arts Center, National Underground Railroad Freedom Center, and my favorite park, Ault Park! Plus, if you want to do something unique, definitely check out the

Underground Cincinnati tour

!

Exploring more of Ohio? Check out the top things to do in Put-in-Bay and the ultimate day trip to visit Ohio wine country!
Want more travel inspiration near Cincinnati? Check out Lexington, Kentucky– it's about a 90-minute drive south and perfect for a day trip!
If you want to taste great Cincinnati brews at the best craft breweries in Cincinnati, these are my absolute favorites! I hope you enjoy brewery crawling around the Queen City!
Would you check out these breweries in Cincinnati? What tips do you have?
Pin it here!