Some posts on this site contain affiliate links, meaning if you book or buy something through one of these links, I may earn a small commission (at no additional cost to you!). Read the full disclosure policy here.
---
Looking for things to do in Put-in-Bay?
When the weather warms up in Ohio, it is the perfect time to explore the outdoors! What better way to enjoy the longer days than a trip to a Lake Erie island? More specifically, we're talking about the most popular spot to visit on a summer day: Put-in-Bay on South Bass Island.
While Cleveland has plenty of things to do in the winter, one of our favorite things to do during the summer is to take the ferry over to enjoy many Put-in-Bay attractions!
From water sports to plenty of bars, let's get into the top 12 things to do in Put-in-Bay, Ohio.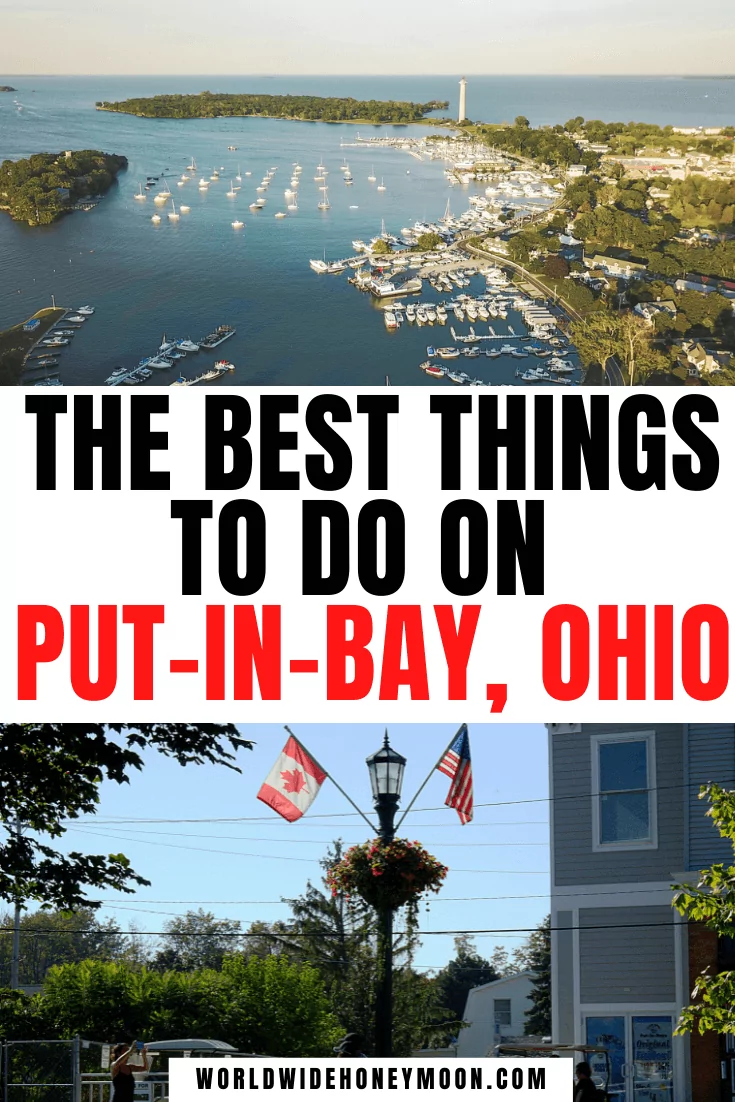 Top 12 Things to do in Put-in-Bay, Ohio
Known as the "Key West of the north" it is time to sink into island time and enjoy the best places to visit in Put-in-Bay.
1. Rent a Golf Cart and Cruise Around
One of the many fun things to do in Put-in-Bay has to be renting a golf cart. This is a great way to get around and see most of the island by going at your own pace. Plus, everyone drives golf carts around the island so it is an exciting way to explore and do as the locals do.
The island also has adorable golf cart parking spaces all around!
Drive to places like the Benson Ford Shiphouse, the Chocolate Cafe, or even spot the tiny airport on the island!
As far as golf cart rentals go on Put-in-Bay, I recommend booking ahead of time, especially if you plan to visit on a weekend in the summer or around a holiday. Daily rental prices are between $60-70 for a 4 person cart, $70-80 for a 6 person cart, and $90-100 for an 8 person cart.
It is typically $20 extra to keep it overnight.
The easiest spot to get a golf cart rental is right where the Miller Ferry lands on the south part of the island. You walk up the hill and it is right there.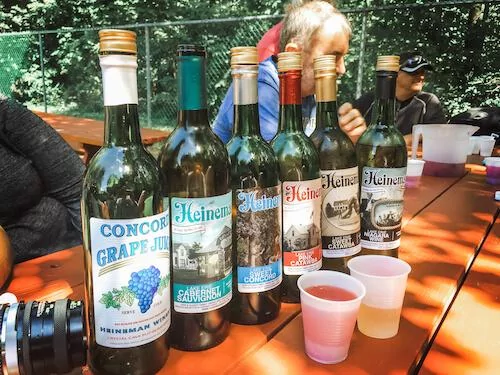 2. Visit a Winery (or Brewery)
Many people don't think of Ohio as a place with many wineries or breweries. That's where they're wrong. Cleveland is known for SO many fantastic breweries and the northeast Ohio wine region is incredible!
And you can get amazing wine and beer on Put-in-Bay!
So when it comes to what to do in Put-in-Bay, definitely check out the two big wineries (Put-in-Bay Winery and Heineman's Winery) as well as the Put-in-Bay Brewery & Distillery.
The Put-in-Bay wineries are known for their pink catawba grapes, which grow perfectly in the northern Ohio area. If you enjoy sweet wines we recommend trying the Pink Catawba, Sweet Concord, and Island Blush wines at Heineman's Winery. For Put-in-Bay Winery, we recommend the Celebration (sparkling Moscato), Pink Catawba, and the Merlot.
You can also enjoy wine tastings at each winery with Put-in-Bay Winery giving wine tasting tours during the summer at $10 per person including 5 tastings.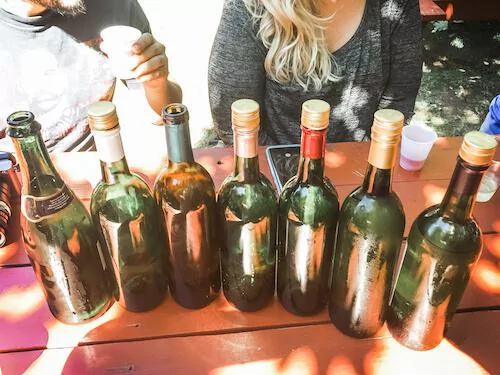 Heineman's Winery has a combo winery and Crystal Caves tour for $8 per adult during the summer.
Put-in-Bay Brewery & Distillery has many beers that are perfect to cool you down in the summer heat. Located right in the middle of the action, add this as a stop on your Put-in-Bay itinerary and try the Summer Brew unfiltered wheat beer, Watermelon Wheat (unfiltered wheat beer with a watermelon kick), and the Raspberry Mocha Stout for the perfect chocolatey, raspberry beer.
And if beer isn't your favorite, then taste some of their island vodka and island rum.
Put-in-Bay Winery Summer Hours: Sunday-Thursday 12-5 pm. Friday-Saturday 11 am-6 pm. Estate tours daily on the hour between 12-4 pm.
Heineman's Winery Summer Hours: Open daily mid-April through late October 11 am-7 pm. Sundays open 12-7 pm. Tours are operated early May through late September from 11 am-5 pm on Mondays-Saturdays. On Sundays, the hours are 12-5 pm.
Put-in-Bay Brewery & Distillery Summer Hours: Daily 11 am-2:30 am.
3. Go Caving!
While you're in the area of Heineman's Winery, we totally recommend checking out the caves! For starters, check out Crystal Caves in combination with Heineman's Winery to see awesome cave crystals before descending into Perry's Cave to see the underground lake.
The cost to visit Perry's Cave is $12 for adults to visit, $5 for kids between 6-12 years old, and free for children under 6.
Perry's Cave Hours: early May-Memorial Day daily from 10 am-5 pm. Memorial Day-Labor Day daily from 10 am-7 pm. The remainder of September daily from 10 am-5 pm. In October, they are open on weekends only from 11 am-5 pm (weather permitting).
4. Visit a Lighthouse
On the edge of the island, there stands a modest but beautiful lighthouse called South Bass Lighthouse. This lighthouse dates back to 1897 when it would light the way during the shipping season on Lake Erie.
Now it is operated by Ohio State University, but during the summer, you can walk around the grounds and check the lighthouse out for yourself. It's also a great spot to catch a sunset!
5. Enjoy Lake Erie with Water Sports
As this is an island in the middle of Lake Erie, there are plenty of water sports to enjoy. From kayak rentals to paddleboards, jet skis, and even parasailing, you'll find an endless amount of things to have a fun-filled day out on the lake during the middle of summer.
You can also rent a boat to go out and explore on your own from the marina. We recommend Put-in-Bay Watercraft Rentals for all of your boating and water sport needs!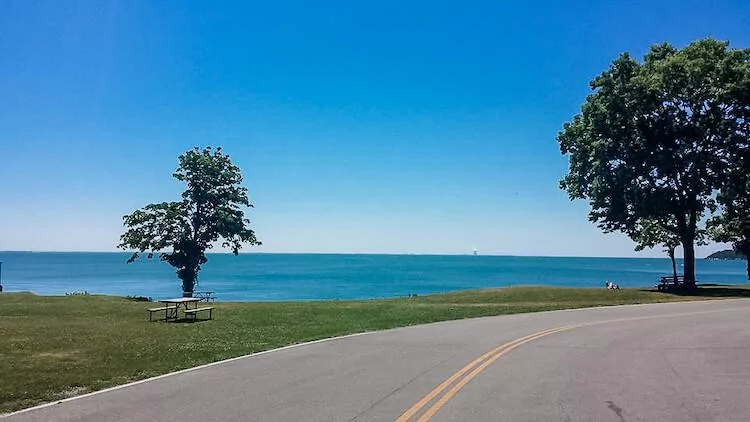 6. Helicopter Over Put-in-Bay
Flying over Lake Erie is always a treat. What better way to see the best of Put-in-Bay, the surrounding islands, and even Canada than from a bird's eye view?
Put-in-Bay Helicopter Rides offer 2 tours that you can take:
Yellow Tour: Gives you the history of the island and a bird's eye view of Put-in-Bay including Perry's Victory and International Monument plus the lighthouse. This is $39.99.
Blue Tour: Covers the entire region with views of the South, Middle, and North Bass Islands, and even the Canadian border! This costs $99.99 per person.
Both tours require a minimum of 2 people and a maximum of 3. The helicopter tours operate between May-September.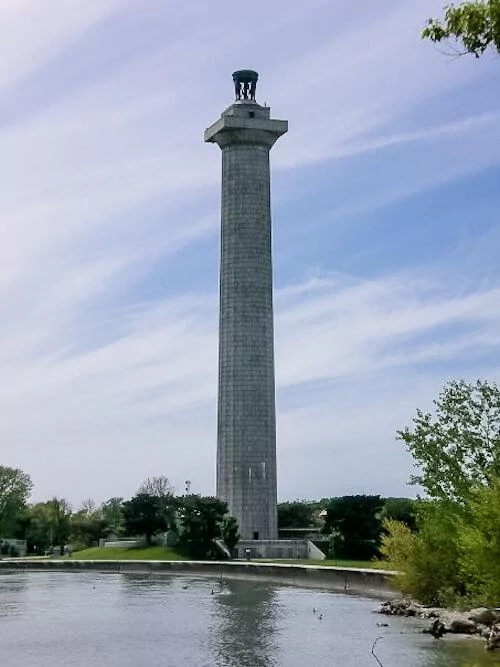 7. Perry's Victory and International Peace Memorial is One of the Best Put-in-Bay Attractions
Perry's Victory and International Peace Memorial is a great way to learn about the history of the War of 1812 and how Lake Erie played its part.
This memorial was constructed to honor those who fought in the Battle of Lake Erie during the War of 1812. It also celebrates peace between the US, UK, and Canada.
This structure is 352 feet tall and offers stunning views on a sunny day from the top! However, the observation deck is closed indefinitely due to size and space limitations.
Perry's Victory and International Peace Memorial Hours: June 13-September 13 10 am-6 pm daily. September 14-28 10 am-5 pm daily. October 2-19 on Fridays-Mondays from 10 am-5 pm.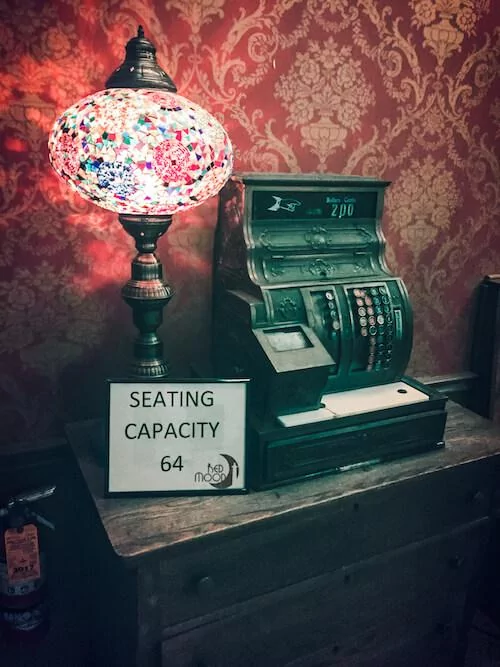 8. Drink at a Speakeasy
We know there are wineries and a brewery on Put-in-Bay, but did you know there is a speakeasy?
One of the best things to do in Put-in-Bay is to visit this tucked away speakeasy. Red Moon is located off the Park Hotel on Delaware St. Inside, you'll love the traditional speakeasy vibes and delicious cocktails. With vodka, whiskey, tequila, and rum infusions, they can whip up some tasty drinks.
And while Put-in-Bay is known as a party island, this spot is much more lowkey. If you want to sneak away to where the locals and those in the know go, this is the spot.
Red Moon Summer Hours: Sunday-Thursday 6 pm-2:30 am. Friday 4 pm-2:30 am. Saturday at 2 pm-2:30 pm.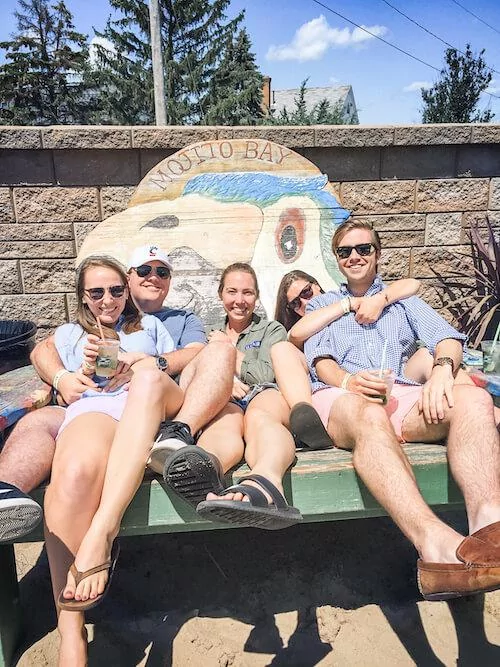 9. Party it up!
If you are looking for a party, then add bar hopping on your list of Put-in-Bay activities. Most of the bars are also located along the Delaware St area near The Boardwalk.
From sandy beach bars to bars with live music, there are plenty of places to grab a cocktail and enjoy some time partying on the island. Here are a few of our favorite Put-in-Bay bars:
Mojito Bay: With live music, delicious mojitos, and beach loungers you'll feel like you stepped off the ferry from Ohio to Key West at this laid back sandy beach bar. Open 12 pm-2 am daily during the summer.
Round House Bar: This place may look like a circus tent from the outside, and it pretty much brings that vibe once you venture inside as well. Quirky and fun are perfect words to describe one of Put-in-Bay's most popular bars. Expect live music, drag shows, and buckets of beer. Open daily 12 pm-1 am during the summer.
The Keys: Bring the Caribbean to you with frozen cocktails, conch fritters, live music, and epic views of the waterfront. Open daily from 11 am-10 pm during the summer.
Hooligans Irish Pub: Fancy some fish and chips and a Guinness to wash it all down? Hooligans Irish Pub is the place to go! Open Monday-Thursday from 11 am-11 pm, Friday-Saturday from 11 am-1 am, and Sunday from 11 am-12 am during the summer.
Frosty's Bar: Enjoy local Ohio brews, frosty drinks, tasty brunch, and the best burritos on the island at Frosty's Bar. They also offer games like pool and video games to enjoy! Plus, on weekends, dance it up with DJ Mike. Hours are daily from 7 am-1 am during the summer.
Reel Bar: Known for their live entertainment, they bring in many guests during the summer season. Also, with the largest bourbon selection on Put-in-Bay, you'll enjoy many tasty cocktails! Open Monday-Friday 11 am-2 am and Saturday-Sunday 9 am-2 am during the summer.
The Sand Bar: For those who want to feel like they're at a beach party, the Sand Bar has a swim-up bar. You can also enjoy some friendly competition with beach volleyball, pool games, and cornhole. Summer hours are 10 am-2 am daily with the pool closing at 8 pm.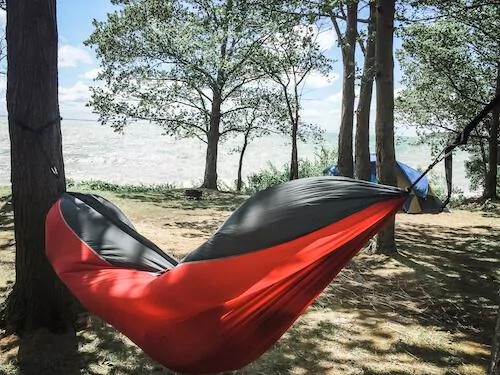 10. South Bass Island State Park
With rocky cliffs, a beautiful cove, and stunning greenery, this state park is the perfect spot to take a nice walk or even go camping! They have yurts or you can pack up your camping gear and enjoy an evening under the stars on Put-in-Bay!
On our last visit to Put-in-Bay, we had the best time camping on South Bass Island State Park and enjoyed the sounds of the lake at night from our tent.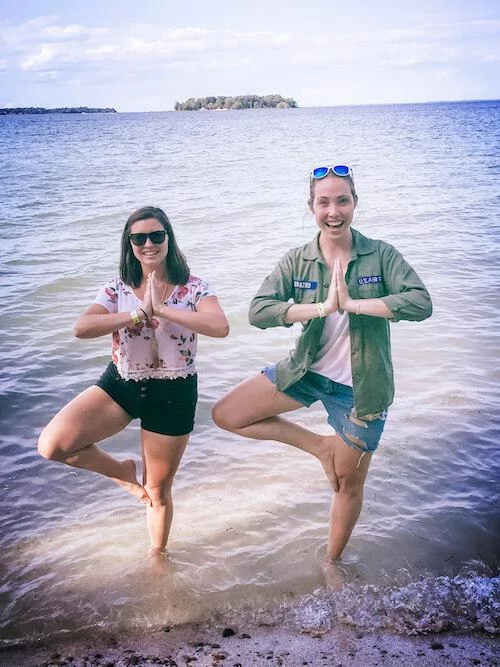 11. Hike to Hidden Beaches
There are a few tucked away beaches around the island, but we love taking the small hike at Scheeff East Point Nature Preserve to check out the little beach on the northern part of the island.
It's also super quiet and there are hardly any other tourists around the area, making it a peaceful hike and place to hang out during the day.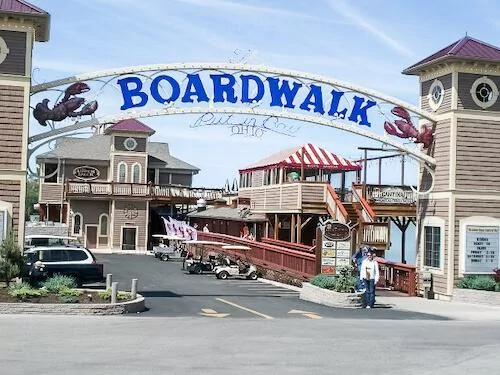 12. Eat Lobster Bisque and a Walleye Sandwich at One of the Best Restaurants in Put-in-Bay
Last, but certainly not least, you've got to enjoy one of Put-in-Bay's best restaurants: The Boardwalk.
This is the place to go for the creamiest lobster bisque and tasty seafood delights. We're talking local seafood like Lake Erie walleye and perch, and even ocean delights like crab legs and salmon. Combine that with the lobster bisque and a dangerously delicious Summer Shore Strawberry Lemonade, and you've got a recipe for a perfect Put-in-Bay meal.
The Boardwalk Hours: Open daily in the summer from 11 am-9 pm on Sunday-Thursday and 11 am-10 pm on Friday-Saturday.
Things to do on Put-in-Bay Island Map

Getting to Put-in-Bay Ohio | Put-in-Bay Ferry
The easiest way to get to Put-in-Bay is by ferry. Miller Ferry and Jet Express are the ferries that go between the mainland to South Bass Island (where Put-in-Bay is located). Miller Ferry runs from Port Clinton (on the north end of Catawba Island Township) on the mainland to both South Bass and Middle Bass Islands. The Jet Express runs from Port Clinton and Sandusky on the mainland to both South Bass and Kelleys Islands.
The most popular way to get to Put-in-Bay by ferry is via Port Clinton.
Miller Ferry is cheaper at $7.50 per adult per way ($1.50 for children from 6-11 years old and free under that). Cars are $18 and motorcycles are $16 each way.
It also runs from May 8-September 13 every half hour from 6:30 am from Port Clinton (7:30 am on Sunday) to 7 pm leaving Put-in-Bay (8 pm on weekends and holidays). Check their site for more detailed information. You catch the ferry at 5174 E. Water St., Port Clinton, OH 43452.
The Jet Express is more expensive, costing $35 round-trip for adults from Port Clinton to Put-in-Bay ($15 for children 12-16, $6 for children 6-11, and free for children under 6). However, the Jet Express runs later into the evening, sometimes as late as 12:15 am on weekends during the high season (check their website for more details). You catch this ferry at 49 Jackson St., Port Clinton, OH 43452.
Also, Miller Ferry drops you off on the southern part of the island and is the only ferry that also allows vehicles. The trip is 18 minutes long. Jet Express drops you off right in downtown Put-in-Bay and the trip is 25 minutes long.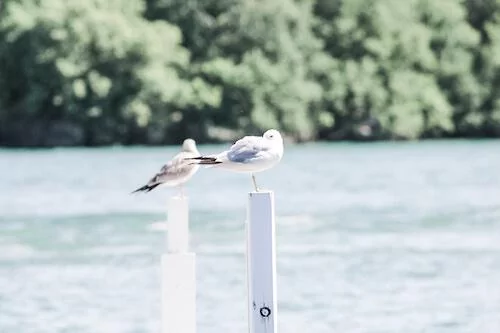 Put-in-Bay Hotels
There isn't a shortage of place to stay on Put-in-Bay, but here are 3 hotels to stay at based on your budget:
Budget: Park Hotel
Located in the middle of all of the action (and partying) is the Park Hotel. If you are here to party, then this is the place. It is also home to the speakeasy! This Victorian-era hotel has 25 rooms that are available throughout the summer with free breakfast, clean rooms, and golf cart rentals available. Prices start around $100 per night.
Check reviews on TripAdvisor and book here!
Mid-Range: Put-in-Bay Resort and Conference Center
This hotel is also located near the action within steps of the main attractions on Put-in-Bay. It is a great spot to relax with a pool, free breakfast, and clean and comfortable rooms. Prices start around $175.
Check reviews on TripAdvisor and book here!
Luxury: The Anchor Inn Boutique Hotel
For a romantic weekend getaway to Put-in-Bay, this dreamy boutique hotel ticks all the boxes with gorgeously designed rooms, attention-to-detail mentality, and tasty brunch, making this place well worth the splurge. Prices start around $200 per night.
Check reviews on TripAdvisor and book here!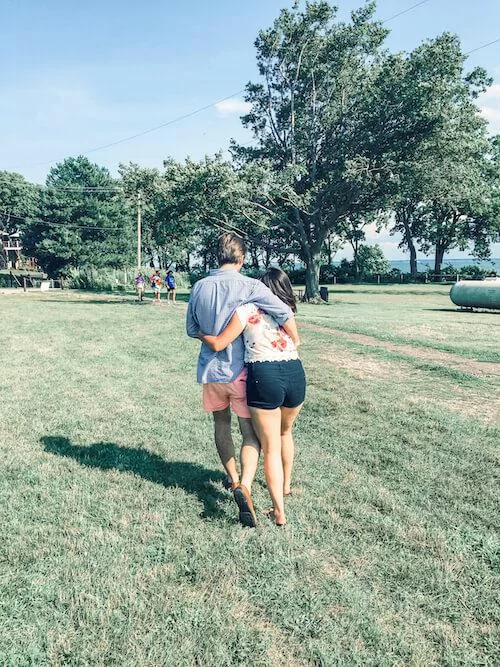 What to Pack for Put-in-Bay
For the best weekend in Put-in-Bay, we recommend visiting in the summer, where the main things to bring include some sandals or flip flops, a cute top, and shorts.
To dress it up, I love this flowy sundress!
Be sure to pack a sweater or light jacket as evenings can be cooler with the breeze off the lake. And for those going to the pool, be sure to pack sunscreen, a swimsuit (this is my fave), and a quick-dry beach towel.
I also recommend Body Glide to prevent chafing on hot days and Badger Balm to prevent pesky mosquito bites!
A reusable water bottle is a great idea to stay hydrated on warm days, and definitely bring cash on you just in case for some bars.
We hope you have an incredible time exploring the best things to do in Put-in-Bay! This is one of our favorite spots in the summer to visit!
What tips do you have about visiting Put-in-Bay?
Check out these awesome US Destinations!
**All photos except the featured photo at the top are from our friend Megan Smiddie.
Pin it here!