Some posts on this site contain affiliate links, meaning if you book or buy something through one of these links, I may earn a small commission (at no additional cost to you!). Read the full disclosure policy here.
---
3 days in Washington, DC is the perfect amount of time to get acquainted with this incredibly interesting city. With many museums, amazing food, and loads of history, a Washington, DC itinerary is sure to keep you entertained.
Chris and I have been visiting DC for years as my sister lives just outside of the city in Alexandria, Virginia. And as we've been there several times at various points during the year, we've got all the local tips (thanks sis) for the perfect 3 day trip to Washington, DC.
So whether this is a romantic weekend getaway or part of an exciting USA road-trip let's talk all about how to spend 3 days in DC.
Don't forget to check out our podcast episode all about DC too!
Getting To DC & Getting Around During Your Washington, DC 3 Day Itinerary
If you plan on spending 3 days in Washington, DC, there are many ways to get there. First of all, they have two major airports in the area. The first is Washington Dulles International Airport, which is its main international airport with many flights around the world per day.
This is about 35-45 minutes (or more…depending on traffic) by car from Dulles to downtown DC and costs about $40 on Uber. There is also a bus that takes you from Dulles to the Wiehle-Reston East Metrorail Station where you can take the silver line into the city. This costs about $5 per way.
The next airport is Ronald Reagan Washington National Airport. Much closer to the DC area and located in Arlington, VA, you'll have up close and personal views of the Potomac River as you land…seriously, it always feels like you're going to land in it and then all of a sudden there is the tarmac.
It is only about 15 minutes from downtown DC to the Reagan airport and costs around $20 for an Uber. It is 20-40 minutes via the Blue or Yellow Metro lines from the airport into downtown DC. This is a much cheaper option at under $3 for a metro ticket.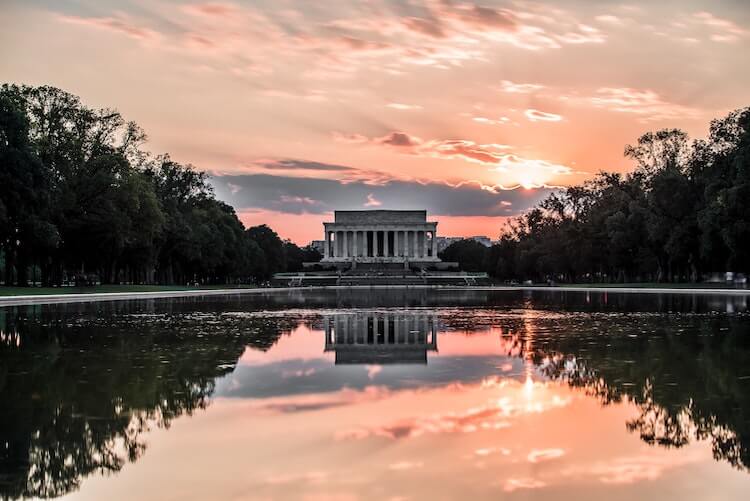 Regardless of which airport you choose, Skyscanner is our go-to for finding the best flight prices!
You can also get to DC via the train from many places throughout the northeast, and you could also rent a car if DC is an addition to your USA road trip. For rental cars, we love checking for deals on rentalcars.com.
Once you're in DC, there are so many ways to get around. The DC area has a big metro system, and while not perfect, it is one of the more efficient ways to get around if you want to avoid traffic.
If you plan to stay for several days, definitely get a SmarTrip Card. You can purchase the 3-day pass for $30 with unlimited Metrorail and Metrobus travel (but only gives $2 off for the airport route).
Then, like any big city, there are of course rental bikes and scooters throughout the city, Uber, and Lyft.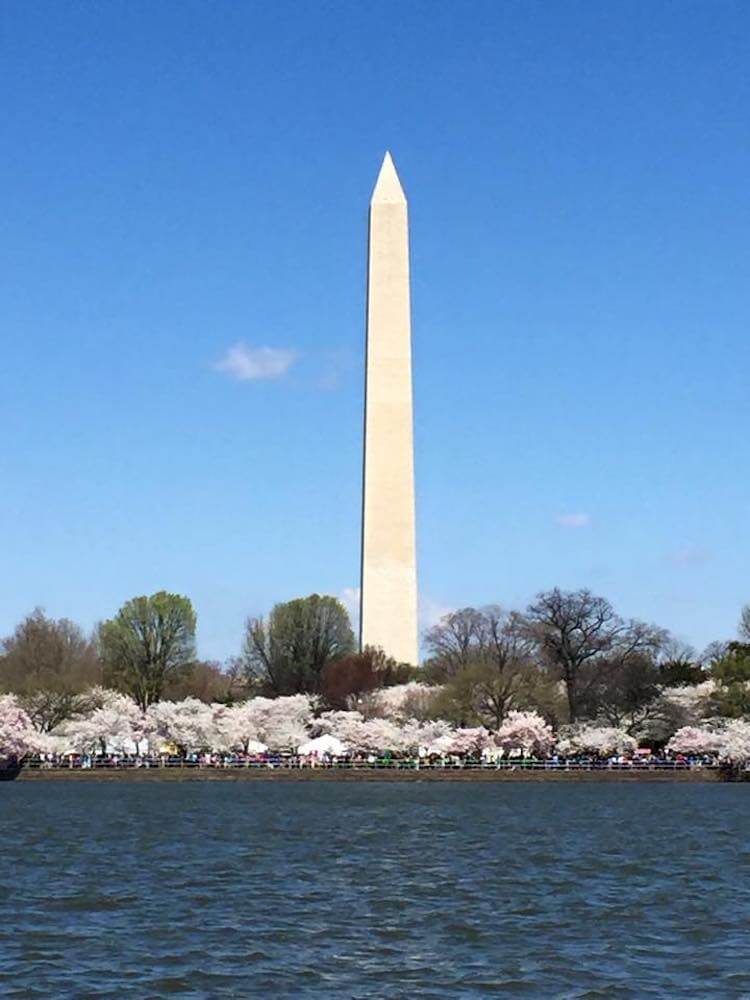 The Best 3 Days in Washington, DC Itinerary
Whether you love history, food, or shopping, this is the best way to spend three days in Washington, DC.
Day 1 of 3 Days in Washington, DC: Monuments, Museums…and a Speakeasy
Whether this is your first time visiting Washington, DC or your 10th time, visiting the Tidal Basin and Monuments are pretty awe-inspiring. So let's set up your Washington, DC itinerary off right with monuments and museums!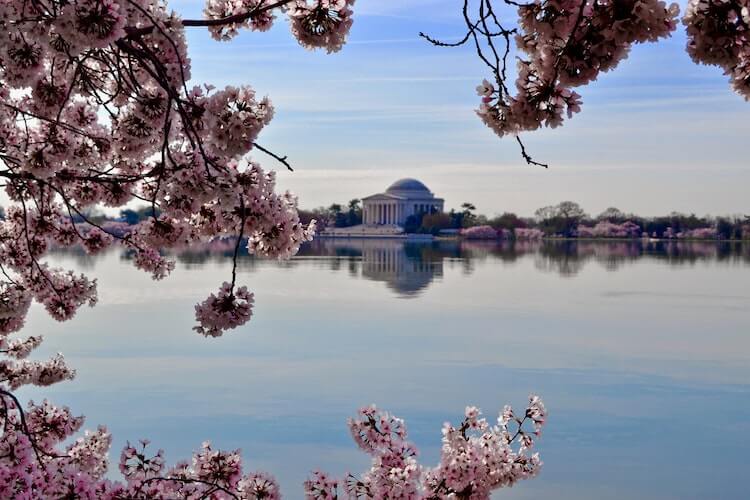 Bike Around the Monuments & Tidal Basin
If you've visited DC before, then you know that once you get to the Washington Monument, you will wander along a path past the Lincoln Memorial Reflecting Pool and can pop over to several monuments, eventually leading up to the Lincoln Memorial or veering to the Tidal Basin.
The thing is… unless you want to spend the better part of a whole day walking, you can actually pick up a rental bike near Washington Monument and bike it to save time! Capital Bikeshare has a lot of stations throughout the city.
And while that's totally fine if you prefer to spend the morning walking around to each of the monuments and go inside of them, if you want to see a lot and perhaps find a few hidden ones, definitely rent a bike!
I've done this a few times and it is my favorite way to get around! Chris and I rode along one morning to see the main monuments like the Washington Monument, World War II Memorial, and Lincoln Memorial.
And while you're in the area, ride along the Tidal Basin to see the Thomas Jefferson Memorial, Franklin Delano Roosevelt Memorial, Martin Luther King Jr. Memorial, and perhaps spot an American founding father, George Mason and his small and peaceful memorial along the Tidal Basin.
Taking a bike is a great way to see a lot of these smaller memorials without having to walk around all day. And trust me, there is plenty to see. Once you've finished with your bike, I recommend riding it up to the stop just past the Newseum for your next stop on the Washington, DC 3 day itinerary.
Pro-tip: The Tidal Basin is home to the most beautiful cherry blossoms in DC. If you get to visit in the spring, this is the place to visit to see these stunning blossoms reflecting in the Tidal Basin!
Cost of Capital Bikeshare: $2 for a single 30-minute trip (plus an additional $2 for another 30 minutes), $8 for a day pass, or $17 for a 3-day pass.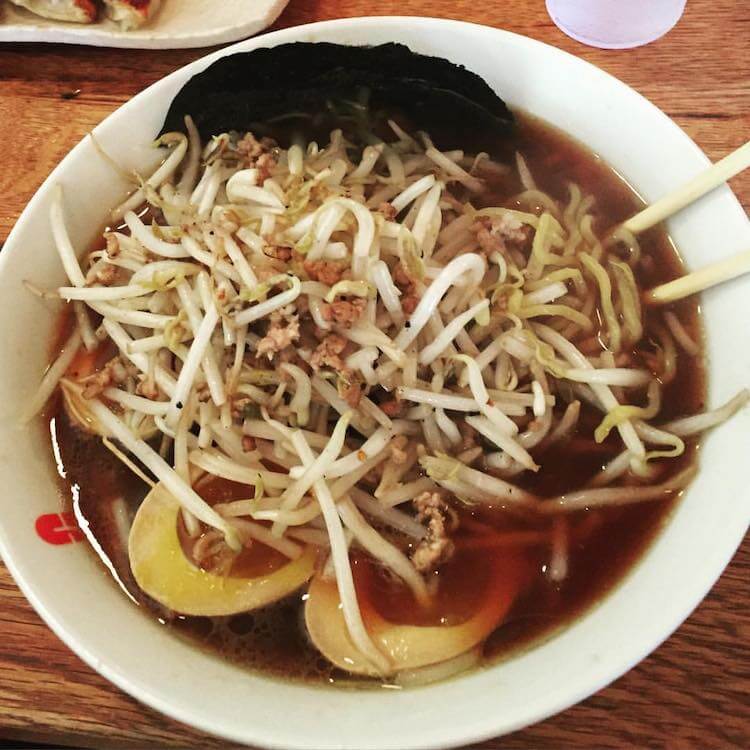 Daikaya for Lunch
I love ramen. And after my sister introduced me to this place years ago, I try to head back here each time I visit. If you plan on having some tasty ramen, this is the place.
But as a warning- go when it opens! This place is small and gets super crowded so quickly. So get there just as it is opening or a bit before to avoid waiting in line for delicious ramen.
My favorite ramen is the Shoyu Ramen, with a pork and soy sauce broth with garlic and egg. Also, the Spicy Miso Ramen is so good with white miso and the perfect amount of spice to add depth of flavor.
And for those eating vegetarian/vegan, they have the best Vegetable Ramen made with a salty vegetable broth and topped with brussel and bean sprouts, peas, carrots, onions, and mushrooms.
Also, always ask for extra noodles…and maybe the nitamago (soy and ramen stock marinated soft-boiled egg) and thank me later.
Daikaya Hours: 705 6th St NW, Washington, DC 20001
Daikaya Address: Sunday-Thursday 11 am-10 pm. Friday-Saturday 11 am-12 am.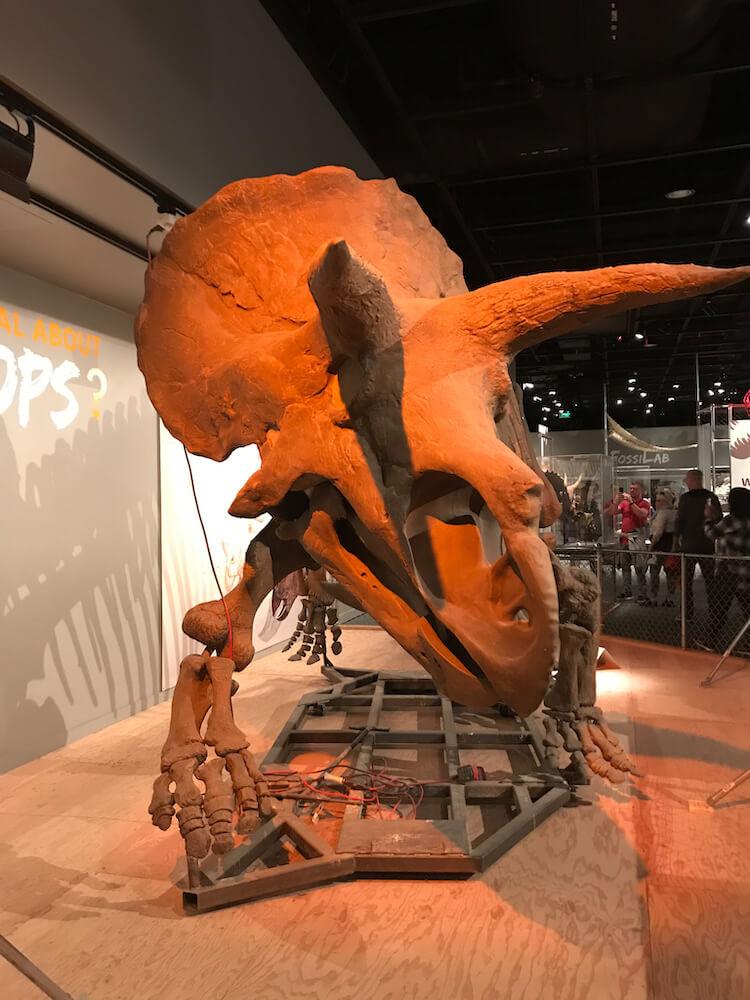 Pick 1-2 Museums to Visit at the National Mall
Now that you're fueled up for more exploring, it is time to head to the National Mall! You probably biked past it during your trip up to Daikaya and maybe while biking around the monuments, but now is the time to walk from lunch to the National Mall and find a great museum or two to visit!
Whether you like art, history, or even outer space there is something for everyone at these free museums while spending 3 days in Washington, DC!
Not sure which museum to visit at the mall? Here are some of our favorites!
Smithsonian National Museum of Natural History
This is pretty awesome. I mean, Chris and I got married in a natural history museum so that may make us total nerds, but the last time we visited this museum in DC, we had a blast!
The Natural History Museum is also massive! They've got fossil exhibits, mammal exhibits, the Hope Diamond, and more! Plus they have the Butterfly Pavilion- the perfect spot to see beautiful butterflies!
If you have kids, this is a great museum with a lot of interactive learning tools that they'll love too!
Natural History Museum Address: 10th St & Constitution Ave NW, Washington, DC 20560
Cost of Butterfly Pavilion: $7.50 per adult, $7 for 60+, and $6.50 for kids 2-12 years old. Tuesdays are free. Be sure to purchase tickets ahead of time!
National Museum of American History
To learn about American history, this is the museum to visit! From food history to women's history, LGBTQ+ history, and more, this museum shows how the US has grown and changed over the years.
National Museum of American History Address: 1300 Constitution Ave NW, Washington, DC 20506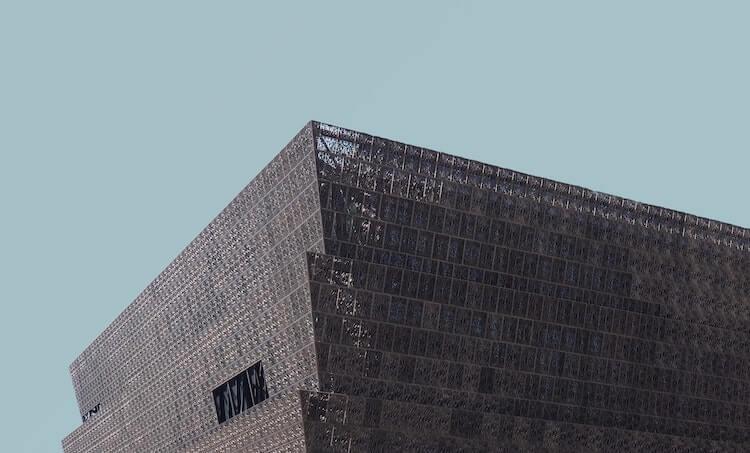 National Museum of African American History and Culture
This museum is the place to go to learn more about African American culture and history in an interactive way. It tells the story of America through the lens of African American history.
Find exhibits like "Defending Freedom, Defining Freedom," about the era of segregation, up to "A Changing America" to learn about African American activism and quest for equality to this day.
Pro-tip: During peak season (March-August) advanced timed passes and same-day online timed passes are required for entry on weekends and before 1 pm throughout the week. The remainder of the year you only need a pass on weekends.
African American History and Culture Museum Address: 1400 Constitution Ave NW, Washington, DC 20560
National Air and Space Museum
For those #avgeeks out there and all kids who love anything to do with space, this is the museum for you. From satellites to commercial aviation, learn how the US has been making its mark on the air and space industry through the years.
National Air and Space Museum Address: 655 Jefferson Dr SW, Washington, DC 20560
National Archives Museum
If this is your first time in DC, definitely prioritize this museum. After all, it houses the Declaration of Independence, the Constitution, and the Bill of Rights. These are documents that are really neat to see and well worth the long lines.
National Archives Museum Address: 701 Constitution Ave NW, Washington, DC 20408
National Gallery of Art
From Renaissance to Rococo, the National Gallery of Art has it all. If you love art and want to explore the works of Degas, the Greeks, and Warhol, this is a great museum to spend a couple of hours in.
National Gallery of Art Address: 201 6th NW, Washington, DC 20001
Hours: Saturday 10 am-5 pm. Sunday 11 am-6 pm.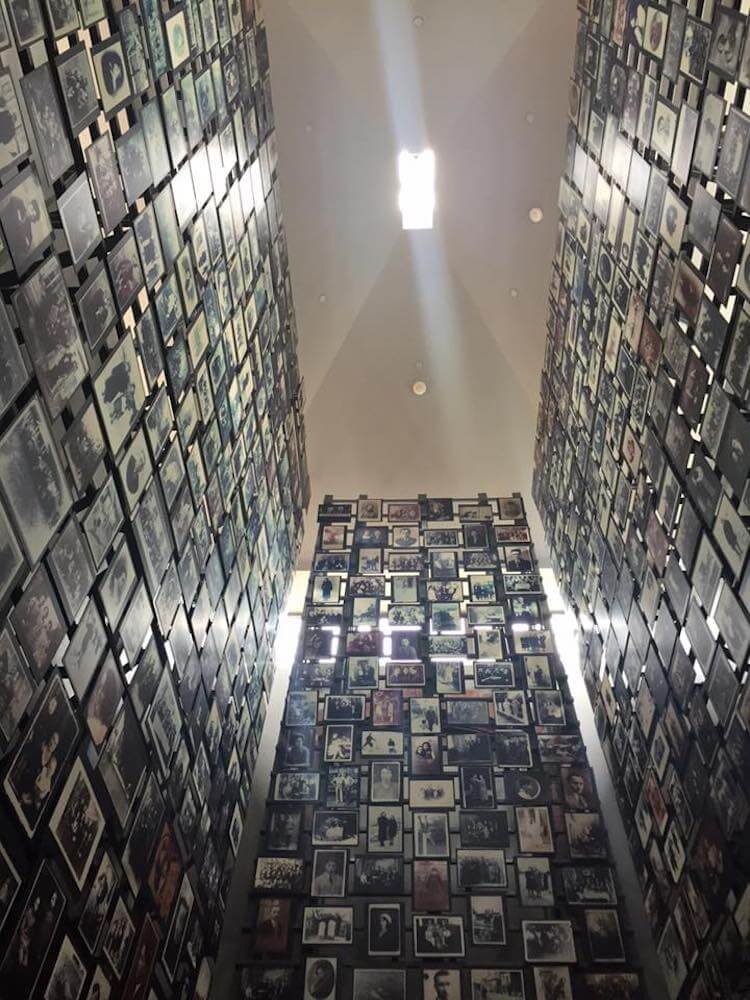 United States Holocaust Memorial Museum
This is not located on the National Mall, but this is an incredibly moving museum. This museum is an interactive way to learn about the history of the Holocaust, the events that led up to it, and survivor reflections and testimonies. Upon entrance to the museum, you are given a booklet with a person's information that was a victim in the holocaust.
As you move between floors you turn pages on the booklet to reveal their history and story as you see what they encountered during those dark years. Then you end at the Hall of Remembrance to remember those lives lost and are welcome to light a candle.
United States Holocaust Memorial Museum Address: 100 Raoul Wallenberg Place SW, Washington, DC 20024
Admission: Free but it is recommended to book online for a $1 booking fee.
All Museum Hours (Except National Gallery of Art): Daily 10 am-5:30 pm.
While I wouldn't recommend visiting all 7 of these museums in a day, you've got time to visit 1-2 museums depending on how slow or fast you like to explore. Also, this isn't an exhaustive list of museums in DC, but these are definitely our favorites and worth a stop!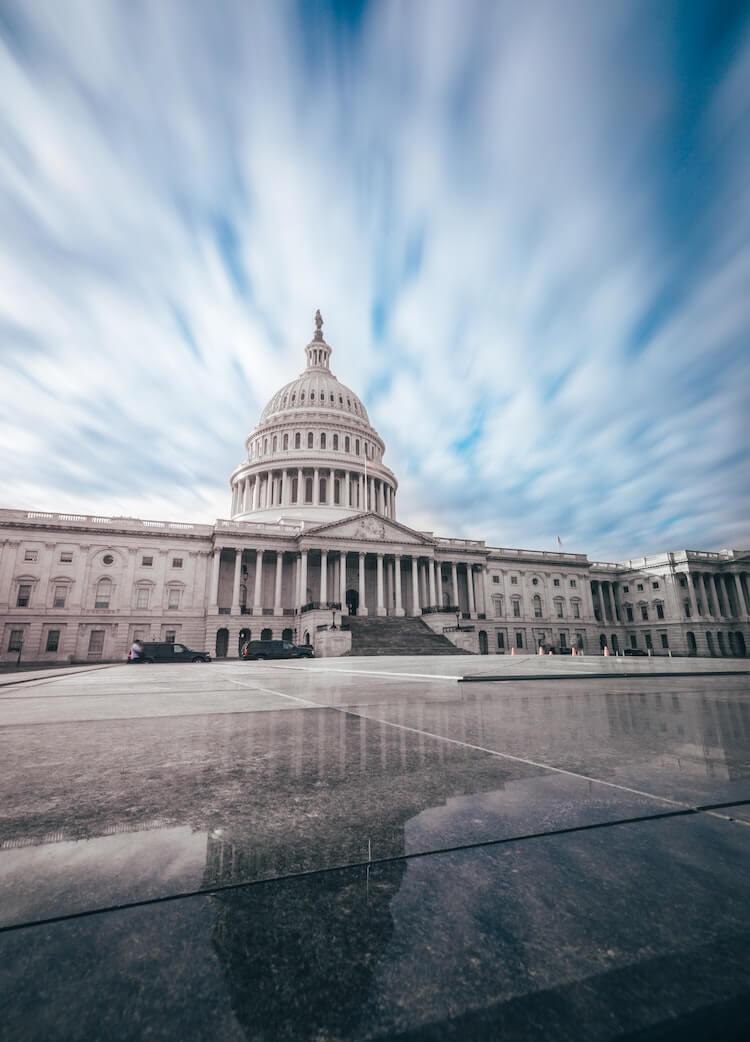 Walk Around to Spot the Capitol Building & White House!
If you're in DC for 3 days and it is your first visit, then you have to spot the Capitol Building and White House! Walk around the beautiful Capitol Building before heading to the most famous house in the US: the White House.
Of course, you can't really walk around the White House, but definitely get a few photos and admire from afar.
Capitol Building Address: First St SE, Washington, DC 20004
White House Address: 1600 Pennsylvania Ave NW, Washington, DC 20500
Dinner at Pearl Dive Oyster Palace
When you're so close to many coastal cities, expect some great seafood in DC. And for excellent oysters, look no further. Combine that with crawfish fritters and seafood gumbo, and it is a perfect restaurant up in the Logan Circle area of DC.
Be sure to make reservations, as DC restaurants can be hard to get into otherwise.
Pearl Dive Oyster Palace Address: 1612 14th St NW, Washington, DC 20009
Pearl Dive Oyster Palace Hours: Monday 5-10 pm, Tuesday-Thursday 5-11 pm, Friday-Saturday 11 am-11 pm, Sunday 11 am-10 pm.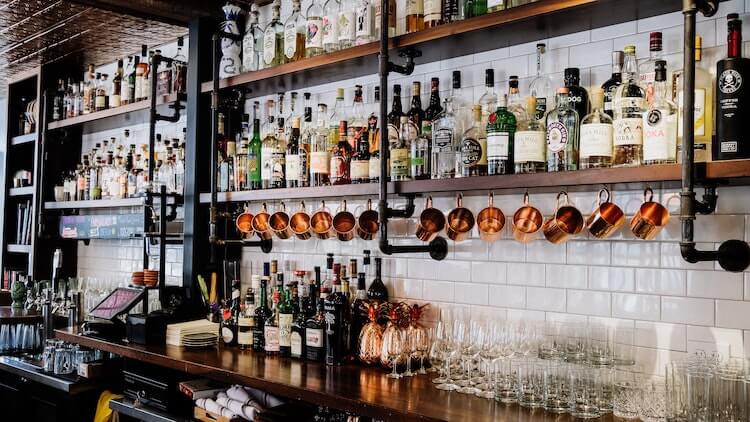 End the First Day of your 3 Day Washington, DC Itinerary at a Speakeasy
DC is full of incredible bars, but speakeasies are always the best. Some can be hard to find, but upon entering you've got the classic elegance of the 1920s in dim-lit rooms with a mixologist creating a deliciously intriguing beverage.
If you go to one speakeasy in DC, go to The Gibson. This place is hidden with just a blue light over a black door as an indicator. This is my favorite speakeasy in DC and well worth the stop. The mixologists are serving up some of the best cocktails in town under the dark-lit, 20s era room.
It is the perfect way to enjoy the nightlife of DC.
Allegory Address: 2009 14th St NW, Washington, DC 20009
Allegory Hours: Monday-Thursday 6 pm-12 am. 6 pm-1 am on Fridays and Saturdays. Closed on Sundays.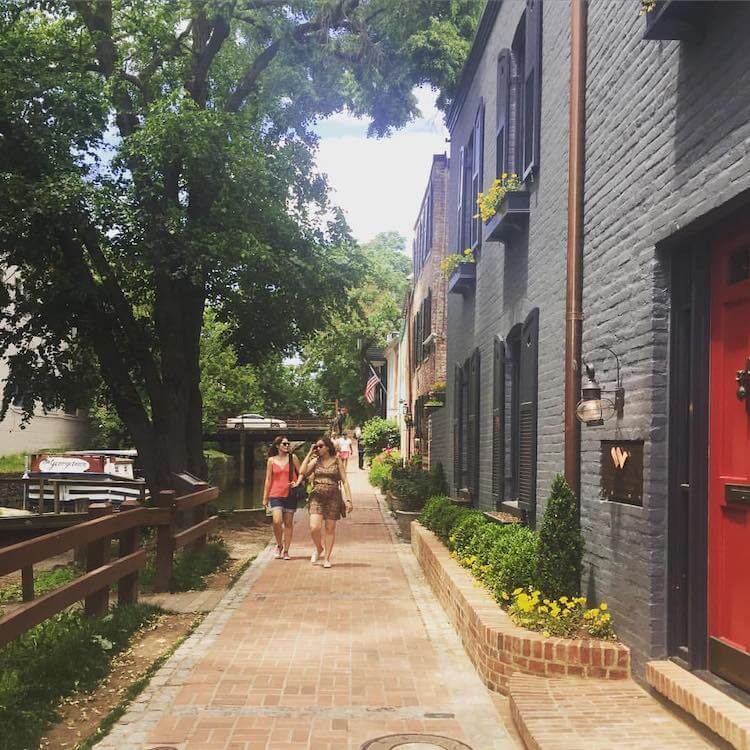 Day 2: Brunch and Georgetown
After a long day of exploring the touristic parts of DC, it is time to relax, get a little sleep, and get brunch! If you have three days in DC, having brunch here is a must. Follow that with the best day exploring the nicest neighborhood in DC: Georgetown!
Brunch!
There are so many great places to get brunch in DC. It can seriously be hard to decide. But if I hear words like "bottomless mimosas" in a pretty expensive to drink-in city, it piques my interest. If it is "bottomless brunch" then heck yes I'm in!
And my favorite spot for a unique brunch in DC is Agora. For $40 per person, you can have all the bottomless mimosas, bloody mary's, and dishes you'd like! This Turkish restaurant has amazing hummus, htipiti (roasted red peppers, feta, thyme, and olive oil), and flatbreads. They also have typical brunch items like eggs benedict too.
Agora Address: 1527 17th St NW, Washington, DC 20036
Agora Hours: Monday-Thursday 11 am-10 pm. Friday 11 am-12 am. Saturday 10 am-12 am. Sunday 10 am-10 pm. Brunch is Saturday-Sunday at 10 am-4 pm.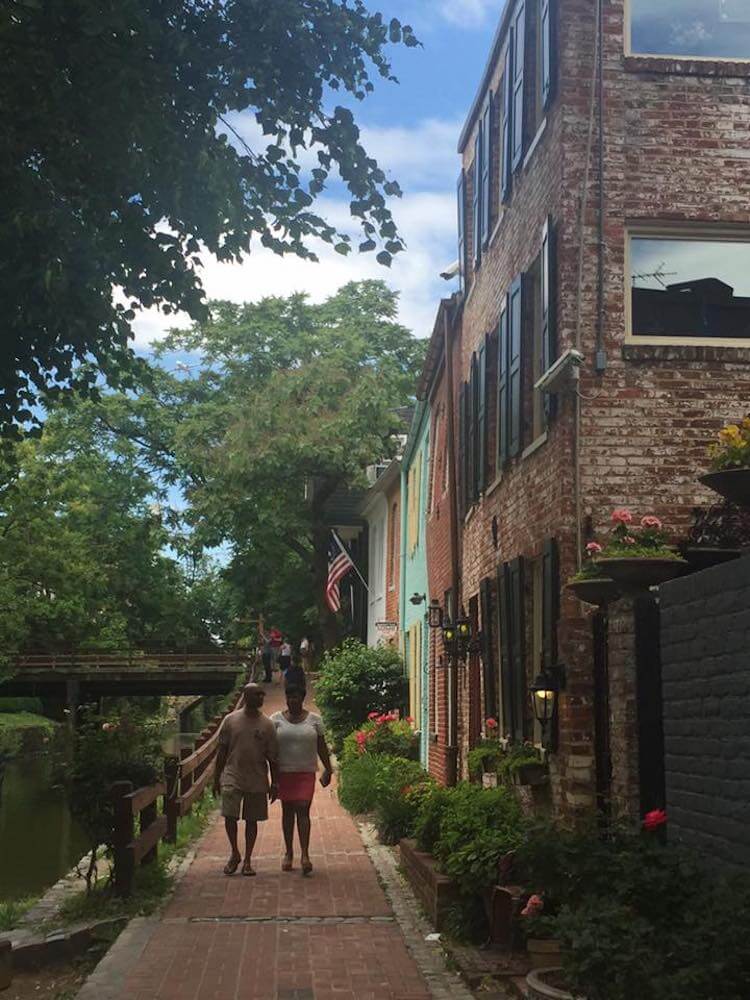 Explore Georgetown
Now that you've had your fill of delicious Turkish food (and perhaps some drinks!) it is time to head to my favorite part of DC: Georgetown. This area is seriously adorable with plenty of places for shopping, dining, beautiful houses and streets, and just a cool spot to explore in DC.
You could spend the entire day exploring this area and it is totally worth it! Here are some of my favorite spots in Georgetown:
Baked & Wired: This fantastic coffee shop is near the canal and has plenty of sweet treats and delicious coffees to enjoy including lattes and an ever-rotating list of pour-over coffees and espressos.

Address: 1052 Thomas Jefferson St NW, Washington, DC 20007
Hours: Monday-Thursday 7 am-8 pm. Friday 7 am-9 pm. Saturday 8 am-9 pm. Sunday 8 am-8 pm.

Georgetown Cupcake: This spot has some great cupcakes! Famous for its TV show on TLC, DC Cupcakes, expect a long line but it is worth the wait. Enjoy typical flavors like red velvet and vanilla, but also enjoy their seasonal cupcakes like the unicorn cupcake in March or the pumpkin spice cupcake in October!

Address: 3301 M St NW, Washington, DC 20007
Hours: Monday-Saturday 10 am-9 pm. Sunday 10 am-8 pm.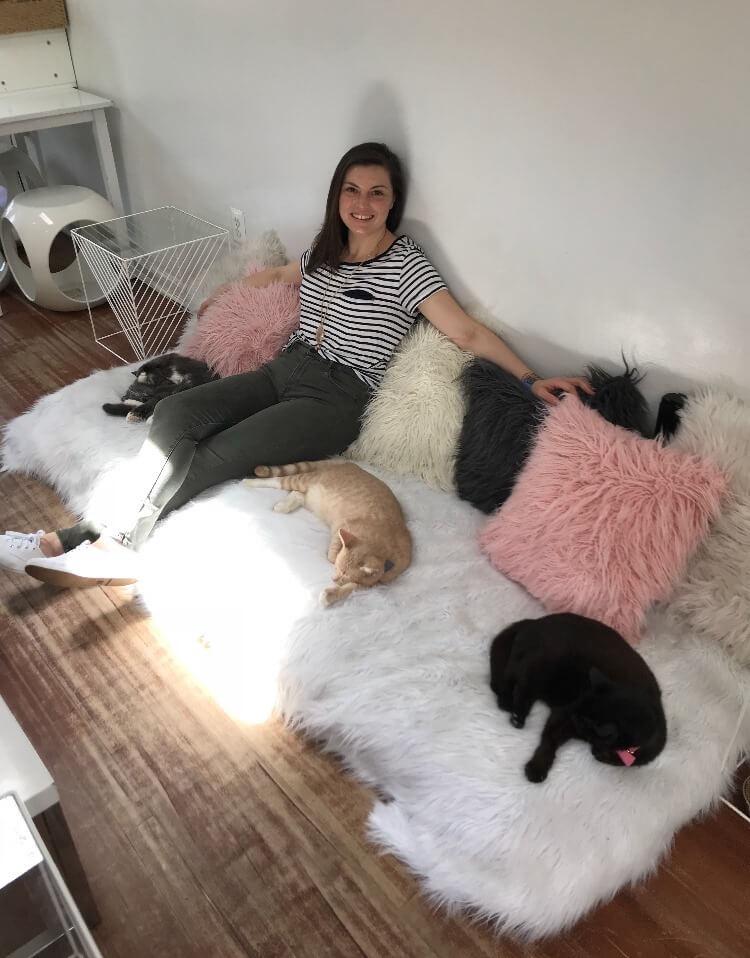 Crumbs & Whiskers: It is no secret that we love cats. And this spot is the place to go to snuggle with cuddly kittens and have a cup of coffee and a macaroon! Play with these adoptable cats, and perhaps fall in love!

Address: 3211 O St NW, Washington, DC 20007
Hours: Monday, Tuesday, Thursday, and Friday 1-8:25 pm. Saturday 11 am-7:45 pm. Sunday 11 am-6 :25 pm. Closed on Wednesday.
Pro-tip: Make a reservation, as this is a popular spot!

ENO Wine Bar: After all of those kitten cuddles it is time to have some wine at a fabulous wine bar in Georgetown! They have an extensive wine collection plus great cheese, chocolate, and charcuterie to pair it with!

Address: 2810 Pennsylvania Ave NW, Washington, DC 20007
Hours: Tuesday-Thursday 5-11 pm. Friday-Saturday 4 pm-12 am. Sunday 4-10:30 pm. Closed on Monday.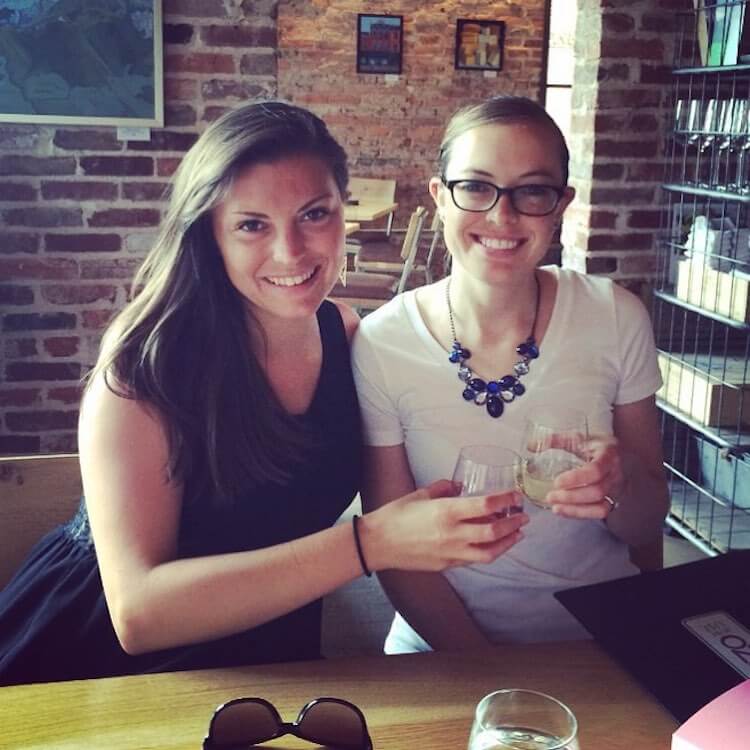 And if you're feeling like a food crawl, this one is a fun way to spend an afternoon eating at the best spots in Georgetown!
Aside from those great spots in Georgetown, this neighborhood has beautiful old houses, tucked away cobblestone streets, and plenty of great shopping from Lululemon to Anthropology. This whole neighborhood can easily fill up an afternoon!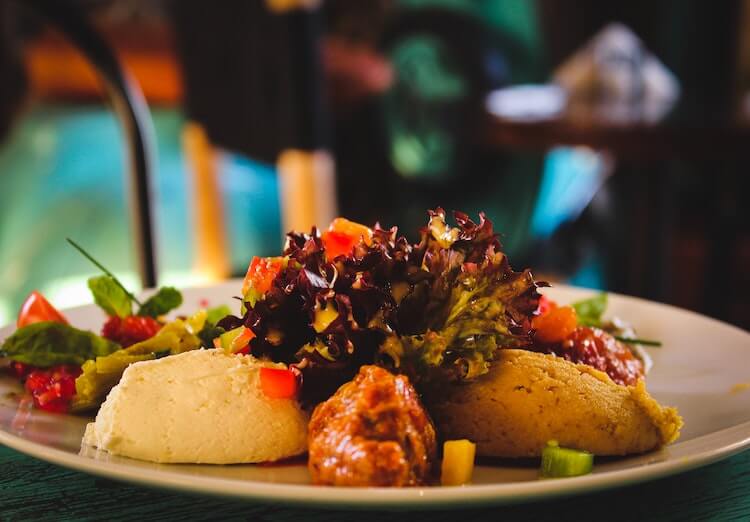 Dinner at Cava Mezze
This restaurant is definitely growing and expanding across the US with their fast-food Chipotle-style Mediterranean bowls, but they have a sit-down restaurant that is totally worth it for a great dinner. There are 5 of these locations but I really enjoy the one in Capitol Hill.
This spot not only has a fantastic wine list, but they also are known for their Mediterranean small plates. It is perfect for splitting with friends! Our favorite plates include the Dip Tasting with their delicious crazy feta dip, labneh, hummus, and babaganoush, the Spanakopita, and the Octopus.
But the most fun dish to order is by far the Saganaki. This fried cheese is flambéed in front of your eyes as they light it on fire and then extinguish it with lemon juice. The result: ooey-gooey cheesy perfection.
Address: 527 8th St SE, Washington, DC 20003
Hours: Monday-Friday 11:30 am-2:30 pm, reopens from 5 pm on Monday-Thursday and 3 pm on Friday until 10 pm. Saturday 10 am-10 pm. Sunday 10 am-9 pm.
Day 3 of Your Washington, DC Trip Itinerary: Northern Virginia
After just 2 days in DC, you've covered much of the city itself including some cool neighborhoods, historical museums, and plenty of great eats. But if you have 3 Days in Washington, DC, you definitely need to check out Northern Virginia.
Just across the Potomac River, lies Northern Virginia with great cities like Arlington and Alexandria. So to wrap up your 3 day DC itinerary, let's explore what these places have to offer!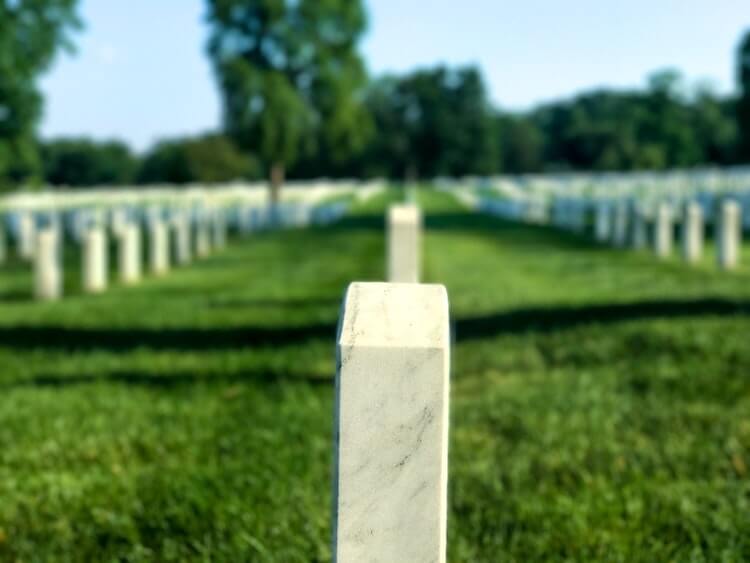 Arlington National Cemetery
Our nation's most famous cemetery, this military cemetery is proud and somber with white marbled stones covering rolling hills. There are sights like the Tomb of the Unknown Soldier, the Memorial Amphitheatre, and the John. F. Kennedy Gravesite with the eternal flame.
These are all significant areas of the massive cemetery, along with various memorials for lives lost in war, 9/11, and more.
And while you're there, you must see the Changing of the Guard at the Tomb of the Unknown Soldier.
Pro-tip: Bring your ID/Passport. Everyone 16 or older is required to have their ID on them to enter. Also, please remember to be quiet to show respect and keep a distance of funerals that may be happening.
Arlington Cemetery Address: Arlington National Cemetery, Arlington, VA 22211
Hours: April-September 8 am-7 pm daily. October-March 8 am-5 pm daily.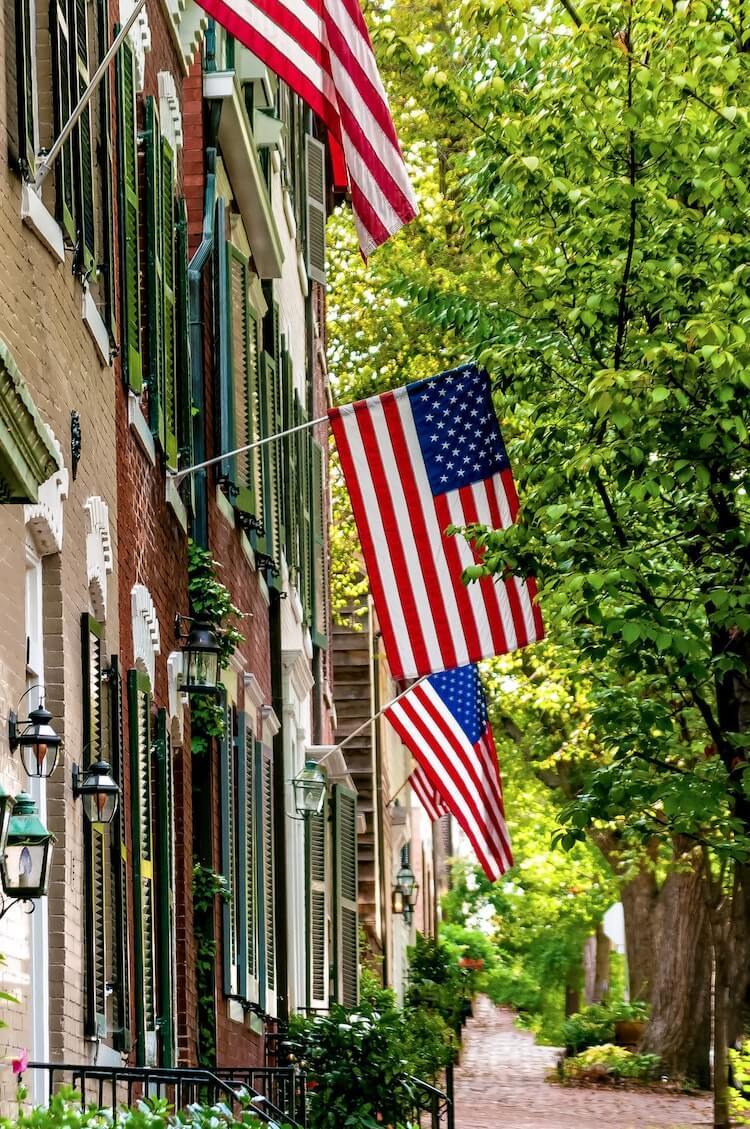 Old Town Alexandria
Alexandria is a historic part of DC that many people don't cross the river to see. It is definitely a cool spot to check out during your 3 day Washington, DC itinerary! Here are some of our favorite spots to visit:
King Street Mile: Ride the King Street Trolley, pop into various boutique shops, and perhaps grab an ice cream at Pop's Old Fashion Ice Cream Shop!
Go on a sightseeing cruise! The Potomac Riverboat Company launches from Alexandria and is a great way to see sights along the river like many monuments and perhaps cruise out to Mount Vernon!
Check out Old Town Alexandria's Historic Spots! Alexandria was home to many famous haunts of founding fathers like these:

Gadsby's Tavern Museum: Discover where George Washington dined including the first 5 US presidents. You can even dine at the restaurant or just visit the museum!

Address: 134 N Royal St, Alexandria, VA 22314
Hours: November to March: Wednesday-Saturday 11 am-4 pm. Sunday 1-4 pm. Closed Monday and Tuesday. Open until 5 pm April-October and opens at 10 am on Tuesday-Saturday
Admission: $5.

Carlyle House: Visit an 18th-century mansion built by one of Alexandria's founders.

Address: 121 N Fairfax St, Alexandria, VA 22314
Hours: Tuesday-Saturday 10 am-4 pm. Sunday 12-4 pm. Closed on Monday.
Admission: $5 for adults.

Christ Church: This beautiful brick church was built in 1773. It was partially funded by George Washington himself.
George Washington Townhouse: Even though Mount Vernon was only a few miles away, he had a spot in Alexandria. This smaller house was reconstructed and sits where the original once stood, and you can spot his bust in the window!

Go on a Ghost Tour: Being a historic neighborhood, there are bound to be a few ghosts! This ghost tour takes you around to haunted bars!

Price: $26.50 for adults.

Wander on the beautiful cobblestone and historical streets filled with row houses! Seriously they're everywhere.
After you've had your fill of Alexandria, it is time to check out a more modern thing to do in DC: head to breweries!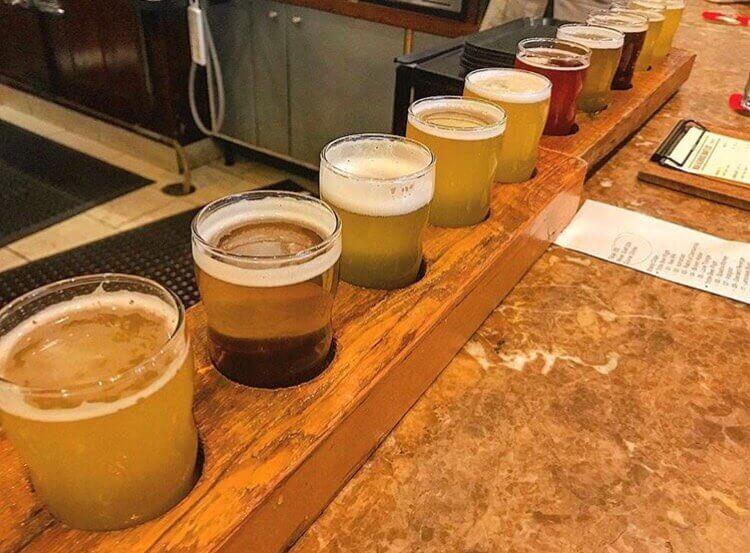 Brewery Tour
If you don't choose to go on the Ghost Tour, I highly recommend checking out this brewery tour of DC. If you don't know, DC has an incredible brewery scene! And this tour specifically takes you to 3 breweries where you'll have 12-16 tastings of delicious beer!
Brewery Tour Price: $70 without a meal or $99 with a meal. Both include transportation.
If you don't want to go on a brewery tour but want to check out some great spots on your own, here are a few of our favorites:
Hellbender Brewing Company: Love their Ignite IPA and their sour beers!

Address: 5788 2nd St NE, Washington, DC 20011
Hours: Wednesday-Friday 5-9 pm. Saturday 12-7 pm. Sunday 12-6 pm. Closed on Monday and Tuesday.

DC Brau: The biggest and most popular brewery in DC with great classics like their The Citizen Belgian-style ale or Joint Revolution Hazy IPA. They also make great hard seltzers.

Address: 3178 Bladensburg Rd NE, Suite B, Washington, DC 20018
Hours: Thursday 4-8 pm. Friday 3-11 pm. Saturday 12-8 pm. Sunday 12-6 pm. Closed from Monday-Wednesday.

Atlas Brew Works: This is a great spot to test out a few beers with their flights and definitely try the Blood Orange Gose.

Address: 2052 W Virginia Ave NE, Suite 102, Washington, DC 20002
Hours: Monday-Thursday 4-10 pm. Friday 4-11 pm. Saturday 11 am-11 pm. Sunday 11 am-10 pm.

Port City Brewing Company: Located in Alexandria, this spot always has something going on like food trucks, beer release parties, and more! Try their Optimal Wit, Port City Porter, or a seasonal like their Star Sailor white IPA.

Address: 3950 Wheeler Ave, Alexandria, VA 22304
Hours: Monday-Wednesday 4-9 pm. Thursday 4-10 pm. Friday 3-10 pm. Saturday 12-10 pm. Sunday 12-8 pm.
After these exciting 3 days in Washington, DC, this wraps up your DC itinerary! After having visited over a dozen times in the last several years, this definitely is the best way to spend a long weekend in DC!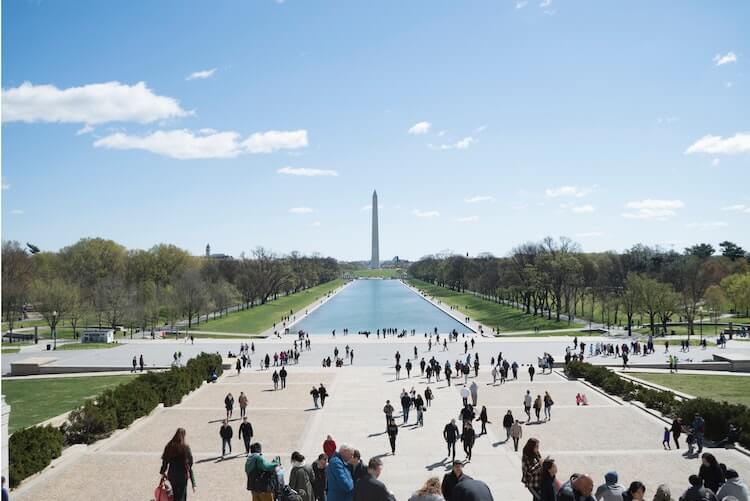 Summary of the Itinerary
To sum up your Washington, DC itinerary, here it is in list form:
Day 1: Monuments, Museums, Speakeasy
Bike along the monuments and Tidal Basin
Daikaya for ramen
Explore 1-2 museums along the National Mall
See the Capitol Building and White House
Dinner at Pearl Dive Oyster Palace
Drinks at Allegory
Day 2: Explore Georgetown
Brunch at Agora
Explore the shops, cafes, and wine bars of Georgetown
Dinner at Cava Mezze
Day 3: Visit Northern Virginia
Remember those lost at Arlington National Cemetery
Wander the historical buildings and fun streets of Alexandria
Go on a brewery tour or have a beer or two on your own
Perfect 3 Days in Washington, DC Itinerary Map
Best Day Trips From DC
If you happen to have 4 days in DC, or you'd prefer to take a day trip instead of exploring an area of the city, here are a few great ones to choose from:
Mt. Vernon. The former home of George Washington, this farm is massive with a gorgeous estate overlooking the Potomac River and has plenty of history. Take a day trip to Mt. Vernon to learn more.
Northern Virginia Wineries. Love wine? Northern Virginia has so many great vineyards to explore!
Shenandoah National Park. If you love hiking and want to explore a national park, Shenandoah isn't too far for a great day trip in nature.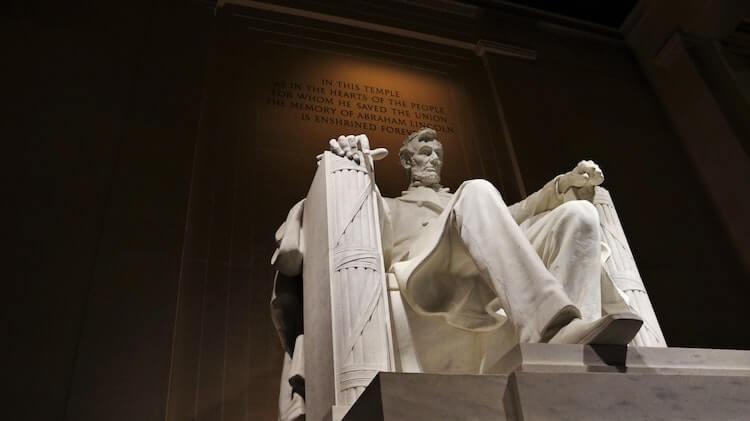 Where to Stay For 3 Days in Washington, DC
When it comes to where to stay in DC, if you are looking to save money, hotels outside of DC in the Northern Virginia area tend to be much more affordable.
Here are some great hotels around the DC area based on your budget that would be perfect for 3 days in Washington, DC:
Budget: Crowne Plaza Crystal City
Crowne Plaza Crystal City is a great option. Just across the river from DC, you can hop on the metro and be downtown in no time! This hotel also has free airport transportation, a fitness center, a pool, and clean and comfortable rooms. Prices are around $110 per night.
Read reviews on TripAdvisor and book!
Mid-Range: The River Inn
Close to many notable spots in DC like Ford's Theatre, the White House, and Georgetown, this hotel is chic and beautiful with great views of the city and river. Prices start at $170 per night.
Read reviews on TripAdvisor and book!
Luxury: The Hay-Adams
Elegant and sophisticated, this luxury boutique hotel feels more like a decadent mansion with gorgeous bedrooms, great views overlooking the city, and a charming bar/lounge. Prices start at $350 per night.
Read reviews on TripAdvisor and book!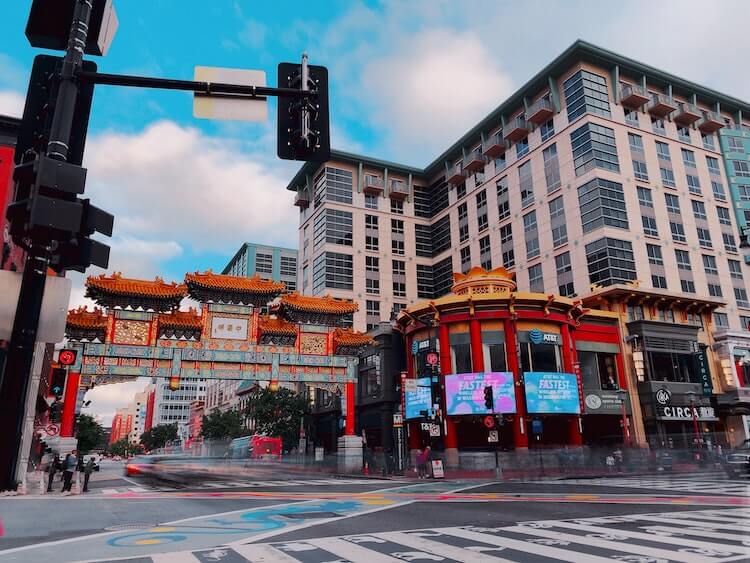 Things to Know Before Your 3 Days in DC Itinerary
Now that you know the top things to see in Washington, DC in 3 days, let's talk about some tips for visiting this capital city.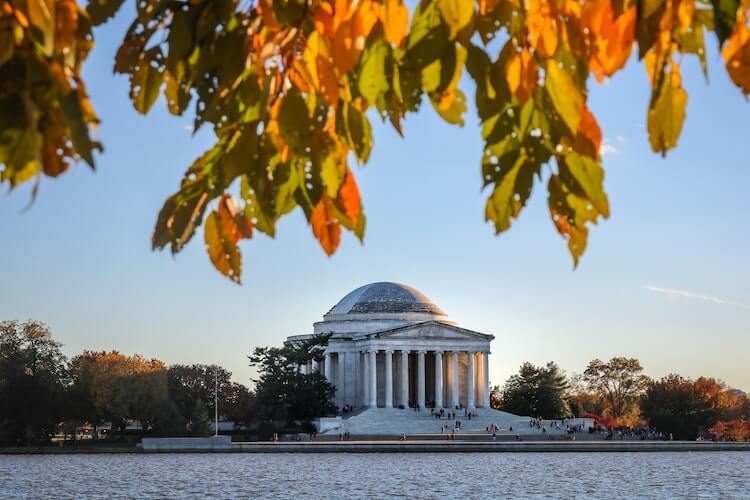 What to Pack for Your Trip
As you may know, we pack carry-on only on our trips! And when it comes to a 3 day trip to Washington, DC, it is no exception. Here are some of our go-to packing items for DC.
Comfortable shoes are a must. I love Keds during the warmer months or my Rainbow flip flops and these water-resistant boots for winter.
Sundresses are always fun to wear as well as shorts and cute tops in the summer. In the winter, jeans and layers are key. Pack 1-2 pairs of jeans and 2 cute tops and a sweater to mix and match during your 3 days in DC.
Definitely pack a jacket for winter. Most of the year, you can get by with a sweater on cooler nights, but in the winter, I always wear my parka by The Northface.
Don't forget gloves, a scarf, and earmuffs during the cooler months as well.
To prevent chafing in the summer, I always bring Body Glide. And as mosquitos can be bad, some Badger Balm natural repellant is a good idea.
For taking great photos, I love using my iPhone with these awesome iPhone lenses and this lightweight tripod to get great shots of us!
If you want to pack carry-on only, then we love the Osprey backpack and I swear by these packing cubes to get my stuff organized!
Those are the basics of what to bring to DC during your trip!
After spending three days in Washington, DC, you'll have seen the main sights, tried the delicious food and drinks, and explored some unique areas around the city. We hope you enjoy your time in DC!
Want more USA content? Check these posts out:
What tips do you have for 3 days in Washington, DC? Would you visit Washington, DC in 3 days?
Pin it here!