Some posts on this site contain affiliate links, meaning if you book or buy something through one of these links, I may earn a small commission (at no additional cost to you!). Read the full disclosure policy here.
---
Can't get to Europe anytime soon? While that may be a bummer, there are actually plenty of places in the US that look like Europe! That's why we created a list of the most European cities in the United States of America! No passports required.
From sleepy alpine villages to bustling and vibrant cities, these are the most European cities in the US.
The Most European Cities in the United States of America
Whether you're dreaming of visiting Paris or hiking in Scotland, we've got all of the best US cities that look like Europe!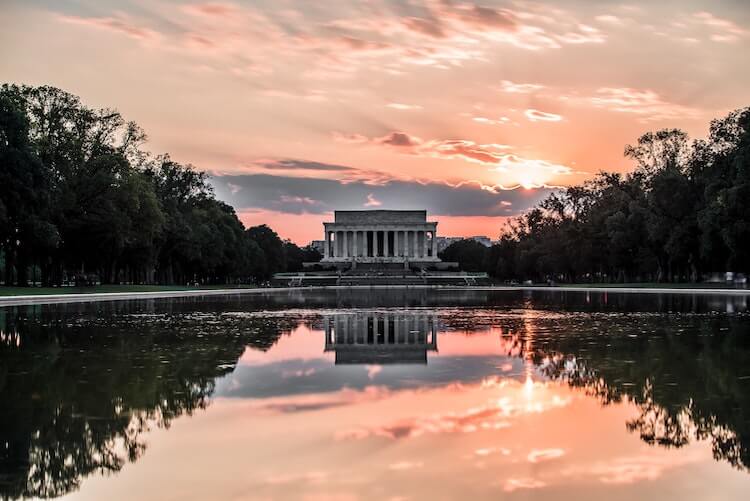 1. Dreaming of Paris? Washington, DC may have you covered!
If you've ever visited Paris or DC and noticed a resemblance, that isn't a far-fetched idea. Pierre Charles L'Enfant, the city planner for DC way back when, was born in France after all!
But it isn't just the streets that look like Paris! The sidewalk cafes in DC are perfect for people-watching while sipping wine, there aren't crazy high skyscrapers, and even the Georgetown area along the canal vaguely resembles Canal Saint Martin in Paris.
Combine all of this with an incredible food scene and charming architecture and you can certainly see a little bit of the "City of Lights" in the nation's capital.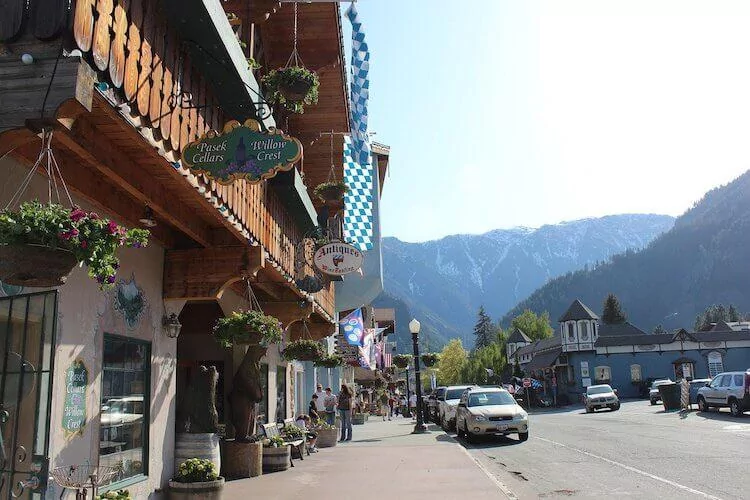 2. Leavenworth, Washington is One of the Most European Cities in the United States of America
If you are more in the mood for scenic mountain views, drinking a liter of beer at a biergarten, or enjoying the charm of adorable Bavarian chalets then it is time you visited Leavenworth in Washington!
This alpine-esque town is worth a visit year-round, whether it be for skiing and sleigh rides in the winter or hiking and tubing in the summer. The downtown area looks something out of a German Bavarian fairytale village like Fussen, and they've got biergartens and places to get bratwursts as well.
And just like Germany, this place has a vibrant Oktoberfest and Christmas festival that'll have you feeling like you've stepped into a small town in Bavaria.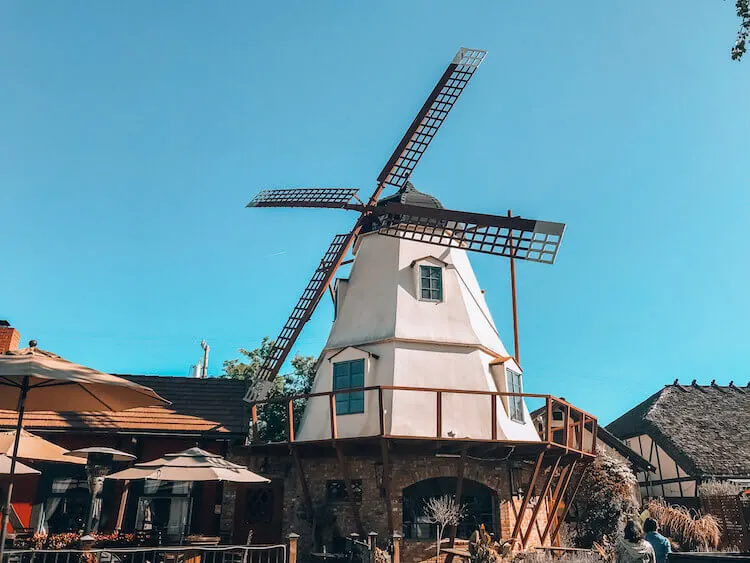 3. Dreaming of Denmark? Visit Solvang, California
"A Slice of Denmark in Southern California," Solvang is known as the Danish town in California. And this isn't a coincidence; it was founded by Danish immigrants.
While of course, this Santa Barbara County town has plenty of wine bars to imbibe in, there are also charming windmills and pastry shops creating those world-famous danishes. There are also the most adorable Danish buildings too!
From hotels to boutique shops, you'll enjoy wandering around this beautiful town in sunny California. Be sure to spot the copy of the Little Mermaid Statue and some wooden shoes! This is an easy day trip from Los Angeles too!
---
Read more about California:
---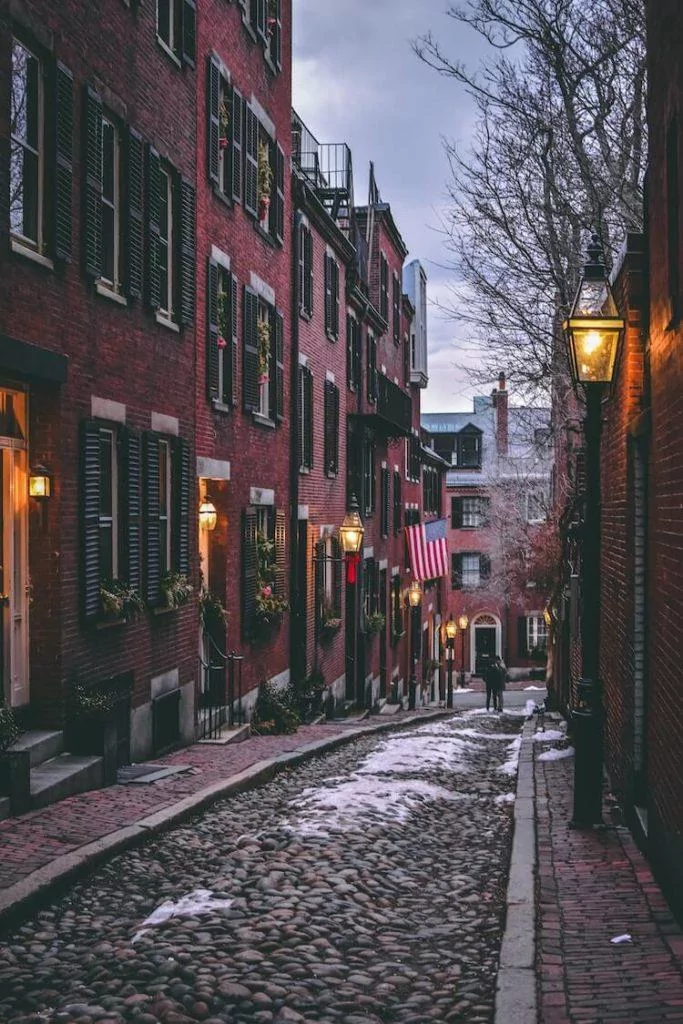 4. Boston Is a Must-See of the Most European Cities in North America
It comes as no surprise that Boston is on this list, as this was a place that many Irish immigrants moved to. And while it may not look like Dublin per se, it definitely has a European vibe.
Maybe it is the historical colleges, famous sights like the Old North Church, The Freedom Trail, the Old South Meeting House, or the beautiful harbor, but walking around the historical part of Boston certainly feels like a small slice of Europe.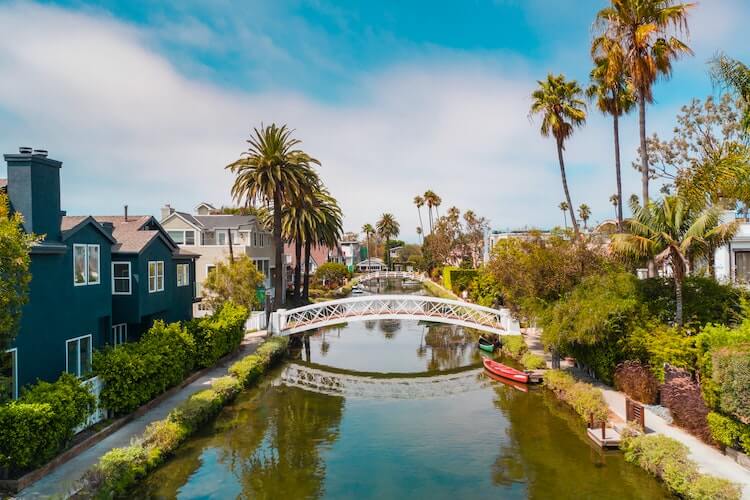 5. Venice May Look Like Venice
If you can't make it all the way to Venice, Italy, then a trip to Venice in California may just do the trick.
Wander along the 4 canals that measure about a quarter of a mile each. Take photos along bridges, and pretend like you're in the famed Italian city. Admire the houses along the canals and watch the kayaks go past.
Sure, it definitely isn't the exact same as Venice, Italy, but it'll do in a pinch. Plus, then you can go to the beach after!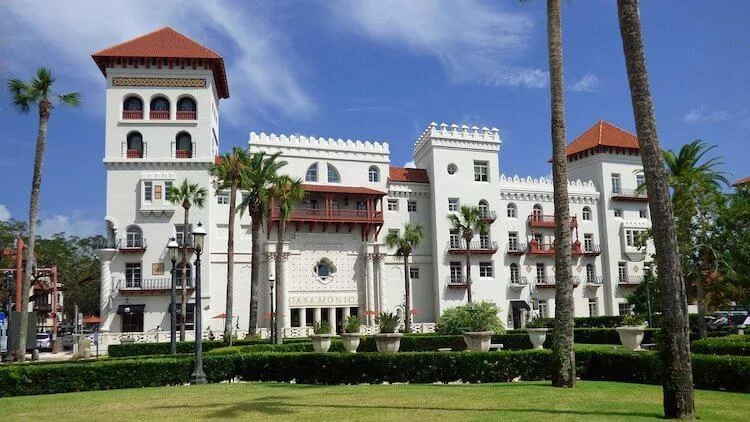 6. St. Augustine, Florida Resembles Spain
Founded in 1565, the oldest continuously inhabited city in the continental US certainly looks more European than anything else. That's because it was founded by the Spanish.
This makes sense as you walk around elaborate fountains, colorful buildings, an old fort, and Mediterranean-influenced architecture. It certainly has a look and feel of many southern Spanish cities like Cadiz or Seville!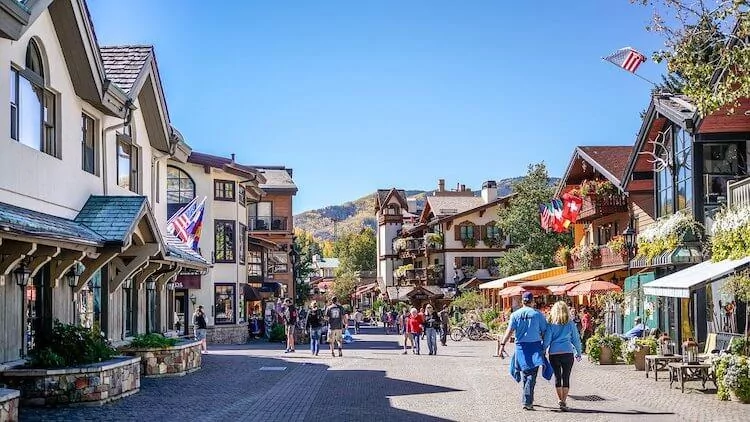 7. Vail, Colorado is the Alpine Village of Your Dreams
Dreaming of a vacation to the Alps but can't get away there just yet? Vail, Colorado may be the perfect place to stay instead. This mountain town is perfect for skiing in winter, hiking in summer, and has charming chalets that'll make you feel like you're having some delightful apres-ski in Europe!
Admire the beautiful architecture of this European-esque American city as you partake in delightfully tasty European cuisine like spaetzle, bratwurst, and even Hungarian goulash soup.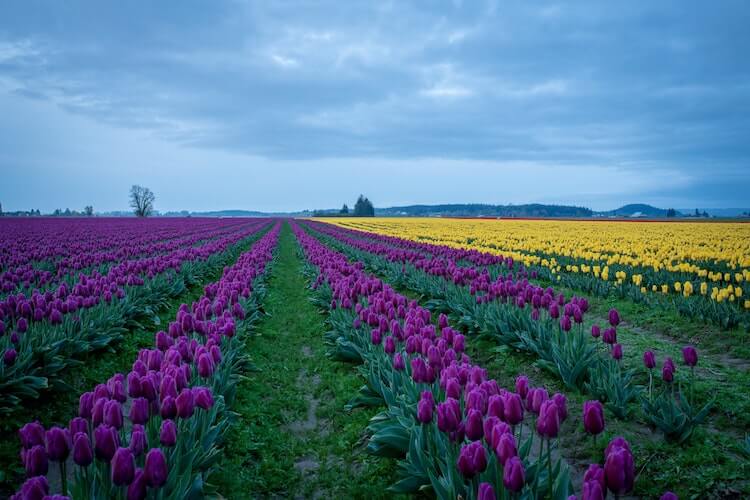 8. Skagit Valley, Washington Has All the Tulip Fields
While the tulip fields of The Netherlands are optimal for all the Instagram-worthy shots, it certainly isn't the only place to see these stunning blooms!
Skagit Valley is well-known for their flowers including daffodils and tulips. So if you can't get to Keukenhof Gardens in Lisse, you can certainly opt to frolic amongst the tulips in Skagit Valley during the spring!
You can even take a day trip here from Seattle!
9. New Glarus, Wisconsin is One of the Most European Cities in the United States of America
For starters, a stop in this town is well worth it for one of the best beers in the country: Spotted Cow created by New Glarus Brewing Company. However, another fantastic reason to visit New Glarus is that it is known as America's Little Switzerland!
Having a strong Swiss heritage, it is easy to see why so many swiss chalets dot the scene in this town. There is even a Swiss Historical Village and Museum where you can learn more about the town and its history.
But aside from the beer and chalets, you'll want to eat some tasty Swiss alpine classics like raclette and fondue at the New Glarus Hotel Restaurant and European pastries at New Glarus Bakery!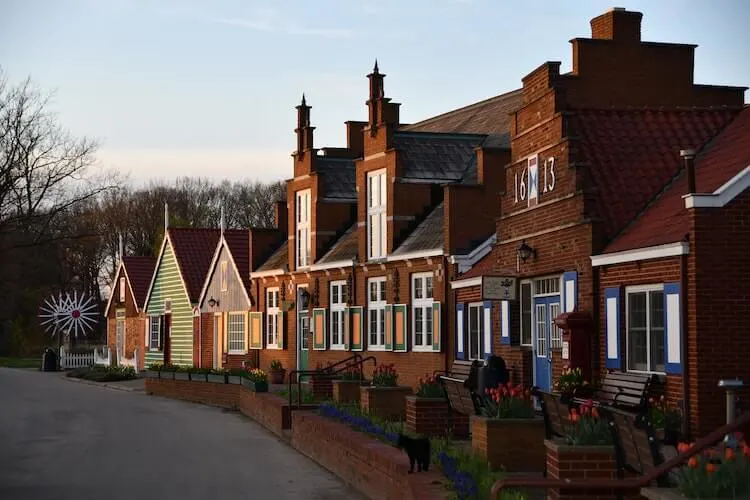 10. Holland, Michigan
Similar to Skagit Valley, Holland, Michigan looks a lot like the area for which it's named! They even have tulip gardens similar to Keukenhof called Veldheer Tulip Gardens, and you can even visit a charming little windmill at Windmill Island Gardens.
After being enchanted by the spring flowers, maybe take a boat ride on Lake Michigan or visit the charming Nelis' Dutch Village for more Netherlands-style architecture. It is one of the most European cities in the United States of America you cannot miss!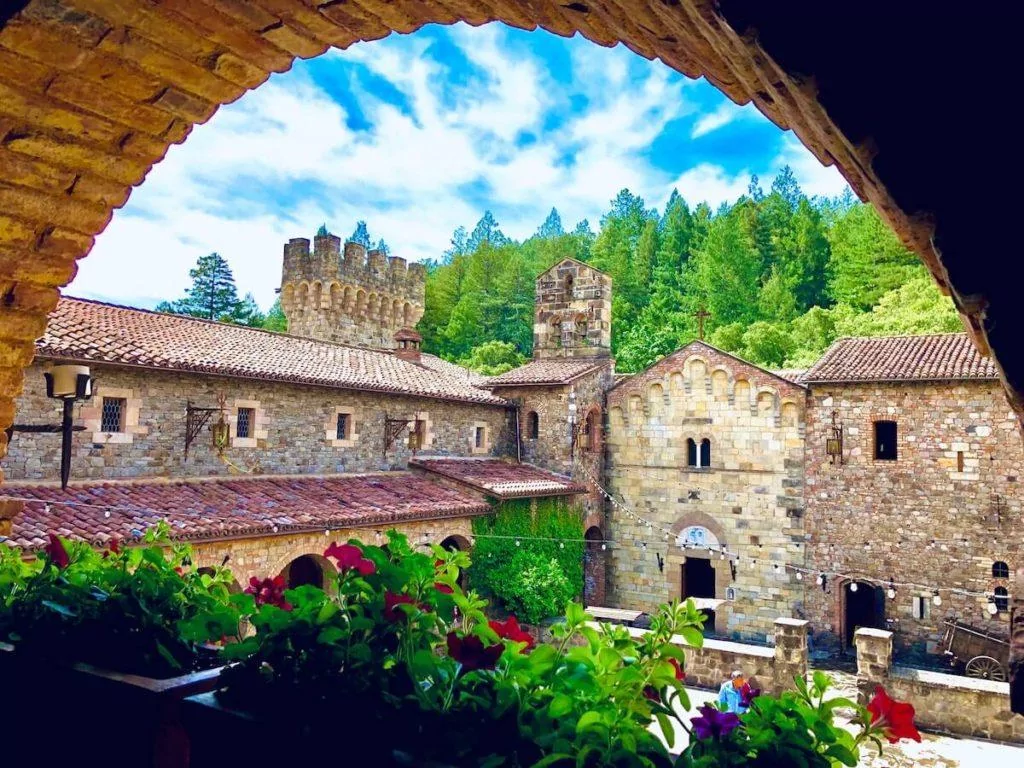 11. Calistoga May Just Be Tuscany in California
Imagine tasting delicious and robust wines while wandering along old vineyards, gorgeous castle-esque estates, Renaissance-inspired art, and even eating some tasty Italian dishes. Nope, you're not in Tuscany, you're in Calistoga, California, a town in the heart of Napa Valley.
Peruse Ca'Toga Galleria D'Arte for that Italian-inspired art, sip wine at Castello di Amorosa or Chateau Montelena, and take in the beautiful vineyard views and you may just forget that you're still in the US!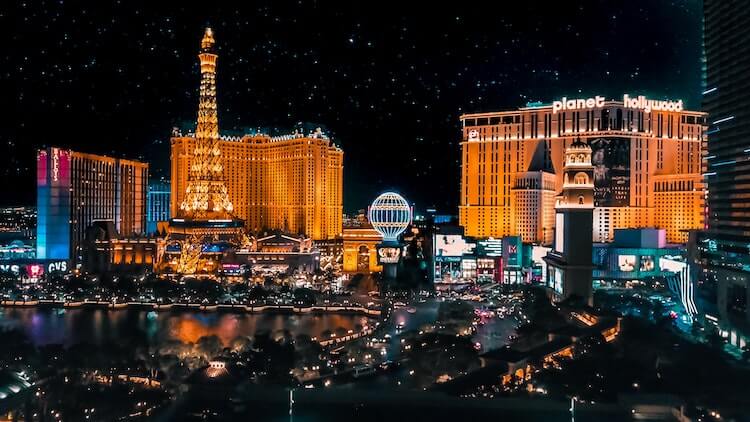 12. Can't Explore the Charms of Europe? Vegas Has You Covered
Dreaming of admiring the Eiffel Tower? What about cruising along the canals of Venice? Or can't make Oktoberfest in Germany? Vegas pretty much has it all wrapped up with a glitzy bow for you.
Visit the Venetian for a dreamy gondola ride, watch the Eiffel Tower sparkle at night at the Paris Las Vegas Hotel & Casino, and pop over to Hofbrauhaus for a stein (or two) to visit a piece of Europe in one day in Vegas.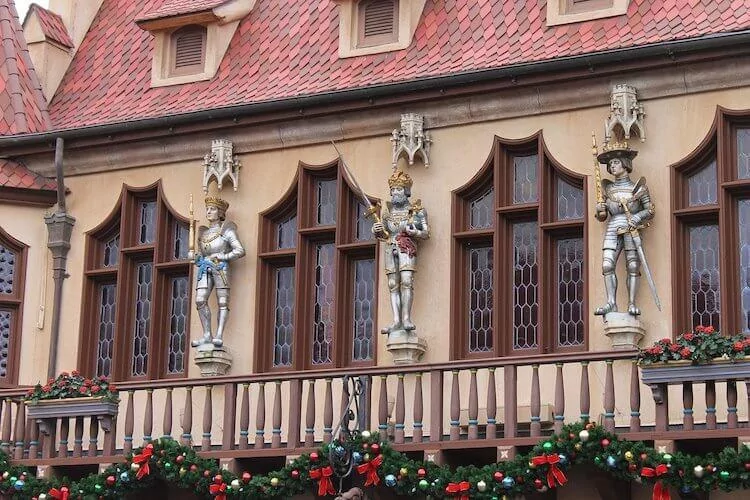 ---
Read more USA content:
---
13. Travel to Europe at Epcot in Orlando
The happiest place on Earth has quite a few European destinations in the USA too! Aside from going on iconic rides or visiting for exciting events like the Disney World Marathon or the Epcot Food & Wine Festival, you definitely want to check out the World Showcase!
Have a pint and fish and chips in the United Kingdom, grab a tasty pastry at Les Halles Boulangerie-Patisserie and a glass of wine in France, eat gelato and sip sparkling wine in Italy, drink a grapefruit hefeweizen and delight in a pretzel in Germany, and have a school bread (cardamom bun stuffed with vanilla custard and topped with coconut and glaze) and a shot of aquavit in Norway.
Don't forget to ride the Frozen Ride! I can't think of a more perfect way to enjoy the best of Europe in one place!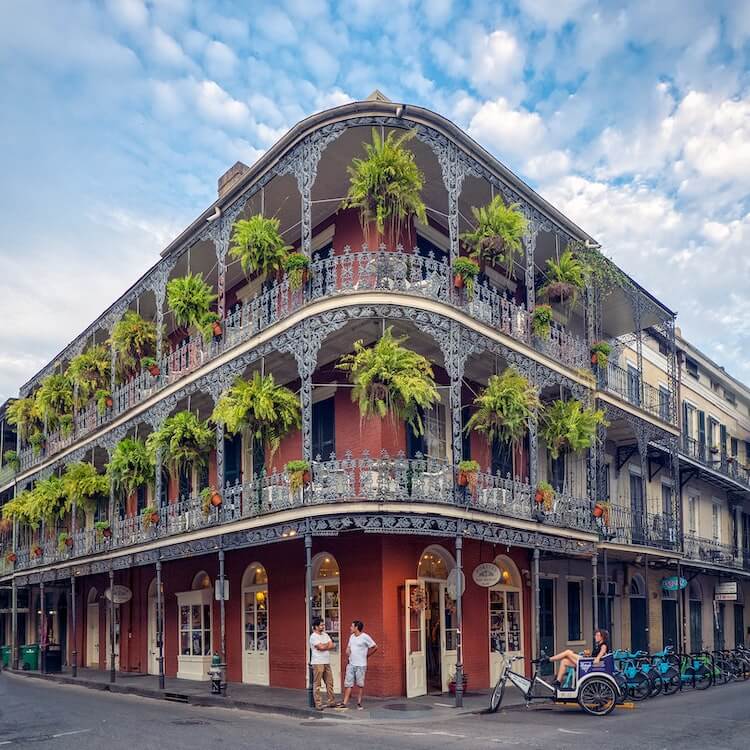 14. New Orleans
New Orleans certainly has its own personality and feel, but in a way, it has a European-like charm from the French Quarter to Jackson Square. I mean it certainly has a long and rich history much like many European cities, but it was occupied by the French and Spanish for a time, thus the European influence.
Enjoy charming and colorful buildings, dreamy architecture around the city, and almost feel like you've been transported to some hot city in southern Spain or France. Explore it with a day tour of the city!
15. Montpelier vs. Montpellier
Speaking of France, this city looks like its French counterpart of the same name only in a subtle way. However, the countryside outside of Montpelier is dreamy and certainly resembles that of the French countryside.
In the city itself, there are some lovely buildings that have the same charm as any French village would too! Plus, Vermont is a charming destination to visit in the fall!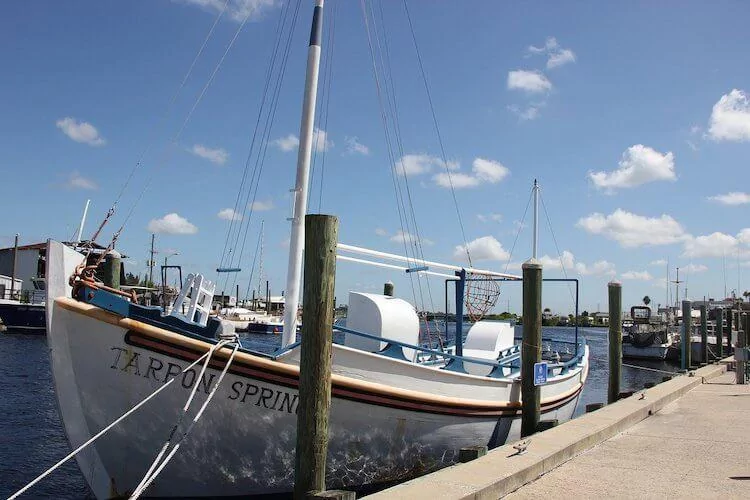 16. Tarpon Springs, Florida or the Greek Isles?
Greek food, fishing boats dotting the shore, and you may even hear a local or two speaking Greek. So… is this Greece? Nope, you're in Tarpon Springs, Florida.
This place is where many Greek immigrants moved to back in the early 1900s, and they brought their boats and culture with them. Smell the gyros in the air as you wander past eateries like Mr Souvlaki or taste some delicious baklava from Hellas Bakery.
Watch the fishermen come in with their fresh catches, or just enjoy some beach time. Close your eyes and you may think you're in Greece.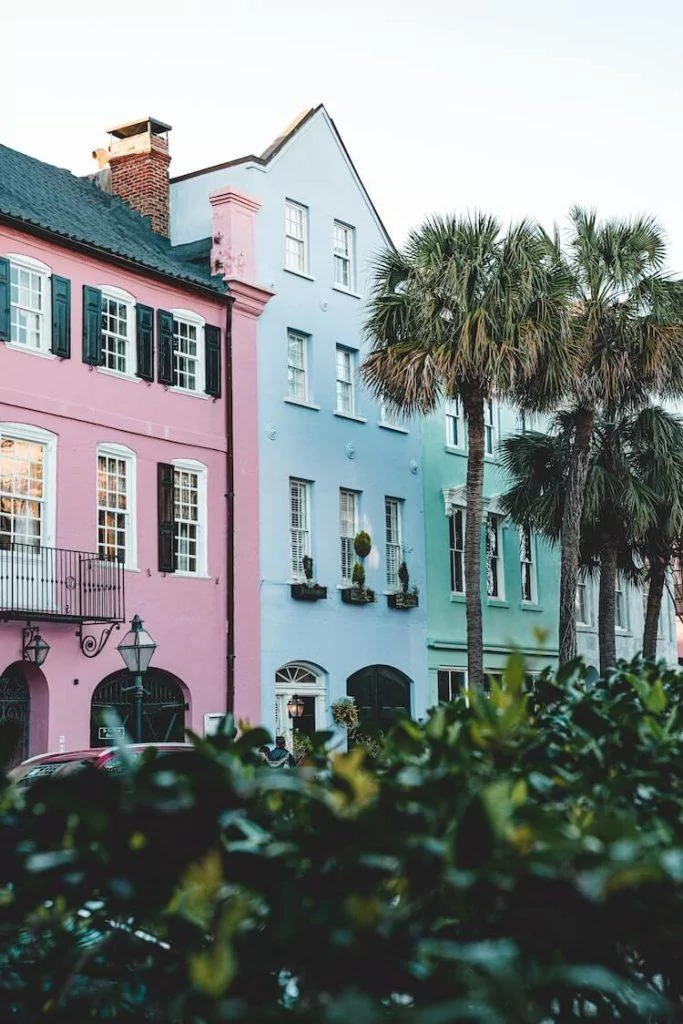 17. Charleston, South Carolina Has the Charms of Europe
This popular bachelorette party locale is bright, colorful, and lively! However, it has that European vibe, from architecture dating back to the 1600s to cobblestone streets.
It certainly is one of those cities that look like Europe. Even the buildings have that warm, Mediterranean vibe! Take a carriage ride about town to take in the history and charm!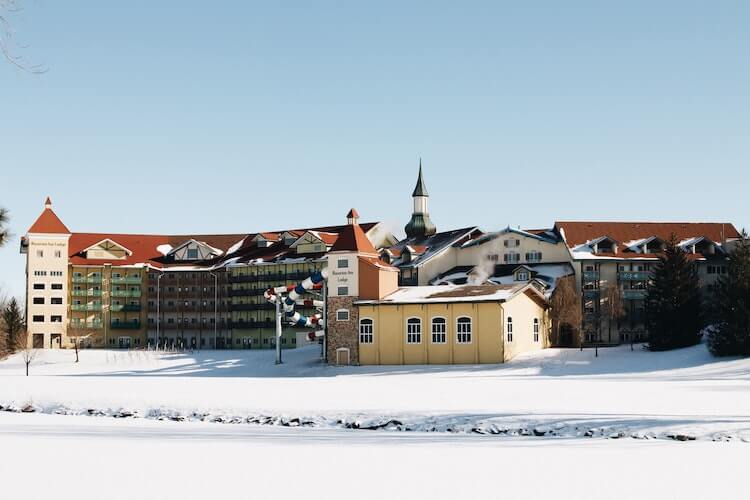 18. Frankenmuth, Michigan is Little Bavaria
Known as being "Little Bavaria" you can certainly see the German heritage of this quaint, smaller town. Ride on the riverboat past beautiful Bavarian-inspired buildings, go shopping in charming boutiques and a Christmas store, and even take a carriage ride through town!
Oh, and if you want to partake in Oktoberfest, this is the place to do it! Bring the lederhosen and Prost!
---
Explore more of the USA:
---
19. Columbus's German Village Makes It One of the Most European Cities in the USA
While Columbus, Ohio certainly looks like any major metropolitan city, there is a small neighborhood that has all of the charms of Germany. German Village has the cutest shops, traditional Bavarian restaurants, like Schmidt's Sausage Haus, and wonderful cobblestone streets.
If you want to forget that you're in a big city for a minute, this German neighborhood is the perfect place to eat some German food and find German crafts.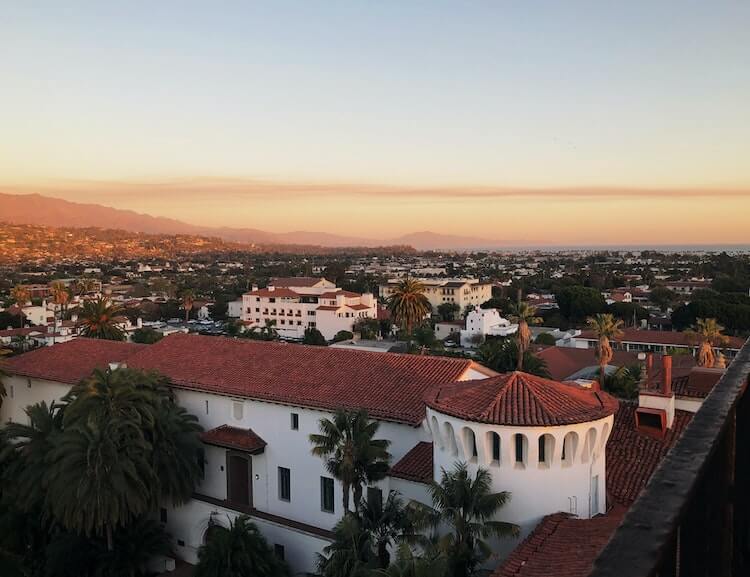 20. Santa Barbara is the USA's Riviera
You don't have to go far to feel like you're on the Mediterranean coastline. Santa Barbara in southern California certainly has the Mediterranean vibes from the dreamy Our Lady of Sorrows Church to the picturesque coast. The Spanish colonial heritage is obvious in this town.
It doesn't hurt that this is a great place for wine and food! Admire the red-tiled roofs and enjoy the Santa Barbara Pinot Noirs as you get that perfect European vibe.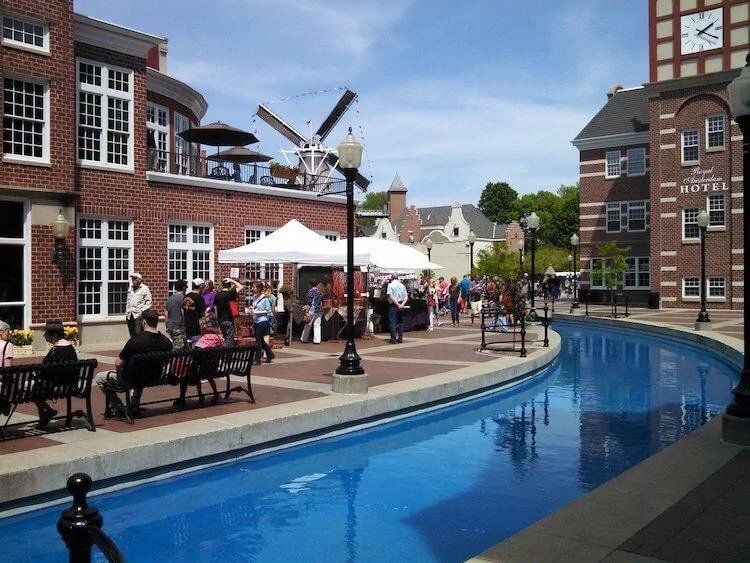 21. Pella, Iowa Brings the Tulips and Windmills
Who knew there were so many towns in the US with windmills? And tulip farms? Pella, Iowa is another on the list where many Dutch immigrants moved to. Because of this heritage, they have Vermeer Mill windmill, the charming Molengracht Plaza surrounded by Dutch architecture, and gardens and parks full of tulips in the spring!
Plus, you'll want to enjoy their Tulip Time Festival each May to celebrate these blooms and the town's Dutch history.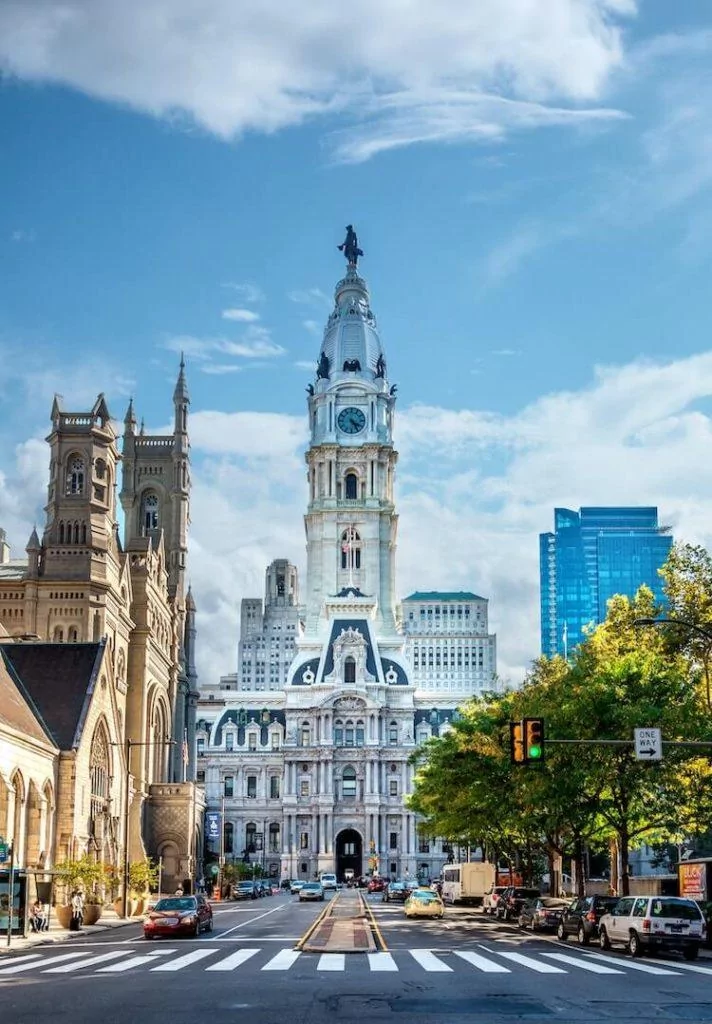 22. Philadelphia's Rich History Brings a European Feel
A historical US city with those cobblestone streets, old brick buildings, and iconic sights, Philadelphia certainly gives off a more European feel.
The Philadelphia Museum of Art looks like a Greek temple, Philadelphia City Hall could almost resemble Grand Place in Brussels, and the old city even has beautiful red brick buildings that could be mistaken for any old street in London.
Take in a Philadelphia Constitutional walking tour!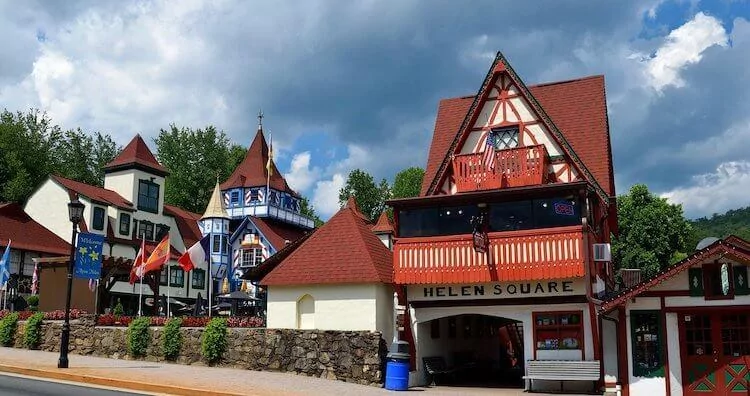 23. Helen, Georgia Could Almost Be a Bavarian Town
Helen Georgia is unique in that every building has to resemble Bavaria. So this charming town has that perfect German alpine town feel. It's also nestled in the Blue Ridge Mountains, making it feel even more authentic!
Enjoy the bakeries, restaurants, and biergartens of Helen itself before hiking around the Blue Ridge Mountains!
24. Chicago at Christmas Feels Like Germany
While I highly recommend a visit to Europe for the Christmas markets, if you can't make it there, Chicago has the German Christmas market of your dreams!
German Christmas markets are truly magical, but the Christkindlmarket in Chicago is massive and is complete with those delightful wooden huts serving mulled wine, pretzels, gingerbread, and more! The Christkindlmarket in Chicago is also modeled to look like the one in Nuremberg!
You can also go ice skating in various places throughout the city, similar to larger Christmas markets in Germany like the large skate rink in Cologne at Alter Market.
Do the Chicago Christmas market like a local on this walking tour.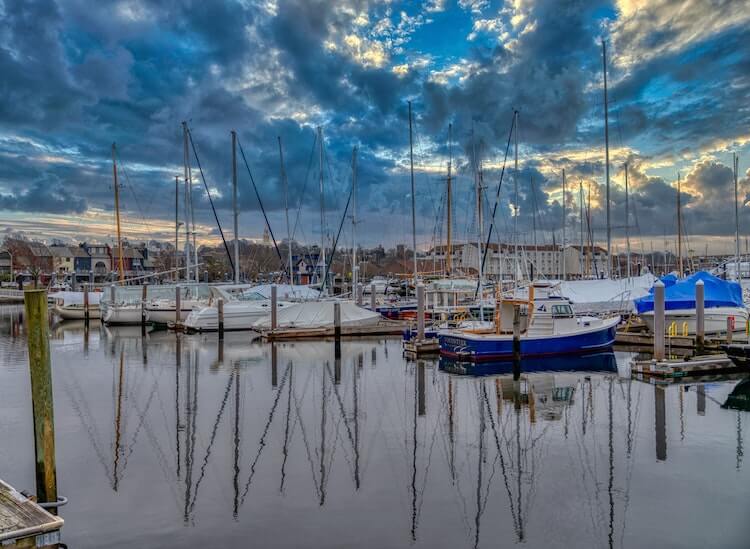 25. Newport, Rhode Island is Paradise for Those Who Dream of Southern France
Expensive yachts and gorgeous sunsets aren't just reserved for the rich and famous in the south of France. Newport, Rhode Island boasts lovely boats, a gorgeous waterfront path, and plenty of places to get fresh seafood much like its European counterpart.
Just for Fun: 3 Adventure US Destinations that look like Europe!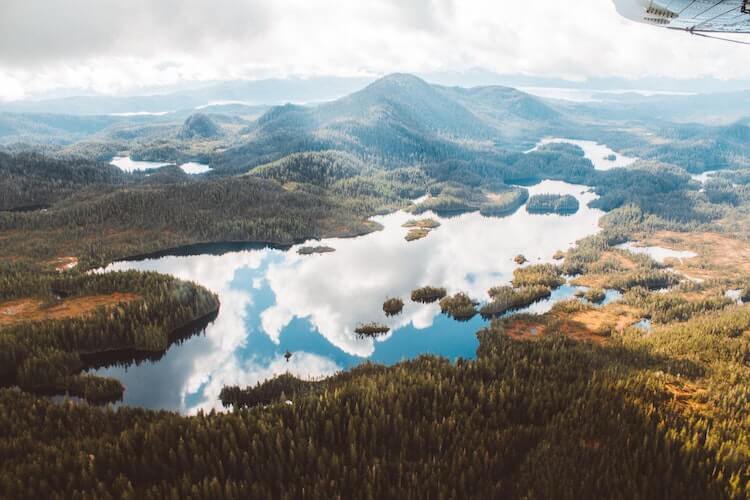 26. Ketchikan vs. the Fjords of Norway
Stunning fjords and glacial valleys are frequent points of interest in both Ketchikan, Alaska AND the fjordlands of Norway!
Plus, both places are ideal for hiking, kayaking, and all things adventure!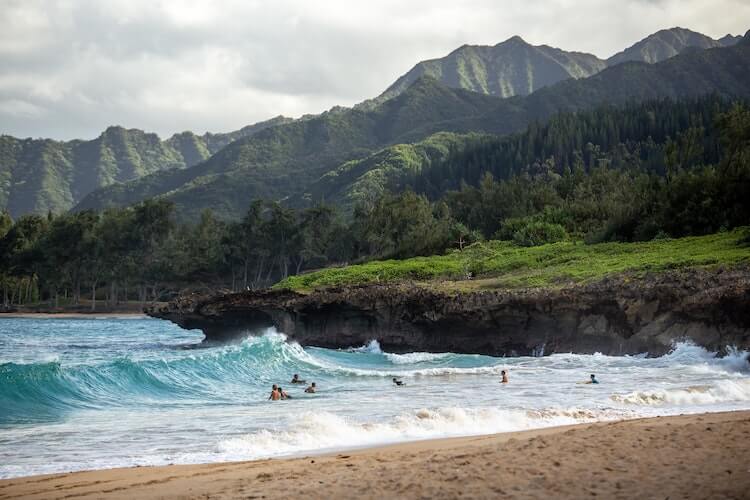 27. Hawaiian Islands or the Azores
Often referred to as Europe's answer to Hawaii or the Hawaii of the Atlantic, the Azores are a dreamy island chain off the coast of Portugal with pristine beaches, lush green forests, and romantic waterfalls.
Hawaii certainly has all of these things, making it an ideal US destination to travel to that certainly looks a lot like this European gem.
28. Grayson Highlands State Park Has All the Highland Charms of Scotland
Grayson Highlands State Park in southern Virginia could easily be mistaken for the Scottish Highlands with the rolling hills, rocky cliffs, misty valleys, and lots of greenery.
Plus, while Grayson Highlands may not have those adorable hairy coos, they certainly have equally cute wild ponies!
What are the most European cities in the United States of America in your opinion? Which would you most like to visit?
Pin it here!