Some posts on this site contain affiliate links, meaning if you book or buy something through one of these links, I may earn a small commission (at no additional cost to you!). Read the full disclosure policy here.
---
Looking for the best fall vacations in the US? Look no further! Whether you're searching for the best places to go on holiday in October for fall foliage or romantic getaways, we've got all the best fall destinations in the US you're searching for!
If you want to hike in a national park, visit a charming town, or indulge in delicious autumn comfort food, these October vacations in the US are ideal for any fall getaway!
32 Best Fall Vacations in the US
When it comes to best places to visit in October in the US, or anytime during the fall, these are hands-down the top 32 to add to your list.
1. Portland, Maine is One of the Best Fall Vacations in the US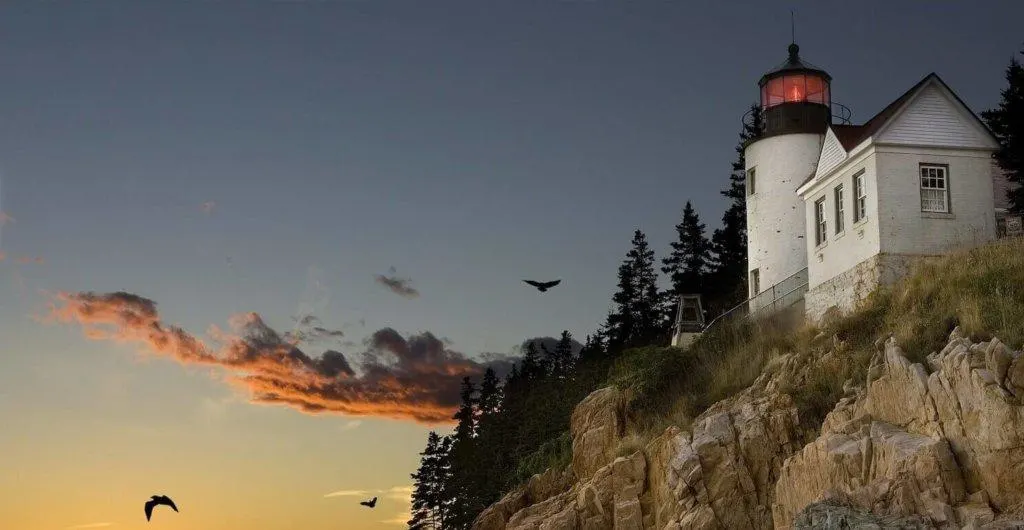 Portland, Maine is one of the best places to visit in the US for fall! With delicious food, an incredible beer scene, and many islands to explore, this coastal city has it all. Oh, and did I mention the fall foliage is incredible?!
Take a delightful beer and alcohol tour to take in the city's best drinks, visit the dreamiest lighthouses, and grab some oysters and lobster rolls at Eventide Oyster Co. Then stroll along the harbor and take a ferry out to an island to see some of the most colorful leaves. Plus, if you visit in October, you can check out the Harvest on the Harbor festival!
Portland is also the perfect place to start out your trip around Maine! Definitely head to Acadia National Park for incredible hiking and more stunning fall foliage in the area.
We all know that the New England area of the USA has some of the best fall vacation spots around, but Portland, and Maine in general, certainly takes the cake for its true beauty with gorgeous lighthouses, harbors, and, of course, that fall foliage.
2. Burlington, Vermont is a dreamy place to visit in October in the USA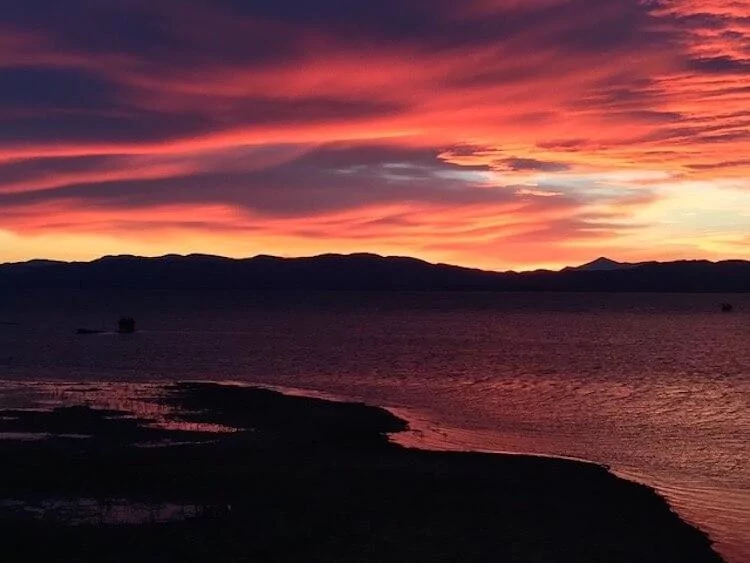 Take the fabled foliage of New England and add in a Lake Champlain sunset and you have ample reason to escape to Burlington, Vermont in the fall. Burlington is the largest city in Vermont and boasts a vibrant art and food scene.
Foodies will enjoy the many restaurants using locally sourced ingredients. And with more breweries per capita than any other state, sampling craft beer in Burlington is a must.
To check out the downtown, grab an ice cream cone from the iconic Ben and Jerry's shop and stroll the pedestrian mall of Church Street. With its unique stores, street performers, and restaurants with outdoor seating, you can make spend a whole afternoon there.
Or if you are looking for something more active, rent a bicycle on the Burlington Bike Path. You can pedal along the waterfront with expansive views of the Adirondack Mountains across Lake Champlain.
To admire the spectacular foliage, head over to Ethan Allen Park. Hike up to the tower to see a mosaic of reds, yellows, and oranges in the trees below your feet.
Just make sure you make it back to Waterfront Park for the grand finale of a Lake Champlain sunset. The golden light that melts over the water as the sun disappears confirms that Burlington is a special place to visit in the fall in the US, especially for a Vermont honeymoon!
Submitted by Karen Warren at Outdoor Adventure Sampler.
3. San Diego is a Warm Welcome of the Best Fall Vacations in the US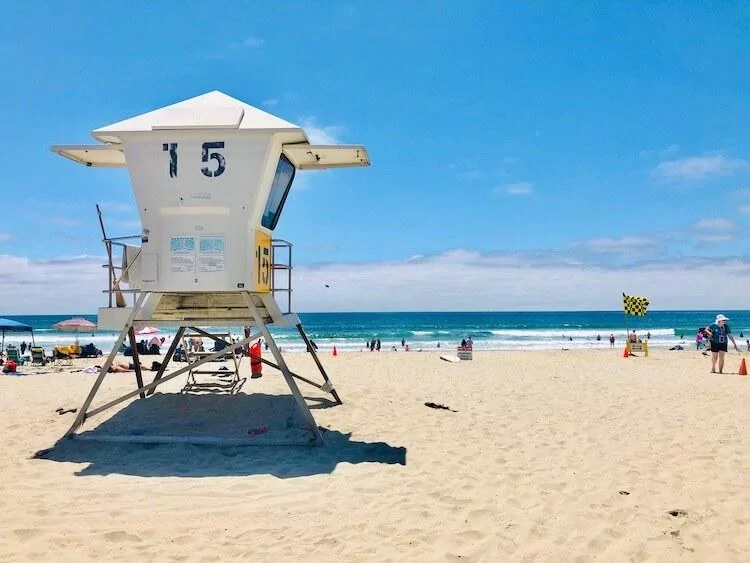 Fall is one of the best times to visit San Diego. The summer tourists are gone, the weather is not as hot, but still warm enough to go to the beach, and everything is just a bit more quiet and relaxing. And since it is off-season, you are likely to find some amazing deals on flights and hotels. But don't worry, there is still plenty to do in San Diego during the fall.
Wine tasting is a great example. There are over 100 wineries in San Diego, and while Southern California is not quite as famous as Napa or Sonoma, it produces some really great wines.
Exploring Downtown San Diego is another must when you visit. There is so much stuff to do in Downtown San Diego. From eating delicious food at one of the many great restaurants in San Diego, strolling through the cute Little Italy district, visiting the Midway Museum, walking along the waterfront in Seaport Village, or having a fun night out in the Gaslamp Quarter, San Diego has something for everyone. If you love the outdoors and animals, visit Balboa Park and the world-famous San Diego Zoo, also located in Downtown.
I also recommend you check out some local festivals, such as Mexican Independence Day festivities in September in Old town, or Octoberfest in Coronado.
Submitted by Maria Haase at San Diego Explorer.
4. Portland, Oregon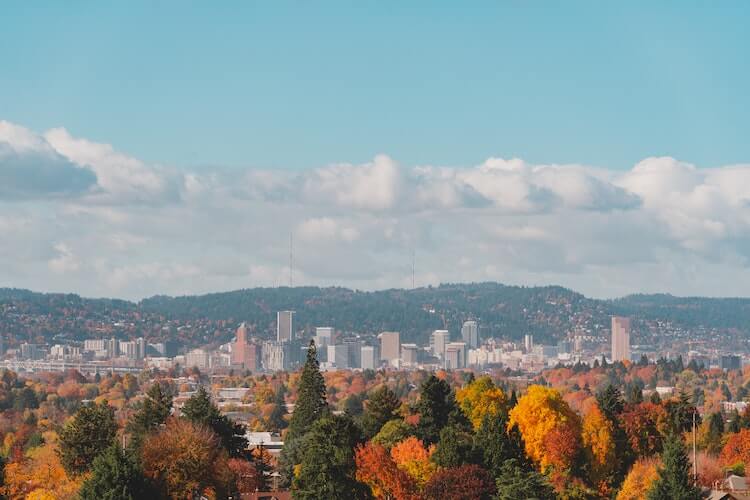 Located in the Pacific Northwest, Portland's scenery makes it a perfect fall vacation in the US. The gorgeous lush green trees you see in the spring turn into oranges and yellows by autumn. You can easily see amazing foliage by taking the Portland Aerial Tram or experience a more traditional fall holiday by going pumpkin picking or visiting a haunted house.
Take a ride on Portland's Aerial Tram for some of the most beautiful views of the oranges and yellows in the city. This tram is also used as transportation by locals who are students, patients, or hospital employees of Oregon Health & Sciences University and you'll definitely see them on your ride. The trip is short, only 4 minutes one way, but the views are amazing and well worth it.
Sauvie Island, located just to the north of Portland, is a great spot for u-pick pumpkins. The Sauvie Island Pumpkin Patch is open in the month of October with great fall activities such as hayrides, a hay maze, and even a corn maze. Be sure to visit the gift shop for autumn decorations and other fall holiday items.
Surprisingly, Portland is known for some of the scariest haunted houses, so these experiences are not for the faint of heart. But during the month of October, visit uniquely scary haunted houses such as Fearlandia, Dick & Matt's Halloween Whorror Nights, and The Fear PDX. Don't forget to check out their age restrictions as they are definitely scary.
A long weekend getaway to Portland is one of the best fall destinations in the US.
Submitted by Constance Cheung at The Adventures of Panda Bear.
5. The Poconos in Pennsylvania is One of the Best Holiday Destinations in October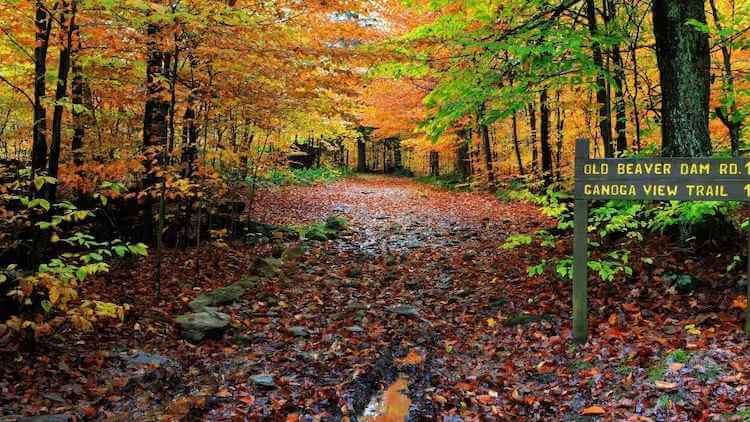 One of the best places to experience the natural brilliance of autumn is the Pocono Mountains in northeastern Pennsylvania. The region is full of state parks, game lands, glacial lakes and forested peaks.
One of the best things to do there is enjoying the beautiful fall foliage in the Poconos. With acres upon acres of thick forest, the landscape turns brilliant orange, yellow and red hues by early October. The colors are hard to imagine and the regional climate sets them apart from other areas of the country.
One of the best ways to enjoy the foliage is to drive through the back roads surrounded by the beautiful leaves. Route 209 is the most famous road to take a drive on for those wishing to see the leaves. It traces the Delaware River between Pennsylvania and New Jersey. The route has frequent overlooks and pull-offs for photographs, stretching, and just enjoying the natural environment.
One of the largest state parks is also in the Poconos, Ricketts Glen. It stretches three counties and has miles of well-maintained trails and 24 named waterfalls. There are hiking trails throughout the 13,000 acres of land but you can hike a moderate 3-mile loop to see most of the waterfalls. Of course, the colorful autumn leaves make the perfect backdrop for the beauty of the waterfalls. If you are searching for the best fall vacations in the US, this is it.
Submitted by Derek Hartman at Robe Trotting.
6. Aspen, Colorado is One of the Best Fall Vacations in the US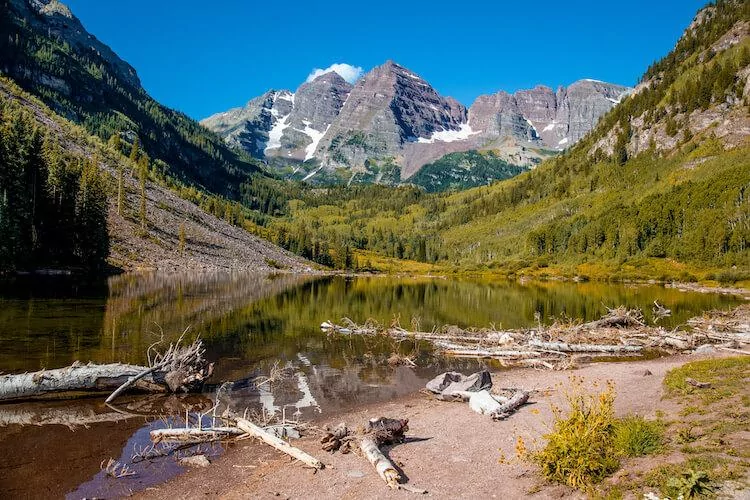 It is no secret that some of the best fall foliage in Colorado can be seen in beautiful Aspen. Located just 3 hours from Denver International Airport, this stunning mountain town resides at an impressive elevation of 8,000 feet. The best time to see the Aspen trees turn gold here is between mid-September through the first week of October. The most iconic spot for fall colors is right at the base of Maroon Bells where you can see the peaks rising above Maroon Bells Lake surrounded by the gold Aspen trees. If you're looking for some more hikes in Aspen, you can try Crater Lake, Grottos trail, or Ute Trail.
Some of the best things to do in Aspen in the fall include hiking in the nearby mountains, taking a gondola ride to the top of Aspen mountain, enjoying some of the luxury spas, or taking a leisurely bike ride along with one of the many biking trails that connect Aspen to the nearby Snowmass Village. Aspen downtown is packed with boutique shops, cozy cafes, and some of the best restaurants in the state.
If you're looking for a luxury stay, Limelight Hotel Aspen is a great option and is located right downtown within walking distance to all the restaurants and shops in Aspen. It has jacuzzis, a rooftop terrace, free breakfast and you can even bring your dog! For a more budget stay, you can check out this vacation rental in nearby Snowmass Village, as condos here go for much cheaper than Aspen.
Submitted by Dalya Gershtein at Sweet Little Journey.
7. Great Smoky Mountains National Park is a Gem of a Fall Vacation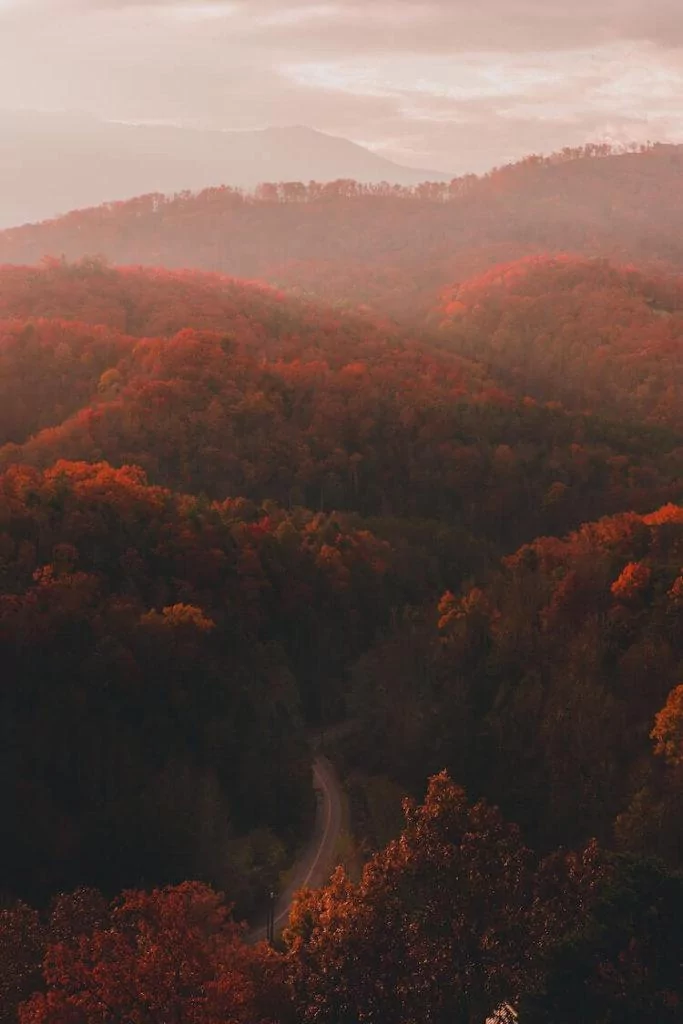 When it comes to the one of the best fall vacations in the US, the Great Smoky Mountains National Park is incredible. This is the place to visit for leaf peeping, gorgeous mountain scenery, and tasty southern comfort food.
While visiting the Great Smoky Mountains is a great idea almost year-round, it truly shines in the autumn months. The vibrant red, yellow, and orange leaves burst on the scene, making those mountain landscapes even more beautiful. It has also cooled down from the heat of summer, making it perfect for some incredible hikes like Mt. Cammerer or Mt. LeConte.
Aside from incredible hiking, there are delicious and hearty meals to be had at southern restaurants such as The Old Mill that'll keep you warm on those chilly fall evenings, and there is nothing like renting a cozy and romantic cabin in the mountains.
Enjoy fall festivals, apple orchards, and romantic drives through the park during a fantastic autumn trip to the Great Smoky Mountains. Whether you plan a long weekend trip to the Smokies or longer, this place is perfect for the fall.
8. Cuyahoga Valley National Park, Ohio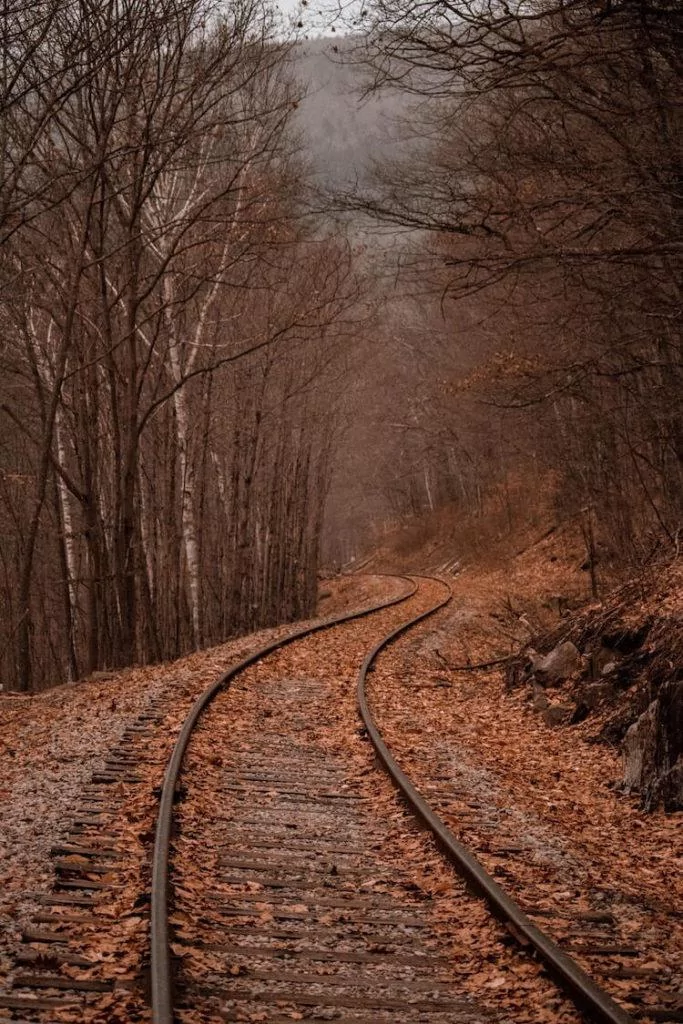 While many people flock to national parks during the autumn months, Cuyahoga Valley National Park (CVNP) is a hidden gem that people often forget about. It's a shame, because it is so beautiful during the fall and makes for a great holiday destination in October in the US!
CVNP not only has delightful overlooks like the Ledges Overlook and Tinker's Creek Gorge Scenic Overlook that show vast expanses of the park covered in delightful fall foliage, but the Cuyahoga Valley Scenic Railroad is a treasure for relaxing and enjoying the scenery in the national park.
There are also several trails to find waterfalls, rock ledges, lakes, and more as you wander the park in search of the best fall foliage around!
As a bonus, this time of year is when Summit County MetroParks holds their annual Fall Hiking Spree! If you complete the hiking spree (starting in September and ending in November), you get a walking stick! Every year after that, you'll earn hiking shields for the stick.
It is a fun activity to participate in, and the park has several trails to enjoy from easy short hikes to challenging day hikes! While you're down in Cuyahoga Valley National Park, be sure to pick up pumpkins and local fare at Szaly's Farm and Market and visit Hillside Orchard and Farm Market for some great apple picking!
If you need a place to stay near the park, Shady Oaks Farm Bed and Breakfast is the perfect spot close to CVNP for a romantic weekend.
Enjoy the charms of CVNP at the best time of year!
9. Shenandoah National Park is a Delight in the Autumn Months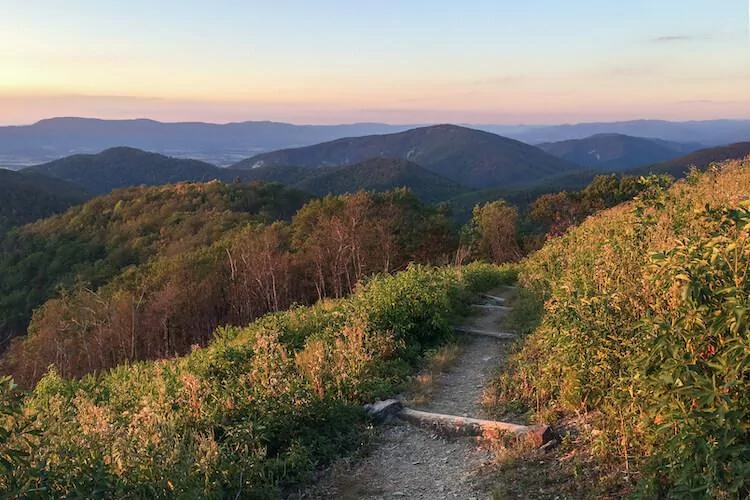 There are so many fantastic places to visit in the United States for fall but one that definitely should never be overlooked is Shenandoah National Park in Virginia. This East Coast national park is known for having some of the best fall foliage in the country and there are so many amazing things to do in the park during the season. Shenandoah National Park is home to some of the best hikes near Charlottesville and you can embark on any of them and enjoy the pristine nature and surroundings.
Shenandoah National Park is also home to Skyline Drive, a gorgeous road that winds through the trees and passes through so many vistas that it will most definitely be a highlight for those visiting the park. If you're into hiking, there are so many trails just waiting to be explored. Part of the Appalachian Trail even goes through the park.
Another plus of visiting Shenandoah National Park during the fall is that it is a very family-friendly park and there are activities in abundance. Be sure to stop by Luray Caverns where you can see a totally different and mysterious world from below. There is also a museum there that kids will enjoy.
Fall in the US is a wonderful time to travel and if you're on the East Coast, be sure to book a trip to Shenandoah National Park!
Submitted by Megan Starr at Virginia Travel Tips.
10. Hudson Valley, NY Has it All For Fall US Vacations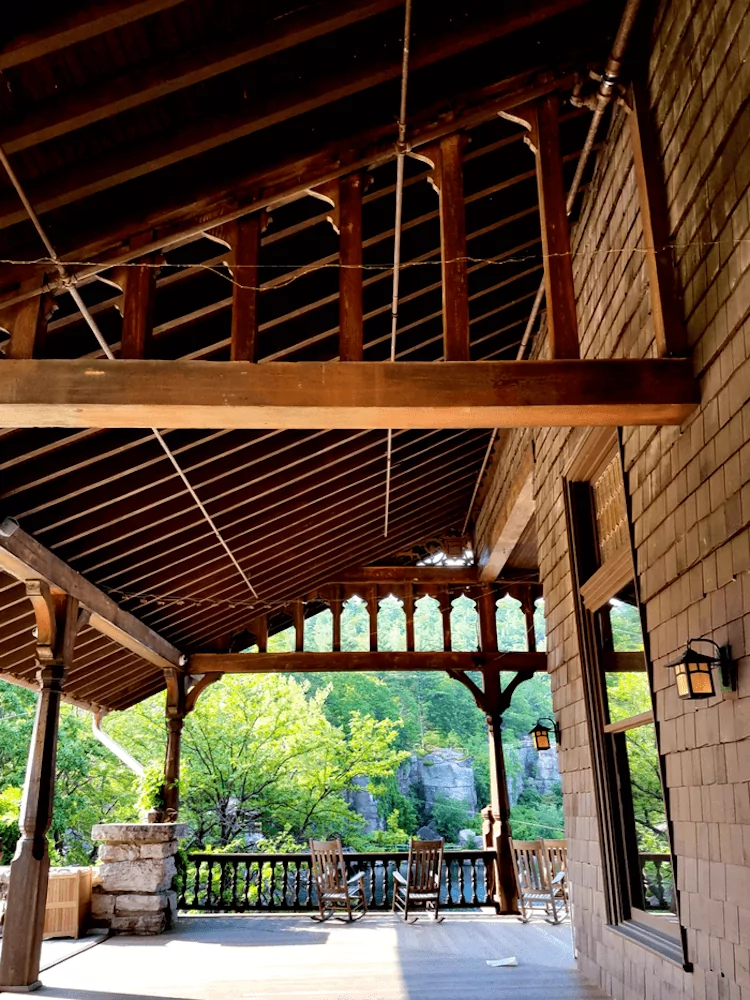 The charming small towns of New York's Hudson Valley are a treat year-round, but made even better by autumn's colorful foliage, brisk weather, and fun activities!
No autumn would be complete without enjoying apples (fun fact: New York is the second-largest apple-producing state). Get your fix at Angry Orchard cidery. Here you can stroll through the orchards, explore a treehouse, take a tour and taste some cider! On the weekend there's usually music, a food truck, and plenty of outdoor space to enjoy.
But one of the best places to experience the full fall effect is at Mohonk Mountain House. The Mountain House dates back to 1869, and although it has undergone numerous renovations since then, it still retains much of its charm. In addition to its beautiful architecture, the Mountain House sits on over 280 acres of property. It's the perfect place to hike, rock climb, canoe, sip on the complimentary afternoon tea, and enjoy the views from a rocking chair on the deck. If you can splurge, spend a night or two here and definitely make reservations for their weekend brunch!
Head a little further south to spend an evening at The Great Jack O'Lantern Blaze! The Great Jack O'Lantern Blaze is an elaborate exhibition of thousands of hand-carved jack o' lanterns that run from September through mid-November. Each year it features new installations, like a carousel, life-size toys, and animals, ghosts, and more! Tickets sell out quickly, so if you want to visit on a specific day, purchase them far in advance.
Submitted by Brittany McNamara at Bout Exploring.
11. June Lake, California is a Lovely US Fall Destination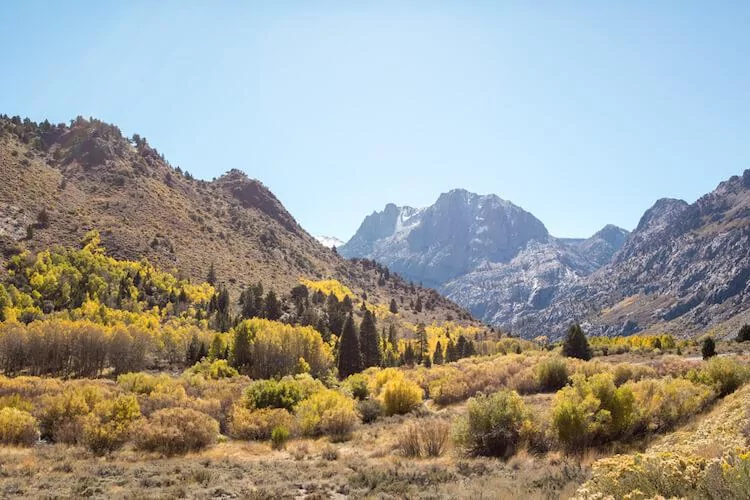 California is not usually known for its seasons, but June Lake is a hidden gem that hosts a wonderful display of vibrant yellow and orange colors! The beautiful aspen trees provide the incredible bright yellow leaves the area is known for making it one of the best US destinations for fall. There are so many fun and adventurous things to do while you are there that are perfect for any outdoor lover including hiking, kayaking, swimming, and trying great food.
There are 4 gorgeous lakes within the June Lake Loop including June Lake, Gull Lake, Silver Lake, and Grant Lake. Start your trip by finding a great place to stay at a local VRBO or at the Big Rock Resort located steps away from June Lake. Kayaking is a great way to begin the day by admiring the surrounding foliage and calm waters of June Lake. Double and single kayaks are available to rent at the Silverlake Resort General Store for $25 a day.
After, grab a refreshing beer at June Lake Brewing where they are serving up flights and a place to take in the views. A local food vendor is usually posted next door so patrons can have lunch there too. June Lake is a spectacular fall destination that is a must-see! It is definitely one of the best fall vacations in the US!
Submitted by Erin McLaughlin at The Gal on the Go.
12. Boise, Idaho is Well Worth a Visit in the Fall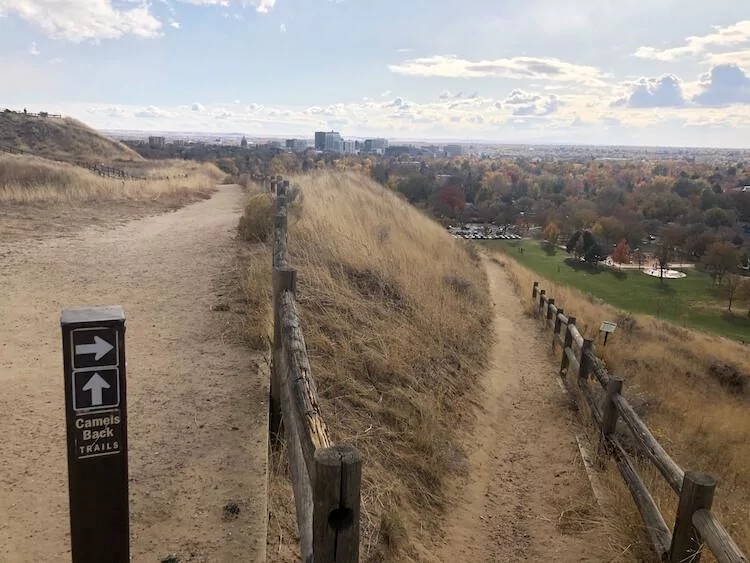 The beginning of Boise State football along with the weather and other fall events makes Boise a perfect place to visit in fall in the US.
The weather in the fall months in Boise range from 30 to 70 degrees with fewer than seven days of rain each month. The leaves begin to fall in late September or early October and it makes the entire city a beautiful place to be.
Things to do in Boise in fall include taking in a football game (college or high school), taking a hike through one of the leaf-covered trails within city limits, picking up some ingredients for dinner at the Capital City Farmers Market, or taking a walk down Harrison Boulevard. Harrison Boulevard is a historic street near downtown with mansions and giant trees, and it's also the perfect place to take your kids for Halloween.
With nearly a dozen breweries in the downtown area, each with their own seasonal brew, consider staying at one of the many hotels in downtown Boise and take a walk through the streets. In a city growing as fast as Boise, more and more hotels are being built every day. The Basque Block in downtown Boise is a fun walk through the history of the Basque people and their culture. There is a museum and four Basque-specific restaurants within the block.
Submitted by Jaclyn Brandt at Let's Go Boise.
13. St. Louis, MO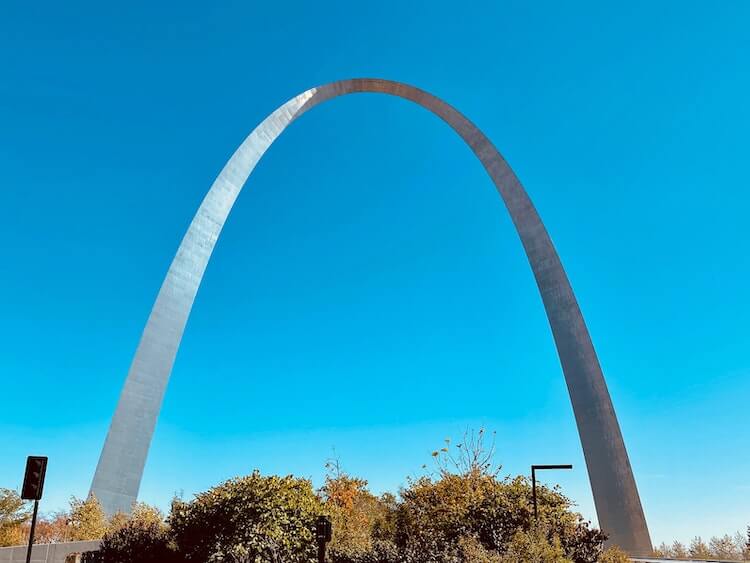 St Louis, MO (STL) is the gateway between the east and west United States. The STL Arch is the iconic figure on the Mississippi River that signifies this route between the two sides of the USA. During the fall the grounds around the Arch are filled with beautiful fall leaves that color the trees. This is a perfect spot to have a romantic picnic after viewing the city from the top of the Arch.
Those couples looking for a more adventurous outing, check out Union Station STL. You and your sweetie can test your balance, and fear for heights, by climbing around the rope course that sits among the rafters of this newly remodeled building. After your climb, curl up and take in the views of the city with a spin on the tallest observation wheel in the Midwest. Get your beau something as sweet as them and round out your visit with a stop at the Soda Fountain. Here you can pick and choose from your favorite sweets with their signature "freak" shakes.
During the fall, St. Louis fills many of the parks and city towns with fun festivals that range from International Foods, Cultural Focuses, Art Fun, Wine Tasting, Balloon Glows, and so many more. There is definitely a festival for everyone and you should take advantage of exploring one of these fun events. We check out as many as possible during the fall but our absolute favorites are the wine tastings and international food fest.
Looking for a place to stay? Check out the Hyatt Regency on the river for a beautiful view of the Arch at night. Like a free breakfast and happy hour? Check out Embassy Suites on Washington St as it is centrally located and within walking distance of great restaurants and bars. St Louis, MO is a definite must-visit during the fall for all couples and families.
Submitted by Tiffany at Mommy and Me Travels.
14. Asheville, NC is a Perfect US Fall Weekend Getaway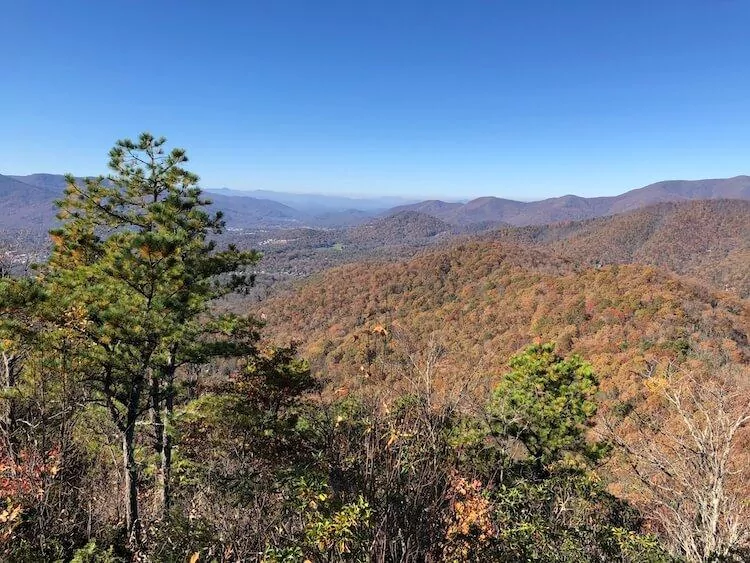 Asheville, NC is a fun city year-round but the combination of perfect temperatures and gorgeous scenery make fall a special time to visit. The city is an outdoor enthusiast's dream with so many options for hiking, zip-lining, white-water rafting, and visiting all the nearby national and state parks.
Take a hike at Craggy Gardens, Catawba Falls, Looking Glass Rock, or head out to DuPont State Park for three waterfalls in one hike. If you would rather view the changing leaves from your car then hop on the Blue Ridge Parkway and drive for a while. There are multiple overlooks to stop at with gorgeous mountain views.
From mid-August to early November it's also apple season and there are almost 20 apple orchards around the nearby town of Hendersonville. Let me tell you, picking apples is not just fun for kids. Other events that are fun in the fall are Hickory Nut Gap Farm's Fall Festival, Asheville's own Oktoberfest, and Asheville Ghost Tours.
Asheville has many wonderful hotels downtown where you can stay like the Aloft Hotel which is dog-friendly and the Hotel Indigo – both are budget friendly. If you're looking for something special check out the Omni Grove Park Inn or one of the hotels at the Biltmore Estate. Another great option is renting a cabin for a little more privacy.
Submitted by Anna Cook at Stuck on the Go.
15. Vail, Colorado is a Dream US Destination in the Fall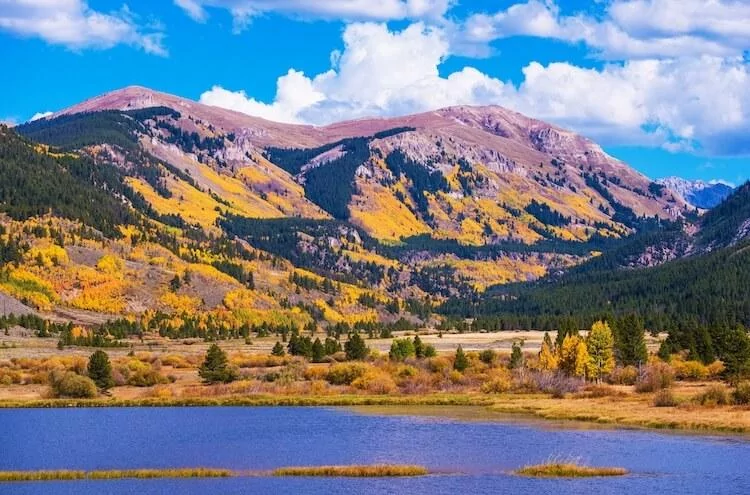 This majestic town of North America is well known for its huge ski resort. This beautiful Alpine village in the Rocky Mountains is an ideal destination for fall.
The weather during fall in Vail is just mesmerizing and all you can do to get the most out of it is staying outside. Apart from the bright clear sky and breezy relaxing weather, the Aspen trees shed leaves and cover the valley with golden yellow during fall. During this time the valley transforms itself and shines in bright yellow color.
There are lots of activities held in Vail during the fall. Here is a list to choose from:
Hiking: This picturesque village is surrounded by mountains and thus hiking is an obvious option. There are hiking options for all. If you are comfortable with intense hiking, or moderate or just want to go for leisure, Vail has got you covered.
Rafting or Kayaking: The waters of Vail and the bright weather makes it ideal to try water sports like rafting, standup paddleboard, and kayaking.
Exploring Vail: You can just take a stroll in the streets of the village and appreciate the beauty of majestic Vail. The light air and soothing weather will give you a hint that the winter is coming.
Vail has several hotel options including some beautiful luxury resorts like:
Plan your next fall trip to Vail to experience the pure beauty of this Alpine village.
Submitted by Nikki Ortan at Attractions of America.
16. Brooklyn, NYC is Perfect For Fall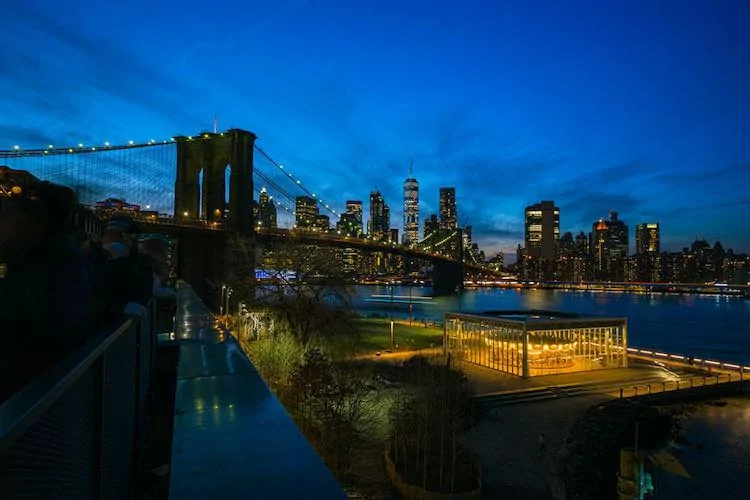 One of the best US destinations to visit anytime of year, but especially magical in the fall, is Brooklyn.
Most people come to NYC and explore Manhattan extensively, but the other boroughs have a lot of incredible activities to do.
Most people come to Brooklyn via the Brooklyn Bridge and explore DUMBO before returning to Manhattan. We recommend doing this, because there's nothing more iconic than walking across the Brooklyn Bridge. But we also recommend sticking around and exploring more of Brooklyn.
After walking across the Brooklyn Bridge on a comfortable, fall day we recommend heading to Time Out New York for food and heading to their rooftop viewing area where you get one of the best views of the NYC city skyline and both the Brooklyn and Manhattan Bridges.
If you only come for views, that's great because you can head to Grimaldi's or Juliana's in DUMBO for some of the best pizza in the city.
For more cool waterfront neighborhoods to explore in Brooklyn, we also recommend heading to Williamsburg where you can find great dining, drinking, shopping, and a street art scene among cool outdoor hang out spots like Domino Park overlooking Manhattan and the Williamsburg Bridge.
For fall season specifically, we recommend heading to the Brooklyn Botanic Garden where each season is a different experience. There are various plants that bloom in the fall and with the changing of the leaves, it's truly one of the most gorgeous places to visit.
We also recommend renting a bike and taking a ride through Prospect Park, Central Park's Brooklyn cousin designed by the same architects, or head over to Green-Wood Cemetery for one of the most beautiful cemeteries in the country with great views.
If you're staying in Brooklyn, we highly recommend picking a spot in DUMBO, Williamsburg, or doing a brownstone home rental in a residential neighborhood like Fort Greene or Park Slope.
Submitted by Megan at Your Brooklyn Guide.
17. Best Fall Vacations in the US: Washington, DC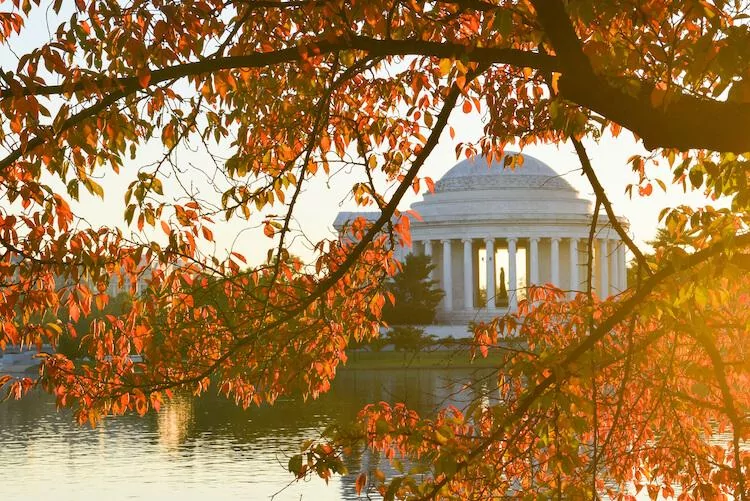 One of the best US destinations for fall is Washington, D.C. This is the time of year when the weather gets cooler, the crowds disperse and you can really enjoy the city.
Some of the best things to do in Washington, D.C. in the fall are a monument tour – you can do this during the day or at night, visit Rock Creek Park and see all the leaves changing color, walk the neighborhoods and shops in Georgetown, enjoy the views from the rooftop of the National Gallery of Art, walk the Tidal Basin, enjoy a picnic on the National Mall, visit the Smithsonian Museums, or if you are looking for a fun date night in DC, walk the Georgetown Waterfront.
When it comes to places to stay in Washington, D.C., there is no shortage of historic, luxury, or interesting options, spread throughout the city. For history and scandal, consider a night at the Watergate Hotel. For a luxury stay, consider the Four Seasons or The Ritz Carlton.
The food scene in the city is incredible. The fall weather is still so lovely with a hint of crisp that you can still enjoy outdoor dining. Consider one of the many rooftop dining options, like in The Wharf. Officina has an incredible rooftop space and Whiskey Charlie has the best sunset view over the water.
Submitted by Nicole Sunderland at Oh My DC.
18. Seattle, Washington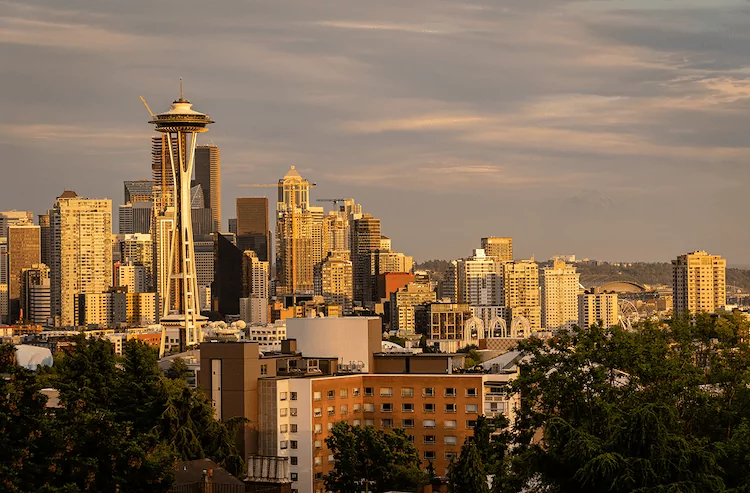 During fall a walk around the nature of Seattle rewards you with a beautiful kaleidoscope of fall colors. You can drink in the rich hues of red, orange, and gold from the trees mixed wonderfully with the deep green of the evergreen trees. There is no better place than the Japanese Garden to experience all these colors at once.
Food plays an important part in the fall in Seattle. Restaurant menus are populated with local and seasonal ingredients that warm the body as well as the soul on those chilly fall evenings. The local markets across the city have a wonderful display of fresh fall produce. Think yams, pumpkins, apples, and Jerusalem artichokes. For a further taste of fall, I have three words for you. Pumpkin Spice Beer. You're welcome.
Seattle is quickly becoming a popular tourist spot but most of that traffic is coming during the summer months, with visitors perhaps put off by the city's reputation for wet weather. All that means, though, is you get to enjoy the mild fall weather and all the sights and tastes that brings with less of the crowds.
If crowds are your kind of thing then head to 'The Clink'. Football returns to Seattle in the fall and Century Link Stadium is one of the loudest in the country thanks to the legendary 12th man.
Beautiful scenery, tasty fall-inspired food and fewer crowds (unless you're watching the Seahawks) Seattle does the fall well.
Submitted by Rob Best at Roam Yonder.
19. Door County, Wisconsin is Gorgeous in the Fall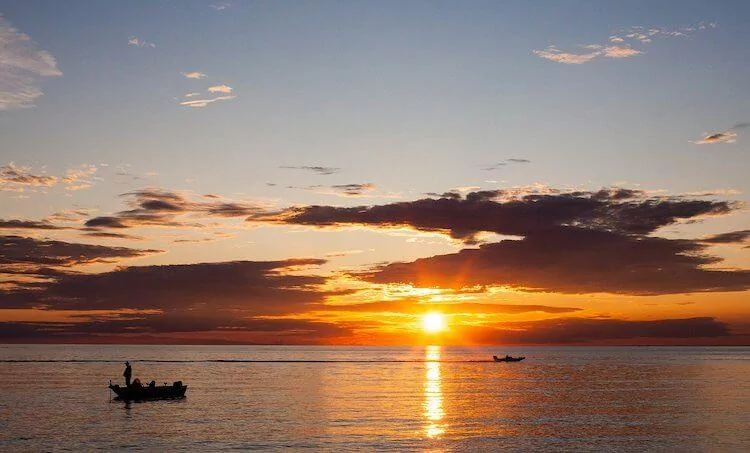 Door County, Wisconsin, is one of the best US fall destinations. Situated along the shoreline of Lake Michigan, the area features stunning fall scenery that you can encounter while exploring sunrise and sunset over the lake. Away from everyday life, this quiet and tranquil place highlights significant byways, parks, and spaces brimming with color.
Traveling to Door County, Wisconsin, during late-September to mid-October is most satisfying to see the dynamic fall tints alongside encountering the unique restaurants, great shopping, and energizing live presentations and exhibitions.
Besides that, you can attend the popular fall events there such as the Harvest Festival, Car Show, and Street Auction, the Pumpkin Patch Festival, and Fall Fun Fest & Cider-Pressing Party. You can likewise go hiking or go on a few incredible picturesque drives.
Additionally, you can plan your stay at some of the best luxury resorts in Wisconsin, like White Lace Inn, Landmark Resort, High Point Inn, or Bay Shore Inn.
Submitted by Paulina at Paulina on the Road.
20. Lake Placid is a Perfect Fall US Vacation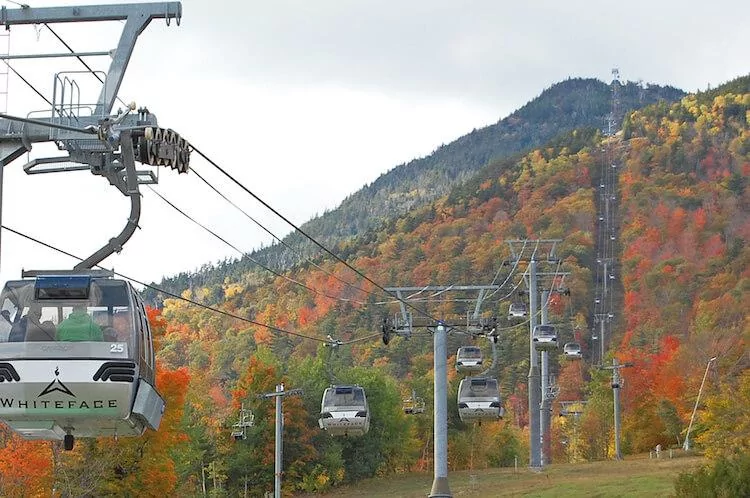 Lake Placid, in the Adirondack Mountains of upstate New York, is a beautiful place for an autumn getaway. Combine the vibrant fall foliage with a quaint lakefront downtown, nostalgic Olympic venues, and plenty of outdoor activities, and you've got the perfect fall destination.
You'll definitely want to visit Whiteface Mountain, where you can take a gondola ride to the summit of Little Whiteface for incredible views. You can also hike, bike, horseback ride, and more. Nearby High Falls Gorge is another place to hike and enjoy the four beautiful waterfalls and quiet forest trails.
Lake Placid was the site of the 1980 Winter Olympic Games and there are several cool spots you can visit to learn about its Olympic history. The Olympic Jumping Complex, where you can take a gondola up to the base of the ski jumping towers, is a must-see.
Check out High Peaks Resort for your accommodations. They offer three options to fit any budget, all within walking distance to shopping, dining, and Olympic attractions. The recently renovated Lake House features modern rustic rooms with lake views.
The Waterfront Collection offers rooms that are truly lakefront – you can walk out of your room and right into the lake! The Adirondack-Inspired rooms and suites have more of a "hotel" feel than the Lake House or Waterfront. These rooms are more luxurious and have the same tranquil lake view. No matter what option you choose, you can take advantage of all the resort amenities. Swim in the pools, relax at the spa, or try the complimentary kayaks, paddleboats, SUPs, or kicksleds.
Submitted by Shannon Entin at The TV Traveler.
21. Nevada City, California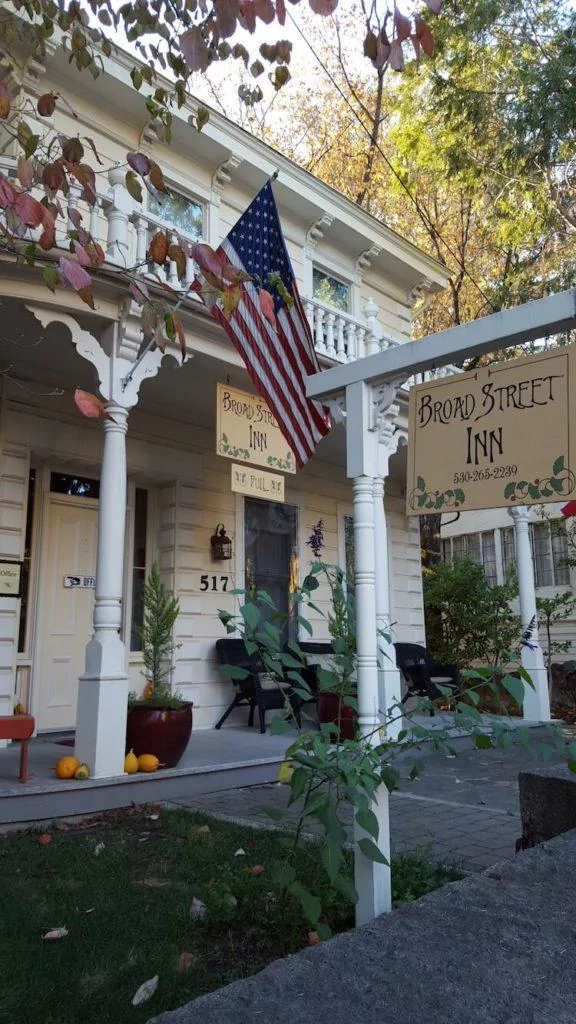 If you're looking for a great destination to visit in the autumn months, Nevada City, CA, is one. The spectacular autumn foliage that you'll find here is some of California's best.
But the wonders of "leaf peep" season in Nevada City are not the only reasons to consider a visit.This is "Gold" country. And Nevada City has a great Gold Rush history. Located 68 miles from Sacramento in the Sierra Nevada range's foothills, it enjoys sunny, warm afternoons and cool nights perfect for outdoor activities.
The historic downtown area full of beautiful Victorian buildings invites a stroll through various unique shops and galleries, and the many cafes and restaurants offer great options for everything from a quick coffee to a fine meal.
These are some things to note:
Empire Mine: Learn about the Gold Rush history while enjoying the beautiful surroundings of the Empire Mine, one of the oldest, largest, deepest, longest, and richest gold mines in California. It's now a state park with a visitor center, underground mine tours, and restored houses and gardens looking just as they did during their heyday while the mine was in operation.
Hiking: There are dozens of walking and hiking trails in and around town and high-country hikes in the nearby Tahoe National Forest. Walking around the historic center of Nevada City will give you a great view of the many Victorian homes and storefronts that make up this quaint town.
Where To Stay:

Broad Street Inn

– A 6 room inn located in the heart of downtown.
Fun Fact: The spectacular autumn leaf colors come from maples planted by homesick Gold Rush miners that came from New England.
Submitted by Mary Emmer at Still en Route.
22. Yosemite is a Beautiful National Park for the Fall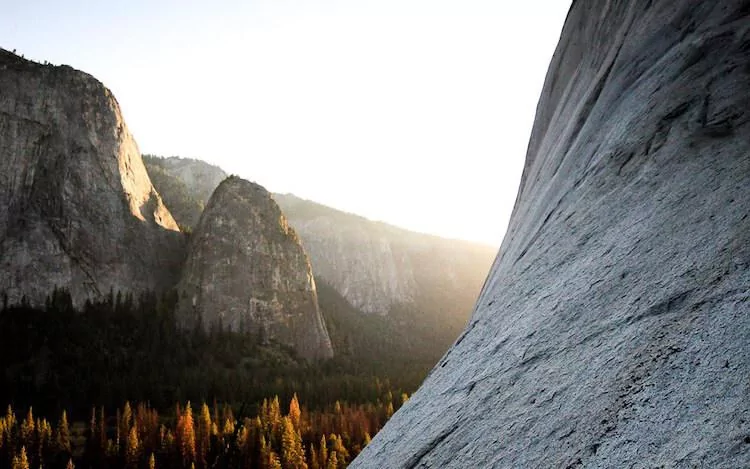 One of my favorite fall trips is visiting Yosemite National Park in California. This stunning granite valley is perfect for anyone interested in outdoor activities such as climbing, hiking, or photography. It draws large crowds during the summer months, so from September onwards really is the best time to visit.
The evenings are cool and crisp, yet the days are warm and dry. This is the ideal climate for exploring nature, as you take on the world famous Half Dome hike, without sweltering under the sun or being eaten alive by mosquitoes!
Yosemite Valley is touted as the birthplace of modern rock climbing. There is a near-infinite supply of climbing all around, so be sure to bring your gear or contact a local climbing guide to shows you the ropes. If that sounds like hard work – The Meadows, the large field area on the valley floor, is the best place for excellent people watching! Except the people are halfway up the 3,000 foot granite monolith that is El Capitan, the mountain featured in 2018's movie Free Solo. Bring your binoculars or take a peek through the telescopes set up for you and cheer on the climbers heading on their multi-day epics!
I'd recommend pitching a tent at Camp 4. The stoke levels are through the roof at this campsite, as many people are here to take on the largest climbing projects of their lives. It is an amazing vibe with people celebrating the victories of the day into the night. A great way to combine this with other suggestions on the list is with a road trip!
Submitted by Chris Whittaker at Global Shenanigans.
23. Lake Tahoe is a Romantic Fall Getaway in the US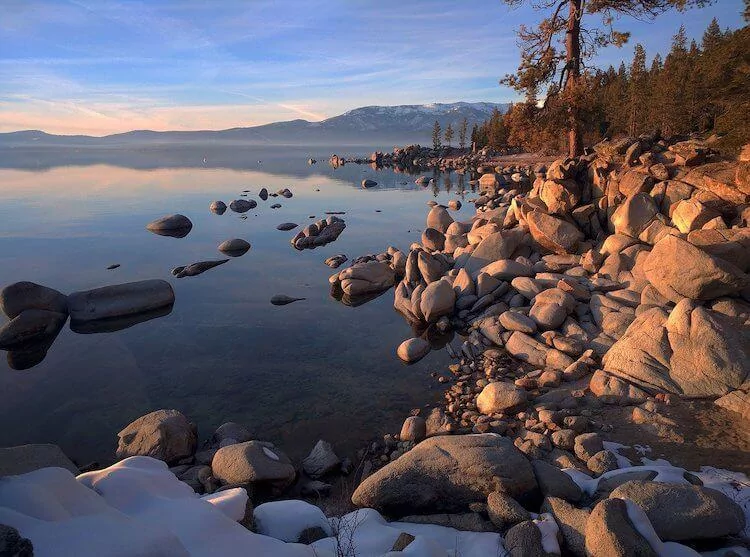 Lake Tahoe is a stunningly beautiful destination to visit at any time of the year. You can ski or snowboard in the winter, or swim and cool off in the lake in the summer. But if you are looking for fall colors, Lake Tahoe doesn't disappoint. This is North America's largest alpine lake and seeing the lake framed by forests of orange and gold is a sight to behold. But even though the lake is stunning to see, one of the things to do in Tahoe in the fall is to take a trip to admire the fall foliage in Hope Valley.
Besides being a picturesque time of year to visit, another good reason to plan a trip in the fall is that Lake Tahoe is less crowded. Accommodation is cheaper, and it is easier to find parking and make bookings at restaurants and other attractions.
One of the top fall attractions in Lake Tahoe is watching the salmon spawning. Encouraged by the colder water temperatures, this is the season when you'll be able to see kokanee salmon in one of Lake Tahoe's tributaries. The most popular spawning spot is Taylor Creek.
Fall is also a fabulous time to get outdoors and go hiking, biking, or cruising on the lake. The place for a spectacular view of Emerald Bay and Lake Tahoe is Maggies Peaks, and you don't have to hike far for a lovely view.
Submitted by Christina Pfeiffer at Travel2Next.
24. West Texas is One of the Best Fall Vacations in the US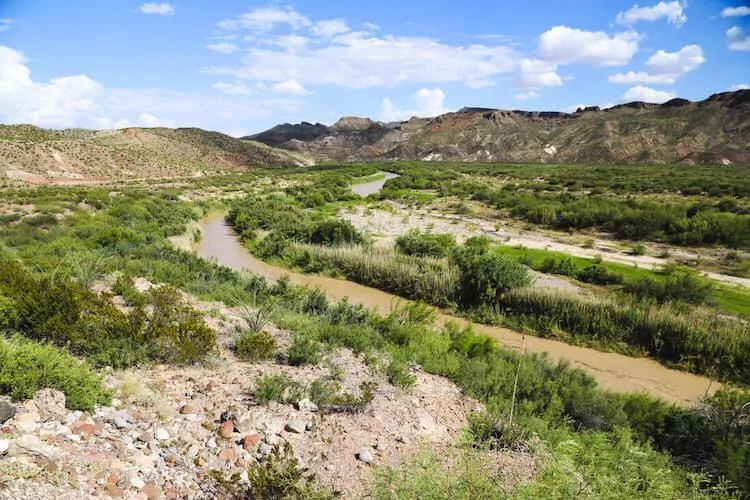 Texas summer heat is no joke and the West Texas desert can be sweltering. That's why the locals know that the best time to visit this isolated corner of the Lone Star State is during the cooler fall months. As summer wanes, afternoons become not only bearable but enjoyable and Texans flock here on family road trips from the big city.
Texas only has two national parks and both are located here in West Texas. Big Bend National Park is the most popular. It shares the Rio Grande with Mexico, has an entire mountain range within its borders, and has some of the best hiking trails in the state. Guadalupe Mountains National Park is closer to El Paso and is another dream destination for hikers and campers looking to get outdoors.
Quirky small towns abound and are one of the best things to do in West Texas. Terlingua is a historic ghost town that was founded by miners and today serves as the base for visitors to Big Bend. Grab a margarita in one of the bars in Alpine or Marathon if you want a little more action near the park.
Marfa is a small town that's a destination worth the 10-hour drive you likely have to take to get there. This artistic oasis is the perfect complement to all that camping and hiking you'll do in the parks. There are modern art exhibits, more hipsters than cowboys, food trucks, and even a Prada storefront in the desert (admittedly, it's just art).
When in West Texas, reserve a VRBO. There are retro trailers, teepees, adobe homes, and even yurts. Dedicate a week minimum to truly explore this untapped region of Texas.
Submitted by Erin Mushaway at Sol Salute.
25. Salt Lake City, Utah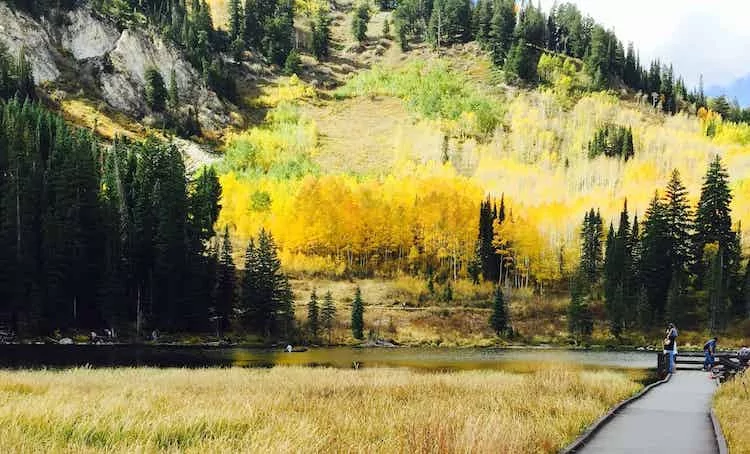 Unless you are into skiing, fall is probably the best time to visit Salt Lake City. And hey, even if you are into skiing, this is still one of the best fall vacations in the US. With yellow, orange, and rosy pink foliage, the beauty of Salt Lake City goes a notch above the usual. While on a work visa for the U.S., I lived in and nearby Salt Lake City for two years and explored the fall quite well.
The fall season usually begins in the highest elevations in mid-September and wraps in early-October in most places.
One of the best places to see fall foliage is at Big Cottonwood Canyon. It becomes this massive panorama of Aspen trees with hikes to some of the most beautiful mountain lakes. You can take the Monte Cristo highway, and you will be in the company of brilliant groves of aspen, oak, and maple trees. Nebo Loop south of Salt Lake City is also very good.
There is a myriad of things to do in the fall starting from the huge Oktoberfest at the Snowbird resort to the Day of the Dead celebration in West Valley. If you are visiting with kids, you would definitely like the farm festivals, corn maze, and haunted hollow.
Salt Lake City has got a lot of accommodations to choose from. If you want to stay in a hotel, Little America is great. However, there are some great VRBOs that you can choose from as well.
Submitted by Deb at The Visa Project.
26. Sarasota, Florida is Perfect As a Fall Vacation in the US
Autumn is a perfect time for road trips and one of my favorite fall destinations is Sarasota, Florida. While New England visitors are bundled up and leaf-peeping from their cars, people in southwest Florida are basking in the warm sunshine and enjoying kayaking, SUPing, boating, and swimming alongside dolphins and manatees; and yes there are changing leaf colors—look for Florida maples, dogwoods, black gum, and other trees.
One of the best things to do in Sarasota is exploring the Sarasota Farmers Market on Saturday mornings. Buy fresh produce, baked goods, and prepared foods—and gather insider ideas on what to do from the friendly locals. Aside from the phenomenal farmers market, Sarasota getaways usually combine activities from two categories: outdoors and cultural.
With magnificent fall weather, Sarasota is ideal for outdoor activities. Try kayaking and hiking in Oscar Scherer State Park or Myakka State Park, looking for shark teeth at Caspersen Beach, bicycling on Legacy Trail, and experiencing world-class US Gulf Coast sunsets. The daily Siesta Key drum circle sunset celebration is a must but also catch sunsets at Venice Beach, Longboat Key, and many spots along Sarasota Bay (try Centennial Park and Indian Beach).
Historic Spanish Point, Marie Selby Botanical Gardens, Ringling Museum, and Ca' d'Zan are among dozens of cultural attractions to feed your soul (while waiting for sunset!). Many lodging options are found throughout Sarasota county, but I like Bentley's Boutique Hotel—located near Oscar Scherer State Park and between downtown Sarasota and the beaches.
Submitted by Charles McCool at McCool Travel.
27. Marietta, Georgia is a Romantic Fall Vacation in the USA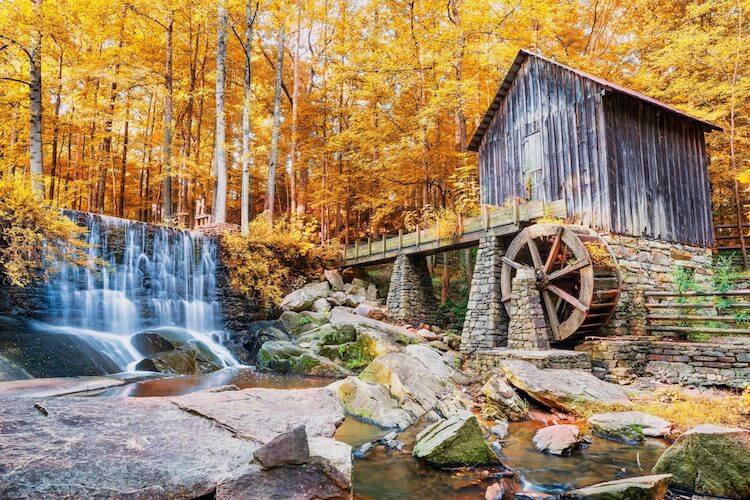 Marietta Georgia is truly one of the best places to see fall foliage in the USA! When you live in the south, easily accessible destinations with vibrant colors are in high demand and Marietta is the perfect place!
Marietta is easily the top place to see fall foliage in Georgia and it is just 20 minutes outside of Atlanta! In fact, you can make it a two for one and stop in Atlanta to see Piedmont Park to enjoy the fall foliage there too!
There is plenty to do in Marietta aside from enjoying the fall foliage, including visiting museums, going to live music venus and concerts, hiking, and visiting the nearby state parks!
You can even visit Kennesaw Mountain National Battelfield Park which is an old civil war battlefield that is preserved and home to some of the best fall foliage in the USA!
You really can't go wrong with this lovely area of Georgia when seeking out fall foliage!
Submitted by Victoria Yore at Follow Me Away.
28. Yellowstone Country Is One of the Best Fall Vacations in the US For Gorgeous Views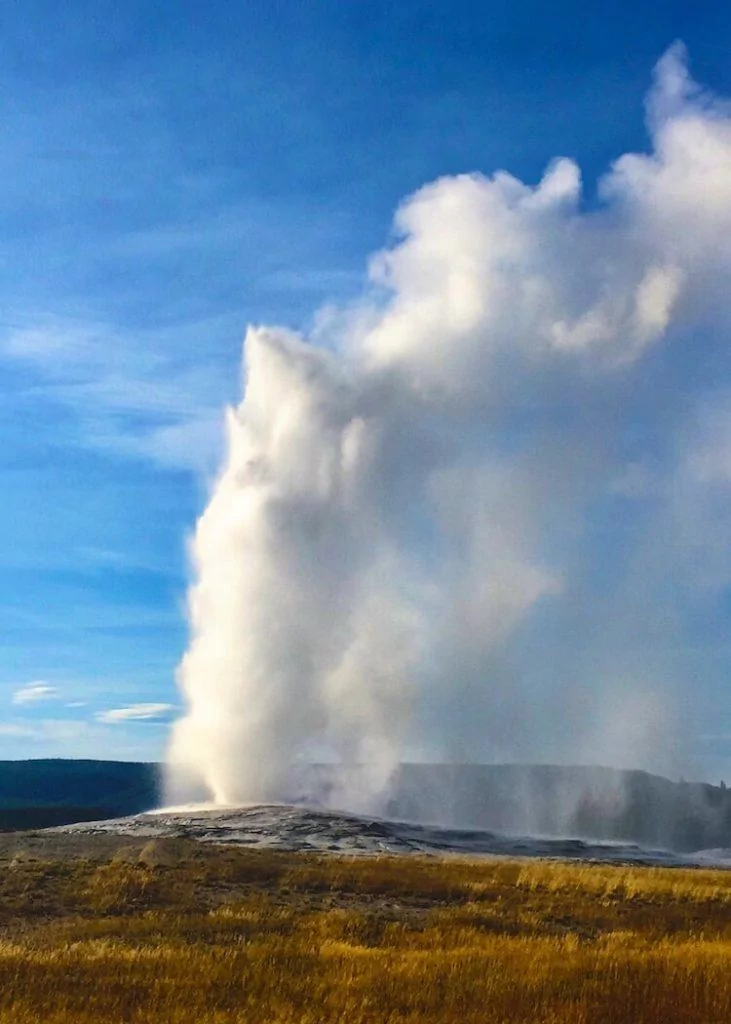 Yellowstone Country encompasses a chunk of southern Montana and is about far more than just Yellowstone National Park, which is a destination unto itself. The best way to see it (by far) is on a road trip, so you can set your own pace and stop where you wish. Here are some highlights:
Red Lodge: This is a small town full of character at the entrance to the Beartooth Scenic Highway, which is cited as one of the most scenic drives in the U.S.
Yellowstone National Park: No visit to Yellowstone Country can go without some time in the park! The more the better, but at the very least, hit up Norris Geyser Basin, Mammoth Hot Springs Terraces, and of course, Old Faithful.
West Yellowstone: This is one of the main gateways to the national park, and it's well set up for visitors.
Big Sky: Big Sky is known most for being a ski resort, but in the autumn it's a playground for mountain bikers, climbers, and hikers.
Fly Fishing: Fly Fishing is the thing to do in Yellowstone Country with over 1,000 miles of shoreline to fish, including 9 blue-ribbon trout streams.
Bozeman: Bozeman is a hip university town listed as one of the best places to live in the United States. It's also the best airport to fly into and out of when visiting Yellowstone Country.
If you like beer, consider a brewery theme to your road trip through Yellowstone Country, and look up the Montana Brewery Trail for more info.
Submitted by Nora Dunn at The Professional Hobo.
29. Salem, Massachusetts Is One of the Best October Vacations in the US for Spooky Season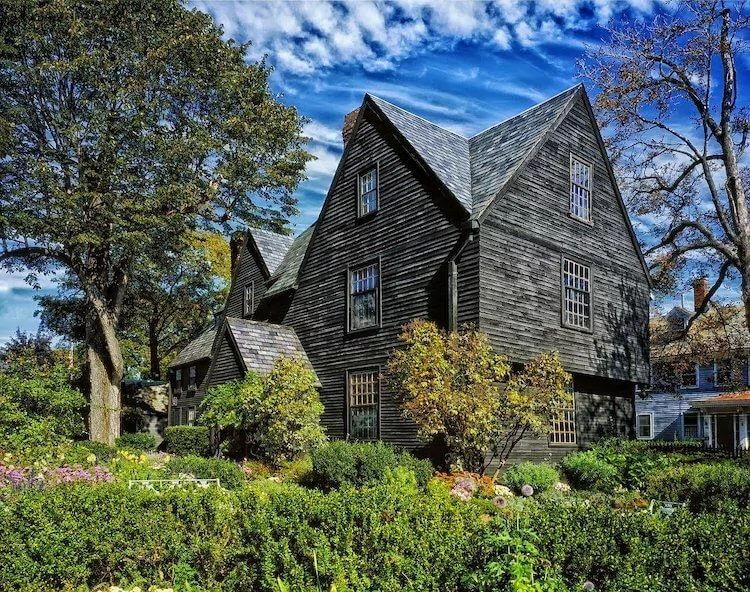 Salem is a wonderful and very unique little town in Massachusetts, that got popular because of the Salem Witch Trials back in 1692. Also, the town is today known as one of the top destinations in America for Halloween. Remember the famous movie "Hocus Pocus"? The film was actually recorded in Salem!
Visiting Salem in the fall is perfect because this is the season that Salem really goes all out with it's Halloween preparations and events. While in town, make sure to take a candlelit haunted tour of the city, visit the Witch house and, of course, take a picture with the super popular Bewitched Statue of Elizabeth Montgomery! Salem also has tons of adorable witchy shops that are super unique and interesting to visit. If you dare, you can even visit a psychic and learn more about what your future has in store.
A lovely place to stay in Salem is The Salem Inn, where the rooms are decorated in an old-fashioned style that will make you feel like you have traveled in time (in a good way!). A more luxurious option is the Hawthorne Hotel, but beware: the hotel is said to be haunted!
Submitted by Cami at Travel Cami.
30. Boston is One of the Best Fall Vacations in the US.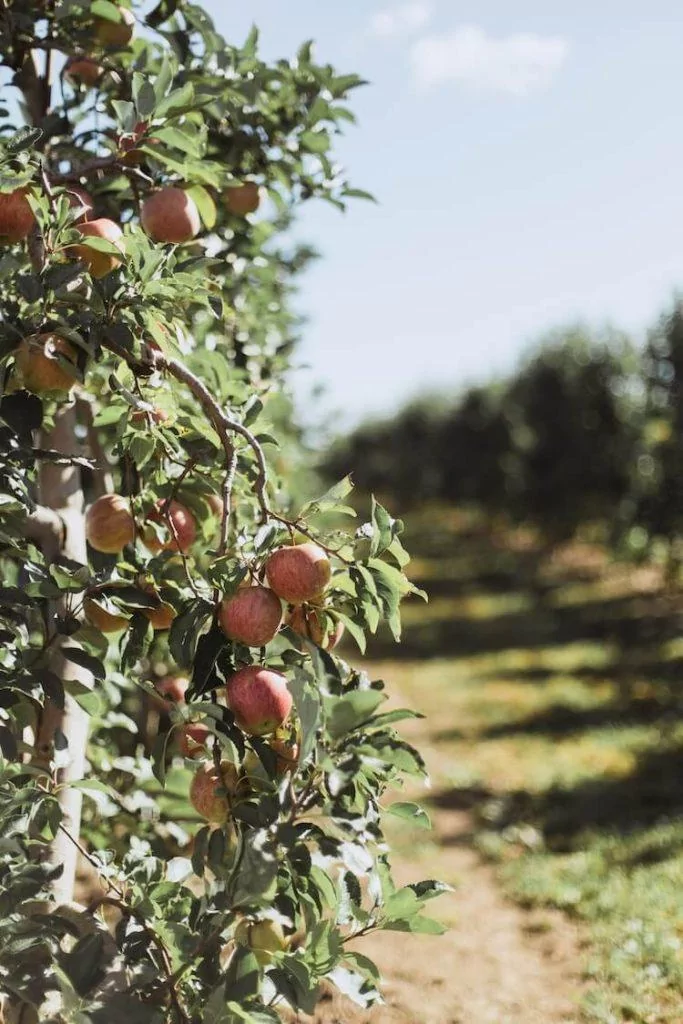 Visitors flock to New England from all over the world each fall, seeking the ultimate "leaf-peeping" experiences from Rhode Island to Maine. Never fear, because once you've arrived in Boston, you'll be seeking no longer. It truly is one of the best fall vacations in the US.
Start your visit out in Copley Square, where you can window-shop along Newbury Street before walking one block over to the Commonwealth Avenue Mall, where trees arch over the center pathway in all their autumn glory. While you're near Copley, you can't miss a visit to the Boston Public Library– one of Boston's most beautiful (and Instagrammable!) buildings and best-kept secrets.
Don't miss the Bates Room's elegant, old-school study vibes, perfect for that back-to-school feeling that fall always brings, or the outdoor courtyard in the middle of the building. From Copley, take the green line or a ride-share to the North End, Boston's traditional Italian neighborhood, and stake your claim in the epic cannoli rivalry: Mike's Pastry versus Modern Pastry. Which will you choose?
Don't miss the Harbor area nearby for beautiful ocean views. As you make your way downtown, visit the nearby Beacon Hill neighborhood, with its cobbled streets and romantic buildings all along Charles Street. This is also lovely to walk around in the autumn, as the leaves drift down around you. Also be sure not to miss the Faneuil Hall area downtown, a quaint historic marketplace that we think is at its most beautiful in the fall.
For a quintessentially New England fall activity for your afternoon, take the commuter rail or a ride-share to one of the numerous farms just outside Boston, for apple picking and apple cider doughnuts. We particularly recommend Nashoba Valley Winery or Honeypot Hill Orchards. You can fill a bag or basket with various kinds of crisp and delicious apples, picked right off the trees yourself! Many apple orchards also offer wine tours, hayrides, caramel apples, and other treats to enjoy.
Submitted by Tegan and Alex at Why Not Walk.
31. Stowe, Vermont is a Dream of a US Fall Vacation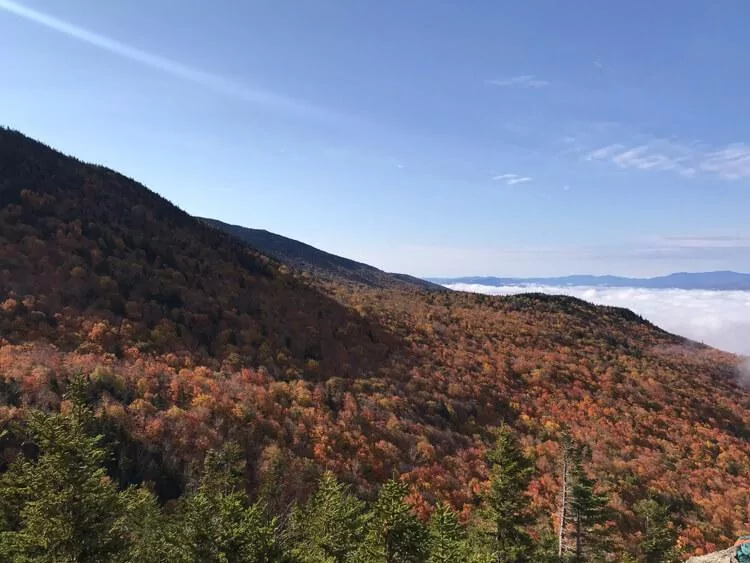 When it comes to one of the best fall vacations in the US for foliage, Stowe, Vermont is idyllic. Aside from the jaw-droppingly beautiful Green Mountains that span the state and the stunning alpine lakes, Stowe has some of the most vibrant fall foliage around!
Some things to do in Stowe in the fall include hiking to Stowe Pinnacle and Sterling Pond, enjoying apple cider and apple cider donuts at Cold Hollow Cider Mill in nearby Waterbury, driving through scenic Smugglers Notch, and wandering around the small and charming downtown.
For a romantic date night in Stowe, definitely opt to have dinner and drinks on the patio at the Trapp Family Lodge. This Austrian-inspired alpine resort was home to the von Trapp family (yes, the singers!) and is a slice of Europe in Vermont. The views of the mountains at sunset are divine!
Stowe is the most charming New England town you didn't know you needed to visit this fall! It makes for a perfect stop on a Vermont fall road trip!
32. Savannah, Georgia is Perfect For a US Fall Vacation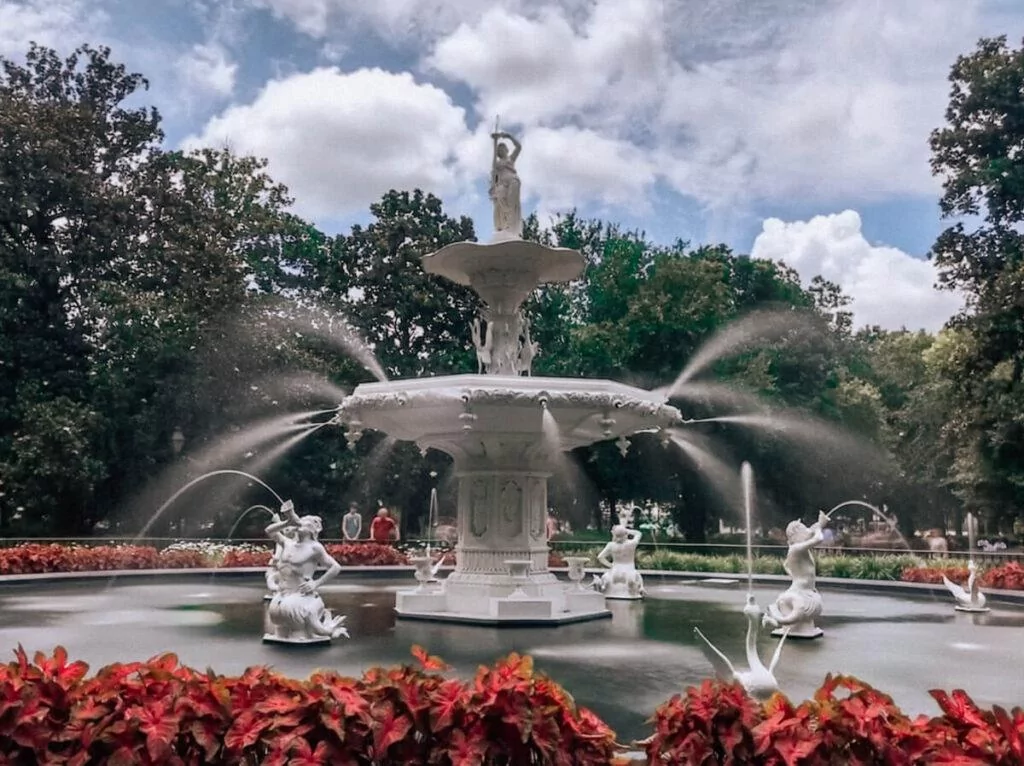 Savannah, Georgia may be a popular place to visit in the summertime, but it is actually perfect in the fall!
The weather starts to cool down from the stifling heat of summer, and you can truly enjoy the best this city has to offer in the fall.
Some things to do in Savannah for a weekend include taking a ghost pub tour (especially in October near Halloween), going on a food tour around the city, exploring Bonaventure Cemetery, wandering around the charming city squares, and definitely spending a day or two on Tybee Island.
The US's most haunted city is definitely made spookier in the month of October, so why not pay a visit?
Where would you most like to visit this fall? Which is your favorite of the best fall vacations in the US?
Want more US travel inspiration? Check out these posts:
Pin it here!