Some posts on this site contain affiliate links, meaning if you book or buy something through one of these links, I may earn a small commission (at no additional cost to you!). Read the full disclosure policy here.
---
Looking for unique things to do in Lexington, KY? You've come to the right place!
Former Kentucky governor Happy Chandler once said, "I never met a Kentuckian who wasn't either thinking about going home or actually going home." Those words couldn't be more true even today, especially as I'll always have a soft spot for my old Kentucky home.
Being born and raised in Kentucky, and having lived in Lexington for 4 years while I attended the University of Kentucky, I know a thing or two about things to do in Lexington and the surrounding area.
This city is full of history, has fantastic eateries to get that southern cooking fix, and, of course, there are several charming horse farms. So as a former local, and a frequent visitor of friends who still live there, I've got the best things to do in Lexington, KY that'll make you want to come visit ASAP!
20 Unique Things to do in Lexington, KY
From bourbon to horse racing, these are the top Lexington, KY things to do!
Kentucky Horse Park is One of the Top Places to Visit in Lexington, KY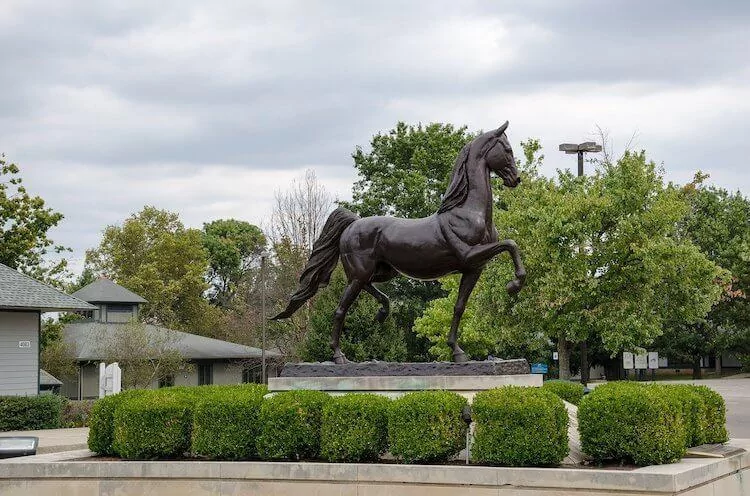 While in the "horse capital of the world," there are a lot of spots to visit these incredible animals. First up is the Kentucky Horse Park. This place is an Equine Theme Park where one can witness stunning horses, learn about horse racing, and perhaps explore the beautiful area on horseback!
Some cool things you'll want to check out at the horse park include the Hall of Champions, where you'll meet famous racehorses and learn about their back story, learn about several different breeds of horses at the Parade of Breeds Show, ride around the park on a trolley pulled by draft horses, or learn more about horses at many of the museums on-site such as the International Museum of the Horse and the American Saddlebred Museum.
This place also puts on several events throughout the year, and a favorite of many people is the Southern Lights Holiday Festival. This holiday festival has light displays all over, and there is a petting zoo, craft vendors, entertainment, and lots of great food!
So if this is your first time here, this is a must-see of the Lexington attractions and certainly one of the most unique things to do in Lexington!
Kentucky Horse Park Address: 4089 Iron Works Parkway, Lexington, KY 40511
Hours: Wednesday-Sunday 9 am-5 pm. Closed on Mondays and Tuesdays. Here is the daily schedule for barns:
Breeds Barn: 10 am and 1 pm
Hall of Champions: 10:45 am and 3 pm
Big Barn: 11:15 am and 2 pm
Admission: $12 for adults, $6 for children ages 6-12 and military, $10 for seniors aged 62+, and free for children 5 and under. This includes an extra day for free with receipt. Parking is $5.
Keeneland is a Must-See Lexington Attraction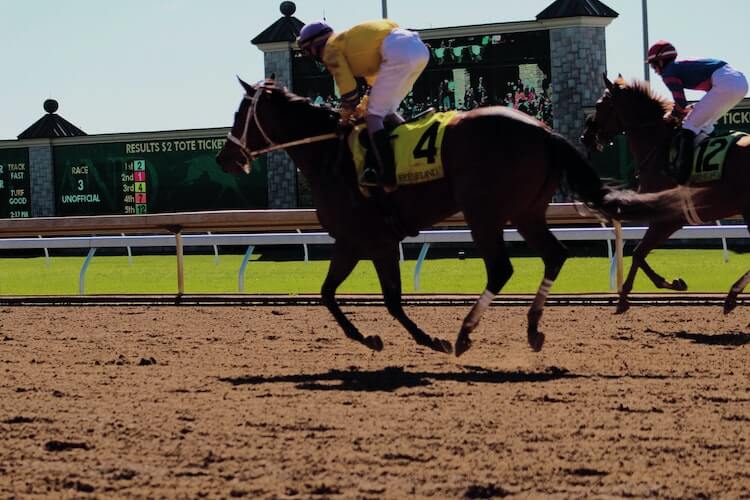 Thought Kentucky horse racing was just a thing at Churchill Downs in Louisville? Think again. While Keeneland isn't as popular or as large as Churchill Downs, it is many Kentuckians' favorite spots to watch horse racing.
While you can visit and do a tour on various dates throughout the year, I recommend visiting Lexington in either April or October to get the full effect of Keeneland. Why? Because that is when the spring and fall meets are!
Back in college, I looked forward to the first Friday of April or October, as it was one of the first racing days for the season at Keeneland, and they threw a huge event for students then. It was such a fun time getting dressed up, tailgating, and betting on racing as I socialized with other students.
As an adult, I still love visiting to bet on horses, grab a few cocktails, and admire the scenery of the grounds, especially as they walk the horses around before the races.
Keeneland Address: 4201 Versailles Rd., Lexington, KY 40510
Spring and Fall Meet Times: 11 am with first race at 1:05 pm. Usually opening day gates open at 1 pm and races start at 3 pm.
Admission: $6 for general admission for adults and free for children under 12.
Sun Valley Farm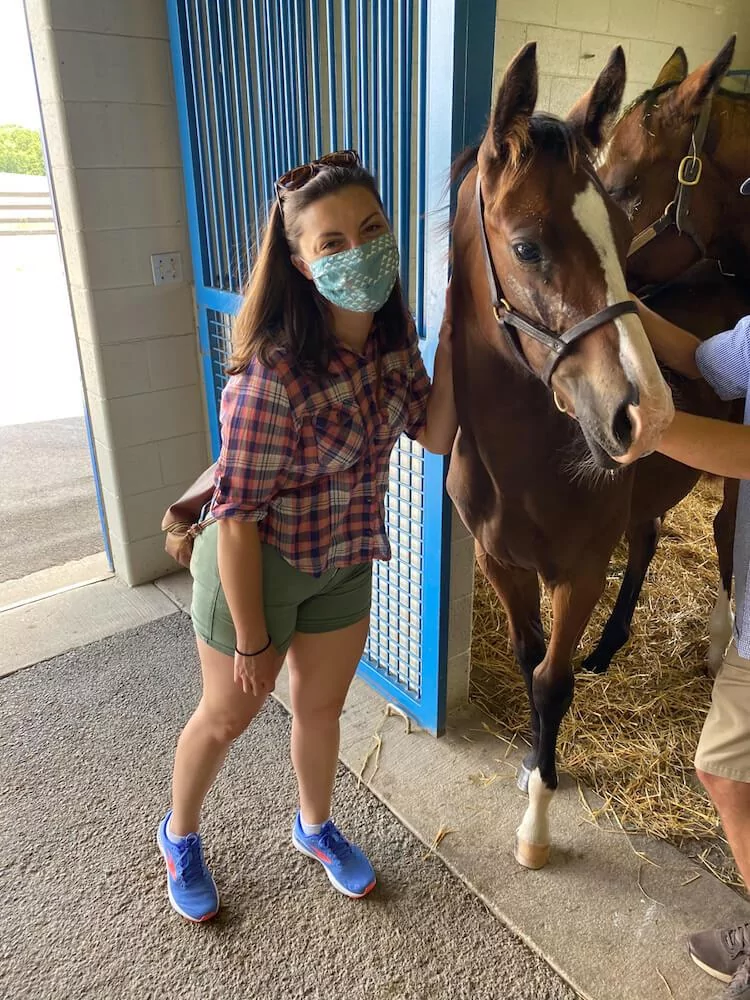 After the excitement of the large Kentucky Horse Park and the races of Keeneland, if you want to pet thoroughbred foals and wander around a thoroughbred nursery on a working horse farm, then a tour of Sun Valley Farm is a must.
This is one of the best things to do around Lexington, KY, and it is located "at the crossroads of bourbon and horses." This place is situated in Versailles, about a half-hour drive from Lexington.
I just experienced this tour on my last visit this past July and it was incredible! It is a place to learn about the thoroughbred horse racing industry and the extreme care taken around these horses, pet adorable foals and their mares, and see a beautiful estate complete with rolling hills and horses in the pasture.
Plus, just driving around this area is gorgeous, especially if you happen upon a spot where you see horses hanging out by the fence!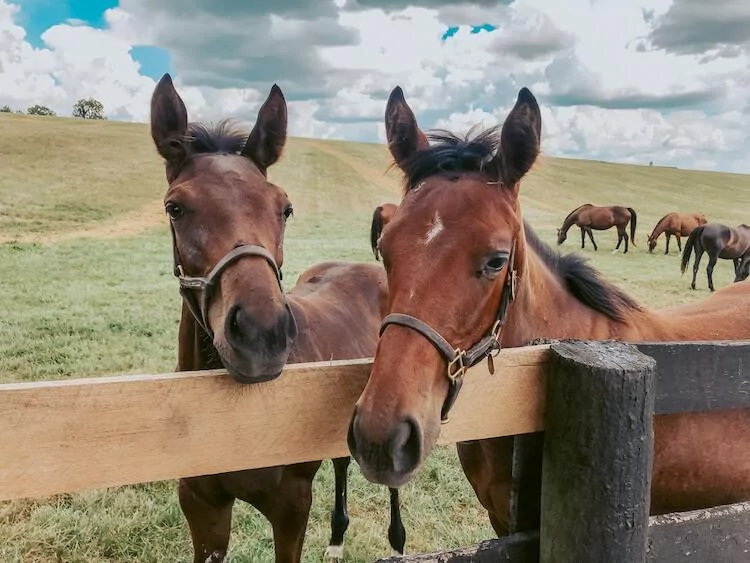 Sun Valley Farm Address: 556 New Cut Rd., Versailles, KY 40383
Tour Times: Various times of year (typically Friday-Sunday) at 12:30 pm or 2 pm, and can be arranged via email at [email protected].
Admission: $20 for adults, $15 for children.
Drink Bourbon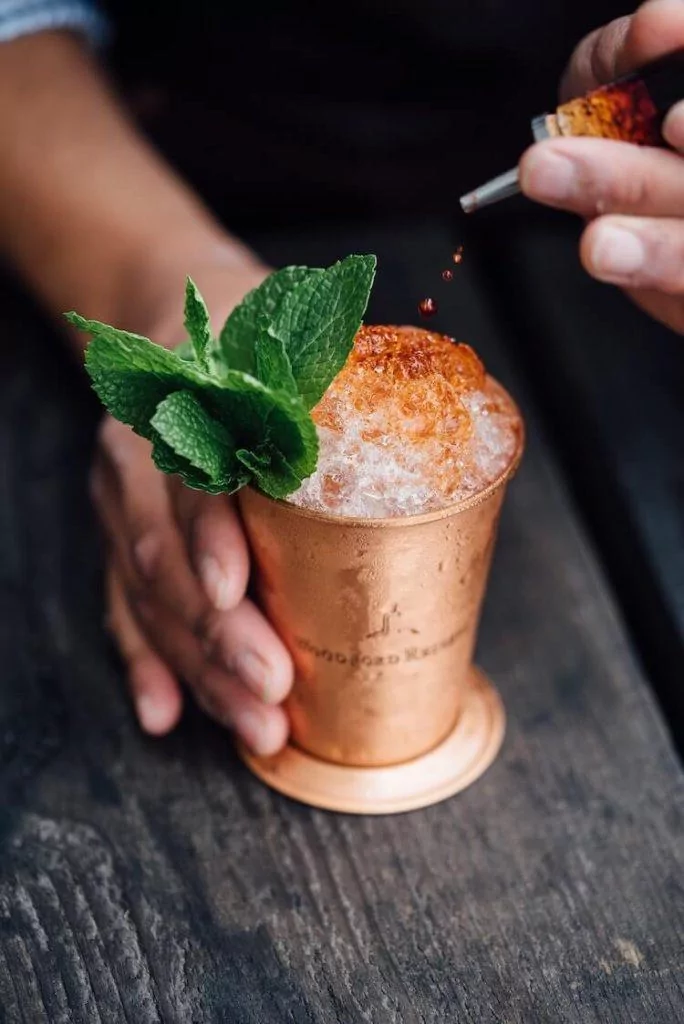 I mean, you can't come to Kentucky and NOT try bourbon, right? From the Urban Bourbon Trail in Louisville to the classic Bourbon Trail leading to Lexington, KY, Kentucky and bourbon sort of go hand in hand.
After a visit to Sun Valley, why not check out Woodford Reserve just down the road? It's an incredible distillery with gorgeous scenery surrounding it.
If you want to stay in Lexington, check out Town Branch Distillery, Bluegrass Distillers, and Barrel House Distilling Co. And if you want to venture out a bit to explore famed spots on the Bourbon Trail, definitely hit up Woodford Reserve (as mentioned above and a 35-minute drive from Lexington), Four Roses (30-minute drive), Maker's Mark (1 hr 15-minute drive), and Lux Row Distillers (1 hr drive).
Here is a fantastic bourbon tour that does all the driving for you and stops at Woodford, Buffalo Trace, and Four Roses! Bourbon Distillery hopping is definitely among the most unique things to do in Lexington and Kentucky in general!
Take in Some History at the Mary Todd Lincoln House
Lexington, Kentucky has a long history, and if you're staying in downtown Lexington, you can walk over to the former first lady's childhood home.
Mary Todd Lincoln's history is that of a lot of controversy and tragedy. Take a tour of this home to learn about her history, her family history, as well as history of the enslaved men and women in Lexington and in the house at the time.
Mary Todd Lincoln House Address: 578 West Main St., Lexington, KY 40507
Hours: Monday-Satudays 10 am-3 pm. Timed entry every half hour. Closed on Sunday.
Admission: $15 for adults, $6 for children 6-17 years old, and free for children under 6. Two for one admission for active military. Buy tickets in advance here!
Henry Clay Estate is One of the Unique Things to do in Lexington
Henry Clay was quite an influential political figure in Kentucky back in the 1800s. As Speaker of the House, he changed its role to what it is today, aided emerging South American countries, and was a successful attorney, farmer, and horseman who helped Lexington earn the reputation of "Horse Capital of the World."
His estate, called Ashland, is one of the more popular things to do around Lexington, KY with it's sprawling grounds, and it has many tours including the Signature Henry Clay Tour where you'll learn more about his estate and his life, and the Traces: Slavery at Ashland Tour which includes learning about the men, women, and children enslaved on the estate, how their stories were uncovered, and honor their memories.
Henry Clay Estate Address: 120 Sycamore Rd., Lexington, KY 40502
Hours: Tours run at select times Tuesday-Saturday.
Tours Admission: $25 for adults, $15 for students, and children 5 and under are free.
One of the Best Free Things to do in Lexington, KY: Visit the Arboretum!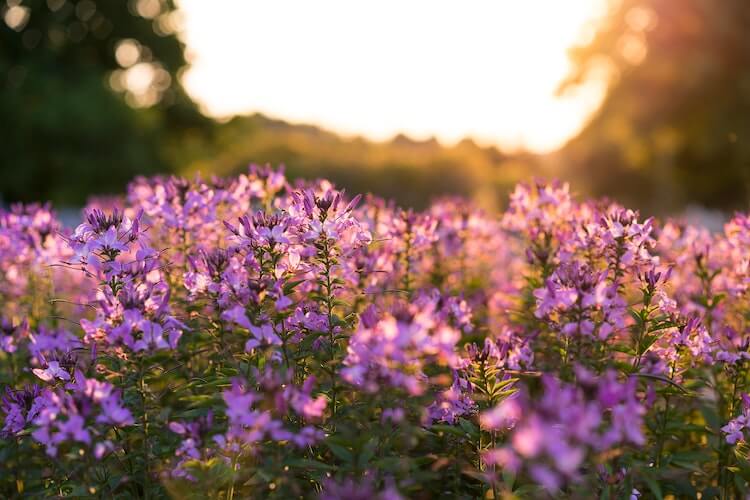 This place is so beautiful! It quickly became my favorite spot in Lexington for running, wandering around with friends, and admiring the beautiful flowers.
The Arboretum is a 100-acre botanical garden in the heart of Lexington and run by the University of Kentucky College of Agriculture, Food, and Environment. The best part is that the garden is always changing with the seasons, from tulips in the spring, roses in the summer, and gorgeous fall foliage in the autumn.
I love the paved Walk Across Kentucky that is a 2 mile loop featuring native Kentucky plants from across the state. It is a gorgeous botanical garden to behold whether you want to go on a run or want to admire the plants of Kentucky!
Arboretum Address: 500 Alumni Dr., Lexington, KY 40503
Hours: Monday-Friday 12 pm-dusk and Saturday-Sunday dawn-dusk.
Catching a Basketball Game at Rupp Arena is One of Many Unique Things to do in Lexington, KY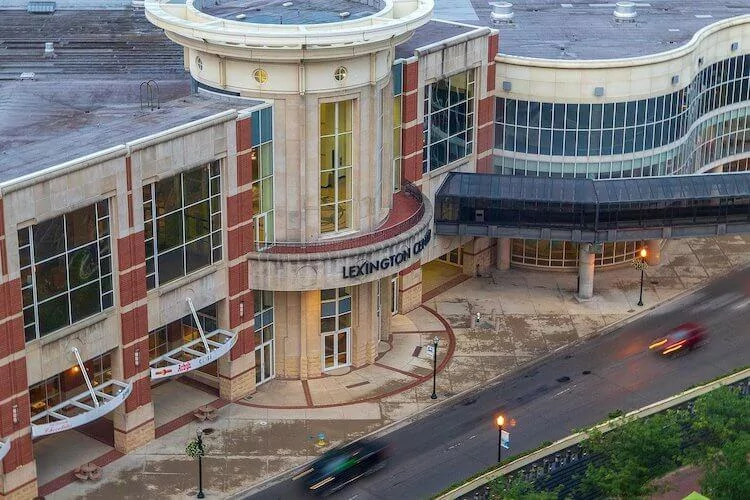 If you are visiting Kentucky around basketball season, then you have to check out a game at Rupp Arena, where the University of Kentucky Wildcats play.
The energy is incredible from the fans to the players who are all hoping for their shot at an NCAA National Championship…and perhaps a spot on the NBA draft list. UK Basketball is where many famous NBA players including Anthony Davis, John Wall, DeMarcus Cousins, Karl-Anthony Towns, and so many more got their start!
So snag a ticket if the cats are in town, brush up on your "C-A-T-S, cats, cats, cats!" chant, and head to a game.
Rupp Arena Address: 430 West Vine St., Lexington, KY 40507
**Ticket prices and game times vary.
Indulge in My Old Kentucky Chocolates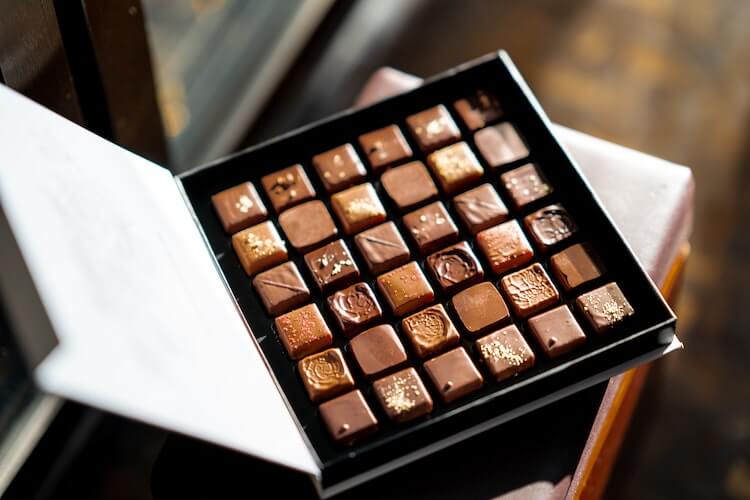 Life is sweet in Lexington, but My Old Kentucky Chocolates are sweeter. Take a tour and indulge in their bourbon chocolates, caramel chocolates, pulled creams, and chocolate bars at this delightful little candy factory. It's definitely one of the most fun things to do in Lexington, KY!
My Old Kentucky Chocolates Address: 450 Southland Dr., Lexington, KY 40503
Hours: Monday-Friday 9 am-6 pm, Saturday 9 am-5:30 pm, and Sunday 12-5 pm. Tours take place on Wednesday and Thursday at 10 am.
Tour Admission: $5 per person.
Explore the Kentucky Castle for Amazing Things to do Around Lexington, KY
Just 20 minutes from downtown Lexington you can visit a stunning castle. Explore the beautiful castle itself, the farm, stay the night there for the ultimate luxury, or dine at their farm-to-table restaurant featuring food grown on their own estate as well as surrounding farms.
It truly is one of the most romantic things to do in Lexington, KY.
Kentucky Castle Address: 230 Pisgah Pike, Versailles, KY 40383
Hours: Tour times vary as you can arrange them by direct contact. Restaurant hours are as follows: Breakfast/Brunch is 8:30 am-1 pm daily. Dinner is 5-8 pm Sunday-Thursday and 5-9 pm on Friday and Saturday.
Tour Admission: $25 per person plus tax.
Buying Local at the Lexington Farmers Market is One of the Unique Things to Do in Lexington, KY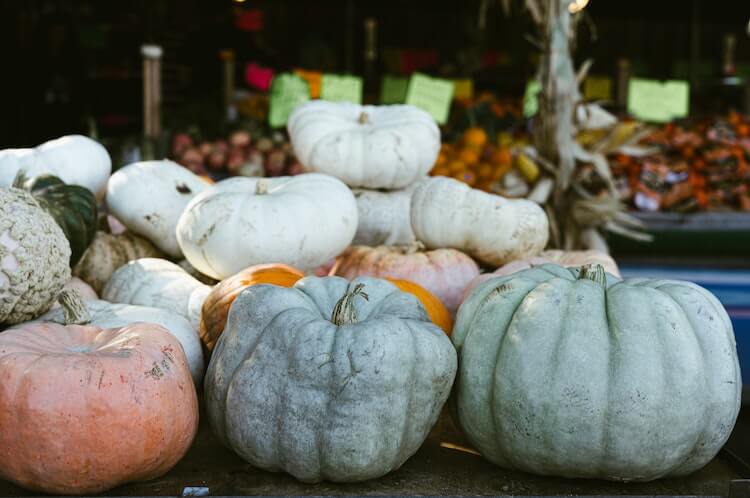 Enjoy the local flavors of Lexington by shopping at the farmers markets across the city. Purchase fruits, veggies, flowers, jams, spices, baked goods, and more.
These markets are open at various times throughout the year and week. The market on Maxwell & Broadway is open from 7 am-4 pm Mid-May-November on Tuesdays and Thursdays. The Greater Gardenside market is open from 4-7 pm throughout the summer on Wednesdays. On Sunday, head to Southland Drive for their market from 10 am-2 pm April-October. Lastly, the main Downtown Farmer's Market is open year-round on Saturdays from 8 am-2 pm April-October and 8 am-1 pm November-March.
For One of the Truly Unique Things to do in Lexington, KY Visit the Aviation Museum of Kentucky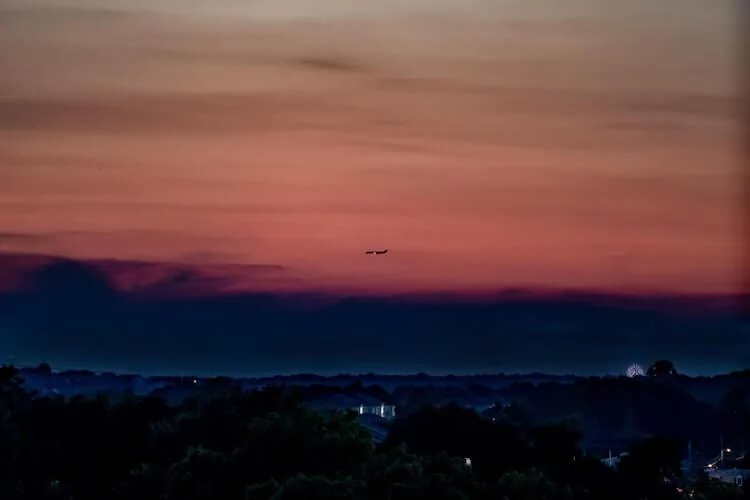 Of all of the places I've flown into, Lexington, KY is one of the best. Rolling hills, horse farms, and so much greenery make it one of my favorite airports to fly to. So if you are lucky enough to fly in or out of the Bluegrass Airport, you'll definitely want to check out the Aviation Museum of Kentucky while you're there!
Discover the impact that the aviation industry has in Kentucky! Learn the history of aviation in Kentucky as well as witness the various beautiful planes and unique engines. This is definitely one of the more interesting things to do in Lexington, KY with kids!
Plus learn about the famous people in aviation who are from Kentucky including 2 astronauts! And, as a fun fact, Eastern Kentucky University has a whole aviation program with its own flight school!
Aviation Museum of Kentucky Address: 4029 Airport Rd., Lexington, KY 40510
Hours: Tuesday-Saturday 10 am-5 pm. Sunday 1-5 pm.
Admission: $10 for adults, $6 for seniors aged 60+ and veterans or active duty military, $5 for children 6-16 years old, and free for children under 6. Families of up to 4 people can be admitted for $25.
Explore the University of Kentucky's Sprawling Campus for Unique Things to do in Lexington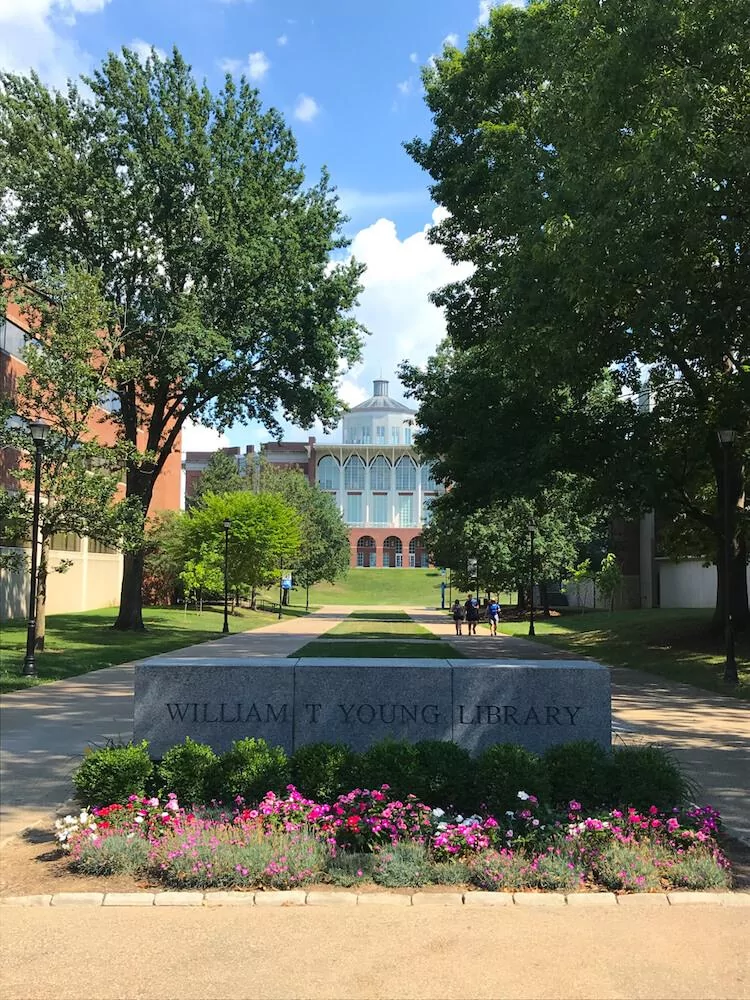 I always love returning back to UK's campus to walk around the gorgeous buildings and relive my college days (and the days when I was a campus tour guide!).
However, even if you didn't graduate from this university, the campus is full of beautiful spots including the famed Memorial Hall and its iconic steeple, the Old Quad with some of the university's oldest buildings, and the incredible library.
William T. Young (or Willy T as the locals and students call it) is a massive library and is truly stunning from the open and airy atrium to the trees and flowers surrounding the building outside.
Taking in the Culinary Delights is One of the Fun Things to do in Lexington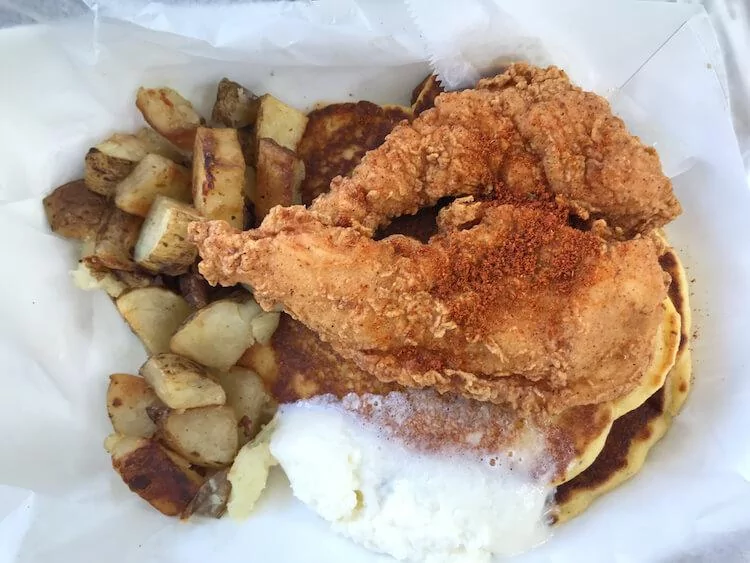 The food scene in Lexington is incredible! Of course, there are classic southern staples like the fried green tomatoes and shrimp and grits at Josie's and the jambalaya and etouffee at Bourbon n' Toulouse.
However, there are tons of great places to get a meal in Lexington! I love the Seafood Lady for delicious crab legs, shrimp, and fish, Taco Time has amazing tacos and tortas, and even upscale Lockbox at the 21C Hotel is worth the splurge.
Oh, and for a sweet treat, check out Crank & Boom for incredible ice cream flavors like bourbon and honey, Kentucky blackberry and buttermilk, and banana and chocolate.
Enjoy the Best Beers That Lexington, KY Has to Offer
If you're looking for some incredible things to do in Lexington, KY at night, then the craft beer scene is worth checking out. Create your own brewery crawl and visit a few of these fun breweries with these great beers:
West Sixth Brewing: IPA, Amber Ale, and Cocoa Porter.
Country Boy Brewing: Cougar Bait Blonde Ale, Hazelnut Stout, and Shotgun Wedding Brown Ale Aged on Vanilla Beans.
Ethereal Brewing: Boxy Brown Coconut Brown Ale, Care Bear Stare Sour Wheat with Oranges Berliner Weissbier, and Anomalous Transmissions Saison.
Blue Stallion Brewing: Dunkel, Helles, and Hefeweizen.
Mirror Twin Brewing: You, Me, & Mr. PB Chocolate Peanut Butter Milk Stout, White Girl Wasted Blonde Ale and Red Blooded American Red Ale.
Wise Bird Cider Co.: Known for their ciders like Commonwealth Gold, Hidden Creek, and the Cider Slushie.
If you want to party it up, the Lexington Thirsty Pedaler is a great time too!
Lexington isn't just a bourbon town, much like Portland, Maine, Cincinnati, Portland, Oregon, Seattle, and Asheville, the brewery scene here is fantastic!
Grab a Cup of Coffee at Any One of These Fun Coffee Shops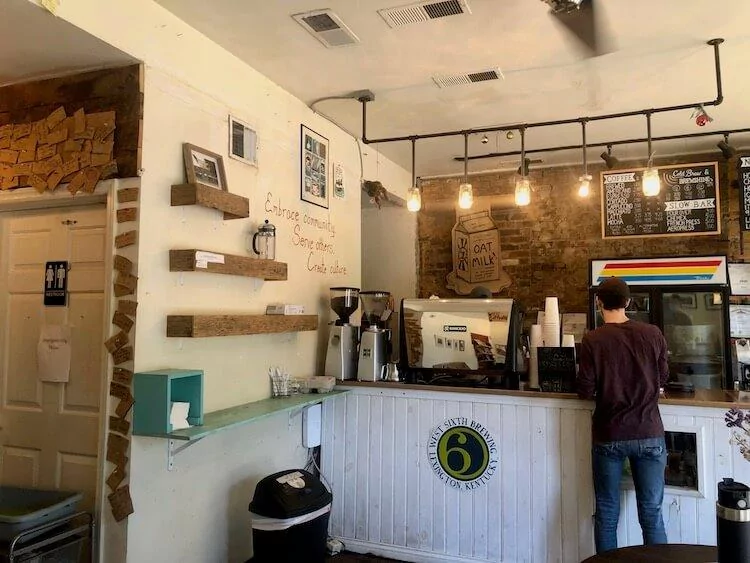 Lexington, KY boasts several incredible coffee shops around the city. So get caffeinated at one of these shops like the cozy A Cup of Commonwealth, the eclectic and art-filled Common Grounds, or North Lime Coffee & Donuts where you'll enjoy a cup of joe with a jaunty square-shaped donut.
Raven Run Nature Sanctuary is a Must for Unique Things to do in Lexington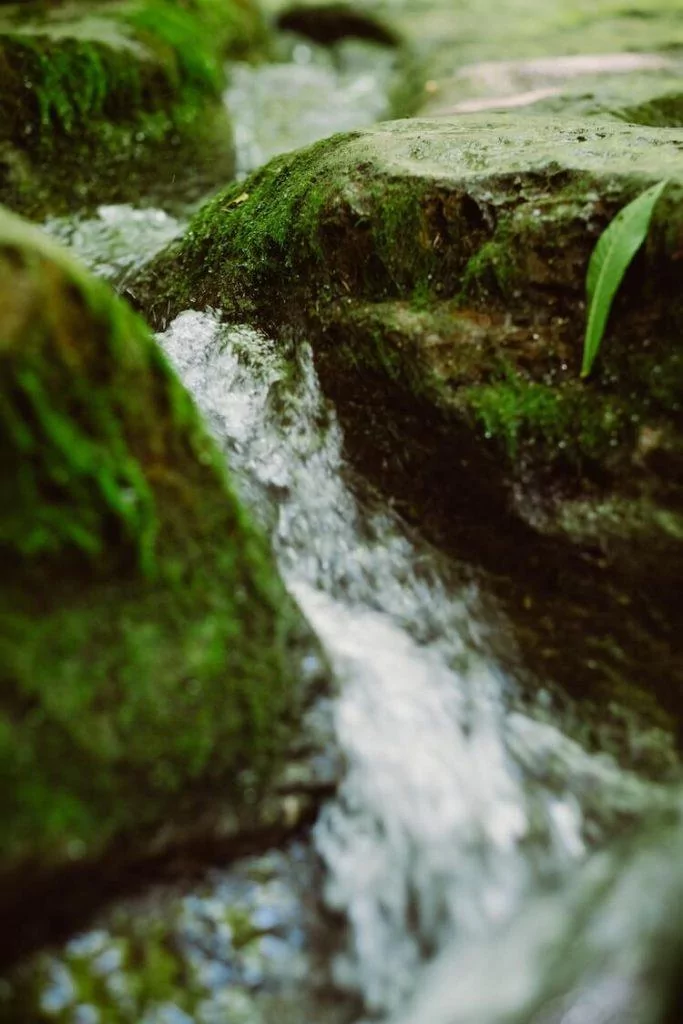 Now that you've indulged in beer, chocolate, bourbon, tasty cuisine, and coffee, it's time to get a little exercise in at Raven Run Nature Sanctuary. There are multiple trails to venture on in this park, making it a great place to spot wildflowers, animals, and more!
Check out the Kentucky River Overlook, Evans Mill, the Prather Homestead, Moore Grave, and the Wildflower Bowl during your time exploring nature in the area!
Raven Run Nature Sanctuary Address: 3885 Raven Run Way, Lexington, KY 40515
** During 2020, reservations in advance are required to visit. Time slots are for 2 hours and begin at 9 am, 11:30 am, 2 pm, and 4:30 pm.
Triangle Park is One of the Romantic Things to do in Lexington, KY
For one of the best things to do in downtown Lexington, KY, check out Triangle Park. From flowers in the spring to an ice rink in the winter, it is a fun spot to visit, take photos, and enjoy. There are also several live events and music performances throughout the year, films to watch during Fountain Films on Friday in the summer, and a 360-foot wide wall of cascading water.
While you're in the downtown area of Lexington, this is a place you'll definitely want to visit.
Get Out of Downtown and Go Kayaking as a Day Trip From Lexington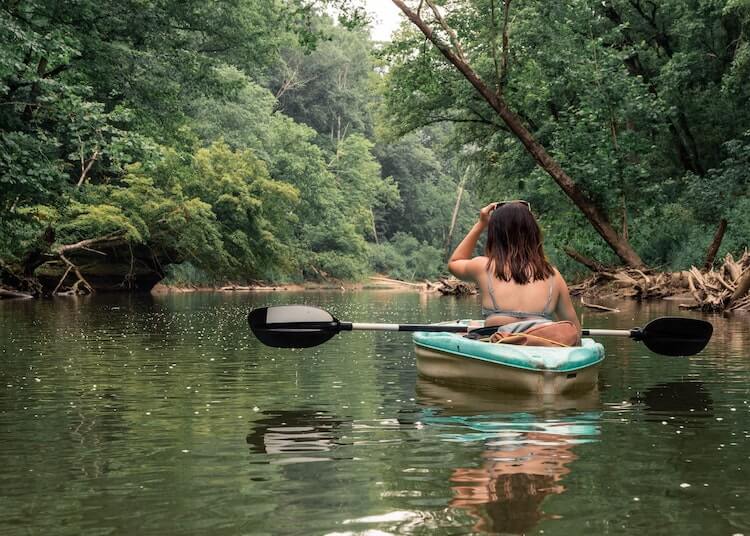 For a fun day trip from Lexington, check out Canoe Kentucky. Only 45 minutes from Lexington, you can canoe or kayak along either the Kentucky River or Elkhorn Creek.
It is a lot of fun to float along the river, but be prepared for a couple of rapids here and there! If you are looking for adventurous things to do around Lexington, this is definitely it! Rent a canoe or kayak for the day and get out on the water for some fun!
Canoe Kentucky Address: 7323 Peaks Mill Rd., Frankfort, KY 40601
Canoe Kentucky Hours: May-Labor Day 9 am-5 pm on Monday-Thursday, 9 am-6 pm on Friday, and 8 am-7 pm on Saturday and Sunday. Labor Day-October 31 9 am-5 pm Monday-Friday, 9 am-6 pm on Saturday and Sunday. November-March 9 am-5 pm Wednesday-Sunday. April-May 9 am-5 pm Monday-Sunday.
Canoe Kentucky Prices: Varies based on trip chosen and kayak or canoe.
For a Fun Day Trip or Getaway From Lexington, KY, Check Out Red River Gorge & Natural Bridge State Resort Park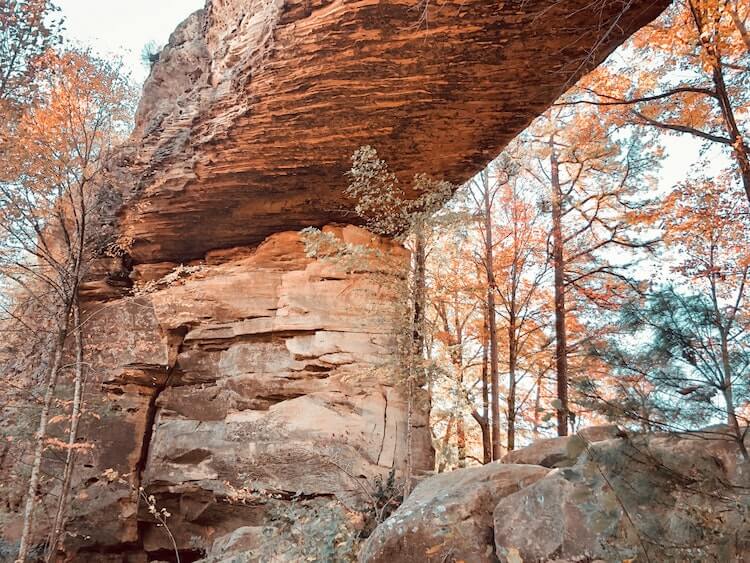 Last, but not least, when it comes to incredible things to do around Lexington, KY, you'll want to take a day trip out to Red River Gorge and Natural Bridge State Resort Park. This gorgeous piece of land is home to incredible hiking trails, perfect opportunities for rock climbing, fantastic zip lining, and, of course, you've got to reward your adventures with a slice of pizza from Miguel's Pizza.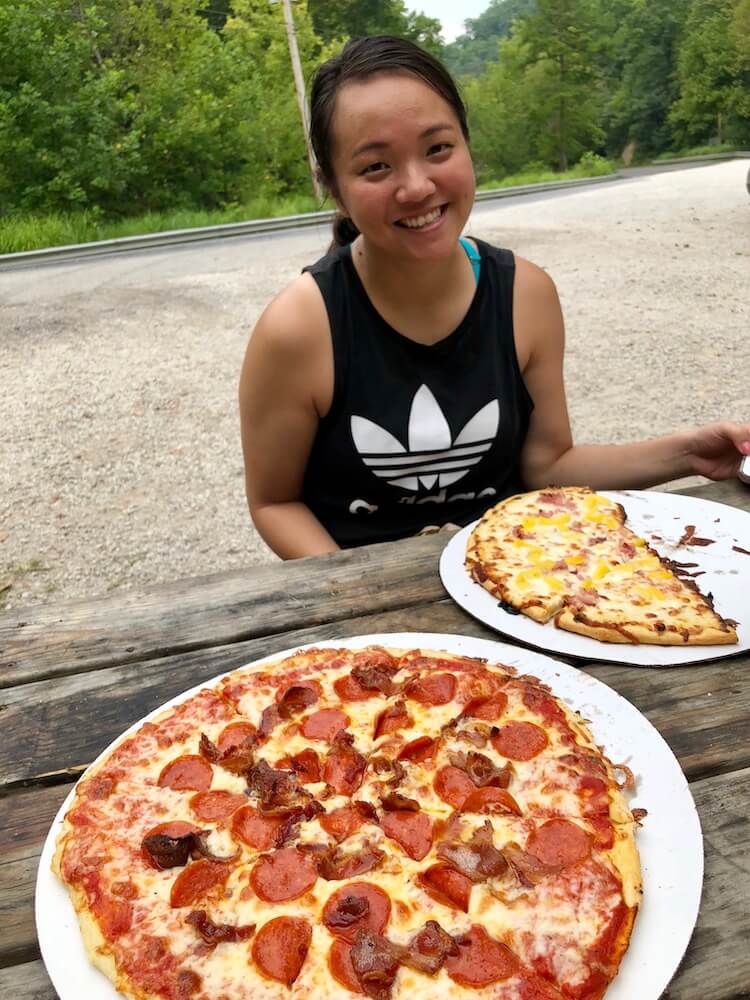 Some hikes to partake in include:
Indian Staircase and Indian Arch Loop: 3.5 miles and difficult
Natural Bridge and Battleship Rock Trail: 4.5 miles and moderate
Whittleton Arch: 2.5 miles and easy
Rock Bridge Loop: 1.5 miles and easy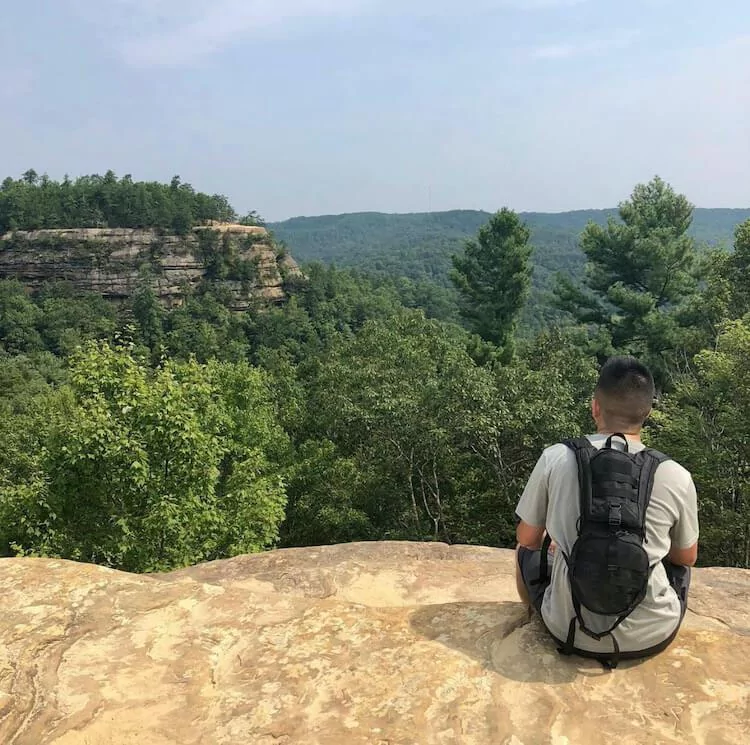 There are several incredible hikes and things to see at Natural Bridge State Resort Park and Red River Gorge from scenic overlooks to jaw-dropping arches. It makes for an incredible day trip from Lexington, or you can stay for a day or two and enjoy more of this incredible place.
These are hands-down the most exciting and unique things to do in Lexington, KY!
Map of the Most Unique Things to do in Lexington, KY
Getting There and Getting Around Lexington, KY
There are several ways to get to Lexington. There is the Bluegrass Airport for people flying domestically, and it is just outside of downtown. However, if flight prices are too costly or a good flight is hard to find, then try flying into the Louisville or Cincinnati airports instead and Rentalcars.com to drive to Lexington. The drive is only about an hour and a half long either way.
I always check Skyscanner to see the best flight deals!
You can also drive from various states surrounding Kentucky like Ohio, Indiana, Tennessee, Virginia, West Virginia, Missouri, and Illinois.
Once you're in Lexington, I recommend having a car to get to the attractions outside of downtown. The downtown area of Lexington is super walkable, but you'll want to experience many of the cool things to do in Lexington outside of downtown. For rental cars, I love checking Rentalcars.com for great deals.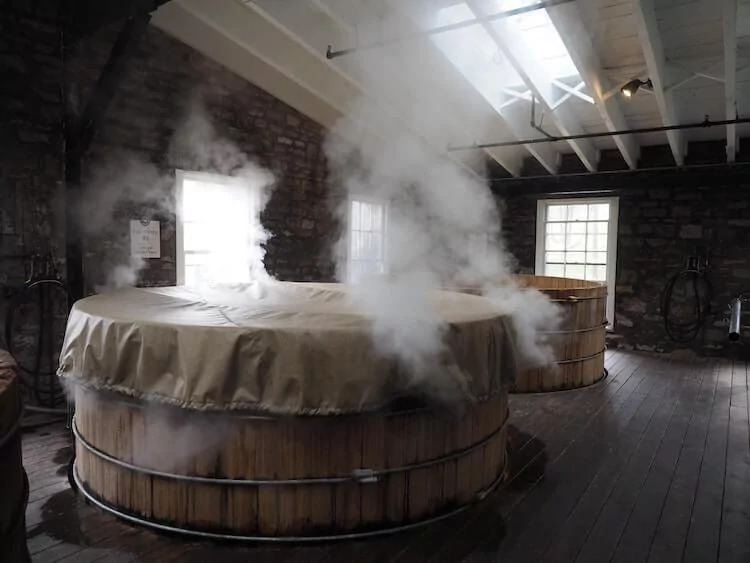 Where to Stay in Lexington, KY
It is always a good idea to base yourself downtown while staying in Lexington, as the most accommodation is there and plenty of great bars and restaurants. To save a little extra cash, I love booking on VRBO as they have plenty of affordable options in downtown Lexington!
If you prefer to stay in a hotel, here are a few based on your budget:
Budget: Hyatt Place Lexington
Enjoy the comfort and convenience of Hyatt near downtown Lexington. Within easy driving distance to many of the major attractions in the area, this is a great place to stay on a budget! Prices start around $90 per night.
Read reviews on TripAdvisor and book here!
Mid-Range: The Sire Hotel
This downtown hotel has free parking, an outdoor terrace with a fire pit, and gorgeously renovated rooms. It is also located in a lovely brick building full of character and southern charm. Prices start around $125 per night.
Read reviews on TripAdvisor and book here!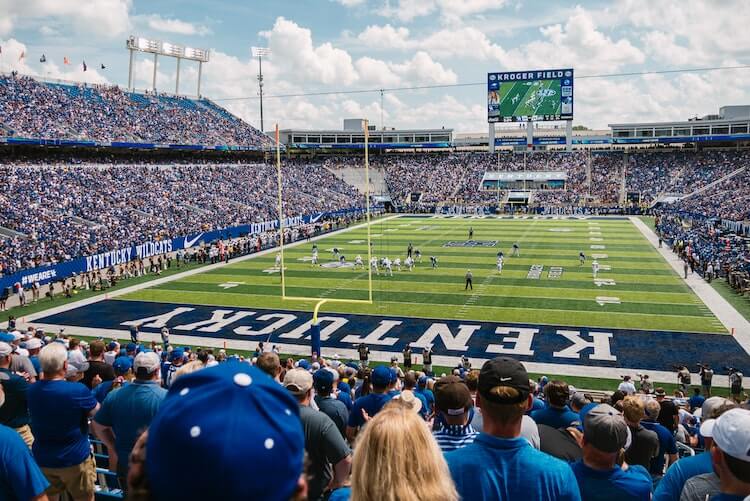 Luxury: 21C Museum Hotel
Also located downtown, this hotel is a combination of a boutique hotel and contemporary art museum. Enjoy the views from your room, vibrant statement furniture pieces, and incredible art around the hotel. Prices start around $170 per night.
Read reviews on TripAdvisor and book here!
Whether you have 1 day or 1 week to spend in Lexington, KY, this place has something to offer for everyone ranging from beer and bourbon to horses and basketball and all things in between!
What are your favorite unique things to do in Lexington? Would you love to visit?
Read Next: Top Things to do in Solvang
Pin it here!