Some posts on this site contain affiliate links, meaning if you book or buy something through one of these links, I may earn a small commission (at no additional cost to you!). Read the full disclosure policy here.
---
Are you looking for the perfect 3 days in Portland, Oregon itinerary? You've come to the right place!
Portland, Oregon is the epitome of the Pacific Northwest: eclectic cafes, various breweries (like other great cities like Portland, Maine, and Cincinnati), and stunning mountains in the background to top it off. So from tasty food to amazing day trips, here is the perfect 3-day Portland itinerary that you're going to want to copy!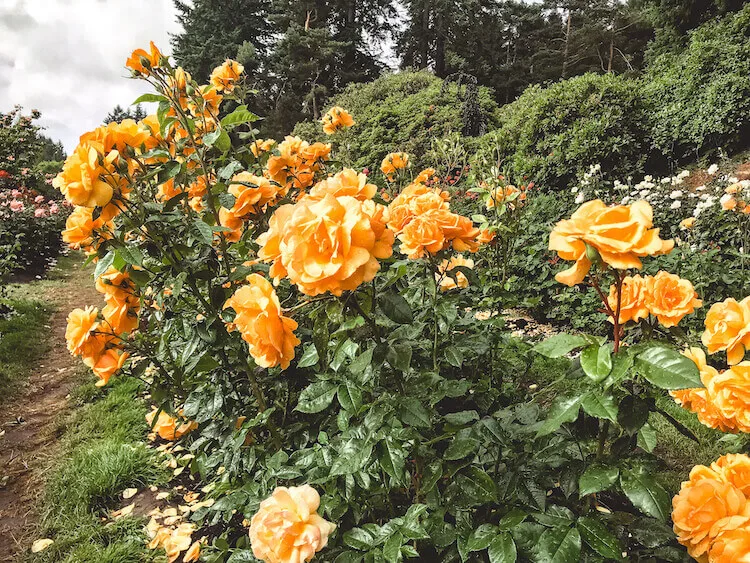 The Perfect Portland 3 Day Itinerary
Here is a quick reference list for your Portland plan in 3 days.
Day 1: Portland Iconic Classics
Sterling Coffee
Powell's City of Books
Lunch at Deschutes Brewery
Portland Art Museum
Snack at Salt & Straw
McMenamins Happy Hour
Day 2: Gardens, Breweries, and a Waterfall
International Test Rose Garden
Portland Japanese Garden
Alberta Arts District
Multnomah Falls
Breweries
Food Truck Dinner
Day 3: Day Trip!
Wander Along Willamette River
Stumptown Coffee
Breakfast
Day Trip From Portland
Portland Itinerary in 3 Days
From coffee shops to waterfalls, breweries to rose gardens, this is hands down the best way to spend a long weekend in Portland!
Day 1 of Your Portland, OR Itinerary: Explore Downtown, Pearl District, and Northwest District
Portland has so much to do downtown that it is a great place to start exploring. This is the place to spot most of the Portland attractions. And if you only have 3 days in Portland, I suggest getting a hotel close to downtown either in the Pearl or Northwest Districts so you can walk around.
First and foremost: coffee. Portland is famous for all of the amazing coffee shops in the area. And to start off, head to Sterling Coffee in the Northwest District for a cup of the good stuff. I recommend the Americano with oat milk!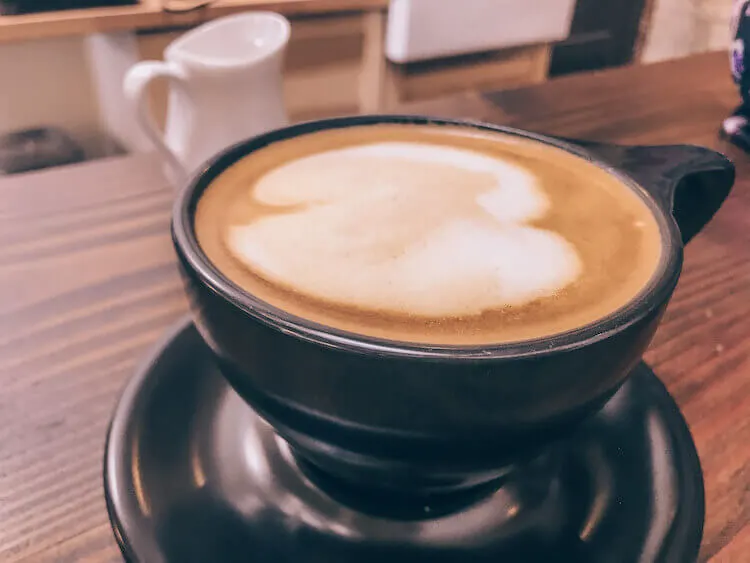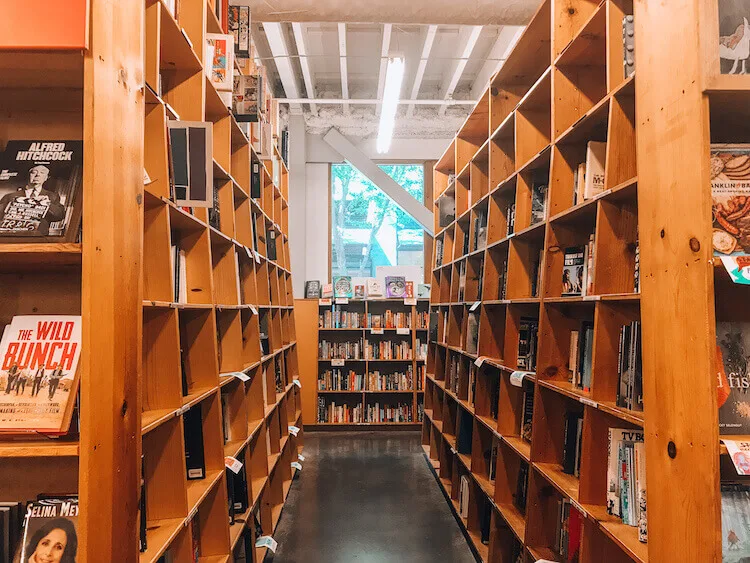 Next up, wander into the Pearl District for a peek inside of Portland's most famous bookstore: Powell's City of Books. This place is MASSIVE. We're talking floors upon floors of books by various categories. You can find pretty much anything here! I definitely spent the better part of my morning hunting down old favorites and new books I wanted to read.
If you are a book nerd like myself, you'll absolutely love this! Wander around the different floors and spot a fun book you'll have to take home!
After a joyous morning searching for your new favorite novel, head over to Deschutes Brewery for an excellent flight of their best beers that you can't get back home and tuck into a delicious lunch. I for one absolutely loved their veggie burger!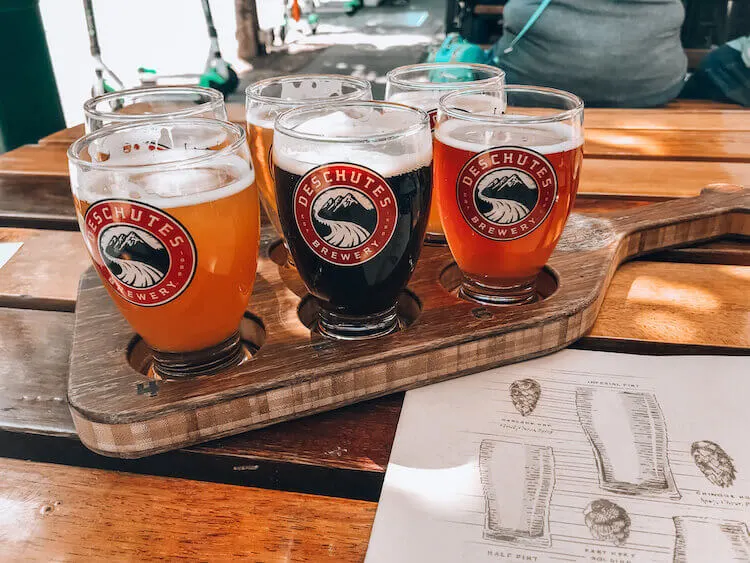 To walk off lunch, head over to the Portland Art Museum for an afternoon of admiring the lovely collections. Get cultured as you admire works from around the globe and in the US at one of the US's most inspiring cities. The entrance is $25.
Once you leave the art museum, treat yourself to tasty ice cream at Salt & Straw. This ice cream chain is famous for its sometimes-quirky flavors like olive oil or tomato strawberry sorbet. The best part about this place is they let you try as much as you want while you're waiting in line with absolutely no judgment. That's a bonus in my book. I LOVED the olive oil and honey lavender!
And I couldn't have you end your day without checking out an excellent happy hour at one of the many McMenamins in the city. These chain bars, hotels, and restaurants are in several once rundown places in the city and are renovated to restore the charm of its past. And they're seriously cool.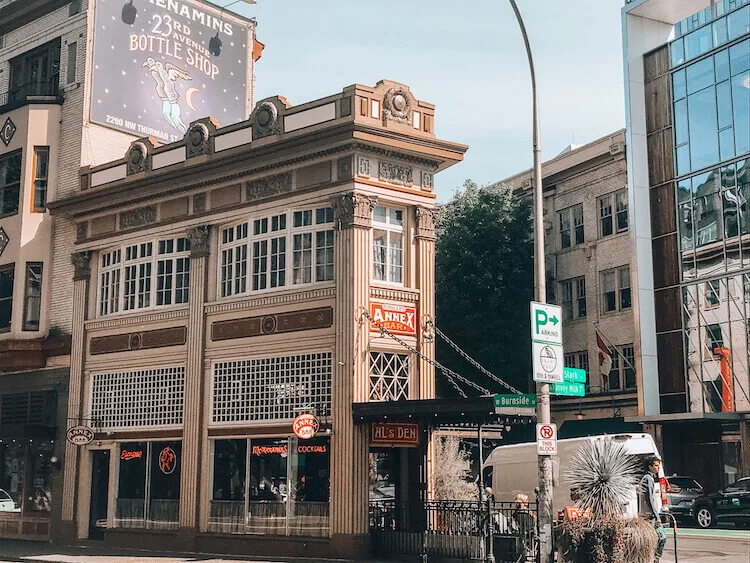 I went to a few during my time in Portland, but the top ones to visit close to downtown include Ringlers Annex located right downtown or Blue Moon Tavern & Grill in the Northwest District.
Day 2 During Your Weekend in Portland Trip Itinerary: Washington Garden, Alberta Arts District, Waterfall, and Breweries
On your second day during 3 days in Portland, I recommend getting up a little early and wandering over to Washington Park to hike around! The absolute best thing to do in Portland is to visit the International Test Rose Garden there!
I recommend showing up early to avoid the crowds. There are thousands upon thousands of varieties of roses and it smells so good! If you're here in the summer, this is a must-do in Portland.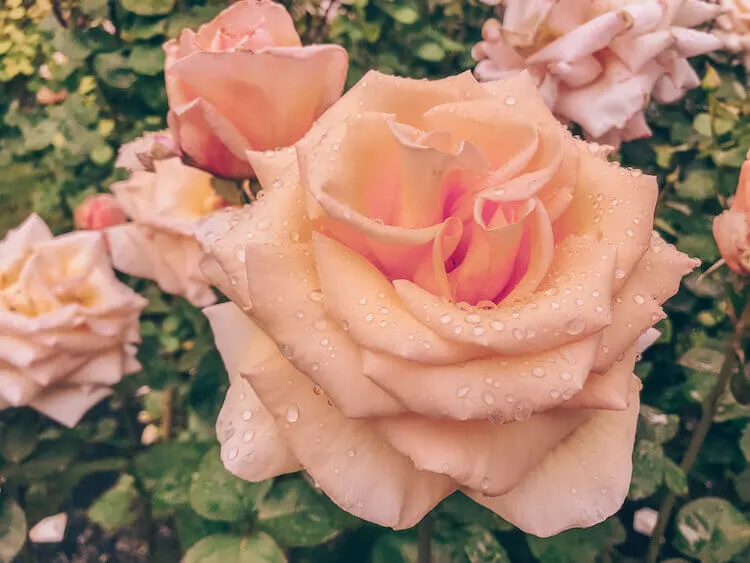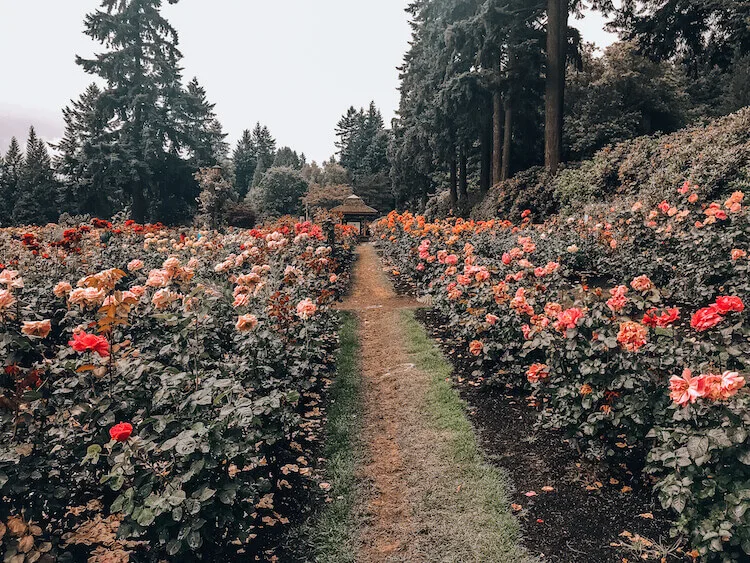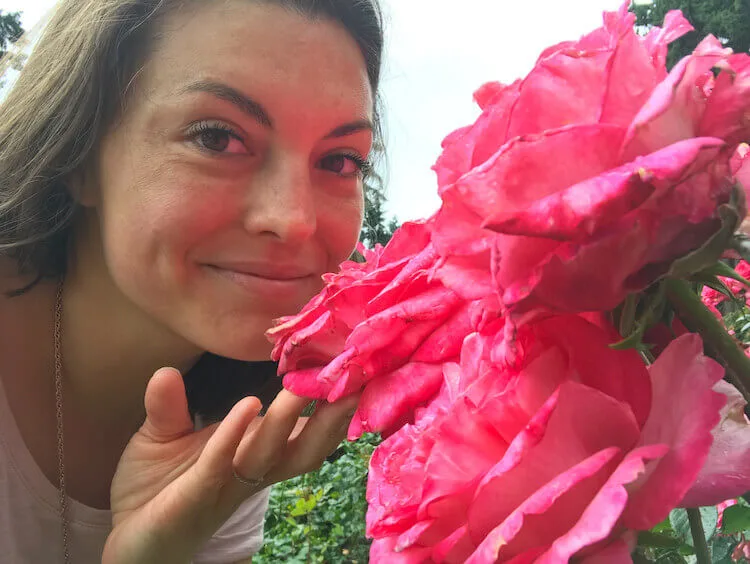 The colors, scents, and more make it an invigorating experience to walk along the rows of roses. I came here twice during the week I spent in Portland just to see it in the morning, as the workers were finishing up their pruning and before everyone showed up. It was 100% worth it, and it is free!
After the rose garden, walk over to the Portland Japanese Garden across the street. This place opens at 10 am on most days (it is closed on Tuesdays). The ticket seems a little steep at $19.95 a person, but it will transport you to Japan. And a round trip ticket to Japan is much steeper than that! It seriously is one of the best things to do in Portland, especially during your 3 days in Portland.
Anyway, from the mist rising from the tea garden to the beautiful bonsai display, you could spend an hour or two admiring the koi pond, sand and stone garden, and more as you reach your Zen while in the midst of the city.
I've never been to Japan (yet), but it certainly made me want to book a ticket ASAP.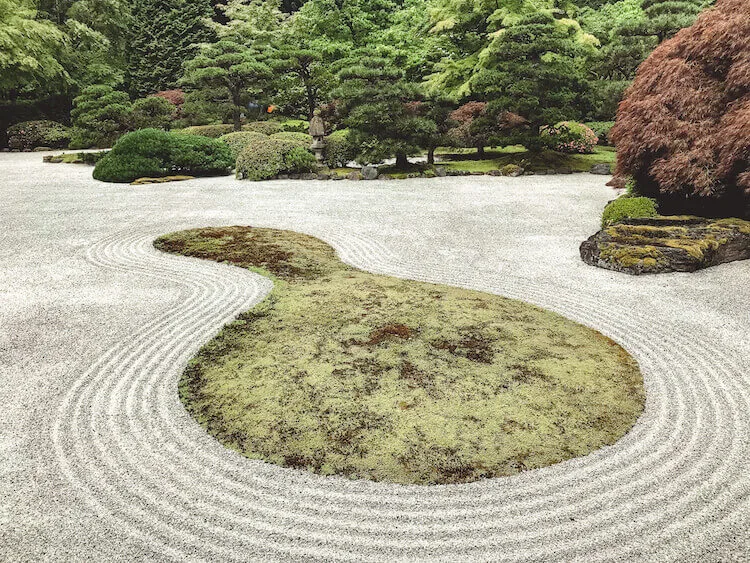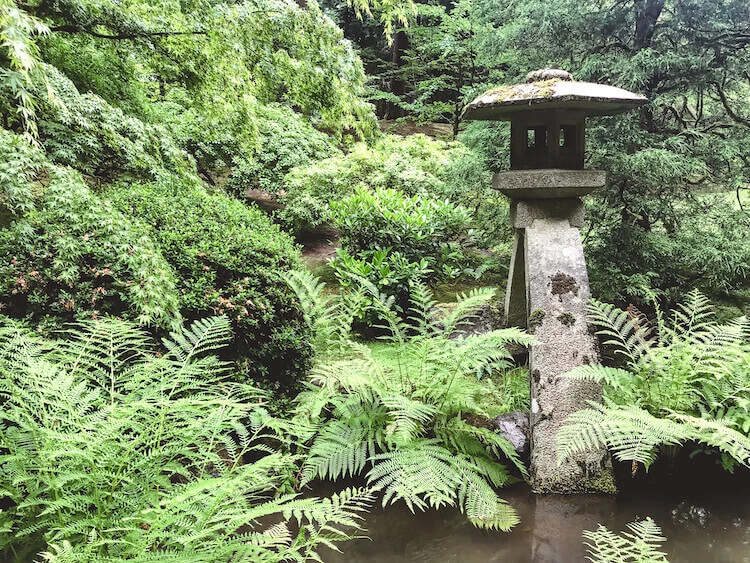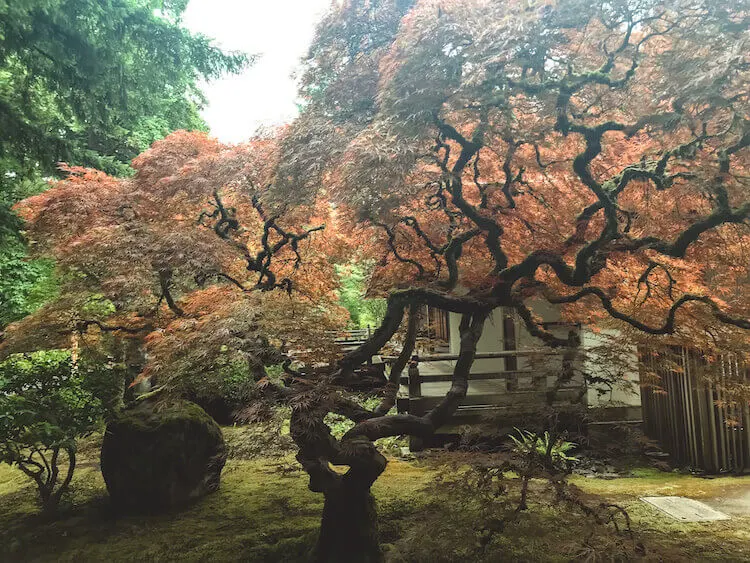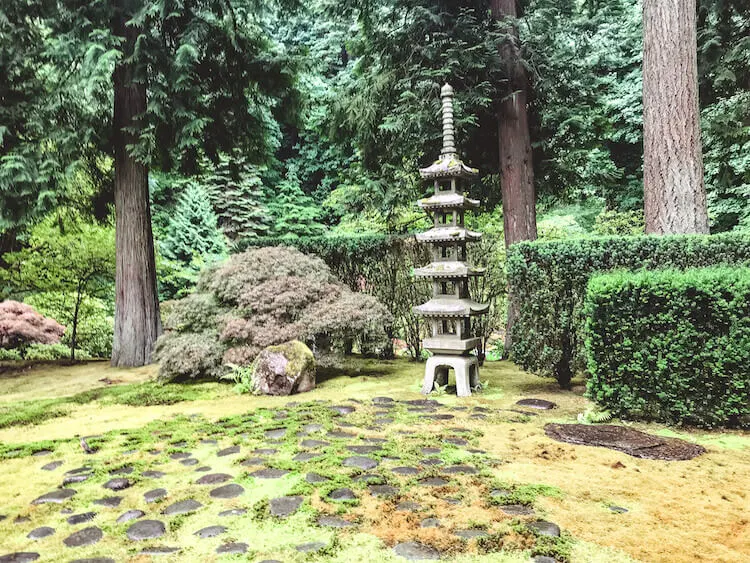 A lovely morning walking around deserves brunch. And the best brunch in Portland can be found over in the Alberta Arts District at Tin Shed.
Take the bus or drive up to the Alberta Arts District and mosey over to grab a cup of excellent coffee at Barista (loved the latte with coconut milk) before walking down the street toward Tin Shed.
If you're like me, a beautiful French bakery called Petite Provence may catch your eye. And if you're like me, you'll probably stop in, get a delicious butter croissant and pistachio macaroon, savor each bite as you continue your walk, and then proceed to eat an amazing brunch at the Tin Shed.
Yes, I was full. Yes, it was worth it. Tin Shed also has great tea and coffee, but their brunch was spectacular! I opted for the veggie pesto scramble, but they have a great biscuit benedict, and very filling sampler plates like Everything Nice (French toast, potato cake with sour cream and green onion, eggs, and meat) or Everything Naughty (biscuit with your choice of gravy, potato cake with sour cream and green onion, eggs, and meat).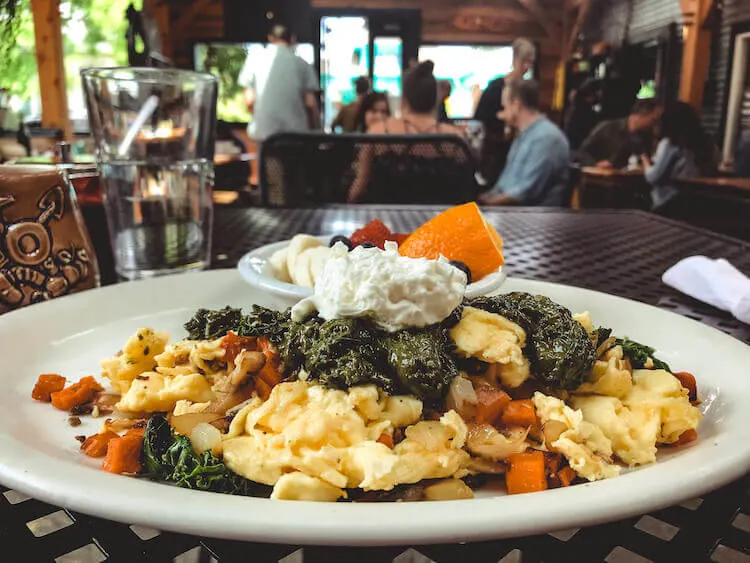 Sure, you'll probably need to be rolled out of the restaurant, but you'll want to walk it off by admiring all of the art galleries and boutique shops in this district.
Once you've finished exploring the Alberta Arts District, if you've got a rental car, I definitely recommend heading out to Multnomah Falls about a half-hour away!
And if you don't have a car, there is the option to take the Columbia Gorge Express from the Gateway Transit Center. The cost is $15 for a day pass, meaning you can take your time and hike around (check the bus schedule here).
You can also take a tour from Portland to the falls!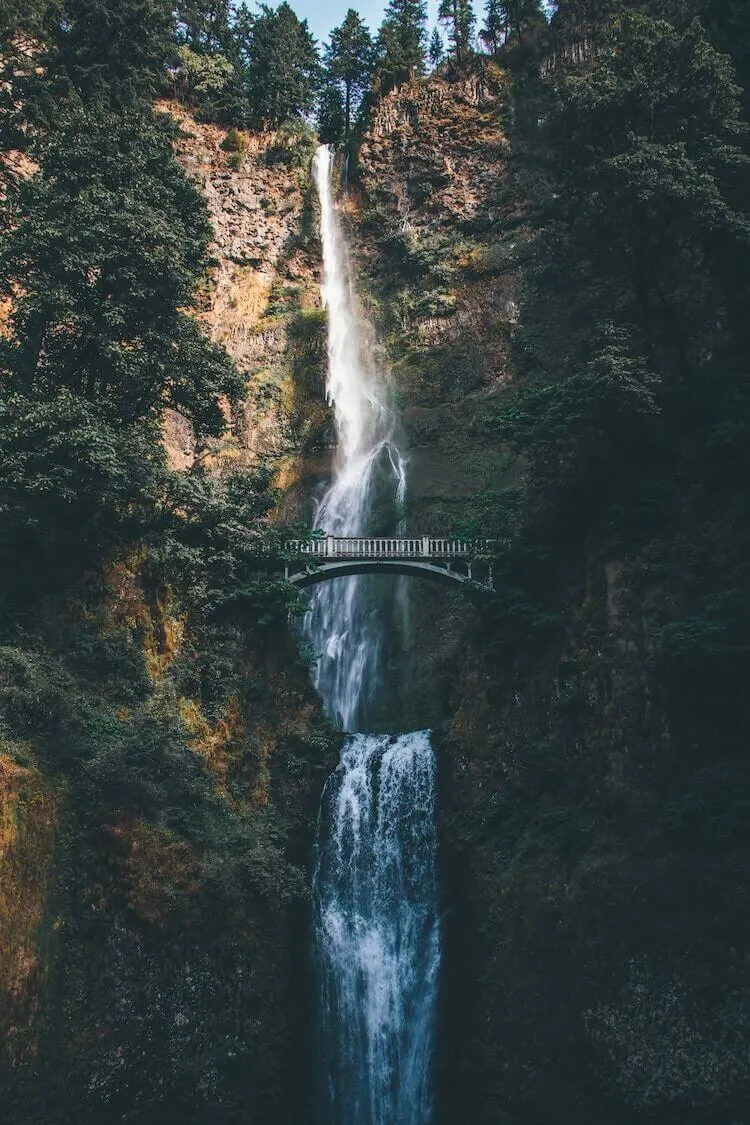 After all of that hiking, head back downtown to explore more of Portland's famous breweries! Similar to Seattle or Asheville, NC, Portland has so many breweries just a short walk from each other, making a mini brewery crawl super easy.
Head to the Pearl District to Von Ebert Brewing for their Blueberry Pomegranate Wheat Ale or their Juicy IPA. If you're feeling really ambitious, cross the bridge over to Culmination Brewing for their Phaedrus IPA or their Desired Realm Hazy IPA.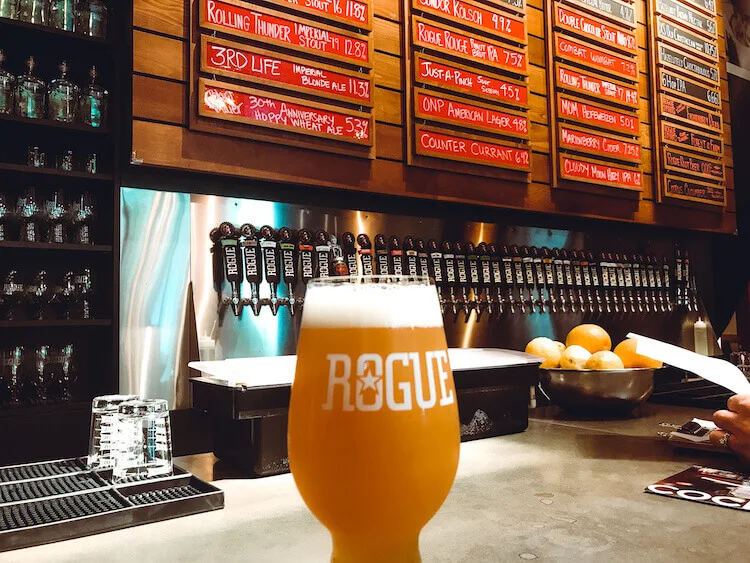 All of these are fantastic breweries to check out in one of the US's best beer capitals!
Just keep your eyes peeled for tasty food trucks for post-beer munchies! There are food truck pods all throughout the city, so you can find anything from healthy food like at The Whole Bowl or tasty gyros anywhere you look!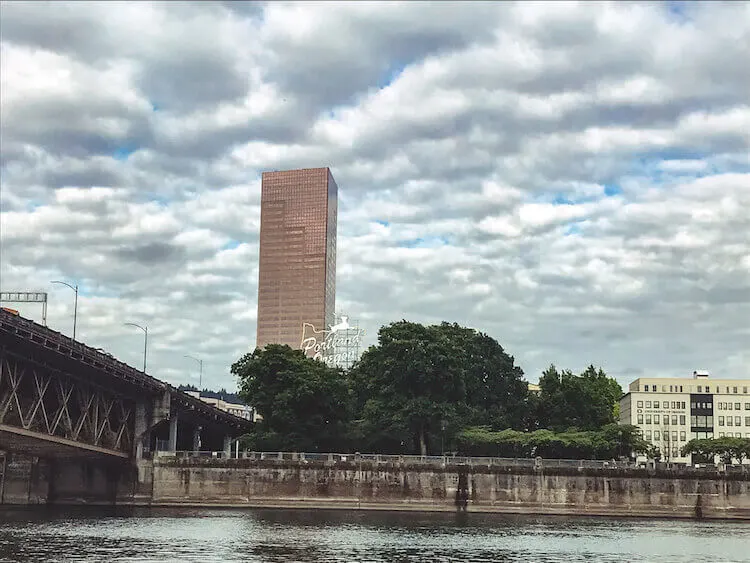 Day 3 of Your 3 Days in Portland Itinerary: Morning Walks and a Day Trip!
Portland is a fantastic city, but Oregon itself is absolutely stunning. Get out of town for a day to explore more of this beautiful state on a day trip!
But first, wander along the river or go for a nice, long run in the morning! I loved getting up early to run along the Willamette River, crossing the Burnside Bridge or Steel Bridge and back past the park on the left side of the river. It is a great opportunity to see the Portland White Stag sign too!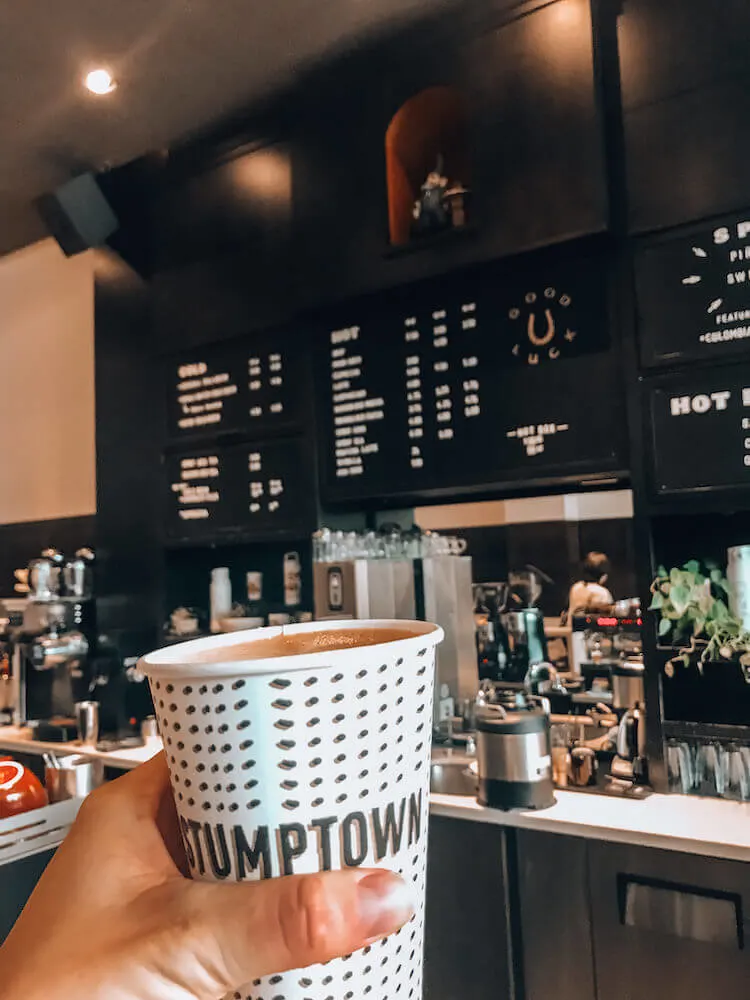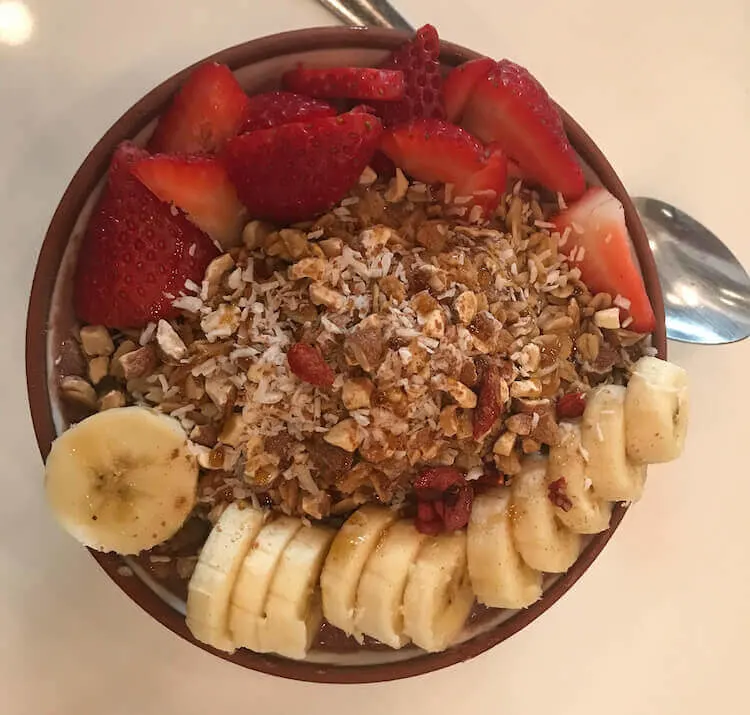 End your morning walk or run in the Pearl District for breakfast. You've got to check out one of Portland's famous coffee shops, Stumptown (they have a great oat milk latte), before getting breakfast. If you're feeling healthy, go to Kure Juice Bar for a delicious smoothie bowl that'll leave you energized.
But if you're looking to splurge, Cheryl's on 12th is a GREAT option. Their huevos rancheros with cheese hash browns are everything and more. It will certainly fill you up for the day's adventures!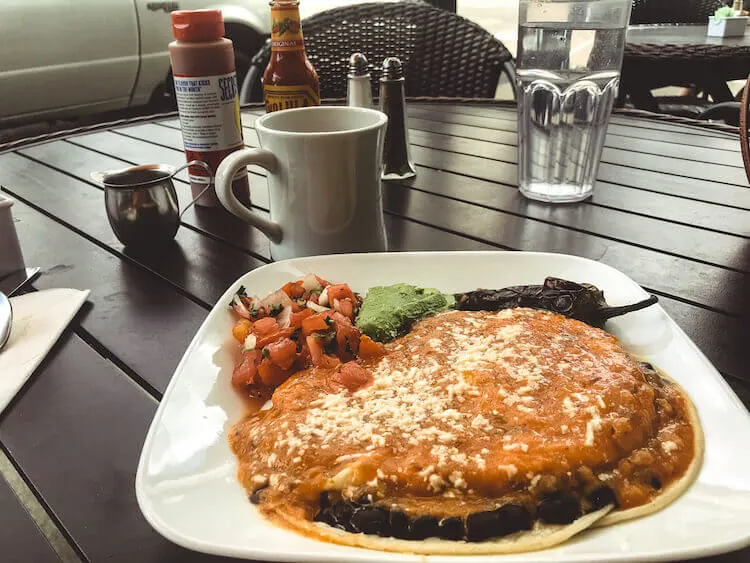 After breakfast, it is time to leave for your day trip! I ended up choosing the Willamette Valley Winery Tour, where I got to explore 3 amazing Oregon wineries, learn more about what makes their Pinot Noir so good, and sample so much Pinot Noir, it was hard to choose who had the best.
The tour stopped at Elk Cove Vineyards, Montinore Estate, and David Hill Vineyards & Winery (they do change up the wineries they visit, though), all the while you get to try various wines on each estate, and maybe have time for a glass (or two). I loved Elk Cove for the chance to wander along the vineyard itself, and they have the best outdoor seating overlooking the vines. I felt so at peace sipping my wine and enjoying the sunshine.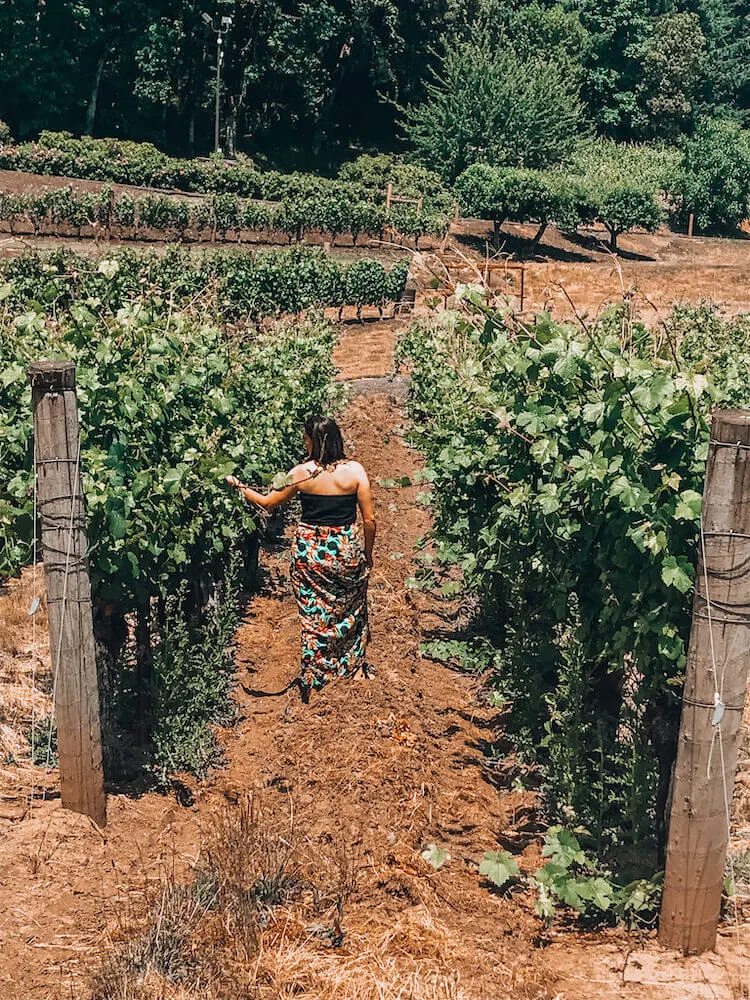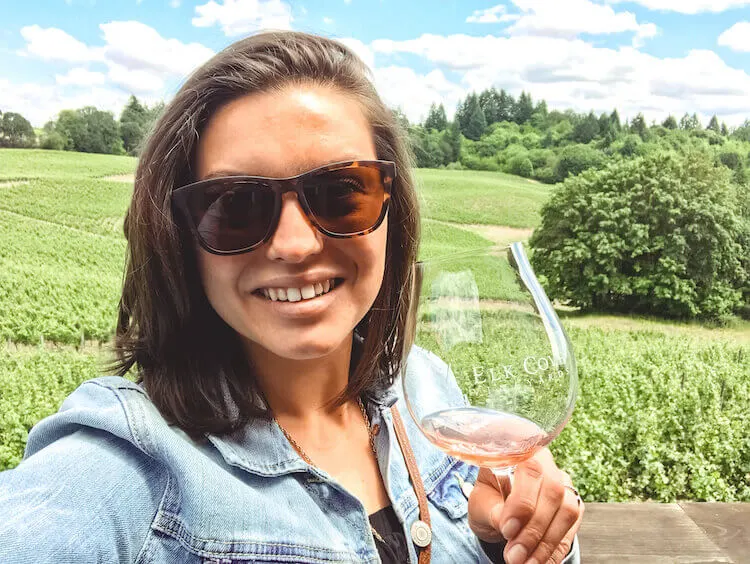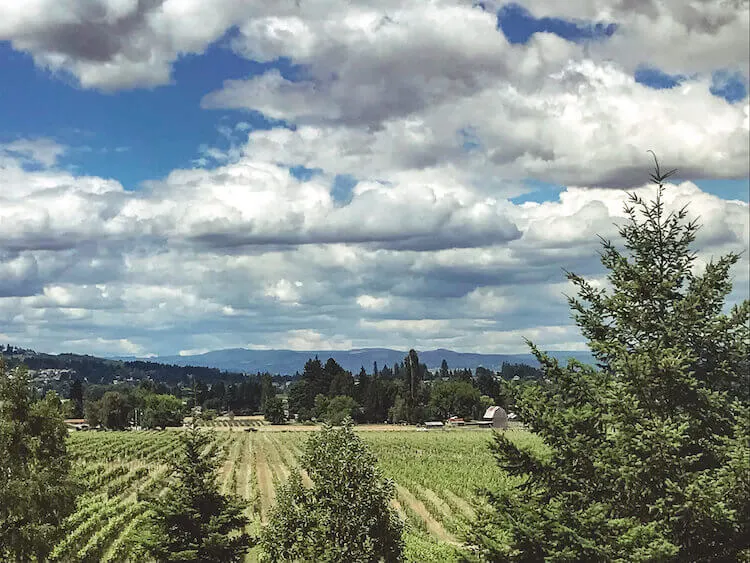 I cannot recommend this wine tour enough!
Once you get back, I recommend heading to the Alberta Arts District again to check out probably the most famous McMenamin's: Kennedy School. This spot has a TON to do, including having a few cocktails and playing pool in the old Boiler Room, drinking in the Detention Bar, or eating in the Courtyard Restaurant.
It is the perfect way to wrap up your time during your 3-day Portland itinerary!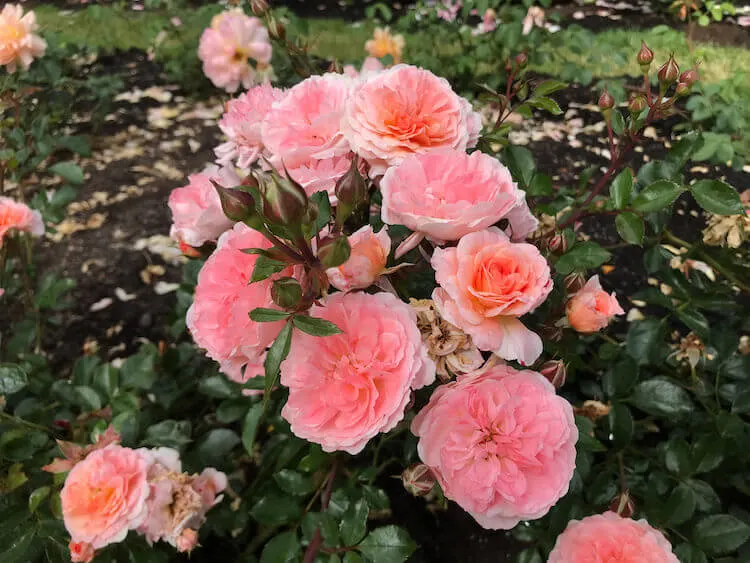 Where to Stay During Your Portland 3 Day Itinerary
I recommend staying close to downtown in the Pearl and Northwest Districts during your 3 days in Portland. It makes it a lot easier to get around, especially if you don't have a car. Plus, there are a TON of amazing bars, breweries, and coffee shops in the area to explore!
Budget Hotels for Your Portland, Oregon itinerary:
VRBO is a great option to save a little money and stay local. Many places can be rented for under $150 per night, like this unique barn rental in Mt. Tabor! It's a little further from downtown, but a really cool stay!
Aside from VRBO, I stayed at the HI Northwest Hostel and it was great! Yes, we don't normally do hostels while traveling, but I was by myself in Portland for the conference I attended, and it was SO MUCH CHEAPER than hotels! So, why not? It had all the comforts I needed like clean bathrooms and showers, a comfy bed, and they even had a great café for coffee, food, and more! The location couldn't be beaten, and if you're traveling together, they've got good private rooms too.
Cost: $35 per night for an 8-bed dorm per person, or $100 a night for a private room.
Check reviews on TripAdvisor and book here!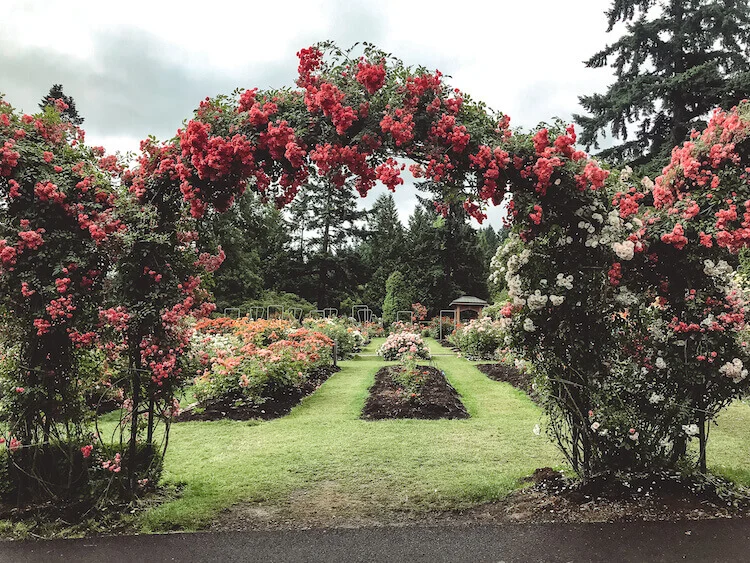 Best Mid-Range Hotel in Portland, Oregon:
The Hotel Zags Portland is located right downtown as an oasis from the city. The rooms are beautiful, with luxury bath products, and they have a private courtyard to relax in.
Cost: Between $120-170 per night.
Check reviews on TripAdvisor and book here!
Best Luxury Hotel in Portland, Oregon:
The Benson, a Coast Hotel is perfect is you're looking to splurge. This stunning hotel, located in the Pearl District, has an impressive and ornate entrance, and the rooms are modern with marble everywhere in the bathrooms. Enjoy plush bedding and a luxurious bathtub after your day exploring this city.
Cost: Around $200 per night.
Check reviews and book on TripAdvisor!
The Mark Spencer Hotel is another great option with a rooftop terrace, free breakfast buffet, fitness center, and pet-friendly rooms; you'll enjoy your stay in Portland right in the Pearl District here.
Cost: Around $200 per night.
Check reviews on TripAdvisor and book here!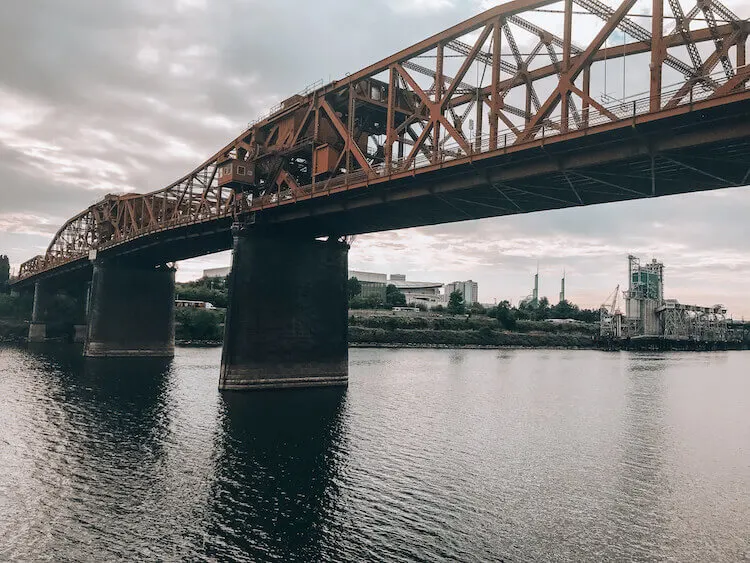 Best Time to Visit Portland
You can visit year-round, however, for the best weather, summer is the time to visit to spend three days in Portland. June through September have fewer rainy days (between 2-5 days a month), and daytime temperatures are comfortable at 73-80ºF (23-27ºC) and lows at 53-58ºF (12-14ºC).
Summer is certainly the best time to go hiking in and around Portland as well thanks to its more favorable weather.
Winter, on the other hand, while not as frigid as many places in the US (especially Cleveland), it certainly has a lot more rainy days, sometimes even half of the month! Temperatures are between 46-56ºF (8-13ºC) during the day and 37-41ºF (3-5ºC) at night.
Spring and fall are good times if you are okay with chillier weather and some rainy days!
Note: Wildfires can and do occur in the months of July, August, and September. Be sure to follow updates and current conditions here while planning your trip.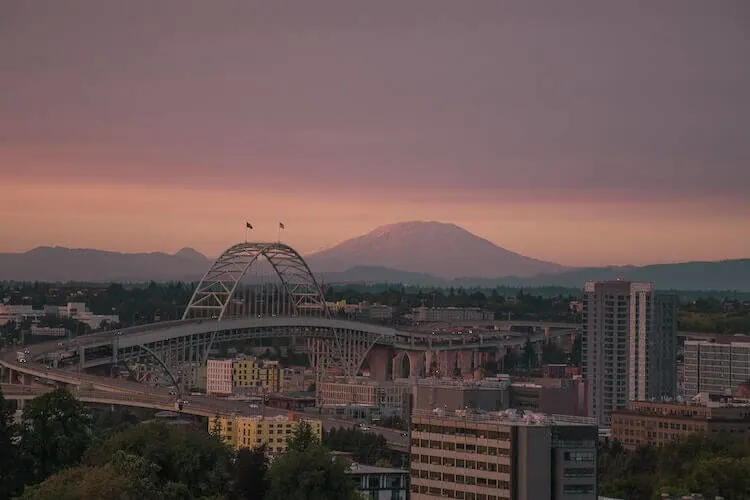 Getting to Portland, Oregon
Portland, Oregon has a large airport, Portland International Airport, making it easy to get to and from this city from anywhere in the US as well as internationally. We love checking prices with Skyscanner, which combines and factors in many airlines for the real best deal.
You can also have a good ol' fashioned road trip to Portland! Yea, it would take a LONG time to get across the country there, but if you want to add this place as a stop on a road trip, why not? Check out great rental car deals here!
Unfortunately, I wouldn't recommend taking a train across the country, but you can certainly take the Amtrak around the Pacific Northwest from Seattle, Vancouver, etc.!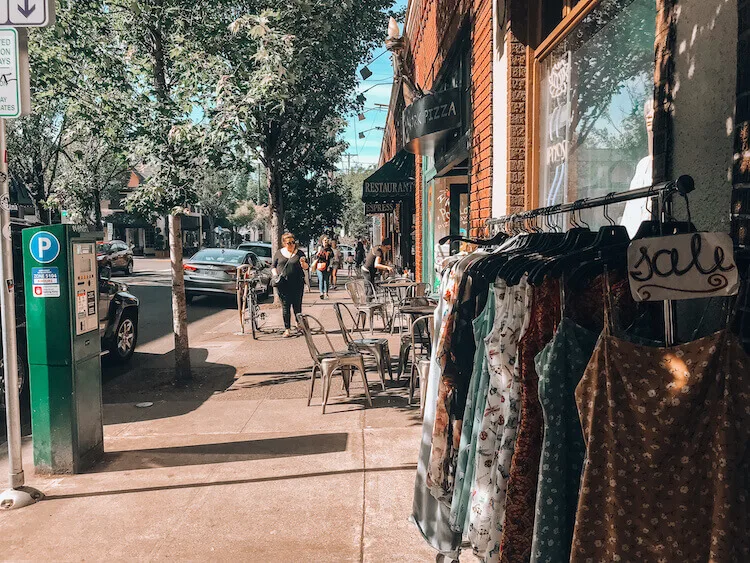 Getting Around During Your Portland Weekend Itinerary
Once you get to Portland, the question is how do you get around? Lucky for you, Portland has SO many transportation options outlined below:
Rental Car: Rent a car at the airport and it gives you the flexibility to reach Portland's northernmost suburbs and off-the-beaten-path places much easier. You can also use the car to check out places outside of the city!
Uber & Lyft: Uber and Lyft are readily available throughout the city, though not always the cheapest option.
Tri-Met: Portland has a pretty good metro system, including its MAX Light Rail (great for getting to/from the airport), WES Commuter Rail, and buses. Buy a few day-passes ($5 per day) and you can ride it unlimited times. I used this to get up to the Alberta Arts District north of downtown Portland for a morning!
Biketown: Portland has a great bike-sharing program called Biketown, where you can use your smartphone to rent a bike and return it to one of the bike stations across the city!
Scooters: Oh my gosh does Portland have scooters. It is rampant with scooters. Lyft, Bird, Lime, Spin, etc. There are so many scooters for getting around. It is convenient, but please scoot responsibly and follow the rules!
Walking! Portland can be incredibly walkable in the downtown area. I stayed in the Northwest District and could easily walk to the Pearl District and Downtown Portland.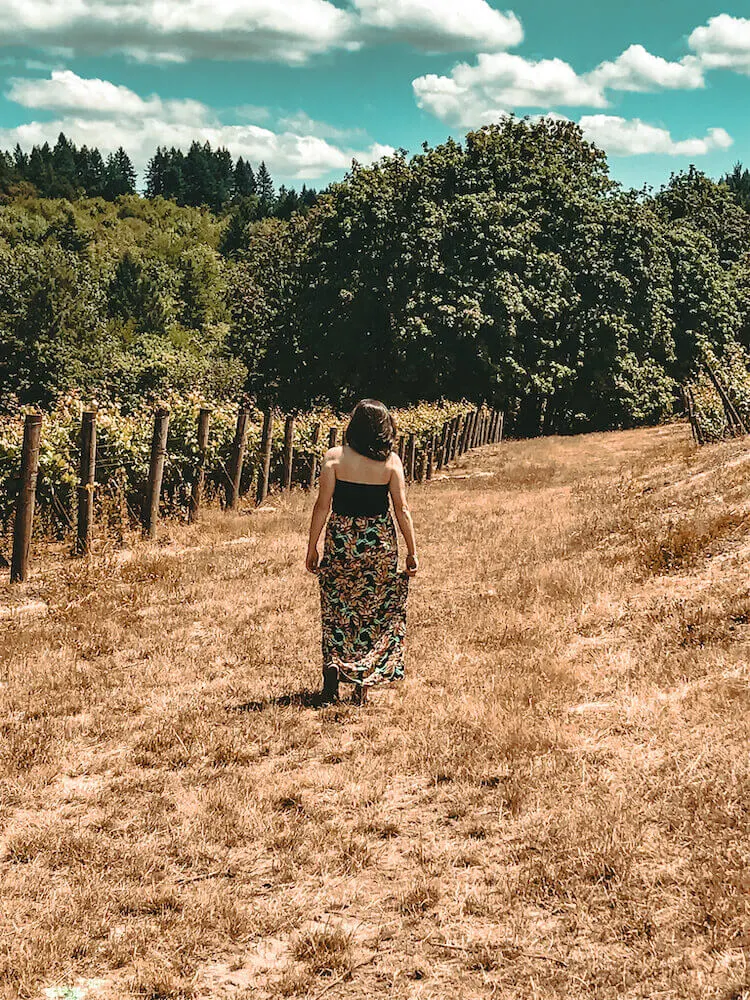 What to Pack for Your 3 Days in Portland, Oregon itinerary
The weather can be very pleasant in the summer, but it definitely gets chilly at night. So be prepared with a sweater. I definitely wore shorts and a cute top during the day but had my sweater at night. And for the wineries, I loved wearing a cute sundress like this one. Here are a few other basics to bring:
Portland, Oregon is definitely on my new list of favorite cities, right up there close to Seattle! From great breweries, fresh coffee, and so many great places to hike and explore, a Portland weekend itinerary is perfect whether you are planning a romantic getaway or a fun trip with friends!
Do you agree? Would you like to visit Portland? What would your ideal 3-day Portland itinerary look like? Let us know in the comments!
Want more USA content? Check these posts out!
Pin it here!