Some posts on this site contain affiliate links, meaning if you book or buy something through one of these links, I may earn a small commission (at no additional cost to you!). Read the full disclosure policy here.
---
Little Rock, Arkansas on the surface looks like a fairly sleepy southern town. People are friendly, the city is easy to get around, and nothing seems too fast-paced. But Little Rock is teeming with history, including both the Civil War and the Civil Rights Movement. And today, this little city is full of activities to make a weekend getaway not only worth it but a ton of fun! That's why we had to write up a perfect weekend in Little Rock itinerary for you!
We arrived in Little Rock on the first weekend of March to run the Little Rock Marathon and Half Marathon. It was seriously incredible, and probably one of our favorite races thanks to the support of the whole Little Rock community.
It was a chilly morning, but there were so many people out cheering, giving away free food and drinks, and showing their support, which always makes running fun! We also explored as much as we could during our short time there, and here is everything you need to know about visiting Little Rock, Arkansas in 2 days.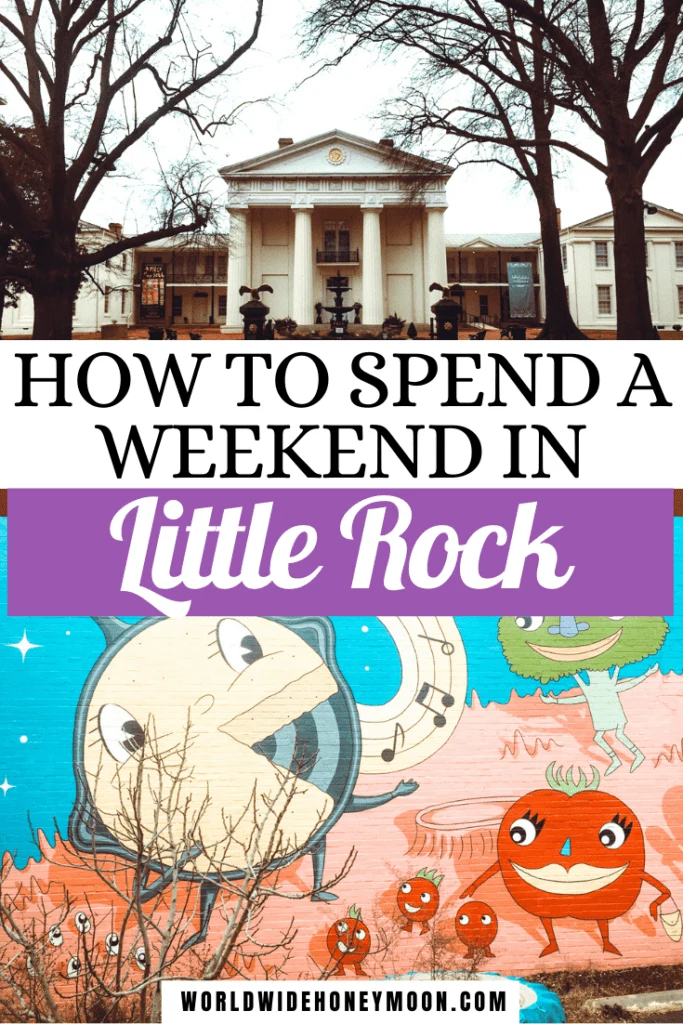 Getting There For Your Weekend in Little Rock
While Little Rock is within a half day's drive from many places in Louisiana, Mississippi, Texas, Oklahoma, Tennessee, Missouri, and Illinois, the best way to get to Little Rock is by flying. Clinton National Airport is pretty small, so getting to/from the airport is quick and easy.
Airlines like Frontier, Delta, American Airlines, Southwest, and United fly into Little Rock daily, making it a great place to spend a weekend. It is only about a 10-15 minute drive from the airport into downtown as well.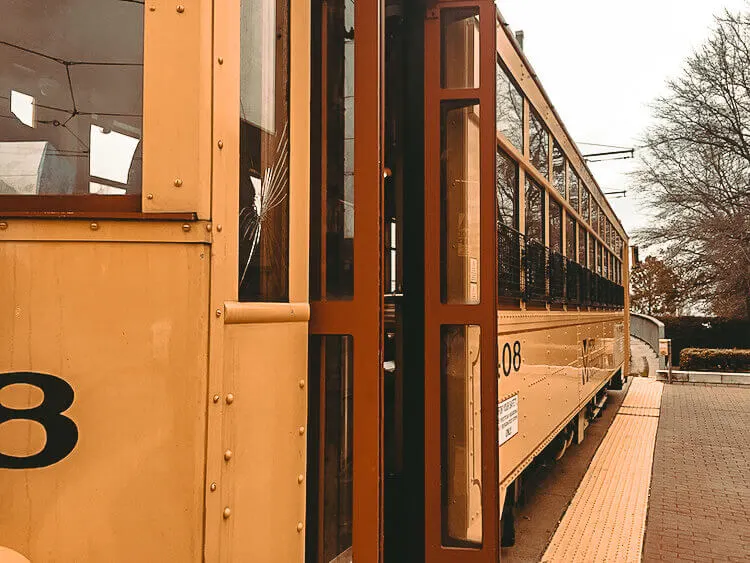 Pro-tip: The city of Little Rock is pretty easy to get around on foot or by this cute trolley above, so renting a car isn't necessary for a weekend unless you're wanting to go places outside of the city.
Travel Hacking Tip: We used our Delta Platinum Credit Card Annual Companion Pass to purchase our flight here, as flights here can add up thanks to typically having a layover to get there. We ended up spending $508 for the two of us to fly there with paying for one ticket and taxes and fees on the other ticket. So $254 a person wasn't a bad flight deal!
Also, check out Skyscanner for the best flight prices too!
When to Visit Little Rock
As Little Rock has a pretty temperate climate, it doesn't get terribly cold as it does in the states north of it. Therefore, any time of year would be fine to visit. For the least amount of rain, the best time to visit Little Rock is May through October. However, Little Rock is hottest in the summer with days reaching upwards of 94°F or 34°C. The best months for less rainfall and comfortable temperatures would be May and October.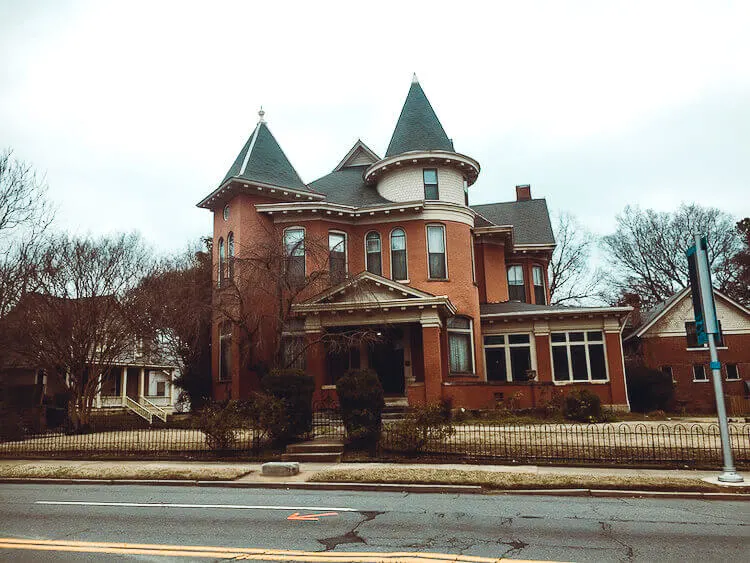 Where to Stay in Little Rock
When it comes to staying in downtown Little Rock, you've got several options. I'll highlight some great ones to check out here.
For around $100 a night, you can comfortably stay near the River Market, and many of the other downtown bars and restaurants. The hotel also includes breakfast, a pool, wifi, and all the comforts of home that you'd expect from a Comfort Inn & Suites.
PS- they also have a free airport shuttle!
Cost: Around $100 per night.
We stayed here during our weekend trip to Little Rock and loved it! After receiving our free cookie upon check-in (and whenever you want it really) we noticed their bar and lounge, free coffee and water, and the rooms were spacious with great views of downtown, the river, and North Little Rock. They also have free breakfast for Hilton Honors Members and it was certainly quite a spread!
They made our stay perfect and it was the best spot for adventuring around for the weekend. We also really appreciated the free airport shuttle!
Cost: Around $150 per night.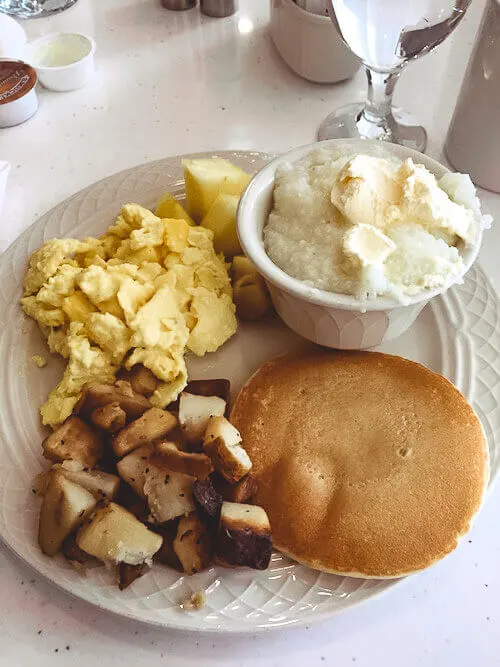 Pro-tip: We used 24,024 Chase Ultimate Rewards points to book this hotel thanks to Chase's travel portal and saved quite a bit on the hotel room!
Just down the street from the Doubletree is also the Marriott. It also includes the airport shuttle (they all seem to have this which is AMAZING- why don't all hotels in cities everywhere provide this for free?!), a bar/lounge, breakfast, and clean and spacious rooms for a relaxing stay. It is also a Marriott Category 3 hotel, meaning you can use fewer points or your free night stay if you have one of the Marriott Bonvoy credit cards.
Cost: Around $150 per night.
And of course, for those of us looking for a bit of luxury, spacious and comfortable rooms, great views, and an amazing bar and restaurant attached, look no further than the Capital Hotel. This historic hotel, directly across from the Doubletree, is luxury from the outdoor façade to the stunning interiors complete with a gorgeous bar.
For the ultimate comfort, definitely book your stay here.
Cost: Around $230 per night.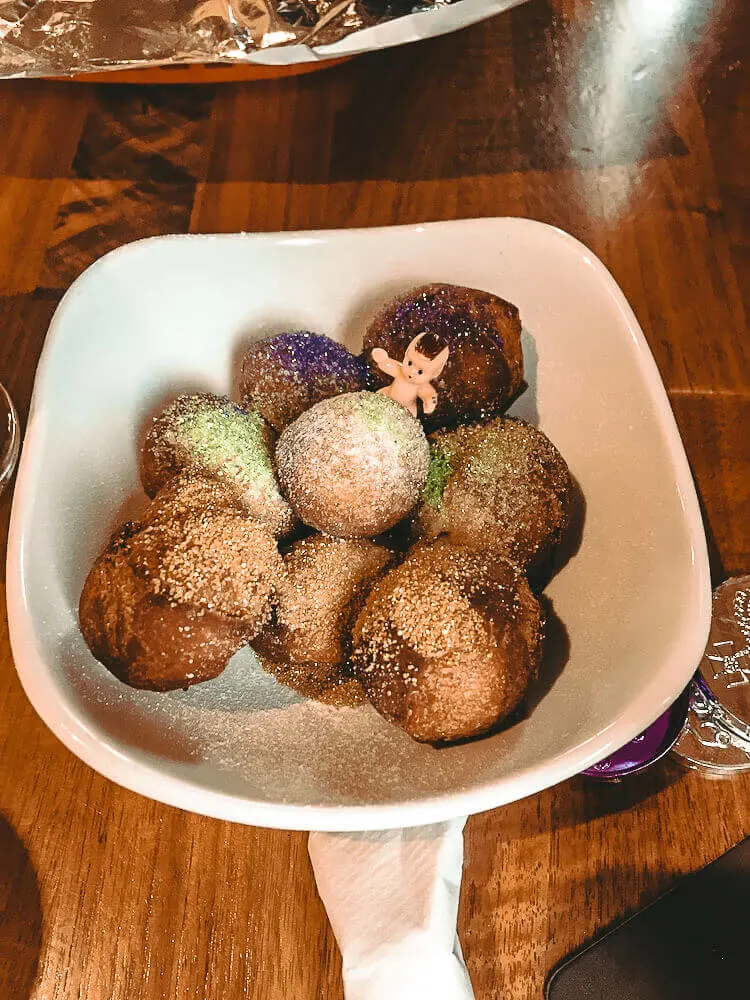 Best Restaurants in Little Rock, Arkansas
When it comes to good food, Little Rock has nailed it! There were so many great places to eat that we wish we could've stayed longer and found them all. We certainly didn't have a bad meal. So here are the places we went to that we loved
I love local markets. They're seriously the best place to visit while traveling. And Little Rock's market was no exception. It was less of a fresh food market and more a food hall (we went in early March, but there is a farmer's market in the summer outside). Get anything from Thai cuisine, tacos, sushi, pizza, poke, and more. Go hungry and try a few places!
If you're looking to carbo-load before a marathon (like we were), or you just want pizza, look no further than this place. You can order the traditional hand-tossed and thin crust pizza, or you can order what they call the "stuffy," which is a double-crust pizza, extra everything, and the sauce on top. It is super filling and SO good. Just don't plan to do much after, as you'll definitely want to take a nap or go to bed.
If you want barbeque then this brewery is pretty much right up your alley. From pulled pork to Ruebens, and even smoked brisket, this place will certainly satisfy your craving. Combine it with the smoked jalapeño pimento cheese side and you'll be in Hog Heaven.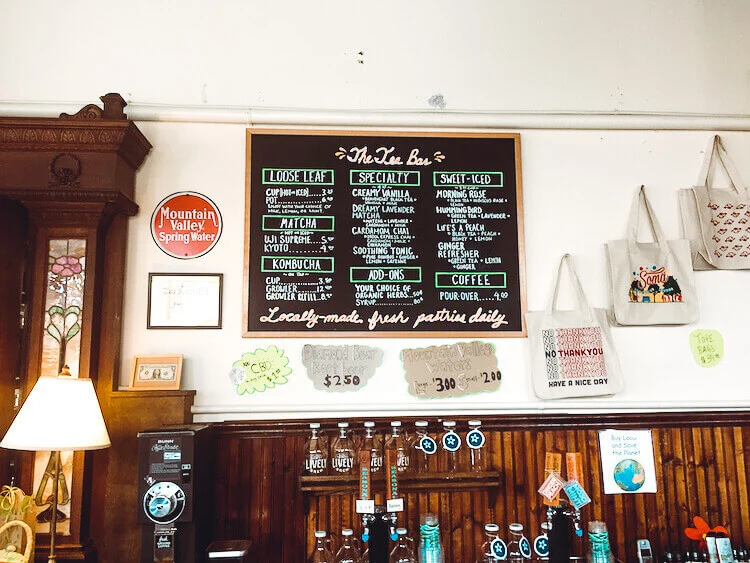 Green Tea Corner Store & Tea Bar
Okay, this is more known for tea than food, but they also have amazing sweets, treats, and light lunches. I got the lemon pound cake tea, which tasted every bit like the famous cake, but without the carbs. It was light and refreshing. This place is also known for its Magic Unicorn Tea, which is a flavor explosion all in its own right.
Best Breweries in Little Rock, Arkansas
Okay, so now you know where to eat in Little Rock, let's talk about drinking. We were pleasantly surprised to see that Little Rock has quite the microbrewery scene (like Seattle, Asheville, Portland Oregon, and Portland Maine!), and we were here for it! Here are some tasty brews you need to try if you're visiting Little Rock.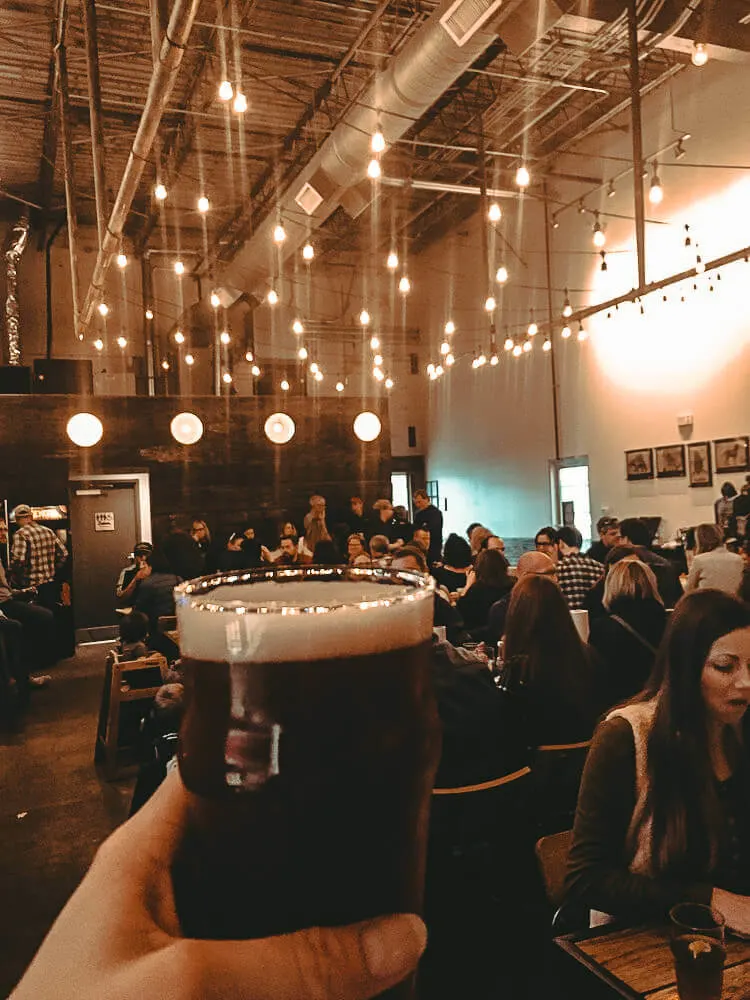 This brewery is known for its food menu as well as being a creator of amazing beer. I ordered the Blackberry Bramble Fruit Beer, which had a berry, citrus taste that I loved to sip on during a warm, spring day. Chris had the Squirrel Sailor Hazy IPA, which was also fresh and delicious.
This place is small but mighty. Experimenting with all kinds of flavors, we tried the Pear Guava Biere de Gras as well as the Byzantium Imperial IPA. The Pear Guava beer was easy to drink and those flavors combined perfectly! The Byzantium was certainly flavorful but strong as well! Definitely only have one of those!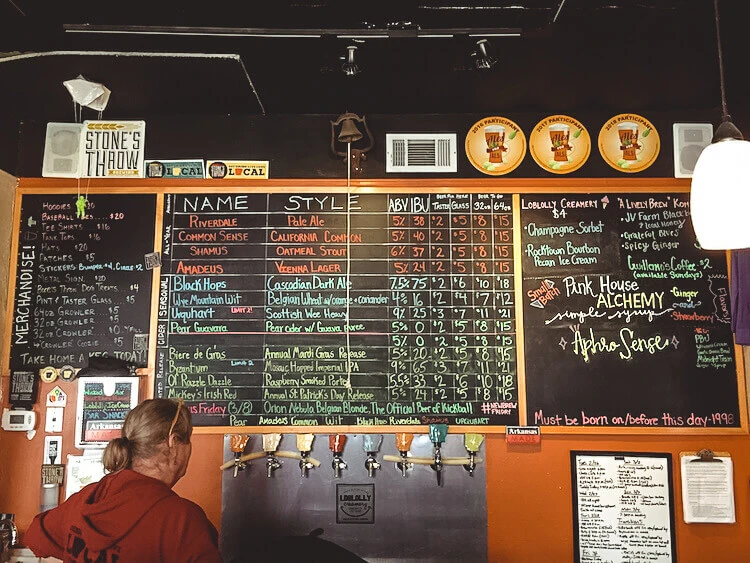 Okay, this isn't a brewery, but it definitely needed to be included in the drinking section. This distillery is the first one in Arkansas post-prohibition. And with products like whiskey, vodka, bourbon, and gin, it definitely is worth a stop on your Little Rock itinerary. Take a tour and taste all that this little distillery has to offer.
Best Things to Do in Little Rock, Arkansas in a Weekend
With just a weekend in Little Rock, you can certainly see much of what the city has to offer!
This is not your standard library for checking out books. Learn more about the history of this city like the Little Rock 9, Presidential Timeline, history about Bill Clinton's time in office (both as Governor of Arkansas and President), and more!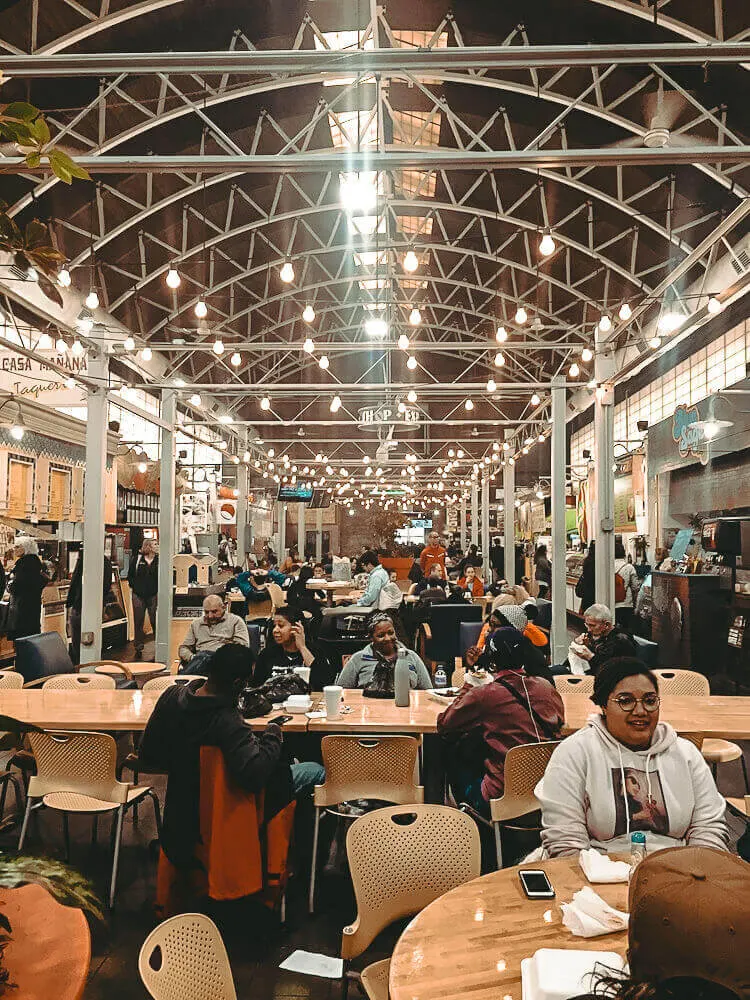 Like I mentioned above, Little Rock has this incredible market that you have to visit during your time there. It was such a treat to be able to wander along the vendor stands, and you'll definitely want to order everything in sight!
In 1957, 9 African American children enrolled in an all-white school, shortly followed by the Little Rock Crisis by people who didn't want to desegregate. This historical school and museum discuss the desegregation of the school, and you can also learn all about the Civil Rights Movement and how Little Rock was involved.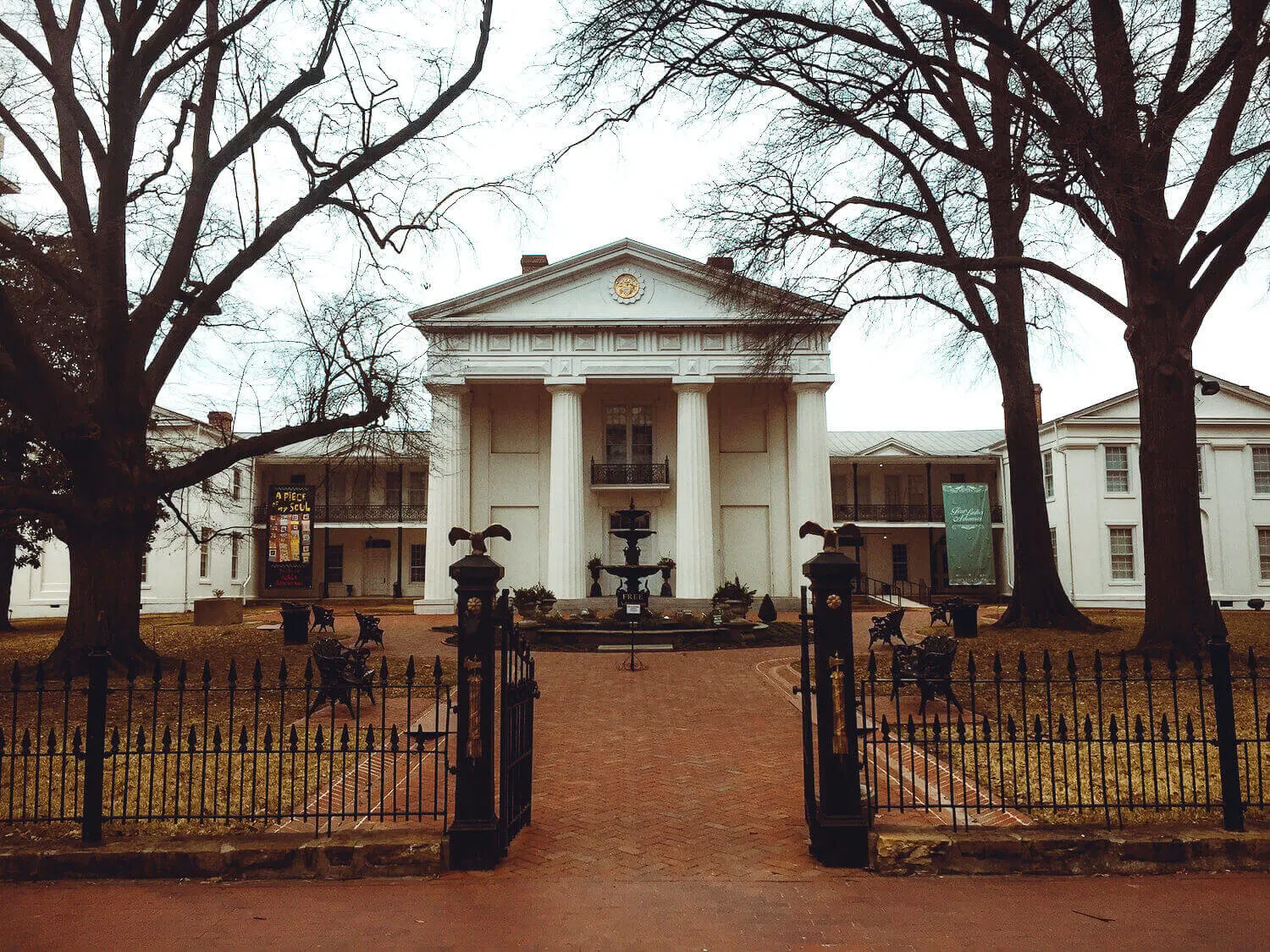 This gorgeous building in the heart of downtown Little Rock is the original state capital of Arkansas. Teeming with a history of its own, they have great, interactive exhibits to see, and it is a lovely museum to walk around. We personally loved the First Ladies of Arkansas Exhibit and the exhibit when we were there: A Piece of My Soul: Quilts by Black Arkansas.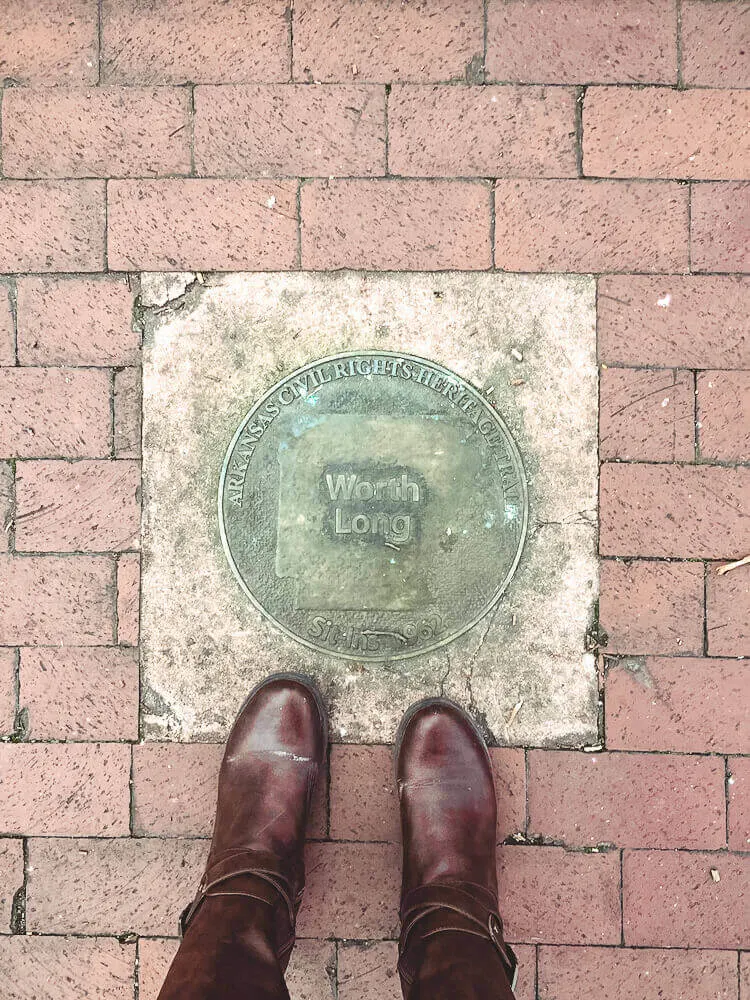 DIY Brewery Tour or an Actual Brewery Tour
If you are hoping to discover the amazing brewery scene of Little Rock, why not create your own DIY brewery tour, stopping at various local breweries within the surrounding Little Rock area?
If you're not into figuring it out yourself, or want a DD, check out Arkansas Brews Cruise, where you get to visit 3 breweries, have guided tastings, see the "behind the scenes" operations, and get driven around in a comfortable and awesomely designed van.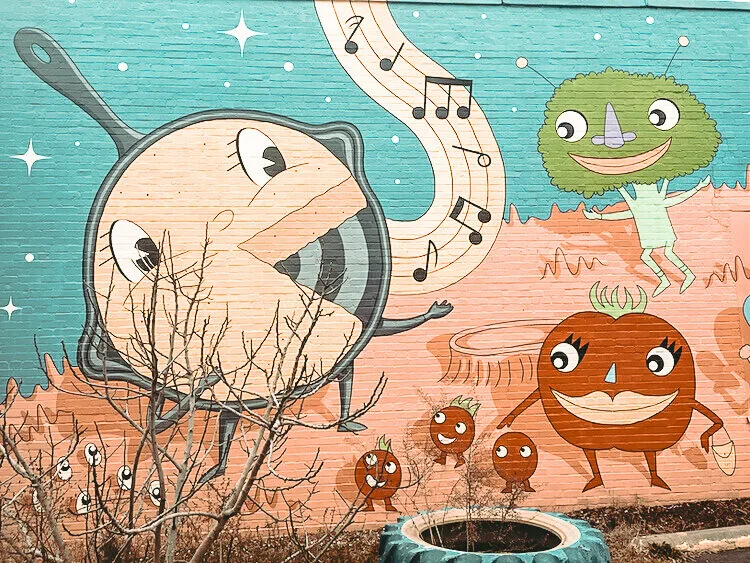 South Main, or SoMa, is such a fun neighborhood to discover in Little Rock! There were several adorable antique shops, breweries, and cafés, waiting for you to enjoy. Spend an afternoon just wandering around, stopping into various places and trying the best of SoMa. There is also a great park to visit called MacArthur Park. They sometimes host various food trucks and have events to check out!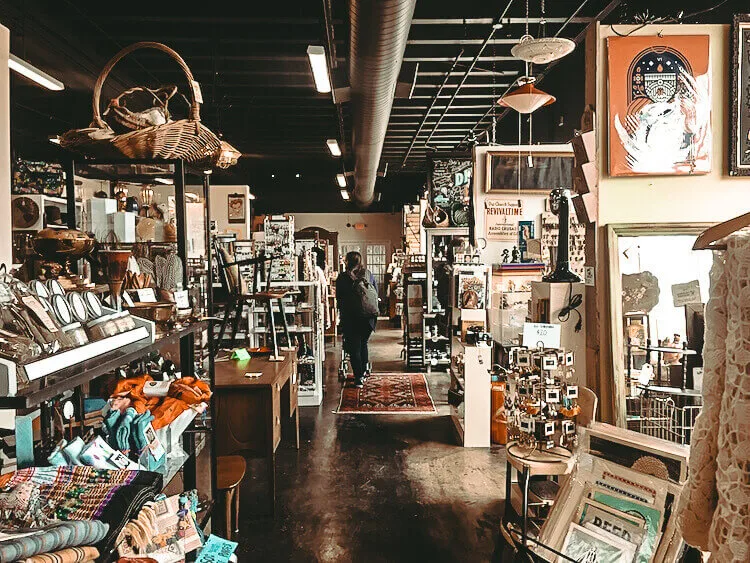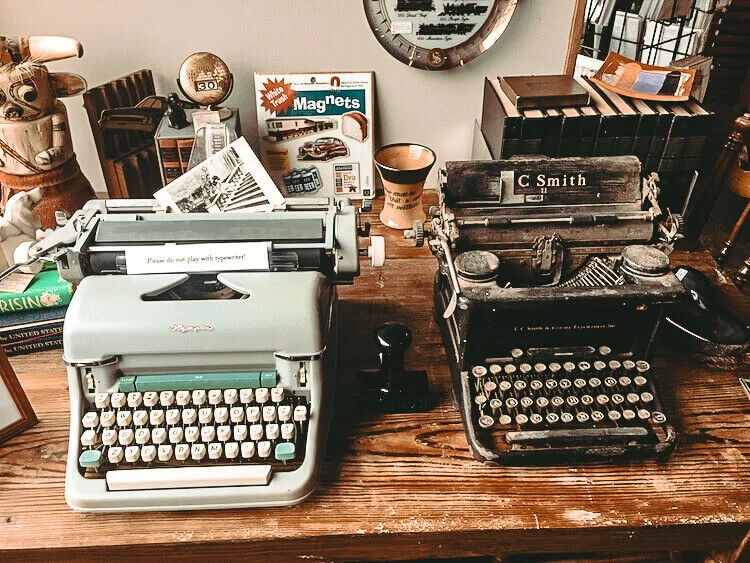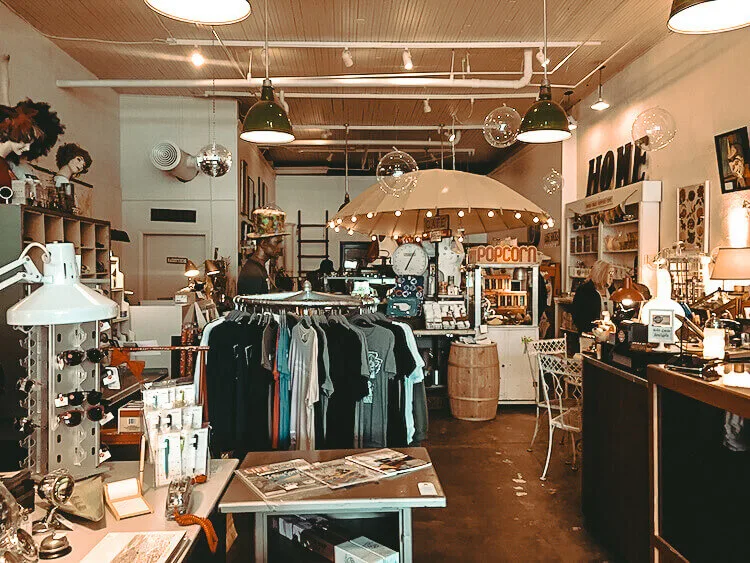 While we're on the topic of antique shops, there were so many gift shops and stores that you could easily spend a day shopping and admiring all the goods of Arkansas. Here are a few of our favorites:
South Main Creative for vintage gifts and antiques
Modern Moxy Merchantile for eclectic gifts and their adorable kitty named Bea
Kayak on the Arkansas River
If you want to get sporty on a nice, warm day, head to Rock Town River Outfitters to rent a kayak and explore the river!
Perfect Weekend in Little Rock Itinerary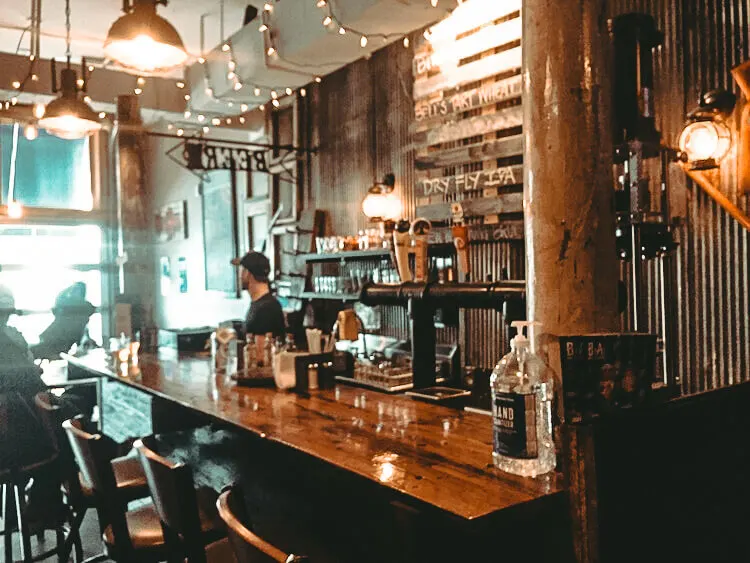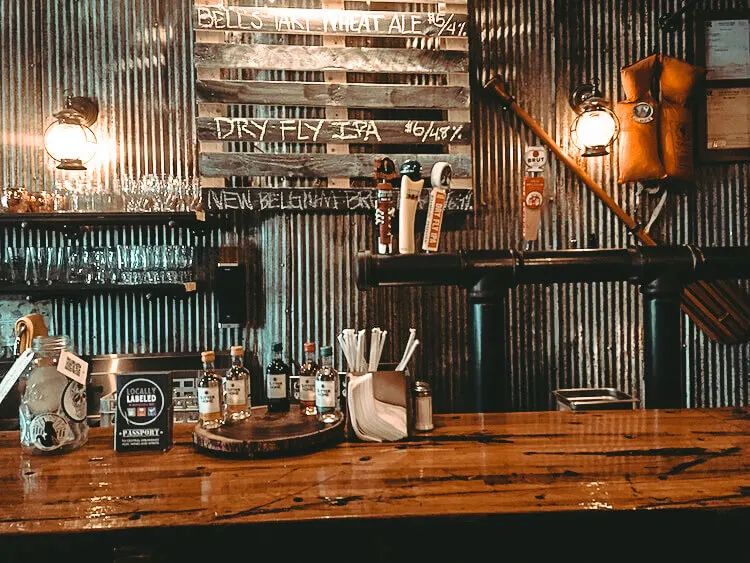 Day 1 of Your Weekend in Little Rock: Learn the History of Little Rock and Get Some Brews
After breakfast, head to the Old State House to check out the stories and exhibits of this beautiful building
Head to the Presidential Library to learn about President Clinton, and more about Little Rock's history
Grab a bite to eat and explore the River Market
Get your last fix of history and learn all about the Little Rock 9 at the Little Rock Central High School
Catch the Arkansas Brews Cruise and discover modern-day Little Rock's amazing brewery scene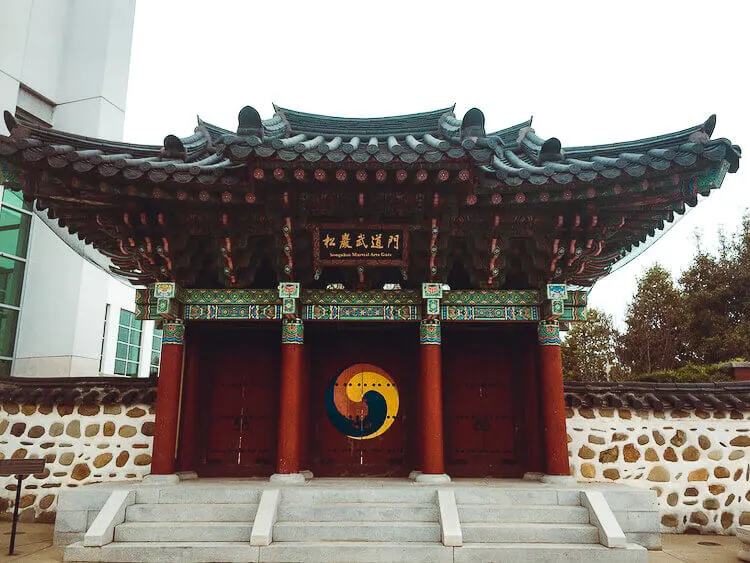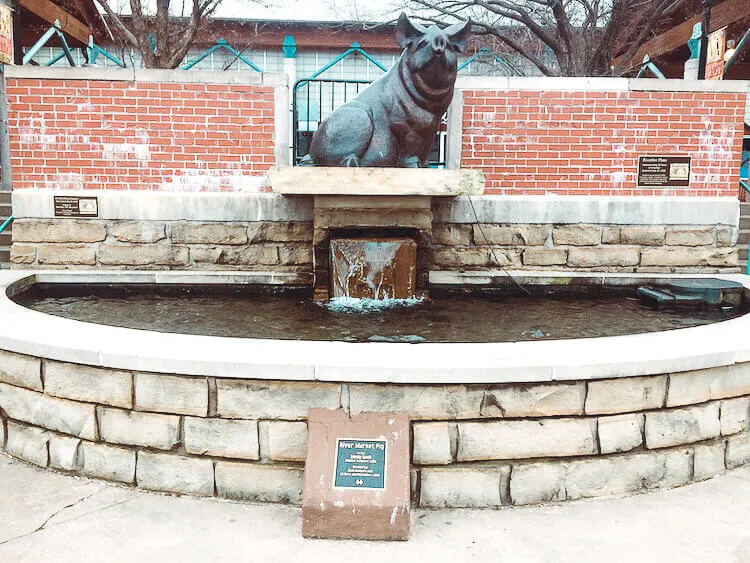 Day 2: Adventures and Shopping
After a nice, hotel breakfast and cup of coffee, head to the river for some kayaking fun!
Head into SoMa to explore the Rock Town Distillery, and various eateries, antique shops, restaurants, and more
Visit more breweries (we loved the ones mentioned above)!
Little Rock, Arkansas was a place we never would have thought to visit originally, but thanks to their famous marathon (and giant medals that accompany it), we were drawn in. We're so glad that we were able to visit, and fell in love with this little city. We can't wait to go back and we hope you enjoy it as much as we did!
What are your thoughts? Have you been to Little Rock? Would you visit? What is your favorite part about traveling?
Don't forget to check out the World Wide Honeymoon Travel Podcast wherever you get podcasts!
Love this post or want to save for later? Pin it here!