Some posts on this site contain affiliate links, meaning if you book or buy something through one of these links, I may earn a small commission (at no additional cost to you!). Read the full disclosure policy here.
---
Nothing is better than sitting outside on a warm, sunny day sipping a crisp glass of Chardonnay and looking out over several acres of vineyards that are bursting with life. Welcome to the Geneva wineries.
As we live in Cleveland, we certainly have spent many summer days checking out the Geneva, Ohio wineries! And if you've been following us for a while, you'll know we love wine. So much so that Chris even has his WSET Level 2 certification. From well-established and busy wineries to smaller, tucked-away vineyards, we've sipped our way across the Grand River Valley in Geneva, Ohio countless times, so we have all the local tips.
With Ohio Wine Month fast approaching, we've decided to partner with Ohio Wines to craft a perfect guide for your day of exploring the best wineries in Geneva, Ohio so that you can sip and savor your own delightful glass (or two) of vino in this heavenly place.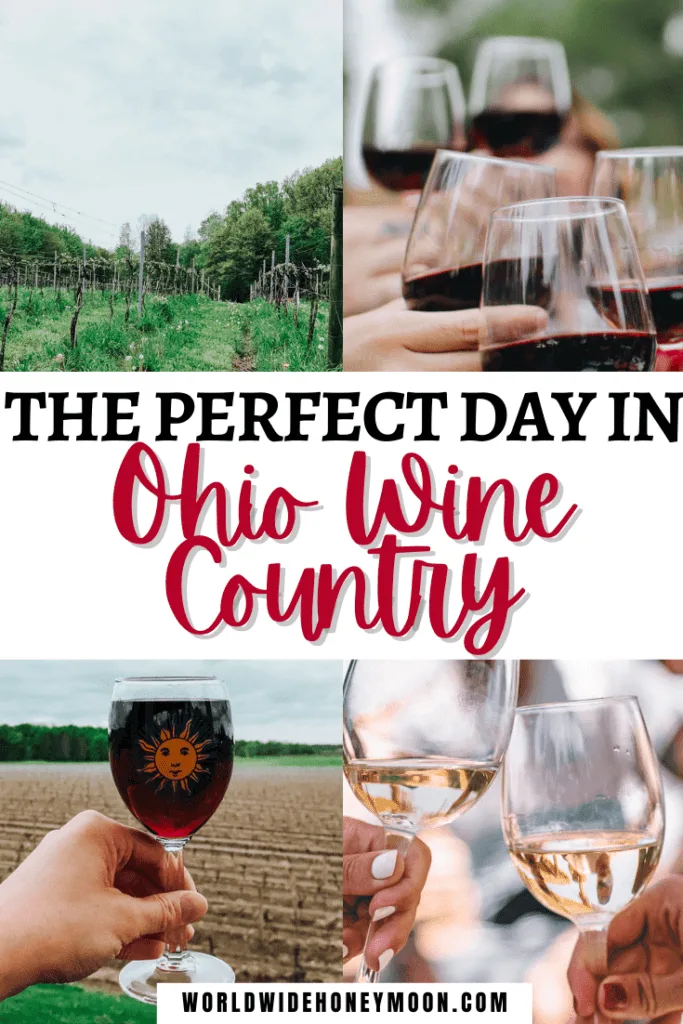 Why Visit The Wineries in Geneva Ohio?
Before we get started with the perfect guide to visiting the wineries near Geneva, Ohio, let's talk about why you want to visit. For starters, did you know that Ohio is one of the top 10 wine-producing states in the US?
Not to mention the fact that Northeast Ohio falls along the "Pinot Belt," a narrow latitudinal band that encompasses both France and Oregon and is known for producing top-notch Pinot varietals. Don't forget that this part of the world is also known for fantastic ice wines, similar to places like the Finger Lakes!
Knowing that Geneva wineries produce some fantastic wine, plus the fact that tastings cost a fraction of other well-known US wine destinations, it is well worth your time to visit Ohio's Wine Country.
The Best Itinerary for Visiting the Geneva Wineries
First of all, this area is known for its dozens of wineries! Known as Ohio Wine Country, Geneva wineries are some of the best in Ohio. So sit back, grab your favorite glass of Ohio wine, and let's check out how to see the best wineries in northeast Ohio in one day.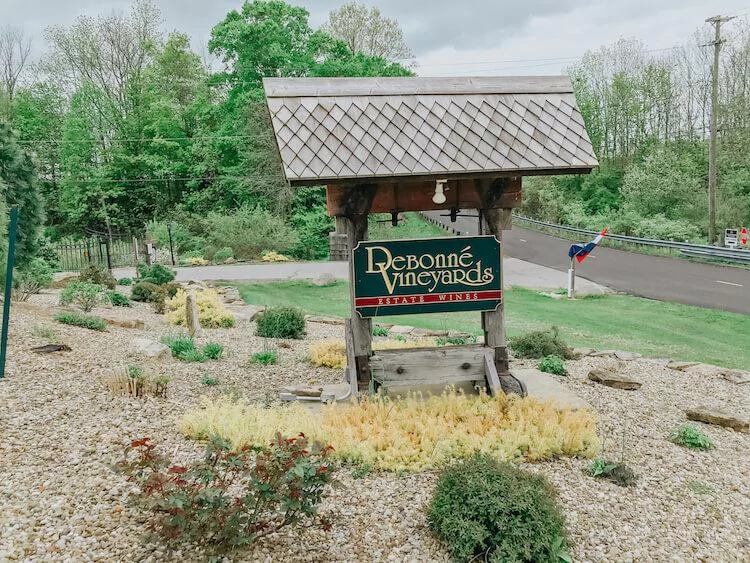 Stop #1: Debonne Vineyards
Arguably one of the most popular and best wineries in Ohio, Debonne is a must-visit on anyone's vineyards in northeast Ohio day trip itinerary.
This place is well-known for its vast selection of wines ranging from sweet (like their Pink Catawba) all the way to their dry wines (like their Cabernet Sauvignon Reserve). It also has a brewery called Double Wing Brewing Company, making this stop on your Ohio wine country itinerary great for all tastes in beer and wine.
Also, this place is known for its live music during the summer months, and along with its grill outside, you could spend quite a bit of time enjoying the atmosphere and wine here at your first stop.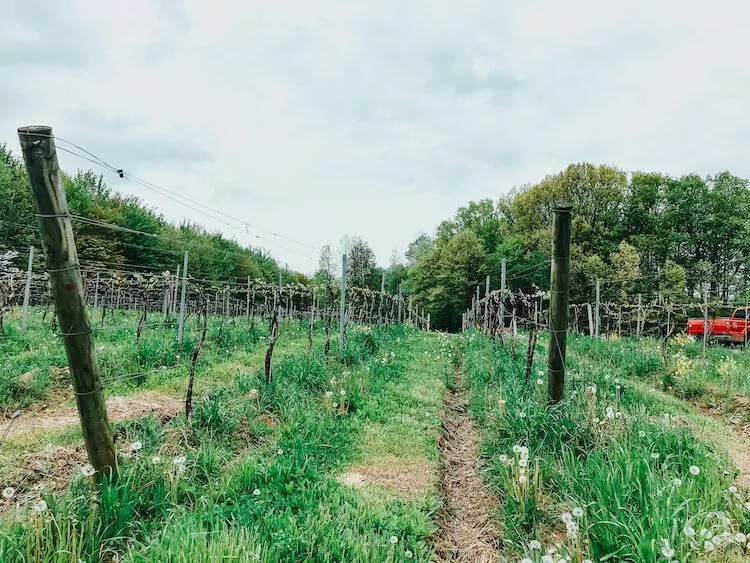 I recommend this winery first on our list of Geneva, Ohio wineries because it also gets super crowded and busy, especially on weekends. This is a well-known spot for bachelorette parties and larger group gatherings, so if you want quick service and fewer crowds, going when it opens is great to have most of the place to yourself!
Some of our favorite wines that we enjoy on a visit to Debonne Winery include the Unoaked Chardonnay boasting white fruit and citrus flavors, the Cabernet Sauvignon Reserve with hints of dark fruit and vanilla, and the Cab/Cab, a mix of Cabernet Sauvignon, Cabernet Franc, and Syrah and has notes of berries, oak, and tobacco.
Address: 7840 Doty Rd., Madison, OH 44057
Hours: Sunday 12-6 pm (March-November), Monday & Tuesday 12-6 pm, Wednesday 12-10 pm (12-6 pm during January-March), Thursday 12-8 pm (12-6 pm during January-March), Friday 12-11 pm (12-6 pm in January), and Saturday 12-8 pm.
Price for Tasting: $10
Must-Try Wines: Pink Catawba, Unoaked Chardonnay, and Cab/Cab.
Must-Try Beers: Butter Pecan Porter and India Pale Ale.
Debonne Social Media Channels: Instagram, Facebook, and Youtube.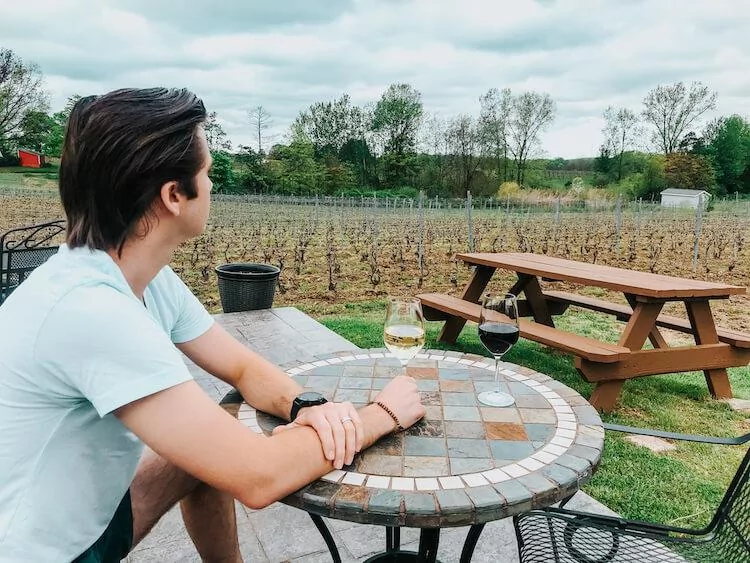 Stop #2 of Your Ohio Wine Trail Visit: M Cellars
Drive a short distance from Debonne to the next stop on your itinerary: M Cellars.
This winery may be my favorite of them all! The back patio is perfect for a day of sipping wine and looking out onto their stunning vineyards. And while that is amazing, what I love most is their creativity. So if you are looking for a unique wine tasting in Ohio, M Cellars in the perfect stop during an Ohio winery getaway!
They use grapes like Rkatsiteli, a grape used in white wine that originates from the Republic of Georgia! This grape dates back to 3,000 BC and has been used in Georgian winemaking for millennia. So when we first saw this on the menu at M Cellars, we knew we had to try it! The verdict? It's florally, citrusy, and incredibly enjoyable.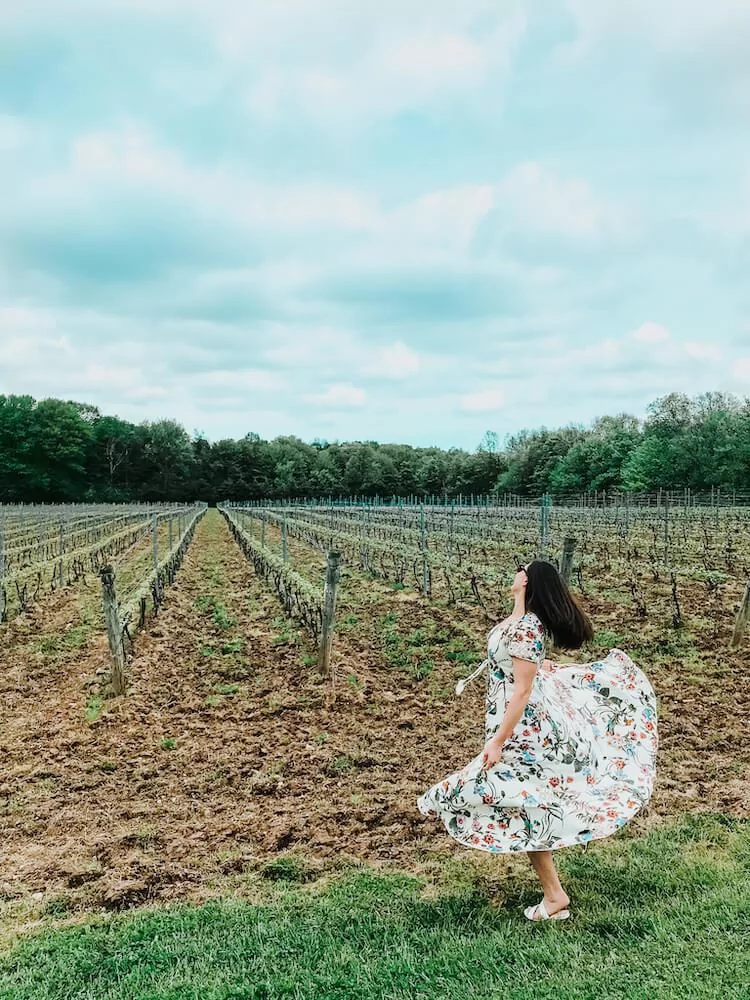 They also have Meritage, a Bordeaux-style wine that is unique to northeast Ohio wineries that is spicy with dark fruit on the palette. Plus, they use Hungarian grapes for some wines as well as the more classic grapes grown in northeast Ohio like Chardonnay and Cabernet Sauvignon.
Lastly, if you want bubbly, this is the place. We snagged a bottle of their Brut Rose that consisted of Pinot Noir and Chardonnay with tastes of red fruit and apple.
Address: 6193 South River Rd., W. Geneva, OH 44041
Hours: Sunday-Thursday 12-6 pm, Friday-Saturday 12-8 pm.
Price for Tasting: $1 for still wine per 1oz tasting, $3 for sparkling wine.
Must-Try Wines: Brut Rose, Chardonnay Reserve, Meritage, and Rkatsiteli.
M Cellars Social Media Channels: Instagram, Facebook, Twitter, and Pinterest.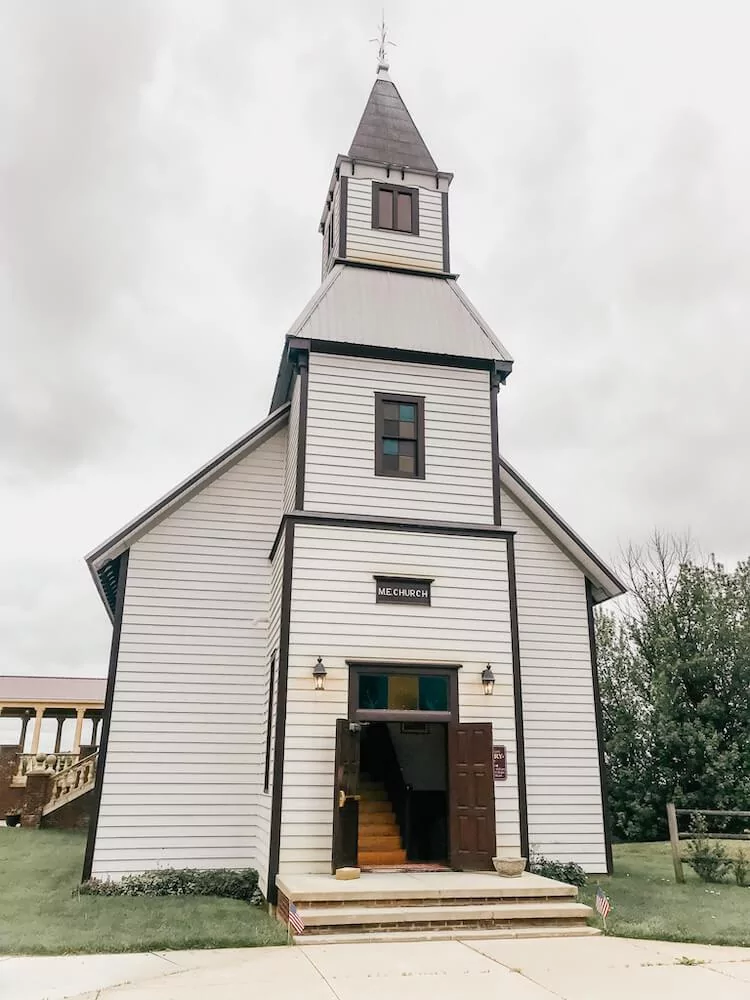 Stop #3 of Your Northeastern Ohio Wineries Day Trip: South River Vineyard
After stop #2, it is time to literally cross the street for your next stop.
This has been a favorite of ours for a long time. South River Winery is also known as the "church winery" as it is housed in an old church that was built in 1892.
If you want the best vineyard views in Ohio, sit out on the large patio at South River. It overlooks the most gorgeous vines that stretch out to the tree line in the distance.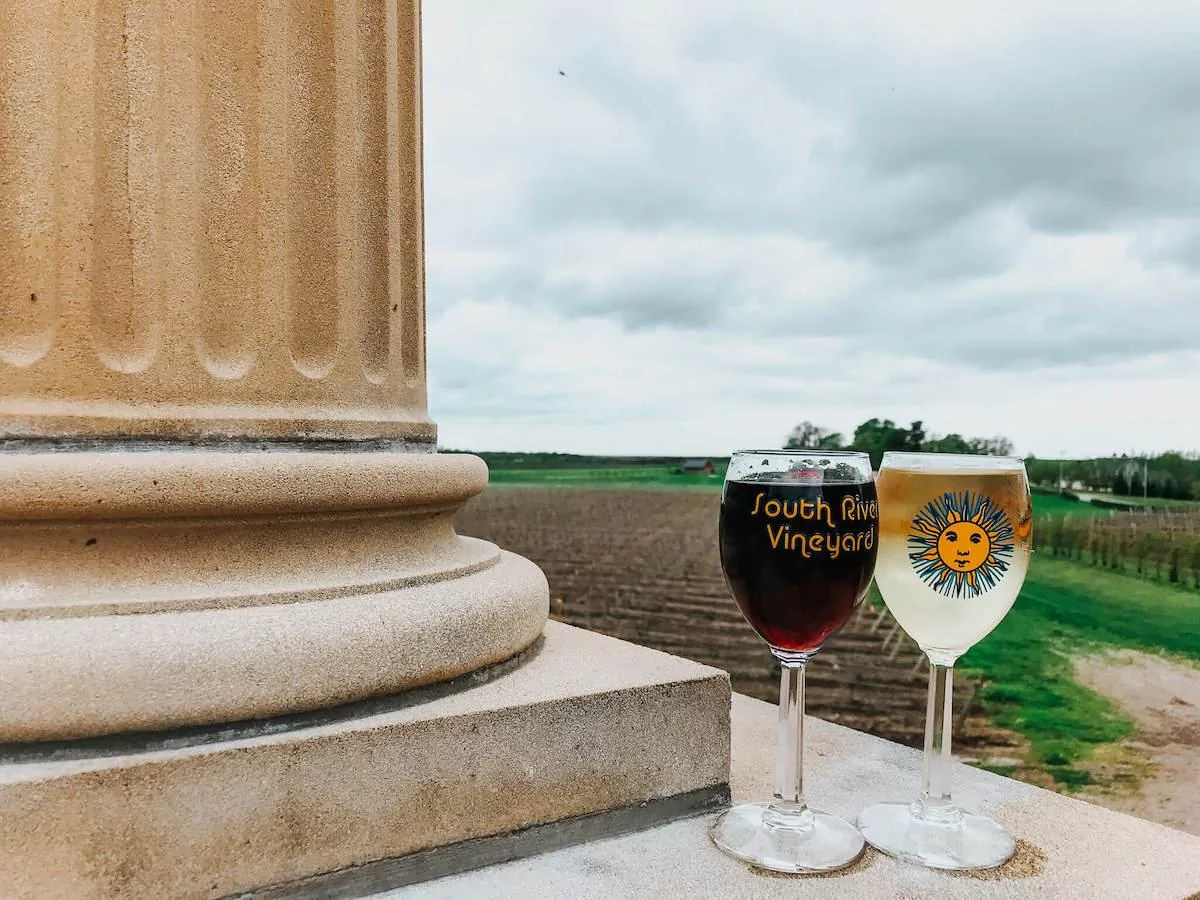 What we also love about this place is their church themed wines like Exodus, a combination of Merlot and Syrah that has hints of pepper, chocolate, and plum, Trinity, that includes Cabernet Franc, Pinot Noir, and Chambourcin with a fruity off-dry taste, and even Karma, a blend of Cabernet and Merlot that is a little smokey with black fruit.
As they grow European varietals, you should also expect some delicious wines like Semillon (hint of honey and fig) and a rich, ripe Cabernet Franc.
And if wine isn't your thing, you can go next door to their distillery, Red Eagle Distillery, to try out their spirits like Bourbon, Rye, Vodka, Brandy, and a unique maple liquor called Red Maple.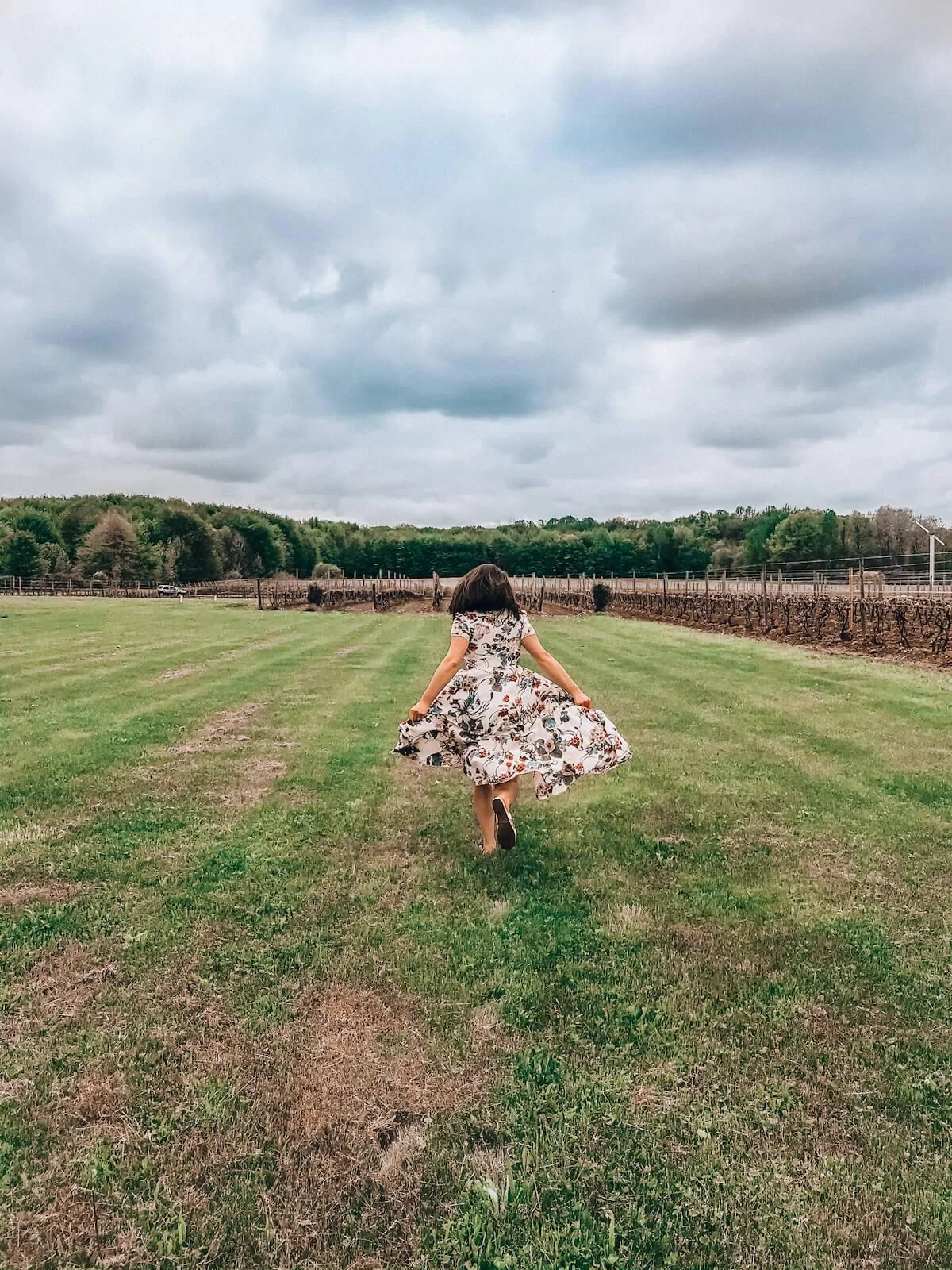 Address: 6062 South River Rd., Geneva, OH 44041
Hours: Monday-Thursday 12-6 pm, Friday-Saturday 12-11 pm, and Sunday 12-6 pm. Red Eagle Distillery closes at 10 pm on Friday and Saturday.
Price for Tasting: $7 for 4 tastings.
Must-Try Wines: Semillon, Cabernet Franc, and Exodus.
Must-Try Cocktails at Red Eagle Distillery: Swamp Water (Bourbon and mixed fruit juices) and Down Low (Elderflower Liqueur and tonic).
South River Vineyard Social Media Channels: Facebook and Instagram.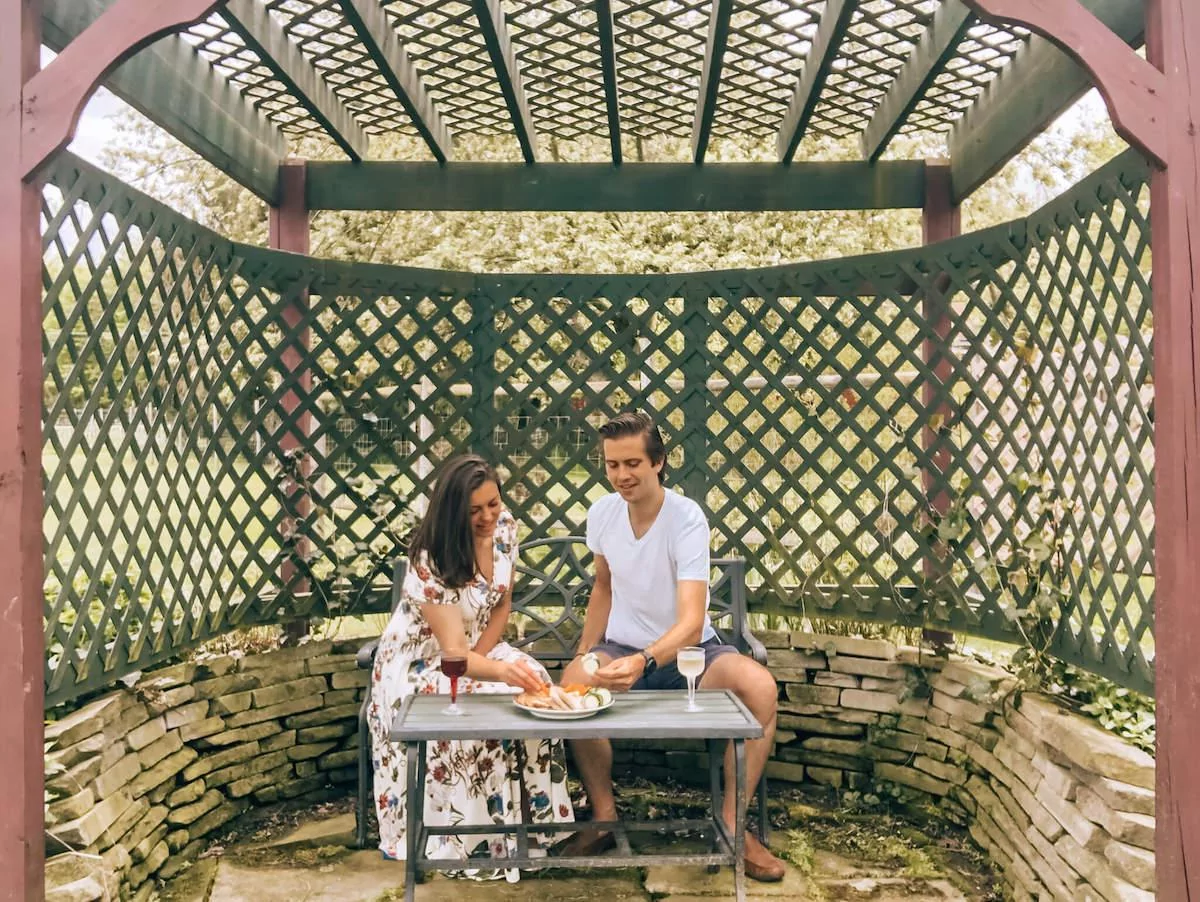 Stop #4 to Wrap Up Your Time Exploring the Vineyards in Ohio: Harpersfield Winery
Now it is time to depart South River Vineyards and transport yourself to the most charming French-countryish estate that is Harpersfield Winery. Upon entering the winery, you'll notice a huge fireplace that is perfect to settle in on a cold winter's day as well as many French memorabilia including a Tournee du Chat Noir painting on the wall.
The outside area is very large with plenty of space to set up your own picnic, which we did on our last visit, and bask in the sun as you view the lovely vineyard.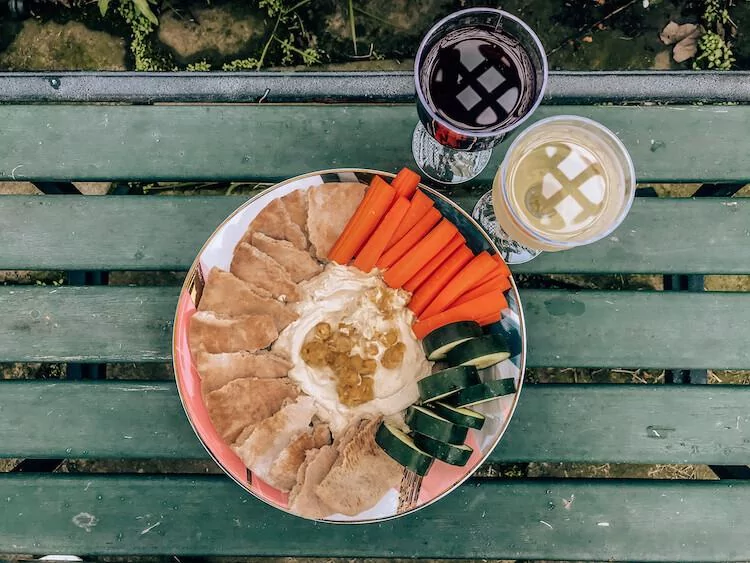 What we love most about this winery, aside from its charm and friendly staff, is the Chardonnay. The "Fût de Chêne" Chardonnay is aged in oak barrels and has a butterscotch and vanilla taste but is still dry. It is our favorite Chardonnay in Ohio!
We also really enjoy their "Clos Mes Amis" Pinot Noir with a coffee, dark chocolate, and dark fruit finish. Both of these wines are the perfect combination for a picnic on a sunny afternoon!
All of their estate red wine is amazing including their Musette that is a blend of Pinot Noir, Cabernet Franc, and Chambourcin that is very hearty as well as their Cabernet Franc with oak and dark fruit!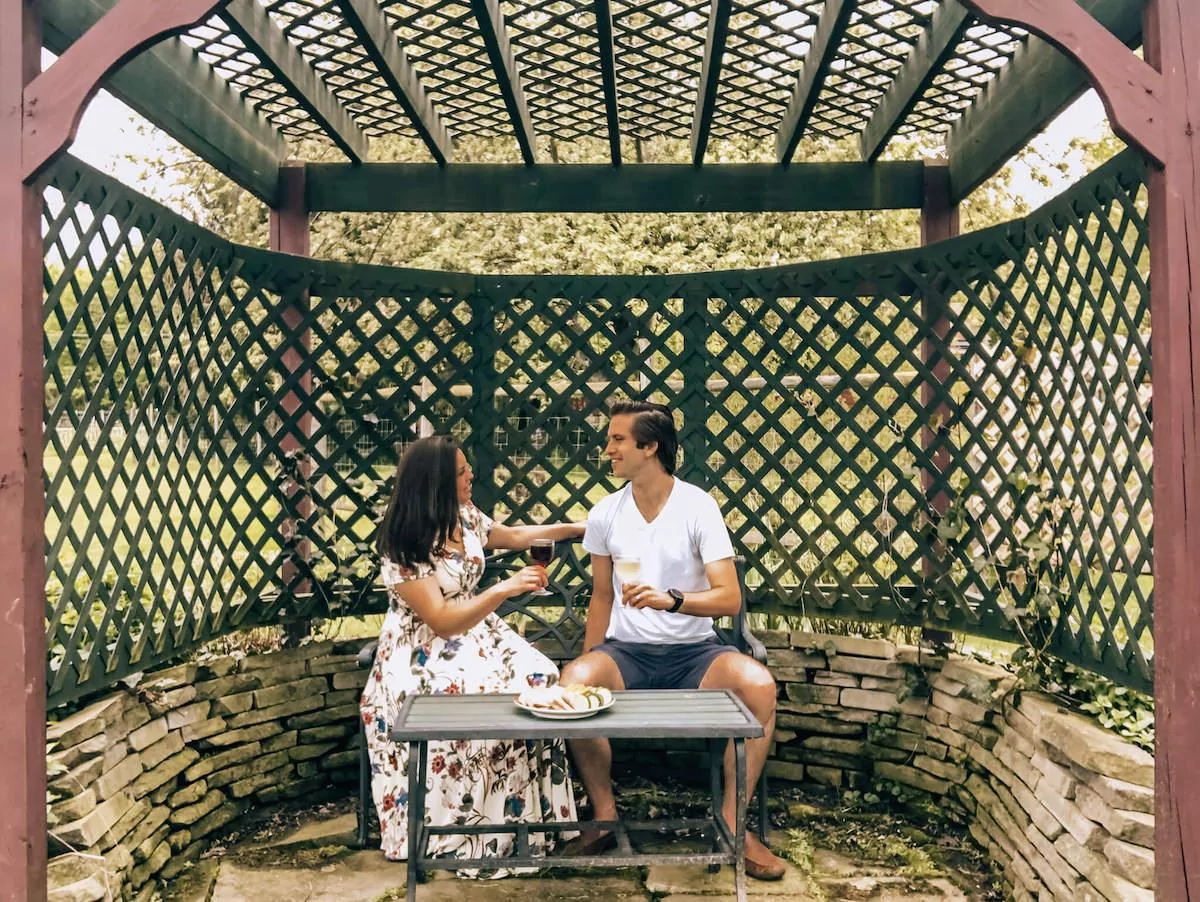 This French-feeling winery takes me back to our days of exploring Paris or our fun trip tasting wine and frolicking around castles in the Loire Valley! Each wine here is clearly created with care and years of tradition.
Address: 6387 St. Rt. 307, Geneva, OH 44041
Hours: Closed on Monday and Tuesday, Wednesday and Thursday 12-7 pm, Friday and Saturday 12-10 pm, and Sunday 12-6 pm.
Price for Tasting: Varies, but glasses are $7-8 per glass.
Must-Try Wines: "Fût de Chêne" Chardonnay, "Clos Mes Amis" Pinot Noir, Cabernet Franc, and Musette.
Harpersfield Winery Social Media Channels: Facebook, Twitter, and Instagram.
After a full day of exploring the best wineries in northeast Ohio, it is time to either head to your hotel if you plan to spend the night in Ohio Wine Country or go back home, remembering the fun time you had!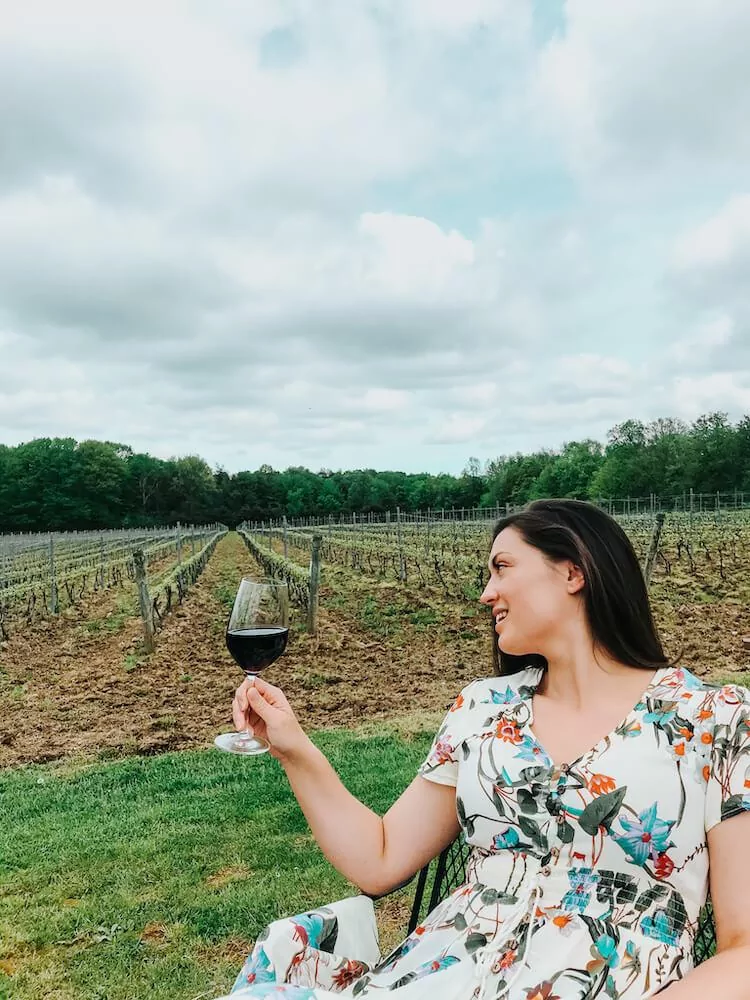 Other Great Wineries in Geneva, Ohio to Visit
There are SO many incredible wineries in Geneva, Ohio, and while we crafted a fantastic day trip itinerary, if you plan to spend more time up here or are making a return visit, here are our top picks for more wineries to visit in Ohio Wine Country:
Ferrante Winery

–

Wines to try:

Grand River Valley Vidal Blanc Ice Wine, Cabernet Franc Signature Series, and Golden Bunches Dry Riesling.

Silver Crest

–

Wines to try: Dornfelder and Cabernet Franc.
Cask 307

–

Wines to try: Chardonnay Ice Wine, Rose of Pinot Grigio, Bourbon Chardonnay, and Cabernet Sauvignon.

Lakehouse Inn & Winery

–

Wines to try: Riesling and Pinot Grigio.

Grand River Cellars

–

Wines to try: Vidal Blanc Ice Wine and Chardonnay Reserve.
Northeast Ohio Wineries Map
Where to Stay in Geneva, Ohio
While we typically just do a wine tasting day trip from Cleveland, if you want to make a weekend out of it, you could stick around the area and explore Geneva-on-the-Lake wineries too!
There is also the option of staying in a VRBO! It is a great budget option during a trip to Geneva.
Here are some great hotel options for your stay in Geneva, Ohio:
Located within minutes of many of the incredible wineries in the area, this is a great option if you want to stay nearby. It also is within minutes of Lake Erie for exploring the smaller beaches up there. Enjoy the free breakfast, gym, pool, and a mini-fridge to keep your newly purchased wine bottles cold. Prices start around $100 per night.
Read reviews on TripAdvisor and book here!
This adorable bed and breakfast is the perfect place for a romantic weekend getaway to Ohio Wine Country. They have rooms ranging from standard queen bedrooms, cabins, and even a beach house. It is located on Lake Erie, so be prepared for amazing sunsets and they have a delightful patio and winery to enjoy some wine while admiring the views. Prices start at $140 per night.
Read reviews on TripAdvisor and book here!
Also located right on the shores of Lake Erie, you'll enjoy the indoor and outdoor pools to cool off in after a day at the wineries, the spa, and they can arrange zip-lining tours for you! Plus, Geneva-on-the-Lake has a wonderful downtown area, perfect for perusing the restaurants, bars, and gift shops! Prices start around $200 per night.
Read reviews on TripAdvisor and book!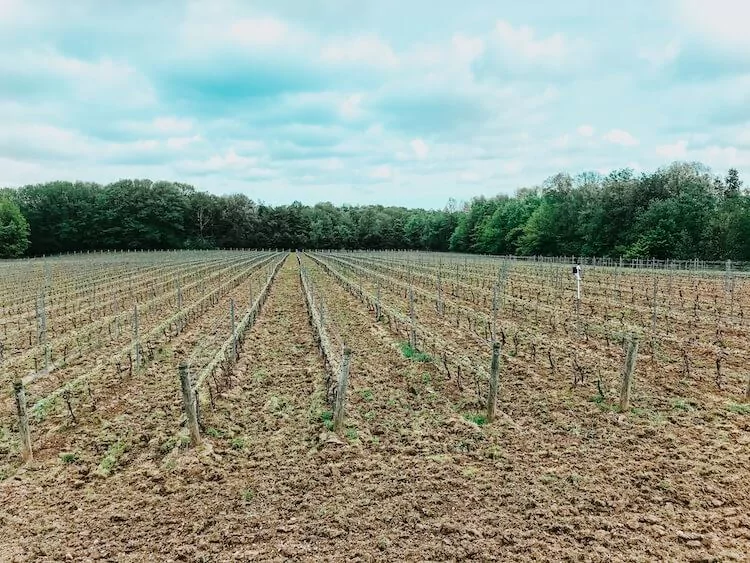 Tips for Visiting Geneva Wineries
Before your visit to the fabulous wineries in Geneva, Ohio, here are some top tips that we have as frequent visitors!
Pro-tips during 2021:

Due to the current crisis, we have a few extra tips for visiting the wineries safely:

Hours may vary at wineries right now. Be sure to check their social media as well as their websites for more information and opening hours.

Please wear a mask whenever you aren't able to keep a distance from others as well as when you're inside. On our last visit, we only went inside to order wine and wore our masks and found a spot to sit outside away from others to drink it. It's a great opportunity to pack a picnic and have a picnic at a winery!

Go early to more popular wineries in order to avoid crowds.

This is the perfect time to check out newer wineries and find another place to love, as they aren't as crowded.

Drink responsibly.

This goes without saying, but please drink responsibly. Plan to either stay the night and call a cab if you want to really indulge in the wineries in Ohio, or there are great tours and drivers to take you around!

The Lodge at Geneva-on-the-Lake offers wine tours from their lodge called the Lake Erie Wine Shuttle. Tours start at $35 per person.

Barrels and Bridges Tours also has a winery tour with a minimum of 6 people in your party.

Platinum Party Bus has bus rentals for large parties.

Notable wines from the Grand River Valley wine region:

Catawba, Cabernet Franc, Chambourcin, Pinot Noir, Ice Wine, Vidal Blanc, Riesling, Chardonnay, and Pinot Gris.

Want to learn more about wine?

We love

Windows on the World Complete Wine Course

to get you well acquainted with wine regions of the world, top wineries, and grapes!

What to wear: I love this flowy dress that I wore to the wineries and sandals, and Chris wore his shorts, sandals, and t-shirt during his time exploring the wineries in northeast Ohio. For taking photos, we love using this tripod for shots of the two of us as well as these cell phone lenses!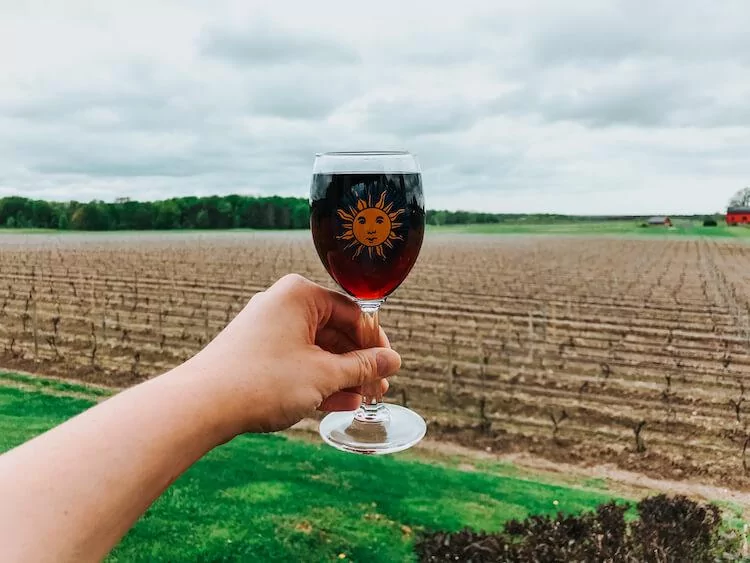 We have certainly visited a lot of wineries around the world including the Cape Winelands in South Africa, the Loire Valley in France, Piedmont in Italy, exploring the wineries in the Willamette Valley, tasting wine in the Santa Ynez Valley in California, venturing to the nearby Lake Erie Wine Trail or Finger Lakes wineries, and even exploring a wine region in Hungary! And while we love visiting wine regions around the world, there is no place like the wineries in northeast Ohio!
Want to read more about Ohio? Check out these posts:
**Thank you to Ohio Wines for sponsoring our last trip to the Geneva wineries in celebration of Ohio wine month! All opinions are our own.
Pin it here!