Some posts on this site contain affiliate links, meaning if you book or buy something through one of these links, I may earn a small commission (at no additional cost to you!). Read the full disclosure policy here.
---
Searching for the perfect 4 days in Budapest itinerary? We have you covered!
Spending 4 days in Budapest is an eye-opener. On one hand, you've got the mix of architecture from communist-era bland construction to gorgeous Baroque and Gothic-style buildings of year's past. On the other hand, you've got quirkiness that oozes from once abandoned buildings that are now home to counter-culture ruin pubs and quiet, dazzling bathhouses that play host to spa parties or "sparties" on the weekends.
In other words, it is a city of many layers.
And when I hopped off my plane at the Budapest airport back in 2013, I completely fell in love with this place.
I've made the journey to Budapest 3 times in my life, and on the most recent trip, I brought Chris along (and my in-laws) to show them my favorite city. I wondered if it would live up to my 2013 and 2015 memories.
It did, and so much more.
So I'm here to show you the top things to do during your 4 days in Budapest! From where to stay in Budapest to top places to eat and drink, here is the ultimate Budapest itinerary in 4 days that you're going to want to copy.
Check out our podcast episode all about the perfect 4 days in Budpaest itinerary here!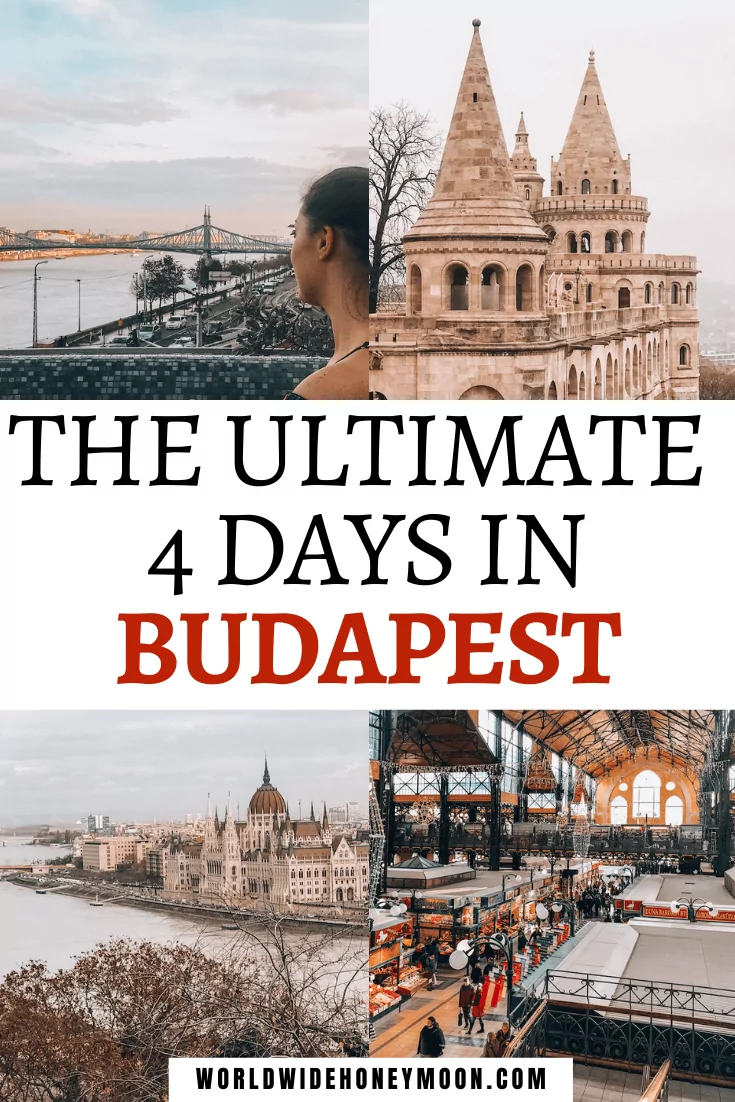 The Perfect Budapest Itinerary in 4 Days
If you have four days in Budapest, we have the perfect itinerary for you! After having visited this city 3 times in the last 6 years, I have discovered the perfect hidden gems, best places to visit in Budapest, and more to help you make your stay memorable and fun!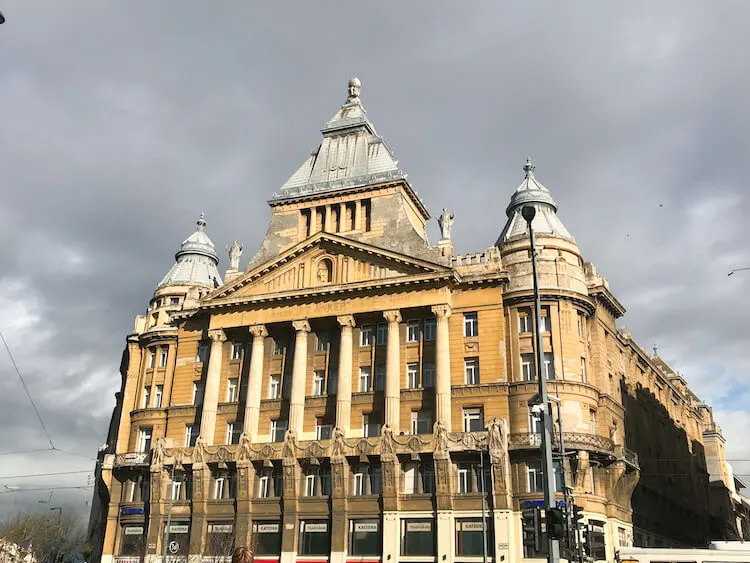 4 Days in Budapest Itinerary Day 1: Explore the Buda Side and Relax at a Bathhouse (Or Two)
Did you know that Budapest is actually split in two by the Danube? On one side is Buda, known as being the wealthier, fancier side of Budapest with gorgeous rolling hills overlooking the Danube. On the other side is Pest. This side of the city is bigger, has many great pubs, restaurants, and has a more hipster-like feel.
Don't worry, over the four days in Budapest, you'll get acquainted with both sides of this dynamic city, but for the first day, it is great to explore the Buda side.
As I recommend an early day here to see the best sites without the crowds, coffee is essential. And if you're staying on the Pest side, I recommend Aran Bakery for a great spot to grab an oat milk latte or flat white plus a tasty pastry like their cinnamon swirl, fig and gorgonzola pastry, or a delectable chocolate muffin/croissant. And for those wanting something savory, the egg sandwich with cucumber was perfect. We may have gone here twice during our stay last time it was that good.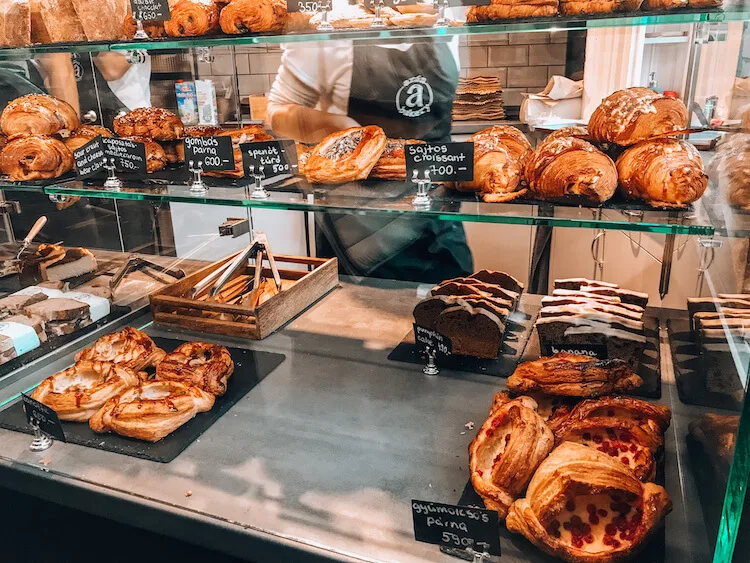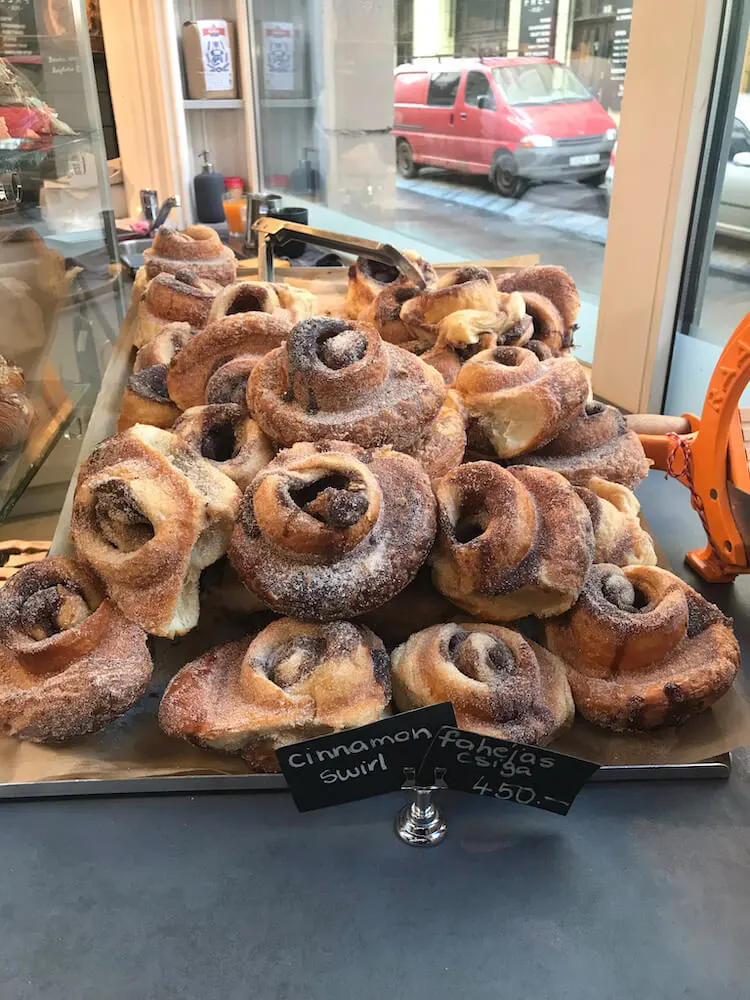 Fisherman's Bastion, Matthias Church, and Buda Castle
Now that you're fueled up, wander over to the Buda side and check out the best views of Budapest from Fisherman's Bastion. And, if you can, walking is a lot of fun because you get to cross the Chain Bridge on the way!
To get up to Fisherman's Bastion, you can either take the pathway up after you cross the bridge, or you can take the funicular up to Buda Castle and walk over. The cost for the funicular is around 1,400 HUF ($4.75) for a single ride or 2,000 HUF ($6.75) for a round-trip ticket.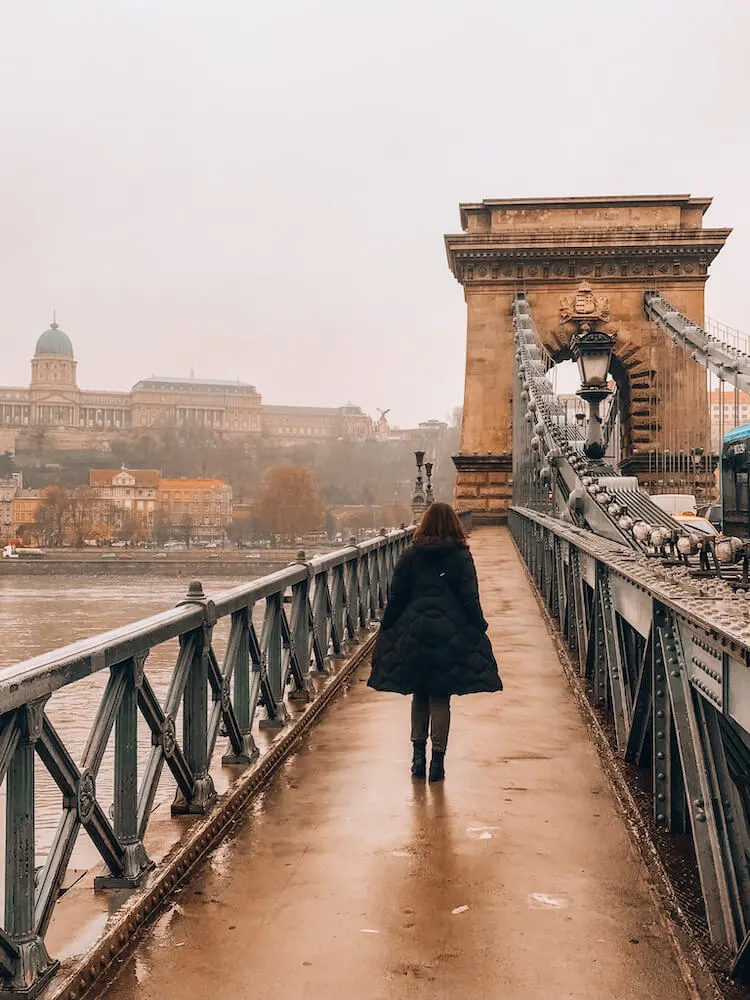 Built between 1895 and 1902, Fisherman's Bastion gives you a perfect, panoramic view of the Danube, Hungarian Parliament Building, and the whole Pest side. Plus, it looks similar to something you'd see in Harry Potter at Hogwarts so wandering along the nooks and crannies of this lovely Neo-Romanesque monument is fun!
But pro-tip for visiting Fisherman's Bastion: go early! And don't be afraid of a rainy day! Chris and I visited around 9 am to find the place practically empty one slightly drizzly morning. Then, we visited again the next day around 10:30 am with his family and it was packed with tour groups! If you want fun photos around the building, definitely go before the tours show up.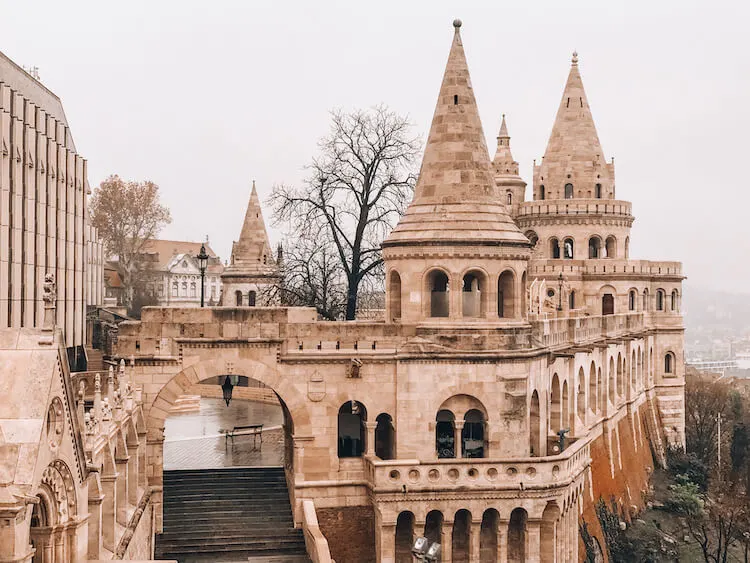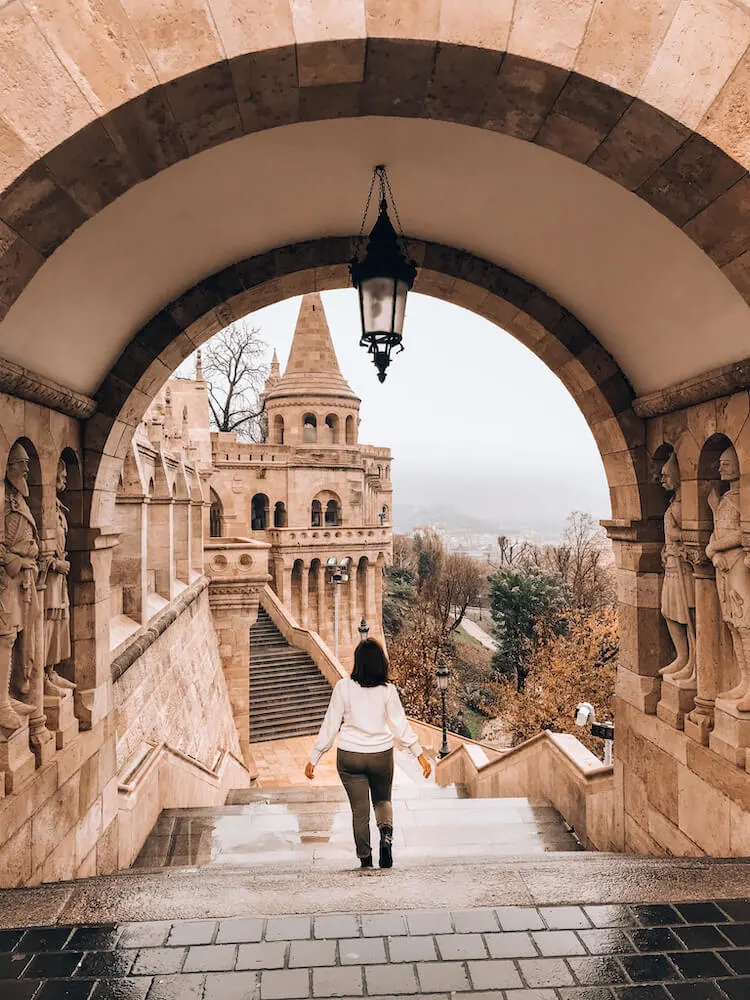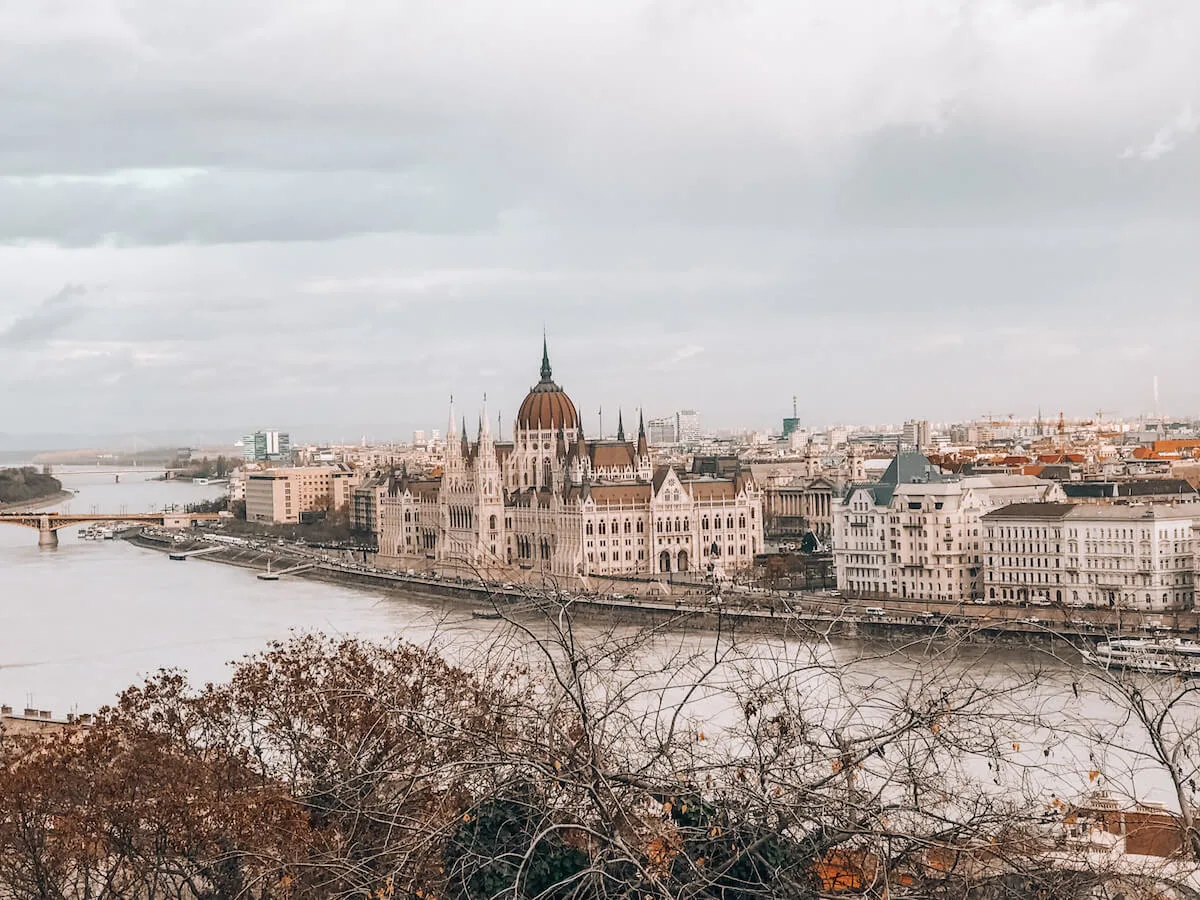 Right behind Fisherman's Bastion is the gorgeously tiled Matthias Church. This church was where the coronations of the Hungarian kings took place, and it was even a mosque during the Ottoman Empire. Be sure to take a peek inside if you can! It is a fabulous addition to your 4 days in Budapest itinerary!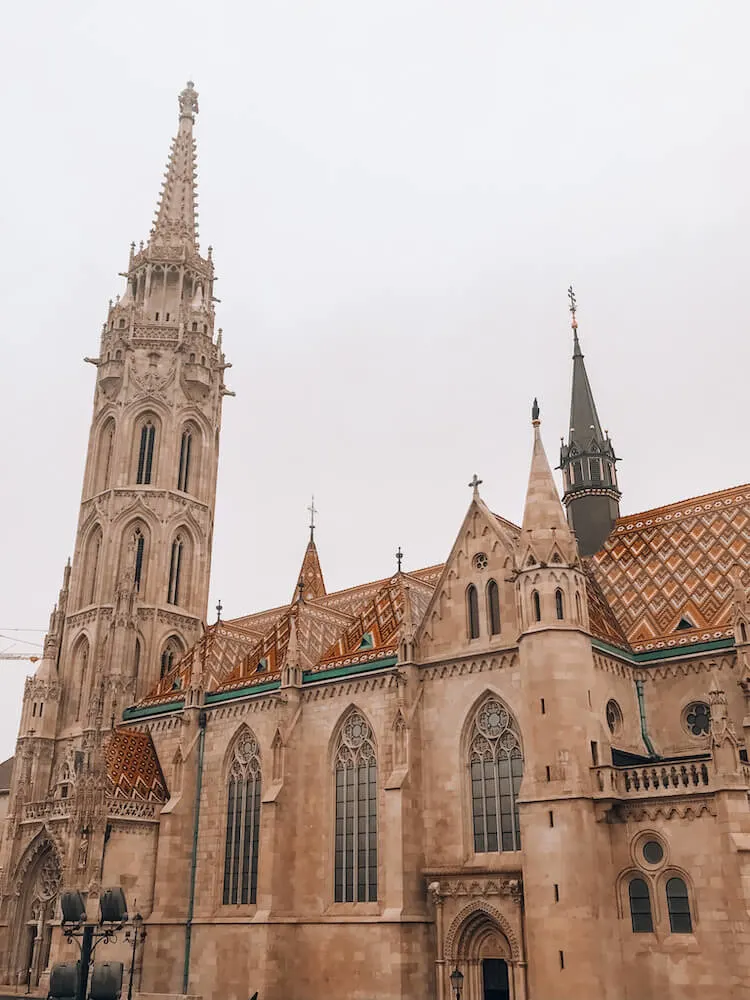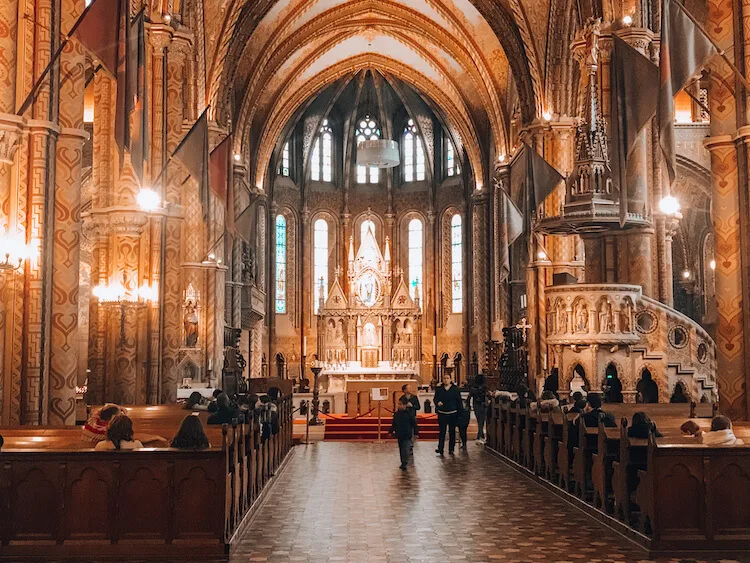 And after visiting Matthias Church, head back over to Buda Castle. Buda Castle was once home to the Hungarian Kings and now is home to the National Gallery, Budapest History Museum, and the National Library.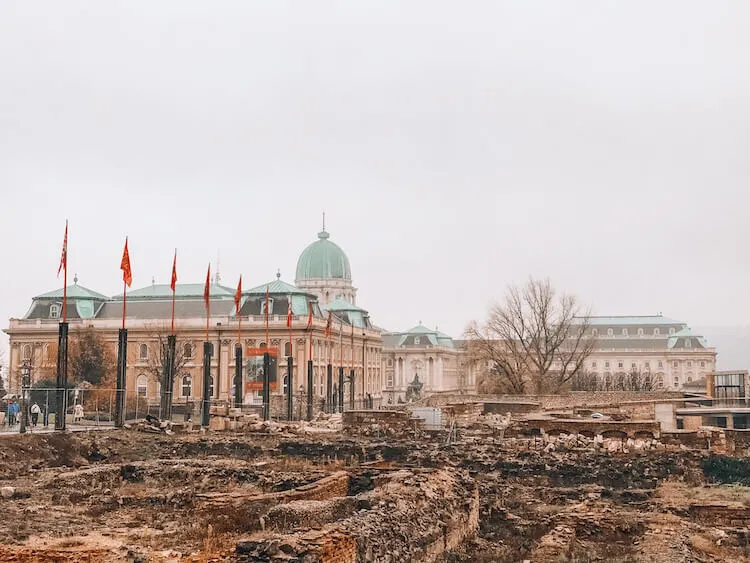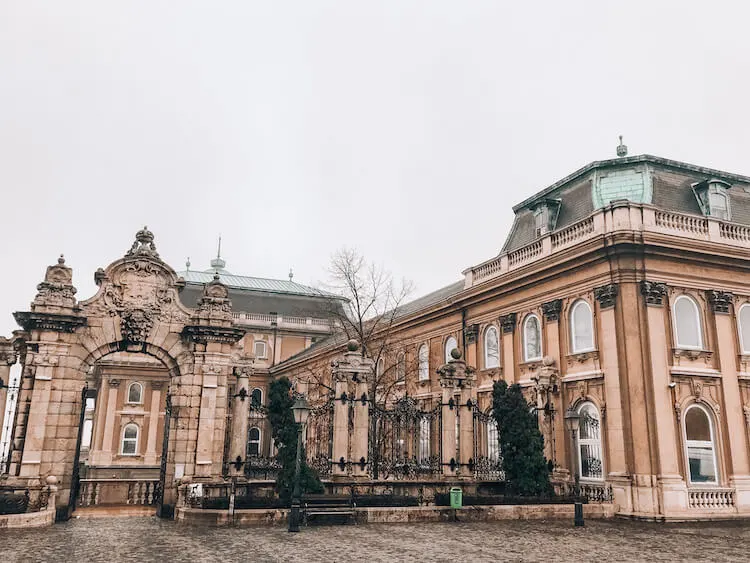 Relax at a Bathhouse
Now that you've explored the main sites of the Buda side, it is time to relax and enjoy some bathhouses.
Bathhouses in Budapest are truly unique. With thermal springs bubbling under the city, bathhouses became a no-brainer for relaxation and a place to socialize. It is also one of the top things to do in Budapest, and if you're looking for what to see in Budapest in 4 days, this is #1.
While there are many notable bathhouses throughout the city, I love the ones on the Buda side. Yes, the most popular is Széchenyi Baths, which is over on the Pest side. It is a huge bathhouse with many indoor and outdoor pools to relax in. It is a wonder to see, and oftentimes a must-visit for first-timers in Budapest. If you do decide to go, be sure to grab a ticket beforehand to skip the line!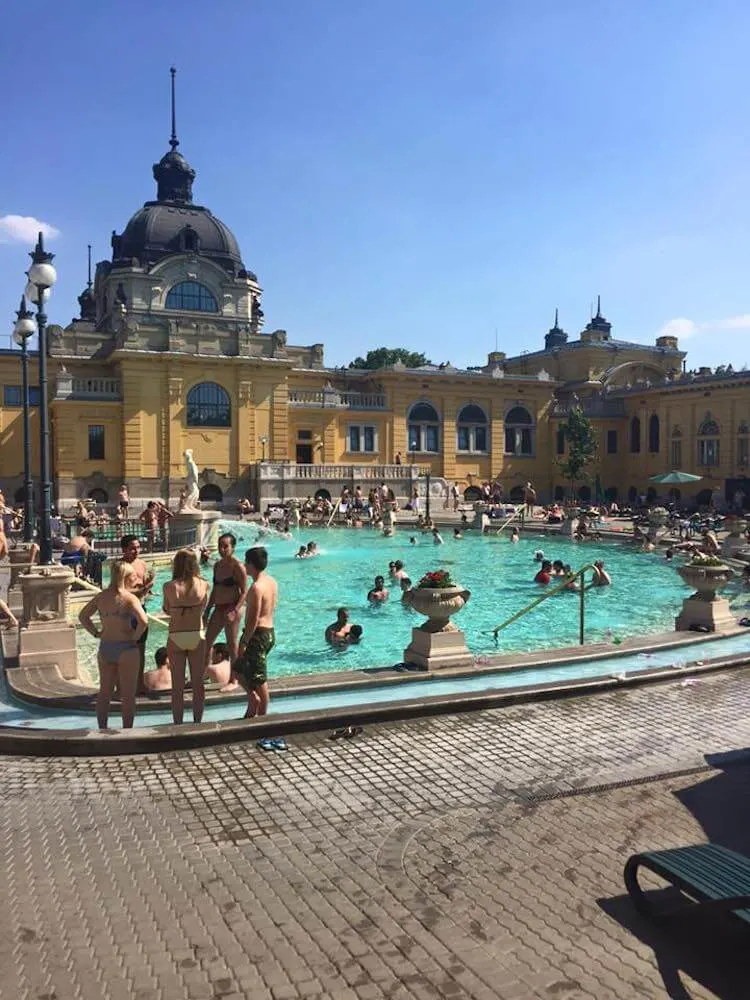 But I've been a few times over the years, and 1) it is now super crowded with almost zero locals anymore, and 2) it plays host to the infamous Sparty or spa party on certain nights. While this place is relaxing for a day visit, at night, things get raunchy…quickly.
And after having been to one of these spa parties in my early twenties, I quickly realized just what happens when you put drunk, young 20 something half-naked people in a pool together. Shit goes down. Plus nobody is getting out to pee after drinking copious amounts of alcohol.
Long story short, after knowing what happens at night here, I would give it a pass in favor of many cleaner, sanitary spas.
Enter the Buda bathhouses. My absolute favorite bathhouse in Budapest is Rudas Baths. This giant complex is stunning! First of all, there is a gorgeous rooftop hot tub that is perfect for grabbing a cocktail and taking in the views of the Danube. We spent quite a bit of time here in November during our last visit.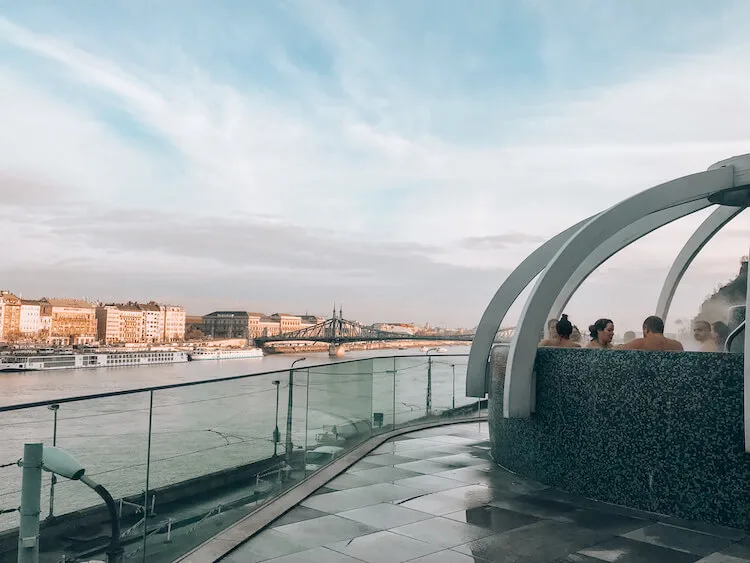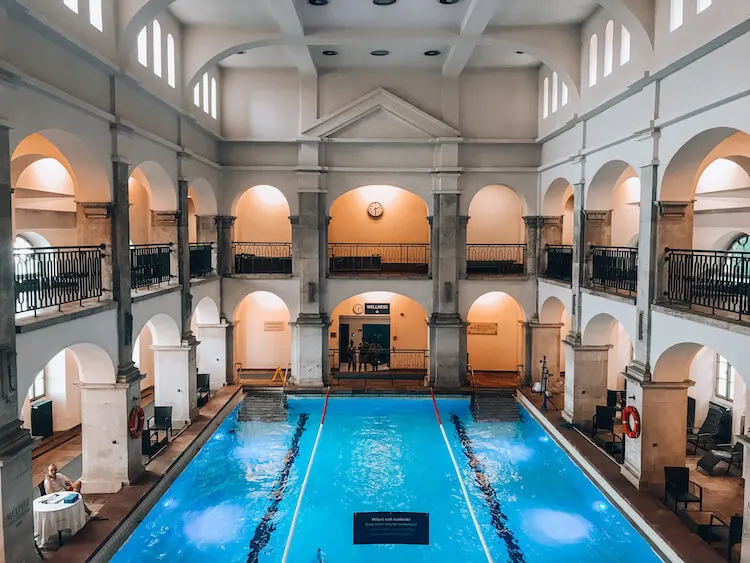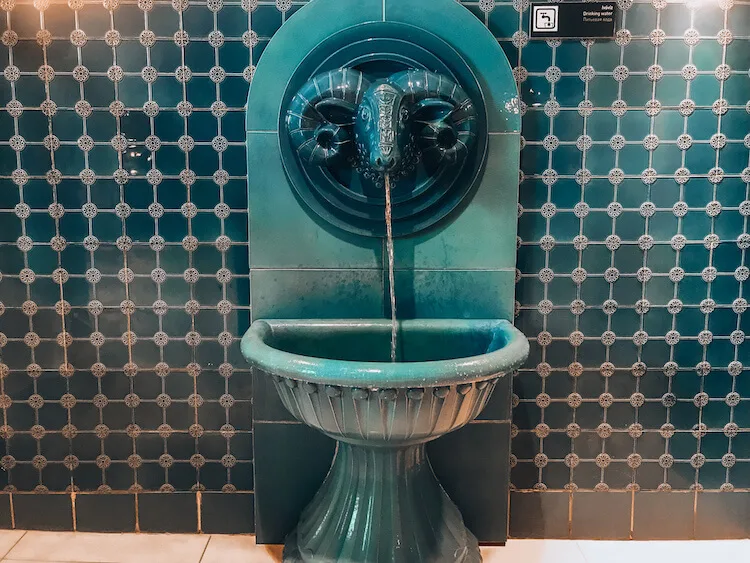 Then, you move downstairs to the lap pool, relaxing modern baths, and Sauna World, which includes tons of saunas, a steam room, and cold showers. And last, but not least, the Turkish bath at Rudas. The old, traditional Turkish bath dates back to 1550, and while this part of the bathhouse has male/female only days, it is mixed gender starting at 1 pm on Friday and through the weekend.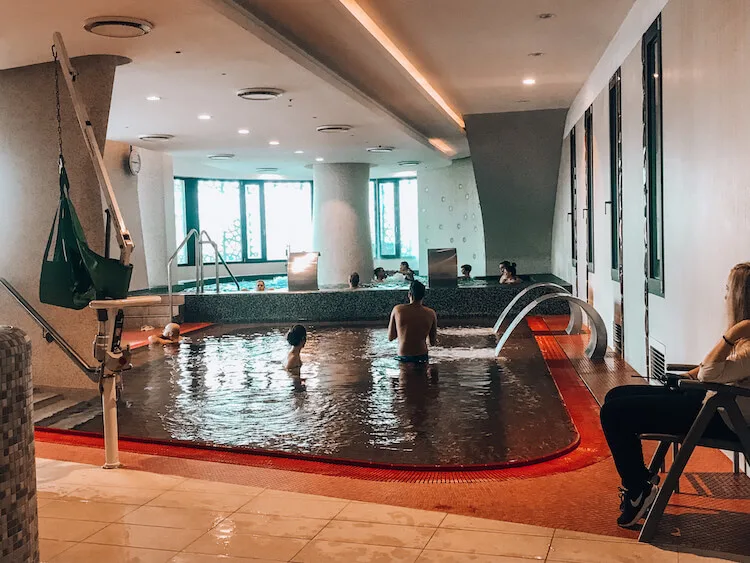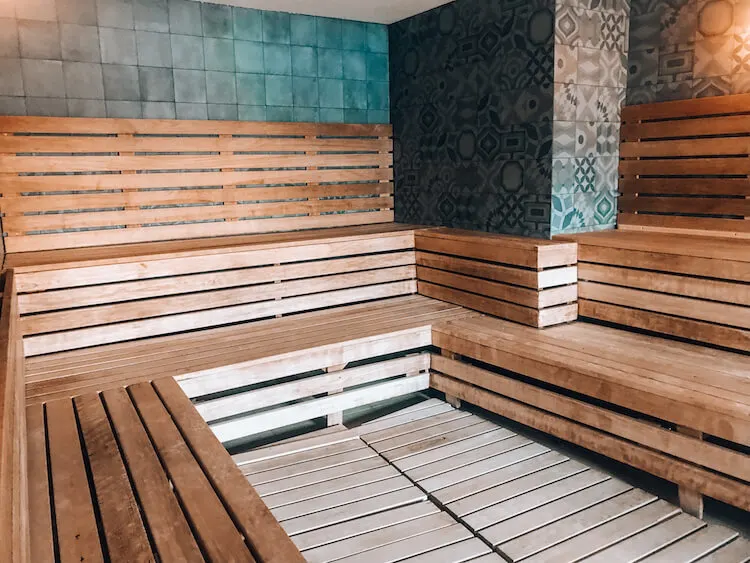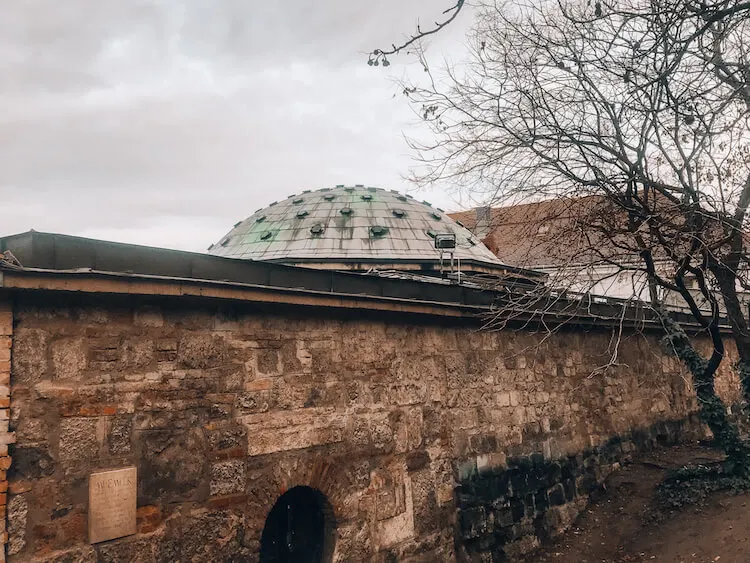 It is incredible soaking in a hot bath with the ancient dome overhead. It was neat to see the old and new parts of this bathhouse!
And for those feeling up for it, another great bathhouse to visit on Gellert Hill on the Buda side is Gellert Baths. Open since 1918 and inside of the historical Gellert Hotel, this place also has indoor pools and an outdoor pool, sauna, steam room, and more that is perfect for a visit year-round. Grab a ticket ahead of time to save time and book a massage for the ultimate relaxation to end your first day in Budapest.
Pro-tip: Bring your own towel! A towel rental costs almost as much as a ticket at some of these bathhouses, so just bring your own. I love these microfiber towels that dry quickly and don't take up much space in my bag.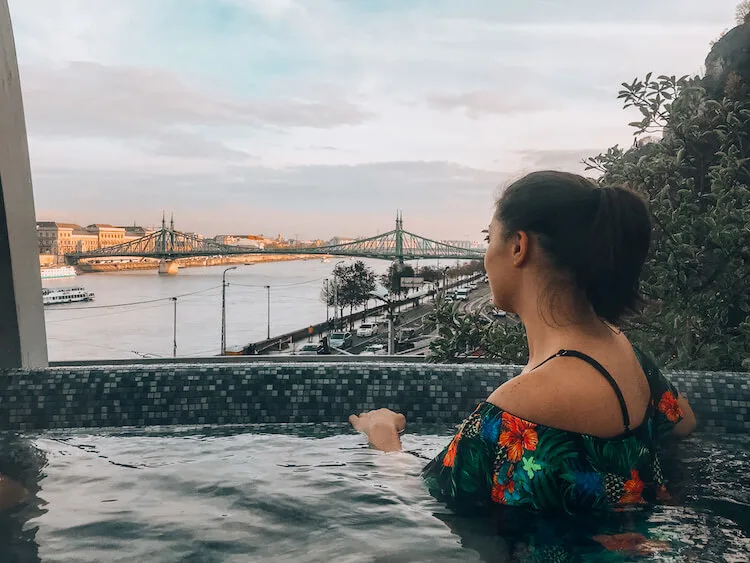 After having relaxed into Budapest time, it's time to grab some dinner. For cheap, healthy eats, we love Hummus Bar for tons of hummus options plus pitas, shakshuka, and more!
Hours of Operation for Attractions on Day 1:
Aran Bakery: Monday-Friday 7:30 am-6 pm. Saturday and Sunday 8 am-3 pm.
Castle Hill Funicular: Open every day at 10 am and closes at 3:30 pm during November-January, at 4 pm in February and October 30-31, at 5 pm in March and October 1-29, at 6 pm in April and September, and at 7 pm in May-August.
Fisherman's Bastion: Daily 9 am-11 pm.
Matthias Church: Monday-Friday 9 am-5 pm. Saturday 9 am-1 pm. Sunday 1-5 pm.
National Gallery: Tuesday-Sunday 10 am-6 pm.
Budapest History Museum: March 1-October 31: Tuesday-Sunday 10 am-6 pm. November 1-February 29: 10 am-4 pm.
Széchenyi Baths: 6 am-10 pm. Spa parties are from 10:30 pm-3 am.
Rudas Baths: 6 am-10 pm. Wellness and Sauna World open from 8 am-10 pm. Turkish bath open from 6 am-8 pm and is male-only on Mondays, Wednesdays, and Thursdays all day, and Fridays until 12:45 pm. Women are able to use the Turkish baths on Tuesdays, and it is coed starting at 1 pm on Friday through the weekend. Night bathing is available from 10 pm-4 am on Fridays and Saturdays.
Gellert Baths: 6 am-8 pm.
Hummus Bar: Hours vary by location. Check the website for more details.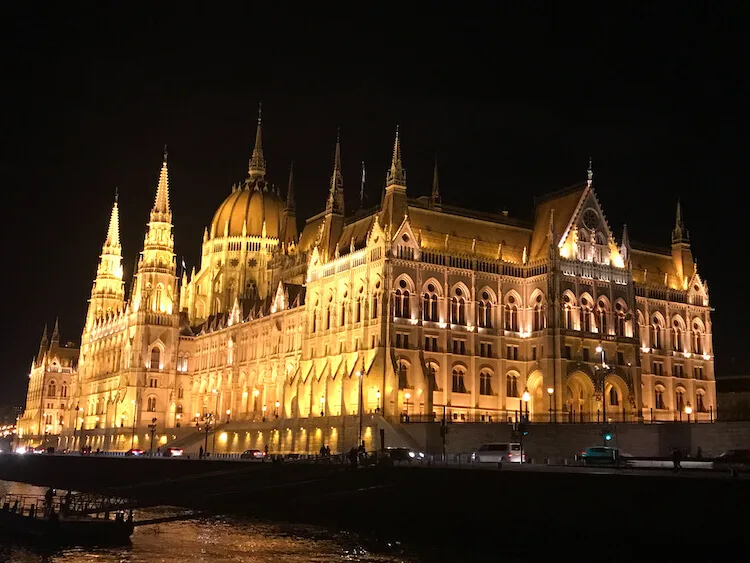 4 Days in Budapest Itinerary Day 2: Central Market Hall, Ruin Pubs, and a River Cruise
Today is the perfect day for exploring the Pest side of Budapest, and most notably the Jewish Quarter.
So grab an excellent cup of coffee at Apricot Coffee. This tiny coffee shop has delightful coffee blends that you won't even need milk or sugar for.
Then, start off with an excellent visit to the Central Market Hall. This huge market is the perfect place to pick up souvenirs like Christmas ornaments, paprika, and even grab some snacks for your time there. Plus the top floor has places to get traditional Hungarian food like langos (a fried bread topped with sour cream and cheese).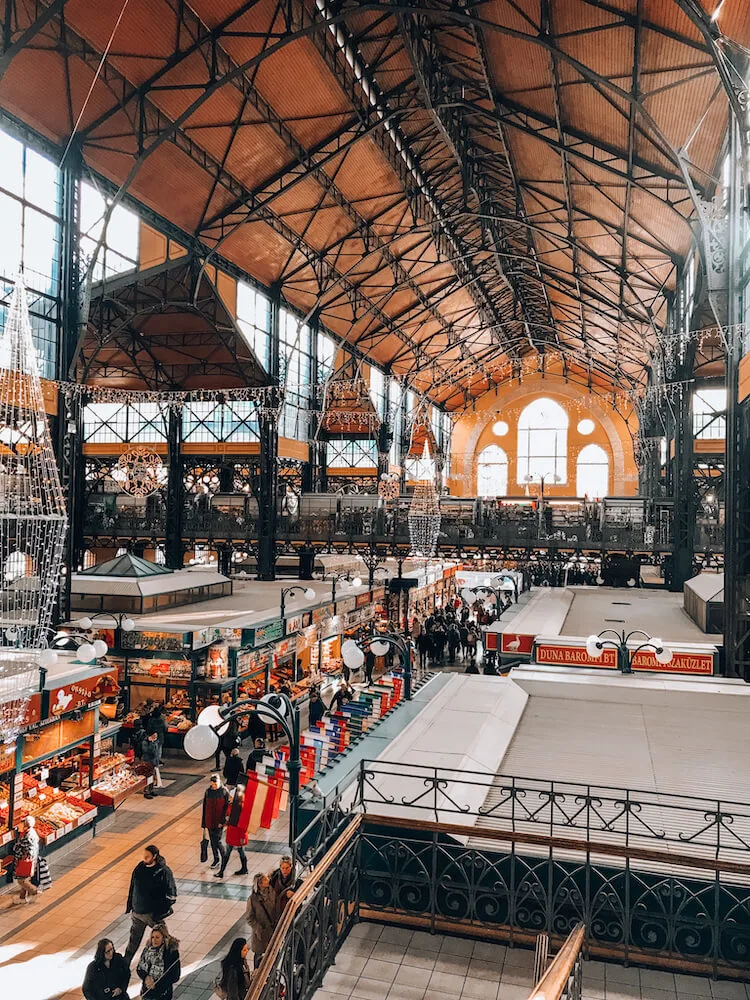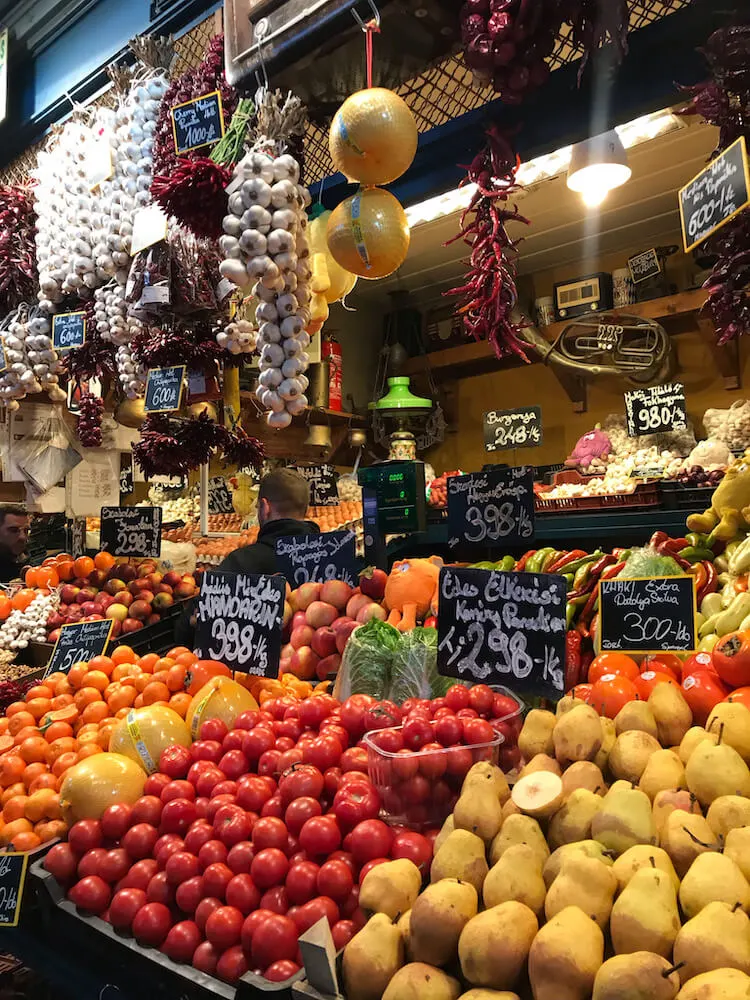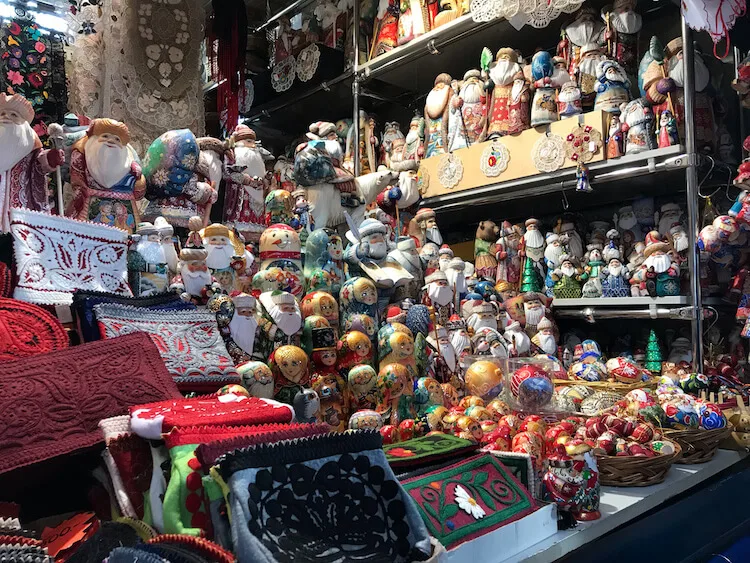 After Central Market Hall, I recommend grabbing lunch at a ruin pub. These old ruins, mainly scattered throughout the Jewish Quarter of Budapest, are now home to many quirky pubs that are a must-visit. While you could definitely go out here at night (and they're super fun then!) they're great for lunch too!
Full of art, statement pieces, plants, and vintage items, these ruin pubs are making a name for themselves in Budapest.
We loved Szimpla Kert for its delicious menu and a chance to try some Hungarian wine, like an Etyek region Sauvignon Blanc. And something we love about Budapest is the availability of vegan and vegetarian food. Szimpla Kert is no exception. The vegan burger with sweet potato fries and a side of salsa was divine and we loved their veggie wrap with curly fries. Not ready to give up meat? They have a killer goulash soup so you can try one of Hungary's famous dishes.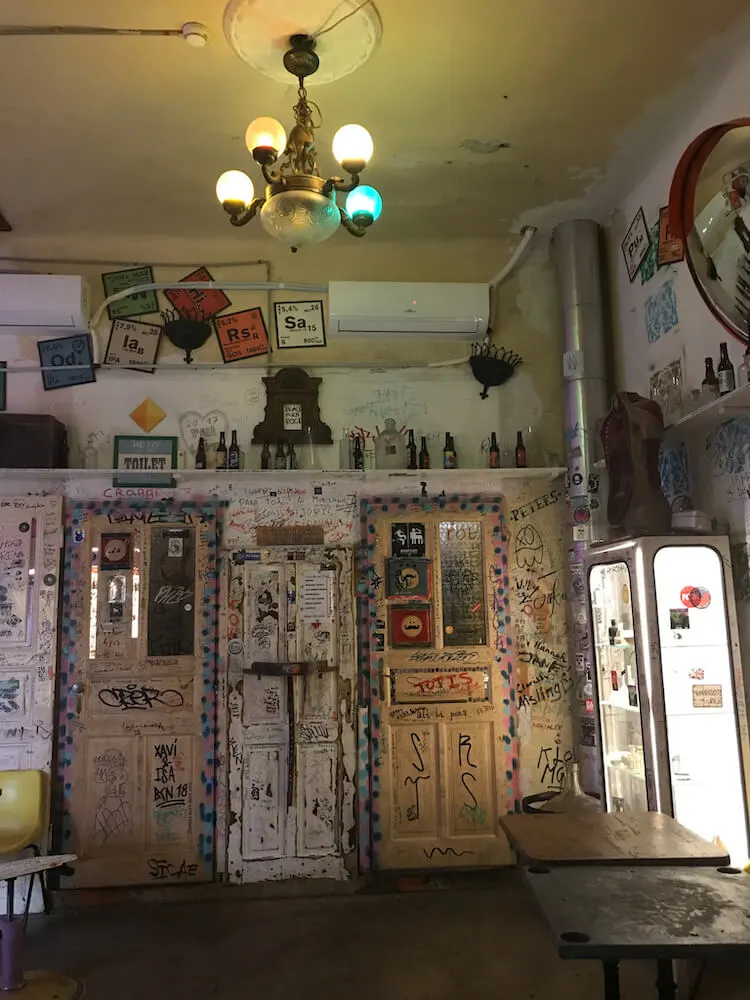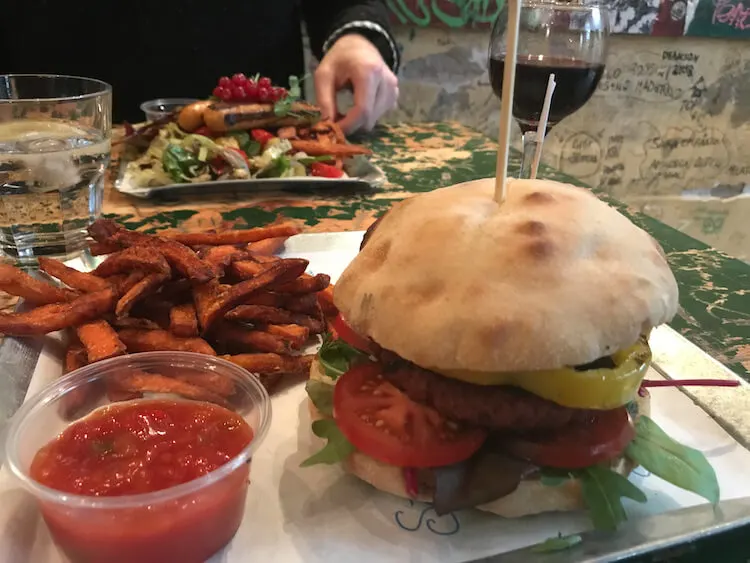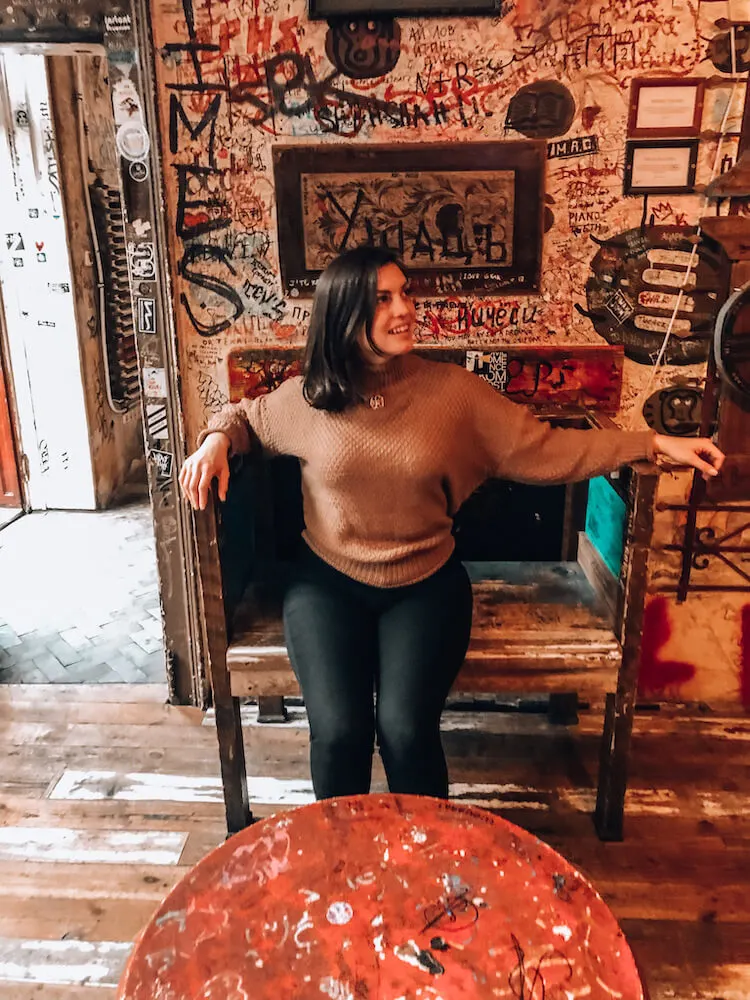 Szimpla Kert is also one of the more famous ruin pubs! Rooms full of bathtubs for lounging, a graffiti-covered dining room, and various things hanging from the ceiling make it a fun place to dive deep into the counter culture of Budapest.
And if one ruin pub isn't enough, we suggest walking over to Mazel Tov too! A much more upscale ruin pub, this is the grown-up version of Szimpla Kert. With a gourmet menu inspired by Israeli eats like olive plates, hummus, and shawarma, it's a great spot to grab food and maybe a drink or two. Chris loved the Ms. Worldwild sour beer and I loved the Tokaj wine region white wine.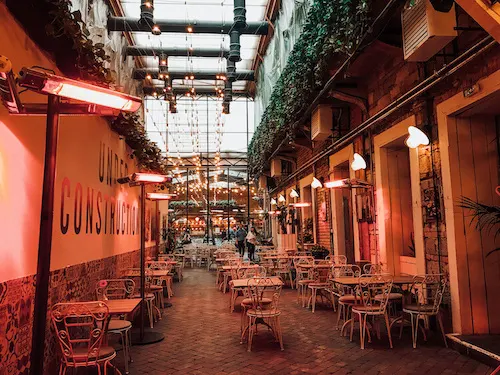 Largest Synagogue in Europe
After Mazel Tov, it is time to wander around the Jewish Quarter and perhaps take a look inside of the largest synagogue in Europe: Dohany Street Synagogue, or the Great Synagogue. The synagogue itself is stunning with two towers, Moorish architecture, and even a garden. This historic building is also home to a Holocaust memorial honoring the Hungarian Jewish victims with a metal tree with each leaf containing a name of a victim.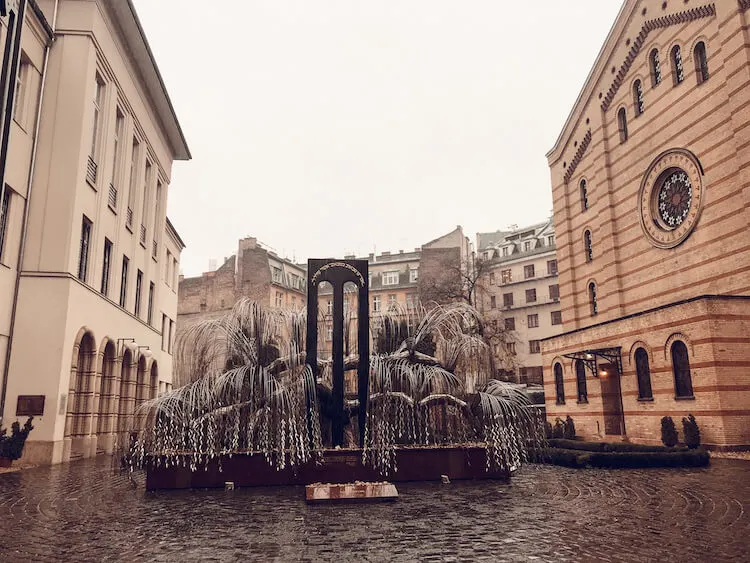 Dinner & a Danube Evening Cruise
This is a great night to check out one of Budapest's best cafes for dinner either before or after your evening cruise: Gerbeaud Café. Start with langos with dips before moving on to the traditional hortobagyi savory pancake with chicken thighs, paprika sauce, and sour cream. And, as this café is known for dessert, you've got to finish with a Gerbeaud cream cake, a folded butter pastry with bourbon vanilla and custard cream. It's a dream.
Now that you've explored a lot of the Pest side during the day, the perfect time to cruise along the Danube is at night. Even in the winter, you've got to do it! The scenery is too pretty. We recommend this river cruise to enjoy the sites of beautiful Budapest once the sun goes down and even includes a drink to sip on during your time cruising!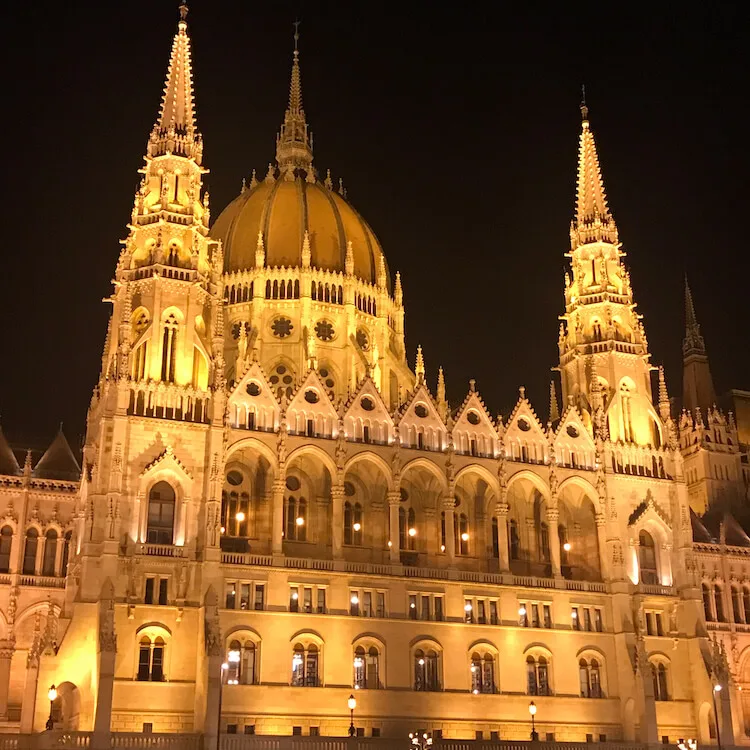 There is nothing more beautiful than seeing the Hungarian Parliament Building all lit up at night. And to top it off you get to see all of the sites you've visited along the river again: Fisherman's Bastion, Buda Castle, etc. We did this in November when it was freezing outside, and while, yes you can certainly go inside to warm up, the views were breathtaking on the deck.
Hours of Operation for Budapest Attractions on Day 2:
Apricot Coffee: Monday-Friday 7 am-5 pm. Saturday 8 am-4 pm. Closed on Sunday.
Central Market Hall: Monday 6 am-5 pm. Tuesday-Friday 6 am-6 pm. Saturday 6 am-3 pm. Closed on Sunday.
Szimpla Kert: Monday-Saturday 12 pm-4 am. Sunday 9 am-4 am.
Mazel Tov: Sunday, Monday, Wednesday, Thursday 11 am-1 am. Friday & Saturday 11 am-2 am. Tuesday 11 am-12 am.
Dohany Street Synagogue: Winter Hours: Sunday-Thursday 10 am-4 pm and Friday 10 am-2 pm. Spring and Fall Hours: Sunday-Thursday 10 am-6 pm and Friday 10 am-4 pm. Summer Hours: Sunday-Thursday 10 am-8 pm and Friday 10 am-4 pm. Closed on Saturday to the public.
Gerbeaud Café: 9 am-9 pm daily.
Danube Cruise: Hours vary based on time of year.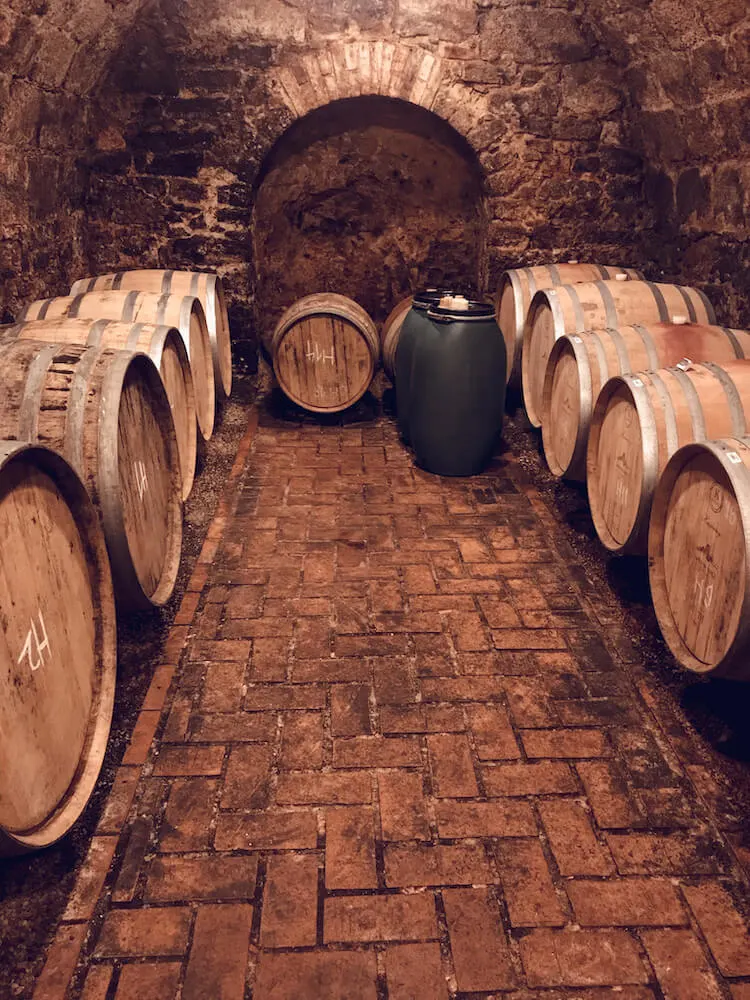 What to do in Budapest on Day 3: Take a Day Trip!
If you have more than 3 days in Budapest, I highly suggest taking a day trip! And around Budapest, there are plenty of options. From caving under the city to visiting one of the many wine regions in Hungary, you can take your pick.
As we are big fans of exploring wine regions like the Cape Winelands, tasting Pinot Noirs in the Willamette Valley, or even winery hopping in the Santa Ynez Valley, we ended up going on the Etyek Wine Tour with City & Wine. The Etyek region is just outside of Budapest, making it a great half-day trip from the city. We chose to do the evening tour starting at 3 pm and ending at 8 pm. However, you can do the morning tour starting at 10 am and ending at 2 pm too.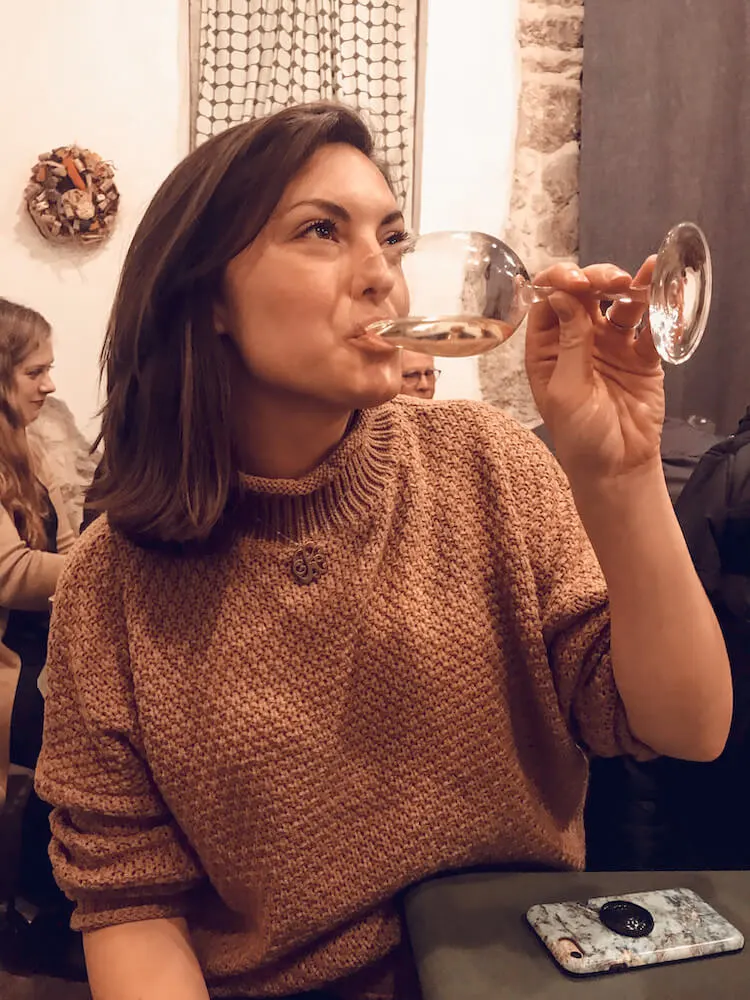 We chose to do the later tour because 1) you can rest up a little this day and just wander around and 2) you get to go to an extra winery. The evening tour goes to 3 wineries in the Etyek region whereas the afternoon tour goes to 2.
It was enjoyable learning about the wines that grow well in the Etyek region, most notably white wines like Sauvignon Blanc, but they are experimenting with Pinot Noir too.
The whole tour was informative and fun! Our tour guide, Juliana, was fabulous and shared stories of the vineyards we visited, the history of winemaking in Hungary (hint: it started 1,500 years ago thanks to the Romans!), and how Hungary's past has shaped its production of wine. For instance, during the Ottoman Empire wine wasn't grown at all, and during the communist era, the wine was grown efficiently with no cares for the quality. No wonder it has taken years for Hungary to finally get a reputation as a wine-growing country.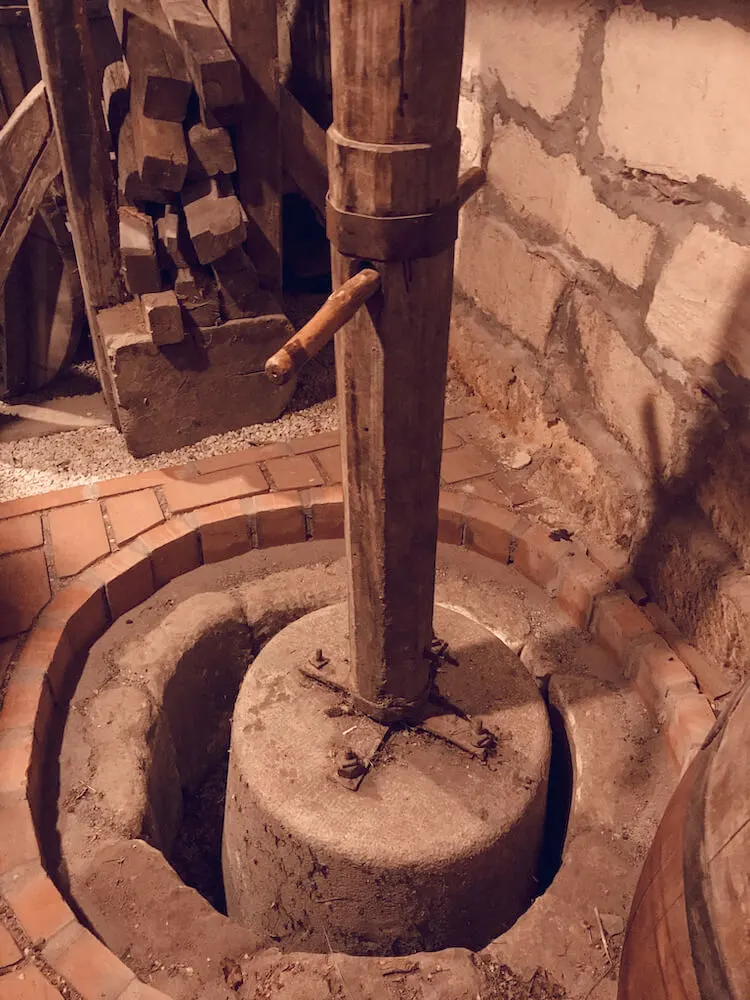 And each stop was incredible. We had wine tastings at 3 vineyards and a full dinner of roasted chicken, rice with peas, coleslaw with pickles, delicious Hungarian cheese and sausage, and crusty bread. The best part about dinner was the traditional sour cherry strudel for dessert. We also may or may not have bought some wine to take back to our Airbnb with us!
I can't recommend this tour enough as an intro to Hungarian wine.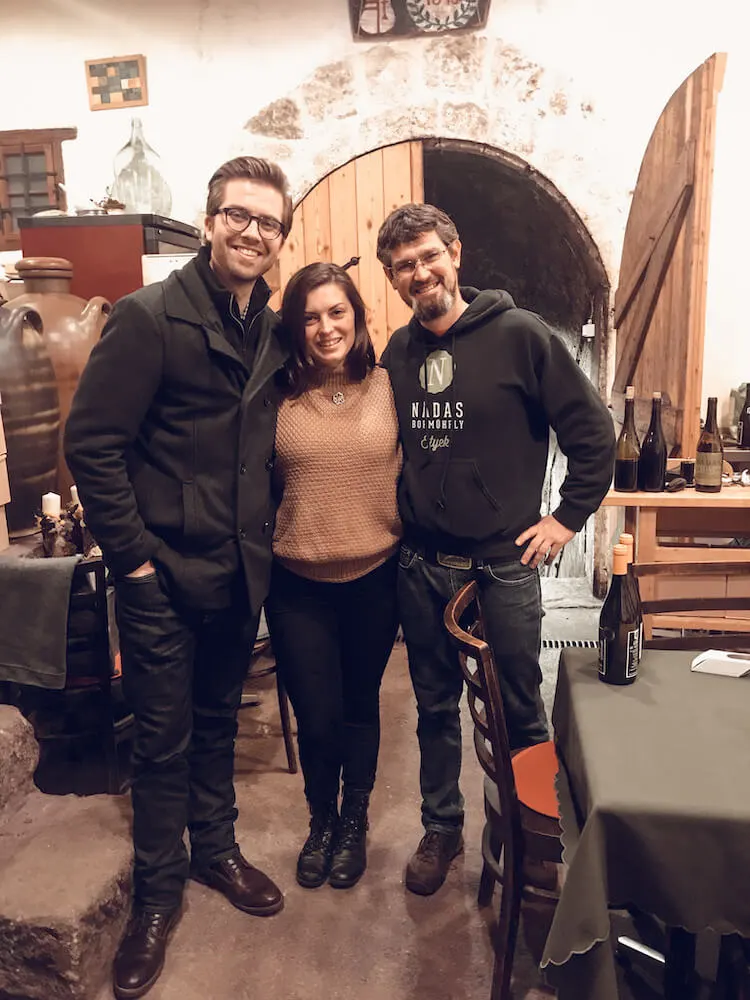 But before your tour, go wander the city! Go shopping at Vorosmarty Square and a stop at Sirius Teahouse is a must.
This is my favorite teahouse in Budapest, and it almost has an Alice in Wonderland vibe. Tricky to find as the only signal of its existence is a little plaque next to the door. And even upon entering it looks like an unassuming teashop. But then you go into the next room and see a cupboard. You open it to see a room of mirrors. Walk upstairs and there is a whole other room with things to climb and squashy puffs to sit on. There are also little nooks and a cave to explore and sip your tea in too!
We loved the Winter Dream Tea, a cinnamon black tea with bits of apple, vanilla, and caramel. Also, the Cinnamon Star tea with green tea, lime peel, clove, rose petal, almond, vanilla bits, cinnamon, and cardamom was delightful and the perfect way to wake up before our wine tour!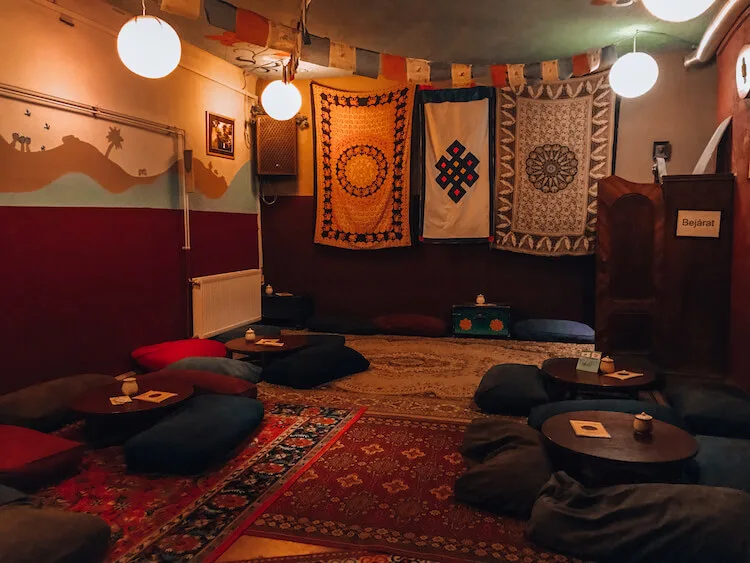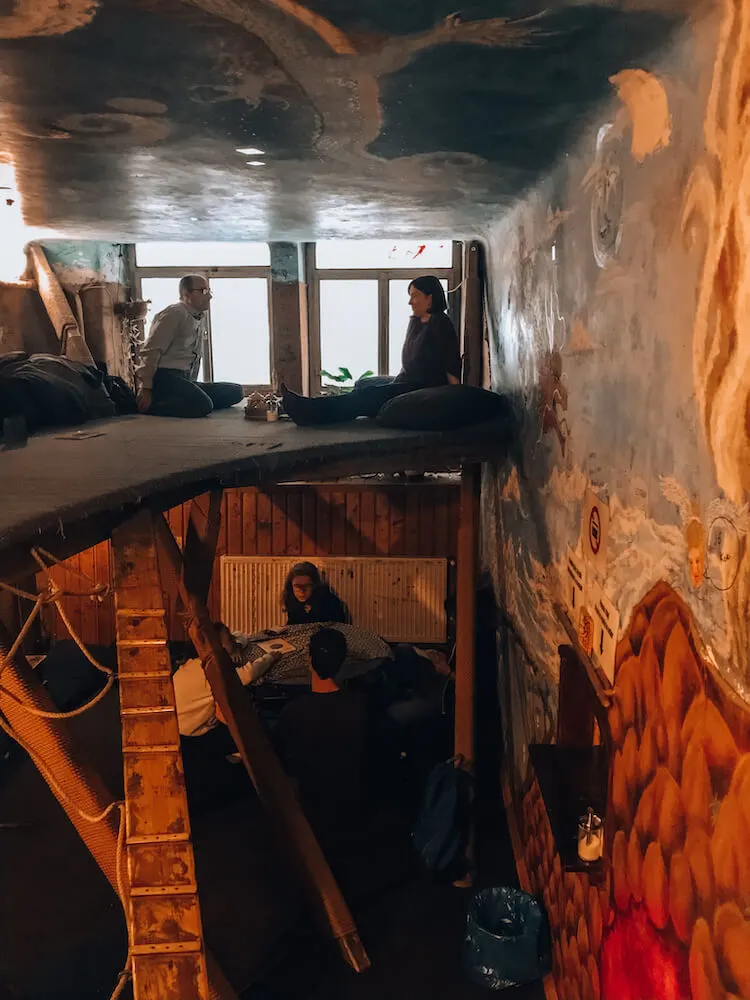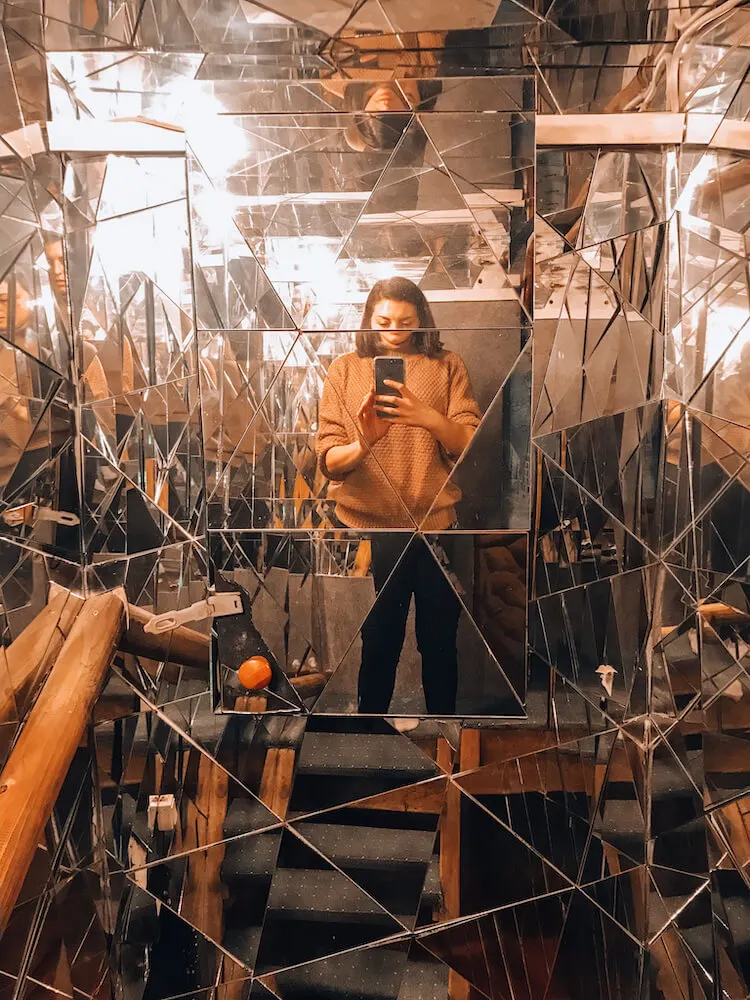 Hours of Operation:
Etyek Wine Tour: Starts at 10 am or 3 pm. The morning tour ends at 2 pm and the evening tour ends at 8 pm.
Sirius Teahouse: 12-10 pm daily.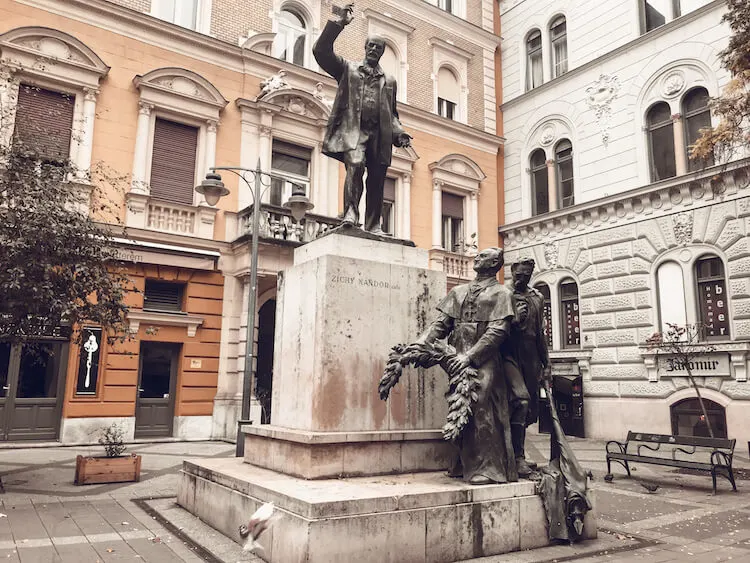 The Perfect End to Your 4 Days in Budapest Itinerary: Brunch, Old Town, and Hero's Square
It may be your last day, but there is so much more to see!
I suggest starting out going to brunch. And the London Coffee Society is the place to be. But go as soon as it opens! I'm not kidding. There was a line to get a table the Saturday we went and it filled up as soon as it opened. It's a tiny place so you'll want to go when it opens to ensure you get a spot.
And it is worth it! I had fabulous coffee, but I also had the best shakshuka of my entire life! Served with crusty bread, I loved mopping up the savory, tomato-garlic sauce with poached eggs. I savored each bite. And Chris loved his smoothie bowl and avocado toast.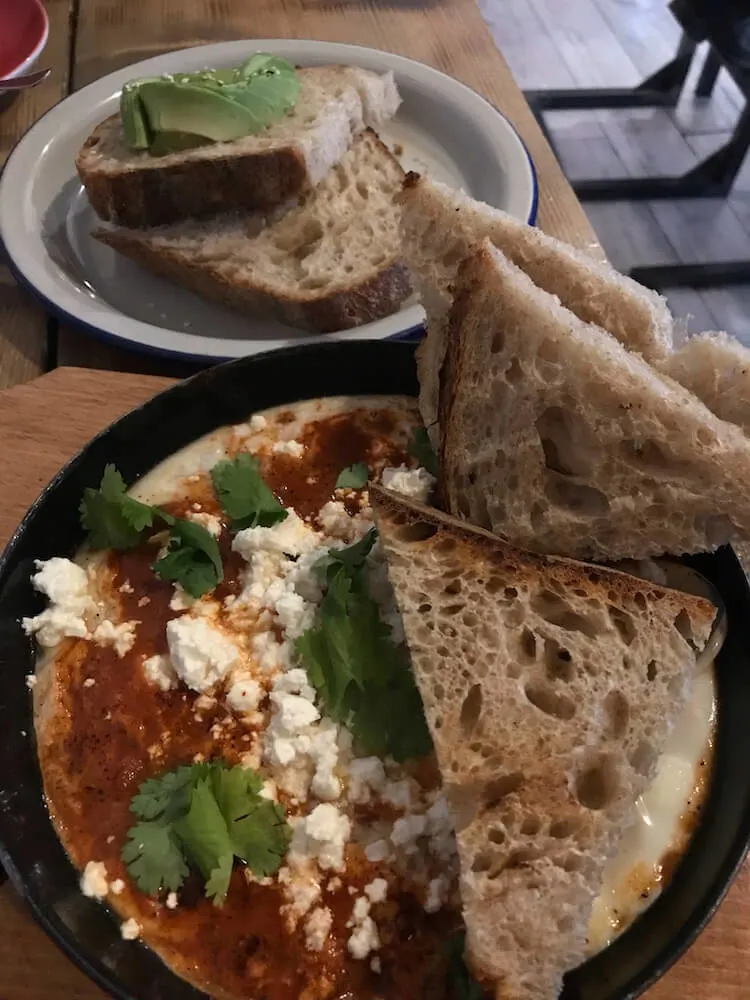 Explore the Old Town
And after that hearty breakfast, you'll want to walk it off by exploring the Old Town. Wander over to the Hungarian Parliament Building and be awed and inspired yet again by the beautiful architecture. Be sure to book a guided tour in advance to save time if you want to go inside!
But a visit to Budapest also means visiting one of the more somber sites: the Shoes on the Danube Memorial. A memorial to remember the Jewish people who were made to take off their shoes and were shot into the Danube, these bronze shoes are a devastating reminder of how cruel humans can be.
Join the crowd of people paying tribute with flowers, candles, and more to remember those lost and take a moment of silence.
Then, take a few minutes to walk along the Danube and toward St. Stephen's Square. I highly recommend visiting St. Stephen's Basilica. This beautiful cathedral is named after Hungary's first king. You can wander at the art and architecture of the building, and you can even climb to one of the towers for another great view of the city to wrap up your visit to the Old Town attractions in Budapest.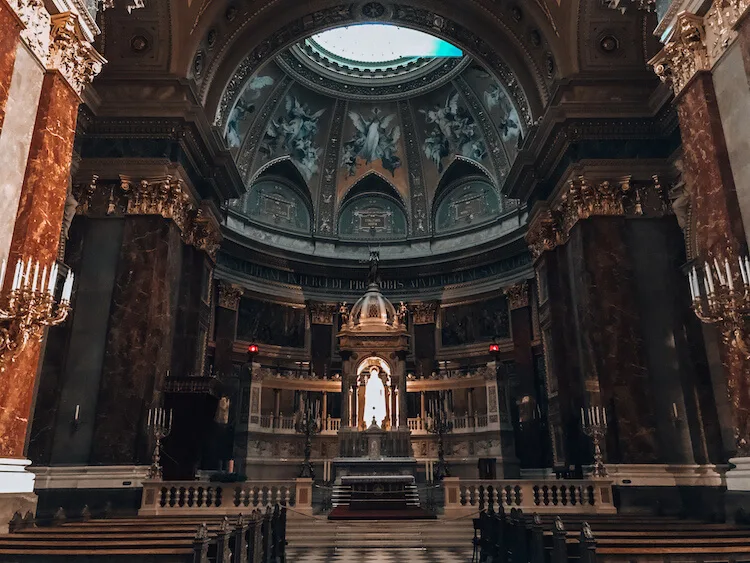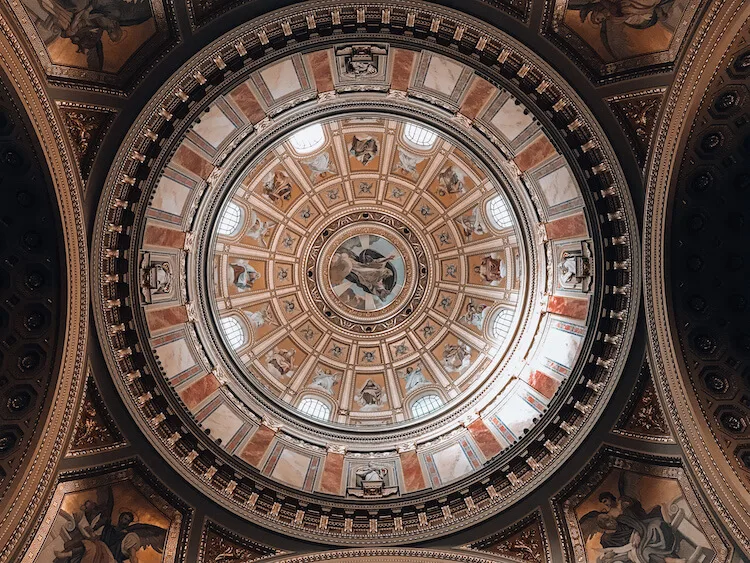 Hero's Square and City Park
And to complete the list of what to see in Budapest in 4 days, a visit to Hero's Square and the City Park is a must.
Take the oldest train in continental Europe, the M1, to Hero's Square and check out the statues including the 7 chieftains of the Magyars as well as the Tomb of the Unknown Soldier.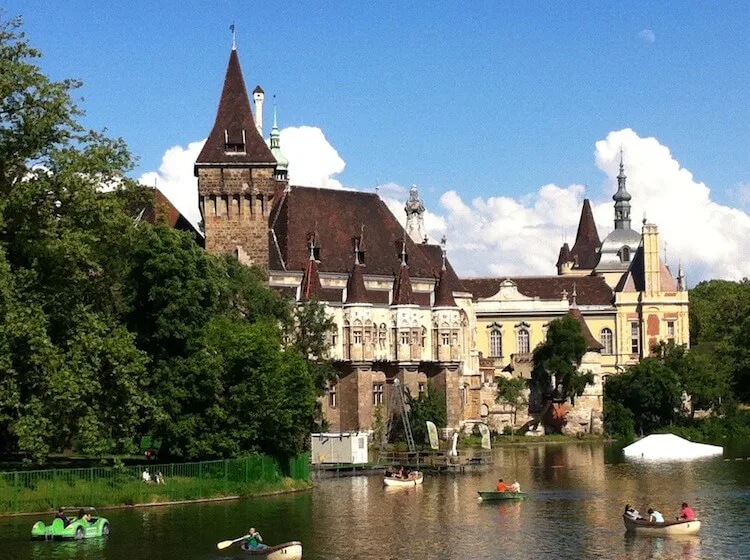 After witnessing this iconic square, wander to City Park behind it. This park is home to Szechenyi Baths, Vajdahunyad Castle (a really neat looking castle that is now home to the Hungarian Agricultural Museum), and even the Budapest Zoo and Botanical Garden. There is also a beautiful pond to walk around as well.
You could literally spend hours exploring this park, and there is always something going on here. I recommend just wandering along the lake and castle. The scenery is beautiful and you'll definitely find vendors selling food to grab a bite to eat.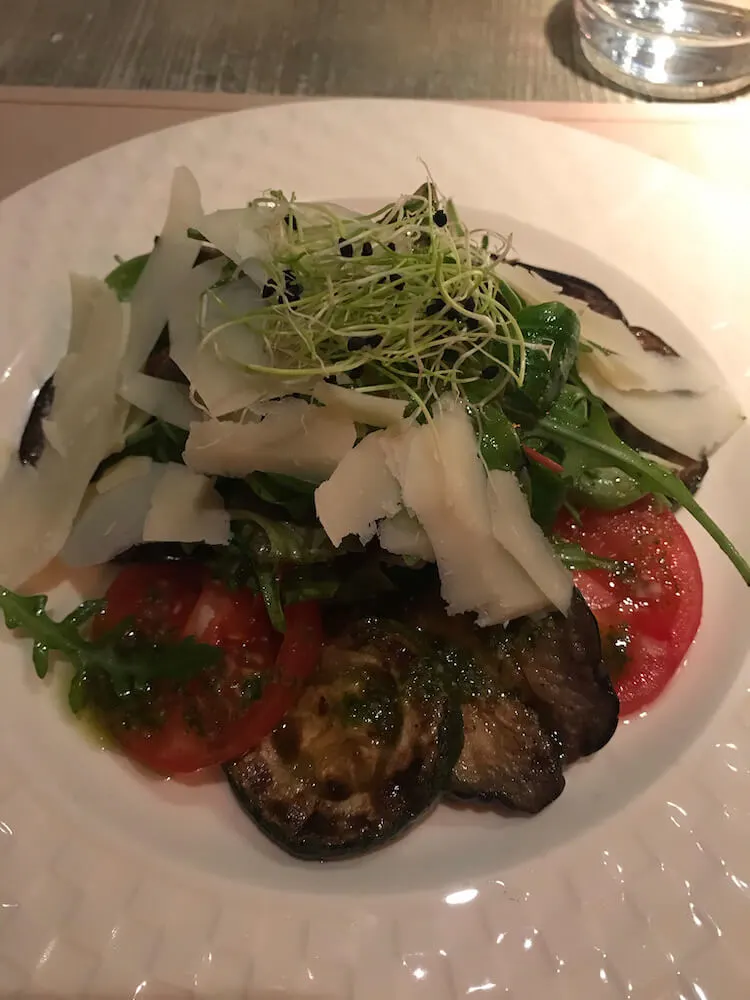 A Final Delectable Dinner
And after you've had your fill of the park, head back into the main city for dinner. For your final night, I recommend Alma and Korte for a modern take on traditional Hungarian food. This adorable little restaurant is located on the cutest little square, tucked away in the Jewish Quarter. Expect tasty dishes like Hungarian fish soup, chicken paprikash with noodles, and even roast duck with braised cabbage, plum, and roasted potatoes.
We loved the delicious eggplant and green salad with shaved parmesan, smoked sheep's cheese over potatoes, grilled mushrooms with feta sauce, and more. Also, be sure to try more of Hungary's famous wine from Eger. The Pinot Noir is divine. Then, to end the night, definitely get the sponge cake for dessert.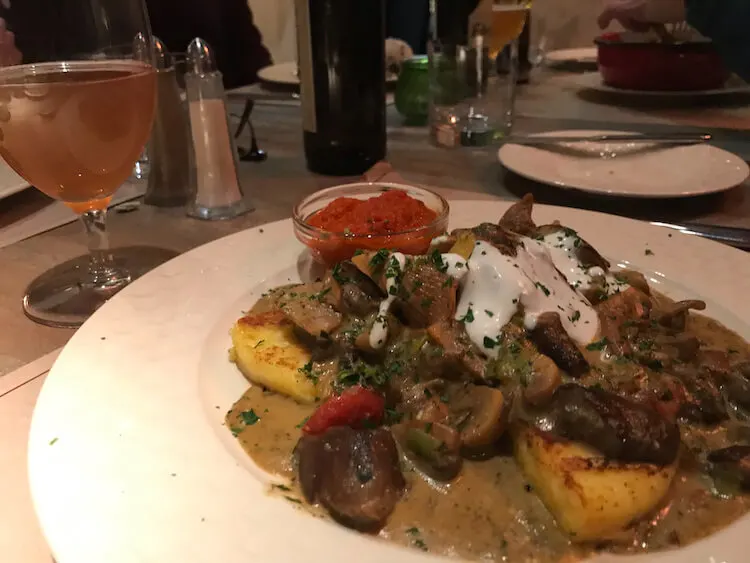 What I really loved about this restaurant too was how accommodating they were! We mostly eat vegetarian, but Chris's mom has to eat vegan for health reasons. When I checked online, it said they were vegan-friendly but when we went they didn't have any vegan menu options.
I asked the waiter if they were able to make something vegan for her and they delivered with the lovely eggplant salad from before without cheese as well as sautéed mushrooms with jasmine rice. My mother-in-law was full and happy after leaving the restaurant and it really meant a lot that they could be so accommodating.
It was the perfect end to a 4-day Budapest itinerary!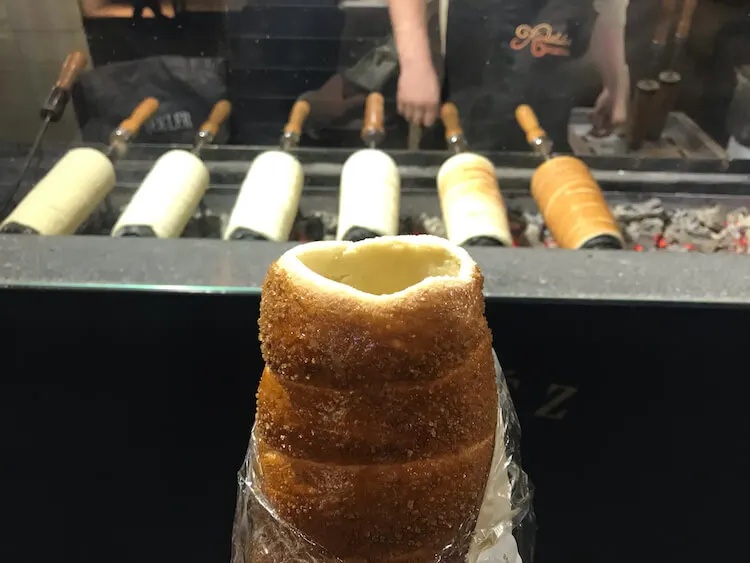 Hours for Attractions in Budapest on the 4th Day:
London Coffee Society: Monday-Friday 8:30 am-6 pm. Saturday 9 am-6 pm. Sunday 9 am-5 pm.
Hungarian Parliament Building: Monday-Friday 8 am-6 pm. Saturday-Sunday 8 am-4 pm.
Shoes on the Danube Memorial: 24 hours.
St. Stephen's Basilica: Monday-Friday 9 am-5 pm. Saturdays 9 am-1 pm. Sundays 1-5 pm.
Hero's Square: 24 hours.
Vajdahunyad Castle: Weekends 10 am-5 pm year-round. 10 am-5 pm Tuesday-Friday during April 1-October 31 and from 10 am-4 pm from November 1-March 31. Closed on Mondays.
Budapest Zoo & Botanical Garden: Opens 9 am daily but closes at various times throughout the year.
Alma & Korte: Monday-Saturday 6 pm-midnight. Closed on Sundays.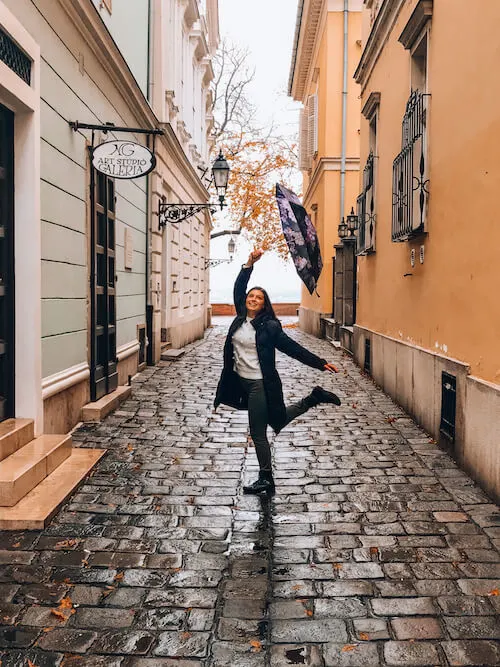 Where to Stay During Your 4 days in Budapest
When it comes to where to stay in Budapest, there are many fabulous places. But I actually recommend checking out an Airbnb or VRBO. We stayed at this wonderful Airbnb complete with 3 bedrooms and 3 bathrooms, perfect for 3 couples to stay during our family trip!
It was also super cheap at around $75 per night! We loved the in-house washer, beautiful street views, and the lovely little courtyard of the building.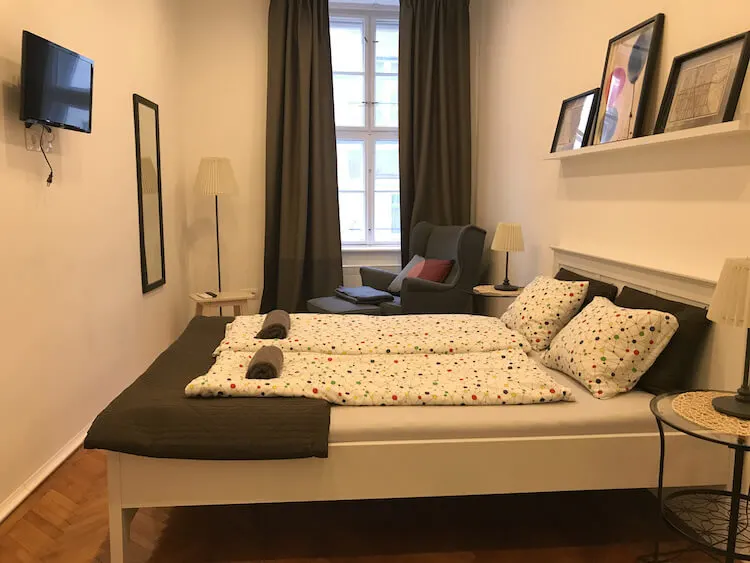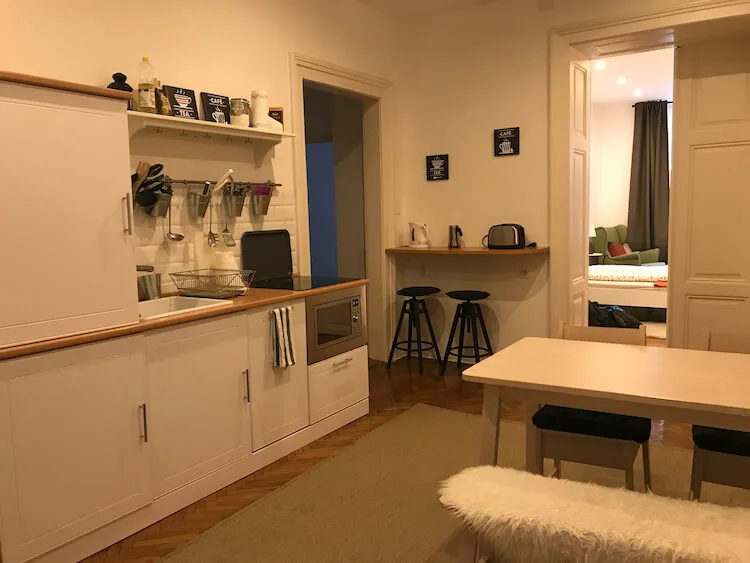 As far as neighborhoods to stay, we loved the Jewish Quarter or 7th District. Close to the ruin pubs, nightlife, and great restaurants, you can't go wrong with staying here. Also, many great hotels are in the 5th District or the inner city of Budapest. This is close to all the main attractions like the Parliament Building, Chain Bridge, and more. It is a great spot to base yourself during your 4 days in Budapest itinerary.
And lastly, for a taste of life on the Buda side, the 1st District is a good area to stay at to be close to places like Rudas Baths and Buda Castle.
Located in the Jewish Quarter and close to all the hotspots, this hostel is inexpensive at around $50 per night for a private room. Plus, the clean and polished rooms include the comforts of home including free Wifi, coffee, and tea. You can also rent a bike from them and there are dorm rooms to save even more money. You can also make your own food in their kitchen.
This art nouveau hotel is beautifully modern with marble bathrooms and artfully designed rooms, and you'll also love the bar/lounge, rooftop pool, and sauna during your stay. At only $125 per night, it is the perfect place to relax after a long day of exploring Budapest.
When Conde Nast Traveler and Travel & Leisure are talking about this hotel as one of the best in Europe, it may be worth the splurge. With a spa, pool, lounge, gorgeous salon, and free afternoon wine and cheese, you'll already be on board. But add the colorful and chic bedrooms and a rooftop lounge? Sold. At $322 per night, it is the perfect spot to feel luxurious in Budapest.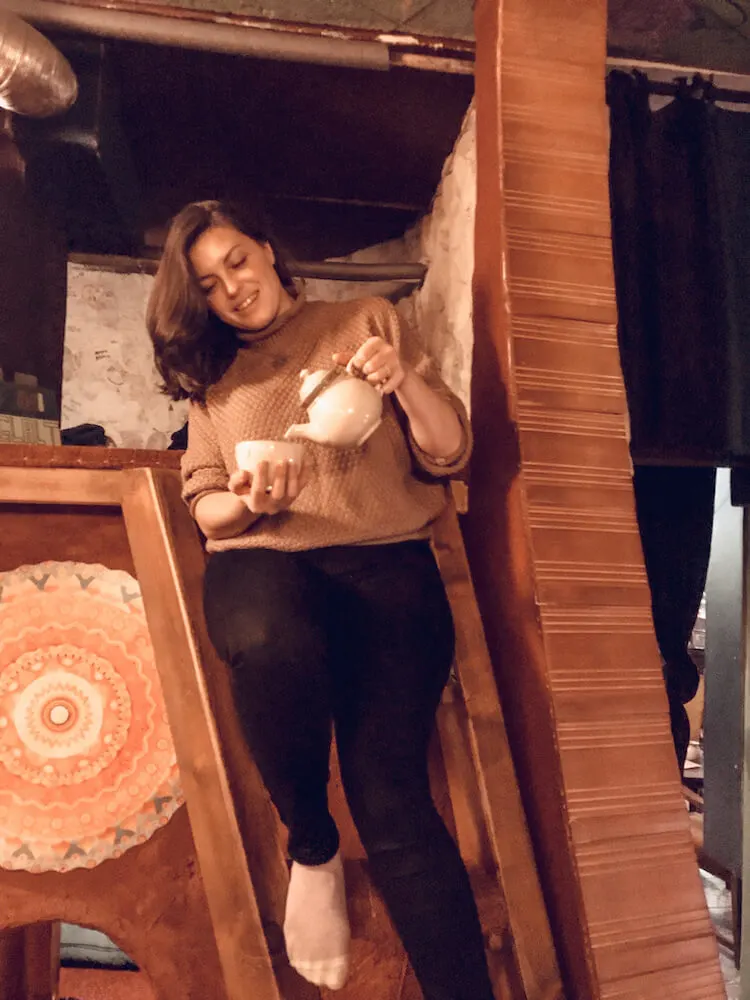 Getting There For Your 4 Days in Budapest Itinerary
There are multiple ways to get to Budapest. Budapest has a good-sized airport, which can be reached by discount airlines throughout Europe like Eurowings and Wizz Air for super-cheap prices. We booked a direct flight from Dusseldorf to Budapest on Eurowings via Skyscanner and it was only $111 for two people.
Chris's family flew from the US to Budapest using 30,000 United points each with a connection in Frankfurt. But if you were to pay cash, you can pay as little as $550 in smaller US cities or $350 in larger US cities for a round-trip ticket to Budapest by booking on Skyscanner.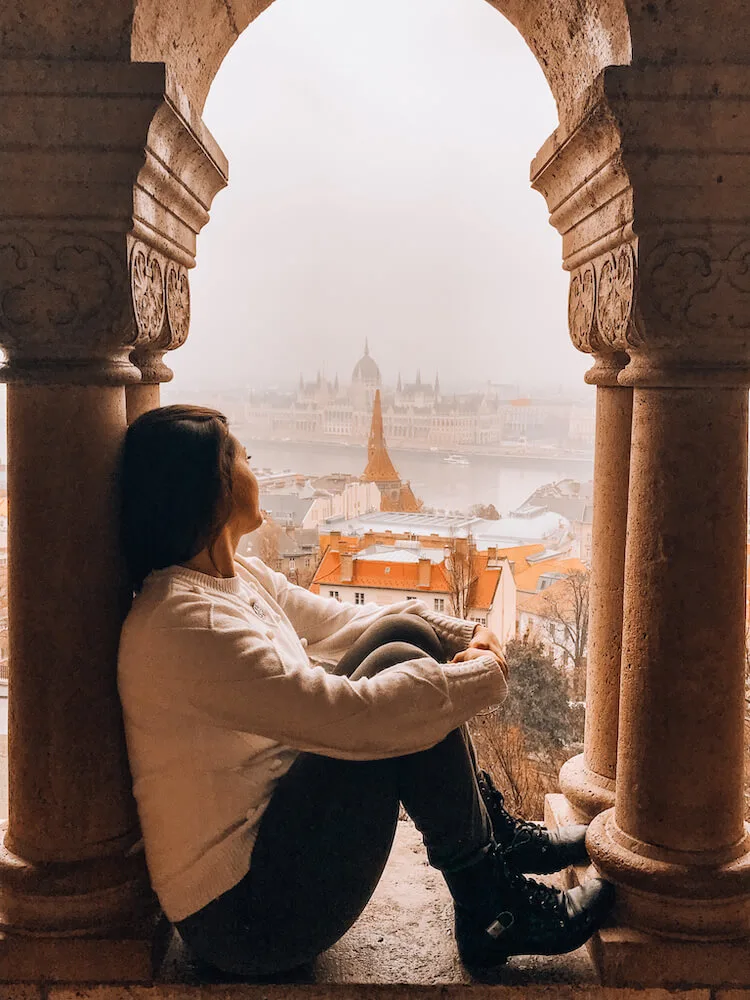 You can also get to Budapest from various cities in Europe via bus or train. I have done both at various times during my travels and they are really comfortable and affordable options! A one-way to/from Budapest from other cities close by costs about $27. I love booking on The Trainline for great deals on trains and buses, and it is easier and quicker to travel by train or bus around central Europe. For trains, you'll likely be going to the Budapest Keleti or Budapest-Nyugati train stations, and for buses, you'll likely arrive or depart from the Nepliget Bus Station.
And, of course, if you prefer to travel by car, we love checking rental car prices on Rentalcars.com. You can quickly get around central Europe by car, as the countries are fairly small. It is less than a 3-hour drive to Vienna from Budapest!
Getting Around Budapest
Once you get there, the next question is how to get around during your 4 days in Budapest itinerary. As the largest city in Hungary, it has ample public transport. With a metro, bus network, tram network, and even the HEV suburban train, you'll easily be able to get around the city quickly.
And Budapest also has the oldest underground metro in continental Europe. The M1 metro line leads straight to Hero's Square and the City Park, and it has adorable metro platforms.
The cost of public transportation is around 350 HUF or $1.18 per ride on any form of transportation, but to buy on the bus can sometimes cost 450 HUF or $1.52. If you plan to ride public transportation a lot and visit many attractions, I recommend getting the Budapest Pass, which includes entrance to various museums, a bathhouse, walking tours, unlimited public transport, and more!
Aside from public transportation, taxis are readily available, and Bolt (similar to Uber). You can download Bolt from the app store and use it to catch a ride while you're in Budapest! It is a quick and easy way to get around.
Also, much like destinations in the US, there are scooters you can rent via your smartphone, and city bikes (called MOL BuBi bikes) you can grab and go and drop off at another station across the city.
And last but not least, for those who love to stay active, walking is a great option! Chris and I walked all over the city from the Jewish Quarter to Fisherman's Bastion and more! It's a pretty walkable city for the most part, and on a lovely day, it's great to be outside for Budapest sightseeing!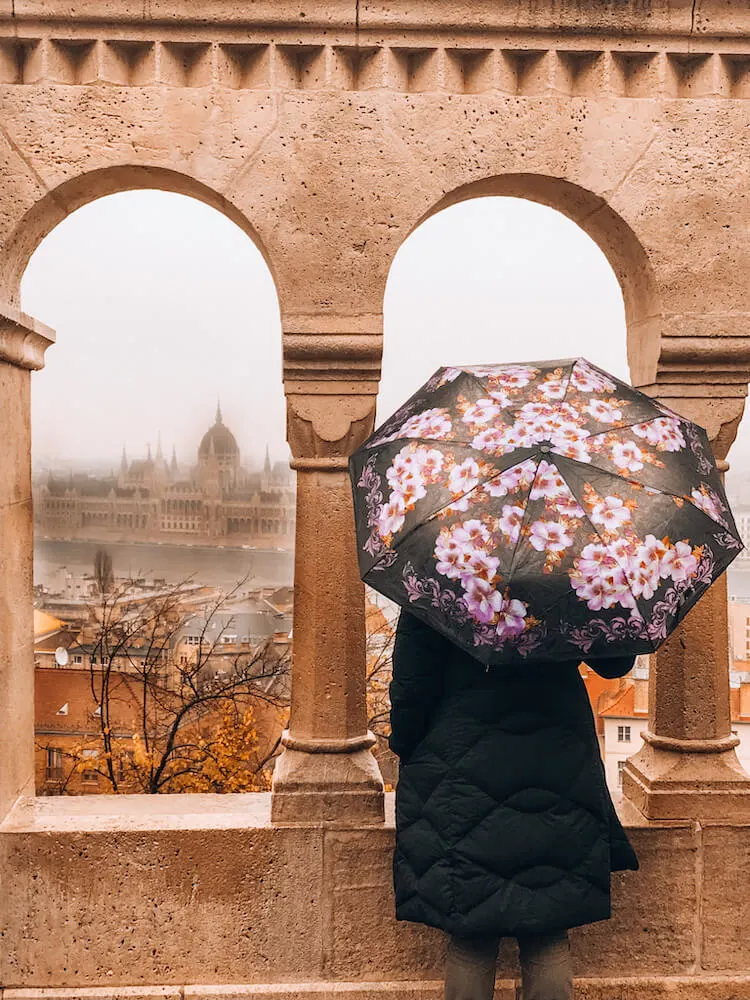 When to Visit Budapest
Whether you have 2 days in Budapest or a whole month, there really isn't a bad time to visit. I have visited in the middle of summer as well as when winter was starting and both times were magical.
However, there are busier times than others to visit for a 4 days in Budapest itinerary. The summer (June-August) is pretty busy with tourists as many people take holidays at that time. The weather is perfect with highs between 77-80ºF (25-27ºC) and lows around 58-61ºF (14-16ºC). While it may be an ideal time to visit for lounging in the city's various outdoor spas, prices tend to increase for hotels during the summer.
Conversely, the winter brings in far fewer crowds, except for the holiday season. Temperatures between November and February are between 35-47ºF (2-8ºC) during the day and 27-38ºF (-3-3ºC) at night. While you'll find bargains and almost no crowds anywhere in the early part of the year, prepare for several people visiting for the Christmas markets that begin in mid-November through Christmas.
PS- Be sure to check out other Christmas markets in Europe including Vienna, Prague, and Cologne!
Spring and autumn are some of the best times to visit Budapest for good weather and fewer crowds. With the daytime temperature in the mid-50's to 70ºF (13-21ºC) and evening temps in the 40's and 55ºF (4-13ºC), you'll be comfortable with a light jacket.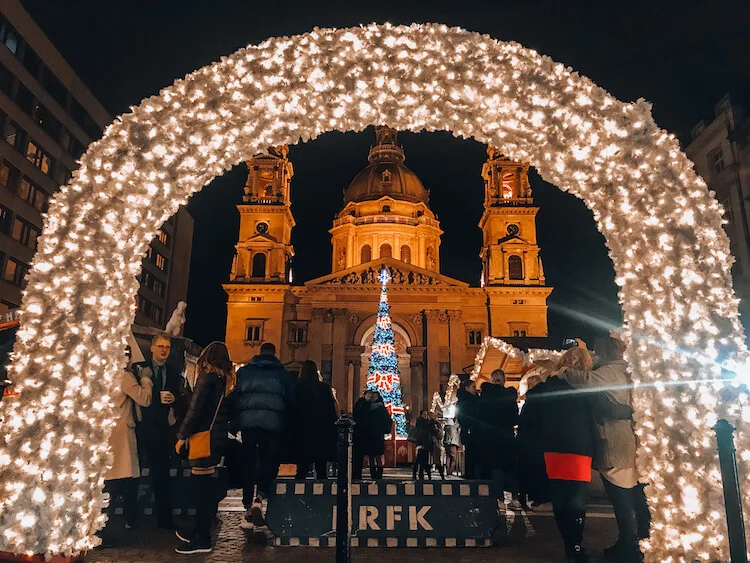 Things to Know Before Your 4 Days in Budapest Itinerary
When it comes to visiting Budapest in 4 days, here are a few key things to know about the city before arrival:
Currency: Hungarian Forint. This converts to about 300 HUF per $1 USD, 360 HUF per €1, 416 HUF per £1, and 231 HUF per $1 AUD.
Hungary is in the Schengen Area. What is this you may ask? This is a zone in Europe where 26 countries have no internal borders and have free, unrestricted movement of people. So if you are arriving from another one of these countries, you will not go through customs and border control or receive a stamp in your passport.
Language: Hungarian. Hungarian is super difficult to learn, but, like in any language, try to pick up some basics like "hello," ("szia," or pronounced like "see-ah,"), "thank you," ("köszönöm," or pronounced like "kus-a-noom,"), "cheers," ("egészségére," or pronounced like "eggy-shegy-dra,"), etc. Many people in Budapest speak English, so you should be fine for the most part.
ATMs are readily available in Budapest. So you can withdrawal HUF as you need to. However, it is a good idea to go to a bank ATM instead of a free-standing ATM.
Toilets are not free. Like most of Europe, you have to pay to use the public toilets unless if you are a patron at a restaurant or hotel. The cost is around 250-350 HUF, so save your coins!
The tap water is generally safe to drink. We drank from the tap and filled up water bottles throughout the city in our Airbnb and at drinking fountains. Always ask the hosts at your accommodation, though, just to be sure.
Beware of pickpocketing. Use common sense and be wary of distractions like street performers, and keep a close eye on your things. I carry my anti-theft purse for this very reason to help prevent pickpocketing. I also only carry copies of our passports, 1 credit card, and enough cash for the day on hand and leave the rest in a safe at the hotel or locked in my luggage.
Travel insurance. World Nomads is our go-to for travel insurance.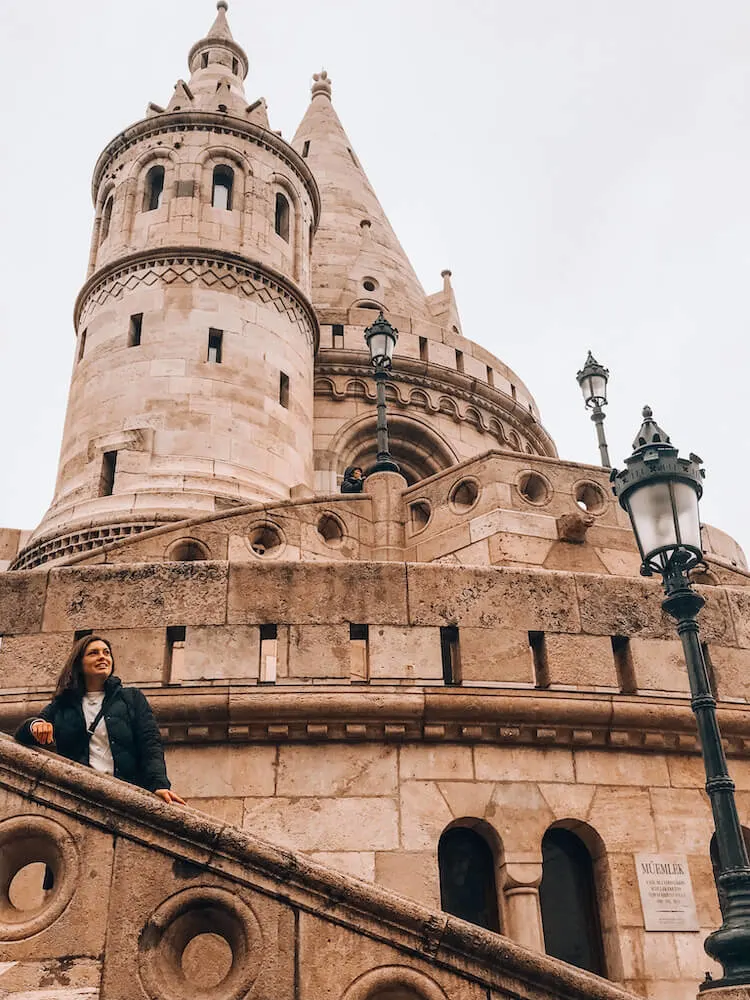 What to Pack for Your 4 Days in Budapest
When it comes to packing for Budapest, you'll need a swimsuit regardless of the season. If you plan to enjoy the bathhouses, opt for this lovely one-piece or this two-piece to relax at the spa. For men, Chris loves these swim trunks!
I also recommend bringing your own towel, like these microfiber towels I talked about earlier. And definitely pack some cheap flip flops to walk around the spas in.
For exploring the city, I recommend some comfortable walking shoes like Keds during the summer or these lovely and super comfy boots in the winter. Also, shorts and a t-shirt are perfectly fine in the summer, but in the winter, I wore this sweater a ton and some jeans.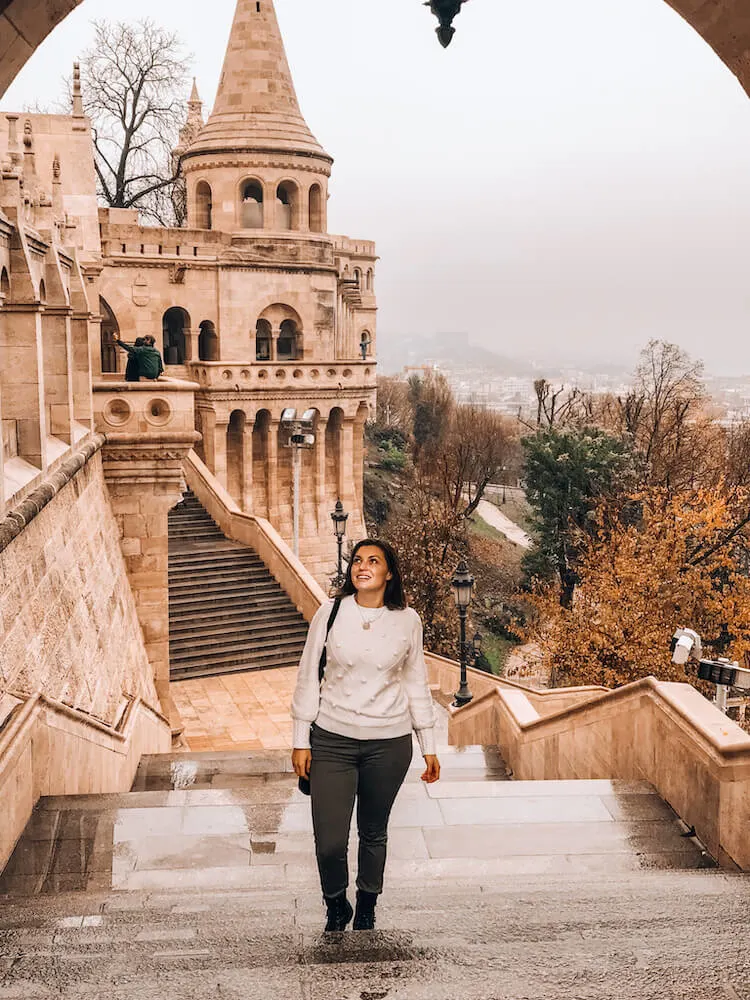 Chris loves wearing his Oofos sandals in the summer with shorts and a t-shirt and leather boots with jeans and a sweater in the winter.
And in the winter, pack a thick jacket! I swear by my The Northface Parka and Chris loves his layered peacoat. For more winter packing tips in Europe, check out this blog post!
For making some memories, we love our Nikon Coolpix camera for beginners, but for those more advanced, the Olympus OM-D E-M5 Mark III is great for working with a mirrorless camera (I use this lens too). We also loved taking videos on our GoPro Hero 7 to share with family and friends.
However, sometimes we also just use our trusty iPhone and this tripod to take photos together!
And as the weather can be unpredictable in Budapest, pack a small umbrella for those rainy days.
I also love my anti-theft purse for preventing pickpocketing as it has clips on the zippers, slash-resistant technology in the strap and purse itself, and it has RFID blocking credit cardholders.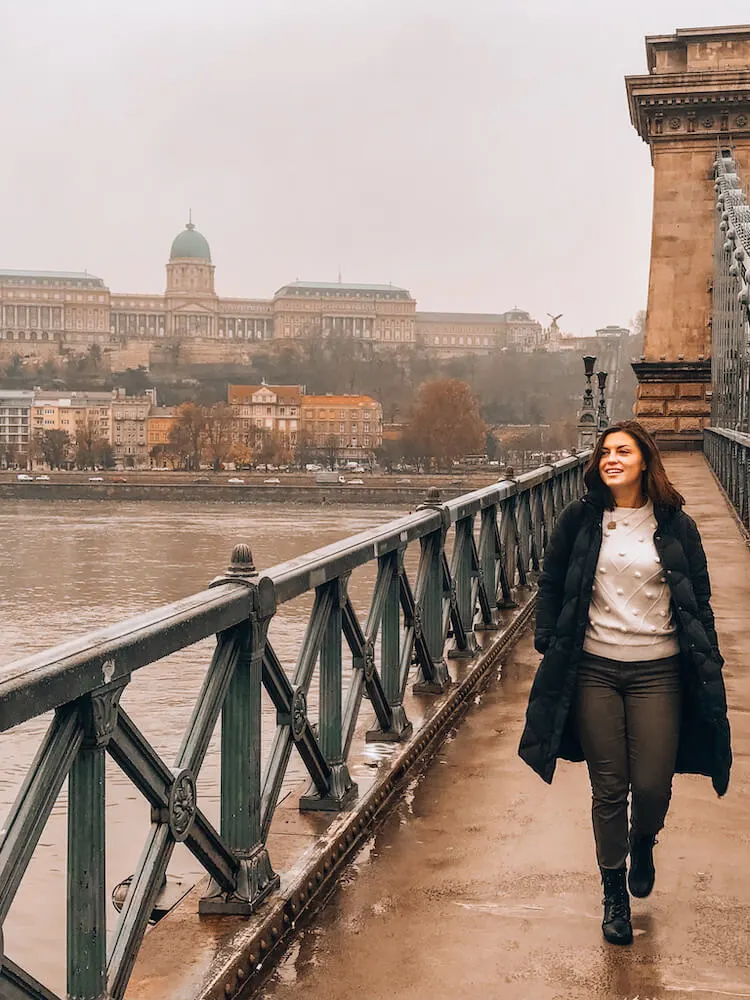 And if you are in need of new luggage for your Budapest itinerary I suggest the Osprey backpack. We have taken these with us for years around the world and love how light it feels to wear and how much we can fit in them!
We hope you have the best time exploring Budapest in 4 days, from the Parliament Building to Fisherman's Bastion, enjoy your time in one of the world's most unique cities.
Would you visit Budapest in 4 days? What does your perfect 4 days in Budapest itinerary look like? Let us know in the comments!
Want to listen to this in audio form? Check out our Budapest podcast episode here!
You may also be interested in these posts:
Thank you City & Wine for hosting me on the Etyek Region Wine Tour. All opinions expressed are my own.
Pin it here!