Some posts on this site contain affiliate links, meaning if you book or buy something through one of these links, I may earn a small commission (at no additional cost to you!). Read the full disclosure policy here.
---
After having visited Vienna a couple of times, including in the winter, there are so many things you need to know about visiting Vienna in December.
This city is beautiful year-round, but it truly shines in December during the holiday season. Twinkling lights cover the city and Christmas markets surround you at every turn. If you didn't believe in magic before, you certainly will after visiting one of Europe's best cities for Christmas.
So let's talk about everything you need to know about visiting Vienna in December including the best Christmas markets in Vienna.
Check out our podcast episode all about the Christmas markets in Vienna!
Top 10 Things You Need to Know About Visiting Vienna in December
Planning on visiting Vienna in December? Check out these tips first!
1. You Need to Visit The Best Christmas Markets in Vienna
It is no secret that Vienna has some incredible Christmas markets. They are sprinkled throughout the city in front of palaces, charming squares, and even in front of the town hall. If you plan to visit Vienna in December, you definitely need to check out the Christmas markets for delicious food, beautiful scenery, and handcrafted goods!
Here are the best Christmas markets in Vienna that make a Vienna Christmas break well worth it!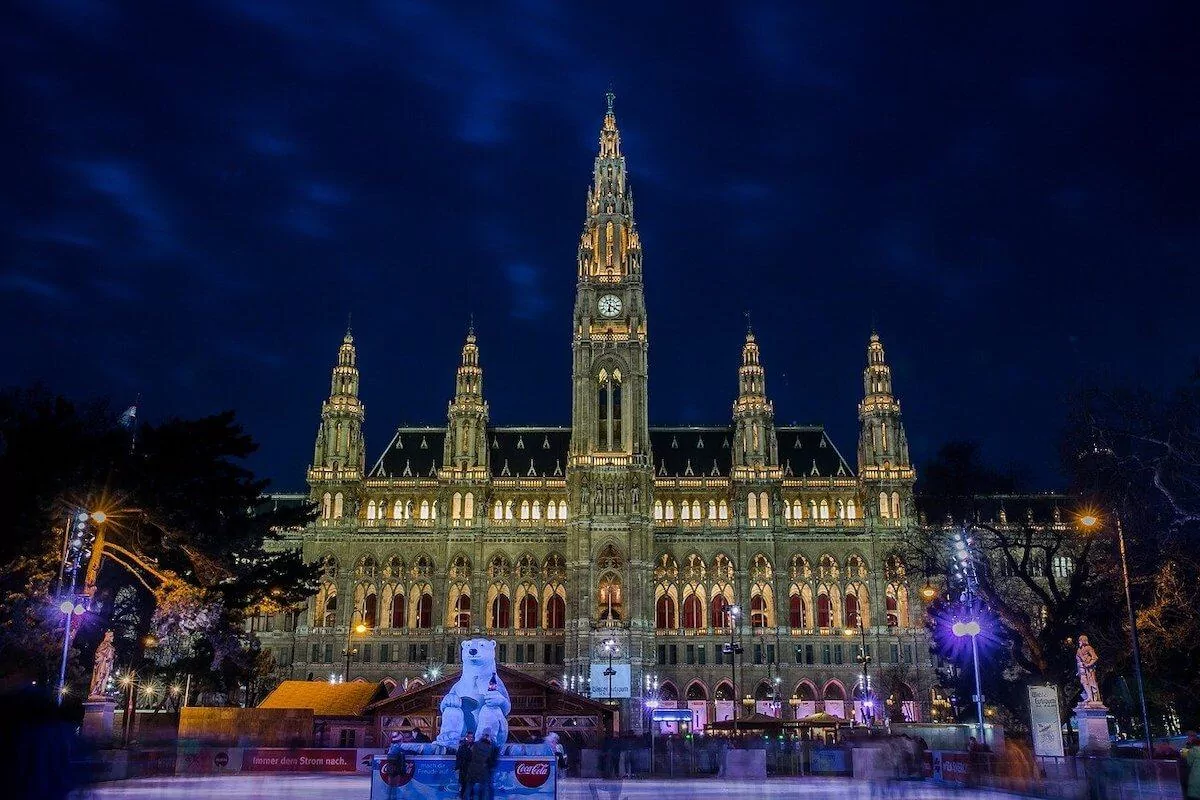 Vienna Christmas Market on Rathausplatz:
This is the largest and most famous Christmas market in Vienna with over 150 stands! It also features an ice rink, nativity scenes, the pink Tree of Hearts at the center, and a Ferris wheel for great views from above!
The Rathausplatz Christmas Market has the most beautiful scenery as it is in front of the town hall, and you'll enjoy all of the elaborate lights, including the iconic "Frohe Weihnachten" sign wishing you a Merry Christmas!
This place not only is packed with souvenirs and trinkets, but the food here is pretty great ranging from pretzels, cheesy raclette, cream puffs, and flavored licorice. Warm-up with mulled wine and take the time to wander around this dreamy market.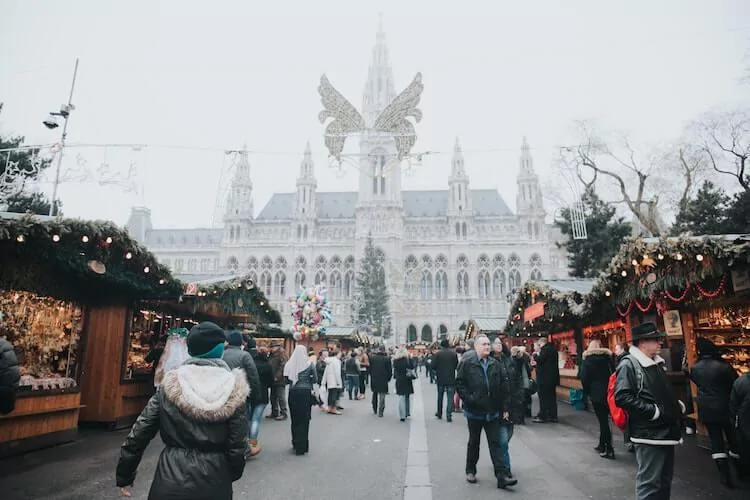 Rathausplatz Christkindlmarkt 2022 Dates & Times:

November 19-December 26. Open from 10 am-9:30 pm daily. 10 am-6:30 pm on December 24-26.

The ice rink is open daily from 10 am-10 pm until January 8, 2023. It closes at 6:30 pm on December 24 and is closed on December 31.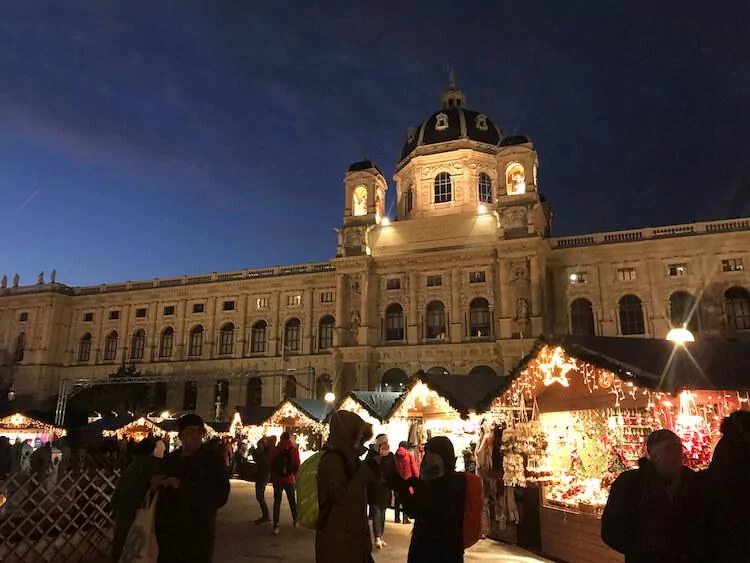 Christmas Village on Maria-Theresien-Platz:
Just down the street from the Rathausplatz Christkindlmarkt is Maria Theresa Platz Christmas Market. This is one of the more scenic markets that is placed between fountains and the stands wind around the square with delicious treats and more mulled wine. We even tried Lillet mulled wine for the first time here which was very good!
The stalls are lovely and the light display is on point, making this very popular and a must-see while exploring the Christmas markets in Vienna.
Maria Theresa Platz Christmas Market 2022 Dates & Times:

November 16-December 26. Open from 11 am-9 pm on Sunday-Thursday, 11 am-10 pm on Friday and Saturday. Closes at 4 pm on December 24 and at 7 pm on December 25 and 26.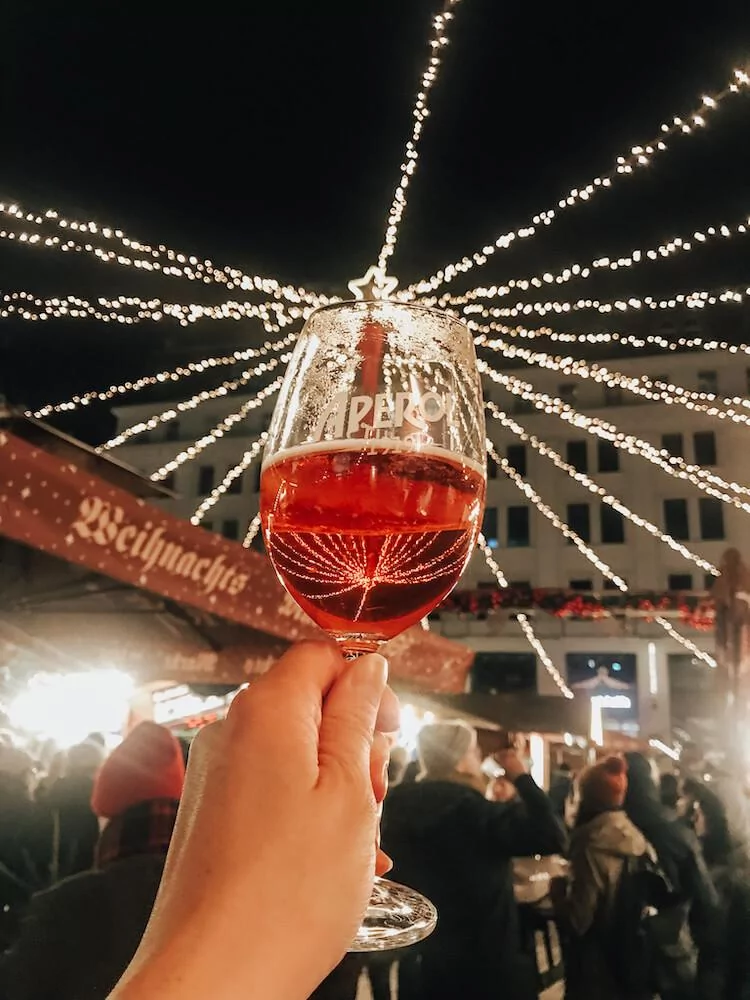 This smaller Christmas market is full of tasty treats and is in the most beautiful little town square. We LOVED that this market offers hot Aperol spritzes, delicious mulled wine, and the tastiest spaetzle with cheese and crispy onions. This ended up being one of our favorite markets as it was more lowkey but full of goodies.
Am Hof Christmas Market 2022 Dates & Times: November 11-December 23. Open from 11 am-9 pm Monday-Thursday, 10 am-9 pm Friday-Sunday and holidays. Food open until 10 pm.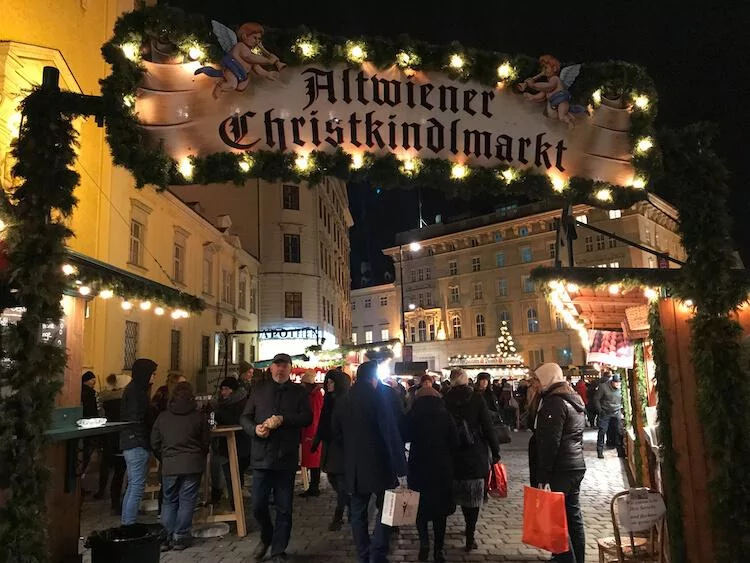 AltWiener Christmas Market (Freyung Christmas Market)
This old market has a local feel with traditional goods, plenty of candles and decorations, and a farmer's market attached. We particularly loved the mulled wine mixed with amaretto, and purchased an adorable Christmas ornament here!
AltWiener Christmas Market 2022 Dates & Times: November 18-December 23. Hours are daily from 10 am-9 pm.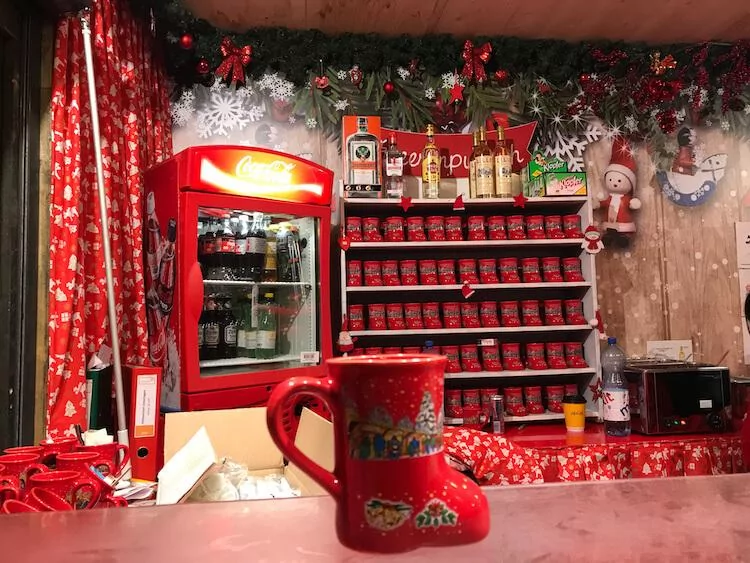 Christmas Market on Stephansplatz:
We fell in love with this market as it has some of the most adorable mugs (2019 was a cute Santa boot!) and fantastic mulled wine. It is incredibly scenic as the market surrounds St. Stephen's Cathedral which is festively lit up at night (it reminded us of visiting the Cologne Cathedral Christmas market)! This is the easiest market to find as it is smack dab in the middle of the city and the towering cathedral certainly makes it easy to spot.
Stephansplatz Christmas Market 2022 Dates & Times:

November 11-December 26. Open daily from 11 am-9 pm. Closes on December 24 at 4 pm and December 25-26 at 7 pm.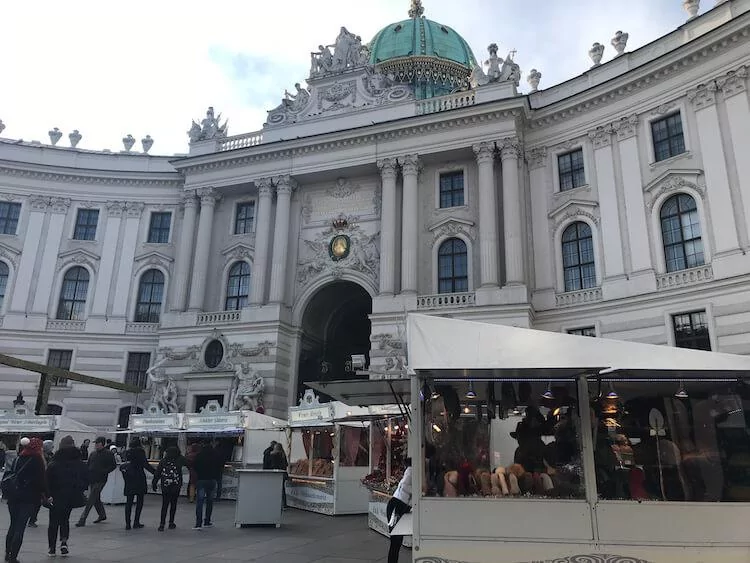 Imperial & Royal Christmas Market on Michaelerplatz:
If you plan to visit the Hofburg Palace, then chances are that you will stumble upon the Christmas market on Michaelerplatz. This small market is full of little gems like snow globes, Swarovski crystals, and tasty treats like mulled wine (of course) and fried sausages. It is also decorated beautifully with white stands and twinkle lights.
Michaelerplatz Christmas Market Estimated 2022 Dates & Times:

November 13, 2022-January 6, 2023. Open daily from 10 am-8 pm. Closes at 5 pm on December 24. Stays open until 2 am on December 31, and reopens at 1 pm on January 1.
Spittelberg Christmas Market:
If you can't tell, we love these smaller Christmas markets dotted throughout the city. Spittelberg is no exception. This doesn't even take up a square but rather weaves throughout streets and alleys. Full of tasty treats and known for food and drinks, you'll enjoy wandering the corners of this market.
Spittelberg Christmas Market 2022 Dates & Times:

November 10-December 23. Open from 2-9 pm Monday-Thursday, 2-9:30 pm on Friday, 10 am-9:30 pm on Saturday, and 10 am-9 pm on Sunday and holidays.
Karlsplatz Christmas Market:
This market is around Karlskirche Church, making it the perfect backdrop for this arts and craft market. With ceramics, jewelry, and more, you'll find great crafted goods to bring home as a souvenir from Vienna's Christmas markets.
Karlsplatz Christmas Market 2022 Dates & Times:

November 18-December 23. Open from noon to 8 pm daily.

Food open until 9 pm.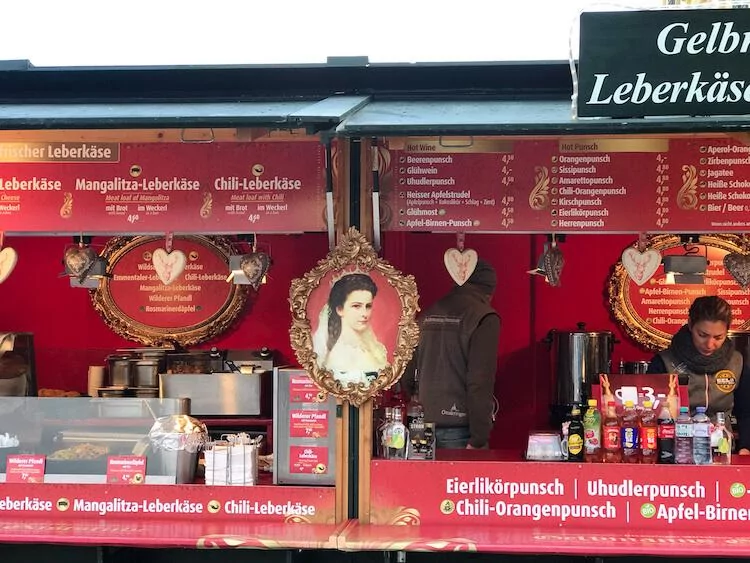 Christmas Market Schloss Schonbrunn (Schonbrunn Christmas Market):
First of all, you should 100% visit this palace just outside of the main part of town no matter the time of year. The gardens are beautiful, the interior is ornate, and it reflects the opulence that seems to encase Vienna. But when it is the Vienna winter market season, you definitely need to stop here.
The little stands are perfectly placed in front of the palace, making it the most adorable setting and filling the air with the spices of the holiday. We savored the gooiest raclette, delectable gingerbread, and more of that tasty spaetzle with cheese and fried onions. And to wash it down, you better get some amaretto spiked mulled wine! They also have little crafts and plush stuffed animals, which we had to get for our nephews back home!
Schonbrunn Christmas Market 2022 Dates & Times:

November 19-December 26. Open from 10 am-9 pm daily. Closes at 4 pm on December 24. From December 25 and 26 it is open from 10 am-6 pm.
This is only about half of the Christmas markets, but if you are short on time in Vienna these are plenty to see to keep you occupied! These are the best Christmas markets to spot in Vienna, Austria at Christmas! Check out more information on the Christmas markets on Vienna's Tourism website.
Vienna Christmas Market Map
PS- Don't forget to check out the amazing Christmas markets in Cologne, Prague, and Budapest!
2. Some Christmas Markets Aren't Open All Month
If you are still deciding on the dates for your Vienna Christmas break, we recommend going before Christmas for the markets. Now there are quite a few Christmas markets that do stay open after Christmas and into the New Year, but to see the city at its finest with all of the Christmas markets open, we think going at the beginning of December is the best time!
Many people try to visit Vienna in December closer to Christmas, so the crowds will be bigger (and the hotel prices will increase) the closer to the holiday it gets. We visited Vienna at the beginning of December and it wasn't nearly as crowded.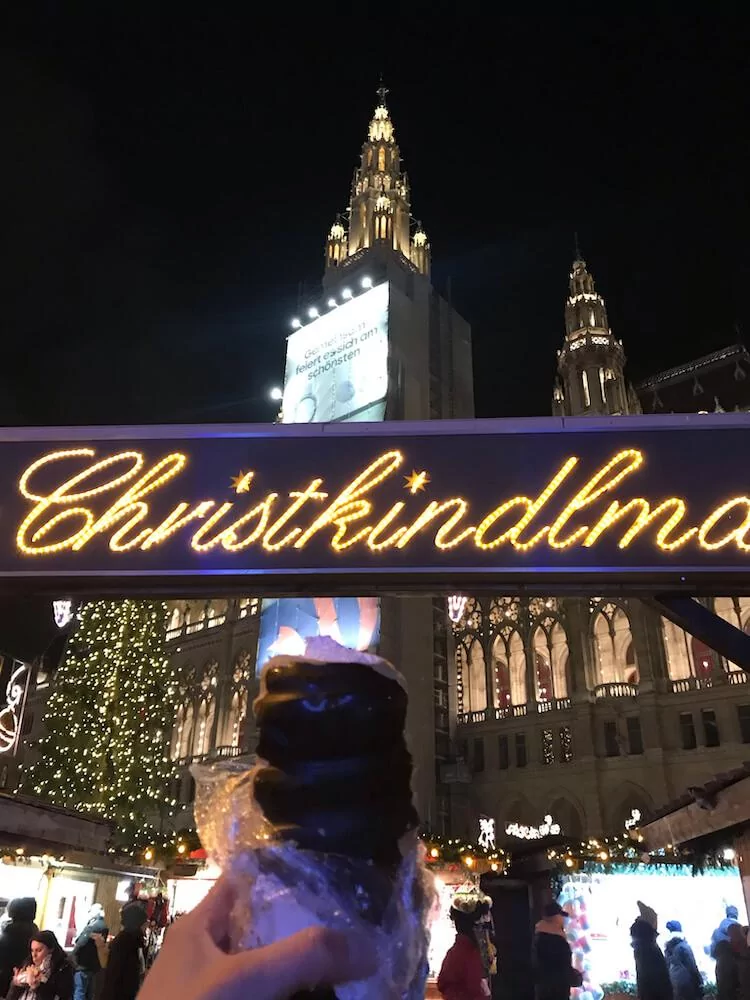 However, if you can't get there before Christmas, here are the Christmas markets in Vienna that stay open after the holiday:
Rathausplatz Christmas Market:

Open until December 26

Maria Theresa Platz Christmas Market:

Open until December 26

Stephansplatz Christmas Market:

Open until December 26

Michaelerplatz Christmas Market:

Open until January 6

Advent Pleasure Market at the Opera House:

Open until December 31

Winter Market on Riesenradplatz:

Open until January

8
Christmas Village at Belvedere Palace:

Open until December 26

Schonbrunn Christmas Market:

Open until December 26
3. Be Prepared to Be Outside a Lot in the Cold
While there are plenty of things to do to stay cozy indoors, most people who choose to visit Vienna, Austria in December are here for the Christmas markets. As such, be prepared to be outside a lot and walking. Of course, some mulled wine will help warm you up on chilly days, but you need to pack according to the cooler weather.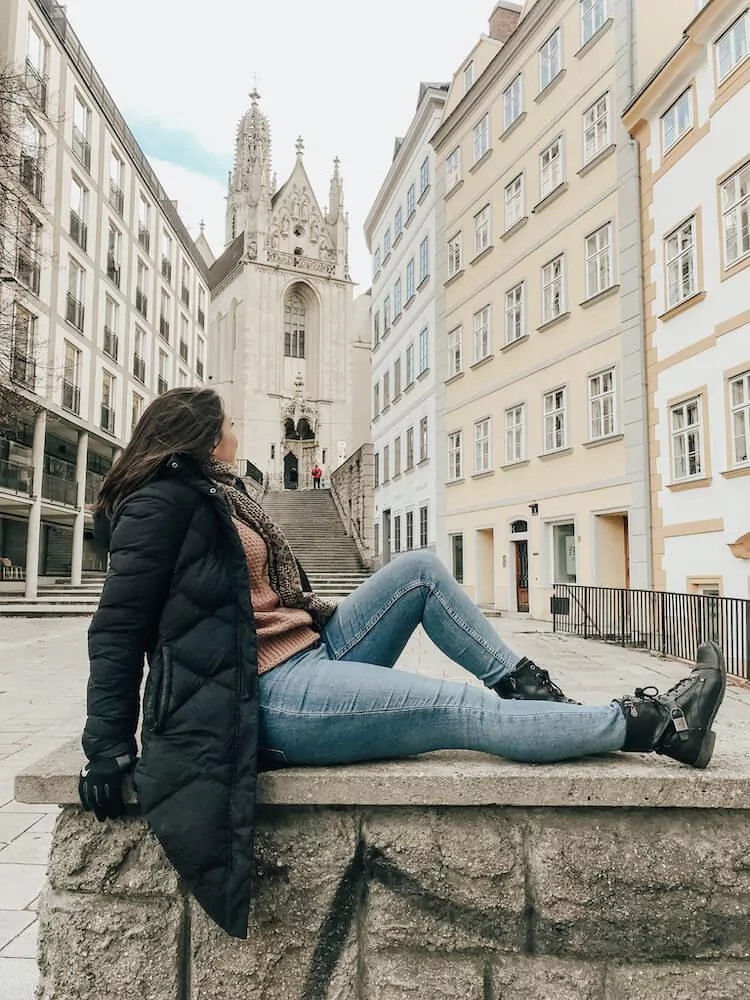 Vienna has an average daily temperature of 39ºF (4ºC) during the day and 30ºF (-1ºC) at night in December. Because of this, layers are key. We have a whole guide on packing for Europe during the winter months, but here are some key items to bring below.
I ended up packing comfortable leather boots that go with everything, tights to wear under my jeans, and some comfy sweaters (I loved this sweater so much). I also packed a scarf, gloves, and earmuffs to keep me extra cozy and my puffy jacket from The Northface.
Chris wore his leather boots with hiking socks underneath, jeans, and thick sweaters that he layered shirts under. He also brought along earmuffs, a scarf, and gloves plus his wool peacoat. You may also want to get some long underwear to wear underneath jeans to stay warm on the chillier days.
We managed to travel to Europe for the Christmas markets for 2 weeks in just a carry-on even with fluffy sweaters and boots. We managed thanks to our Osprey 40 backpacks that have a lot of space and these packing cubes to keep things organized.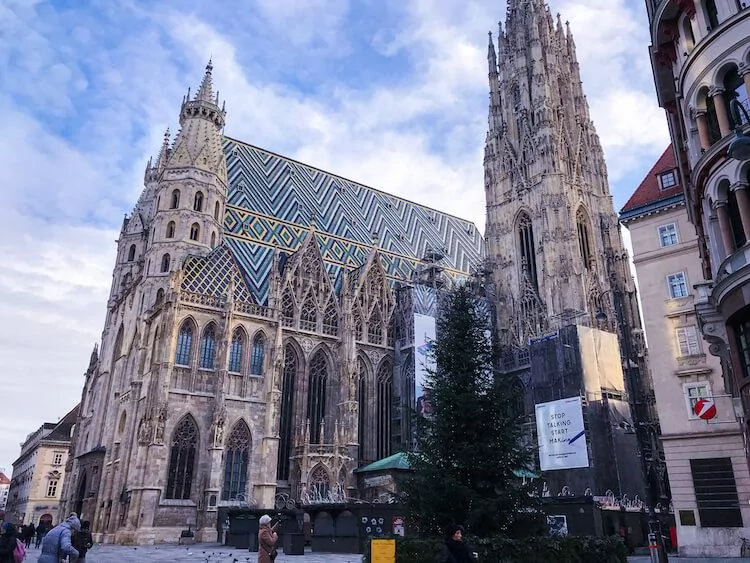 4. Prioritize Your Time Between Attractions and Christmas Markets
We know that Christmas market hopping and splurging on the tastiest of cheesy or chocolatey treats is amazing, but you'll want to make time for things other than the Christmas markets, right?
There are so many things to do in Vienna in December aside from the Christmas markets that you'll want to balance it out. Many Christmas markets open later in the morning and go well into the evening, and they get prettier as the sun goes down (a little after 4 pm).
So spend the morning enjoying a long brunch at a cafe and explore some palaces and museums in between venturing to Christmas markets in the evening. Trust me, you'll feel like you've seen a more well-rounded picture of Vienna when you leave!
What else can you do in Vienna at Christmas time other than the markets? That leads me to my next point.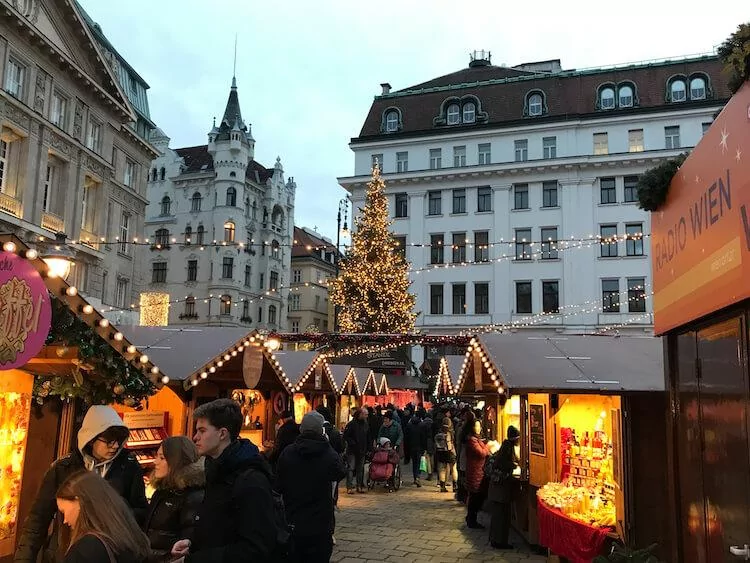 5. Enjoy the Best Indoor Activities
In between long walks outside in Vienna, head indoors to warm up and enjoy the coolest things to do inside in Vienna. Here are a few of our favorites:
Cafe culture is huge in Vienna with opulent cafes located across the city. You are meant to take some time here. Read the newspaper or get lost in a good book. Enjoy time sitting and chatting with friends. And, of course, splurge on a Viennese coffee or tasty pastry.
Our favorite cafes are Cafe Demel and Cafe Central. I recommend going early to both as they fill up quickly. We visited Cafe Central twice for breakfast shortly after it opened for the day and between the perfectly brewed pot of coffee, amazingly runny eggs, and ornate and festive holiday pastries, we hardly noticed how long we had spent there!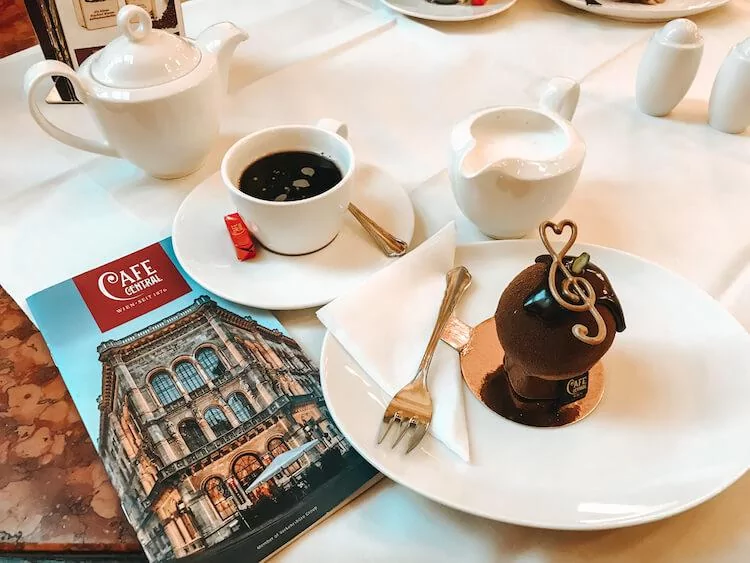 Cafe Demel is the perfect place to indulge in some treats like a Viennese coffee (2 shots of espresso infused with whipped cream) and the most decadent chocolate hazelnut cake.
Pro-tip: I know everyone says to get sachertorte in Vienna. It is available in so many places… but honestly, it's a dryer cake and not for me. Instead, that chocolate hazelnut cake is what dreams are made of!
The Spanish Riding School is a must-see in Vienna. It is home to the famous Lipizzaner stallions and to watch them fly through the air and perform the tricks they do is awe-inspiring. It was a real treat to witness this in person on our last visit. Be sure to book tickets ahead of time! We were glad we did, as it was completely sold out when we visited in December.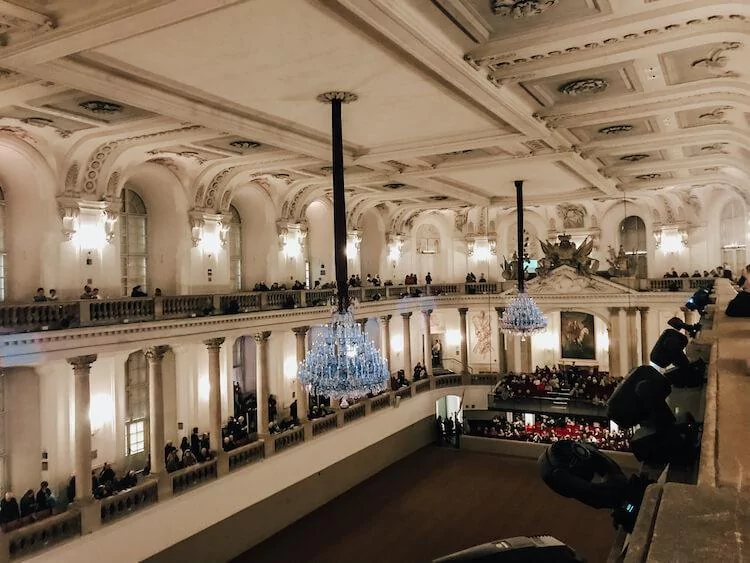 There are so many palaces in Vienna, each with its own style and sprawling courtyards or gardens. Our personal favorites are Schonbrunn Palace, Hofburg Palace, and Belvedere Palace. Learn all about the Hapsburg Empire and how it shaped Vienna (and Austria) today.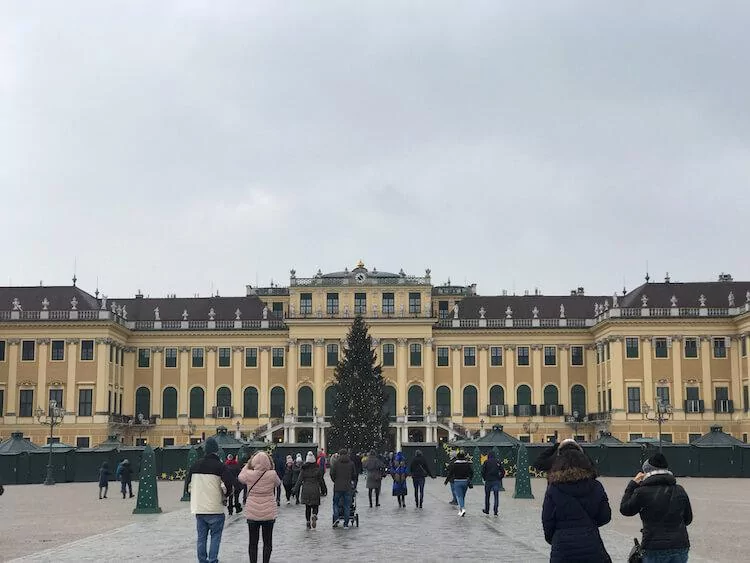 Pro-tip: Book ahead of time as lines can belong! We didn't do this and wasted quite a bit of time waiting to buy tickets for the Schonbrunn Palace. Purchase tickets here for the Schonbrunn Palace, Hofburg Palace, and Belvedere Palace.
Museum Quarter in Vienna is not only adjacent to the Maria Theresa Platz Christmas market and near the Rathausplatz Christmas Market but is home to art museums and a children's museum. This is a great spot to see modern Austrian art at the Leopold Museum in between Christmas market visits!
Head to the Opera or Listen to the Philharmonic:
With Vienna being the former home of Mozart and Beethoven, a stop at the Musikverein for the Vienna Philharmonic is a must for music-lovers. Plus, they have a New Year's concert for those visiting Vienna at the end of December. Also, for opera lovers, the State Opera House will blow you away with its charm.
6. Definitely Opt for a Visit to Bratislava (and Their Christmas Markets)
Did you know that Vienna and Bratislava are the two closest capital cities in Europe?
While you're spending time in Vienna, why not take a day trip to Bratislava? We did this in 2019 and were pleasantly surprised at how easy it was to hop the train over to Bratislava for the day, and we loved their small Christmas markets and less crowded feel overall.
They have some tasty and eclectic Christmas market food as well! We totally recommend the 1-hour train ride to check it out!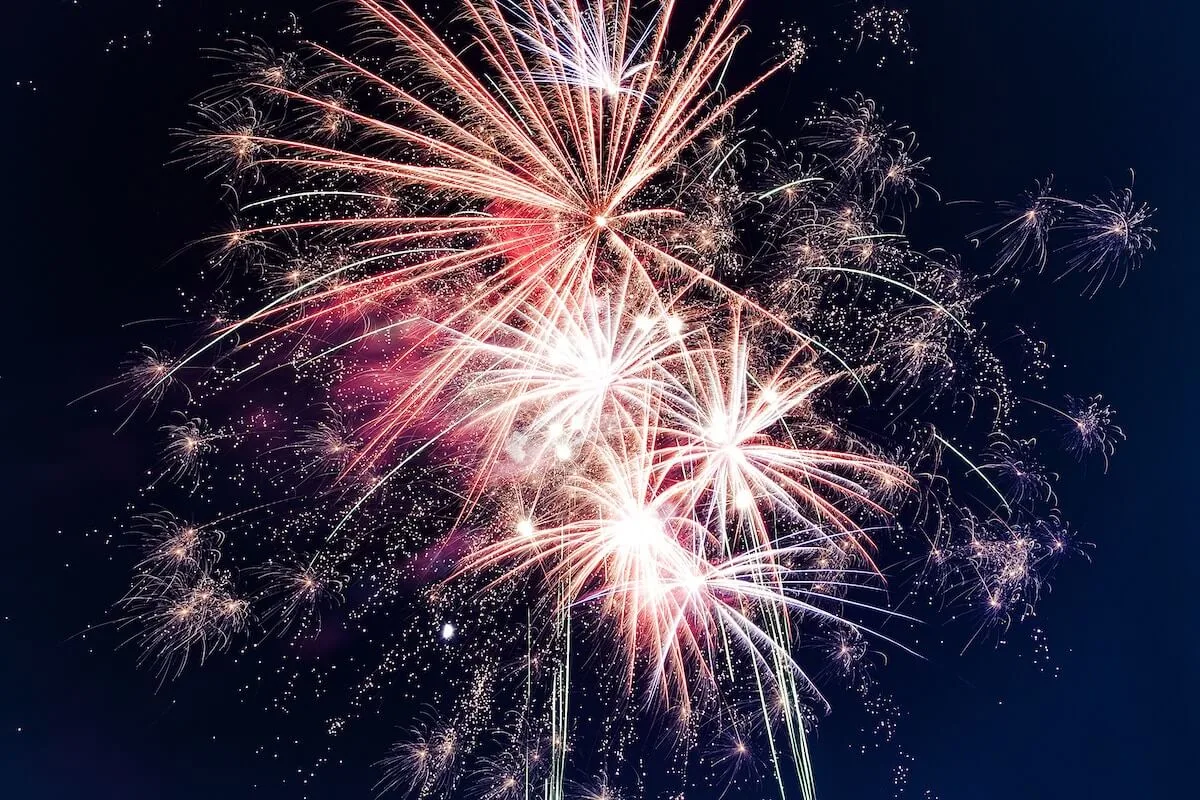 7. Don't Forget New Year's Eve!
While Christmas gets all of the attention in Vienna, don't forget about New Year's Eve! You can waltz the night away at the Silvesterball complete with dinner, dancing, live music, performances, and more! It makes for a truly enchanting experience that you'll remember for years to come! Prices range from €290-440 per person.
If you don't want to pay a premium for this event, you can head to Sylvesterpfad (or New Year's Path) from 2 pm on December 31 to 2 am on January 1. This path is full of live concerts, people waltzing, and a fireworks show to ring in the new year! And it's free!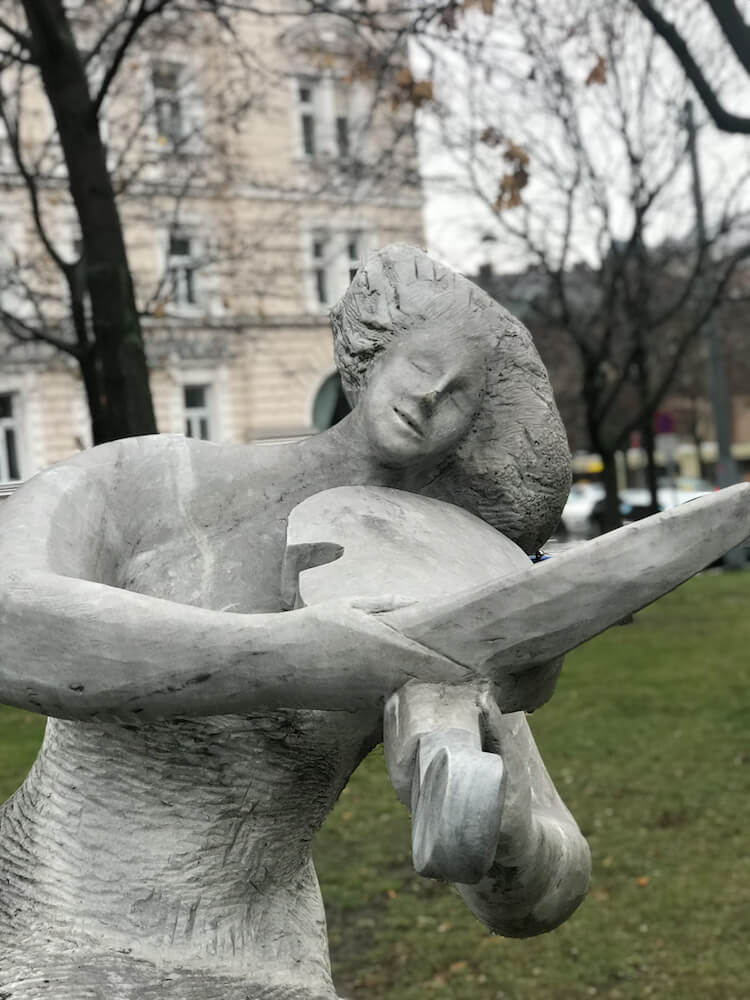 8. And You'll Enjoy the Advent Concerts
Advent concerts abound in the holiday season in Vienna. From classical performances from the Vienna Philharmonic to church concerts at St. Stephen's Cathedral and Peterskirche, these concerts happen throughout the month of December and will give you all of the Christmas feels.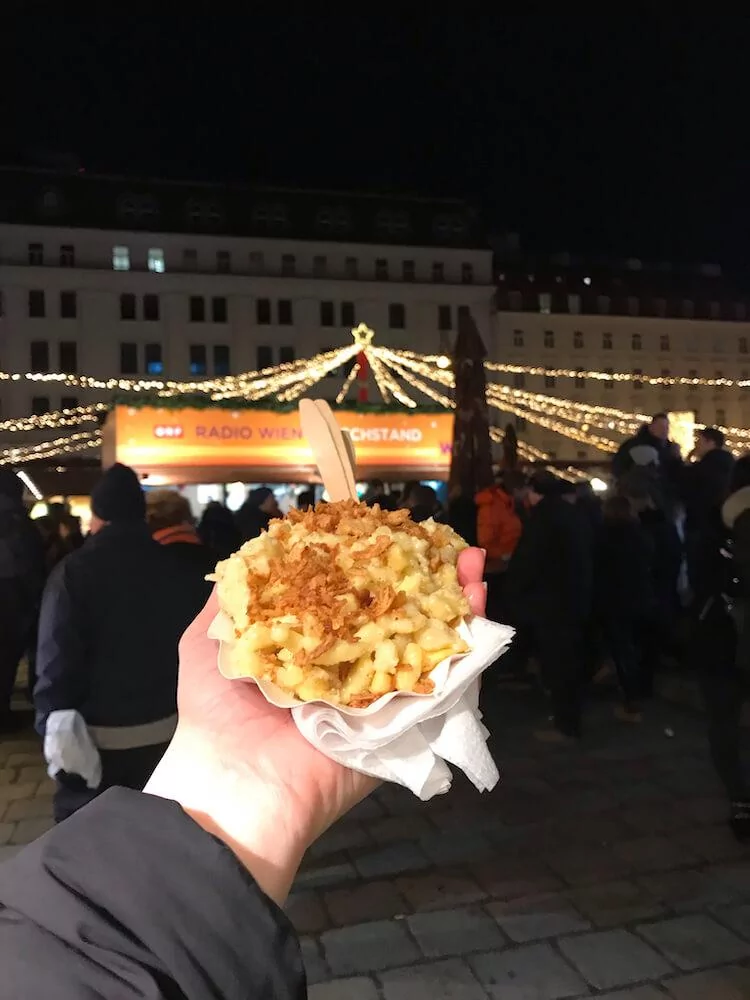 9. Eat All the Rich and Hearty Dishes During Vienna in December
As if going on vacation to Vienna wasn't an excuse to eat all the tasty things! In December, there are so many treats to enjoy! Aside from the world-famous wiener schnitzel, from the standard pretzels to all of the sweets, here are some treats you need to try from the Wien Christmas markets:
Mulled wine:

Aside from the regular mulled wine, you can get many flavors (and even non-alcoholic punch)! Some flavors they make include raspberry, orange, strawberry, and more!

Gingerbread:

So tasty and not too sweet!

Pretzels:

From cheese-covered to plain salt, sugar sprinkled to dipped in chocolate, you'll find plenty of pretzels in Vienna.

Sausages:

You can definitely find fried up sausages to enjoy with bread or on their own.

Raclette:

This is bread with melted cheese on top and it is so tasty! You can also add things like bacon, onion, green onion, etc.

Spaetzle:

I mentioned it a few times above, but seriously who can turn down what is essentially mac n cheese with egg noodles and topped with crispy onions?

Roasted almonds:

The perfect sweet treat is almonds roasted up with cinnamon sugar.

Marzipan: This almond paste candy is usually shaped like veggies and so chewy and delicious.
Doughnuts:

A sugary, fried pastry (called krapfen) and it is worth the splurge!

Chestnuts:

Chestnuts are a popular savory treat in Europe around the holidays and are very good.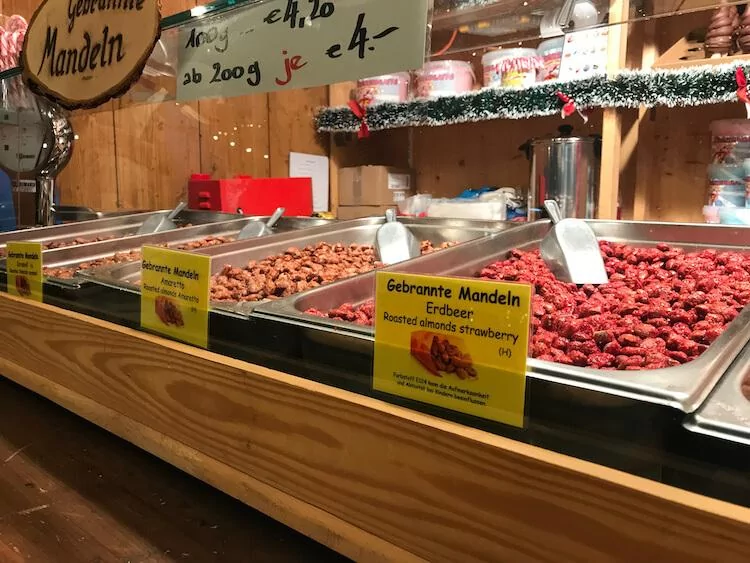 10. You'll Fall Head Over Heels With Vienna in December
Whether you are visiting to go marvel at Vienna at Christmas time or you have always dreamed of visiting this beautiful city, December may be the best time to visit.
I first traveled to Vienna in the middle of summer, and while still beautiful, I wasn't terribly impressed. Maybe it was the first stop of my solo travels and I was nervous, or maybe it was the rain, but I didn't have a need to revisit. But when Chris and his family wanted to go during the Christmas market season, I decided to give it another chance and I am SO glad I did!
It is stunningly beautiful in December. From the ringing church bells from St. Stephen's Cathedral to the adorable mugs of mulled wine at various markets across the city, Vienna in December is truly magical.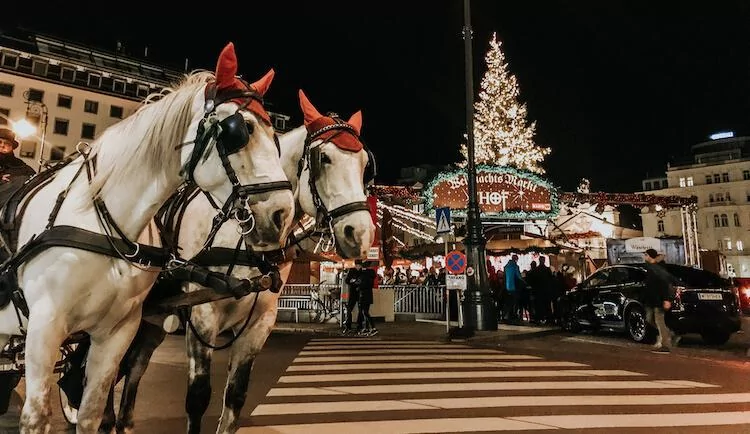 Where to Stay in Vienna For Christmas Markets
If you plan to visit a lot of Christmas markets in Vienna, here are some great hotels based on your budget! And to save more money, be sure to check out VRBO too!
Located right in the heart of the old city, and nearby St. Stephen's Cathedral, you'll be right in the thick of things and within easy walking distance to markets like the Am Hof Christmas Market, Stephansplatz Christmas Market, Michaelerplatz Christmas Market, and the AltWiener Christmas Market. Prices start at around $100 in December.
Read reviews on TripAdvisor and book here!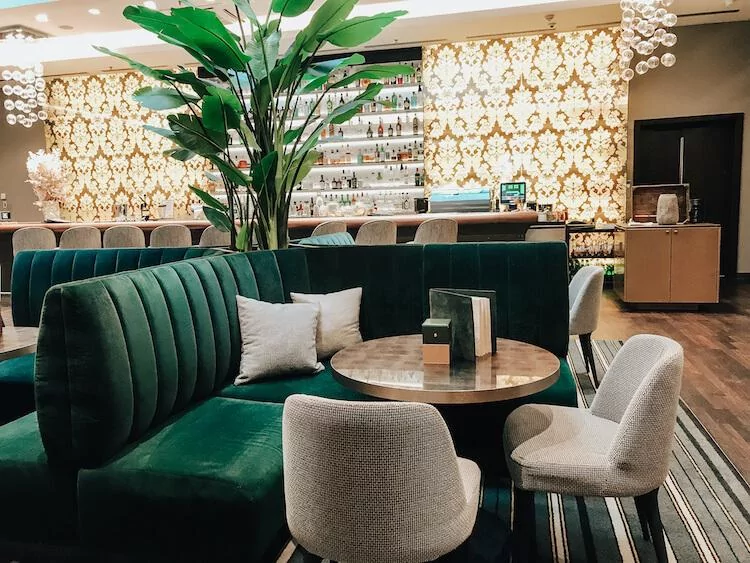 This is where we stayed in the central part of Vienna and it felt super luxurious! Not only were the rooms super plush and spacious, with beautiful views of the streets of Vienna, but it was super close to so many attractions including Cafe Central, Hofburg Palace, and many Christmas markets like Am Hof, Stephansplatz, Michaelerplatz, and AltWiener. Prices in December are around $300 per night.
Read reviews on TripAdvisor and book here!
For the ultimate luxury and opulence that rivals the city itself, the Park Hyatt is absolutely perfect for your stay. This former bank headquarters-turned-hotel is stunningly beautiful and the rooms and dining area are decorated in the Vienna style. Also, it is literally right in front of the Am Hof Christmas market and super close to Stephansplatz Christmas Market, Michaelerplatz Christmas Market, AltWiener Christmas Market, and it is not a long walk to the Rauthausplatz and Maria Theresa Platz Christmas Markets as well. Prices start around $600 in December.
Read reviews on TripAdvisor and book here!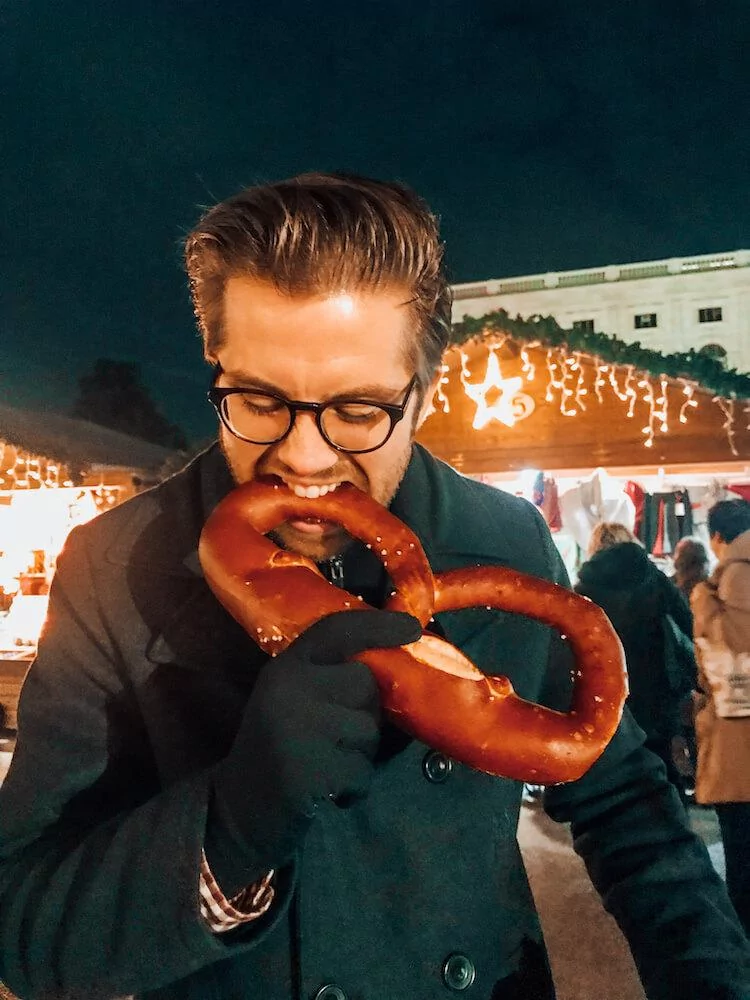 What Else to Pack for Vienna in December
Aside from warm clothes as mentioned above, be sure to pack an outlet converter so you can charge your things. For taking great photos, we love this lightweight tripod to take photos of the two of us.
Also, as Vienna is a more touristy city, especially around the holidays, I was glad to have my cross-body anti-theft purse to keep my belongings safe from pickpockets.
Do I Need Travel Insurance for Vienna?
We don't travel internationally without travel insurance. World Nomads is our go-to, as they have easy to understand policies and are there for you if you get sick or injured, luggage gets lost, and more!
What tips do you have for visiting Vienna in December?
Pin it here!