Some posts on this site contain affiliate links, meaning if you book or buy something through one of these links, I may earn a small commission (at no additional cost to you!). Read the full disclosure policy here.
---
Is it possible to see the best of Bratislava in one day? That's what we were wondering when we planned a Vienna to Bratislava day trip during our 10 day Central European Christmas market trip. With so many wonderful things to do in 1 day in Bratislava, we have the perfect itinerary to help you see the best of this city in a short amount of time.
We visited Bratislava during our time exploring Vienna while we traveled around central Europe including 4 days in Budapest and 2 days in Prague. This was a special stop for us on our trip, as Slovakia ended up being my 30th country! So we wanted to make it special during our visit here and we hope you enjoy this Bratislava in one-day itinerary!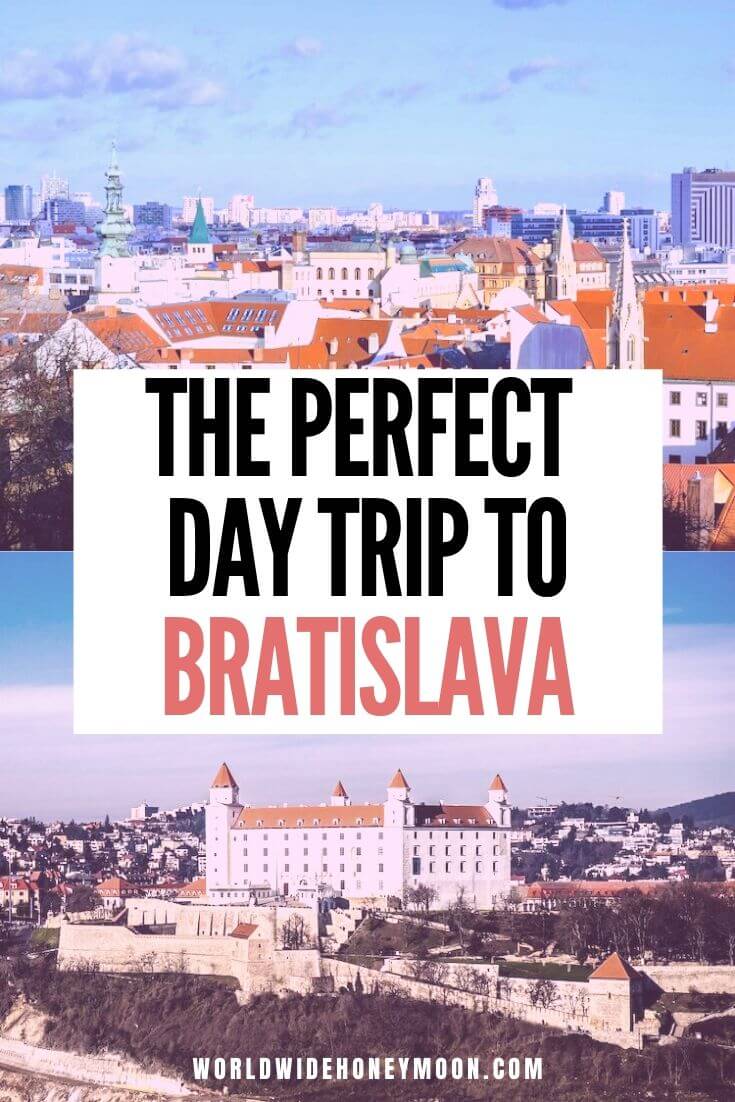 How to Get to Bratislava
If you only have a day in Bratislava, it is probably easiest to visit via train or bus. We ended up doing a Vienna to Bratislava day trip where we hopped on a train and back to explore. It was a little over an hour to get from Vienna to Bratislava and cost $17 for a round-trip ticket.
You can also book a bus ticket in advance on The Trainline. Prices are as little as $11 round-trip and the trip from Vienna to Bratislava is about an hour and a half long.
Once you get to Bratislava, you can easily explore on foot to the main parts of town and they also have a great tram system to get to/from the train station to the city center as well.
You can also book a day trip from Vienna to Bratislava complete with a walking tour and a boat ride back to Vienna.
Bratislava Sightseeing: What to see in Bratislava in One Day
Now that you know how to get to Bratislava, it is time to explore the best Bratislava day trip activities!
Michael's Gate is Dreamy to See During Your Bratislava Day Trip
Michael's Gate is probably one of the more iconic things to do during a Bratislava itinerary. Built around 1300, this gate was one of only 4 entrances into the town in medieval times. It was also reconstructed in the 1700s in the baroque style of today.
Today, it serves as a famous entry point into Bratislava's Old Town. This gate is really pretty and a perfect spot to take photos during your time in Bratislava.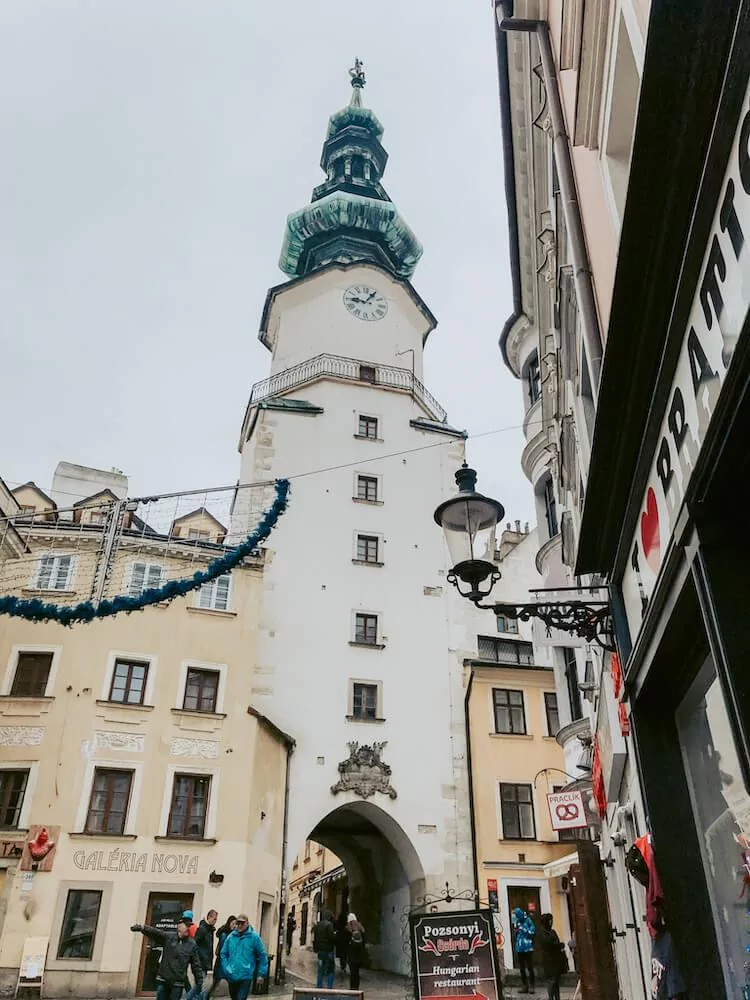 There is also a museum you can visit called the Museum of Arms inside of the tower itself. However, it is currently under reconstruction.
St. Michael's Gate Address: Michalská ulica 22 806/24, 811 03 Staré Mesto, Slovakia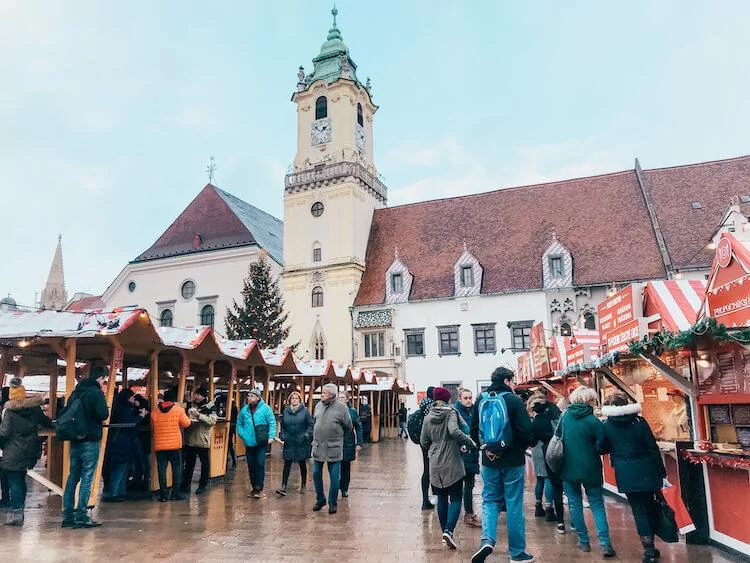 Old Town Bratislava
Once you've passed St. Michael's Gate, wandering the streets of the Old Town is the perfect next thing to do in Bratislava.
From the charming streets to the colorful buildings, you'll love snapping photos around the Old Town Hall and the charming Main Square or Hlavne namestie. And during the Christmas market season, this has the most adorable market with white and red striped huts serving all kinds of delicious food including veggie gyoza, podpickiky (a cheesy flatbread with cream), and fries topped with Slovakian cheese.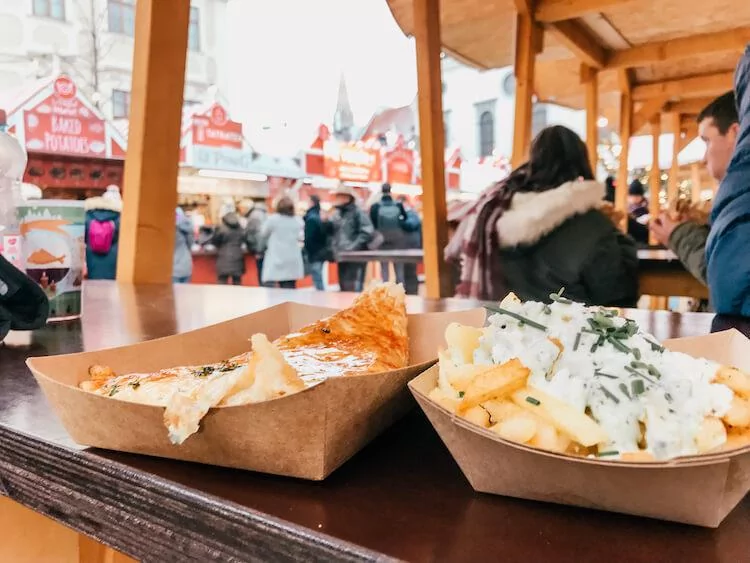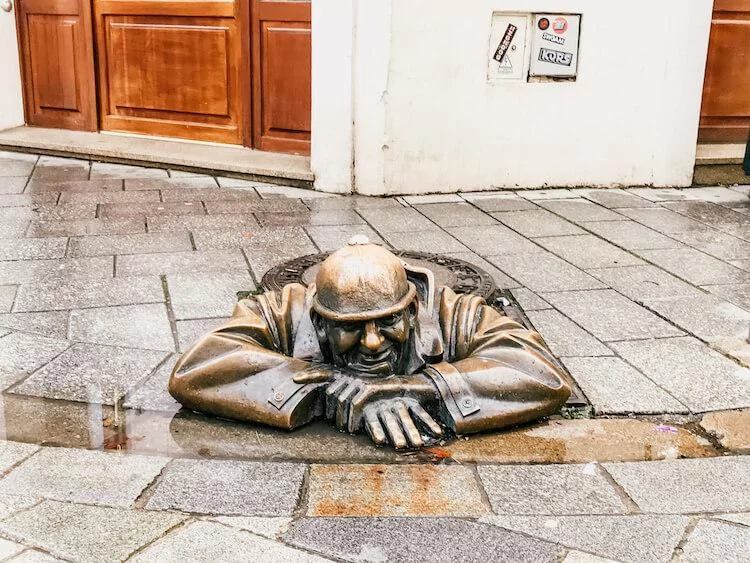 While you're wandering, definitely check out the adorable Man at Work statue and get a few photos before walking over to Hviezdoslav Square. This place is another town square with many fountains, statues, and another great Christmas market!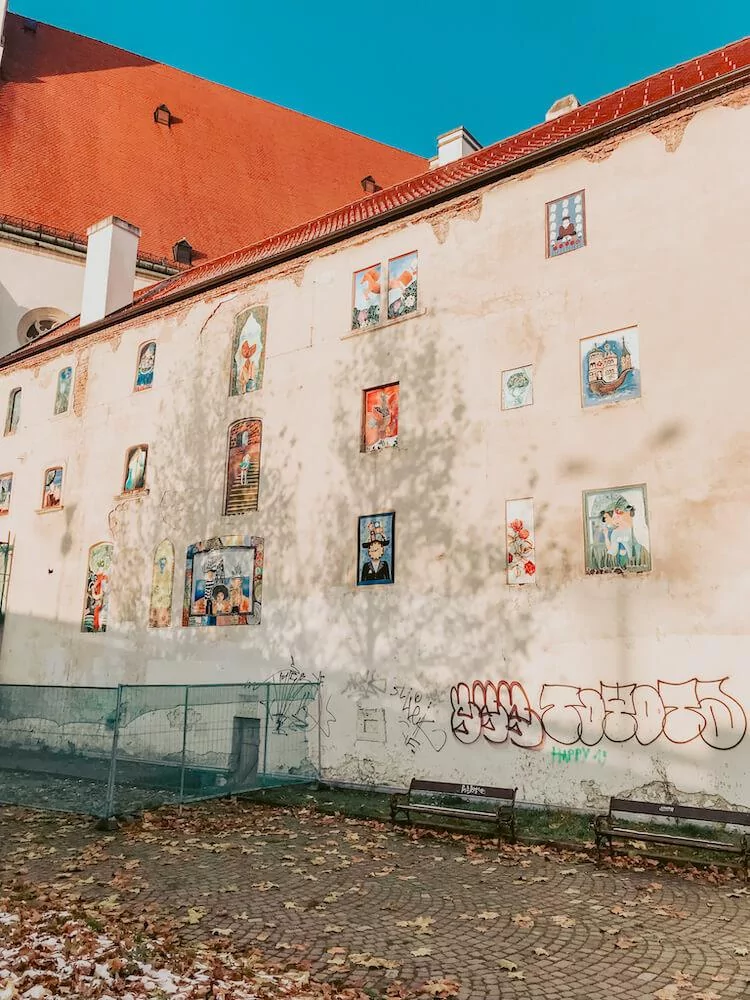 St. Martin Cathedral
This cathedral is part of the Roman Catholic Archdiocese of Bratislava and was finished around 1452. Many coronations have taken place here, including the famous Maria Theresa of Austria (the only female ruler of the Hapsburg Empire and mother of Marie Antoinette).
The tower of this church was also part of the original city wall and the inside is filled with lovely stained glass windows. This is a fairly smaller cathedral and worth a stop inside during your day in Bratislava.
Also, next to the cathedral is a monument to a former neighbor synagogue that was destroyed during the communist regime to build the bridge in front of the cathedral.
St. Martin Cathedral Address: Rudnayovo námestie 1, 811 01 Bratislava, Slovakia
Hours: Monday-Friday 9-11:30 am, 1-6 pm. Saturday 9-11:30 am. Sunday 1:45-4:30 pm.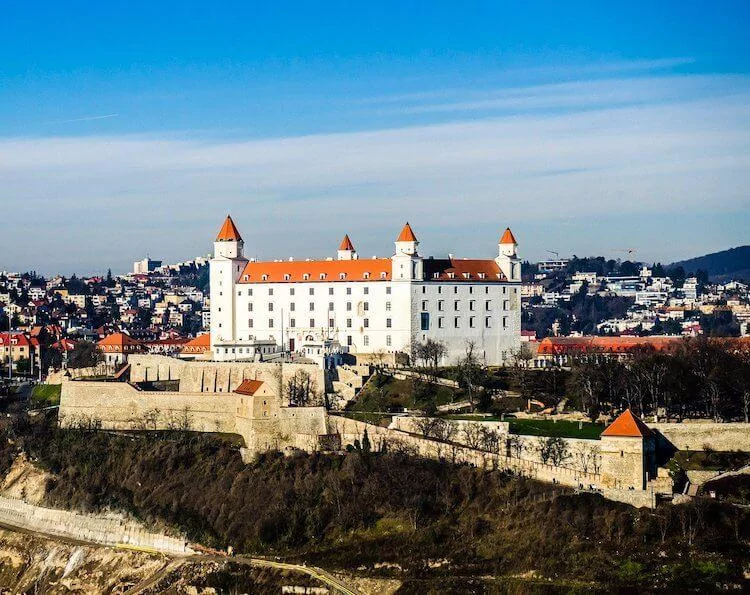 Bratislava Castle
High above the city stands Bratislava Castle. This ancient castle complex is well worth your time to visit if you can during your 1 day in Bratislava. The area alone was a settlement from the 8-6th centuries BC. Many empires have even occupied it over the years including the Celts, the Romans, the Great Moravian Empire, and the Hungarians.
The castle essentially laid in ruins until the 1950's when they began restorations to bring it to its full glory today. Now it is home to the Slovak National Museum and lovely Baroque Gardens. I definitely recommend heading up to the castle to take in history, see the ancient ruins and artifacts, and get some of the best views over the city of Bratislava.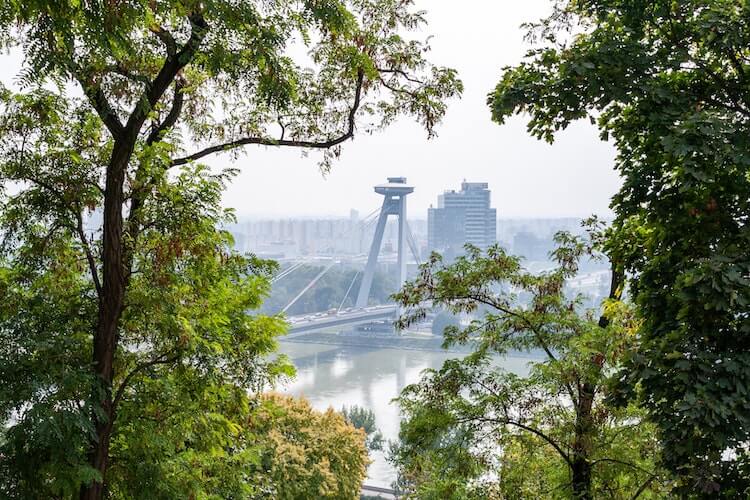 You may even spot the iconic UFO tower from the top!
Bratislava Castle Address: Hrad, 811 06 Bratislava, Slovakia
Bratislava Castle Hours:
Baroque Gardens:

January, February, November, and December: 9 am-4 pm.
March and October: 9 am-5 pm.
April and September: 9 am-7 pm.
May: 9 am-8 pm.
June, July, and August: 9 am-9 pm.

Slovak National Museum:
Admission:
Gardens & Remainder of Castle: Free.
National Museum: €10 or $11.70 full admission.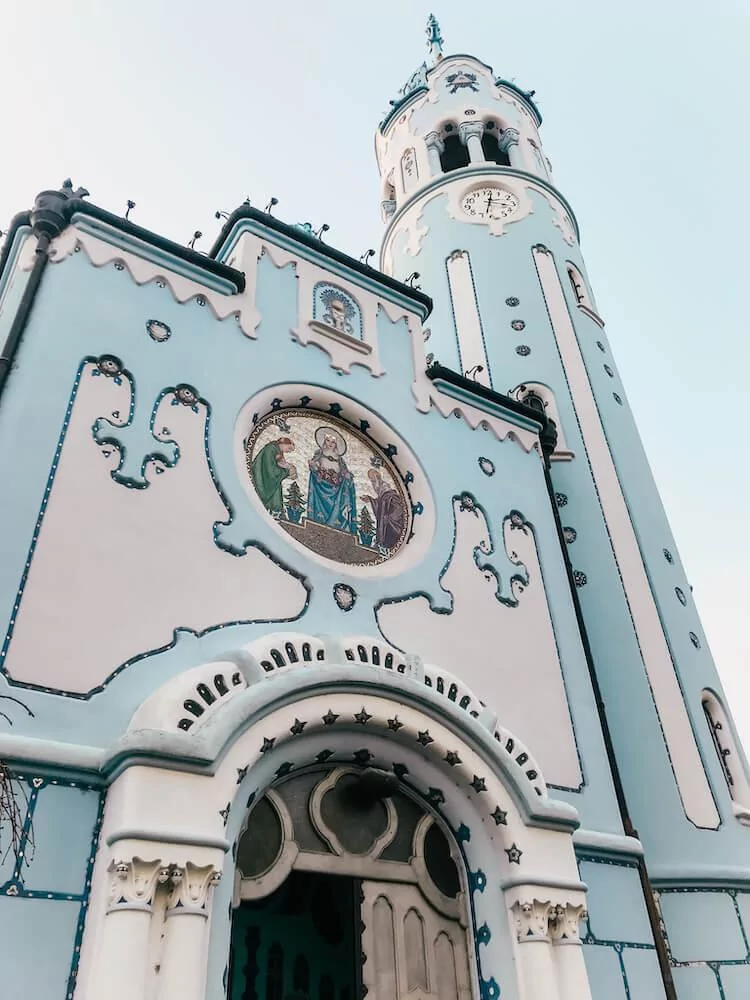 Blue Church
This may be the most Instagramable place in Bratislava, but the Blue Church is seriously stunning. Also known as the Church of St. Elizabeth, it isn't nearly as ancient as the other buildings in Bratislava. In fact, it was built in the early 1900s!
It is built in the Hungarian Art Nouveau style and it really is bright blue! It is really pretty to take photos of, perhaps attend Mass, and even walk along the gardens outside.
We even met a friendly kitty during our time around the church!
Blue Church Address: Alžbety, Bezručova 2, 811 09 Bratislava, Slovakia
Blue Church Hours (Only Open For Mass): Monday-Saturday 6:30-7:30 am, 5:30-7 pm. Sunday 7:30 am-12 pm, 5:30-7 pm.
Admission: Free.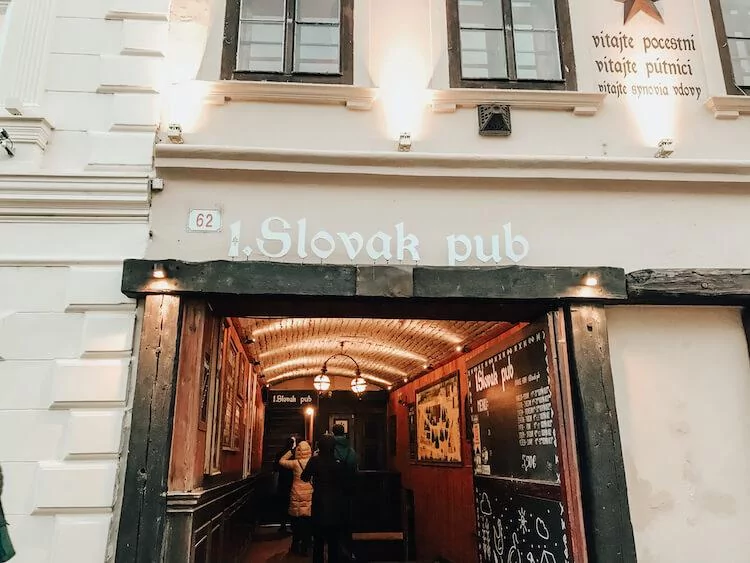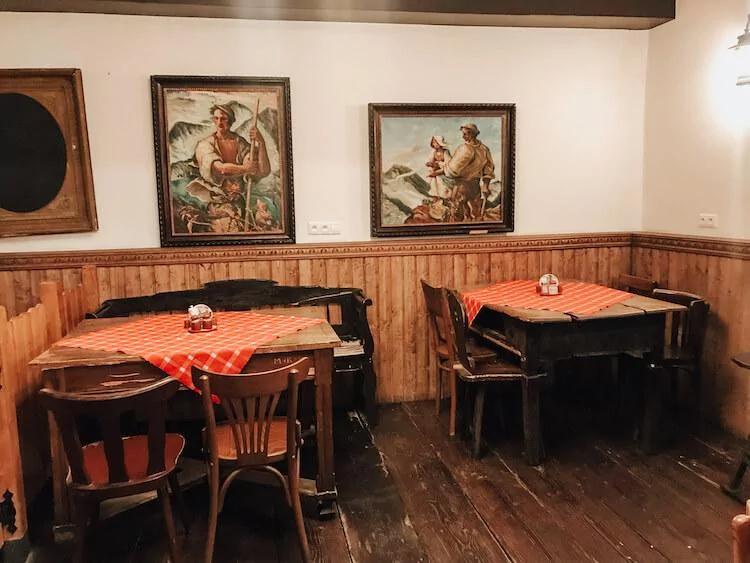 1. Slovak Pub
Now that your Bratislava in one day trip is almost over, there is one last place that you need to visit: 1. Slovak Pub.
This is truly a fun place! And it is huge! It is the largest pub in Bratislava. But as a warning, there are a ton of imitations in Bratislava called various names, but this place (address below) is the real deal.
If you want a traditional Slovak meal and beer, this is the place to go. Have a Zlaty Bazant (Slovak beer), garlic soup, and potato dumplings.
The décor is also really fun with wooden furniture, deer antlers, and it basically feels like an old hunting lodge or inn from medieval times. They also have themed rooms like Stur's room: a room dedicated to the Slovak intellectuals from the 1800s who helped codify the Slovak language, the Janosik's room that was basically the Slovak Robin Hood, or even the Poet's room with poems and works from Slovak writer's all over the walls.
It really is a fun pub to hang out in for a while, whether to get a hot meal or a drink before venturing back to your hotel.
Slovak Pub Address: 1. Slovak pub, Obchodná 62, 81106 Bratislava
Slovak Pub Hours: Monday-Thursday 11 am-11 pm. Friday 11 am-12 am. Saturday-Sunday 12-11 pm.
Map of the Bratislava 1 Day Itinerary
Now that you know what to visit in Bratislava in one day, here is a map to help you figure out how to get around!
Where to Stay in Bratislava
While we ended up doing a Vienna to Bratislava day trip if you choose to stay the night in Bratislava to experience the nightlife, here are some great hotel options!
Budget: Loft Hotel Bratislava
Located in the city center and within walking distance of the old town, this place has all of the comforts of home and it is a 4-star hotel, which is perfect for living in comfort on a budget. They also have a brewery on-site, a coffee and wine bar with an outdoor terrace and beautifully designed rooms. At around $80 per night, it's great for your wallet too.
Read reviews on TripAdvisor and book!
Mid-Range: Arcadia Boutique Hotel
As you may know, we're big fans of boutique hotels! And this place is fantastic with colorful rooms, a spa and fitness center, and a breakfast buffet. Plus, it is within steps of all of the main attractions in the old town. And it is also only around $99 per night.
Read reviews on TripAdvisor and book!
Luxury: Grand Hotel River Park
Modern and stylish rooms and views of the Danube? That sounds pretty amazing. Plus, they have a spa with Jacuzzis, a swimming pool, and more. It is also known as one of the best hotels in Slovakia! It is also only about a 20-minute walk to the main touristy area so it is great if you want to do some Bratislava sightseeing but also want to get away to a quieter area at night. Prices start at $160 per night.
Read reviews on TripAdvisor and book!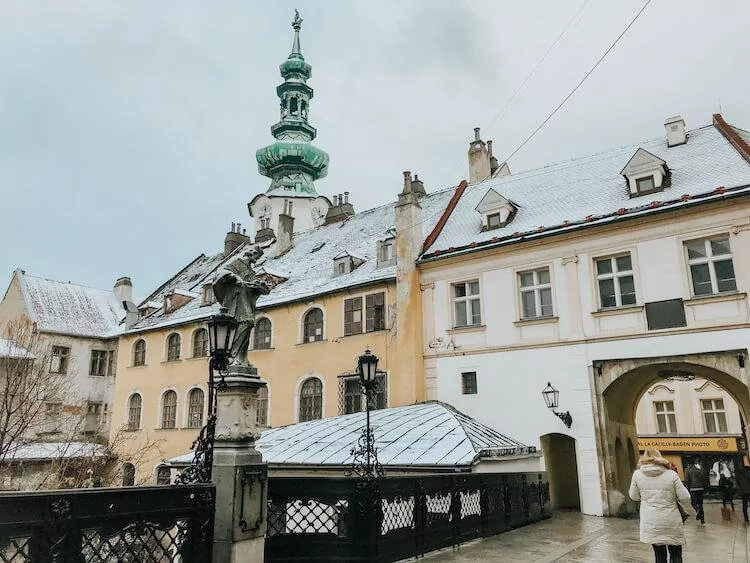 Things to Know Before Visiting Bratislava in a Day
Slovakia is on the Euro. This makes it easy if you are also planning a Vienna to Bratislava day trip as you won't have to exchange any additional money. Currently, €1 is $1.17 USD, £0.86, $1.48 CAD, and $1.61 AUD.
Bratislava is a walkable city! They do have a great tram system, which we caught from right outside of the pub to the train station. But you can definitely walk around most places.
There isn't a bad time to visit Bratislava. Bratislava, kind of like Antwerp, isn't a touristy city, meaning you won't actually see many crowds the entire time you visit Bratislava. So whether you're making a day trip to Bratislava in the summer or winter, you'll be good to go. I will say that it does get cold in the winter, so be mindful of that and summer is ideal for the weather. However, we visited during the Christmas market season and Bratislava has some of the most charming markets in the old town with a ton of great food! It makes a fantastic day trip after visiting Vienna's Christmas markets.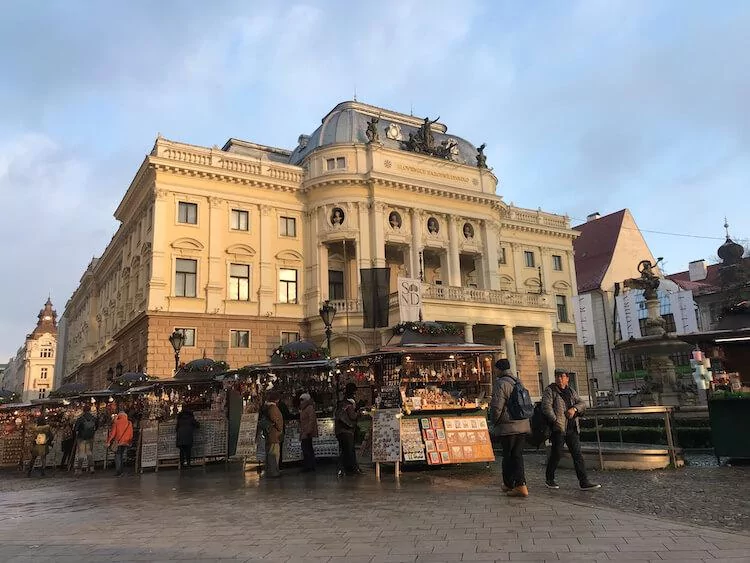 They speak Slovak. This Slavic language is similar to many languages spoken in Eastern Europe, but as this is the most visited city in Bratislava, English is also widely spoken. A few keywords to know include "hello," ("ahoj," sounds like "ahoy"), "thank you," ("dakujem" pronounced like "ja-qui-em"), and "cheers," ("na zdravie" pronounced like "nice driveway" but really quickly)!
Slovakia is in the Schengen Area. So if you are traveling from another Schengen Area country like Austria, Hungary, Czech Republic, or Poland, you do not have to go through passport control.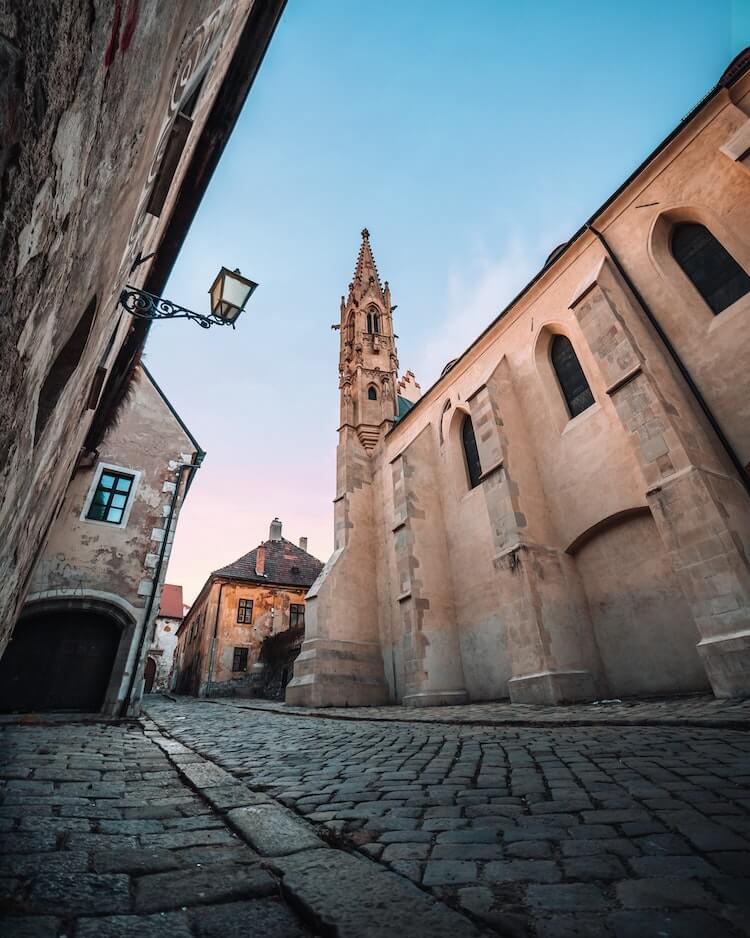 What to Bring For Your Bratislava Day Trip
When you are visiting Bratislava in one day, there isn't much that you have to take with you. I do recommend a jacket (either a lighter coat throughout the year or a parka during the cold winter months), comfortable walking shoes, and a small umbrella as it could rain. Be sure to check out our European packing list for winter too for your trip!
I also always carry my anti-theft crossbody bag when I travel to prevent getting pickpocketed. It may not be as risky in Bratislava but it is still a good idea to have.
Also, we love using our tripod for smaller cameras and phones so we can get photos of each other and iPhone lenses to get better shots!
Other than that, I recommend bringing some outlet adapters if you need to charge your phone during your Bratislava one day itinerary, and that makes up a lot of what to pack for a day trip to Bratislava!
Would you spend 1 day in Bratislava? What would you like to see? Let us know in the comments!
Pin it here!