Some posts on this site contain affiliate links, meaning if you book or buy something through one of these links, I may earn a small commission (at no additional cost to you!). Read the full disclosure policy here.
---
Can you have a great time spending 2 days in Vienna?
Dear Vienna, I'm SO glad I gave you a second chance.
I visited Vienna years ago during my solo backpacking days and wasn't that impressed. Maybe it was the rainy days, my terrible choice in a hostel, or maybe it had hit me that I was starting to feel lonely while solo traveling.
But when Chris's family talked about spending 2 days in Vienna during our European Christmas market trip (including 4 days in Budapest and 2 days in Prague) I wasn't that excited at first.
And I can honestly say that I was an idiot.
First of all, Vienna is STUNNING. Picture opulent buildings, charming facades, sprawling palaces, and gorgeous plazas everywhere. How did I not notice this the first time?!
Even upon our arrival one chilly Sunday morning, we emerged from the metro to church bells ringing and turned around the see the most beautiful church (St. Stephen's Cathedral), and a ton of gorgeous buildings. Then my father-in-law said, "I think I'm going to like it here," and I had a feeling I would as well.
Not only do I recommend a Vienna 2 day itinerary, but I'm also going to break it down so you have the best time exploring the top things to do in Vienna in 2 days no matter when you visit.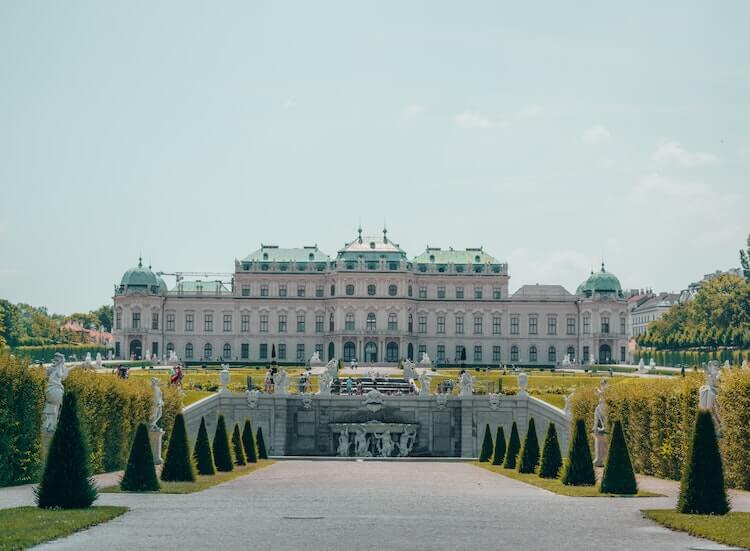 2 Days in Vienna Summary

Before we dive into the full 2 days in Vienna itinerary, here is a quick reference guide on things to do in Vienna!

Day 1: Café, Horses, and Palaces

Attend the Lipizzaner performance at the Spanish Riding School
Brunch at Café Demel
Explore Hofburg Palace
Wander the shops around Kaerntner Strasse and explore Innere Stadt
Eat Wiener Schnitzel at Figlmuller Backerstrasse
Enjoy classical music at Musikverein

Day 2 in Vienna: Schonbrunn and a Market

Breakfast at Café Central
Explore St. Stephen's Cathedral
Pay a visit to Schonbrunn Palace
Wander along the stalls at Naschmarkt
Witness the beauty of Rathausplatz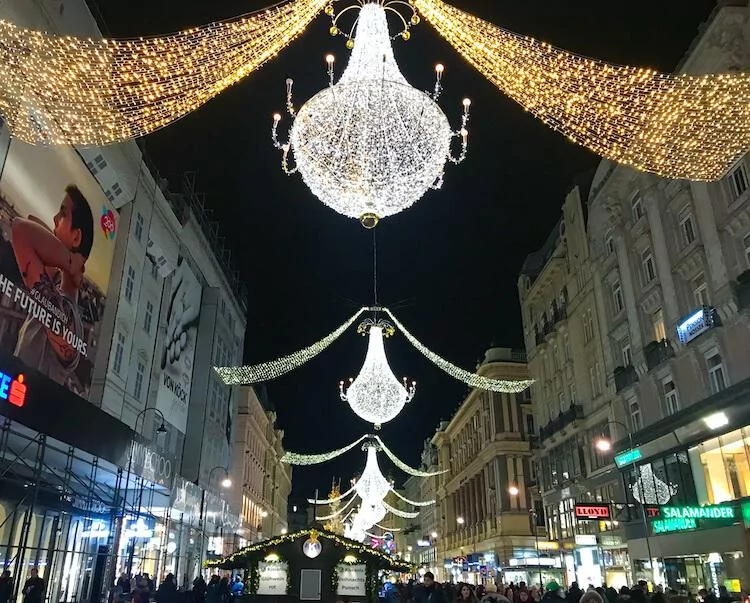 The Ultimate 2 Days in Vienna Itinerary: Places to Visit in Vienna in 2 Days
In case you were wondering how many days in Vienna is enough, this Vienna two day itinerary will show you the top things to do to maximize your travel and have the best time.
Day 1 of Your Two Days in Vienna Itinerary: Café, Palace, and Horses- Oh My!
Whether you're coming in for a weekend in Vienna or during the week, the perfect day has to include a stop at a café and perhaps a palace. So check out what to do on the first day in Vienna.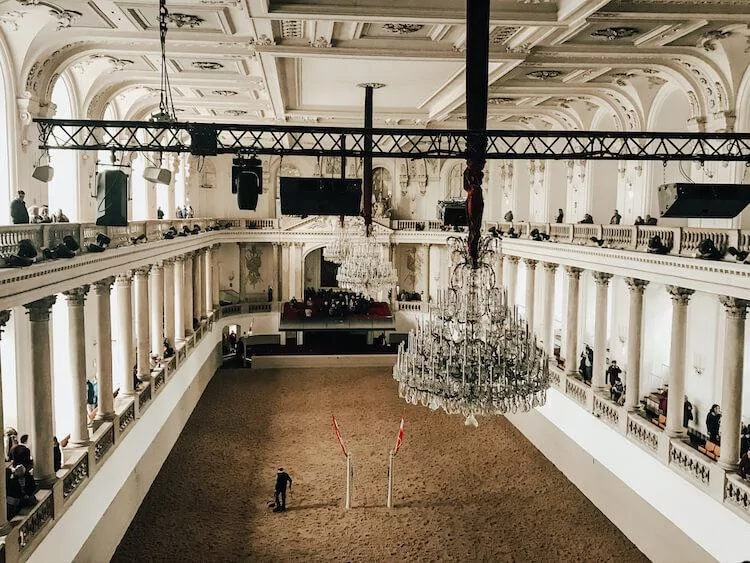 Spanish Riding School
I'll be honest, I had no idea this place existed the first time I was in Vienna. But when we were planning what to do in Vienna, Austria with Chris's family, Chris's dad said it was a childhood dream of his to see the Lipizzaner stallions.
While I wasn't sure what to expect, it turned out to be awesome!
I totally recommend attending a performance if you can, and these are typically held on Saturday and Sunday mornings. If this doesn't work with your schedule, then I recommend at least attending a morning exercise or guided tour.
The performance starts with the younger stallions in training doing their morning trots, which is adorable to see, as some haven't quite gotten the hang of it yet. Also, these strikingly white horses are actually speckled when they're young.
Then, you see the performances of the fully trained horses and I had no idea horses could do these awesome moves! From side angle steps to graceful leaps in the air, it was like watching ballet with horses accompanied by classical Viennese music playing in the background.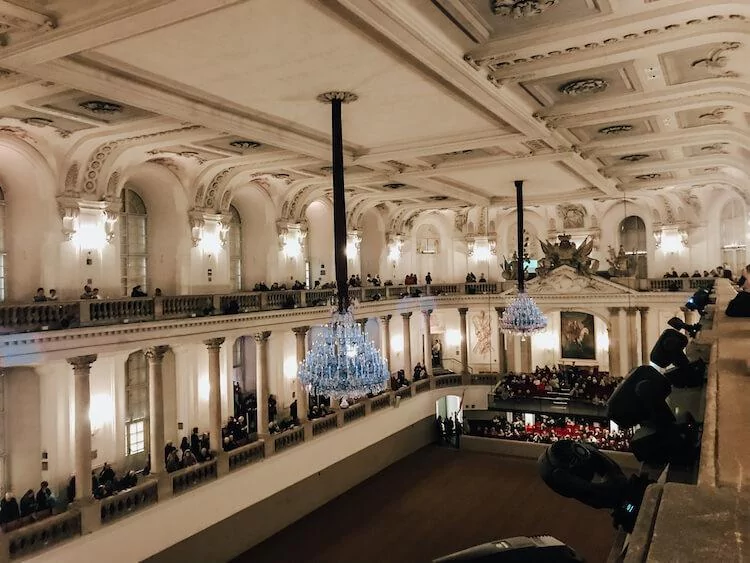 Pro-tip: Photography and video are prohibited during the performance. Also, you must be quiet and save your applause for when the horses are safely out of the arena! It can freak out the horses during their performance.
Even if you cannot attend the performance, visiting the Winter Riding School at Hofburg Palace is beautiful on its own. And if you can at least catch the morning exercises that is a great opportunity to see these beautiful Lipizzaner stallions practice their techniques!
And why is it called the Spanish Riding School when it is in Vienna? It is because this breed of horse is from Spain and was imported here.
Spanish Riding School Address: Michaelerplatz 1, 1010 Wien, Austria
Spanish Riding School Hours: Check the website for more details on guided tours and performances as they vary throughout the year.
Admission: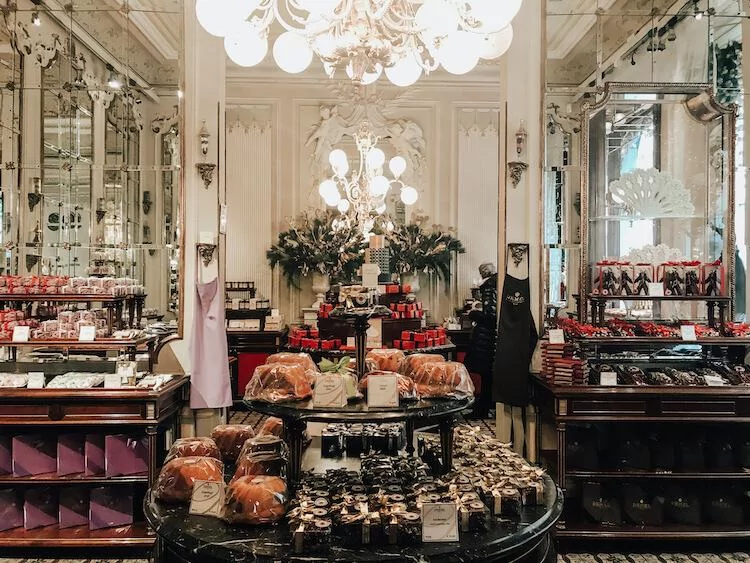 A Visit to Café Demel is a MUST During Your 2 Days in Vienna
Café culture is HUGE in Vienna. In fact, cafes were popular places for writers to write, intellectuals to meet, or even for people to linger for hours on end over the daily newspaper and a cup of Viennese coffee (2 shots of espresso infused with whipped cream).
And this isn't your average Starbucks. These places are full of marble tabletops, chandeliers, and even the décor is beautifully arranged to make you feel like this isn't just a place to drink coffee, but a place to enjoy the simple pleasures of life.
And I can get on board with that.
So if you are looking for things to do in Vienna, a stop a Café Demel needs to be on the list.
This place is my favorite café. You'll feel like a royal after sipping coffee in their salon. But you've also got to try their tempting desserts. We enjoyed the espresso and Viennese coffee as well as a very sweet brunch of chocolate hazelnut cake!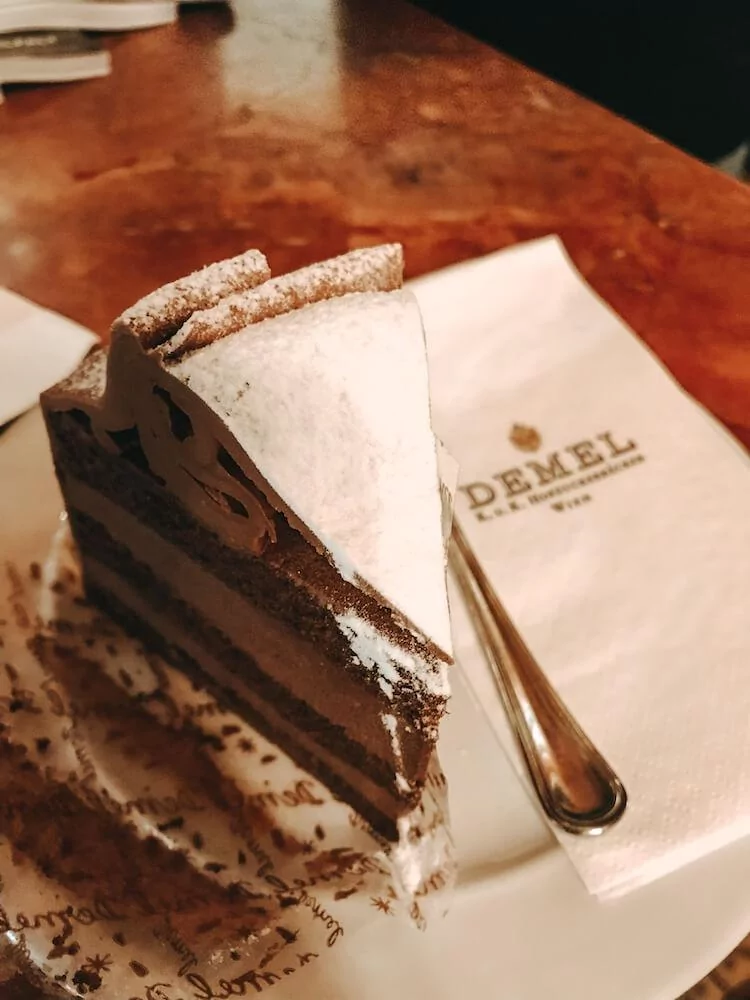 And while you're there, definitely check out their shop! I remembered this café from years ago because they have the most delicious chocolate bars. Definitely get the milk chocolate and the chocolate hazelnut bar and thank me later! Plus, they have the cutest wrapping on the bars!
The best part is this café is conveniently located next to the Spanish Riding School so it is a quick walk over.
Pro-tip: It is a good idea to make reservations for a sit-down breakfast or coffee here, as it is pretty popular. They also have a bar area you can sit too if you don't have a reservation.
Café Demel Address: Kohlmarkt 14, 1010 Wien, Austria
Café Demel Hours: Open daily 10 am-7 pm.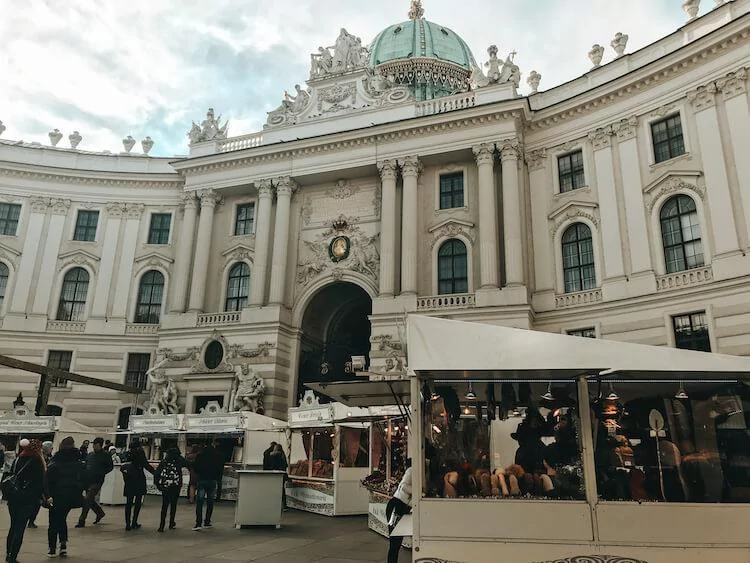 The Hofburg
Okay, so technically the Spanish Riding School is part of The Hofburg. But this place is massive! I remember visiting this palace years ago and it stood out as a gorgeous spot in Vienna.
And during your Vienna itinerary in 2 days, this is a place you'll definitely want to see.
First of all, the Imperial Apartments are stunning with several elegantly designed rooms. In fact, each family member of the Hapsburgs occupied a suite or apartment in this huge palace that was their home for over 600 years!
But my favorite part is the Sisi Museum. Elisabeth, or Sisi, was one of the most unique royals of the Hapsburg Empire. She married Emperor Franz Josef I and became Empress of Austria and Queen of Hungary, and with her informal upbringing did not enjoy much of the rigidness of court.
However, she was known for her beauty, her strict workout regime (which was unusual at the time), and her love of travel.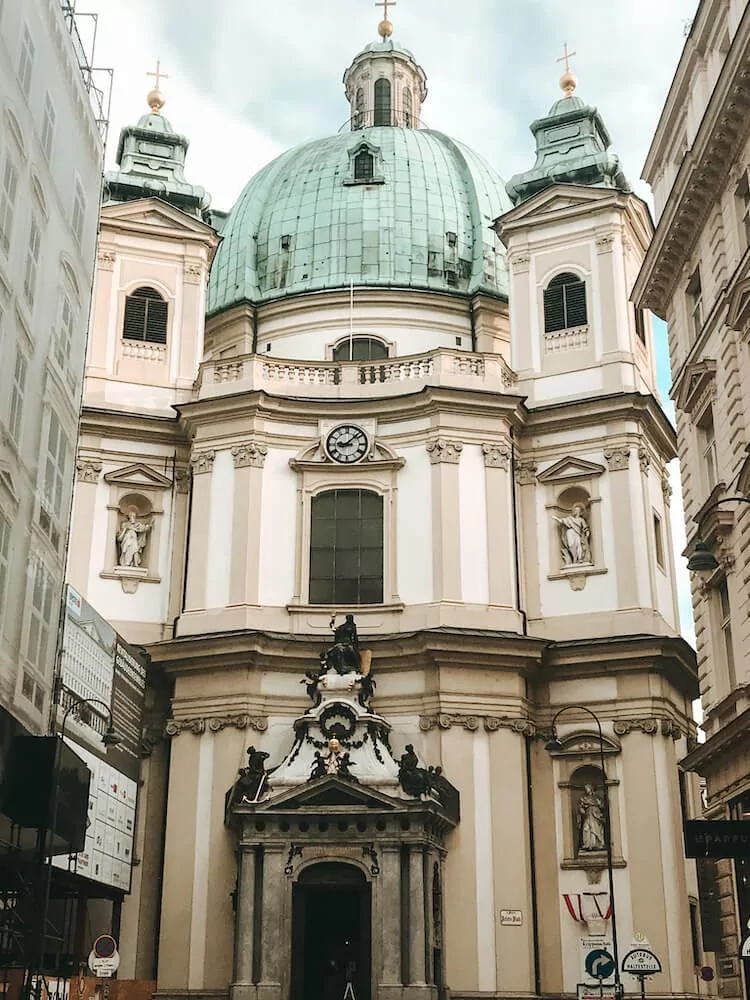 It is really cool to see artifacts from her life and if you love historical fashion, it is a great exhibit at the Hofburg Palace.
Hofburg Palace Address: Michaelerkuppel, 1010 Wien, Austria
Hofburg Palace Hours: 9 am-5:30 pm daily.
Admission: €17.50 or Free with the Vienna Pass!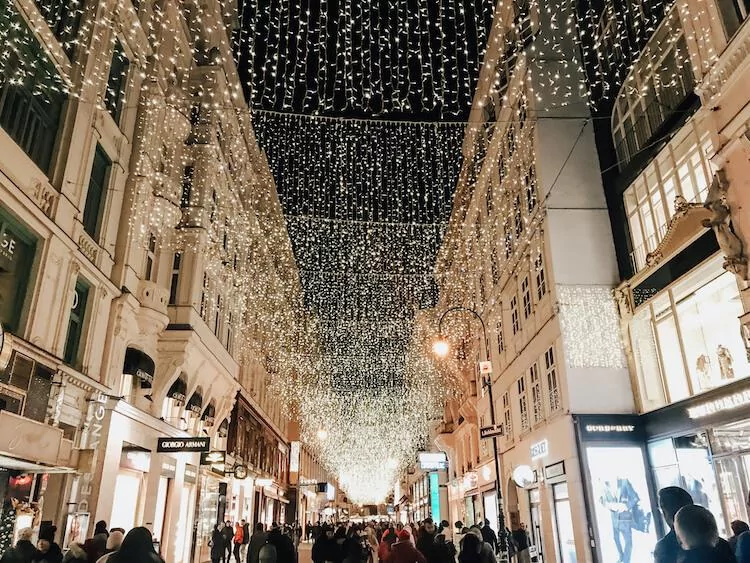 Wander the Shops Around Kaerntner Strasse and Charming Squares in the Innere Stadt
This whole area is impressive with several shops, including anything from Tiffany & Co to Nespresso! And during the Christmas market season, this place is all lit up and decorated beautifully. But wandering this area is a ton of fun during your 2 days in Vienna.
There is so much to see in this area from gorgeous little squares like Stephansplatz and Am Hof (again, fantastic spots during the Christmas market season) to beautiful gardens.
You could fill up the rest of your afternoon just walking around the city, popping into pubs or shops and having a great day.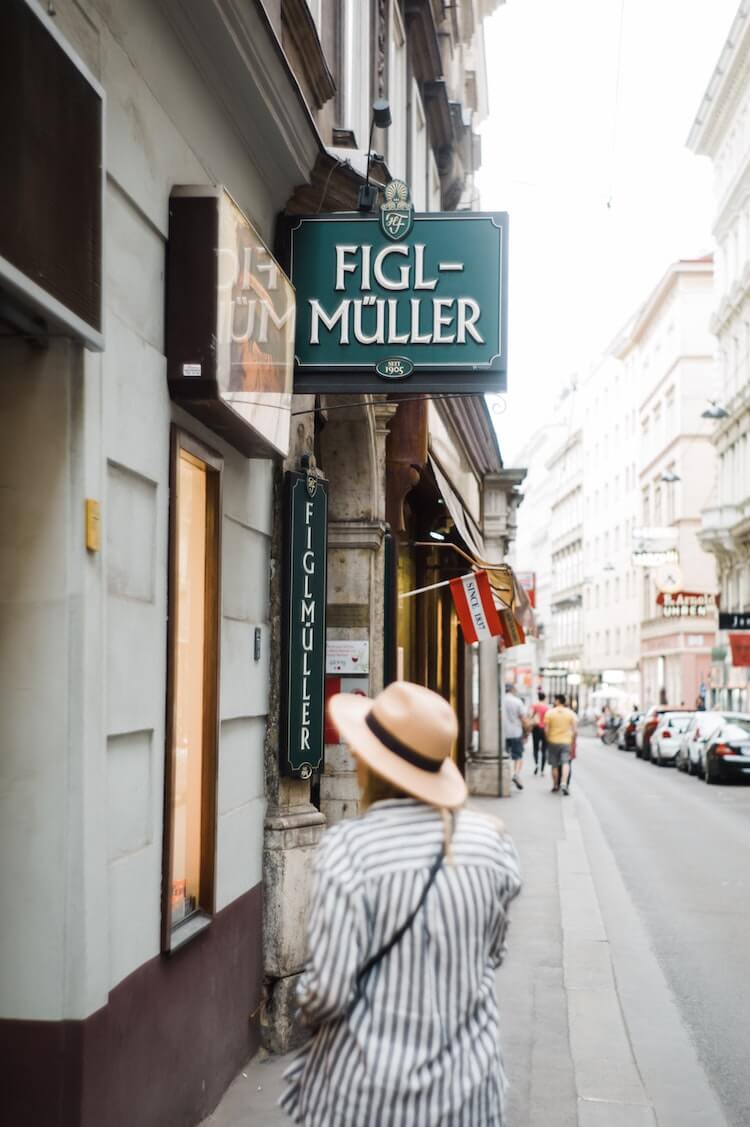 Figlmuller Backerstrasse for the Best Wiener Schnitzel
Fun fact: wiener schnitzel isn't from Germany! It's Austrian! Wiener means "Viennese." Crazy right?
Okay, maybe you knew this, but I didn't at first! That's why it is so big here. And if you are going all the way to Vienna, you've got to try it at one of the best spots in town for it: Figlmuller Backerstrasse. This place serves up traditional Austrian fare, including their pork schnitzel. Pair it with a potato salad and it is the perfect way to feel like a true Austrian before the next thing on the Vienna itinerary.
Figlmuller Backerstrasse Address: Bäckerstraße 6, 1010 Wien, Austria
Figlmuller Backerstrasse Hours: 11:30 am-10 pm daily.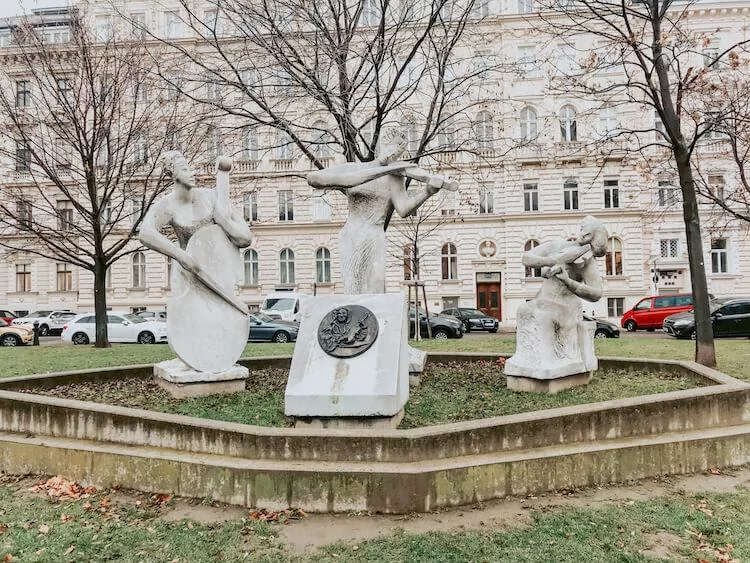 Musikverein is the Perfect Way to Wrap Up Day 1 of Your Vienna Itinerary
Vienna is known for the likes of Mozart and Beethoven. So attending a live performance of the Vienna Philharmonic or Symphony is a once in a lifetime opportunity!
To wrap up day 1 of your 2 day Vienna itinerary, I recommend trying to grab tickets to a show for the evening! Many performances start at 7:30 or 8 pm!
Hear world-class performances and be transported in time in this over the top theatre with a giant organ. If you are looking for things to do in Vienna at night, this is it!
Musikverein Address: Musikvereinsplatz 1, 1010 Wien, Austria
Hours: Vary by performance.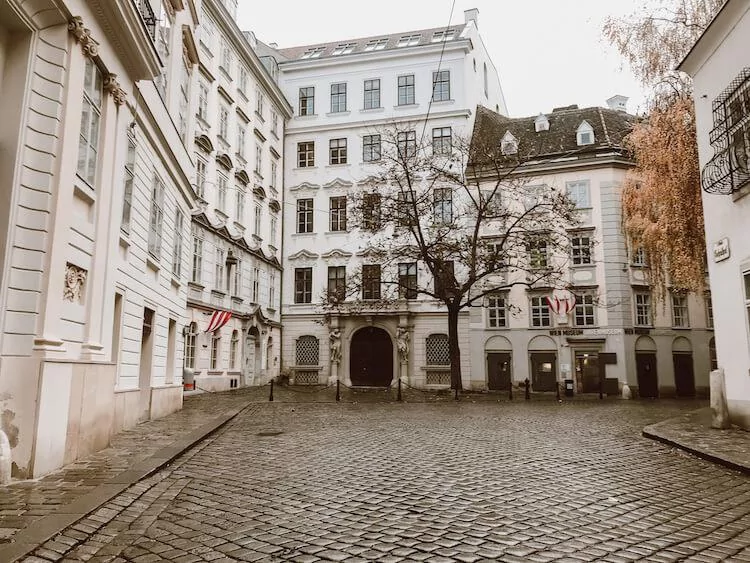 Day 2 of the Ultimate 2 Day Vienna Itinerary: Markets, Summer Palace, and a Stunning Plaza
When it comes to things to do in Vienna in 2 days, it can be hard to narrow down all of the options. But we've got some amazing things you can do on your last day in Vienna that we absolutely loved!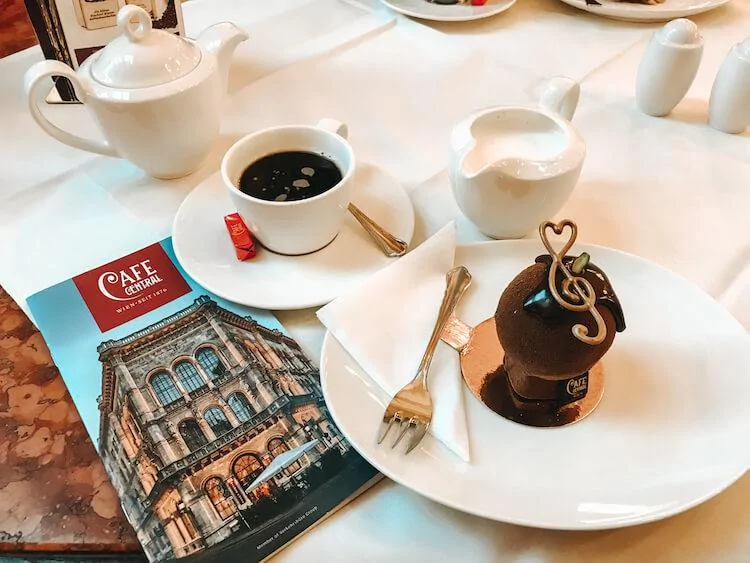 Breakfast at Café Central
This is an iconic café in central Vienna. It also happened to be right next to our hotel! We saw people lined up outside to get in during the day, but if you go right after it opens, you can usually grab a table.
Upon entering this café you'll notice the dessert case. Oh my goodness how perfect these desserts were- almost too pretty to eat!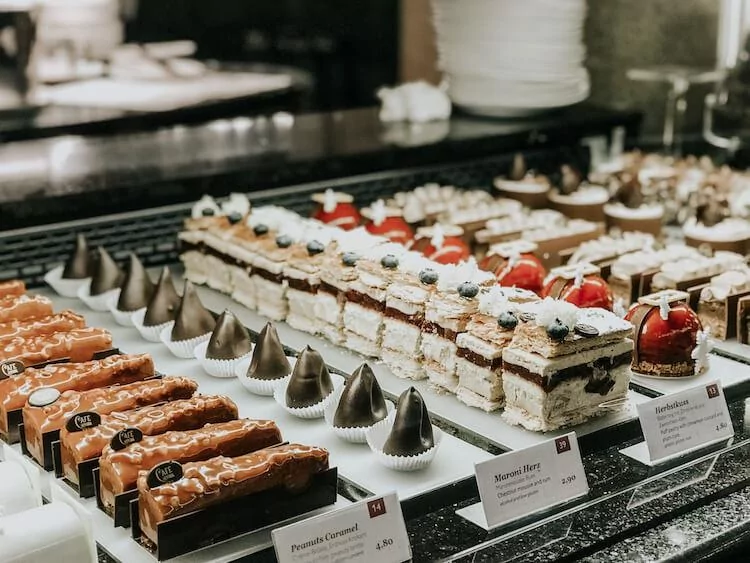 This place makes the best coffee. We also enjoyed the Viennese breakfast of a soft-boiled egg, croissant, and bread with jam and butter. And we couldn't resist those desserts. I loved the orange and almond pastry!
Café Central Address: Herrengasse 14, 1010 Wien, Austria
Café Central Hours: Monday-Saturday 8 am-10 pm. Sunday 10 am-10 pm.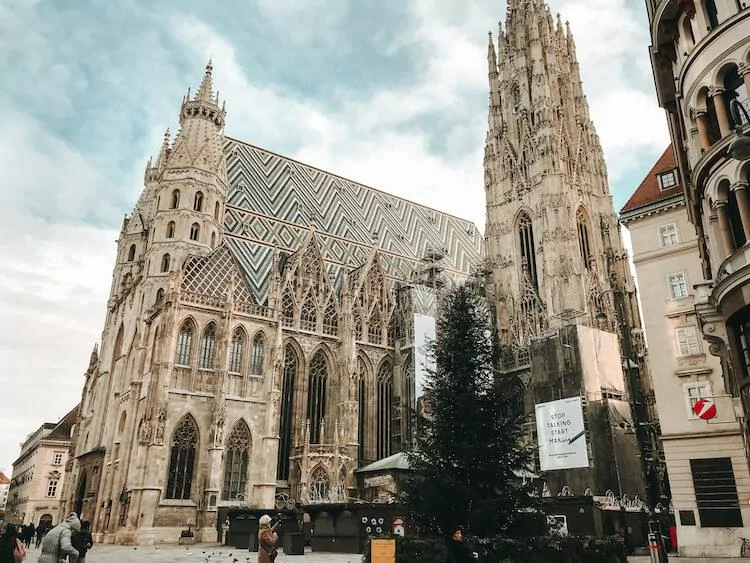 This massive cathedral is worth a stop on your 2 day Vienna itinerary. From gorgeous works of art, impressive architecture, a history that dates back to the 12th century, the largest bell in Austria (the "Pummerin"), and catacombs, this giant place is not only a landmark in Vienna but also a must-see.
St. Stephen's Cathedral Address: Stephansplatz 3,1010 Vienna
St. Stephen's Cathedral Hours: Monday-Saturday 9-11:30 am and 1-4:30 pm. Sundays from 1-4:30 pm.
Admission: €6 ($6.42) for church or catacombs. €20 ($21.40) for an all-inclusive ticket.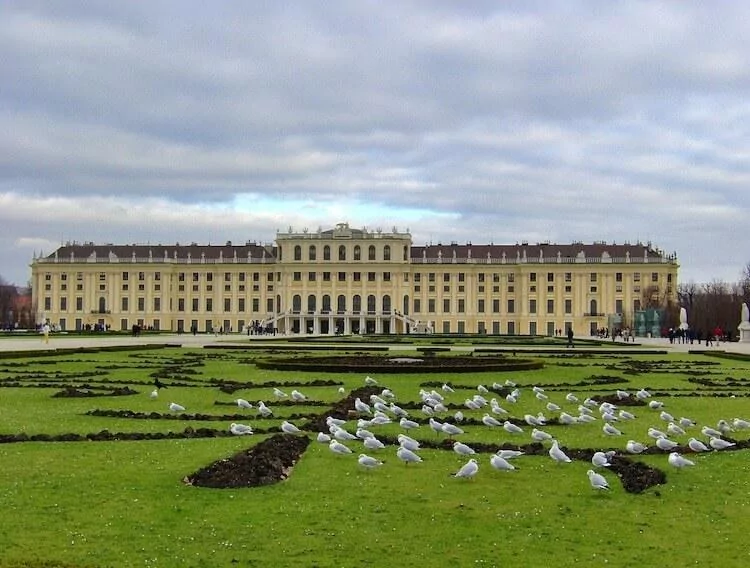 This place is perfect to visit during your 2 days in Vienna! Just hop on the U4 train from Karlsplatz and zip over in about 30 minutes.
And trust me, it is worth it. This massive palace was once the summer home for the Hapsburgs and is a great spot to learn more about the history of this empire as well as get a tour of the most beautiful palace I've ever seen!
We did a guided tour, which I totally recommend and got to see several rooms. It is only about an hour long and we learned a lot from our tour guide, especially about Maria Theresia, the only woman ruler of the Hapsburgs, and the whole family through the last ruler.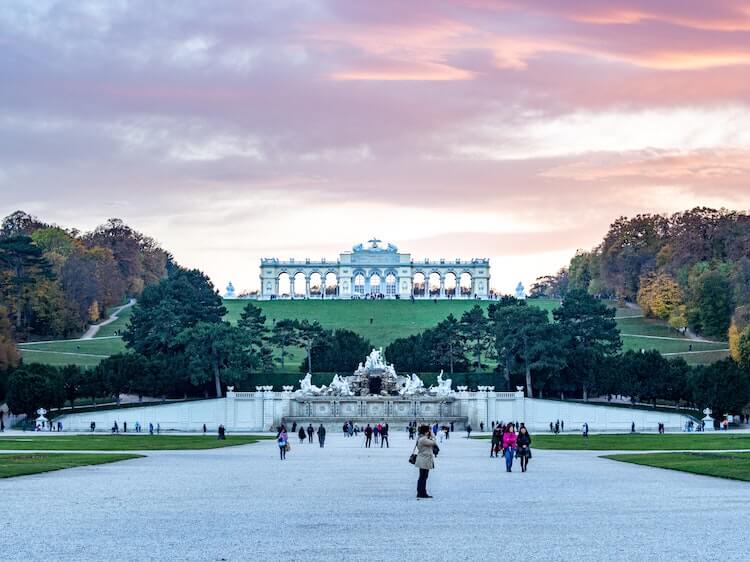 Also, I recommend checking out the elaborate gardens that are beautiful in the spring and summer months.
Pro-tip: Purchase a ticket online to skip the lines. We waited for quite a while to get into the palace as we didn't purchase tickets ahead of time.
Schonbrunn Palace Address: Schönbrunner Schloßstraße 47, 1130 Wien, Austria
Schonbrunn Palace Hours:
April 1-November 3: 8:30 am-5:30 pm
November 4 -March 31: 8:30 am-5 pm
Admission: Palace and Gardens Skip-The-Line Guided Tour is $51.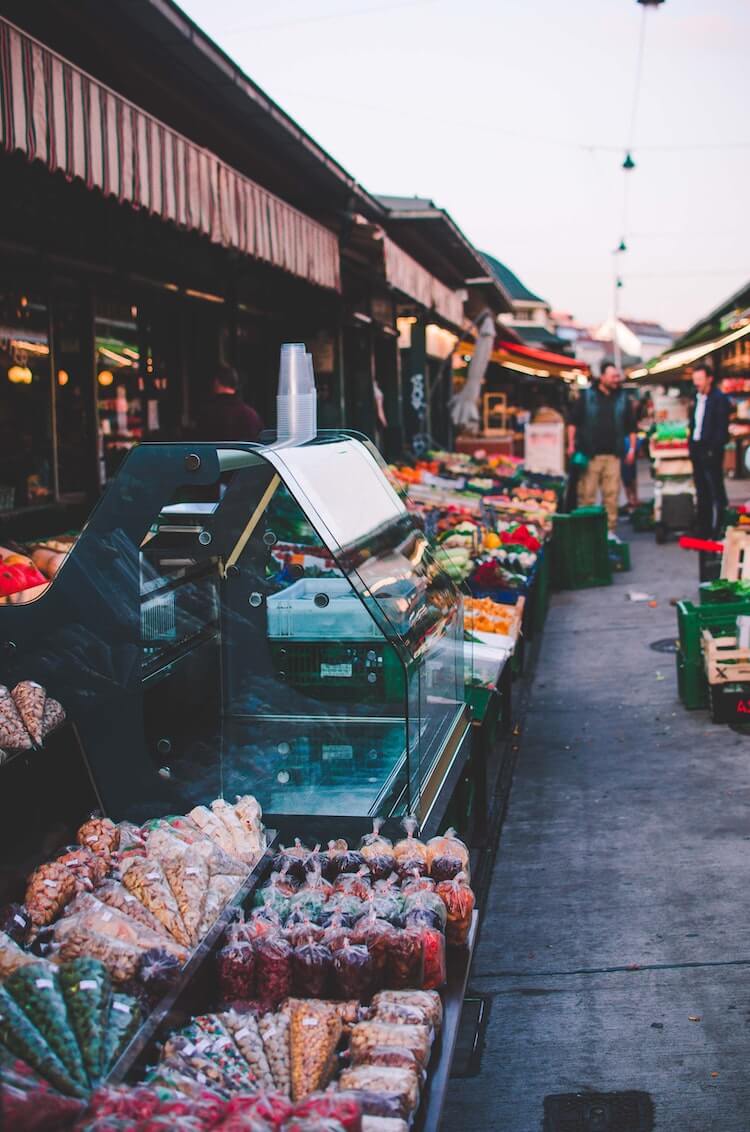 Naschmarkt For Dinner
After visiting Schonbrunn, hop back on the U4 train and head to Kettenbruckengasse toward the most popular market in Vienna: Naschmarkt.
This place has over 120 market stands with fresh fruits and veggies, prepared foods from around the globe, and even restaurants.
On Saturdays, they even have a fantastic flea market! This is a fun place to explore and grab dinner or drinks after a long day of sightseeing in Vienna.
Naschmarkt Address: Naschmarkt1060 Vienna, Austria
Naschmarkt Hours: Monday-Friday 6 am-7:30 pm. Saturday closes around 5 pm. Restaurants and cafes stay open much later. Closed on Sundays.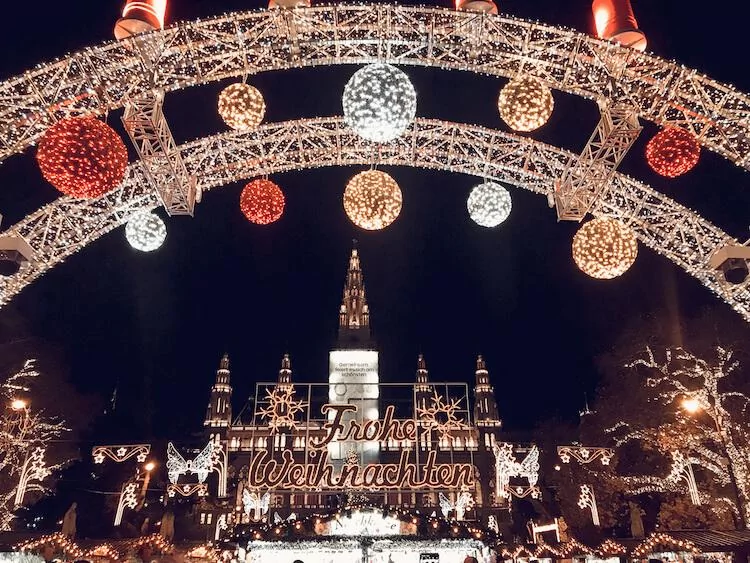 Rathausplatz is the Perfect End to 2 Days in Vienna
This plaza is home to the stunning Vienna City Hall and fun to see on its own. And if you are visiting outside of the holiday season it is fun to wander around the plaza to admire the architecture before heading back.
If you do happen to venture here during the Christmas markets, this is the largest and coolest market complete with several stands for food, mulled wine, souvenirs, an ice skating rink, a Ferris wheel, plenty of nativity scenes, and more. It was magical this time of year.
But regardless this stunning area is fun to wander around and reflect on your fun time in Vienna!
Vienna Two Day Itinerary Map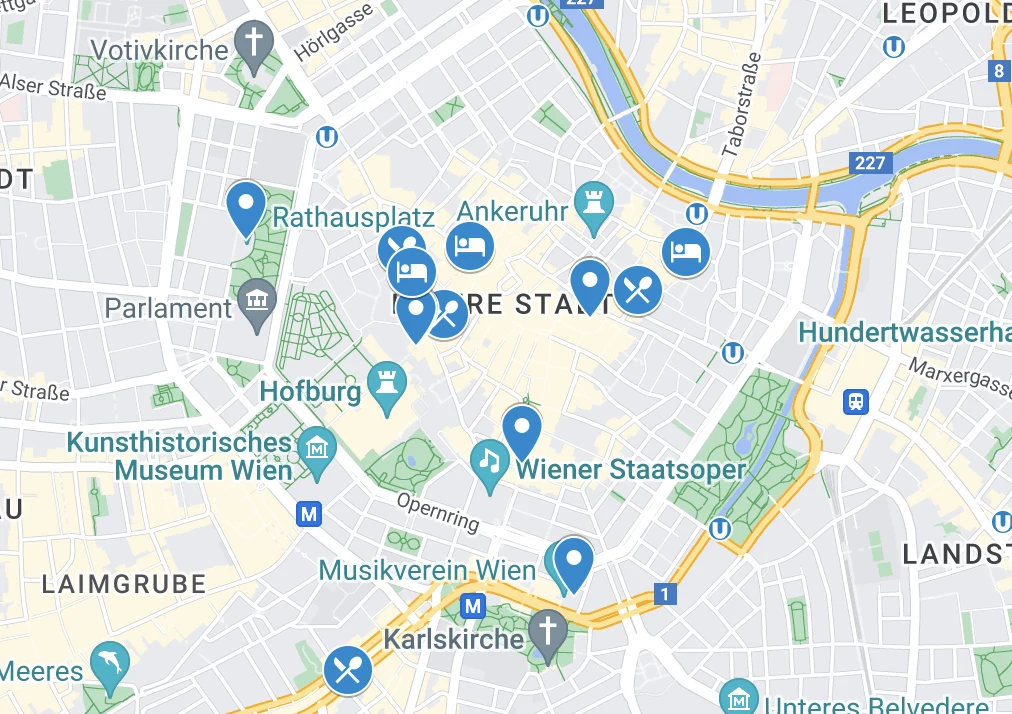 Where to Stay in Vienna
Vienna has some of the most beautiful hotels. But if you're looking to save some serious money, VRBOs here are super affordable!
If you are looking for the perfect hotel, here are our favorites:
Budget: Hotel Austria
While hotels aren't terribly cheap in Austria, this place is in the city center, near Stephansplatz, has free breakfast, bike rentals, and adorably quaint rooms. It is a good value hotel in Vienna.
Read reviews on TripAdvisor and book here!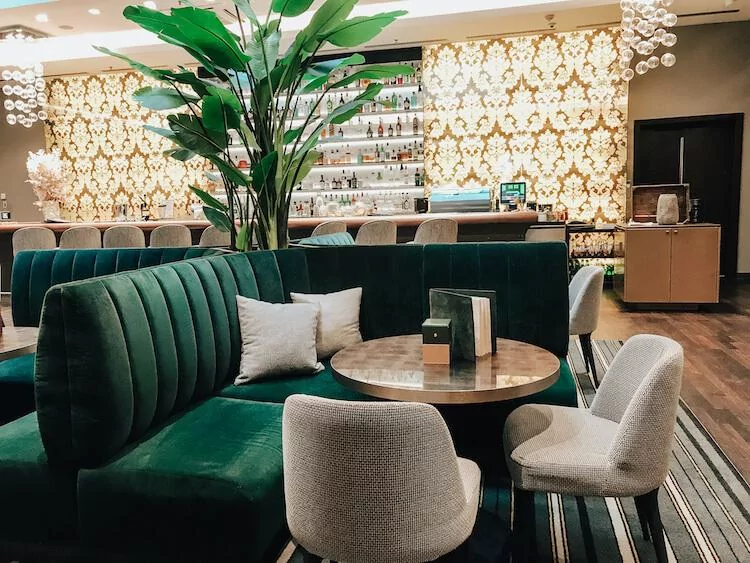 Mid-Range: Steigenberger Hotel Herrenhof Wien
I LOVED this hotel! This is where we stayed during our most recent visit to Vienna and not only is the bar and lounge adorable, but the rooms were super modern and spacious, with beautiful views of the surrounding area.
It is also located right next door to Café Central and within steps of many attractions like Hofburg Palace and many Christmas markets!
This is perfect for a European honeymoon or romantic getaway!
Read reviews on TripAdvisor and book here!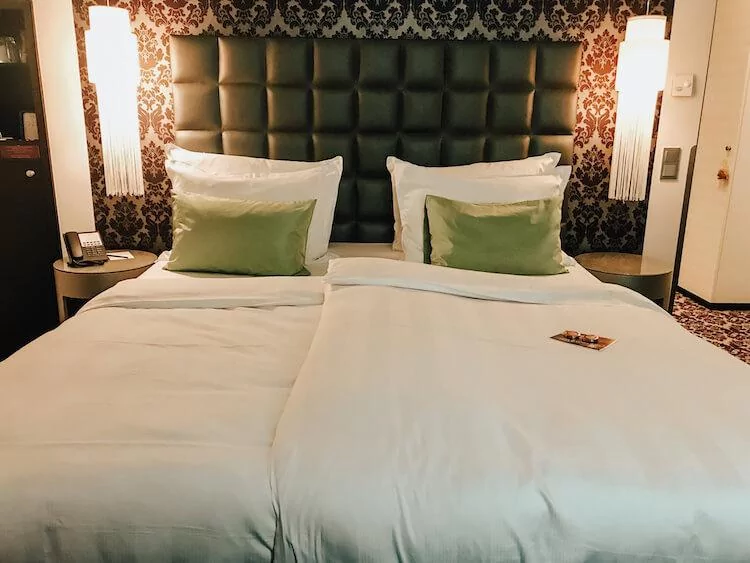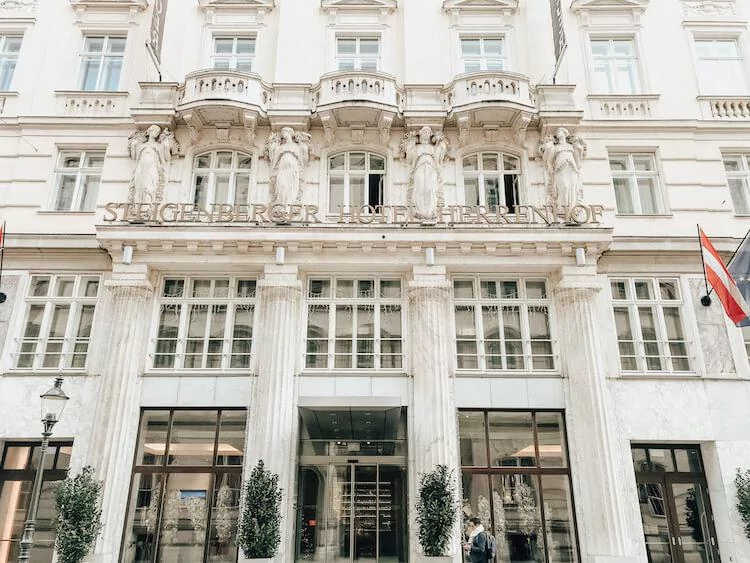 Luxury: Park Hyatt Vienna
If you are looking for luxury in Vienna, this place has it! From the decadent bar and lounge to some of the largest and over-the-top hotel rooms in Vienna, you'll love this hotel that overlooks Am Hof. And don't forget to visit the gorgeous spa!
Read reviews on TripAdvisor and book here!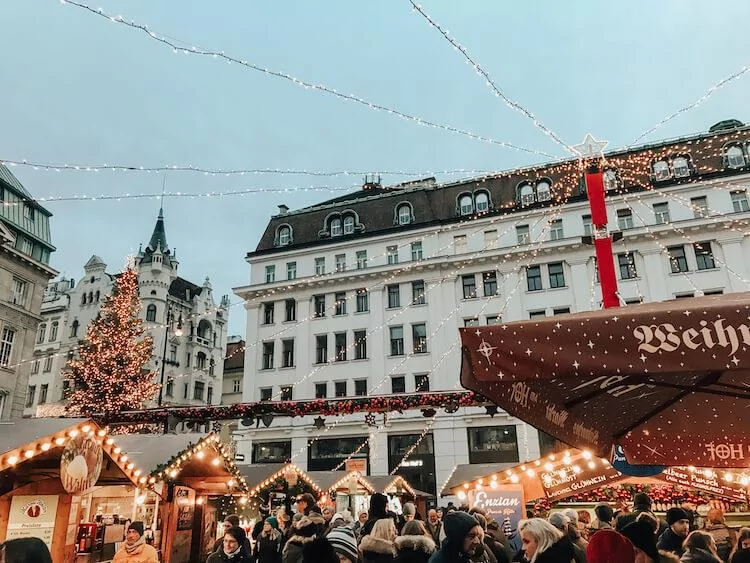 Getting There For Your 2 Days in Vienna
Vienna is really easy to get to via train, flying, or bus.
Vienna is actually one of many airline hubs in Europe with several flights coming in from around the world and Europe each day. And if you check Skyscanner, you can find pretty good flight deals to Vienna from smaller cities (like Cleveland) for around $850 round-trip per person! For larger cities like NYC, expect prices to be around $450-750 round trip!
Of course, you can also use points! We ended up flying to Europe using our American Airlines points and, as it was off-season, scored some great tickets for 45,000 points per person round-trip!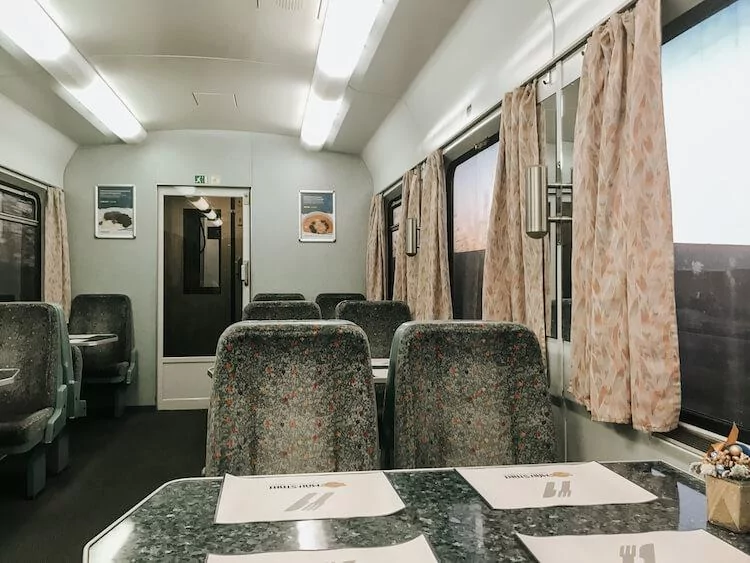 Vienna also has an incredibly efficient train station that we used to get to Vienna from Budapest, a day trip to Bratislava, and then on to Prague where we completed our trip. We found great deals on The Trainline for about €24 ($26) each way going to/from Budapest and Prague. You can also book bus tickets on The Trainline for around $17 per way.
Things to Know Before Your Vienna Two Day Itinerary
Before visiting Vienna, here are some top tips to know!
Austria is on the euro. Many places in central Europe have their own currencies, but luckily, Austria uses the euro. The current conversion is €1 is $1.07 USD, £0.87, $1.47 CAD, and $1.66 AUD.
They speak German. German is the national language of Austria, but, like many Germans, they speak English pretty much fluently. It helps to know a few key phrases, but you should be fine speaking English.
Austria is in the Schengen Area. This means if you are traveling to/from other countries in the Schengen Area, you won't have to go through passport control!
Stay vigilant. Pickpocketing is a risk in many big cities and Vienna is no exception. I carry a cross-body anti-theft purse and keep it in front of me at all times.
There isn't a bad time to visit Vienna, but the Christmas markets are really magical. Vienna is a great spot to visit year-round, but like larger cities in Europe, there are busier times than others. Summer can be quite busy, but the weather is much nicer and comfortable for walking around. Spring and fall are far less busy and you'll find great deals on accommodation during that time. Temperatures are also pretty moderate with only needing a lighter jacket during those months. Winter can be quite chilly, but Vienna really comes to life during the Christmas market season. There are Christmas markets everywhere all with their own charms. I loved exploring the various squares around Christmas and collecting mugs. It also is pretty busy during the Christmas market season as well, but super romantic for a honeymoon.
Vienna can be a bit more expensive. I have traveled to Vienna on a budget and stayed in a hostel and I've visited and ate at lovely cafes and stayed at a nicer hotel. Yes, you could spend €50-60 per person each day, but if you are in the mid-range budget, maybe €75-100 per day is more appropriate.
Have extra time in Vienna? I recommend taking a day trip to Bratislava as we did! Or there is an area called Museum Quarter with plenty of museums ranging from modern art to children's museums to explore!
Plan to see a lot of Vienna? Opt for the Vienna Pass! It covers admission to many attractions like the Spanish Riding School tour, Schonbrunn Palace, Hop-On/Hop-Off Tours, and even an app-guided walking tour.
Vienna is pretty walkable! You could certainly walk to many places in Vienna, but they have a fantastic metro system that is fairly easy to navigate! We used it to get around the last day in Vienna!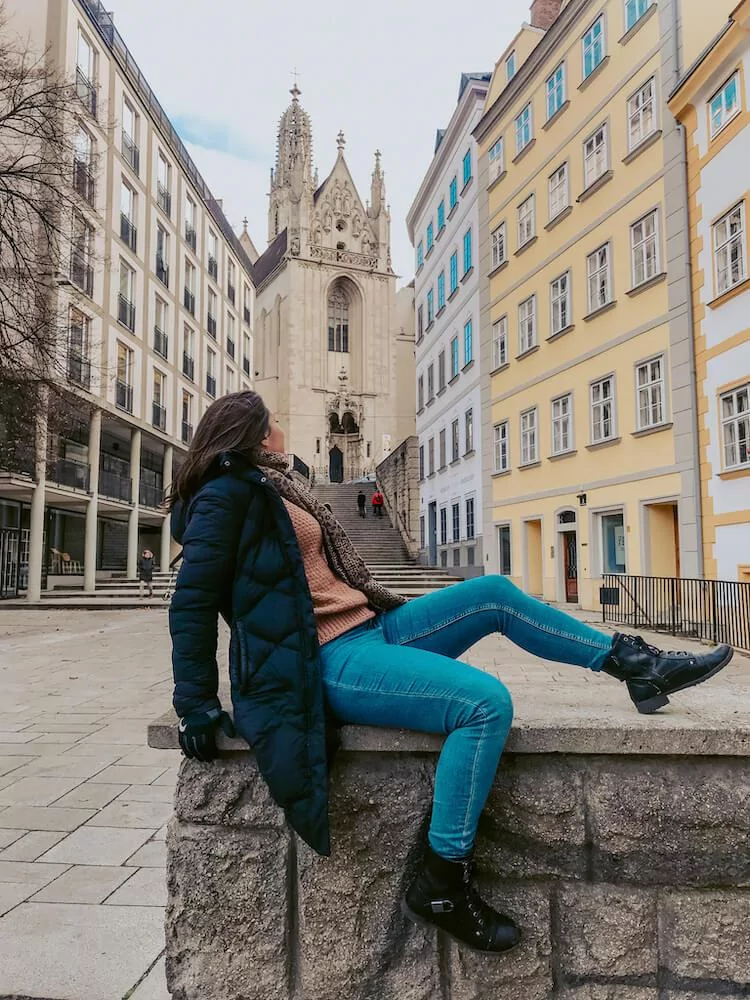 What to Pack for 2 Days in Vienna
When it comes to packing for Vienna, it really depends on the time of year. During the summer months, you'll be fine with dresses, jeans, nice tops, etc. But definitely bring a light jacket for the evening. I visited in June years ago and it got a little chilly at night and on rainier days.
I also recommend comfortable walking shoes! I love my Adidas Stan Smiths.
For the winter, definitely pack waterproof boots, gloves, earmuffs, and a scarf. I also wore a parka by The Northface to stay warm. I definitely recommend to pack layers, and I usually wear tights under my jeans in the winter when it's cold. We have a full packing list for Europe in winter too!
Also, pack a small umbrella as it can rain at any time.
For taking awesome photos, I mostly just used my iPhone and this lightweight tripod to get better selfies!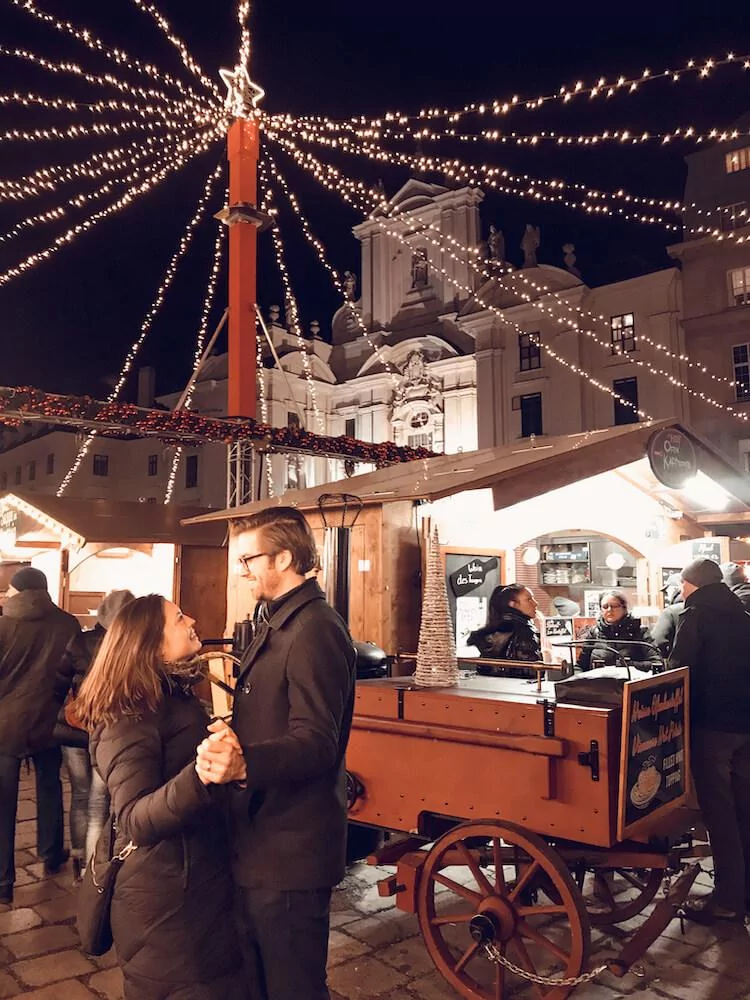 Don't forget to pack outlet adapters as they use euro plugs and if you are trying to pack carry-on only like we do, we love our Osprey backpacks! I also swear by my packing cubes to stay organized.
That pretty much wraps up all of the amazing things you can do in Vienna in 2 days! We hope you have the best time exploring the delightful spots around this city and we already want to return!
What tips do you have? Would you visit Vienna in 2 days? Let us know in the comments!
Read Next: 7 Day Italy Itinerary For Food & Wine Lovers, How to Spend 2 Days in Bologna, and Best November Honeymoon Destinations
Pin it here!