Some posts on this site contain affiliate links, meaning if you book or buy something through one of these links, I may earn a small commission (at no additional cost to you!). Read the full disclosure policy here.
---
Searching for the best way to spend 1 day in Hanoi? We've got all the tips!
A trip to Southeast Asia usually includes a stop in this vibrant city. However, many people fly in and leave on their way to Halong Bay, Sapa, or down into the smaller cities of Vietnam. And some just skip it altogether in favor of Ho Chi Minh City.
But Hanoi has so much to offer, from delicious food to interesting scenery that a stop here, even just 1 day in Hanoi, is more than worth it. Chris and I fell in love with this city during the first part of our 3-week trip to Southeast Asia, and we hope you fall in love with it too. Check out all there is to see and do in this one day in Hanoi itinerary!
Check out our podcast episode all about travel to Hanoi!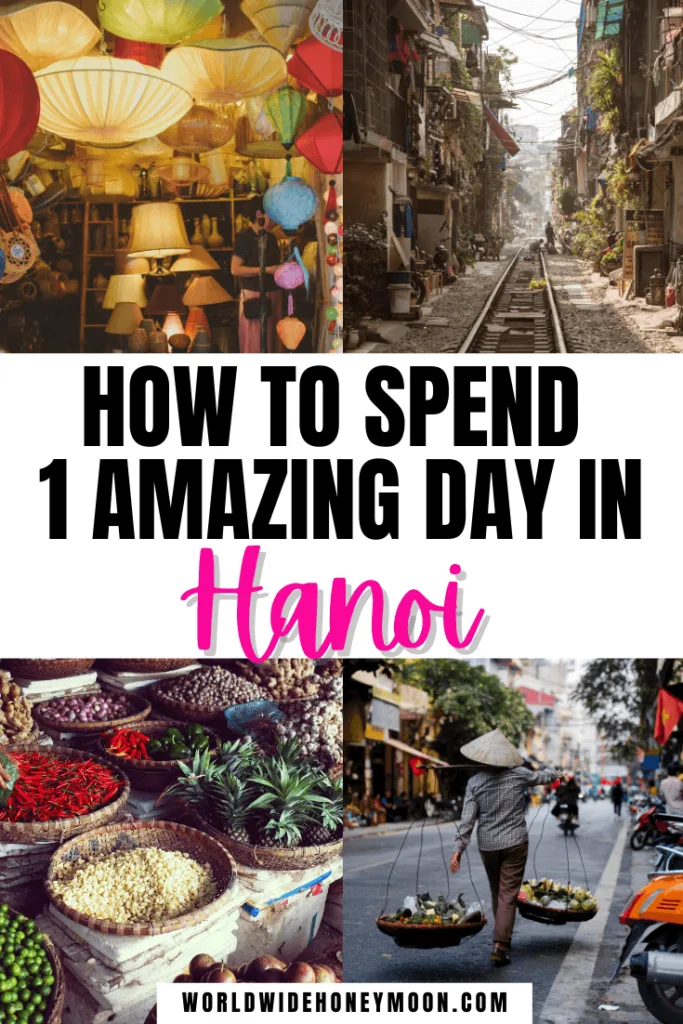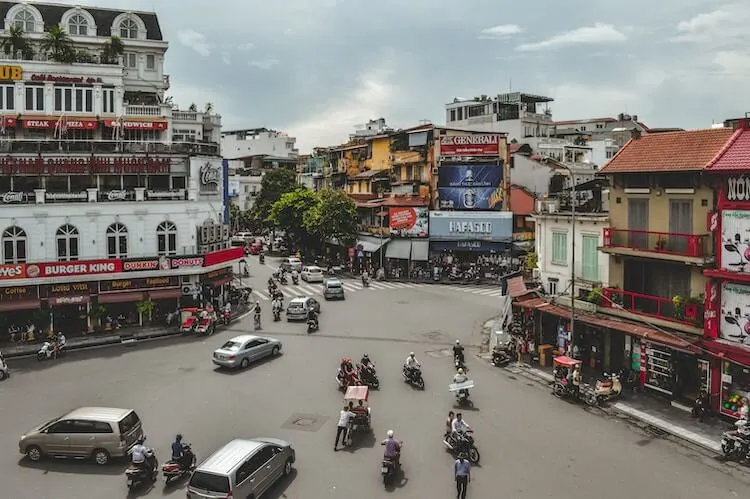 Getting There For Your 1 Day in Hanoi Plus Getting Around:
Getting to Hanoi is relatively easy. Taking a flight into the Noi Bai International Airport is the most common way to get there from anywhere in the world. As it is a larger city, many airlines fly into it including Asiana, ANA, Cathay Pacific, EVA, China Airlines, and more, including discount airlines like Air Asia and Vietjet.
For cheap flight prices, we love checking Skyscanner to get the best deals. We used it for our Vietjet flight to Siem Reap after our visit to Hanoi and got a steal on the price!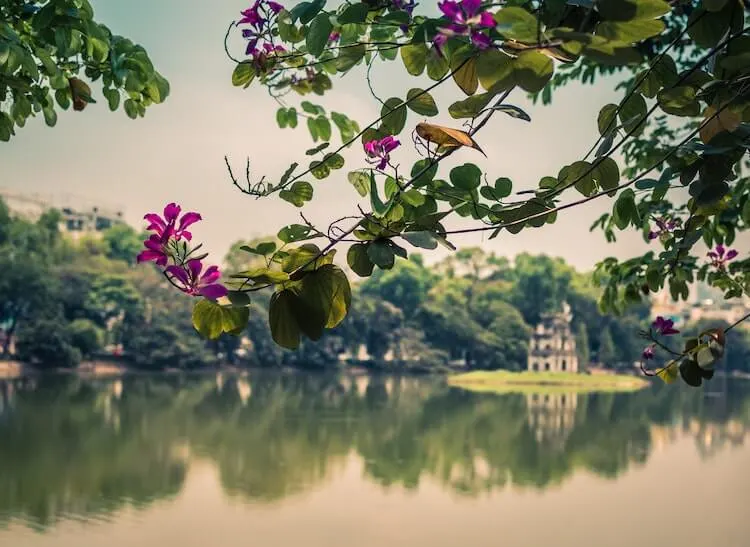 For those already in the country of Vietnam, there is also the option to take the train or even a bus to Hanoi. Be sure to book in advance! For train tickets and times, check the Vietnam Rail website, and for bus tickets and schedules check here!
As far as getting around, the Old Quarter is very walkable and you can always order a Grab motorbike (similar to Uber but with motorbikes) to get to further places around Hanoi. For transportation to/from the airport, I would arrange it prior to arrival. I love this $14 one way transfer with Get Your Guide as it is cheap and is perfect if you're arriving at night too. Note that it does stop at 11 pm.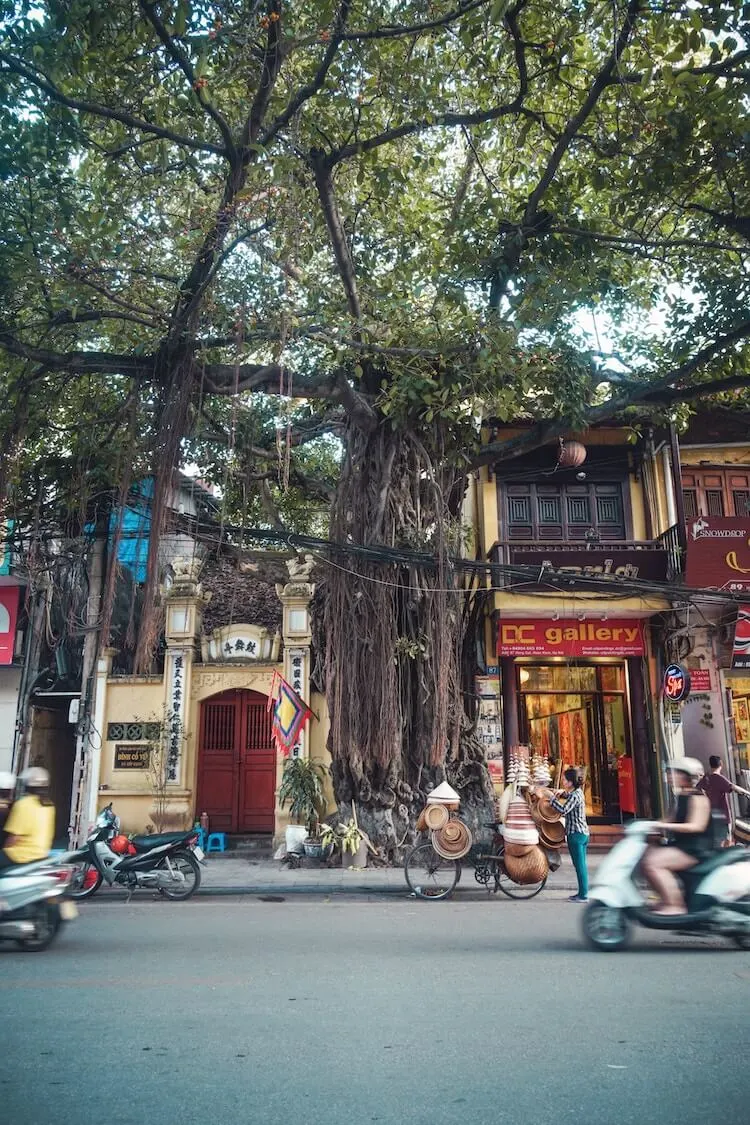 The Perfect 1 Day in Hanoi Itinerary:
There are endless amounts of things to see in Hanoi, as it is a place that Vietnam is famous for, but if you've only got one day in Hanoi, similar to us, you may want to stick to one area of the city. In this case, I highly recommend the Old Quarter.
You'll likely be staying there anyway, as it is where many of the hotels are located. Also, it is very walkable in that we didn't need to hail a scooter or taxi at all during our time here. So let's talk about the awesome things to do in just 1 day in Hanoi.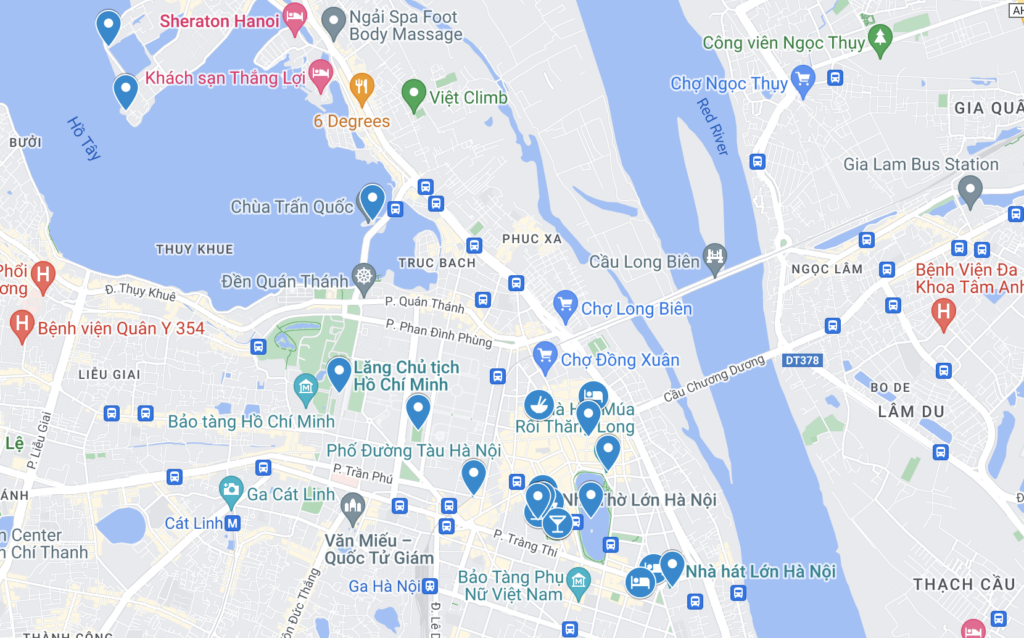 Hoan Kiem Lake Is the Perfect First Stop on Your 1 Day in Hanoi Itinerary
This may be our favorite part of the city. It is perfect for people watching! Whether it's tourists or locals, everyone tends to gather around the lake. It is so lovely to spend the morning or evening walking around this lively place, taking photos of the abandoned temple in the center, watching grandmothers chatting on a bench, or children frolicking around.
There is a temple you can actually visit on the lake as well called Ngoc Son Temple. You could easily spend an hour or two walking around the lake and taking in the sites.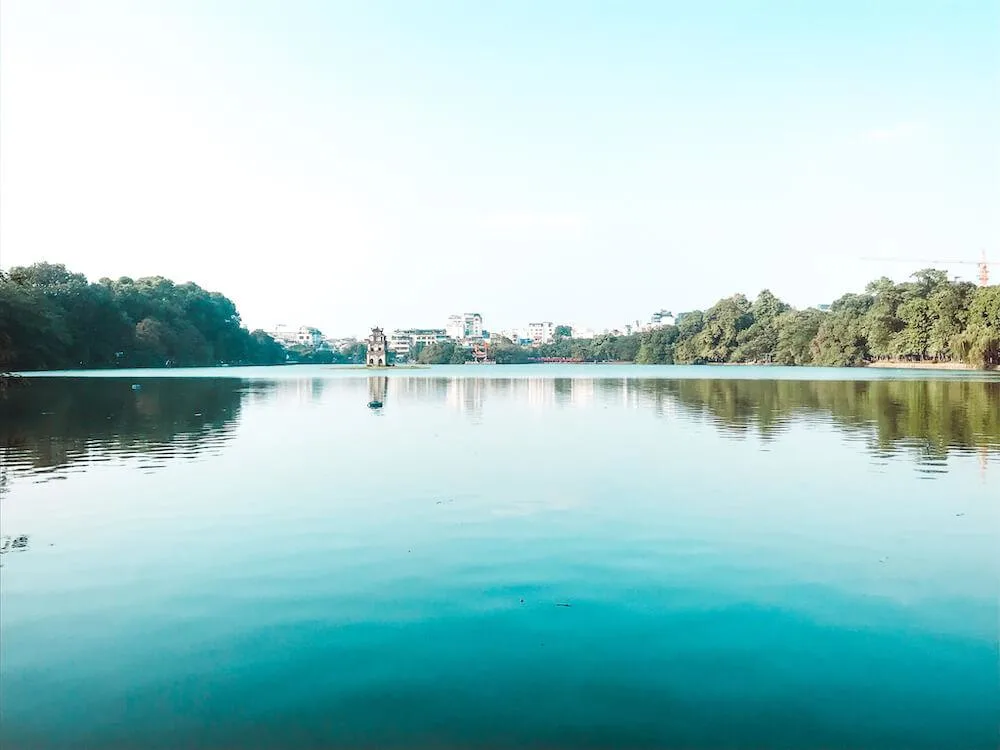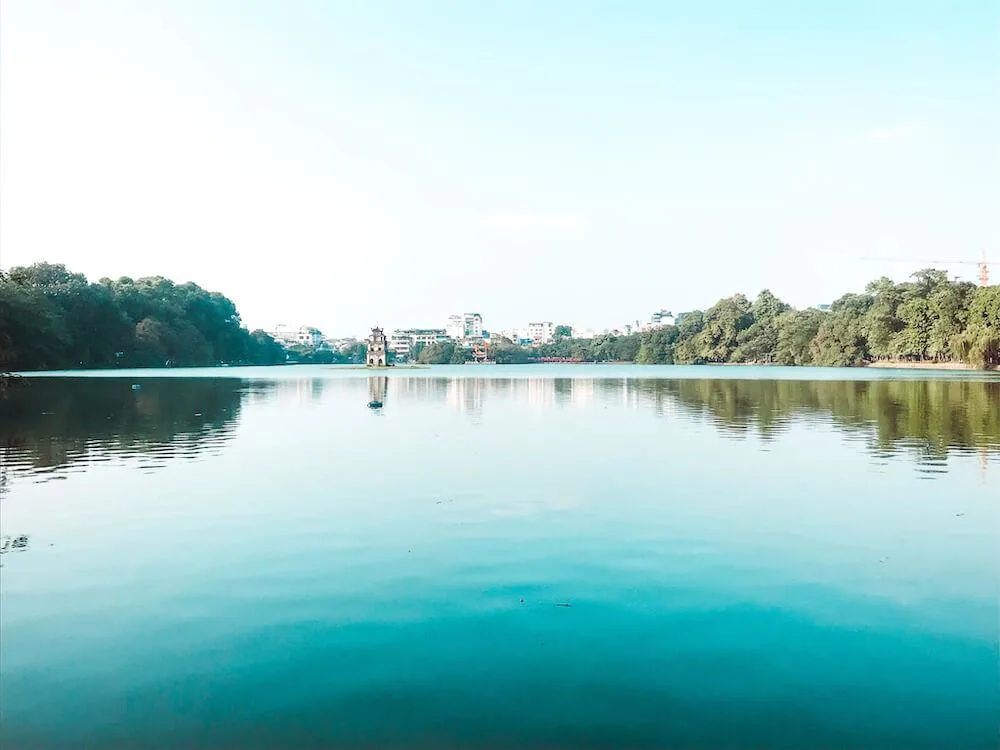 St. Joseph's Cathedral
Seeing a cathedral in the middle of Hanoi may seem strange, but there is a lot of French influence due to France having occupied Vietnam as part of French Indochina in the 1800s. So the French influence is highly present in the Old Quarter of Vietnam, from the architecture to the cathedral, to even the food (Bahn mi is served on a baguette, after all).
This cathedral is reminiscent of Notre Dame in Paris, albeit a much smaller version. Take a peek inside and wander along the pews of this older, lovely establishment.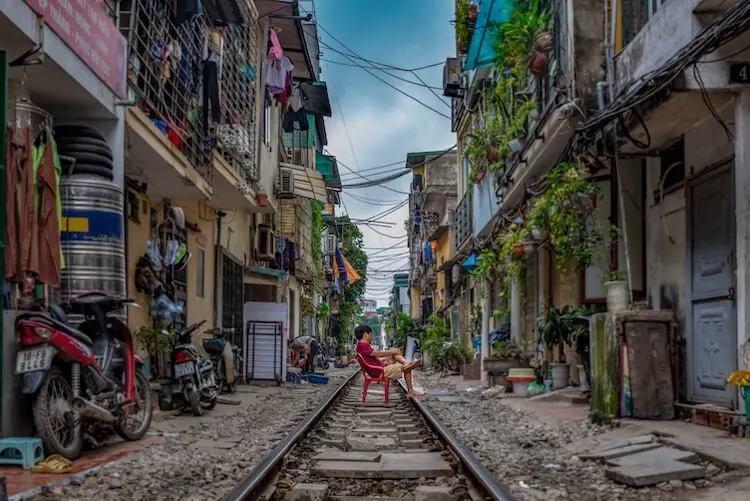 Watch the Train!
Guys, you may have heard of this one, thanks to Instagram, but there is a teeny street that a train squeezes through.
There are also tables, chairs, bikes, children playing, etc. hanging out there until the train passes when people frantically move everything as the train pushes through this narrow alley.
Seriously, it is such a neat experience to watch during your 1 day in Hanoi!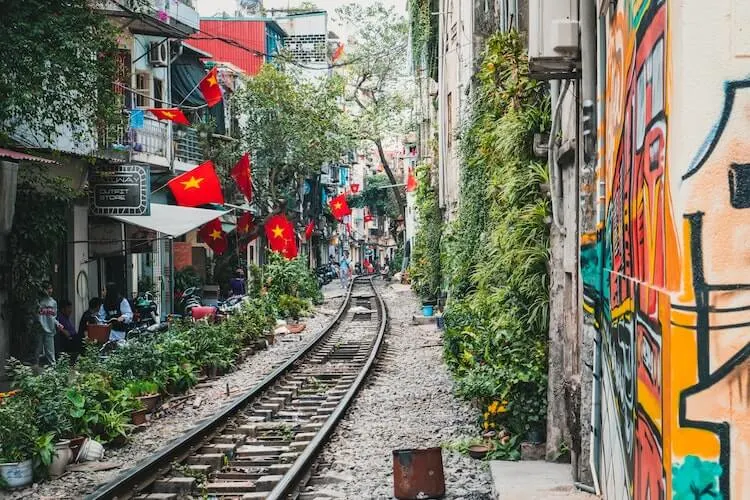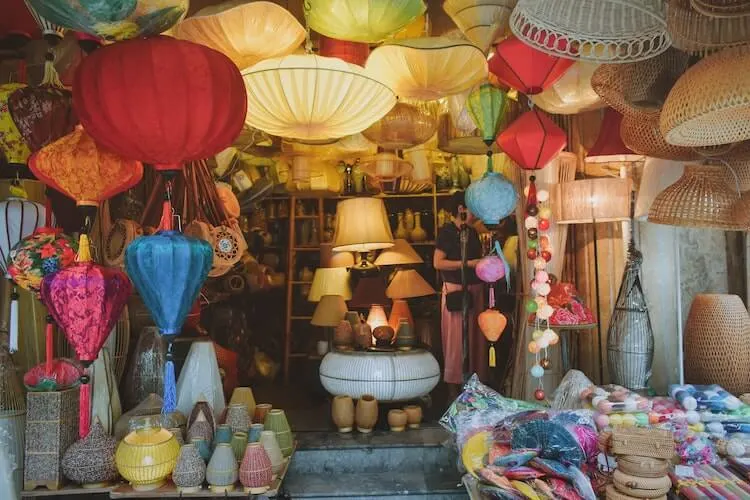 Go Shopping
Okay, not like going to a mall and shopping. We're talking about handcraft goods and all things imaginable! Several streets in Hanoi are actually designated for certain types of goods. For instance, we passed by a hardware street, a woodworking street, silver street, a street to purchase seafood, and so much more!
Walk around and see what you just may want to buy! Don't forget, haggling is a big thing here, so don't be shy to whittle down the price.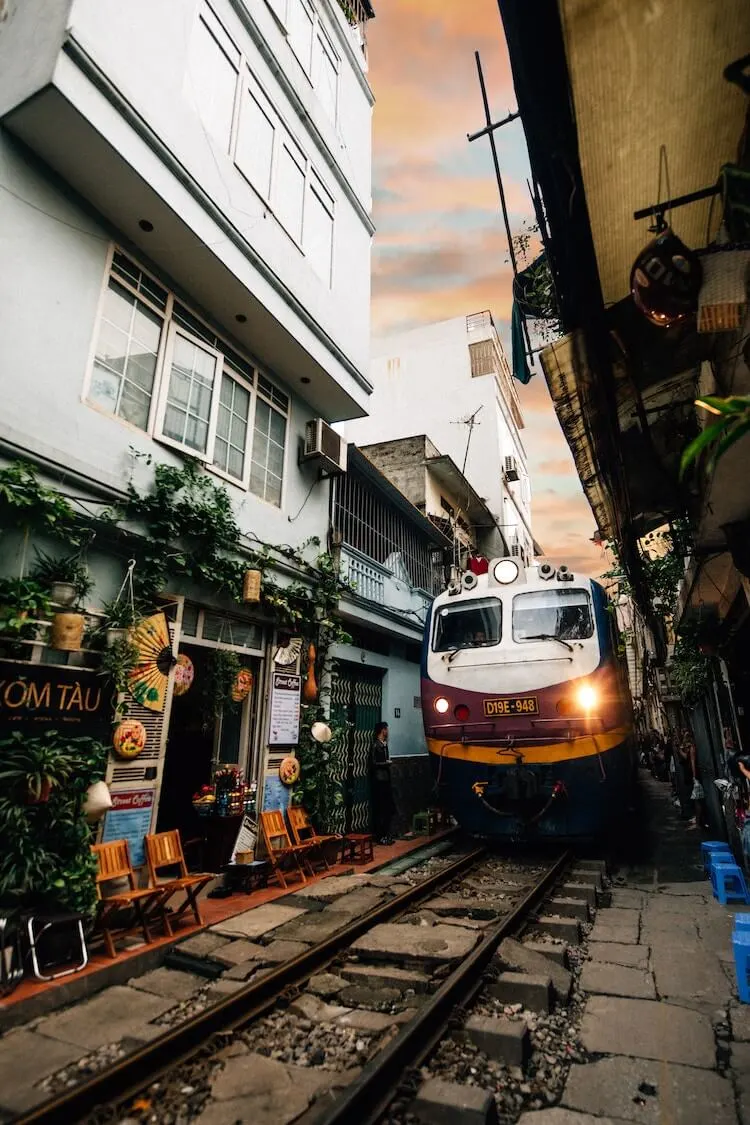 Grab a Craft Beer
Say what?! Look, most of Southeast Asia hasn't caught up to the craft beer movement yet, but Hanoi is on to this trend. Throughout the city, there are various craft breweries serving up IPAs, witbiers and more. We absolutely loved Pasteur Street Brewing Company.
It's down the street past the cathedral, and it is a great spot to sit on the balcony and people watch below. Originally founded in Ho Chi Minh City, the owners opened up a location in Hanoi and we're here for it. Grab a flight and sample all the delicious beers it has to offer. Our favorites included the Jasmine IPA and the Chocolate Imperial Stout.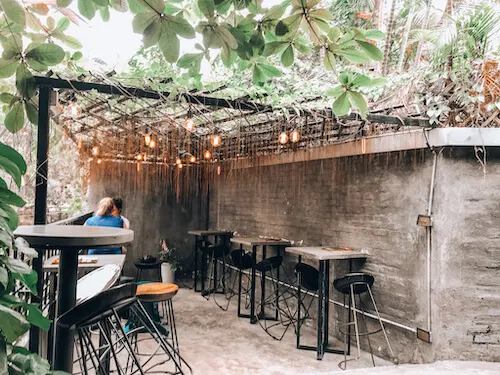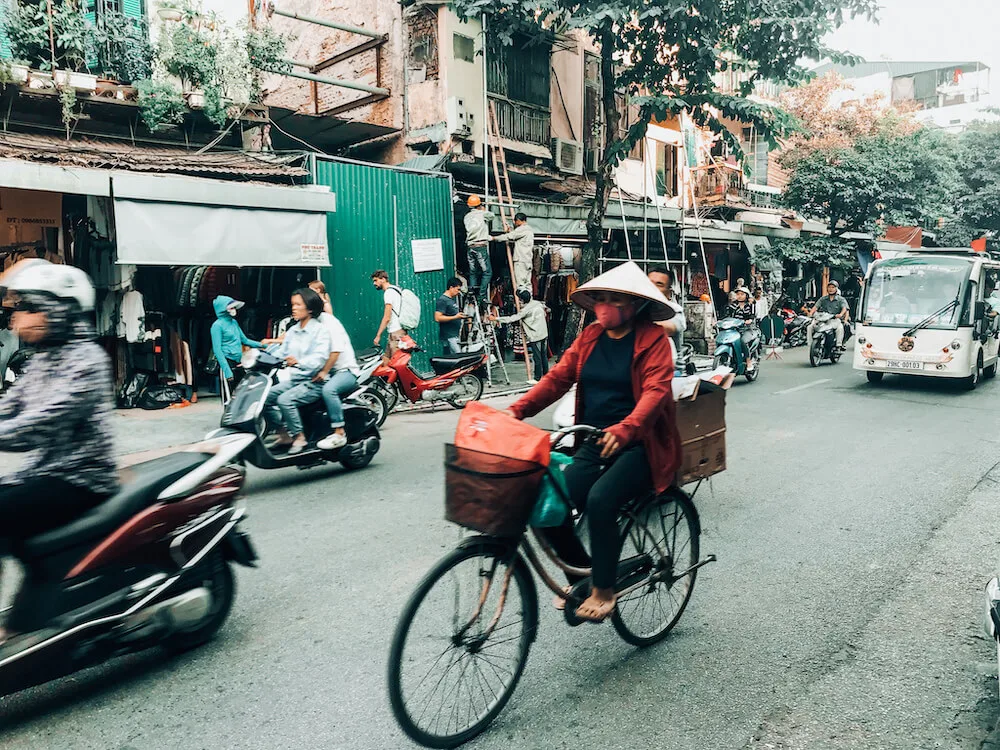 Cross the Street
Inevitably, you'll need to cross the street while experiencing Hanoi in a day. However, it is not like crossing the street as you've ever done before. My advice is to try to cross when there is the least amount of cars/motorbikes coming, keep a steady pace, look ahead, yield to cars and buses, and breathe. Confidence is key.
The people on the scooters are so used to this that as long as you're acting predictable, they'll weave around you no problem. It's a rush the first few times but it works!
If in a group or with your love, we loved shouting the mantra our food tour guide told us while crossing the street, "Sticky rice!" There is safety in numbers, folks.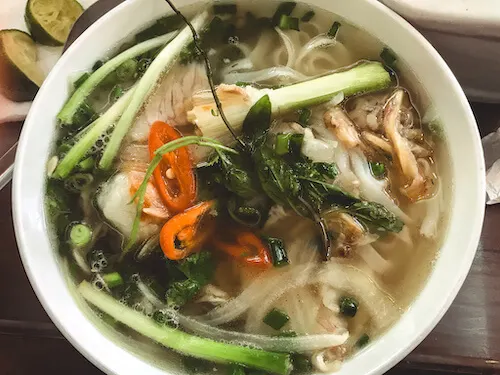 Eat Your Heart Out
When it comes to what to do in Hanoi, this is a MUST. Throw out the diet for a day and enjoy the delicious food that Hanoi has to offer. You could literally spend the whole day eating if you wanted to (and had the appetite/empty stomach for it). Eat inside cute restaurants where they make one dish and you don't even have to order.
Eat sitting on teeny plastic chairs on the sidewalk while motorbikes whiz by. And definitely go down a few alleys to find hidden gems, where of course you're going to be eating. I highly recommend taking a food tour here.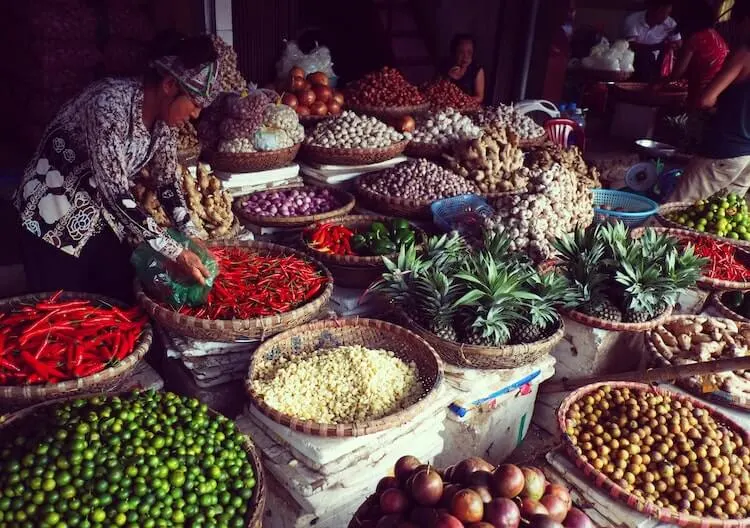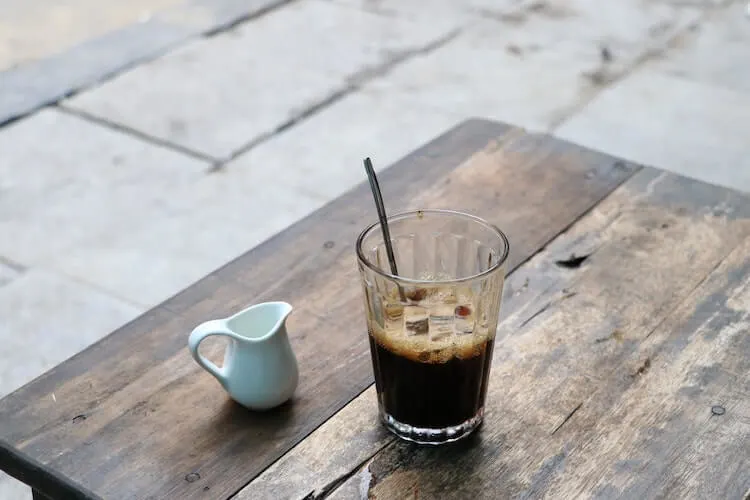 We decided on the Hanoi Street Food Tour based on its great reviews on TripAdvisor. You can book this Hanoi tour ahead of time. You can go to their site and fill out the booking form. The tour starts in the Old Quarter and you wander all around this area eating the best of Hanoi.
Some stops on the tour included one of my favorites, bun cha, or pork with rice noodles, pho, rice crepes made by a lady set up on the street, fried spring rolls, egg coffee, Bahn mi, and more! We absolutely loved the food tour and highly recommend it! If you go and have Gigi as your guide, tell her we said hi!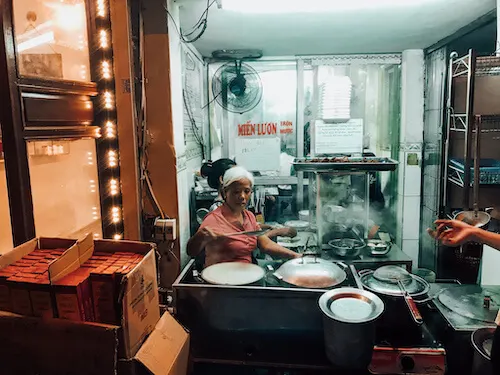 Other restaurants we loved include:
Pho 10: You could smell this place a street away! You walk in and there are few options other than chicken or beef pho. I usually hate pho at home, but this stuff was delicious and fresh! The broth was so good, as was the noodles and beef. Think of a melody of beef, ginger, lime, cilantro, chilies, and onion. That was this. We could've ordered more!
Bahn Mi 25: So at home, we typically eat vegan. And when we travel, we tend to be lax due to the fact that there aren't tons of options, and we want to try the local flavors. At this point, we were a little sick of eating meat and wanted a healthier option. Enter Bahn Mi 25. While it does have the typical Bahn mi's you'd expect, they have veggie options too that include a tofu Bahn mi that is so good!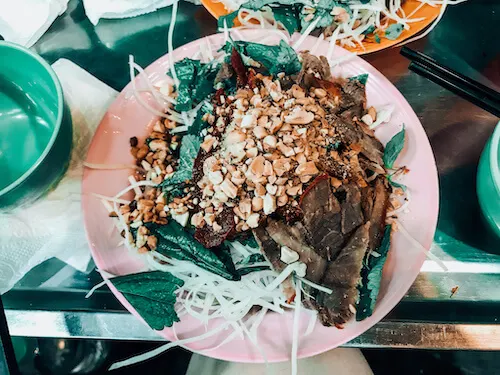 Noodles & Rolls: Another day for vegetarian food, we ended up at Noodles & Rolls, where we ordered two beers, spring rolls, veggie pho, and veggie bun for only $6! All of it was super tasty and we highly recommend.
Dream Beans Coffee: Okay, we know egg coffee is a thing in Hanoi, but the coffee at this place is fantastic! No egg coffee here, but you can get delicious coconut coffee (coconut ice cream with coffee poured on top-so good!), as well as the traditional coffees. All handcrafted and perfectly delicious, we sat and talked with the owner who LOVES coffee and you can tell. We came here twice during our short stay in Hanoi.
Chi Hotel Rooftop Bar: This is a great spot to see the skyline of Hanoi and grab a traditional Vietnamese coffee with condensed milk or a few drinks.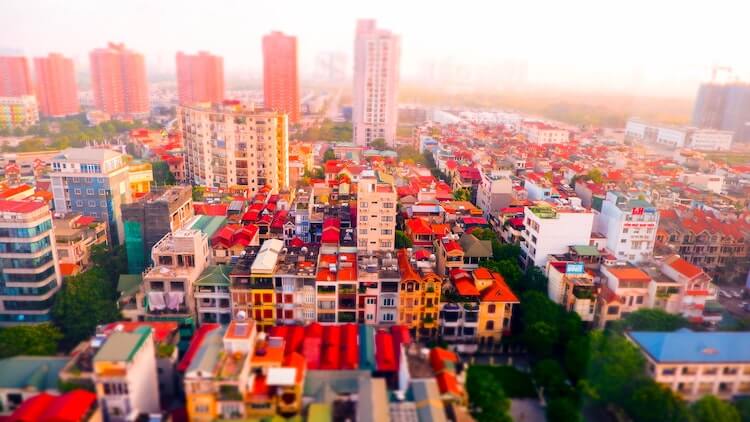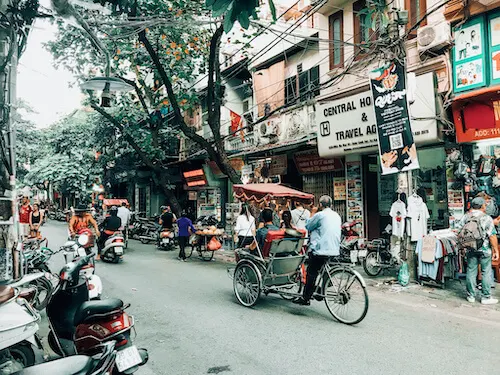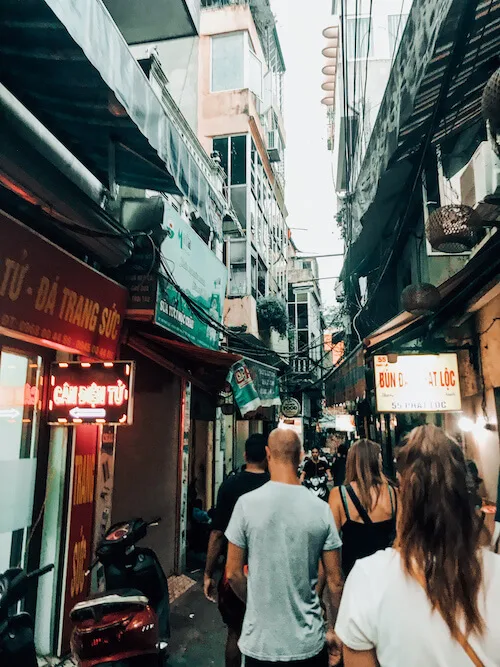 Hanoi Opera House
Hanoi has a gorgeous opera house where you could check it out or go see a show! Shows are typically in the evening, and they play classical music, opera, and various plays. It's a great way to see the theatre and culture of Hanoi in this beautiful establishment.
If You Have 2 Days in Hanoi
If you are lucky enough to have 2 days in Hanoi, I would suggest getting out of the Old Quarter and exploring more of the city! You could take a Grab motorbike taxi to the Ho Chi Minh Mausoleum that is the final resting place of President Ho Chi Minh.
Then, you could walk over to the Thang Long Imperial Citadel, which was the political center of the country for 13 centuries and the architecture is truly stunning!
After that, I recommend heading over to the Tay Ho (West Lake) District to admire the stunning lake, grab a beer at Turtle Lake Brewing Company, and visit the beautiful landmarks along the lake such as Tran Quoc Pagoda and Phu Tay Ho Temple.
And lastly, if you haven't seen a traditional water puppet show, head back to the Old Quarter and check out Thang Long Water Puppet Theatre (get a great skip-the-line ticket here) to watch the dazzling stories of fishing, farming, and love in Vietnam.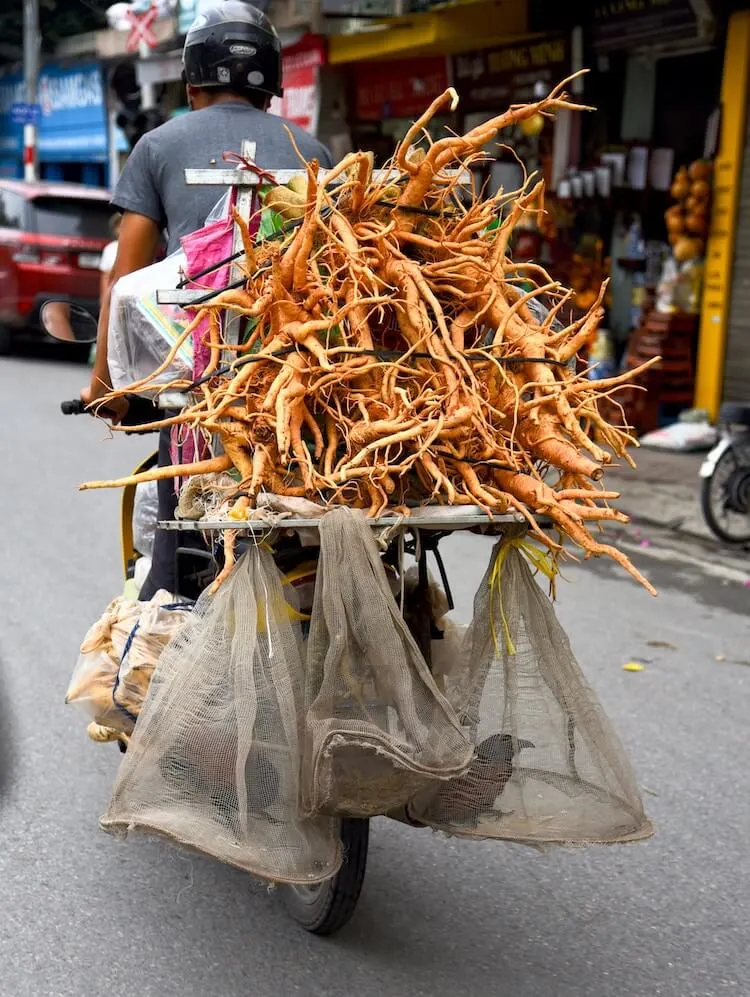 All You Need to Know Before Your One Day in Hanoi Itinerary
Check out these top tips and FAQs before your 1 day in Hanoi itinerary.
Do I Need a Visa to Visit Hanoi, Vietnam?
Short answer: probably. Long answer: it depends on the country you have your passport in. As a US citizen, you need to have your visa situation sorted out before arrival. For this, you have two options: Visa on Arrival or E-Visa.
Visa on Arrival: This allows you to get a visa upon arrival in Vietnam for up to 1-3 months with either single or multiple entries. You need to either have a tour company sort it out for you or you can apply online via the government site (I recommend this option).
You just fill out the application, pay the fee, then in a couple of days you'll get your letter. Print that and two passport photos and bring it with you to Vietnam with the stamping fee, and you should be good to go!
Pro-tip: Some travelers have said that they've been charged extra fees when they get to Vietnam if doing Visa on Arrival. If you're planning to do Visa on Arrival, I highly recommend going through the government site or just doing what we did below.
The other option, and what we did, is the E-Visa. This visa will allow you a single entry for up to 30 days. You apply online, and all you need to do is fill out the application, upload photos of the ID page of your passport, upload passport photos of yourself (we just took photos of ourselves against a white background and it worked), and pay the fee.
Within a week or so, you'll receive your paper visa in the mail by the embassy. It's super easy and a great way to get the visa without waiting in line at the Visa on Arrival line at the airport. This visa, however, only works at certain entry points (the Hanoi airport being one of them).
Be sure to check your country's government websites on travel requirements for Vietnam for more information as it could change at any time. Here is the US site.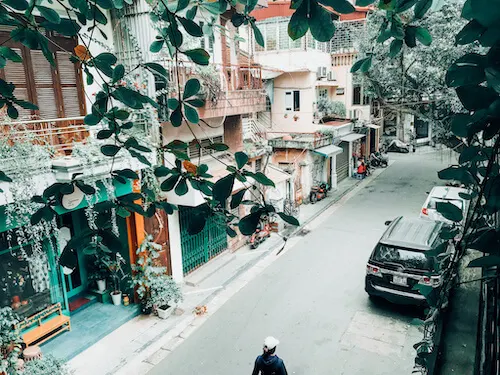 Where to Stay in Hanoi During Your 1 Day in Hanoi
Of all of the places we traveled in Southeast Asia, the place with the least expensive hotels was Hanoi. So if you're feeling bougie, this is the place to "splurge."
Luxury: Looking for the ultimate in luxury? Check out the Sofitel Legend Metropole Hanoi or Hotel de l'Opera Hanoi. These hotels start at $150-300 a night, and both are right in the heart of the charming Old Quarter of Hanoi. Hotel de l'Opera Hanoi comes with a delicious breakfast buffet, swimming pool, and fun bar as well as spacious and artfully designed rooms.
Sofitel Legend Metropole Hanoi has gorgeous French-inspired architecture, spacious and neatly designed rooms, a couple of restaurants, and a whiskey lounge.
Read Sofitel Legend Metropole Hanoi reviews and book on TripAdvisor!
Read Hotel de l'Opera Hanoi reviews and book on TripAdvisor!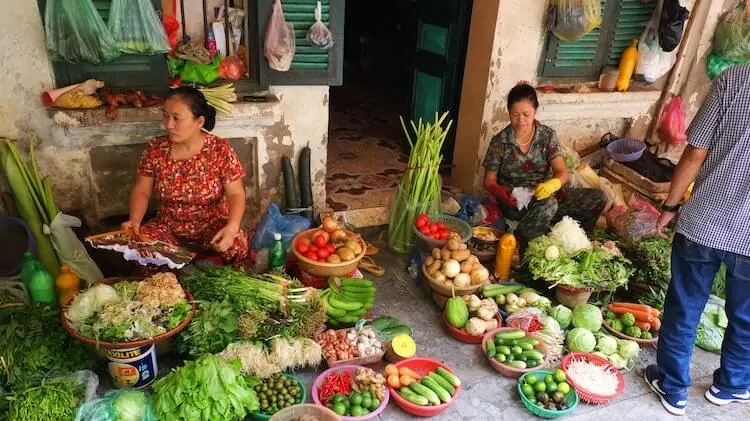 Mid-Range: For under $100 a night, you can get a gorgeous, spacious suite in the heart of the Old Quarter at the Chi Boutique Hotel. We stayed here in both the suite and superior rooms, both of which came with a delightful bathtub, shower, balcony, and huge bed. We slept well here, and the service was amazing! The breakfast buffet was also very tasty. I would definitely come and stay here again. Other notable items include the rooftop bar and lounge, and the restaurant downstairs.
Read reviews and book on TripAdvisor!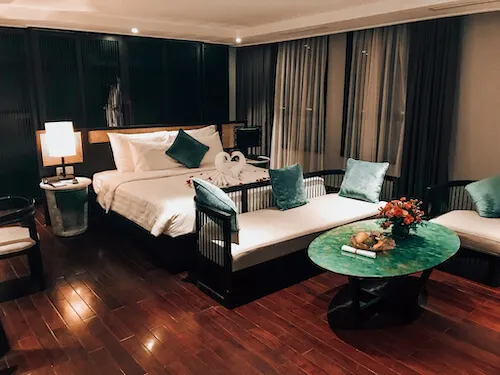 Budget: If you're on a budget, no worries here! I've paid more for some hostel dorm rooms in the past than a good 3-star hotel in Hanoi. For under $25 a night, you can stay at the lovely Hanoi Holiday Diamond Hotel with all the creature comforts and breakfast included! This is also located in the Old Quarter.
Read reviews and book on TripAdvisor!
What to Pack For Hanoi in a Day
To prepare for your Hanoi visit, you'll definitely want to pack clothes that are cool for hot days and comfortable walking shoes! I love my white sneakers and have brought them everywhere with me. Chris is a fan of his Oofos sandals with fantastic arch support.
I also wore jean shorts and a t-shirt while Chris wore a t-shirt and shorts as well.
To avoid those pesky mosquitos during warm months, we love Badger Balm. We've used it from Peru to Southeast Asia and it's all-natural, DEET-free, and it actually works!
And definitely pack a good sunscreen. We love this one that is environmentally friendly and perfect for hot days exploring the city.
If you visit in the cooler months, opt to wear jeans, a scarf, and a light jacket like this trench coat to stay dry and warm!
I also packed my anti-theft cross-body purse and Chris had his daylite sling. For photos, the Nikon Coolpix camera is great for beginners, and this Olympus camera (for those who want to up their game) is perfect for taking photos around the city!
And last but certainly not least, for charging your things, we LOVE this international travel adapter that has 4 USB slots plus a regular plug for charging multiple things at once (seriously, it has saved us a few arguments on who gets to charge their phone/camera/Kindle).
What is the Best Time to Visit Hanoi?
Like most of Southeast Asia, there is a dry season and a rainy season. The dry season in Hanoi is between February and April and October and November when the temperatures are cooler and there isn't much rainfall. This is also peak season so there will likely be other tourists flocking to the main sites as well.
Conversely, the summer, or May through September, is known for hot temperatures and heavy rains. However, you can get fantastic deals on hotels and there are much fewer tourists.
And the winter months of December and January can actually be rather chilly! You'll want to pack a jacket and jeans for exploring during the day and evenings.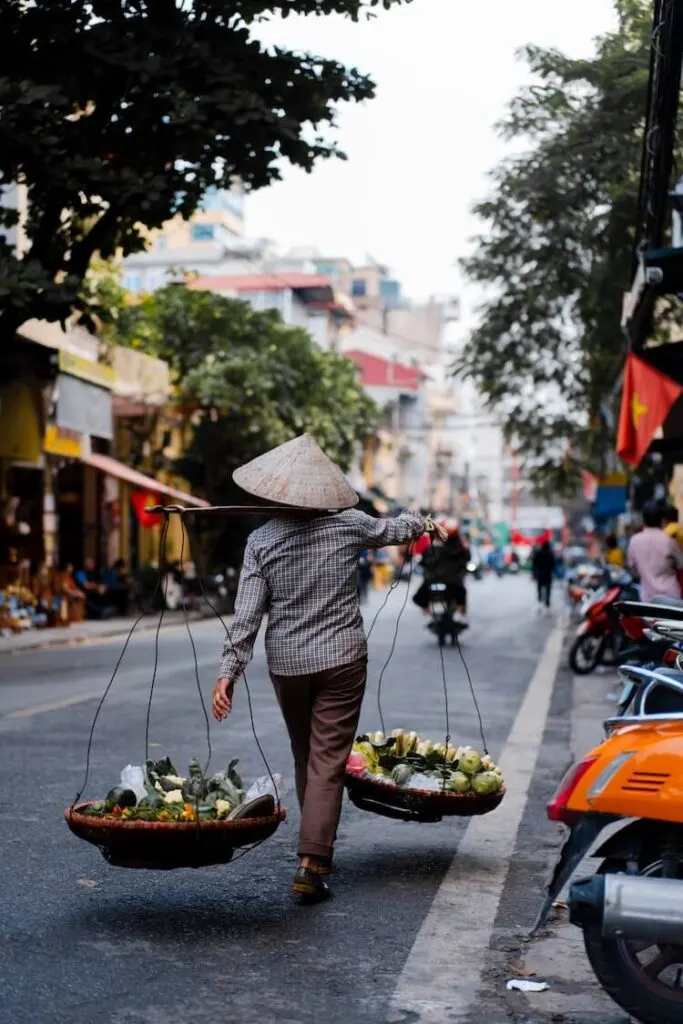 Other Tips Before Your 1 Day in Hanoi:
As far as safety, we felt perfectly fine walking around, even at night. Always keep an eye out, though, as you don't want to be hit by a motorbike. Definitely pay attention to where you're walking! Other than that, the people are friendly and kind. Take normal precautions as you would in any big city, and you should be totally fine!
Also, if you've never driven a motorbike before, now is not the time to learn. I recommend doing that in a smaller city like Chiang Mai, Thailand or in a beach town or island.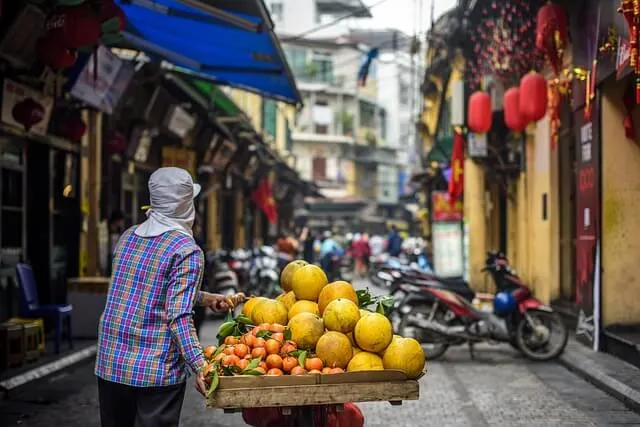 After all of this excitement, it's so hard to leave this amazing city. You could certainly spend several days exploring more parts of the city and, of course, eating to your heart's content. But if you only have one day to visit Hanoi, there is plenty that you could do to get a feel of this amazing and chaotic place. It definitely deserves some time on your itinerary!
What do you think? Would you visit Hanoi? What was your Hanoi itinerary like? Let me know your thoughts!
Read Next: Vietnam Honeymoon Guide
Pin it here!