Some posts on this site contain affiliate links, meaning if you book or buy something through one of these links, I may earn a small commission (at no additional cost to you!). Read the full disclosure policy here.
---
The perfect 4 days in Chiang Mai itinerary is a breath of fresh air after the chaos of Bangkok. Picture a cute city filled with adorable boutique stores, countless restaurants, fun pockets to explore, markets, outdoor bars, and more.
It's all set against a mountain backdrop, where Doi Suthep sits perched at the top, overlooking the town. It is a dreamy destination, not only as a city to visit but there are many day trips to enjoy outside of town as well.
While planning our 3-week Southeast Asia itinerary, I knew I had to include Chiang Mai not just as a quick stop, but as a significant part of our trip. We ended up spending 4 days in Chiang Mai and the surrounding countryside and fell in love. It is the perfect spot for your Thailand honeymoon or romantic getaway. So here is the ultimate Chiang Mai 4 day itinerary including the best things to do in Chiang Mai.
Check out our 4 Days in Chiang Mai Itinerary podcast episode!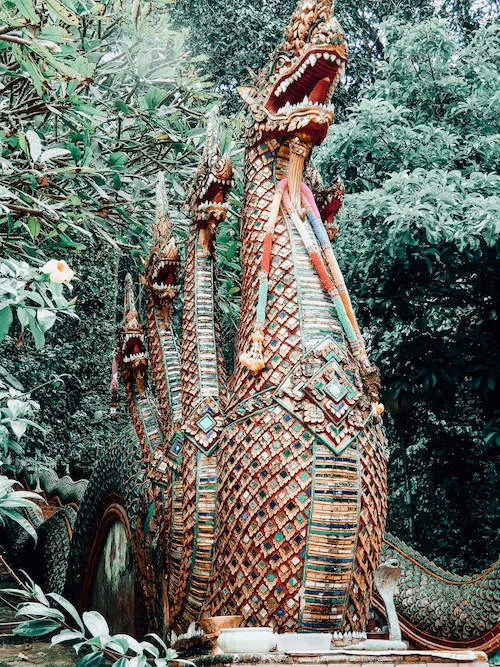 Chiang Mai, Thailand Things to Do in 4 Days
You could stay in Chiang Mai for weeks and not see everything. It is the 4th largest city in Thailand after all. But here are some of the top things to do in Chiang Mai, Thailand.
Explore the Old City During Your Chiang Mai Itinerary
This is just something you have to do. There are countless temples and monuments to see! Be sure to dress appropriately, but the temples are absolutely stunning and range in size. Go explore, take some gorgeous shots in front of the temples #doitforthegram, but also observe. Learn more about the temples and religion of Buddism in Chiang Mai.
Then, check out all of the cute coffee shops and eateries in the area. There is an outdoor area full of bars in the Old City that is perfect for partying too! After a long day of exploring, why not party it up?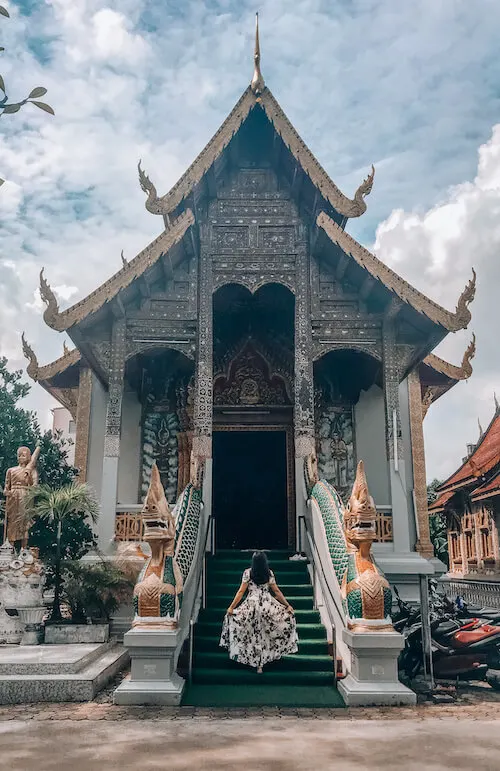 Chiang Mai Sunday Walking Street
If I have any regrets from our time in Chiang Mai, it was that we arrived on a Monday and left on a Saturday… so we missed the Sunday market completely. But this massive market is perfect for finding amazing street food, cute trinkets and souvenirs, and overall just great people-watching.
Chiang Mai Night Bazaar
We thoroughly enjoyed the Night Bazaar in Chiang Mai. There were countless food stands and plenty of places to grab a drink. So we certainly ate our fill and wandered around the stands in search of trinkets and more cheap eats. They also have an indoor part where you can sit, enjoy music, and hang out with new friends.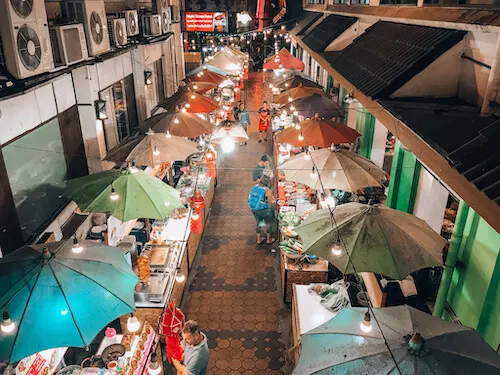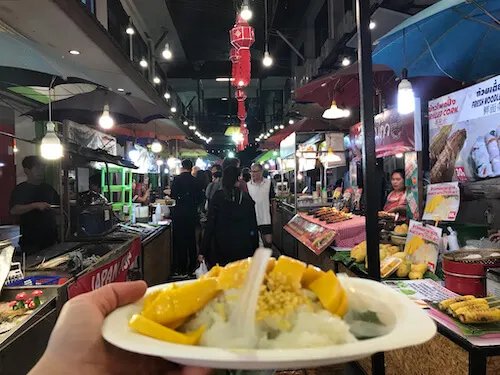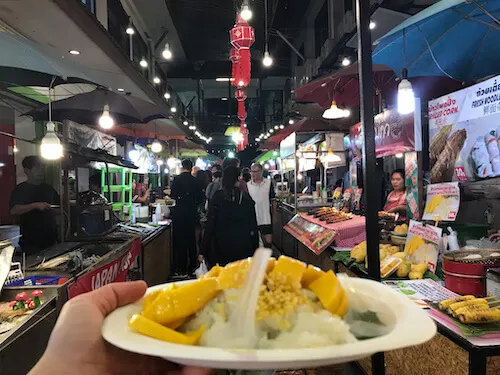 Visit Doi Suthep
Doi Suthep is easy enough to spot high in the mountains from Chiang Mai, but you need to go visit it. Take a songthaew and wind your way up to the top, and climb the steep but gorgeous mosaic-tile steps to this important and huge temple complex. Wander along the golden buddhas, stare at the sparkling gold reflecting in the sun, smell the intoxicating incense burning, and enjoy. It is a great little activity on a beautiful day. You also have fabulous views of the city below at the top!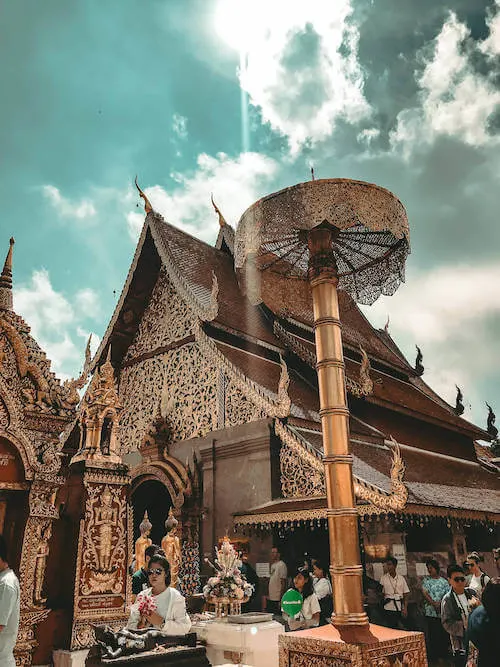 Go Shopping
Chiang Mai has plenty of shopping malls to fill your shopping heart's content, but there are also adorable boutique shops full of handcraft goods all over the town, especially in Nimman. So wander the streets and find some unique keepsakes to bring home.
Get a massage
Massages in Thailand are offered all over the place and are super cheap. So if it is raining, or a hot day or you've been walking… basically, there are plenty of reasons to just go on ahead and treat yourself to a massage.
Visit a Cat Café
Whether you get homesick and miss your cat while traveling (or is that just us?) or you just love cats, visiting a cat café like Cat Brothers Cafe and playing with kittens is a perfect way to spend an afternoon!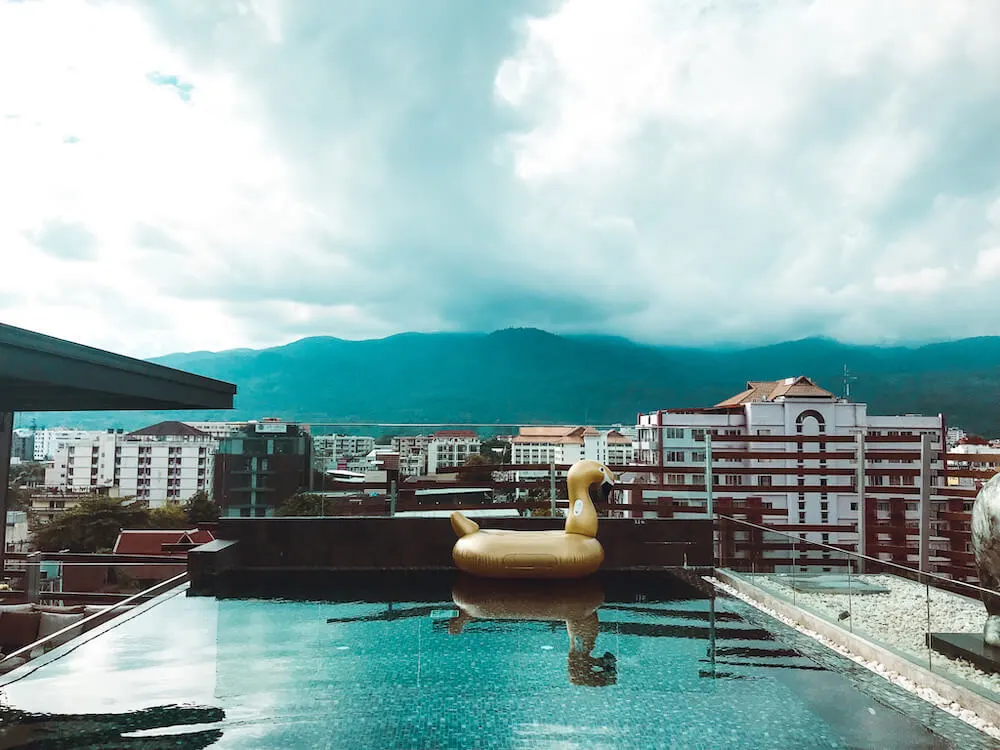 Lounge at the pool at your hotel
Some days, you just need to relax with a drink and a good book by the pool. If you're staying at a hotel with a pool, take some time to unwind- this is a vacation after all!
Rent a motorbike
If you're experienced or want to test out your scooter skills, rent a motorbike and explore the city or countryside with a motorbike!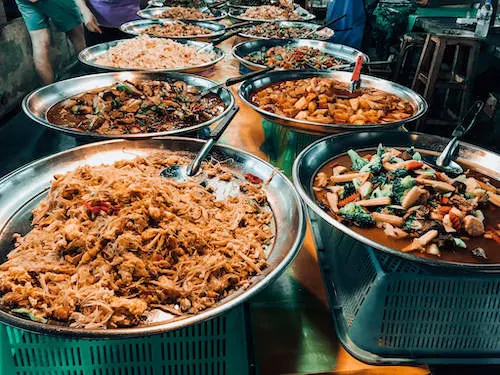 Best Day Trips from Chiang Mai
While I just listed out some great things to do in Chiang Mai, let's talk all about the amazing day trips you can take! If you've got an extra day or two, definitely check these out:
Elephant Nature Park is a Perfect Day Trip During Your Chiang Mai Itinerary
Hands down the best experience of our time in Chiang Mai was going to Elephant Nature Park. There are plenty of elephant sanctuaries, and plenty that claim to be "sanctuaries" but this is the real deal. This place has rescued several elephants and other animals from abuse and starvation and is taking care of them, allowing them to live out the rest of their days comfortably.
We chose the Care for Elephants package with Elephant Nature Park, and we were able to walk and just hang out and feed a gorgeous elephant for a day! As we had a smaller group, we even got an elephant to ourselves and we absolutely fell in love. Sai Thong is a gentle soul and we were so lucky to have spent the day with her.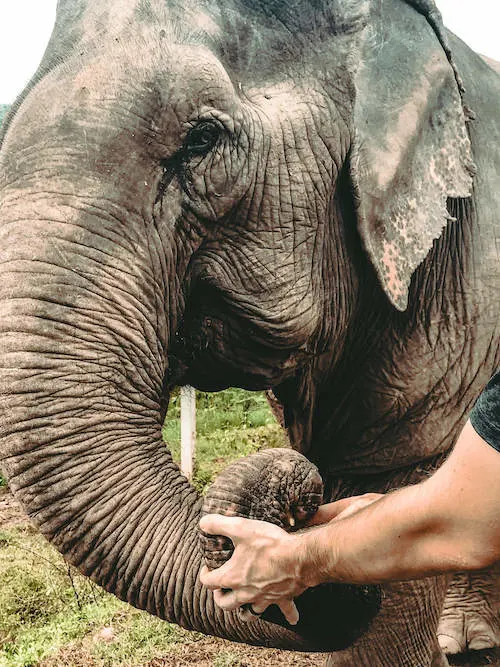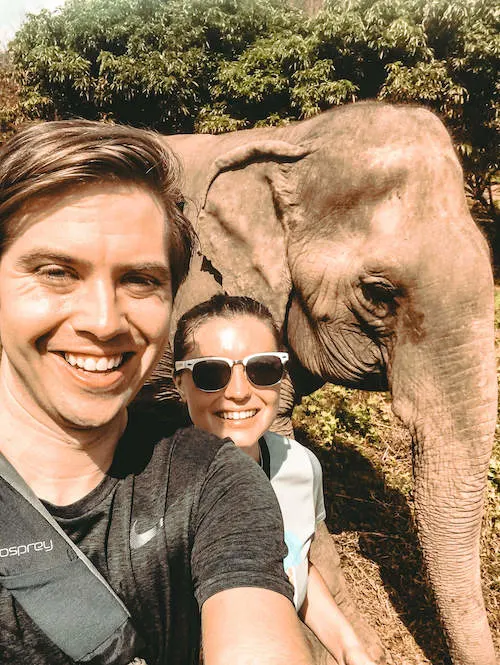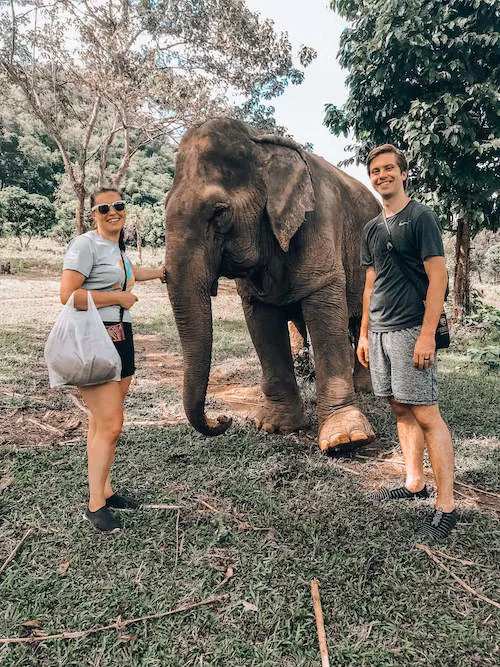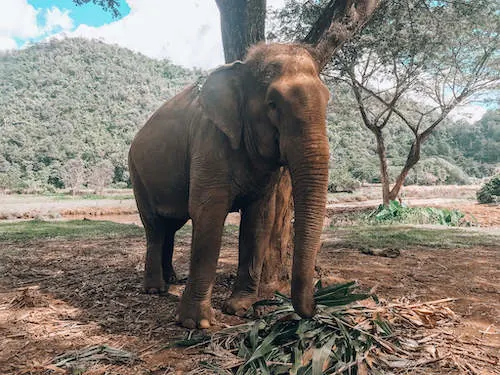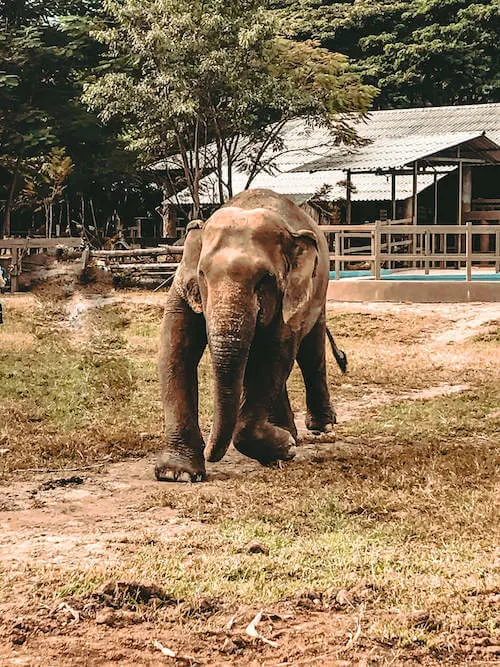 Thai Cooking Class
Some cooking classes can be done in the city, but I highly recommend the full day cooking class with Thai Farm Cooking School. Go to a local market to shop for ingredients before heading to their farm for the day to see where they grow most of their veggies and learn all about traditional Thai cooking. We made pad Thai, tom yum soup, various curries, and even dessert: bananas in coconut milk. It was such a fun day! However, if you'd prefer to do a shorter cooking class, this is a great option.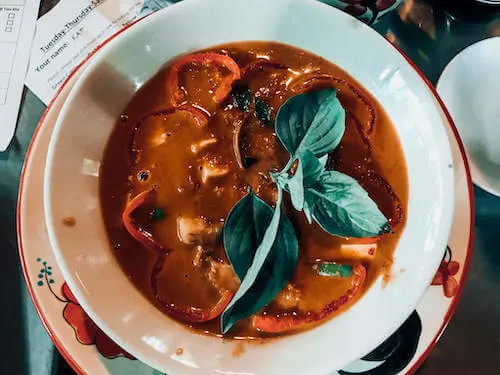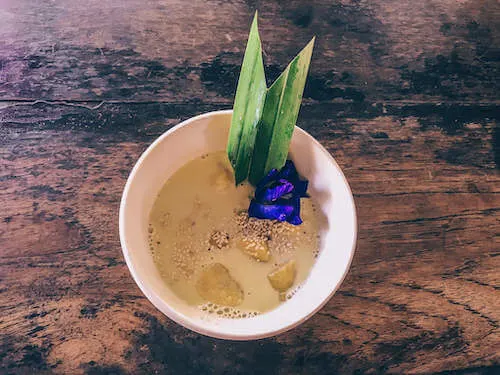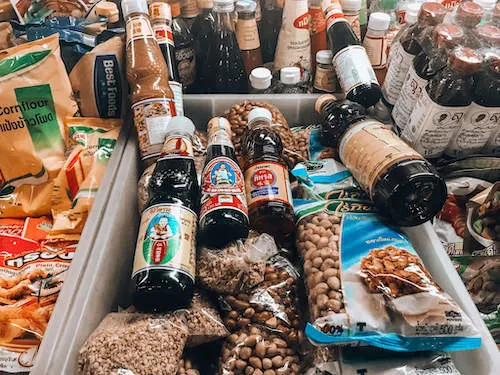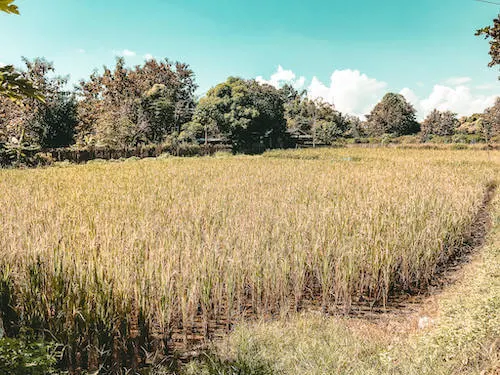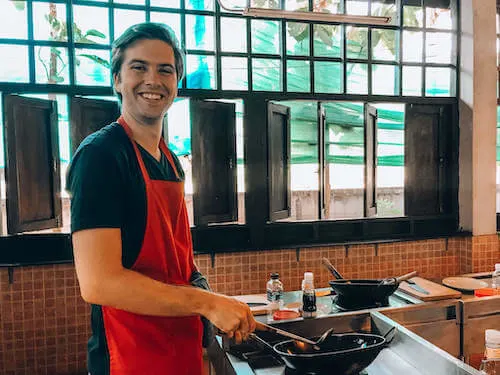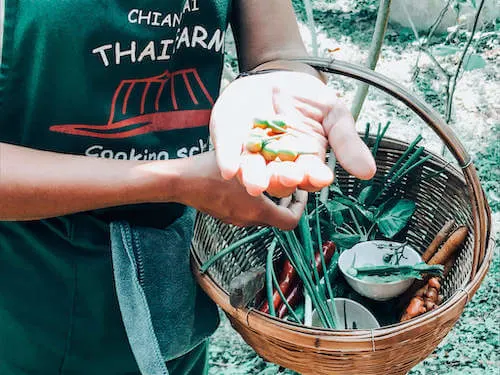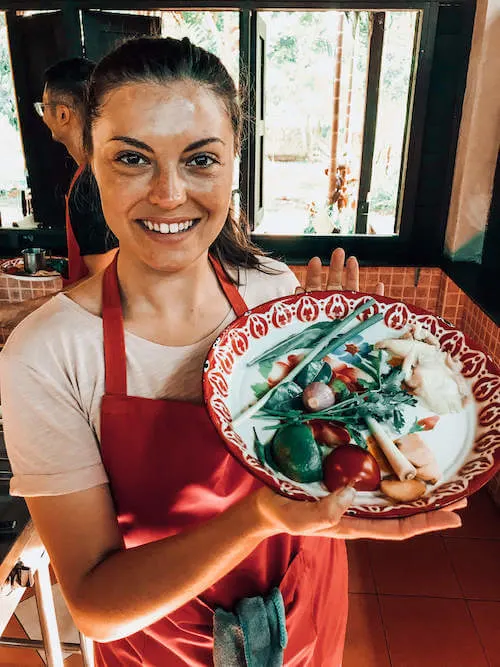 Visit Chiang Rai and the White Temple (Wat Rong Khun)
If you've got time, head 3 hours north to Chiang Rai, a gorgeous city most famous for the White Temple, or Wat Rong Khun. This all-white temple is more modern than its traditional counterparts, and also includes symbols from recent-day pop culture including Harry Potter, Pokémon, and more! This day trip takes you through to the temple as well as a boat trip on the Mekong River!
Sticky Waterfalls (Bua Thong Waterfalls)
There are waterfalls great for watching, and then there are waterfalls that you can actually climb up! These waterfalls are made of limestone and the minerals in the water are not slick, meaning you can hike up them safely.
Explore Doi Inthanon National Park
Explore a National Park for the day. Go on several hikes, find waterfalls, or go with a guide to find the best spots! Here is the perfect day trip to the park!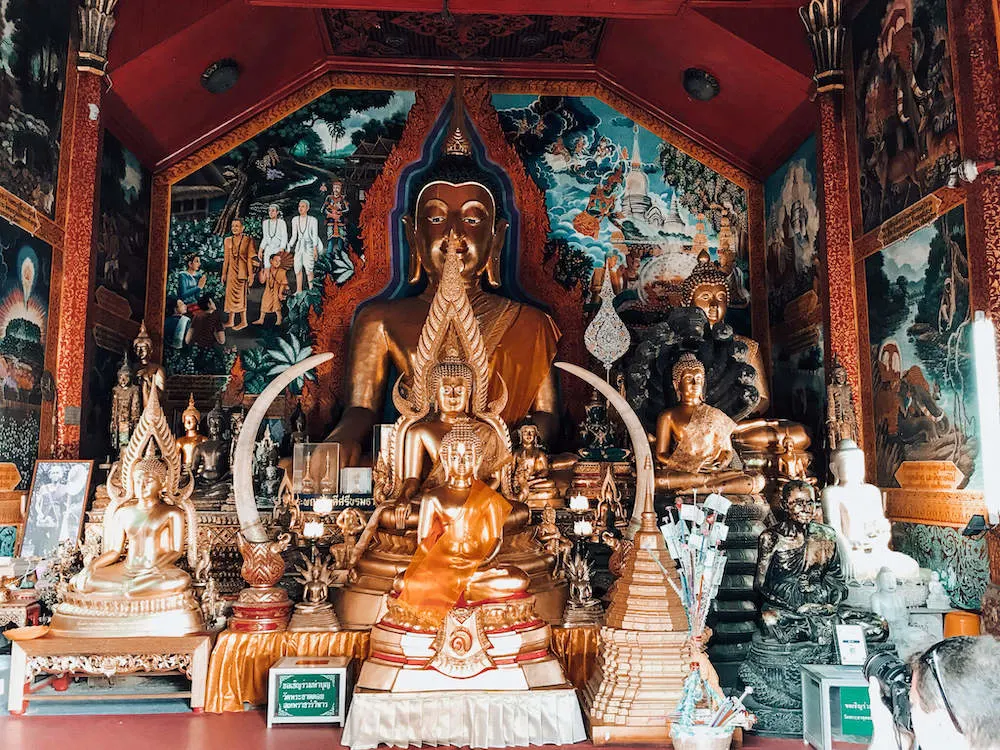 Located only about 25 minutes or so from the Old City, this lake contains several bamboo huts surrounding it and gorgeous views of the mountains. If you're looking to walk around the lake, go hiking, jogging, etc., this is a great spot to do it.
Chiang Mai Grand Canyon
Part waterpark, part giant canyon with a lake inside, this is a fun way to cool off on a sunny day. Explore the canyon, lie out, or explore and frolic in the water!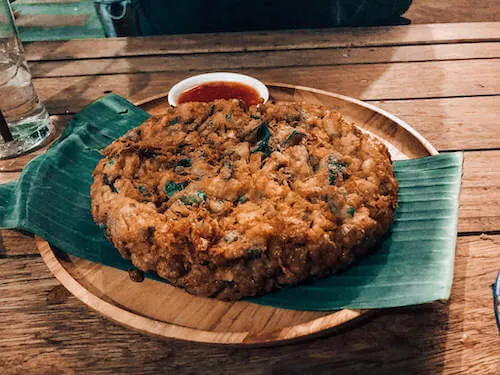 Where to Eat in Chiang Mai
The food in Chiang Mai may be my favorite food in all of Thailand. And, to be honest, it is mostly because of khao soi. Yummy, delicious curry and egg noodles topped with crispy egg noodles and chicken or beef on top. It is the perfect comfort food and it is everywhere in Chiang Mai. But let's talk about the best khao soi places, and other great spots to eat in Chiang Mai.
Khao Soi Loong Prakid Gard Gorm
If you've seen the hit Netflix show, Somebody Feed Phil, you may recognize this place. Located south of the Old City, this "hole in the wall" spot comes complete with an elderly man cooking buckets of khao soi, rickety tables, and chairs, and one poor chicken that we weren't quite sure was dinner or just a pet. Either way, I now know to trust whatever Phil Rosenthal says is a great place to eat.
Hands down this was the best khao soi in all of Chiang Mai. We should know, as we probably ate it at least once a day in various places across town. We savored every single bite of this and it was SO cheap. We're talking like $1.50 per large bowl of this stuff! Definitely check this place out.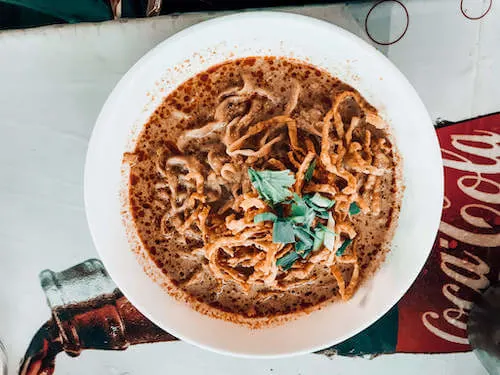 Khao Soi Mae Sai
Another "hole in the wall" type place (I swear these are the best places to get amazing street food) was Khao Soi Mae Sai. Located near Nimman, we wandered here our first day and had a delicious lunch with the creamy khao soi and washed it down with a sweet and cool Thai iced tea.
I highly recommend this spot as well and it was a close second to Khao Soi Loong Prakid Gard Gorm.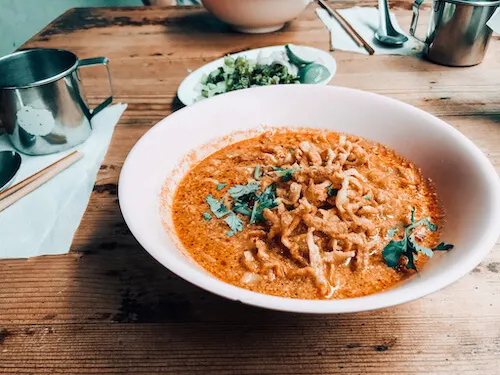 Kao Soy Nimman
Also located in the Nimman area, this place was clearly built for expats or tourists. It looked much nicer than the other places, was super busy, and much more expensive than the two above. However, their khao soi was pretty good, and they have a huge variety of khao sois. They had softshell crab, tofu, etc. so if you're looking to try various kinds of khao soi, I recommend this.
Rajdarbar Indian Restaurant
There may be a time when you get sick of Thai food or khao soi… okay, you'll never get sick of khao soi, but change is good, right? If so, head to Rajdarbar Indian Restaurant for some tasty Indian food.
Where to Drink in Chiang Mai
I'll be honest, we didn't drink or party much while here because we had some early days and we just enjoyed drinking at our hotel some nights or just drinking around the Night Bazaar. But we managed to find a few places and at least a couple of coffee shops that you will enjoy!
1. Zoe in Yellow Bar & Night Club/Cocktail Bar
This giant bar complex is fantastic to go to in the Old City of Chiang Mai. There is so much happening here, but it's a great place to party it up. We enjoyed several cocktails in the area and hung out with new friends while watching the sunset over Chiang Mai. So whether you want to dance or just chill out, this is a great place.
Aside from this complex, there are other bars and restaurants surrounding it, so just going to this area is great for dinner and drinks!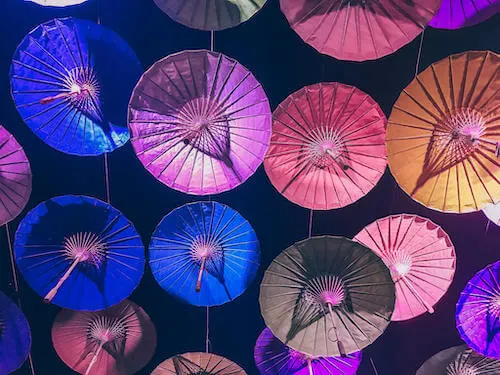 2. Akyra Manor Chiang Mai Rooftop Pool
I'm not going to lie, we spent a lot of time just relaxing after a hot day and sipping amazing cocktails by the pool. I tried my first ever Aperol Spritz and it is safe to say that I am an addict. If you're staying here, definitely check out the rooftop pool and bar.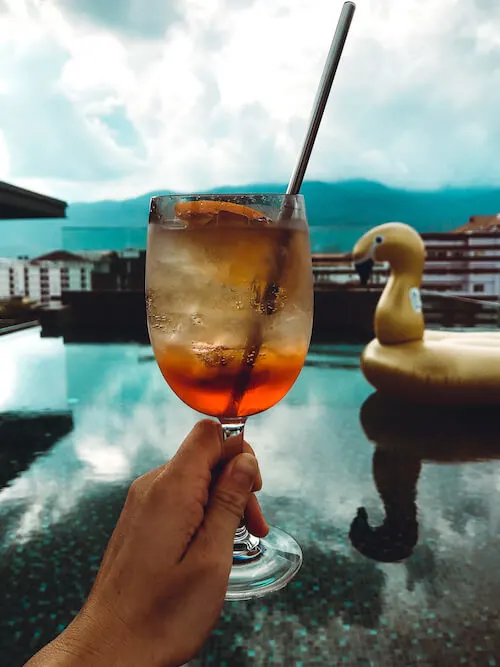 3. Ristr8to Coffee Chiang Mai
We loved this coffee shop in the Nimman area of Chiang Mai. I thoroughly enjoyed my flat white and Chris got a regular black coffee, which we loved. This is definitely a great spot for a true and delicious cup of coffee.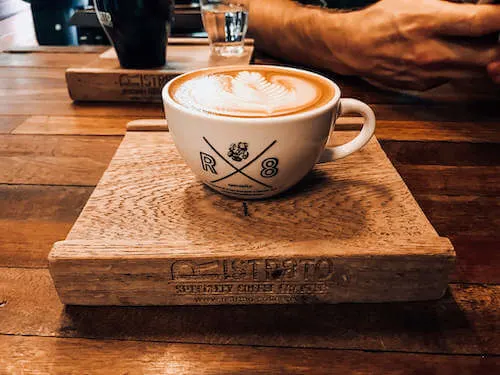 4. Nine One Coffee
Also in the Nimman area (hint: there are a TON of digital nomads living here with the need of wifi and caffeine), Nine One Coffee is delightful. Get their latte or black coffee and sit outside, enjoying the plants and lovely quiet street in Chiang Mai.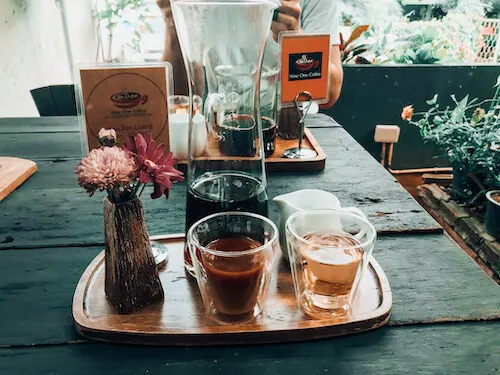 4 Days in Chiang Mai Itinerary
Okay, so now what is the perfect 4 day itinerary for Chiang Mai? Check it out here:
Day 1 of Your Chiang Mai Itinerary:
Having arrived the evening before and checked in, it's time to explore
Check out a great coffee shop (like Nine 1 Coffee) before walking to the Old City
Check out the amazing temples, wander the streets, and see the city walls
Grab a late lunch at Khao Soi Mae Sai before heading back to your hotel
Relax at the pool and have a few cocktails
Head to the Night Bazaar, explore a brewery, and eat your weight in mango sticky rice and khao soi
Day 2:
Wake up early for your trip to Elephant Nature Park, breakfast at the hotel
Elephant Nature Park is an all-day affair, where you are picked up around 8 am and arrive back around 5 pm
Grab dinner at Kao Soy Nimman for their softshell crab khao soi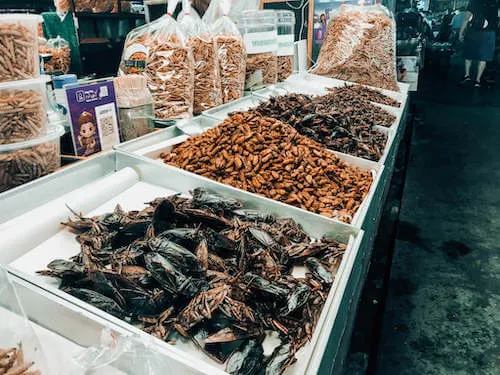 Day 3:
Another early day, grab breakfast at the hotel
Get picked up around 8 am to go to your cooking class
Check out the market and farm and learn how to cook amazing Thai food
Arrive home around 4 pm, check out the Nimman area bars and restaurants
Day 4 of Your Chiang Mai Itinerary:
Sleep in- you've earned it!
Grab coffee over at Ristr8to Coffee Chiang Mai
Hail a Songthaew and head up to see Doi Suthep
Explore Doi Suthep and the shops around it, picking up a souvenir or two
Grab lunch at Khao Soi Loong Prakid Gard Gorm and fall harder and harder for khao soi
Spend some time relaxing by the pool
Head over to the Old City and check out Zoe's in Yellow Bar & Nightclub and Cocktail Bar to dance, hang out, and meet new friends
Have dinner at the Rajdarbar Indian Restaurant
Either head to bed for an early flight the next day or continue partying in that area- there's a lot to do there!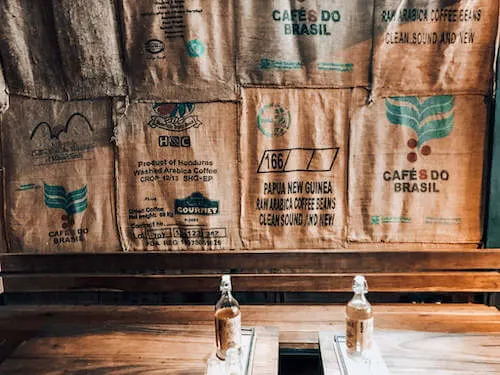 If you've got more time during your Chiang Mai itinerary: I highly recommend some of the other day trips above if you have more than 4 days in Chiang Mai. This was our itinerary and what we did while in Chiang Mai, but if you're staying for a week or more, I highly recommend checking out the White Temple, the Sticky Waterfalls, or even the Grand Canyon.
When to Visit During Your 4 Days in Chiang Mai Itinerary
Chiang Mai, like most of Thailand, has a dryer, cooler season, and a warmer, wetter season. The dry season is between November and April and the rainy season is between May and October. December is one of the best times of year to visit Thailand. However, in the dry season, expect to pay a little more for hotels. Rainy season doesn't always mean rain every single day, but if you're willing to chance it, you can find some great deals and fewer crowds.
However, sometime during February through April, it is also known as the burning season when farmers burn their brush and the air quality isn't great. So avoiding this time of year is best. Instead, opt for November through January and after April.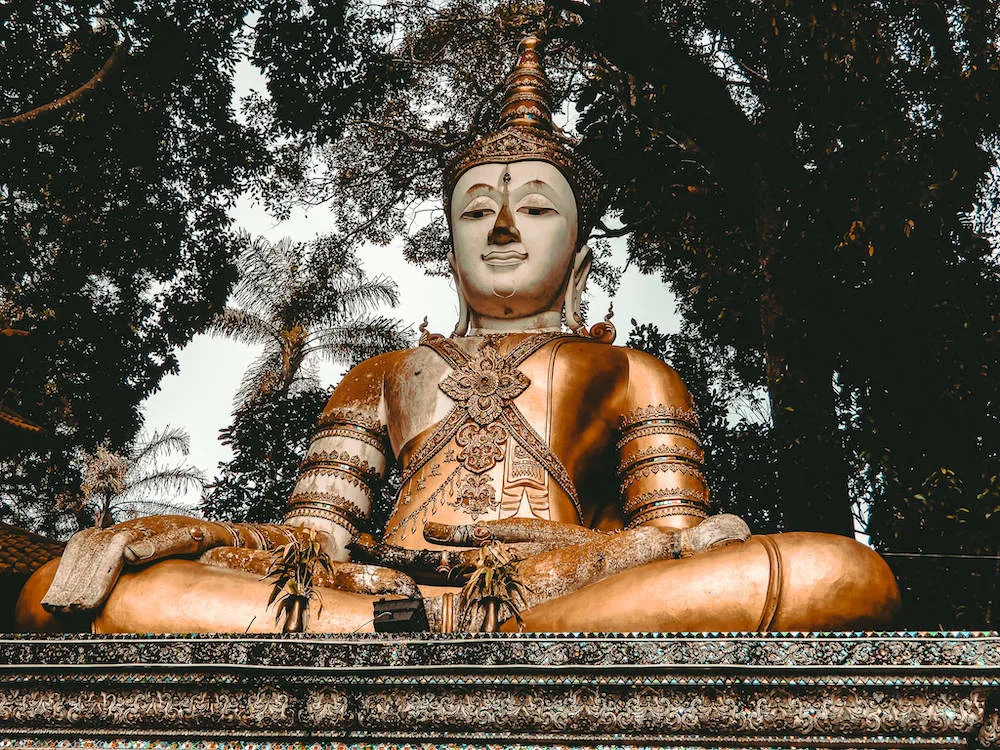 Getting To Chiang Mai
Thankfully, Chiang Mai is pretty easy to get to. Here are the best ways to get to Chiang Mai.
Flying | Chiang Mai, Thailand Flights

:
Chiang Mai has an airport so flying is probably your best option. Flights from Bangkok to Chiang Mai run several times a day via several airlines including Air Asia, Nok Air, Vietjet, Thai Smile, Thai Airways, etc. The cost is usually very inexpensive too, costing as little as $25 or less for a one-way flight. And the flight is only 90 minutes so it is perfect if you're short on time. Check Skyscanner for deals!
Train:
There is a train that you could take from Bangkok as well from the Hua Lamphong train station. They typically offer both an overnight and a day train. The train times vary, and the train time is right around 13 hours long.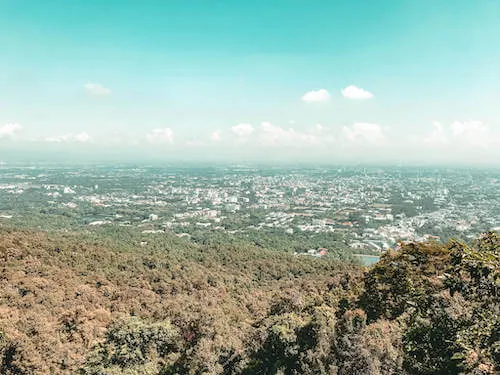 Bus:
If you've got a lot of time and are short on cash, taking a bus is a great way to save money and do as the locals do. You could catch the bus near Khao San Road in Bangkok, or you can book in advance on 12GoAsia or at a travel agency in Bangkok for a ticket. Buses depart several times a day, and it is a 10-12 hour ride. Costs start at $17 per person.
How to Get Around During Your Chiang Mai Itinerary
Chiang Mai, like any big city, includes a variety of ways to get around. Here are the main ways:
Grab

: Similar to Uber as a ride-sharing program, but also includes motor scooters too! It's a great option for finding a quick ride somewhere. It's an app, so download it and you're good to go!
Tuk-tuk: Probably our favorite method and super cheap, you can flag down these rickshaw-looking motorbikes and hop on board! It is only a few dollars to get from one side of town to the other.
Songthaew: These red trucks can be found everywhere around Chiang Mai. It is basically a red truck with no tailgate and just two benches on each side and a railing to hang on to. It's probably not the safest way to drive up a mountain in, but it sure is cheap. It costs about $1 for a quick stop around the city or around $15 to get a round trip up to see Doi Suthep. It definitely is a way to meet locals as some sit and wait until they've got a few extra people who want to go to the same spot and then it leaves.

Uber

or Traditional Taxi: Of course, these are options too if you want to get around Chiang Mai.
Rent a car, bike, or motorbike: There are plenty of places where you can opt to rent a car, bicycle, or motorbike and drive/ride around the city and countryside.
Motorcycle taxi: Flag down a scooter taxi and hop on board! It's probably best for shorter distances, but fun nonetheless.
Walk: Of course, there is the option of walking around! The city is pretty walkable, and you can get to places pretty easily on foot.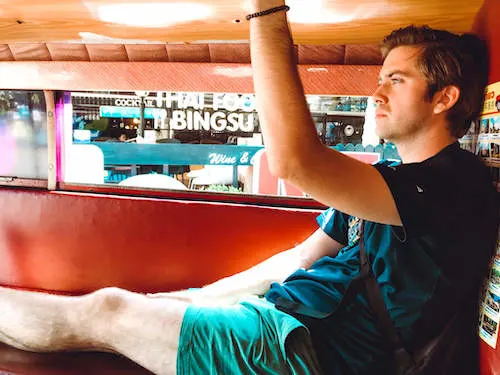 Chiang Mai Hotels | Where to Stay in Chiang Mai, Thailand
Chiang Mai has so many hotels, ranging from super budget to very luxurious. It is also a very affordable place if you are looking to splurge. There are two main areas you'll want to stay in during your short time in Chiang Mai: Nimman or the Old City.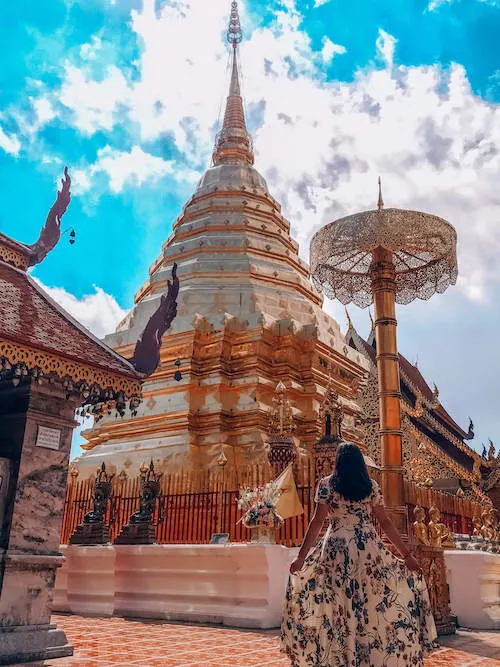 Nimman Hotels
The Nimman neighborhood in Chiang Mai is full of amazing places to eat, lively bars, co-working spaces, and cafés. In short, this is a popular destination for expats and digital nomads to live, but with that comes a lot of neat hangouts and bars/restaurants to see. It is also within walking distance of the Old City and markets.
Budget: Varada Place
Varada Place is right next to the Nimman area and has all the basics you need like air conditioning, wifi, fridge, and microwave. The hotel is cute, and it is in a super walkable area.
Read reviews and book on Booking.com | TripAdvisor
Mid-Range: BED Nimman
This lovely little hotel has everything you need, including great views of the mountains and the city. It is in the Nimman area, so you're close to everything too. It also has a pool to cool off in after a long day exploring temples in the Old City.
Read reviews and book on Booking.com | TripAdvisor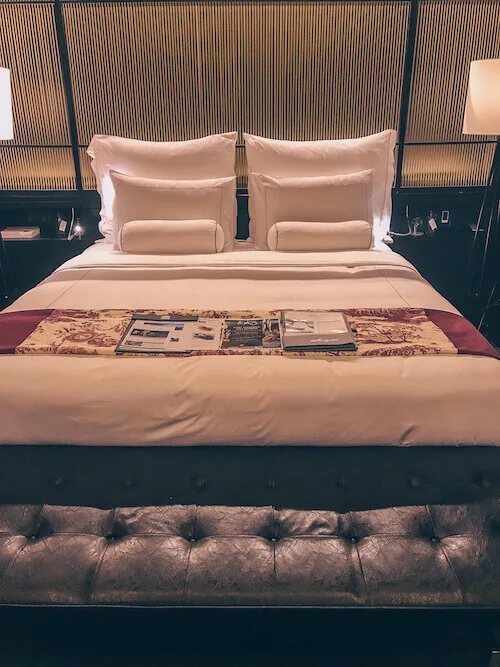 Luxury: Akyra Manor Chiang Mai
We stayed here during our time in Chiang Mai and loved it! Hands-down this is where to stay in Chiang Mai. It has a stunning rooftop pool overlooking the city and mountains ahead. They also have luxurious rooms complete with a large, soaking tub as your balcony. They also have "make your own cocktails", pillow sprays, a full minibar, and a pillow menu. Akyra Manor also includes breakfast at their famous Italics restaurant. And let me tell you, it was quite a spread each morning! We never felt more luxurious, and it was surprisingly affordable!
Read reviews and book on Booking.com | TripAdvisor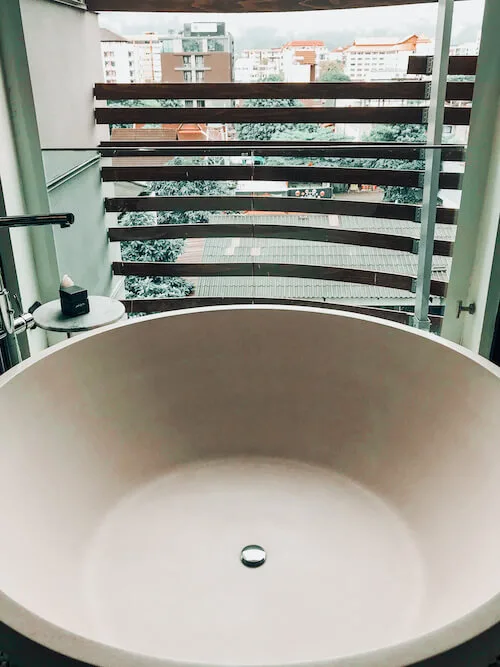 Chiang Mai Old City Hotels
The Old City is the heart of Chiang Mai and where most of the action is. This walled-in part of town is home to several monuments and temples, perfect for a day of site seeing. It is also where you can find the Sunday Walking Street Market and it is close to the Chiang Mai Night Bazaar, AKA the Night Market. So if you want to be conveniently located to some amazing parts of Chiang Mai, this is where you want to be.
Budget: Banh Mi Guesthouse and Restaurant
I'm not sure why this place is named after a popular Vietnamese sandwich, but it certainly is a solid place to stay in the Old City. Located on a quiet street on the east side of the Old City, this place offers a bar and lounge, free breakfast, wifi, and air conditioning. The rooms have all of the creature comforts you'd expect back home, and the price is great!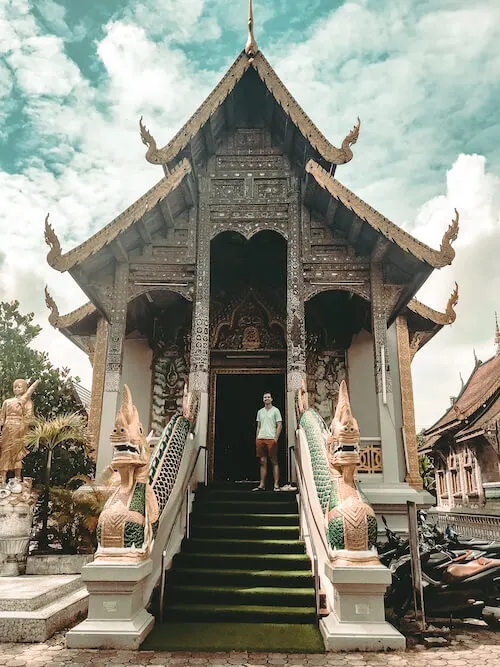 Read reviews and book on TripAdvisor
Mid-Range: Gord Nuea Boutique House
This adorable boutique hotel is decorated in the traditional Lanna style, with stunning architecture and lovely rooms. They also offer free breakfast, air conditioning, and a minibar. It is also located at a prime spot and super close to temples for exploring!
Read reviews and book on Booking.com | TripAdvisor
Luxury: Rachamankha
Just a minute-stroll from Wat Phra Singh and the Chiang Mai Sunday Walking Street Market, this luxury hotel has it all. Complete with a spa to relax in after a long day of walking around the city, room service, a pool, bar/lounge, and all of the basics like air conditioning, wifi, etc. The artfully designed hotel, modeled after the Lanna architecture and includes a romantic garden, isn't just a hotel, it's an oasis within the city.
Read reviews and book on TripAdvisor
A Budget for 4 Days in Chiang Mai, Thailand
Luckily, Chiang Mai is such an incredibly affordable place. However, if you're looking for luxury, while the food may be cheap, the accommodation can add up. Here is a good budget to aim for in Chiang Mai, Thailand if staying for 4 days/4 nights.
Transportation to/from Chiang Mai: $34-100 per person round-trip from Bangkok
Hotel: $20-200 per night
Activities: $10-30 per person per day (little higher if doing day trips outside the city or tours)
Food and Alcohol: $15 per person per day
Cost per day: $70-290 for two people. So if you're planning to take a lot of day trips and stay in fancier hotels, aim for the $290 range. If you're fine with staying cheaply, eating cheaply, and not taking many days trips our tours, $70 for two people a day is more than enough.
Total Cost: $348-$1,090 for two people. This is a HUGE range, but if you're more mid-range in activities like us, I'd say that $900 is perfectly reasonable for a 4 day/4 night getaway to Chiang Mai.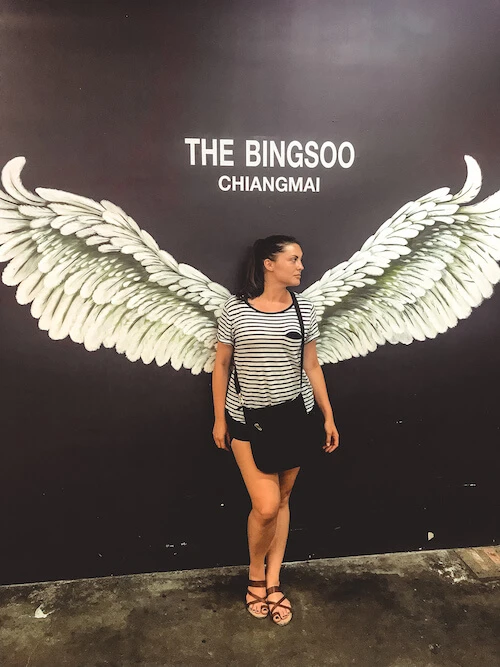 What to Wear in Chiang Mai
When it comes to spending 4 days in Chiang Mai, be prepared for the heat! Dress cool and comfortable, but definitely be respectful and cover up your shoulders and knees while at the temples. Here is what to wear and pack for Chiang Mai.
Women's Packing Guide to Chiang Mai:
Men's Packing Guide to Chiang Mai:
Essentials for Chiang Mai:
Sunscreen! It is so important to have sunscreen to prevent sunburns, even if you're not on the beach. The sun is strong!
Bug repellant. We swear by Badger Balm's all-natural DEET-free repellant that works like a charm to keep off those mosquitos!
Water shoes if you choose to go to Elephant Nature Park and get in the river with them.
LifeStraw water bottle. The water is not safe to drink from the tap in Thailand, so to prevent sickness and reduce plastic waste, get a filtered water bottle.
Electrolyte tablets. Y'all, Southeast Asia is HOT. Which means you'll be sweating…a lot. To prevent dehydration, I highly recommend electrolyte tablets. (We love Nuun tablets for hot days when we're hiking and running).
Body Glide. I swear by this stuff, especially on days I do long runs in the heat. And this is a TMI, but I chafed under my bra because of all the sweating and this would've come in clutch had I not forgotten to pack it. Don't make my mistake and proactively bring it to prevent chafing.
Don't forget outlet adapters! We love this one that includes several outlets so you can charge your phone, camera, etc. at the same time!
Camera. It is great for capturing the memories!
Chiang Mai is one of the best cities I've ever visited. There is so much to do and the city is absolutely stunning. Even if you only have 4 days in Chiang Mai, as we did, that is plenty of time to get out, see the sites, and even do a day trip or two! From great food to amazing history, I would come back to Chiang Mai again and again and chances are you'll love it too.
Do you love Chiang Mai? What would you love to do during your Chiang Mai itinerary? Let us know in the comments!
Love this post or want to save for later? Pin it here!