Some posts on this site contain affiliate links, meaning if you book or buy something through one of these links, I may earn a small commission (at no additional cost to you!). Read the full disclosure policy here.
---
Searching for the best Halong Bay itinerary in 3 days? You've come to the right place!
Oh, Halong Bay. Maybe you already know of it, maybe you've seen photos of it, or maybe you're planning to go to Vietnam and have no idea where to go. Go here. Be mesmerized. Admire the beauty that is the deep blue waters butting up against these tall, limestone mountains that jut out of the sea.
Take a kayak or swim to get up close and personal with these mountains. Stare in awe at the splendor that is Mother Earth, and be free from the cares of home.
Some of the best days of our trip to Southeast Asia included a cruise to Halong Bay, and more specifically, the northern part, called Bai Tu Long Bay. It was so peaceful and romantic, which is why we want to show you the perfect Halong Bay itinerary.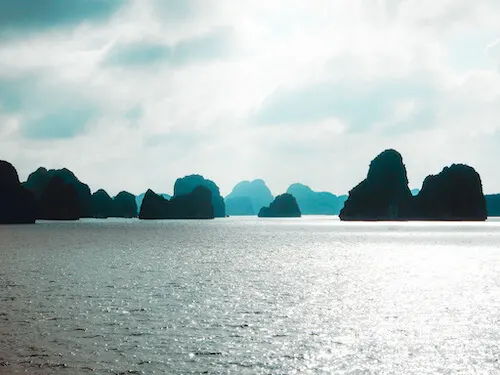 Bai Tu Long Bay or Halong Bay?
We researched and read so much about Halong Bay before going. Ever since I saw photos a few years ago, I knew I had to go.
However, it is known for being super touristy, that the water looks gross and slimy, and there is trash everywhere. Once I read that, I knew we had to go another route in this bay. Enter Bai Tu Long Bay.
Bai Tu Long Bay in the northern part of Halong Bay is known for being more off the beaten path. While we cruised off to the left of the main port toward the north with a handful of other ships, there were multitudes of ships going in the opposite direction. We knew right then that we had made the correct decision.
Bai Tu Long Bay not only has amazingly clean water, but the bay also has the initiative to keep it that way. Also, the fact that we spent most of the day without another ship in sight made it all super worth it. I highly recommend seeing this part of the bay instead of the traditional route.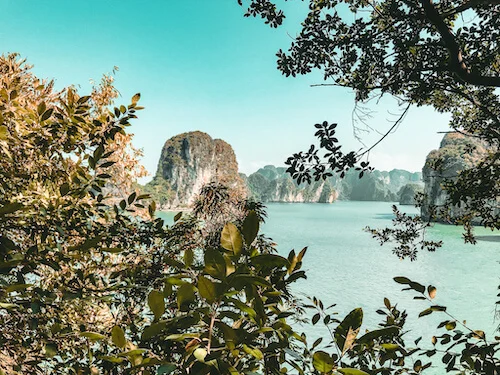 Best Cruise in Halong Bay?
Dragon Legend Cruise by Indochina Junk
I want to start off and say that this is not a sponsored post. The Halong Bay cruise price is $499 per person for a 3 day/2 night Bai Tu Long Bay luxury cruise.
This is definitely steep for Vietnam, but 100% worth it for a lovely room on this small cruise ship that can only have 48 guests maximum at a time. We lucked out during shoulder season in early November and the cruise was only half full. The price also included the activities on and off the ship as well as transportation to/from Hanoi and all food onboard.
Luckily, the process of narrowing down our options for Bai Tu Long junks was easy, thanks to only a few cruises going here. But when I checked TripAdvisor and read countless reviews, combed the website for details and photos (and customer photos on Google), etc., we decided to choose this lovely cruise ship for our journey. We had no regrets.
Book it here!
They also offer other cruises like the Dragon's Pearl Junk with only 10 cabins for max 20 people. And they have the uber small Dragon's Prince Junk that only has 4 cabins for 8 people and even the L'Amour Junk with only room for 2.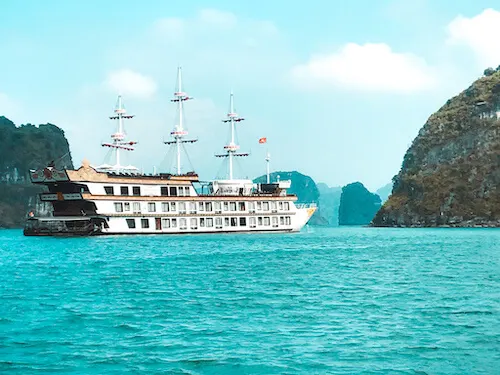 The Best Halong Bay Itinerary
One thing we loved about our cruise was the perfect Halong Bay itinerary! We enjoyed having plenty of time built-in for relaxing and admiring the mountains, but it was great to get in a kayak and see it up close too! Here is our 3-day Halong Bay itinerary:
Day 1: Getting to Halong Bay From Hanoi and Exploring!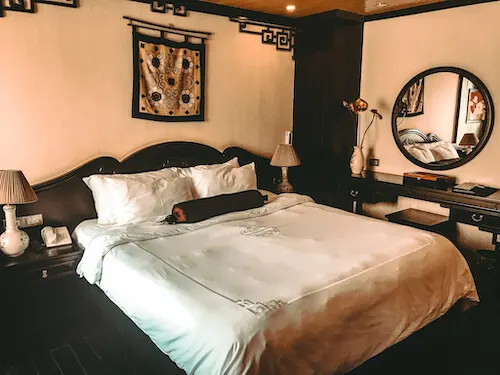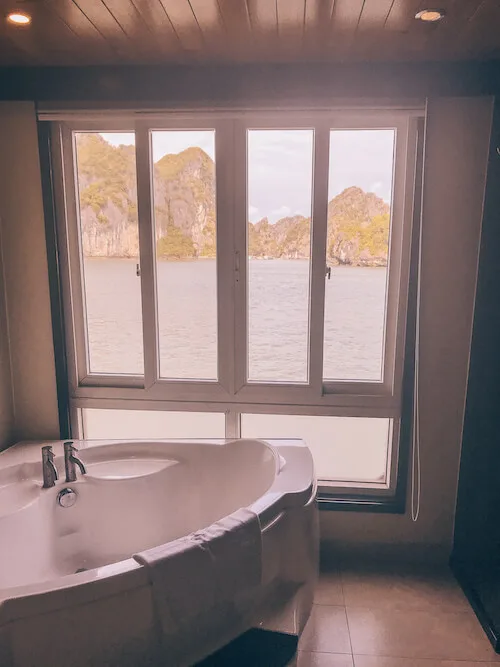 The first day started with an 8 am pick-up in the Old Quarter of Hanoi where we proceeded to ride 4 hours to Halong Bay. The bus was clean and comfortable, and we had water bottles provided. Halfway through the drive, we stopped at a place to go to the bathroom that also sold handcrafted goods made by people with disabilities as a way of finding gainful employment.
There were also snacks for purchase, but we fell in love with and purchased a threaded picture of Halong Bay.
After the short stop, we got back on our bus and headed for the bay. We got off at the port with loads of ships waiting to take on more people. As we got on, we were greeted with a welcome drink in the dining room, and given a safety briefing as well as the itinerary for the trip.
It was after that that we explored our amazing room, complete with a large, comfy bed, giant windows with plenty of views of the bay, a sitting area, AND a giant bathtub. Not a bad way to sleep in the middle of the sea.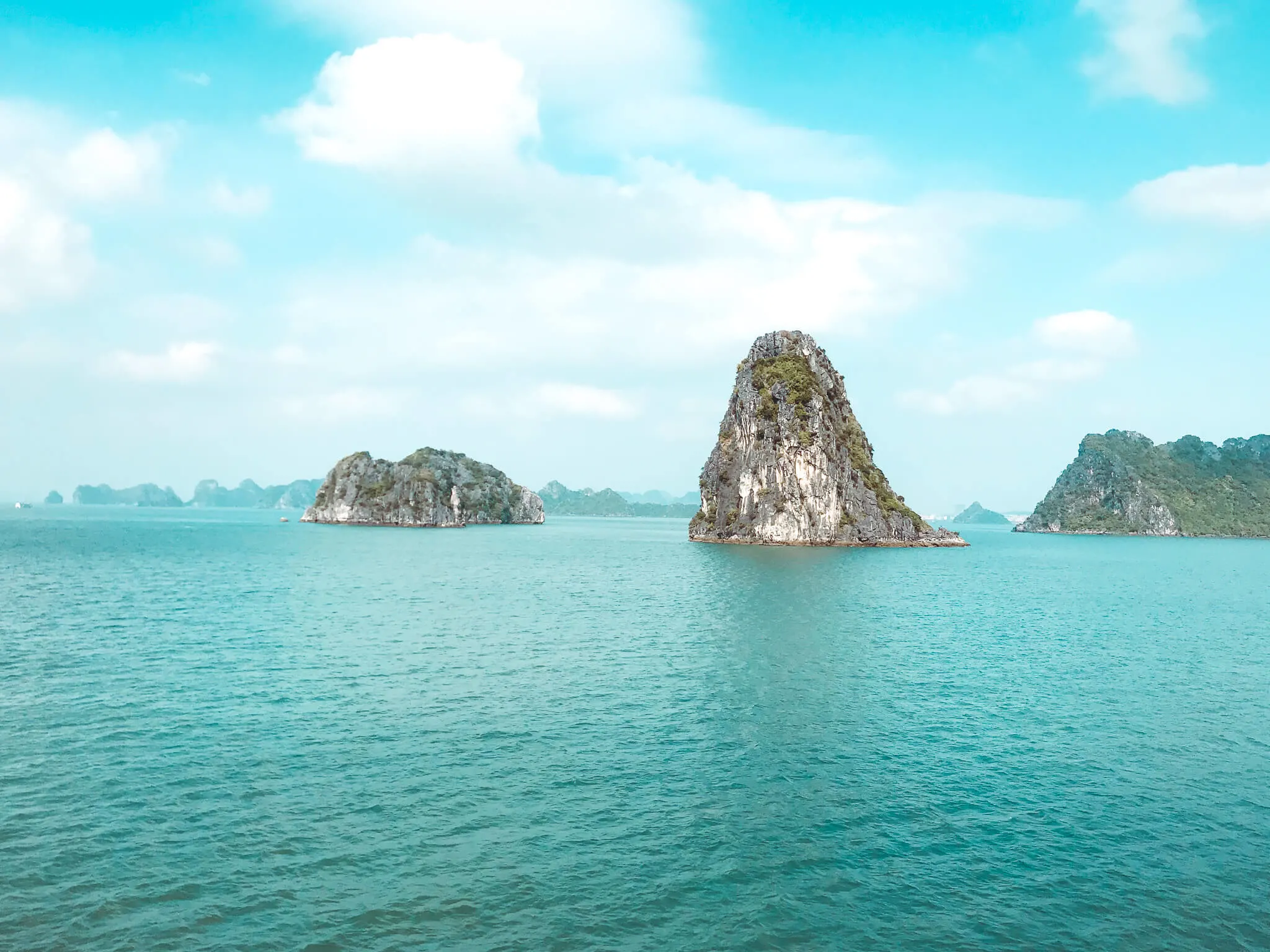 After getting settled in, we had an amazing multi-course lunch on the deck. While we sipped our beers, we took in the views of the stunning mountains around us.
Then, we stopped at Vung Vieng fishing village!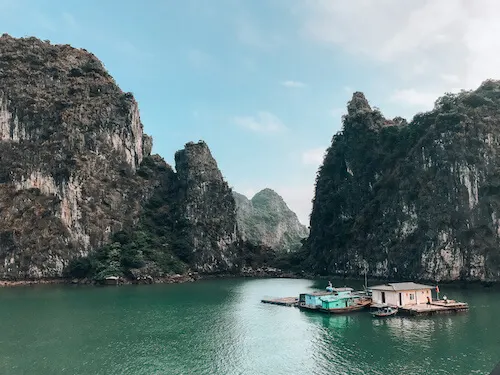 We were taken around by wooden boats with a sweet, Vietnamese woman steering us around. The floating houses were a site to see, and there were nets we could spot with giant fish in them! It was awesome learning about this village and taking a tour of the pearl farm.
That evening was relaxing with a romantic dinner on the outdoor deck along with optional squid fishing later. We chilled, had a few drinks, and turned in, ready for an adventure-filled day the next day!
Day 2 of Our Halong Bay Itinerary: Kayaking and the Beach
Day Two for us started early as we sipped our coffees and did a little Tai Chi on the sundeck of the Bai Tu Long cruise. Then, we were off to go kayaking near Cap La.
We had the best time going around the karst mountain formations, getting up close and personal and seeing just how tall they really are.
After the visit, we were back on the boat heading toward Cong Dam. This is where we relaxed on the beach and had a BBQ.
We enjoyed fresh seafood and plenty of dishes during the picnic lunch. We dipped our toes in the water, frolicked on the sand, and feasted while sitting in beach chairs under colorful umbrellas.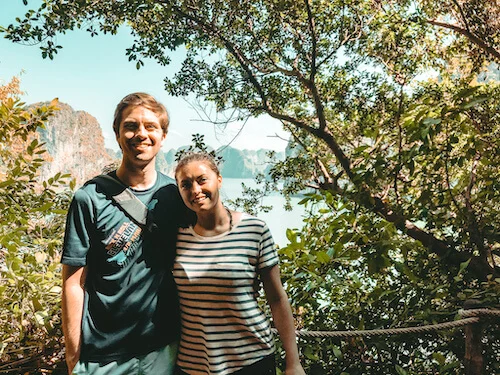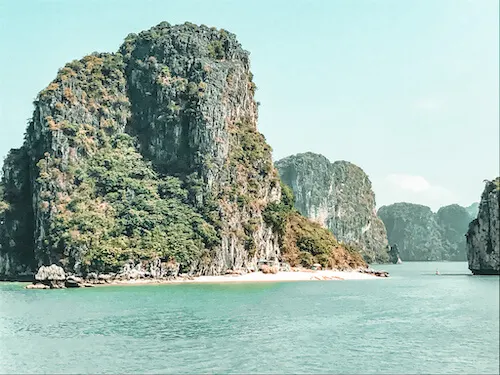 After all of that adventure, we were ready for a special treat: couples massages. This is worth the splurge on the boat, as you get a full body massage for an hour and it's only $35 or so! We felt so relaxed as we sipped on cocktails at happy hour after our massage, feeling like jello.
This day was full of adventure, including the last thing: a cooking class! We learned how to make some Vietnamese classics like spring rolls on the boat before dinner.
Then, post-dinner, we chatted with our fellow cruise-goers before turning in for the last day.
Day 3: Cruise Back and Water Puppet Show
The final day included a stop at Thien Canh Son Cave. The cave was huge and tucked into one of the mountains. So we climbed the steep stairs to the cave and ventured inside. It was beautiful, and the views from outside the cave and over the bay were breathtaking!
Then we began cruising back to port as we took in the sights and relaxed in the morning. On the way back to Hanoi, they also broke up the trip again but this time with a visit to a farming village where a traditional water puppet show was performed.
It was so neat to see the show and hear traditional music. What a great way to end the trip before coming back to Hanoi for the night.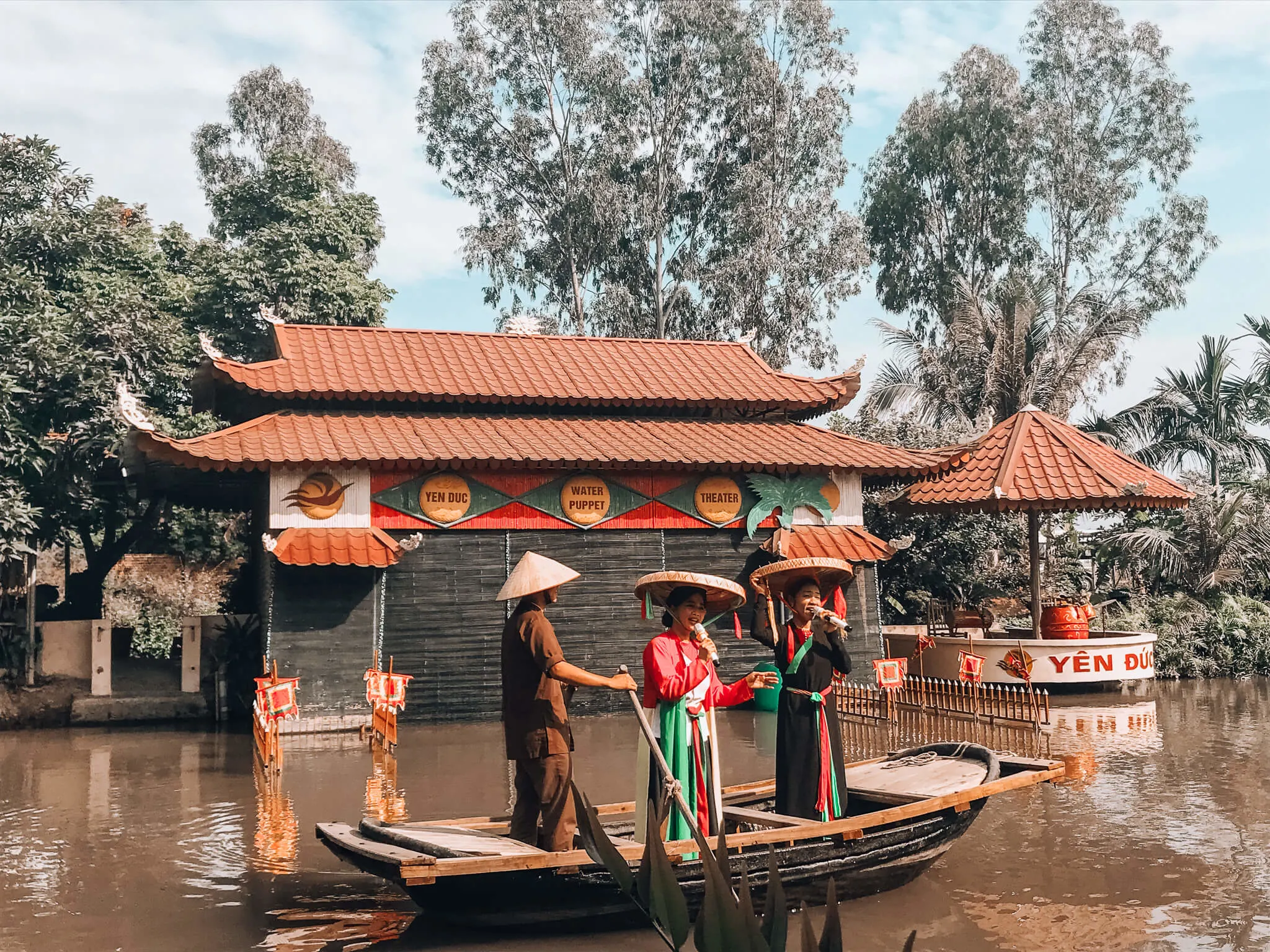 Overall, we really enjoyed the Bai Tu Long Bay itinerary on the boat. We had time to relax each day in between activities, and the evenings were free after dinner to do as we pleased. It was a great mix of things to do.
The Food During Our Trip to Halong Bay
The food on the boat wasn't as good as what we found in Hanoi, but it definitely was tasty. Breakfast was typically a buffet with fresh fruit, pieces of bread, pho, toast, rice, and omelets cooked to order.
Lunches and dinners were multi-course meals consisting of fresh and delicious seafood, papaya salad, stir-fries, spring rolls, and ending with fresh and delicious fruit. We definitely ate well on the ship, and the seafood was certainly the star of the meals.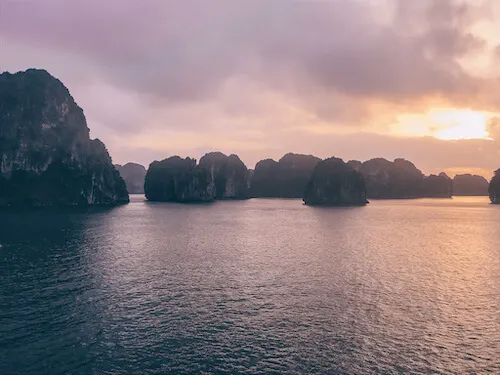 Pro Tips for a Perfect Halong Bay Itinerary
Check out these top tips and advice about the best cruise in Halong Bay!
Get travel insurance. If you are traveling internationally, it is a smart idea. We don't leave the country without World Nomads. With great, comprehensive plans and low cost, we feel better knowing we're covered.
For flights to Hanoi, check Skyscanner for the best deals!
When it comes to packing for your Halong Bay itinerary, be sure to pack the essentials:

Swimsuits for swimming in the pool or bay and kayaking! I love this one and wear it all the time and Chris enjoys these swim trunks!
Badger Balm is literally our go-to for keeping pesky mosquitoes away! It's all-natural and DEET-free (plus it actually works)!
Pack all-natural sunscreen to prevent sunburn while on the water the whole time!
Be sure to pack a camera (our favorite for beginners is our Nikon Coolpix ) and Go Pro for sweet kayaking videos!
And to charge everything, be sure to pack a travel adapter! We love this one that has 4 USB ports and a regular plug for charging several things at once!
Other clothing items to bring:

Shorts
T-shirts
Sandals for the boat
A light jacket if going near the winter
Nicer outfit for dinner on the boat

Visit Bai Tu Long Bay at the right time! Halong Bay (and Bai Tu Long Bay) has a dry and rainy season, much like other parts of Southeast Asia and Vietnam. September through

October

and March through April are great times to visit Halong Bay, as it is cooler and dry versus June through August, where it is hotter and there are chances of storms and typhoons. Oh, and it is prime jellyfish season, so you probably won't want to swim at the time either. January and February are cold and foggy, so it is hard to get these amazing views and photos, and November and December start to get chilly with a little rain and clouds. We went at the beginning of November and the weather was perfect!

Remember– rainy season and shoulder seasons mean lower prices and fewer people! If you would like better deals and don't mind a chance of rain, go for it!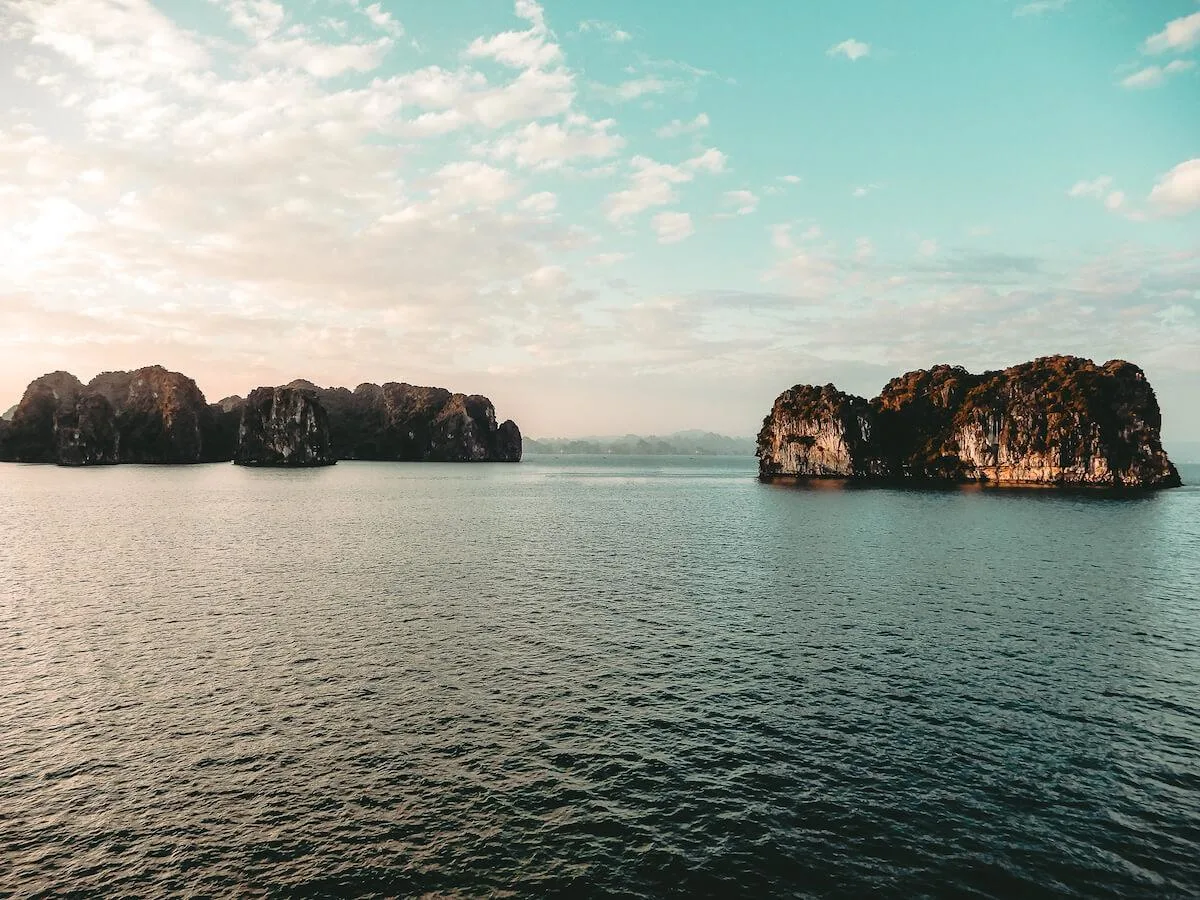 Overall Thoughts on This Halong Bay Itinerary
We would most certainly stay on the ship again! While pretty expensive for two nights, as well as paying for drinks and massages on top of that, the ship itself was really nice and the activities included were a lot of fun. And we loved how intimate it was as it was a much smaller ship so you could chat with everyone and such.
We had the most amazing time sailing along Bai Tu Long Bay, and we couldn't thank Dragon Legend enough for their incredible service and attention to detail. We highly recommend this luxury cruise if you're planning a Halong Bay itinerary soon!
Have you been to Halong Bay? What are your thoughts on this Halong Bay itinerary? Would you take a cruise there? Let me know in the comments!
Read Next: Vietnam Honeymoon Guide and Best November Honeymoon Destinations
Love this post or want to save for later? Pin it here!