Some posts on this site contain affiliate links, meaning if you book or buy something through one of these links, I may earn a small commission (at no additional cost to you!). Read the full disclosure policy here.
---
Check out our podcast episode all about travel to Siem Reap and Angkor Wat!
Is it possible to spend 2 days in Siem Reap and see the best of Angkor Wat in 2 days? We asked ourselves the same thing.
Angkor Wat is a gem. Imagine driving past miles of forest, crossing the bridge, and then you start to see it: the towers of ancient Angkor Wat coming into view. It truly is a site like no other to be able to walk amongst hundreds of year's worth of history, to brush past the cool stone as you explore your way around the ancient complex, and to take in the views from the top.
It is no wonder that this UNESCO World Hertigate Site is becoming a hit with visitors exploring the wonders of Southeast Asia. There are many beautiful places in this region of the world, but no trip here would be complete without stopping by the small city of Siem Reap, Cambodia, and seeing these temples. The trouble is, not everyone has the time to spend to see everything in this 1,000-plus temple complex.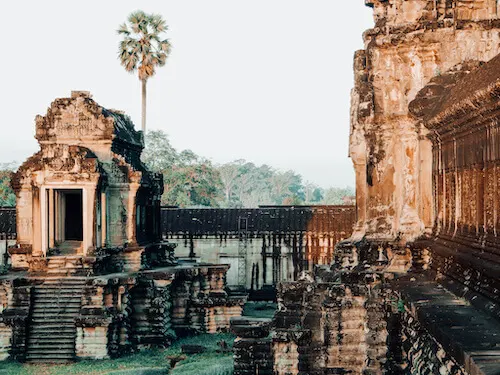 We were in the same boat. On our three-week journey across Southeast Asia, we knew we had to include Angkor Wat. Unfortunately, we only had 2 full days to take it all in. Luckily, we figured out how to get the most out of Angkor Wat in 2 days and see many of the great temples as well as had time to relax and explore Siem Reap. Check out our itinerary here along with some tips below!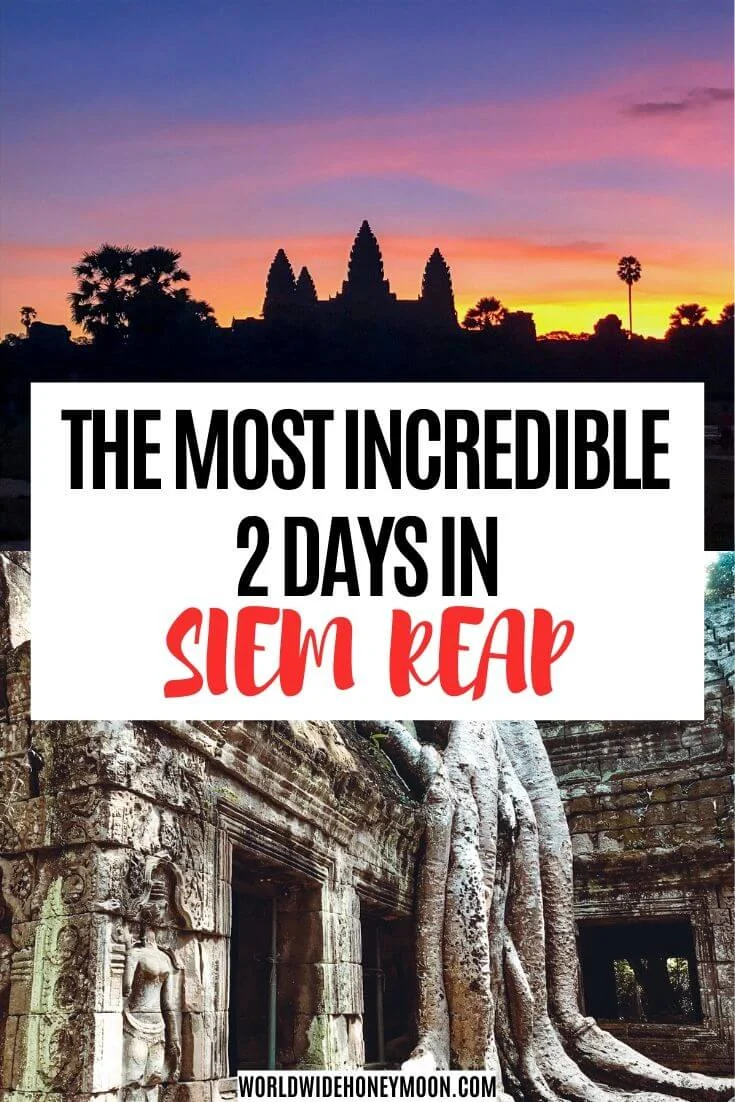 Brief History of Angkor Wat:
Angkor Wat is one of the largest religious temple monuments in the world. It is around 400 acres and was originally a Hindu temple. However, at the end of the 12th century, it became Buddhist. It was built by King Suryavarman II as a final resting place and is still a very important religious center.
Several of the temples in the surrounding area were built between the 800-1300's. Angkor itself was a large city of the Khmer Empire and its capital for many years.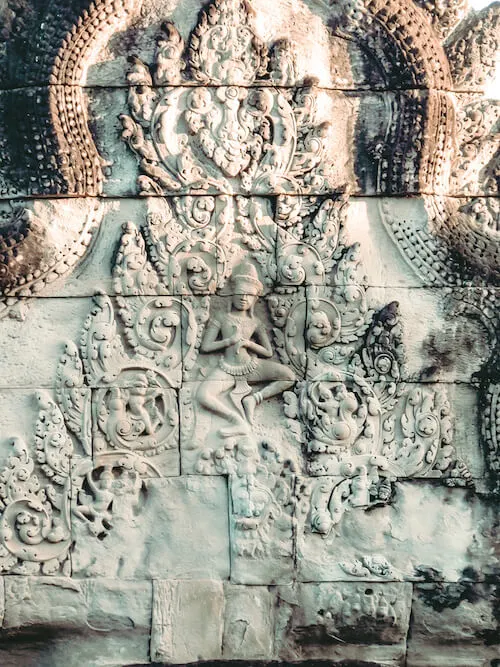 First Things First: Hire a Driver for An Angkor Wat 2 Day Tour
If you're looking to see a lot in a short amount of time, the only real way to do this is by hiring a driver. Many people do opt for tuk-tuks, but those can take longer to get places and after walking around in 90-degree Fahrenheit heat, having an air-conditioned vehicle is amazing.
We ended up hiring Bunthy, who was a gem, prior to getting to Angkor Wat. He not only provided us with unlimited water, great stories and advice, and took us to more remote temples, but he's an all-around great guy. You can hire him prior to arriving at [email protected].
Dress Appropriately for Your Angkor Wat Itinerary in 2 Days:
Bear in mind that you are entering a religious complex, and respect is expected. Therefore, you must cover your shoulders and knees. Chris ended up wearing a cotton t-shirt and linen pants with Oofos to walk around in. I wore a cotton t-shirt with my running leggings and keds. Wear comfortable clothing for hiking, climbing stairs, and walking, but make sure to cover up a bit!
Also, don't forget sunscreen while you're out and about, as the sun is quite strong (definitely pack sunglasses too). And for mosquitos, opt for bug repellant. We love Badger Balm as it is roll-on (perfect for carry-on bags), is DEET free, and, the best part is that it actually works!
We also made sure to pack our Go Pro and Nikon Coolpix A900 to get awesome photography and video during our time in Angkor Wat.
And to carry all of our things, we opted to use Chris's Osprey Daylite Sling.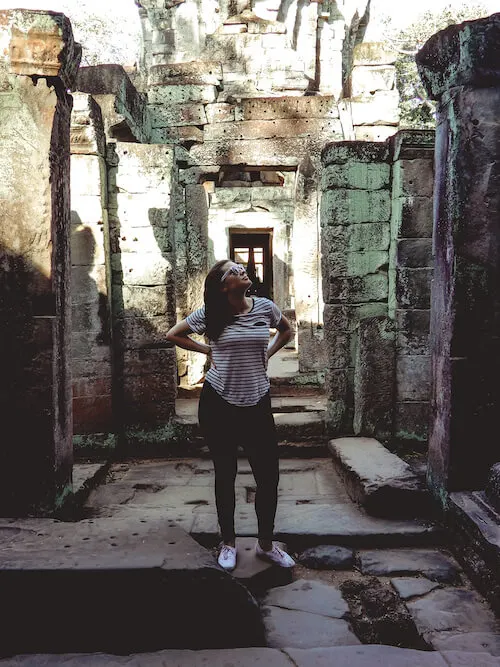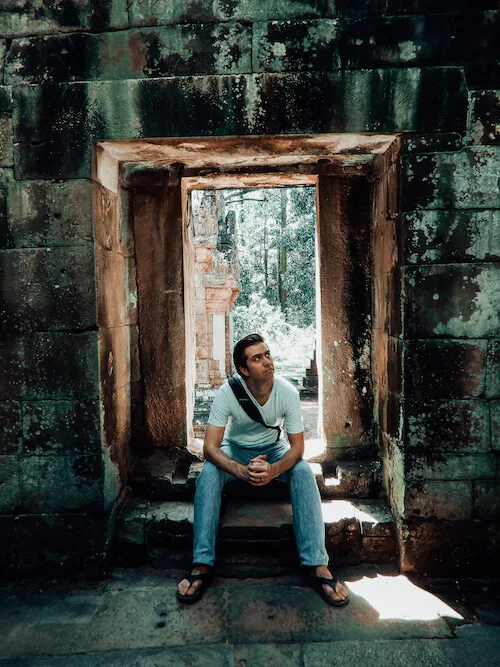 2 Days in Siem Reap Itinerary
Day 1: Start Your Siem Reap Itinerary in 2 Days With An Incredible Sunrise and Temples
Sunrise at Angkor Wat
When it comes to what to see in Siem Reap in 2 days, one thing is certain: Angkor Wat. Most people who visit Angkor Wat try to see it at its best times: sunrise or sunset. Sunrise is absolutely stunning and I can't recommend it enough. Your driver will pick you up from your hotel early. Like between 4-4:30 am early. So be prepared for an early morning. They will then make a stop at the ticket counter so you can purchase a 3-day Angkor Wat Pass. They only sell 1, 3, and 7-day passes, so just get the 3-day pass for $62 a person. You can pay via cash (they accept USD) and credit card now.
After you purchase your tickets, you're off to the complex! You should arrive at about 30 or so minutes before sunrise to walk to the perfect spot. We sat at a small temple across the way and watched the sky turn from indigo to light pink to fiery red, as the sun crept up over the towers and into the sky.
Once you've taken in the sunrise, it's time to explore inside the complex! Walk around inside the walls and into the center, where you can climb to the top tower and take in the incredible views.
Time Frame: 4 am-7:30 am. 3.5 Hours.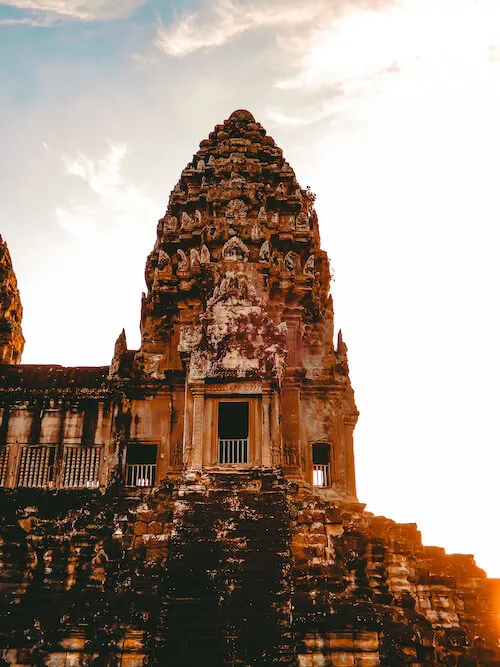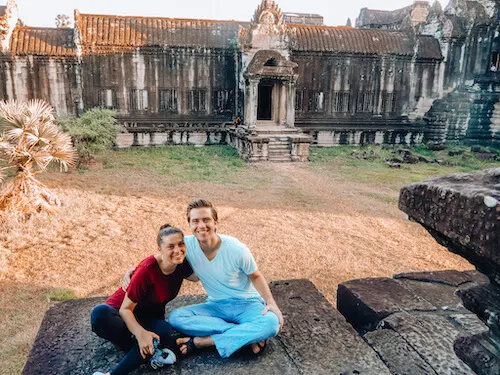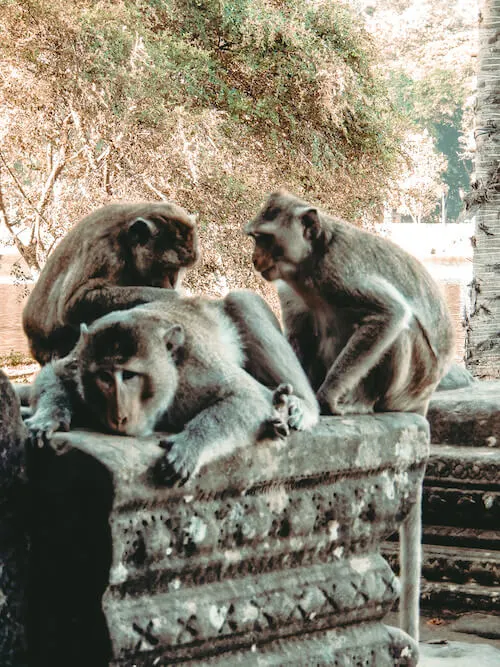 Breakfast
Here is your friendly reminder to have a little breakfast. Many hotels will make you a breakfast to go so that you can take it with you and eat after sunrise. Just be sure to let them know the night before. Bunthy held onto ours while we were in the temple complex as there are monkeys inside of Angkor Wat and they will steal food. They were not shy in the least AND they had HUGE teeth. We ended up exiting Angkor Wat and having some breakfast near the cars while we took it all in.
Time Frame: 7:30-8 am. 30 minutes.
Angkor Thom
Next up, you're heading to Angkor Thom. A short drive will take you here, where you can enjoy ice-cold bottled water and some a/c while chatting with your driver. Bunthy took us to the west gate of Angkor Thom, where you could see the small entrance into the complex, and the faces of the entry gate. We took some photos here and hiked up to the gate.
Once we drove into the complex, we viewed many temples inside. We started by checking out the Terrace of Elephants, which is a flat stone with decorative elephants all along with it. It's very beautiful and leads right to the famous Bayon Temple.
Bayon Temple, at the heart of Angkor Thom, is the temple most famous for the faces. Built by King Jayavarman VII, the smiling faces are meant to resemble him. This is a larger temple where you can explore the different levels, climbing up the steps to see the faces up close, and maybe get a photo of yourself nose to nose with a face!
Once you've explored the otherworldly Bayon Temple, it's time to check out some of the smaller temples around the Angkor Thom complex, like Tep Pranam, Khleangs, and Preah Pithu. Bunthy was kind enough to show us to these, as we had no idea which ones to go to. You can walk around these fairly quickly, as they are much smaller and there are little to no crowds. Grab your camera and get some photos with no one around!
Then, it's time to check out my favorite temple!
Time Frame: 8-11 am. 3 hours.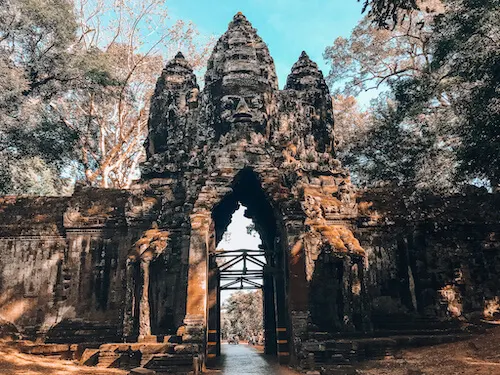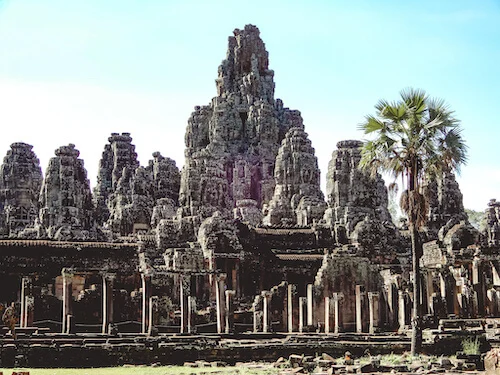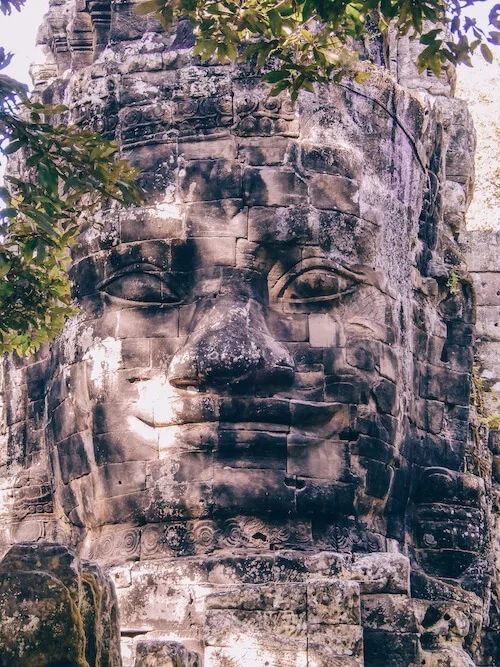 Ta Nei
You've probably never heard of this temple (we hadn't), and you probably haven't seen it on many guides, but trust me, this is worth it. Bunthy led us here, and while it's not far at all from the other temples, about a 10-minute drive from the East Gate of Angkor Thom, it is down a dirt path. So no tour buses and little to no crowds. We even had the whole place to ourselves for 20 minutes before one other couple came around! This is Bunthy's favorite temple that he takes his family to. There are also a few gibbons known to live in the area! And while we didn't see them on our visit, Bunthy has a few times and showed us photos!
It was the first place that the only noise was that of the surrounding jungle. Birds were calling and in the distance, you could hear faint sounds of monkeys. It was pure bliss. Some of the temple itself lay in ruins, and there were even trees growing around the stones! We walked all around the inside of it, listening to Bunthy recall stories of taking his children here to play. It was a wonderful moment during our time exploring the temples.
Time Frame: 11-11:30 am. 30 minutes.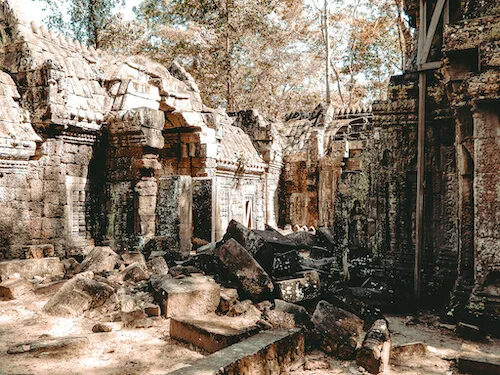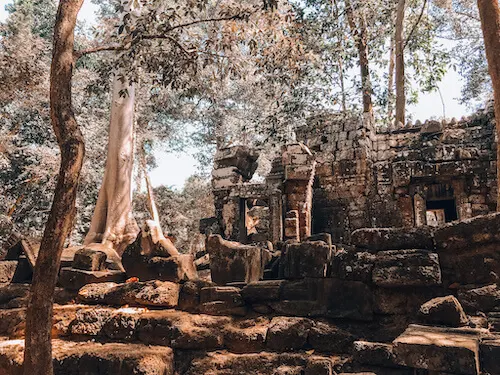 Ta Keo
Next up, you're in for a stair-climbing workout as you enter the former Hindu temple of Ta Keo. This beautiful temple is tall with steep steps. While you'll get a workout climbing up, getting down is a little terrifying. Hang on to the stairs or stones to get down! The views from the top, though, are absolutely incredible.
Time Frame: 11:30-12 pm. 30 minutes.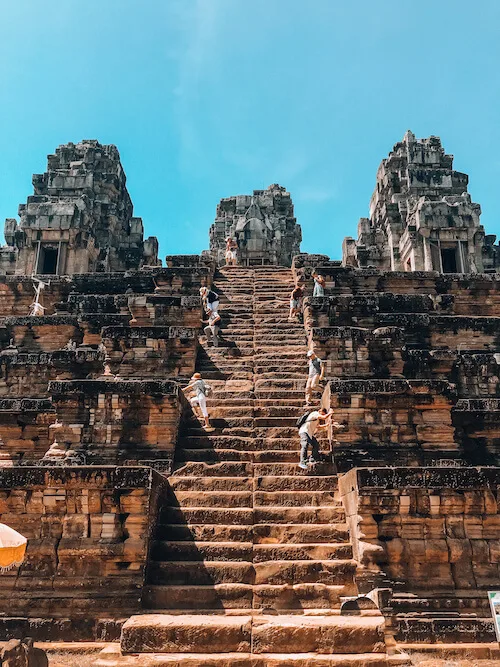 Lunch
Okay, you've explored SO. MANY. TEMPLES. At this point, you're probably starving and ready to eat some amazing Cambodian food. A great lunch spot near all the temples is Khmer Angkor Kitchen. We feasted on spring rolls, fish amok, and chicken and tofu stir fry and washed it all down with Angkor beer and fresh coconut.
Time Frame: 12 pm-1 pm. 1 Hour.
Ta Prohm
And now we bring you to the famous temple thanks to Tomb Raider and Angelina Jolie: Ta Prohm. This temple is known for the many trees growing through it. It is a stunning temple to see, and we took so many amazing photos. The only problem here is the crowds. It is famous now, almost as famous as Angkor Wat itself, so getting photos without crowds is very hard. I would recommend seeing this temple, but don't spend too much time here. Explore, walk around the complex and see the jungle, and get photos.
Time Frame: 1-2 pm. 1 Hour.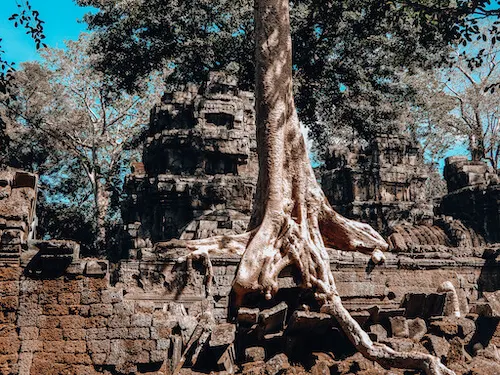 Head Back to Siem Reap
At this point, you've been up since 3 am and have been walking around the heat. It's time to rest and head back into Siem Reap and your hotel. Get a massage or lounge by the pool. We ended up getting the free massages that our hotel, Mane Boutique Hotel & Spa, offered and sipped beers while taking a dip in the pool in the heat of the day.
After that, grab dinner at a great, local restaurant that is helping the community. Haven takes in underprivileged young adults, trains them in the restaurant industry while the restaurant covers their housing, teaching life skills, and helps set them up with a job in the community. Many end up working at 4 and 5-star hotels. It's a great program and the food is amazing to boot. Be sure to make a reservation or show up as soon as it opens. It's pretty popular.
We ordered the veggie tempura, vegan amok, and tofu satay peanut sandwich. All of which were absolutely divine! Wash it down with an Angkor beer and dessert, Cambodian rice dumplings, and you're set for a great evening.
After dinner, you're probably so exhausted from the day that it'll likely be an early night. Head to bed and get excited about the adventures tomorrow!
Day 2: Further Temples and Visit Pub Street for Siem Reap Attractions
Banteay Srei (Aka The Lady Temple)
Luckily, this day isn't quite as intense, starting with your pickup time at 7 am. Have a quick breakfast at the hotel, and then off you go to the Lady Temple. This is about an hour's drive from Siem Reap, so sit back and relax and enjoy the scenery! We saw the Cambodian countryside and witnessed several wedding processions, children frolicking in creeks, and farmers in the field. It was a unique experience in itself.
Before we got on the road to Banteay Srei, we stopped and admired another gate surrounding Angkor Thom. This time, it had a moat and bridge that we stopped and took photos of. It was interesting seeing the many faces on each side before our car ride to the temple.
Once you get to Banteay Srei you'll love walking along the temple grounds, looking at the lovely water lilies, and enjoying the pink stone architecture. Enjoy the elaborate, carvings all along the temple of beauty.
Time Frame: 7-10 am. 3 Hours.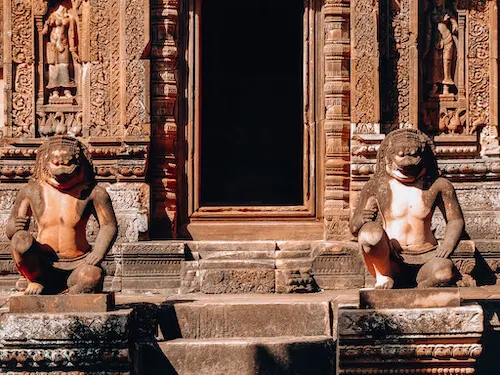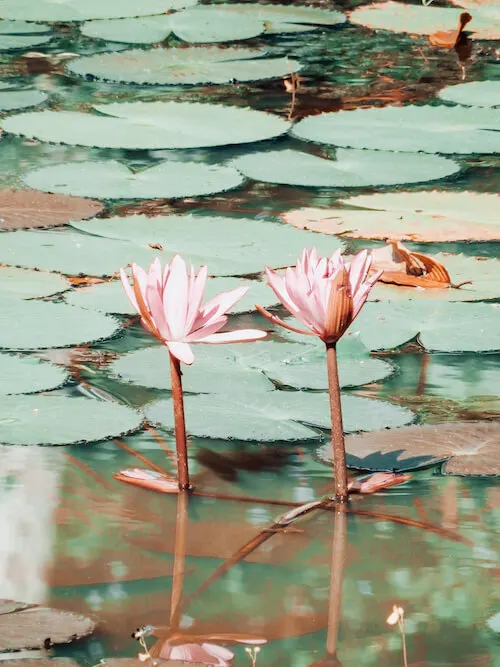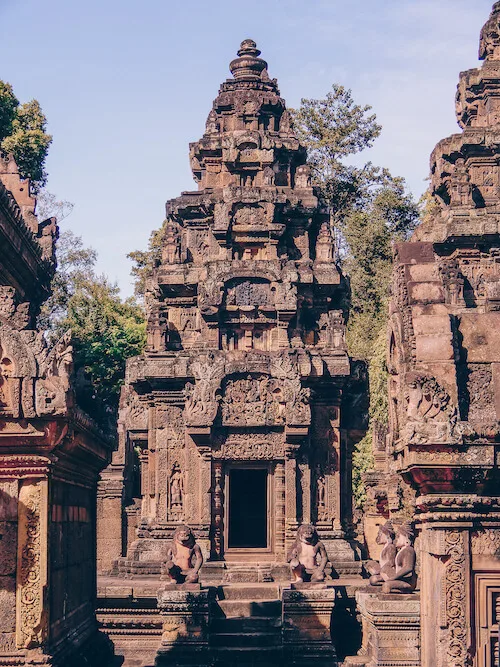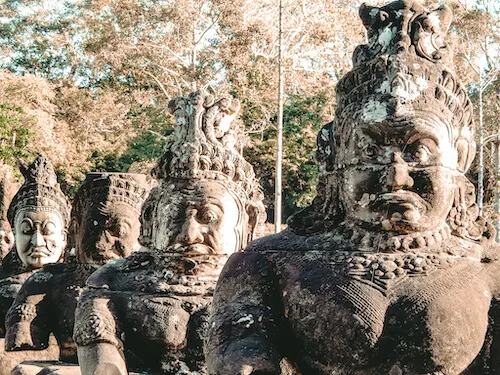 Beng Mealea
Okay, you've seen a ton of temples at this point that they may start running together. So at this point, it's time to wrap it up with the furthest temple: Beng Mealea. This is another hour from Banteay Srei, but you'll be driving through the countryside and around the mountain. It is a stunning drive and I highly recommend it.
This temple is the only one not included in your Angkor Wat ticket, so you'll need to purchase another ticket to get in. It's only $5 a person, though.
Once inside, you can walk around the large temple before going inside and seeing the ruins. There are many trees overgrowing on the stones, ruins lying as if untouched for several years, and a vast jungle surrounding it. If you think Ta Prohm is the best temple for gorgeous shots of the jungle and temple colliding, think again.
While this temple does get a few more tourists than say, Ta Nei, it is much more remote and less crowded than much of the Angkor Wat complex. Spend some time here walking around before grabbing lunch.
Time Frame: 10 am-12 pm. 2 Hours.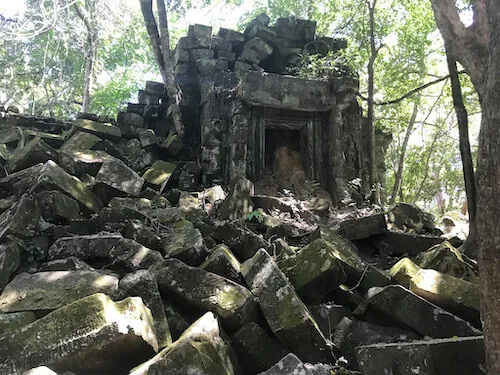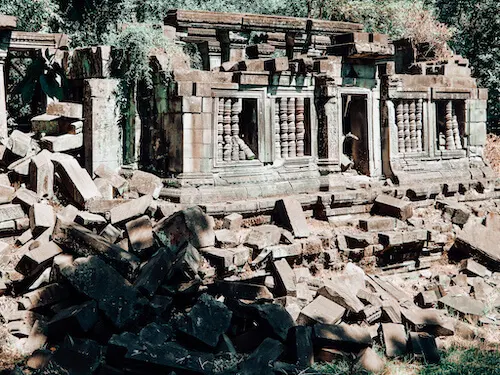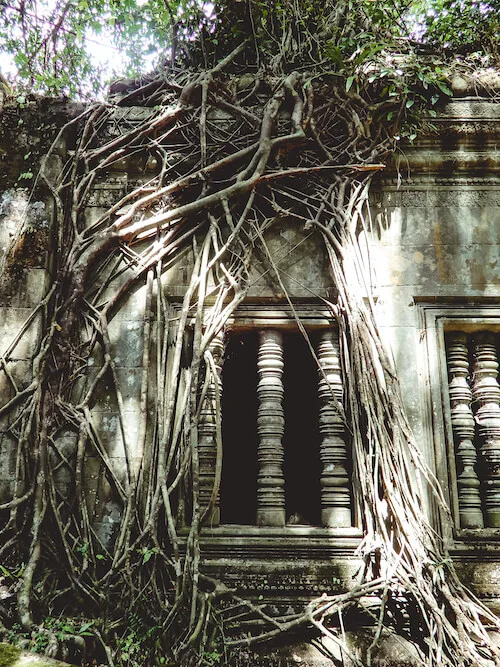 Lunch
Grab some lunch at Beng Mealea Restaurant before heading back to Siem Reap. We got the fish amok (a common theme here) and tofu curry and both were amazing. Relax for a bit for the hour and a half long drive back to the city.
Time Frame: 12-1 pm. 1 Hour.
Back to Siem Reap
I know it's crazy that the day before you were up to your ears in temples, and this day it's much more relaxed and you're seeing very few. Trust me, you've seen more than many have during your two days in Siem Reap and now it's time to actually see some of Siem Reap itself. After an hour and a half passing through the countryside of Cambodia, you'll be back to the small city and at your hotel. Say goodbye to your driver, and cool off at the hotel pool with a drink after your crazy two days.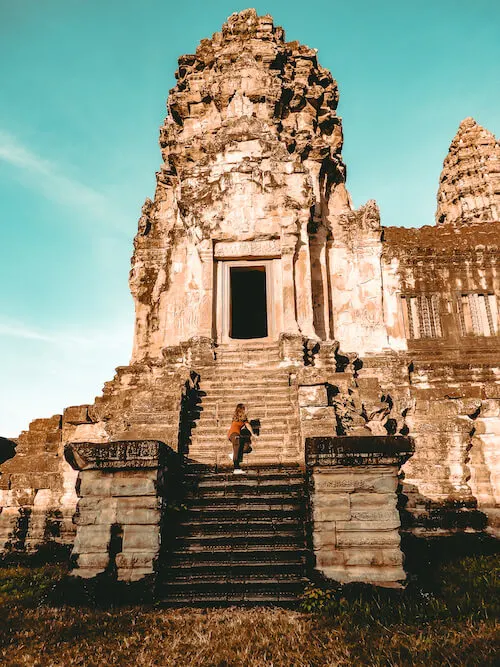 Pub Street
After an hour or two of relaxing by the pool, grab a tuk-tuk to Pub Street and see what's going on. Grab a souvenir at the Old Market close by, and check out the bars on Pub Street.
I know what you're thinking; it must only be like, 4 or 5 pm, right? Exactly. Pub Street is SO crowded at night and if you're not really into dancing and raging the night away, go at 5 pm, enjoy the happy hour specials and several bars, grab a snack, and head out to dinner before the backpackers descend. Day drinking in your late twenties/early thirties and in bed by 9 pm is kind of the dream, right?
Grab dinner at Little Kroma afterward and you won't be sorry. We got the spring rolls, morning glory, and tofu stir-fry and all of it was amazing. It may have been our favorite place to eat!
Then, you're basically back in time for bed, pool, drinks at the hotel, or whatever! It's fantastic!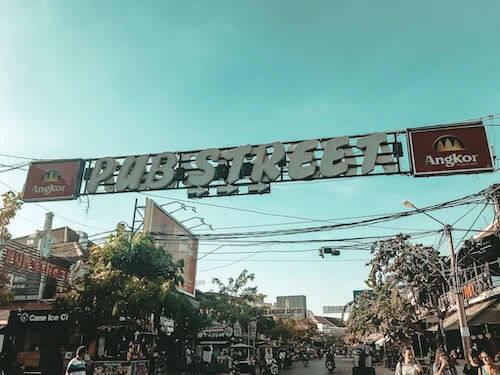 Where to Stay During Your Siem Reap Itinerary
Here are some fantastic hotels to stay at during your two days in Siem Reap to relax and kick back after exploring all of those temples.
Budget: Mohai Boutique Hotel
This hotel is relaxing and comfortable, especially at only around $25 per night! With a pool, bar/lounge, A/C, and a comfortable bed, you'll enjoy your time in Siem Reap here.
Read reviews and book on Booking.com | TripAdvisor | Agoda
Mid-Range: Hari Residence & Spa
With a rooftop pool, gym access, and free breakfast, you'll certainly make yourself at home here. Enjoy a massage after visiting the temples of Angkor Wat in 2 days, and feel comfortable in their spacious rooms. The cost is around $70 per night.
Read reviews and book on Booking.com | TripAdvisor | Agoda
Luxury: Mane Boutique Hotel & Spa
We stayed here during our time in Siem Reap and I'll be honest: this hotel is perfection. Aside from free airport pick-up and drop-off, they also had a tuk-tuk to take you to Pub Street in downtown Siem Reap, a free foot massage, and the pool was everything I needed after a long, hot day. We enjoyed their tea time treats, and every detail in this hotel is carefully looked after and picked to show the beauty and style of Cambodia (even their forks at dinner)!
Also, we loved our huge room with tub and enjoyed exploring their gardens when we were at the hotel. We could've stayed here longer honestly. And starting at $92 per night, it is hardly a splurge!
Read reviews and book on Booking.com | TripAdvisor | Agoda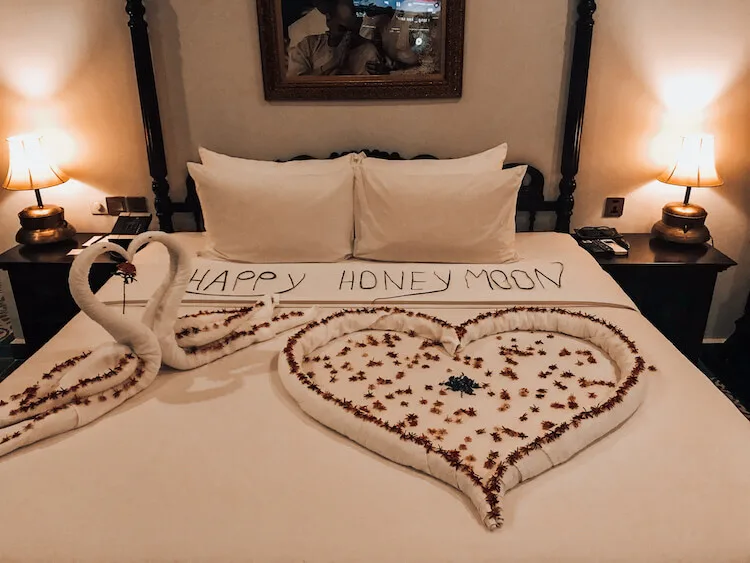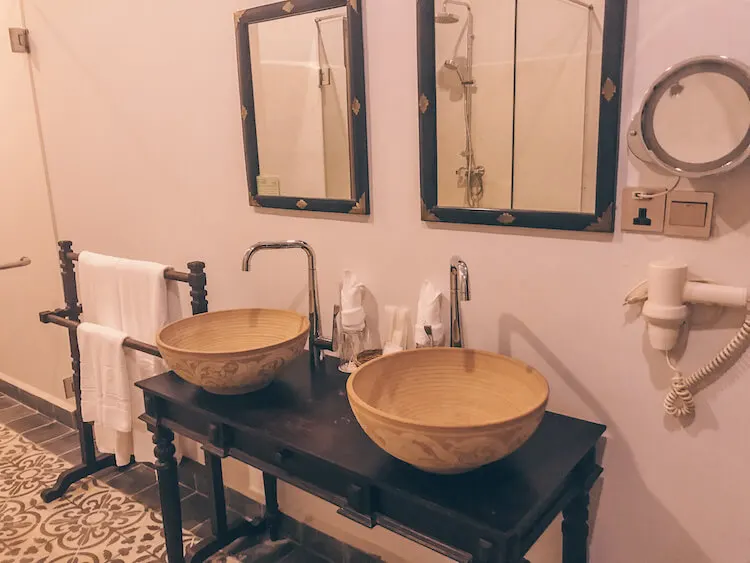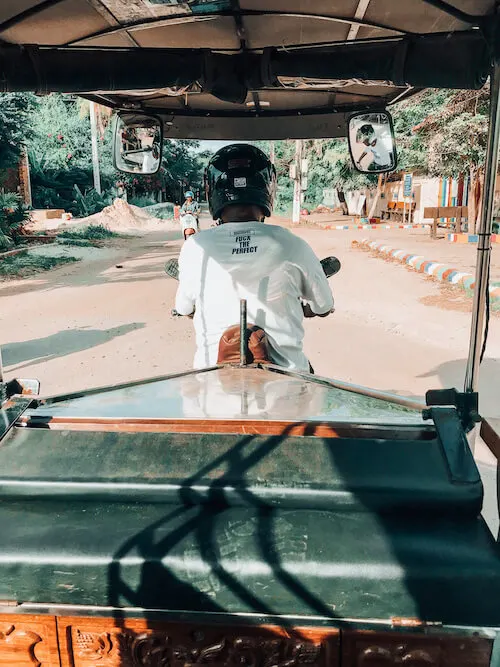 If You Have 3 Days in Siem Reap
If you happen to have an extra day to spend in Siem Reap, I recommend getting out of the city and heading for the countryside. We were sad that we could only fit in 2 days exploring Siem Reap during our time in Southeast Asia, but we strongly considered trying to squeeze in a third day just so that we could go see the Tonle Sap Lake. We kept eyeballing this amazing tour on Get Your Guide to the Siem Reap countryside and floating village tour.
This tour includes a fantastic time floating on the Tonle Sap, a visit to a school for monks, biking in the countryside, a traditional Khmer lunch, and fantastic views of rice paddies and the lake.
Other Things to Know Before Visiting Siem Reap
US visitors do need a visa. However, you can get it on arrival or online. Check out all requirements for each on the US Government travel website.
Definitely get travel insurance. We go with World Nomads for every international trip. Travel insurance covers so much including trip cancellation, medical, and more that could save you thousands of dollars. Our insurance for 3 weeks in Southeast Asia only cost us $176 per person for the Explorer Plan but they have the Standard Plan for only around $96 per person.
Check to see if you need vaccines. When it comes to vaccines, check the CDC website to make sure you've got everything you need before you go!
The currency is the Cambodian riel, but USD is widely accepted (and even distributed from the ATM).
Don't give money to children! It discourages them from going to school for a better future and the money may not even be going to them at all.
Be sure to go at the right time! The best time to visit Siem Reap is between November-April during their dry season. The weather is cooler (that's a relative term, as it was still super hot in November), but December-February typically has the best temperatures. By the end of April and May, it gets super hot, and then May-October is monsoon season. Now that doesn't mean it will rain constantly (typically it is in the afternoon and provides a nice cool down), so you could certainly go and see fewer crowds and get good deals on hotels, but the shoulder season of November and March is a great time to get good prices and avoid the heavy rain.
And sadly, that wraps up your 2 days in Siem Reap and Angkor Wat. I know it's a short time, but you can clearly see Siem Reap in 2 days! We did all of this and still had time to relax as well as see the sights. We hope you enjoy your time, and let us know if you've been or are planning to go!
Is Angkor Wat on your list to go? Let us know in the comments!
Love this post or want to save for later? Pin it here!