Some posts on this site contain affiliate links, meaning if you book or buy something through one of these links, I may earn a small commission (at no additional cost to you!). Read the full disclosure policy here.
---
Ahh, Bologna. The capital of the Emilia-Romagna region of Italy; this area is known for the likes of Parmigiano Reggiano, mortadella, tortellini, prosciutto, traditional balsamic vinegar, and, of course, Bolognese sauce. So if you're searching for reasons to have a 2 days in Bologna itinerary, you may as well come for the food.
No, not all of these tasty treats were made specifically in Bologna, but the city sure has all of those items and more! Plus, it makes for a fantastic base to explore other parts of the region where you can try things like balsamic vinegar and Parmigiano Reggiano at the source.
Bologna is home to some of the most incredible restaurants to sample these delights, and the excitement of this university town will leave you buzzing with energy…and perhaps just buzzing in general after the really inexpensive drinks near the school.
In May of 2022, Chris and I visited Italy and spent two days in Bologna. It was Chris's first trip to Italy. So why, you may ask, did we decide to come here during his first trip? To eat, of course!
During our quick 7 day off-the-beaten-path Italy itinerary, we knew we wanted to explore the part of the world known for tortellini, parmesan, and balsamic. So, we decided to visit Bologna in 2 days to do just that.
Now, we're showing you how to do the same!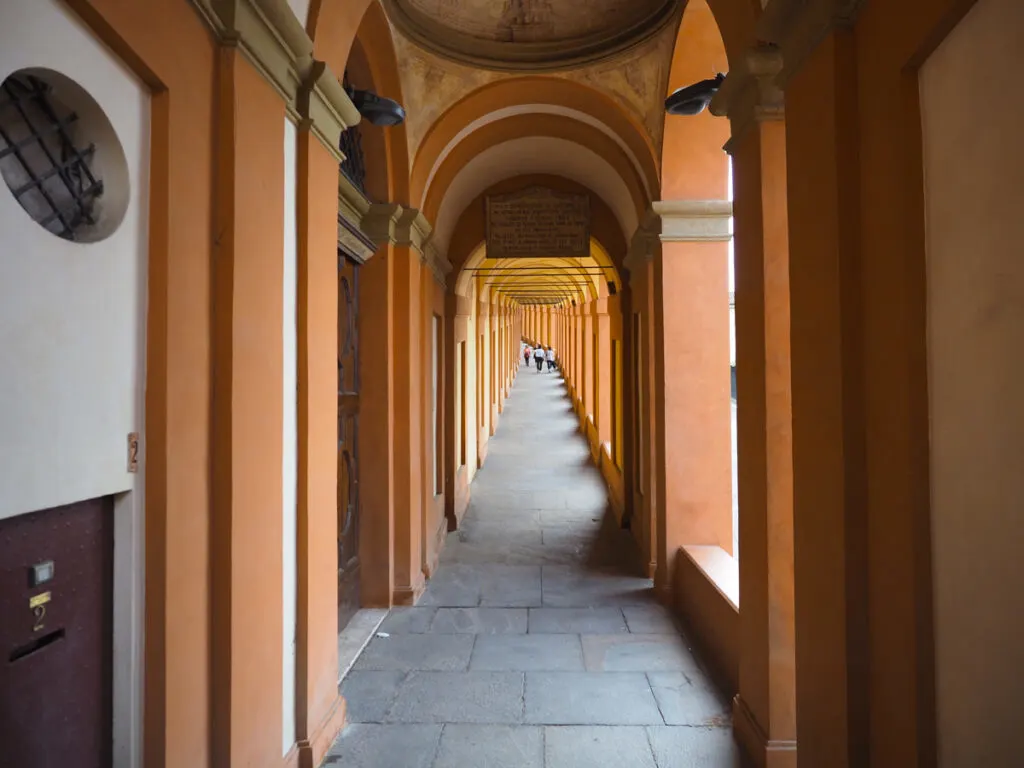 2 Days in Bologna Itinerary At a Glance
Day 1: Neptune, Porticos, and Incredible Cuisine
Arrive and Check In
Ristorante Teresina For Lunch
Visit the Two Towers & Neptune Statue
Hike to Basilica di San Luca
Dinner at Osteria Broccaindosso
Day 2: Half Day in Modena and Drinks in Bologna Near the University
Arrive in Modena
Piazza Grande
Duomo di Modena
Food Tour of Modena
Grab Cocktails at Lab 16 in Bologna
Dinner at Vicolo Colombina
For more details, keep reading below!
Day 1 of Your Bologna Itinerary: Neptune, Porticos, and Incredible Cuisine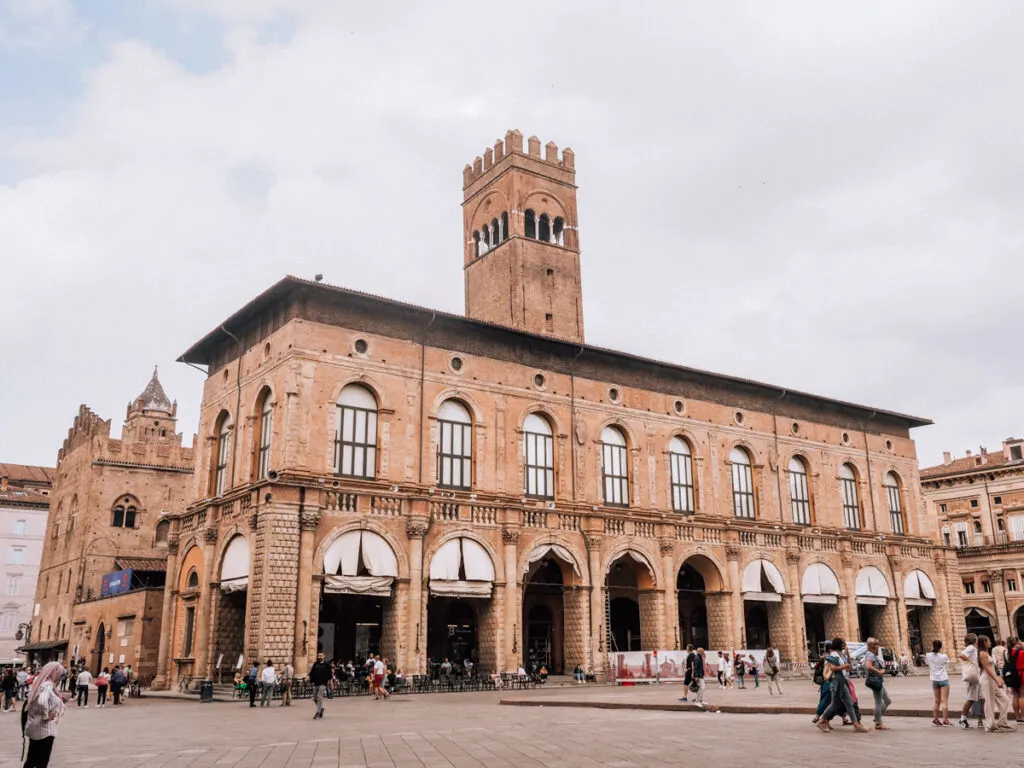 Thankfully Italy is pretty easy to get around thanks to its train system. So, on day 1, especially if you're here for a weekend in Bologna, you can take the train into town and check in to your hotel.
Us, we were coming from the Piedmont region of Italy, so we took an early train into town and dropped off our bags at our hotel, Casa Bertagni, before exploring the city.
Pop into the Palazzo d'Accursio, the town hall located on Piazza Maggiore. Built-in the 14th century, this magnificent building has an art museum and a clock tower. It costs €8 to visit both places in the building.
After that, wander under porticos, enjoy watching students scurry off to class near the university, and then pop over to Ristorante Teresina for an incredible lunch.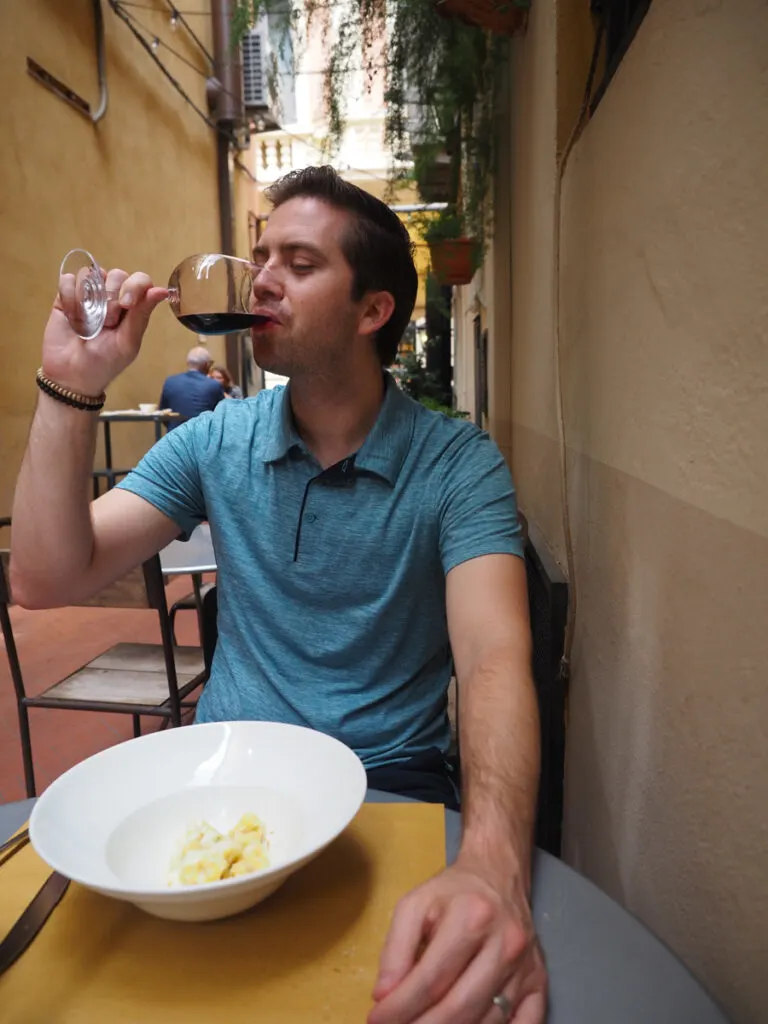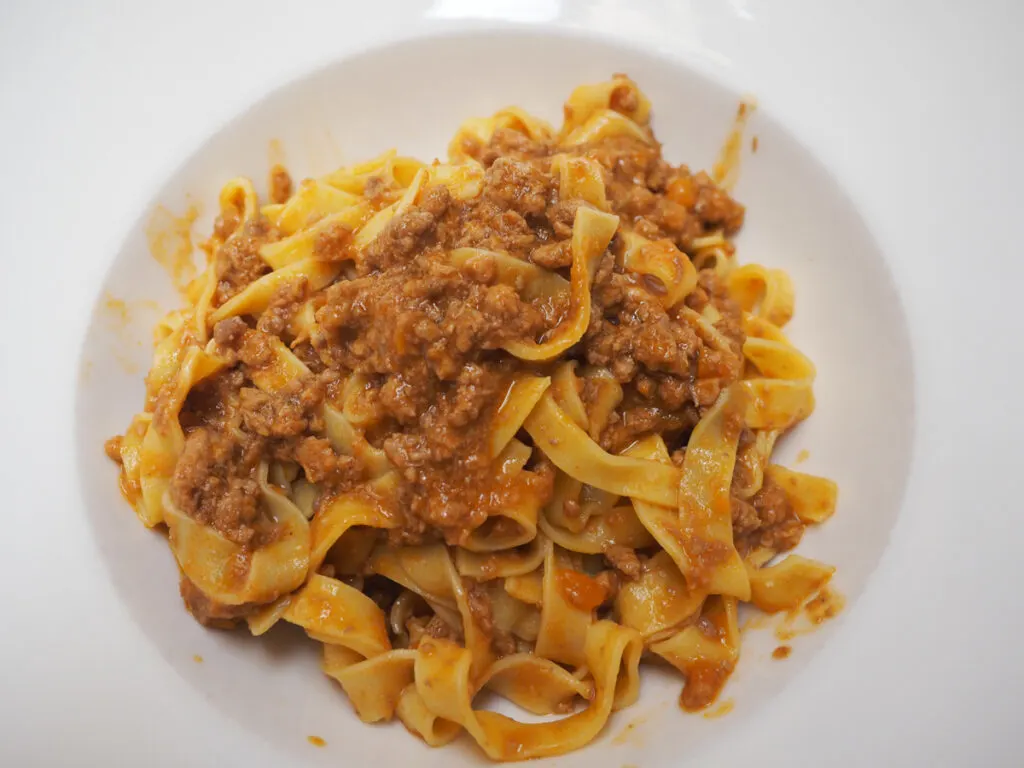 Start with the buffalo mozzarella and some house wine before tucking into classic tortellini with Parmesan cream and the tagliatelle with ragu sauce. It is utterly delicious.
After lunch, it is time to walk to the Two Towers, also known as the Asinelli Tower and the Garisenda Tower. Who needs to go to Pisa, when Bologna has its own leaning tower? One of the towers is leaning!
Seriously, it is really cool to see these large Medieval columns! And fun fact: Bologna used to be a city full of towers in the 12th and 13th centuries! So this shows remnants of that time.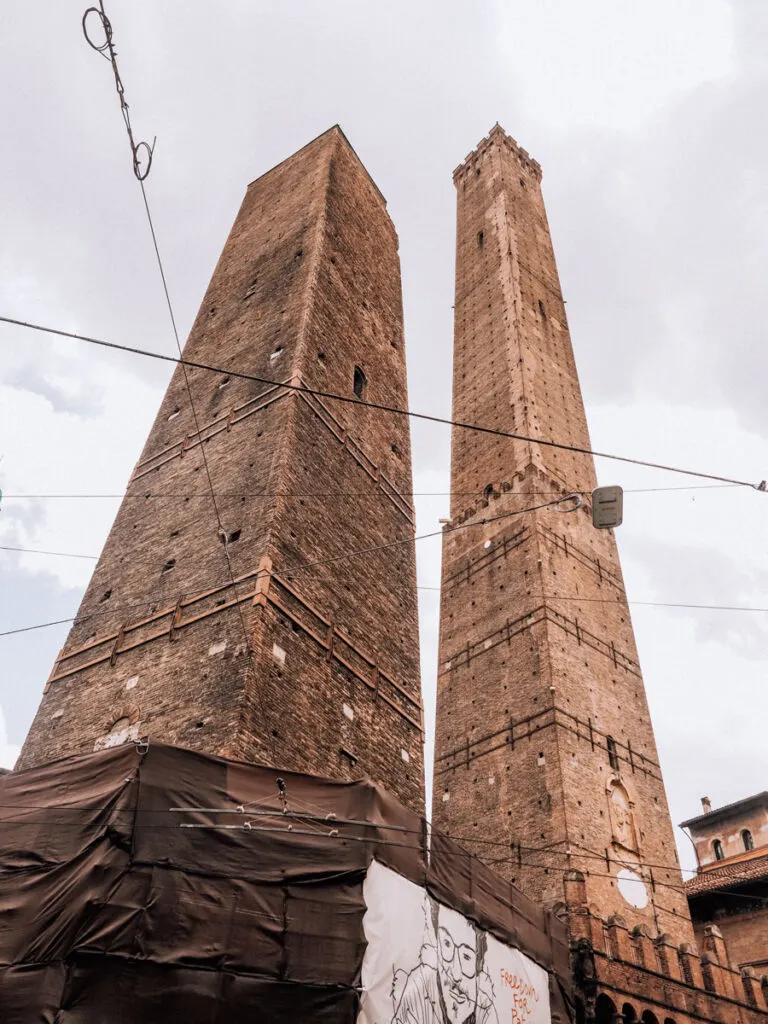 Aside from admiring them from the ground, you can also go up the Asinelli Tower for €5. If you want to brave the 498 steps to the top, you'll be rewarded with excellent views of this city.
After exploring the Two Towers, wander over to Piazza del Nettuno, where another iconic structure of Bologna stands: the Fountain of Neptune.
Commissioned by Cardinal Legate Charles Borromeo, construction for this fountain began in 1563 to celebrate the election of his uncle Pope Pius IV. I'm not sure why a religious figure would've had a fountain built depicting a god of another religion, but it's the Renaissance so we'll roll with it.
Anyway, it was meant to symbolize power, and you can visit the fountain with the statue of Neptune. It is a landmark of the city, and definitely a popular piazza!
After exploring the Piazza del Nettuno, it is time to make the journey to a really cool church: Basilica di San Luca.
From the Fountain of Neptune, it is about an hour walk. I'll be honest, it isn't a casual stroll, as it is mainly an uphill climb for a long time to get to this sanctuary on the hill.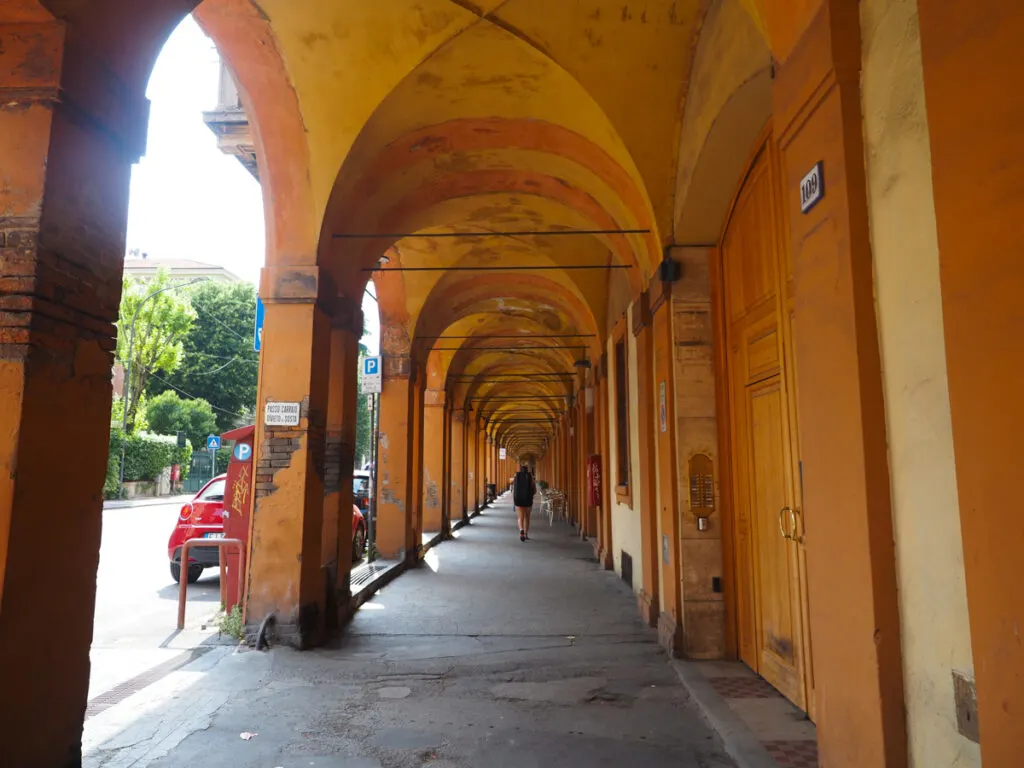 However, most of it is under porticos offering ample shade during your climb. If you love to walk, it is a fun activity, but if you don't want to walk for that long, you can also take the San Luca Express from Piazza Maggiore and it costs €12 for the day.
Once you arrive at the Basilica, you can explore the interior of this lovely church, before booking a ticket for the San Luca Sky Experience. This terrace is 42 meters (137 feet) high and offers 180º views of hilly countryside and the city center. It was definitely the highlight of the venture up there.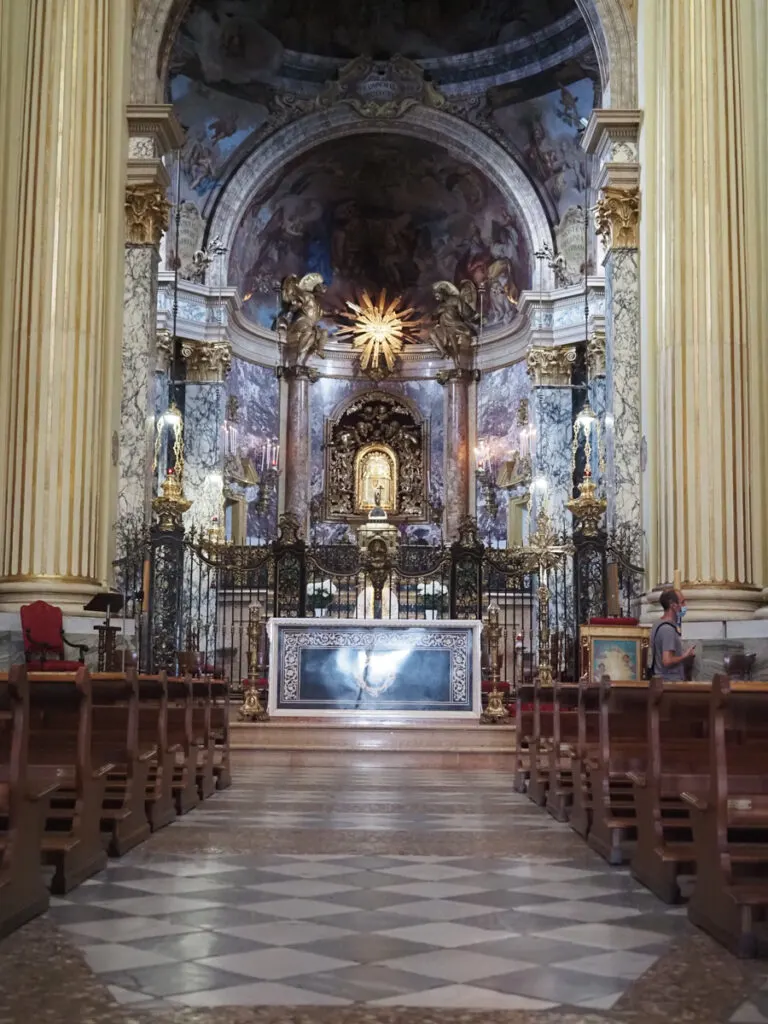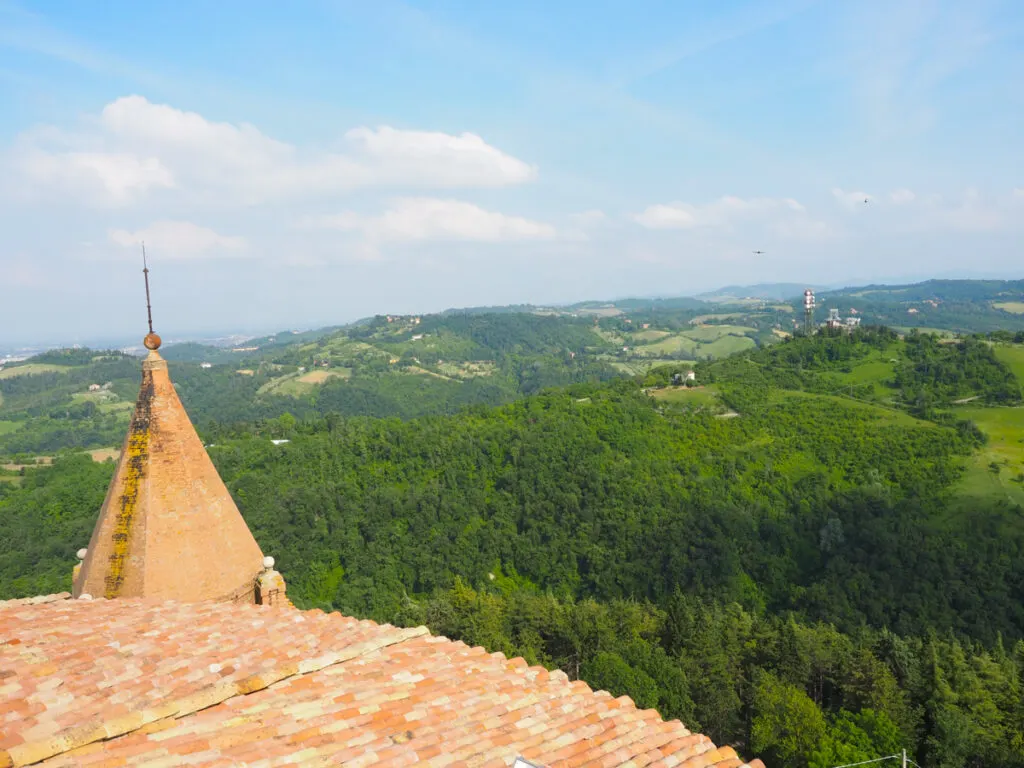 After enjoying the views, it is time to head back down to the city for dinnertime!
Go to Osteria Broccaindosso for a cozy, tucked-away restaurant serving delicious food like their blue cheese and pear quiche, eggplant parmesan, tortelloni with sage, lasagna (seriously so good!), and definitely grab some tiramisu to finish the meal.
Don't forget to pair it with another famous Emilia-Romagna specialty: Lambrusco wine!
This wine is a red wine that is semi-sparkling and can either be on the sweeter side or dry. It pairs perfectly with many specialties in the region.
After that, it is time to head to bed for the following day's adventures!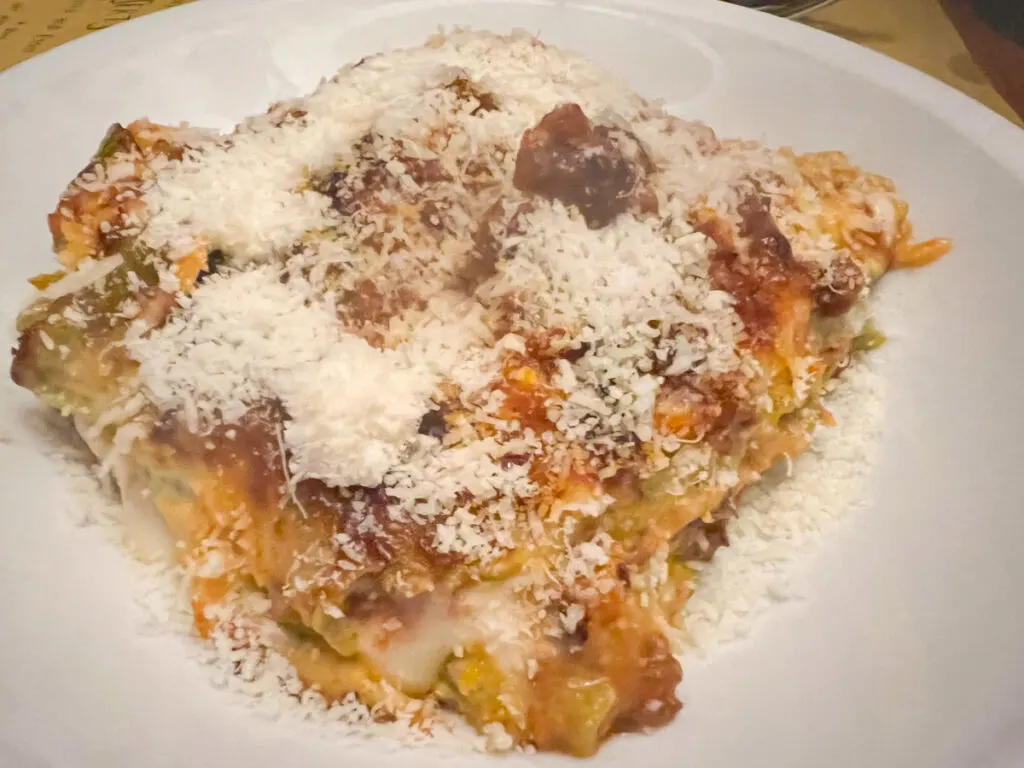 Information For Day 1 in Bologna:
Municipal Art Collections at the Palazzo d'Accursio Hours: Open Tuesday-Thursday 2-7 pm, Wednesday and Friday 10 am-7 pm, Friday, Sunday, and public holidays from 10 am-6:30 pm.
Clock Tower Hours: Open Tuesday-Sunday at 3 times per hour every 20 minutes starting at 10 am and the last admission is 6:20 pm.
Palazzo d'Accursio Municipal Art Collections & Clock Tower Admission: €8 for adults, €5 for reduced, and free for children 0-3 years old, disabled people and helpers, and tour guides.
Ristorante Teresina Hours: Open daily from 12:30-2:30 pm and 7:30-10:30 pm.
Asinelli Tower Hours: Entrance every 15 minutes from 10 am-6:15 pm.
Asinelli Tower Admission: €5 for adults, €3 for reduced pricing, and free for certain groups and kids under 4.
San Luca Express Hours: Open daily with the tour lasting 1 hour. Many departures a day.
San Luca Express Admission: €12 for adults, €6 for children ages 6-10 and disabled plus helper (€6 each), and €3 for children under 6.
Basilica di San Luca Hours: Open daily from 7 am-6 pm. From March until October, the sanctuary closes at 6:30 pm.
Basilica di San Luca Admission: Free.
San Luca Sky Experience Hours: Monday-Saturday from 10 am-1:30 pm and 2:30-6 pm. Sunday from 12-6 pm.
San Luca Sky Experience Admission: €5 for adults, €3 reduced fair, and free for select groups.
Osteria Broccaindosso Hours: Open daily from 12-2:30 pm and 7:30 pm-12 am.
Day 2 of 2 Days in Bologna: Half Day in Modena and Drinks in Bologna Near the University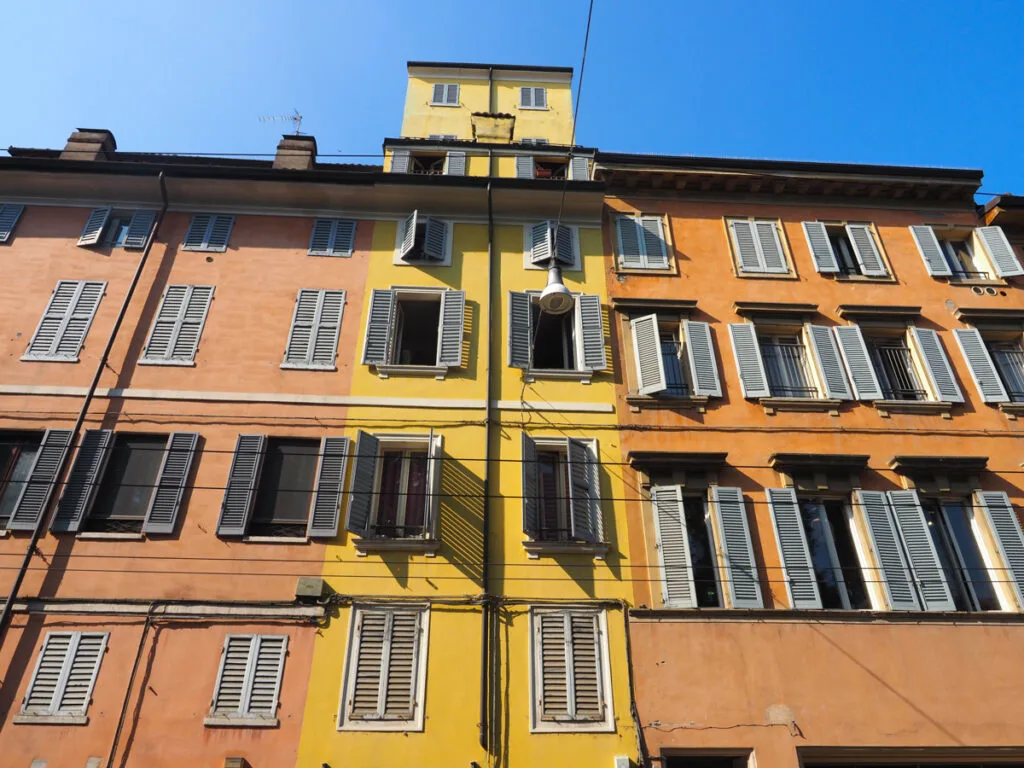 As you've certainly seen a lot of Bologna yesterday, why not explore an even more culinarily famous town? Today, you'll be off to Modena, the city known for its traditional balsamic vinegar, parmesan cheese, and prosciutto ham.
What better way to experience this town than by taking a food tour? So take the 30-minute train ride to Modena from Bologna for a day of eating and exploring this charming Italian town.
Start off with a visit to the Piazza Grande. This is where you'll be able to see the Duomo di Modena, a stunning cathedral dating back to 1099! At least, that was when the first stone was laid.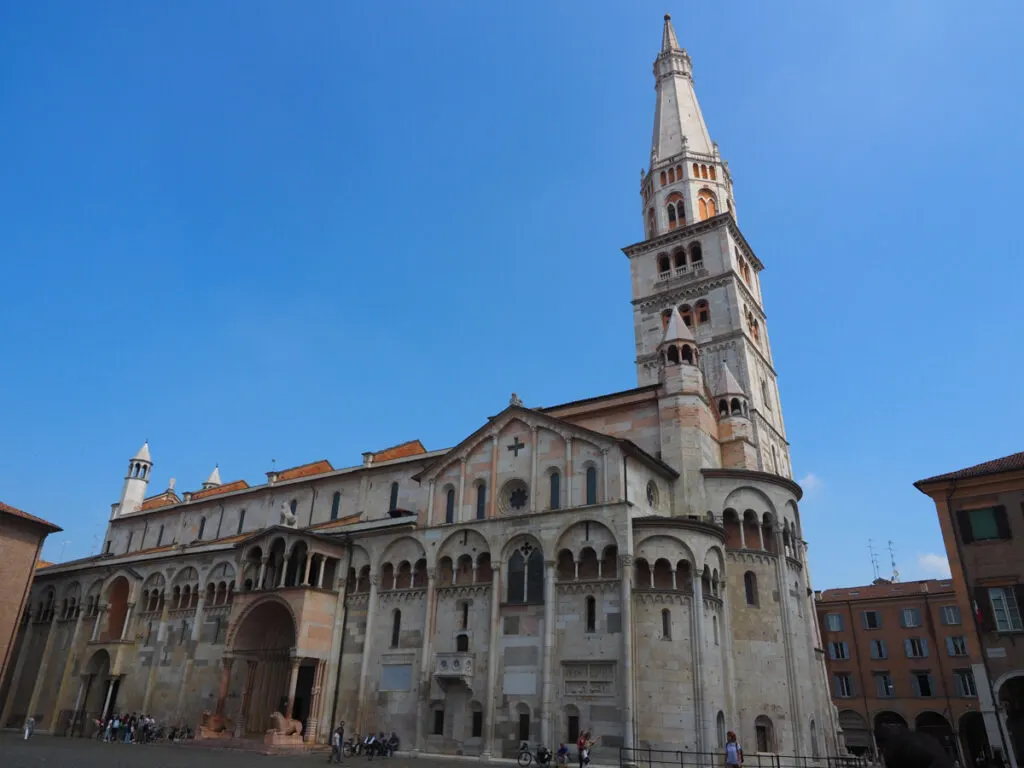 This cathedral is full of beauty from its rose window to its art inside. It is definitely a great idea to get into Modena early enough to enjoy this before your food tour. Note that you can go into the cathedral, but the museums are open later in the morning. So, while you may not have time for that before your tour, you can go back after the food tour!
After that, you'll meet back at the Piazza Grande at another famous site, the Preda Ringadora, to start your food tour. This pink marble slab was used in the Middle Ages for the town crier, and it was also used as a pulpit for speakers as well as a place to lay unidentified dead bodies.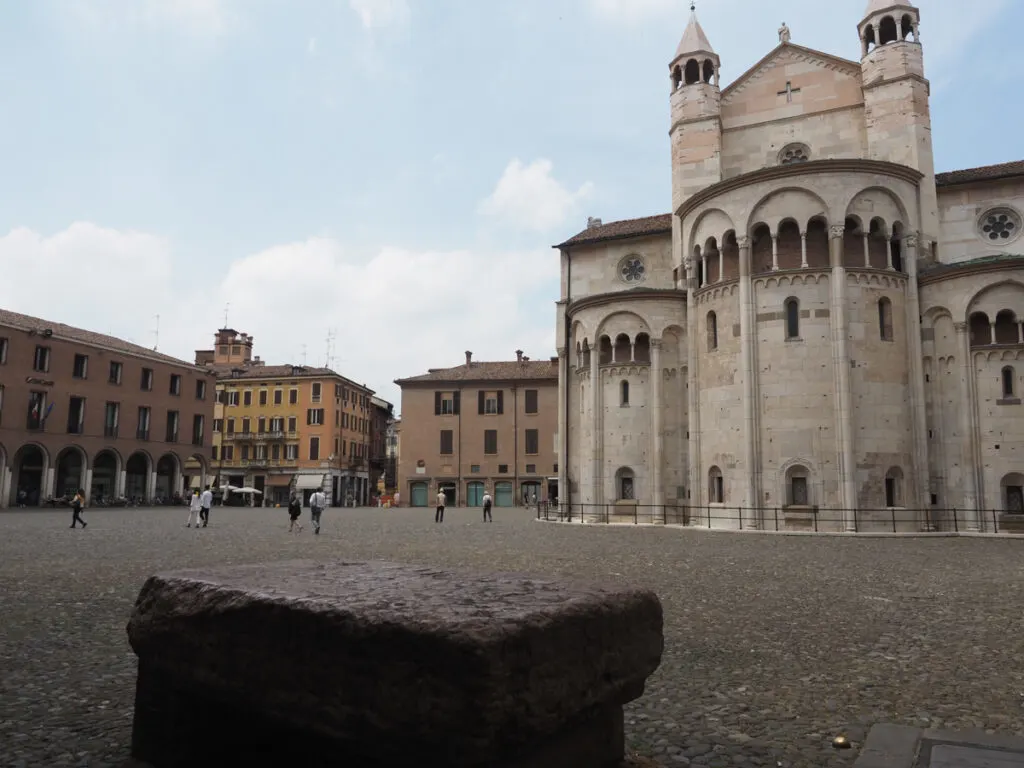 Now it is in a little corner of the piazza, and where you'll start your tour. We booked our food tour through Taste Bologna. It is a fantastic tour that includes a stop at a local cafe for a famous breakfast of the area: gnocco fritto, as well as a cappucino.
You'll also make a stop at a local market for a parmesan cheese tasting, and then you'll taste traditional balsamic vinegar and even try a local street food with some Lambrusco wine.
It was such a fun tour and a great way to get acquainted with the town. We highly recommend booking with Taste Bologna. And if you want a preview, check out Somebody Feed Phil on Netflix- he took this tour during his Venice episode.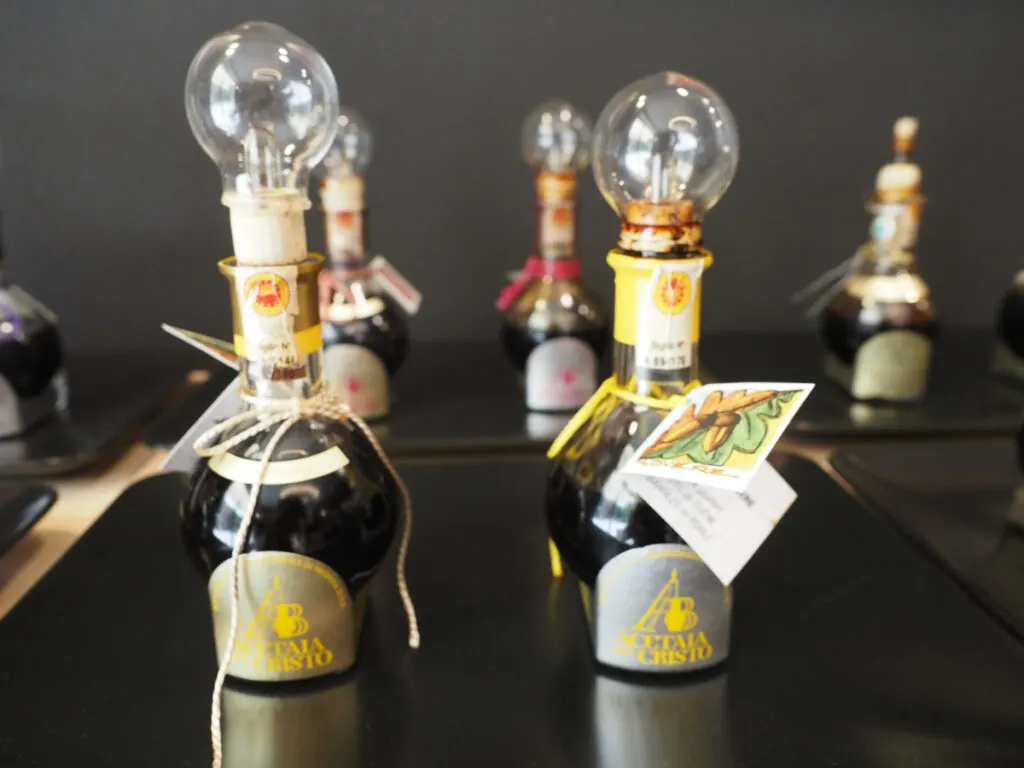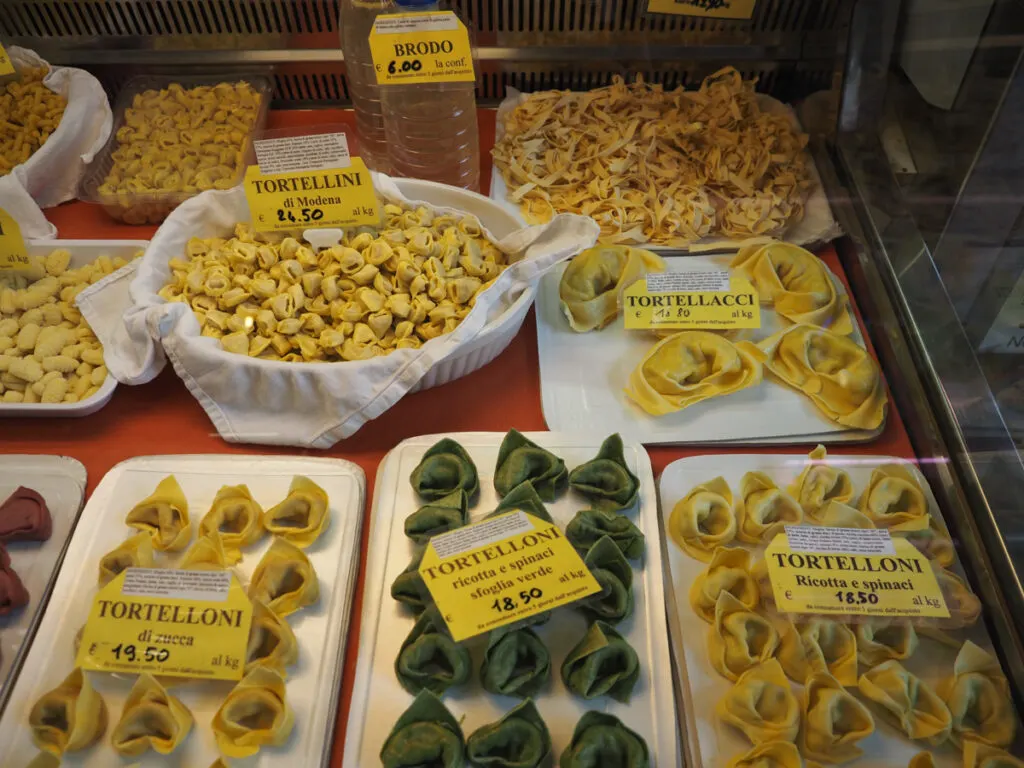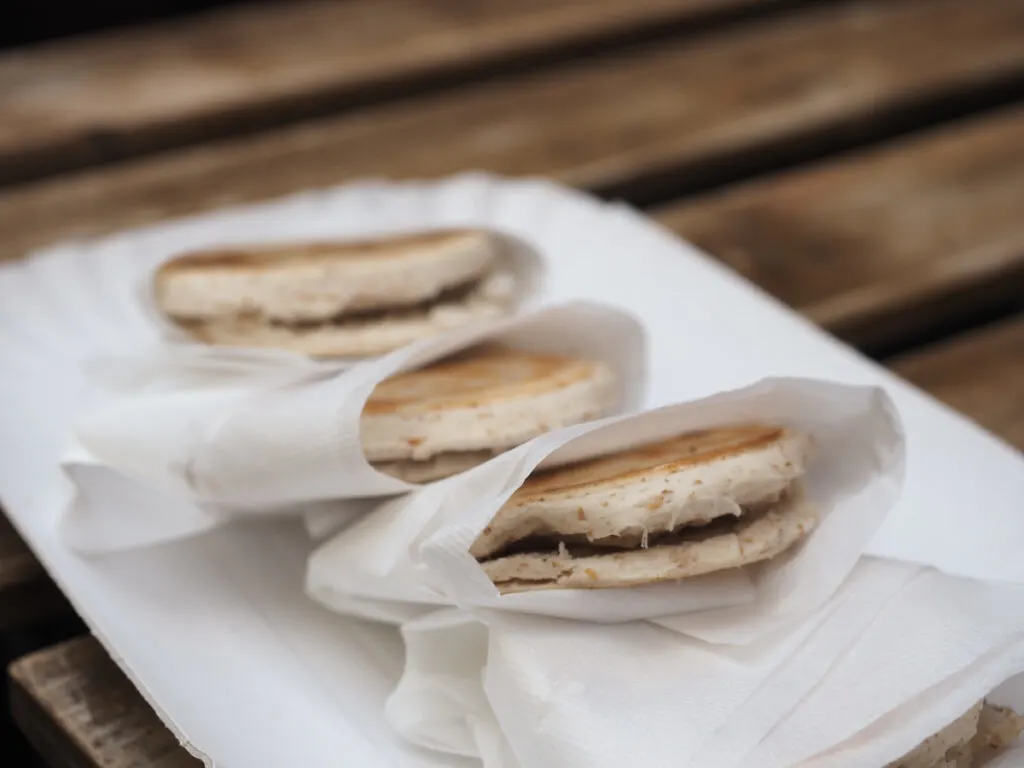 After the food tour, you can either head back to Bologna for the rest of the day, or, if you want to dive further into the culinary scene, you could certainly head to a Parmigiano Reggiano cheese dairy on this tour. It is about a 10-minute taxi ride from the city.
And if you're a lover of all things fast cars, you'll definitely want to stick around Modena and head to the Ferrari Museum or the Maserati Factory Tour, both located in the city.
After that, head back to Bologna for an apertivo. If you want to enjoy a really cool apertivo, head to Lab 16. First of all, the outdoor location is incredible as it sits on a small square with the Church of San Donato in the background.
The drinks here are definitely cheap, as are a lot of places for an apertivo in this university town, so you can sit back, relax, and have an Aperol spritz or two along with some potato chips before dinner.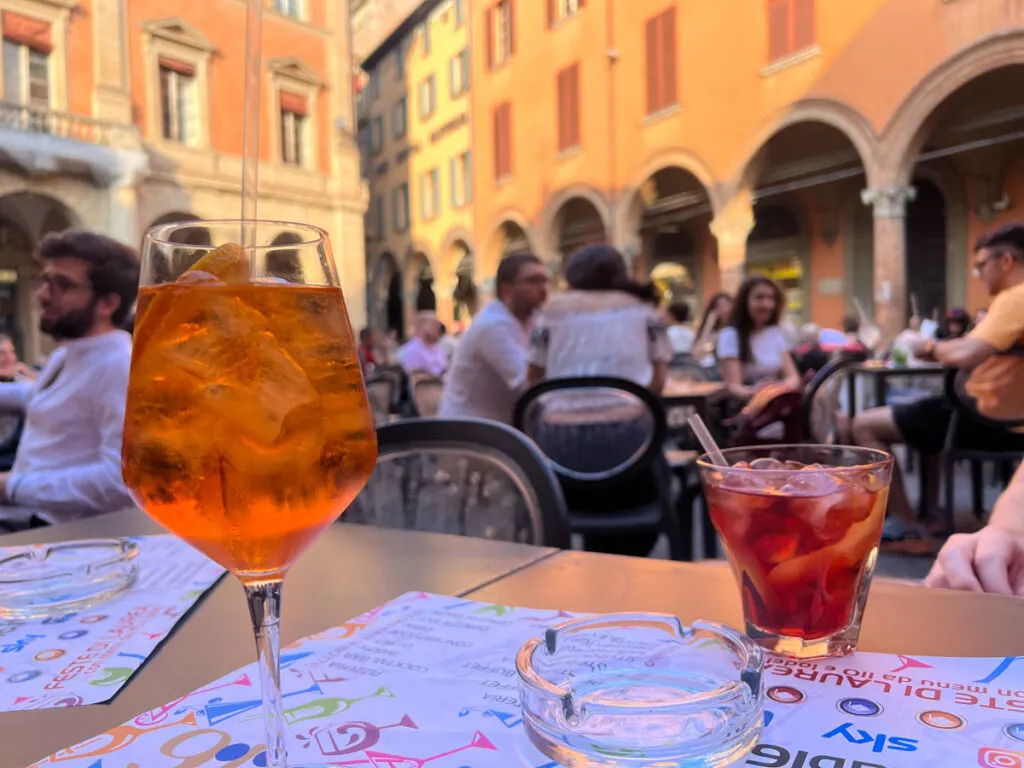 Then, to wrap up your time in Bologna, end your evening at Vicolo Colombina. This place has incredible food, and you can opt for a table outside if available. It is just off the Piazza Maggiore next to the Basilica di San Petronio.
This is the place to order up some great Italian wine and try an iconic regional dish: tortellini in broth. I'll be honest that I was nervous to order it at first. Just pasta in a simple broth? It can't be that good.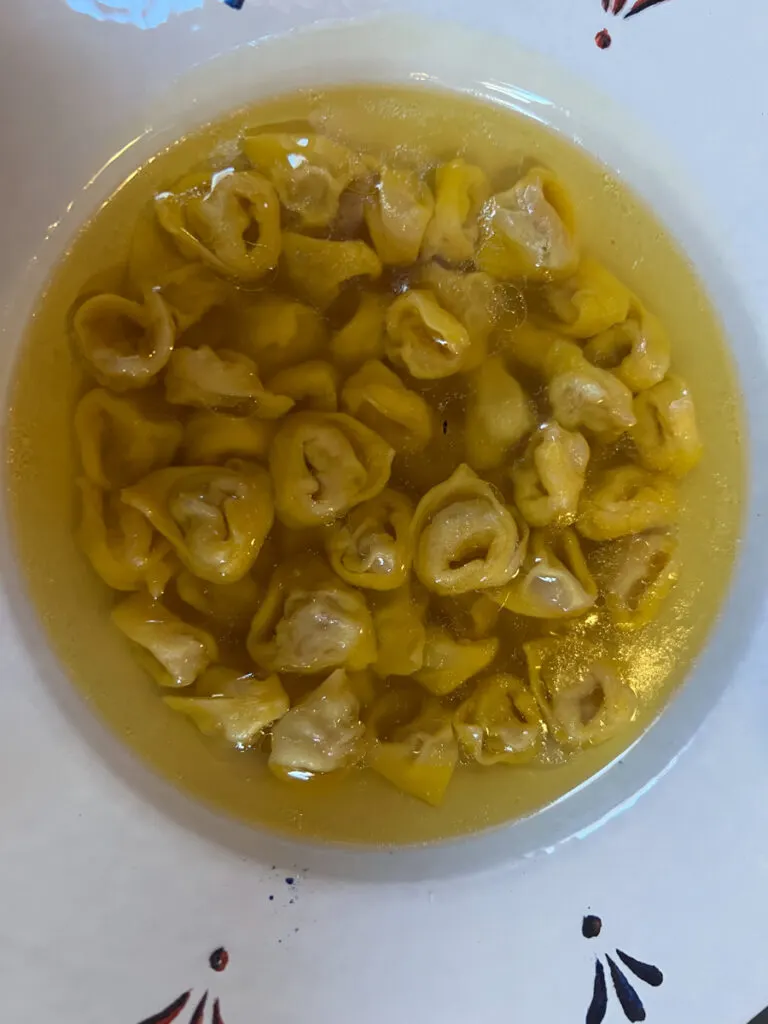 But I'm so glad I did, as it was one of the best things I ate our entire trip! Definitely have a bowl of this before ordering the cockerel with truffle and ending with caramel milk fiordilatte.
It is such a delicious end to your 2 days in Bologna. After that, you'll be off to your next Italian destination the following morning!
Information For Day 2 in Bologna:
Duomo di Modena Hours: Tuesday-Sunday from 7 am-7 pm. Monday from 7 am-12:30 pm and 3:30-7 pm. For groups, please visit between 10:30 am-5 pm, and on Monday from 10:30 am-12 pm and 3:30-5 pm. Hours vary for museums and tower.
Duomo di Modena Admission: Free. Prices vary for entrance to the museums or tower.
Taste Bologna Details: Price: €89 for adults, €40 for kids 4-10 years, and free for kids under 4. The tour starts at 10 am and lasts for 3.5 hours. Book it here!
Lab 16 Hours: Open Monday from 7 am-1 am, Tuesday-Thursday from 7 am-2 am, Friday from 7 am-3 am, Saturday from 5:30 pm-3 am, and Sunday from 5:30 pm-1 am. Aperitif is from 5:30-10 pm.
Vicolo Colombina Hours: From Wednesday to Monday for lunch and dinner, except Sunday evening. Hours are 12-2 pm and 7:30-10 pm.
Where to Stay During Your Bologna Italy Itinerary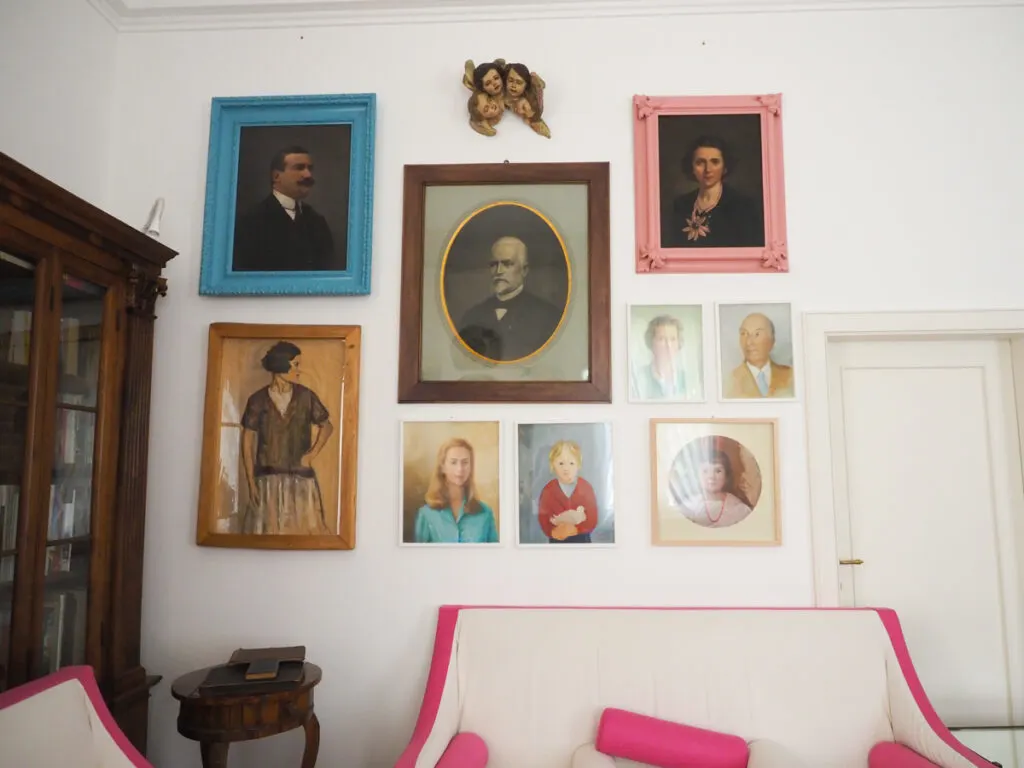 While you're exploring the best things to do in Bologna in 2 days, you've got to stay in a lovely hotel. Here are some based on your budget.
Budget: Panorama Hotel
Right in the heart of the city center, you've got easy access to most of what the city has to offer. Plus, the rooms offer great views, and you either have a private bathroom or shared one. For those on a budget, this is where to stay.
Prices start at around $63 per night.
Mid-Range: Casa Bertagni
This former private home turned boutique hotel is run by the descendants of the former residents. What makes it so special is that the decor is antiques from the family. There is also a lovely courtyard that is great for relaxing and enjoying your own DIY apertivo, and the rooms are super comfortable. This is where we stayed and we thoroughly enjoyed it!
Prices start at around $186 per night.
Luxury: Grand Hotel Majestic Gia Baglioni
This 5-star hotel is also in a great location and is known as being one of the oldest hotels in the city. With its marble, mosaics, 18th-century paintings, and more, it is definitely a luxurious place to stay. There are also incredible restaurants and places to enjoy a drink.
Prices start at around $574 per night.
Getting to Bologna and Around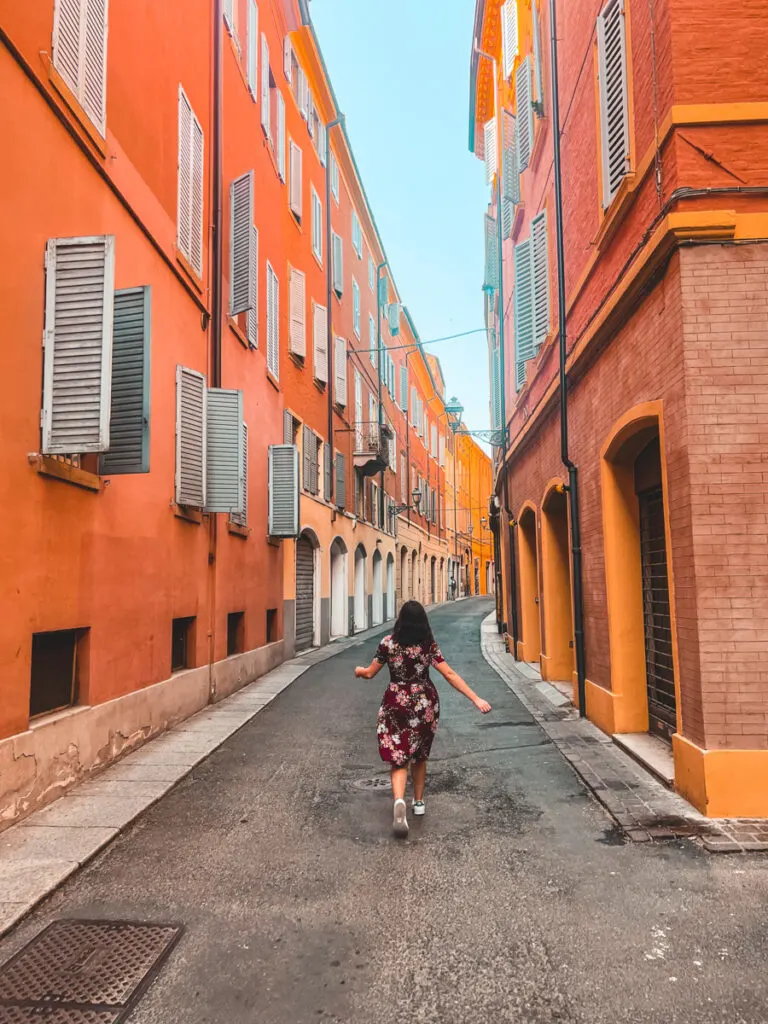 Getting to Bologna isn't too difficult, as it is well-connected thanks to its train station. It does have an airport, but unless you're in Europe, you likely won't find many direct flights into the city.
However, it is easy enough to fly to either Milan or Rome and take the train to Bologna.
Once you're in Bologna, walking is a great way to get around, as many of the attractions aren't far away from each other, except for the Basilica di San Luca.
There are also buses operated by the TPER. You can purchase tickets online. A single ticket is €1.50 for 75 minutes or you can get a day pass for €6. Check it out here! Just be sure to validate your ticket every time you use it! And tickets purchased on the bus are €2.
If you're wondering how many days should I spend in Bologna, I'm here to stay that 2 days was plenty of time to get a feel of the city. Of course, you could spend more than 2 days in Bologna and even take more day trips around the region, but if you're short on time, this is a great way to take it all in!
Would you spend 2 days in Bologna, Italy?
Want more Europe travel ideas? Check out these posts!
Thank you to Taste Bologna for our food tour. As always, all opinions are our own.
Pin it here!