Some posts on this site contain affiliate links, meaning if you book or buy something through one of these links, I may earn a small commission (at no additional cost to you!). Read the full disclosure policy here.
---
Who doesn't love Greece? A land of olive oil, ancient Greek and Roman history, and stunning islands and beaches is hard to pass up. Whether you're planning a Greece honeymoon itinerary or would love to create a Greece itinerary for 7 days, you'll be wowed and amazed at all this country has to offer.
My love affair with Greece began years ago when I was backpacking Europe by myself for 5 weeks. I remember wandering up to the Acropolis, hopping on ferries to the islands, and enjoying the peace and joy that traveling in Greece brings.
So today I want to show you how to make this dream trip come true for you!
The Perfect Greece Itinerary in 7 Days
If you've only got 7 days in Greece, this Greece travel guide and itinerary is perfect.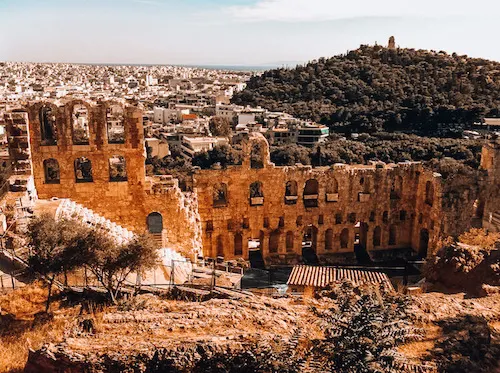 Getting There For Your 7 Days in Greece
If you are flying to Greece, chances are that you'll end up flying into Athens International Airport. Thankfully, getting to Greece is easy thanks to this airport, and it has a ton of flights every day from all the major carriers like United, Emirates, British Airways, Delta, American Airlines, and several regional carriers like Aegean Airlines too.
Pro-tip: Find your flights using Skyscanner! It combines multiple airlines to make sure you get the best deal. I also love that you can set price alerts and book when the prices drop.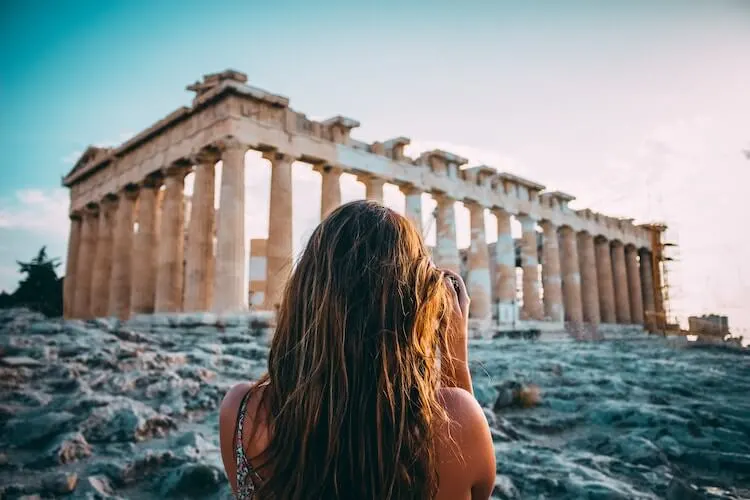 Day 1: Explore Athens to Start Your Greece Itinerary in 7 Days
Now is the time to settle into Athens and use this day to explore. I would suggest flying in the day before and using one full day to visit Athens during your Greece itinerary.
Is it possible to visit Athens in 1 day? Of course! I've visited Athens twice, and 1 time I only had a day to explore and found some great highlights for your 1 day in Athens.
Head to the Acropolis Museum
Get up early and head over to the Acropolis Museum, which opens at 8 am. It is the perfect place to learn more about the Acropolis, see ancient ruins underneath the museum, and dive deeper into the significance and key things to see while at the Acropolis later on.
While some people would give this a miss during their one day in Athens, I really enjoyed reading the information and getting more context before making my way up to the Acropolis. It only takes about an hour or so to walk around too.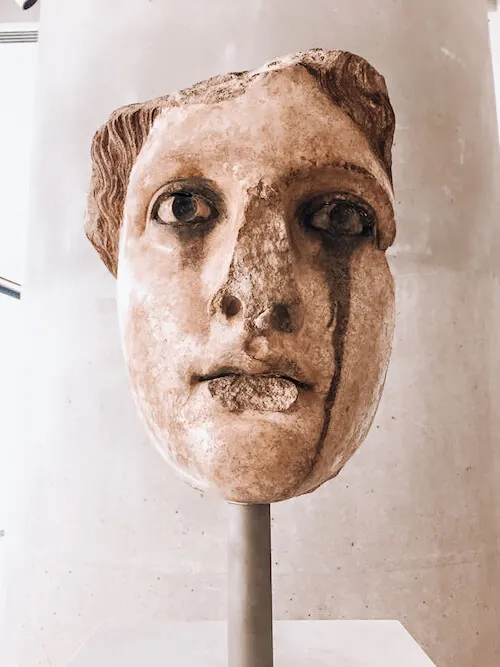 Acropolis Museum Hours: Summer Hours (from April 1-October 31): Monday 8 am-4 pm, Tuesday-Sunday 8 am-8 pm, Friday 8 am-10 pm. Winter Hours (from November 1-March 31): Monday-Thursday 9 am-5 pm, Friday 9 am-10 pm, Saturday and Sunday 9 am- 8 pm. The last entry is 30 minutes before close.
Standard Ticket Price: The summer price is 10 euros, while winter is 5 euros.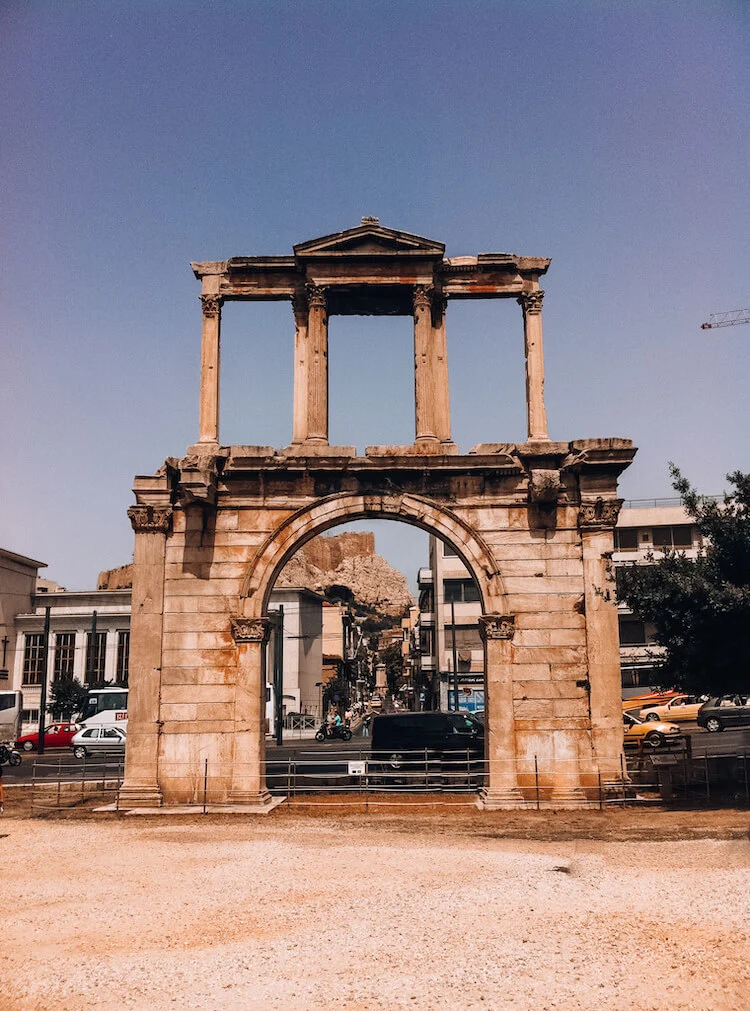 Take a Bike Tour of Athens
Next up, join your tour group before departing on a historic biking tour of Athens. See the neoclassical buildings, witness the changing of the guard, visit the historic "neighborhood of the gods," that is the Plaka area, shop for souvenirs or try the famous Greek liquor, ouzo, bike past Hadrian's Arch, spot the home of the first Olympics, and bike around the walls of the Acropolis, stopping in the Ancient Agora area.
While admiring and learning the history around ancient Athens, you'll get to check out Athen's more modern architecture and even stop by a more local neighborhood.
This tour is only around 2.5-3 hours long, so if you are short on time, this is a great way to get to see the highlights of Athens.
The tour starts at 9:30 am and is about $40 per person.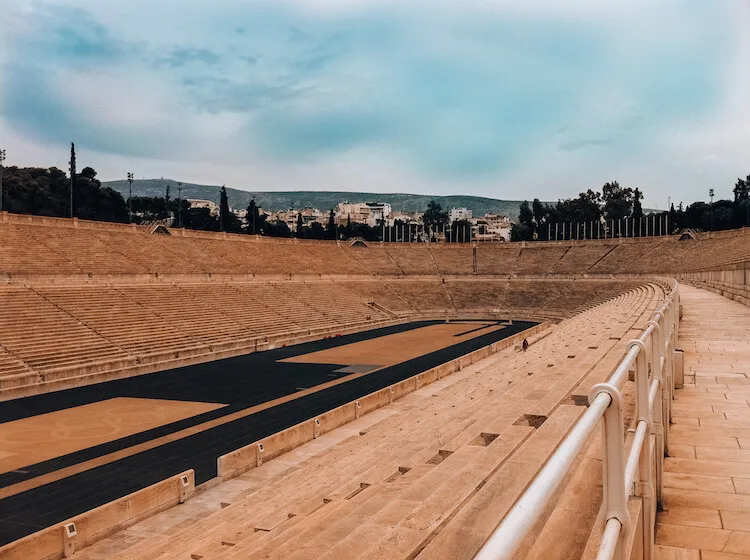 Grab Souvlaki for Lunch
After your bike tour, which ends right around lunchtime, it is time to grab a bite to eat! And what better thing to eat than Greek souvlaki? Souvlaki is a skewer with pieces of meat on it that is either eaten off the skewer or my favorite, placed in a pita with tzatziki sauce and veggies. It is seriously SO good!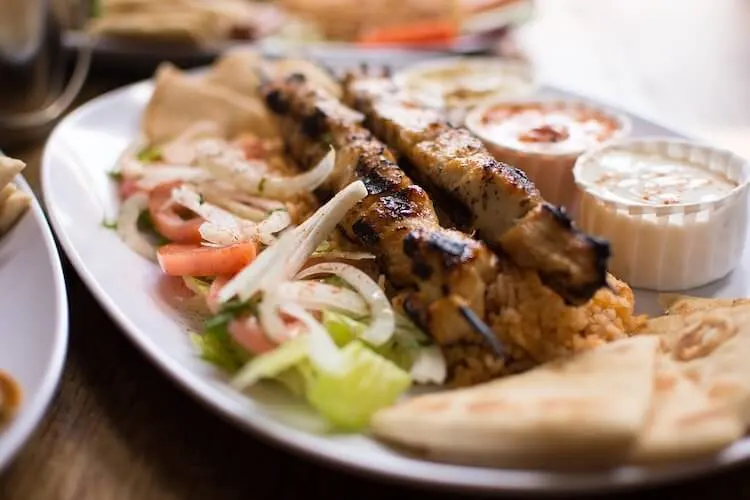 Grab a skewer (or pita) of the delicious stuff at Thanasis in Monastiraki. Also, save some room for saganaki (fried Greek cheese).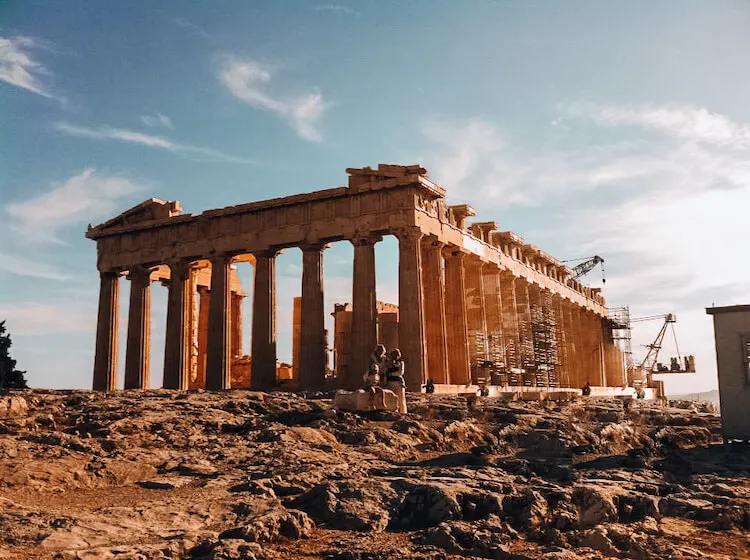 Head to the Acropolis
After you are properly fueled up, it is time to walk all of that off by venturing up to the Acropolis. And while this is certainly the more touristy part of the city, it is by far worth the time and money.
And I have the secret to avoiding the crowds. Honestly, the only reason that I know about this is that I accidentally stumbled upon it during my first day in Athens years ago. I was wandering around the Plaka area and saw a bunch of Greek sculptures and artifacts gathered in an area with a fence and paid what I thought at the time was an overpriced ticket to see said artifacts.
Well, after getting my fill of those artifacts, I noticed a path that kept continuing… all the way to the theatre of Dionysus and then the Acropolis!
Yes, there is a side entrance to the Acropolis, which I highly recommend taking. It is located on the southeast corner, pretty much on the opposite side as the main entrance.
Wander up to explore Dionysus's Theatre, the Acropolis itself, and the many temples like the Parthenon and the Old Temple of Athena, before heading down to Areopagus, which was a famous place that once functioned as a court and it is where the Apostle Paul gave a famous speech.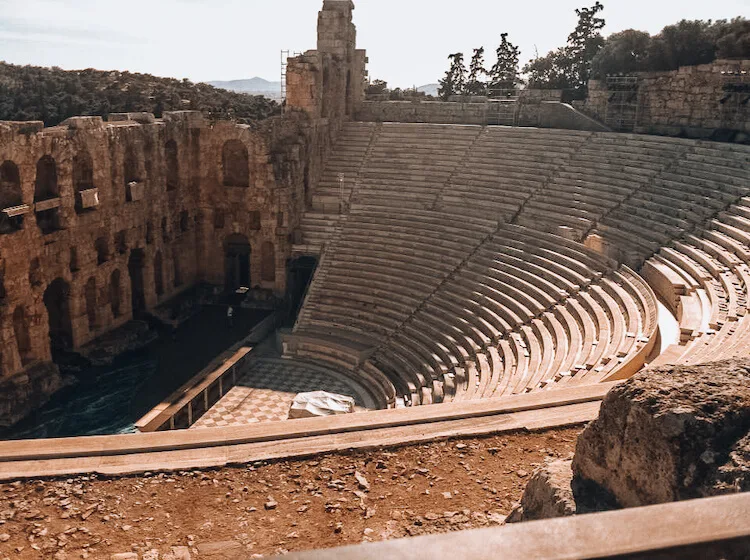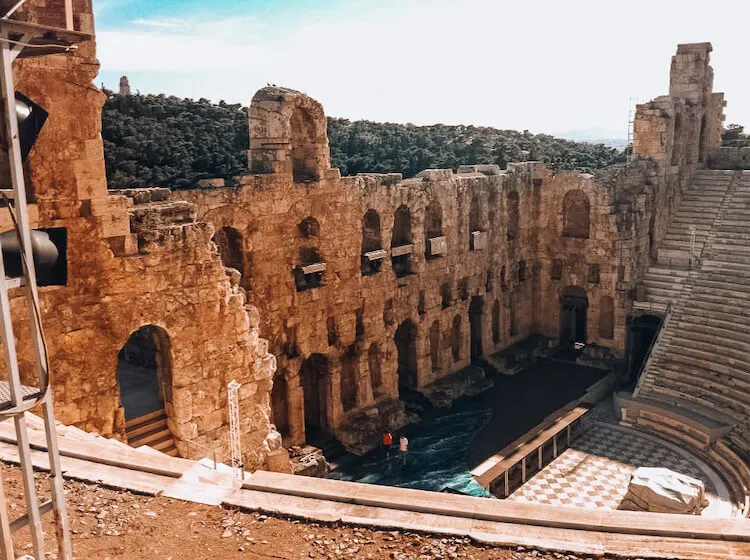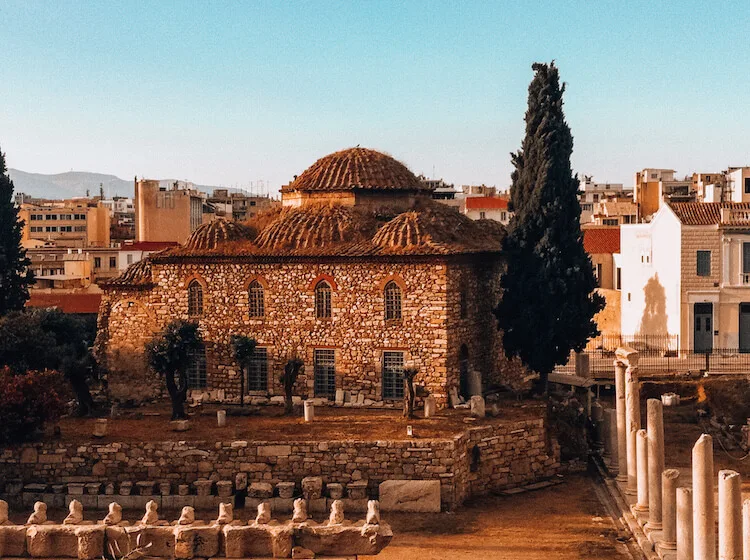 Then, check out the Greek Agora, which is located northwest of the Acropolis.
Acropolis Hours: 8 am-8 pm daily.
Cost of Acropolis Standard Ticket: 20 euros.
You can also do a tour of the Acropolis for more context of the area and history!
After exploring the Acropolis and surrounding area for several hours, it is time to head back to your hotel for a drink and out to dinner before your departure to the Greek islands the following day!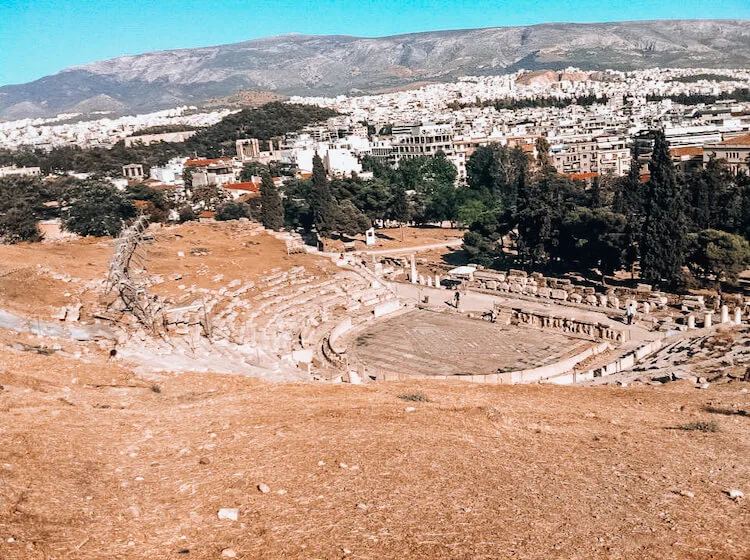 Where to Stay in Athens:
I absolutely love the Plaka and Syntagma neighborhoods. These neighborhoods are close to all of the main sites you'll want to visit, is the place to spot the Acropolis from your hotel, and there are plenty of places to eat and drink while admiring the classical Greek architecture. The surrounding areas of Psyri and Monastiraki are also great places to stay for sightseeing.
Best Budget Hotel in Athens: Attalos Hotel
Starting at around $65 per night, this place has a wonderful rooftop bar to admire the Acropolis at night, and the rooms are clean and comfortable with A/C and the option for a balcony. It is also steps from the Plaka neighborhood in Psyri.
Read reviews and book the Attalos Hotel on TripAdvisor | Booking.com | Agoda
Best Mid-Range Hotel in Athens: Hermes Hotel
Located in Syntagma, it is within a few minutes of walking to the main attractions and markets, as well as great cafes and restaurants. This hotel starts around $130 per night, and includes free breakfast, has a taxi service, a spa, a great sun terrace for spotting the Acropolis, and rooms with great views.
Read reviews and book the Hermes Hotel on TripAdvisor | Booking.com | Agoda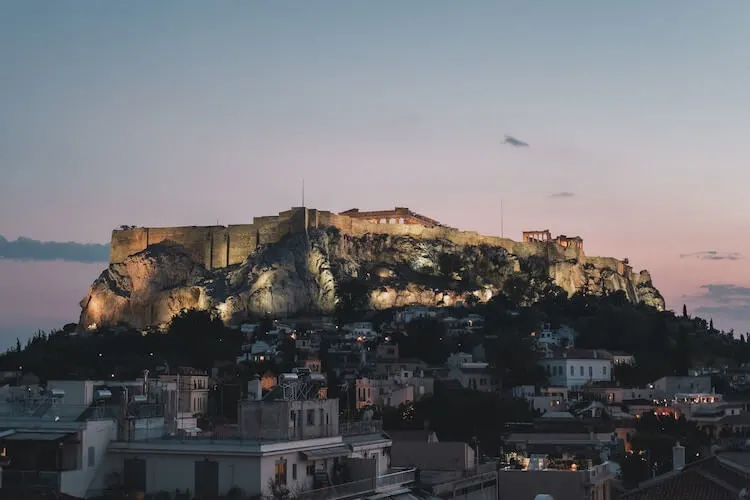 Also in Syntagma, this place not only has a view of the Acropolis but a rooftop pool to lounge and enjoy the views. The sleek and modern rooms include all of the luxury amenities you'd expect, and many rooms have fantastic views of the city and Acropolis. This hotel starts around $275 per night.
Read reviews and book the Electra Metropolis Hotel on TripAdvisor | Booking.com | Agoda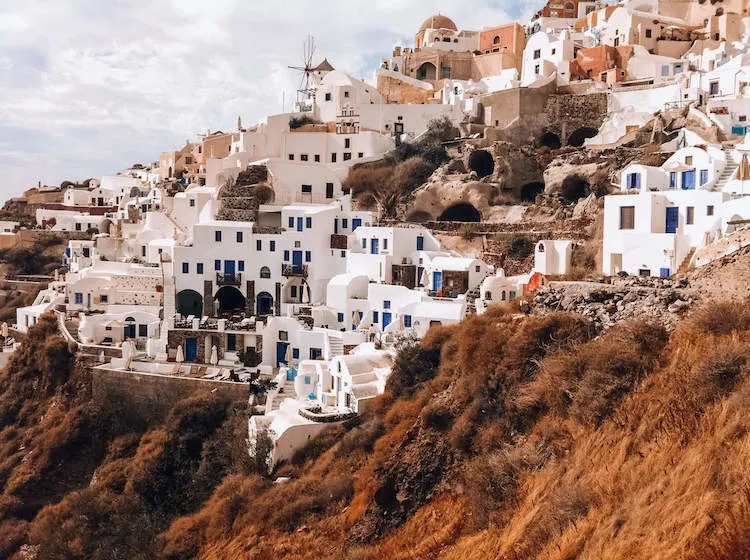 Days 2-4: Explore Romantic Santorini During Your Greece Itinerary in 7 Days
Whether this is your Greece honeymoon itinerary or you just want a romantic Greece itinerary in 7 days, a stop in Santorini is an absolute must. Yes, it is touristy. Yes, everyone wants to visit. But it is beyond worth it. There is a reason why touristy places are touristy. And when it comes to Santorini, it is the stunning views, the lovely beaches, and the perfect white buildings with blue roofs that draw people in.
So this morning you'll want to leave your Athens hotel early and hop on a ferry to Santorini. I would suggest getting a high-speed ferry versus the normal ferries, as the typical Blue Star ferry takes about 7.5-8 hours while the Super Jet and World Champion Jet ferries only take about 5-5.5 hours. And when you have a short amount of time, this is what you want. I typically book ferries on Ferry Hopper or Go Ferry. And you'll be departing from Athens Piraeus Port and you'll likely be taken to the Athinios Port on Santorini.
The cost of ferry tickets varies throughout the year, but between 50-100 euros per person is typically the price range.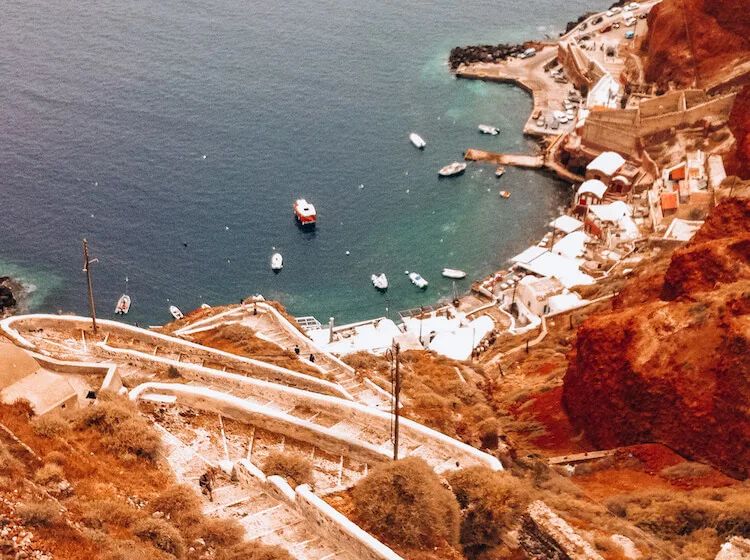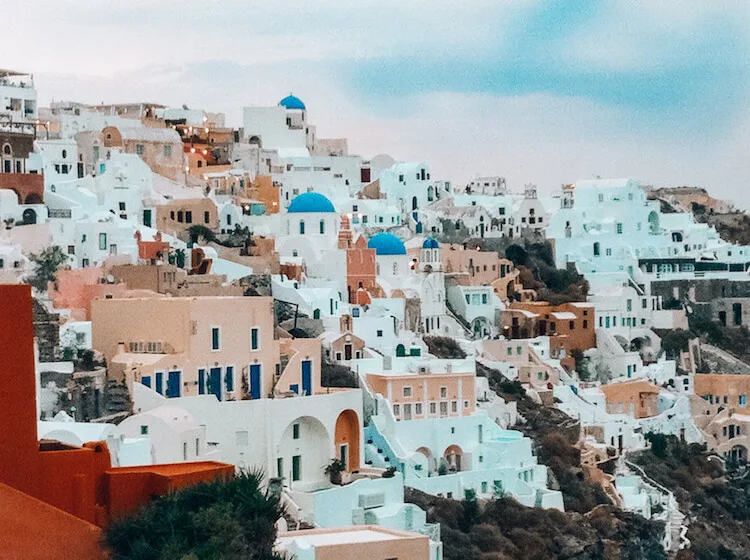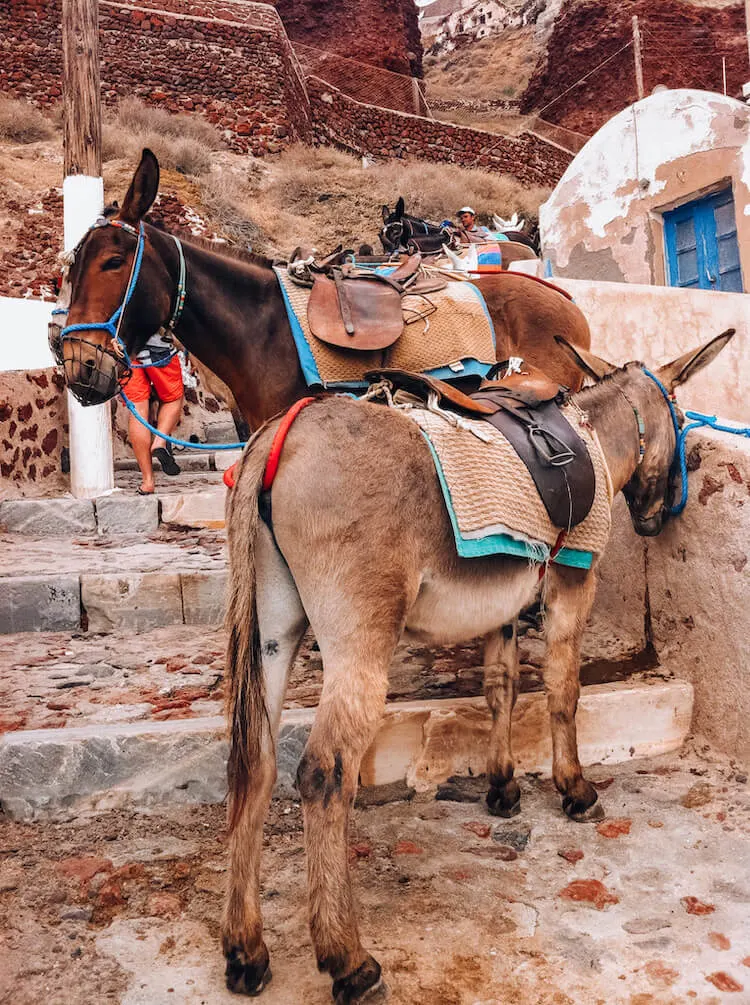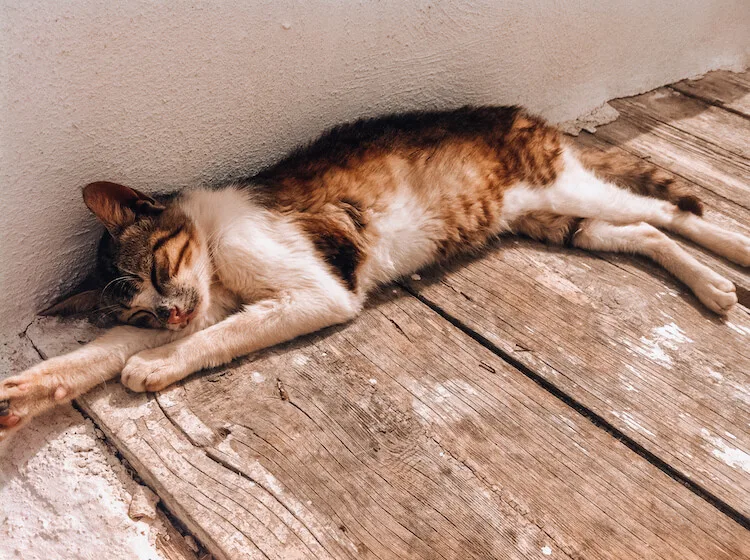 Things to do in Santorini:
Hike from Fira to Oia.
Watch the sunset in Oia.
Take photos and explore the beautiful town of Oia.
Take a jet ski or kayak out on the water to explore the volcano.
Visit Perissa Beach for the black sand or the Red Beach for red sand.
Party it up at the beach bars in Perissa.
Take a boat tour around the island, including a swim in a hot spring, hiking on the volcano itself, visiting Thirassia, and watching the sunset at Oia.
Rent an ATV across the island.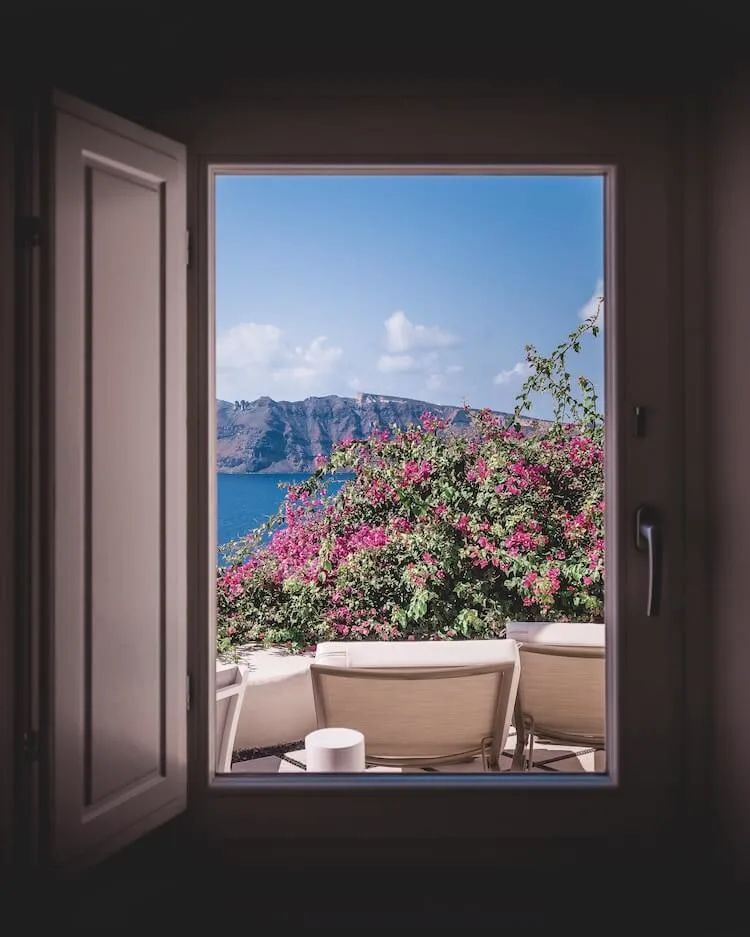 Where to Stay on Santorini:
While we all love Santorini, there are plenty of places to stay that won't cost you a fortune. I recommend staying over on Perissa Beach (the black sand beach) on the other side of the island to avoid crowds and high costs of iconic Oia.
But if you you are willing to splurge on a nicer hotel with a view overlooking the caldera (the volcanic depression in the middle of the sea separating Santorini from its neighboring island), then Oia is the place to be. Also, Fira, is a great compromise on both price, great views, and not too far from Oia.
PS- There are also incredible and affordable rentals in the area too!

Best Budget Hotel in Santorini: Smaragdi Hotel
This hotel is located on Perissa Beach, within steps of the black volcanic sands and cool water of the Aegean Sea. With clean and comfortable rooms and deluxe rooms with a balcony overlooking the garden, it is a great place to save money. At only $60 per night ($110 per night for the deluxe room), it is a steal on Santorini.
Read reviews and book the Smaragdi Hotel on TripAdvisor | Booking.com | Agoda
All I can say is wow. Starting around $215 per night, you have great views, free breakfast, in-room massage, and if you're willing to splurge a little (around $300 per night), you can have a great balcony with sea views. This is located close to Fira in Firostefani.
Read reviews and book the Blue Dolphins Apartments & Suites on TripAdvisor | Booking.com | Agoda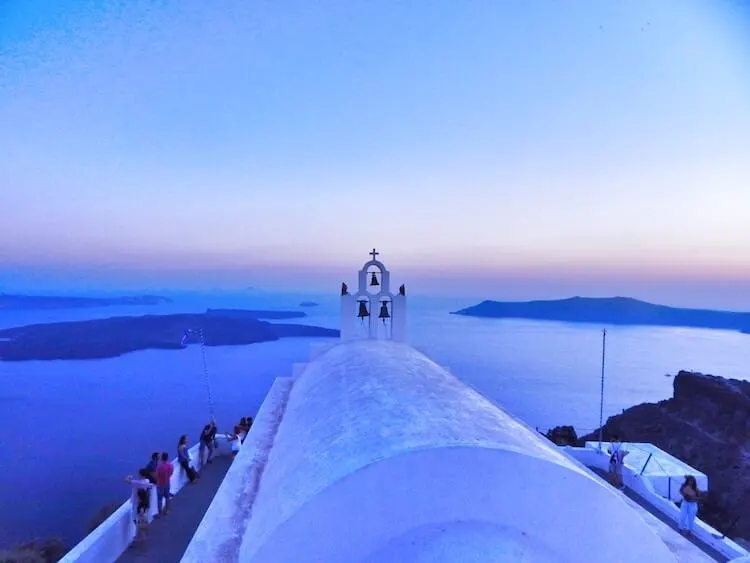 For the most romantic Greek honeymoon out there, this is the place to be. With a price of $725 per night, it definitely has charm. Located in Oia, all rooms come with a private plunge pool and balcony, and the cave suite (costing $1,600 per night), is where you'll find yourself in the iconic Santorini white cave with the pool inside.
All suites have lovely views of the caldera, meaning you won't even have to leave your room the entire time! Even your meals can be delivered in your suite! Enjoy yoga classes, cooking lessons, wine tasting, and more at this luxury hotel.
Read reviews and book the Andronis Boutique Hotel on TripAdvisor | Booking.com | Agoda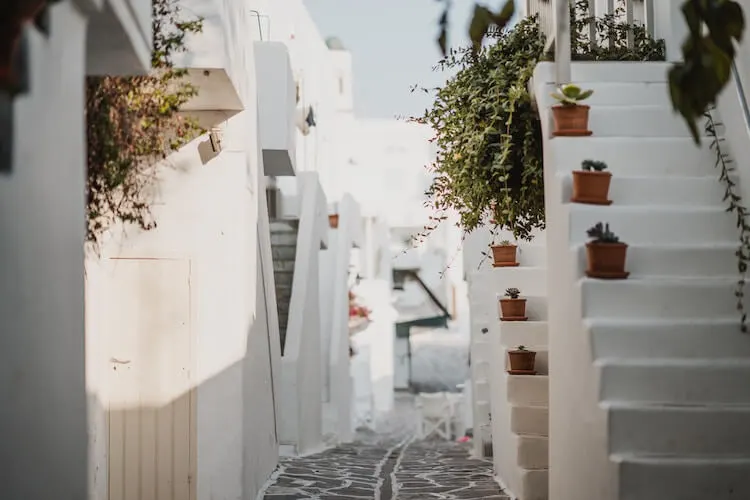 Days 5-6: Sail to Paros for Fewer Crowds During Your Greece Itinerary in 7 Days
On Day 5, you'll want to start heading back to Athens and go to a closer island. Thankfully, Paros is perfect for a less crowded place with plenty of beaches and quaint villages to explore.
Getting to Paros is easy with ferries, and I recommend going with a high-speed ferry, like SeaJets, that will get you there in less than 2.5 hours. Tickets start under 50 euros per person and can be booked on Go Ferry.
Things to do in Paros:
Rent an ATV to explore the island or take the bus.
Visit the towns of Naoussa and Leftkes.
Check out the Parikia port.
Spend time at the beach! Kolymbithres Beach is great for relaxing.
Visit Monastiri Beach for the abandoned shipwrecks.
Take a sailing cruise across the various islands.
Go scuba diving.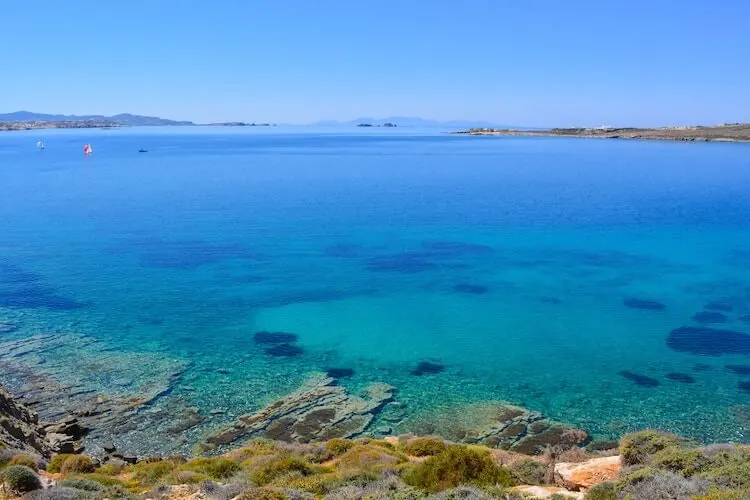 Where to Stay in Paros:
Paros is far less touristy than Santorini or Mykonos, meaning you can get much better deals here. I recommend staying near the main town of Naoussa, which has many tavernas and bars as well as beaches like Piperi Beach.
Right in the heart of Naoussa, this hotel is only around $60 per night, with bright and spacious rooms. There is a rooftop terrace to take in the views of the island, and you're close to everywhere you want to be.
Read reviews and book the Hotel Christina on TripAdvisor | Booking.com | Agoda
Next to Naoussa and right next to the beach, you'll love this hotel. It has a fitness center (if swimming isn't enough exercise), free breakfast, and a private balcony to admire the views of the Mediterranean Sea. It is paradise at only $110 per night.
Read reviews and book the Kalypso Hotel & Apartments on TripAdvisor | Booking.com | Agoda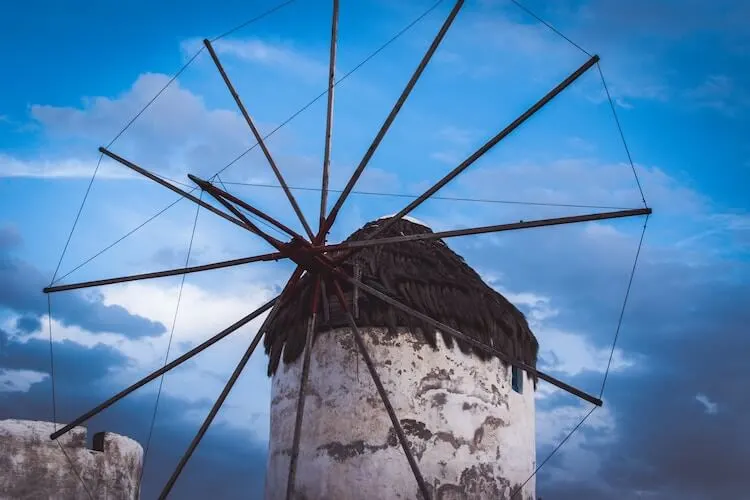 Get outside of town and on the sea with this affordable, luxurious hotel. Starting around $181 per night, enjoy the pool, spacious and luxurious rooms, a patio or balcony to take in the stunning seascape, and more!
Read reviews and book the Saint Andrea Seaside Resort on TripAdvisor | Booking.com | Agoda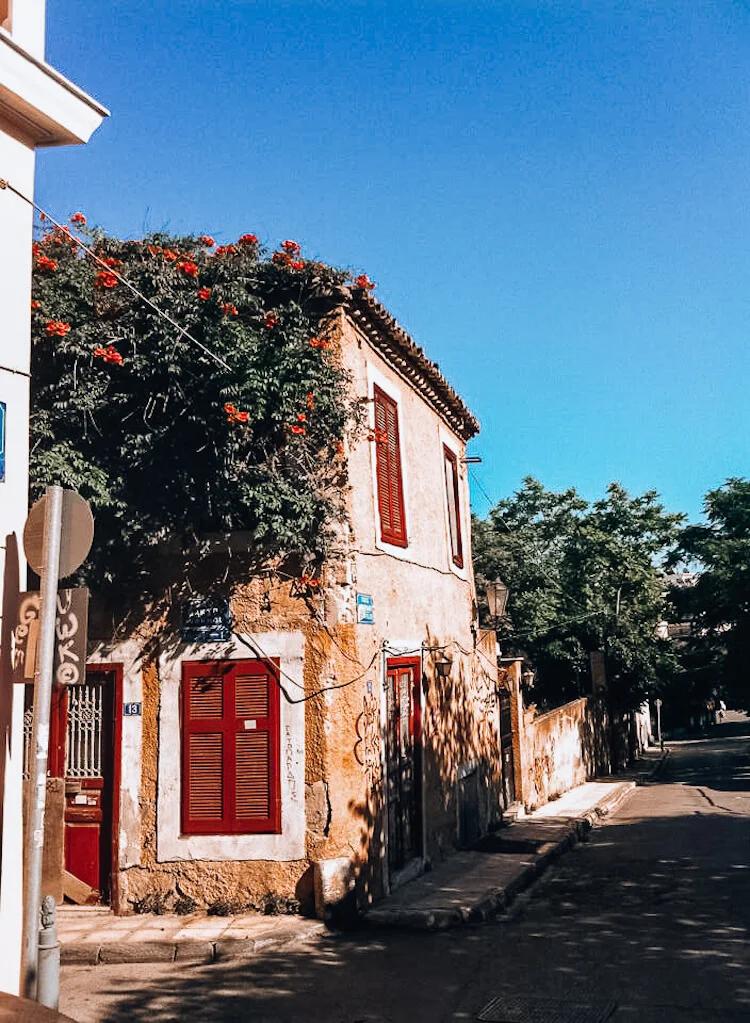 Day 7: Embark back to Athens to End Your Greece Itinerary of 7 Days
Alas, this trip is coming to an end, and it is time for the ferry back to Athens. With either Direct Ferries or Go Ferry, you can find a good deal on a ferry back for around $50 per person or less.
Again, I recommend high speed since you have limited time, as it is around 3.5 hours to get back from Paros on the high-speed ferry versus 4 or more hours with the slower ferry.
On this day in Athens, I would relax, wander around the neighborhoods, and grab some souvenirs around Plaka or Monastiraki.
Plan to depart the following morning for your trip home.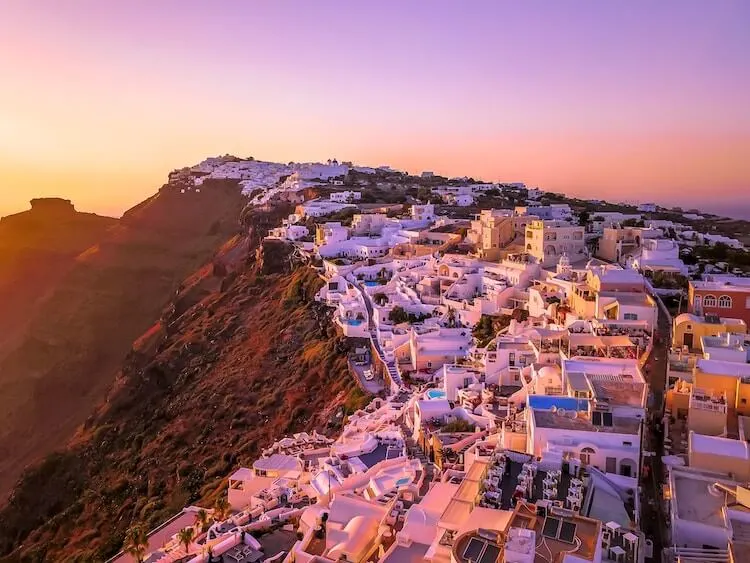 If You Have More Time Beyond 7 Days in Greece
If you have 10 days in Greece or more, I would suggest adding some more destinations to your itinerary. Check out these options to add to your Greece Itinerary for 10 days:
Take the train or a short flight to Thessaloniki, to check out more historic sites like the Trigonion Tower, Vlatadon Monastery, Church of Agios Nikolaos Orphanos, or visit the various beaches or Turkish baths. While you're there, definitely book a day trip to visit the high rocks and monasteries of Meteora.
Party it up in Mykonos. There are a ton of beaches to choose from here, but I loved the quiet and perfectly clear Ornos Beach.
Spend another day in Athens. There is so much to do in Athens, that you could easily spend an extra day exploring more ancient ruins, checking out local neighborhoods, or even visit the Church of Agios Demetrios Loumbardiaris (a beautiful Greek Orthodox church on a hill overlooking the whole city).
Take a trip to Delphi from Athens to see the ruins.
Visit the large island of Crete for beaches, history, and more!
And if you are tired of the Cyclades islands (including Santorini, Mykonos, etc.), check out the Ionian Islands like Corfu or Dodecanese Islands like Rhodes.
Travel Tips for Visiting Greece
When it comes to your perfect 7 days in Greece, here are some tips to keep in mind:
Currency is the Euro. Like many European countries, Greece uses the Euro, making it easy to get around and exchange money. I suggest just getting cash out at the ATM at the airport for when you arrive and locking up extra cash in your hotel safe. The current exchange rate is $1.09 USD per 1 Euro.
Best time to visit Greece: While you could visit year-round, the best time to visit for the weather is between April and October. The summer months do get very warm and are crowded with tourists, particularly June-September. However, outside of those months, you'll find great deals on hotels and fewer crowds. I recommend visiting in the shoulder season of April, May, and

October

. The winter months will have more rain and it will be cooler, but ideal for exploring cities like Athens.
Petty theft and pickpocketing happen in larger cities. Prevent it by only carrying as much cash as you need for the day, one credit card, and a copy of your passport and leave the rest in the safe (this includes back up credit cards, your actual passport, extra cash, etc.). Also, I love carrying my cross-body anti-theft bag to prevent pickpockets. Just be vigilant with your things as you would in any large city and you should be good.
For the best hotel deals, we love booking on TripAdvisor,

Booking.

com, or Agoda.
Flying vs. Ferry. Some islands like Santorini and Mykonos have small airports and cheap flights to/from Athens. If you are really short on time, you could opt to do that versus taking the ferry. I booked my flight from Mykonos back to Athens using Skyscanner for the best prices!
Be patient with ferries. Ferries in Greece are not always the most reliable with timing. It is crucial to just be patient. Sometimes it may take longer than you think, or show up late, etc. Don't plan to fly out on a day you're taking a ferry just in case.
Travel insurance is a must. Whether you're diving or driving, when you travel far and wide, travel insurance is important. We use World Nomads for our international trips and can't recommend it enough. It has comprehensive and easy to understand insurance plans, and it is really easy to get a quote (no enter your email and get harassed for days here).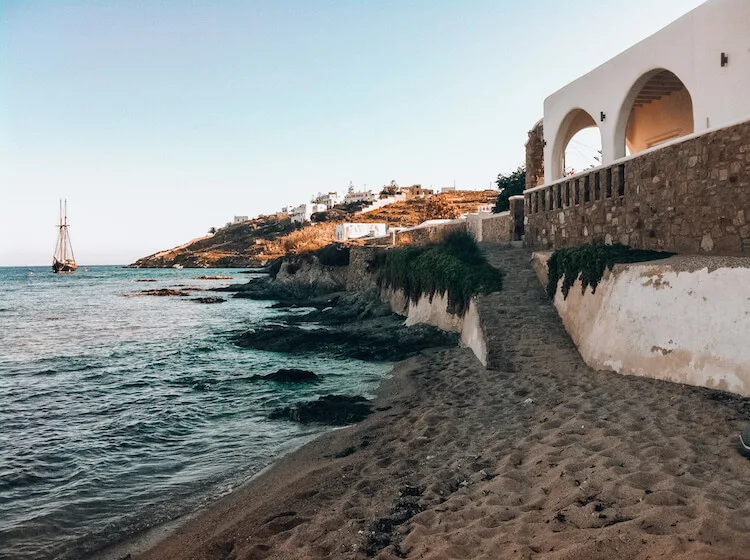 Packing Tips for a Greece Itinerary in 7 Days
We travel carry-on only and whether you're visiting Greece for 10 days or 7 days, you don't need a lot of stuff. Here are some key essentials to pack for your trip to Greece:
Women's Packing Guide to Greece:
Men's Packing Guide to Greece: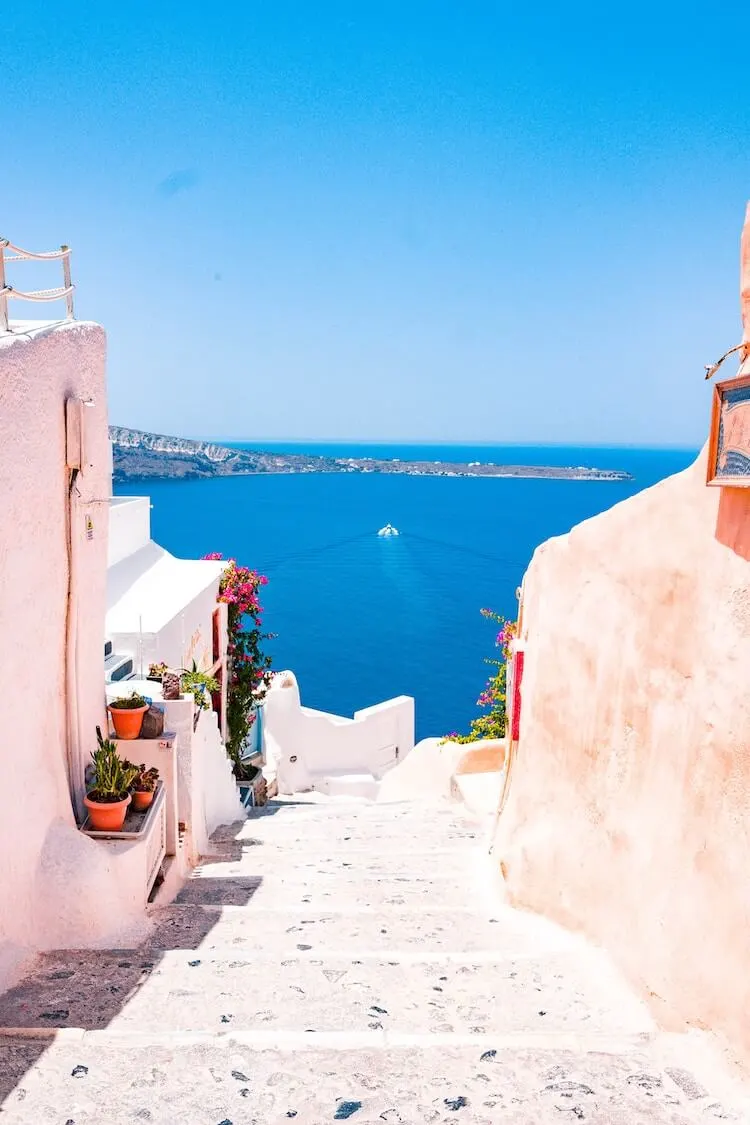 Spending 7 days in Greece is a great amount of time to really get to know the country, explore its history, and relax on some amazing beaches. Whether you want a Greek island holiday on your trip to Greece or you're celebrating your honeymoon, let this Greece travel guide help you on your next big adventure!
Want travel ideas? Check These Out!
Would you visit Greece? What is your favorite place to go? Let us know in the comments!
Pin it here!