Some posts on this site contain affiliate links, meaning if you book or buy something through one of these links, I may earn a small commission (at no additional cost to you!). Read the full disclosure policy here.
---
California is one of the prettiest states to visit. With mountains, beaches, vineyards, and amazing weather, it is the perfect place for a romantic getaway or the ultimate 10 day road trip destination. If you are planning a California road trip itinerary for 10 days, you've definitely come to the right place.
So whether you are looking to city-hop from San Francisco to San Diego or you'd like to relax at Lake Tahoe or sip world-class wines in Napa, California is a destination that will leave you feeling refreshed.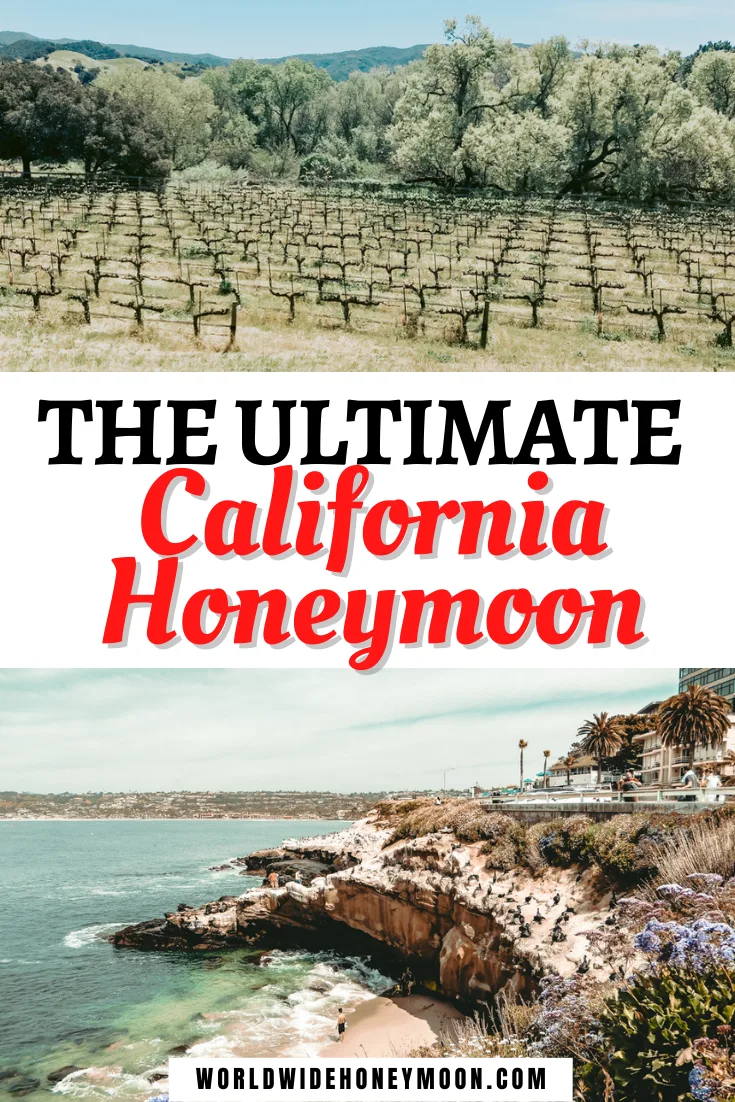 Perfect California Road Trip Itinerary for 10 Days
As much as we'd all like to spend as much time exploring the US's third-largest state, for most of us with limited time off of work, 10 days is all you may have. Luckily, it is enough time to relax and get adventurous on your visit to California. So we have the perfect California road trip ideas below!
Pro-tip: The easiest way to get around California is by doing a road trip. Rent a car and drive across the state before dropping it off at the airport on the way home. Beware of rush-hour traffic, though, particularly around LA. Avoid driving between 5 am-10 am and 3 pm-7 pm around major cities.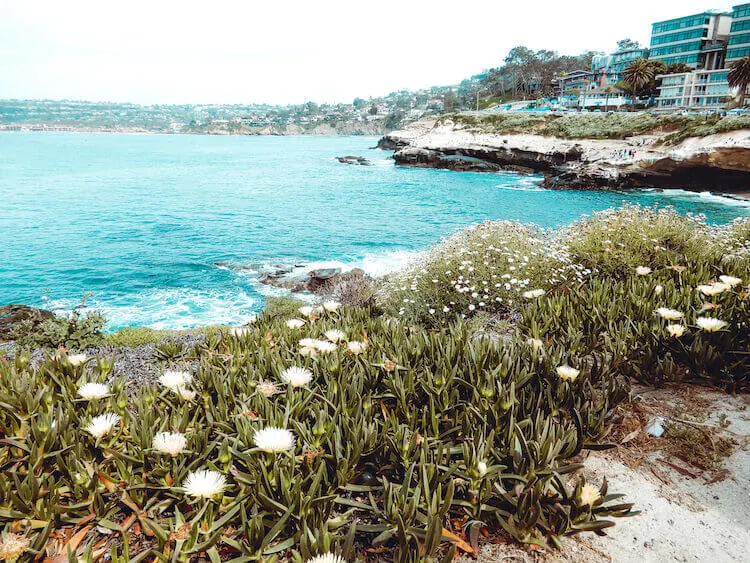 Days 1-2: San Francisco to Start You California Road Trip Route
When it comes to a California road trip, you'll want to fly into San Francisco and work your way down the state (or vice versa). So start in San Francisco, enjoying the views, trolleys and more!
Where to stay: Base yourself in the heart of San Francisco, close to museums and great restaurants at Hotel Spero or Stanford Court San Francisco.
Read reviews and book Hotel Spero on TripAdvisor | Booking.com | Agoda
Read reviews and book Stanford Court San Francisco on TripAdvisor | Booking.com | Agoda
Things to do in San Francisco:
Stare in wonder at the Golden Gate Bridge
Sail to Alcatraz Island
Spot sea lions at Fisherman's Wharf
Go shopping at Union Square
Admire the Painted Ladies and remind yourself of Full House
Drink tea at the Japanese Tea Garden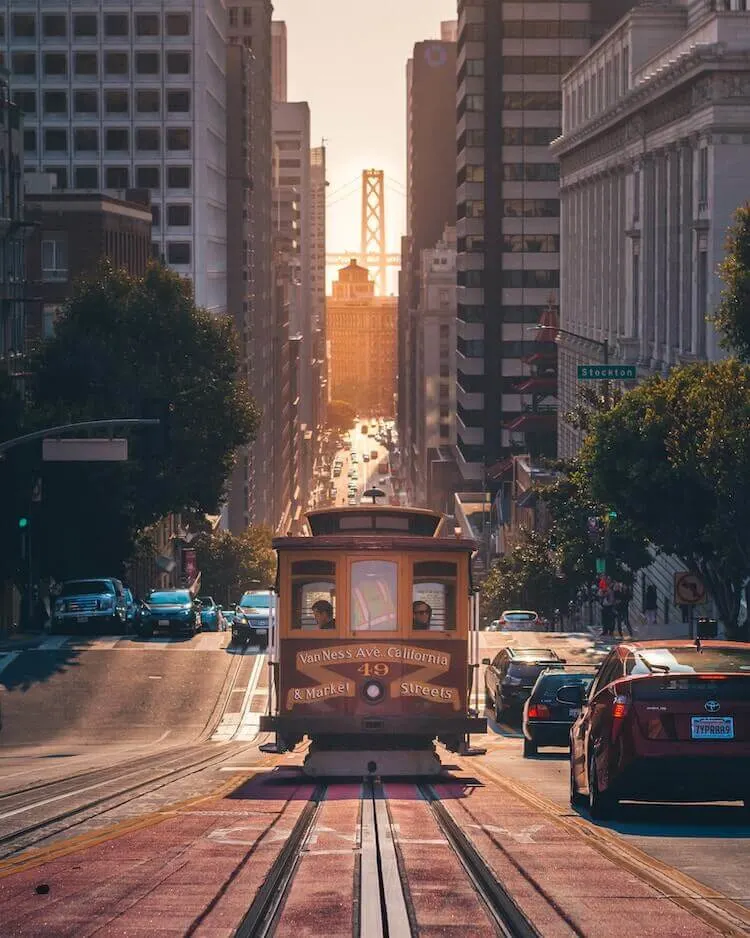 Days 3-4: Napa Valley
When a lot of people think of visiting California, many want to see Napa Valley or Sonoma. It may come as a surprise to you (at least it did for us) to know that California has so many great wine regions! And while the wine here is world-famous, the cuisine may be just as great.
The best thing to do on your way to Napa from San Francisco, though, is stopping by Muir Woods National Monument and admiring the awe-inspiring coastal redwood trees.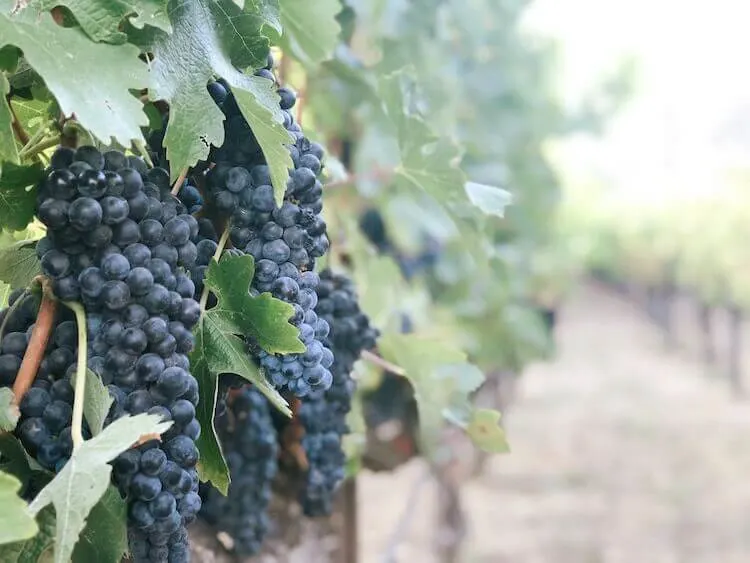 Total Drive Time: Around 2 hours with a stop to Muir Woods.
Where to Stay in Napa Valley: Stay near some amazing wineries in the heart of it all at Hotel Napa Valley or stay on a stunning estate inspired by the French countryside called Vineyard Country Inn.
Read reviews and book Hotel Napa Valley on TripAdvisor | Booking.com
Read reviews and book Vineyard Country Inn on TripAdvisor | Booking.com | Agoda
Things to do in Napa Valley:
This is obvious- but drink the wine! You can self-drive (if you've got a designated driver), but I highly recommend hiring a driver for $40-45 per hour. Here are some wineries to include on your list:

Clos du Val
Chimney Rock Winery

You can also take smaller, group tours to wineries or bike tours. Check them out here:
Take in the amazing food scene in Napa. Here are some fantastic Michelin Starred restaurants to try:

The French Laundry– known for French cuisine with fresh ingredients
Auberge du Soleil– known for global flavors with seasonal ingredients
The Restaurant at Meadowood– known for laid-back luxury and dining in a fancy barn
Kenzo– known for upscale Japanese food with ingredients flown in fresh from Tokyo

Take the wine train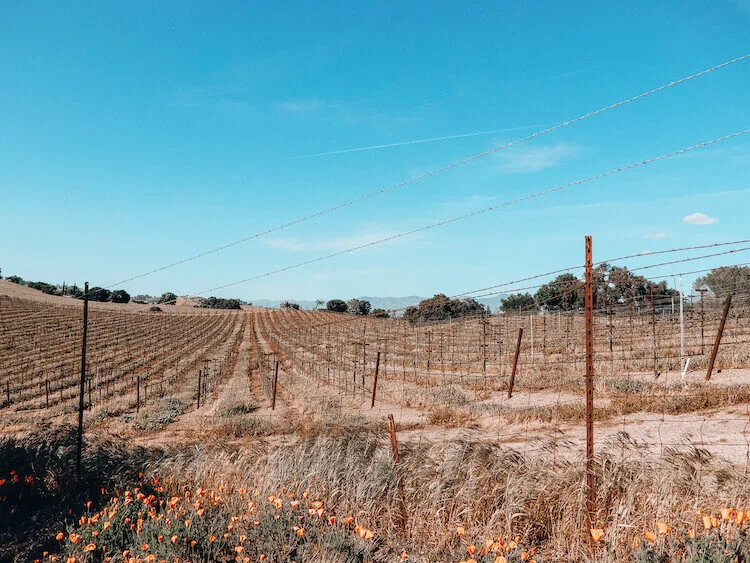 Pro-tip: Napa and Sonoma specialize in Cabernet Sauvignon, Chardonnay, Merlot, Sauvignon Blanc, and Zinfandel. These grapes grow best in this environment, so if you're there, certainly try the right wines! And for fantastic vintages, 2013-2016 were great years for growing wine, so you can't go wrong with a wine grown during that time.
Check out my all-time favorite book for learning about wine, wine regions, and more here! It explains things in layman terms, meaning you'll feel like a wine expert even if you're not.
Day 5: Yosemite
California is known for its amazing state and national parks, with Yosemite at the top of the list. During your California trip, take in the stunning Half Dome, Yosemite Falls, or Glacier Point. Romance isn't all about gourmet food and world-class wine, create an unforgettable California trip by adding this special stop to Yosemite.
Total Drive Time: Around 4.5 hours to accommodation. Plan to leave early (i.e. 5 am in the morning) to make the most of your day in Yosemite.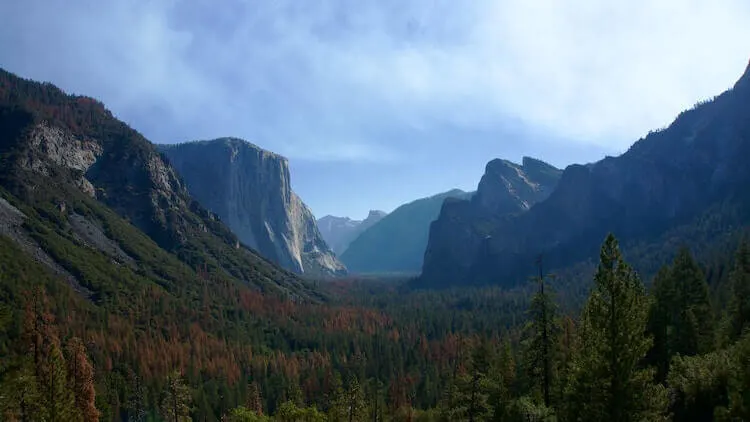 Where to Stay in Yosemite: For great views and a cabin feel, check out Yosemite West High Sierra Bed and Breakfast. It's about a 20-minute drive from Yosemite Valley.
Read reviews and book Yosemite West High Sierra Bed and Breakfast on TripAdvisor | Booking.com | Agoda
Things to do in Yosemite:
Take a hike! Seriously, there are so many great day hikes to do around this massive and wonderful park.
Day 6-7: Santa Ynez Valley & Santa Barbara is a Perfect Stop for Your California Itinerary for 10 Days
The following day, head south toward Santa Barbara County to explore more wine country! We spent a couple of days exploring the Santa Ynez Valley and absolutely loved it (and loved the much cheaper prices for wine tastings). Think that Napa and Sonoma have it all when it comes to wine? Think again.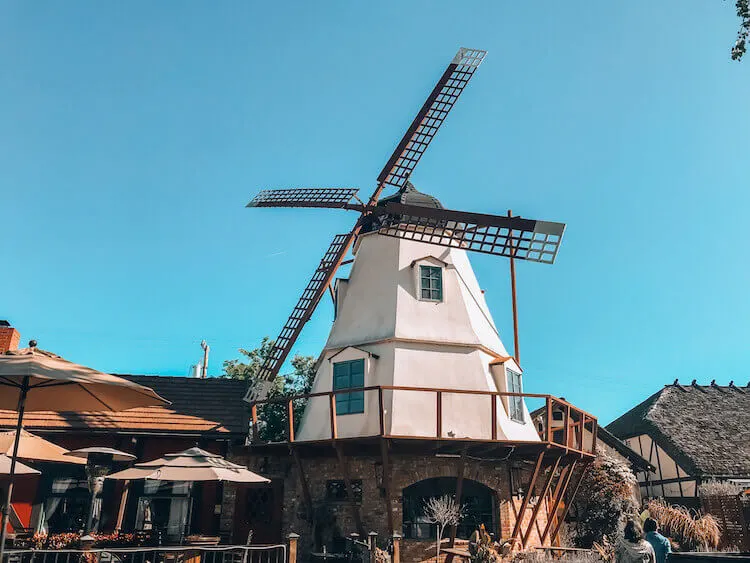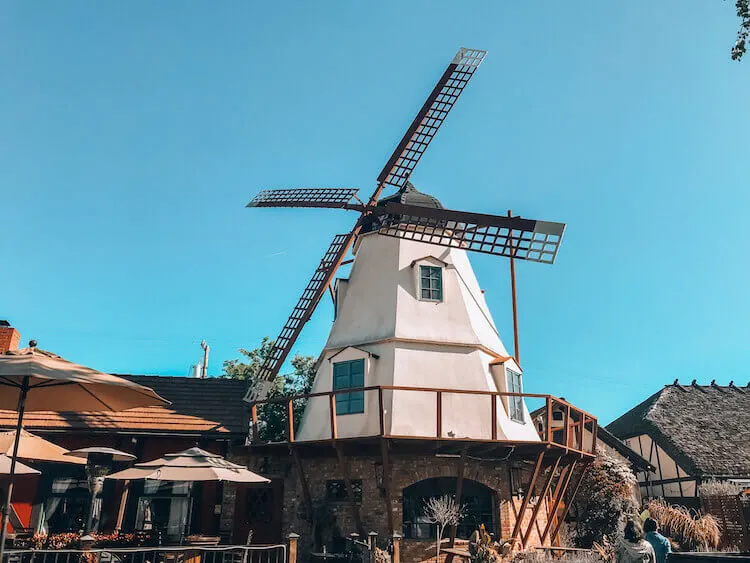 Total Drive Time: It is a little over 5 hours from Yosemite to Solvang (in Santa Ynez Valley). You can also drive through Paso Robles on the way, so why not stop in for a wine tasting/lunch? Plan for an earlier day drive to get here to enjoy the wine.
Where to stay: Plan on staying in Solvang. It is much cheaper than next to the beaches of Santa Barbara that are only 20-30 minutes away. It is in the heart of the action, with many wine and olive tasting rooms, great restaurants, and shops. We loved our stay at the Royal Copenhagen Inn and the price was great. If you're looking for a more upscale place, then opt for The Landsby.
Read reviews and book Royal Copenhagen Inn on TripAdvisor | Booking.com | Agoda
Read reviews and book The Landsby on TripAdvisor | Booking.com | Agoda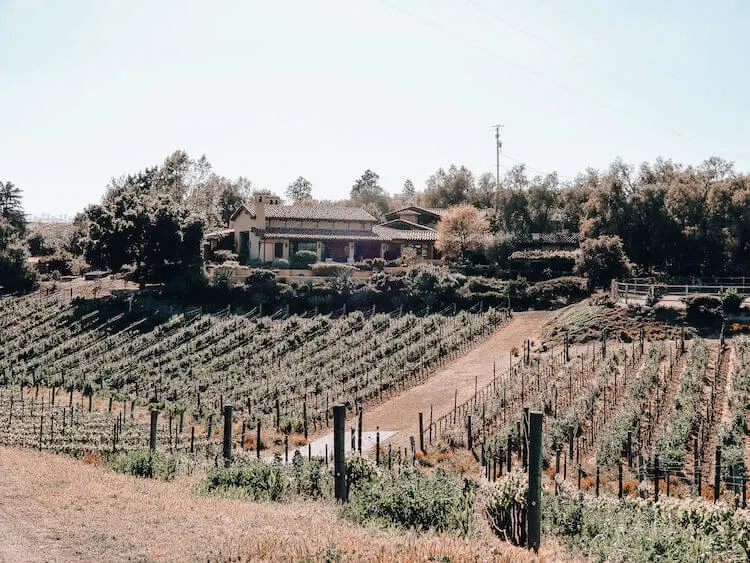 Things to do in Santa Ynez:
Go to a wine tasting room! Head to Los Olivos (10 minutes from downtown Solvang) and taste some amazing wines at these great tasting rooms:

Artiste Winery and Tasting Studio

Other great wineries in the area include:
Explore Solvang. Solvang is a Danish town and filled with great spots to see. Walk around or rent a bike and have fun!

Grab a Bearclaw or Danish at one of their many amazing bakeries
Taste olives and olive oils at Solvang Olive
Test out more wine at Sanger Family Winery
Go shopping at Jule Hus Christmas store or many other boutiques in the area

Grab some beer at Firestone Brewery
Check out Refugio Beach
Do some light hiking and admire a waterfall at Nojoqui Falls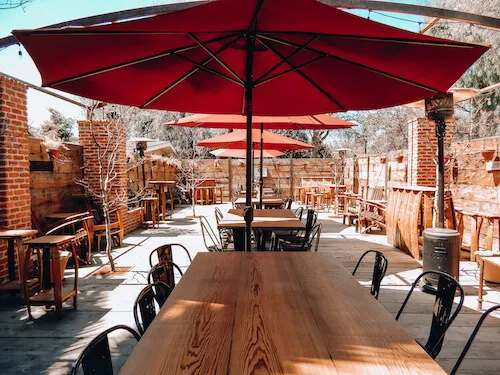 Things to do in the city of Santa Barbara: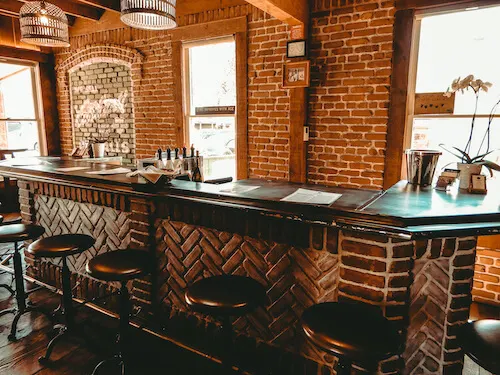 Pro-tip: Santa Barbara and the surrounding area produce amazing Chardonnay, Pinot Noir, Sauvignon Blanc, Syrah, and Petite Syrah. Our favorites definitely included the best Pinot Noir we've ever had at Carhartt Vineyard (Wayward Son Venture Pinot Noir) and Petite Syrah from Sanger Family Wines (2013 Consilience La Presa Petite Sirah).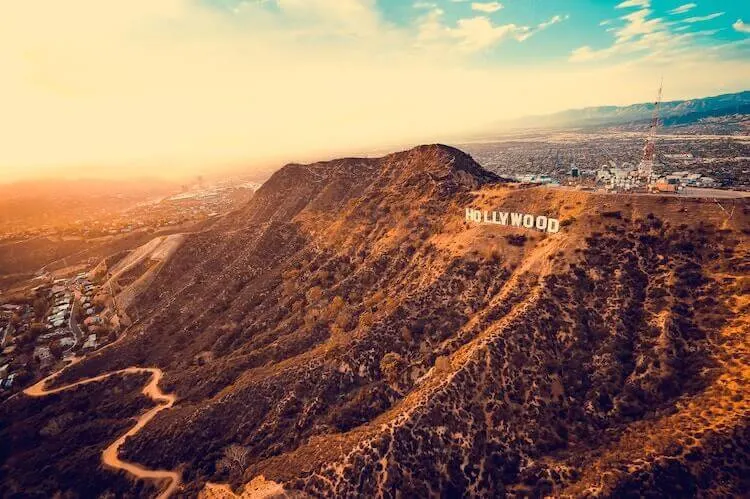 Day 8: Los Angeles
The "City of Angels" is a must-see for many first-timers on a visit to California. But to get to the heart of California, I really only think that you need a day to see this and spend more time exploring the other parts of this gorgeous state. However, there are some great spots in the city you'll want to see during your west coast road trip.
Total Drive Time: 2.5-3 hours or more if you get stuck in traffic. Seriously, your best bet to get to LA is to arrive after 10 am and definitely before 2 pm to avoid traffic at all costs.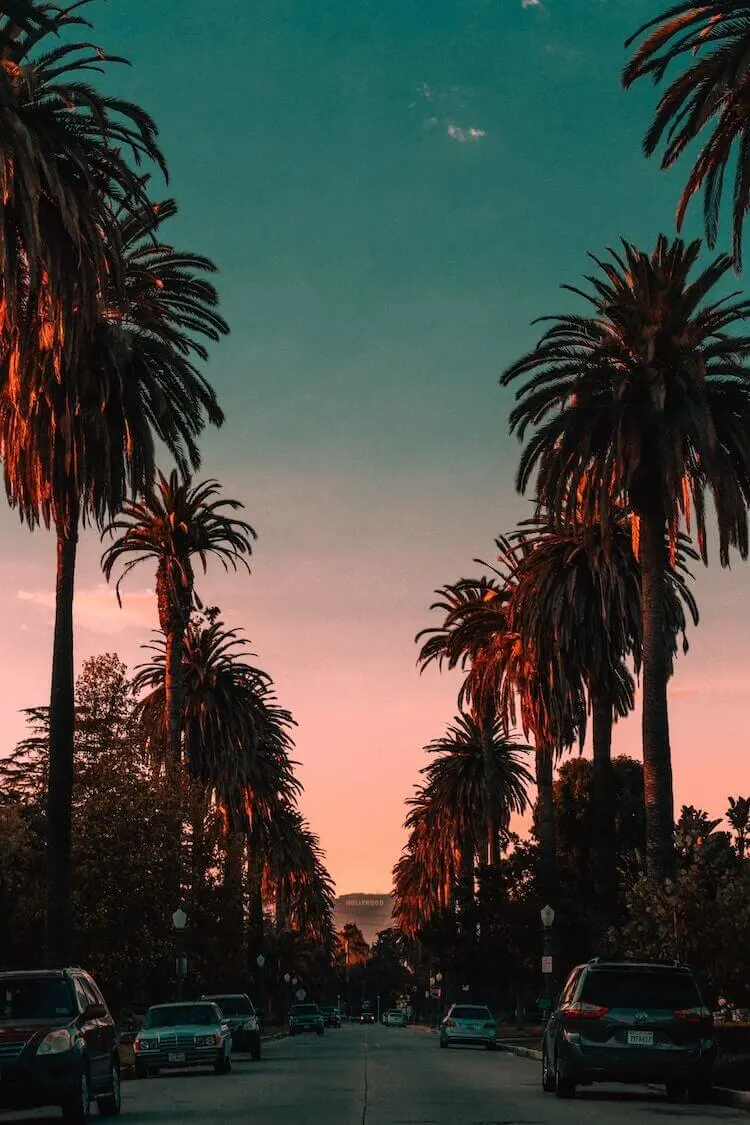 Where to Stay in LA: Okay, this is a huge city with tons of places to stay. But for a first-timer, who wants to be trendy, definitely stay in West Hollywood. Grafton on Sunset and Le Parc Suite Hotel are solid choices that won't cost a fortune during your stay. You're also only about a 15-minute drive to the Hollywood Walk of Fame.
Read reviews and book Grafton on Sunset on TripAdvisor | Booking.com | Agoda
Read reviews and book Le Parc Suite Hotel on TripAdvisor | Booking.com | Agoda
Things to do in LA:
Hollywood Walk of Fame
Hike the Hollywood Hills
Admire amazing art at the Getty Center
See the Hollywood Sign and great views of the city at the

Griffith Observatory

Skip LA altogether and go to the happiest place on earth: Disneyland

Day 9-10: San Diego
Sea lions, tacos, and gardens- oh my! Sunny San Diego is a fantastic place to end your California coast road trip. This laid back city isn't too large to navigate, and you'll love exploring and eating your way through this eclectic and romantic town.
Total Drive Time: 2.5-3 hours. Again, this depends on traffic. Another option is to return your rental car in LA and take the train down as well.
Where to Stay in San Diego: We stayed at the Springhill Suites San Diego Downtown/Bayfront and loved it. They had spacious rooms and it was easy to get around via car, walking to places like the Gaslamp Quarter or Little Italy, or taking a scooter to Balboa Park.
Read reviews and book Springhill Suites San Diego Downtown/Bayfront on TripAdvisor | Booking.com | Agoda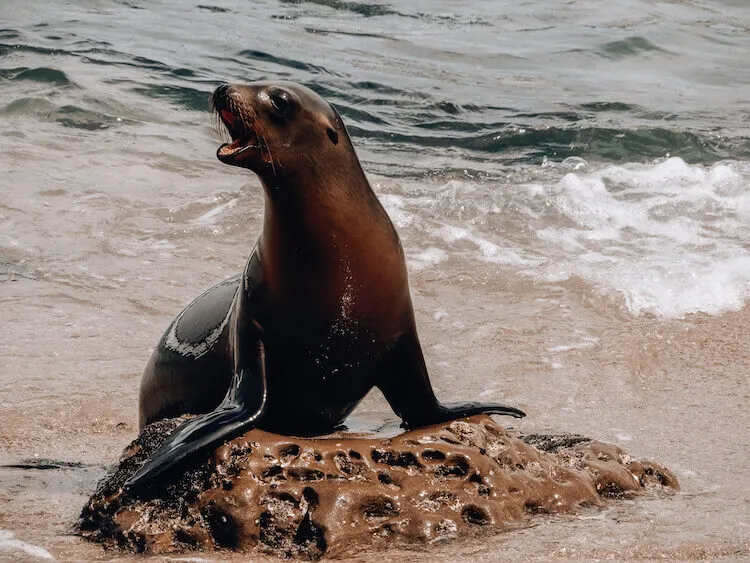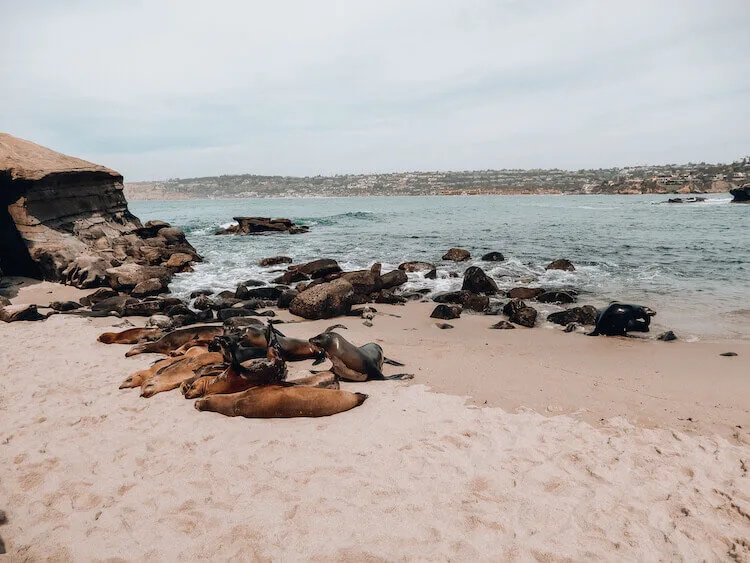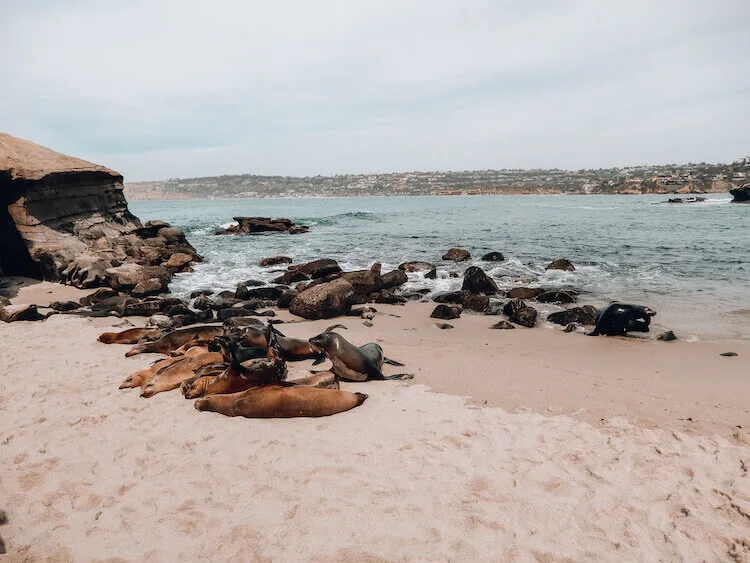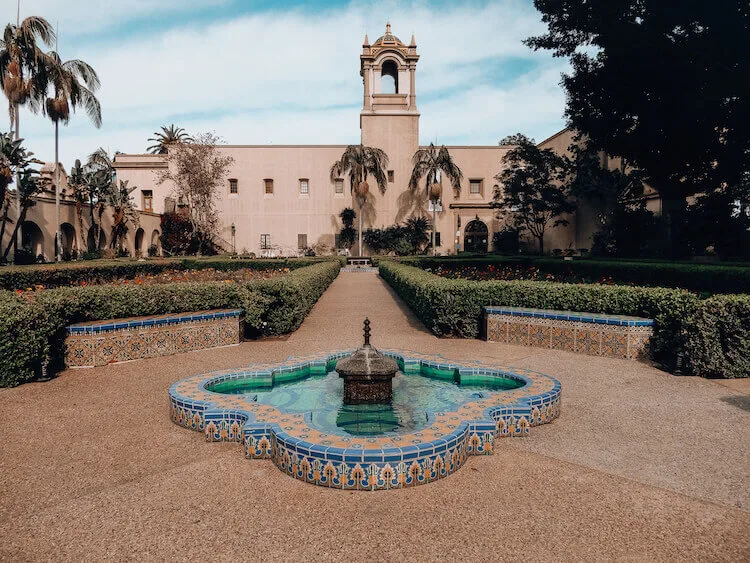 Things to do in San Diego:
The San Diego Zoo. Known as one of the best zoos in the entire world, you've got to see this place to believe it. You could literally spend an entire day here, but take the bus around for the first 30 minutes or so, decide where you want to focus your time and do it!
Wander Balboa Park including the Desert Garden, Alcazar Garden, or the Japanese Friendship Garden
Visit Coronado Beach and the famous Hotel del Coronado
Get some sun at Pacific Beach
Get close (not too close) to sea lions and seals at La Jolla Cove and enjoy the bluffs and beaches in the area
Eat all the tacos you can get ahold of. Our favorites include:

Tacos El Gordo on Pacific Beach (best fish tacos)
Tacos Mimi near Pacific Beach (loved their fried fish taco)
The Taco Stand (cactus tacos all the way)

Explore Seaport Village, Gaslamp Quarter, and Little Italy
Grab your passport and make a quick trip to Mexico for more amazing food

If You Have Extra Days to Spare During Your California Road Trip
If you are lucky enough to have more than 10 days to enjoy California, here are some top spots to spend your time:
Definitely add an extra day or two to either Napa/Sonoma or Santa Barbara/Santa Ynez
Take a couple of days to enjoy Lake Tahoe after San Francisco and before Yosemite
Spend a couple of days exploring the Mojave Desert from LA
Spend a day or two in Joshua Tree National Park and Palm Springs from LA
If you have less time, I would focus my time either in the northern parts (San Francisco, Napa, and Yosemite) or the southern parts (Santa Ynez/Santa Barbara, LA, and San Diego).
When to Visit California | California Weather
California is great to visit year-round, but for the best weather, especially for the parks, April through October is a great time to go. If you'd like to visit during the wine harvesting months in Napa and Santa Barbara, September and October are fantastic times to visit. The winter months can certainly be chillier in places like San Diego and Santa Barbara and even be snowy at Lake Tahoe and Yosemite, so avoiding November through March is a good idea, unless you want to ski at Lake Tahoe!
Also, as a heads up, June can be a bit chillier with less sunlight thanks to the June Gloom in Southern California.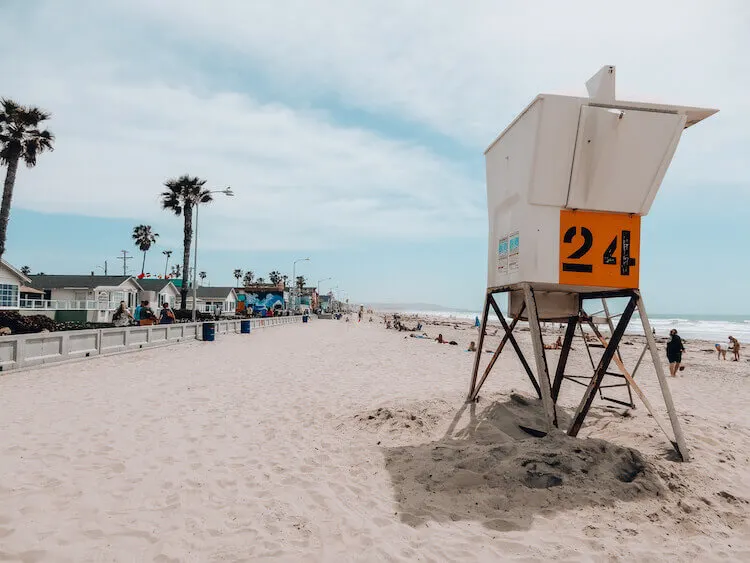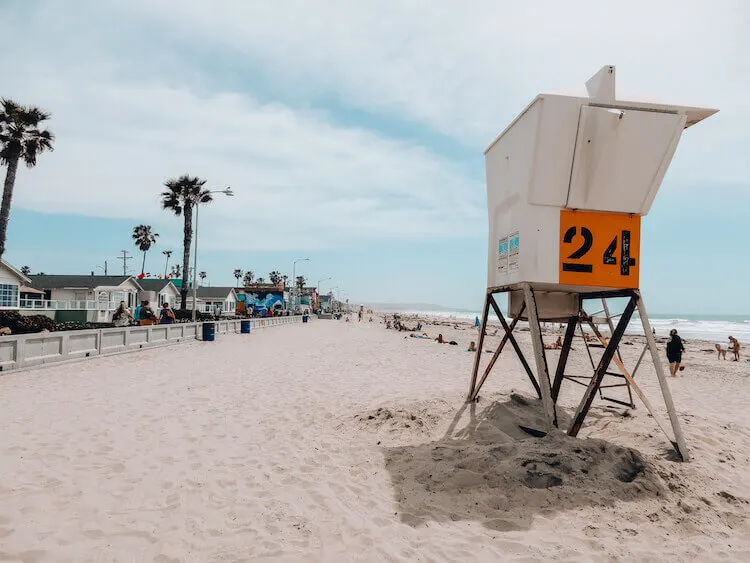 Before Departure Tips for a California Road Trip Itinerary
What to Pack for California:
Here is a quick packing guide for California. Remember that layers are key when it comes to hiking, and temperatures in places like Santa Ynez can go from really warm to pretty chilly when the sun goes down.
Shoes:
Outfits:
Sundresses for wineries (The exact dress I wore there and I'm obsessed with for only around $20)
Shorts
1-2 pairs of jeans
Layering tops/tanks
Leggings and long sleeve shirts for hiking (running pants for men)
Cute blouses for women or nicer shirts for men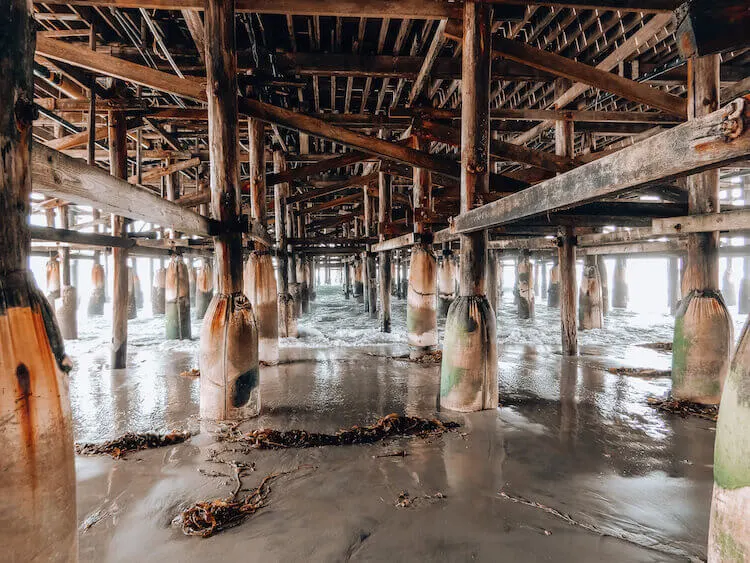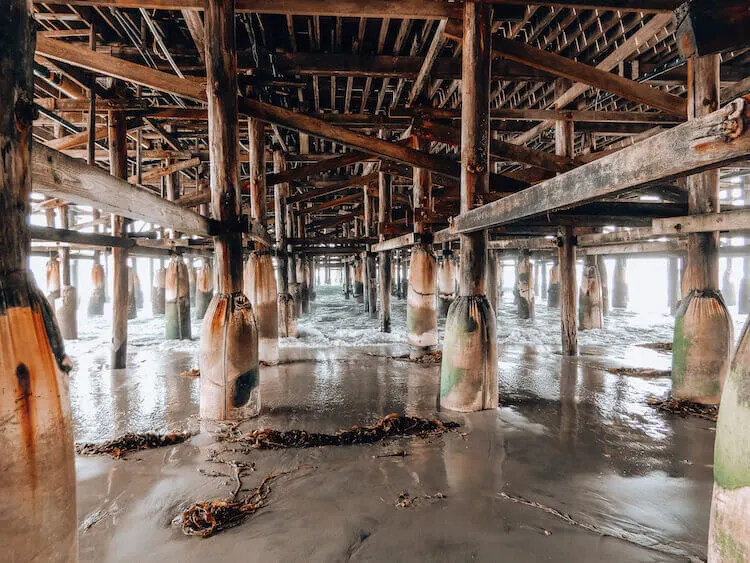 Other:
Shop our favorite products for California travel here:
Will You Need Travel Insurance?
It depends. Technically, you can purchase travel insurance if you travel over 100 miles from home. If California is close by and you don't plan on spending too much money, you can probably skip it. If this is an international trip for you, then definitely purchase travel insurance.
For the in-between people (domestic trip and probably spending some money/traveling further), check to see what your credit cards already cover for you. Yes, your health insurance should work if you need medical treatment, but for trip cancellation/delay, it may be beneficial to purchase some travel insurance just in case.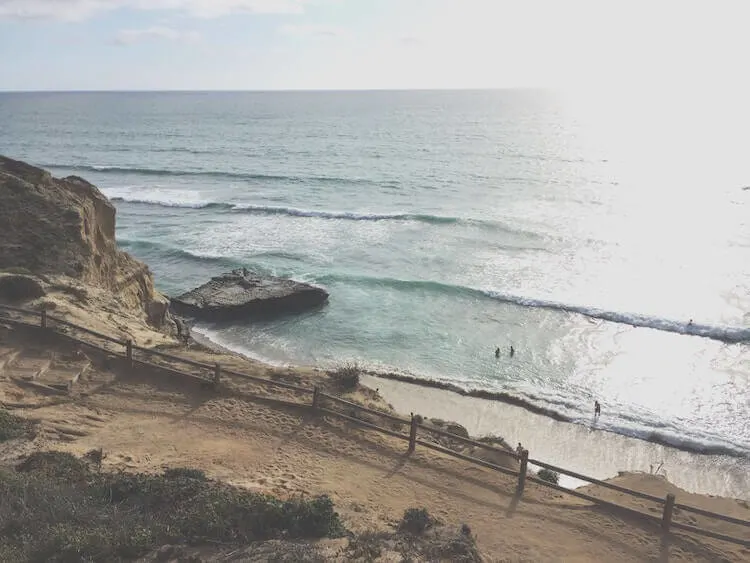 Budget for Your West Coast Road Trip
California isn't exactly the cheapest place to travel to in the world, but it can be a great splurge for an awesome west coast road trip. Here is a budget that is broken down for you based on big-ticket items:
We booked flights to California from Cleveland for as little as $11.20 round-trip per person thanks to miles and points. If you are new to travel hacking or don't have the points, you can find pretty affordable domestic flights using Southwest, Delta, United, or more for under $400 per person or less!
Check out Skyscanner for the best deals!
This may be your biggest expense in California. It is a rare thing to find a hotel under $200 let alone under $100. For 10 days, I'd expect to pay around $2,700-$3,000 for hotel rooms. And if you have points to spare for hotel stays, this is the place to use them to save money!
I always love to check TripAdvisor, Booking.com, or Agoda for deals and reviews.
For a smaller car, expect to pay around $750 for the 10 days plus gas at $3.60-$3.70 per gallon, or around $150 for gas while driving. And while some hotels include parking, many do charge $35-40 per day. So, for your car, expect to pay around $1,250 or more.
Get great rental car deals here!
This literally all depends on where you choose to eat. If you want Michelin Star restaurants in Napa, expect to fork over at least $325 per person. But if you want to spend your time eating street tacos, you're looking more at $7 per person. Around $1,500-2,000 is appropriate for wine tastings and food throughout your trip.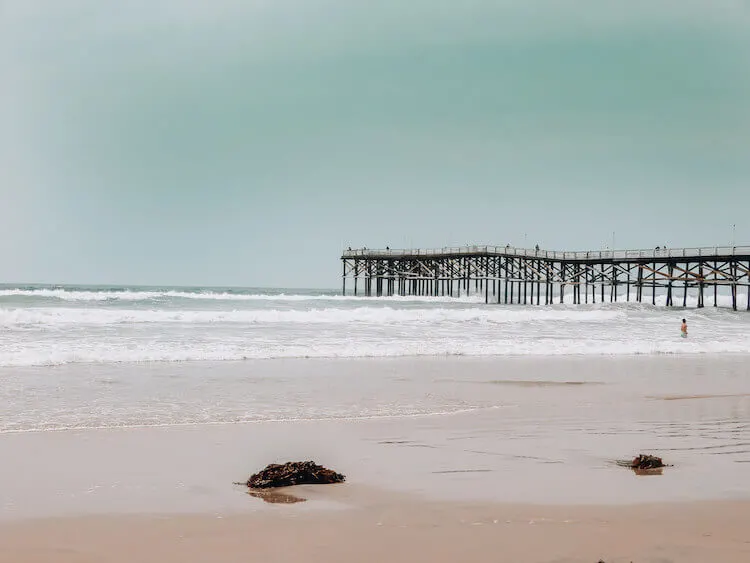 This is also a variable cost depending on what all you'd like to do. I would say that $1,000-1,500 is appropriate for two people over 10 days, including some local transportation and tours.
So, in total, you can expect to spend around $7,250-8,550 or more depending on your travel style for a California road trip itinerary for 10 days. You can also spend much less if you use miles and points strategically, as well as travel for fewer days.
Want more honeymoon ideas? Check these out:
Conclusion
There are so many reasons why a California road trip should be on your short-list of destinations. If you are into adventure, hiking, wine tasting, and great food, California truly has it all and stunning scenery to top it off.
I can think of few other places to enjoy a perfect romantic getaway than road tripping around California's beautiful landscapes. Whether the mountains, beaches, or vineyards call your name, enjoy all that California has to offer.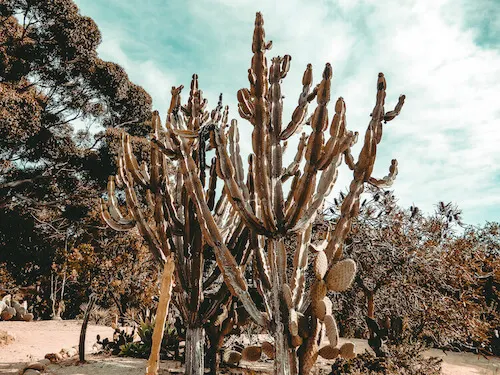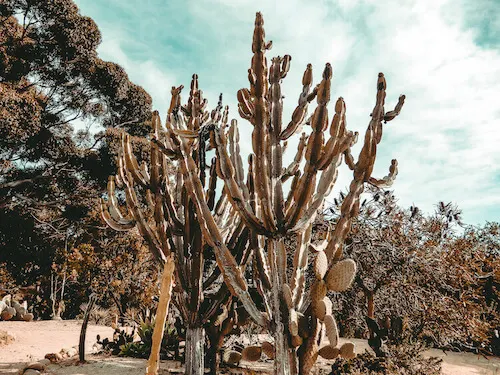 What do you think of this guide? Would you do a California road trip itinerary for 10 days? What's your favorite spot in this stunning state? Where else should you go? Let us know in the comments!
Want more USA travel ideas? Check these posts out!
Love this post or want to save for later? Pin it here!