3 Days in NYC
Some posts on this site contain affiliate links, meaning if you book or buy something through one of these links, I may earn a small commission (at no additional cost to you!). Read the full disclosure policy here.
---
Sometimes, you may not have all the time off of work (or, honestly, extra funds) to actually go on a lengthy trip. But no worries! I'm here to let you know all about some amazing mini-trips that you can take on a long 3-day/3-night weekend. First up, the biggest, most action-packed city in the U.S.: NYC! Why not explore the Big Apple for a few days? Here's how to best spend 3 days in NYC.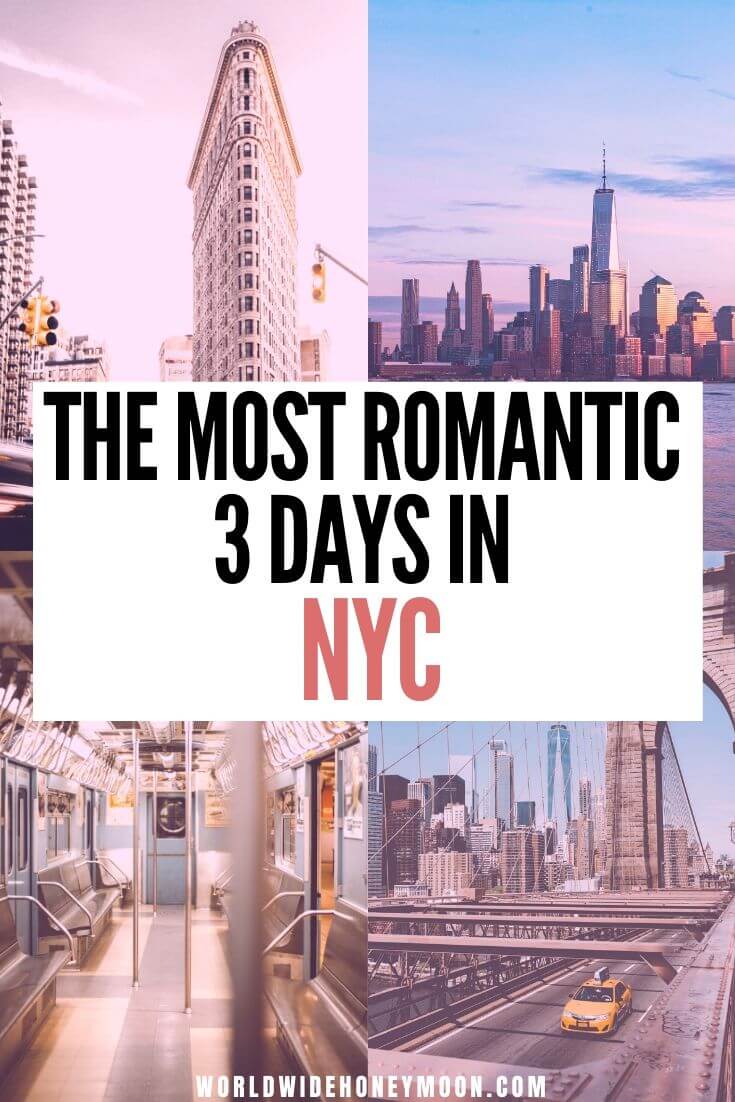 Where to stay
Budget: Let's be honest, it is nearly impossible to get a hotel room under $200 in NYC. The biggest key with a tight budget is to know that the closer you get to Times Square, the more you're going to pay. So, opt for lower Manhattan or the boroughs, like Brooklyn, for the best deals. Better yet, get a cute Airbnb for under $200 a night and save some cash.
Mid-range: Citizen M is centrally located and within a 5-minute walk to Times Square and 15 minutes to Central Park. The cozy rooms offer splendid views of the city and the décor is hip and trendy. For just shy of $300 a night, you'll be in the heart of the city, ready to see all it has to offer!
Luxury: If you don't mind paying the high prices of NYC for the best views and amenities, why not check out the St. Regis New York? From jaw-dropping views of the city and Central Park, to dreamy and immaculately designed rooms, you will adore this hotel. You even receive 24-hour butler service, free shoeshine, and even packing and unpacking services! But for a little over $800 a night, you'll definitely be paying for luxury.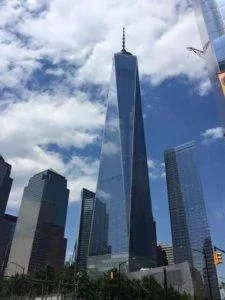 Day 1
After waking up from your hotel or Airbnb, it's time to explore! Lucky for you, most tourist sites are pretty close to each other, making it super easy to see a lot in a short timeframe. After grabbing a famous New York bagel from Ess-a-Bagel, head down to Battery Park to catch the ferry over to the Statue of Liberty. You can plan ahead, which I recommend, and book your tour online for the Statue of Liberty and Ellis Island. Walk around the iconic New York monument before heading over to Ellis Island and exploring the buildings and learn the history of the place.
Budget Tip: If you're trying to pinch a few pennies, you can take the Staten Island Ferry. It's free and cruises right past the Statue of Liberty and Ellis Island. If you just want to see it, and not explore the islands, you can do this and save money!
Once you're back on dry land, you're close to the World Trade Center and memorial, which I highly recommend seeing. Visit the memorial fountain in remembrance, and admire the architectural design of the monument and the Oculus.
Then, I suggest heading over to Chelsea and grabbing a much-needed snack at Chelsea Market before strolling along the Highline, a beautiful, elevated garden with great city views. When you've seen these sites, it's time to head back to your hotel and get ready for the evening festivity that is so New York: a Broadway musical.
You didn't think I'd mention visiting NYC with seeing a show, right? With The Lion King, Aladdin, Phantom of the Opera, Wicked, and, of course, Hamilton, you're not at a loss of theatre to enjoy. So book early and enjoy your show!
Day 2
Now that you've had a quintessential New York tourist day, it's time to slow down. Grab Saturday brunch in the most popular city for it. Sip on mimosas and coffee before exploring the town some more.
Head over to Central Park and mosey a bit. The city may be rushing around, but you don't have to be! Maybe make a picnic in the park, watch the turtles at Turtle Pond, take in the sites and then head over to the Met for some great art exhibits. From Monet to Warhol, you're in for a treat when it comes to this museum. The entrance fee is "pay what you feel is appropriate." So it's a fairly inexpensive excursion and a fun way to spend a lazy afternoon.
Next, just wander the streets of NYC! Explore the Upper East Side and pop into fun cafes and bars for a drink. See the big, designer stores and grab a slice of pizza. Then, in the evening, get some good ramen at Ippudo East Village. Or, for the ultimate luxury, enjoy the Chef's Tasting Menu at Michelin Starred restaurant Per Se.
This is the night where you need to go to a rooftop bar! There is no shortage in the city, but seeing the city lit up at night is a must.
Day 3
It may be your last day, but there's still more to see! My ultimate recommendation is to head over to Brooklyn and grab food at Smorgasburg! Open from April until October, this weekend open-air market is the place where street food is revamped and new eats are discovered. Think sushi tacos, poke, sticky rice, mofongo, and so much more! It also gives you the opportunity to explore one of NYC's most famous boroughs. Maybe keep your food tour going with Brooklyn pizza, or maybe stroll the Brooklyn Bridge or some great parks after you get your fill of food.
It's about time to leave, so take it easy this day. Wander around. Get lost. New York is a place where you can see and do so much, but the city itself is the tourist attraction. Admire the scenery before heading home the next day.
NYC is definitely a bucket list USA destination or a lovely place for a US honeymoon!
Love this and want more travel advice? Let me know in the comments!
Want more US ideas? Check these posts out!