Some posts on this site contain affiliate links, meaning if you book or buy something through one of these links, I may earn a small commission (at no additional cost to you!). Read the full disclosure policy here.
---
The best Santa Ynez wineries are a lovely hidden gem in California!
When most people think of visiting California and going to wineries, Napa Valley comes to mind. And while the cuisine and wines there are world-famous, there is something to be said about visiting the Santa Ynez Valley. Fewer crowds, less expensive tastings, and being known for crisp Chardonnay and earthy Pinot Noir make Santa Barbara County (including the Santa Ynez Valley) the place to go.
So we're sharing the 10 best Santa Ynez Wineries and Solvang Wine Tastings plus a Santa Ynez wineries map to create your perfect trip!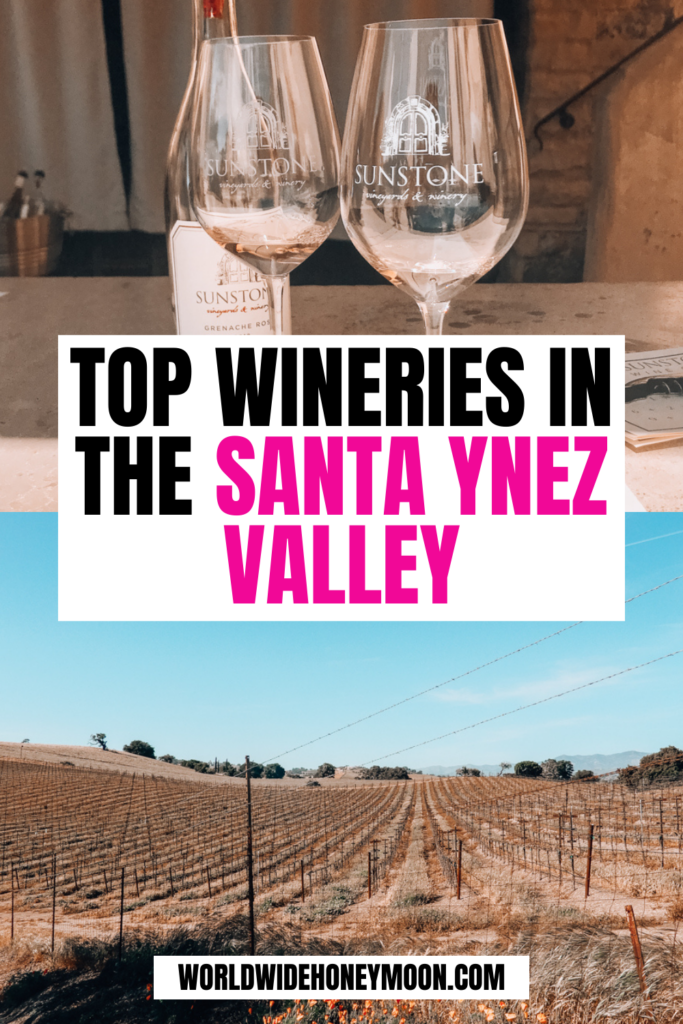 Santa Ynez Wineries Map
Best Solvang Wine Tastings
Let's start off with some of the best wine tastings in Solvang. This adorable Danish town is full of dreamy windmills, cute boutique shops, so many bakeries, and, of course, wine-tasting rooms. Here are some great ones to visit during your stay!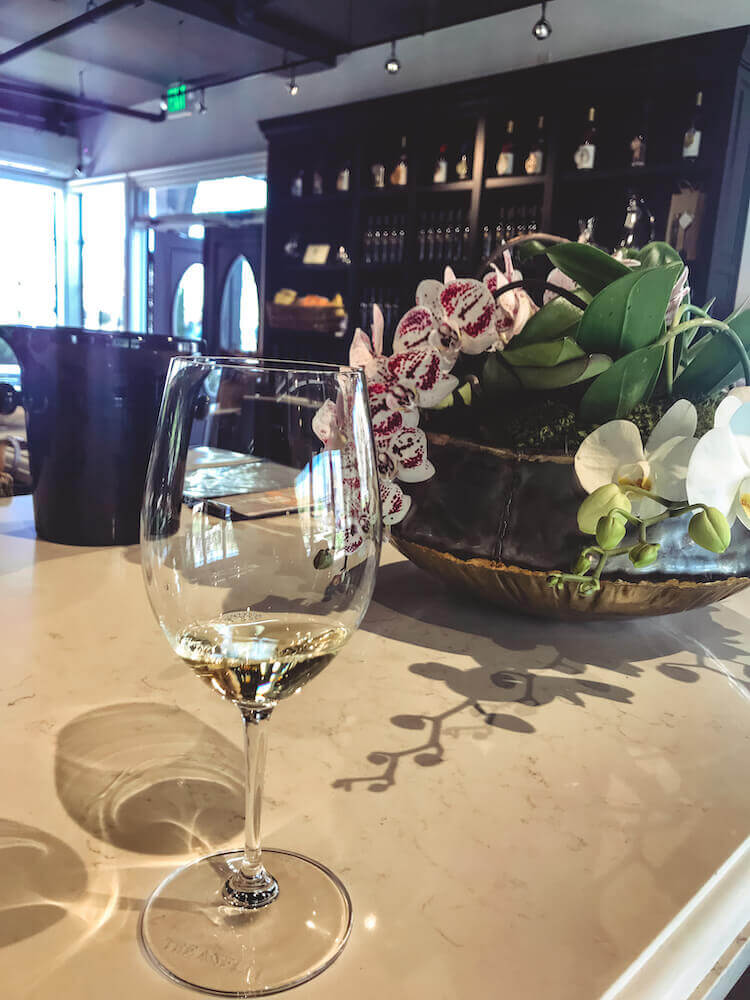 1. Sanger Family of Wines is One of the Best Winereries in Solvang
Address: 1584 Mission Dr, Solvang, CA 93463 | Phone: (805) 691-1020 | Hours: 12 PM-5 PM Monday-Thursday, 12 PM-8 PM Friday & Saturday, 12 PM-6 PM Sunday | Price for Tasting: $20-25 | Must-Try Wine: Consilience La Presa Petite Syrah
Sanger Family of Wines is located right in the heart of downtown Solvang. So after picking up a delicious bear claw, head over to this wine tasting room for a flight of either the Consilience or the Sanger Experience.
We recommend the Consilience flight for old-world French, Italian, and Spanish-type wines like the Pinot Noir Buona Terra Vineyard, with hints of cherries and smoke, or the Syrah Hampton Family Vineyard wine for some tobacco and spice.
The tasting room itself is modern and cozy, with a fantastic patio area for warmer days. The staff is knowledgeable, friendly, and more than willing to explain the unique flavors of their wine.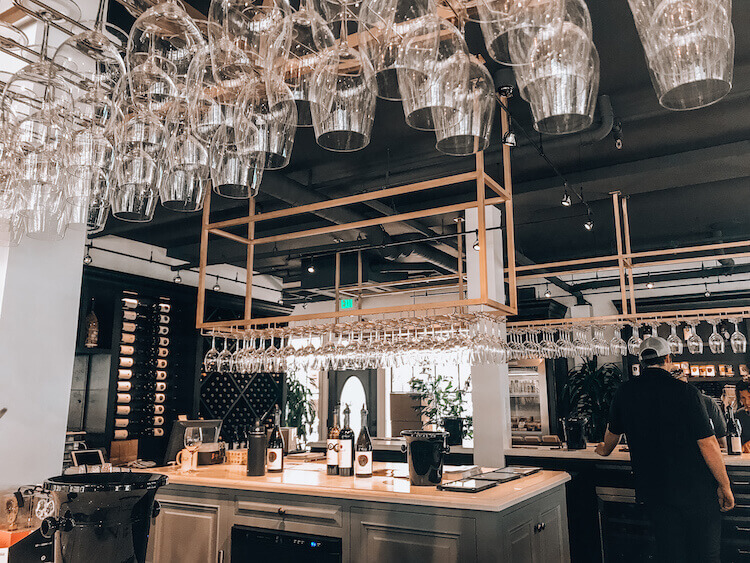 Hungry after? Check out the complimentary olive oil and vinegar tasting!
2. Dascomb Cellars
Address: 1623 Mission Dr, Suites E & F, Solvang, CA 93463 | Phone: (805) 691-9175 | Hours: 12pm-7 PM Daily | Price for Tasting: $15-20 | Must-Try Wine: Petite Verdot
While you're wandering around downtown in search of Solvang wine tastings, you may as well stop into Dascomb Cellars for their incredible wine.
Check out the Petit Verdot for a delightfully complex wine full of cherries, currant, and cassis. Another great wine to try includes their Meritage composed of 33.6% Cabernet Sauvignon, 26.6% Merlot, and 39.8% Petit Verdot.
And if you'd like something much simpler, test out the refreshing Chenin Blanc or Roussanne from the white wine menu.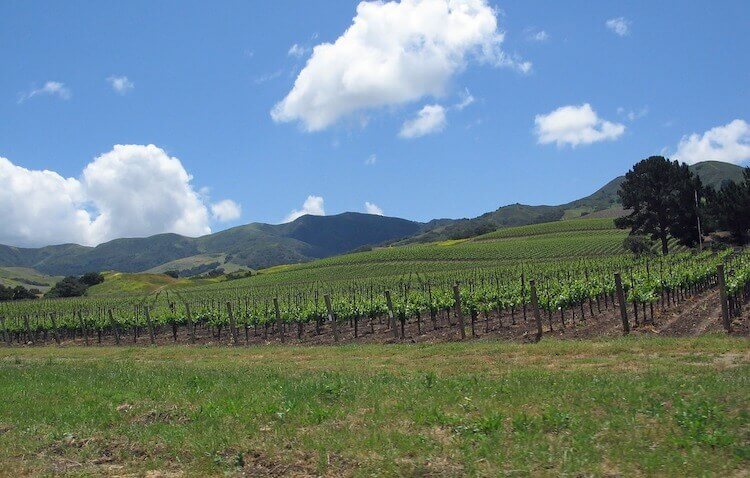 3. Rideau Vineyard
Address: 1562 Alamo Pintado Rd, Solvang, CA 93463 | Phone: (805) 688-0717 | Hours: 11 AM-5 PM daily | Price for Tasting: $25 | Must-Try Wine: "Garey Vineyard" Pinot Noir
What I love about this wine tasting room, aside from the charming home and live music to create a cozy and fun ambiance, is that you get a free vineyard tour with your wine tasting!
So come at the right time (details on their website) and you walk around the estate, learn how they make their wine, and see the stunning vines.
And while this place isn't in downtown Solvang, it is only a few minutes away by car and a perfect stop before heading into the charming town of Los Olivos for more wine. Definitely try out the Viognier Reserve and the "Garey Vineyard" Pinot Noir. You'll certainly be tempted to buy a few bottles!
PS- Currently, tours are canceled due to the current state of the world. Hopefully, they'll be up and running soon!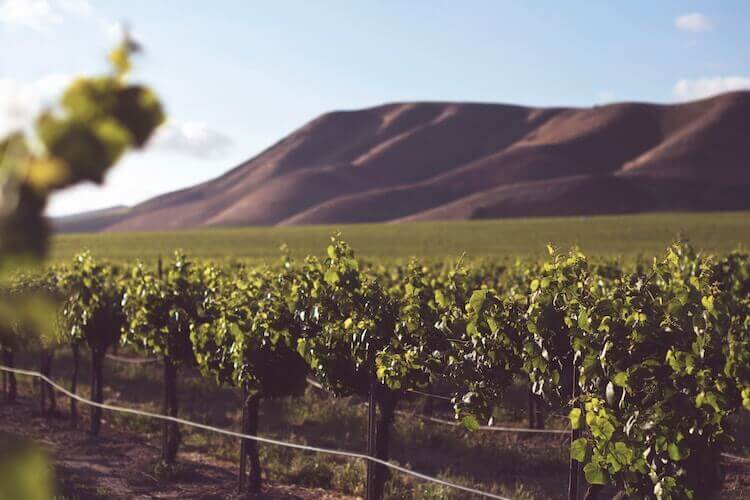 4. Rusack Vineyards
Address: 1819 Ballard Canyon Rd, Solvang, CA 93463 | Phone: (805) 688-1278 | Hours: 11 AM-5 PM Thursday-Monday | Price for Tasting: $18-25 | Must-Try Wine: Sauvignon Blanc
Wind your way past vineyards to the tasting room and deck, perfect for sipping wine while admiring the scenery. And whether you are looking for an idyllic spot for a picnic with a bottle of wine or you'd like to taste their latest on offer, this is the place for you.
The laid-back atmosphere is perfect for sampling wine without feeling like you need to be an expert. And on a warm, sunny day, the wine of choice here is the Sauvignon Blanc. Passionfruit and caramelized pineapple dominate this wine, making it the perfect glass.
And while all of their wines are very good, this winery is unique in that it has some Semillon-based dessert wine. So if you're in the mood for something sweet to finish off your tasting or lovely picnic, check this one out.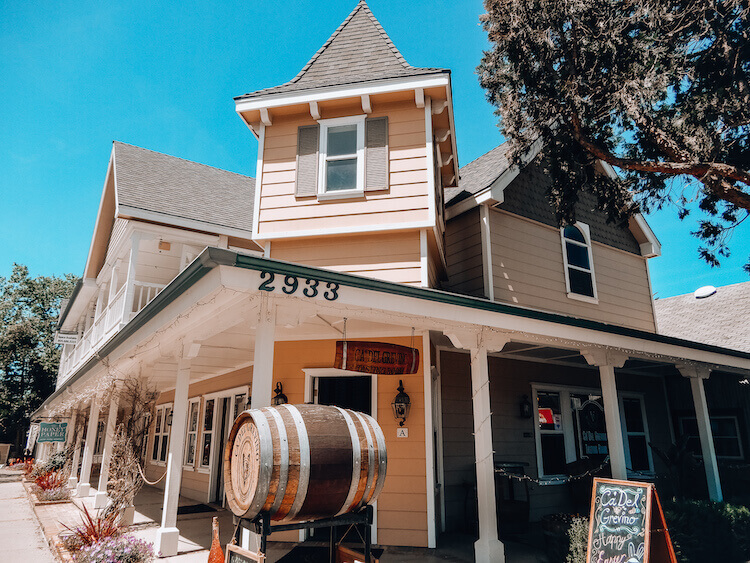 Los Olivos Wine Tasting
A few minutes from Solvang is the small and quaint town of Los Olivos. This area has more adorable shops, restaurants, and lovely tasting rooms that are sure to please.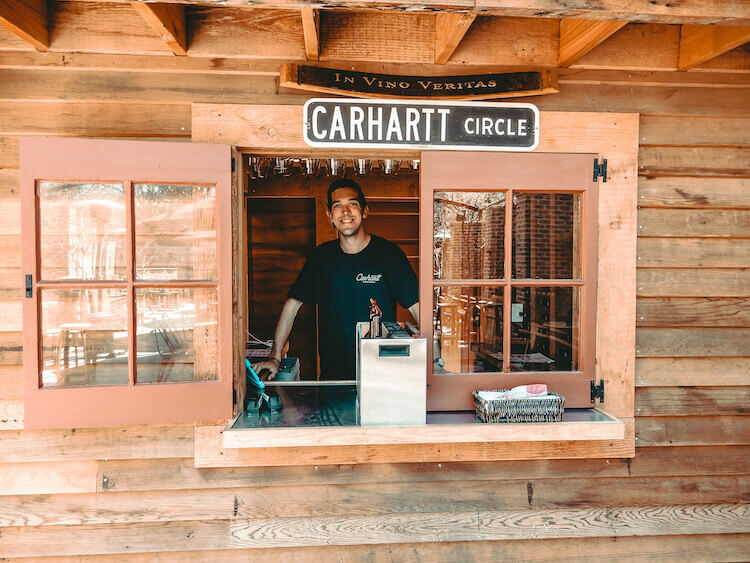 1. Carhartt Vineyard
Address: 2939 Grand Ave, Los Olivos, CA 93441 | Phone: (805) 693-5100 | Hours: 11 AM-6 PM | Price for Tasting: $15 | Must-Try Wine: "Wayward Son" Pinot Noir
This smaller winery and vineyard has the most adorably crafted wooden wine tasting room and patio that you'll be sure to love. And if the name Carhartt sounds familiar, yes it is the family that makes the hard-working apparel. But some of the family is now making wine- and delicious wine at that.
Upon stepping into the tasting room, you feel like you are family. The staff is friendly, the atmosphere is inviting, and the whole place is perfect for taking photos and, of course, sampling the wine.
And if there is one wine that you have to try here (although you definitely want to check out the tasting menu) it is the Venture "Wayward Son" Pinot Noir. Earthy, with hints of black tea, this wine was one of our favorites from our whole trip!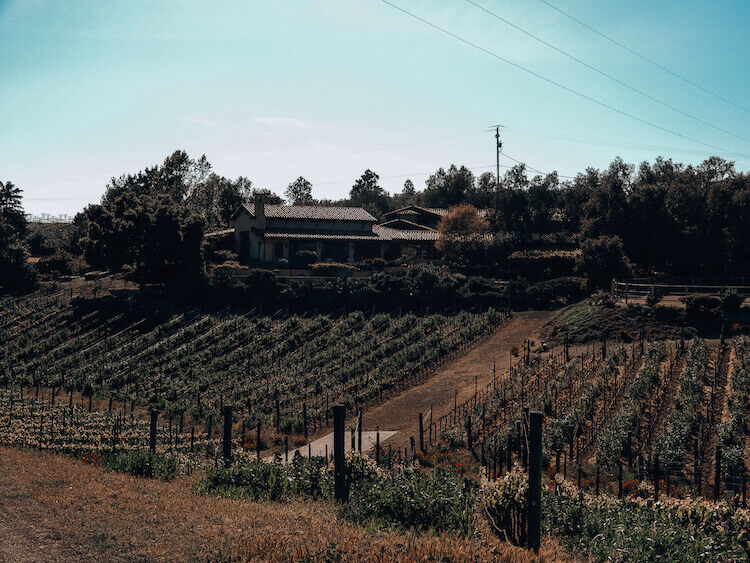 Other notable wines they have include the Petite Syrah and the dried fruit and spicy Mourvedre is a delight.
Pro-tip: They also have a cabin set amongst the gorgeous Santa Ynez Valley surrounded by the vineyards you can rent out for a night or two!
2. Firestone Vineyard
Address: 5017 Zaca Station Rd, Los Olivos, CA 93441 | Phone: (805) 688-3940 | Hours: 11 AM- 5 PM daily | Price for Tasting: $15 | Must-Try Wine: Sauvignon Blanc and Cabernet Sauvignon
Another big family name that is also well established in the wine scene, Firestone Vineyard also has a brewery in the area too. You are able to take a tour of this estate for $25 per person to learn more about their winemaking process, how they got started, and learn more about the historic property.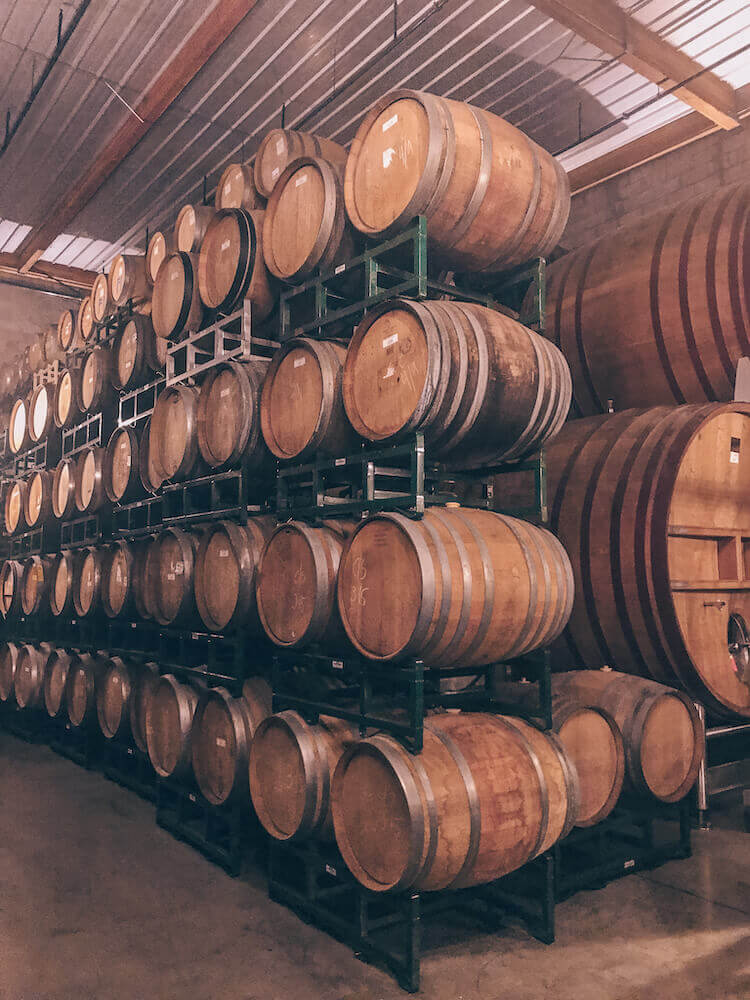 But after a tour, be sure to stop in to sample some of their best wines including their citrusy and tropical Sauvignon Blanc and the dark cherry, bold Cabernet Sauvignon.
PS- It appears that tours are also on pause for the moment.
3. Fess Parker Winery & Vineyard
Address: 6200 Foxen Canyon Road, Los Olivos, CA 93441 | Phone: (805) 688-1545
| Hours: 10 AM-5 PM daily | Price for Tasting: $20-30 | Must-Try Wine: Pinot Noir and Dry Riesling
For Rhone and Burgundian varietals, this place is picturesque, with rows of vines sprawling across green pastures with trees sprinkled in. It is the perfect place to sip on their soft and fruity Pinot Noir or the Alsace-inspired dry Riesling. Be sure to try out the many Pinot Noirs on the tasting menu!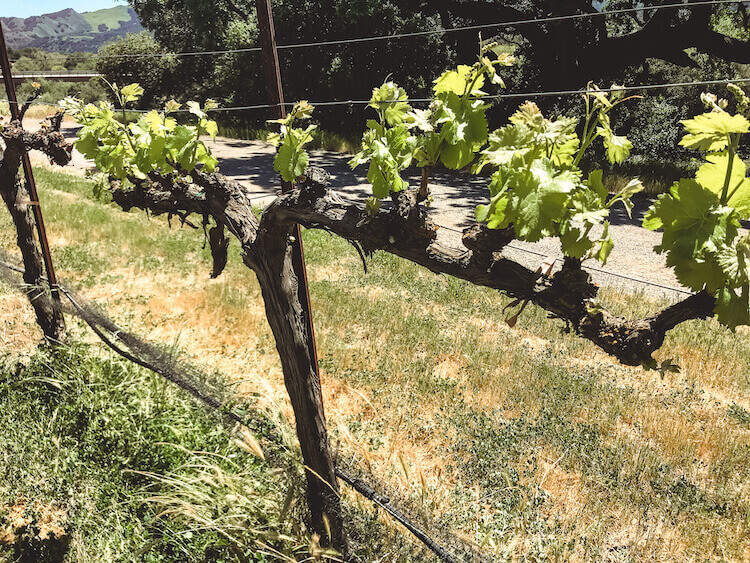 Best Santa Ynez Wineries
A huge thing to note is that many of the wineries in Santa Barbara, more specifically the Santa Ynez Valley, are scattered across towns and in the countryside. If you are looking to get out of the town limits and see more picturesque wineries tucked into the mountainside, these are notable wineries in the Santa Ynez Valley.
1. Sunstone Vineyards & Winery
Address: 125 N Refugio Rd, Santa Ynez, CA 93460 | Phone: (805) 688-9463 | Hours: 11 AM-5 PM | Price for Tasting: $20 | Must-Try Wine: Grenache Rose and Merlot Reserve
What could be mistaken for a Tuscan estate in Italy is actually Sunstone Vineyards nestled along the rolling hills of Santa Ynez. This larger winery has ample seating room and even complimentary olive oil and vinegar tastings.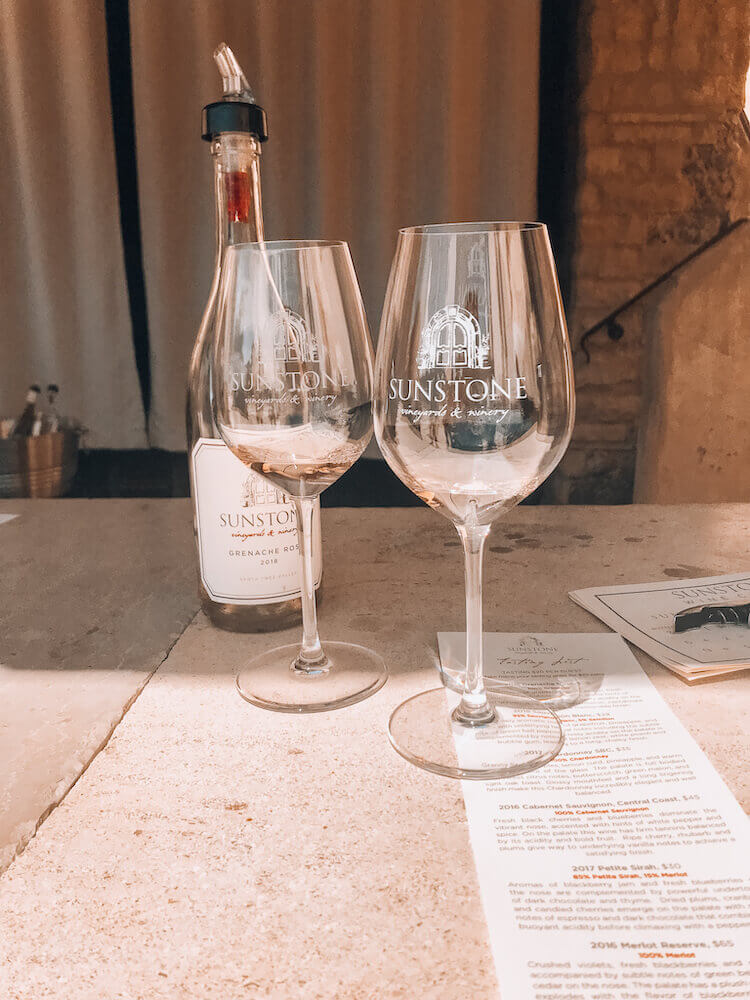 Aside from all of the amenities, the views are absolutely stunning of the vineyards and mountains, and the wine is delicious. Opt for the tasting menu and enjoy the crisp, acidic, and fruit-filled 100% Grenache Rose or the bold and dark Merlot with hints of berries. Either way, the wines are a perfect way to unwind after a long week.
2. Brander Vinyard is One of the Best Santa Ynez Wineries
Address: 2401 N Refugio Rd, Santa Ynez, CA 93460 | Phone: (805) 688-2455 | Hours: 11 AM-5 PM April-October, 11 AM-4 PM November-March | Price for Tasting: $20 | Must-Try Wine: Sauvignon Blanc
Brander Vineyard is known for its beautiful estate and tasting room, as well as its tropical and citrusy Sauvignon Blanc. This vineyard is a perfect stop on the Santa Ynez wine trail to relax, sip wine, and admire the French Chateau-inspired estate.
For those who love red wines, the Bordeaux-style Cabernet Sauvignon is also a noteworthy wine. With a lighter, but deep red color, it has berry and cherry flavors with a nice dry finish.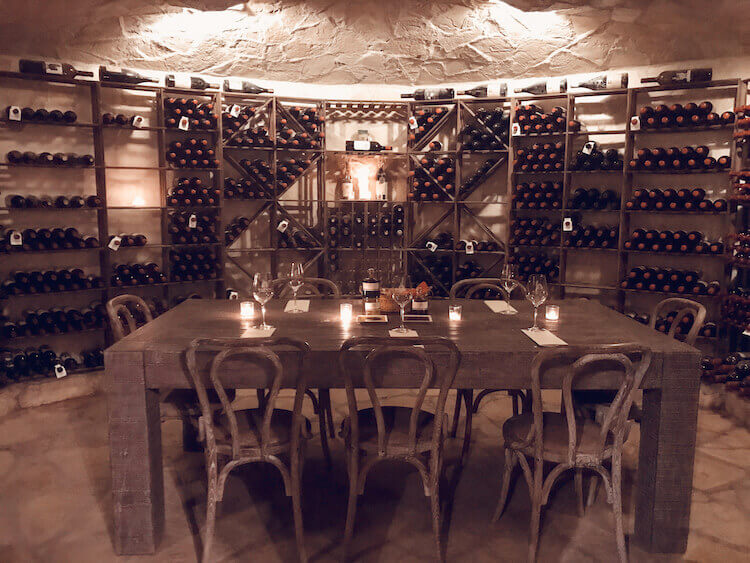 3. Roblar Winery & Vineyards
Address: 3010 Roblar Ave, Santa Ynez, CA 93460 | Phone: (805) 686-2603 | Hours: 11 AM-5 PM | Price for Tasting: $15-20 | Must-Try Wine: Red Blends and Pinot Noir
Located in a gorgeous vineyard setting, Roblar's ranch-style tasting room is the place to be. Try delicious wine tastings or splurge for the $65 wine and food pairing complete with fresh, seasonal ingredients to enjoy the perfect afternoon in the Santa Ynez Valley.
As for the wine itself, it resembles much of the glory that is Santa Barbara County. This means that the Pinot Noirs are full of rich, berry aromas and tastes, and their Chardonnays are fresh, buttery, and delightful. But be sure to try something new in their red blends like their Cuvee Rouge with Merlot and Petit Verdot grapes.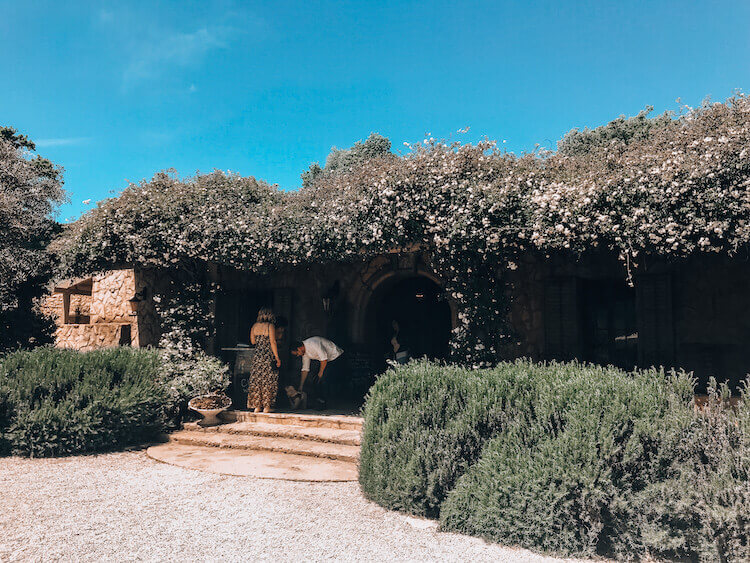 Where to Stay in Solvang and the Santa Ynez Valley
If you are looking for where to stay in the Santa Ynez Valley, we have a few suggestions based on your budget! First of all, Solvang is the main city with the most amount of hotels in the area, so this is a great spot to base yourself for exploring the wineries.
Located in the heart of Solvang, and within walking distance of many Solvang wineries, shops, and eateries, we loved our stay here on our last visit! The rooms are cozy and decorated with the charm of Denmark with all of the comforts you'd need plus there is a pool, free breakfast, and BBQ facilities. Prices start around $120 per night.
Read reviews on TripAdvisor and book here!
For a gorgeous boutique hotel located in downtown Solvang, look no further than the Landsby. From the bright and airy design to the delicious restaurant, a stay at The Landsby compliments a day of shopping, wine drinking, or hunting for that perfect pastry. You'll also enjoy their lobby bar complete with cocktails and more of that famous Santa Ynez Valley wine. Prices start at $160 per night.
Read reviews on TripAdvisor and book here!
For luxury in the middle of town, look no further than Mirabelle Inn. Enjoy a relaxing spa day after all of that time exploring the Solvang wine tastings. The hotel itself oozes European charm from the outside all the way into your room. It also has a delicious restaurant serving tasting menus, a free wine bottle in your room, a full breakfast, and you can arrange wine tours and bike rentals with the front desk. Prices start at $285 per night.
Read reviews on TripAdvisor and book here!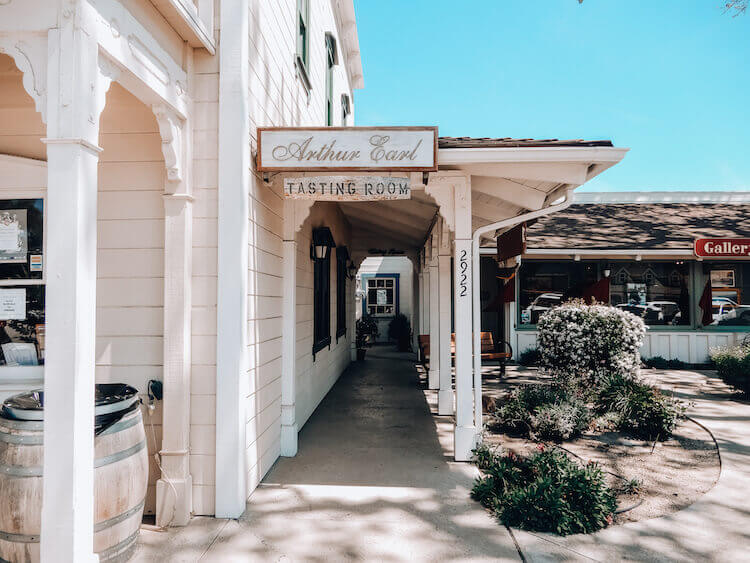 Top Tips for Visiting the Best Santa Ynez Valley Wineries
Before you visit the best wineries in Santa Ynez, Solvang, and Los Olivos, here are some incredible tips to make your stay perfect:
Please drink responsibly. This goes without saying, but don't drink and drive. While sampling all of the best wine tastings in Solvang and the Santa Ynez Valley, you'll need to think about transportation if you don't have a designated driver. Luckily, Uber and Lyft are readily available around the area.
Want to take a tour instead? If you are willing to splurge a little, there are drivers you can hire to take you around the area. And if you want to keep things even simpler, you can take a wine tour from Santa Barbara.
Planning to spend extra time in Santa Barbara county?

Be sure to check out some great activities like this

kayak tour or learn how to surf like a pro

!

What to wear in Solvang: I love wearing a cute flowy sundress with sandals during the day. Also, a pair of jeans and a cute top always works too! Be sure to pack a sweater as the temperatures can drop rather quickly! And for taking some great photos, we love our tripod!
Current Winery Restrictions: Due to the current climate, face masks in many wineries are mandatory if moving around, and be sure to make reservations in advance!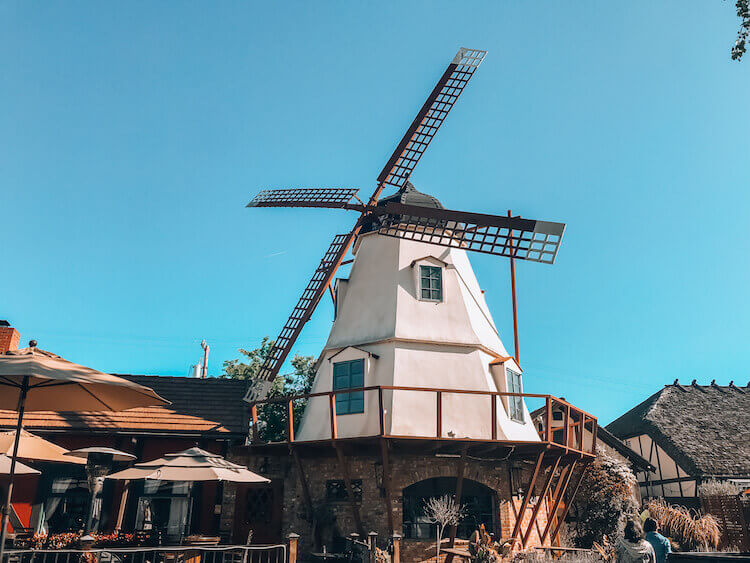 Which Will Be Your Favorite of the Best Santa Ynez Wineries and Solvang Wine Tastings?
It is safe to say that Chris and I love wine. So when we were able to visit San Diego, the Santa Ynez Valley, and the wineries in and around Solvang, we knew we had to let you in on our favorites as well as local's favorites. From the Petite Syrah of Sanger Family of Wines to the Pinot Noir of Carhartt Vineyards, you'll be sure to have an amazing time sampling the best wines that this valley and all of Santa Barbara have to offer.
What is your favorite style of wine? Would you visit Santa Ynez during your California trip? Let us know in the comments!
Traveling to the US? Check out these great guides:
Love wine? Check out these other wine guides:
Pin it here!