Some posts on this site contain affiliate links, meaning if you book or buy something through one of these links, I may earn a small commission (at no additional cost to you!). Read the full disclosure policy here.
---
A Finger Lakes romantic getaway is always a good idea.
With sprawling vineyards, lake views, and incredible waterfalls, a weekend in the Finger Lakes is full of romance and adventure. So to plan your perfect Finger Lakes weekend trip, I've got all the details including a perfect itinerary, where to stay, when to visit, and more!
Perfect Finger Lakes Romantic Getaway
Whether you love to sip wine or catch a sunset on a dreamy lake, here is what to do during a Finger Lakes honeymoon or romantic getaway in the Finger Lakes!
Day 1 of Your Finger Lakes Weekend: Explore Ithaca and Treat Yourself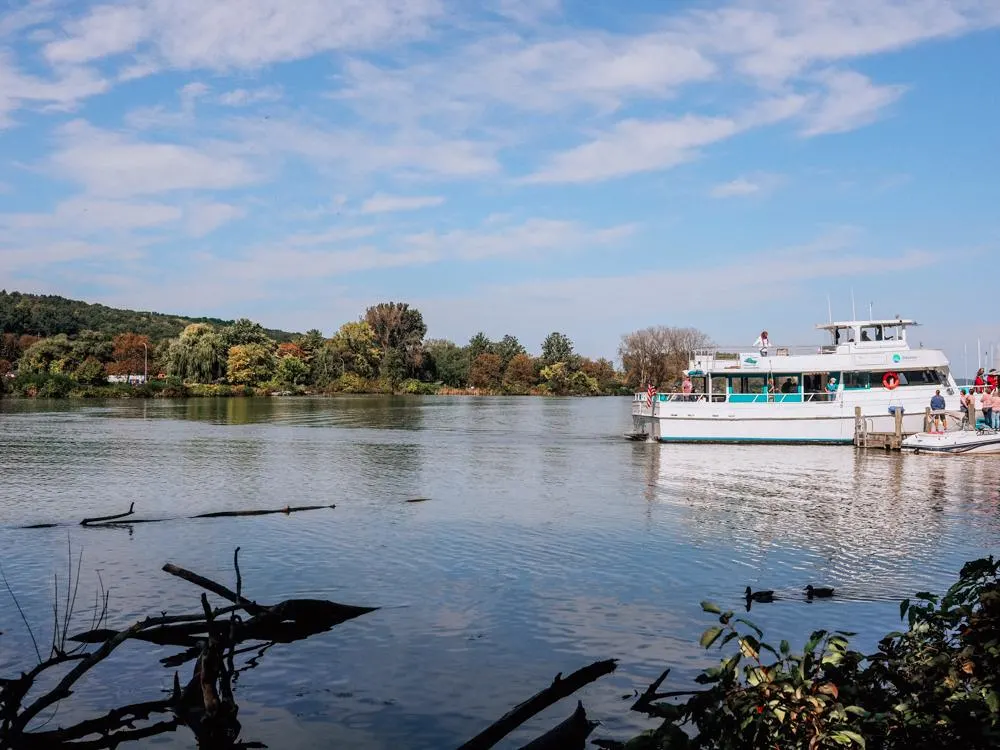 To kick off your weekend in the Finger Lakes, it is time to check into your hotel and then explore around Ithaca. This area is full of gems, making it a great place to base yourself for visiting the Finger Lakes on a weekend.
As for where to stay, I loved The Hotel Ithaca for its cozy rooms full of all the things you'd need for a weekend getaway, and the hotel makes a mean breakfast. They also have things like a fridge, wine glasses, and a wine bottle opener in your room (you are in a wine region after all). It's the little things really.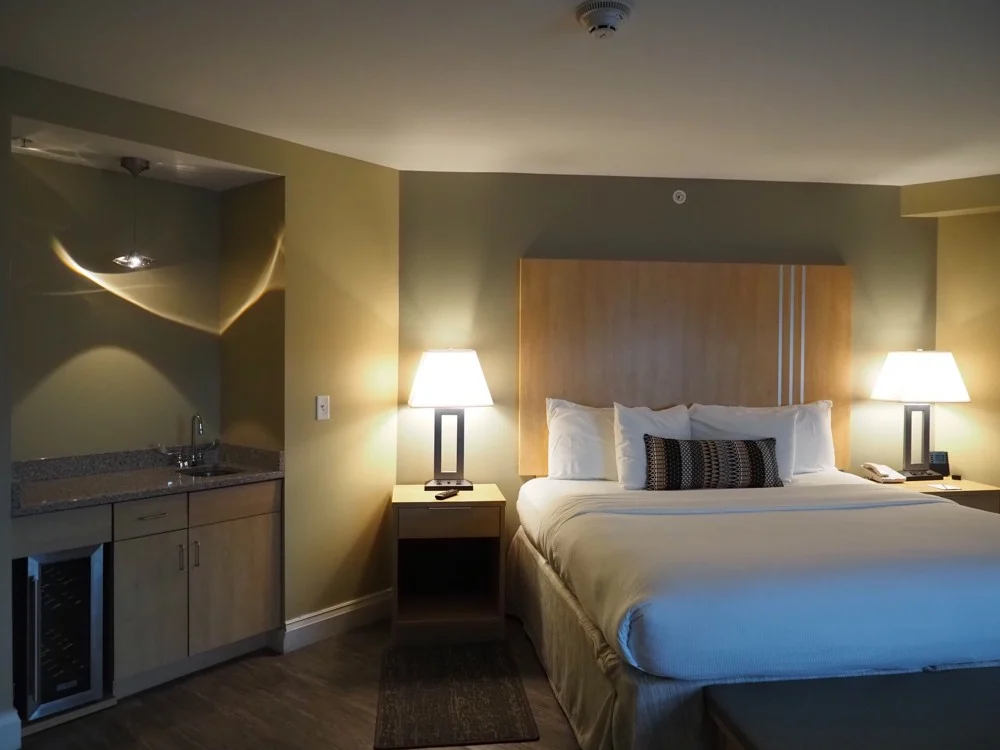 Now the Finger Lakes are well known for their incredible waterfalls. So after checking in, head up to Taughannock Falls State Park to check out the towering 215-foot waterfall.
There are 3 trails that you can use to access the falls, including the Gorge Trail that is only 0.75 miles long and easy. This trail takes you to the base of the falls. The other trails include the 1.125-mile South Rim Trail and the 1.5-mile North Rim Trail. Both of these trails are rated as moderate and these are only open from April-October while the Gorge trail is open year-round.
Once you've stood in awe of this cascade, it is time to head back to Ithaca and grab some lunch in downtown Ithaca at Luna Street Food. Inspired by street food from around the world, you can enjoy a local beer with a bahn mi sandwich or bulgogi steak bowl.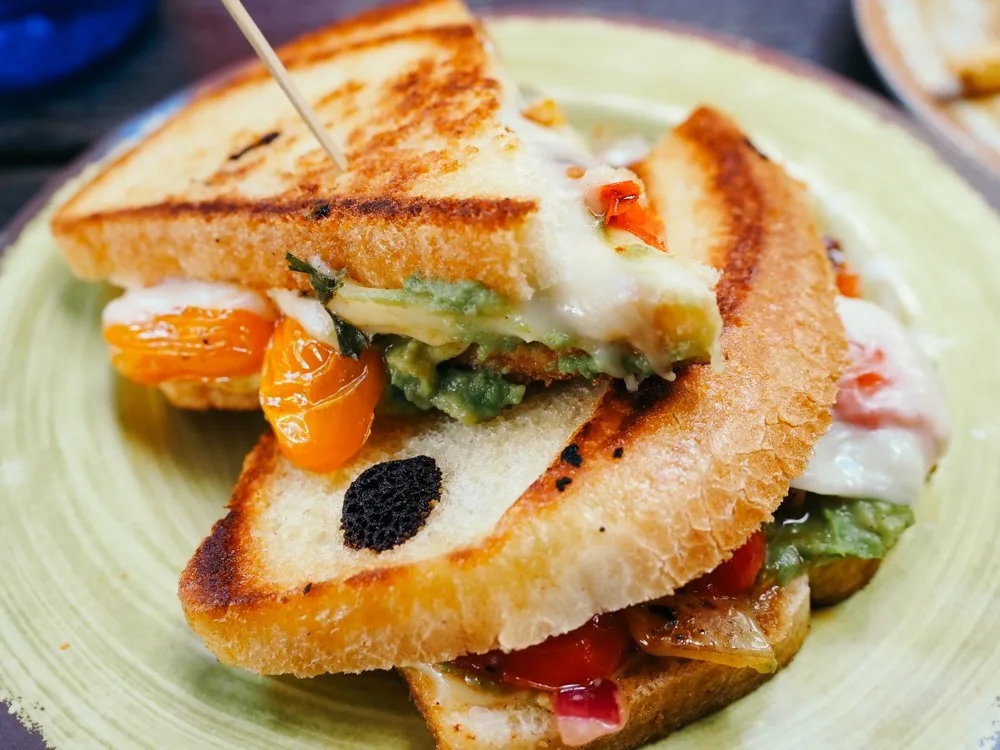 To walk off that hearty meal, I recommend checking out another waterfall right in the middle of downtown Ithaca itself. Ithaca Falls is 150 feet tall and is super easy to get to, as the trail is very short and winds along the creek to the falls itself. It is another stunning waterfall to enjoy during your romantic getaway to the Finger Lakes.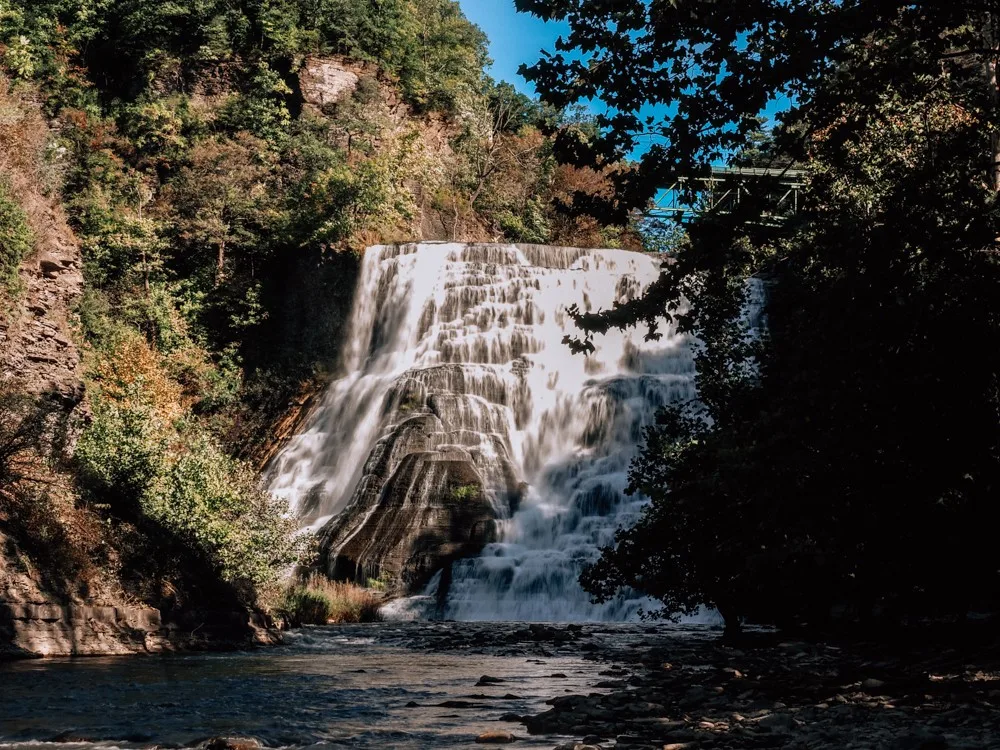 Post-waterfall chasing, a visit to a spa is a must for a bit of indulgence for your weekend away. August Moon Spa offers many types of massages and skincare treatments that'll leave you completely relaxed.
Now if you still have time before dinner, and if you're feeling up for it after your time at the spa, you could also check out your first winery of the trip.
The Finger Lakes wine region is incredibly popular and is well-known for its Chardonnay and Riesling. However, some other red wines are making a name for themselves in the area! For a quick place to try wine near downtown Ithaca, Six Mile Creek Vineyard is the place to go.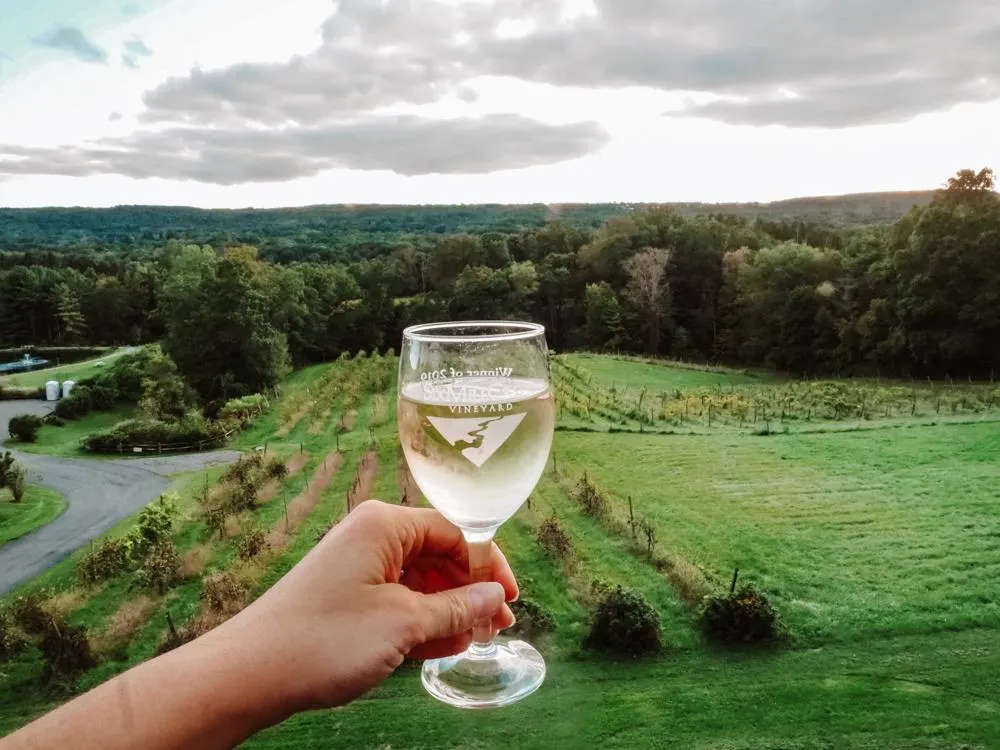 With their award-winning Cabernet Franc, you'll want to snag a glass or bottle of it if they have it in stock! However, their whole selection is great whether you prefer sweeter wines or a nice dry red. Personally, the Chardonnay Reserve and Riesling were the high notes of my visit!
A tasting is $8 per person.
Then, to wrap up day one, head to dinner at Coltivare just across the street from The Hotel Ithaca. This restaurant makes some great food to pair with local wines and beer. No matter what you order for dinner (which changes seasonally), get the chai spiced creme brulee for dessert if it's available, and thank me later.
Now it is time to get some rest for a full day of exploring the Finger Lakes tomorrow!
Day 2 of Your Finger Lakes Honeymoon or Romantic Trip: Watkins Glen and Wineries
For your second day in the Finger Lakes, it is time to head to one of the most iconic sights: Watkins Glen State Park.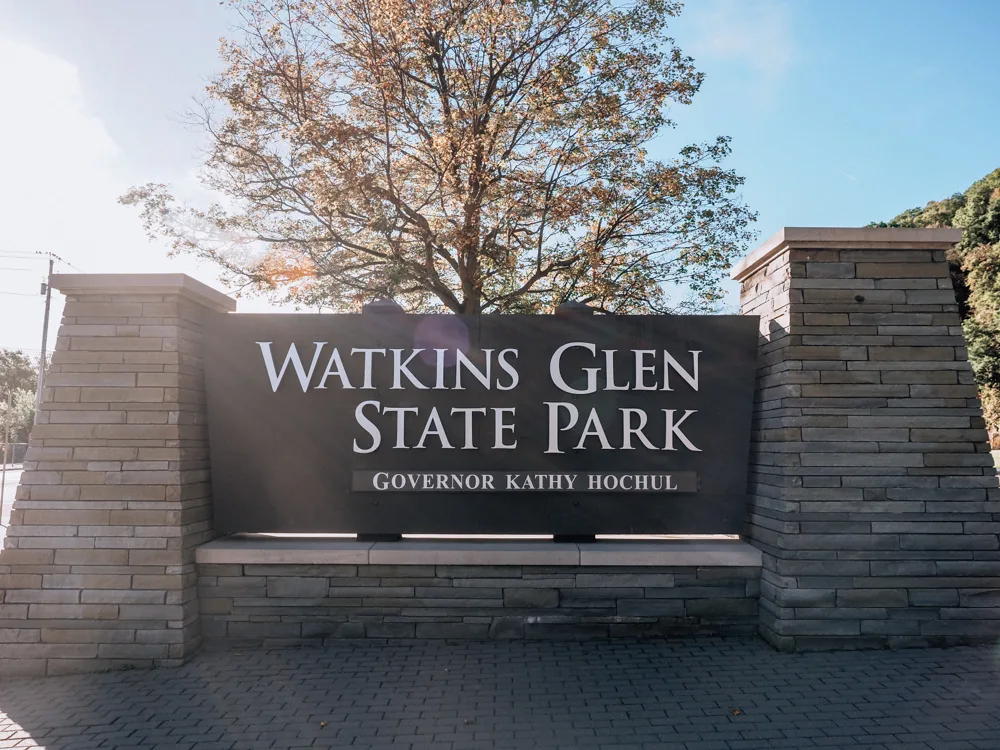 This splendid gorge is full of waterfalls and stunning bridges throughout. It truly feels like a fairytale to walk through, making it a perfect Finger Lakes romantic getaway activity.
However, this place is very popular, so go early! I went around 9 am on a Friday in early October and didn't see a lot of other people until I was heading back down the trail at 11 am.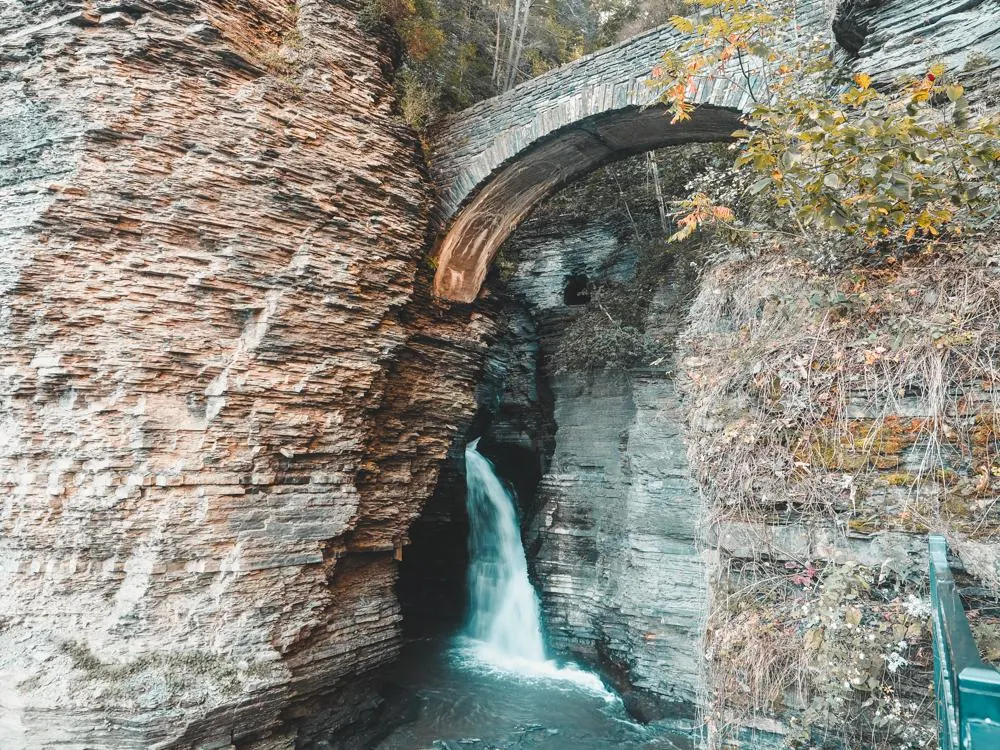 Take the Gorge Trail to see incredible views including the Sentry Bridge, Glen Cathedral, several small falls, and then the famous Rainbow Falls. After about a mile in, you'll run into Mile Point Bridge.
At this point, you can turn around the way you came, albeit it'll likely be a bit more crowded as the day goes on, or just head up to the North Rim Trail and come back that way. There are very few people on that trail, and you'll get to see the gorge and waterfalls from above!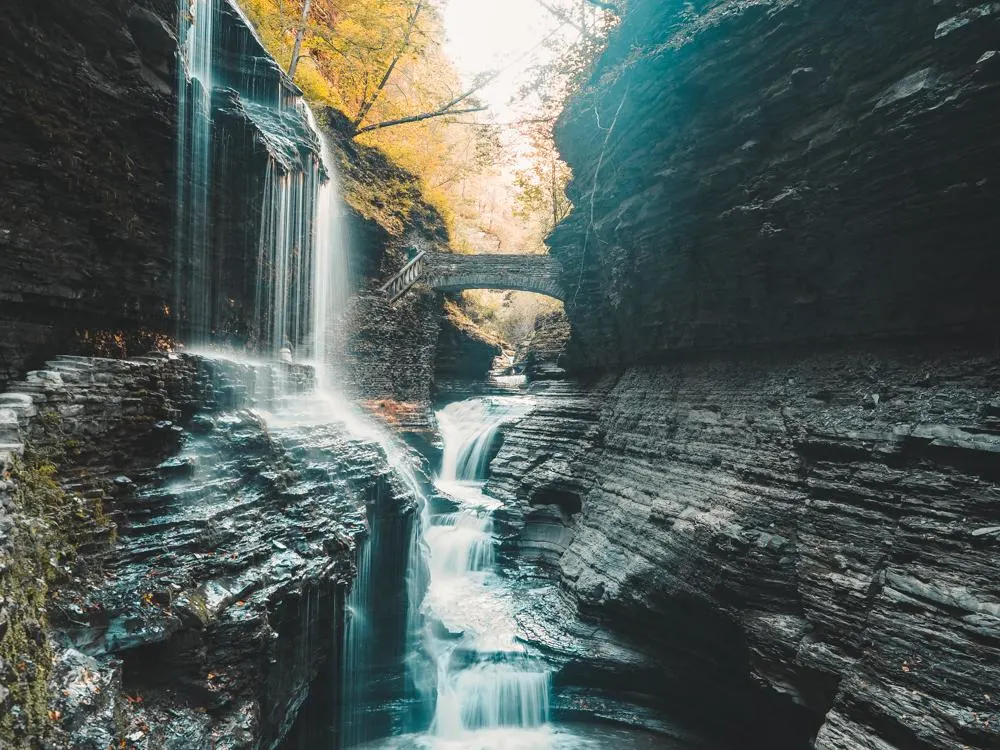 After exploring the charms of Watkins Glen, you are in prime wine drinking territory. The best part about being in this area of the Finger Lakes is that many wineries here overlook Lake Seneca.
So make a stop at Glenora Wine to start your wine tastings. It is $10 for a tasting, and then I recommend grabbing snacks to enjoy for lunch with a glass of wine on their balcony. Chardonnay is a great wine to try here.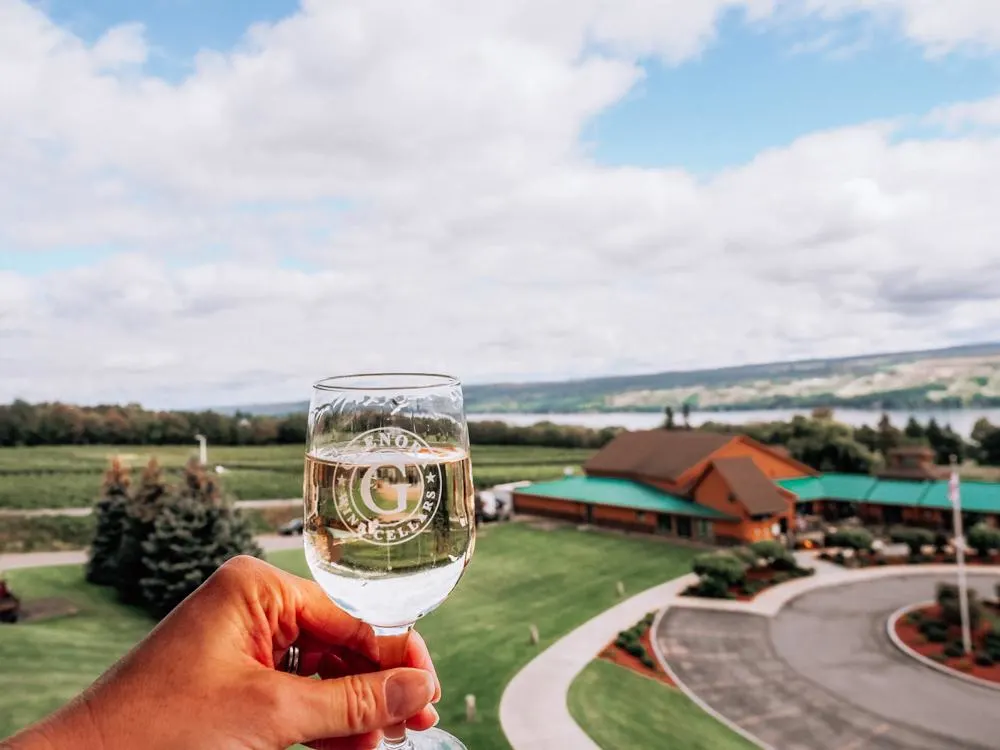 After a late lunch and sipping Glenora Wine, a stop at Forge Cellars is a must. First of all, the views of Lake Seneca are stunning, and there are many outdoor spaces to sit and enjoy a glass of wine while you take in the scenery.
They are also known for their bone dry Riesling. If you can't squeeze in a tasting here (which I highly recommend booking in advance), a glass or two should suffice and entice you to purchase a bottle!
Tastings are $15 per person and can be booked here!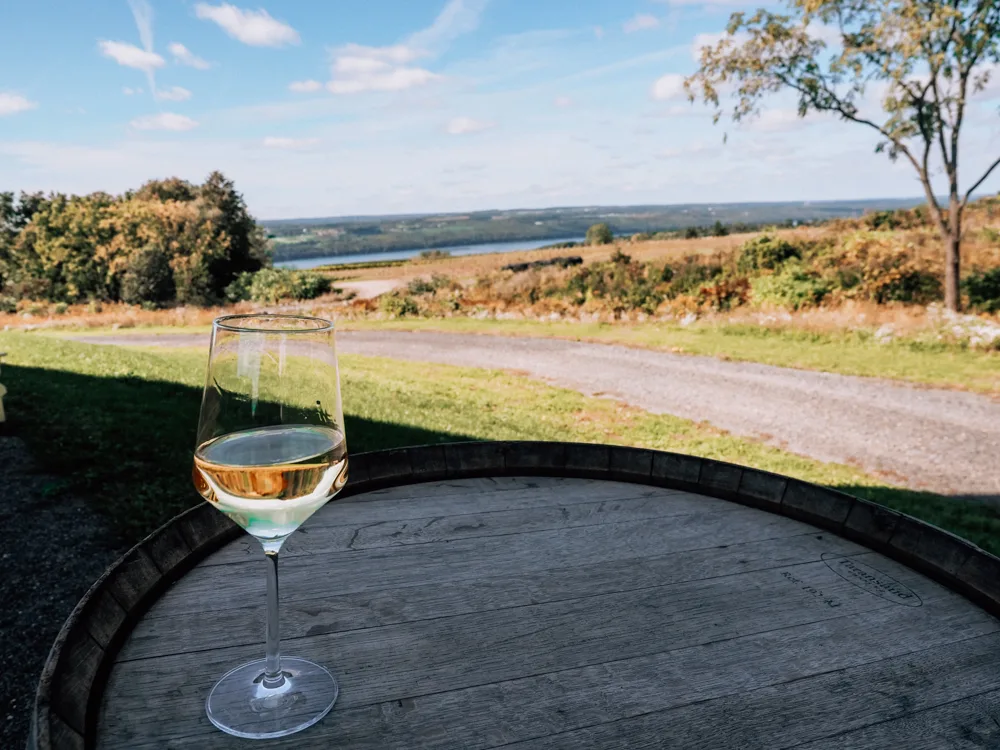 Now you can definitely take your time exploring the wineries in the Finger Lakes. There is no need to rush. But if you want to change it up with some beer, you can always head down the street to Two Goats Brewing for an IPA while you sit watching the lake below.
And if you still want to sample more wine, perhaps head over to Thirsty Owl Wine Company near Ithaca and Cayuga Lake. This place has some fantastic red wines like Pinot Noir and Chancellor.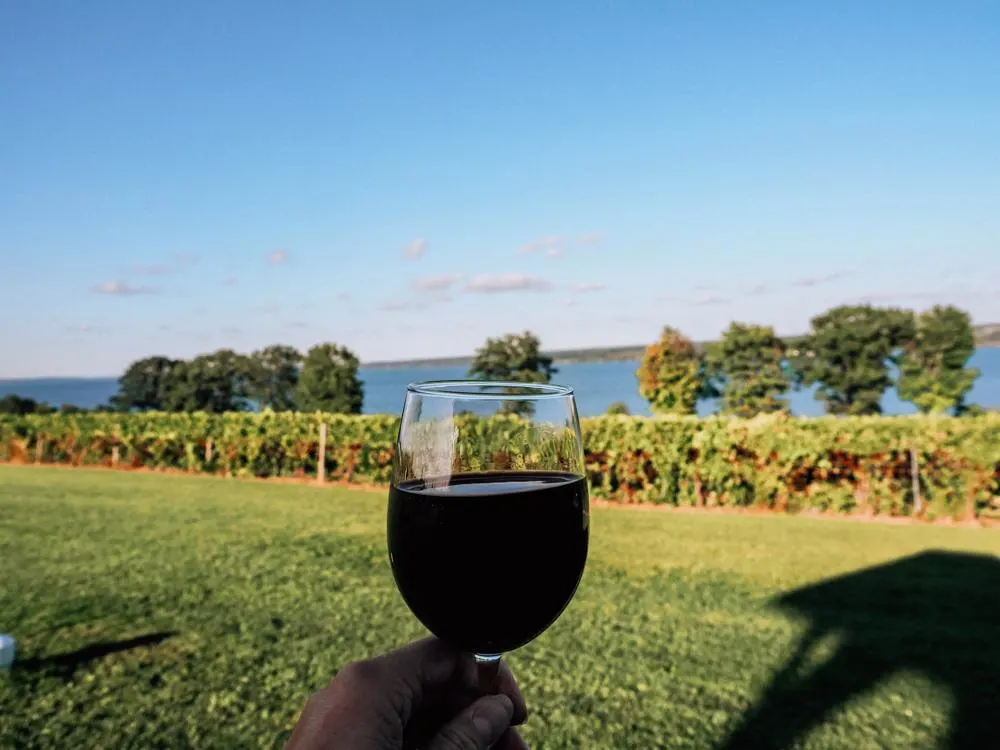 Sample the lovely wines here for $5 per person, and maybe grab a glass to enjoy as you wind down your afternoon by the vineyards of the Finger Lakes.
And to wrap up your exciting day, I highly recommend catching a sunset on Cayuga Lake. However, you don't want to just hang out by the lake. Instead, take the Discover Cayuga Lake Sunset Cruise! From May-October on Thursday, Friday, and Saturday, you can enjoy the sunset from the lake for $40 per person.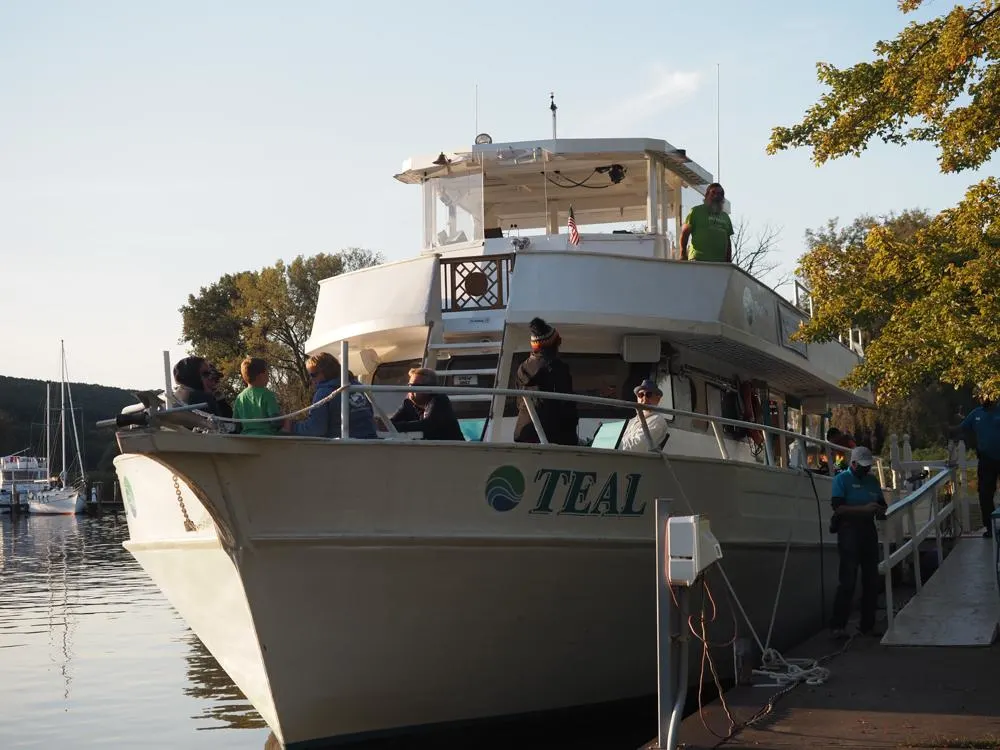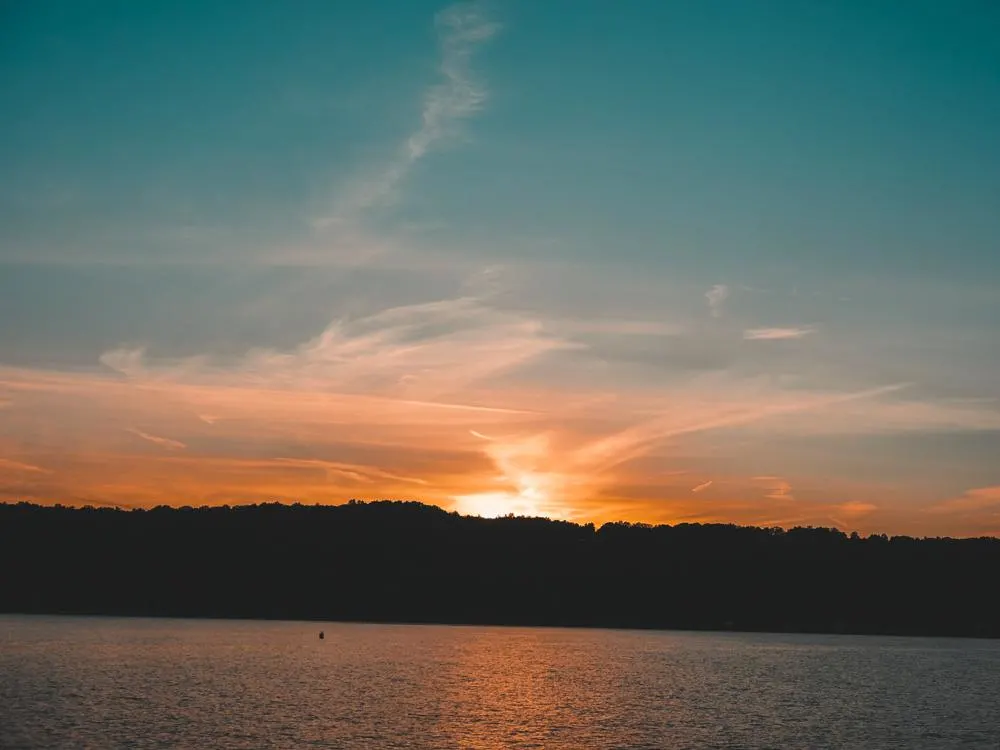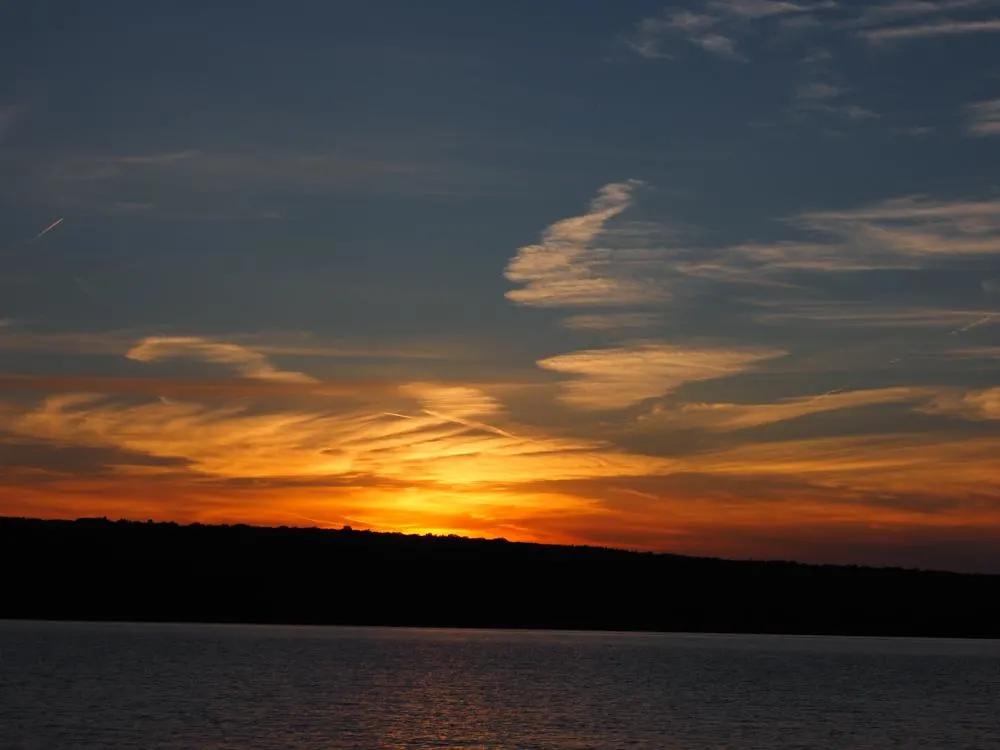 If you're a fan of photography, this is a perfect sunset photo opportunity!
Lastly, as you end your day, Gola Osteria in Ithaca has great Italian fare that you can pair with more wine.
Day 3 of Your Perfect Weekend in the Finger Lakes: Ithaca Farmers Market and Head Home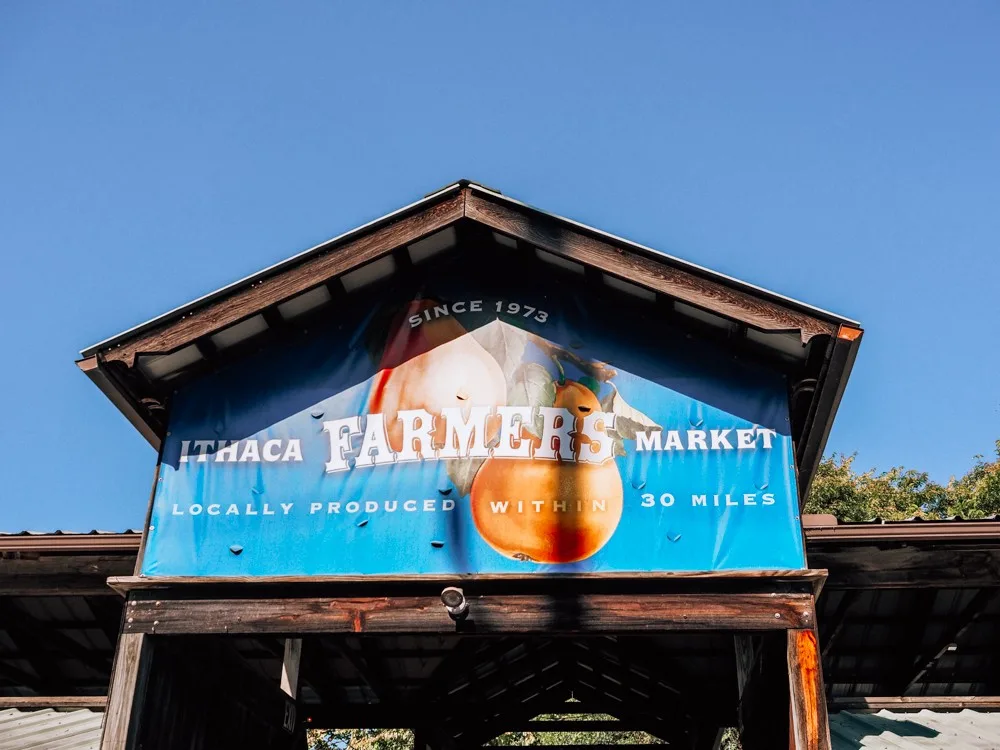 Day 3 is the last day of your romantic getaway to the Finger Lakes. While you'll be leaving this afternoon, why not explore just a tiny bit more on your way home?
First up is the Ithaca Farmers Market. This area is super charming as it is along the river, and the pavilion is full of local farmers with produce, florists, and incredible vendors selling tasty meals.
It is open on Saturday from 9 am-3 pm and on Sunday from 10 am-3 pm. It is very popular on Saturday, but Sunday is a great time to visit too! Note that this is closed during the winter and reopens from May until November.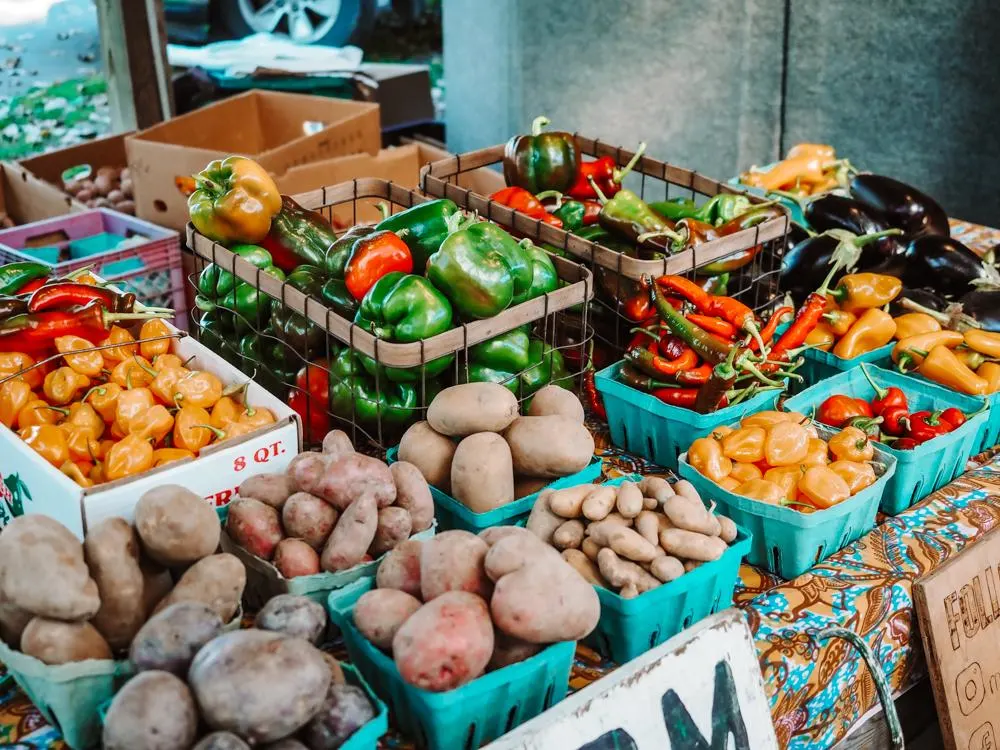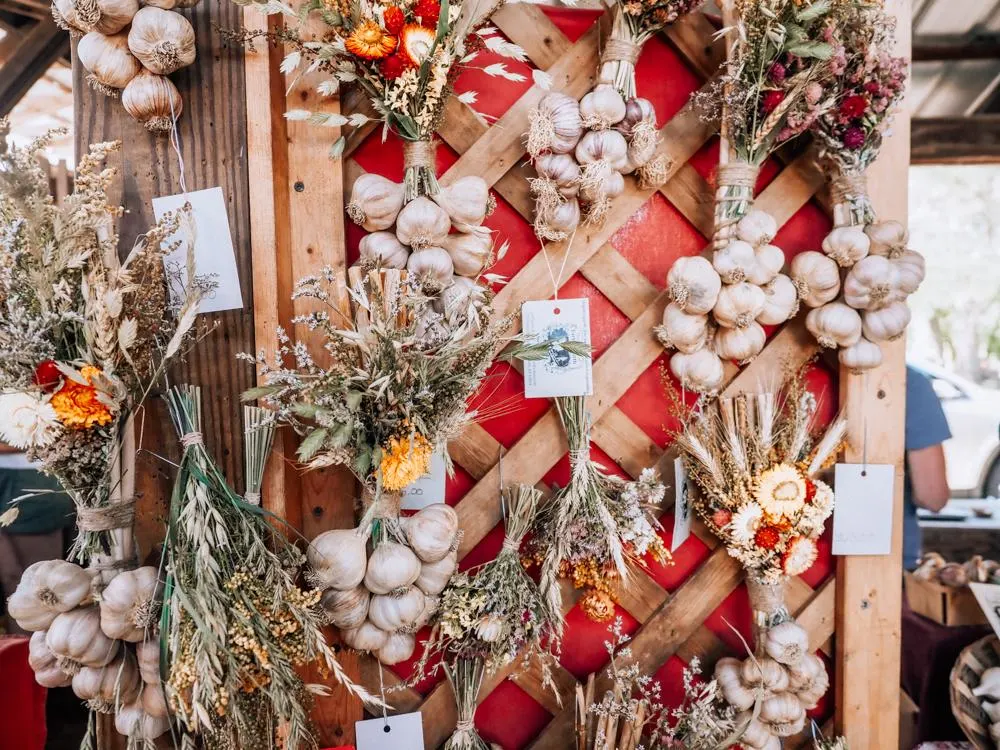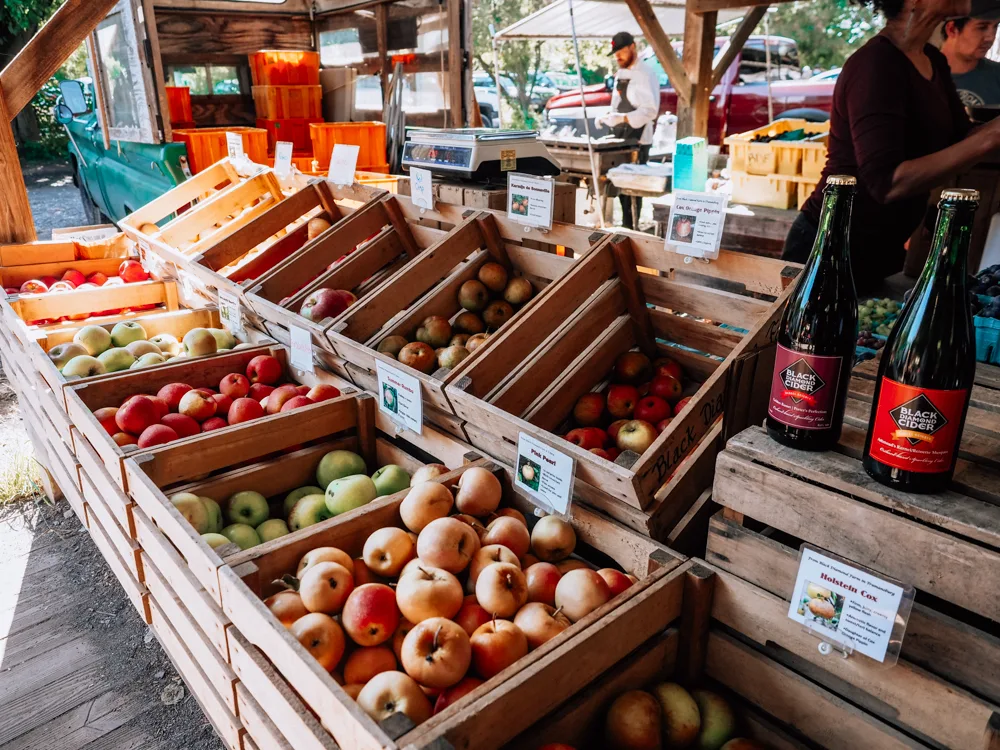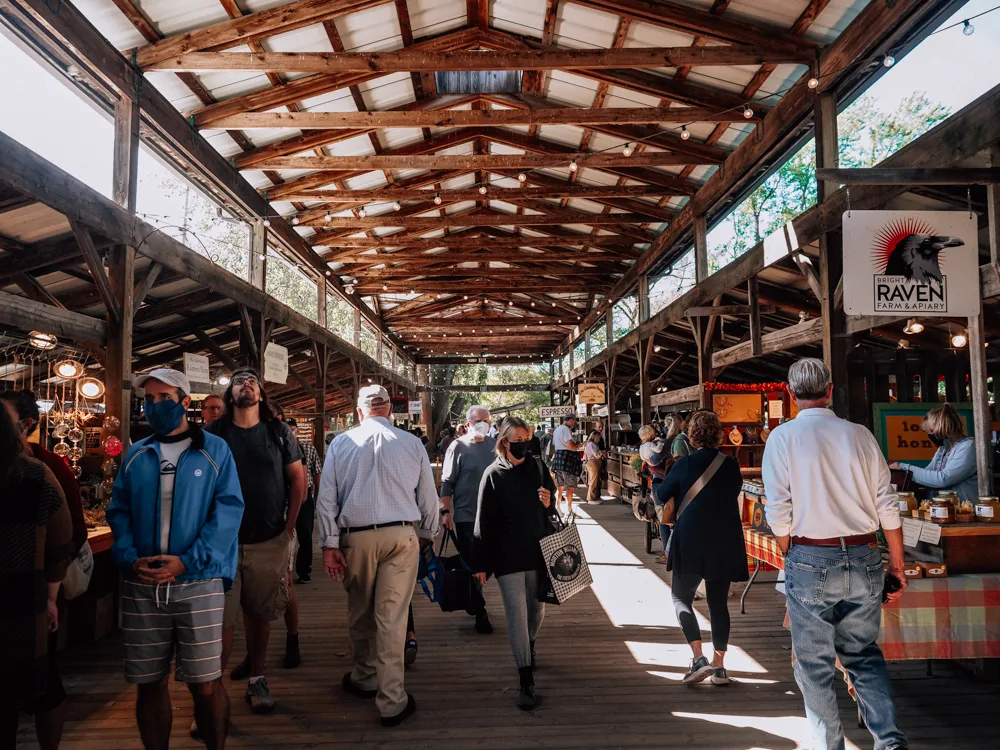 Then, you'll want to check out Ithaca Commons and the shops along the way. Pick up some famous Finger Lakes cider from The Cellar d'Or Wine and Cider and go say, "Hello" to the two adorable golden retrievers named Riley and Lulu at the Outdoor Store.
After exploring Ithaca Commons, it is time to head back home, taking back fun memories of your Finger Lakes romantic getaway!
Want to learn more about the Finger Lakes? Check out our podcast episode!
If You Have More Time in the Finger Lakes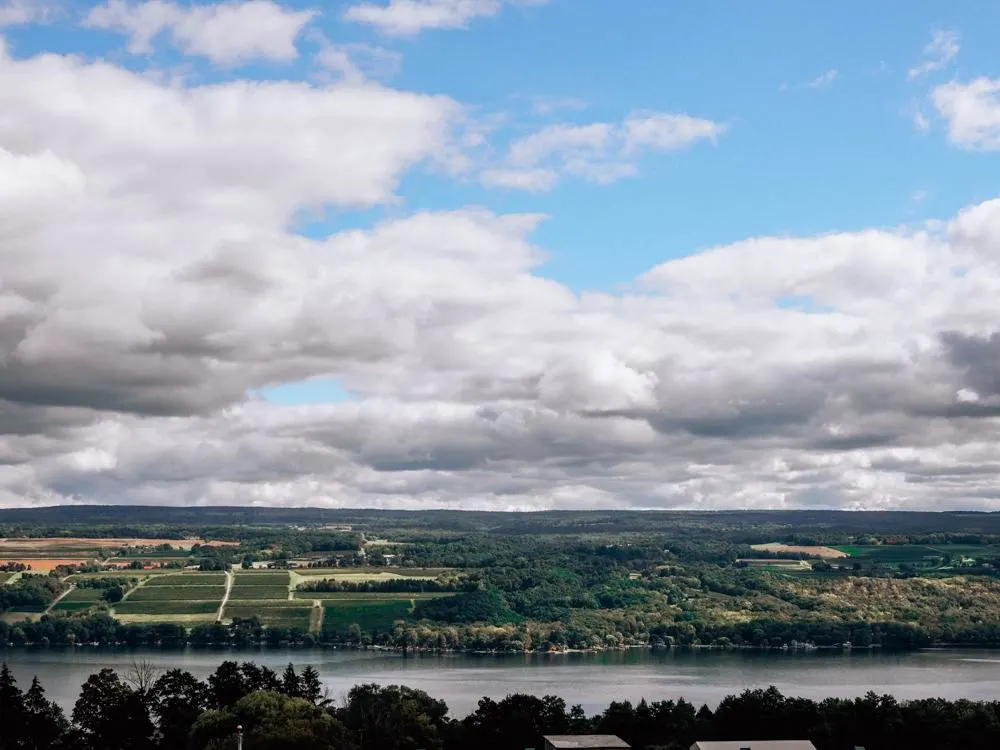 If you have even more time in the Finger Lakes or this is a Finger Lakes Honeymoon, you could easily spend a week in the area! I only covered Cayuga Lake and Seneca Lake on this weekend itinerary, but there are actually a whopping 11 finger lakes!
Take time to explore them all if you can! They are ideal for all kinds of water sports and just enjoying the views in general. Also, the Corning Museum of Glass holds the world's best collection of art and historical glass and is well worth checking out!
Aside from the vast amount of wineries to continue to visit during your stay, you can also find more waterfalls including Buttermilk Falls, Seneca Mills Falls, or the Shequaga Falls.
Trust me, there is a lot to keep you occupied for a longer trip to the Finger Lakes. A weekend is fine for a shorter trip, but you'll definitely want to come back again and again.
When to Visit the Finger Lakes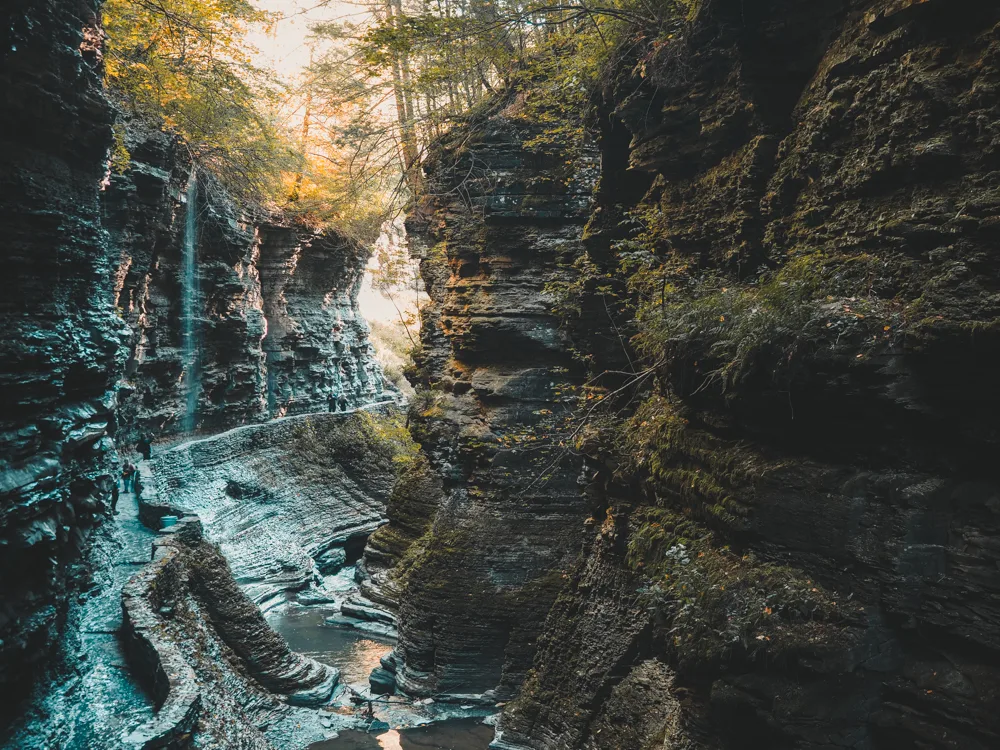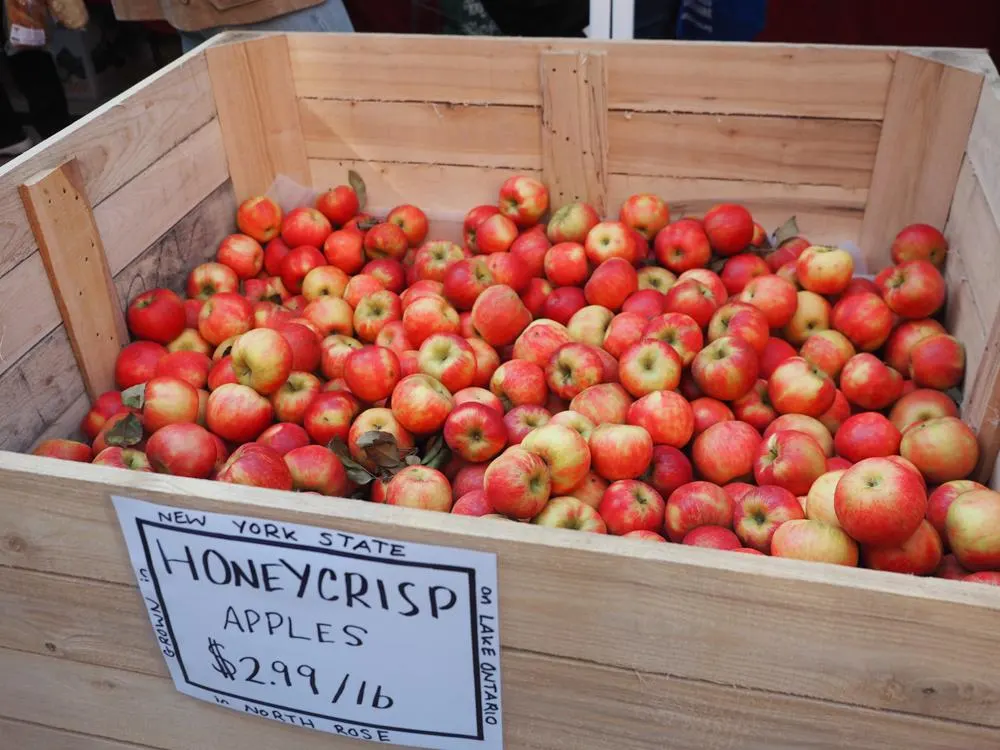 You can visit the Finger Lakes year-round, but note that winters are very cold and snowy, but the holidays are a delight with decor and several Christmas-themed events.
The spring brings slightly warmer temperatures and delightful flowers, and summer is much warmer, making a day on the lake perfect! However, summer is a very popular time to visit, especially for families.
And, honestly, you can't go wrong with visiting in the autumn. The leaves changing color while you hike Watkins Glen is truly stunning. The temperatures are also pleasant with warmer afternoons and chilly evenings-perfect for snuggling together while sharing some wine!
Plus, in the fall, you don't want to miss AppleFest in downtown Ithaca at Ithaca Commons where you can try many apple treats!
Where to Stay in the Finger Lakes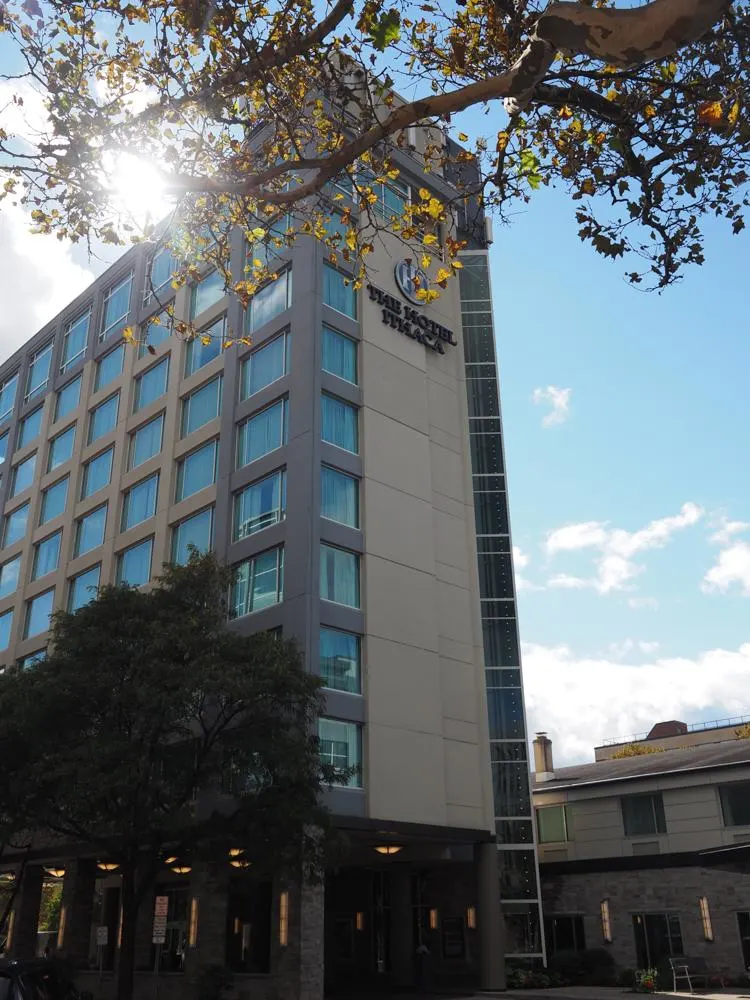 For purposes of a weekend getaway, I recommend staying at The Hotel Ithaca in Ithaca. This city has a lot going on, so you can do quite a bit here as well as use it as a jumping-off point to explore nearby Seneca Lake and its attractions.
If you're staying for longer, definitely hop around a bit and stay in a few different areas!
Getting to the Finger Lakes For Your Finger Lakes Weekend Getaway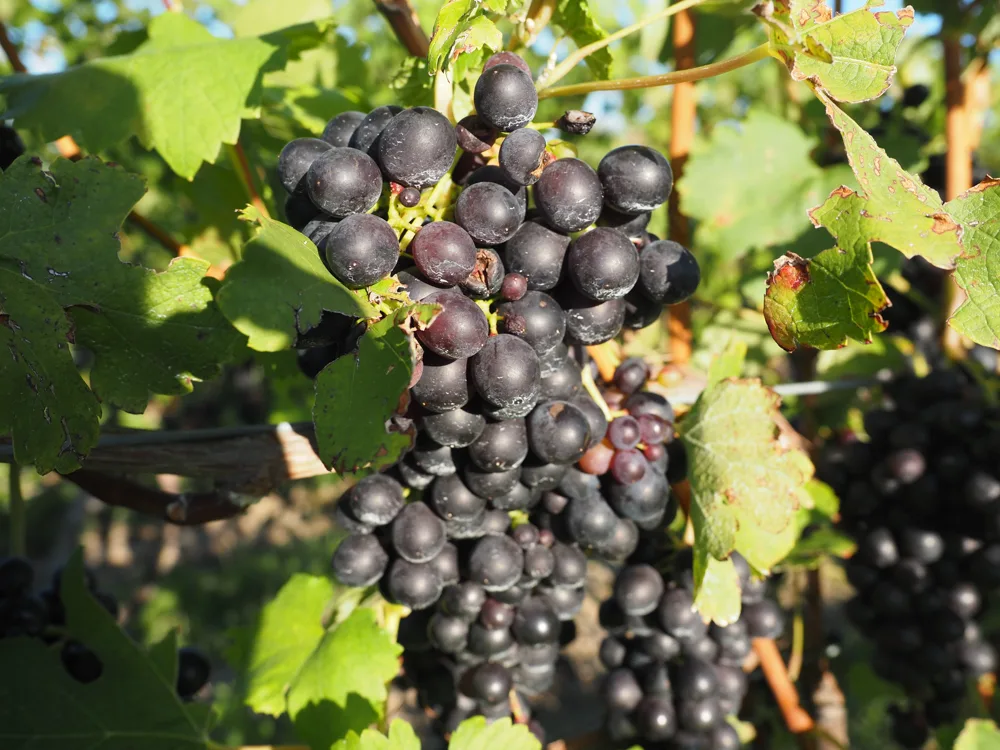 The easiest way to get to the Finger Lakes is by driving. There are a few smaller airports in the area like Elmira Corning Regional Airport, Rochester International Airport, Syracuse Hancock International Airport, and Ithaca Tompkins Regional Airport.
The Buffalo Airport is only about 2.5 hours away from Ithaca as well. There is also the option to take the Amtrak to Rochester or Syracuse.
No matter how you get here, you'll definitely need a car to get around. I drove from Cleveland to the Finger Lakes and had my car, but if you're not driving there, I recommend renting a car.
A romantic getaway to the Finger Lakes is a fantastic idea for lovers of wine, sunsets, and waterfalls alike! If you only have a weekend to get away, then this is definitely a great way to see this gorgeous area of New York!
Have you visited the Finger Lakes before? Would you like to visit?
Want more weekend getaways and wine ideas? Check out these posts:
Thank you to The Hotel Ithaca for hosting my stay. As always, all opinions are my own.
Pin it here!