Some posts on this site contain affiliate links, meaning if you book or buy something through one of these links, I may earn a small commission (at no additional cost to you!). Read the full disclosure policy here.
---
There are some seriously romantic things to do in Joshua Tree. After visiting in late February, there is something about those desert sunrises and sunsets and incredible views throughout the national park that makes Joshua Tree a perfect romantic getaway.
So whether you're planning a Joshua Tree honeymoon or you just need a weekend away for two, these are hands-down the most romantic things to do in Joshua Tree!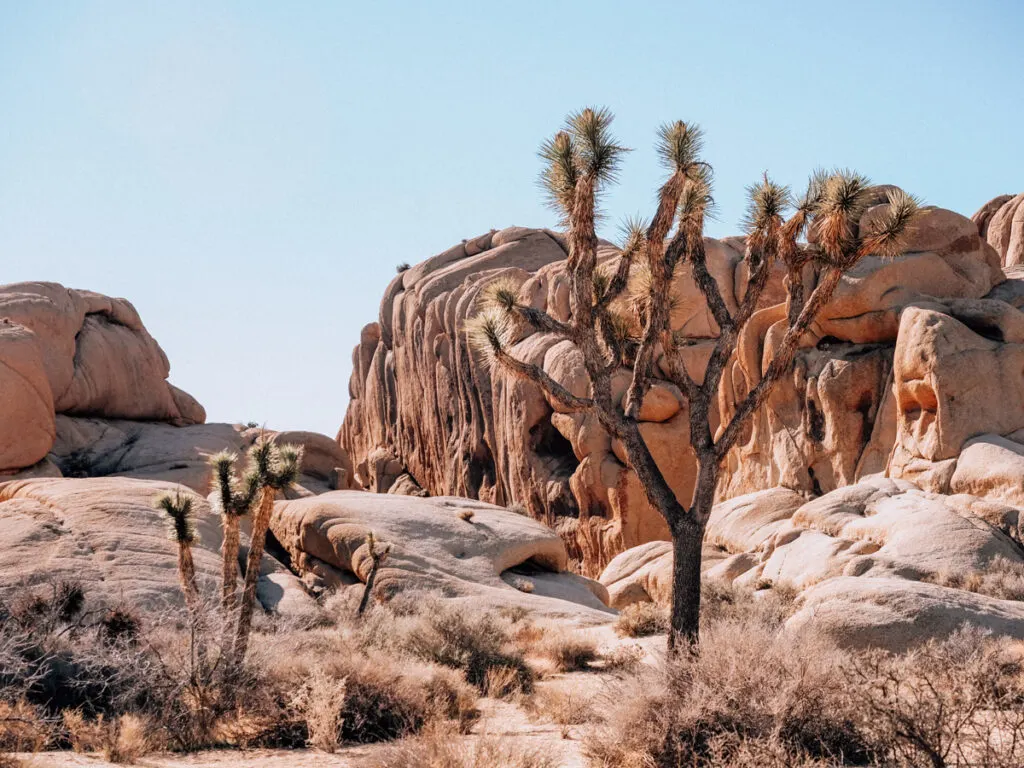 Romantic Things to do in Joshua Tree for the Perfect Joshua Tree Romantic Getaway
Whether you're here to relax or you want to go hiking, these are the best things to do in Joshua Tree for couples!
1. Stay in a Unique Home Rental in Joshua Tree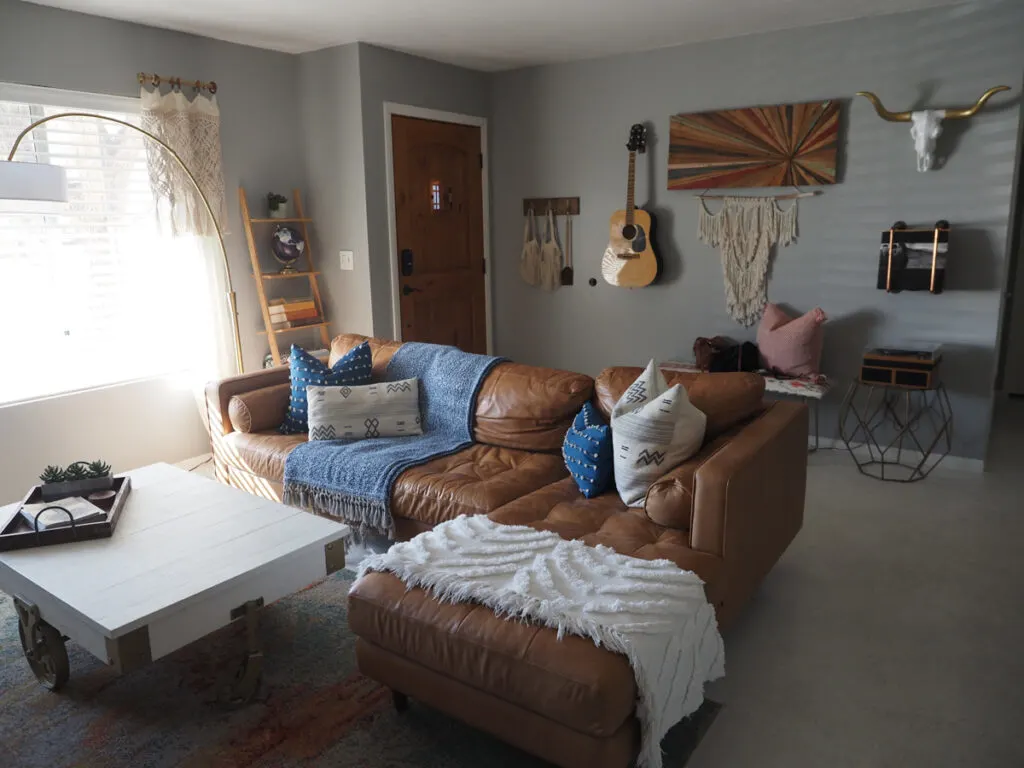 You've likely seen many awesome rentals in Joshua Tree on Instagram. At least that is partially what inspired me to visit (I mean that, and the unique Joshua trees themselves).
There are Airstream campsites, airy domes, and other awesome rentals that feel like their own oasis in the desert. Here are a few to check out for your weekend in Joshua Tree!
Kate's Lazy Desert
Located in Landers, Kate's Lazy Desert is about 25 minutes away from the national park. What makes this place super special is that the rentals are Airstreams!
Rent out an Airstream for the ultimate glamping experience in Joshua Tree! The interior of the campers are uniquely designed, with each camper having its own theme like Tiki or Hot Lava.
This is in the middle of the Mojave Desert, perfect for stargazing together at night.
Prices start at around $200 per night. Book it here!
This airy geodome is perfect for relaxing and stargazing. This place even has a small pool to chill in on warm days, and you can arrange things like a private chef, private massages, yoga, and even hire a guide for hikes.
It may just be tempting to never leave!
Prices start at around $200 per night. Book it here!
Located in a canyon near the Sawtooth Mountains, this rental is surrounded by the iconic boulders you'll also find in Joshua Tree National Park.
Aside from the stunning scenery, this place also has a grill, hot tub, amazing bedrooms, a modern kitchen, and is just all-around a great place to play games and enjoy the scenery.
Prices start at around $458 per night. Book it here!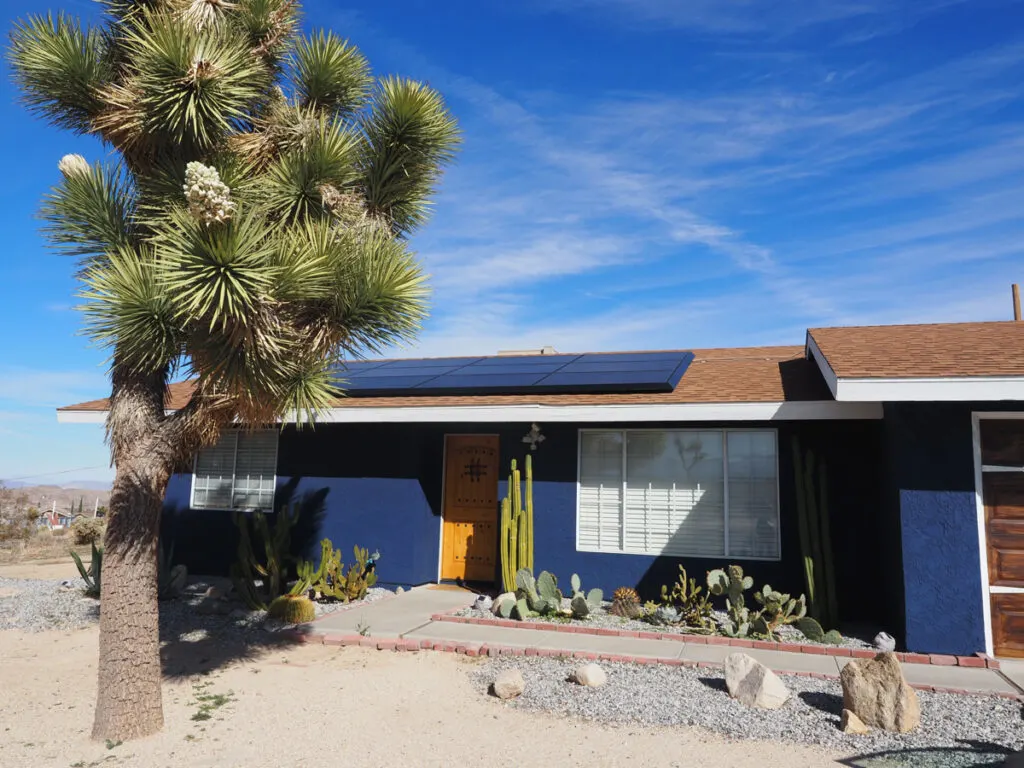 This is where I stayed last time in Joshua Tree and the whole thing is a vibe! For starters, I loved the hammock out front that is perfect for catching a desert sunset.
Second, the interior of the house had everything including desert-cowboy-luxe-themed decor, a free bottle of wine, and free local coffee, and it even had a private patio with a hot tub, grill, and fire pit.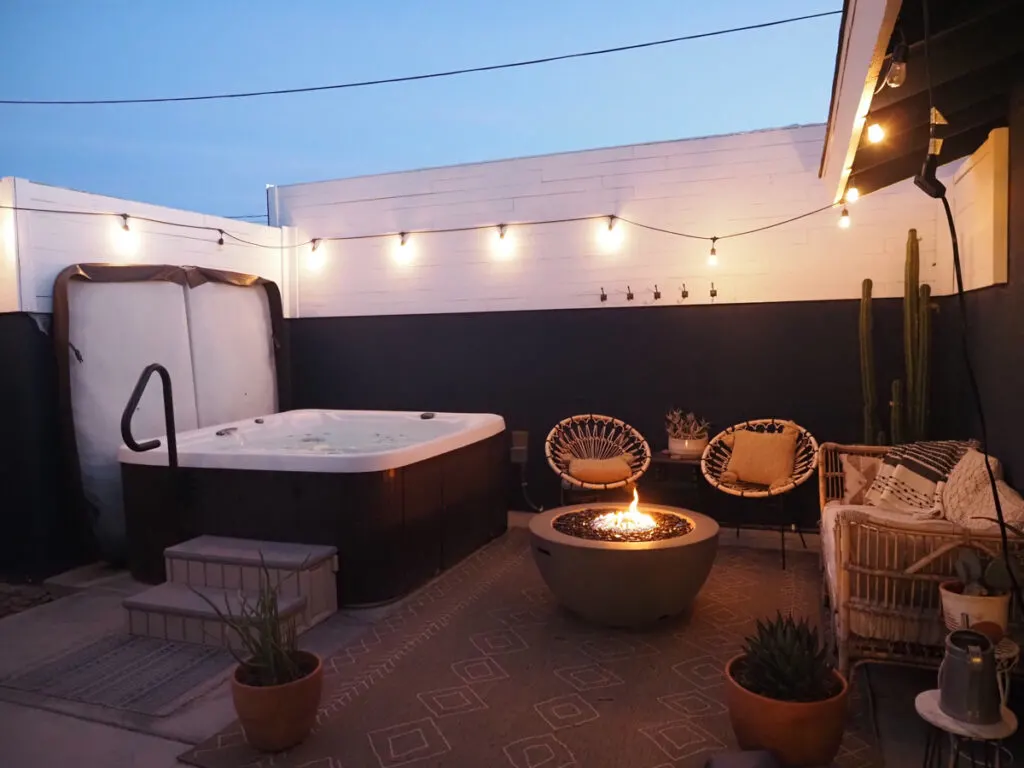 For a cozy romantic getaway in Joshua Tree, this is the perfect place.
Prices start at around $237 per night. Book it here!
2. One of the Most Romantic Things to do in Joshua Tree: Cholla Cactus Garden at Sunrise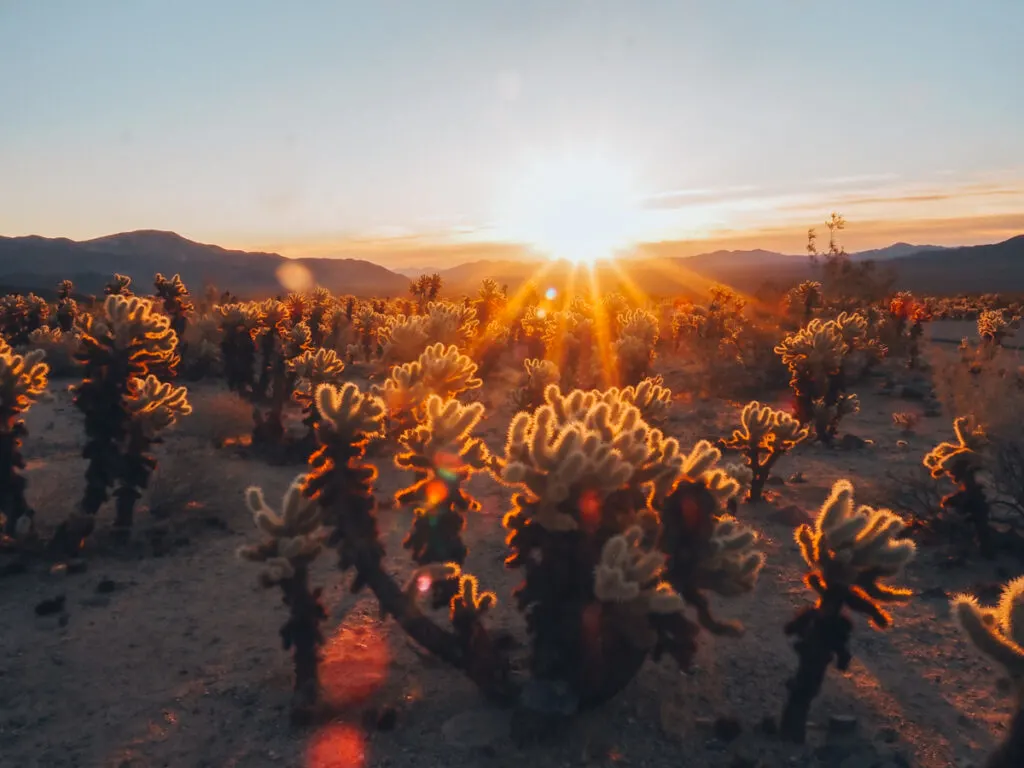 The Cholla Cactus Garden may be pretty far into the park, making it about a 45-minute drive from the town of Joshua Tree, but trust me, it is well worth visiting for the sunrise.
Even before the sun sneaks past the horizon, you'll begin to notice these fuzzy cacti glowing in the early morning rays.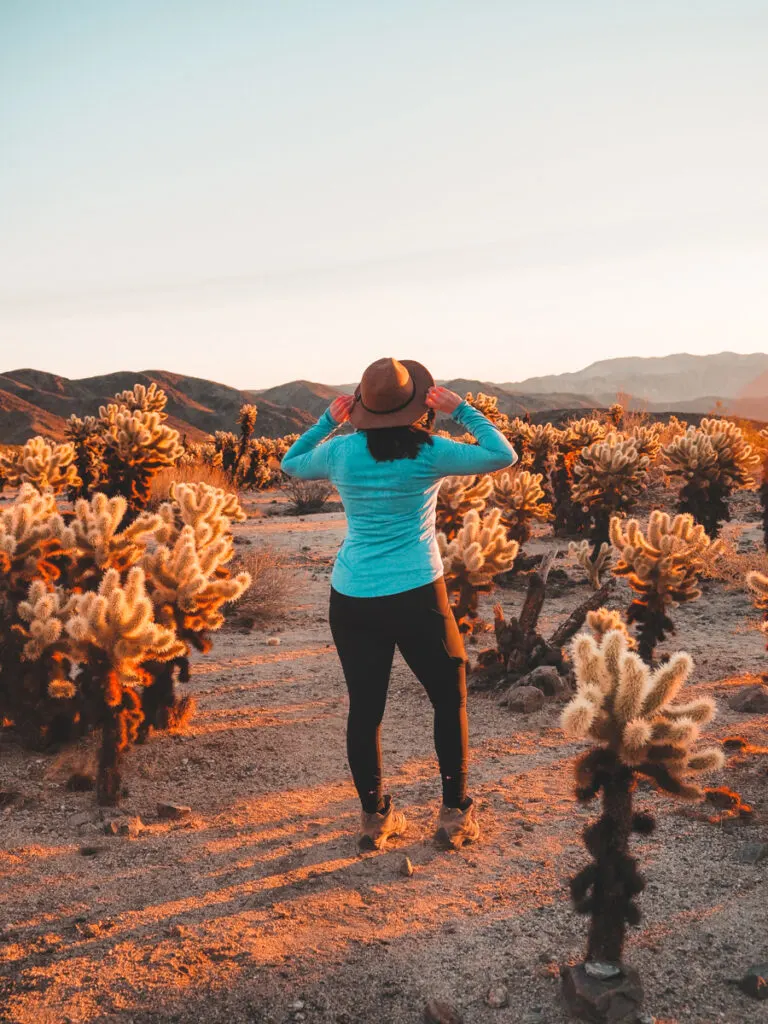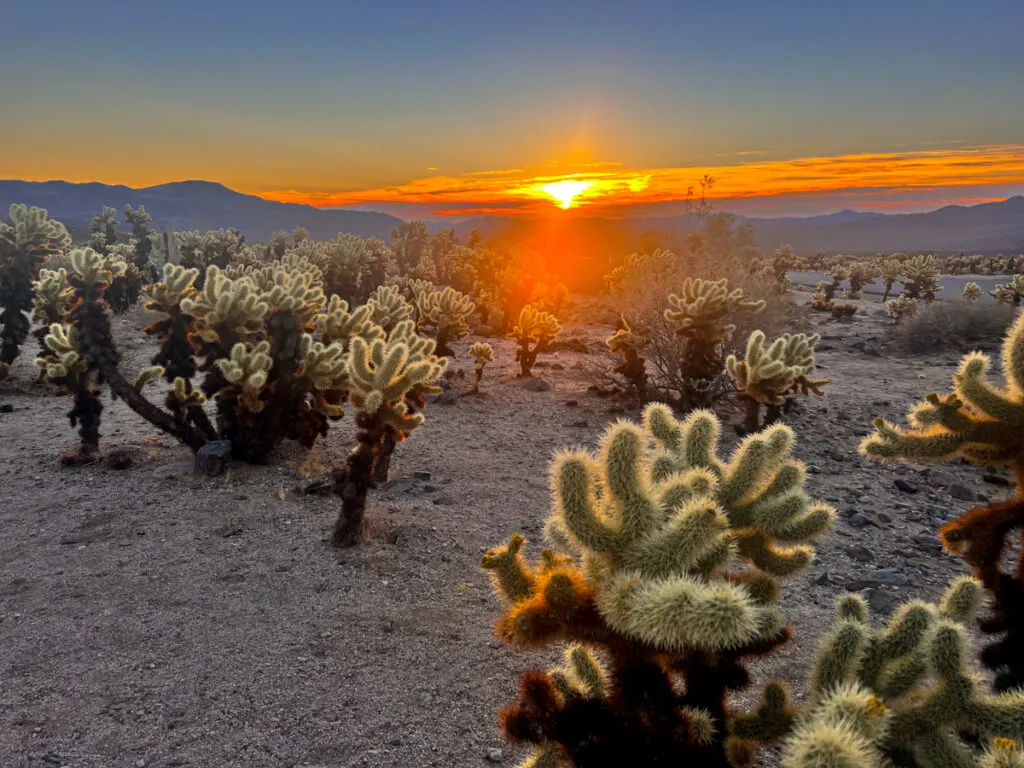 And honestly, it just keeps getting more vibrant as the sun slowly starts to rise into the sky. It was my favorite thing to do in Joshua Tree, and I'd highly recommend the 4:30 am wake-up call to get there for it!
Perhaps pack a little breakfast and coffee to enjoy while you're there together!
Also, the cholla cacti look super cute and fuzzy but do NOT touch them. They are cacti, after all.
3. Admire a Sunset at Keys View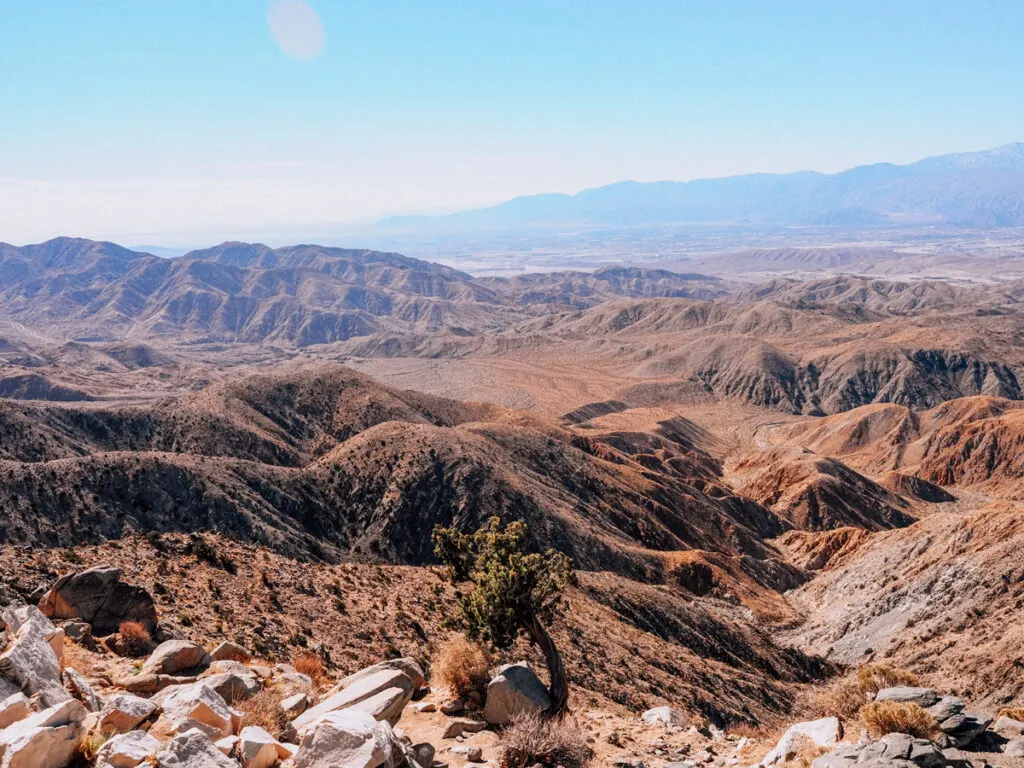 For the ultimate weekend in Joshua Tree getaway, you obviously need to explore a lot of the park. And while I've told you about the best sunrise spot, for the ultimate sunset location, head to Keys View.
From the top of this lookout spot, you can admire the Coachella Valley, Palm Springs, and the San Bernardino Mountains. Admire the sunset in the mountains for a perfect end to a day in Joshua Tree together.
4. Admire the Night Sky in Joshua Tree National Park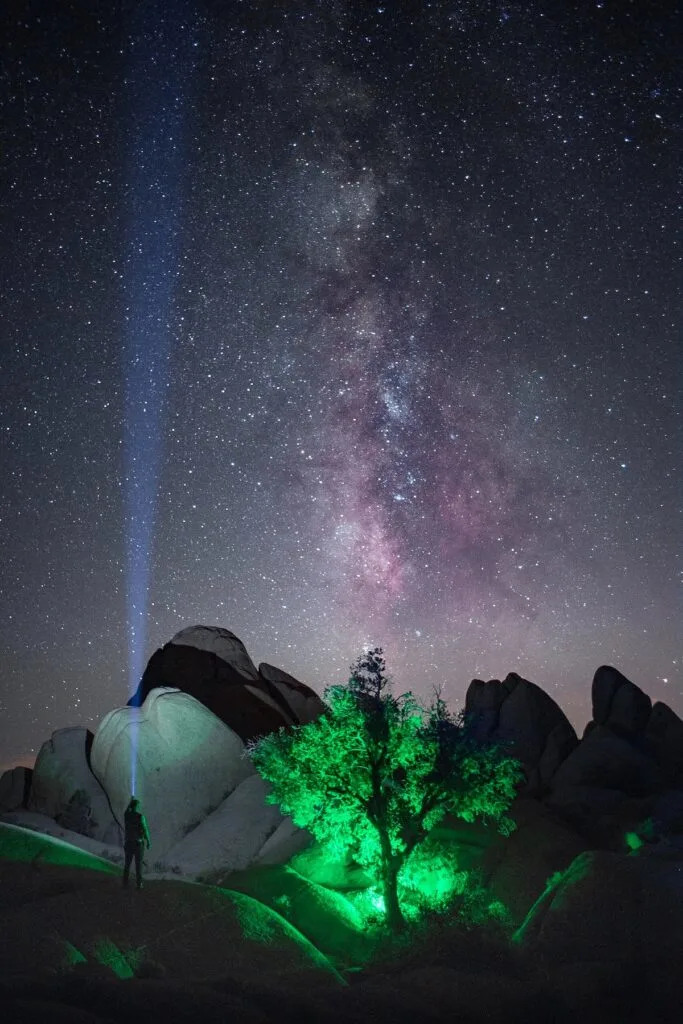 Did you know that Joshua Tree National Park is a designated International Dark Sky Park?
So this means stargazing at night is a must! Thankfully, as it is a desert, the night skies are typically clear and the national park itself sees little light pollution, especially the deeper you go into the park.
Bundle up together (the desert is chilly at night!), pack up your camera or telescope, and enjoy the stunning night sky.
5. Visit 49 Palms Oasis
For a beautiful desert oasis near Joshua Tree, head to 49 Palms. Take the 3.1-mile round trip 49 Palms Oasis Trail where you'll be rewarded with lovely palm trees, beautiful mountain views, some puddles of water, and perhaps a little wildlife.
This is one of the best oases in the park and well worth it for a Joshua Tree romantic getaway.
6. Admire the Joshua Trees and Rock Formations Within Joshua Tree National Park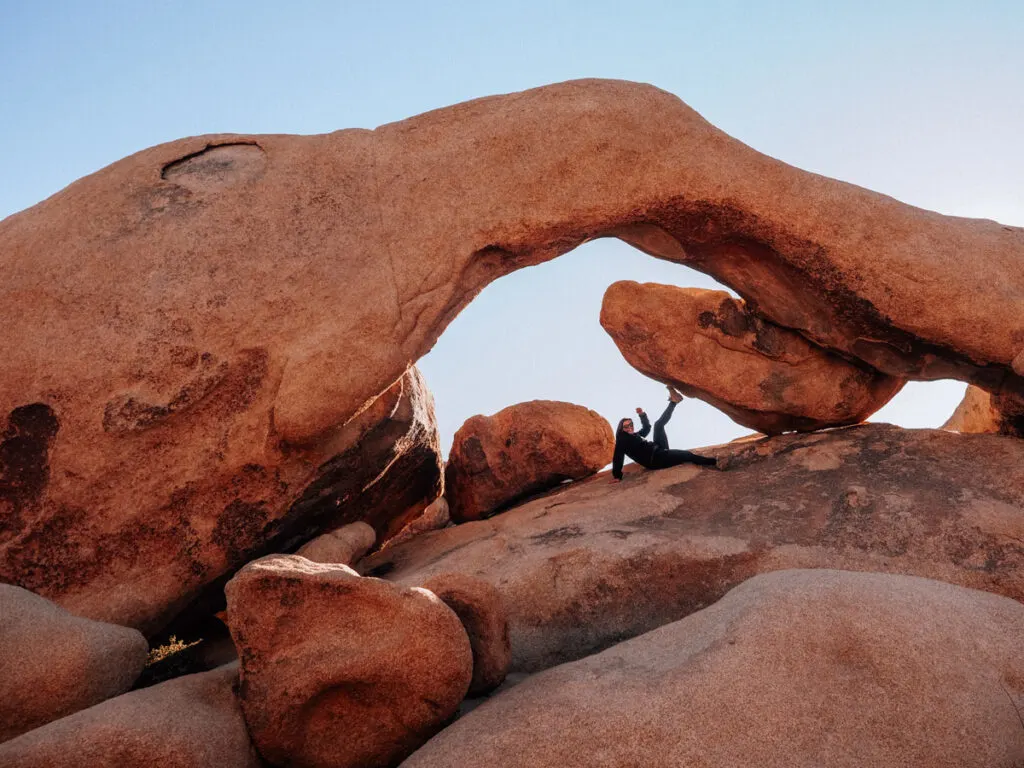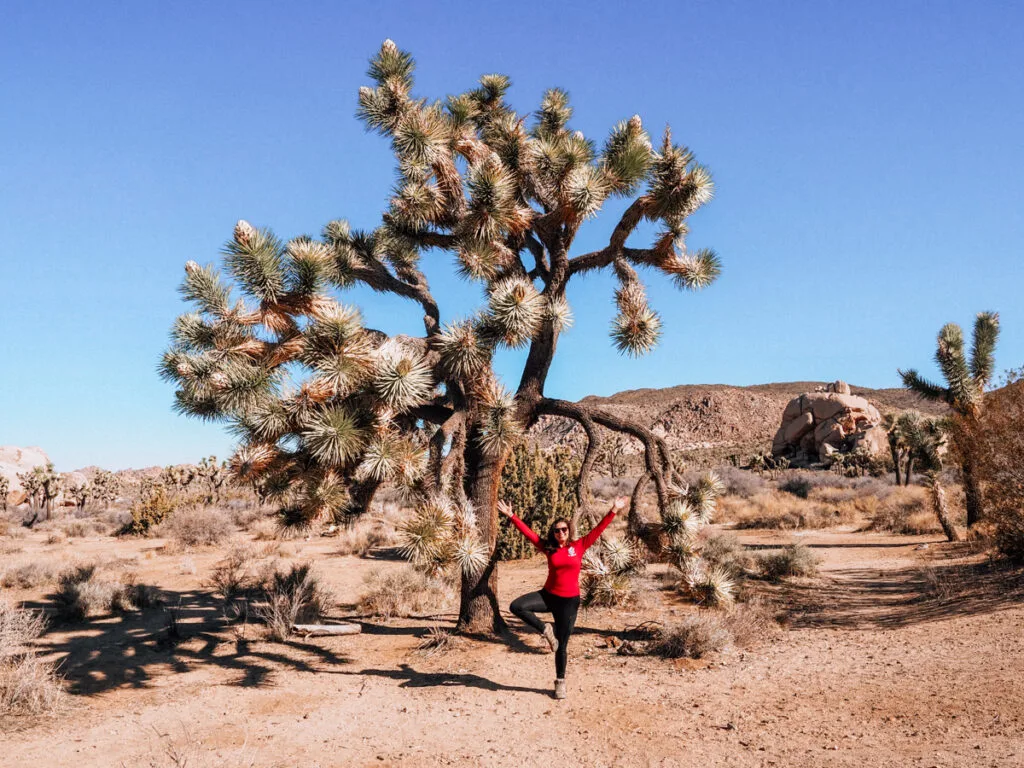 While you're in Joshua Tree, one of the coolest things to do there has to be admiring the trees themselves! These trees are neither trees nor cacti, but they are actually a part of the yucca family!
Some are pretty small but can grow up to be quite large! It was impressive to see all the different shapes and sizes of these unique plants.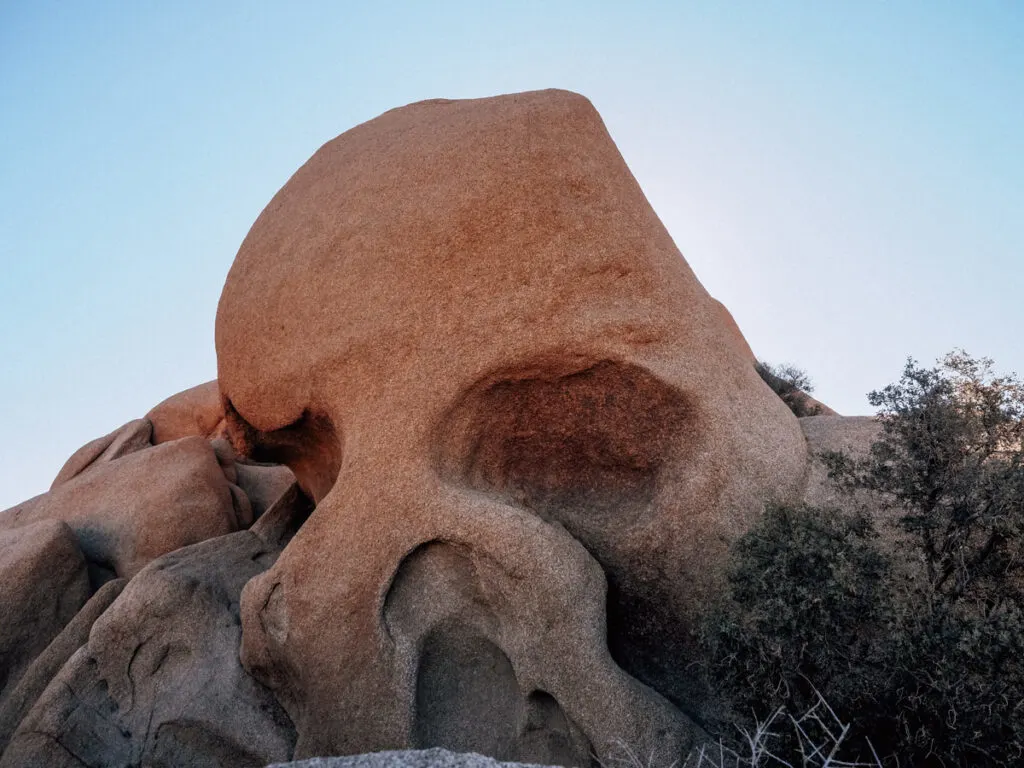 Also, it is a great idea during your weekend in Joshua Tree to explore the rock formations in the park like Skull Rock, Arch Rock, Jumbo Rocks, and even Heart Rock (definitely one of the more romantic things to do in Joshua Tree!).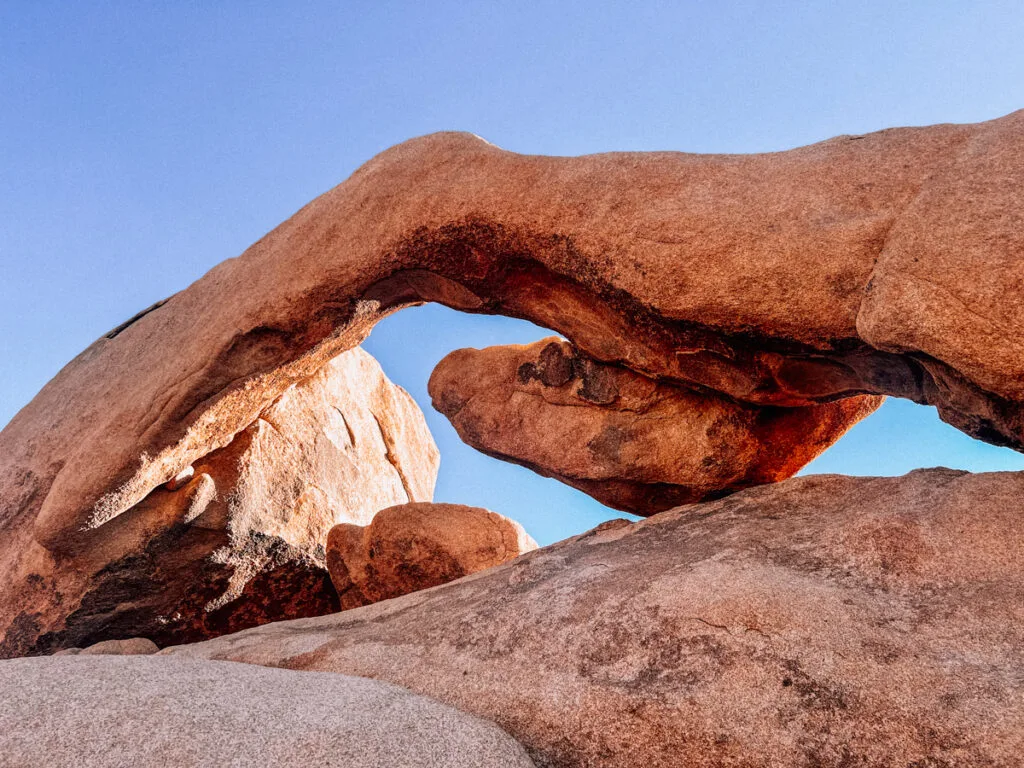 7. Have a Coffee Date Together in Joshua Tree
If you need a midday pick-me-up post exploring the national park, or you want to grab a coffee in the morning, why not slow down for a coffee date at Joshua Tree Coffee Company?
This place has some fantastic coffee and coffee drinks. Plus, they have a lovely patio area where you can enjoy some time together and reconnect!
And if you want a more sit-down breakfast together, check out The Natural Sisters Cafe which has great coffee, delicious smoothies, and tasty breakfast food served until 11 am.
8. Visit a Saloon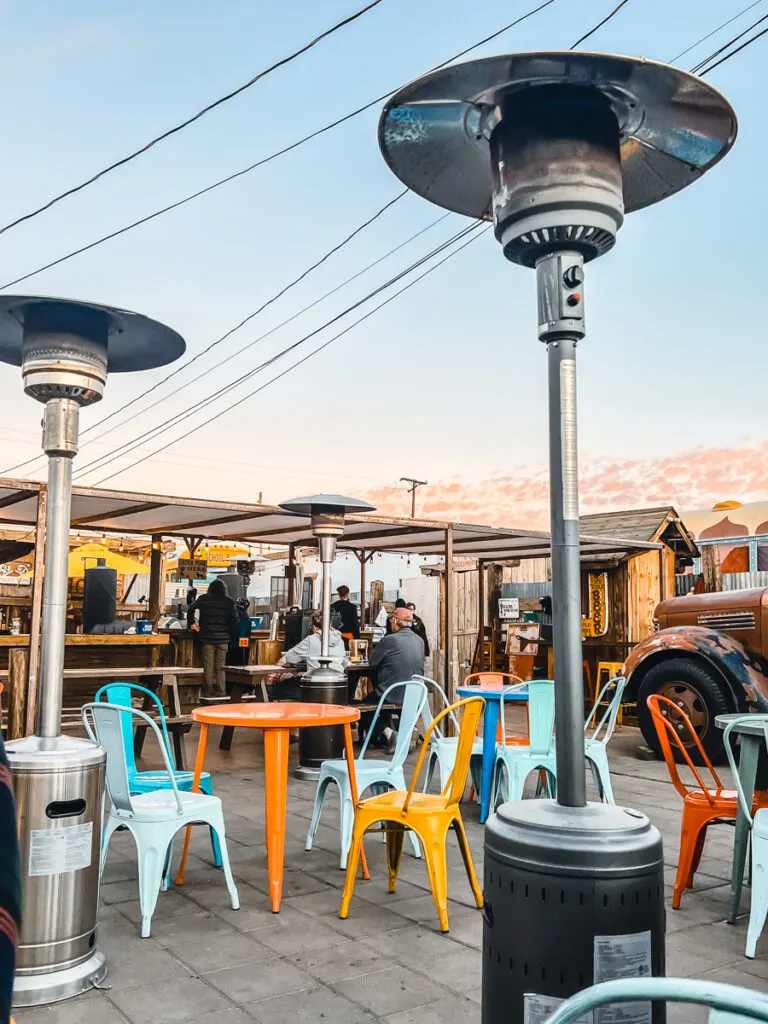 Hungry after a day of exploring Joshua Tree National Park? Head to the Joshua Tree Saloon for refreshments and a fun date night spot!
Outside you'll find some quirkily decorated school buses and their spacious patio. You can enjoy the sunset as you sip Southwest-inspired cocktails, try the local beer, and split some tasty food together.
Or you can also go inside of the saloon and play pool and enjoy the cozy dim-lit atmosphere.
9. Get a Couples Massage in Joshua Tree for Your Joshua Tree Romantic Getaway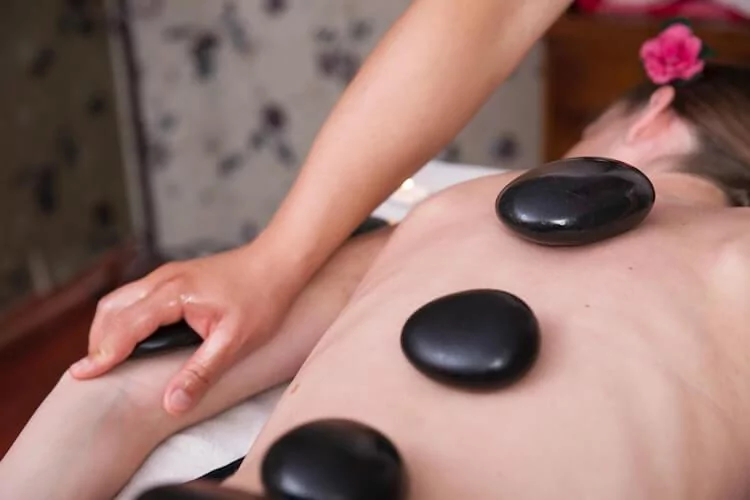 While you're enjoying the relaxation of your unique vacation rental, why not also indulge yourselves further with a couples massage?
Check out Naturalives Day Spa for a chance to enjoy couples massages, body scrubs, facials, and more! And for a more spiritual experience, you can book the mobile services at Methods + Rituals Spa & Wellness for things like sound therapy, Reiki Energy Healing, and more together!
10. Watch Joshua Tree in Bloom in the Spring
Spring is the best season to visit Joshua Tree to see all the stunning wildflowers in bloom! Go on some delightful hikes in Joshua Tree to enjoy the various colorful plants and cacti blooming including Beavertail Cactus, Ocotillo, Mojave Aster, Mariposa Lily, and more!
Bear in mind that the number of wildflowers varies each spring due to weather conditions over the winter and rainfall.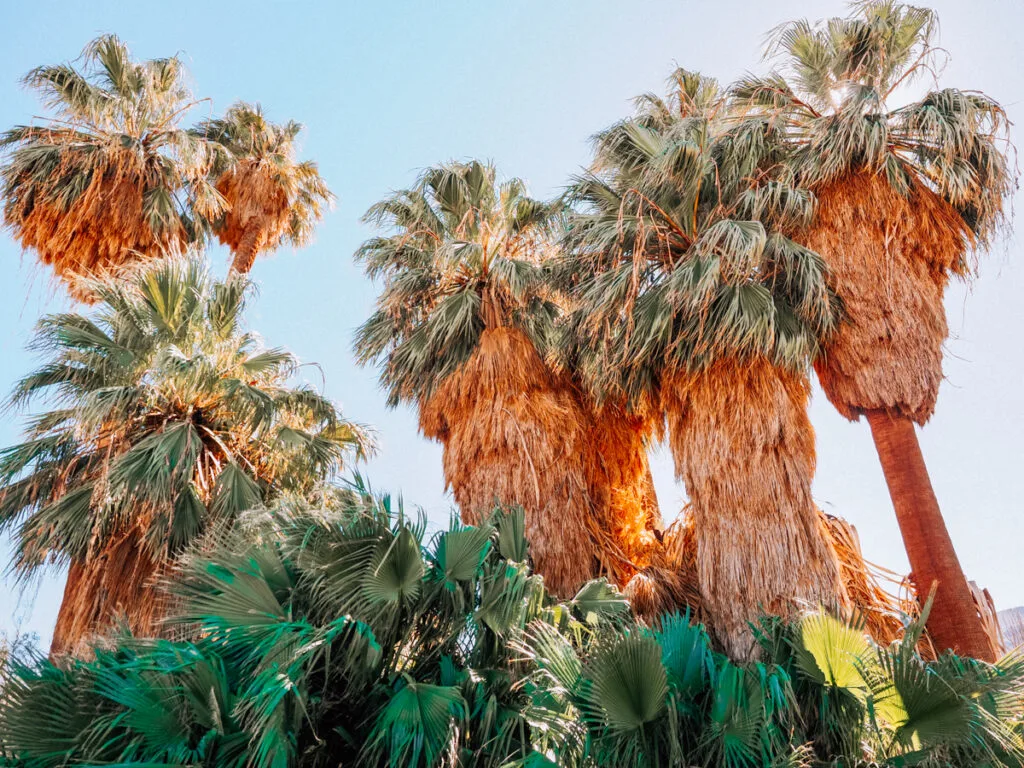 11. Go Horseback Riding
For a fun and romantic thing to do in Joshua Tree, go horseback riding in the desert.
Both Knob Hill Ranch and Cottonwood Canyon Ranch (among quite a few ranches) offer guided horseback riding sessions. So to really enjoy the desert together, why not spend a lovely day horseback riding?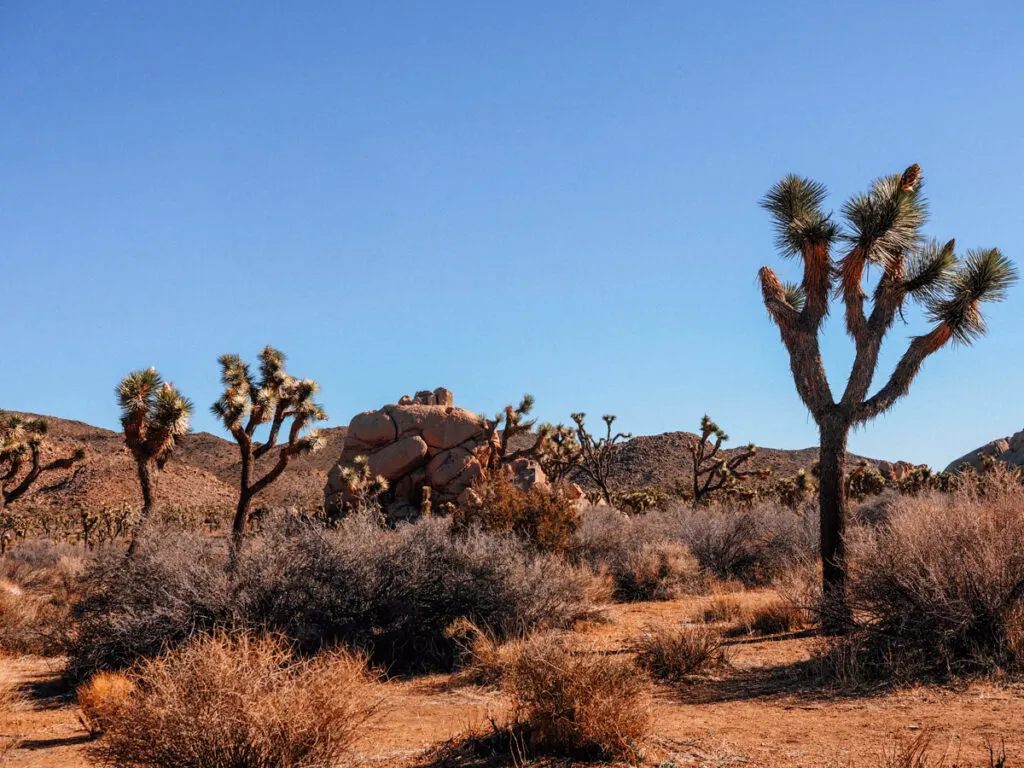 12. Visit Hot Springs at Desert Hot Springs
Joshua Tree is about 45 minutes from the town of Desert Hot Springs and perfect for a day trip!
For the ultimate indulgence, head to Desert Hot Springs to places like Azure Palm Hot Springs Resort & Day Spa Oasis, El Morocco Inn & Day Spa, and Miracle Springs Resort & Spa.
I mentioned visiting a spa for massages above, but if you want to relax in hot springs and let the natural mineral water soothe you, this makes for a perfect romantic getaway in Joshua Tree!
Plus, they offer spa services like massages, scrubs, and even body mask treatments.
Feel pampered during your Joshua Tree honeymoon or romantic retreat in nearby Desert Hot Springs.
13. For the Perfect Joshua Tree Romantic Getaway, Enjoy the Town Itself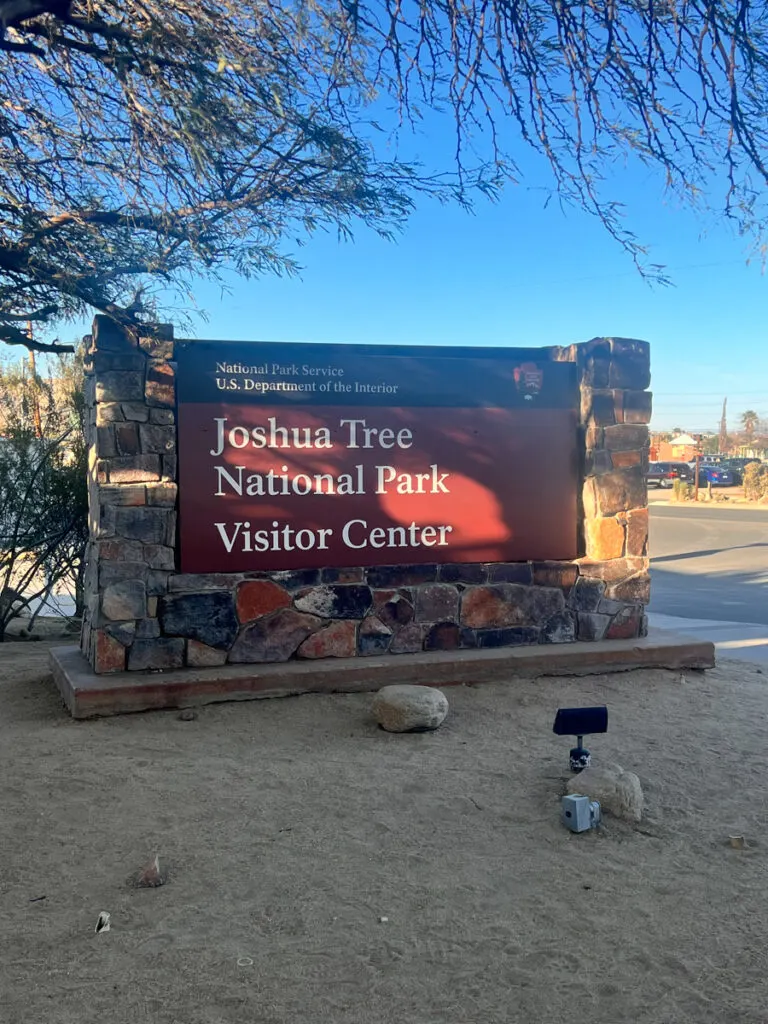 Joshua Tree is a cute little town full of fun things to do! Enjoy yoga at Instant Karma Yoga, go shopping at Coyote Corner, stop into the Joshua Tree Visitor Center, or even visit the World Famous Crochet Museum.
Either way, there is plenty to do in the town itself for a fun romantic getaway in Joshua Tree!
Joshua Tree really makes for an idyllic off-the-beaten-path honeymoon or a romantic escape!
Which thing would you most like to do here?
Check out more romantic USA ideas here:
Pin it here!