Some posts on this site contain affiliate links, meaning if you book or buy something through one of these links, I may earn a small commission (at no additional cost to you!). Read the full disclosure policy here.
---
Searching for romantic things to do in Vermont for couples? Luckily, this place is such a beautiful state to explore that you're in no shortage of romantic places in Vermont to visit, especially if this is a Vermont honeymoon trip!
So whether you enjoy gorgeous scenery with your love or getting a little adventurous during a trip to the Green Mountain State, these are hands-down the most romantic things to do in Vermont!
PS- check out our Vermont road trip tips podcast episode!
18 Most Romantic Things to do in Vermont For Couples
From covered bridges to stunning views, these are the best things to do in Vermont for couples!
1. Walk Hand in Hand With Your Love as You Wander Around Woodstock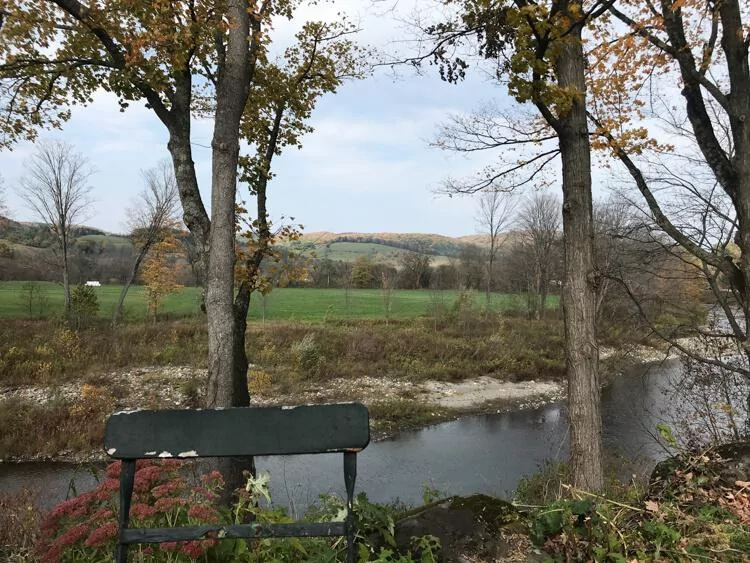 Woodstock is one of the most charming towns in Vermont, especially if you're visiting in the fall. There are pretty parks to wander around in, lovely boutiques and restaurants, and plenty of farms in the surrounding area that a visit with your significant other here is a must!
During your time exploring Woodstock, be sure to check out Sugarbush Farm and sample fresh Vermont cheese and maple syrup as well as Billings Farm & Museum, a working dairy farm!
But the town itself has so much to offer including boutique shops and art galleries galore!
This is definitely one of the most romantic places in Vermont!
2. Going For a Carriage or Sleigh Ride in Stowe is One of the Most Romantic Things to do in Vermont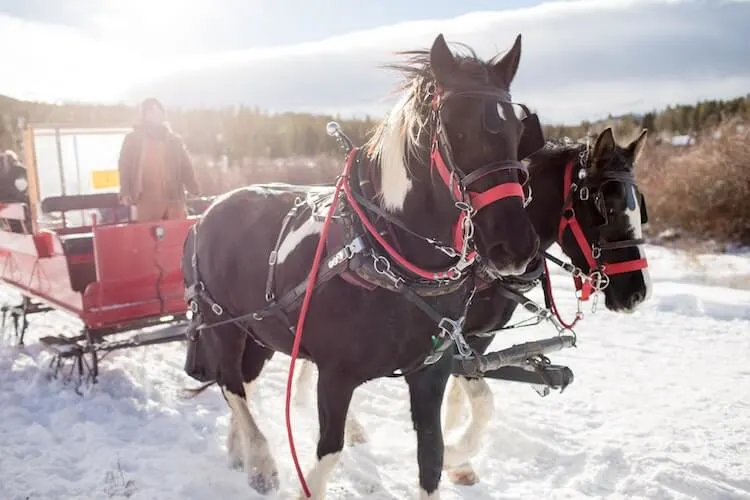 One of the more romantic things to do in Stowe is to take either a horse-drawn carriage ride, or better yet, a sleigh ride!
Gentle Giants Sleigh Rides in Stowe is absolutely perfect for this! I highly recommend a visit to Stowe, especially as many of the items on this list can be done there!
If you're here in the summer or fall, then a lovely ride in a carriage is wonderful. But if you want to truly immerse yourself in the winter wonderland that is Vermont, a sleigh ride is best!
3. Go Skiing in Sugarbush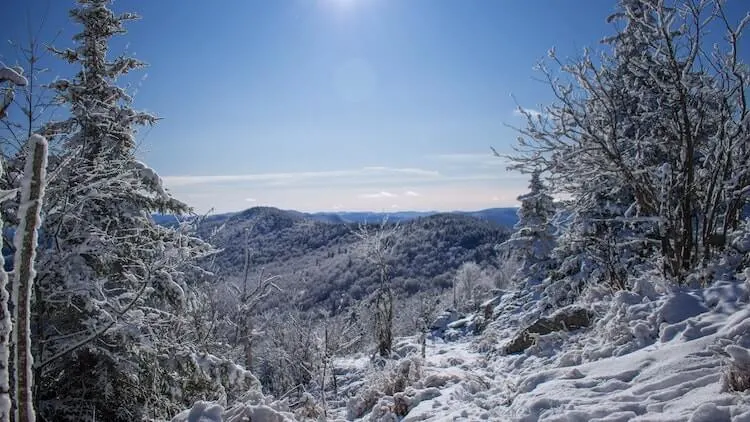 If you both love skiing together, then a visit to Sugarbush Resort during ski season is perfect! Stay nearby where you can snuggle up by the fire after a day on the slopes.
4. Cruise Along Route 100 or Smugglers Notch in the Fall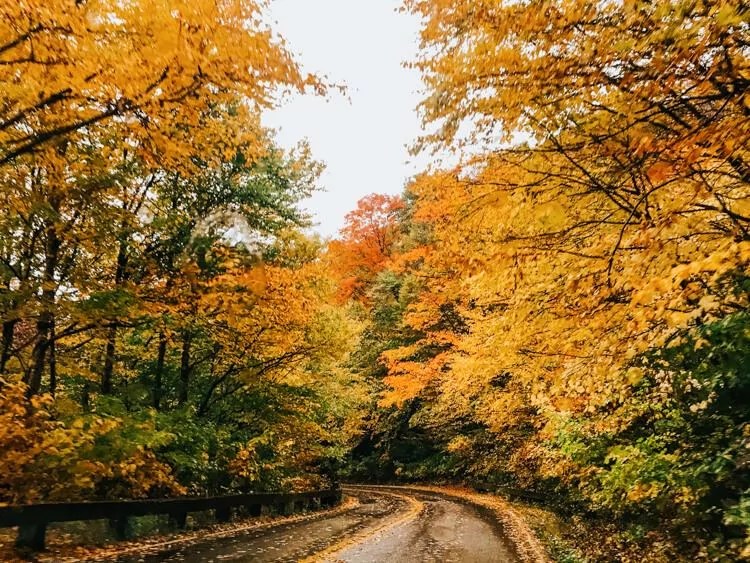 Leaf peeping is a popular pastime in Vermont and it is no secret as to why. This place is truly stunning in the fall.
We did a week-long road trip through Vermont and couldn't resist driving along Smugglers Notch with its dramatic twists and turns as it cuts through the mountains, revealing some of the best fall foliage views!
Route 100, or "Vermont's Main Street," is also well worth the drive with amazing mountain views! You also pass through the most charming small towns. Make a few stops along the way like to Cold Hollow Cider Mill and Ben and Jerry's Factory in Waterbury or even visit the gorgeous Moss Glen Falls in Granville.
5. Hiking to Sterling Pond in the Morning Is a Truly Romantic Thing to do in Vermont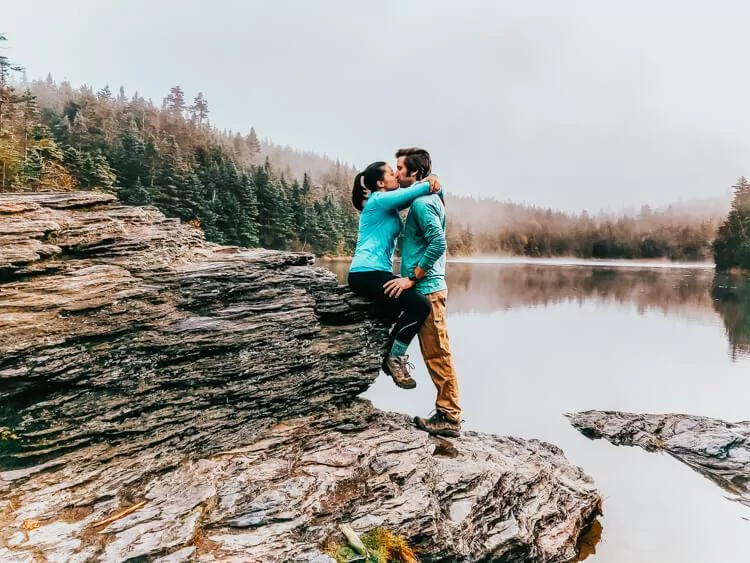 Sterling pond is Vermont's highest elevation stocked pond, and it is one of the most beautiful ponds we've ever encountered.
The trail is about 2.3 miles out and back and is super popular for hikers of all ages. So if you plan to hike this for the ultimate romantic views, go early.
We hiked this around 8 am on a lovely Saturday morning in October and had the place to ourselves for at least 20 minutes! Watching the mist rise off the pond while you admire the dense forest of evergreen trees being reflected back from the stillness of the pond is a thing to behold.
We packed a little breakfast to enjoy and took some incredible photos together here. It was one of the most romantic moments of our trip!
You can also extend your hike to get even better views of the pond if you take the 5.6-mile Sterling Pond and Long Trail Loop!
6. Visit a Sugar Shack… Or Even Better, Stay at a Place With a Sugar Shack!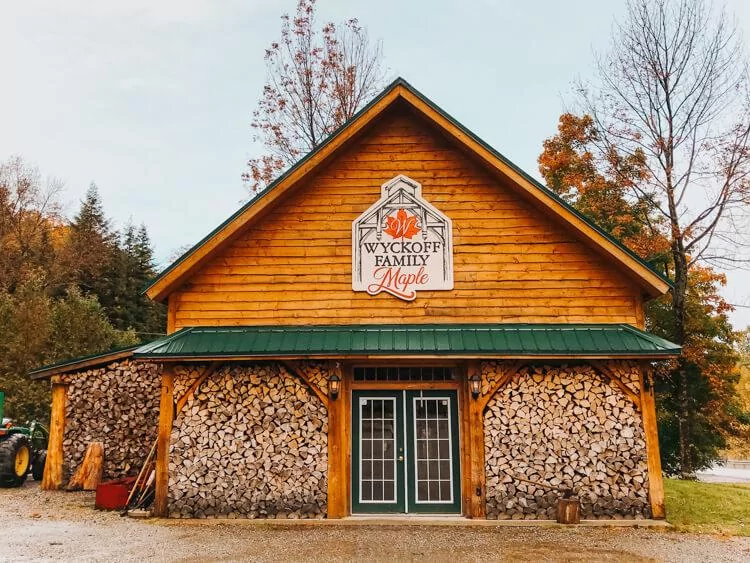 Maple syrup is definitely one of the most famous food items to come from Vermont, and if you're looking for romantic things to do in Vermont, then visiting an adorable sugar shack is definitely a great thing to do!
What is even better than just a quick visit to a sugar shack is to stay at a lovely lodge that has its own shack on the property! We stayed in this amazing Airbnb lodge during our time exploring Smugglers Notch and Stowe and fell in love with the place!
The owner, Tom, lit a fire each evening for guests to enjoy, and the adorable sugar shack was open for us to explore and sample all of their delicious syrups!
We highly recommend staying there and enjoying the maple syrup from a family that has been sugaring for generations!
7. Have a Delectable Dinner at Roots in Rutland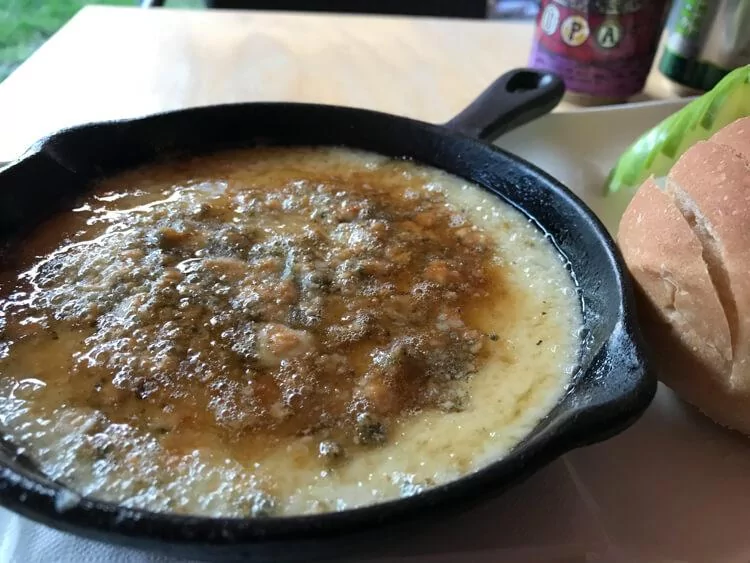 If you haven't thought about making a stop in Rutland during your trip to Vermont, you should definitely consider it! It isn't too far from Killington either, so if you're in the area, definitely check it out!
This place alone has an amazing art scene from incredible murals to a sculpture trail.
But if you want a truly romantic dinner, then Roots in Rutland is perfect for you. Snag a little table for two as you tuck into Vermont cheese fondue, mushroom puffs, creamy risotto, and save room for their carrot cake with homemade cream cheese frosting!
They also serve a ton of great local beer and tasty cocktails that'll quench your thirst during your amazingly romantic dinner.
8. Admire the Views of Lake Willoughby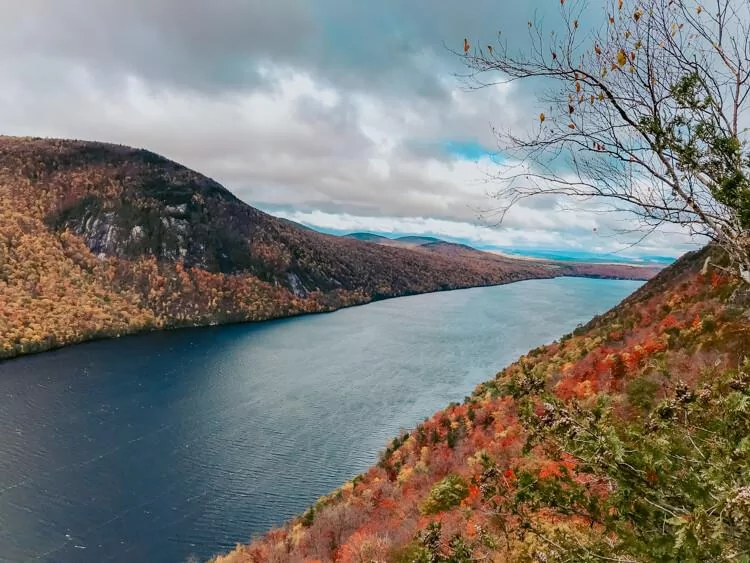 The Northeast Kingdom is well worth a visit during your time in Vermont. And if you get a chance to visit Lake Willoughby, then do it!
"America's Lake Lucerne," is easily one of Vermont's most beautiful lakes. In the summer there are also beaches to enjoy together, and the views of the dramatic cliffs over the lake will leave you breathless.
For even better views of the lake, hike the Mount Pisgah Trail. About a mile in, you'll see an incredible viewpoint over Lake Willoughby that is worth taking the time to take photos!
9. Go Apple Picking in the Fall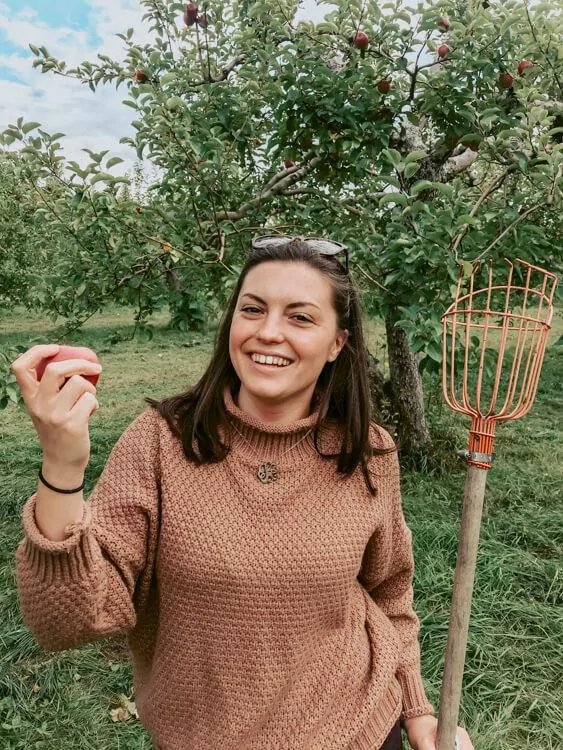 Apple picking in lovely orchards full of apple trees is such a fun fall experience. We had the best time picking apples together last fall at Shelburne Orchards, and many orchards also sell tasty apple cider and apple cider donuts.
Frolic among orchards together as you pick as many apples as you can! Make a fun game and see who can pick the best apples or, if you're like us, use the apple picker and try to toss the apple into the basket that the other person is holding!
10. Hike to Stowe Pinnacle in the Fall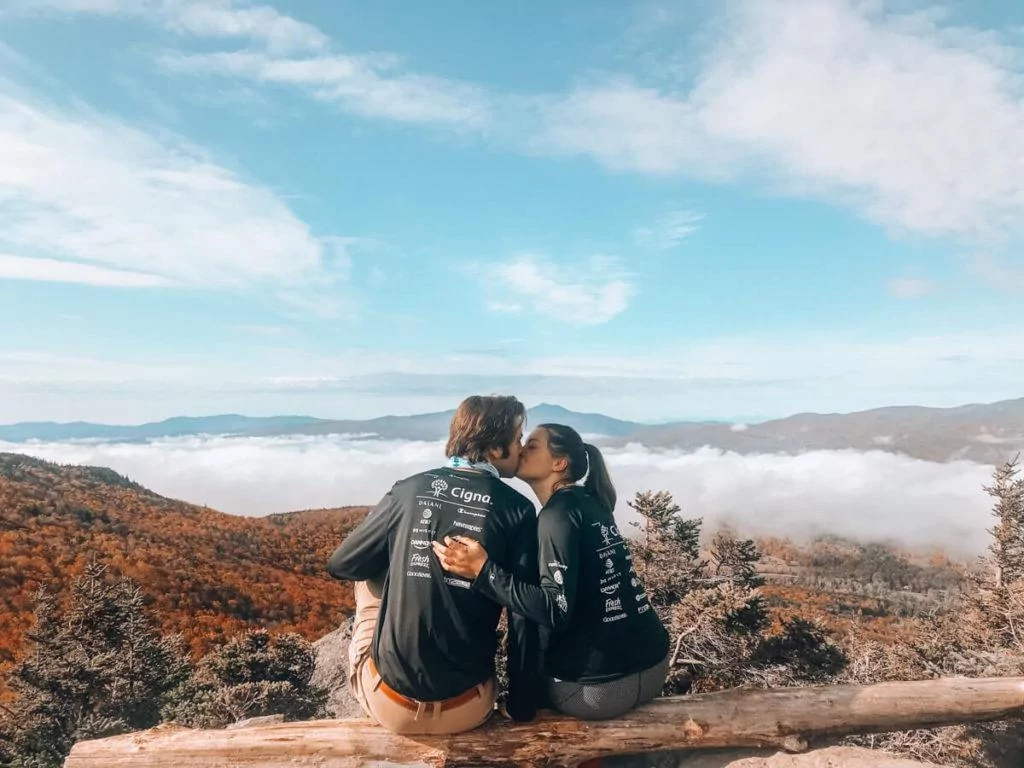 For one of the most scenic and stunning hikes in the fall, a hike together up to Stowe Pinnacle is a must. This is a 3.7-mile out and back trail that is well worth it for couples!
If you're up for a bit of a rock scramble at the top, you'll be rewarded with jaw droppingly beautiful views of crisp fall foliage all around you in the mountains as well as the most charming sights of the farms and towns on the valley floor below.
If you're lucky and go in the morning as the fog is clearing, you'll capture ethereal views like this photo above with the mountains and fog and enjoy the views as it starts to clear from the valley below.
11. Stay at Castle Hill Resort & Spa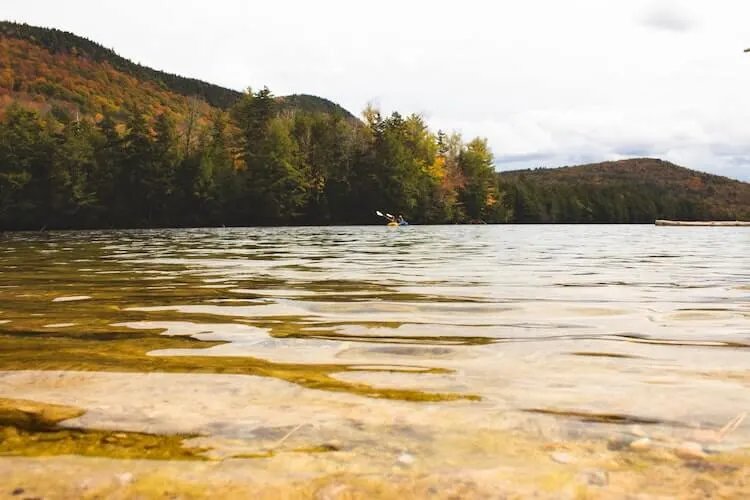 For a truly romantic getaway in Vermont, a stay at the lovely Castle Hill Resort & Spa is idyllic.
Located near Okemo State Forest, this beautiful estate has everything you need for a romantic weekend getaway. You'll be transported back in time to an elegant and romantic experience from the lovely rooms to the dining area.
But this place is meant for those who love modern amenities too including their relaxing spa and the lovely pool.
12. One of the Most Romantic Things to do in Vermont: Find Covered Bridges!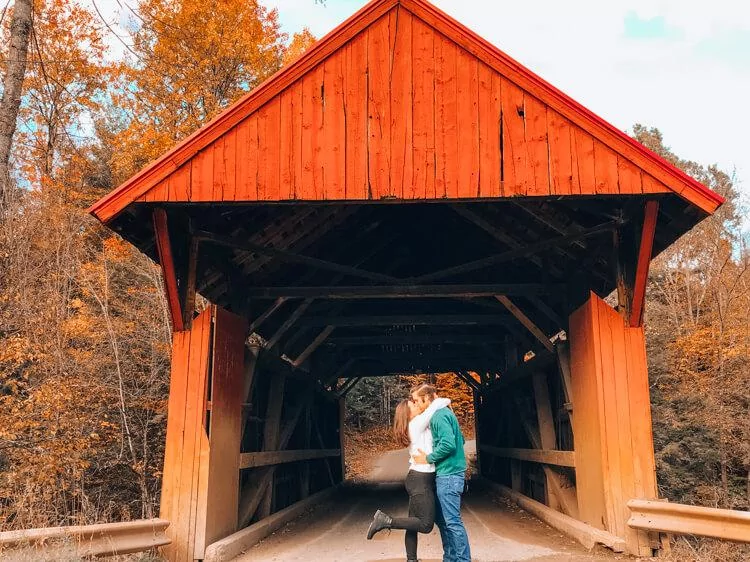 Vermont has over 100 covered bridges throughout the state, so while you definitely won't be able to see all of them, spotting as many as you can is worth it!
These charming bridges are perfect for taking adorable pictures together, or even walking around and admiring the babbling brooks below them.
A few covered bridges to check out include Red Covered Bridge, the spooky Gold Brook Covered Bridge, the lengthy Cornish-Windsor Covered Bridge, and the Silk Road Covered Bridge.
13. Have Dinner and Drinks at the Trapp Family Lodge at Sunset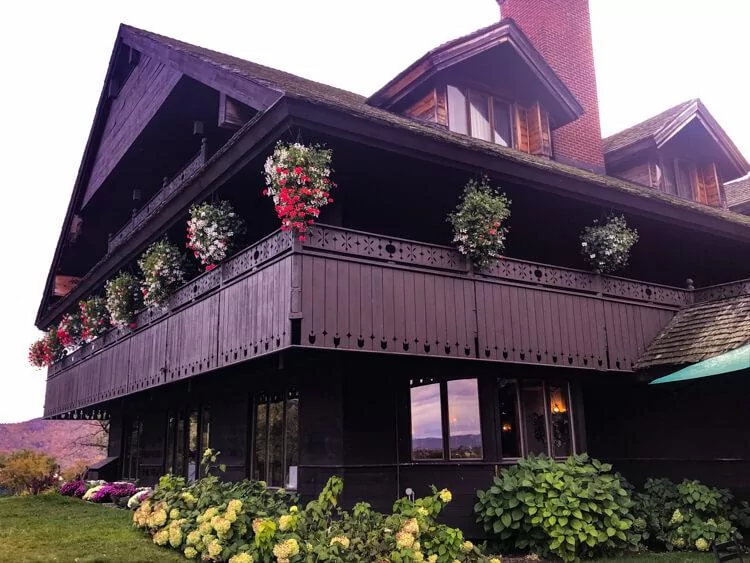 While a stay at the Trapp Family Lodge is definitely romantic with its Austrian-alpine-inspired architecture, the top thing to do here is to have dinner and/or drinks around sunset out on their terrace.
The mountain views can't be beat, so order their delicious trout and enjoy a Vermont sunset over the mountains here at the Trapp Family Lodge.
You can also order up some tasty cocktails here like their boozy hot spiced apple cider or their Maple Gin Gin Mule.
Snuggle up as you enjoy this Austrian chalet and its jaw dropping views.
14. Sip Wine at Shelburne Vineyard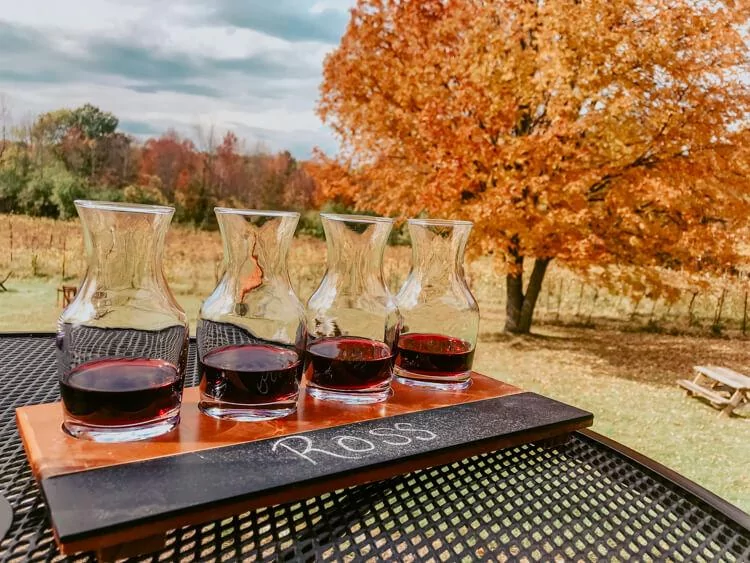 While we know that Vermont is definitely all about their beer, there are some wineries worth checking out that are super romantic to visit!
Shelburne Vineyard is definitely one of the best and not too far from Burlington! Make a reservation to have a tasting and enjoy all they have to offer! When we went, they had tasting flights named for the cast of Friends!
We loved the red wine "Ross" flight! Enjoy the wine with fresh, Vermont cheese as you admire the views over their orchard. This place is especially scenic in the fall with the changing leaves.
15. Watch a Sunset Over Lake Champlain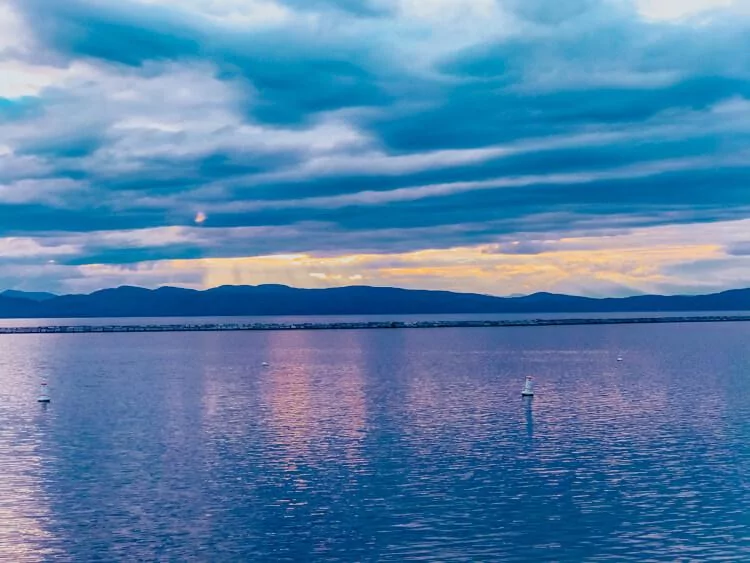 I couldn't write about the most romantic things to do in Vermont and NOT include Lake Champlain! This stunning lake borders both Vermont and New York and the views out over the lake and the Adirondacks in New York are breathtaking.
But watching a sunset from the Vermont side on the waterfront in Burlington is amazing as the sun slowly sinks behind the Adirondacks. The vibrant pinks, purples, and oranges will dazzle you both!
16. Admire Quechee Gorge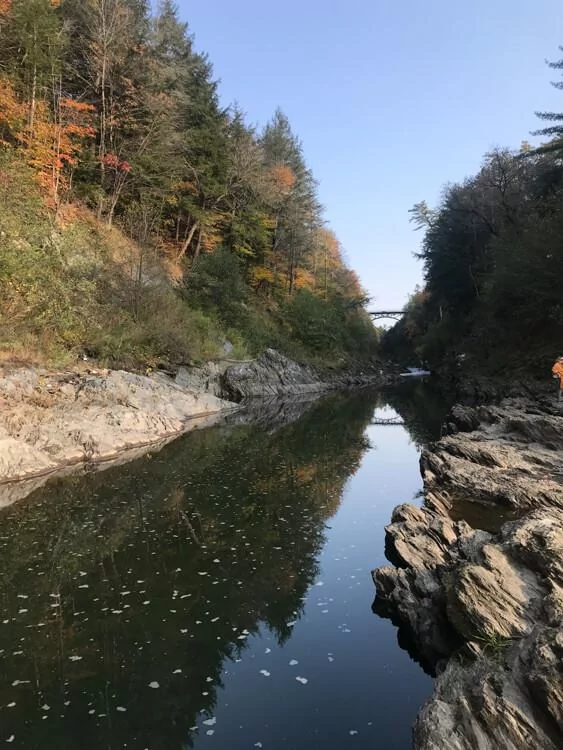 Quechee Gorge, or Vermont's Grand Canyon, is a must-stop while exploring Vermont, especially the Woodstock area.
Take in the views from both the top and bottom on a couple of short, easy hikes. The bottom offers views of the bridge above the gorge and you can take some stunning photos around the creek at the bottom too!
If you love stunning Vermont views, then Quechee Gorge is something to add to your romantic things to do in Vermont list!
17. One of the Most Romantic Things to do in Vermont: Stay in a Charming B&B
Vermont is the land of adorable bed and breakfasts. In the wintertime, sure, everyone is all about the big resorts and ski in/ski out lodges. But the rest of the year, staying at a charming bed and breakfast in a sleepy little Vermont town is pure perfection for couples.
I'm definitely about to write a whole post about romantic getaways in Vermont, but a few delightful bed and breakfasts for couples around the state include The Village Inn of Woodstock, The Inn on Putney Road in Brattleboro, and The Little River Inn in Stowe.
18. Last, But Not Least of the Romantic Things to do in Vermont: Have a Picnic at Waterbury Reservoir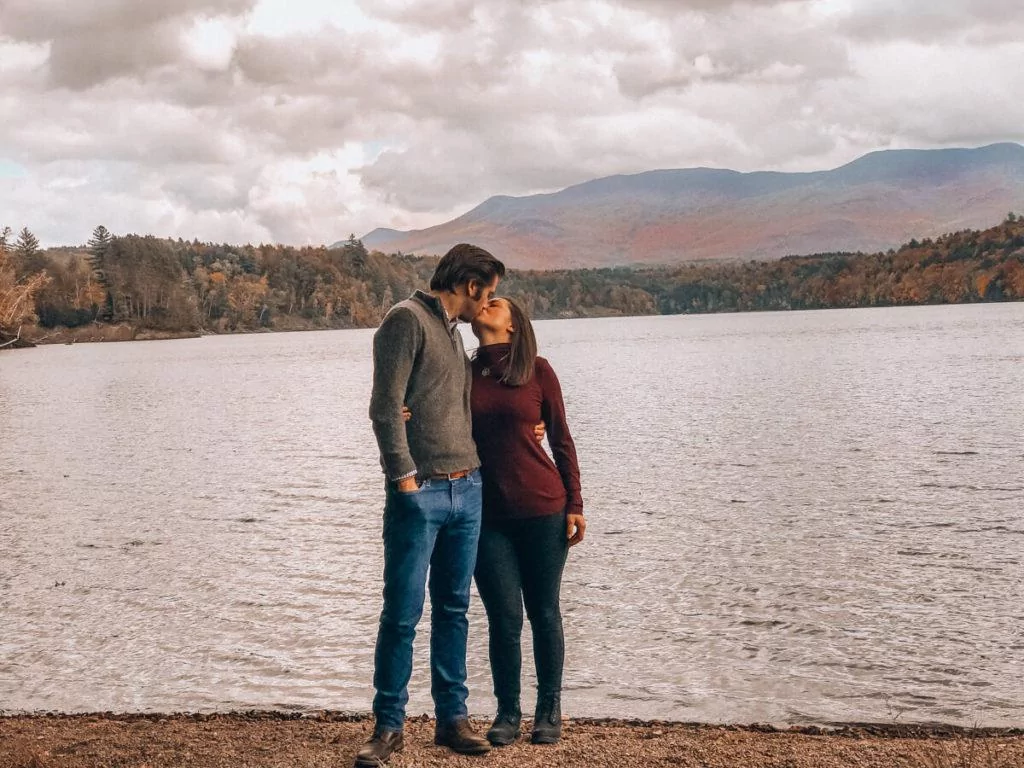 Pack a picnic lunch (and maybe your favorite paddle boards if you're up for it!) and head over to Waterbury Reservoir.
This stunning alpine lake is surrounded by mountains and makes for great photos in the fall. It is a lovely spot for a scenic picnic lunch, or if you SUP or kayak, this area is perfect for dreamy mountain views as you float on the water.
It is a romantic sight to see as you explore the nearby Waterbury area!
There are so many romantic places in Vermont to see and do during a trip! With these amazing and romantic things to do in Vermont, you'll have a truly dreamy time!
Would you take a romantic trip here? What are your favorite romantic things to do in Vermont?
Read Next: Romantic Things to do in Joshua Tree, Where to Honeymoon in February, Most Romantic Things to do in Gatlinburg, Most Romantic Things to Do in Myrtle Beach
Pin it here!