Some posts on this site contain affiliate links, meaning if you book or buy something through one of these links, I may earn a small commission (at no additional cost to you!). Read the full disclosure policy here.
---
It isn't too difficult to find romantic things to do in Gatlinburg, TN for couples. Once you experience a misty morning sunrise in the Smoky Mountains, you'll fall in love with this place.
And once you chase a few waterfalls, drive through Cades Cove, or sip moonshine together, you'll quickly be planning your next romantic getaway to Gatlinburg.
After many years of spending long weekends in the Great Smoky Mountains, I've found more than a couple of things to do in Gatlinburg that'll make your stay super romantic.
So whether you're here for a Tennessee honeymoon or you just want a romantic getaway, these are hands down the top 15 romantic things to do in Gatlinburg for you and your love.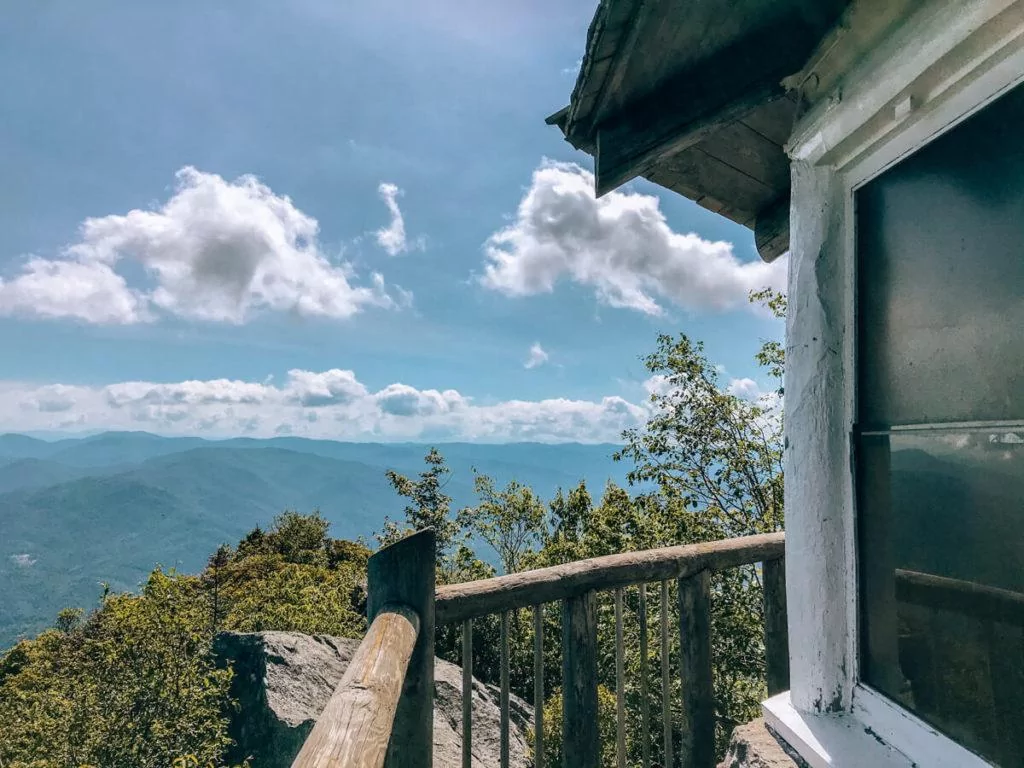 15 Romantic Things to do in Gatlinburg, TN For Couples
From adventurous activities to cozying up together, you'll be sure to find plenty of Gatlinburg attractions for couples on this list!
1. Go on Romantic Hikes
With Gatlinburg being the gateway to the Great Smoky Mountains National Park, it makes a lot of sense that some romantic hikes would make this list!
And at the United State's most visited national park, there are a ton of great hiking opportunities…and places to get off the beaten path together.
A personal favorite of mine and my husband's is the Mt. Cammerer hike. This day hike can certainly be a challenge and isn't for the faint of heart, but the views from the top of Mt. Cammerer and the old fire tower are well worth it!
As a bonus, this is a hike where you may have the view at the top to yourself! So if you want to experience a romantic day hike together in the Smokies, this 11.2-mile out-and-back trail with an elevation gain of 2,740 ft may be perfect for you both.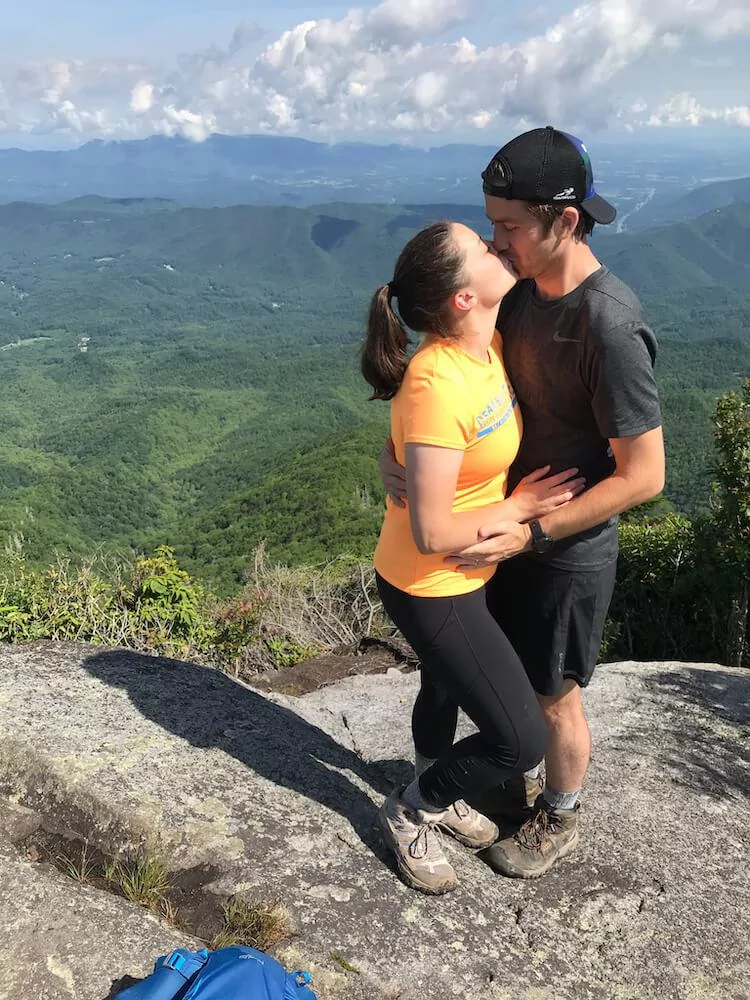 Another great hike that is far less strenuous is Andrew's Bald. This hike is about 3.5 miles round trip and has an elevation gain of 1,200 feet. This offers panoramic views of the gorgeous mountains.
Little River Trail which is about 5 miles round-trip and only has a 412-foot elevation gain is also a great place to spot wildflowers in the spring and admire fall foliage in the autumn together.
Lastly, for another challenging day hike with a ton of great views, Alum Cave Bluff to Mt LeConte Trail is always nice. You'll pass by the cave bluff as well as have epic views throughout the hike to the top of Mt LeConte. This hike is about 10 miles round-trip and has an elevation gain of 2,560 feet.
2. Chasing Waterfalls is One of the Fun Couple Things to do in Gatlinburg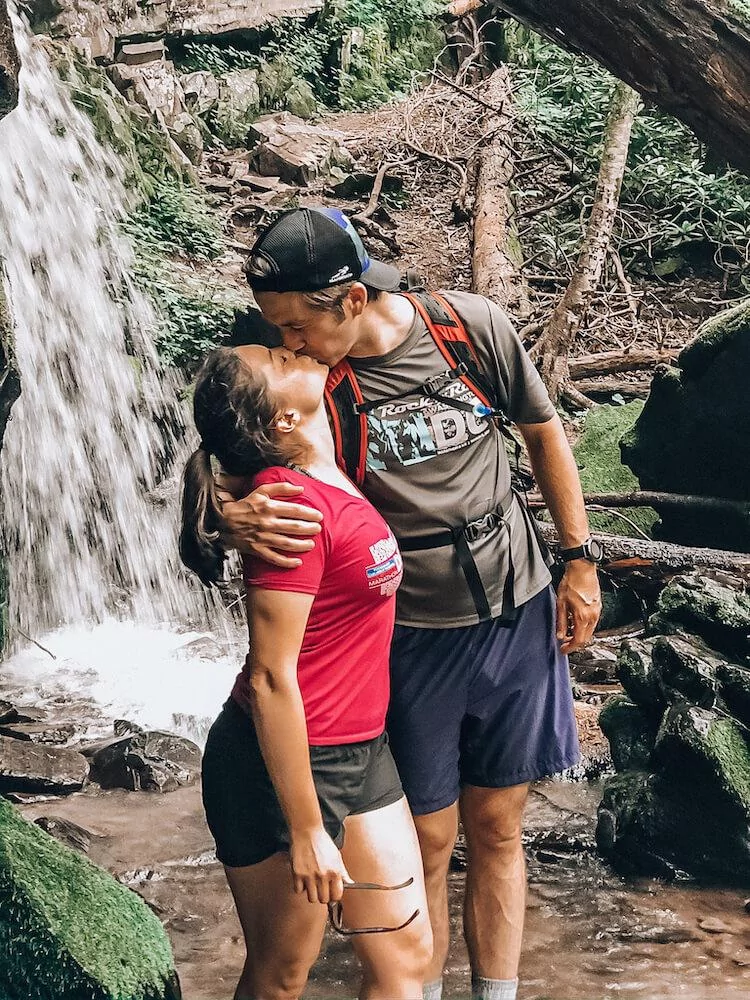 Speaking of iconic hikes to go on for your romantic weekend in Gatlinburg, there are many hikes that lead to gorgeous waterfalls.
So pack up a picnic and go find some lovely waterfalls within the national park to enjoy.
Ramsey Cascades is always a favorite. This 100-foot waterfall is a bit of a challenge to get to, but well worth it for the views. The hike is about 8 miles round-trip with an elevation gain of 2,375 feet.
My personal favorite, and a more off-the-beaten-path waterfall, has to be Baskins Creek Falls. You may even have this waterfall to yourself if you go at the right time! The hike is 3.2 miles round-trip with a 950-foot elevation gain.
The falls are a perfect spot for a picnic and a chance to really enjoy some quality time together.
And for another great hike, definitely check out Hen Wallows Falls. This 90-foot waterfall is reachable on a 4.4-mile round-trip hike that only has an elevation gain of about 900 feet.
3. Go Stargazing Together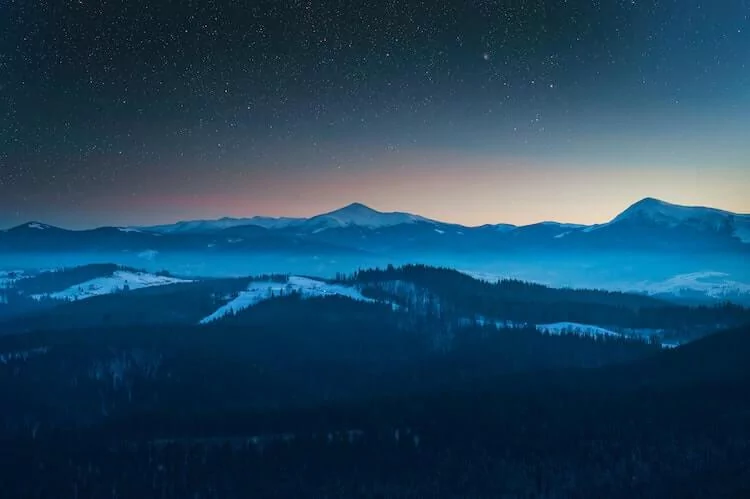 I can think of few things as romantic as catching a gorgeous sunset together and then continuing to watch as the stars slowly appear in the sky.
Luckily, there are some great places for stargazing within the area that are fairly easy to get to! Cades Cove, Clingman's Dome, and even along the Foothills Parkway are great places to enjoy the stars!
4. Admiring the Synchronous Fireflies Together is One of the Most Romantic Things to do in the Smoky Mountains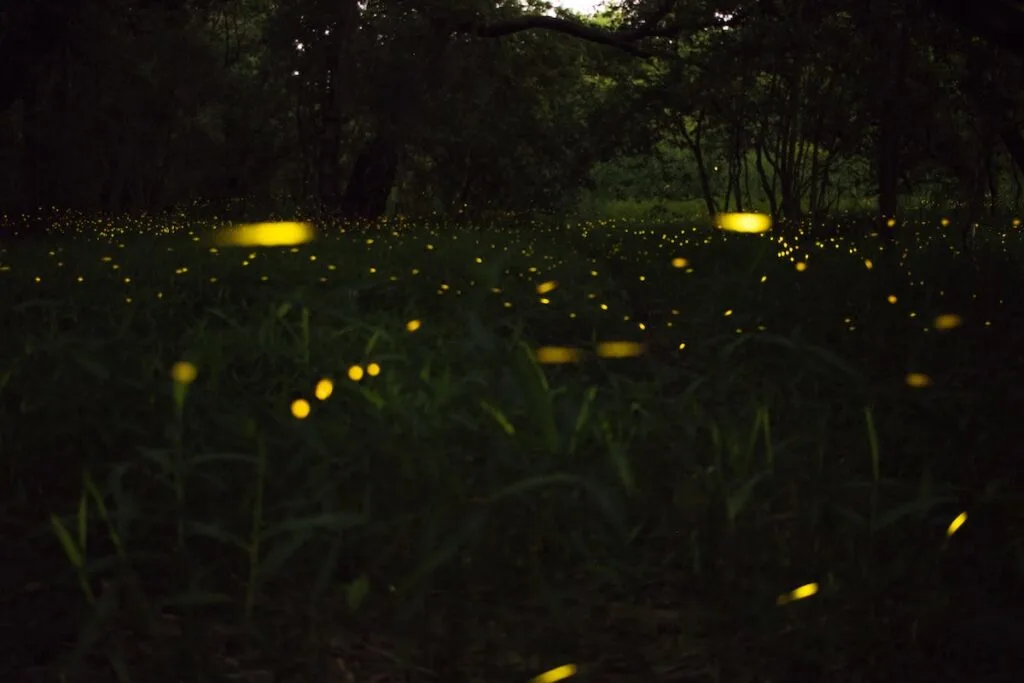 Not too far from Gatlinburg is the chance to see the synchronous fireflies, a phenomenon that typically happens in June close to the Elkmont Campground.
Watch tens of thousands of fireflies light up the trees once the sun goes down. It is easily one of the best things to do in the Smoky Mountains for couples!
Just be sure to enter the lottery to get access on the viewing dates for it. If not, you can try your chances before and after the event.
5. Take the Skylift
For an epic honeymoon thing to do in Gatlinburg, head to the Gatlinburg Skylift Park and take the Skylift.
It will transport you from downtown Gatlinburg up 1,800 feet in elevation, where you'll have the chance to admire some of the most beautiful vista views.
And if you're feeling daring, you can even cross the Gatlinburg Sky Bridge!
6. Drive Through Cades Cove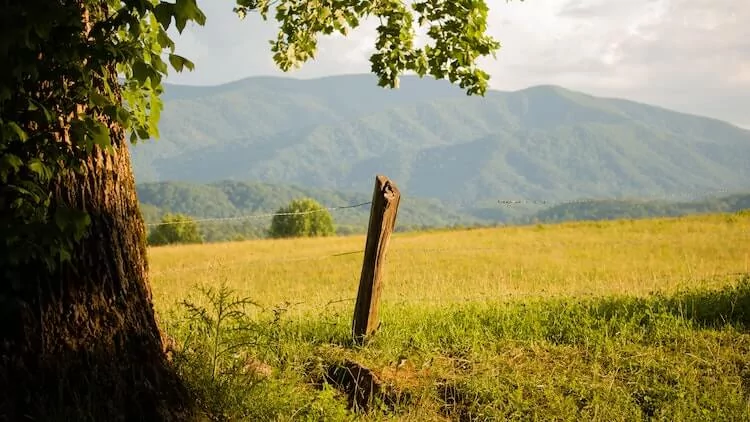 One of the most romantic places near Gatlinburg has to be Cades Cove. This place boasts gorgeous views, fantastic wildflowers, and even the chance to spot wildlife like black bears!
Take a scenic drive through Cades Cove together and immerse yourself in the stunning nature around you.
7. Go Horseback Riding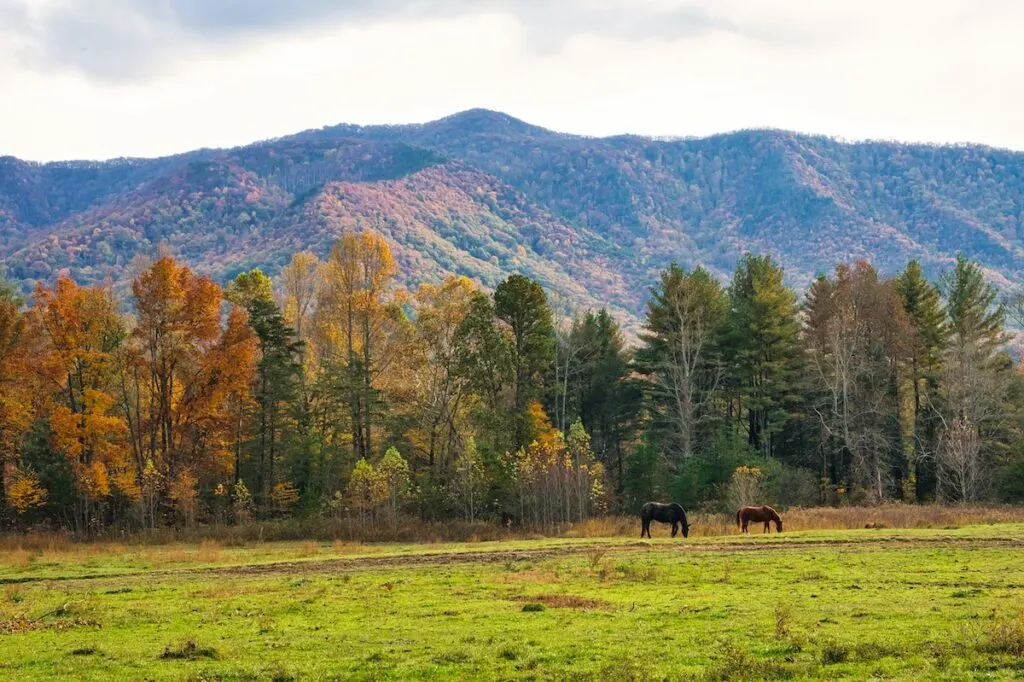 If you're looking for fun things to do in Gatlinburg for couples, then horseback riding should definitely be on the list.
Saddle up and go for a ride as you enjoy all the beautiful scenery around you both. It is such an exciting experience to share together, especially as you'll be on trails in the national park!
Prices start at around $50 per person for an hour of trail riding at Sugarlands Riding Stables.
8. Sample Some Moonshine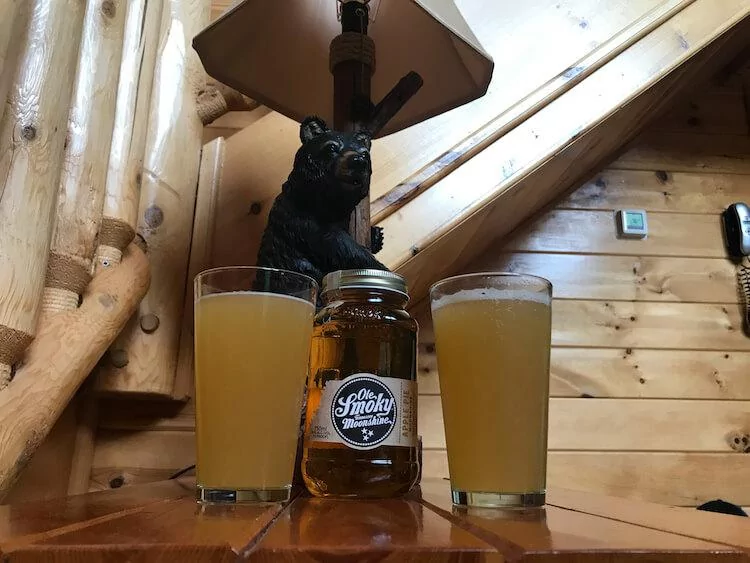 While in Gatlinburg, you definitely want to try some moonshine. This now-legal liquor comes in many flavors from apple pie to cherry. And luckily for you, there are quite a few distilleries in the area to sample some 'shine and choose the best.
Ole Smoky Moonshine is the most well-known, with several moonshine flavors, whiskey, and even canned cocktails. They also have locations in both Gatlinburg and Pigeon Forge.
Some other places to check out include Tennessee Shine Company and Sugarlands Distilling. Tennessee Shine Company also has whiskey and flavored wines.
9. Adventure Honeymoon Things to do in Gatlinburg: Go White Water Rafting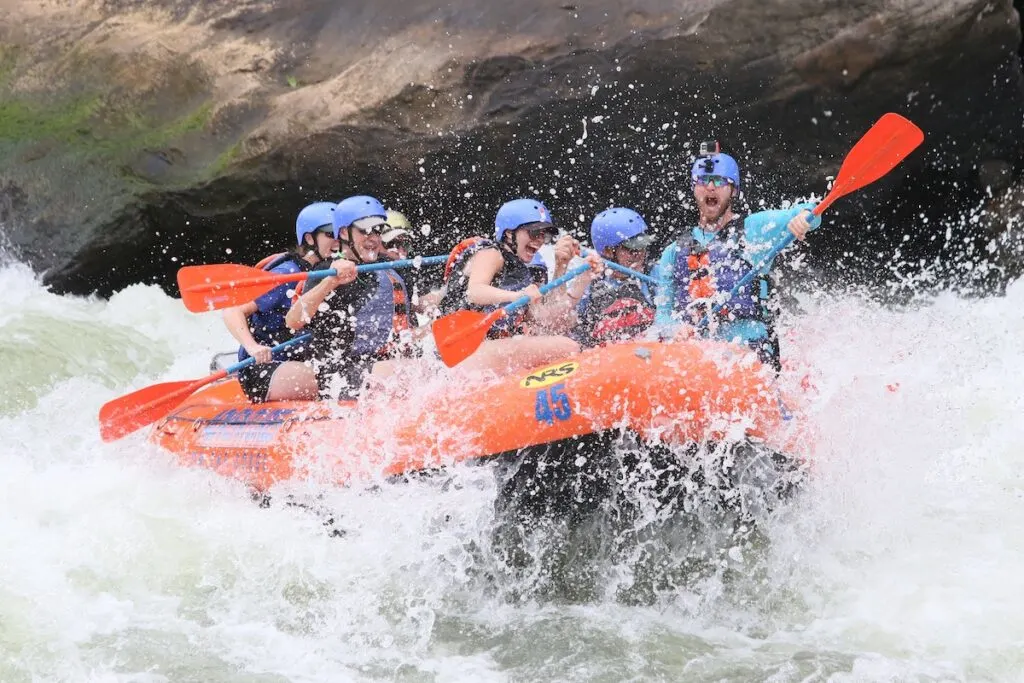 Feeling extra adventurous? Definitely book a white water rafting adventure together!
Rafting in the Smokies offers things from ziplining to white water rafting! So if you want to get the adrenaline pumping, this is the place to do it.
They offer a tour of the Upper Pigeon River with several class 3 and 4 rapids! Prices start at $49 per person and the adventure lasts for about an hour and a half.
10. Rocky Top Wine Trail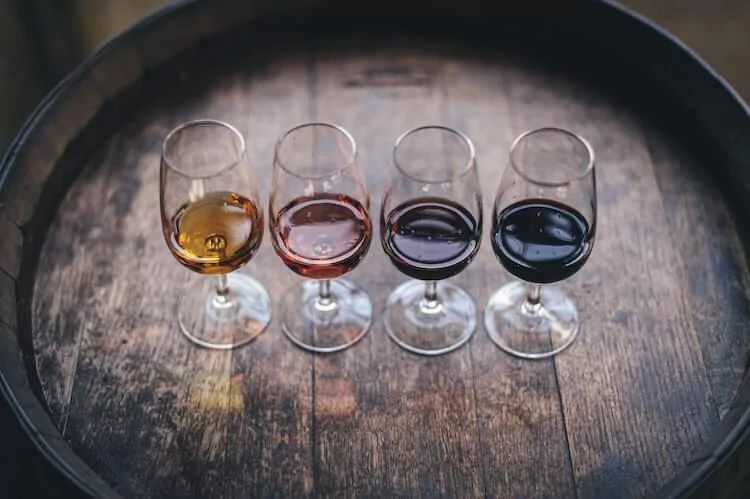 If you head to Pigeon Forge, you'll be able to participate in the Rocky Top Wine Trail together. This trail consists of 5 wineries that produce some delightful and fruity-flavored wines and ciders.
Spend a fun afternoon exploring a winery or two as you sip on some more flavors of the Great Smoky Mountains.
11. One of the Best Date Night Ideas in Gatlinburg, TN: Enjoy Live Music Together at Ole Red
This bar and restaurant doubles as a great live music venue where you'll see many up and coming artists.
So enjoy some brews and put on your dancing shoes as you party it up at Blake Shelton's bar in Gatlinburg.
12. Enjoy Fine Dining in Gatlinburg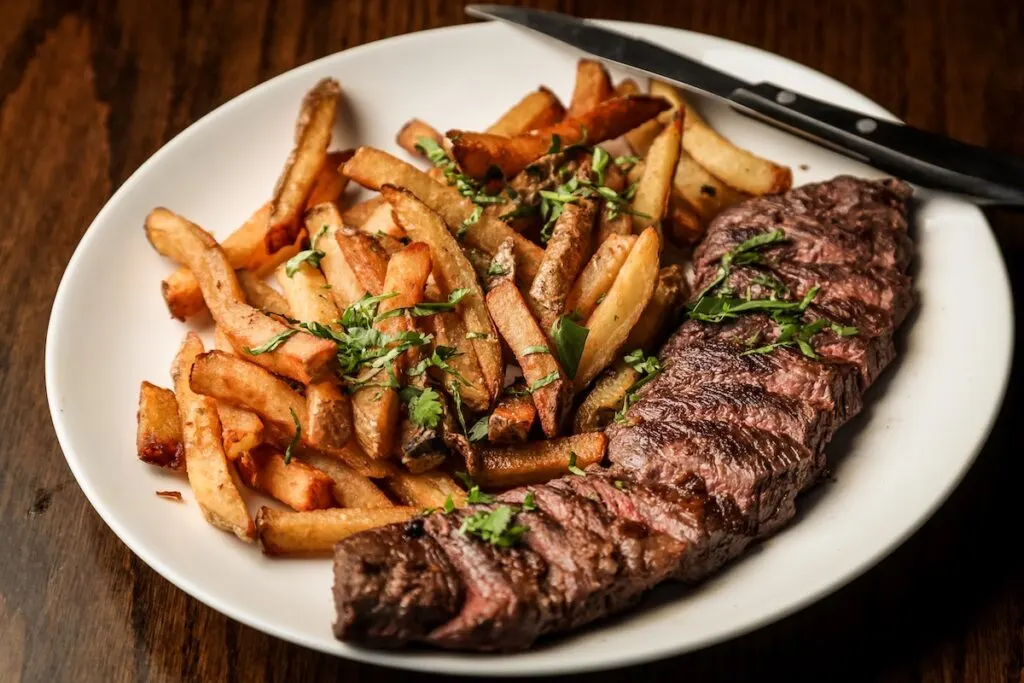 While there are quite a few tasty flapjack restaurants and fun places for a meal like Ole Red, if you want to get a bit more dressed up and want a romantic dinner, there are places for that in Gatlinburg too.
The Peddler Steakhouse boasts great views of the Little Pigeon River and custom-cut steaks, and Cherokee Grill offers amazing steak dinners with a cabin-like atmosphere.
If you're feeling something more European, then head to Red Oak Bistro for amazing European small plates and a great wine menu.
13. Anakeesta is a Romantic Place in Gatlinburg
Anakeesta is an incredible theme park in the mountains! It offers anything from ziplining and a tree-top skywalk to a roller coaster and an epic gondola.
You could easily spend a whole date day here together in Gatlinburg as you zip line, admire views, dine, and relax.
14. For One of the Most Romantic Things to do in Pigeon Forge & Gatlinburg, Definitely Try a Hot Air Balloon Ride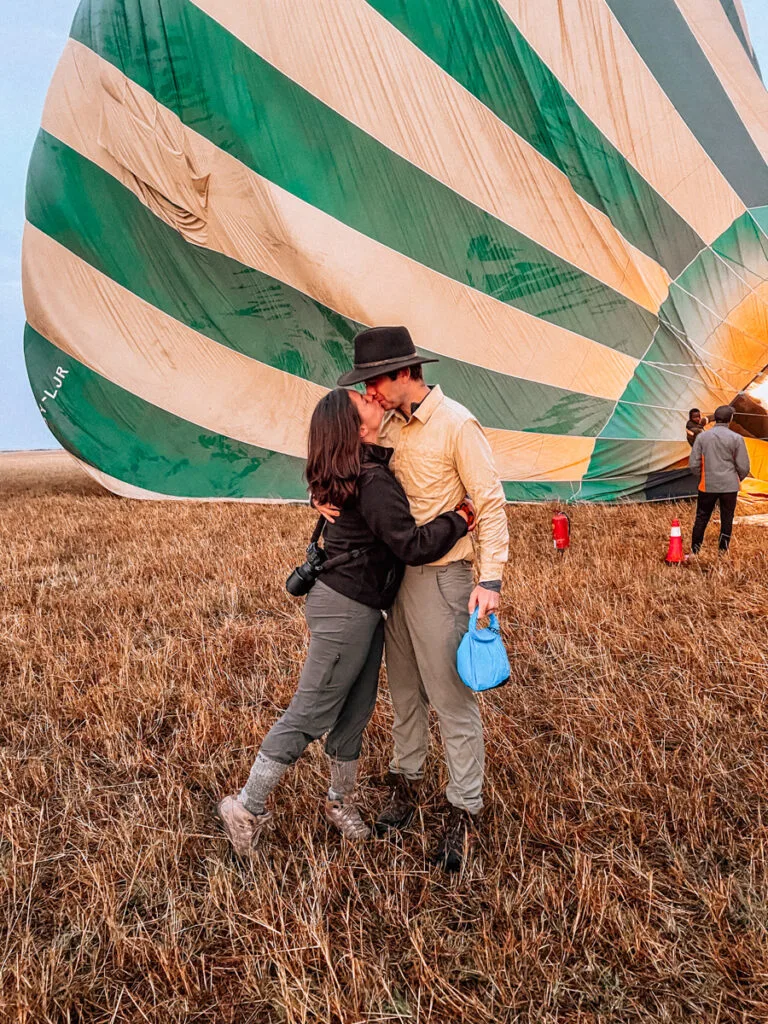 Hot air balloon rides are seriously epic. With a backdrop of the Great Smoky Mountains, you'll thoroughly enjoy yourself as you soar through the sky together!
Sail high above the mountains as you take in the calming air and spot the epic scenery from above! It makes for a fantastic sunrise!
15. Rent a Cozy Cabin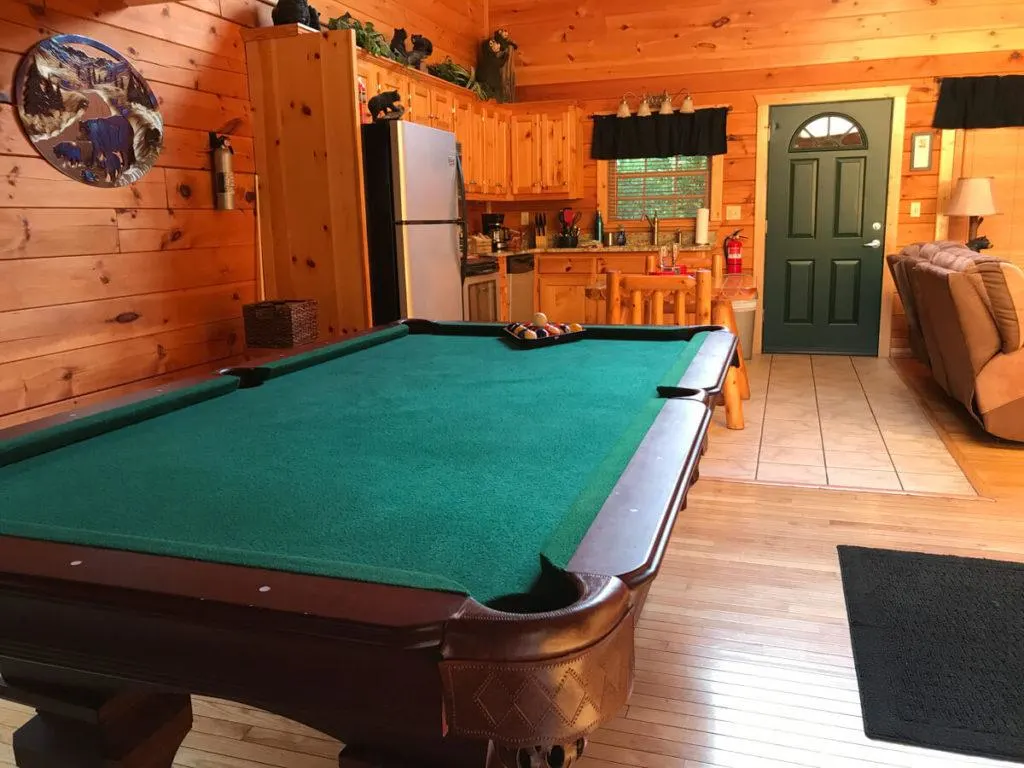 And last, but certainly, not least of the most romantic things to do in Gatlinburg for couples is to rent a cozy cabin.
Yes, there are some lovely hotels around the area, but what is more romantic than having a cabin to yourselves in the mountains where you can snuggle up by the fire, enjoy the hot tub, and take in all the gorgeous views?
I have a whole guide on the best cabin rentals in the Smokies, so be sure to check that out for amazing places to stay!
From dreamy cabins to fun adventures, these are hands down the most incredibly romantic things to do in Gatlinburg for couples. Which would you most like to do?
PS-Check out the best time to visit the Smokies for your trip!
Want more US honeymoon ideas? Check out these posts!
Pin it here!