Some posts on this site contain affiliate links, meaning if you book or buy something through one of these links, I may earn a small commission (at no additional cost to you!). Read the full disclosure policy here.
---
A Savannah, Georgia honeymoon is always a good idea. Savannah is full of beauty and mystery from its 22 charming and historic squares, its incredibly enticing food scene, and the most romantic hotels around.
Seriously, if you're planning a US honeymoon, there are few ideas quite as good as a Savannah, GA honeymoon. That's why I'm giving you all the tips to plan the most dreamy and romantic honeymoon in Savannah, GA!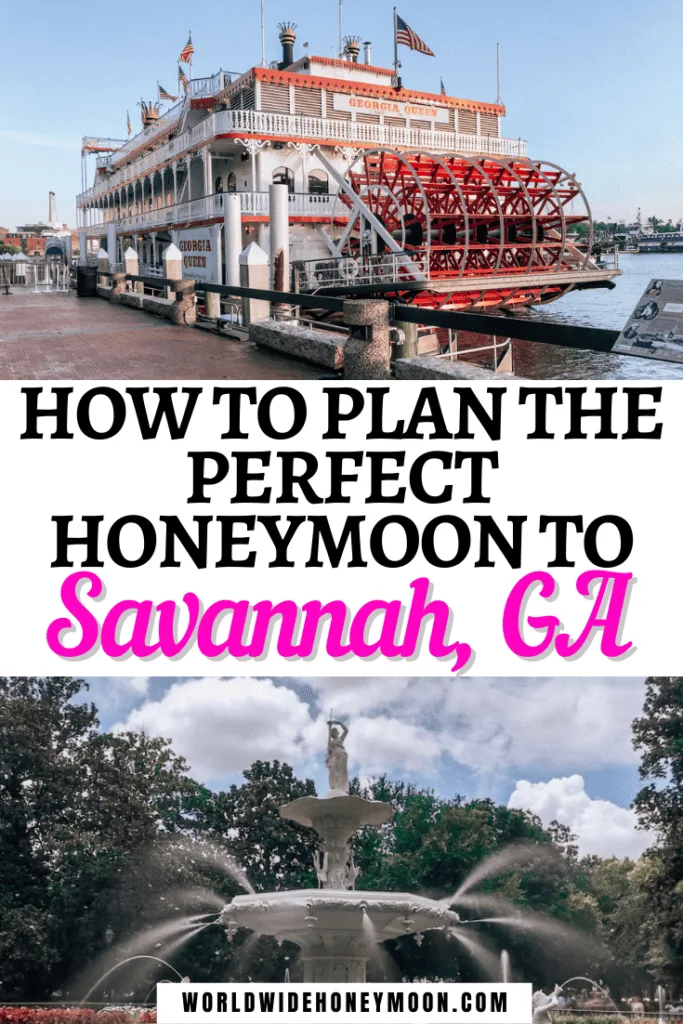 Savannah, GA Honeymoon Guide
In this honeymoon guide, we're going to talk about the top things to do, where to stay, the best time to visit, and more!
Best Honeymoons Spots in Savannah, GA And Things To Do!
While I do have a whole guide about the 15 most romantic things to do in Savannah, I'm going to highlight some of the must-see honeymoon spots and stuff you're going to want to do while exploring the city!
1. Explore The 22 Squares In Savannah Plus Forsyth Park
Savannah is just one of those cities whose intention is to be beautiful. Aside from Spanish moss-covered trees on seemingly every street, and lovely inns and homes, there are 22 squares in the middle of the city!
They are full of park benches, greenery, and sometimes fountains or statues. Many are even named after historical figures. So it makes for a romantic and lovely day to grab a picnic lunch and eat it in a lovely square somewhere.
My personal favorites are Columbia Square, Chippewa Square, and Oglethorpe Square.
Oh, and don't forget to wander around the sprawling Forsyth Park too!
2. Cozy Up While You Listen To Spooky Stores Of Savannah's Past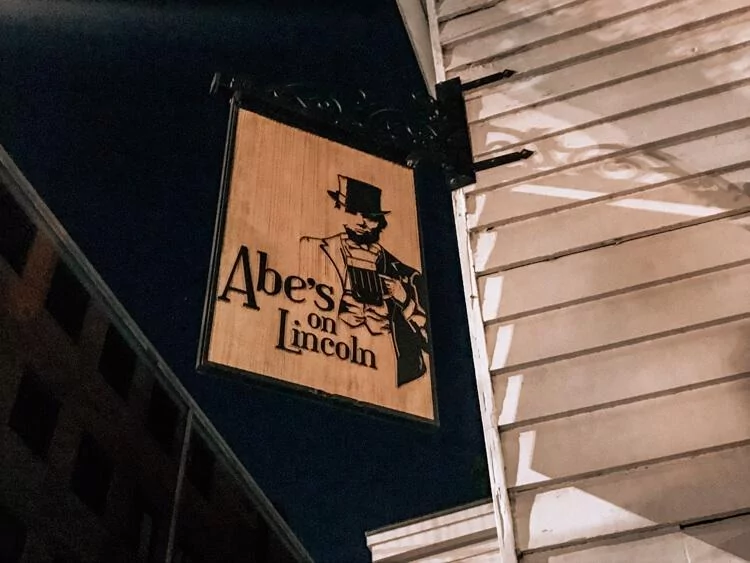 Learn about Savannah's haunted history and perhaps spot a few ghosts on a nightly ghost tour. Personally, I'm a bit terrified of phantoms, so I much prefer the boozy ghost tour where you visit haunted bars along the way and grab a cocktail at each.
It makes handling those ghastly tales much easier, don't you think?
But for the traditional ghost tours, here is a great one to try!
3. Taking A Riverboat Cruise Is One Of The Best Honeymoon Ideas In Savannah, Georgia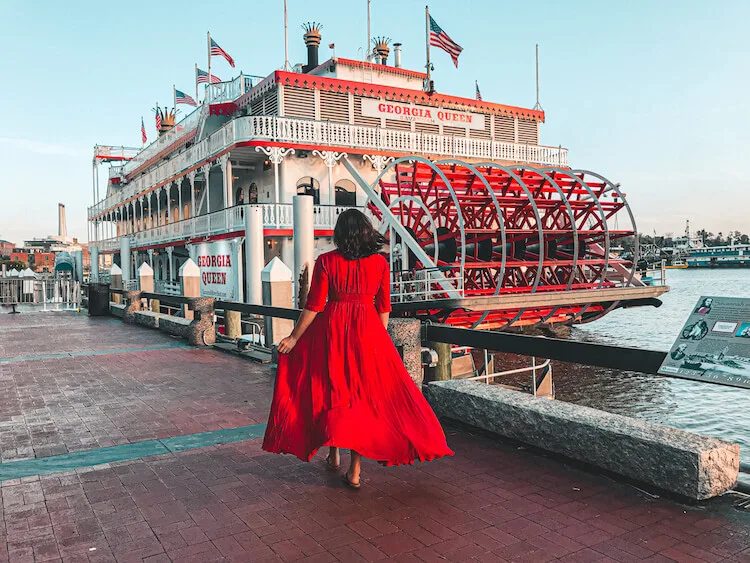 The Savannah River is teeming with boats throughout the day. Many are cargo vessels, but occasionally you'll spot the Georgia Queen tugging along.
Why not hop on the charming riverboat and ride along as you discover the sights and sounds of Savannah!
4. Visit The Cathedral Basilica Of Saint John The Baptist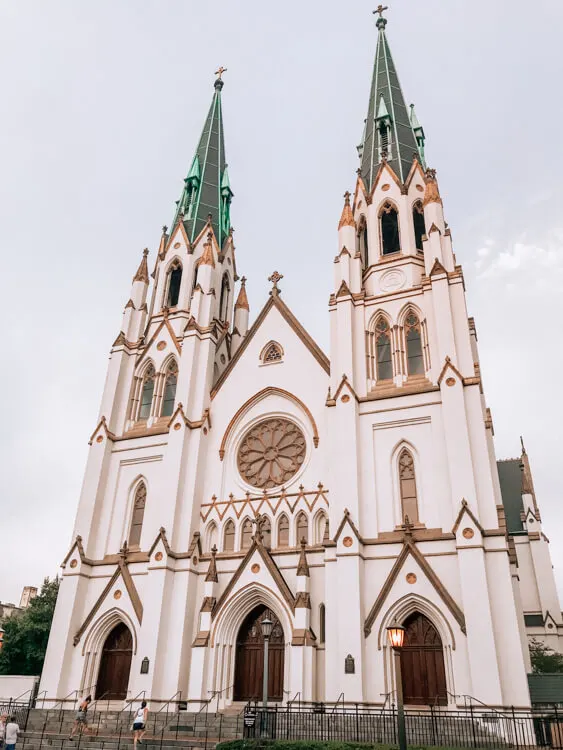 The Cathedral Basilica of Saint John the Baptist is a truly stunning cathedral in the heart of Savannah. While you're wandering around, I highly recommend going inside to enjoy the inner architecture and art.
If you stick around long enough, a docent may even be explaining the history of the church and other stories!
5. Go On A Food Tour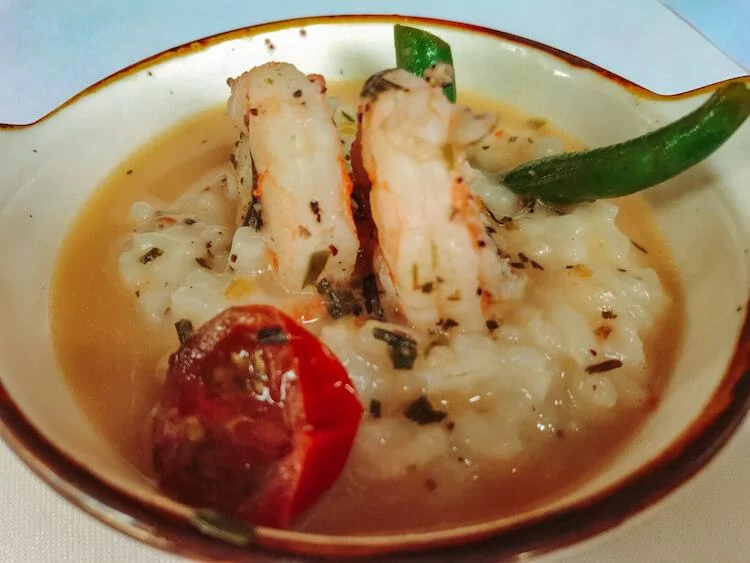 Food is a love language, right? At least it should be! And food in Savannah is divine. So combine love and food together and go on a food tour!
This one was so much fun, and if you happen to have Country as your guide, you're in for a treat! Taste the best of Savannah from an iconic ice cream shop (without the long wait!) to gator sliders and all things in between.
6. Stroll Along River Street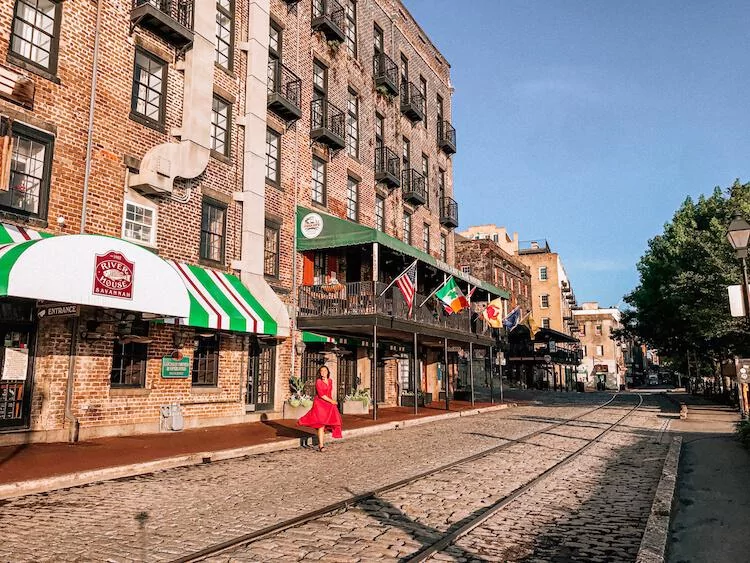 Stroll hand in hand on River Street as you pop into various shops and restaurants, watch the boats glide along the river, and enjoy the old buildings and stairs that make up this area.
There is a lot going on River Street during the day, so visiting during your Savannah honeymoon itinerary is a great idea!
7. Have A Romantic Dinner At The Grey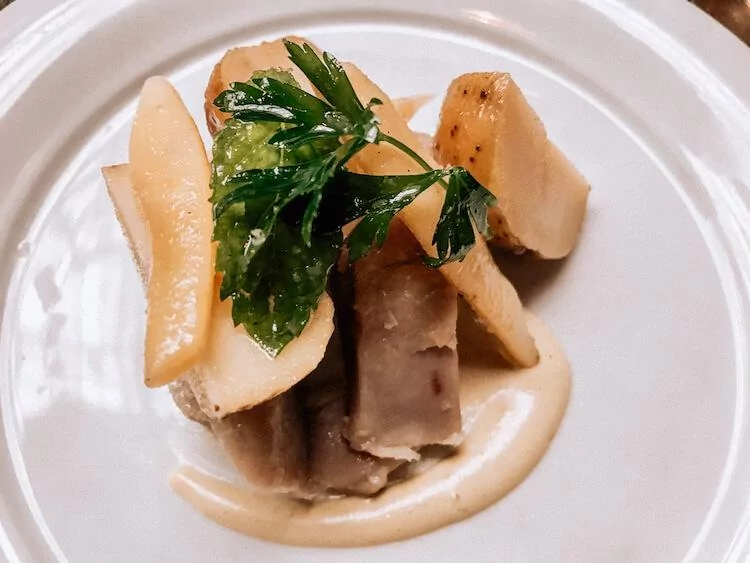 Easily one of the most romantic and upscale restaurants in Savannah, a dinner at The Grey is a culinary experience where the southern cuisine is bursting with so many flavors and elegance that you'll likely want to lick your plate if you didn't know that people would probably give you a second glance for doing so.
Get the tasting menu together and trust the genius of head chef Mashama Bailey. It is well worth it, trust me.
8. Visit Savannah's Candy Kitchen
Love is sweet, so why not visit Savannah's Candy Kitchen to indulge in pralines, turtle gophers, chocolate, and baked goods?
Seriously, who says you have to be a kid to enjoy candy stores?
9. Explore Bonaventure Cemetery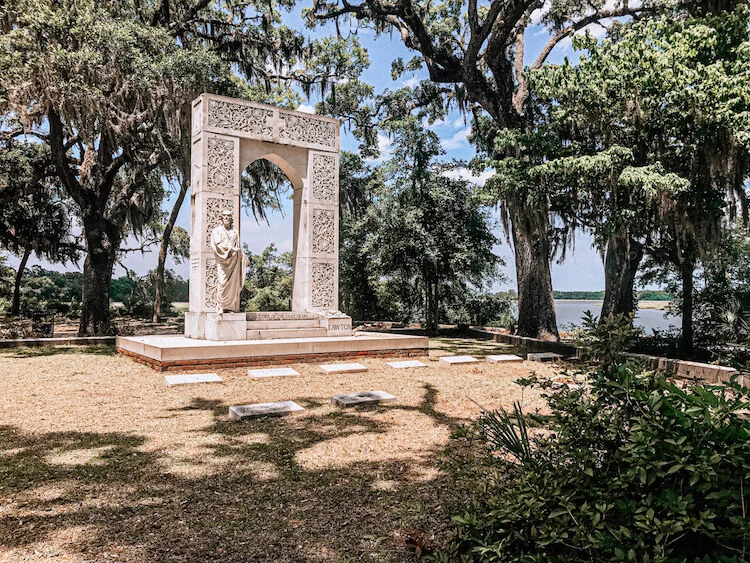 I know cemeteries aren't typically known as romantic destinations, but Bonaventure may just be.
There are elaborately decorated tombstones, the marshy river, and many Spanish-moss-covered branches overhead that make for an idyllic photo opportunity together.
There is also a lot of history and historical figures buried there, so taking a tour is a good idea. While honeymooning in America's most haunted city, a stop in a cemetery is kind of necessary, right?
10. Visit (Or Stay) On Tybee Island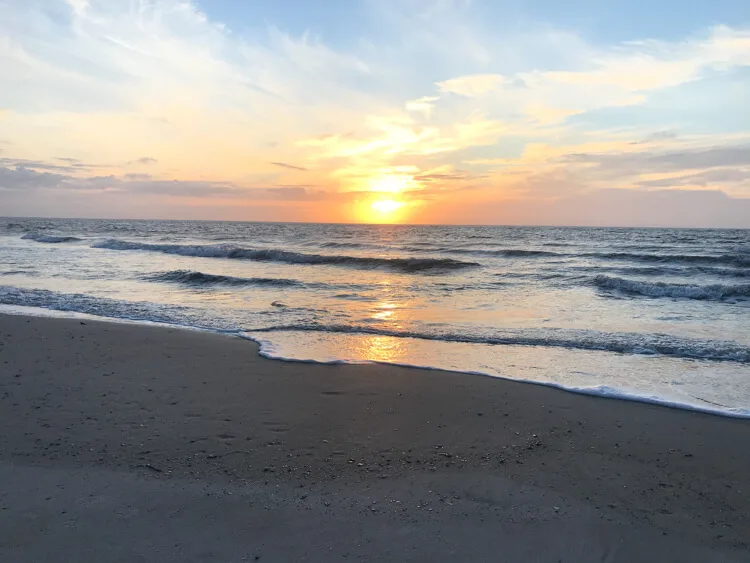 During your Savannah, Georgia honeymoon, you may just want to get out of town and head to the beach. Tybee Island is the perfect little getaway spot.
I actually recommend a romantic getaway to Tybee Island before you explore the city of Savannah.
You could certainly visit as a day trip and enjoy a sunrise on the beach, but if you plan to stay on Tybee, I highly recommend staying at Tybee Island Inn.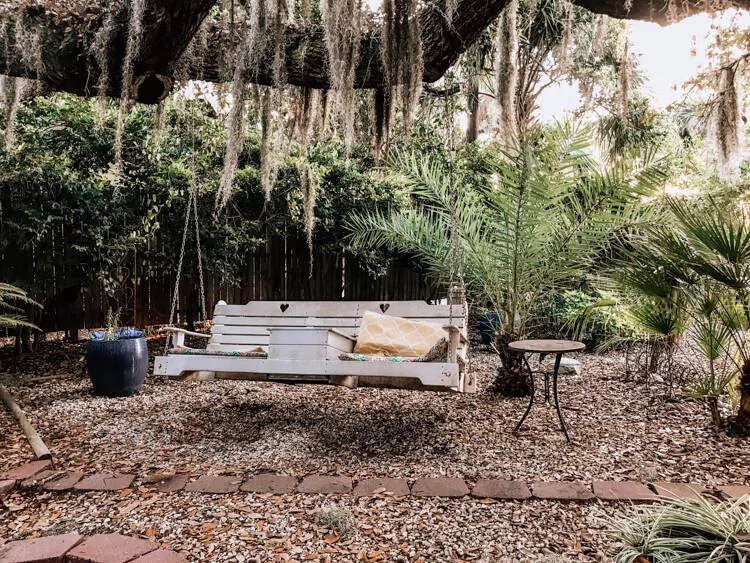 This charming bed and breakfast is on the north part of the island, which is much quieter and more romantic. The rooms here are cozy and nautical-themed. And the swinging bench under the mossy tree out front is the perfect place to snuggle with a glass of wine together.
Best Savannah Honeymoon Hotels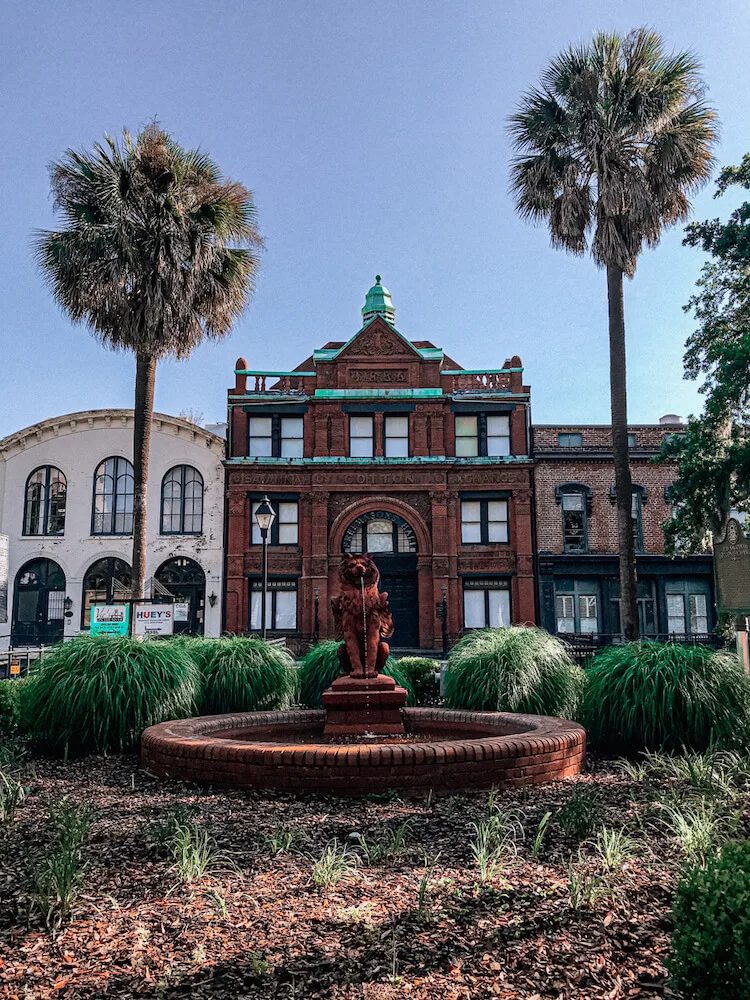 If you're searching for the best Savannah Georgia honeymoon suites and hotels, you're definitely spoiled for choice. Here are 4 of the best romantic hotels in Savannah, GA.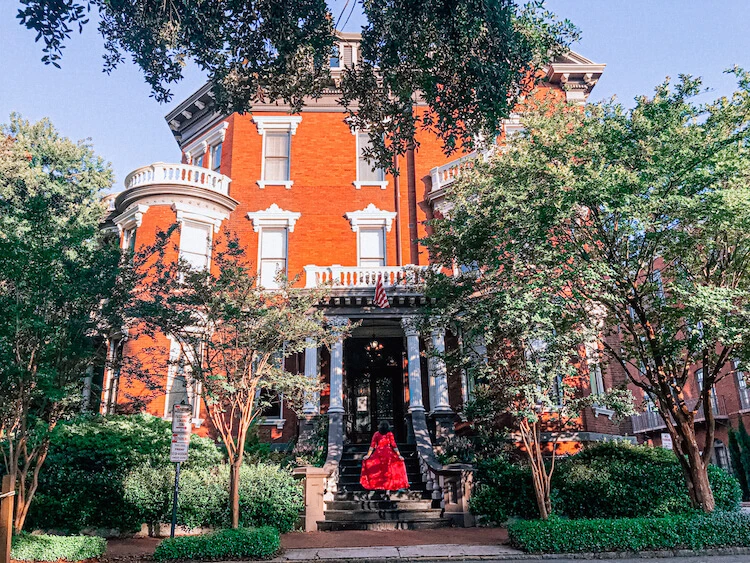 Voted as the #1 Small Hotel in America, The Kehoe House is the most charming bed and breakfast you could stay at in Savannah.
Located on the delightful (and my personal favorite) Columbia Square, the views are incredible. This adults-only hotel serves up an incredible breakfast that you can even have on your terrace if you book a balcony room like the Johnny Mercer or the Oglethorpe room!
They also serve free hors d'oeuvres and wine from 5-7 pm and cookies at bedtime. Seriously, this place will pamper you all day long.
Prices are around $400 per night.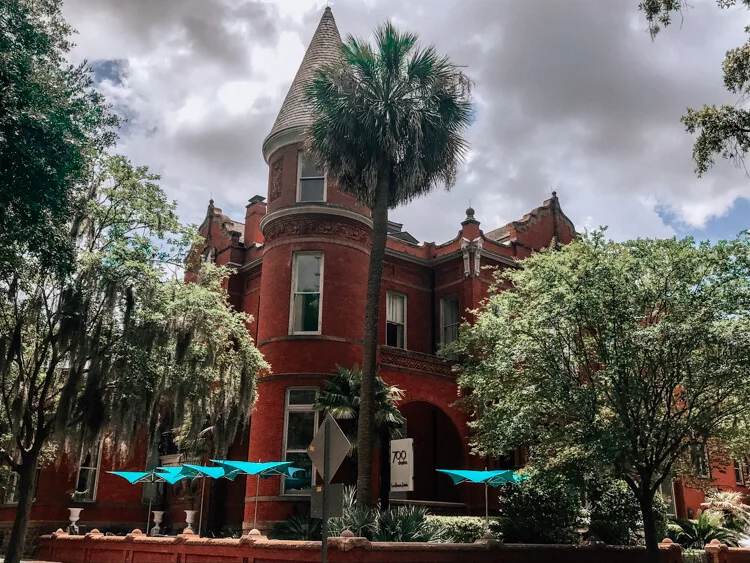 With amenities like a bath butler who will draw you up a bath to enjoy with champagne, a Grand Bohemian Art Gallery on site, and a heated swimming pool for a way to relax and unwind after exploring all day, you can't go wrong planning your honeymoon in Savannah with a stay at the Mansion on Forsyth Park.
As a bonus, you're in a prime location, with views of Forsyth Park from your window!
Prices are around $250 per night.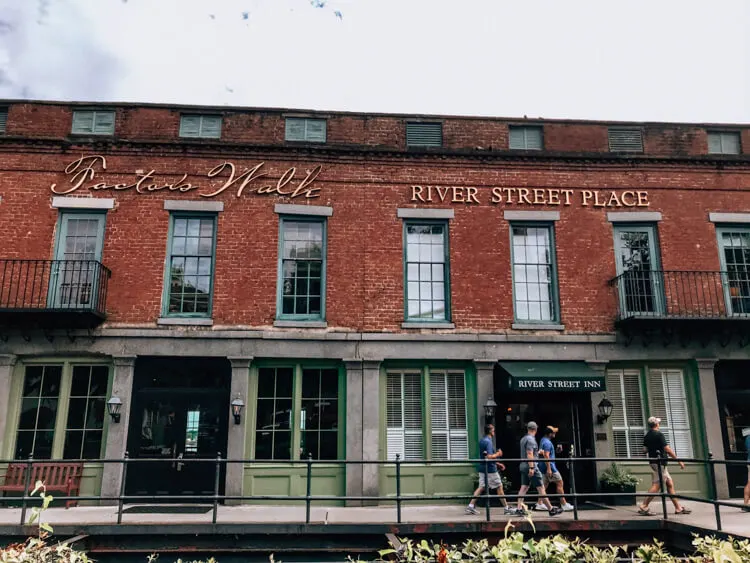 Located on River Street, this hotel has views of either Savannah's bustling streets or the Savannah River to behold.
Enjoy hotel amenities like free drinks and snacks from 5-6:30 pm on Monday-Saturdays. The rooms here are elegantly designed as well as all aspects around the hotel.
Prices are around $220 per night.
This hotel is more modern feeling than the more historic inns and lodgings above, but it has some really cool amenities like the Natural Science Exhibits, making it feel like a museum, an art gallery, and a giant dinosaur sculpture.
Plus, there are great bars and restaurants, and a rooftop lounge. With unique things like this, you could spend quite a bit of time exploring the hotel during your Savannah honeymoon.
Prices are around $250 per night.
Best Time For A Honeymoon In Savannah, Georgia
Honestly, you could visit Savannah year-round. I've visited in the middle of summer, and while it is definitely scorching hot outside, you can find ways to cool down either by visiting the beach on Tybee or spending some time checking out indoor attractions.
Plus, having a hotel with a pool can be super helpful!
Savannah is also pretty crowded during the summer too, so if you hate crowds, it may be best to avoid this time of year.
However, spring and fall are much more pleasant times to visit as the temperatures are slightly more bearable. There are still crowds, especially in the autumn months and during October thanks to it being spooky season.
Winter is definitely much cooler yet still pretty mild compared to winters up north. There are fewer tourists wandering about, meaning you'll have fewer crowds. The wintertime is also very charming around the holiday season where there are plenty of festive events to enjoy!
If you don't mind bundling up a bit, you'll find that Savannah is lovely this time of year too!
If I had to pick a true best time to visit, it would be in the spring. The azaleas are blooming, and the temperatures are as close to perfection as you can get there. The fall would be a close second, especially for some autumn foliage, and who doesn't love a ghost tour in October?
How Long Should You Visit Savannah?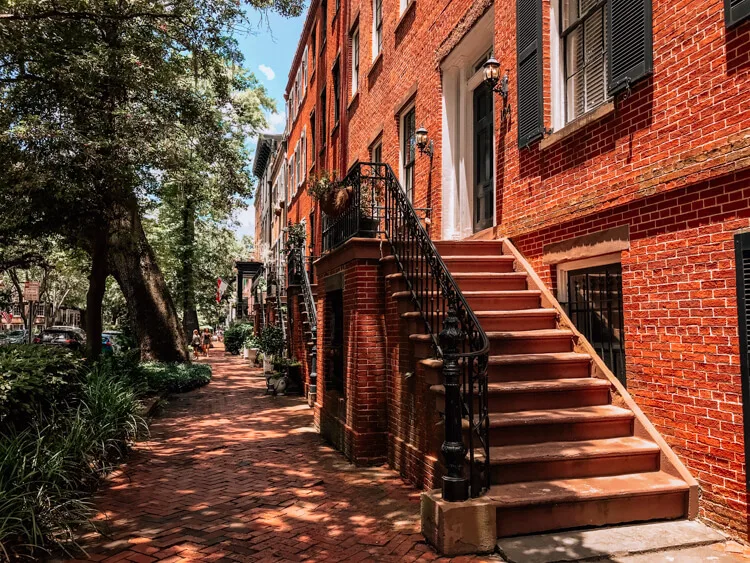 While you could certainly make this a Savannah mini-moon and go for a long weekend, you could definitely spend a week here and enjoy all that this city has to offer.
Perhaps you could make a road trip out of it and stop by Tybee Island and Charleston during your honeymoon too!
Other Tips For Planning Your Savannah, Georgia Honeymoon
Before you book your dreamy honeymoon to Savannah, here are some tips!
Getting there. Luckily, this is pretty easy as many airlines fly into the Savannah/Hilton Head Airport. I love checking Skyscanner for great deals, which is how I found my flight to Savannah over the summer for only $163 round-trip!
Getting around. While you can walk almost everywhere in the historical parts of Savannah, if you want to go out to Bonaventure or see Tybee Island, you'll either need a tour or a car. I recommend Rentalcars.com for this.
Perfect Savannah Honeymoon Itinerary. Luckily, I have created a great weekend itinerary for Savannah (which includes if you have more time in the area) as well as a guide to Tybee Island, so be sure to check those out.
What to wear. Savannah is a warm city most of the year, so be sure to pack many lightweight clothes, swimsuits (if you plan to go swimming), etc. In the winter, you may need a jacket and to dress warmer. You can pack casual clothes for the day and a few nice outfits for fancier dinners or nights on the town! Be sure to pack an umbrella just in case! Plus, sunscreen and mosquito repellent are good items to have, especially in the summer. And if you struggle with some chafing as I do, BodyGlide is a lifesafer for hot days!
A Savannah honeymoon is a perfect place to kick off married life together. With romantic city squares, charming old buildings, and an incredible food scene, you'll fall in love with all this city has to offer.
Would you honeymoon in Savannah?
Want more honeymoon ideas? Check these posts out:
Pin it here!