Some posts on this site contain affiliate links, meaning if you book or buy something through one of these links, I may earn a small commission (at no additional cost to you!). Read the full disclosure policy here.
---
Spending a weekend in Savannah, GA is sublime.
With Spanish moss lazily swinging from the trees in every charming city square, the smells of southern cooking wafting in the air, and the bit of heat that you feel against your skin as you stare longingly into the famed Fountain at Forsyth Park hoping for some respite from the heat make Savannah completely worth your while.
Yes, spending even just 2 days in Savannah will ensure that you get a great feel of the ins and outs of this eclectic city. Whether you're into spooky ghost stories, filling up on southern food staples, or just love wandering around to beautiful parks across the city, Savannah is sure to please.
After having visited this city and seeing (and eating!) as much as I could, I have the perfect weekend in Savannah itinerary that'll make you want to book a ticket there ASAP!
PS-Don't forget to check out our Savannah podcast episode!
The Ultimate Weekend in Savannah Itinerary
Let's get into the shrimp and grits of it all with the perfect Savannah weekend itinerary. From ghost tours to great restaurants, this is how you want to spend two days in Savannah.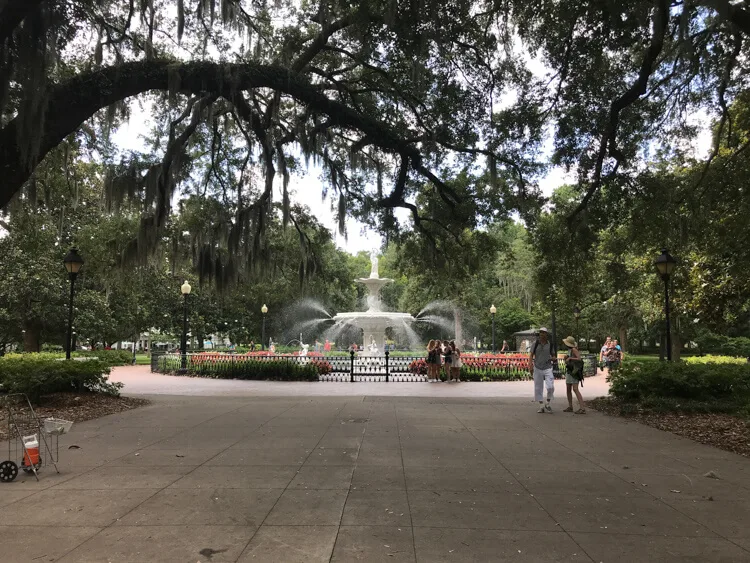 Day 1 of Your Weekend in Savannah: Savor the Food…and Learn About the Ghosts of the City
Savannah is known for many things. Its very lengthy history, its many ghosts (it is known as the most haunted city in the US after all), and, of course, some bomb southern cuisine.
So today, you're going to get a mix of all three! I mean, when you only have 2 days in Savannah, GA, you kind of need to make the most of it, right?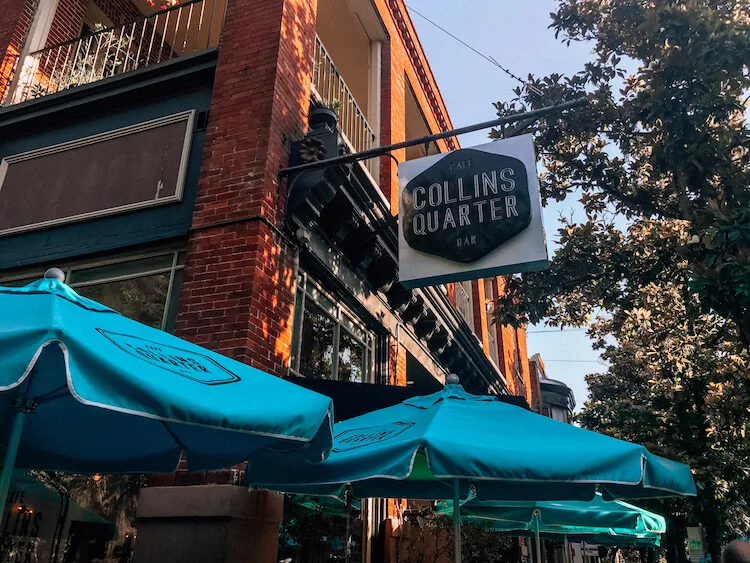 To kick it all off, start with brunch at the Collins Quarter. There are a couple of locations. One is in Forsyth Park and the other is on Bull Street. Personally, I enjoyed the Bull Street location, as it had a better selection of items.
So start there and order up a nice breakfast to get you fueled for the day. The smashed peas on toast with a poached egg was definitely a favorite of mine. It was refreshing and filling on a hot summer day!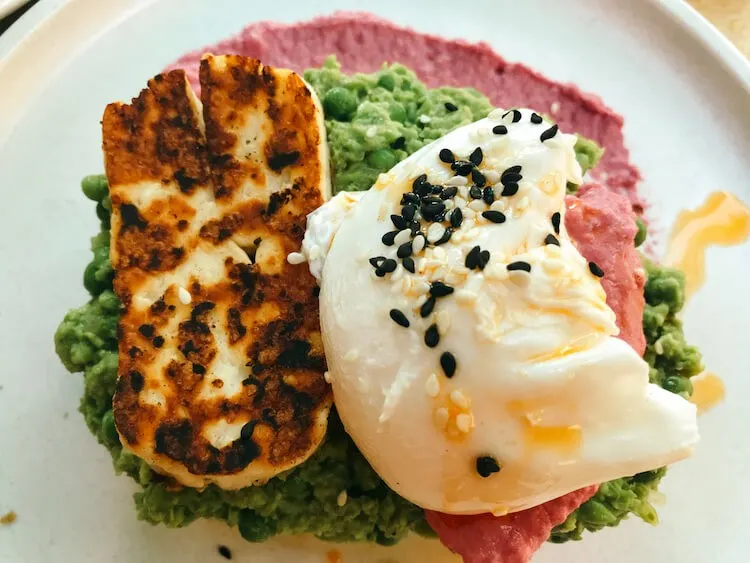 They are also known for their bananas foster on french toast as well as their bubble and squeak! Pair that with a nice coffee or chai latte and enjoy the beautiful scenery around you.
The Cathedral Basilica of St. John the Baptist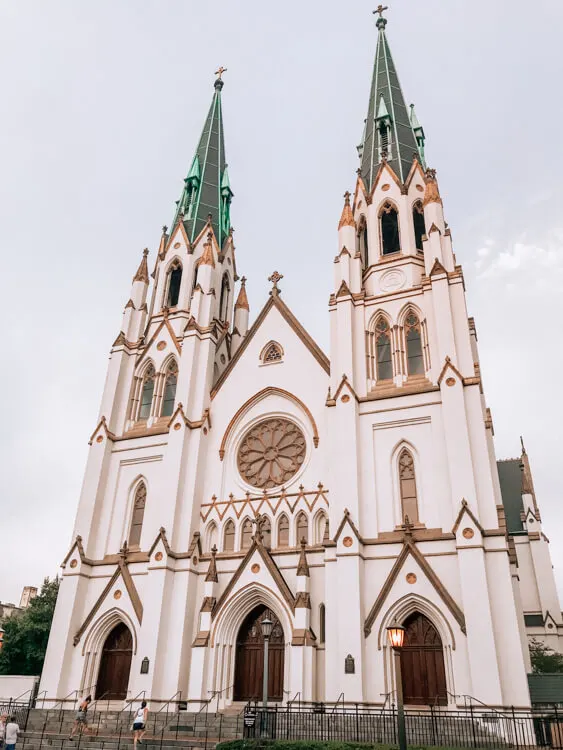 After the incredible breakfast that you just had, you may want to cool off from the heat and duck into this awe-inspiring cathedral in the heart of Savannah.
This place was originally built at the end of the 18th century by French and Haitian immigrants. If you go inside and notice a bit of a resemblance to Notre Dame in Paris, that'll be why. The rose window and stunning stained glass windows are works of art on their own.
And while this place has been around a while, it has definitely withstood hurricanes and fire damage over the years before being reconstructed into what it is today.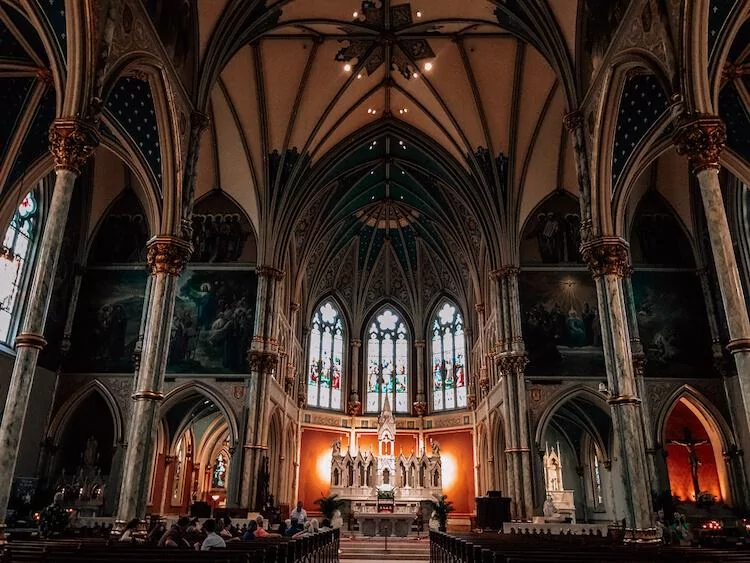 Wander along to see the elaborate murals on the walls, the sprawling tabernacle, and the large baptismal font before sitting down and perhaps listening to a church guide give you the history of the church and insight into the architecture before hitting up your next spot.
Lunch at Mrs. Wilkes Dining Room & Forsyth Park
After a morning of wandering, it is time to have a very hearty lunch at such a fantastic spot: Mrs. Wilkes.
This place is only open Monday through Friday, so this is assuming that your weekend is Friday and Saturday before coming home on Sunday. If you aren't here on Friday, then definitely hit up The Paris Market for lunch instead as they have a great selection of French-inspired treats like their Parisian sandwich or quiches.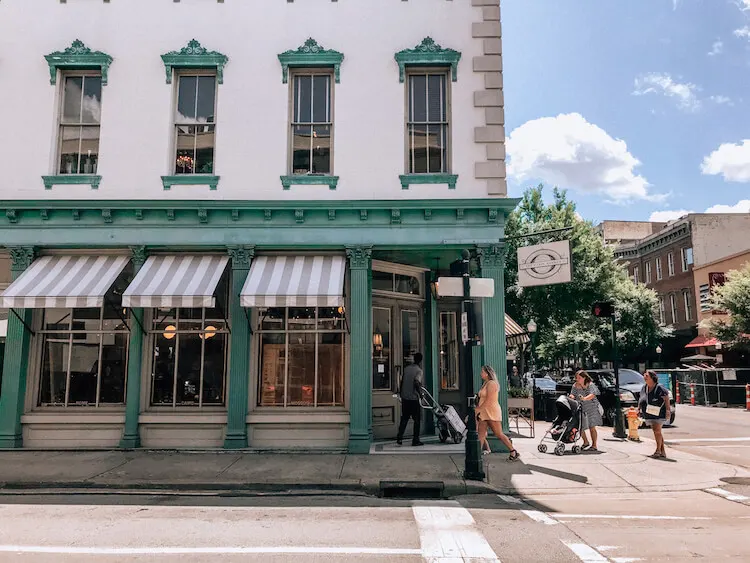 However, if you are lucky enough to be in Savannah between the hours of 11 am-2 pm Monday-Friday, then you're in for a treat.
Mrs. Wilkes Dining Room began in 1943 as a boarding house serving up southern food family-style in the dining room. And boy, did that take off!
This place easily has a line down the block by the time they open their doors! So definitely get there before it opens at 11 if you want quick service! Either way, it is worth the wait!
Before 2020, it stayed true to form and served up fried chicken and all the fixin's family style in the lovely dining room where you'd meet people from all over the place. However, you now order up what you'd like and they'll call you when it is ready.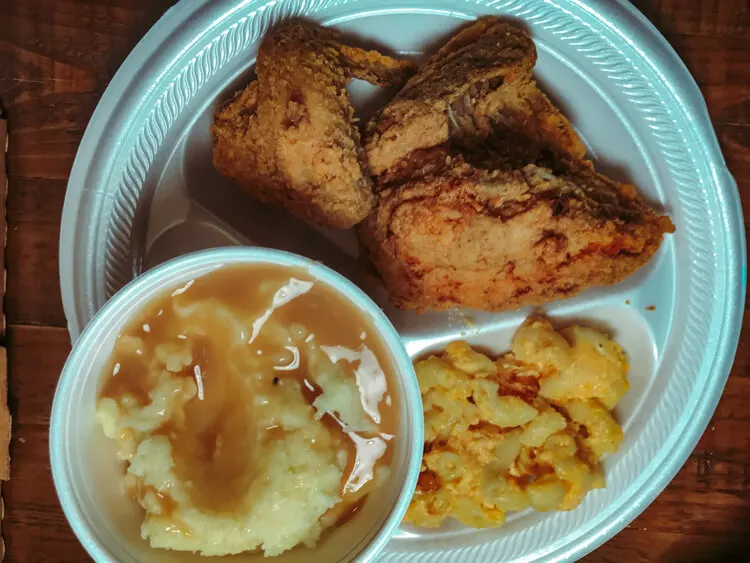 When I visited, it was about a 30 minute wait to order when I showed up at 11:15 am and another hour before the food was ready. Luckily, you give them your number and they'll call you, meaning you can wander about while you wait.
Take this time while you're waiting to wander down to Forsyth Park! There is so much to see and do here including the charming Fountain at Forsyth Park, the Spanish-American War Memorial, and even the historical Mansion on Forsyth Park hotel.
After exploring and getting the long-awaited call that your food is ready, it is time to chow down! And they don't leave you hungry.
Seriously, you can order their lunch special for $30 which includes 4 pieces of fried chicken, 3 sides, a biscuit, cornbread, pound cake, and a drink! Or, if you're like me and realized there is no way I could eat all that, you can order a la carte.
But, as this place is family style, they'll still give you something extra. I only ordered 2 pieces of fried chicken and a side of macaroni and cheese and mashed potatoes. When I picked up my heaping box of food, I had a bit of everything they have on their menu! Needless to say, I feasted on that for days!
Take your giant box of food and either sit in the hotel to cool off and eat or find a nice little park bench in the shade to enjoy the finger licking deliciousness that is Mrs. Wilkes fried chicken!
Wander River Street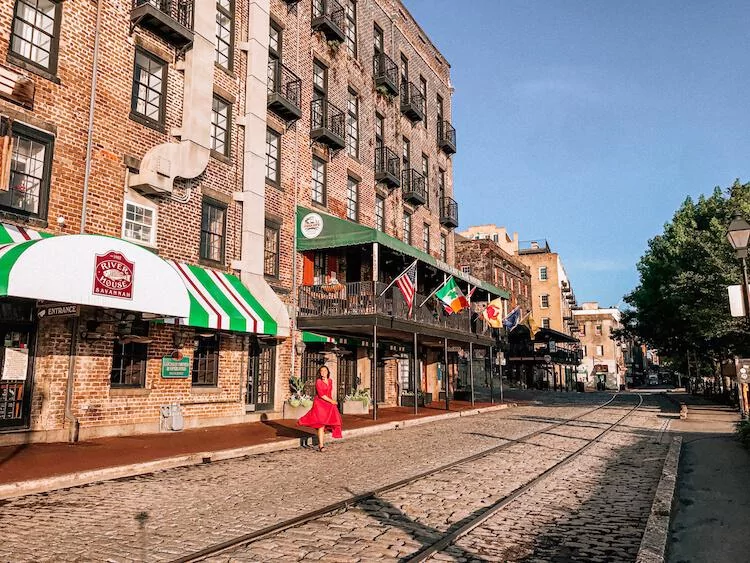 After that tasty lunch, be sure to wander over to River Street and poke around the area. Walk along the street and admire the Georgia Queen Riverboat as she passes by or even watch in admiration as you see giant vessels squeeze past the small river as they make their way out to sea.
There are also several boutiques in the area to see, including the Savannah Bee Company, River Street Sweets, and even a covered market called the River Street Marketplace where you can purchase some souvenirs.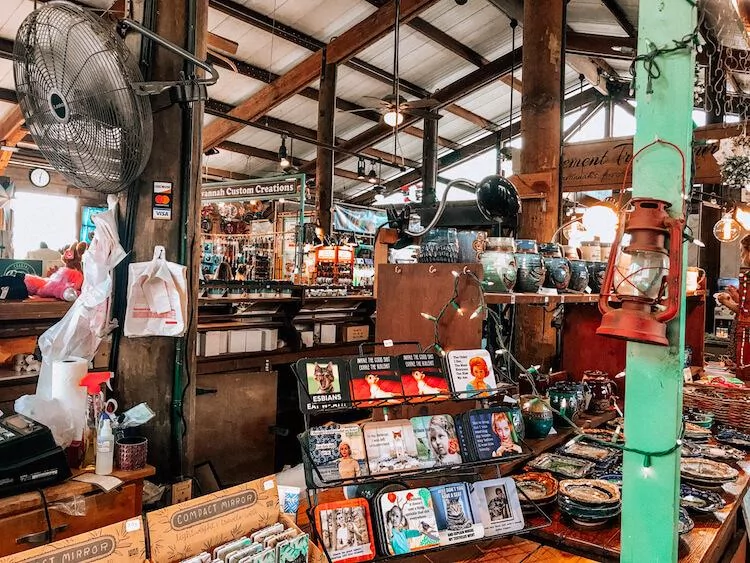 Explore City Market
It is time to see another incredible outdoor market! City Market is an outdoor market with several shops, restaurants, bars, and galleries to explore! So whether you're on the search for a comfortable walking shoe (so necessary for walking around Savannah in the heat!) or you want to sip a cocktail and shop, this is a great spot to explore!
Pop into a few galleries and maybe a bar for a cocktail to go before a lovely bite to eat.
Sorry Charlie's Happy Hour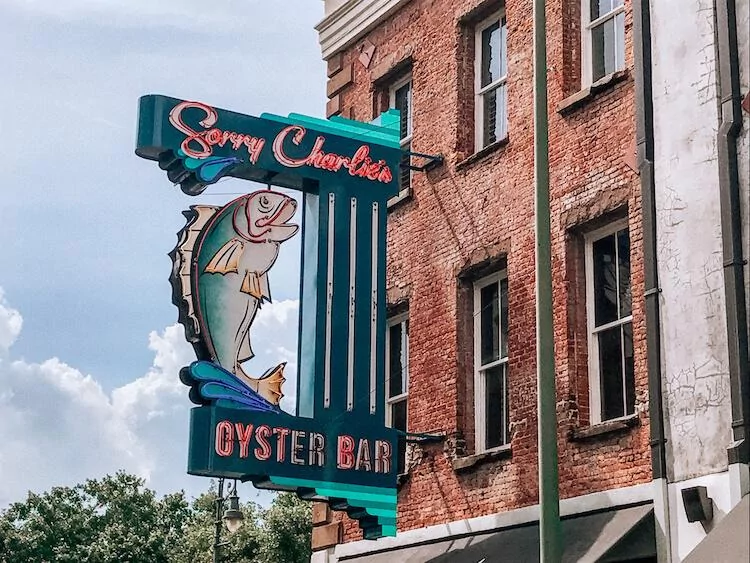 Right next to the City Market is Sorry Charlie's. This oyster bar is the place to be between 4-6 pm from Monday-Friday. So if your weekend in Savannah starts on Friday, then definitely go here!
If not, this is still a great place to go for a bite to eat and the rooftop bar!
As you've probably noticed, I've said how hot Savannah can be during the summer. So, finding a rooftop bar with a nice breeze is essential.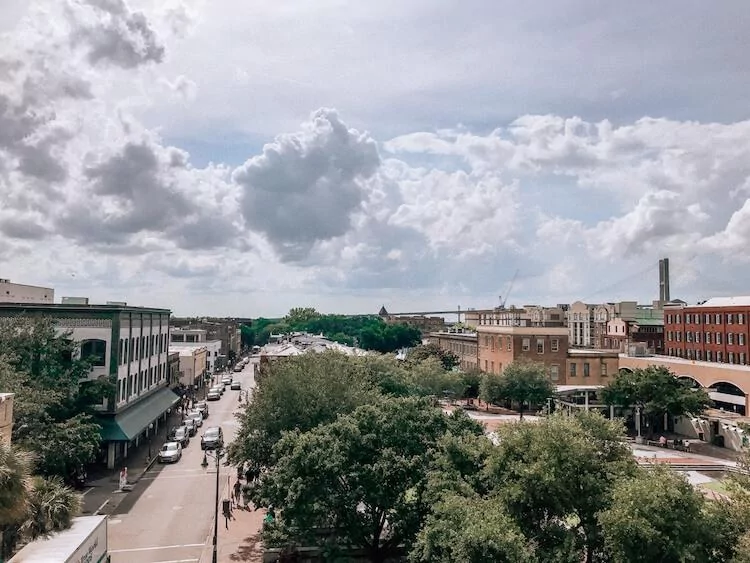 If you happen to visit here during happy hour, then you'll be treated to $1 oysters, $3 Savannah beer, and $5 for bubbles! Regardless, definitely get some oysters served with their own hot sauce, mignonette, and house cocktail sauce.
And if you are very hungry, then definitely tuck into some hushpuppies with that amazing honey sumac butter and feast on shrimp and grits or an oyster po' boy!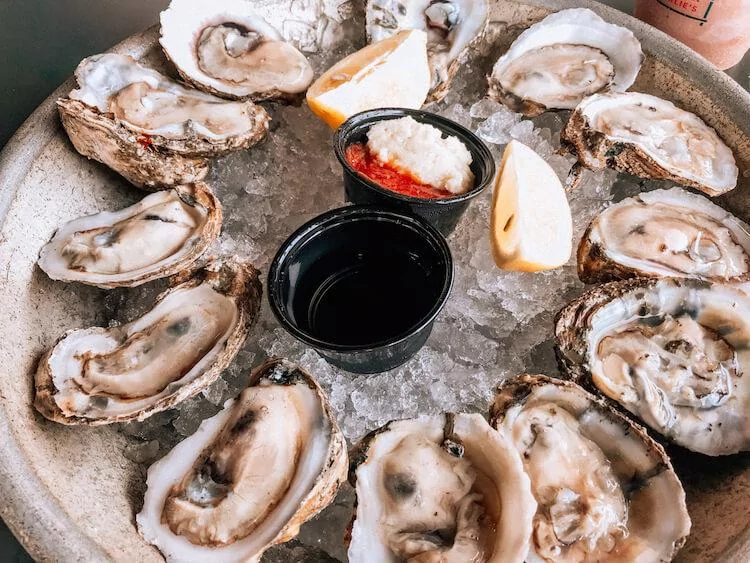 Seriously, this is such a great spot to check out and admire the views of the city and river before your last activity of the day.
Savannah Haunted Pub Crawl
I don't know about you, but I'm kind of a wimp when it comes to ghosts. I literally searched on TripAdvisor for hotels in Savannah that didn't have ghosts because there are SO many that do!
Even if they're friendly, I definitely don't want to be woken up in the middle of the night to something I can't see touching me. No thanks. Luckily, I found a place that at least didn't have ghosts written in their reviews (which I'll mention below).
Knowing how big of a wimp I am, and knowing that Savannah is the US's most haunted city and therefore a place that makes a ghost tour kind of necessary, I figured I'd need a drink…or three to get through it.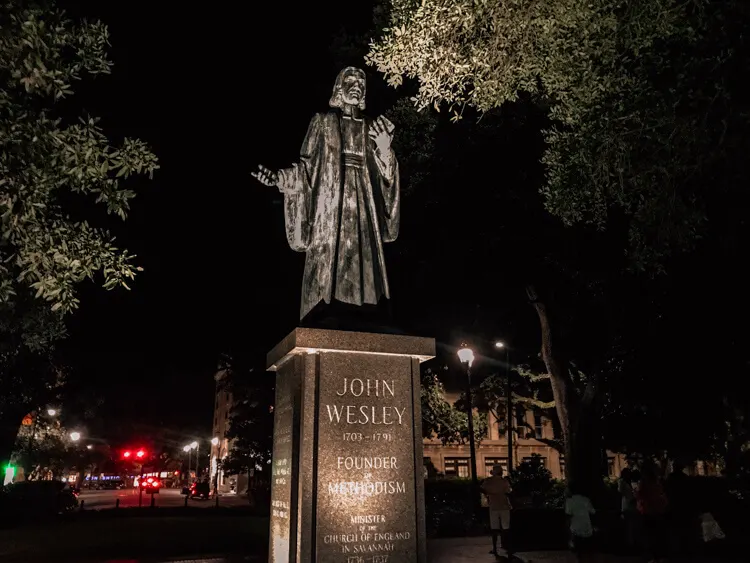 Luckily, Neil with the Pub Crawl and Ghost Tour was way ahead of me! His tour was the perfect mix of spooky, hilarious, and entertaining and I can't recommend it enough!
We popped into local pubs, stopped across various squares, cemeteries, and haunted houses in the city, and carried a cocktail with us the whole way!
We learned about the children that haunt a couple of historic buildings along Columbia Square, about the woman who died at 17Hundred90, and even a sad tale of misfortune for a young man at a hotel in the heart of the city that even horses that pull the carriages around still act strange near.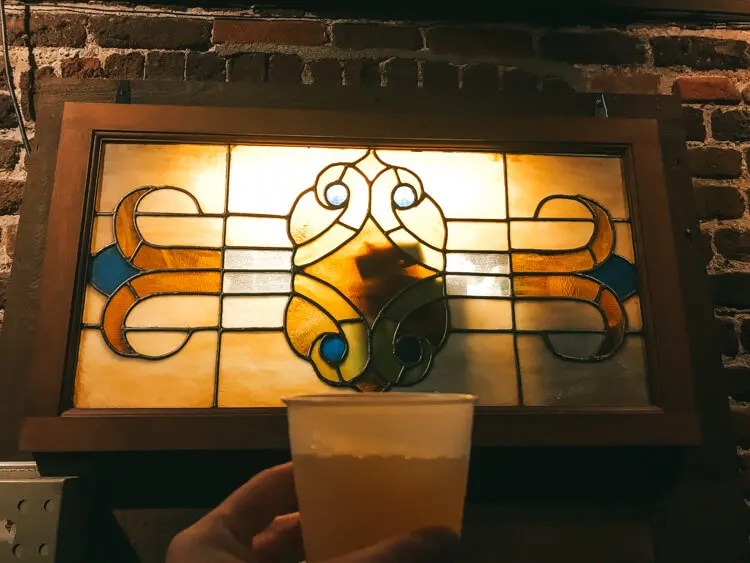 Then you'll hear funny stories of local pubs, stop in for pints, and make new friends along the way. This is the way to do a ghost tour in my opinion.
After that fun night out, it is time to retire to your hotel for the night for another fun day of this Savannah itinerary in two days!
Day 2 of Your Savannah, Georgia itinerary: City Squares, a Famed Cemetery, and the Coolest Restaurant in Savannah
For your second day during your weekend getaway to Savannah, it is time to explore the charming squares across the city, visit a famous cemetery, and splurge a bit on Savannah's coolest restaurant!
So start off grabbing a quick bite to eat at Cafe M and a coffee before wandering around the many squares of Savannah.
My absolute favorite square is Columbia Square. This small and peaceful square is where the haunted Kehoe House Historic Inn is located as well as the Davenport House Museum. But the square itself is full of life from the babbling fountain in the center to the hum of frogs and birds in the morning. Sitting here while enjoying a croissant from Cafe M and a latte is perfection.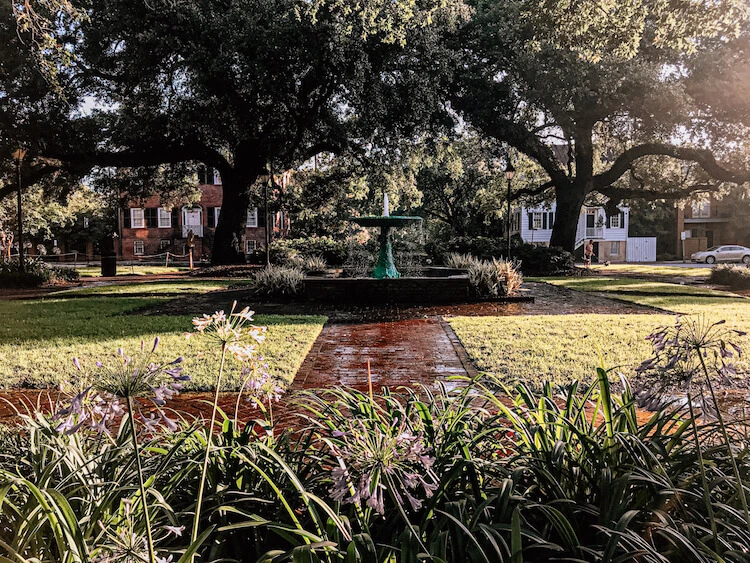 Other great squares to wander around in during your morning here include Oglethorpe Square, dedicated to James Edgar Oglethorpe, the founder of Savannah, Reynold's Square, where you'll spot the famed restaurant The Olde Pink House as well as the statue of John Wesley, the founder of Methodism, and the famed Chippewa Square, also known as the Forrest Gump Square. This square is where the famous bus stop scene was filmed.
Seriously, though, just wander to the many squares in the city. They vary immensely with different fountains, statues, gardens, flowers, and more. Some can be very busy, but others, like Columbia Square, are quite quiet in the mornings and absolutely lovely.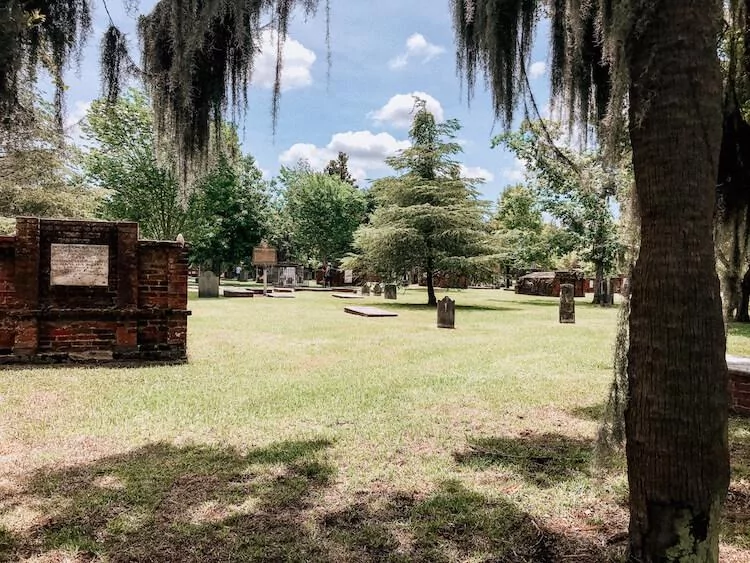 After that, be sure to stop by Colonial Park Cemetery, built in 1789 before continuing to the next part of your weekend in Savannah itinerary.
Take a Food Tour During Your Weekend in Savannah
After you've gotten your fill of lovely squares, and perhaps burned off some of breakfast, it is time to feast on more of the amazing delights of Savannah.
We're talking about one of my favorite things to do in a new city: take a food tour!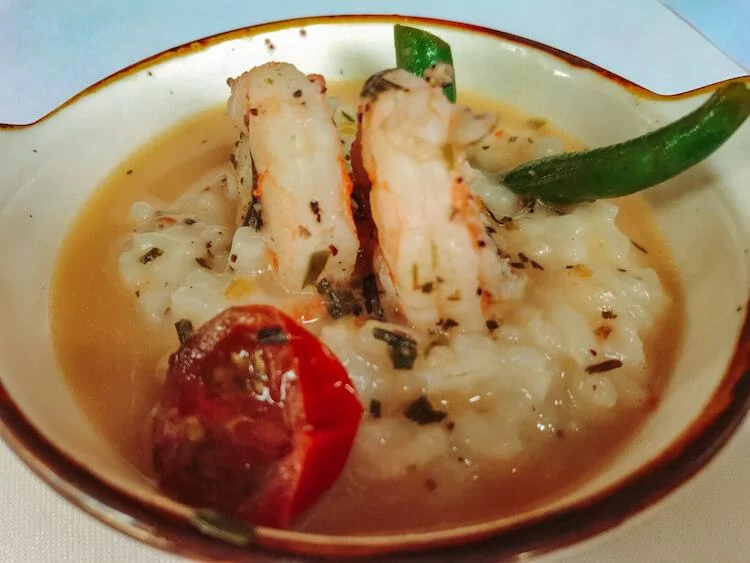 Knowing how seriously I take my food tours while traveling, I couldn't just have you go on any old food tour. The Famous and Secret East Side Food Tour is the perfect tour to get a feel of the place, hear some tales of the city, and feast on some of Savannah's hidden gems and popular haunts.
This has many options depending on the day, but they typically start between 11 am and 1:30 pm. I recommend the 11 am tour, and if you can get Country as your guide, you're in for a treat!
She had so many funny stories to tell about the city, and as she's a local, she has so many insights into the food scene here!
Not only did we make stops at some hidden gems like Cha Bella for shrimp risotto, Zunzi's for a chicken caesar sandwich smothered in what the locals call "sh*t yea!" sauce, and even a southern-style oysters Rockefeller at Common, but you get to hit up one of Savannah's most popular ice cream spots, Leopold's Ice Cream, without having to wait in the long line!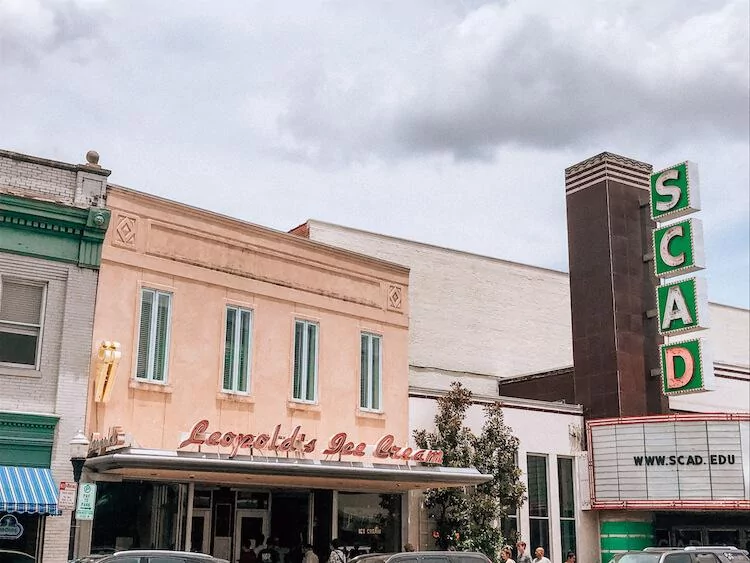 I call all of those things a win! Seriously, the tour was far worth it and the tour guide made it so special. And after seeing the usual line at Leopold's the tour easily paid for itself as we got our ice cream right away!
Visit Bonaventure Cemetery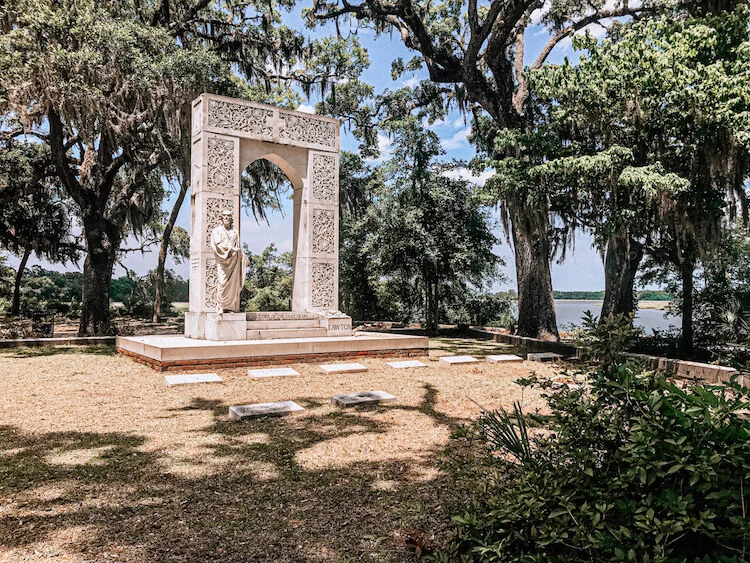 After the tasty food tour, it is time to check out the famous Bonaventure Cemetery. This historical cemetery is just outside of Savannah, so if you're driving you can go and either drive through the cemetery or park and walk around.
If you don't have a car, you can either take an Uber or Lyft there and wander around. There is a lot to see and do here, so a couple of hours is needed to explore.
There is a $5 guided audio tour that you can download that'll give you insight as to the history and residents here.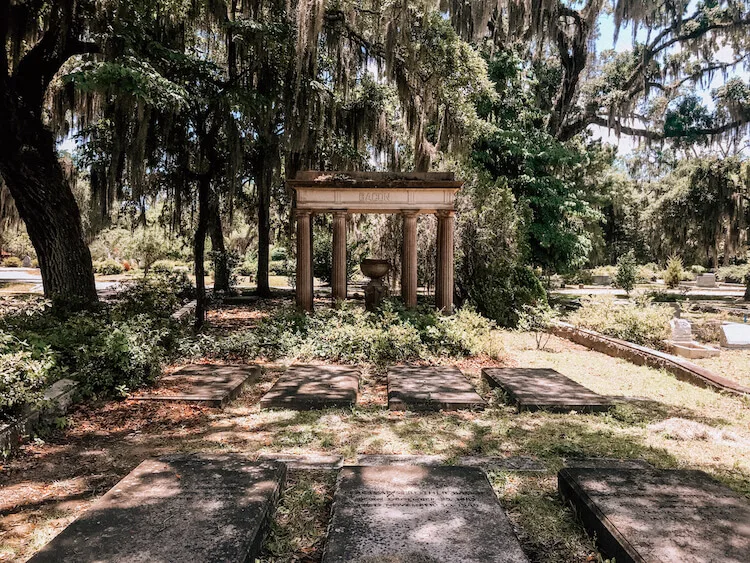 Famous graves to see include the famous singer/songwriter John Herndon "Johnny" Mercer, Little Gracie Watson, and former president of the American Bar Association Alexander Robert Lawton and his scenic gravesite that overlooks the Wilmington River and has an arched gate with a statue of Jesus beside it.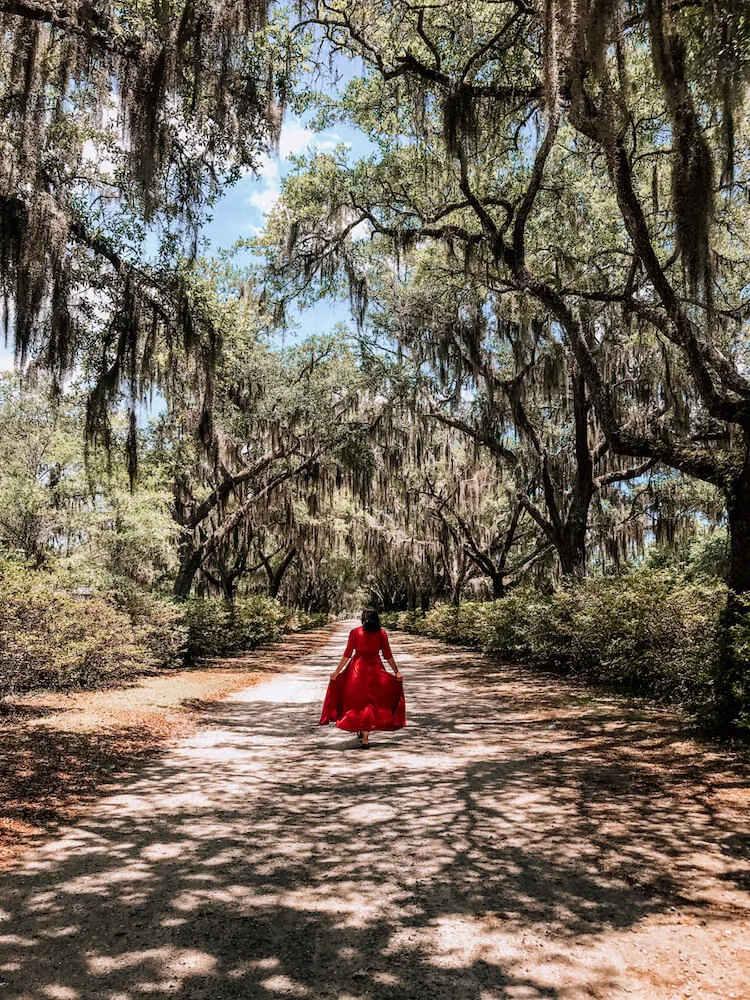 There are also several trees that have Spanish moss covering them, making this place otherworldly looking.
Grab a Beer at Crystal Beer Parlor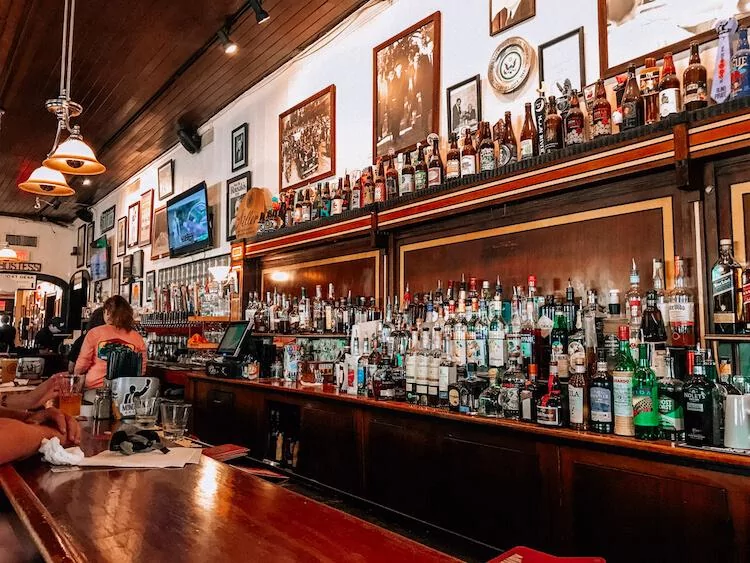 Once you've finished exploring Bonaventure Cemetery, head back into the city and get ready for your last night on the town!
To start, head over to Crystal Beer Parlor! This historical pub is well loved by native Savannahians, and has a history that goes back to its old grocery store days in the early 1900s.
There are photos and memorabilia all over the walls here to show just how much this place has seen. And while there is definitely some delicious food like blue crab stew and several types of burgers, it's also a great spot for a drink.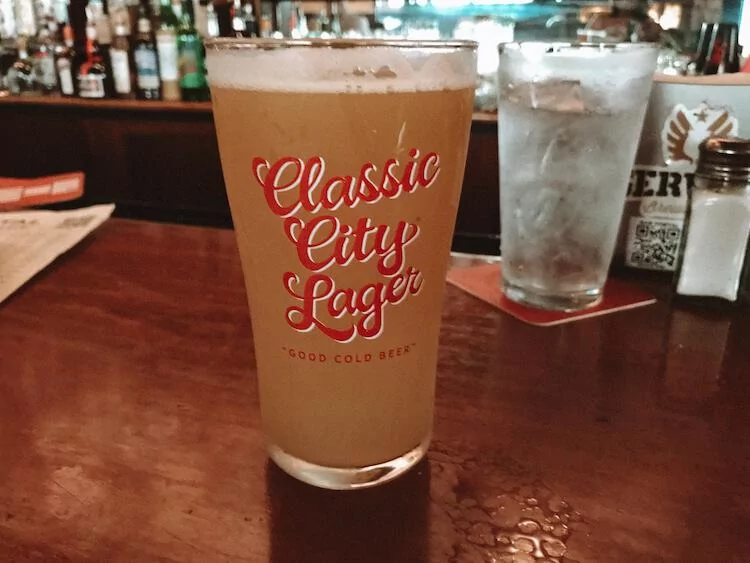 This place has a lot of local beers as well as great Bloody Mary and Mule menus. So grab a drink or two here before your last stop of your Savannah in 2 days itinerary!
Wrap Up Your Weekend in Savannah Itinerary at The Grey
To wrap up your itinerary for Savannah, GA, you have to head to The Grey.
Built in a former Greyhound Bus Terminal, this place keeps its art deco charm from back in the day, but has a modern twist on cuisine.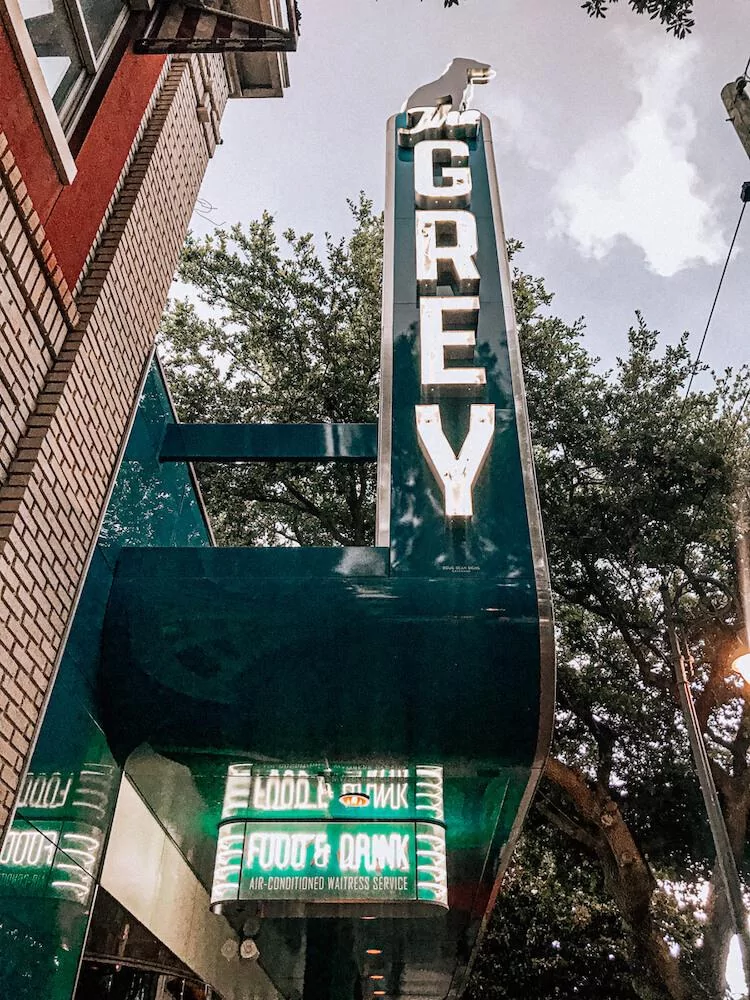 Head chef, Mashama Bailey may have been born and raised in New York City, but her roots come from Georgia. She spent many summers with her grandmother in Waynesboro, and learned how to cook all the amazing southern dishes from the women in her family.
After working in New York for some time, she came back to her roots and now creates upscale southern cuisine inspired by her grandmother.
And let me tell you, it is lick-your-plate good!
This restaurant serves up either a 4 or 6-course tasting menu that changes all the time, so it matches up with the seasons and what is available.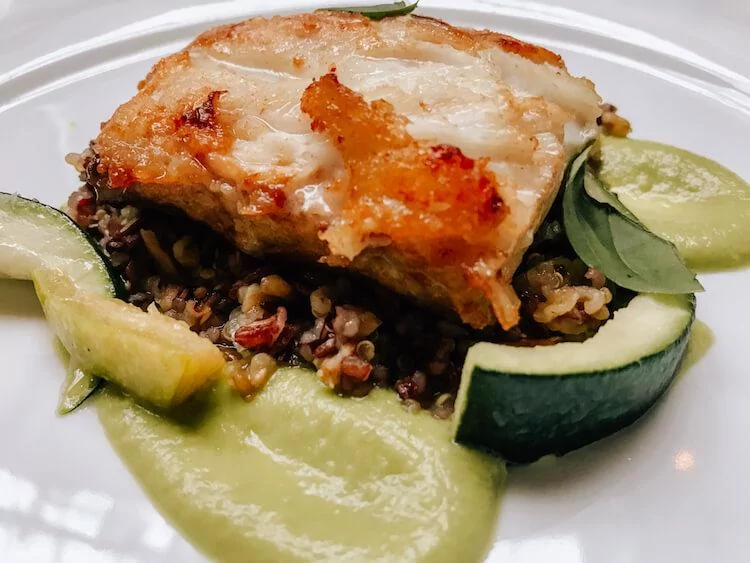 I ordered the 6-course menu and was delighted by the best cold poached tuna with perfectly cooked potatoes, a rabbit mortadella that was so creamy, and wreckfish served with a green garlic sauce over grains and summer squash that was tempting to actually lick off my plate.
What I love about this place is that, while it is a tasting menu, the prices are actually affordable, with the 4-course dinner being $65 per person and the 6-course being $85. So if you want a nice date night in Savannah or you're here for a Savannah honeymoon itinerary, this is the place.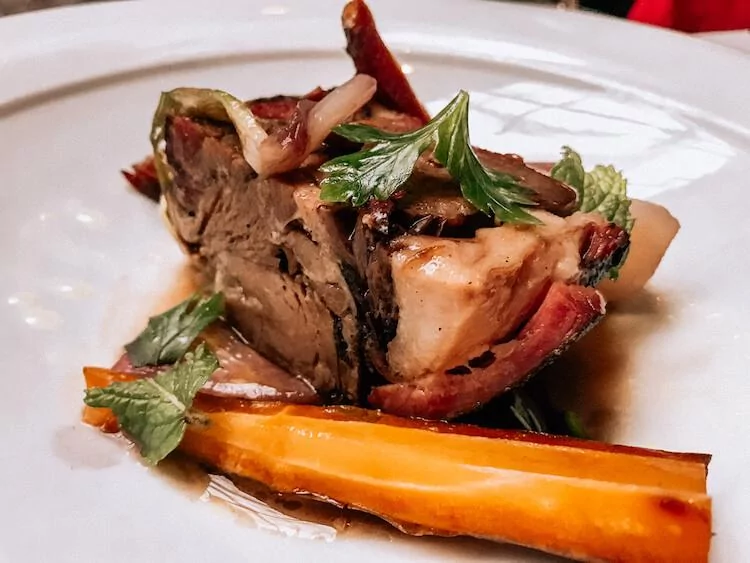 After the incredible tasting menu at The Grey, it is time to head back to your hotel and dream about your time in Savannah before returning home.
PS- Be sure to make reservations here! Spots open a month in advance and book up fast!
If You Have 3 Days in Savannah or More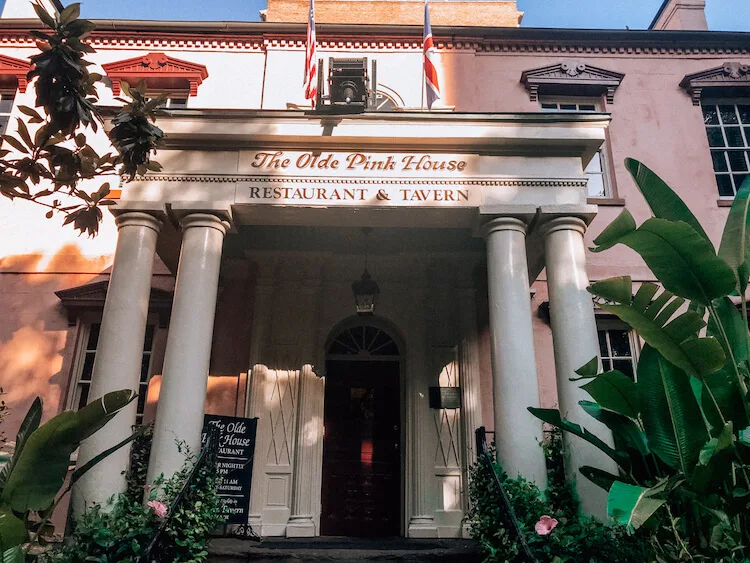 If you are lucky to have 3 days in Savannah or more, then you can definitely take your time. You can space out the activities above and add on things like:
When to Visit Savannah, Georgia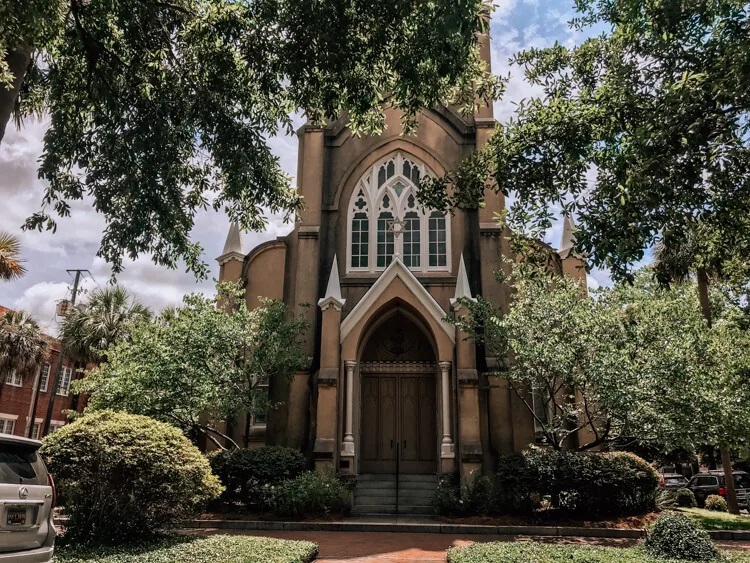 Savannah is a lovely place to visit year-round, however, the summers can be quite crowded and hot.
I'm not talking about just being warm, but the humidity will get you too! I visited in June and was sweating quite a bit. It was very hot.
If you don't love hot weather and taking showers twice a day, maybe avoiding the months of June-August are a good idea.
This is also a more expensive time of year to visit as many families visit on summer breaks or people just take off more time in the summer in general. So to save a bit of money and beat the heat, March-May and September-October are ideal times to visit Savannah.
Where to Stay in Savannah, Georgia
If you only have a weekend in Savannah, then you should definitely stick to the Historic District. This area is full of hotels ranging in prices, as well as VRBOs for those on a budget!
Budget: Residence Inn Savannah Downtown/Historic District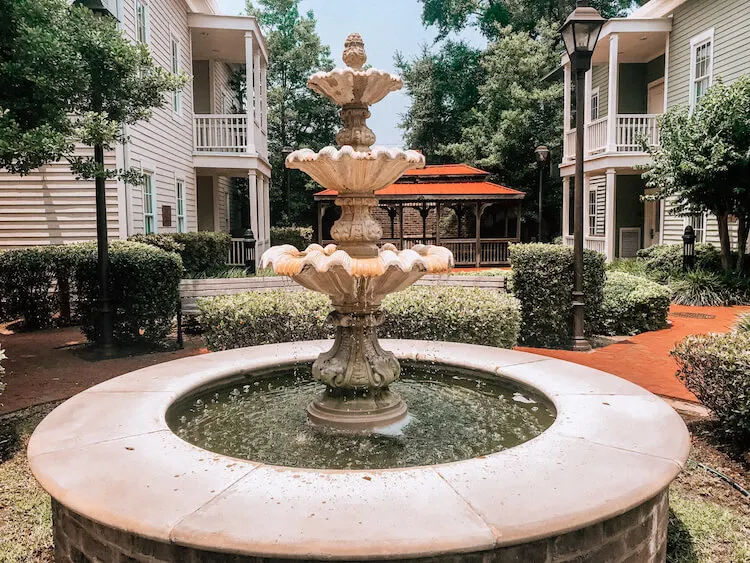 Located not too far from The Grey and within walking distance of many attractions in the Historic District, this hotel is definitely not super fancy, but it does the trick. I stayed here on my last night in Savannah and appreciated the pool which is great to cool off in after a day of walking around and the room was very spacious.
Plus, at a price of $160 per night, it is a good deal in Savannah!
Mid-Range: River Street Inn
This place is fantastic and located right on River Street! I stayed here my first couple of nights in Savannah and loved it. First of all, the rooms are lovely with plenty of space to stretch out. Secondly, the staff are super attentive, and there is even a free happy hour Monday through Saturday in the River Street Inn's Tavern where you get free drinks from 5-6:30 pm!
Oh, and after searching on TripAdvisor, this place didn't appear to be haunted (and I had no issues either if that is a concern of yours like it was for me)!
Plus, the hotel is very charming and built in a revamped cotton warehouse. Prices start around $220 per night.
Mid-Range: Mansion on Forsyth Park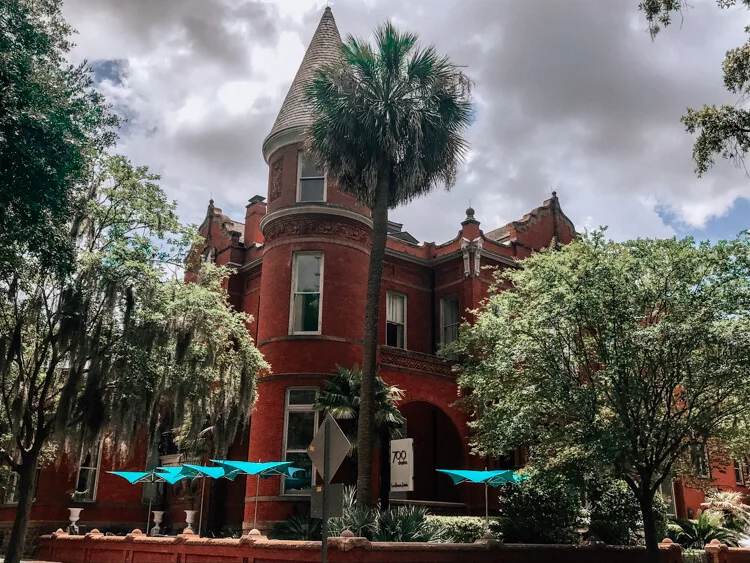 This restored Victorian-Romanesque hotel overlooks the iconic Forsyth Park and has dazzling furnishings all over the place. The rooms are very comfortable, and there is even a spa on the premises to relax in after a day of exploring. Prices start around $250 per night.
Luxury: Kehoe House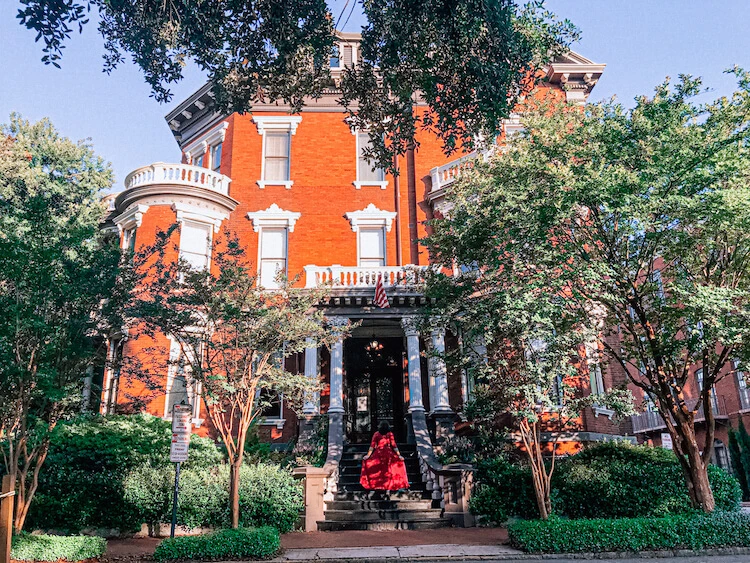 This adults-only hotel is great for a romantic weekend getaway in Savannah! Located on Columbia Square, this place is in the heart of the historic district. They also offer free wine and hor d'oeuvres, desserts, and a full breakfast. It is also widely recognized as one of Savannah's best hotels! So for a splurge-worthy trip to Savannah, definitely check this place out.
PS- it is haunted, so if you're into staying in a charming and haunted mansion, go for it!
Prices start around $400 per night.
Logistics For Your 2 Days in Savannah: Getting There and Getting Around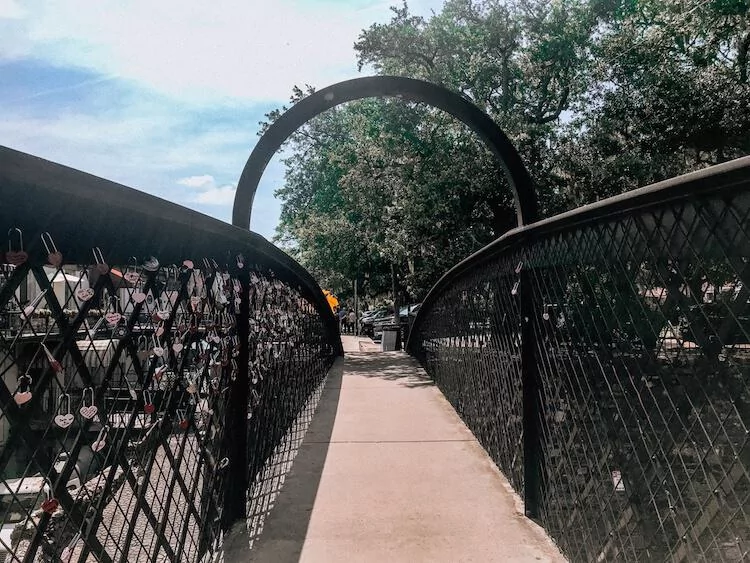 Spending 2 days in Savannah kind of requires figuring out how to get there and get around. Luckily, I have all the details for you!
To get there, flying is definitely the easiest. The Savannah/Hilton Head Airport is only about 20 minutes from downtown Savannah, making it a great option for a quick weekend in Savannah!
And, lucky for you, many airlines fly there, including discount airlines like Allegiant, Southwest, and Frontier as well as airlines like Delta, United, and American Airlines.
I found a great deal on Skyscanner for direct flights to Savannah round trip for only $163 so I definitely jumped on that! No travel hacking needed!
If you do live within a day's drive or so and prefer to drive, that is definitely an option too. Or you can fly and rent a car here. I love checking Rentalcars.com for deals on rental cars!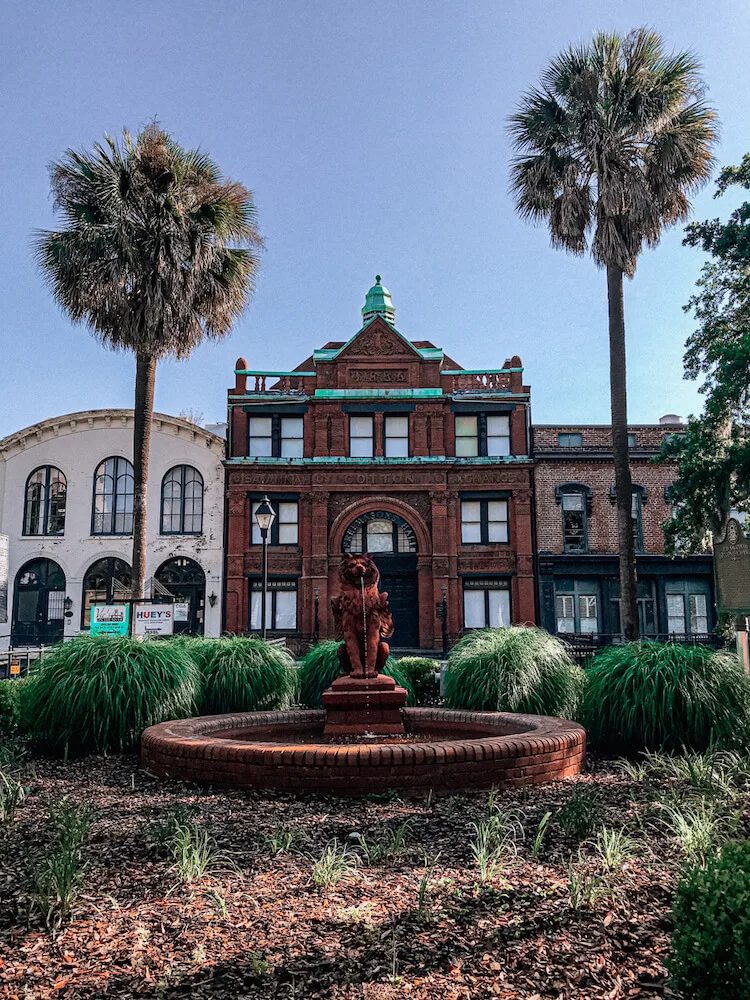 Just an FYI, though, many places require payment for parking, so be sure to add that to your Savannah budget.
Once you get to Savannah, Uber and Lyft are available from the airport and around the city. But Savannah is actually pretty walkable once you're here!
I walked all over the city during my time here and really enjoyed it! Just pack plenty of water for hot days!
There is also the option to do trolley tours around the city that act as hop on/hop off buses and you can hit up the main attractions at your leisure.
What to Pack For a Weekend in Savannah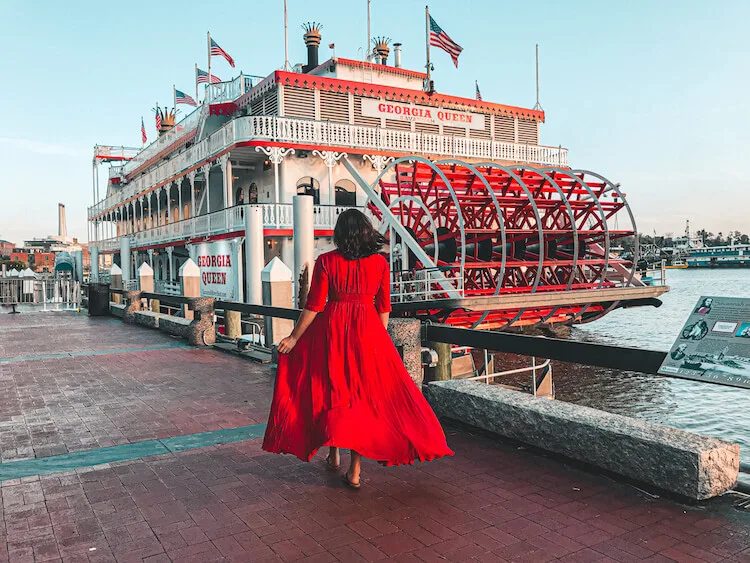 When it comes to what to pack for a weekend in Savannah, you're definitely going to want clothes that'll keep you cool!
Start off with comfortable walking shoes. Seriously, if you plan to walk around all day, you want some good shoes. I love my Oofos sandals as well as my Keds for wandering around cities, especially in the summer months.
Shorts are a must as well as nice shirts too. I also made sure to pack a couple of dresses for photos as well as my nice dinner at The Grey.
Also, as short storms occur randomly throughout the day, especially in the summer, having an umbrella is key.
Definitely bring sunscreen and bug repellent as well because the sun and mosquitos are relentless! Seriously, I never get bit at home, but I was eaten alive in Savannah because I completely forgot my Badger Balm (which I swear by- love this stuff!).
For taking photos, I love my new Olympus camera that is perfect for beginners! And for taking photos of myself, I'll just use my phone and this awesome Tripod!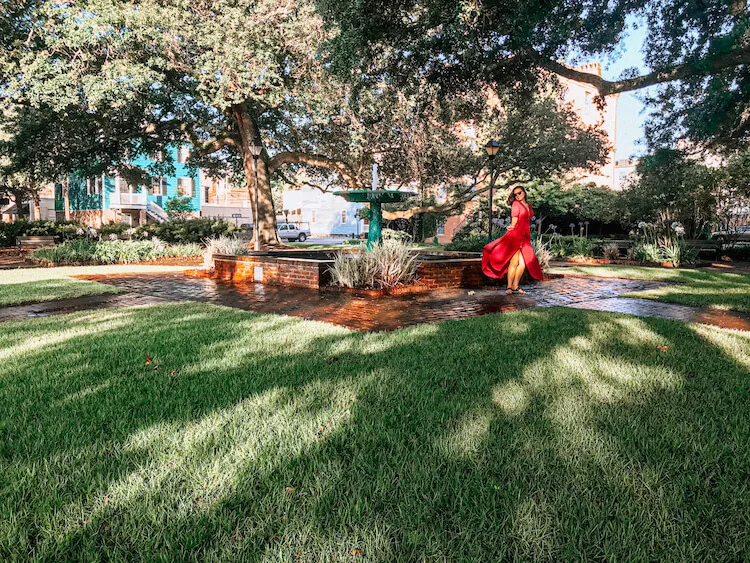 And, as I'm a carry-on only traveler, I love my Osprey Backpack that has been all over the world with me and these packing cubes to stay organized.
Lastly, if you're visiting from outside North America, be sure to grab an international adapter to help you plug in your things!
A weekend in Savannah, GA is the perfect amount of time to enjoy the sights, sounds, smells, and tastes of this enchanting town. From the southern charm to the dazzling squares, there are plenty of things to do here for a romantic Savannah, GA itinerary!
It easily makes the list of perfect US honeymoon destinations, Top Honeymoon Road Trips, and a US bucket list spot!
I hope you have the best time during your 2 days in Savannah. It really is a fantastic destination!
Would you visit Savannah? Let us know your thoughts in the comments!
Read more:
Pin it here!