Some posts on this site contain affiliate links, meaning if you book or buy something through one of these links, I may earn a small commission (at no additional cost to you!). Read the full disclosure policy here.
---
Y'all, it's freezing! Okay, maybe not where you live, but in Cleveland, Ohio, things get really cold in the winter. So if you're in search of warm winter vacations in the USA like I once was, you've come to the right place!
Of course, there are some incredibly romantic places to visit in the US year-round, but sometimes after scraping ice and snow off your car for a month straight, the cold weather loses its appeal.
I get it. That's why I've worked with some of my favorite travel bloggers to combine a list of the best warm winter vacation spots in the US that'll make you forget that it is winter.
From beachy locales to sunny places, these are hands down the best warm winter destinations in the USA.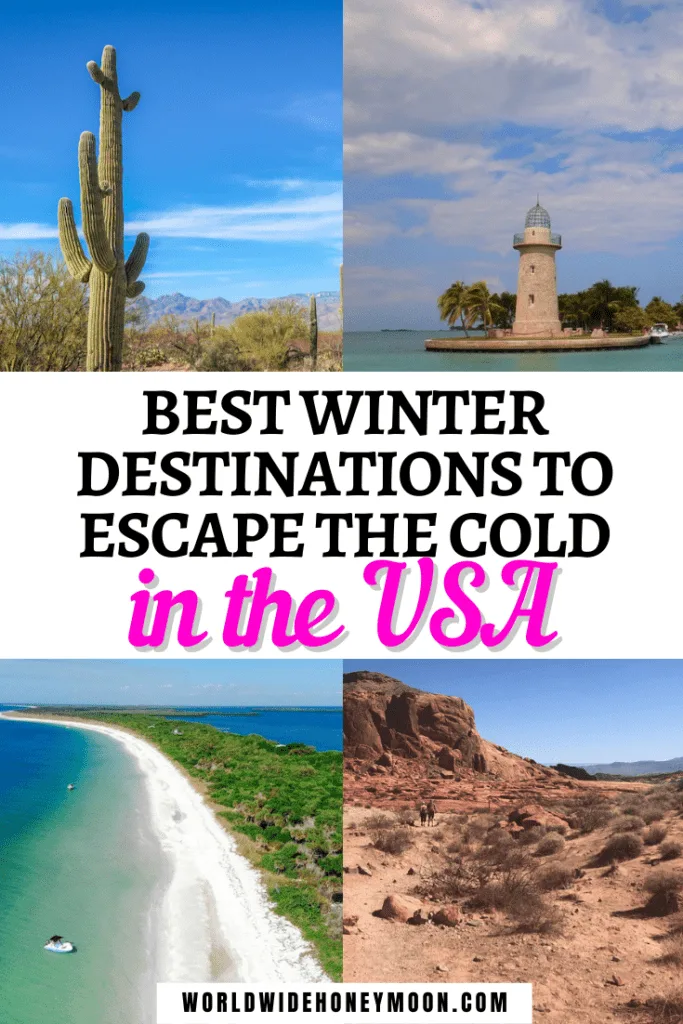 Best Warm Winter Vacations in the USA
Discover where the best warm places in winter in the USA are and plan that getaway ASAP!
1. San Diego, California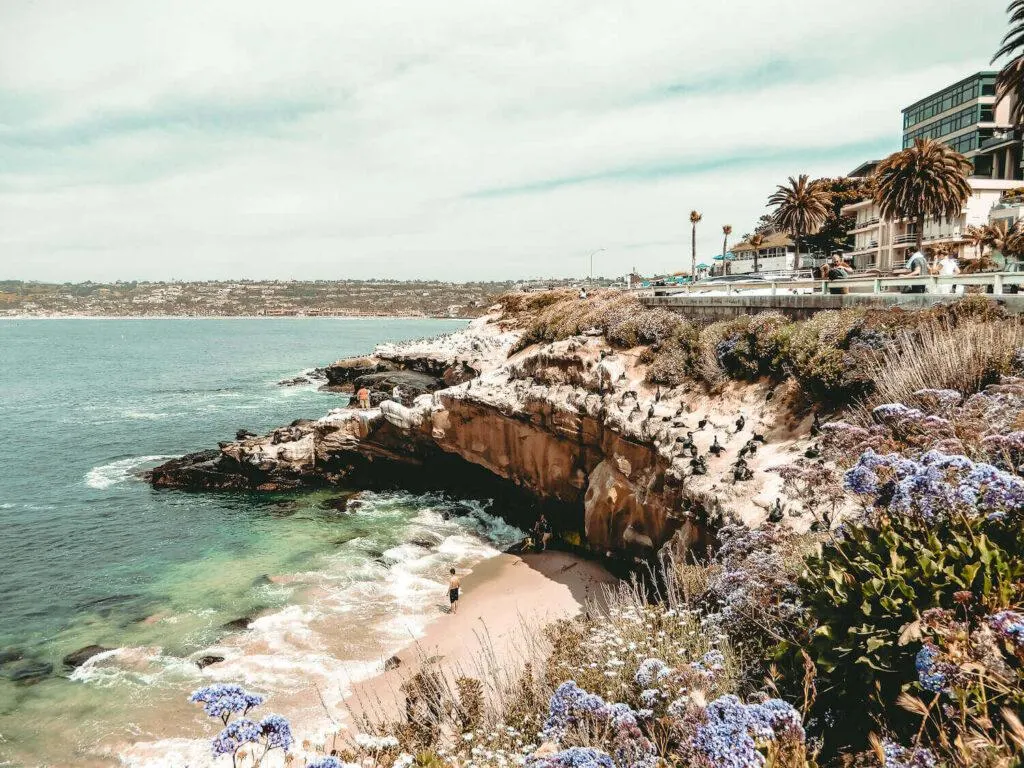 With few rainy days each year and perfectly mild weather, San Diego easily makes the list of warm winter getaways in the USA. Yes, it definitely can rain during the winter here, but there are plenty of sunny days too!
Temperatures hover between 50-65ºF during the winter months, which means you'll need just a light jacket instead of a heavy-duty parka.
Some incredible things to do in San Diego in the winter include visiting the San Diego Zoo, exploring Balboa Park, feasting on amazing tacos, and visiting the sea lions and seals at La Jolla Cove. Also, in February, you may even spot seal pups being born!
Winter also brings in gray whales so it is prime time for whale watching!
For a great hotel in downtown San Diego, opt for Springhill Suites San Diego Downtown/Bayfront.
2. Maui is Definitely One of the Best Warm Winter Getaways in the USA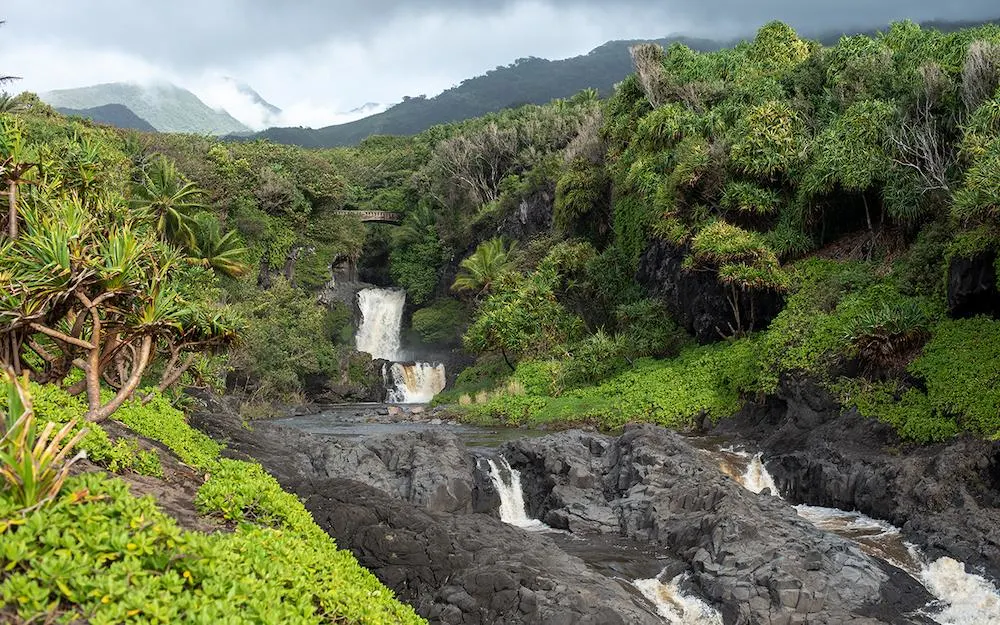 Maui is one of the most beautiful Hawaiian islands. The best time to visit is from November to March. With the island's highlights such as the Road to Hana, whale watching tours, snorkeling with turtles or dolphins, and helicopter flights over the jungle, you won't get bored.
In addition, paradise beaches, waterfalls, wonderful holiday resorts, and excellent Hawaiian cuisine make it a perfect place for winter relaxation. What's more, the island has the amazing Haleakala National Park.
The summit rises at 10,023 feet above sea level and offers spectacular sunrises. It's worth getting up at 3 am to see this spectacle of nature. The park also has some great hiking trails and one of the most beautiful waterfalls on Maui called the Seven Sacred Pools.
They are at the end of the road to Hana, after the town of Hana, which is considered one of the most scenic routes in the United States. It winds like a serpentine for 64 miles and has 620 curves and 59 bridges.
In addition to the beautiful nature, Maui has charming towns full of shops with local handicrafts, great cafes, and restaurants serving fresh and delicious meals. It is worth seeing Paia, Lahaina, Makena, Wailea or Kapalua and Kaanapali. The most typical Hawaiian meals worth trying during a visit are Poi, Loco Moco, Laulau, Kalua Pua'a, poke, Lomi Lomi Salmon, and Lau Lau.
The accommodations option is broad, from exclusive resorts to boutique hotels and cabins to cheaper chain hotels on Maui. One of the best places to stay is in Lahaina and Kaanapali. Excellent resorts are Lahaina Oceanfront Estate or Royal Lāhainā Resort.
Submitted by Agnes and Chris from The Van Escape.
3. St. Thomas, US Virgin Islands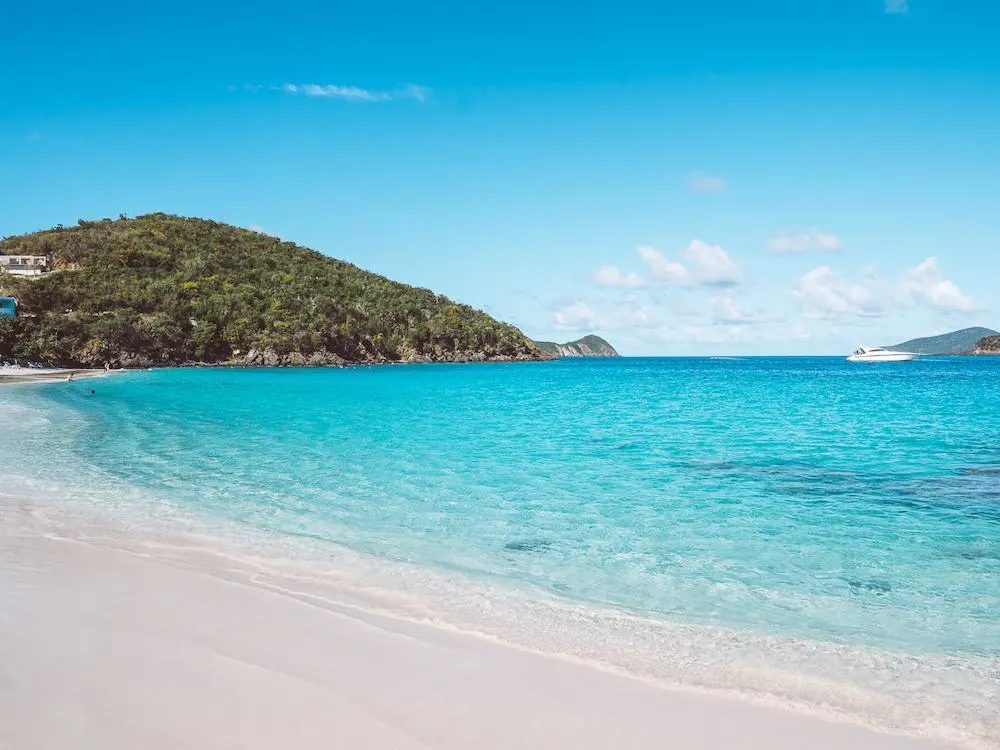 St. Thomas is a beautiful island destination for a warm winter escape in the US. Although it is located all the way in the Caribbean, Americans flock here because of how easy the island is to visit.
First of all, St. Thomas is located in the US Virgin Islands, meaning Americans can enjoy a Caribbean vacation here without a passport. Second, visitors can simply fly into the Cyril E. King Airport right on St. Thomas and then head straight to their lodging.
St. Thomas is famous for its most beautiful beach, Magens Bay. Magens is long with super calm waters and great amenities, but it can get quite busy. Therefore, Coki Beach or Sapphire Bay are great alternatives with equally gorgeous scenery.
The best activities on St Thomas primarily involve getting on the water, with kayak and snorkel rentals available at most beaches. For a bigger adventure, join a boat charter with a company like Bad Kitty to go island hopping, snorkel in remote spots, and even eat lunch at a floating taco bar.
St. Thomas also has a great food scene, with many great restaurants in its town of Red Hook. Here, you can find anything from casual burgers at Duffy's Love Shack or more elegant dining at The Easterly. Outside of Red Hook, Sunset Grille at Secret Harbour offers fine dining with sunset views.
For a place to stay that offers beauty and convenience, the Sapphire Bay Resort Condos is a perfect choice. These condos sit right on Sapphire Bay Beach and offer beautiful sunrise views and close proximity to the restaurants of Red Hook.
Submitted by Theresa from Fueled By Wanderlust.
4. Austin, Texas is One of the Best Warm Vacation Spots in the US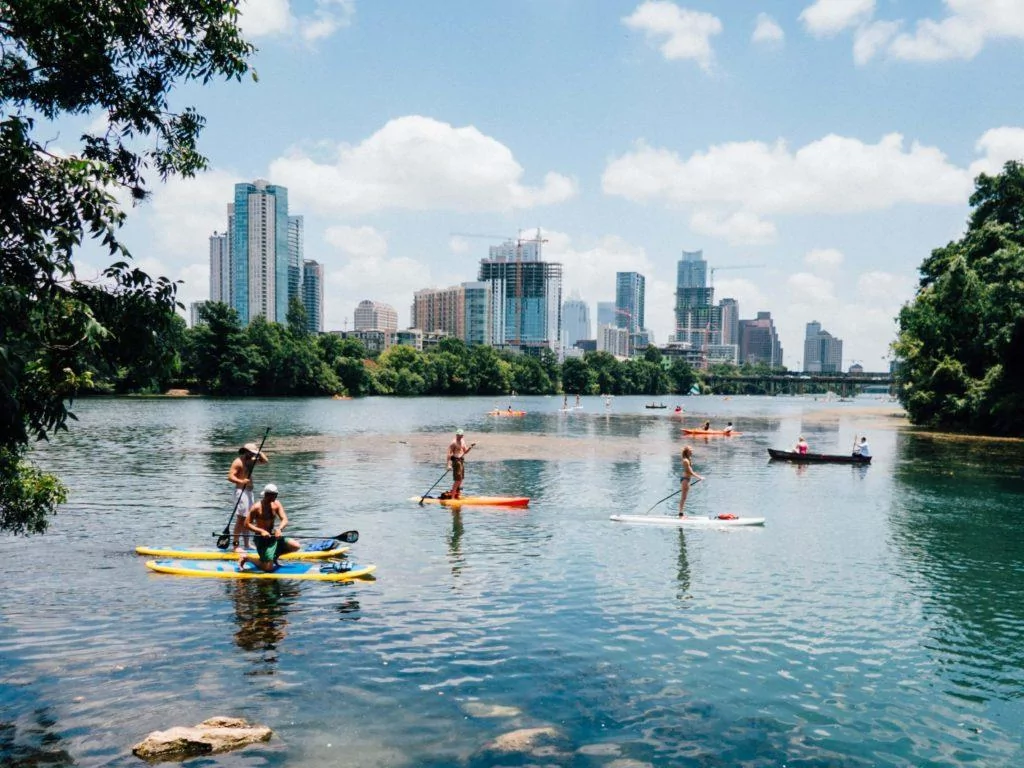 I'll be honest that while yes, Austin, Texas can definitely be one of the warm places in winter in the USA to visit, it can go either way. Will it be warmer than the northern US states? Definitely! But in the months of December and January, there are days where it could be chilly and days where it's very warm.
Temperatures generally hover in the high 40s at night up to 70ºF during the day. So again, you'll likely be in for a much warmer trip than up north.
You're also visiting outside of the main busy tourist season, meaning hotel prices will be great at places like the Hyatt Regency Austin.
Some incredible things to do while spending a weekend in Austin include checking out the incredible taco and beer scene, visiting the Texas State Capitol, partying at Rainey Street District, and kayaking on Lady Bird Lake.
5. Anna Maria Island in Florida is One of the Best Winter Beach Vacations in the US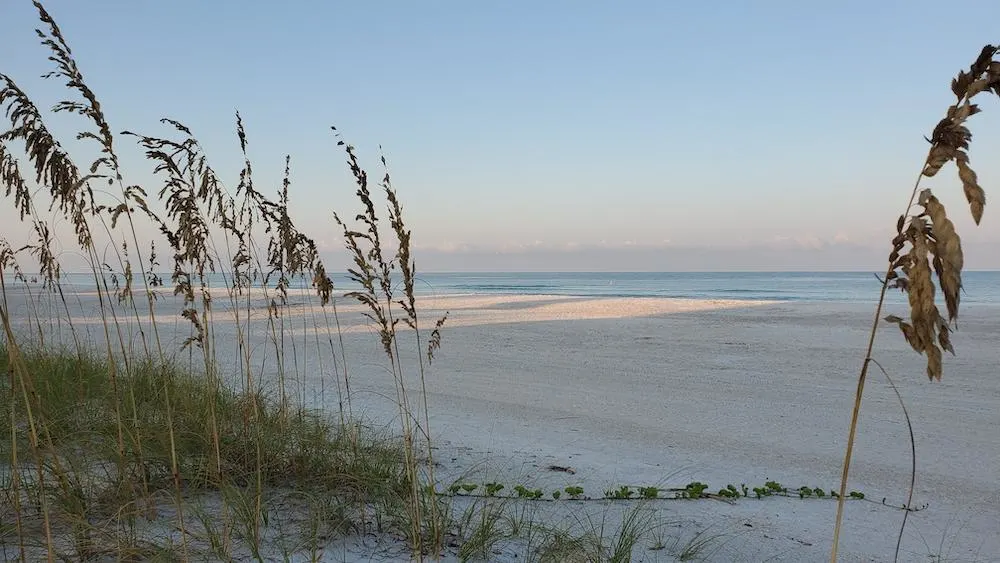 If you are looking for a perfect warm winter destination in the US, Florida will probably come to the top of your list, and for a good reason. The sunshine state is always a great option for anyone looking for sun and fun, including during the wintertime.
One of the best spots in Florida to enjoy some pristine beaches and the feeling of old Florida is Anna Maria Island. Anna Maria Island has amazing things to do, from exploring the stunning beaches with powdery white sand to outdoor activities such as hiking, kayaking, and bicycling.
Winter is the best time to visit, because the temperatures are cooler, and it is considered the low season. You will find amazing things to do, without the crowds that normally visit during the summertime. Plus, you will be able to find better deals on accommodations.
Anna Maria Island is located on the western side of the Florida Central Gulf Coast, only one hour from Tampa Bay via car. You can get to Anna Maria Island by arriving at the Tampa International Airport, or another option is to fly into the Sarasota-Bradenton International airport that is located only 30-minutes from Anna Maria Island by car.
There are several great options for accommodations, such as the Compass Hotel by Margaritaville Anna Maria Sound, with a restaurant, an outdoor swimming pool, and a fitness center.
Submitted by Paula from Paula Pins the Planet.
6. Orlando, Florida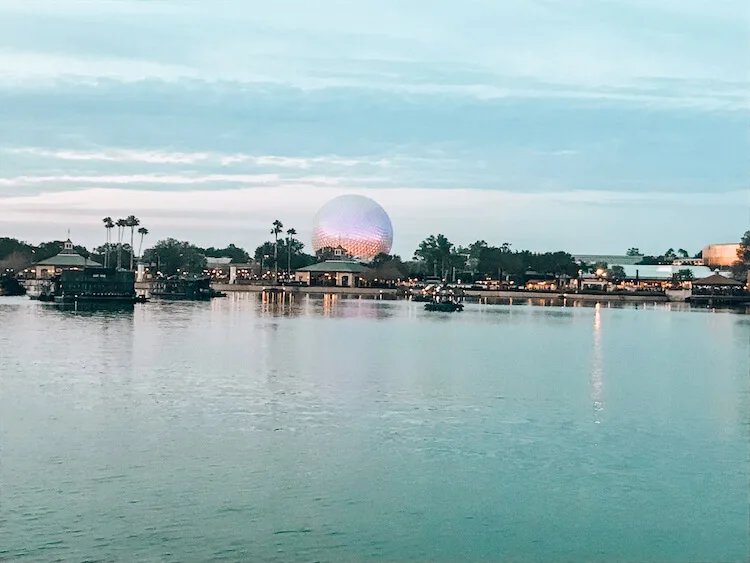 Orlando, Florida is one of the best warm places to visit in January in the USA. First of all, Disney in January is a really fun time to visit, especially if you're a runner!
The Walt Disney World Marathon Weekend occurs the first Wednesday-Sunday of January and includes a 5k, 10k, half marathon, and full marathon. Get dressed up and run through the parks in this fun race series!
Aside from the marathon, EPCOT has its annual International Festival of the Arts during the winter. It is also a little less busy this time of year with kids back in school, and the temperatures are much milder than the height of summer.
Also nearby in Orlando is Universal Studios! Visit Harry Potter World and enjoy this theme park with fewer crowds as well!
And if you prefer to visit Orlando in December, there are few places as magical as Disney World at Christmas!
For a fun warm winter escape to Disney, opt for Disney's Polynesian Village Resort.
7. Las Vegas, Nevada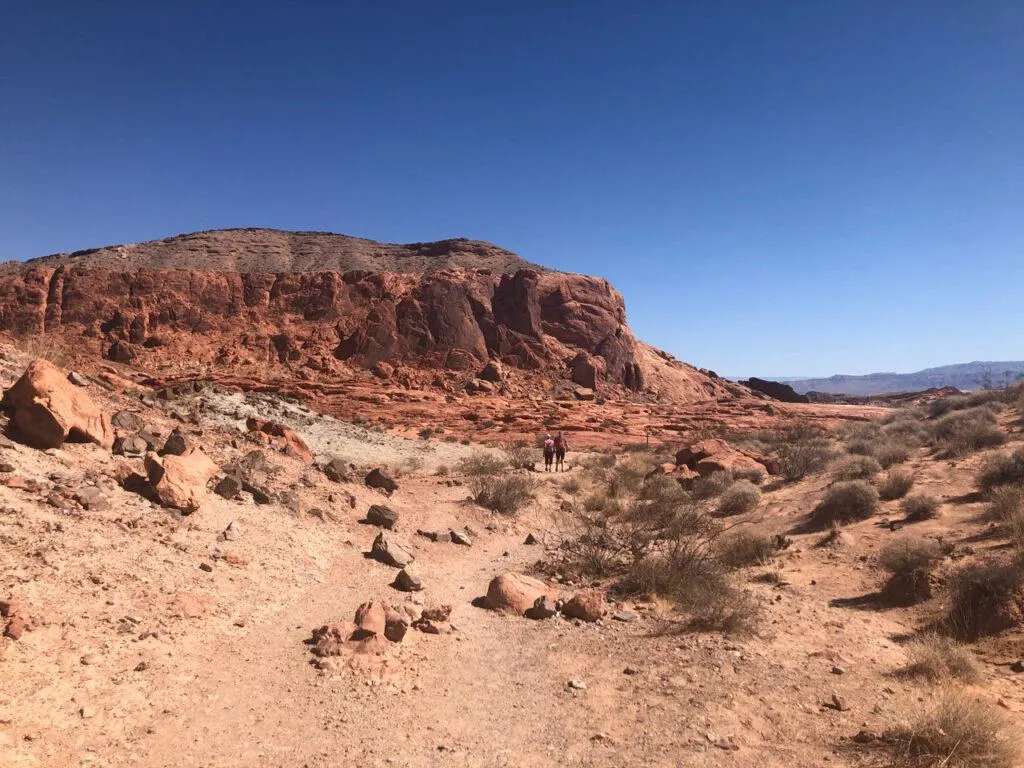 Las Vegas is an amazing destination for a warm winter vacation in the USA. Even if you have no interest in gambling, Las Vegas has a lot to offer anyone looking to enjoy some warm weather, lounge by the pool with a cocktail in hand, do some fantastic shopping, or eat at world-class restaurants owned by celebrity chefs.
One of the best things to do in Vegas is walking the length of the Las Vegas strip at least once during your stay. The strip is approximately 3 miles long and is packed with stores, restaurants, people, and the most famous of the Vegas hotels and casinos, like the Bellagio, Paris, Venetian, Caesars Palace, and the Wynn.
It is fantastic people-watching and a great welcome to experience what Vegas is all about. Las Vegas can be pretty expensive, but there are money-saving tricks and other travel tips to make the most out of your vacation to Vegas. For example, try to catch one of the free shows at The Fountains of the Bellagio, which you can see right from the Strip.
Depending on the day and time, they run every 15 or 30 minutes. During each show, more than a thousand fountains sway in front of the hotel, enhanced by music and light.
If you enjoy hiking and nature, then you have lots of options from 40 minutes up to several hours away. If you are only looking for a half-day trip, consider Red Rock Canyon National Preserve or The Valley of Fire State Park.
Both parks are absolutely stunning with brilliant red rock and sandstone formations. You can drive through the parks and stop to take amazing photos or take one of the dozens of hikes for all levels.
Submitted by Nicole from Go Far Grow Close.
8. Best Warm Winter Vacation Spots in the US: Savannah, Georgia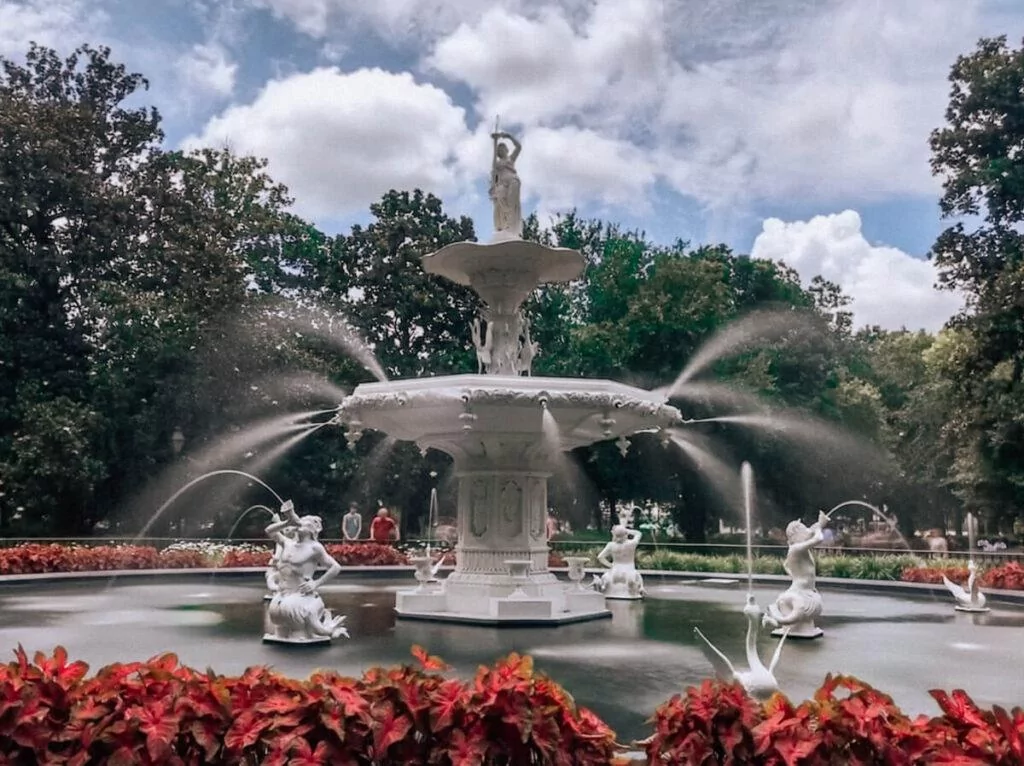 Spending a weekend in Savannah is always a delight. This southern city is full of great eats, beautiful city squares, haunted history, and so much charm.
There are plenty of romantic things to do in Savannah throughout the year, but the winter months draw in fewer crowds and the temperatures are much cooler and milder than the summer.
Things to enjoy during a trip to Savannah include a haunted ghost tour, exploring River Street, admiring the several city squares, feasting on southern cuisine around the city, and definitely visiting Tybee Island. I highly recommend spending a couple of days on Tybee if you can, especially so you can catch a gorgeous sunrise!
For a romantic place to stay in Savannah, the Kehoe House fits the bill and is situated on one of Savannah's most charming squares.
9. Los, Angeles, California is One of the Great Warm Places to Visit in the Winter in the USA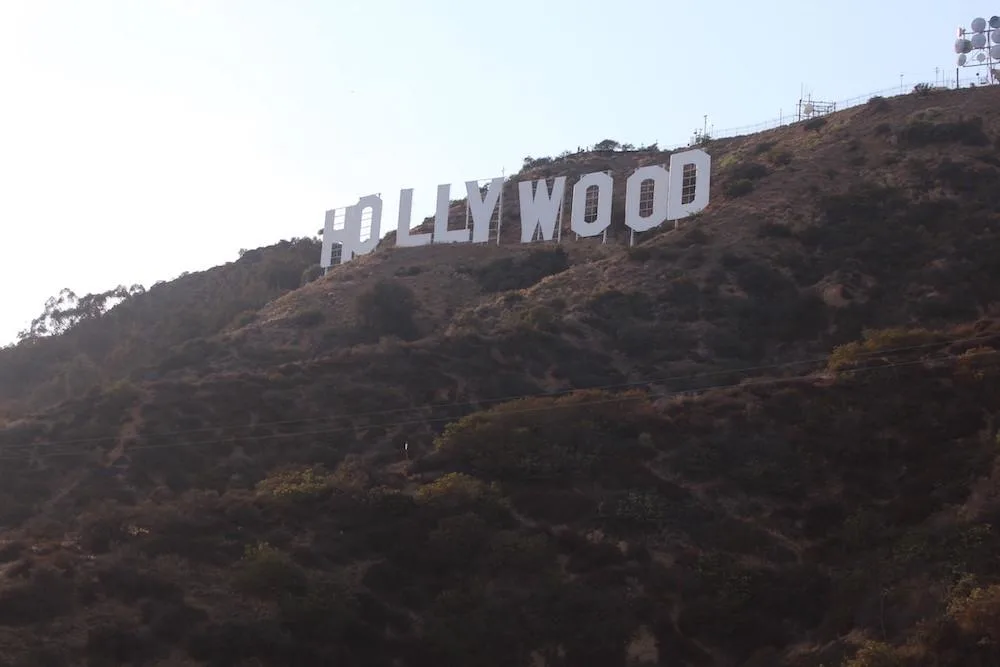 When looking to escape the winter and stay in the states, why not consider Los Angeles as a city to spend your days? Home to some of the prettiest beaches such as Venice Beach, Long Beach, and Santa Monica Beach, you'll be spoilt for choice.
Everyone knows that Los Angeles is known for its celebrity lifestyles and Hollywood glamour, and with all the eclectic mix of restaurants in North Hollywood and Beverly Hills, you can find something to suit the most extravagant budget. You also have places such as downtown, Little Tokyo, and the Arts District to check out if you want to connect with a more bohemian side of the city.
However, if you want to stay right on the ocean and walk from your room to the beach in a few footsteps, check out Venice on the Beach Hotel for a reasonably priced place to stay. As always, there are some attractions you can not leave LA without seeing which include Hollywood Boulevard, for its gigantic souvenir shops and cartoon characters.
Then there is the nearby Hollywood Sign which you can get an Uber close enough to be able to get some great photos without doing any hiking. All in all, Los Angeles is a great place to soak up some sun rays during the winter whilst getting acquainted with some of the finest feats of American culture.
Submitted by Dan from Urban Abroad.
10. Solvang, California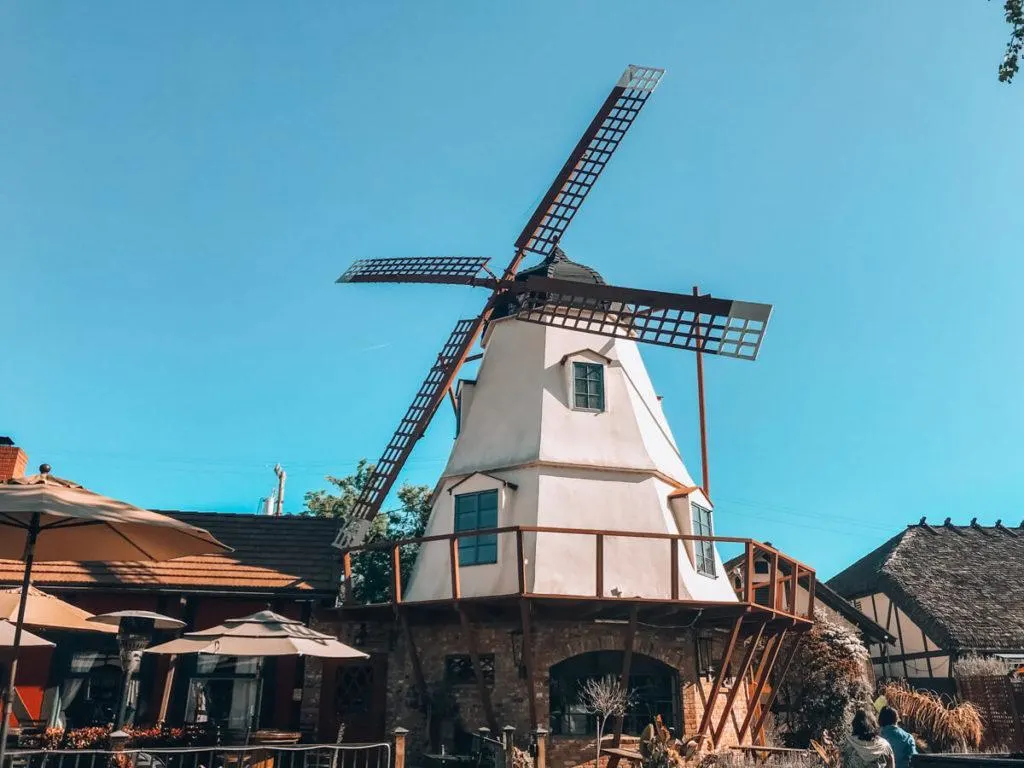 With cooler evenings and perfectly mild and warm days, Solvang is the perfect place to visit for a weekend full of wine, Danish treats, and shopping.
As far as warm places in December in the USA that have all the Christmas vibes, you can't go wrong with a visit here. They know how to celebrate during the whole month of December with the Julefest Christmas Celebration including the tree lighting ceremony, the Julefest Parade, Santa's Village, candlelight tours, and more.
Visit Jule Hus while you're there for all the Christmas decorations you could want too!
Aside from Christmas cheer, you can enjoy several incredible wineries in the Santa Ynez Valley, partake in a horse-drawn carriage ride, and admire this uber charming Danish village complete with windmills!
Royal Copenhagen Inn is a great place to stay while you're exploring this warm winter destination in the USA!
11. Biloxi, Mississippi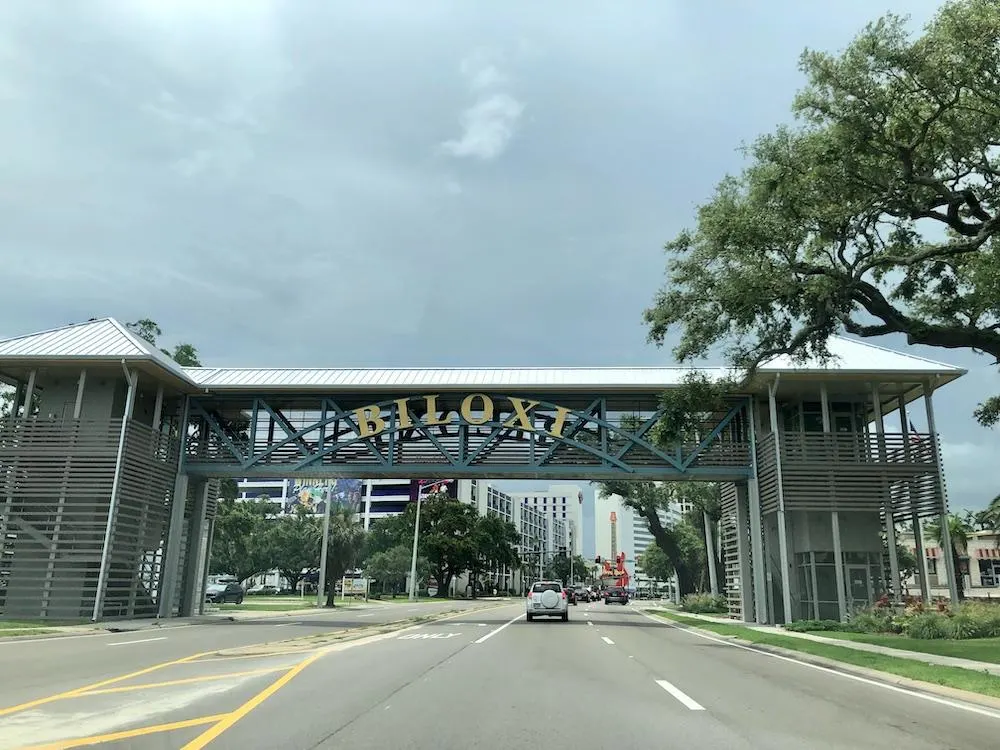 If you're looking to escape the cold, one of the best warm winter destinations in the US is Biloxi, Mississippi.
There are so many great reasons why Biloxi is the perfect winter escape. First, Biloxi is home to some of the best beaches in the USA. If you're looking for a place to relax and soak up the sun, Biloxi's beaches have you covered.
Plus, Biloxi is home to a rich history and culture that's waiting to be explored. There's plenty to see and do in Biloxi, from the museums and casinos to the charming downtown area. Lastly, Biloxi is known for its fantastic seafood, and there are plenty of great restaurants to choose from in town.
There's no shortage of activities to keep you busy in Biloxi. The Maritime and Seafood Industry Museum is a must. You'll learn more about the seafood industry, coastal and environmental conservation, and more. You should also pay a visit to the Biloxi Lighthouse, and you can admire it from outside or take a guided tour.
If you want to learn more about American history, take a tour of Beauvoir. This was Jefferson Davis' home, and you'll learn about life during wartime. Further, take a boat tour around Coastal Mississippi. You'll get to explore small islands, bayous, and more while enjoying live music and a meal.
There are several world-class casino resorts to stay at, but Beau Rivage Resort & Casino is one of the best. It's on the water, making it the perfect place to relax after a long day of exploring.
Submitted by Disha from Disha Discovers.
12. Escape the Cold in the Winter in the US in Culebra, Puerto Rico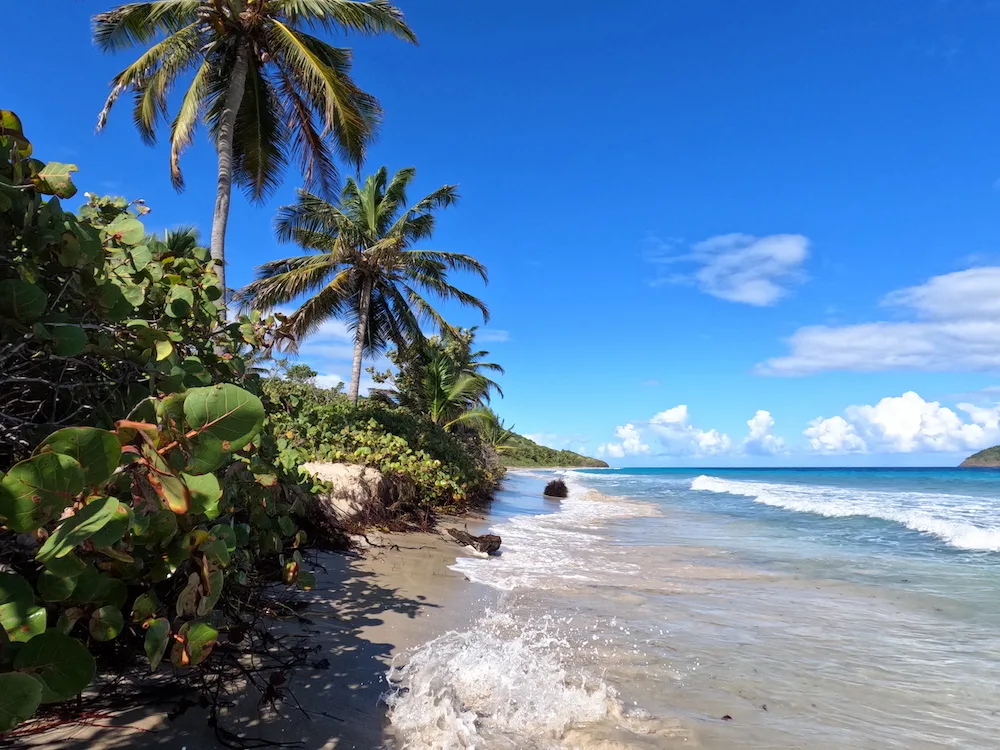 One of the best places to visit during the winter is Culebra, Puerto Rico. Located in the Caribbean, it's a great escape to tropical temperatures during the coldest time of year on mainland USA.
Culebra is a tiny island off the southeast coast of mainland Puerto Rico. It requires a ferry ride or extra plane ride, but it's so worth it! The island's most prominent feature, and what draws visitors in, is the world-famous Flamenco Beach. Its luxurious sand and brilliant teal water are quite literally the perfect getaway.
From snorkeling tours to wildlife and street art, there are plenty of things to do in Culebra. Try the secluded Zoni Beach for swimming or Tamarindo Beach for snorkeling.
Part of the allure with Culebra is its natural coastline and laid-back island feel. You won't find large hotels, department stores, or chain restaurants.
Accommodations are limited on this tiny island so booking far in advance will provide the most options. Most vacation properties are perfect for couples, so if you're traveling with a larger group, you might need to get creative with the options! Try the Costa Bonita Villas for beautiful island views and a pool.
If you want to see one of the most beautiful places on earth, then Culebra sounds like the right destination for you!
Submitted by Nikki from She Saves She Travels.
13. Joshua Tree National Park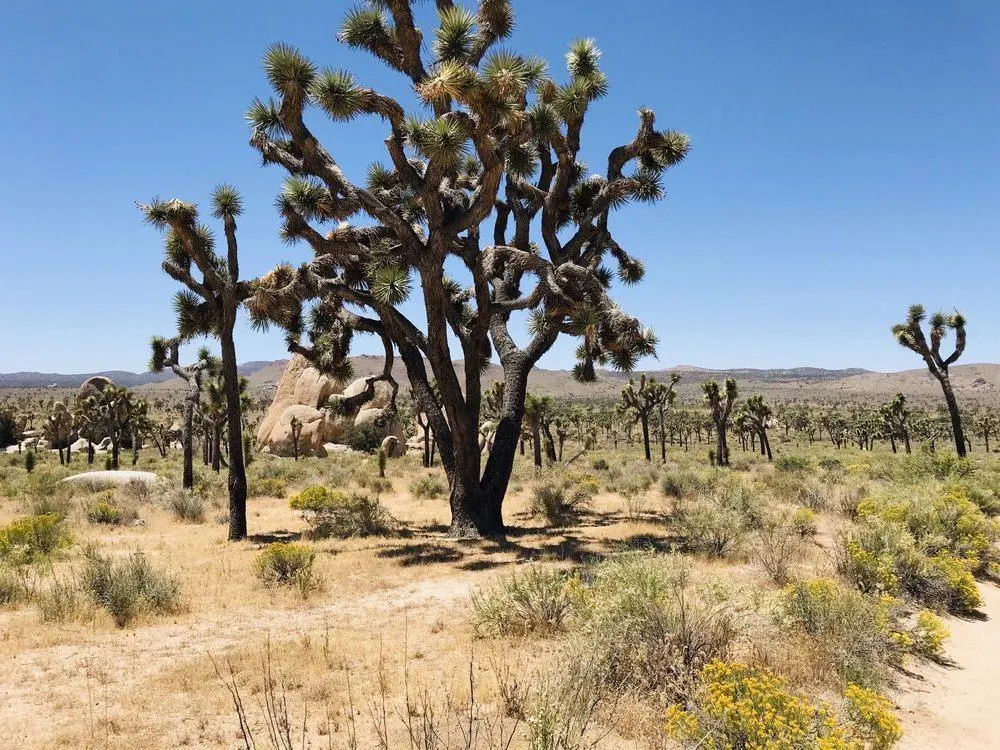 Being located in the Californian desert, winter is the best time to visit Joshua Tree National Park. If you want to escape the cold in the US, your next destination should be Joshua Tree where you will get comparatively high temperatures, abundant sunshine, and fewer crowds.
There are plenty of scenic hiking trails in Joshua Tree which are pretty hard to hike during the summer months due to the high temperatures, but during the winter months, the daytime temperatures (hovering around 60°F) are perfect to explore these trails. From hiking and rock climbing to stargazing and camping, winter in Joshua Tree is a paradise for outdoor activities.
There are plenty of beginner's trails as well as moderate and hard trails in the park. Ryan Mountain is the most popular trail which is just 3 miles long and offers amazing views of the desert. You can also hike the Panorama Loop and Discovery Trail and explore the geological architectures of sandstone rocks.
Adventure junkies must try rock climbing in Joshua Tree. It has more than 8,000 climbing routes and numerous natural gaps and rock formations. Several agencies offer rock climbing lessons by professionals and include gear rental.
Your Joshua Tree itinerary is incomplete without visiting the Cholla Cactus Garden, one of the most popular spots in Joshua Tree. It offers a magical view at sunrise and sunset. After sunset, take the advantage of a pollution-free clear sky and enjoy stargazing in the park. Undoubtedly, Joshua Tree is a popular winter destination in the US.
There are many campgrounds for overnight stays inside the park. If you love camping, Indian Cove and Hidden Valley Campground are highly recommended. La Maison Hotel is a great option if you prefer to stay in a hotel outside the park. It offers all the basic amenities including an outdoor pool.
Submitted by Trijit from Budget Travel Buff.
14. Visit Temecula, California For a Warm Winter USA Destination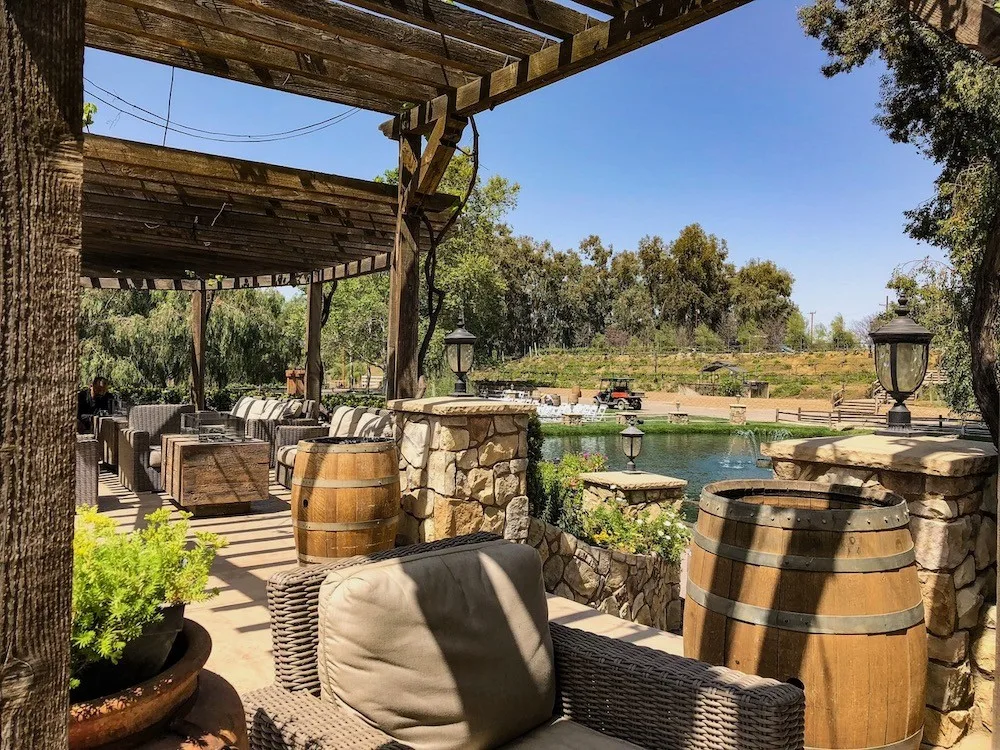 Temecula is a great winter getaway if you are looking for a relaxing wine country destination. Located in Southern California, about 1-hour northeast of San Diego and 1.5 hours southeast of Los Angeles, Temecula stays in the 70s-80s ºF during the day and has nights in the 50s in the winter. Great weather to go wine tasting and exploring!
With over 50 wineries in Temecula to choose from, you will have plenty of options according to your wine preferences. If you don't want to drive yourself, you can also book organized wine tasting tours, either in a group or private. There is even one where you ride in a motorcycle sidecar. How fun is that?
If you really can't get enough of the wine tasting experience, you should stay at one of the Temecula winery hotels, like Europa Village, Carter Estate, or the Inn at Churon Winery.
Floating over the rolling vineyards of Temecula Valley in a hot air balloon is a great way to make your winter getaway even more special. The most popular times are at sunrise and sunset and it can be quite chilly, so dress in warm layers.
Old Town Temecula has so much charm. There are some fantastic restaurants, speakeasies, and breweries that no one in your party will go hungry or thirsty.
For a pampered activity, choose Glen Ivy Hot Springs. This spa offers natural hot springs, pools with mineral waters, and all the luxurious spa treatments you can want.
Submitted by Maria from San Diego Explorer.
15. St. Petersburg, Florida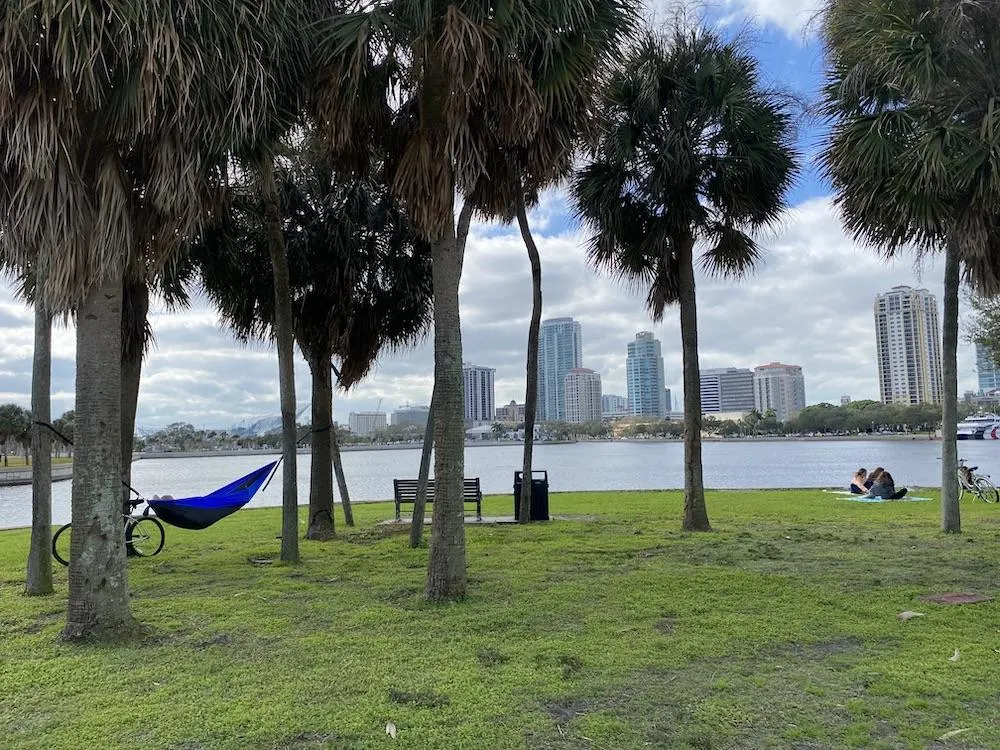 The slogan for St. Petersburg, Florida is "35 miles of beach bliss." Experience the Caribbean on the Gulf Coast when you visit the "Sunshine City."
St. Pete (as it is nicknamed) offers a thriving arts culture, historic communities, waterfront walks, and street art districts. If money is no object, book your stay at the stately pink Don CeSar Hotel on St. Pete Beach. A true legend, the fully renovated Don CeSar won the Conde Nast Traveler Readers' 2021 Choice awards (as well as TripAdvisor).
If you are staying multiple days, designate one for a beach day. Journey down the coast from Clearwater to Pass-A-Grill to enjoy miles of white sand and sea green water. But head back to St. Pete by evening to enjoy its bustling nightlife. You can catch a play or concert, dance at a club, or just enjoy dinner at a bayfront restaurant.
If you visit on a weekend, head for St. Pete Farmers Market to roam the stalls for takeaway foods, gifts, and produce. The afternoon should be devoted to the Warehouse Arts District. You can roam through The Studios at The ArtsXChange where artists rent space at the warehouse.
Spend some time chatting with the artists about their work. Outside, you can roam around the neighborhood to see the art murals on the sides of old buildings. Next morning, go museum hopping and visit the Dali Museum (largest collection of Salvador Dali work outside Europe), the Museum of Fine Art, and the Imagine Museum of Contemporary Glass Art.
Submitted by Terri from Female Solo Trek.
16. One of the Best Warm Places to Visit in the US: Kauai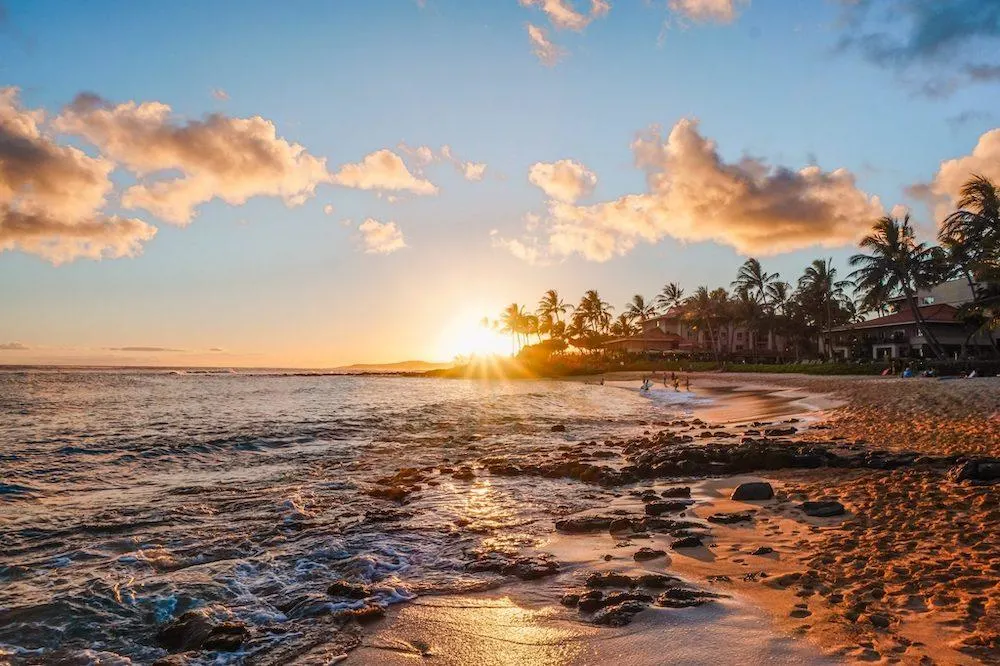 If you are looking to escape winter in the US, Kauai, HI is the perfect place for a relaxing and laid-back vacation. With its beautiful beaches, lush scenery, and vibrant culture, it is a great destination for families and couples alike.
The island offers something for everyone, whether you are looking for an active vacation or some R&R on a tropical beach.
Some of the best things to do in Kauai include hiking, kayaking, and seeing the island from the sky on a helicopter tour. There are many beautiful beaches on the island – keep in mind that not all beaches are safe for swimming and the currents can be really strong so always check the sea conditions beforehand.
When visiting the island, don't miss sailing the Napali Coast, snorkeling on Anini Beach, and driving through Waimea Canyon for some epic views. Finally, Kauai sunsets are some of the most gorgeous in the world so make sure you visit the best sunset spots on the island.
If you are spending a whole week or more on Kauai, you could easily divide your trip between the South and the North Coast. The Grand Hyatt in Poipu is the perfect base to explore the South and East parts of the island. There are few hotels in the North so it is best to stay at a rental. Renting a car is the perfect way to explore the island so you can go at your own pace and access remote hikes and viewpoints.
Submitted by Julie from Wandering Sunsets.
17. Scottsdale, Arizona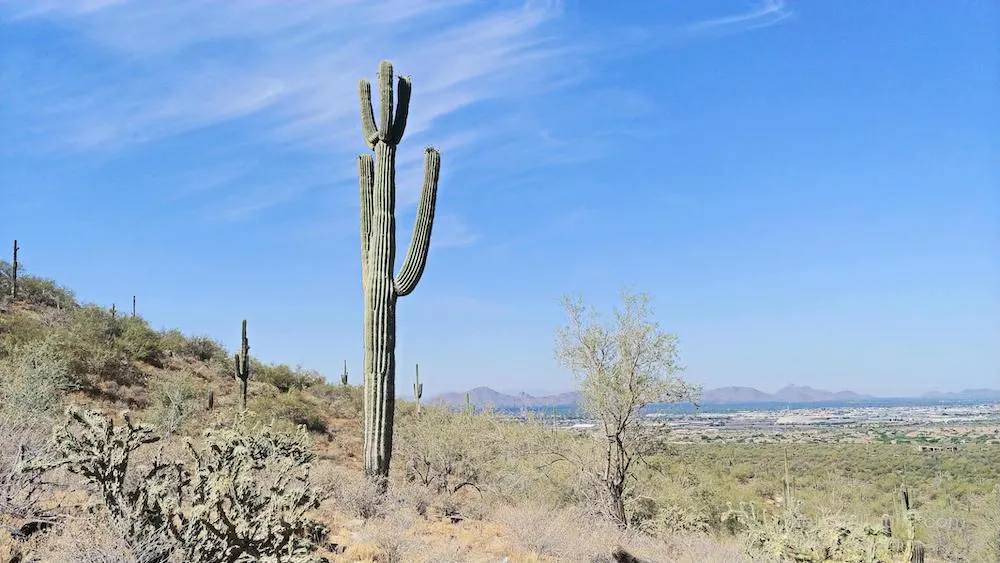 One of the most popular winter destinations in the US is Scottsdale, Arizona, and for several good reasons. The biggest, of course, is the weather. When it starts getting blustery up north, the warm temps and sunny days of the southwest are like a siren call.
Another reason is the foodie scene. Scottsdale's restaurants satisfy the pickiest of palates, especially with spots like Bootlegger's Modern American Smokehouse and The Mission Old Town (hint: get the table-side guacamole).
There are also tons of things to do in Scottsdale, Arizona. Architecture fans can visit the homes and studios of two very different artists: Paolo Soleri and Frank Lloyd Wright. Soleri's Cosanti is a working studio and Arizona Historic Site. Taliesin West is Wright's winter counterpart to his Spring Green, Wisconsin school.
If it gets too hot outside, cool off in one of Scottsdale's several museums. Western Spirit: Scottsdale's Museum of the West captures the spirit of the west. The tiny Scottsdale Rodeo Museum is the spirit of the west and aims to represent "The West's Most Western Town." For something completely different, explore the Scottsdale Museum of Contemporary Art.
A fun place to stay in Scottsdale is Andaz Scottsdale Resort & Bungalows. Set in the desert with the Camelback Mountains as a background, the rooms are individual bungalows with private patios.
These barely scratch the surface of this snowbird destination. If you're looking to escape the cold, you'll want to add Scottsdale to your winter itinerary.
Submitted by Theresa from The Local Tourist.
18. Visit the Everglades National Park for an Incredible USA Winter Escape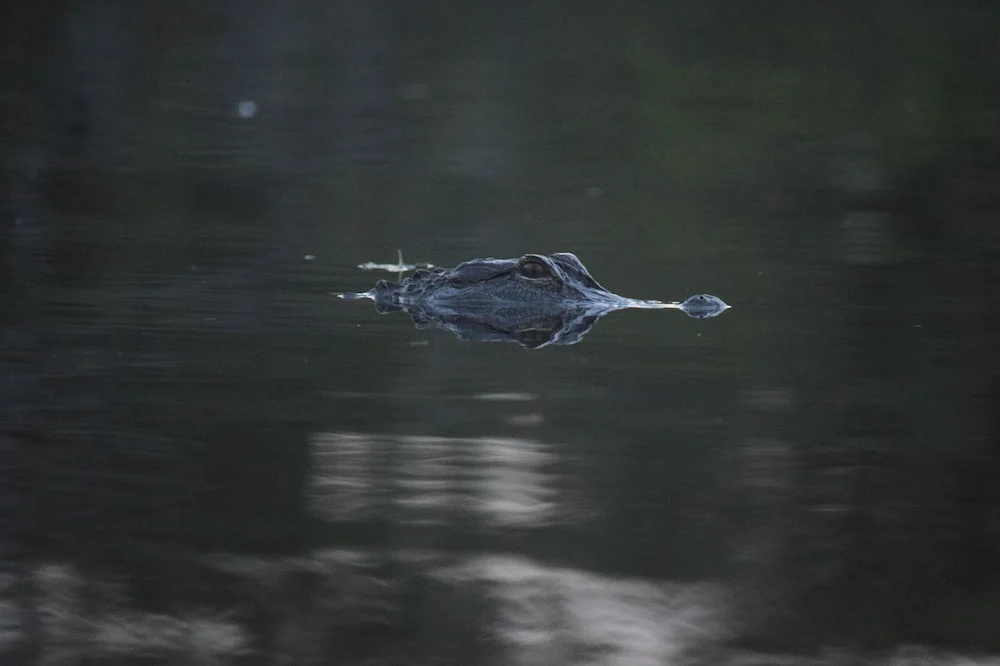 The Everglades in Florida is the perfect winter getaway if you're looking for warm weather. This beautiful national park is the idyllic choice if you love the great outdoors and activities such as hiking, camping, and bird watching.
For beginners, the Bobcat Boardwalk is a great thing to do since it's easily manageable and not too long. You can spot rare birds and even an alligator if you get lucky. Another fun activity is to go on a guided kayak tour. For several hours around sunrise or sunset, you'll be paddling around the mangrove forests and exploring the beautiful landscape that the Everglades is known for.
If you do decide to camp make sure you have the right equipment and at least some camping experience. If not, the Everglades Adventures Hotel Suites by Ivey House is a great place to stay. The park is easily accessible from there and they offer a good selection of tours to the Everglades.
If you can, avoid going on an airboat tour as they're very touristy and not ideal for the delicate environment. Airboats are loud and can disturb the ecosystems of the Everglades which is why kayaks are much more environmentally friendly.
Submitted by Victoria from Guide Your Travel.
19. Gulf Shores, Alabama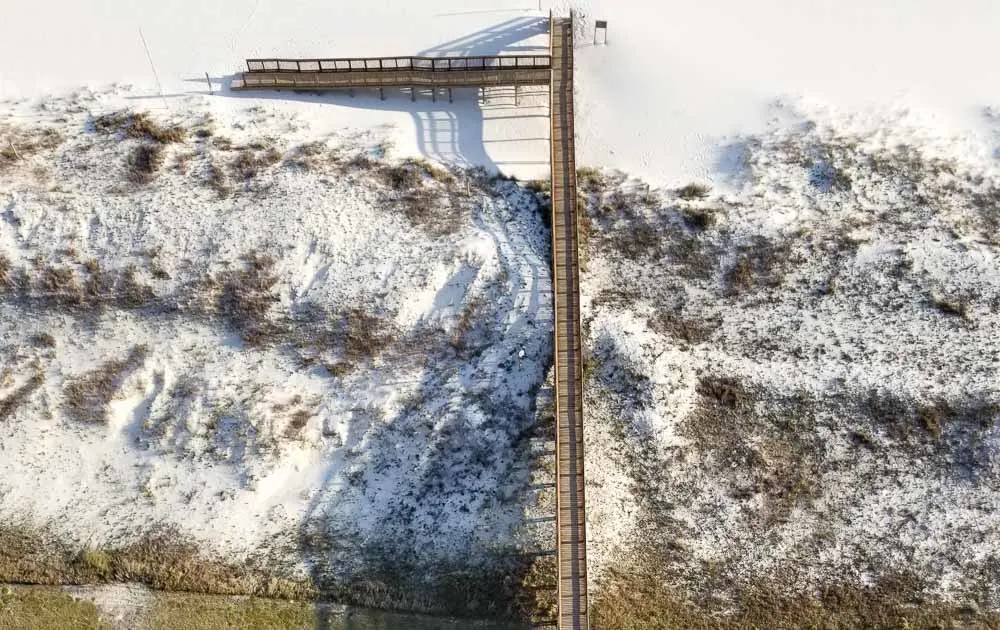 When it comes to warm-weather beach getaways Alabama usually doesn't spring to mind but the beaches of Gulf Shores are the perfect escape from the cold. If you ask me, Gulf Shores and Orange Beach are the south's best-kept secrets when it comes to beach getaways.
With the same powder-soft sand as Florida, the beaches in Gulf Shores have a fraction of the crowds with plenty of off-beach adventure to be had as well. With 2.5 miles of beach, 3 freshwater lakes, and 27 miles of maintained trails Gulf State Park highlights the best of South Alabama and even has its own boutique hotel with the Lodge at Gulf Shores State Park.
If retail therapy is more your speed then be sure to check out The Wharf at Orange Beach. Featuring a wide range of mostly local businesses, an entertainment complex that draws nationally touring acts, and even a zipline course the Wharf is a must for any visit.
When it comes to food Gulf Shores shines here as well. Head to the Gulf, a beachfront food hall that has a little something for everyone. Here you'll find a relaxed menu with everything from fresh gulf peel and eat shrimp to tacos, salad, and burgers that pair perfectly with a local craft beer. For fine dining head to Fisher's Upstairs Restaurant Orange Beach for some of the best seafood that the Gulf Coast has to offer.
Submitted by Brianna from Casual Travelist.
20. Best Warm Winter Destinations in the USA: Big Island, Hawaii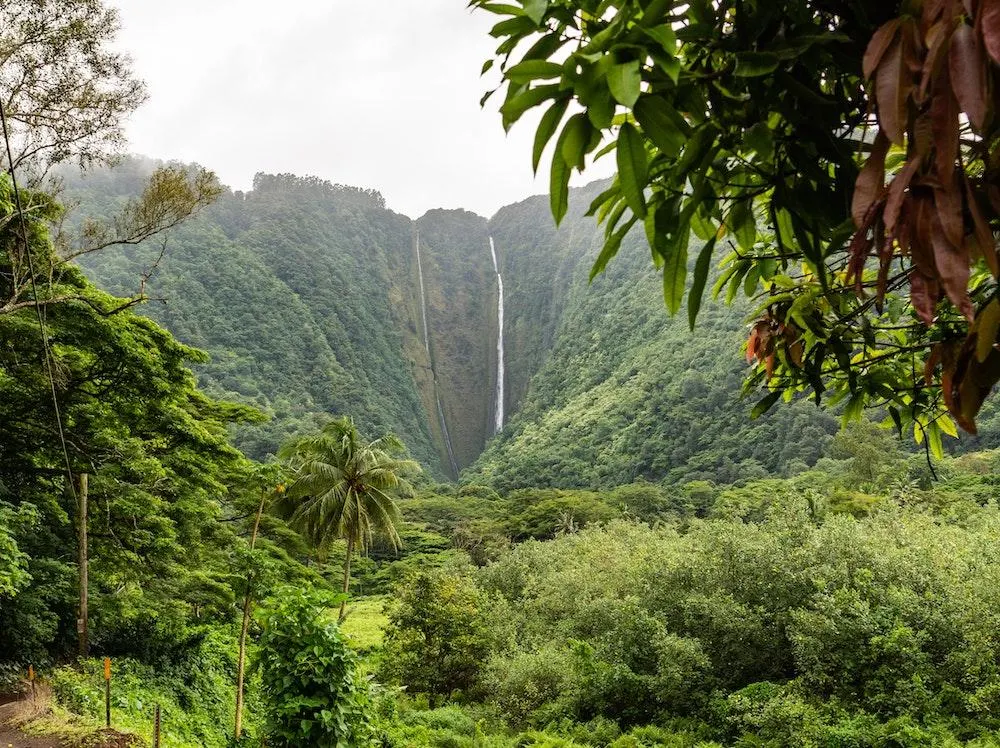 One of the best warm winter destinations in the USA to explore and enjoy is the Big Island of Hawaii also known as Hawaii Island. The largest of the island chains, the Big Island is huge and covers over 13 of the 15 different climate zones in the world from hot and dry to lush and tropical to actual freezing and snow conditions on the tallest mountains and everything in between.
Wintertime is very popular on the island as you can do any adventure experience outdoors or even have some fun road trips around the Big Island. From the gorgeous coastlines and sandy white or black beaches to the lush eastern side with botanical gardens and huge waterfalls, there's plenty to see and do around the entire island.
Or you can easily blow it off and have some beach time, relaxing at your resort pool with nice tropical drinks, and enjoying the world-class meals or even local food specialties around the island. A great place to enjoy this is The Westin Hapuna Beach Resort.
You'll have plenty of time to relax and explore different parts of the island or do some adventure experiences of which the options are endless. The Big Island has so much to offer in the wintertime and you'll love seeing all of it on your own schedule.
Submitted by Noel from This Hawaii Life.
21. Death Valley National Park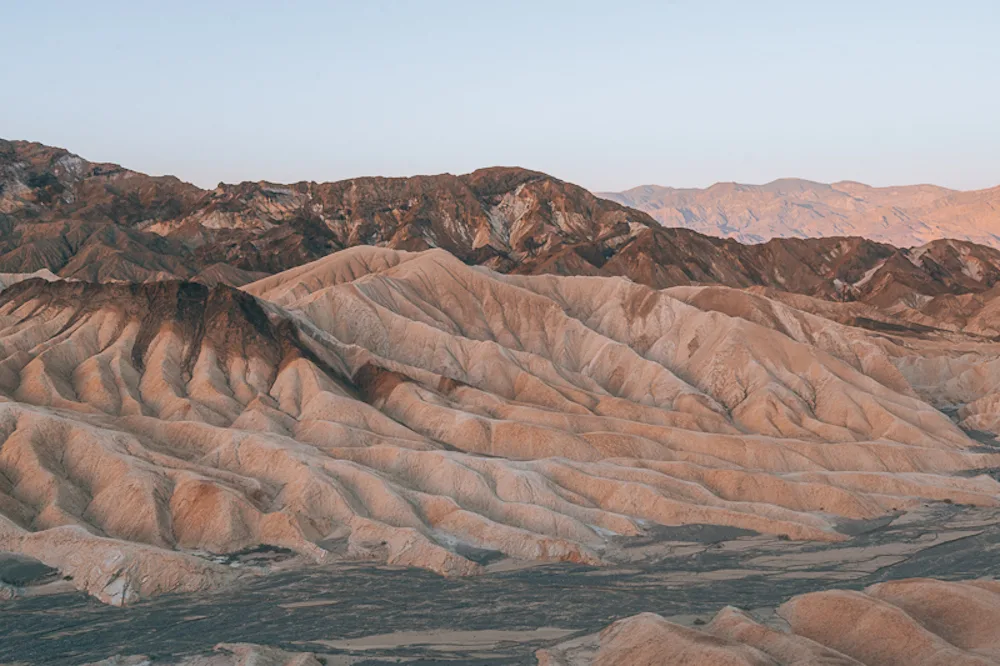 One of the best places to visit in the USA in the Winter is Death Valley National Park. This is one of the hottest places in the United States, so the winter is pretty mild. It is such a strange and unique spot and very close to Las Vegas.
One of the best places to stay is the Inn At Death Valley. It is located in the middle of the national park, and it looks like a beautiful oasis in the middle of the hot desert.
Death Valley is well known for its strange but wonderful landscape beauty. Some of the best places to explore include the Badwater Basin. This is a great place to walk around and take photos.
The basin is filled with salt for miles, and it truly is breathtaking. Another fun thing to do is visit the Mesquite Sand Dunes, an excellent spot for sunset, and it is a photographer's paradise.
Another strange but unreal spot is Artists Drive which features mountains with a hint of pink, purple, yellow, blue, and green colors. This is an excellent location for sunrise and is one of the most popular areas to photograph.
Submitted by Michelle from The Wandering Queen.
22. Sedona, Arizona is a Sublime Warm Winter Vacation in the USA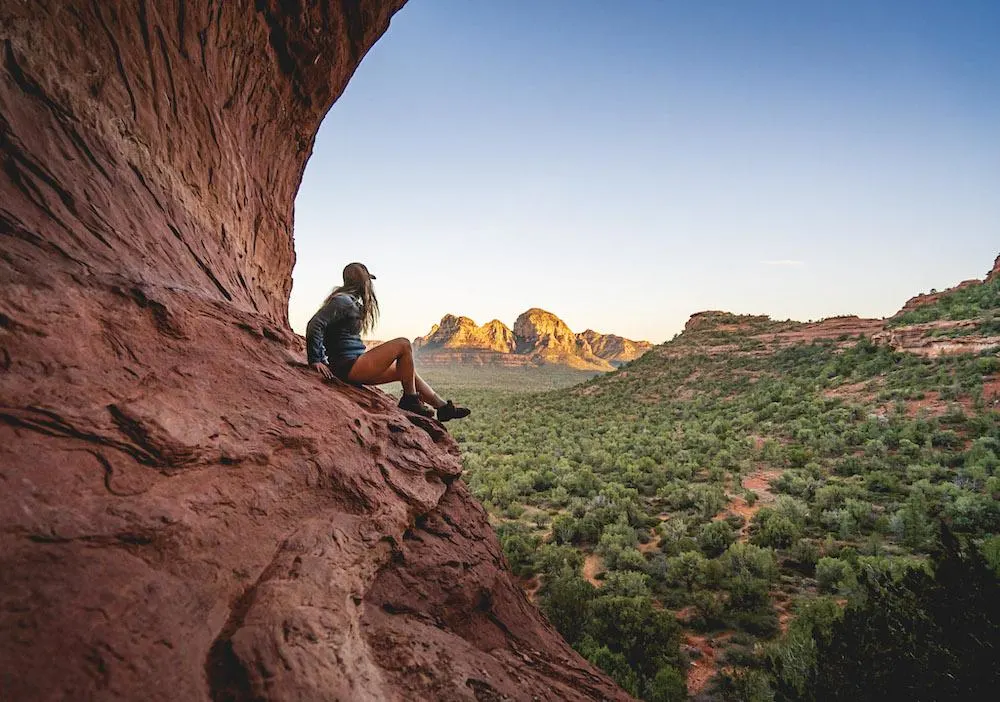 Sedona, Arizona is a tiny town, located about two hours north of Phoenix, which is known for its stunning red rock canyon, buttes, and other rock formations. The red walls are made even more striking against the forests of Ponderosa pines that carpet Sedona's desert floor.
The town sits at an elevation of 4,350 feet, so it's typically colder here than in many other parts of the state. That being said, you'll regularly find daytime temperatures in the 50s and 60s, providing an excellent environment to enjoy outdoor activities.
And there are lots of outdoor adventures waiting for you here- from the staggering number of epic hikes in Sedona, like the Instagram-famous Devil's Bridge, or ATVing past towering red rock formations, there's something for every kind of nature lover. While Sedona's main draw is its incredible landscape, the town itself is a vibrant community, with a booming arts scene and, due to its quirky New Age-y vibes, countless places to buy crystals, have your aura read, or get a good ol' fashioned chakra cleansing.
If you're looking to lean into the Sedona experience, book accommodations that have a spa component, like the Amara Resort and Spa, where, all in one day, you can easily go enjoy Sedona's outdoor scene, as well as indulge in some health and beauty treatments.
So whether you're into hot air ballooning over red rock spires or looking for a place to relax, do a little yoga, and shake off the cold weather blues, Sedona is the perfect spot for a winter getaway.
Submitted by Jessica from Uprooted Traveler.
23. Malibu, California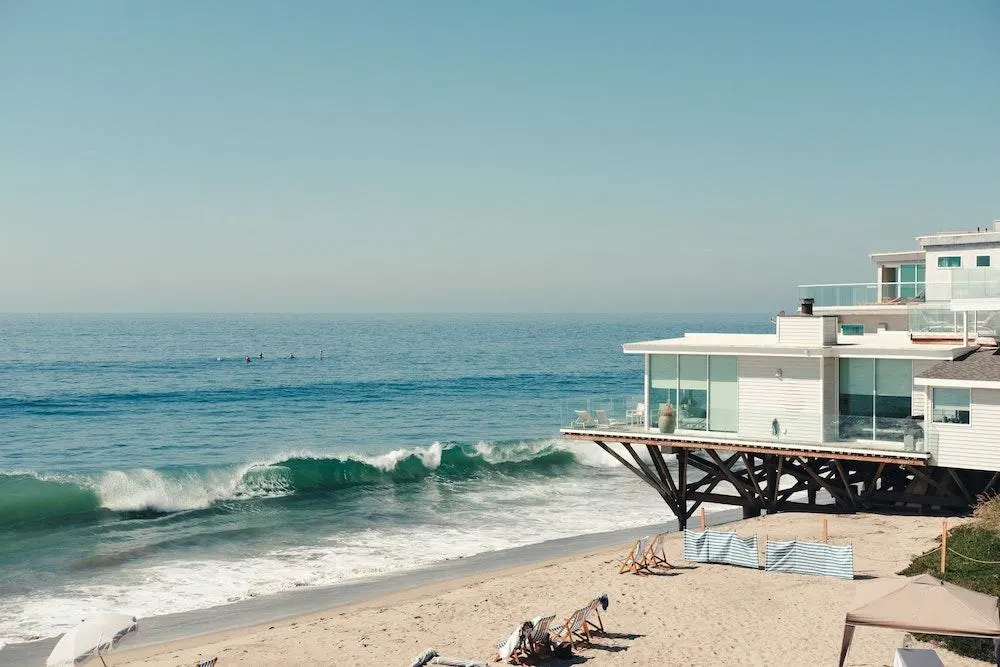 Malibu is one of the most famous beach destinations in the US and a popular stop on the scenic San Francisco to Los Angles drive.
It is one of the loveliest beach towns in the US. It's enough to say that top Hollywood celebrities are in love with sunny Malibu.
Malibu's Zuma Beach, Lagoon State Beach, El Matador State Beach, El Pescador State Beach, Carbon Beach, Point Dume State Beach, and Topanga State Beach are some of the best Californian beaches. In addition, hardly any place in the US can beat amazing beachfront Malibu properties.
For a perfect Malibu holiday, rent a luxury room with a private balcony overlooking the Pacific Ocean at the fabulous Malibu Beach Inn. Fall asleep with the sounds of the ocean waves and start your day watching dolphins and whales from the balcony of your suite in Malibu.
If you love active holidays, explore fantastic trails of Malibu's Point Dume Natural Preserve. And if you enjoy art, head to Getty Villa Museum and admire its superb collection. For fine dining head to famous Geoffrey's. And for Hawaiian cuisine and umbrella drinks go the Duke's Malibu. If you are traveling with your kids, head to Lisa Smith Wengler Center for the Arts for highly entertaining family-friendly performances.
If you want to escape the cold and enjoy one of the most amazing warm winter destinations in the US, look no further than Malibu!
Submitted by Milijana from World Travel Connector.
24. One of the Best Warm Places to Visit in the US in Winter: Miami, Florida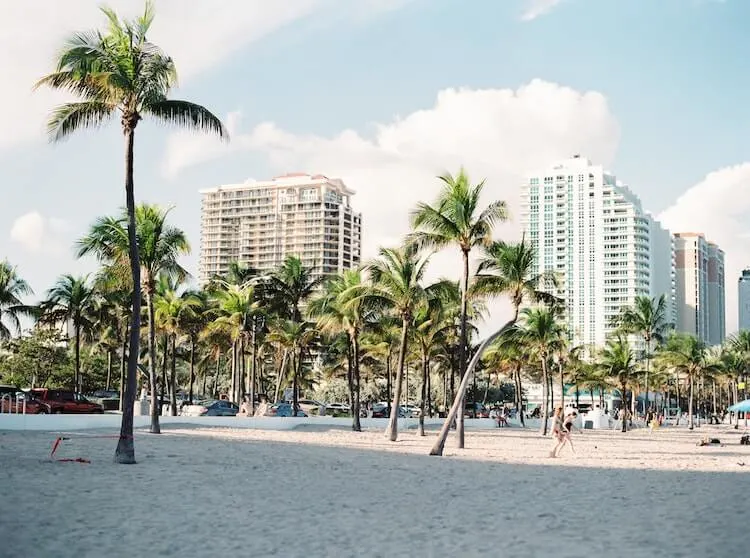 Miami, Florida is one of the best destinations in the United States to escape the cold. December through March the temperatures are typically in the mid 70sºF, which is the perfect weather for enjoying some fresh air, outdoor dining, and beaches.
Miami has a diverse mixture of cultural influences, including Hispanic, Caribbean, and Haitian cultures. This is most reflected in the fantastic dining options with food from all over the world. Some of the top restaurants include Mareva1939, Havana Vieja, and Bolivar.
If you are interested in nightlife, Miami is well known for its bars and clubs. Many of the most popular clubs are located in South Beach, such as Nikki Beach, Bentley Beach Club, and the Savoy Beach Club.
In addition to great restaurants and nightlife, Miami is well known for its fantastic beaches. Its most popular beach is South Beach, which is a beautiful white sand beach with plenty of nearby restaurants and nightlife. Some other popular beaches in Miami include North Beach, Surfside, and South Pointe Beach.
Miami is very easy to travel to with cheap flights from most parts of the United States. Its airport is centrally located, and only a short 20 minute drive to most parts of the city including South Beach.
For a lovely place to stay, opt for The Confidante Miami Beach.
Submitted by Shannon from Traveling Teacher Girl.
25. Visit Tuscan, Arizona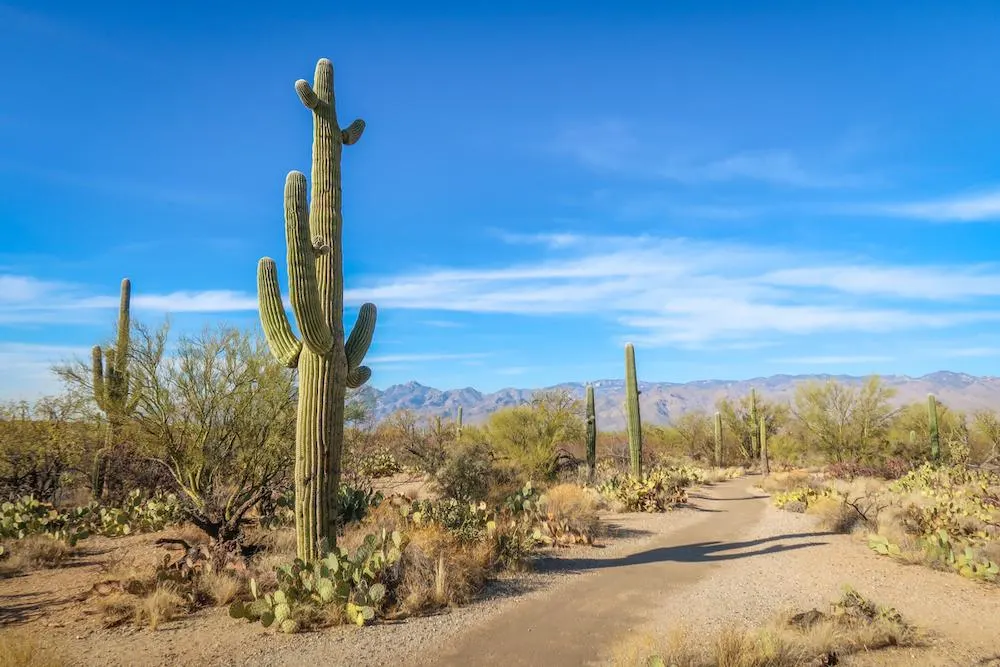 If you're looking to escape the cold this winter, there is no better place than in sunny Tucson, Arizona. Located in the Sonoran Desert and surrounded by five mountain ranges, Tucson is an outdoor lover's paradise with endless recreational opportunities.
One of Tucson's biggest highlights is Saguaro National Park. The park is famous for its forests of saguaro cacti – magnificent tree-like plants that are only found in the Sonoran Desert. Saguaro National Park is somewhat unusual because it is divided into two sections that are an hour's drive apart. Tucson is located between the two districts and makes the perfect place from which to explore them both.
There is no shortage of incredible hiking opportunities in Tucson – both in Saguaro National Park and beyond. Sabino Canyon Recreation Area is a favorite stomping ground for locals and visitors alike. This protected area offers miles of Sabino Canyon trails for hikers of all skill levels.
Tucson Mountain Park is another beloved hiking destination and features the perfect place to catch the sunset at Gates Pass Overlook.
Arizona's second-largest city, Tucson offers a range of restaurants and accommodations to suit every budget. Lodge on the Desert is a particularly nice mid-range boutique hotel with hacienda-style rooms and views of the Catalina Mountains.
Submitted by Katy from A Rambling Unicorn.
26. Cedar Key, Florida is One of the Best Warm Places in the Winter in the USA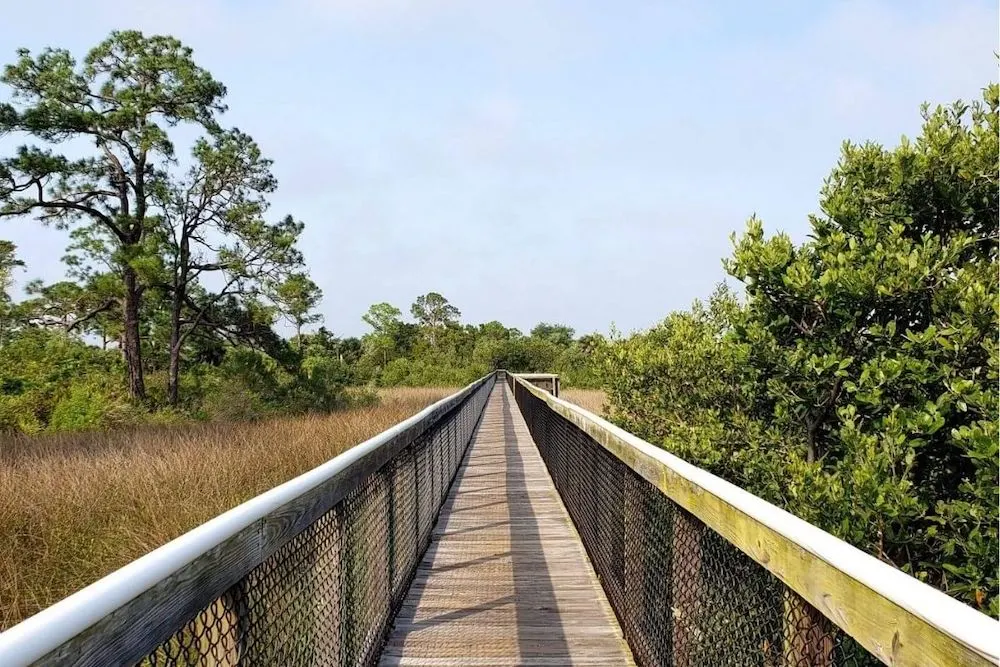 One of the best warm winter destinations in the US is Cedar Key, Florida. There are a lot of things to do in Cedar Key, especially outdoor activities. This means you can take advantage of the warm weather and work on your tan while others up north are shoveling snow.
Similar to Key West, Cedar Key is an island city. It is located in North Central Florida along the Gulf of Mexico. Driving there is pretty easy since it's literally at the end of Florida State Road 24. If you're flying in, the closest airport to Cedar Key with commercial flights is the Gainesville Regional Airport (GNV), which is about an hour away.
Once you're in town, make sure to head downtown. There are cute shops and galleries, perfect for getting yourself a souvenir to remember your trip by. There is also the Cedar Key Historical Society Museum, which displays the history of the area. You should definitely stop at Steamers as well. It's a great seafood restaurant on Dock Street.
To take advantage of the warm weather, you can go hiking, fishing, swimming, and kayaking. There are trails and parks all around Cedar Key, all of which are great for spending time outdoors. Cedar Key State Park is especially popular.
For your winter getaway, consider staying at Seahorse Landing; they have condos near the water with great amenities.
Submitted by Vicky from Buddy the Traveling Monkey.
27. Biscayne National Park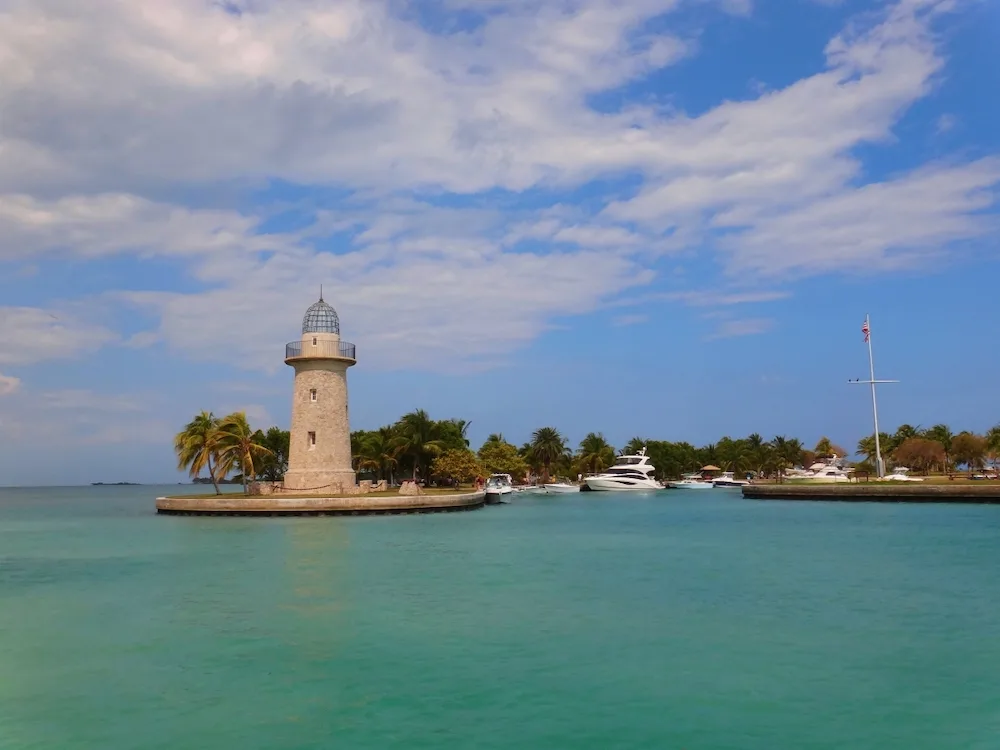 Biscayne National Park is one of Florida's top national parks and the perfect warm winter destination.
95% of the park is water, but there are islands and cays you can visit too. There are several ways to experience the park.
You can take a boat out to the islands. Boat trips leave from the main dock at the Dante Fascell Visitor Center and typically go to Boca Chita and/ or Adams Key. Half-day trips sail past the lovely Boca Chita Lighthouse and include a guided commentary, so you can learn all about the ecology and history of the area.
You can also take a sailing boat around the islands. You will have time on land for a picnic and to explore the area as well as stop off for a swim in the crystal-clear waters along the way.
If you like to be more active, there are guided kayak trips through the mangroves and inner creeks of the cays, as well as around Jones Lagoon.
Most people, however, go to the national park to snorkel or scuba dive. The waters are teeming with tropical fish, and there are several shipwrecks that, depending on their depth, you can either snorkel or dive over or through.
The visitor center and harbor where the boats leave from is an hour south of Miami and close to the small town of Homestead.
There are two campgrounds on the islands, but most people stay on the mainland nearby. A lovely place to stay is the Speedway Blvd Townhouse, a spacious holiday home with a patio and private parking in Homestead.
Submitted by James Ian from Parks Collecting.
28. Key West, FL is One of the Best Warm Winter Vacations in the USA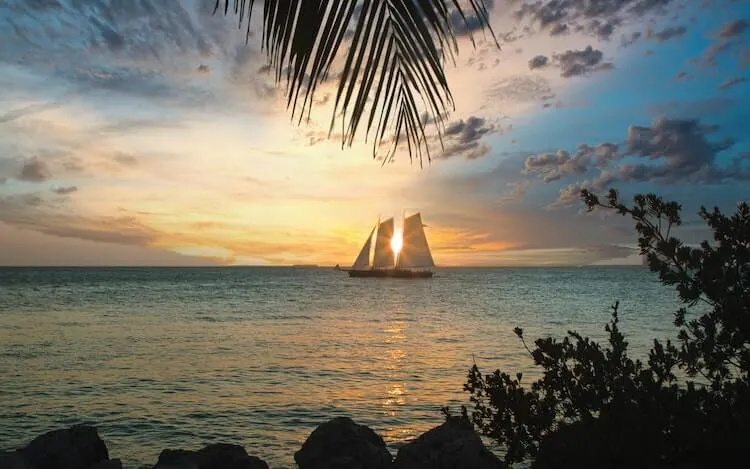 Key West is the southernmost city in the United States and is the place to be if you want the best guarantee of warm weather during the winter. Located less than 100 miles from Cuba, Key West weather is often more like the Caribbean than even the rest of Florida.
Things to do in Key West include watching overwater sunsets and sunrises (a rare place to do that), exploring quirky attractions (like Key West cemetery) and hanging with quirky people, water adventures (like snorkeling, diving, fishing, or just beaching), and eating amazing Cuban food, key lime pie, and the freshest seafood.
Make sure you experience the nightly sunset celebrations in Mallory Square at least once; the street performers entertain huge crowds plus the sunsets are absolutely brilliant. Also, try to head out on the water for a sunset sail as much as possible.
Driving to Key West is almost as fun as being there. The 113-mile long Overseas Highway is one of the most scenic drives in Florida and one of the world's best road trips. Also known as highway A1A and US1, the road extends off the bottom of the Florida peninsula over the brilliant blue ocean waters crossing 42 bridges including the magnificent Seven Mile Bridge
So trade in your parkas and mittens for some flip flops and a straw hat and channel your inner Parrothead in the Conch Republic. One nice place to stay is The Marquesa Hotel.
Submitted by Charles from McCool Travel.
29. Orange County, California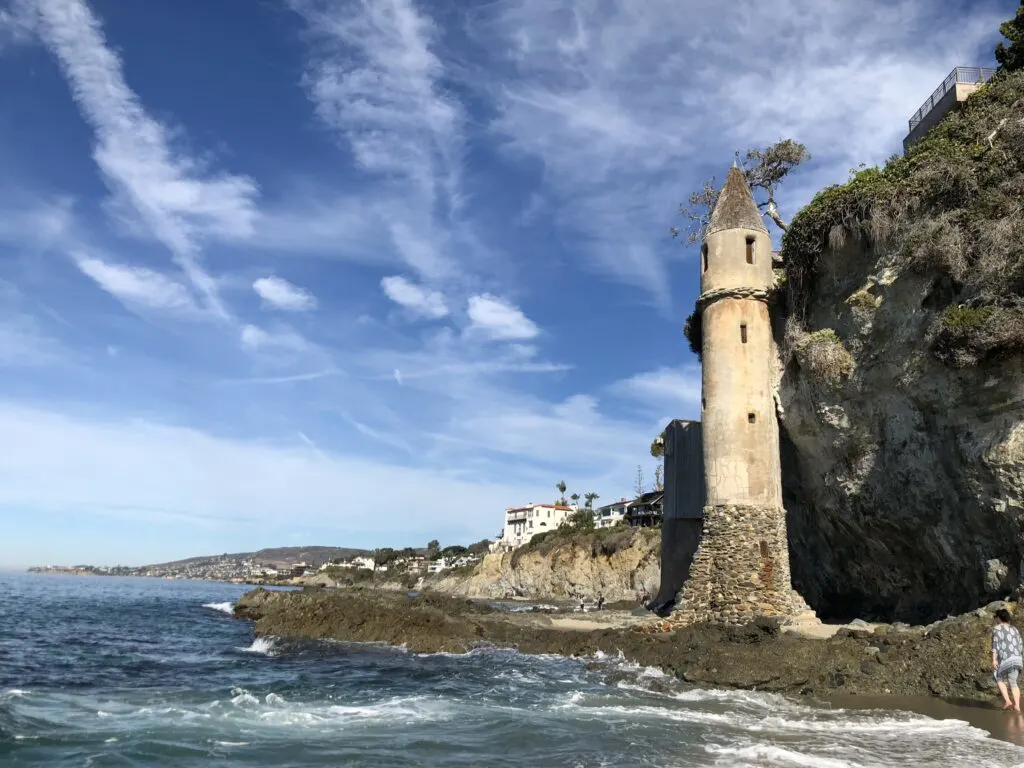 Home to year-round sunshine, world-class surfing, and many landmarks, Orange County, California makes one of the best winter getaways in the USA.
Made up of many coastal and inland towns, Orange County boasts gorgeous weather and wonderful postcard views that made it so famous in the first place. But there's more to this part of California than just endless beaches and palm trees: Orange County also has many historic and cultural landmarks.
Surfing is a big game here, so if you want to try your hand at this water sport, grab a board and go to Huntington Beach or San Clemente, which have some of the best surfing conditions in Southern California.
If you are a nature lover, head to Dana Point, a small beachside town where you can take a whale watching tour, and if you get lucky, you might even see one of these elusive marine giants.
Orange County also has several areas where you can disconnect and enjoy the rugged scenery. For beautiful landscape views and hiking visit Crystal Cove State Park or take a day trip to Balboa Peninsula, a quaint area with an idyllic harbor and many cute shops and restaurants.
Finally, if you are an art lover, consider partaking in one of the art walks that take place in towns across Orange County – the area has a thriving art scene and you can see it in many murals and several museums in the area such as Bowers Museum.
For the perfect place to stay, opt for Laguna Beach House near Crystal Cove State Park!
Submitted by Daria from The Discovery Nut.
30. Captiva Island, FL is One of the Warm Winter Vacations in the USA of Your Dreams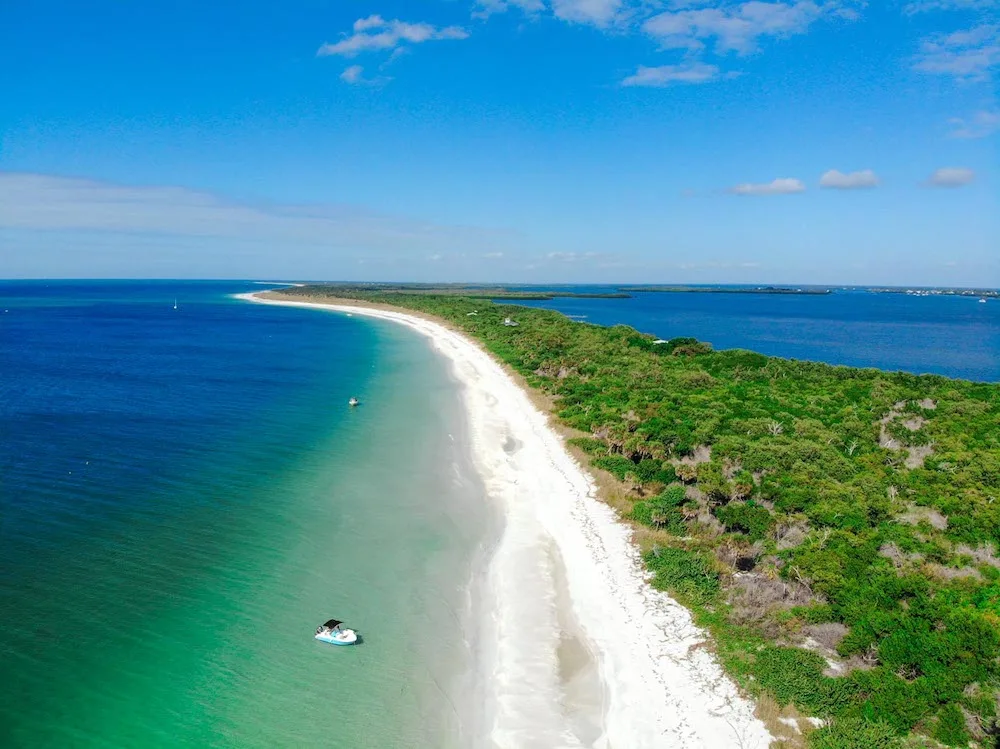 If you are a nature lover, looking for some fun in the sun, or just want to relax on a sandy white beach, Captiva Island is the perfect warm-weather getaway for you.
This small resort island is located near Ft. Myers, FL off of Florida's Gulf Coast and is known for its world-class shelling, beautiful sunsets (and sunrises), 25 miles of biking paths, quirky restaurants (like the Bubble Room, where it is Christmas all year long), charming locally owned boutiques, dynamite fishing, sailing, boating, and so much more.
Stay a week and treat yourself to a vacation home right on the water or stay at South Seas Island Resort, a 330-acre property surrounded by a nature preserve and pristine beaches. Enjoy South Sea's seasonal farmer's market bringing tourists and locals together December through April or rent a boat that will allow you to visit nearby Cayo Costa State Park for tranquility amongst the Florida palm trees.
You can even take the 1-hour ferry to Cabbage Key where a fresh-caught lunch will be waiting to be enjoyed amongst the friendly locals, the gopher turtles. Captiva Island is a fantastic getaway for couples and families who are looking to soak up all the sunshine state has to offer.
Submitted by Sam from Seeing Sam.
31. San Juan, Puerto Rico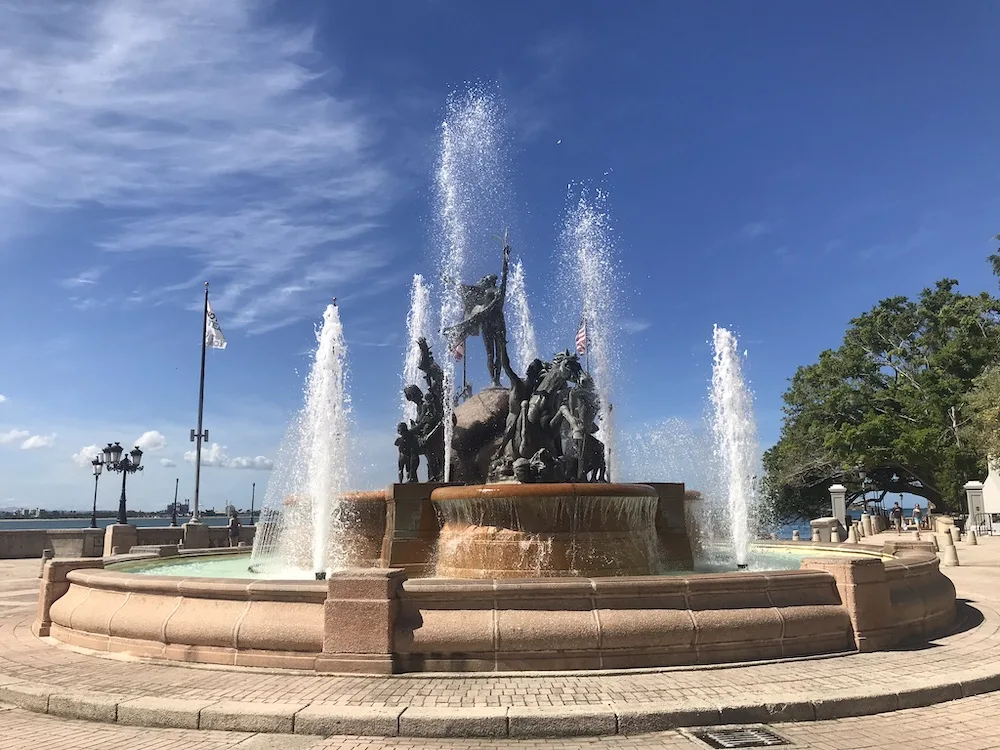 One of the best warm winter destinations in the US is Puerto Rico. One of the best things to do in Puerto Rico is visit San Juan. It is a beautiful city with such rich history. The warm weather, beautiful beaches, and cobblestone streets are just part of what makes this charming city such a great vacation destination. Its culture has influences from Europe, Africa, and the native Taino people.
Old San Juan is the colonial section of town that was originally settled by the Spanish. Throughout the cobblestone streets, you will find beautifully colored buildings and rich history. The best streets for exploring are Calle del Cristo and Calle de la Fortaleza.
San Juan has amazing food, and a great way to get a taste of everything is a food tour. Spoon Food Tours offers great tours that include some history of San Juan. Deaverdura is another restaurant serving native dishes that is delicious.
Another fun place in San Juan that cannot be missed is the old Spanish forts – Fort Cristobal and Fort El Morro. Today, you can explore the different areas of the fort including the rooms, guerites, and sentry boxes. If you are interested in the history of the forts, you can go on ranger-guided tunnel tours.
San Juan Water and Beach Club Hotel is a great place to stay in San Juan. It has beach access as well as an outdoor infinity pool with beautiful ocean views. The hotel is on the corner of Island Vere beach, one of the best beaches in the area.
Submitted by Candice from CS Ginger.
32. A Top US Warm Winter Vacation Spot: Venice Beach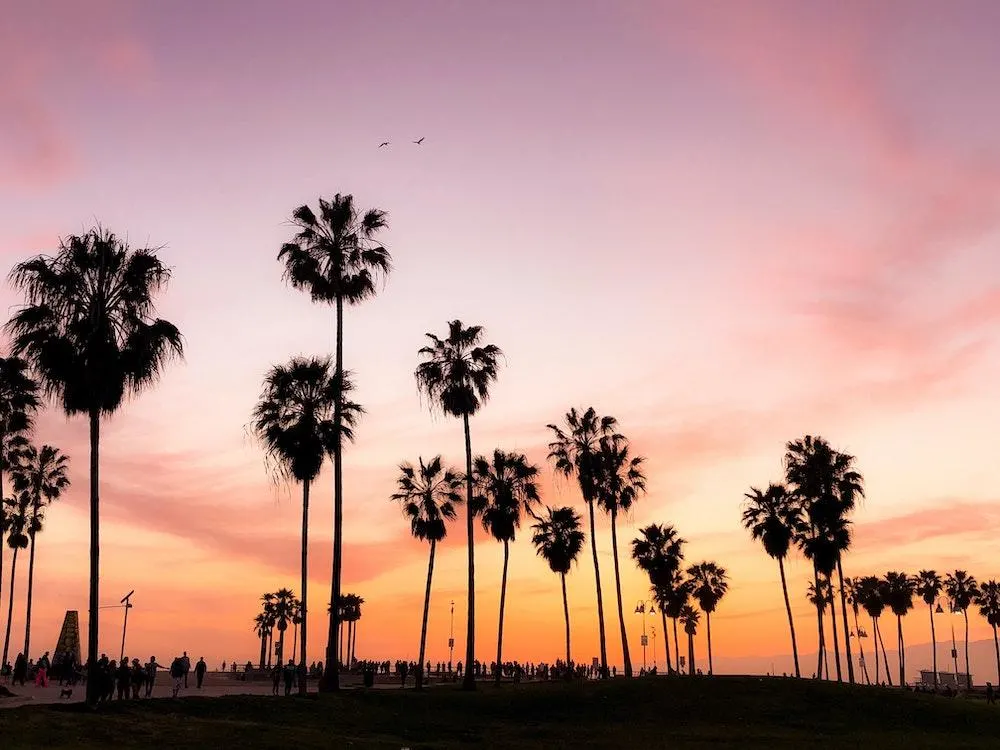 Another warm winter destination in the US not to miss is Venice.
Initially developed as a Los Angeles beach resort, Venice quickly became one of the most popular neighborhoods. Its iconic beachfront boardwalk is attractive to both locals and travelers from all around the world.
Venice is a hip area with a lot of things to do. At the Venice skate park, for example, you can watch beginners and professionals do some laps on their skateboards and show some incredible stunts. Probably the most photographed attraction though is the iconic Venice Sign in the central part of the town. Make sure to plan a stop and click a couple of memory photos before you continue the sightseeing tour.
Just a short walk from the sign you can find the Venice Canals, beautiful man-made canals with gorgeous houses, walkable sidewalks, and many connecting bridges. It's a truly peaceful area and perfect for a leisurely stroll.
There are many accommodation options including hotels, hostels, and even Airbnbs. If your budget isn't too tight, you can stay in one of the more expensive places like the Venice V Hotel.
Submitted by Lina from World of Lina.
With so many great warm winter vacations in the USA, we hope this list helps to narrow down your choice or give you some unique ideas to escape the cold! From winter beach vacations in the US to sunny locales, you can't go wrong with these destinations!
Which warm winter place in the US would you most like to visit?
Need more USA travel inspo? Check these posts out:
Pin it here!