Some posts on this site contain affiliate links, meaning if you book or buy something through one of these links, I may earn a small commission (at no additional cost to you!). Read the full disclosure policy here.
---
Savannah is for lovers. Seriously, this city oozes romance from every corner whether it is in a charming city square or historical site. There are so many romantic things to do in Savannah, GA.
I highly recommend spending a couple of days in Savannah to really get a good feel for the place, and you'll soon start to understand just how romantic it can be.
Whether you're here for your US honeymoon or just want a romantic weekend getaway, there are plenty of couples things to do in Savannah, GA for you!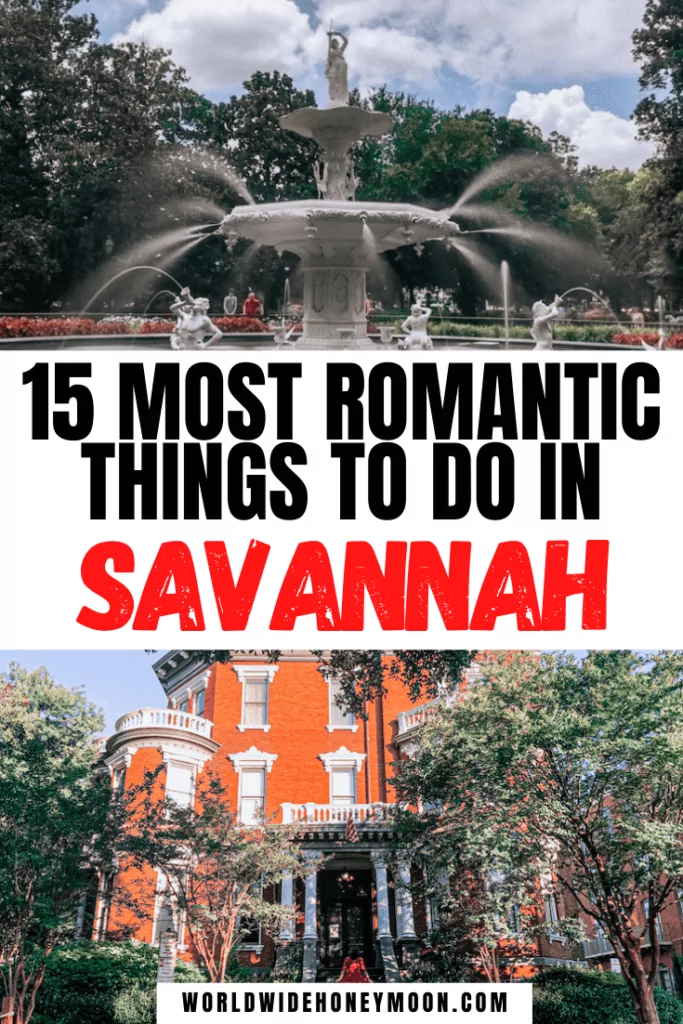 15 Most Romantic Things to do in Savannah, GA
If you're a couple that is into pampering yourselves, having a delicious meal, or even hearing spooky stories, these are some phenomenal Savannah romantic things to do!
1. Taking a Riverboat Cruise is One of the Most Romantic Things to do in Savannah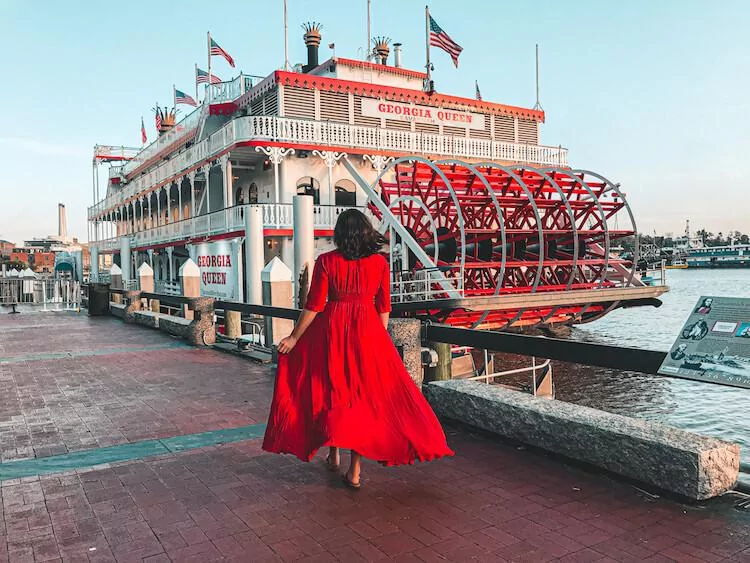 Taking a charming riverboat along the Savannah River will give you amazing views of the city and surrounding areas!
And on these classic riverboats, you have the option to do a sightseeing tour with narration, or better yet for couples, go on a sunset cruise or dinner cruise together.
Watch the sunset from the water as you dance the night away on this 2-hour long ride. It is the perfect end to a day exploring Savannah together!
2. Have a Picnic in One of the Many City Squares or Forsyth Park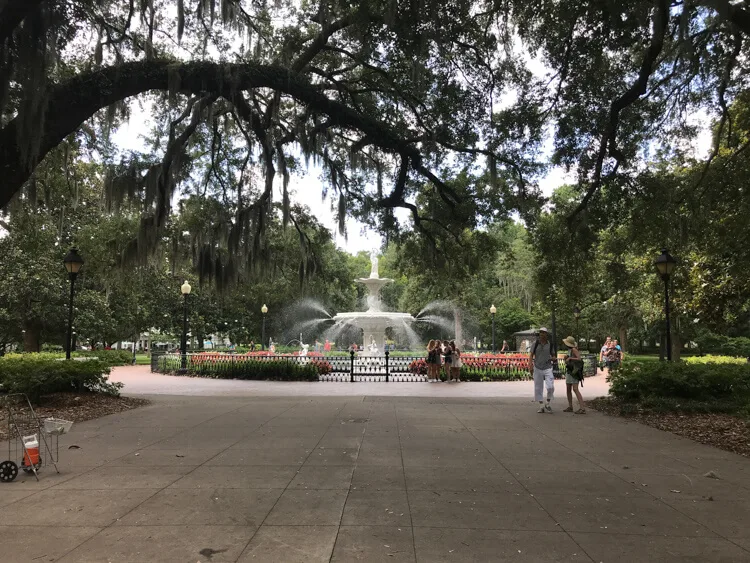 Savannah is a city built with many squares. In fact, the city originally had 24 of them! Now there are 22 squares in the historic part of the city.
Who doesn't love a city that is built with beauty in mind? These squares are also home to lovely fountains, plaques, memorials, famous churches, and homes.
A few favorites that I loved while in Savannah included Columbia Square for its bubbling fountain and historic (and haunted) buildings surrounding it, the simple yet lovely Oglethorpe Square, Reynold's Square where you'll spot the famous Olde Pink House Restaurant, and the famed Chippewa Square, where the bus stop scene from Forrest Gump was filmed.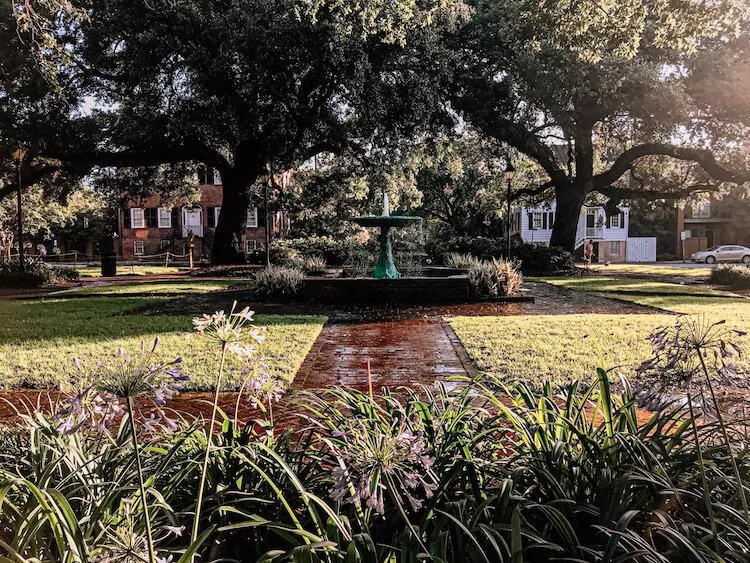 And Forsyth Park, while not considered a square, is the largest park in the historic district of Savannah. There is a large fountain that many people take photos of in front of as well as other memorials and even a restaurant.
This large park is ideal for packing a picnic lunch to enjoy!
As far as what to bring for your picnic, I would get some takeaway from an iconic restaurant like Mrs. Wilkes Dining Room if you can! The fried chicken and fixin's is a perfect mid-day meal to split!
3. Have a Spa Day Together in Savannah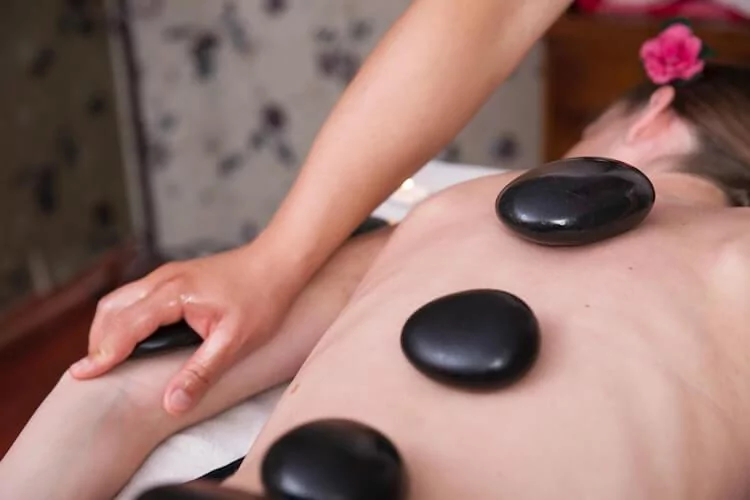 A couples massage on a romantic weekend getaway is one of the must-do things in Savannah! And with plenty of places to get a massage, be it a hotel with a spa or day spas in the city, you'll be able to relax and unwind together.
If you're staying at a place like the JW Marriott Savannah Plant Riverside District or the Mansion on Forsyth Park, be sure to book a couple's massage at their spa.
And for one of the best day spas in Savannah, head to Savannah Day Spa and book their Couple's Blooming Romance Package complete with body scrubs, aromatherapy massages, and spa pedicures for two.
4. Going For a Drink at the Olde Pink House is One of the Most Romantic Things to do in Savannah, Georgia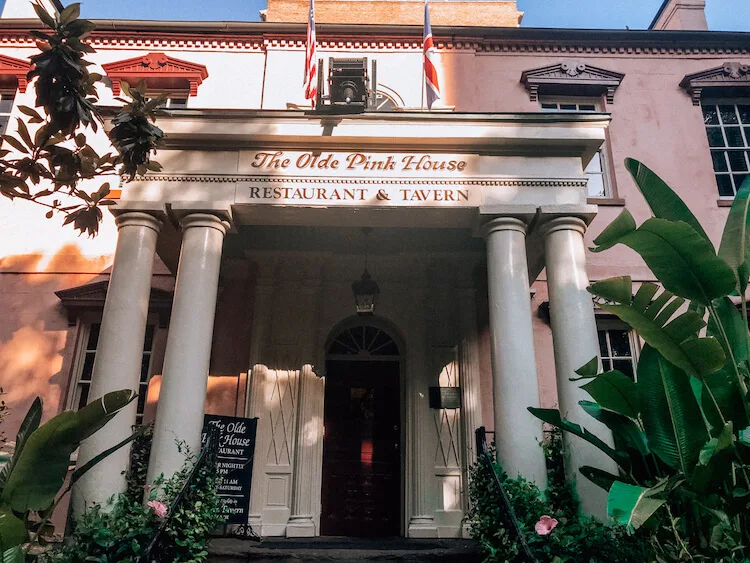 This is easily one of the most famous restaurants in Savannah, and while you can definitely have dinner here if you wish, the best part is the downstairs bar!
Have some tasty cocktails like a jalapeno margarita or a Woodford mule before a delicious dinner. It is a great atmosphere and the drinks are so good!
5. Learn About the Ghosts of Savannah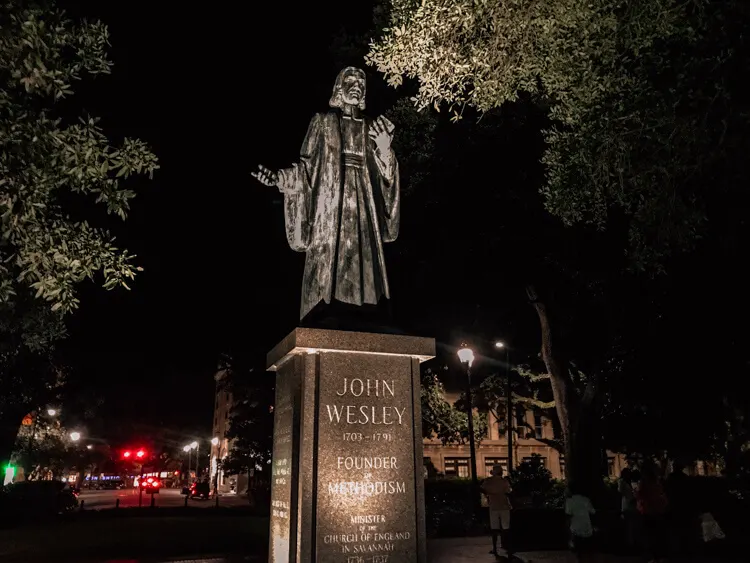 Cuddle close to your love as you hear chilling tales and haunted histories of America's most haunted city.
While there are ample ghost walking and trolley tours around the city, I highly recommend the haunted pub crawl. As Savannah's historic district is open container, you'll learn about entertaining and ghostly stories of the city as you jaunt from local pub to local pub with your guide, Neil.
I had a lot of fun on this tour and it was popular amongst many couples! And it was much more entertaining than scary, making it a lot of fun to enjoy while sipping delicious Savannah cocktails around the city!
6. Head to Cathedral Basilica of St. John the Baptist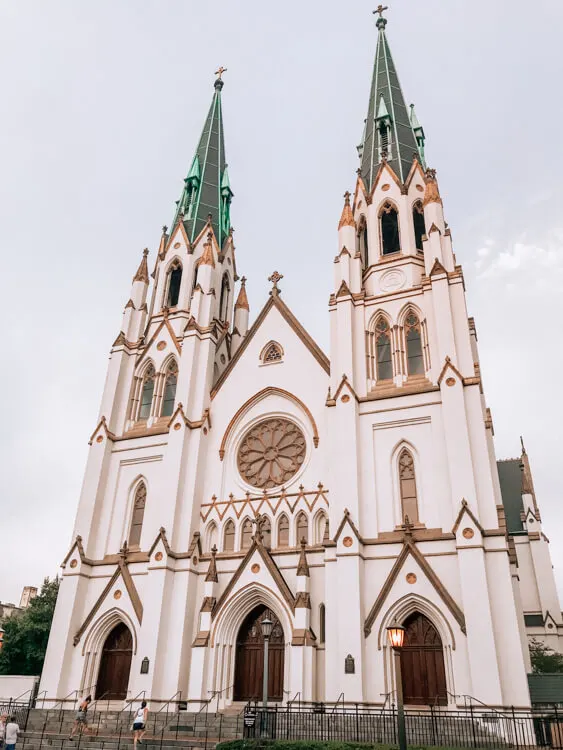 This awe-inspiring cathedral in the heart of Savannah is one of the most romantic places in Savannah, GA.
With its large rose window full of stained glass, plenty of artwork and paintings inside, and a long history, it is well worth sticking around to hear about the cathedral's past from a member of the church.
7. One of the Best Savannah, GA Attractions For Couples Has to Be a Food Tour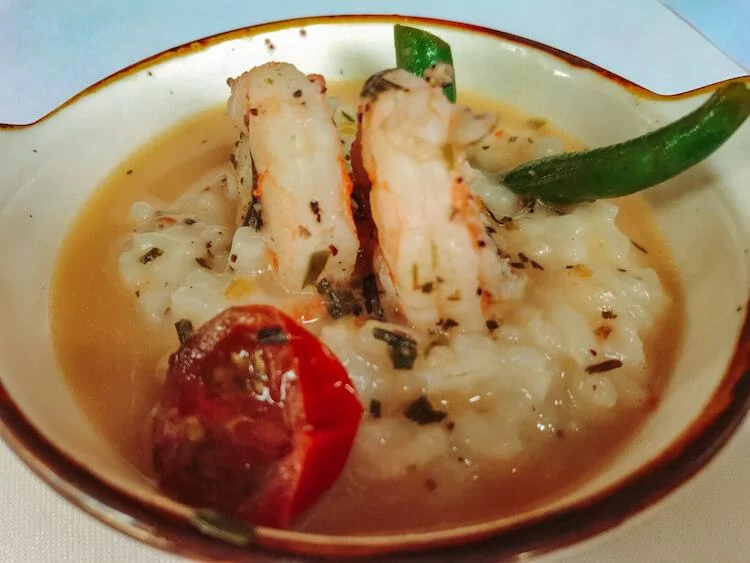 Food tours are always a fantastic way to learn about the city and partake in its cuisine together. And with Savannah being one of the foodie capitals of the US, you'll definitely want to go on this food tour!
Taste some famous Savannah honey, enjoy local eats like a chicken sandwich at Zunzi's or shrimp risotto at Cha Bella as well as popular spots where you can skip the line like at Leopold's Ice Cream!
8. Wander River Street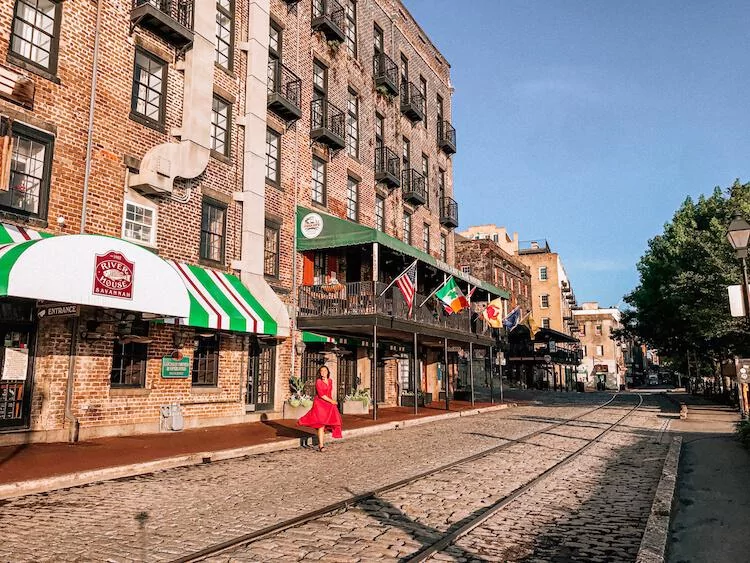 River Street is a lovely place to just wander around, popping into various shops, pubs, and restaurants along the way.
You can sit and watch the big boats as they pass by on their way out to sea, or you can head into River Street Marketplace to purchase souvenirs of your trip. Either way, you'll love strolling here hand in hand on a lovely evening.
9. Sorry Charlie's Rooftop is One of the Most Romantic Things to do in Savannah, GA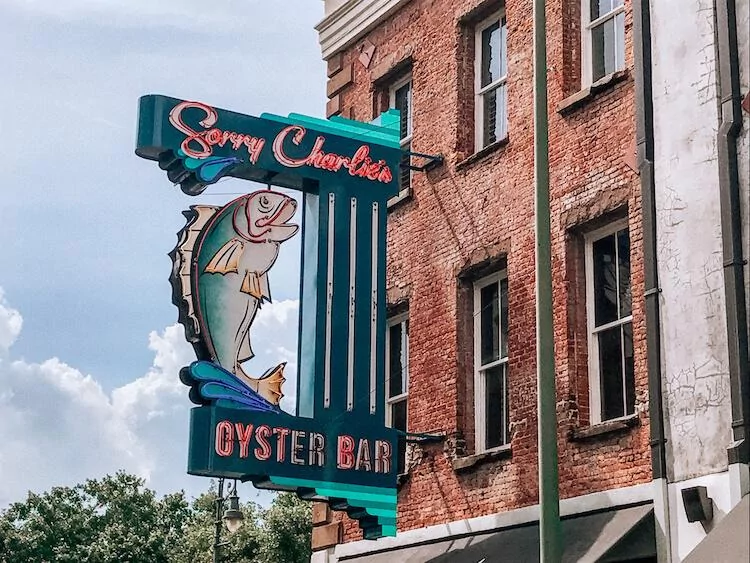 I'll be honest that Savannah is a hot city. And if you're visiting in the summertime, getting a breeze on a rooftop bar that overlooks the city is a dream come true. Thankfully, Sorry Charlie's has you covered, especially if you go for happy hour!
On Monday-Fridays from 4-6 pm, they have $1 oysters, $3 Savannah beers, and $5 bubbles. So grab some oysters and enjoy as you cool off on this amazing rooftop bar.
10. Explore the Paris Market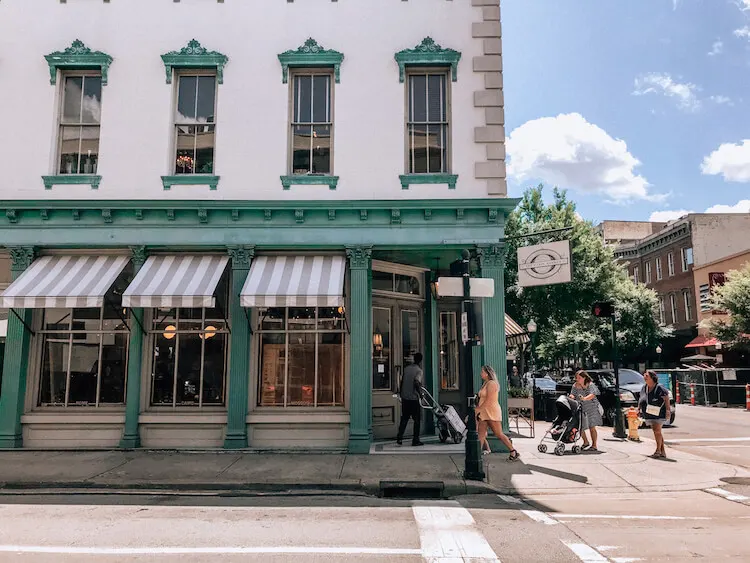 Savannah sometimes parallels Paris in its beauty. With various city parks and squares, famous churches, and good food, sometimes you can forget where you are at times!
But if you want to step into Paris, then a visit to the Paris Market is a must-do thing in Savannah for couples.
This shop and cafe is a slice of France in Savannah with many French products and decor to enjoy, and a great cafe to grab some French fare like macarons, Parisian sandwiches, and even a cocktail or two.
11. Have Dinner at The Grey for a Romantic Savannah Date Night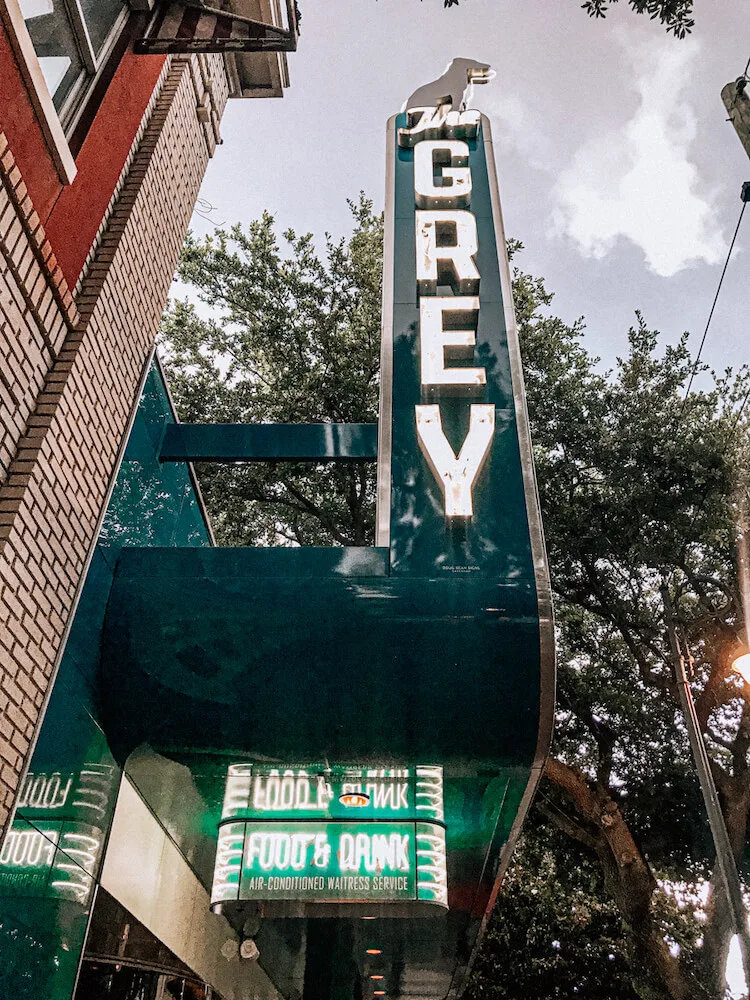 If there is one of the most romantic things to do in Savannah, GA at night, it is to head to The Grey for their tasting menu.
With 4 and 6-course tasting menus, you'll be blown away by the southern cuisine meets modern flair. Think the tastiest wreckfish over mixed grains and a green garlic sauce or rabbit mortadella served similar to banh mi.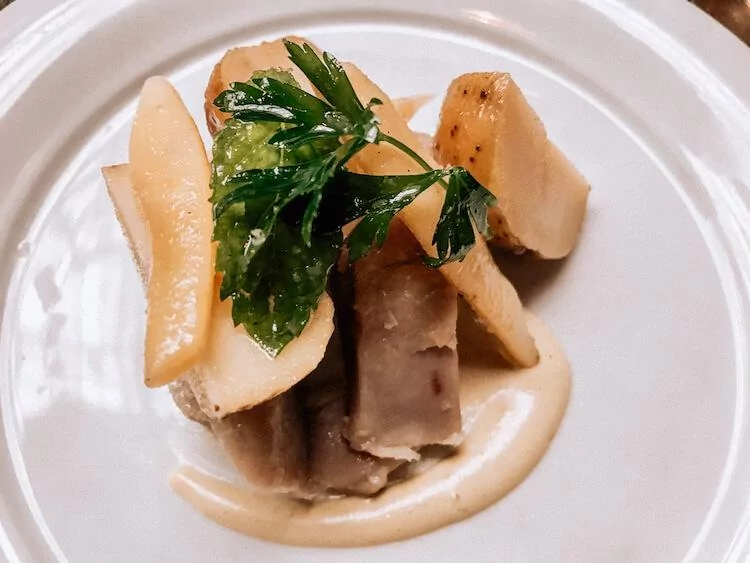 Seriously, it is all lick-your-plate-worthy and super indulgent. If you're here for an anniversary or a Savannah honeymoon, then this place is well worth it and is one of the best restaurants in Savannah!
PS- Make reservations as soon as they are available (about 4 weeks in advance)! It books up super quickly!
12. Wander Around Bonaventure Cemetery Together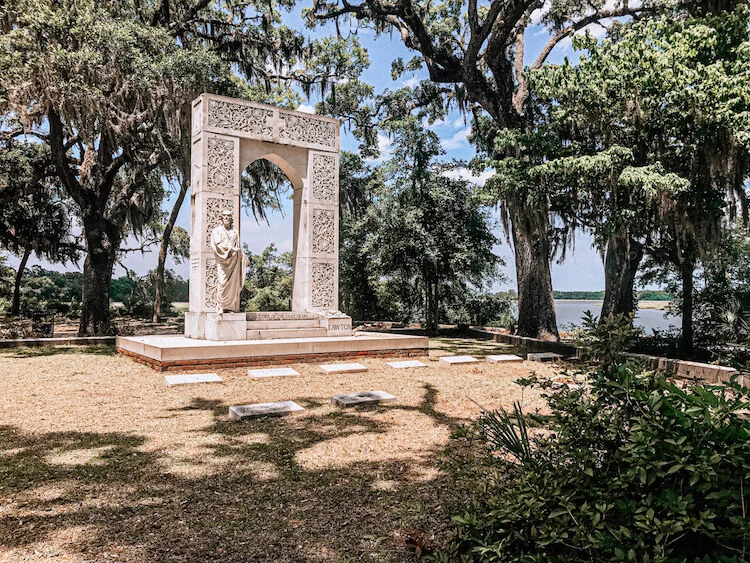 I know what you're thinking… a cemetery? How can this be on the list of romantic things to do in Savannah, GA? Hear me out.
This place is truly stunning. If you go on a nice day, you'll see the Spanish moss lazily swinging from trees, hear the birds calling from the river that flows nearby, and the memorials are a sight to behold.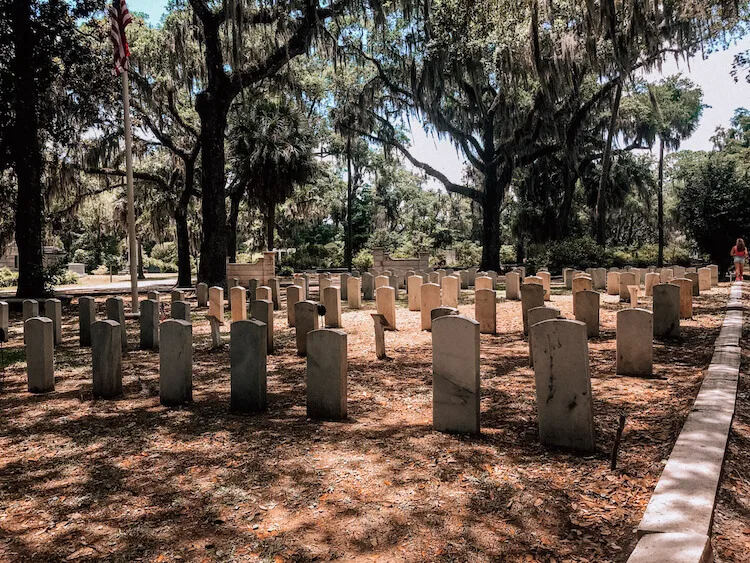 Walking around and taking photos here is a must if you're visiting Savannah. This peaceful place is full of history and the flowers and trees will leave you awe-inspired.
This is definitely one of the most romantic free things to do in Savannah, Georgia. You can also book a guided tour to learn more!
13. Explore Wormsloe Historic Site
Another photographer lover's dream, if you want to take photos together, this is a truly romantic place in Savannah, GA.
The oak trees covered in Spanish moss that line the entrance are always attention-grabbing, and driving or walking under them is divine. The site itself is full of history and you'll spot lively palm trees and old ruins as you wander around this quiet place.
14. Visiting Tybee Island is One of the Most Romantic Things to do in Savannah, GA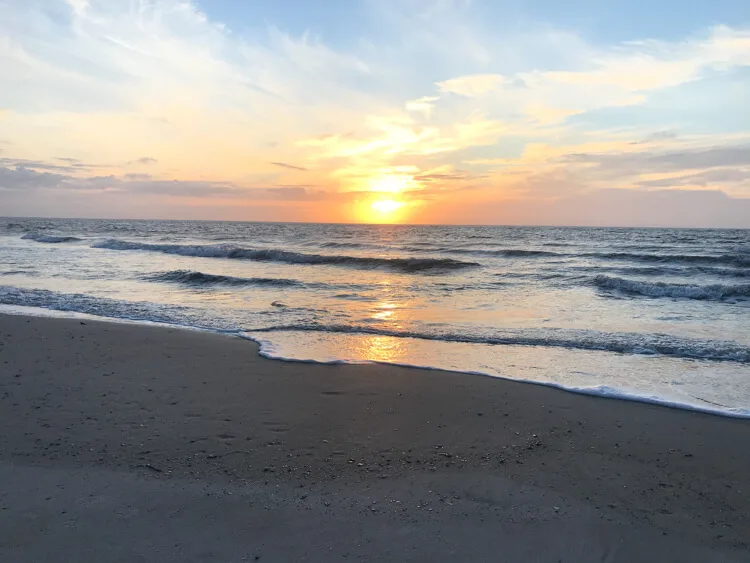 Tybee Island is only about a 30-minute drive from Savannah, making this a perfect day trip for couples. But if you really want to get immersed in Tybee, I highly recommend spending a couple of days on the island!
This romantic getaway destination has stunning sunrises to enjoy, lovely beaches, and a relaxing atmosphere that'll leave you refreshed on your travels. If you plan to stay here overnight, Tybee Island Inn is the cutest bed and breakfast on the north part of the island.
This peaceful part of the island is the best place to stay, and Tybee Island Inn is uber-romantic with its lovely rooms, attention to detail, and great host. It is the most charming place to stay!
15. Stay in a Historic Hotel in Savannah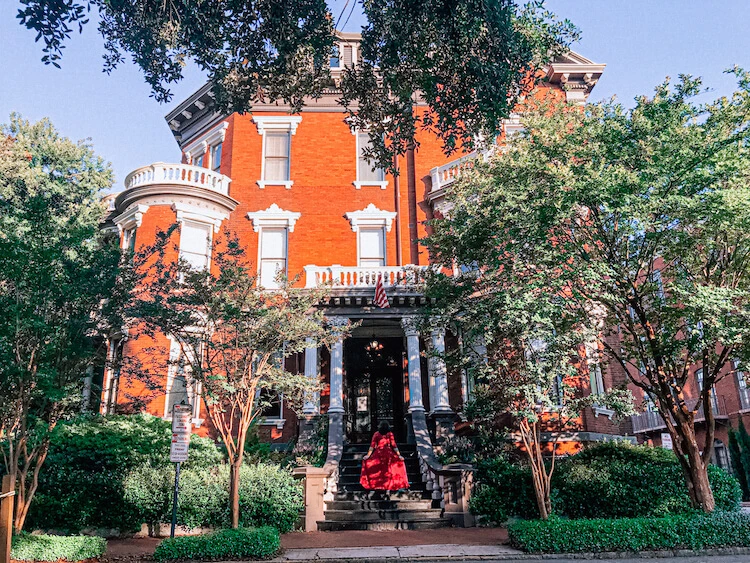 Savannah is full of historic hotels and inns. And if you're here for a romantic getaway, then staying at one of these lovely places is a must.
River Street Inn was built from an old cotton warehouse and is right along river street. They offer beautiful rooms, and from Monday-Saturday, they host happy hour from 5-6:30 pm where they give you free drinks and appetizers.
Kehoe House is a historic adults-only inn on the charming Columbia Square. While this is a haunted inn, if that is your thing, or you enjoy charming hotels without the kiddos, this is a stunning place to stay. Plus, they serve a delicious gourmet breakfast and afternoon wine and hors d'oeuvres from 5-7 pm for guests. Oh, and the bedtime cookies are a bonus too.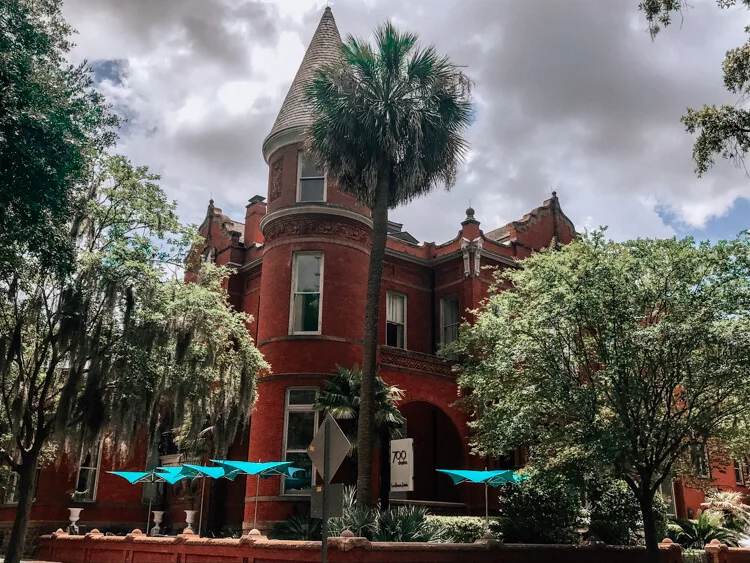 Lastly, the Mansion on Forsyth Park is iconic and overlooks the famous park. They also have a spa, art gallery, and you can have afternoon tea there!
Getting to Savannah
Getting to Savannah is easy thanks to the Savannah/Hilton Head airport nearby. Many airlines go here and you can get good deals on airlines like Allegiant.
I only paid $163 for my round-trip ticket to Savannah from Cleveland on Allegiant thanks to Skyscanner.
There is also the option to drive, or rent a car once you get to Savannah. Having a car is helpful if you plan to take day trips out to Wormsloe or Tybee Island. However, if you plan to spend a few days on Tybee, you can just take a taxi.
Savannah is one of the most romantic cities in the US and definitely deserves to be on your US bucket list.
From staying in a romantic hotel to enjoying the best food the city has to offer, these are hands down the most romantic things to do in Savannah, GA that'll make you want to book a trip here ASAP.
Which romantic idea for Savannah do you love most?
Read Next: Top Things to do in Solvang, Best June Honeymoon Destinations, Romantic Things to do in Joshua Tree, Top USA Honeymoon Road Trips, Most Romantic Things to do in Gatlinburg
Pin it here!