Some posts on this site contain affiliate links, meaning if you book or buy something through one of these links, I may earn a small commission (at no additional cost to you!). Read the full disclosure policy here.
---
Planning to spend a weekend in Philadelphia? There are so many great ways to spend just 2 days in Philadelphia, from exciting historical sites to delicious breweries and all things in between!
Chris and I ended up spending a long weekend in Philly for a wedding and had time to explore the top things to do in the city during that time.
We also had the benefit of having local friends who gave us some tips! So now, we're here to show you how to have the best trip to Philly in just 2 days.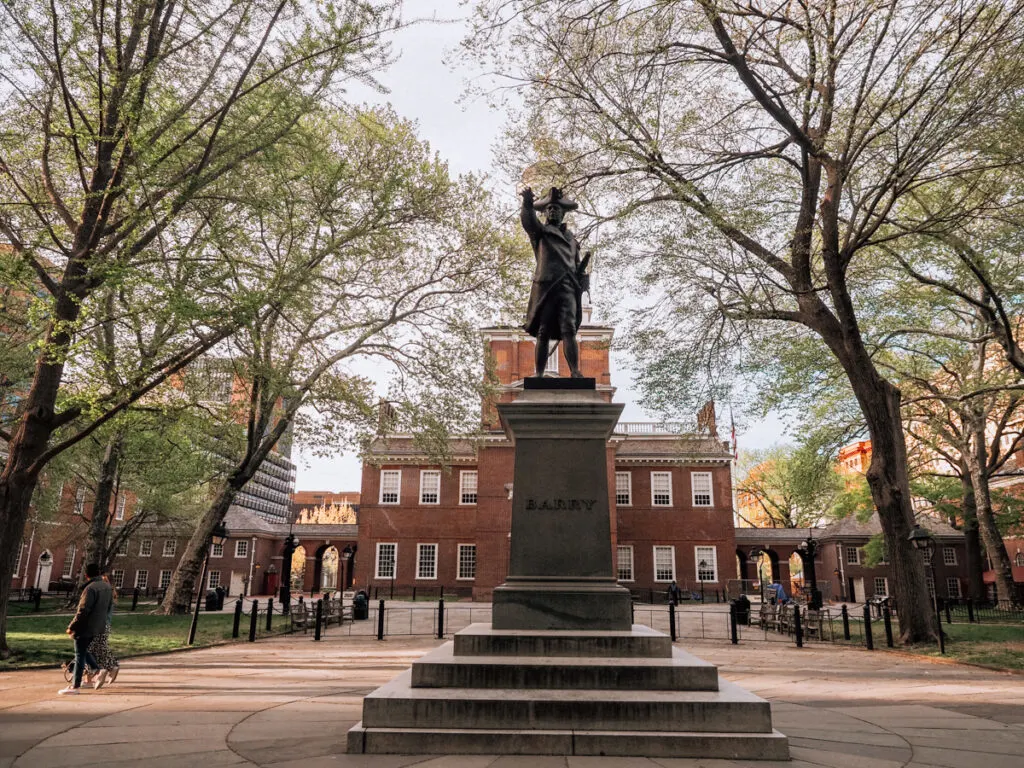 2 Day Philadelphia Itinerary At a Glance
Here is a quick recap of your perfect plan for Philadelphia:
Day 1: Historic Sites & a Brewery
Coffee at Menagerie Coffee
Independence Hall Tour
Liberty Bell
Lunch at Tattooed Mom
Christ Church
Elfreth's Alley
Betsy Ross House
Love Park
Urban Village Brewing Company
Han Dynasty for Dinner
Day 2: Art, Food, & Rocky
Schuylkill River Park
Philadelphia Museum of Art/Rocky Steps
Food Tour
Philadelphia's Magic Gardens
Check out Breweries
For more details, check out how to spend 2 days in Philadelphia below.
Ultimate Philadelphia 2 Day Itinerary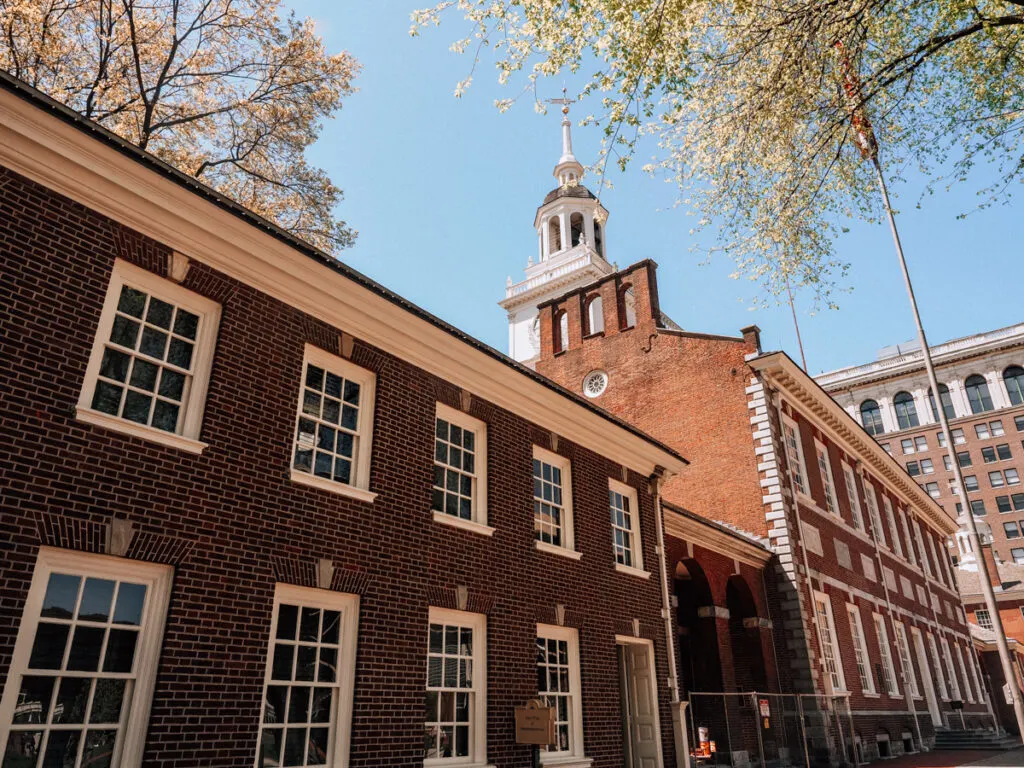 From Rocky to Independence Hall, if you only have a weekend in Philadelphia, read all the details here.
Day 1: Historic Sites & a Brewery
Day 1 is the perfect day to check out a lot of the historic sites that Philadelphia has to offer. So to prepare for a day of wandering the city's main sites, you'll need some coffee.
Kick off the first day of your two days in Philadelphia by grabbing a coffee and a pastry or two at Menagerie Coffee. That'll get you fueled up for a day of exploring, and you're starting off with a big sight: Independence Hall National Historic Park.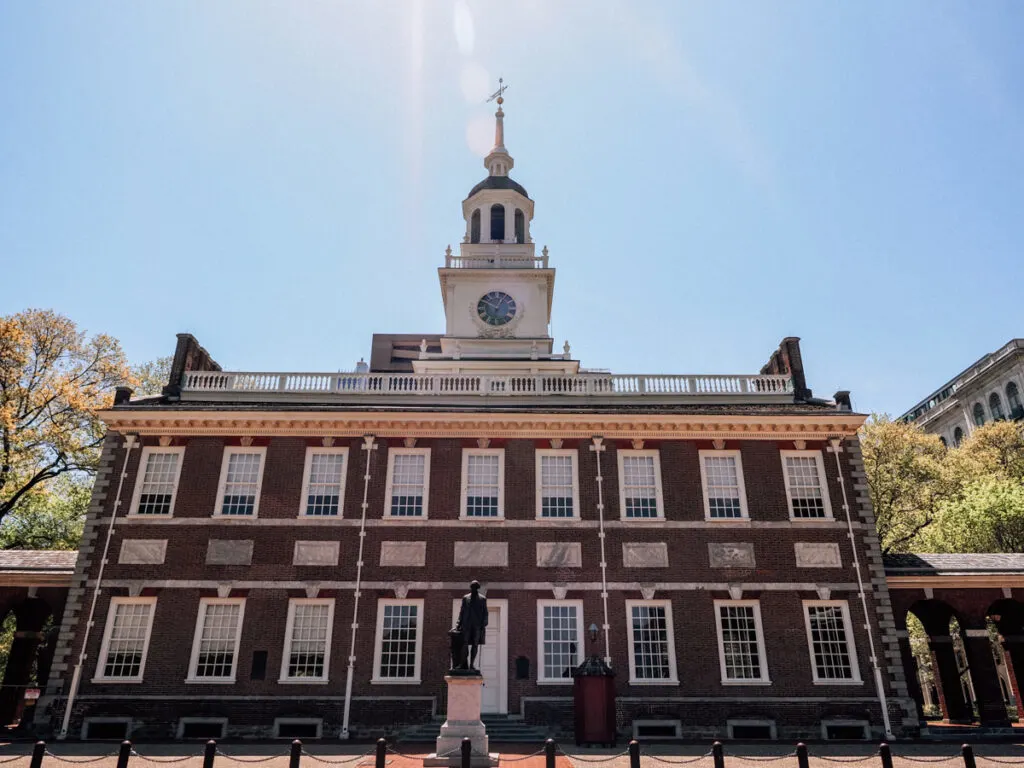 Originally the Pennsylvania State House, it was home to the state government. Of course, now this UNESCO World Heritage Site is known for being where the Declaration of Independence and US Constitution were signed.
Take a tour of Independence Hall before exploring more of the park. The tours only last about 25 minutes and have great information about the history and architecture of the building.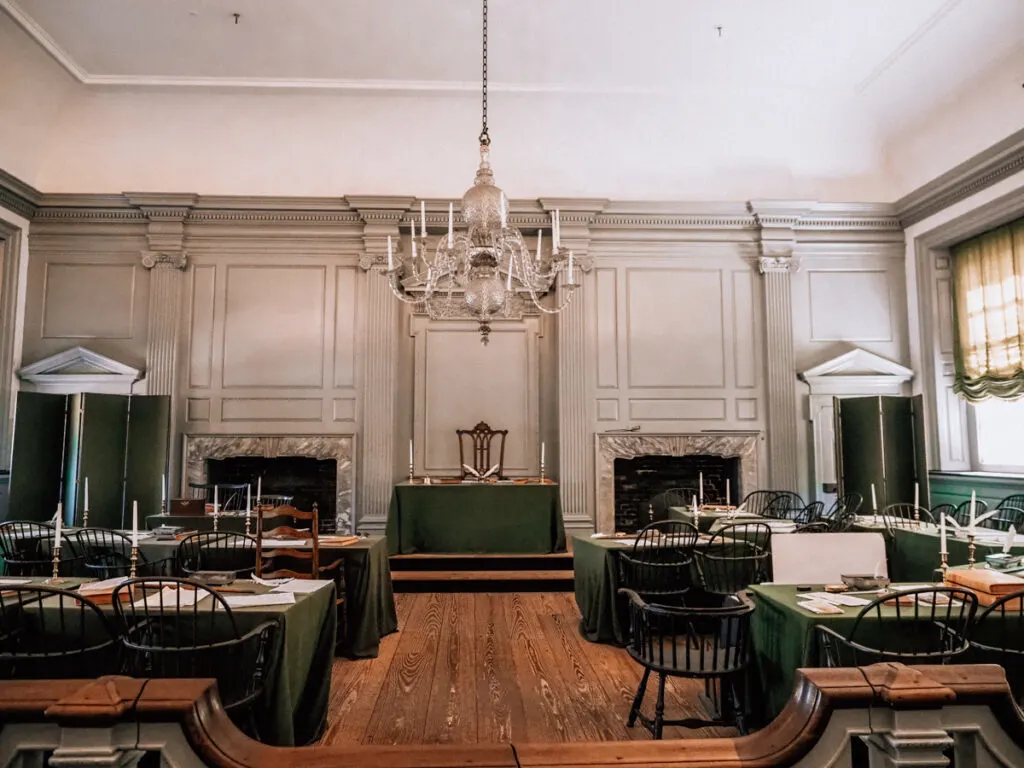 Tours can be booked on Recreation.gov. It is only $1 per person to book online.
While you're in the area, you can also admire the buildings that comprised the Old City Hall and Congress Hall before exploring another iconic Philly site: the Liberty Bell.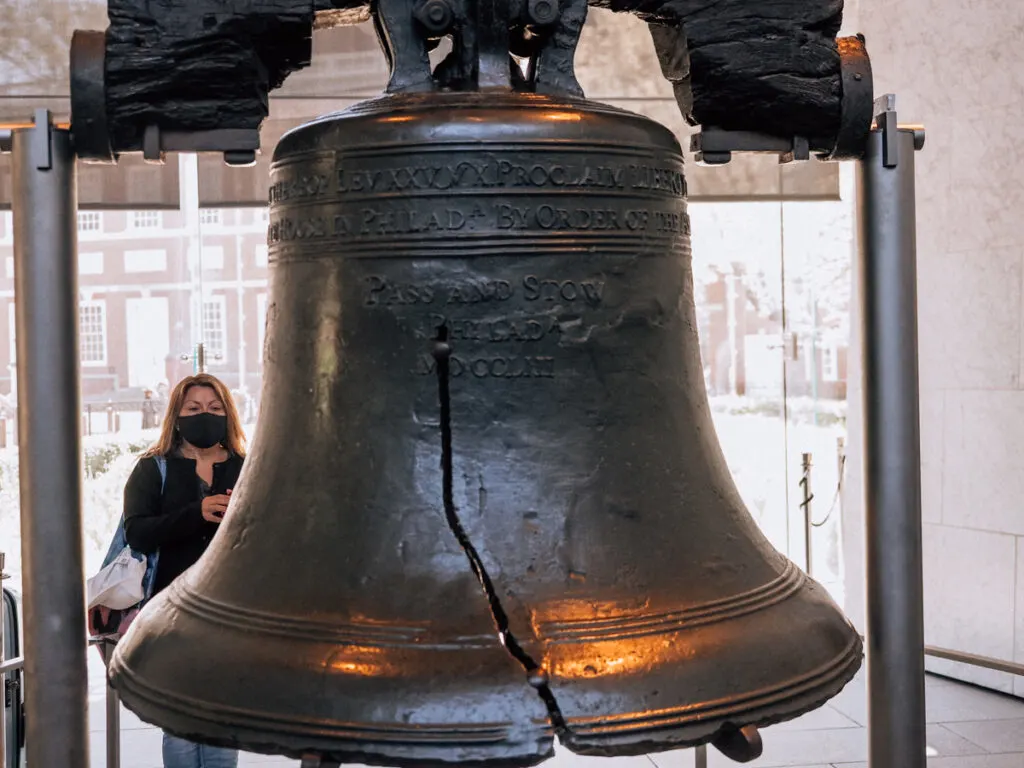 Located across the street from Independence Hall, the Liberty Bell Center is a small and informative museum that describes the history of this famous bell, ending with the bell itself. Take some time to enjoy the museum and Liberty Bell before continuing on your way.
After exploring these parts of Independence Hall National Historic Park, it is time for lunch! And knowing that Philadelphia is famous for its cheesesteaks, it is time to head to a local spot for some tasty options!
Tattooed Mom is a Philly staple, and its crazy eclectic vibes will draw you in immediately. And the best part is yes, you can definitely get a Philly cheesesteak here, but those who don't eat meat can also enjoy the fun with their vegan cheesesteak too!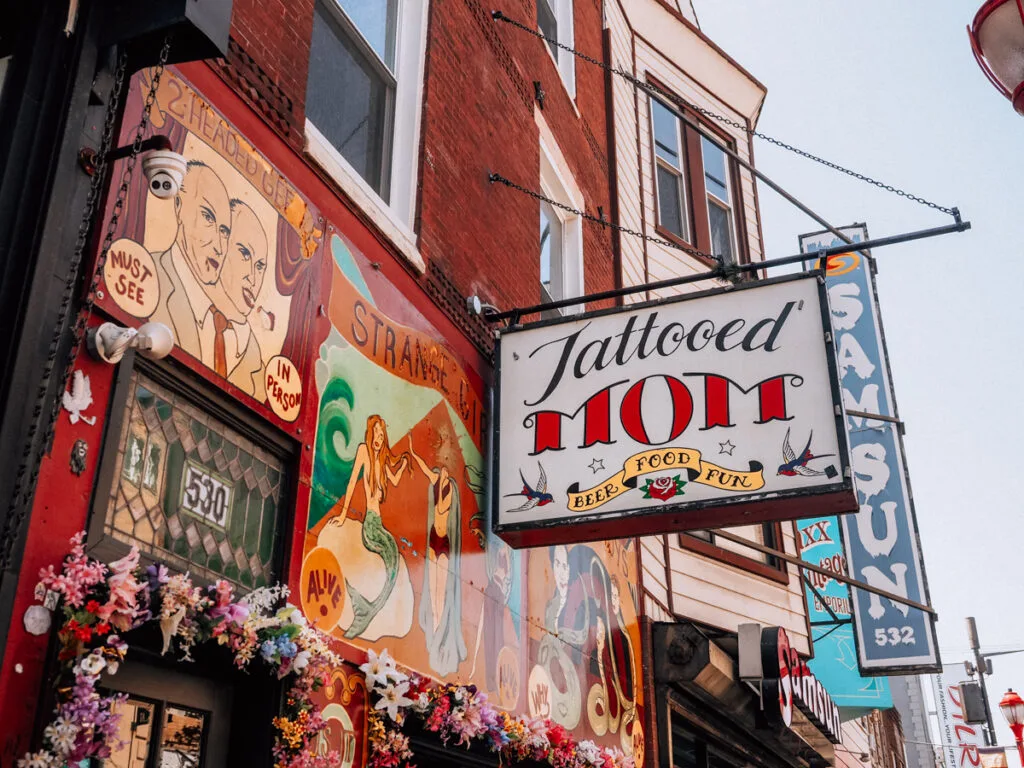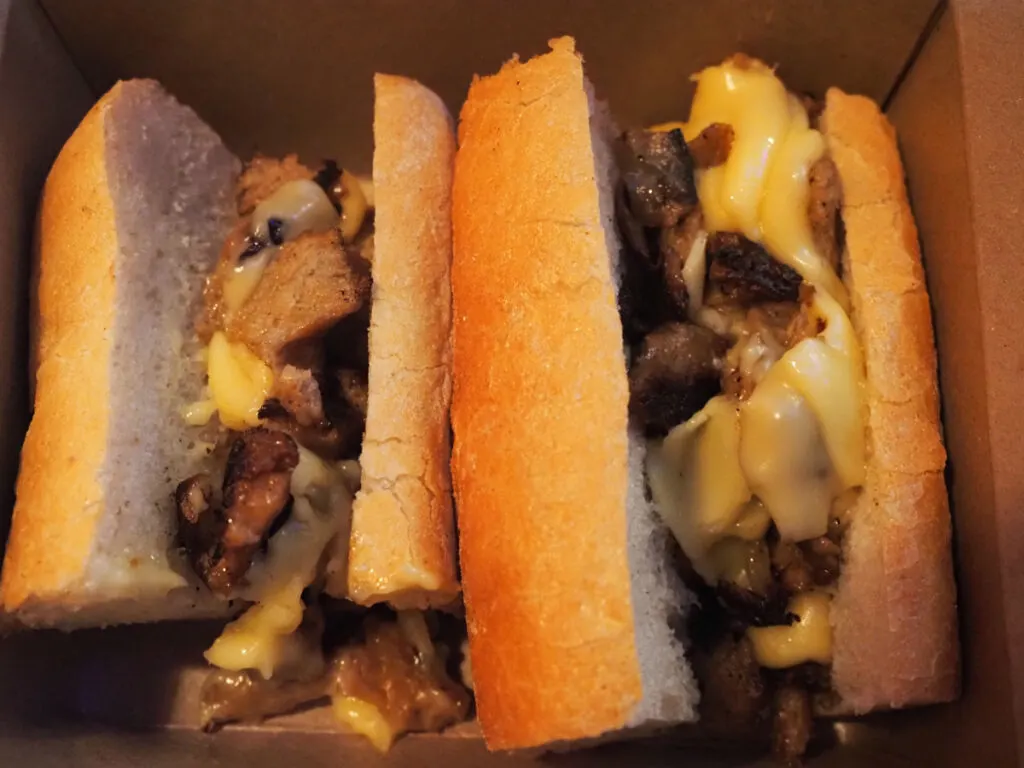 The bun is crispy on the outside and soft on the inside and the vegan Philly is super tasty, especially with the vegan gouda.
Oh, and be sure to grab some vegan BBQ wings for an appetizer, and thank me later!
Okay, after that super filling lunch, you're heading back into the historic district to visit Christ Church. Famous for being the church of the Continental Congress, it has been a church for many leaders in history including George Washington, John Adams, and even Betsy Ross.
You can also visit the graveyard there where Benjamin Franklin is buried.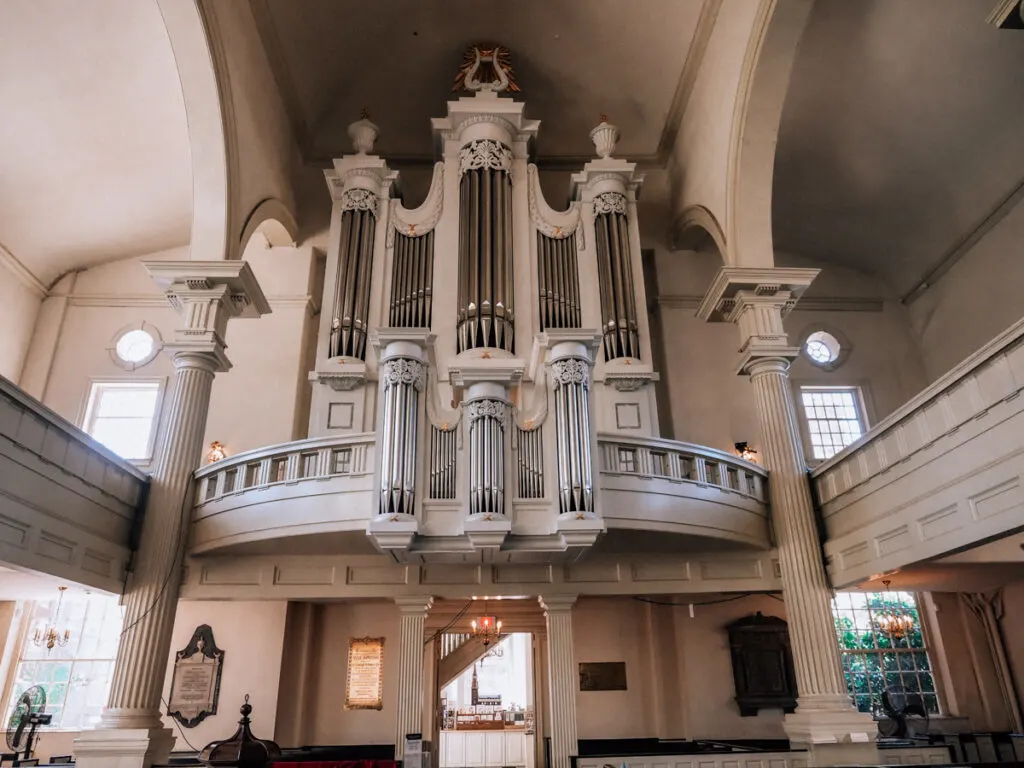 After your visit there, take the short walk over to Elfreth's Alley. This is a historic street dating back to 1703 with 32 houses. Many of these houses are still in use as residences today, so be mindful as you walk along the cobblestone street.
But, if you want to take a peek inside a house and see how the people of that time lived and worked, you can visit the Elfreth's Alley Museum too. It's a small museum and will take 20 minutes or so to see.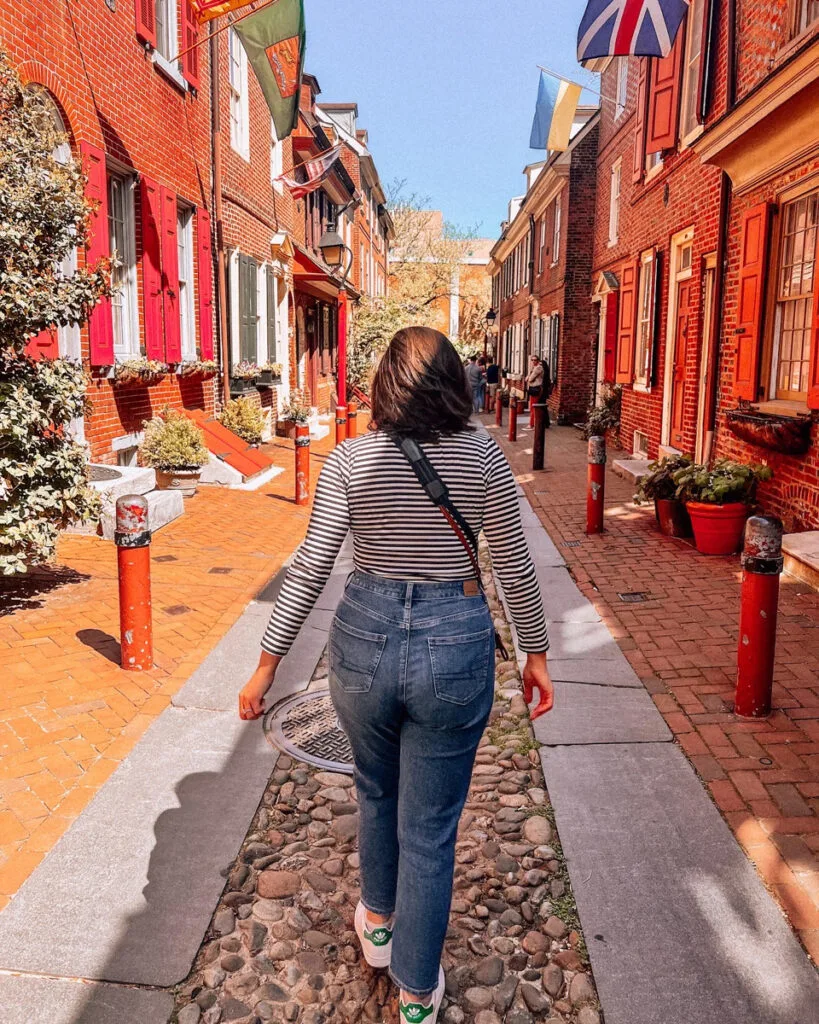 Once you've wandered down this alley, you will pass by the Betsy Ross House on the way to our next stop. We didn't have time to go in when we visited, but it is a cool place to take a photo of or perhaps quickly stop in to learn more about Betsy Ross and the making of the first American flag.
After exploring the more historical parts of Philadelphia, it is time to walk past Chinatown and toward Love Park.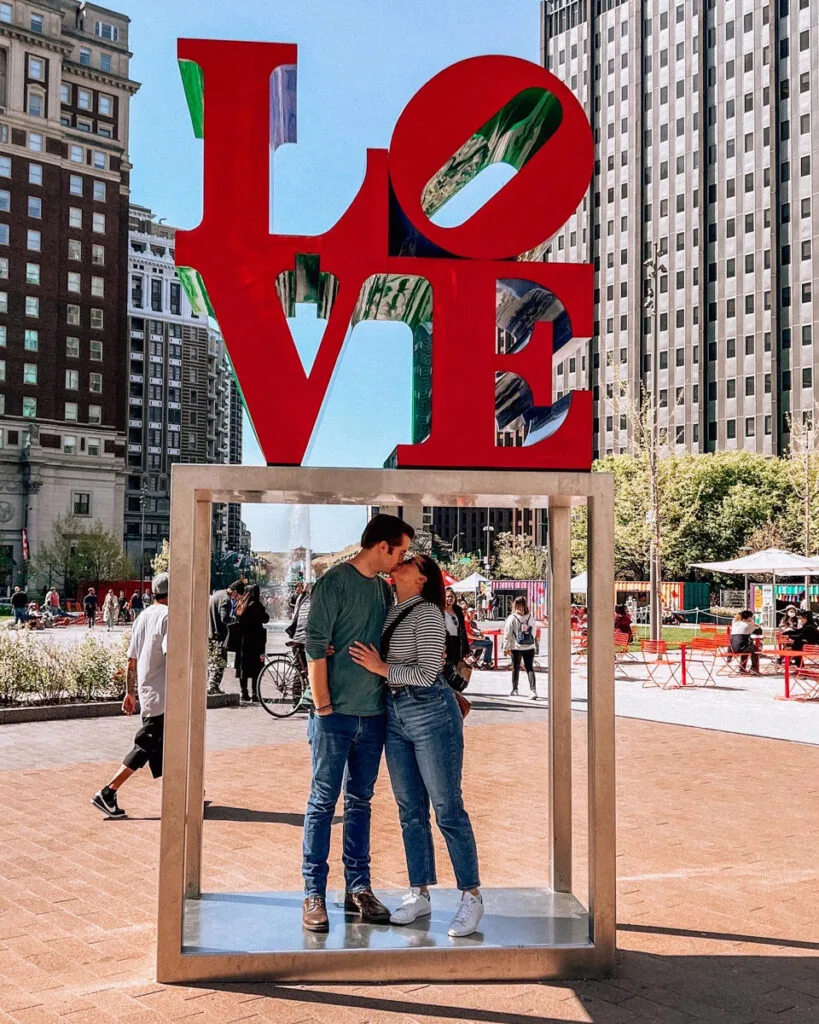 Known as John F. Kennedy Plaza, Love Park is named after the famous Love sculpture. It may be cheesy, but for the lovers out there, taking a photo under the Love sign is a romantic thing to do in Philadelphia.
Once you've explored this area, it is time to hop in an Uber and head up to Fishtown to check out another thing Philadelphia is known for: beer.
Urban Village Brewing Company makes some seriously tasty beers, particularly their IPAs. Check out their Wrong Way IPA or Super Villan IPA and enjoy some beer to reward yourself after a day of exploring Philly.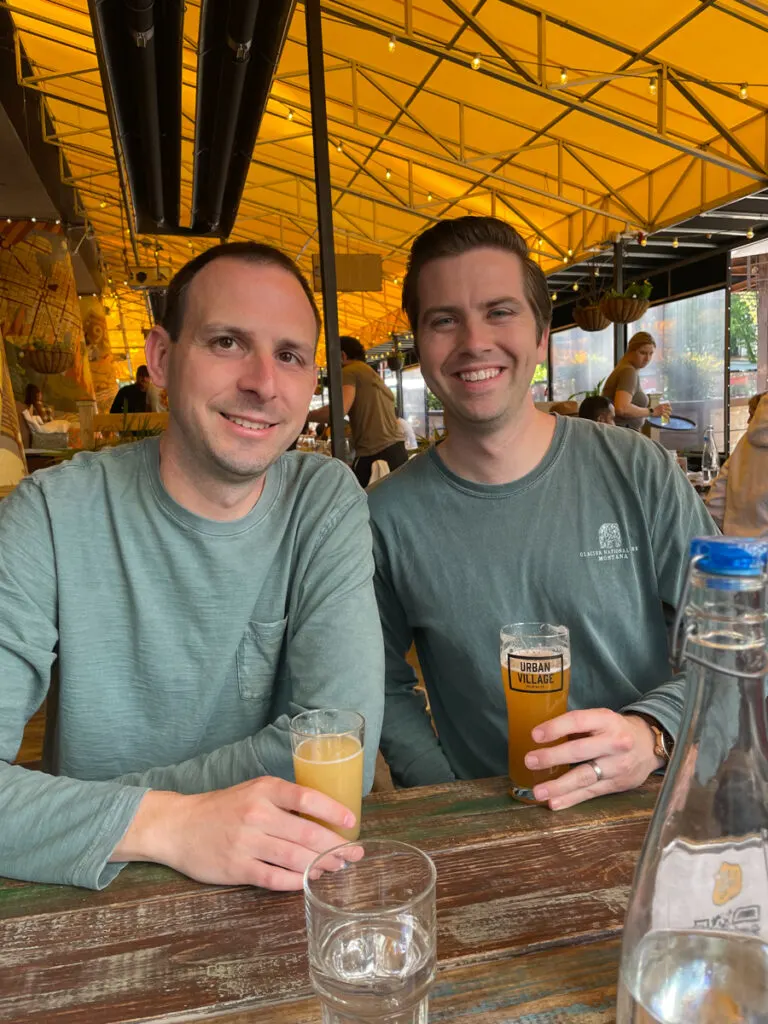 And to wrap up day 1, head to Han Dynasty in the Old City for dinner. This place is super charming on the inside with a great atmosphere and a huge classic wooden bar.
Enjoy some delicious Chinese food that is perfect for splitting like the dan dan noodles, spicy cucumbers, scallion pancakes, and the real star of the show: tofu dry pot. This is served in a mini wok over a fire and has Szechuan peppercorns that give a nice spicy numbing feeling in your mouth.
After this full day of exploring Philadelphia, it is time to go to bed and get ready for more tomorrow!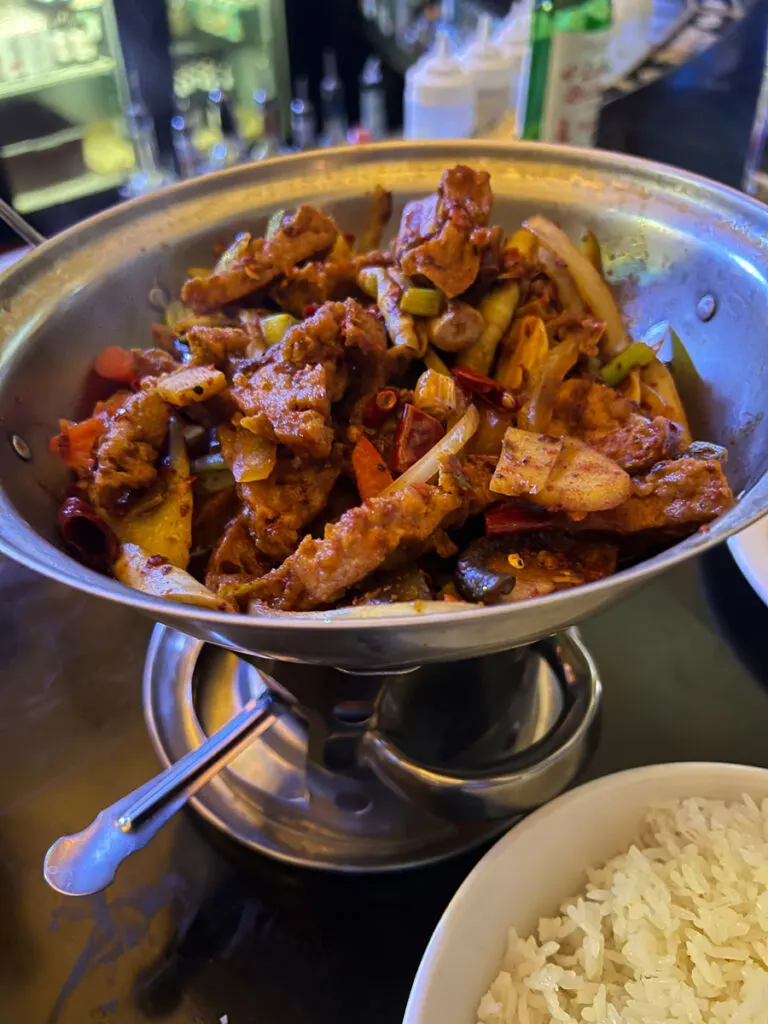 Information for Day 1 in Philadelphia:
Menagerie Coffee: Open Monday-Thursday from 7 am-4 pm, Friday from 7 am-6 pm, Saturday from 8 am-6 pm, and Sunday from 8 am-4 pm.
Independence Hall: Open daily from 9 am-5 pm. Open until 7 pm on Saturdays and Sundays from 5/28-6/18. From 6/19-9/5 open daily from 9 am-7 pm. Tickets are required at this time except for visits after 5 pm. Admission is $1 per person for the online tour booking.
Liberty Bell Center: Open daily from 9 am-5 pm. Open until 7 pm on Saturdays and Sundays from 5/28-6/18. From 6/19-9/5 open daily from 9 am-7 pm. Admission is free.
Tattooed Mom: Open Monday-Thursday from 4-11 pm, Friday-Saturday from 12 pm-2 am, and Sunday from 12-11 pm.
Christ Church: Open Wednesday-Sunday from 11 am-5 pm. Admission is free.
Elfreth's Alley Museum: Open Friday-Sunday from 12-4 pm through the end of October. Admission is $3 per adult, $2 per child ages 7-12, and free for children under 7.
Betsy Ross House: Open daily from 10 am-5 pm. Admission is $8 for adults and $6 for Children/Seniors/Military/Students for a self-guided tour. For audio tours, it is $10 for adults and $8 for Children/Seniors/Military/Students.
Urban Village Brewing Company: Open Sunday-Thursday 12-11 pm and Friday-Saturday from 12 pm-12 am. The kitchen closes an hour before.
Han Dynasty- Old City: Open Monday from 4-9 pm, Tuesday from 4-9:30 pm, Wednesday, Thursday, and Sunday from 12-9:30 pm, and Friday-Saturday from 12-10 pm.
Day 2 of Your Weekend in Philadelphia: Art, Food, & Rocky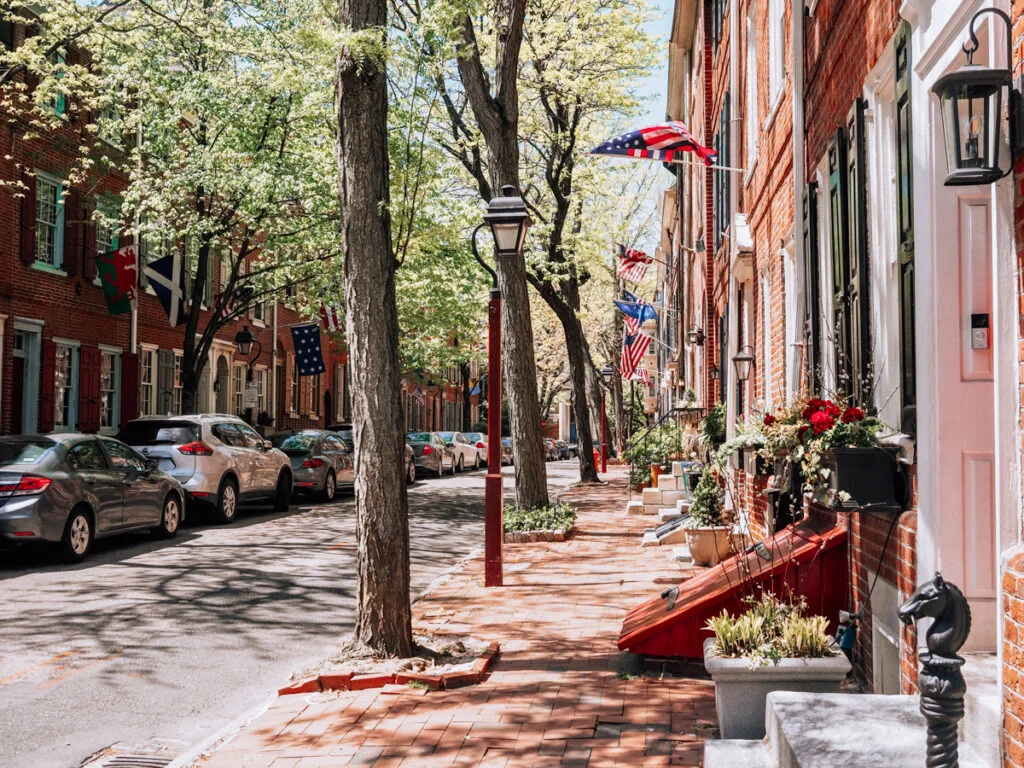 Today is all about art, food, and the famous Rocky steps! Let's get into it!
Start your day by walking along the Schuylkill River Park. Take in the sights of the river as you wander along, easing into the day.
Next up is to check out a museum, one you may recognize. The Philadelphia Museum of Art is home to the famous Rocky Steps. Jog up them or just walk up and take a photo of this iconic place before visiting the art museum itself.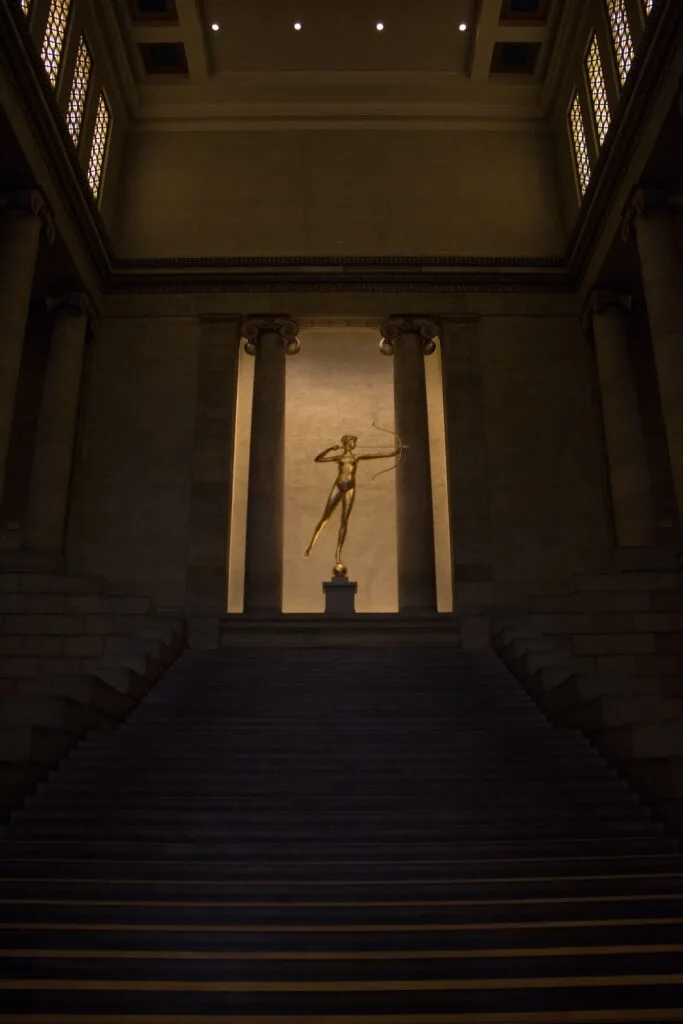 From world-famous impressionists to American art, the museum has plenty to fill your time with. Be sure to stop and take a photo of the gilded Diana statue too!
Then, it is time for one of our all-time favorite things to do in a city: take a food tour!
This food tour has it all: cheesesteaks, tomato pie, and a chance to visit Reading Terminal Market. This huge food-hall market has anything you can imagine, from fresh produce to tasty desserts and everything in between.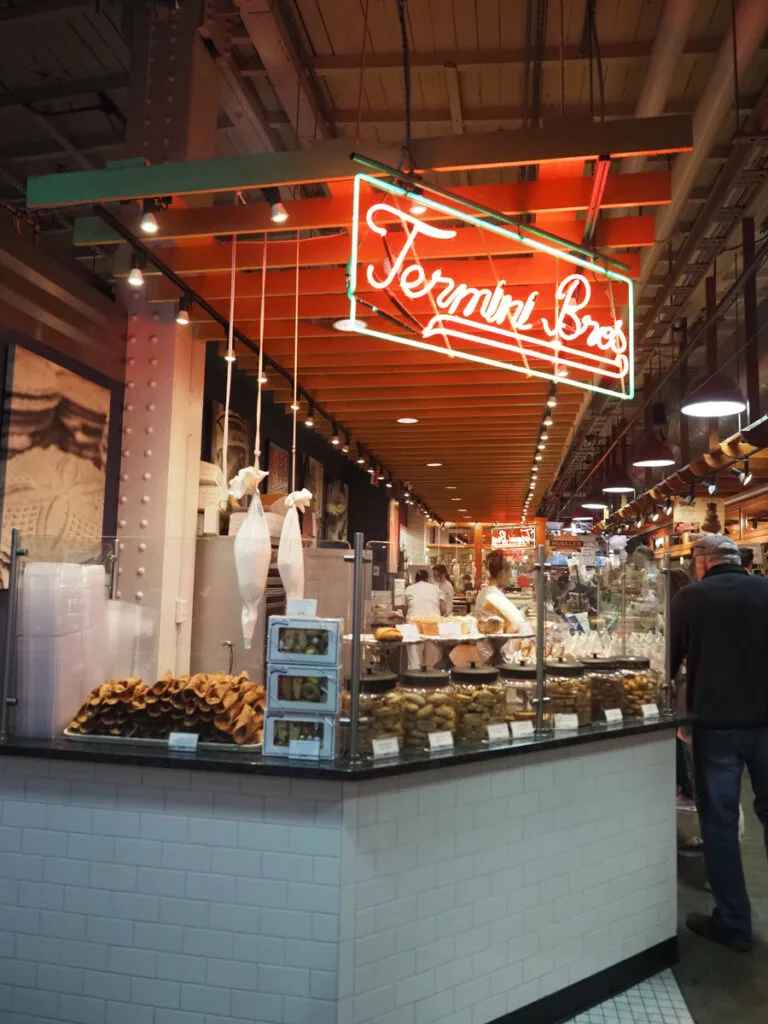 And the tour even gives some history and more information about eating like a local in Philadelphia! Enjoy 2.5 hours of tasting the best of Philly before walking it off to your next destination.
For a quirky and fun place to visit during your two-day itinerary in Philadelphia, definitely check out Philadelphia's Magic Gardens. This indoor and outdoor mixed media art environment is full of fun mosaics and is definitely worth a stop on your visit to Philadelphia in 2 days.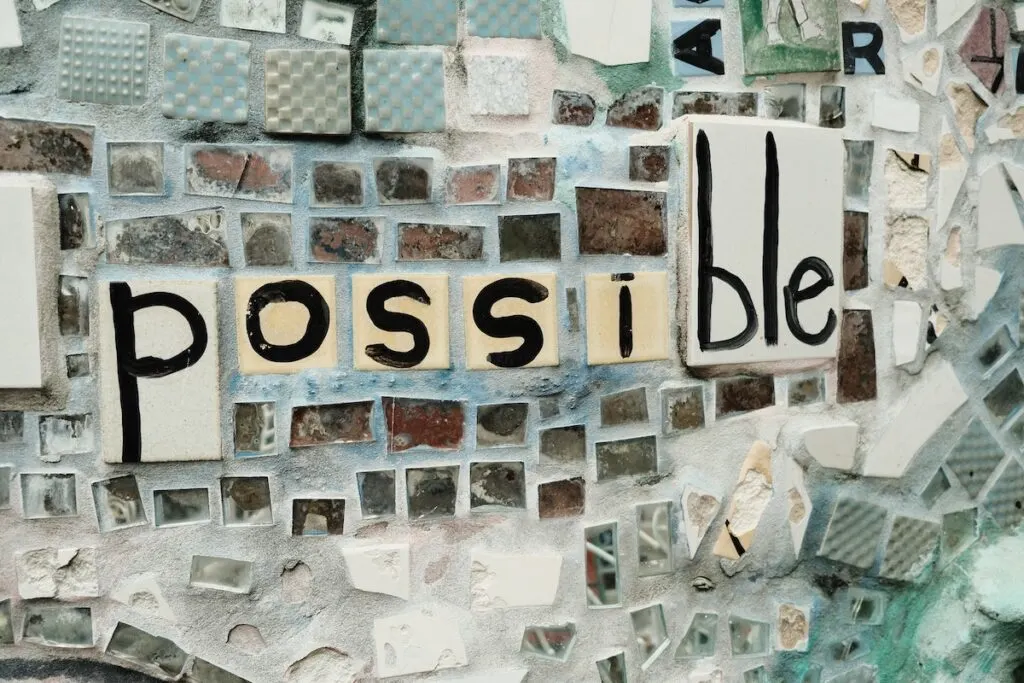 Last, but not least, for your weekend in Philadelphia itinerary, is to check out more of the beer scene. Here are a few more places to check out:
Other Half Brewing
Tired Hands Brewing Company
Yards Brewing Company
Love City Brewing
Source Urban Brewery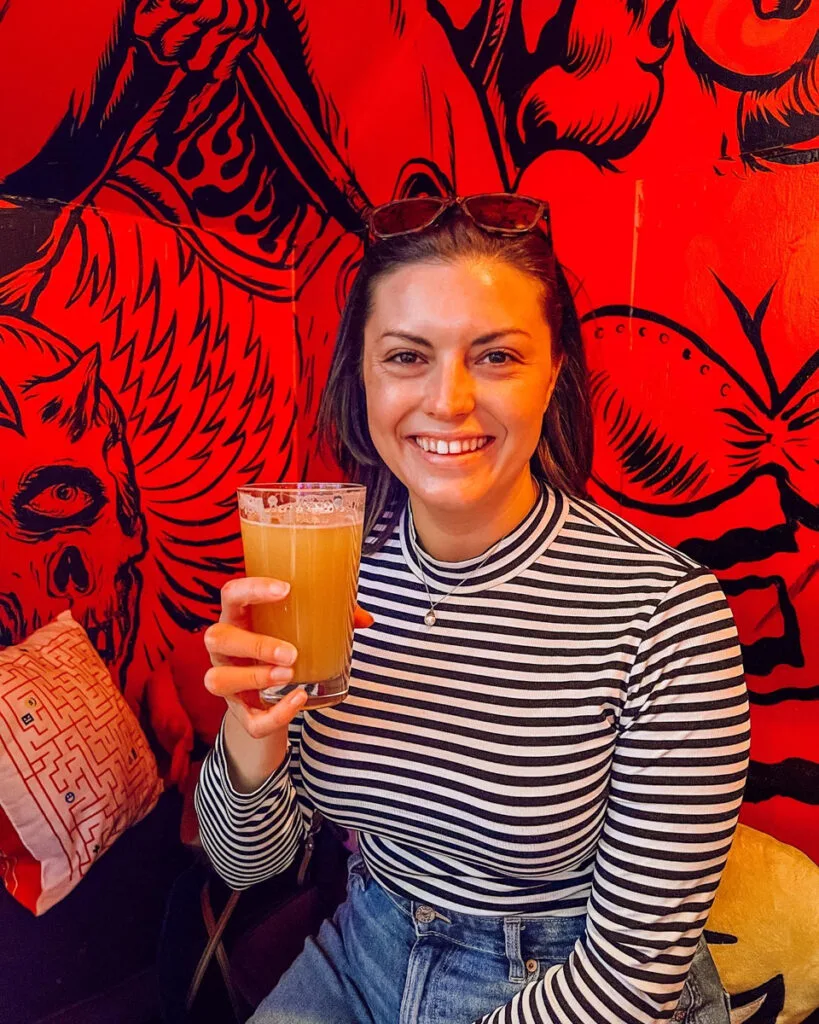 Or you could enjoy spending some time at the Independence Beer Garden and try some local beers and other cocktails.
After all of these exciting experiences during your Philadelphia two-day itinerary, it is time to wrap it up and head home the next day.
Information for Day 2 in Philadelphia:
Schuylkill River Park: Open 24/7 and free to visit.
Philadelphia Museum of Art: Open Thursday, Saturday, Sunday, and Monday from 10 am-5 pm and Friday from 10 am-8:45 pm. Admission is $25 for adults, $23 for 65+, $14 for students with ID, and free for children.
Food Tour: Meets inside the lobby of Liberty Place near the Saxby's Coffee kiosk. Tours start between 12-1:30 pm depending on the day. The price is $52 per person. Book it here!
Philadelphia's Magic Gardens: Open Wednesday-Monday from 11 am-6 pm. Admission is $15 for adults, $12 for students with ID, military, and seniors, $8 for children ages 6-12, and free for children under 6.
Where to Stay in Philadelphia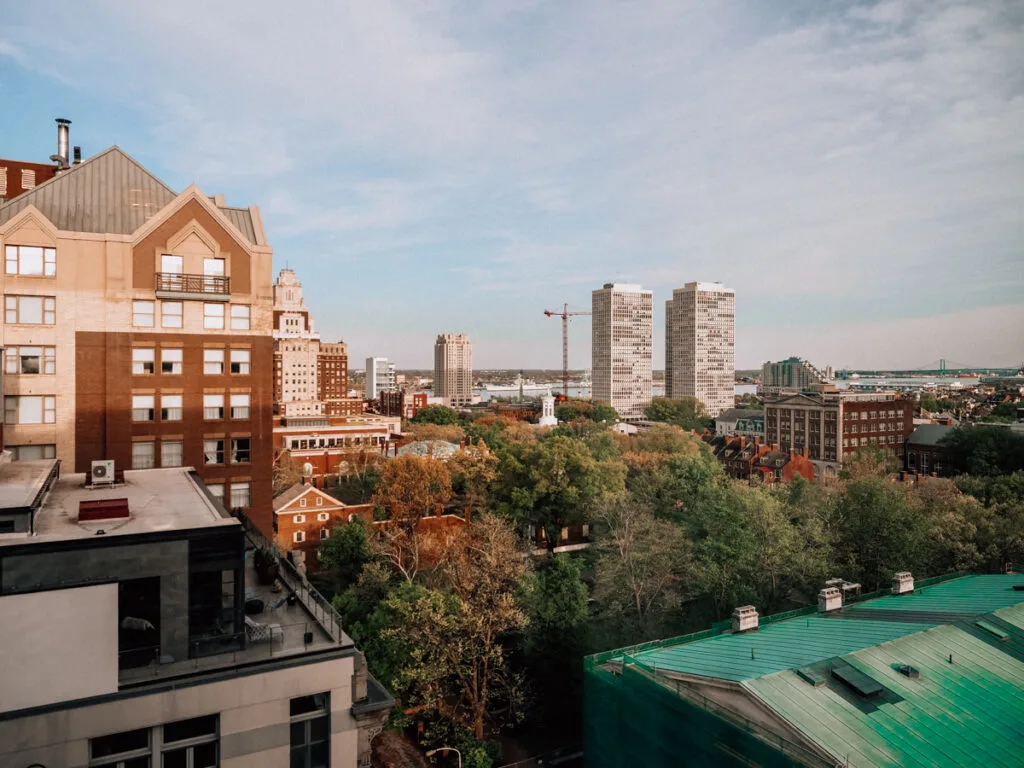 First of all, it is a good idea to stick to the Historic District or nearby area to get the most out of your time in Philadelphia. It just makes things easier to get around quickly.
Here are some great places to stay during your Philly in 2 days itinerary based on your budget.
Budget: Wyndham Philadelphia Historic District
Located only about 5 minutes from Indendepence Hall, this is a great place to base yourself in Philly for a weekend. Prices start at around $186 per night.
Mid-Range: Alexander Inn
For a charming boutique hotel in the heart of the city, look no further than Alexander Inn. This is only about 15 minutes from Independence Hall as well as Love Park. Prices start at around $200 per night.
Luxury: Kimpton Hotel Monaco Philadelphia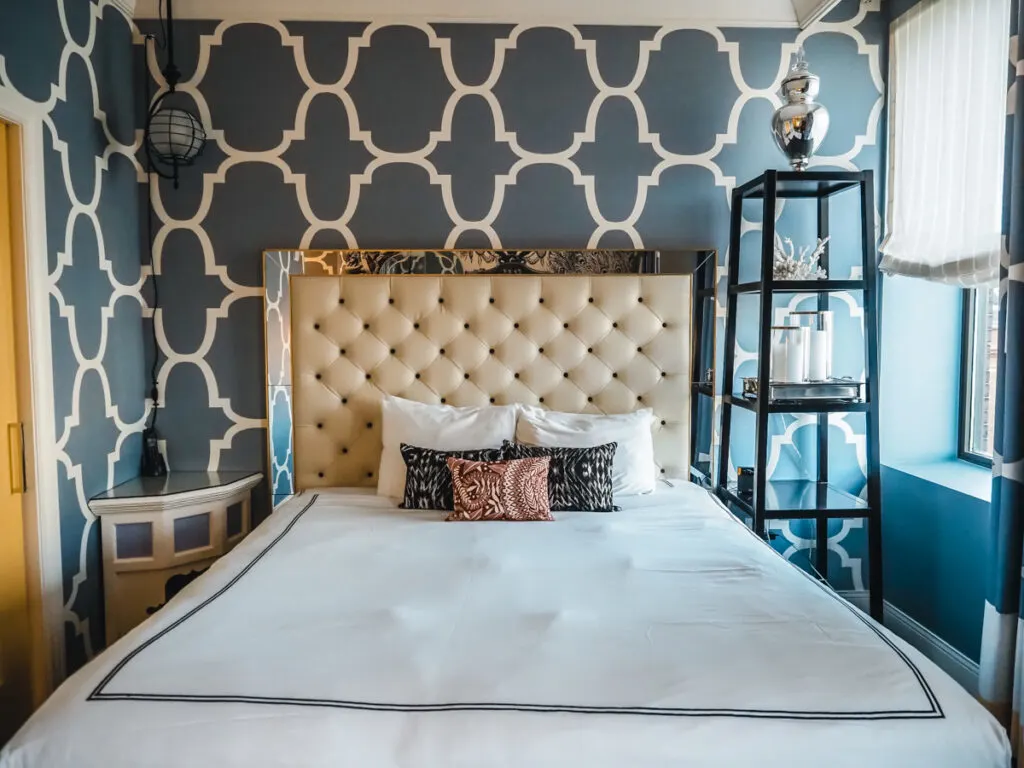 For a fun splurge, this hotel is located across the street from Independence Hall in the historic district, plus the rooms have great views of the city and river, they have a fun rooftop bar, and the whole place is very chic. Prices start at around $300 per night.
Getting to Philadelphia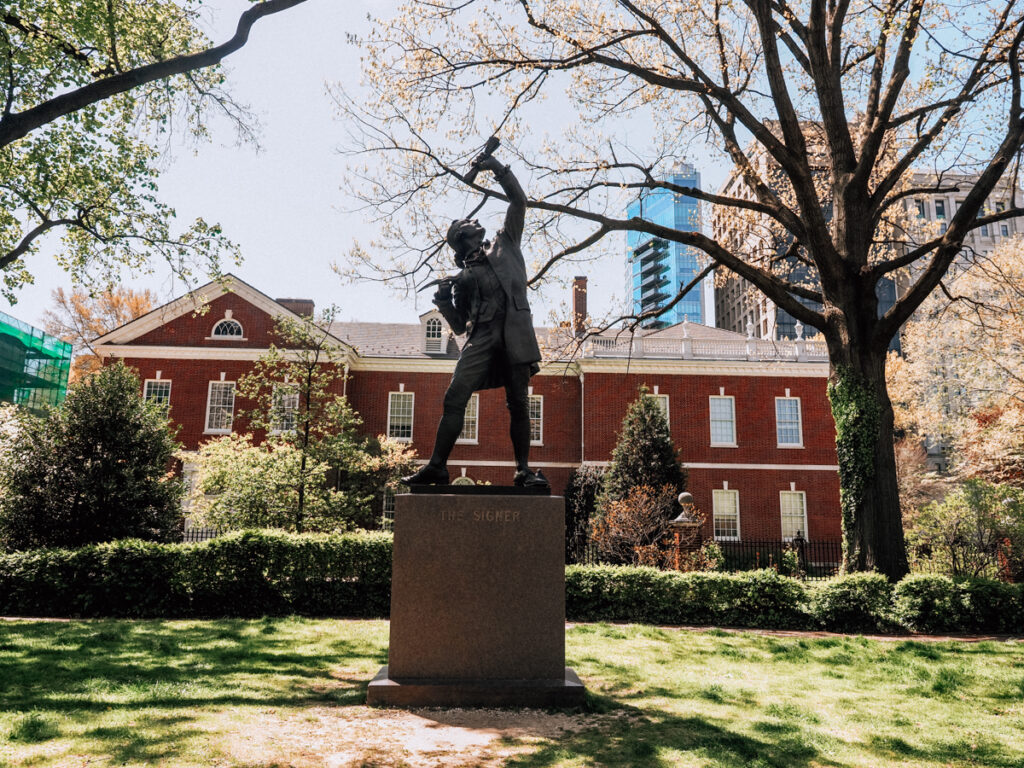 If you're coming from further away, the easiest way to get to Philadelphia is by flying into Philadelphia International Airport. Check prices on Skyscanner for deals!
To get downtown from there, you can take the Southeastern Pennsylvania Transportation Authority (SEPTA) train which goes downtown. There is also the option to take an Uber from the airport to downtown as well, it'll just cost more money.
If you're coming from not too far away, driving is a good idea, especially if you want to explore the nearby areas around Philly if you have more time.
Lastly, you can take Amtrak from other northeast cities too!
So is just 2 days in Philadelphia enough time? Absolutely! You can see and do a lot of things in just a weekend itinerary in Philly. From art museums to historic sites, you'll be sure to have a great time in the city!
Want more US travel ideas? Check these out!
Pin it here!