Some posts on this site contain affiliate links, meaning if you book or buy something through one of these links, I may earn a small commission (at no additional cost to you!). Read the full disclosure policy here.
---
Looking for the best things to do in Shenandoah National Park? Luckily, there are SO many amazing things to check out!
When we first started planning our trip to Shenandoah National Park, I'll be honest, I wasn't sure if it was going to be that great. After having spent so much time exploring the Great Smoky Mountains National Park in Tennessee, I wasn't sure if this would top it.
Thank goodness my initial thoughts were quickly dissipated upon the first day of exploring this beautiful national park. With far fewer crowds than the Smokies (12 million annual visitors in the Smokies versus just 1.4 million visitors to Shenandoah), a lot of wildlife, stunning views, and no overly touristy towns like Gatlinburg or Pigeon Forge, Shenandoah National Park may be a new favorite of mine.
To show you that yes, this place is 100% worth the hype, here are the top things to see in Shenandoah National Park and in Shenandoah Valley that'll make you want to visit ASAP.
Plus we had to include a ton of helpful tips and a 2-day itinerary to plan your perfect trip!
Also, be sure to check out our podcast episode all about Shenandoah too!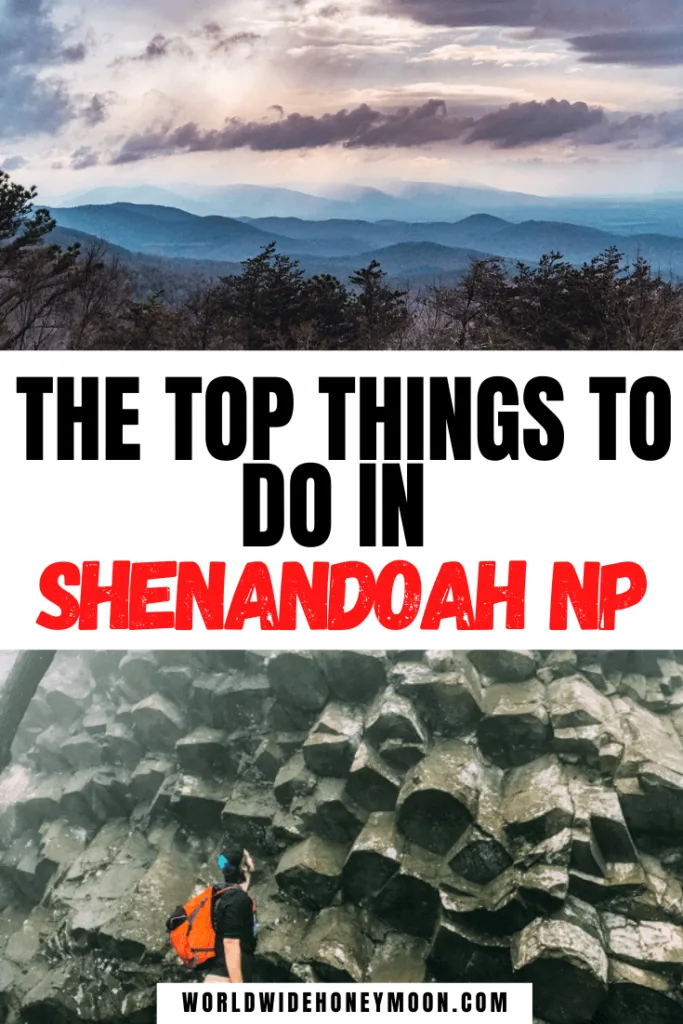 15 Best Things to do in Shenandoah National Park (And in Shenandoah Valley!)
Whether you want to spot wildlife, chase waterfalls, or admire the views from your car, this is what to do in Shenandoah National Park.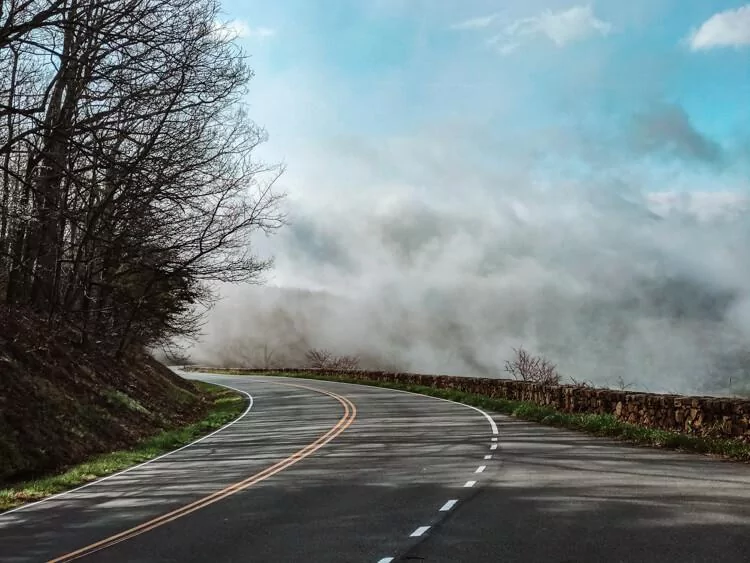 1. Driving Skyline Drive Is Top of the List for Shenandoah National Park Things to do!
If you are visiting Shenandoah National Park, chances are you will at least drive a portion of Skyline Drive. This 105-mile drive cuts all the way through Shenandoah National Park.
Starting in Front Royal and ending in Rockfish Gap, there are over 70 overlooks to pull off and enjoy the stunning mountain and valley views, plus you can also stop off at several visitor centers, lodges, and hiking trails!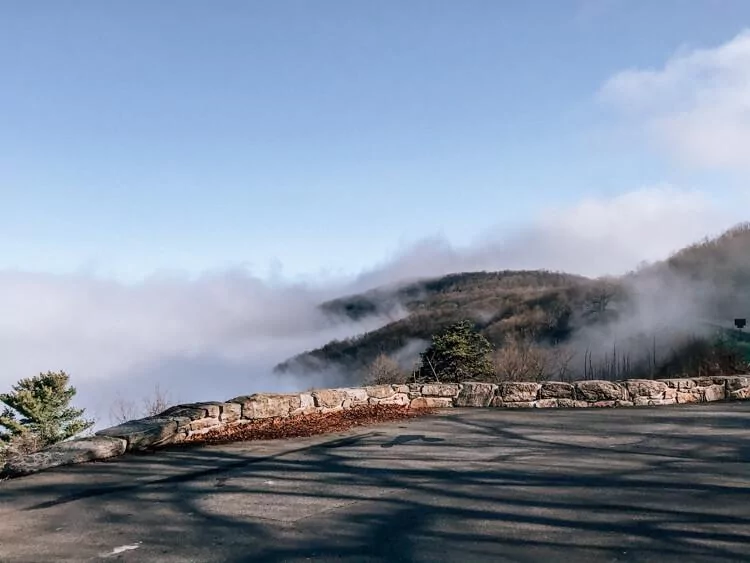 It is a lot of fun to spend a day driving the whole length of Skyline Drive to stop off at overlooks, enjoy views while dining at Skyland's Pollock Dining Room, and go on a few hikes within the park!
Plus, while driving the length of Skyline Drive, you'll pass through Mary's Rock Tunnel, a 610-foot long rock tunnel located at mile 32.2 that was considered quite an engineering feat when it was built in 1932!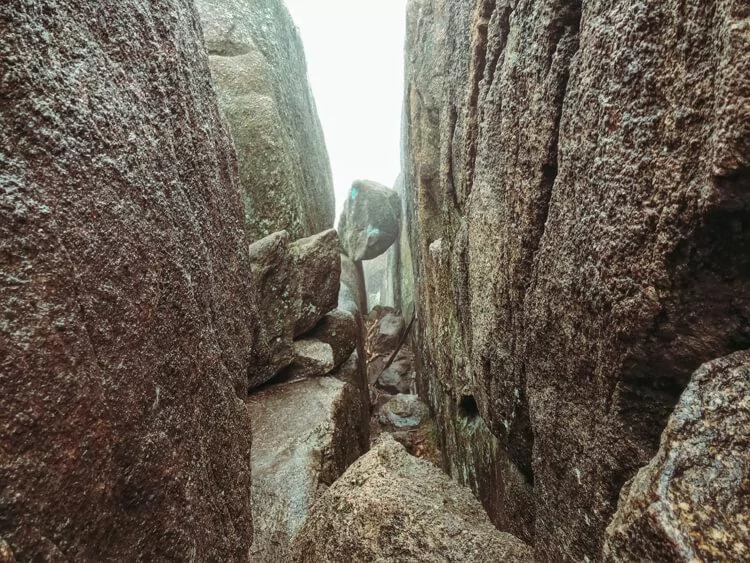 2. For the Adventurous: Hike Old Rag
This hike is certainly not for the faint of heart!
One of the most popular (and challenging) hikes within Shenandoah National Park has to be Old Rag. This 9.4-mile loop trail is full of rock scrambles on the way up!
Chris and I did this on our first day in Shenandoah after it had rained the evening before, and it was quite the challenge! If you are taller or have longer limbs you probably won't struggle as much, but for shorter folks like myself, having an extra person around to give you a boost helps a lot.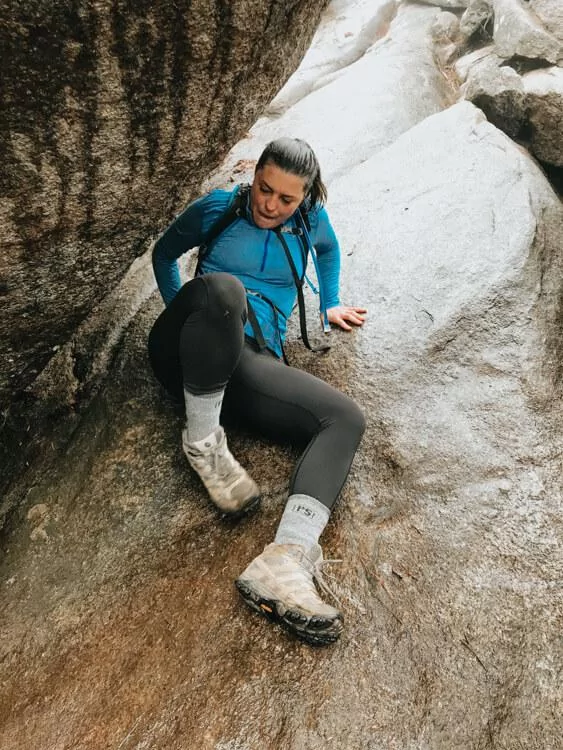 However, the scrambles are a lot of fun, but just be sure to think strategically about how to maneuver each scramble before you find yourself halfway through and unsure on your next move!
Luckily, when you're in the thick of it, just remind yourself to keep going! Once you get to the top, the views are gorgeous (if you're luckier than us and don't go on a foggy day!) and the way down is super easy. You just follow an old fire road. So continuing on your path is much easier than turning around and going back!
Take in the views while enjoying a snack at the top to congratulate yourself on completing the toughest hike in Shenandoah!
Plan to spend about 6-8 hours hiking this trail!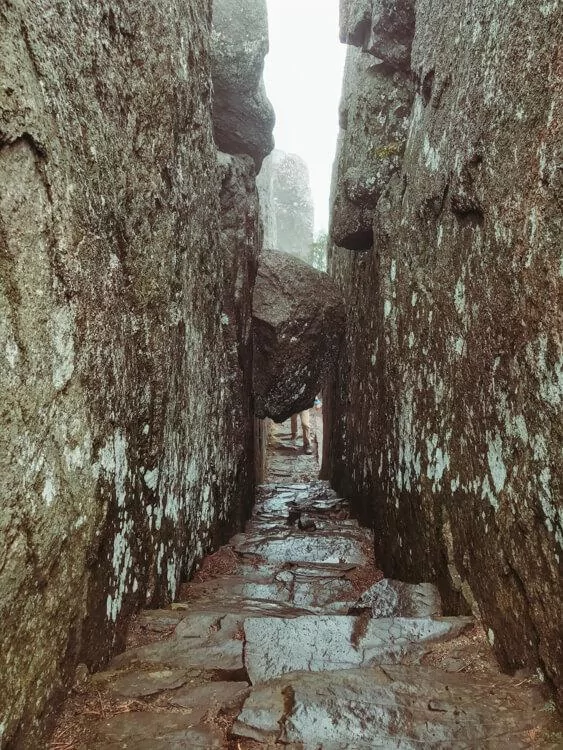 Pro-tip: There is a new parking lot for the trail just a little bit further from the old parking lot. Also, go early! This place gets crowded quickly!
Old Rag Hack: If you don't want to do all the rock scrambling, then just take the old fire road up and back instead of doing the circuit trail. It doesn't have the rock scrambling, but there is a big elevation gain, so be prepared for that!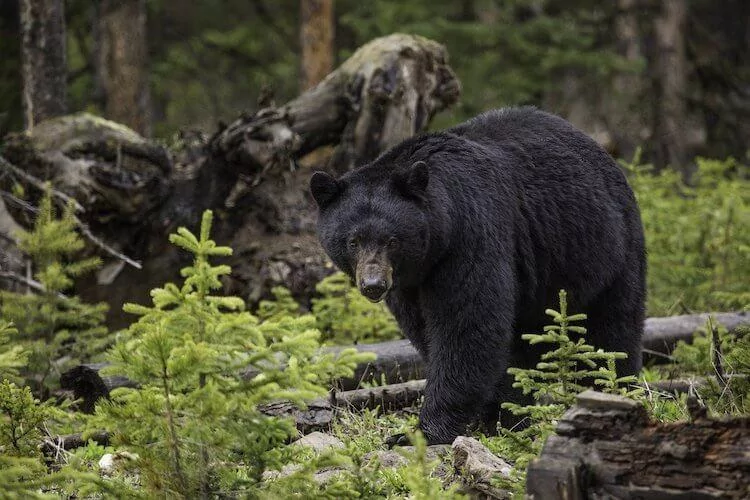 3. What to do at Shenandoah National Park: Spot Wildlife!
With over 50 species of mammals and 200 species of birds in Shenandoah National Park, wildlife spotting is a must during a trip here!
Luckily, one of the more popular places to find wildlife is actually just by driving Skyline Drive! People frequently spot black bears along the road along with wild turkey, white-tailed deer, and gray squirrels.
On hikes you may spot the occasional black bear, salamander, or snake! While we were never lucky enough to see any bears, we did see this snake on one of the trails. I was ready to let him have the trail and find another way, but Chris gently used a long stick to pick up the snake and put him to the side of the trail to slither away.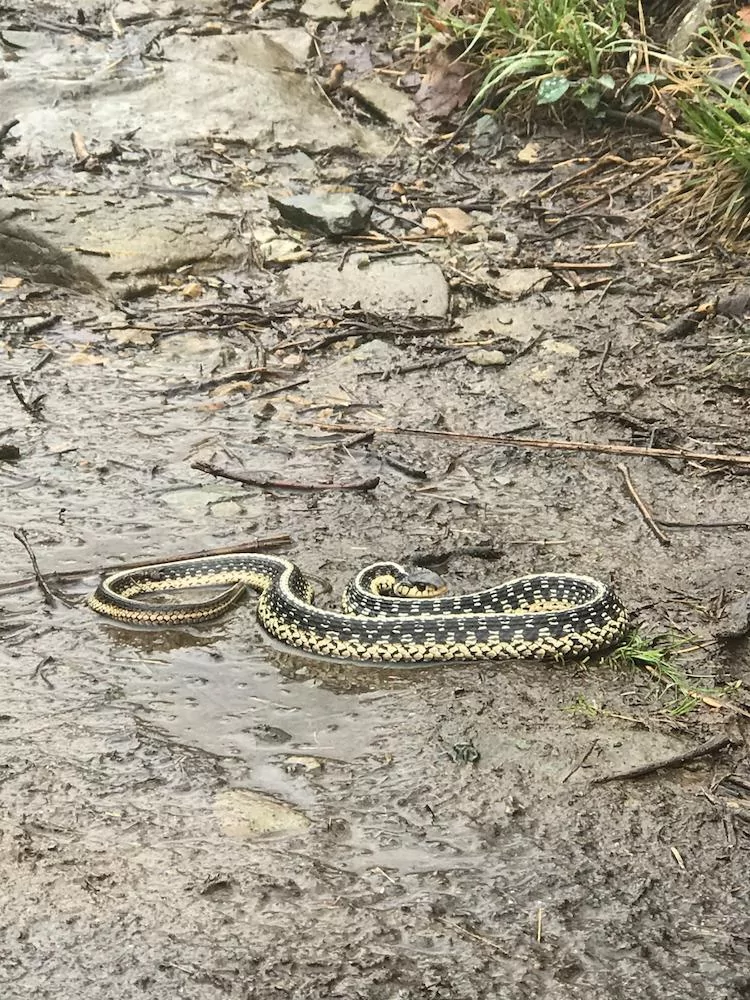 It is important to note with wildlife that you must be smart. Keep a safe distance from wild animals, especially black bears if you do spot them.
4. Stay Past Sunset for Views of the Night Sky
Star-gazing in Shenandoah National Park is a must on clear evenings!
While the night sky isn't completely free from light pollution like many of the International Dark Sky Parks around the world, thanks to its relative remoteness and higher elevations, it gets rather dark here.
This means that the night sky is gorgeous! On a clear evening, you can see the Milky Way as well as over 2,500 stars!
A great spot for star-gazing in Shenandoah National Park is the Big Meadows area, close to the Rapidan Fire Road.
And if you want to visit an International Dark Sky Park for even more opportunities to star-gaze, head 30 minutes from Front Royal at the top of the park to Big Meadows State Park, a newly designated Dark Sky Park!
Be sure to pack binoculars if you don't have a telescope! It'll help you spot more stars!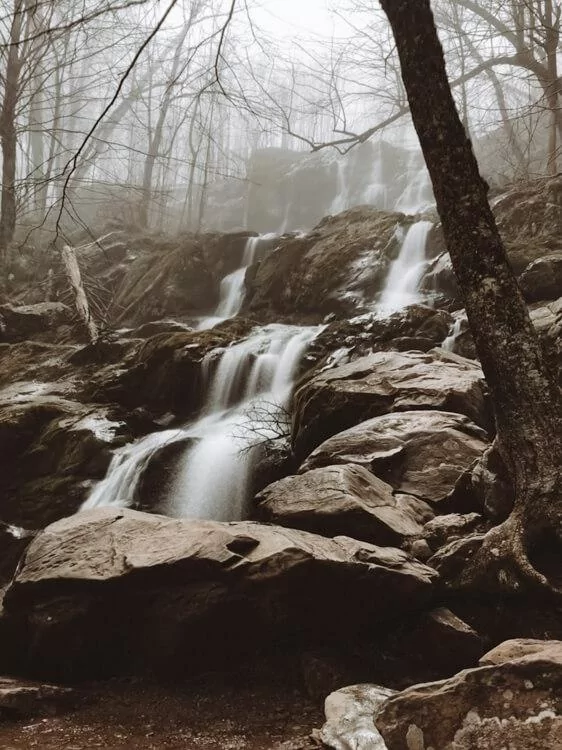 5. Dark Hollow Falls
If you visit Shenandoah National Park, chances are someone will tell you that you need to check this waterfall out. And yes, you do. It is located at mile 50.7 almost smack dab in the middle of Skyline Drive.
The waterfall here is pretty epic as it cascades dramatically over various levels of rocks and gushes down to a creek. This 1.4-mile out and back hike can be a challenge, as you'll go down to the falls and have to climb back up!
But this hike is fairly quick (depending on how long you stay at the waterfall), so 1-1.5 hours is all you need.
This place does get pretty crowded, but the falls are definitely worth visiting!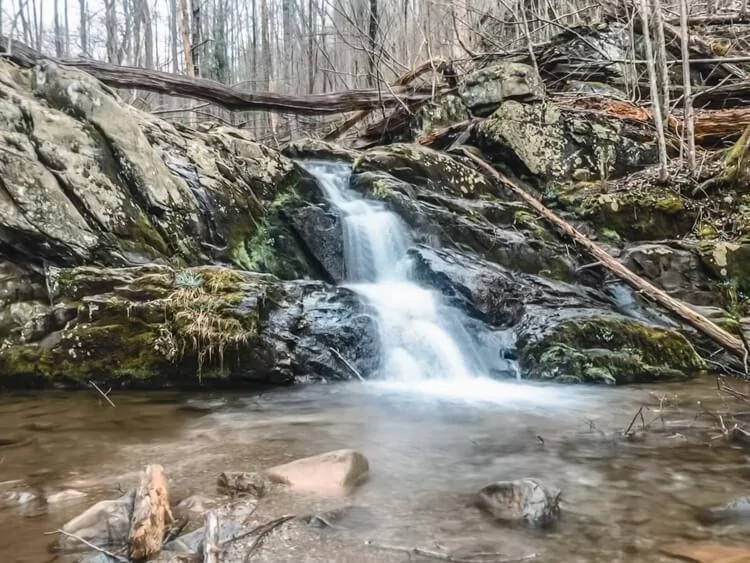 6. Chase Waterfalls at Doyles River Falls
Located at mile 81.1 off of Skyline Drive, this is a wonderful place to visit in Shenandoah National Park!
Doyles River Falls Trail doesn't get nearly as much traffic or appreciation as Dark Hollow Falls, and, after having visited both, it definitely deserves recognition.
The 3.4-mile out and back trail is a challenge, especially the last half-mile coming back up from the falls, but there are 2 big waterfalls to see here!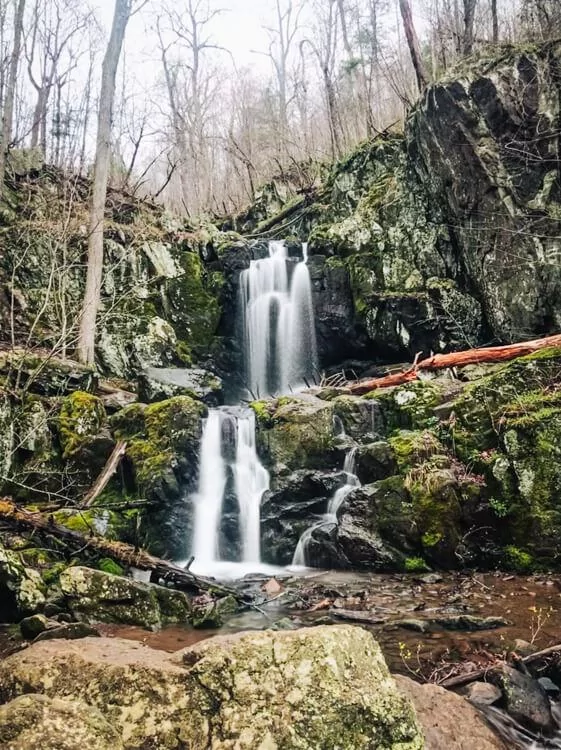 Plus, there are fewer people on the southern end of Skyline Drive, so you even have a chance to have a waterfall completely to yourself!
This takes about 2-3 hours to complete.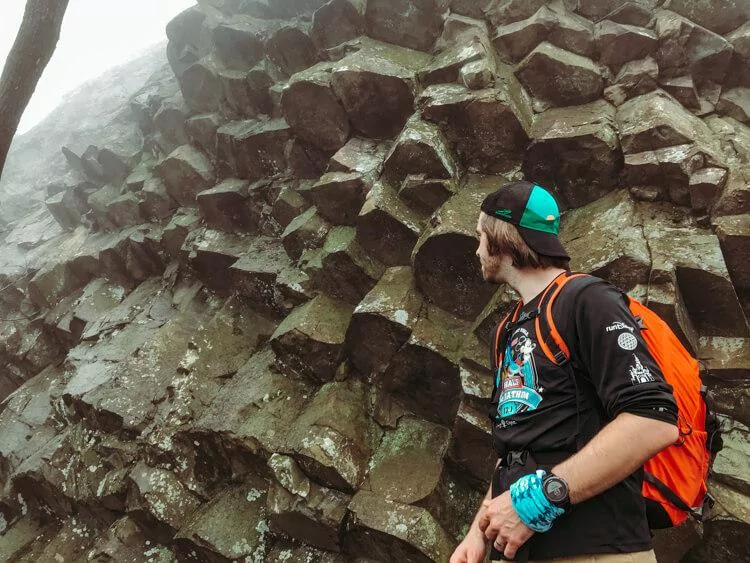 7. A Hidden Gem in Shenandoah National Park: Basalt Columns
When most people think of the ever-dramatic-looking basalt columns, they think of Giant's Causeway in Northern Ireland, or perhaps Stuðlagil Canyon in Iceland. But did you know that you can also see Basalt Columns in Shenandoah National Park?!
Made from greenstone lava flows from millions of years ago, the remnants of this park's very distant past can be seen at mile 10.4 on Skyline Drive.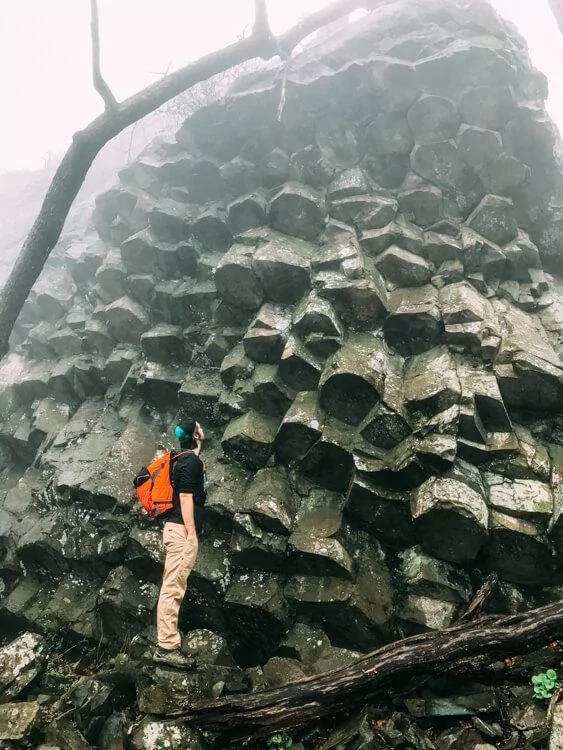 Park in the Compton Gap parking lot and hop on the Compton Peak Summit via the Appalachian Trail. Eventually, you'll find a trail that runs perpendicular to where you're hiking. If you go west, you'll see a summit and beautiful mountain views. If you go east you'll go down to these greenstone columns.
This is truly a hidden gem that I totally recommend going to visit! It is a 2.4-mile trail out and back to do both, and takes about 1.5-2 hours to complete.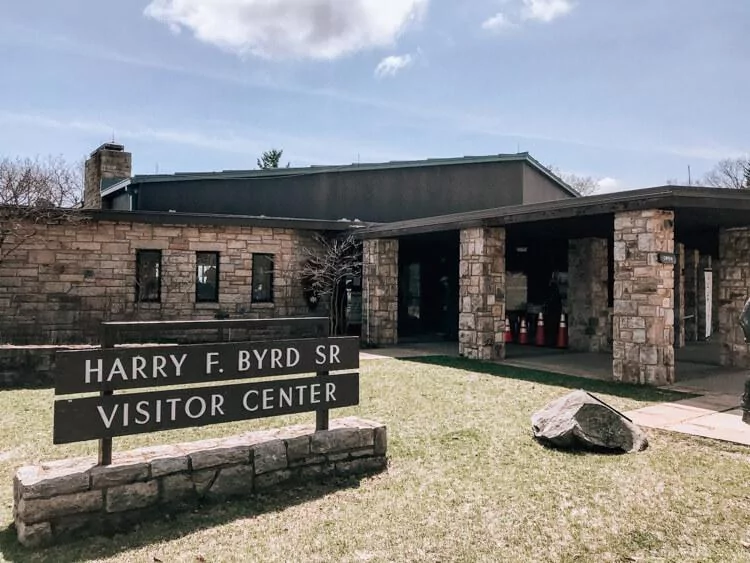 8. Check Out Harry F. Byrd, Sr. Visitor Center and Learn About Shenandoah's Past
Located at mile 51 on Skyline Drive, you can purchase souvenirs as well as learn about Shenandoah National Park's past from checking out exhibits, watching historical films, and learning more about the park from rangers.
This area of the world has been inhabited by humans for about 8-9,000 years. Many Native American tribes were thought to have visited or even lived in the surrounding area before European settlers arrived.
The name "Shenandoah" has Native American roots. There are a few origin stories as to what the name actually means.
One story is about a Native American chief named Shenandoah who lived in what is now Virginia. The name was then given to the river and eventually to the national park itself.
Another story is that it means "spruce river." As the river runs past many spruce trees.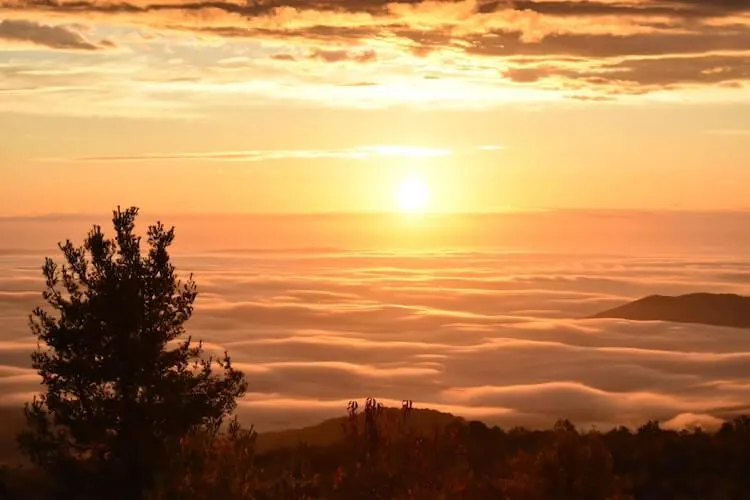 However, there is a Native American story with origins from many centuries before European settlers. There was once a lake of sparkling water hidden in the mountains. The people would live near the lake and on long hunts would camp in the mountains overlooking the lake.
At night the stars would shine brightly on the water below, and they named the lake "Clear Daughter of the Stars," or "Shenandoah" in their language.
The lake would then become a river, but the name remains.
But the history of Shenandoah is certainly long and includes history on mountain residents and even the Civilian Conservation Corps role in creating the park as it is today. Discover its history and learn more about the park at this visitor center.
There are also a lot of hiking trails in the area, so you can park here and explore!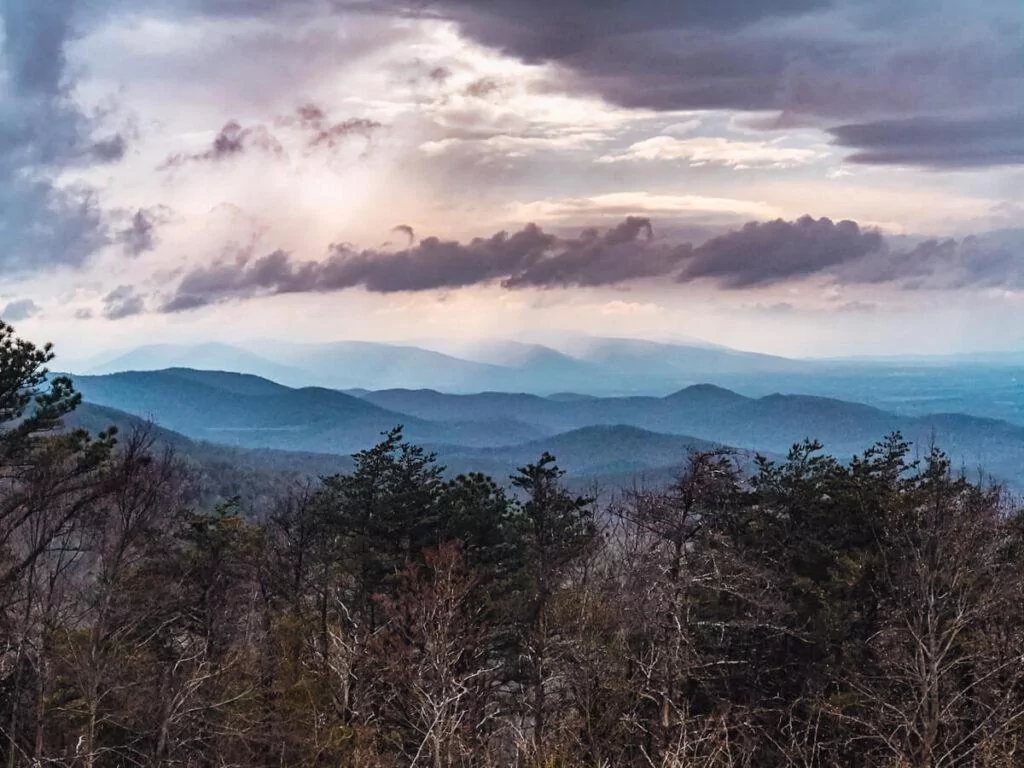 9. Eat All The Blackberries
If you visit in the summer, you'll be delighted at all of the blackberries ripening along the roads, trails, and creeks in the park!
You'll definitely want to partake in the blackberry craze at Big Meadows Lodge or Skyland for all the blackberry treats from cobblers to ice cream!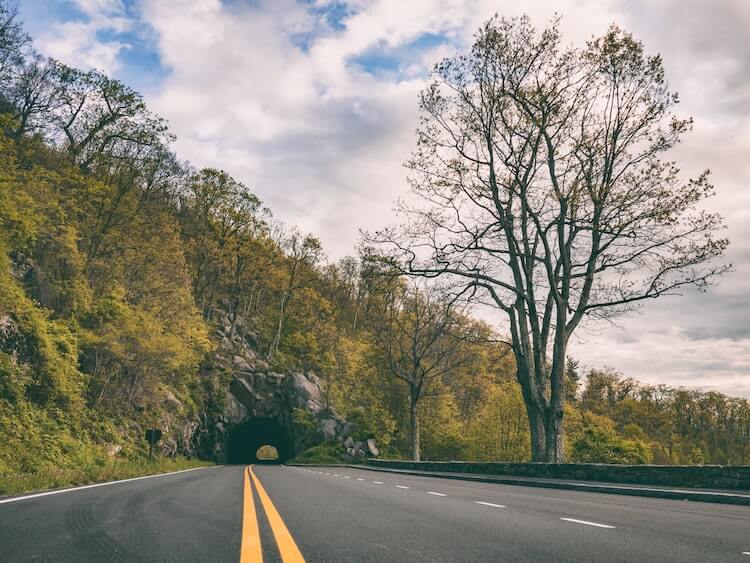 10. Stay in (Or Visit) a Cabin/Lodge During a Trip to Shenandoah National Park
One of the best ways to get immersed in the beauty of Shenandoah is to stay in the park itself! If you're like us and don't love the idea of camping, then staying at a lodge or cabin is a great idea!
There are 3 places to stay at a cabin or lodge within the park including Skyland, Lewis Mountain Cabins, or Big Meadows Lodge. Big Meadows Lodge and Skyland offer incredible views, and Lewis Mountain Cabins are cozy!
However, if you can't stay there, then you can visit Skyland or Big Meadows Lodge to look around and have a nice sit-down meal! Both places offer breathtaking views.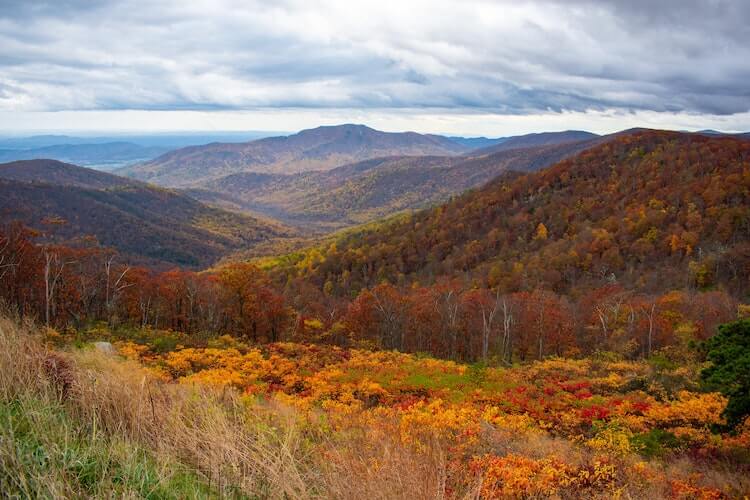 Things to do Near Shenandoah National Park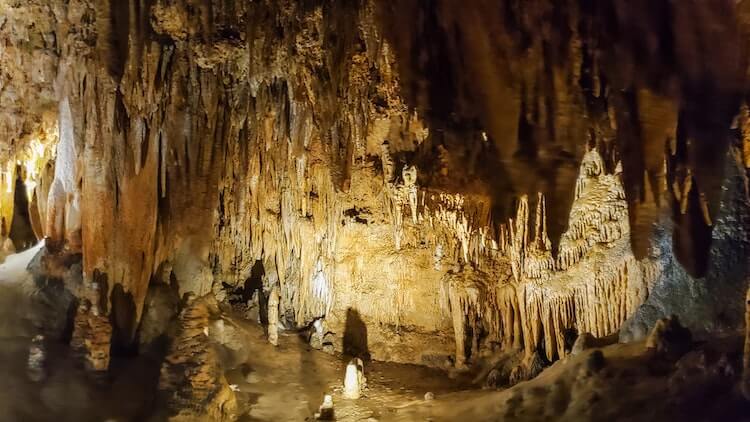 11. Visit the Caverns Near Shenandoah National Park
There are actually several caverns that you can visit around Shenandoah Valley!
The first, and most popular, is Luray Caverns located in Luray, VA.
This place is great to check out as they don't have any steps and it is very easy to walk along the pathways. Enjoy the Geology's Hall of Fame, huge stone formations, and crystal-clear pools.
The caverns are open daily at 9 am and close at 6 pm April 1-June 14 and Labor Day-October 31. It closes at 7 pm from June 15-Labor Day. And from November 1-March 31 they are open until 5 pm on weekends and 4 pm during the week.
Admission prices are $30 for adults, $27 for seniors 62+, and $15 for children ages 6-12.
Shenandoah Caverns is another cavern in the area of Quicksburg, VA. You can take a caverns tour here that is about an hour long and visits 17 amazing rooms full of rock formations.
Tickets for adults are $28 and $14 for children ages 6-12. This includes a guided tour of the caverns and self-guided tour of Main Street of Yesteryear. The caverns open at 9 am with the first tour at 10 am and close at 4 pm during the week and 5 pm on weekends.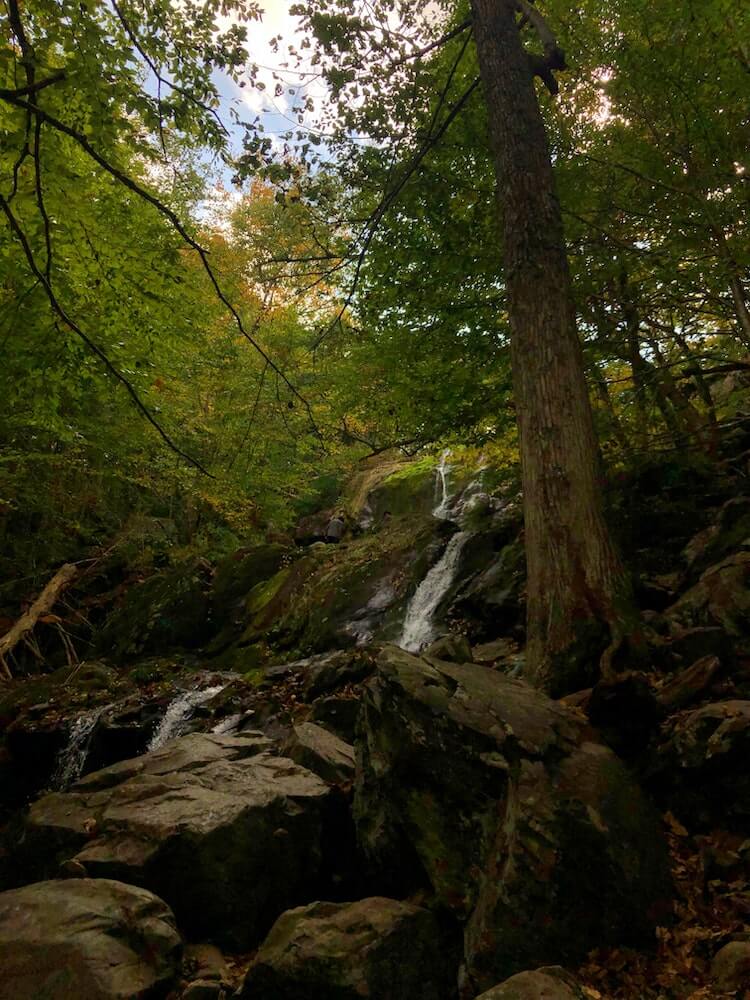 12. Explore Shenandoah River
Whether you love tubing, rafting, canoeing, or kayaking, on warm summer days getting out on Shenandoah River is a must. Many companies like Front Royal Outdoors, Shenandoah River Adventures, and Shenandoah River Outfitters offer ample opportunities to enjoy the river.
13. Visit the Largest Waterfall East of the Mississippi
About an hour south of Skyline Drive and off of Blue Ridge Parkway is the trail to visit the highest vertical-drop cascading waterfall east of the Mississippi: Crabtree Falls.
This waterfall is composed of 5 large cascades plus smaller ones that create a fall of 1,200 feet! If you're spending some time exploring this part of the state, why not check them out?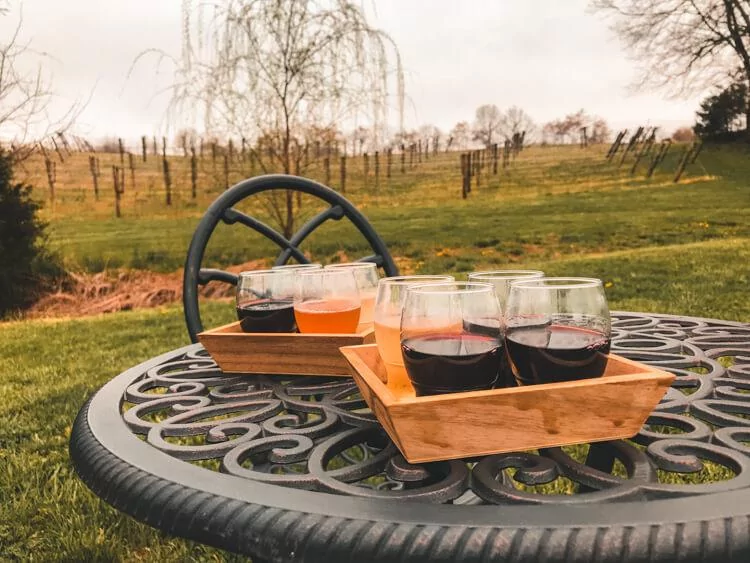 14. Take a Tour of the Wine Country
If you've been reading our blog for a while, you know Chris and I love wine! From wine tasting in Ohio's Wine Country to the amazing wineries in South Africa, Willamette Valley in Oregon, and the Santa Ynez Valley in California, if there is a chance to check out wineries, we're down.
And in this area, you're in for some great wines! We loved Mountain Run Winery the best and definitely brought back some bottles to enjoy!
Our favorites included the Oaked Chardonnay, Chambourcin, and their Culpepper Crimson blend. They had some fantastic dry wines which we loved. If you aren't a big wine drinker, though, their Hard Apple Cider hit the spot perfectly too!
It is $12 for a 4-tasting flight, between $7-9 for a glass, and around $22-30 for a bottle.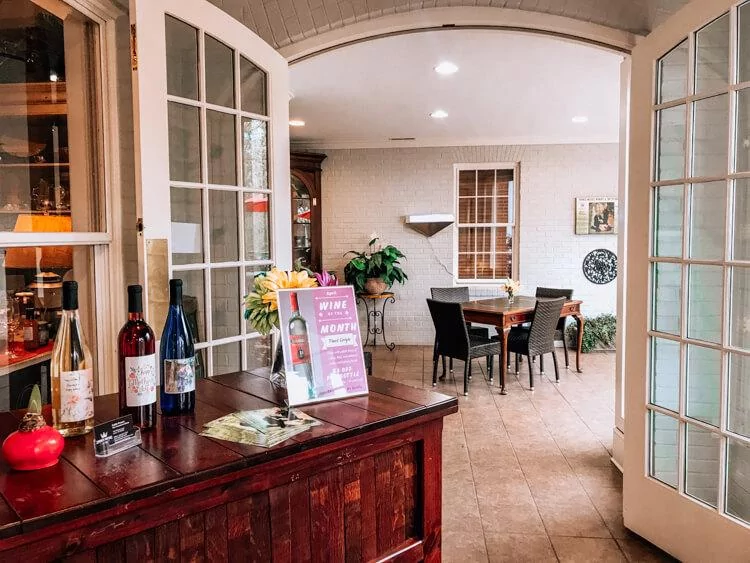 Prince Michel Vineyard and Winery is another popular winery in the area. They had a fine wine tasting or sweet wine tasting you could enjoy with several wines to try. We enjoyed their fine wine tasting. Some wines to try here include the Viognier and Dry Rose.
Tastings here are $15 and bottles are around $28 each. If you don't love wine, they also have a brewery on-site called Tap 29.
Other wineries in the area include: Early Mountain Vineyards, Magnolia Vineyards, Old House Vineyards, Revelation Vineyards, and many more.
If you want to take a private custom wine tour and leave the driving to someone else, check out this tour. It is $379 for up to 3 people.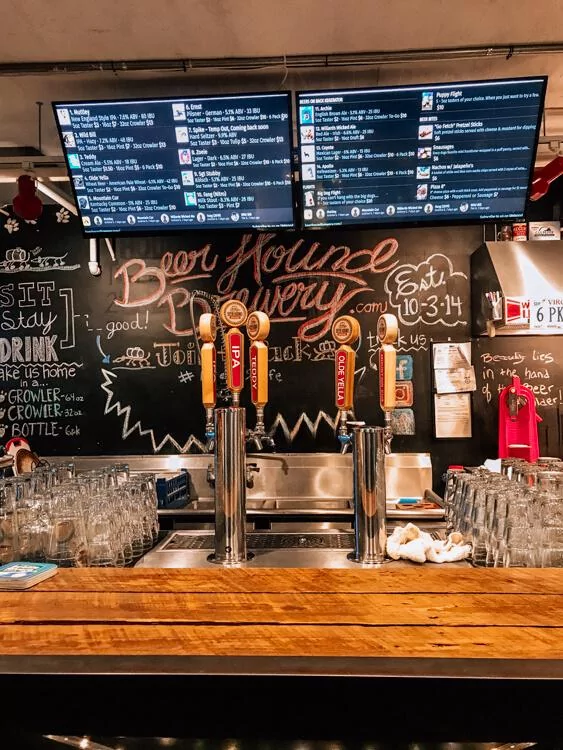 15. Enjoy the Incredibly Brewery Scene
While you are in wine country, there is also an incredible brewery scene in the area. Whether you love a good double IPA or German-style Hefeweizen, these are some breweries to check out:
Old Trade Brewery: Black Briar Cider and Thayers Porter are fantastic. Plus this area is massive with loads of outdoor seating, a play area for kids, and great mountain views.
Far Gohn Brewing Company: Blackberry Gose was really good and their pizzas looked super tasty!
Beer Hound Brewery: This place has several German-style beers like Hefeweizen and Kolsch.
Bald Top Brewing Company: With ample outdoor seating and beautiful views, you could spend a lot of time here checking out great beers like the Lazy Daze IPA or White Oak Stout.
Love beer? Check out our Beer Guide to Belgium and Top Breweries in Cincinnati!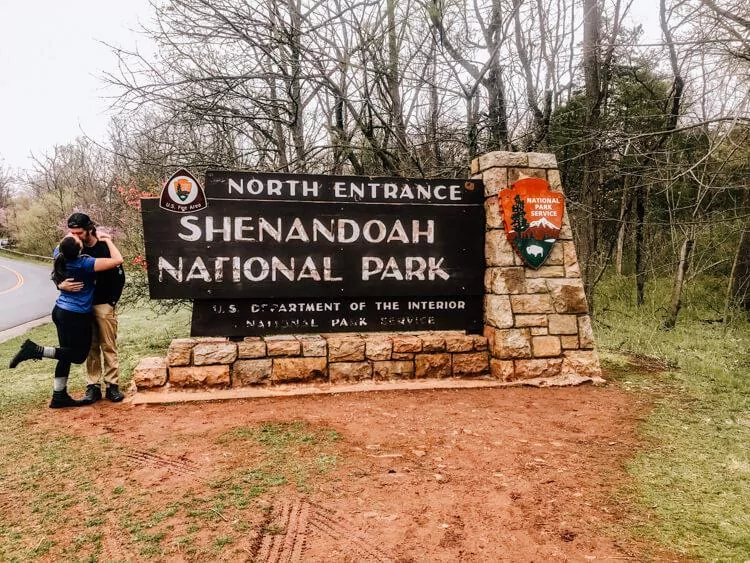 The Perfect 2 Day Shenandoah National Park Itinerary
If you only have a weekend in Shenandoah as we did, here is the perfect itinerary for you. You definitely can't do all of the things on this list, but we've narrowed it down so you can have an incredible time exploring this part of the country!
Day 1: Big Hike and Wine
Get up early and hike Old Rag
Get cleaned up and get out to Wine Country
Sip wines at Mountain Run Winery
Have a tasting of beer or wine at Prince Michel Winery or enjoy any other winery in the area!
Day 2: Drive Skyline Drive, Hike, and Maybe Grab a Beer
Start your drive along Skyline Drive
Stop for various hikes along the way like at Compton Peak (mile 10.4), Dark Hollow Falls (mile 50.7), and Doyles River Falls (81.1).
Enjoy a meal at Skyland halfway through Skyline Drive!
Grab a beer or two at a brewery like Old Trade Brewing Company or Bald Top Brewing Company for a great sunset. Alternatively, you can stay in Shenandoah National Park and watch the night sky after the sun goes down!
If You Have More Time in Shenandoah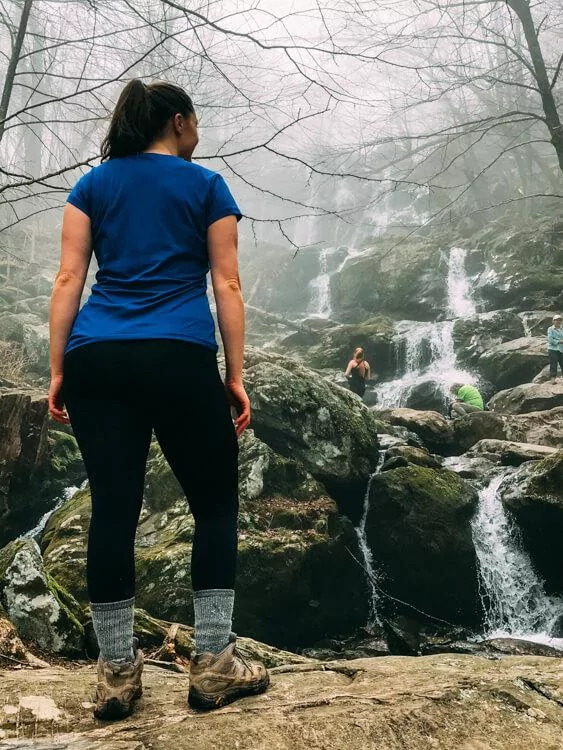 If you have more time in Shenandoah, then you can certainly see many more of these attractions! Spend a day out on the river, check out more breweries or wineries, or even get underground at a cavern!
Where to Stay in and Near Shenandoah National Park
There are several options on where to stay in and near Shenandoah National Park. If you prefer to stay in the park itself, your options include camping or staying at a cabin/lodge. Here are the places to stay in the park itself:
Camping:
Mathews Arm Campground at mile 22.1
Big Meadows Campground at mile 51.2
Lewis Mountain Campground at mile 57.5
Loft Mountain Campground at mile 79.5
Dundo Group Campground at mile 83.7 (for group camping only)
Campgrounds are open seasonally from spring through fall, and it is highly recommended to make reservations in advance, especially for holidays and weekends. No campsites offer electricity but do have toilets. Fees start at $15 per night.
Lodges/Cabins:
There is also the option to book the PATC cabins in the park that are 6 primitive cabins. They include mattresses, cookware, and blankets, and there is spring water and a pit toilet nearby. They are pretty primitive, though.
If you prefer to stay outside the park, or you couldn't get in at the lodges or cabins, here are some other options for where to stay in Shenandoah.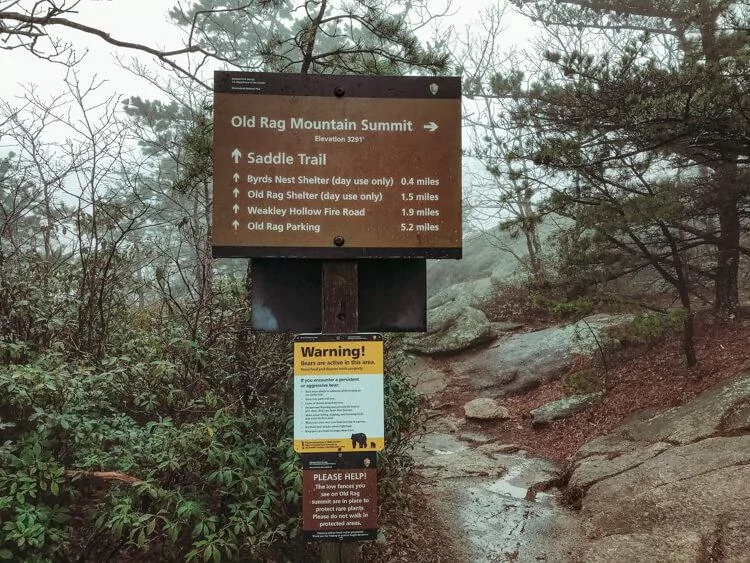 Hotels Near Shenandoah National Park:
Budget: Lafayette Inn And Restaurant
This place is located on the southern end of Shenandoah with easy access into the park at the Swift Run Gap entrance. This charming and historic inn has free breakfast and parking, great dining, and quaint, lovely rooms.
Prices start around $100 per night.
Mid-Range: The Mimslyn Inn
Located in Luray, it is within minutes of Luray Caverns and not far from the Thornton Gap entrance to Shenandoah National Park. This Georgian Revival Inn is sprawling and beautifully designed with charming rooms. They also have a cocktail bar!
Prices start around $135 per night.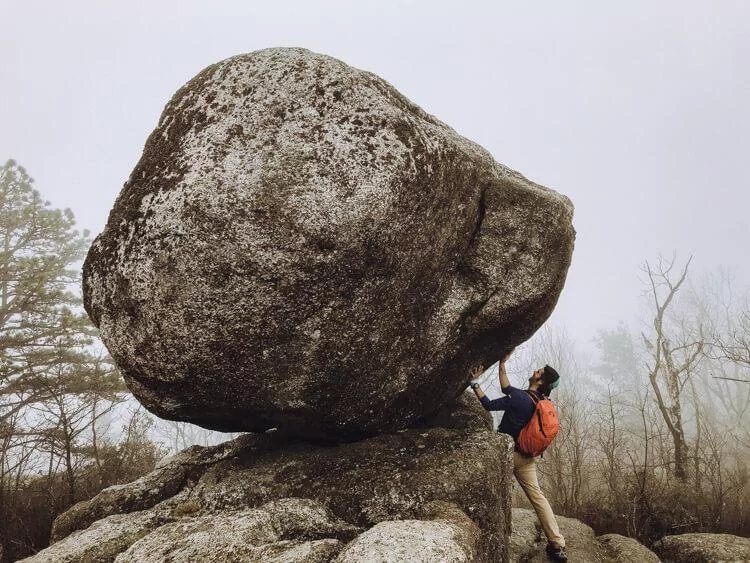 Luxury: Hopkins Ordinary Bed & Breakfast
Also located near the Thornton Gap entrance, this bed and breakfast is also really charming and quaint. The rooms feature a fireplace and porch, and the inn itself has a brewery. They also serve breakfast made with local ingredients and homemade breads. Relax on the porch or sip wine at a nearby winery before chilling here!
Prices start around $350 per night.
There is also the option of renting a VRBO or Airbnb. Culpepper is a charming town with plenty of great vacation rental options (including this charming cottage)!
We ended up staying in this Airbnb full of great amenities including a fire pit, coffee bar, full kitchen with free snacks, and even a massage table with instructions on cupping therapy!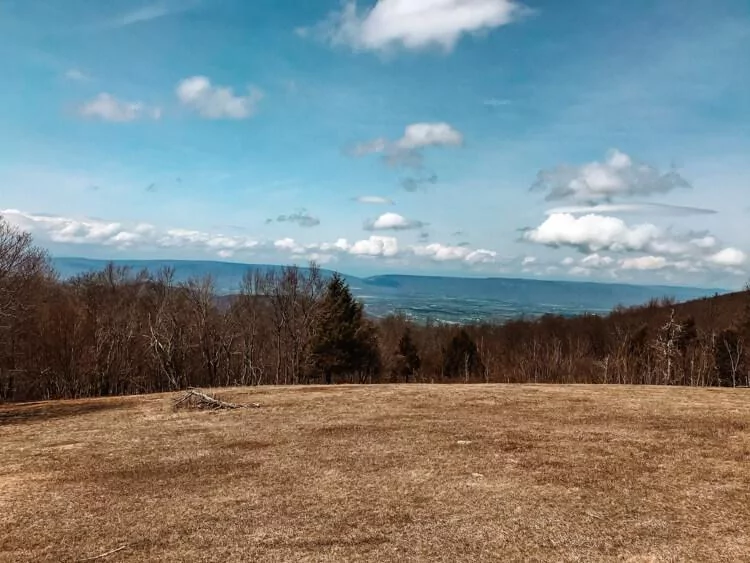 How to Get to Shenandoah National Park
Shenandoah National Park seems like it may be remote, but it really is only a little over 70 miles from Washington, DC! So if you want to extend your trip to DC and include time in this park, that is a great idea!
But if you are coming from across the country, then your best bet is to fly into DC (either Reagan National or Dulles International) and rent a car to drive to Shenandoah.
For the best flight prices, I always check Skyscanner! And for rental car prices, check Expedia for great deals!
If you live closer like we do in Cleveland, you can just drive down or rent a car and drive.
As far as getting around the park, I highly recommend having a car. You don't need 4-wheel drive most of the year as Skyline Drive is very well paved, but a car is necessary for getting around.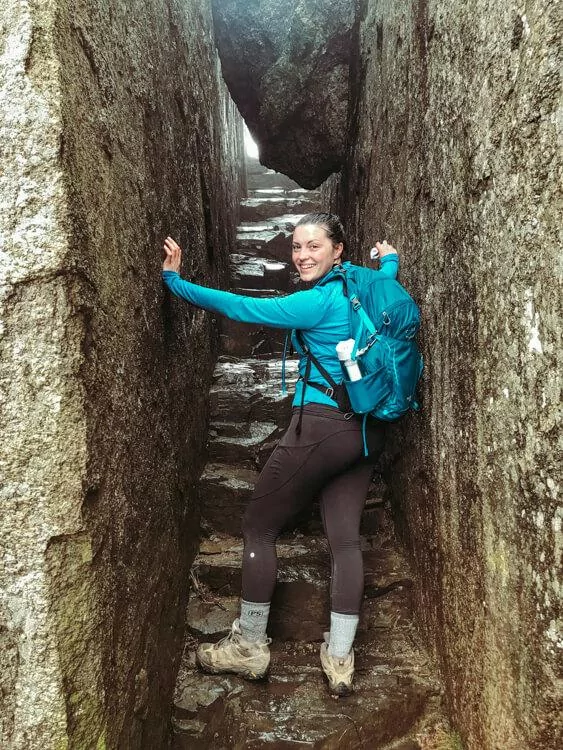 What to Pack for Visiting Shenandoah National Park
When it comes to what to pack for Shenandoah National Park, it really depends on the time of year you are visiting!
For hiking, I highly recommend packing in layers and bringing plenty of water!
We typically hike with our Osprey hiking backpacks, these 3L water reservoirs, plenty of snacks, a rain jacket, first aid kit, utility knife, Lifestraw water bottle, headlamp, GPS watch, small bag for garbage, toilet paper, a tick key for removing them safely, bug spray, sunscreen, hand sanitizer, a spare towel, and our wallets.
We also wear hiking boots (I love my Merrill Moabs), hiking socks, hiking pants or leggings, and sweat-wicking shirts. Definitely pack layers as temperatures can change as you go up the mountain and as the weather changes throughout the day! Definitely, be prepared!
For taking photos, we will use my Olympus OM-D E-M5 Mark III camera with this lens. However, sometimes we'll just take our iPhone with this tripod for photos of both of us!
When it comes to exploring cities and various breweries and wineries, casual clothes are perfectly fine! Just check the weather and carry a small umbrella just in case.
If you are traveling from outside of the US, an outlet adapter is necessary so you can plug in your things!
For packing, we love our Osprey Backpacks that are perfect for packing carry-on only. We also use packing cubes to keep our things organized.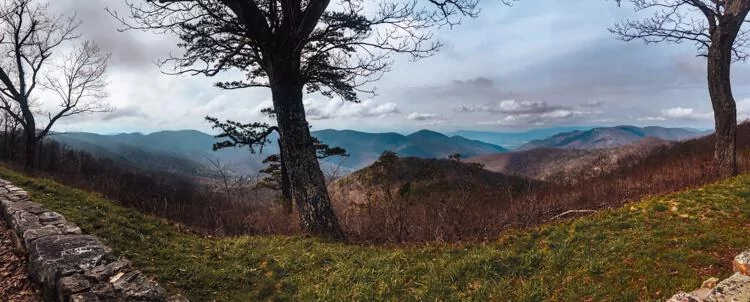 Top Tips for Visiting Shenandoah National Park
When it comes to visiting Shenandoah National Parks, these are the best tips!
This national park does require a fee. It is $30 for a private vehicle pass for 7 days, $25 for a motorcycle, and $15 for an individual (i.e. hiker/biker). An annual pass is $55. You can purchase in-person as well as online here.
While you can visit Shenandoah year-round, Skyline Drive and some parts of the park may be closed in bad weather, especially in the winter months. Be sure to check the NPS (National Park Service) website for more details prior to visiting.
Know your skill level and be prepared for hiking! Old Rag is a tough hike, even for experienced hikers, especially on a wet day. Don't push beyond your limits here.
Wildlife is, well… wild. Don't try to coax them in with food. For starters, it isn't allowed and you could definitely get in trouble. Secondly, it can be super dangerous. Steer clear of wild animals. If you encounter a black bear, the NPS has

tips on what to do

.
Have a full tank of gas if you plan to drive Skyline Drive. There aren't a lot of places to stop off for gas while on the road.
How many days should you spend in Shenandoah? Honestly, a weekend in Shenandoah was a good amount of time to feel like we really saw the park and nearby area. But you could easily spend up to a week here! You could also quickly visit as a day trip from DC and see a few spots!
When is the best time to visit Shenandoah? It depends! For fewer crowds, winter is a great option. For beautiful wildflowers, decent temperatures, and fewer bugs, spring is great. For warmer weather and more wildflowers, but a few more crowds, summer is an option. And for gorgeous drives through the park to see fall foliage, obviously, the fall is perfect! I have a more in-depth guide to help you decide when to go here!
Shenandoah National Park is a place that you'll definitely want to visit over and over again. With breathtaking mountain views at numerous overlooks along Skyline Drive, ample places to get adventurous and go hiking, and fewer crowds than the Great Smoky Mountains, this place is well worth visiting!
Would you visit this place? What are your favorite things to do in Shenandoah National Park?
Want more national park inspiration? Check these posts out:
Pin it here!