Some posts on this site contain affiliate links, meaning if you book or buy something through one of these links, I may earn a small commission (at no additional cost to you!). Read the full disclosure policy here.
---
A Paris honeymoon is always a good idea. And these Paris honeymoon hotels are key to ensuring your romantic getaway is everything you've dreamed of for your post-wedding trip.
As you may have guessed from my website name, I love honeymoons. I obsessed over planning my own honeymoon to Southeast Asia. I still do a ton of research before every trip to make it honeymoon-worthy and create amazing itineraries and content for your dream getaway.
If you know about my second website, France Voyager, you know that I also love France. I've lived there for a bit, and now with my second website, I visit quite often. This means I know a thing or two about Paris and the perfect Paris honeymoon hotels.
So when it comes to the best honeymoon hotels in Paris, I've got you covered. Whether you are planning to indulge in luxury for your getaway or you want to stay in a chic boutique hotel in a great spot for exploring, these are the perfect Paris honeymoon accommodations for you!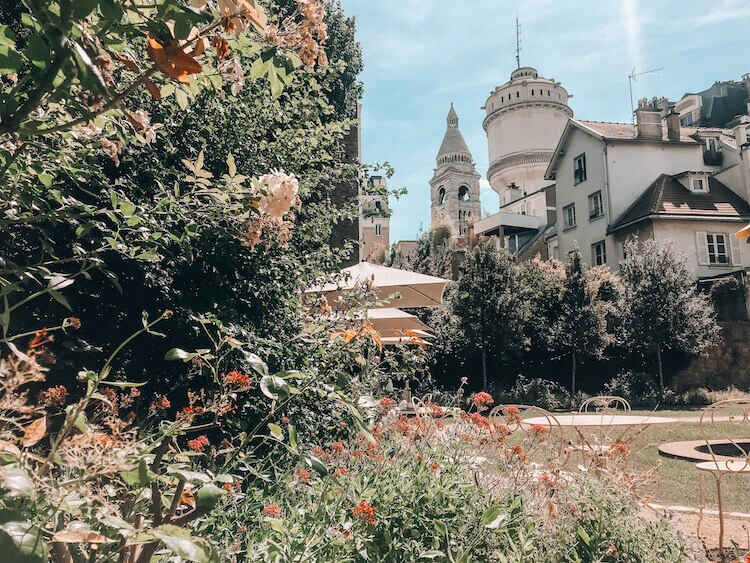 25 Best Paris Honeymoon Hotels
I have a great list of 25 romantic hotels in Paris, France. Now, not all honeymooners are alike, so I am breaking the list down even further to share the best Paris hotels for couples who want an Eiffel Tower view, want to stay in the most romantic part of Paris, or want to be close to some great neighborhoods.
Best Honeymoon Hotels in Paris France With an Eiffel Tower View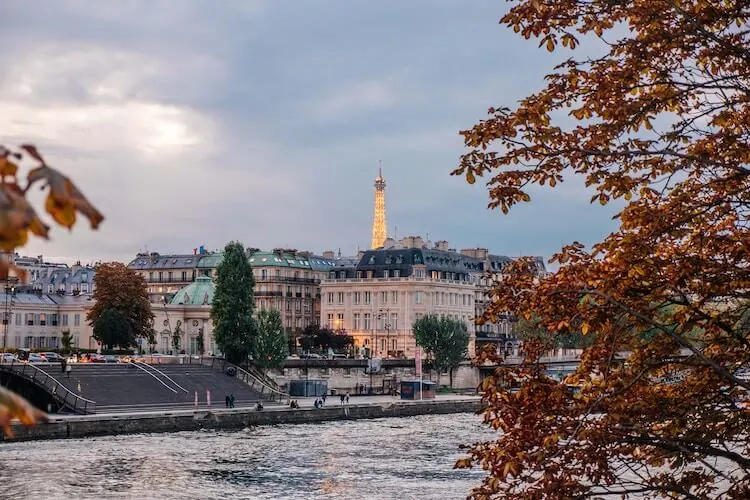 With it being your honeymoon, we get it. You don't want to have to leave the room to spot this iconic Parisian monument, especially when it sparkles at night. Luckily, there are some fantastic Paris romantic hotels with an Eiffel Tower view.
1. Hotel San Regis
This hotel is located closer to the Champs-Elysees than the Eiffel Tower, but that doesn't mean you still won't have an epic view! This 5-star hotel will leave you in want of nothing, with all the attention to detail covered at this 42-room place. Enjoy the classically designed rooms with a chic twist, and for the best Eiffel Tower views, book the Terrace Junior Suite with a lovely balcony that looks out over Paris and the Eiffel Tower in the distance.
Stars: 5-Star Hotel
Price: Stars at around $600 per night.
2. Hotel The Peninsula Paris
One of the best hotels in Paris may have quite the price tag, but you're in a fantastic location for shopping, visiting the Arc de Triomphe, and, of course, having the Eiffel Tower view. Not only is the hotel home to a few great restaurants (one having 2 Michelin Stars), but you'll also enjoy the luxurious spa and pool after long days exploring the City of Lights. You can either have magnificent views of the Eiffel Tower from the L'Oiseau Blanc restaurant (you know, the Michelin-starred spot), or in your own room.
For an Eiffel Tower hotel room, book the Rooftop Garden Suite or the Katara Suite.
Stars: 5-Star Hotel
Price: Starts at around $1,430 per night.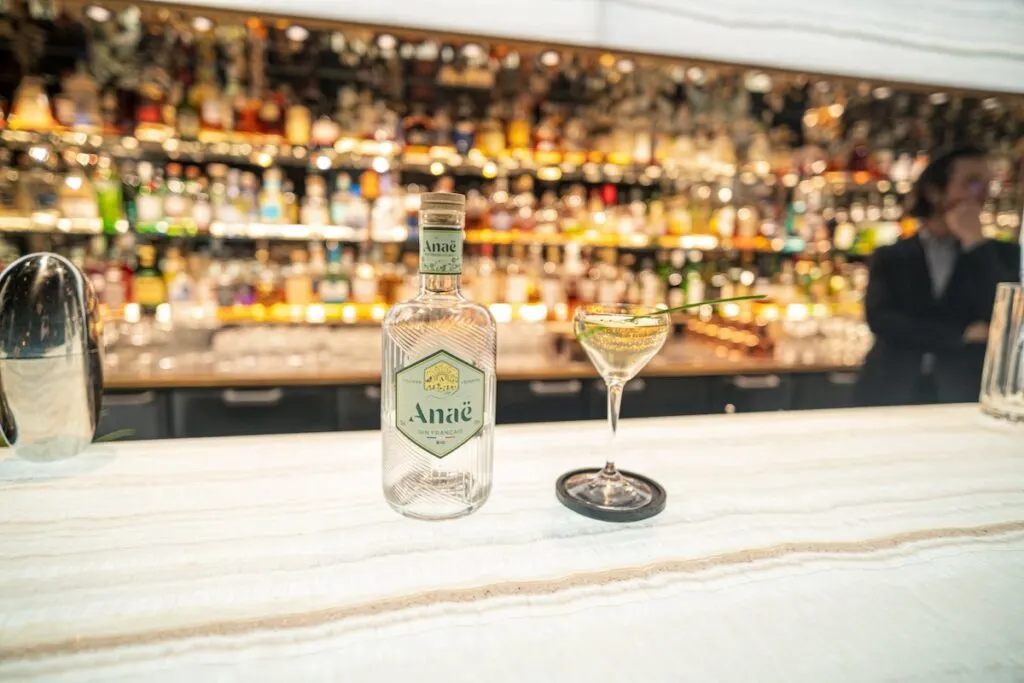 3. Hotel Gustave
Named after the engineer behind the Eiffel Tower, Gustave Eiffel, this hotel is within a 15-minute walk to the tower itself. This hotel is located on a quiet, residential street, and the hotel only has 32 rooms, so you know the attention to detail is spot on. Relax with views of the Eiffel Tower if you stay in the Eiffel or Gustave rooms.
Stars: 4-Star Hotel
Price: Starts at around $200 per night.
4. Hotel La Comtesse Tour Eiffel
Located between Les Invalides and Champ de Mars, you are in a fantastic place to explore the attractions nearby, including the Eiffel Tower. This hotel is inspired by 18th-century literary salons with a modern twist. Enjoy lovely Eiffel Tower views from the Comtesse Eiffel Tower Room, the Comtesse Room With Balcony, and the Royale Junior Suite.
Stars: 4-Star Hotel
Price: Starts at around $420 per night.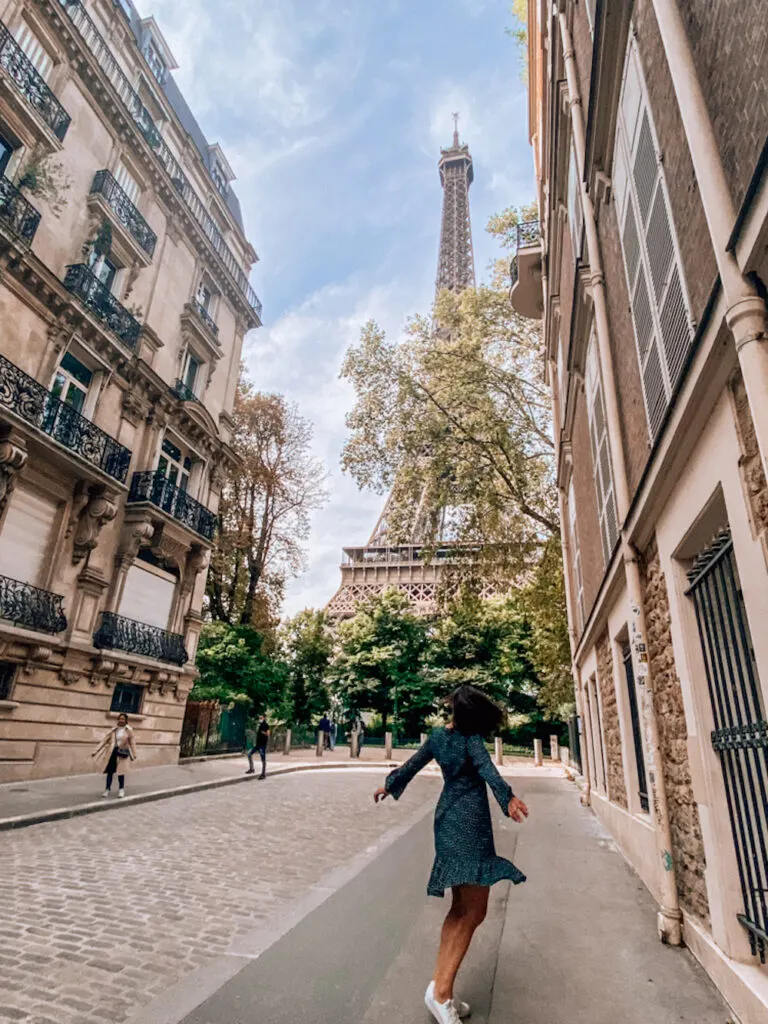 5. Plaza Tour Eiffel Hotel
This hotel is located near the Place du Trocadero, which is a lovely photo spot for the Eiffel Tower. It also has undergone some renovations, and this boutique hotel with 41 rooms is warm but contemporary. Its location on a quiet street is also great, as are the views of either Paris rooftops or the Eiffel Tower itself. Book the Room Eiffel Tower View to spot the tower from your king bed.
Stars: 4-Star Hotel
Price: Stars at around $250 per night.
6. Hotel Le Walt Paris
This art-filled boutique hotel that is steps from Champs de Mars will inspire you to enjoy the beauty of Paris. The attentive staff is there to help make your trip go smoothly, and you'll love the internal garden and hotel bar to relax in after a day of exploring the city. Be sure to book the Room With a View of the Eiffel Tower for a glimpse of this monument from bed.
Stars: 4-Star Hotel
Price: Starts at around $280 per night.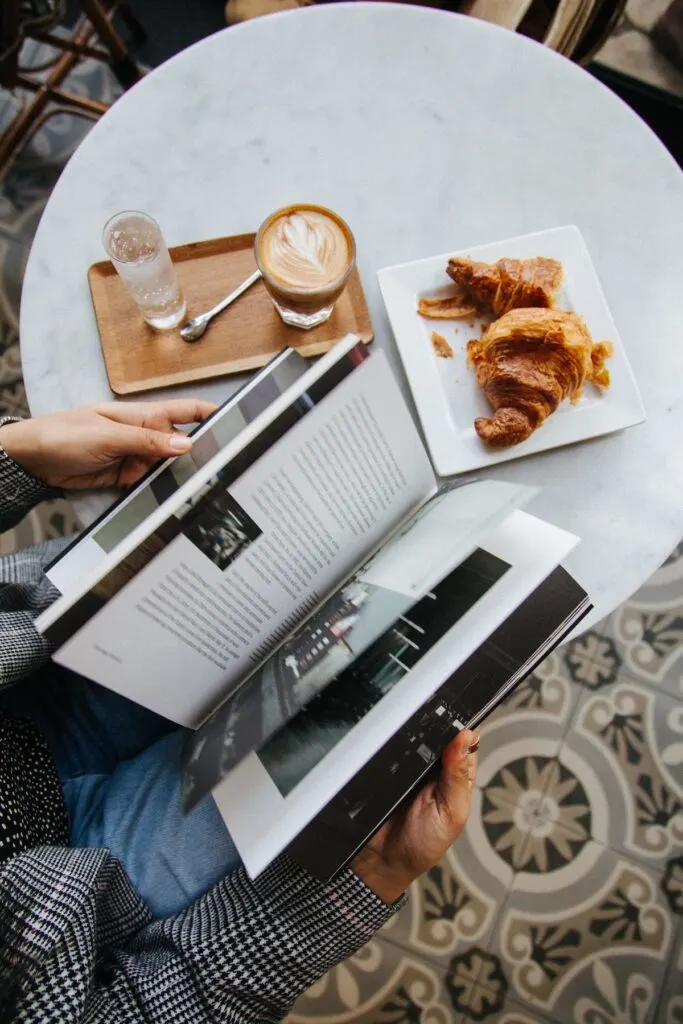 7. Hotel Plaza Athenee
If you're a Sex and the City fan, you may recognize this hotel from the last season of the show. This is the dreamy hotel where Carrie stands on her balcony and gets super excited about the Eiffel Tower view. The best part is that you can experience that moment too at this luxurious location. This historical hotel is on a beautiful tree-lined boulevard and has multiple restaurants and bars to enjoy a relaxing moment.
Be sure to stop by the Dior Spa for all your massage and facial needs, and for a great Eiffel Tower view, book either the L'Appartement, Eiffel Suite, Signature Eiffel Suite, Haute Couture Eiffel Suite, or the Royal Suite.
Stars: 5-Star Hotel
Price: Starts at around $2,000 per night.
8. Shangri-La Paris
Just across the Seine from the Eiffel Tower is the lovely Shangri-La Paris. You are within steps of Instagram-worthy photo spots of the tower, and from your room, you can have breathtaking views of the Seine and Eiffel Tower.
The former home of Prince Roland Bonaparte, this luxe hotel is everything you could imagine. Enjoy its bar and restaurants (one is the only Michelin-starred Chinese restaurant in France!), deluxe spa, and kick back and relax in rooms like the Paris Panoramic Signature Room, Eiffel View Room, Terrace Eiffel View Room, Duplex Eiffel View Suite, or the Duplex Terrace Eiffel View Suite for views of the tower.
They also offer Paris honeymoon suites with Eiffel Tower views like La Suite Gustave Eiffel, La Suite Chaillot, and La Suite Shangri-La.
Stars: 5-Star Hotel
Price: Starts at around $1,700 per night.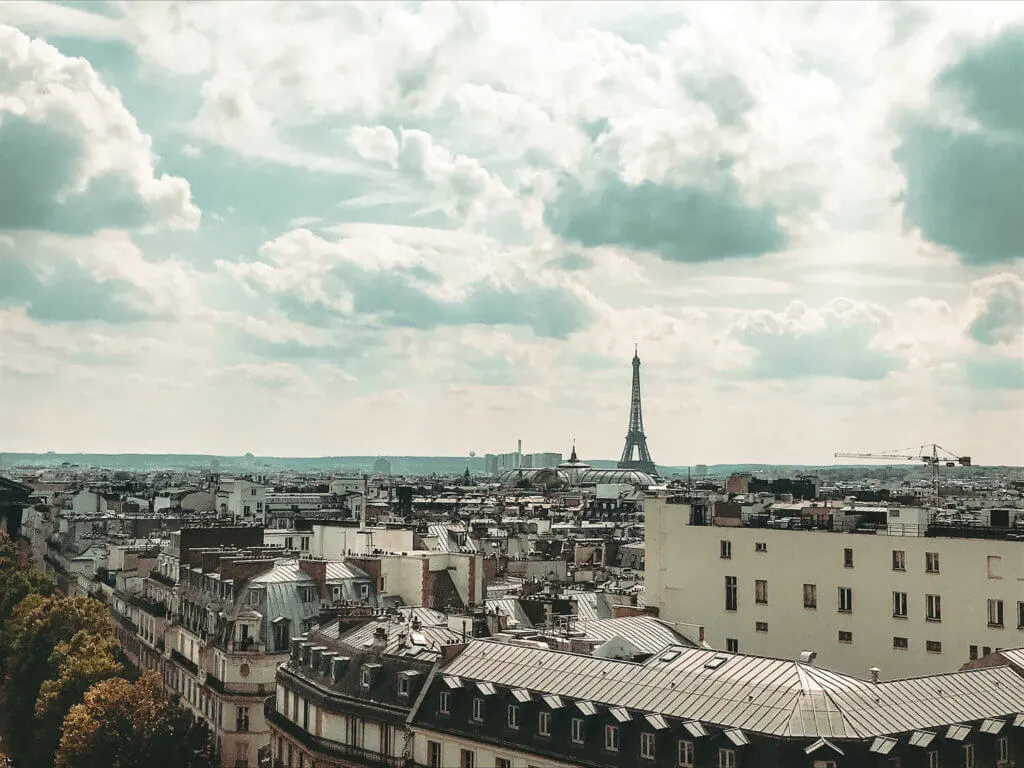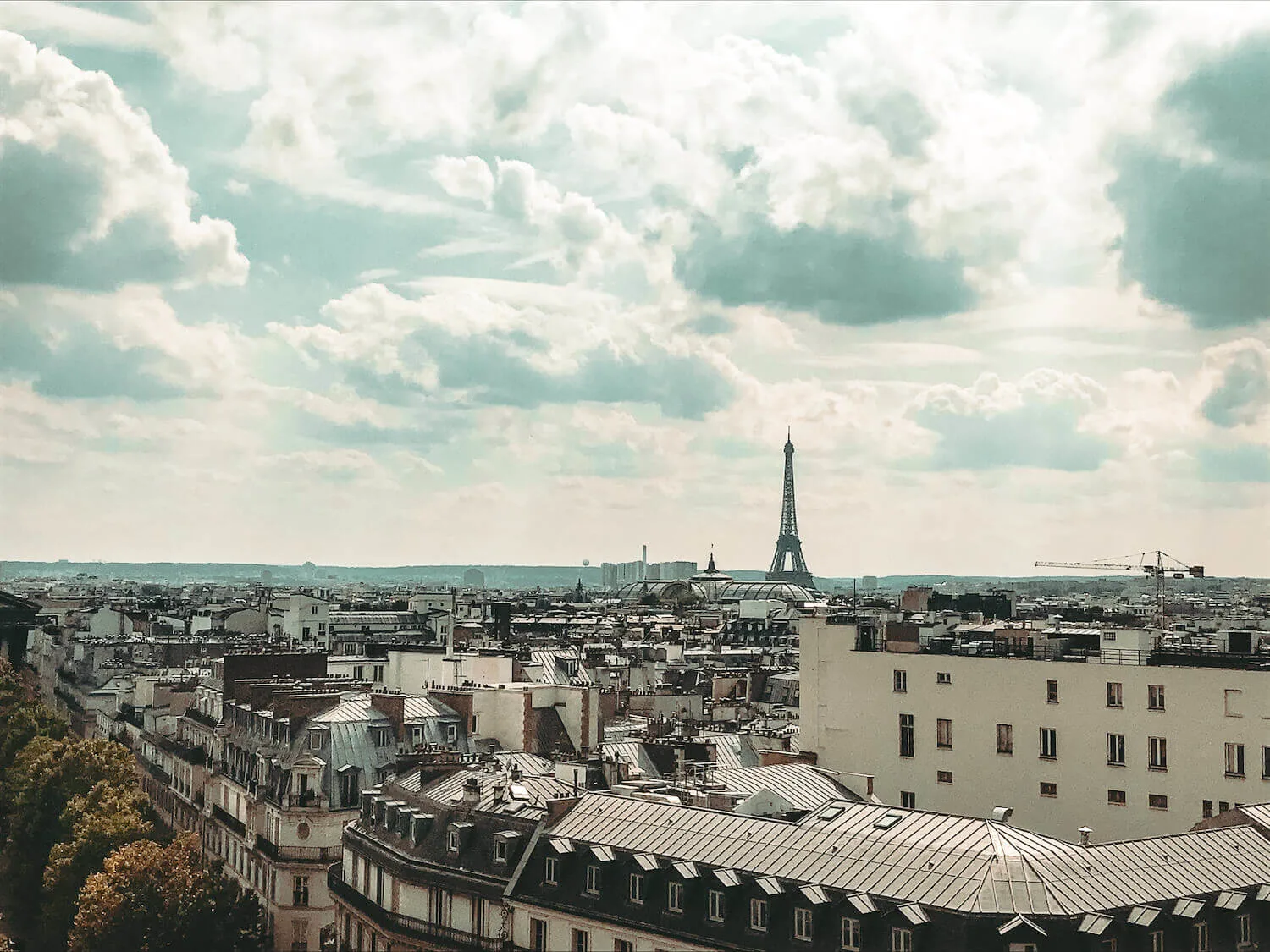 9. Hotel Le Marquis Paris
Not every Eiffel Tower-view honeymoon hotel in Paris has to cost an arm and a leg. Depending on when you visit, you can get great deals on boutique hotels like this one! This hotel celebrates Dandy's Art of Living with Oscar Wilde's lifestyle-inspired decor.
If you're an art lover, this is a fantastic hotel, and to escape the hustle and bustle of the city, you'll love the interior garden. Be sure to request upper street side floors that have views of the Eiffel Tower.
Stars: 4-Star Hotel
Price: Stars at around $180 per night.
Honeymoon Hotels in Paris in the Most Romantic Neighborhood: Montmartre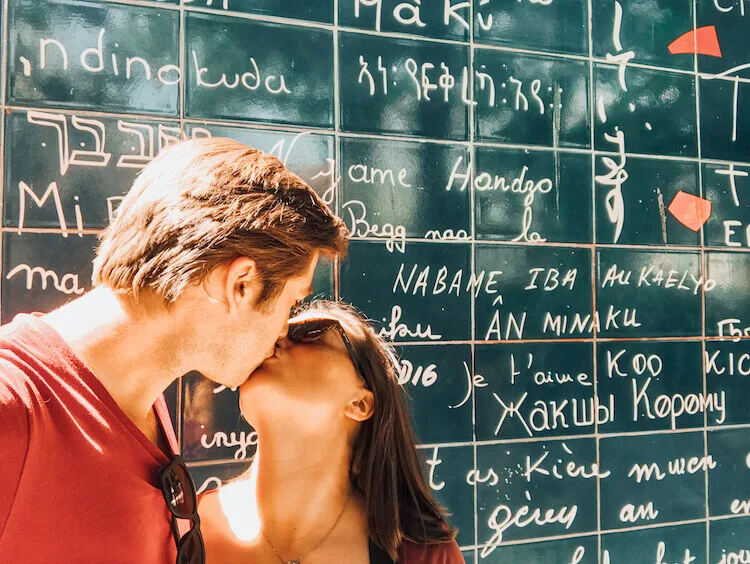 Eiffel Tower views are great, but who doesn't love the more relaxed, hilly, romantic Montmartre? Known for the Sacre-Couer, Moulin Rouge, and, one of my favorite spots in Paris, the Mur des Je T'aime, Montmartre is a dreamy neighborhood for lovers.
Enjoy cute cafes, lovely views over the city, and even smaller museums in this part of town.
10. Hotel des Artres Montmartre
This lovely boutique hotel has beautiful and cozy rooms, which are perfect for your stay in Paris. Plus, the staff is very kind and helpful, and the location can't be beaten. There are cute bars, restaurants, and bakeries nearby just waiting to be explored!
Stars: 4-Star hotel
Price: Starts at around $200 per night.
11. Le Pigalle
Located in Pigalle, you're close to both the Moulin Rouge as well as the dreamy Musee de la Vie Romantique, a hidden gem museum in Paris with a lovely tea room. The hotel itself has rooms that feature the art and culture of the area. Plus, there are amenities like a swanky claw-foot tub and a tasty restaurant on site.
Stars: 4-Star Hotel
Price: Starts at around $240 per night.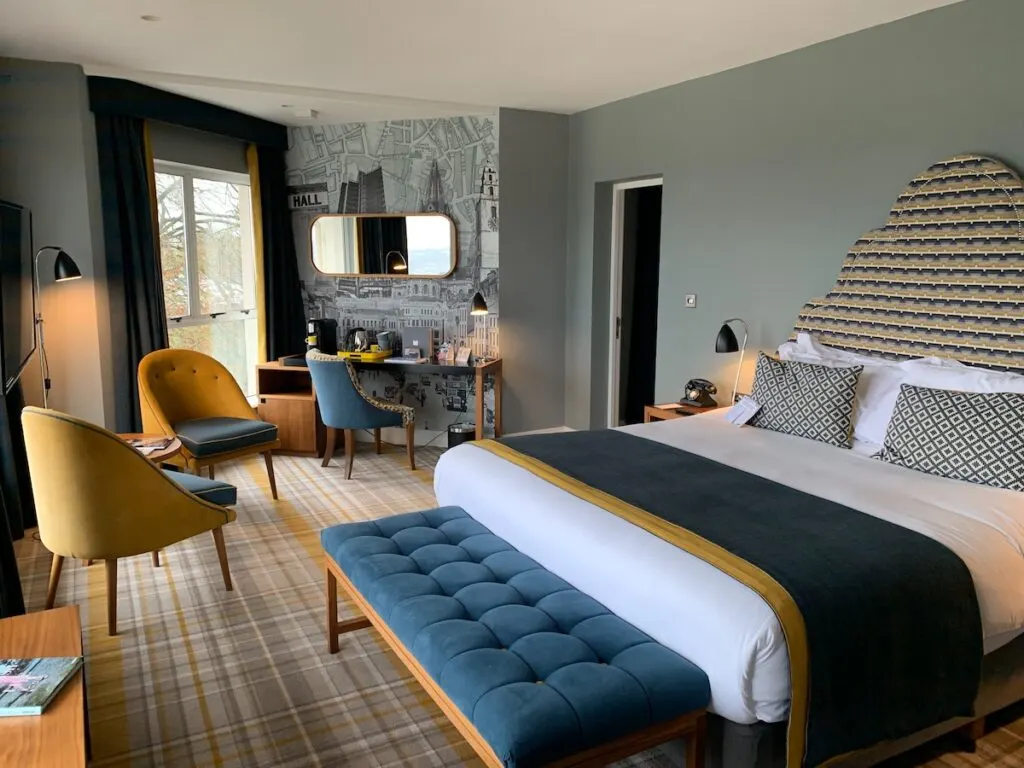 12. Hotel Monsieur Aristide
In the heart of Montmartre is this charming boutique hotel. Be within walking distance of some lovely attractions in the area, most notably the Sacre-Coeur. With only 25 rooms and suites, a musical cocktail bar, a garden, and a Mediterranean terrace, you'll find a dreamy oasis in the midst of the city.
Stars: 4-Star Hotel
Price: Starts at $280 per night.
13. Maison Barbes
This hotel is just a 10-minute walk up to the beautiful Sacre-Couer and is close to the colorful cafes and art galleries in the area. This boutique hotel is sophisticated but also warm. Enjoy an evening together at the cocktail bar here or spend time in their beautiful rooms. Some even have balconies so you can enjoy the street or courtyard views below!
Stars: 4-Star Hotel
Price: Starts at around $160 per night.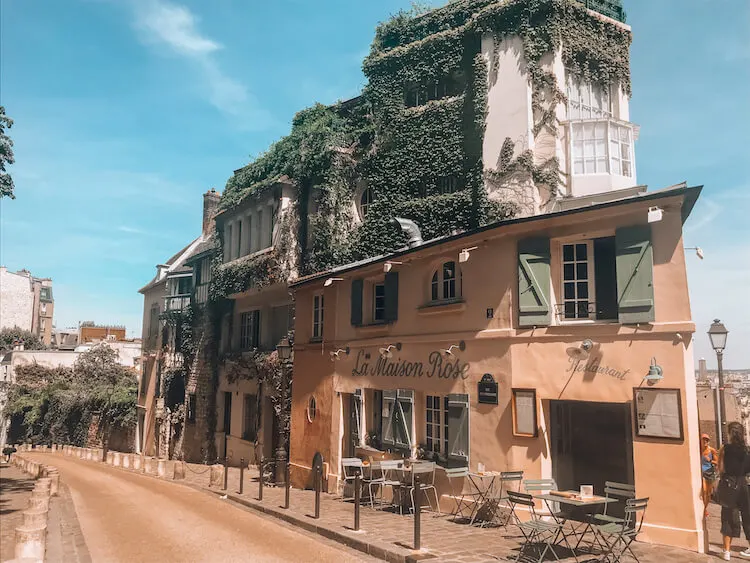 14. Hotel Le Chat Noir
Just steps away from the Moulin Rouge is the vibrant Hotel Le Chat Noir. Inspired by the 19th-century Le Chat Noir cabaret, this hotel pays homage to its neighborhood's past while embracing the chicness of Paris today.
PS- if you book the Prestigious Suite, you'll have a balcony with views of both the Eiffel Tower AND the Sacre-Couer.
Stars: 4-Star Hotel
Price: Starts at around $215 per night.
15. Terrass Hotel
This hotel in the heart of Montmartre is close to some dreamy streets to walk hand in hand at together. Aside from the location, you'll enjoy spa treatments at their Spa Nuxe, the rooftop bar, and their panoramic restaurant with incredible views of the city.
Oh, and not that this article is only about honeymoon hotels in Paris with an Eiffel Tower view, but this place has rooms with views of the iconic monument too. Book the Eiffel Artist Studio, the Exclusive Eiffel Suite, or the Penthouse for those views.
Stars: 4-Star Hotel
Price: Starts at around $320 per night.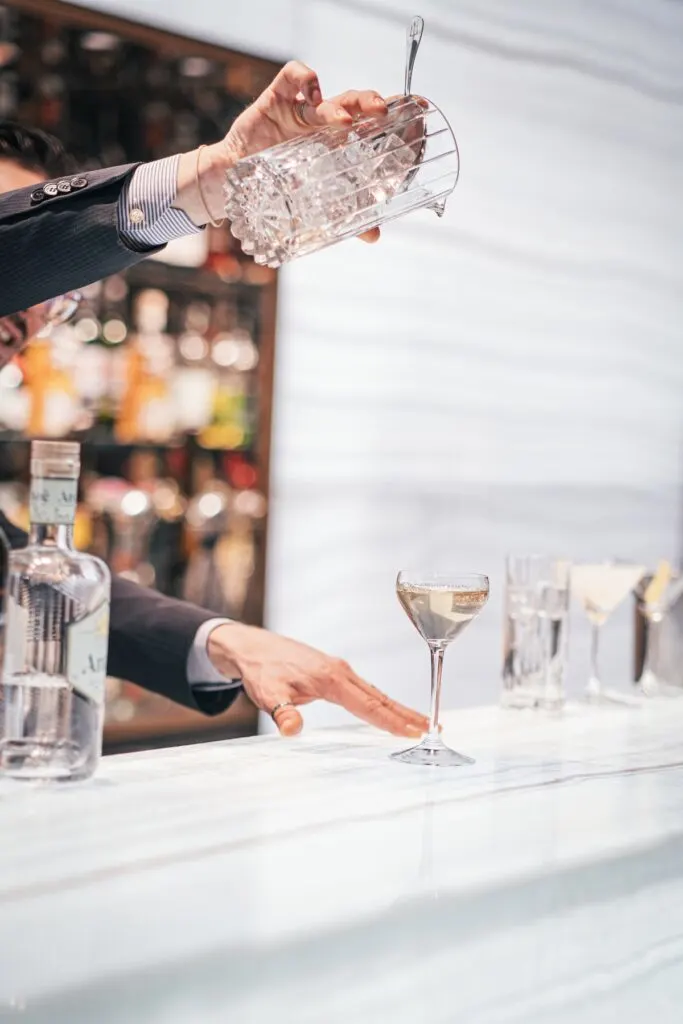 16. Maison Souquet
For 5-star luxury in Montmartre, look no further. The decor and design of the hotel are immaculate, with a combination of Napoleon III and Arabian style to create a magical setting. Have a cocktail in the velvet-chaired reading room and relax at the starry-ceilinged spa.
Oh, and the rooms? They're just as indulgent as you'd imagine at a hotel with this kind of style.
Stars: 5-Star Hotel
Price: Starts at around $490 per night.
Best Romantic Hotels in Paris France in Saint-Germain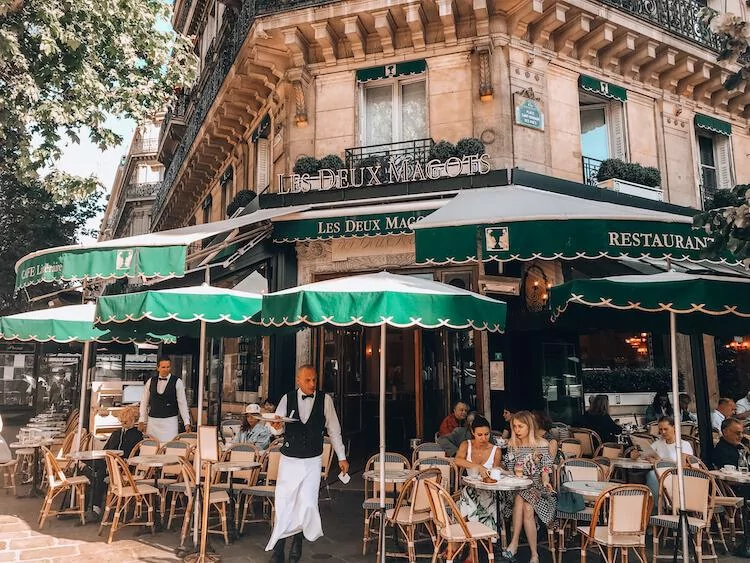 I absolutely love the Saint Germain quarter of the city. This area is home to iconic cafes like Cafe de Flore and Les Deux Magots and is an area where wandering around the streets and people-watching just feel encouraged.
Dream of Paris back in the 1920s in this iconic neighborhood. Plus, it isn't too far from many attractions like the Jardin du Luxembourg, the Pantheon, Notre Dame, and more.
Here are some fantastic Paris honeymoon hotels in the area to check out.
17. Hotel Au Manoir Saint Germain des Pres
The romantic and intimate atmosphere of this hotel is nothing short of perfection. Aside from enjoying your cozy room with vintage-inspired decor, you can relax in the charming living room together to wrap up your day of sightseeing.
Stars: 4-Star Hotel
Price: Starts at around $185 per night.
18. Da Vinci Hotel & Spa
With artfully designed rooms that draw inspiration from the famous Renaissance man himself, you'll feel constantly inspired by the beauty of the hotel. And when you need a little luxury, definitely head to the spa with its relaxing bath and treatments. Then, when you're ready to explore, you can do so across the river at the Louvre.
Stars: 4-Star Hotel
Price: Starts at around $350 per night.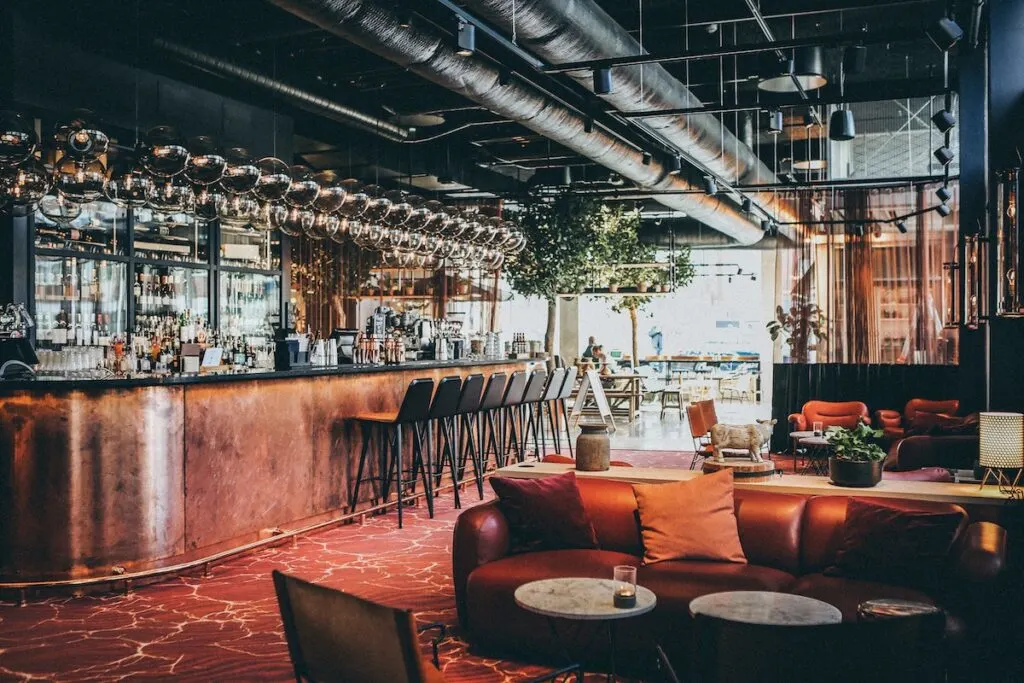 19. Hotel d'Aubusson
Aside from its fantastic location near Sainte-Chapelle, the Louvre, and Pont des Artes, this luxurious hotel is full of romance. From its musical Cafe Laurent to its exclusive spa and pool, you can enjoy the best of Paris at this hotel. Plus, the rooms are decadent with lots of natural light.
Stars: 5-Star Hotel
Price: Starts at around $570 per night.
20. Relais Christine
Located super close to Hotel d'Aubusson, you're also within a short distance of many Parisian attractions. This Paris honeymoon hotel has it all from its many lounges to its inspiring rooms and suites. Indulge a bit at the Spa Guerlain here, which is under 13th-century vaults, and admire the beauty of this tucked-away hotel.
Stars: 5-Star Hotel
Price: Starts at around $570 per night.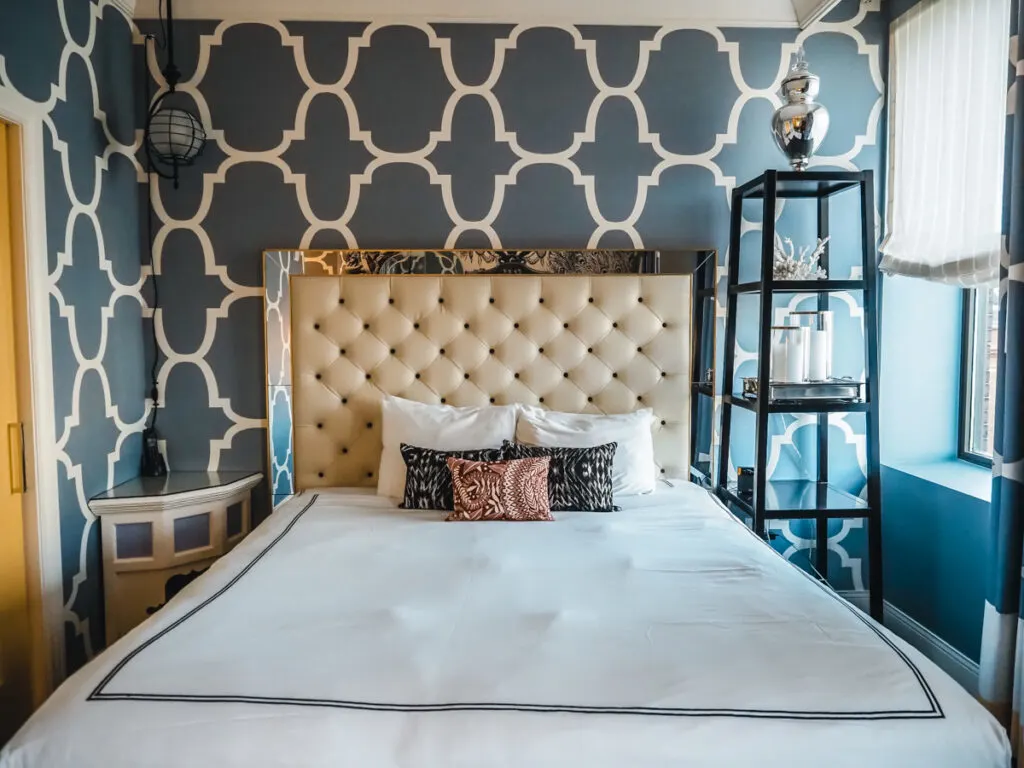 21. Hotel de l'Abbaye Saint-Germaine
In a great area for shopping and strolling in the Jardin du Luxembourg, this hotel is perfect for those who want to be in the heart of the neighborhood. With only 44 rooms and suites, you'll feel calm in this urban oasis complete with a hidden garden. Created with luxury and romance in mind, the rooms and suites here also leave one in awe.
Stars: 4-Star Hotel
Price: Starts at around $380 per night.
Best Hotels in Paris For a Honeymoon in Le Marais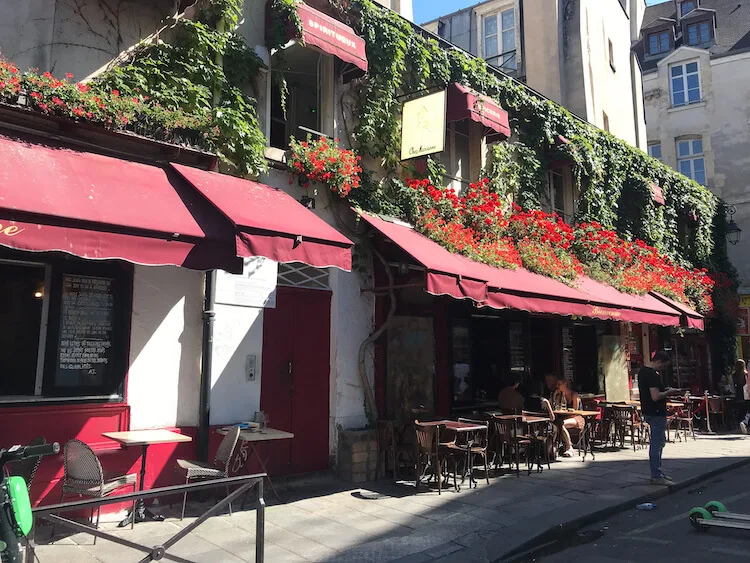 Want to base yourself in a great location that is full of amazing restaurants, cool art museums, and an iconic market? Le Marais is where it is at!
I absolutely love this neighborhood in Paris! Not only is it home to some fantastic smaller art museums like the Picasso Museum, Musee Carnavalet, and the Maison Europeenne de la Photographie, but there are some fantastic restaurants here too. The Jewish Quarter of Paris is also full of great galleries and parks.
I always love to grab a bite to eat at L'As du Fallafel, and for a great breakfast, you can stop at Carette. Either way, for a longer honeymoon in Paris where you want to be close to the action of the city but in a cool area, this is the place to stay.
Here are some of the most romantic hotels in Paris in Le Marais.
22. Le Chambre du Marais
Located in a former townhouse, this boutique hotel is super close to Temple Square and the lovely Marche des Enfants Rouges. You'll enjoy the sophisticated rooms, the cozy lounge, and its excellent service.
Stars: 4-Star Hotel
Price: Starts at around $270 per night.
23. Hotel de Jobo
Built on the site of a 17th-century convent, this hotel is located close to the Place des Vosges and isn't too far of a walk to the Louvre (about 25 minutes walking distance away). The tea room and cocktail bar are super eclectic, as are the boldly designed hotel rooms.
Deriving its name from Josephine Bonaparte, this tucked-away hotel also has a lovely garden.
Stars: 4-Star Hotel
Price: Starts at around $360 per night.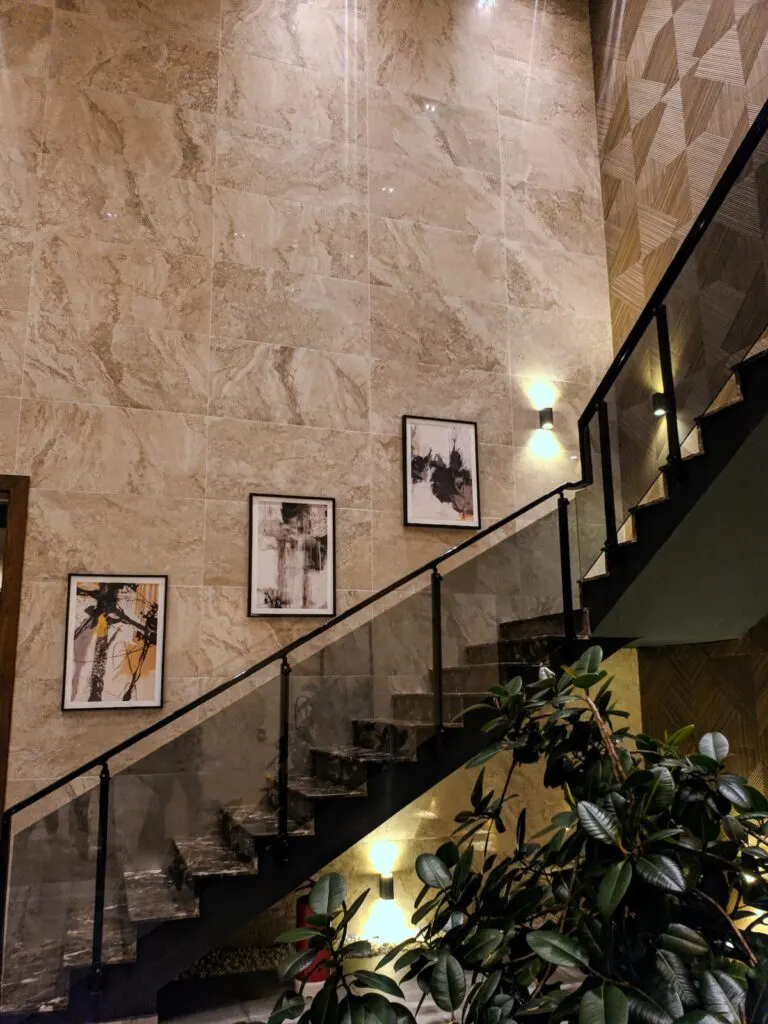 24. Le Pavillon de la Reine
Located super close to Place des Vosges, Paris's oldest square, this hotel has lovely contemporary rooms and suites. Plus, it offers amenities like a hammam, spa, bar and lounge with a library, and a courtyard that makes it even more inviting during your Paris honeymoon.
Stars: 5-Star Hotel
Price: Starts at around $610 per night.
25. Hotel Dupond-Smith
This hotel is in the heart of the Marais quarter and is tucked away. With only 8 rooms and suites, this hotel feels secretive and has some delightfully quiet luxury. Discretion is the name of the game here, and you'll get as much or as little attention as you'd like, whether you want to sip Champagne together on your balcony or have personal trainers and massage specialists come to your room. Your wish is their command here.
Stars: 5-Star Hotel
Price: Starts at around $410 per night.
Romantic Hotels For a Paris Honeymoon Map
Top Paris Honeymoon Ideas
Now, after discussing the best Paris honeymoon hotels, I don't want to overload you with tons of things to do in Paris. Trust me, I have a whole other blog with articles dedicated to things like Romantic Things to do in Paris For Couples, the Ultimate Paris Bucket List, and Hidden Gems of Paris.
However, I do have a great 4-day itinerary here if you're interested in that, and here are a few choice things you'll likely want to add to a honeymoon in Paris.
Picnic in front of the Eiffel Tower
Visit the Louvre and see the Mona Lisa… but do it at night when it is at its most peaceful with this tour.
Take a selfie at the Mur des Je T'aime (AKA the Love Wall)
Sip wine together at an iconic wine bar like Les Juveniles
Enjoy top-notch art museums including Musee de l'Orangerie, Musee D'Orsay, Musee Rodin, Musee de la Vie Romantique, and Musee National-Picasso
Visit the Temple of Love either at Versailles, Bois de Vincennes, or Parc des Buttes-Chaumont
Walk along the Seine
Dine at a Michelin-starred restaurant (like those mentioned above at some fancy hotels or at places like Frenchie or Arpege)
Explore or watch a show at the Palais Garnier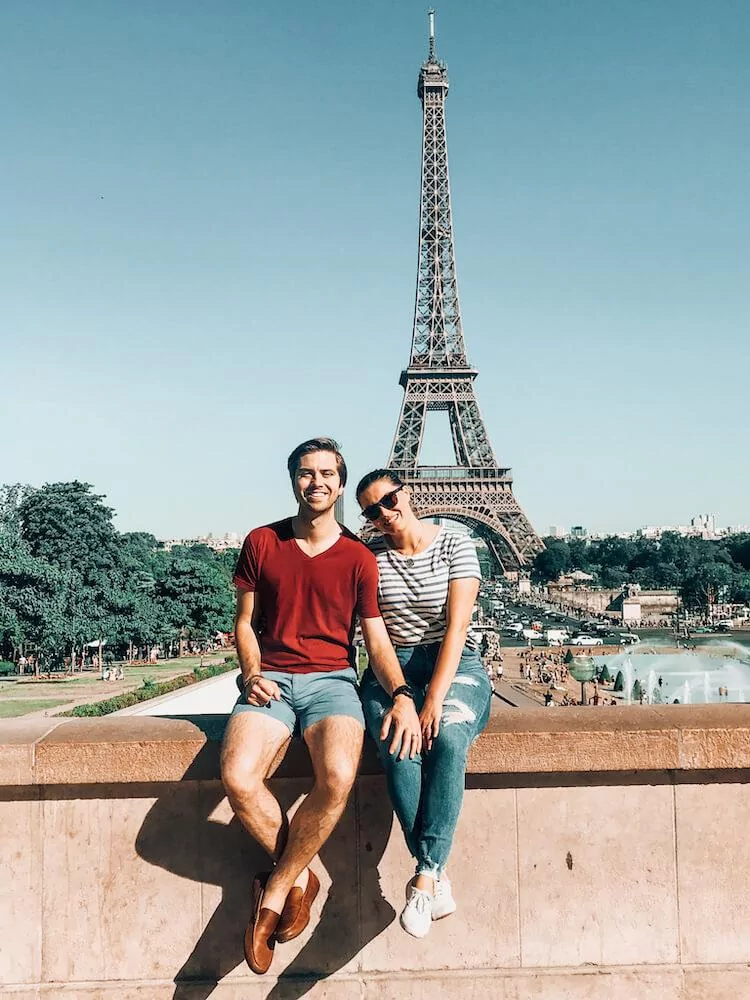 Other Tips For Your Paris Honeymoon
Here are a few other tips to keep in mind as you plan your Paris honeymoon!
Not sure what to pack for Paris? I have a whole guide on what to bring (in just a carry-on!)
When is the best time to visit Paris? It really depends on what you want to see and do! However, I find that spring and autumn are lovely times to visit for good weather without the summertime crowds.
Want to avoid getting pick-pocketed? Opt for an anti-theft purse or belt bag and keep an eye on your things at all times (especially in crowded, touristy spots and the metro).
These are the best Paris honeymoon hotels that you'll absolutely love! Whether you're searching for Paris honeymoon suites or rooms with a view of the Eiffel Tower, you'll find something to love on this list.
Have a happy Paris honeymoon!
Want more honeymoon ideas? Check out these posts:
Pin it here!