Some posts on this site contain affiliate links, meaning if you book or buy something through one of these links, I may earn a small commission (at no additional cost to you!). Read the full disclosure policy here.
---
Searching for the best St Lucia all-inclusive honeymoon resorts? You're in for a treat, because there are several great honeymoon resorts in St Lucia!
But the difficult part is choosing which one you should stay at! I'll be honest, if you're spending 5-7 days in Saint Lucia, it may even be a good idea to pick a couple of places!
There are lovely resorts in the mountains, places on the beach offering Saint Lucia honeymoon packages, and more. So let's get into it.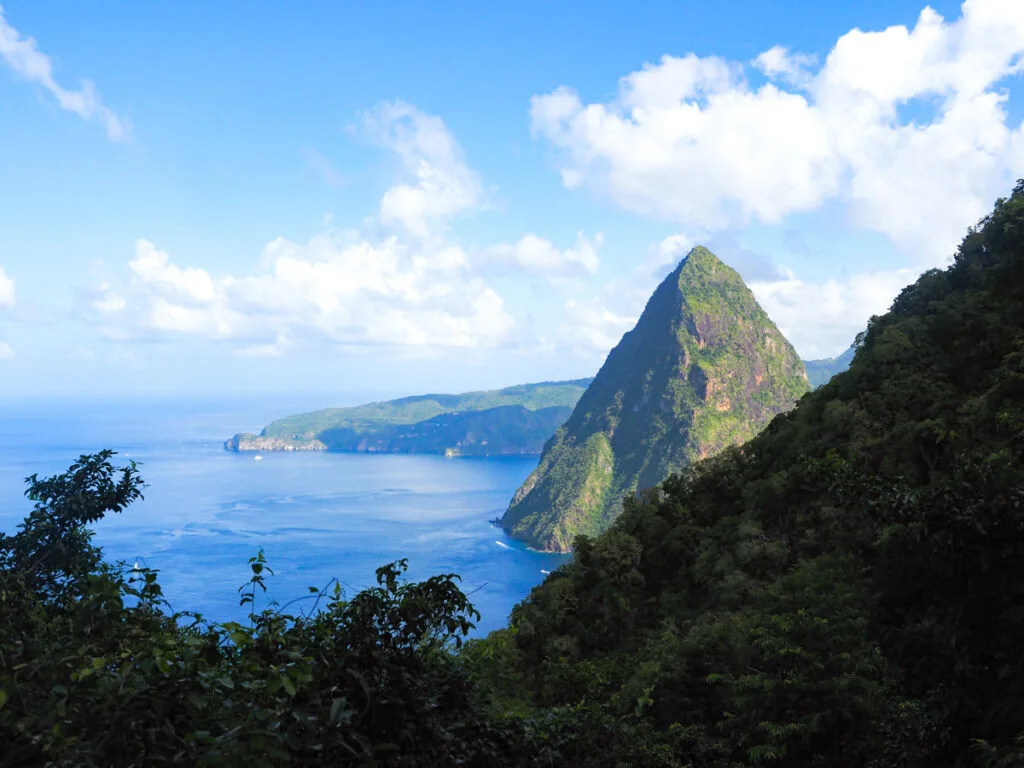 Best St Lucia All-Inclusive Honeymoon Resorts
These are the best all-inclusive resorts in St Lucia for your romantic honeymoon!
1. Sandals Grande St Lucian
Gros-Islet
Sandals has not 1, not 2, but 3 incredible adults-only resorts on the dreamy island of Saint Lucia. So, if you're a big fan of Sandals, you are spoiled for choice here.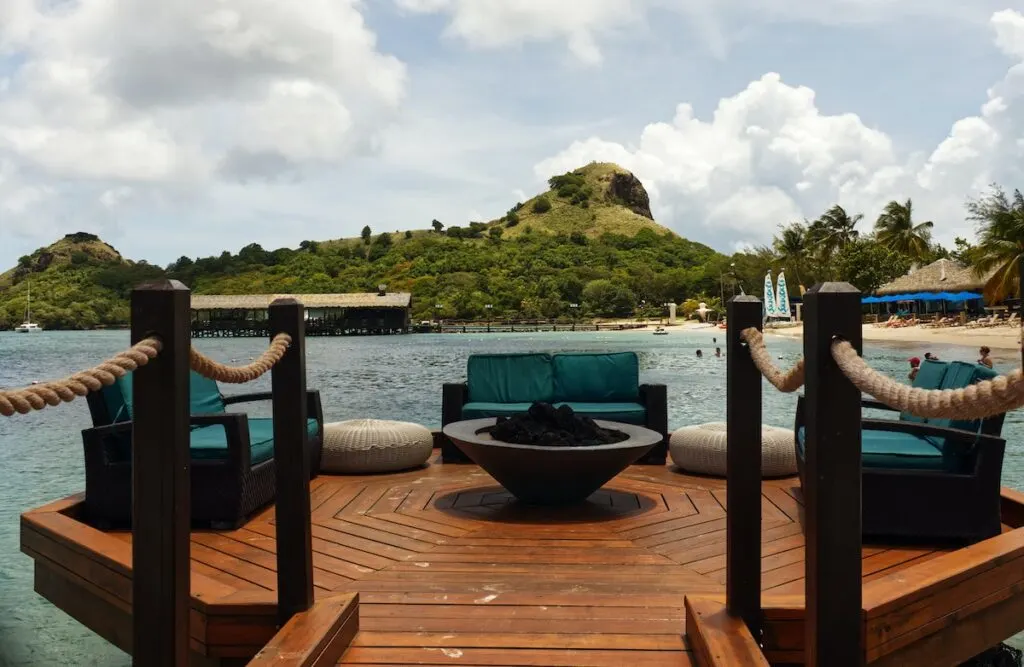 The Sandals Grande St Lucian is located in the northern part of St Lucia and is next to Pigeon Island National Park. This area is known for some of the calmest waters on the island, so the beaches here are perfect for swimming or basking in the sun.
To top it off, this resort has things like 5 pools, 7 bars (including swim-up bars), 12 restaurants, and access to the nearby golf course, and this is one of the places to stay in an overwater bungalow in the Caribbean!
Plus, it offers all-inclusive perks like all meals, alcoholic and soft drinks, a stocked bar in every room, access to the other Sandals resorts, and free transportation.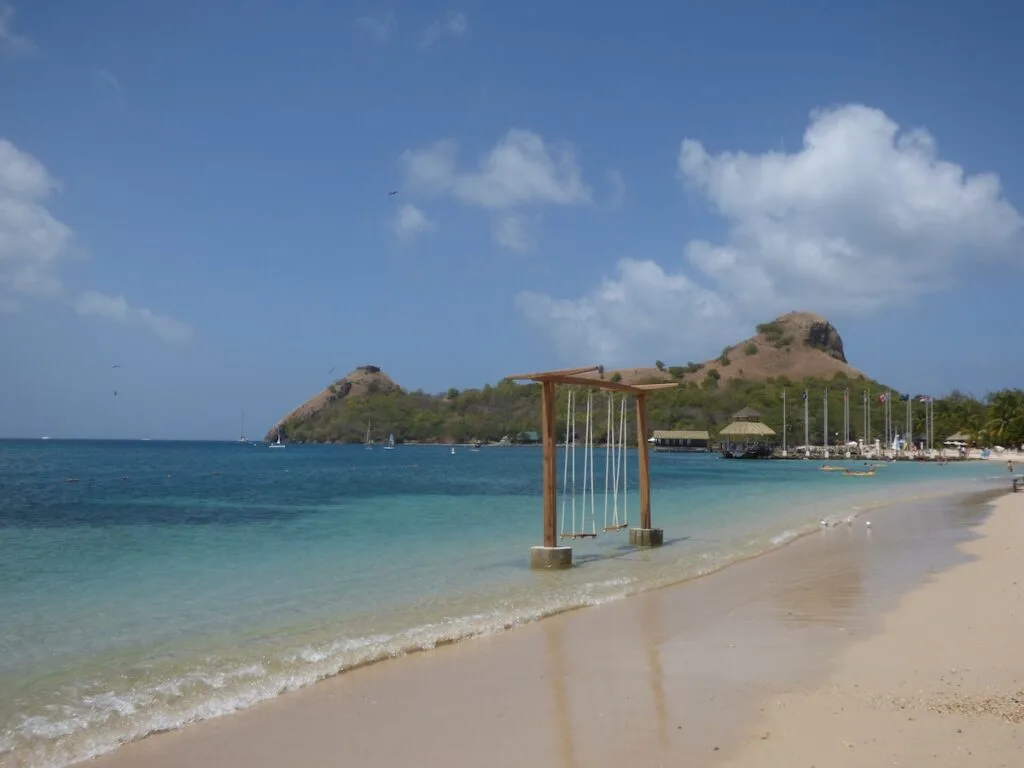 2. Sandals Regency La Toc
Castries
Located near Castries along a gorgeous half-mile beach, you'll have plenty of space to frolic in the sand and sea. This resort has access to 2 golf courses, and you can go to the other 2 Sandals resorts, plus it includes transportation, 9 restaurants, 8 bars, and more!
This is a great place to stay for those who want unobstructed sea views, especially if you stay in the Bluff Suites.
3. Sandals Halycon Beach
Castries
Also located near Castries, this resort still gives access to the other 2 resorts as well as the golf courses. However, this tucked-away resort has lush tropical gardens and combined with the perfect white sandy beaches, you're in for a truly tranquil getaway.
It also has the largest pool in the Caribbean, 6 restaurants, 7 bars, and several pools, and offers beautiful rooms with many having pool access, a private pool, or even a soaking tub.
For those searching for a more low key Sandals in St Lucia, this is the place.
4. Serenity at Coconut Bay
Vieux Fort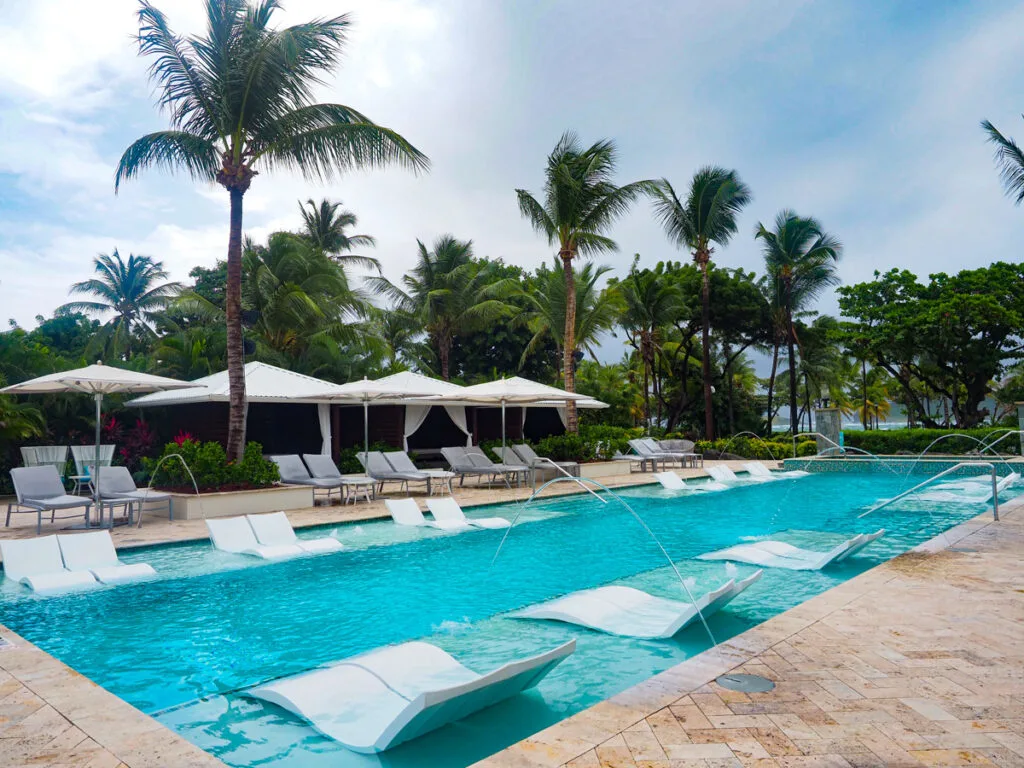 Located on the southern end of the island close to the main international airport, Serenity is attached to the large Coconut Bay resort. However, this place is adults-only and couples-only. To top it off, every room here is a suite with butler service, a fully stocked wet bar, a soaking tub, AND your own private pool with a waterfall.
Combine that with all meals and drinks included (as well as airport transportation) and you're in for a treat at this St. Lucia all-inclusive resort for couples!
There is also exclusive access to Serenity's pool and the chance to rent either a pool or beach cabana that includes butler service and a stocked cooler. The food here is also spectacular at the Greathouse! Aside from fresh seafood, you can sample cheese from the cheese cart after your meal.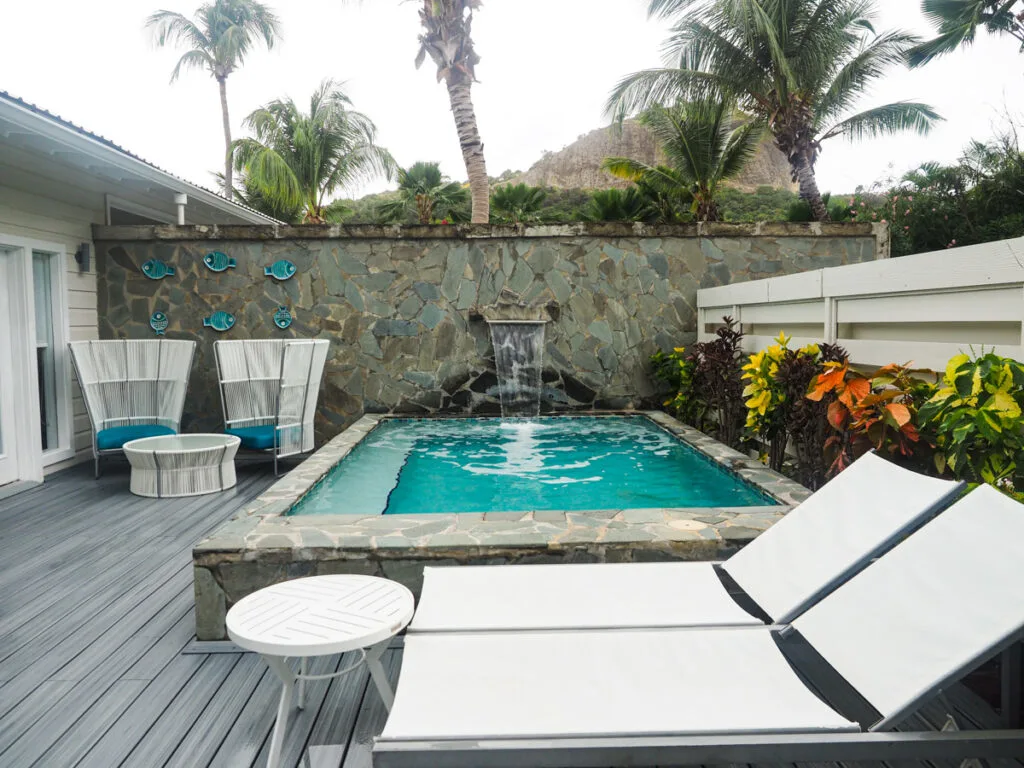 Serenity also has access to Coconut Bay and all of its restaurants and pools, as well as a long beach with a beach bar and burger shack. Lounge the day away by the pool or arrange a day trip around the island.
As a side note, I will say that while this place is magnificent (we stayed here on our recent trip to Saint Lucia), the beach is on the Atlantic side so the water is choppier and less clear than on the Caribbean side. However, this is the best place for kite surfing!
5. Coconut Bay
Vieux Fort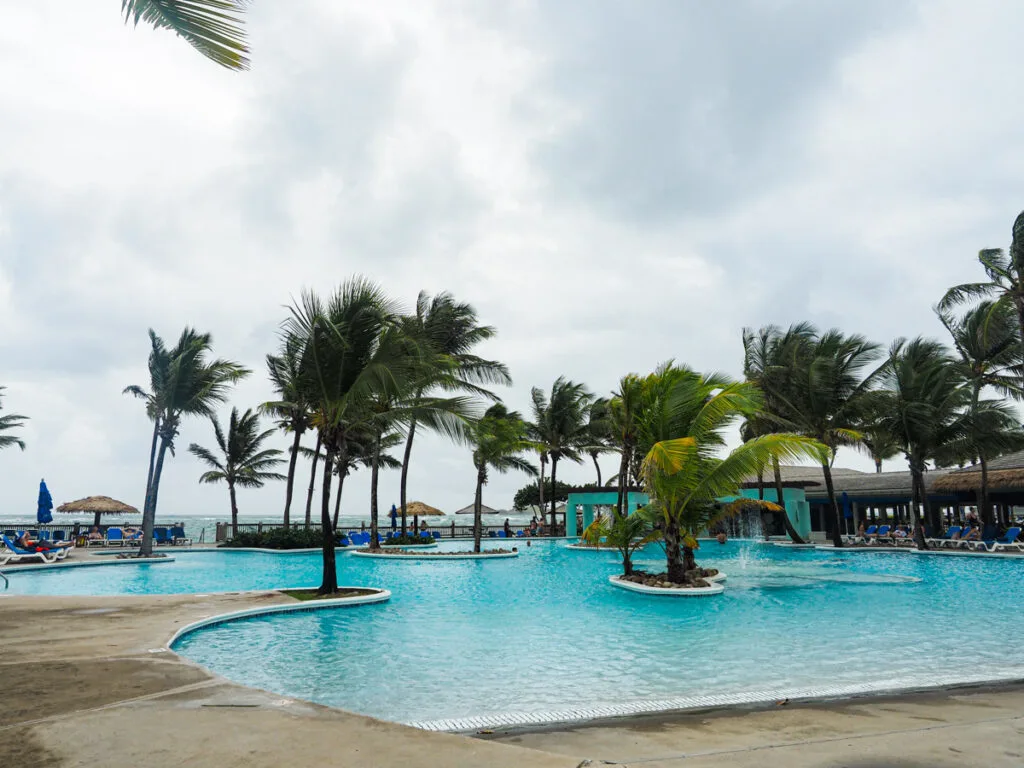 Next to Serenity at Coconut Bay is the Coconut Bay all-inclusive resort. Now, while the entire resort isn't adults-only, there is an adults-only wing, as well as an exclusive adults-only pool with a tiki bar.
On top of that, there are 8 restaurants, plus the one at Serenity you can book, 7 bars, and a very long beach with plenty of places to lounge and play.
Coconut Bay includes all meals, drinks, entertainment, and transportation to/from the airport, and they can arrange tours around the island for you.
6. Jade Mountain Resort
Anse Chastanet
Located in the southwest of St Lucia, you may recognize this resort as it has been very popular on social media. With gorgeous rooms with views of the pitons and an open 4th wall to take in all the beauty of the island, you'll never want to leave this place.
Jade Mountain Resort has 24 infinity pool suites as well as 5 whirlpool suites without a pool. It is also close to Anse Chastanet beach, with amazing views and a perfect place for a swim.
While this luxury resort isn't completely all-inclusive, you can book the Total Romance Package for your honeymoon, which does include all meals, drinks, transportation from the airport and back, drinks in your fridge, a bottle of French Champagne, a snorkel trip, resort activities, a tour of Sulphur Springs and Diamond Waterfall, and many more perks.
Seriously, there are way too many to list. It is definitely pricier, but if your honeymoon has no limit, this is a great place to stay.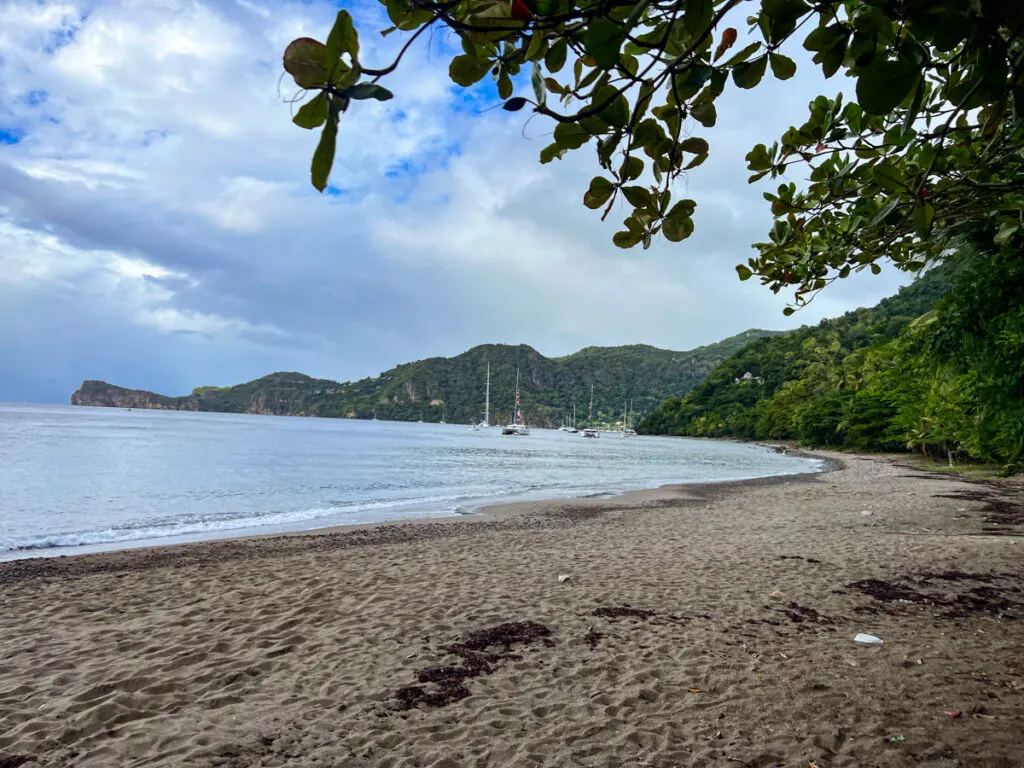 7. Anse Chastanet Resort
Anse Chastanet
Jade Mountain is actually a resort within the resort of Anse Chastanet. However, this resort is a bit easier on the budget. With some rooms having a missing 4th wall, and some rooms having their own plunge pools, you'll never get tired of the amazing views here.
With quite a few restaurants and bars, plus access to so many activities ranging from Scuba and snorkeling to jungle biking and other excursions, this is a dreamy romantic Saint Lucia honeymoon resort.
While it isn't solely an all-inclusive resort, it offers St Lucia all-inclusive honeymoon packages like the Total Romance Package which includes all meals, drinks, airport transfers, so many excursions, a bottle of French Champagne, and more!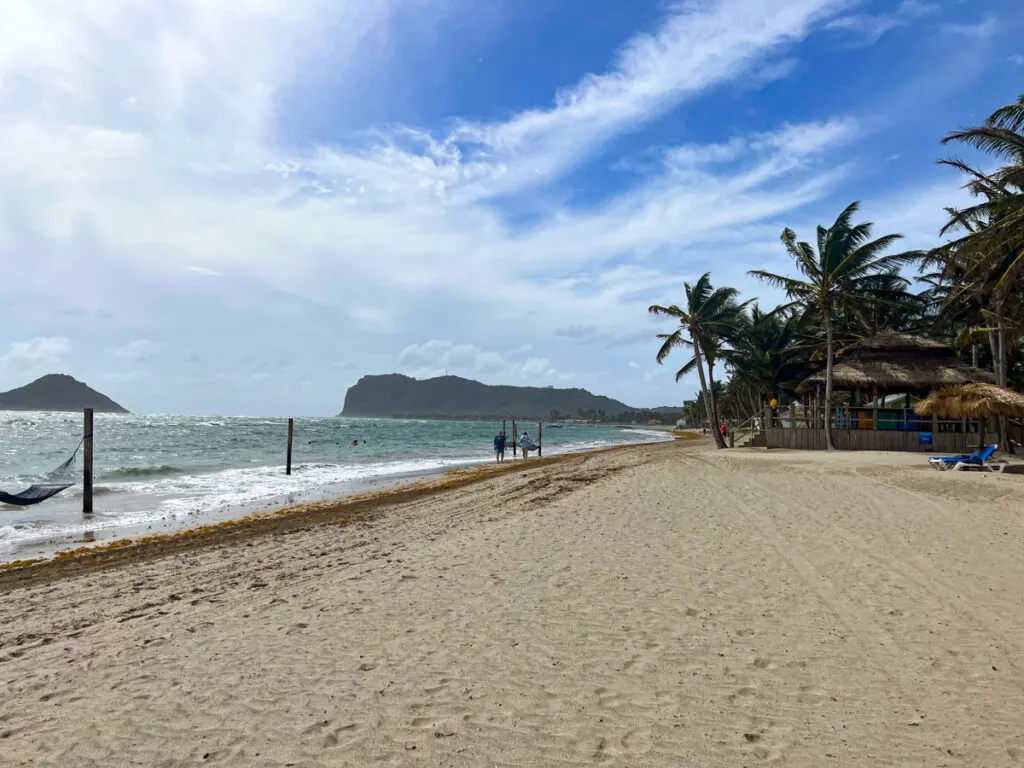 8. Windjammer Landing Villa Beach Resort
Cornith
Situated in the north along Labrellotte Bay, this hillside resort features several swimming pools, bars, and restaurants, plus access to a stunning white-sand beach.
They also have several great tours from sunset sailing to diving and more! Plus, they offer a St Lucia Romance Premium All-Inclusive package that includes all meals, drinks, airport transfers, rose petal welcome, wine and chocolate-covered strawberries at turndown, full English breakfast with Champagne, a couple's massage, and beach dinner, and more!
9. Hotel Chocolat
Soufriere
Hotel Chocolat owns a hotel called Rabot Hotel in Saint Lucia. This place, located in the mountains on a chocolate farm, has several eco-lodges with views of the pitons and sea. Plus, all rooms come with fresh coffee and chocolate treats.
You can book the all-inclusive Saint Lucia holiday package here that includes all meals, local liquors and cocktails, local beers, and wines by the glass, breakfast, 2-course lunches, and 3-course dinners.
Don't forget to take a tour with Project Chocolat and make your own chocolate bar!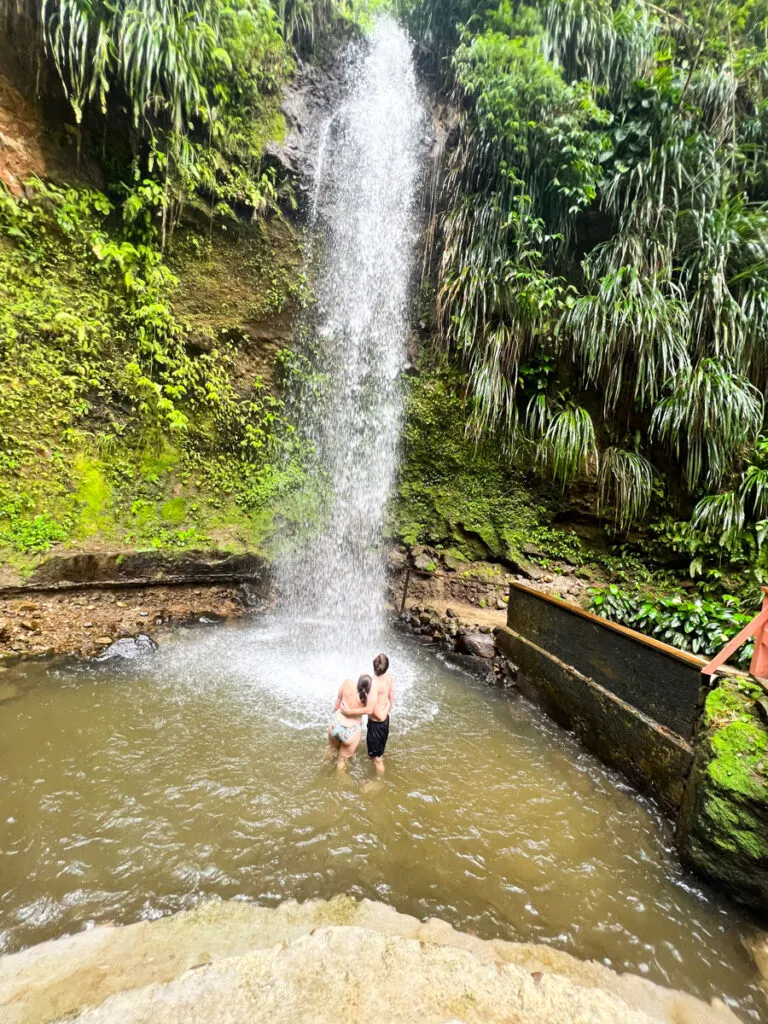 10. Ladera Resort
Soufriere
With stunning Caribbean and piton views, this resort's rooms all have an open 4th wall to further enjoy the scenery. Oh, and every suite has a piton and Caribbean view and its own private pool.
Take in the views and incredible sunsets from your own plunge pool. The resort also offers a complimentary shuttle service to Malgretoute Beach during your stay.
While not a typical all-inclusive resort in Saint Lucia, this place does have a free airport shuttle as well as a free daily breakfast. You can also book the all-inclusive package which includes 3-course lunches and dinners, domestic beers, wines by the glass, and house cocktails and spirits.
11. Stonefield Villa Resort
Soufriere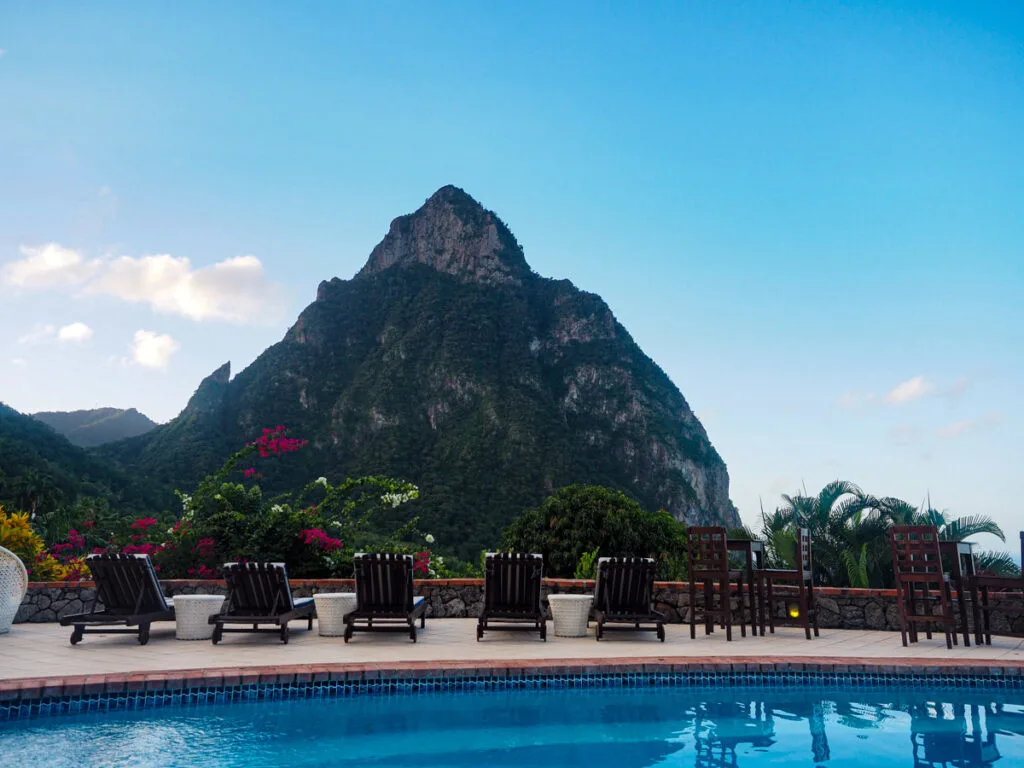 Also perched in the mountains, this locally owned and ran resort has the most epic views of the Petit Piton from almost every spot! Every room here is actually its own private villa that includes an outdoor shower and private plunge pool.
On our recent visit, we stayed in the 1-bedroom oceanview villa, and not only did we watch the most amazing sunsets from our hammock, but there were incredible Petit Piton views as well.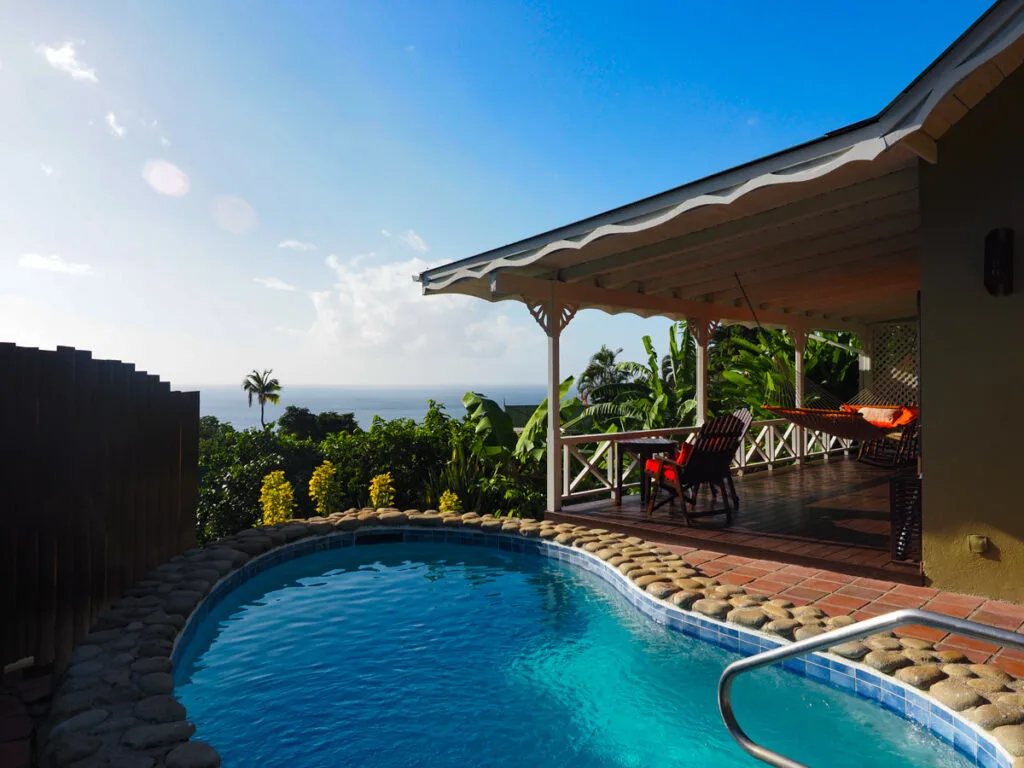 The resort includes daily breakfast and the beach shuttle, but you can purchase the all-inclusive package that includes 2-course lunches and 3-course dinners as well as domestic beer and cocktails and wine by the glass.
The restaurant here has some great local cuisine as well as international dishes, and the staff is so helpful when it comes to booking excursions!
12. Hideaway at Royalton Saint Lucia Resort
Smugglers Cove
Located near the top tip of the island, this Saint Lucia all-inclusive honeymoon resort sits on a stunning beach. This is also adults-only!
Each suite here has a terrace or balcony, rain showers, a minibar with beverages, an in-suite jacuzzi tub, 24/7 room service, and more!
Plus, if you upgrade to the Diamond Club, you get butler service, an exclusive beach area with dedicated bar and waiter service, private lounge access, an upgraded room service menu, discounts on spa treatments, etc.!
And, being all-inclusive, you have access to its restaurants, bars, and multiple swimming pools.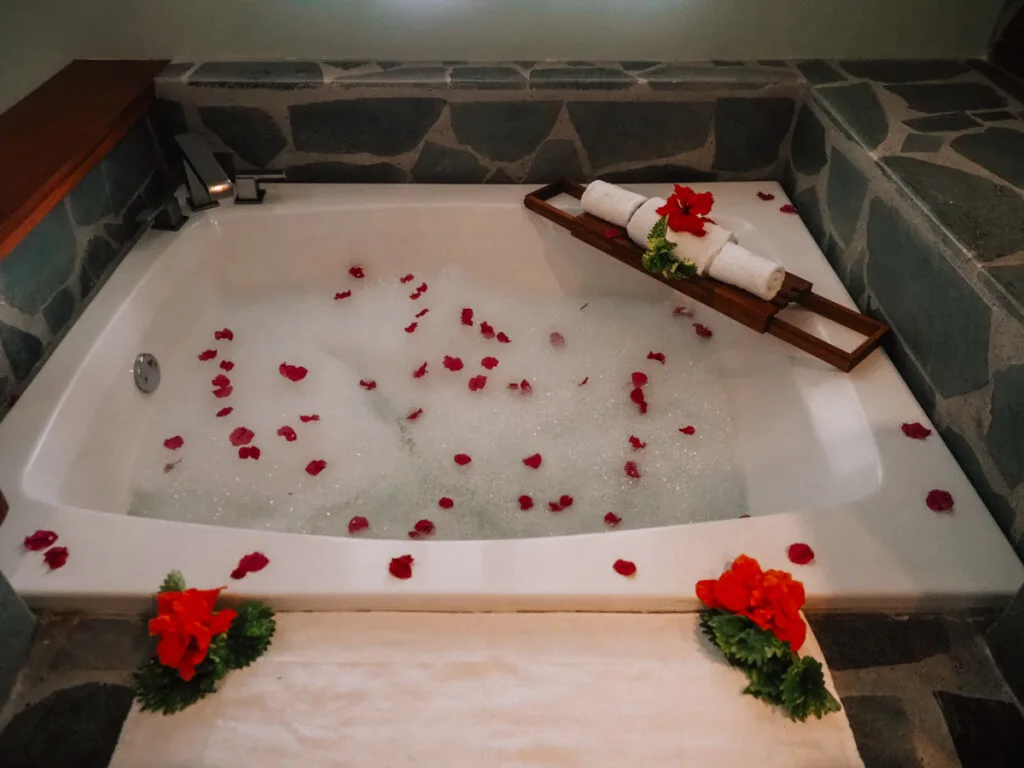 13. The Landings Resort & Spa
Gros Islet
Along the shores of Rodney Bay is The Landings, an idyllic St Lucia honeymoon all-inclusive resort. The beach here is pristine, and rooms here offer great views of the Caribbean Sea as well as the marina.
Each stay includes breakfast, nonmotorized water sports, daily activities, and beach and pool ambassador service.
For all meals and drinks, opt for the all-inclusive package so you can fully enjoy all the pools, bars, and restaurants that this resort has on offer.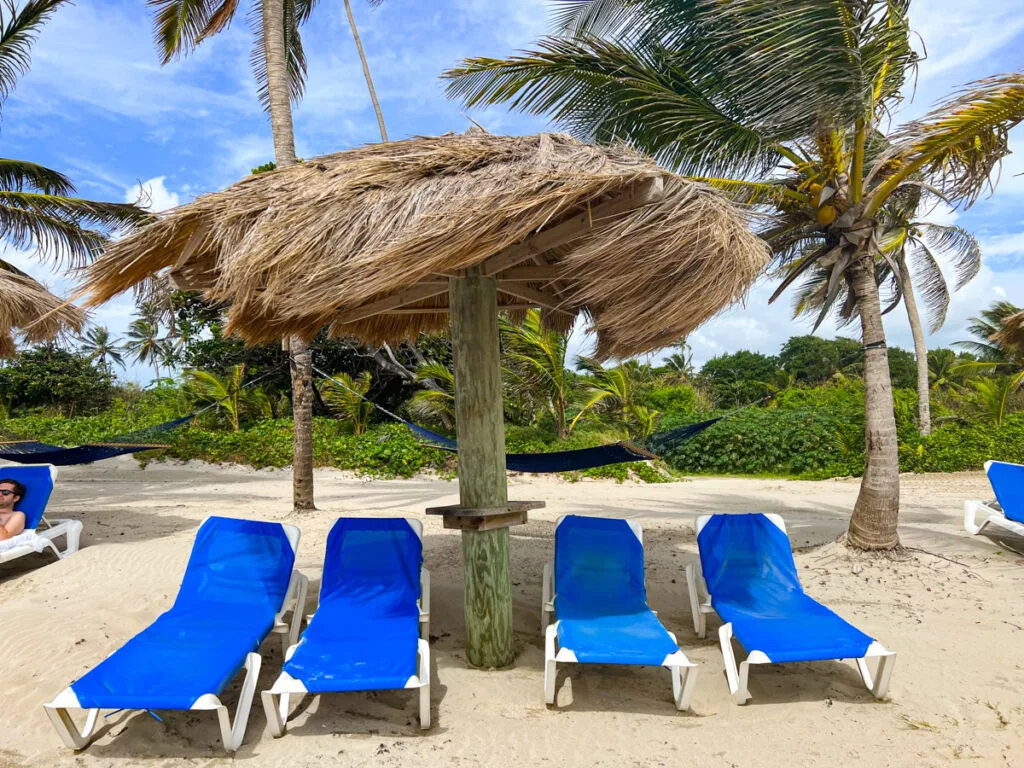 14. St James's Club Morgan Bay
Choc
On the northwestern side of the island, this St Lucia all-inclusive resort is in a great location. It is close to Rodney Bay Marina, Cap Estate Golf Course, and the city of Castries. So if you want to explore, you're in a great place to do so here.
Plus, it is located right along the beach, making it perfectly fine to just sit back and relax too. With 5 bars and 6 restaurants (reservations required) featuring Caribbean and international dishes, you'll have so many great options for wining and dining.
There are also several pools, including an adults-only pool, and this all-inclusive resort offers many free water sports and activities.
15. Bay Gardens Beach Resort & Spa
Rodney Bay
Last on the list is Bay Gardens Beach Resort & Spa. This place is located in Rodney Bay along the stunning Reduit Beach. And it is next to the Splash Island Water Park, perfect for kids at heart who want to play in the ocean.
With many bars, restaurants, and lovely rooms, you will fall in love with Saint Lucia here. While this isn't a typical all-inclusive resort, you can book the all-inclusive plan which includes most drinks, food, one spa visit, nonmotorized sports, and access to their other properties.
Other Lovely St Lucia Resorts For Your Honeymoon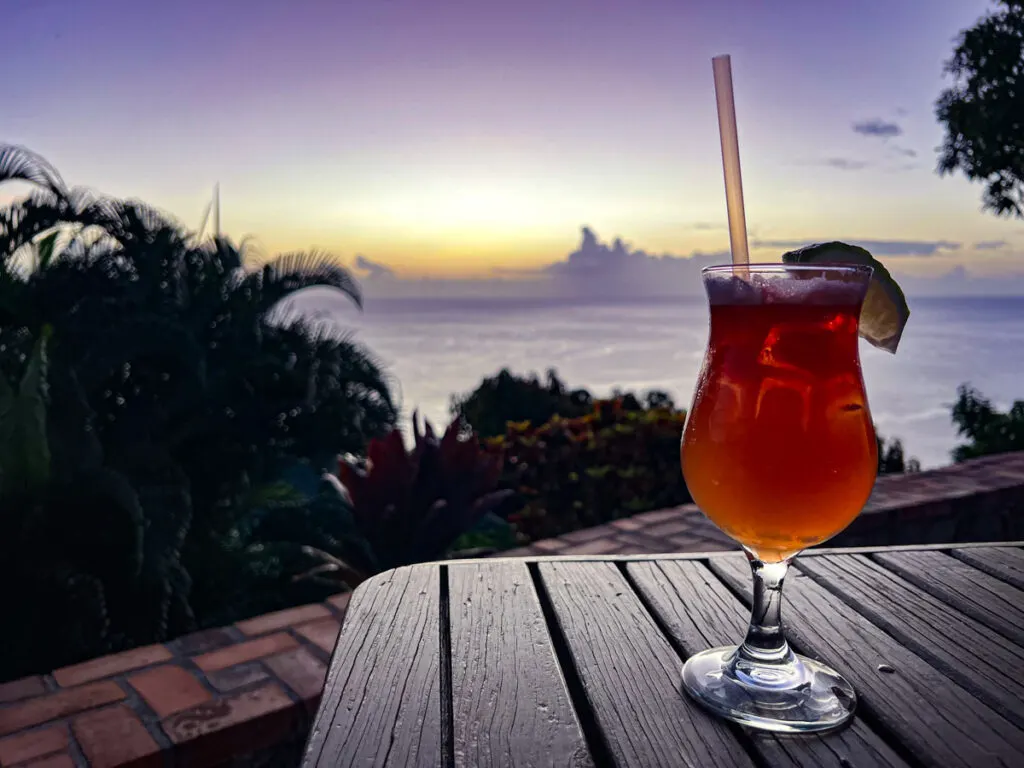 Hey, all-inclusive resorts aren't for everyone, and we totally get it. So if you aren't interested in staying at an all-inclusive resort, here are a few hotels worth looking into for your St Lucia honeymoon.
1. Sugar Beach, A Viceroy Resort
Soufriere
Another top-notch honeymoon resort in St Lucia, Sugar Beach sits along the beach, where you'll be able to access the Anse Piton Marine Reserve. The sea here is idyllic for snorkeling the day away, and you'll fall head over heels for the views of the Caribbean Sea and pitons.
There are a couple of deals you can find here, including a Paradise Found Romantic Getaway that includes airport transfers, a bottle of Champagne and chocolates at turndown, free breakfast, butler service availability, and a rose petal welcome.
Plus, this resort has a spa, great bars, and restaurants, and there are ample selections for accommodation including rooms, beachfront bungalows, and residences.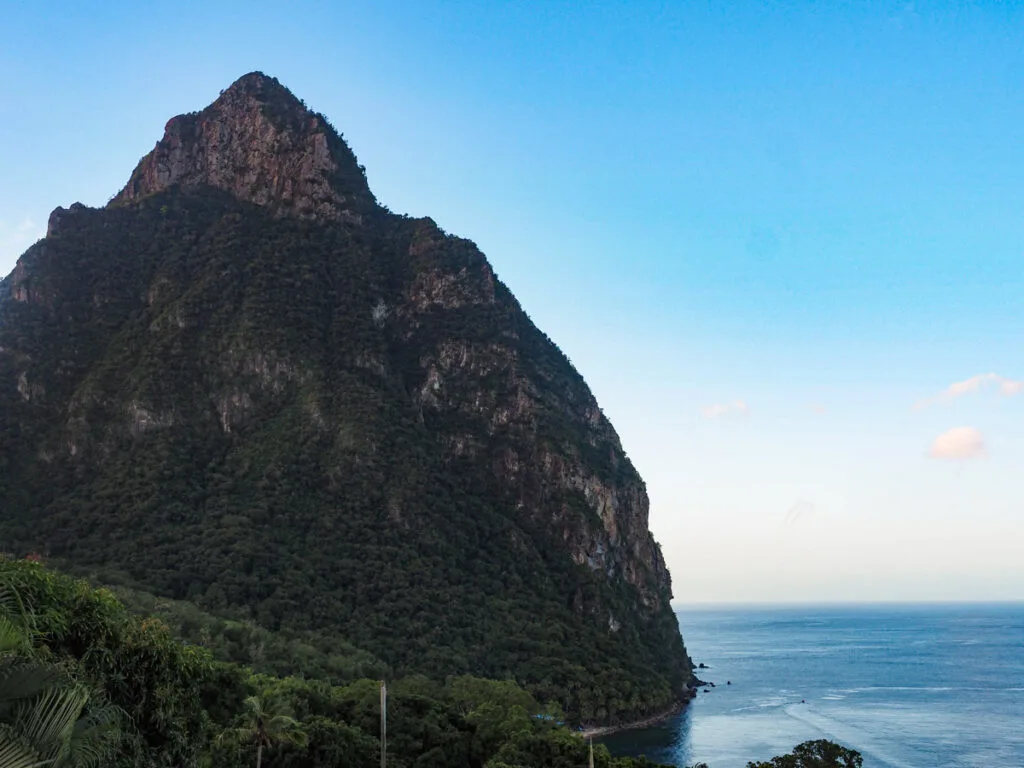 2. Tet Rouge Resort
Soufriere
Admire views of the Gros Piton and the Caribbean Sea as you indulge your senses at Tet Rouge Resort.
This honeymoon-worthy Saint Lucia resort has beautiful sea-view suites with the most jaw-dropping sights of the Caribbean. Feel one with nature from your terrace, relax in your hammock as you watch the sun go down, and go for a swim in the resort pool which has a swim-up bar and adjacent sun deck.
This isn't an all-inclusive resort, but they do have packages that include things like airport transfers, fruit platters, breakfast, and perhaps an excursion.
3. Fond Doux Eco Resort
Fond Doux
Built on the grounds of a historic chocolate estate, this locally owned and ran resort has breathtakingly beautiful views of tropical gardens, the lush rainforest, and even the cocoa fields.
This resort has 17 cottages, including a one-bedroom cottage with a pool, perfect for honeymooners looking for an island paradise escape.
With two restaurants, a spa, a beach shuttle, and many on and off-site activities to enjoy (like a chocolate tour!), you'll love this amazing eco-friendly resort.
These are all hands-down the best St Lucia resorts for your honeymoon to this dreamy, romantic tropical island!
When to Visit Saint Lucia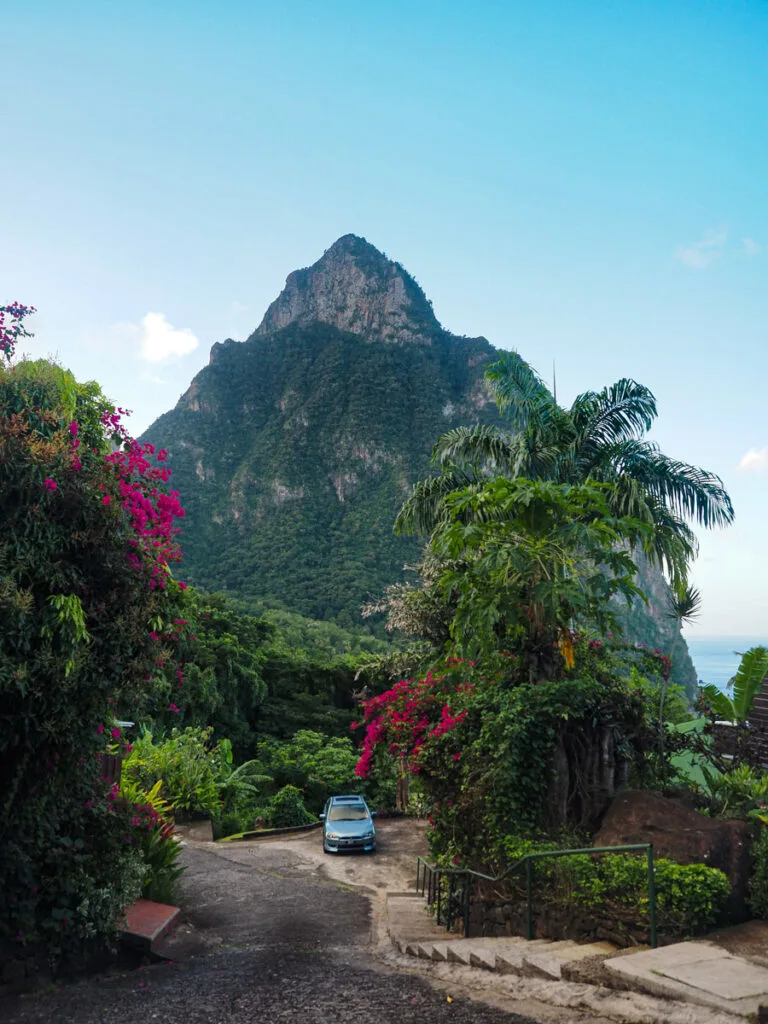 Saint Lucia has two main seasons: dry and rainy. The rainy season is also during hurricane season, which is between May and November. Then, the drier season is from December through April.
However, I'll admit that global warming has definitely messed with the seasons here. We visited in January and it rained quite a bit. Not enough to stop us from being able to do excursions and enjoy the pool/sea, but it definitely rained a lot.
I would suggest going between February and April for better weather. However, this time of year can be a bit more expensive than going during the rainy season. So if you want to save some cash, opt for the rainy season.
Would you love a Saint Lucia honeymoon? Which St Lucia all-inclusive honeymoon resorts do you want to visit?
Check out our other honeymoon guides!
Pin it here!