Some posts on this site contain affiliate links, meaning if you book or buy something through one of these links, I may earn a small commission (at no additional cost to you!). Read the full disclosure policy here.
---
Creating the perfect St Lucia packing list can be a struggle. If you're staying at a resort, you'll likely need to dress up a little for dinner. If you're planning to hit up the beaches, how many swimsuits are enough?
And what about if you want to go on excursions? Don't worry! Because we have the perfect St Lucia packing list with all the details on what to wear in St Lucia.
The best part is, we have details on how to do this all carry-on only! Yes, Chris and I have been carry-on-only travelers since the beginning of our travels together, and between carry-on luggage and a small personal item-sized backpack, you can fit everything you need for a week in Saint Lucia!
Let's dive into how to do it here!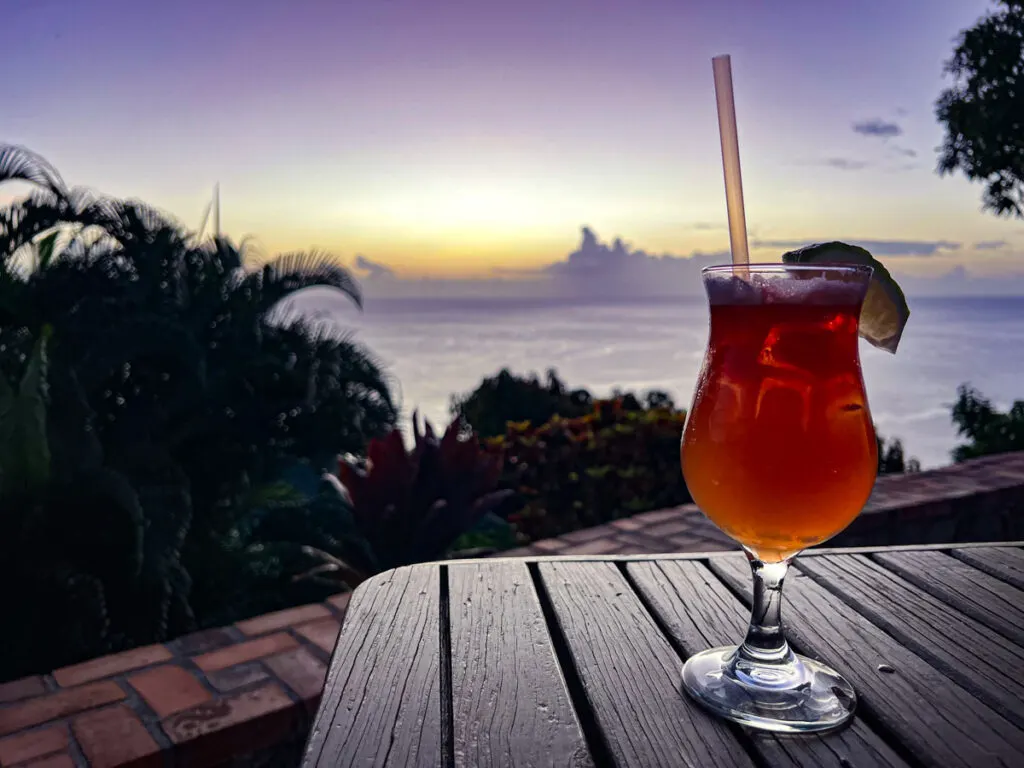 Ultimate St Lucia Packing List
To break the list down further, we have it organized into sections like basics, what to pack for the beach, resort, hiking, toiletries, and more. Plus, we have both men's and women's packing lists so keep reading for both!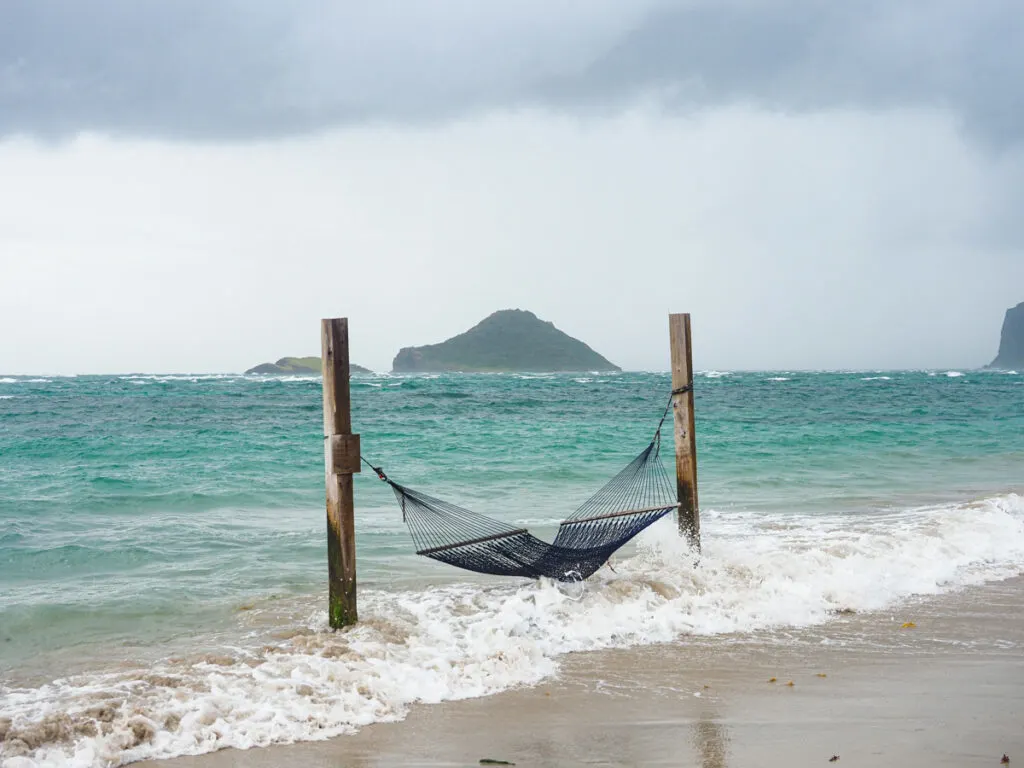 Packing for St Lucia: Basics
Let's kick off this packing list for St Lucia with basics. These are things like undergarments, shorts, sunglasses, etc. Basically, these are universal things you'll likely need during your trip.
Women's Basics For St Lucia: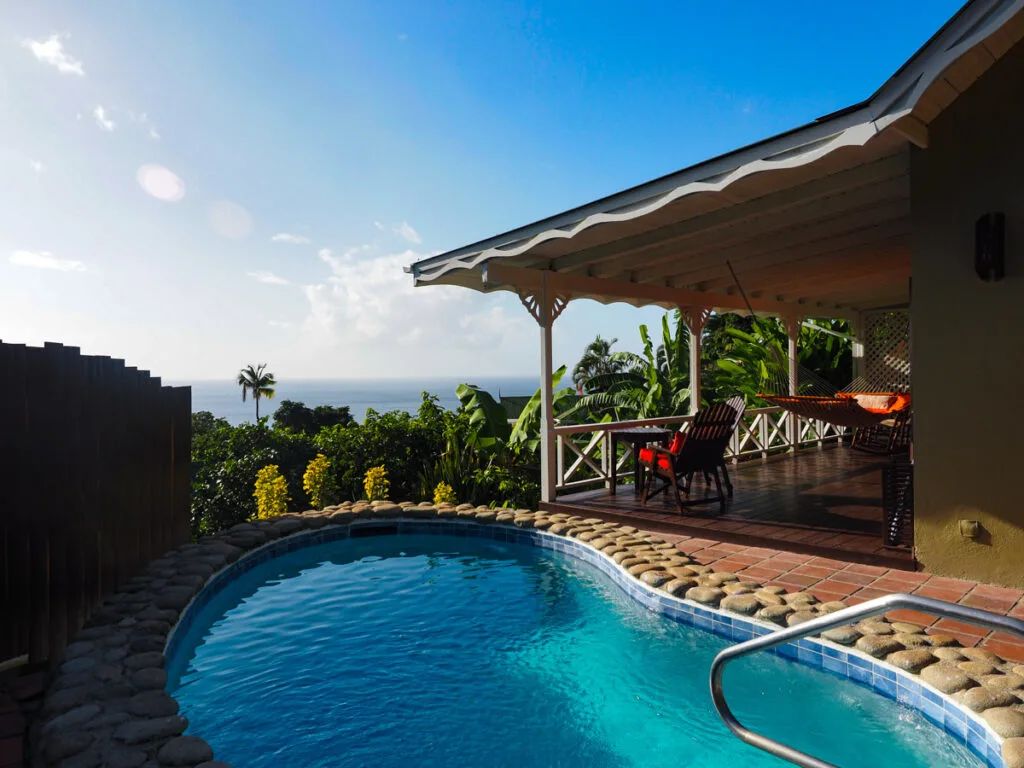 Men's Basics For St Lucia:
7 pairs of underwear
2 pairs of pajamas
1 pair of sunglasses
1 dirty laundry bag
3 pairs of shorts (to wear around the resort during the day)
7 casual shirts (to wear around the resort during the day)
Also, it is a good idea for everyone to pack some Body Glide to prevent chafing (if that is an issue for you). It works like a charm, especially to prevent chub rub on long hikes.
You also need to pack sunscreen. The Caribbean sun is no joke, and you will probably get burnt if you don't lather up. Make sure to purchase some reef-safe sunscreen that'll keep you and the coral reefs safe.
And for the evenings when the mosquitos are out, definitely pack Badger Balm. This stuff is fantastic at naturally warding off these pesky bugs without the chemicals.
St Lucia What to Pack For the Beaches/Pools: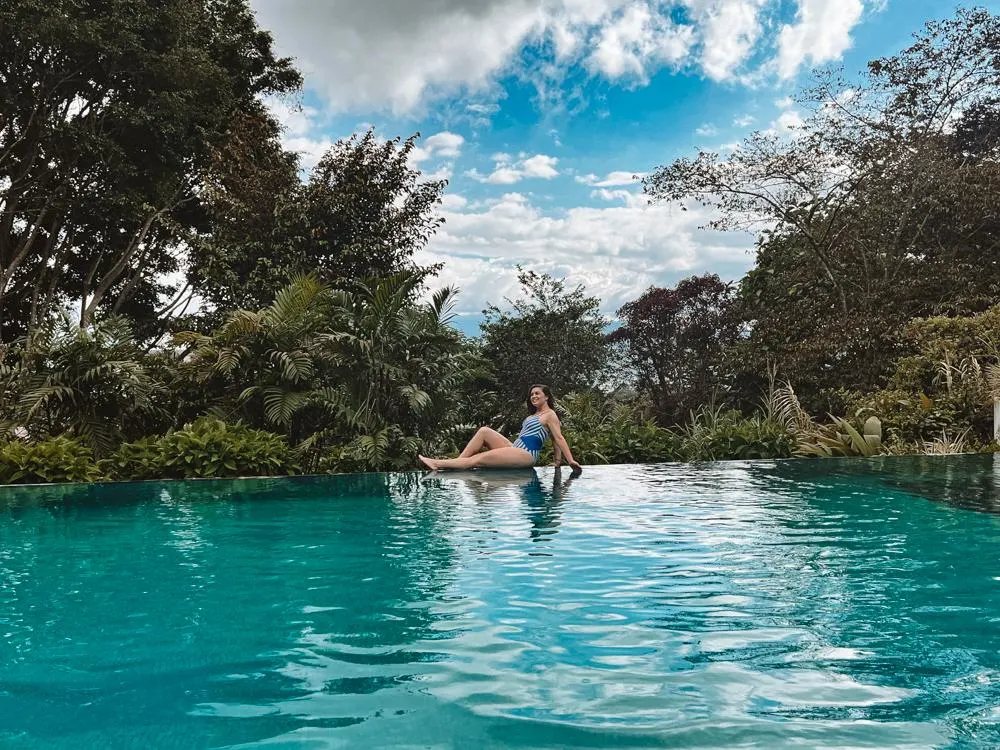 When you're on an island in the Caribbean surrounded by lovely water and beaches, chances are you're going to go for a swim. Also, many resorts have multiple pools so you can cool off on those hot days.
Lastly, I highly recommend visiting Sulphur Springs and taking a dip in the water. For that, you'll need your swimsuit as well.
Here is what to pack for St Lucia when it comes to getting in the water.
Women's Packing List:
1 pair of flip flops
Snorkel Gear
Reef-safe sunscreen and bug repellent (listed above)
2 pairs of athletic shorts for exploring Sulphur Springs or as a cover-up
2 pairs of sweat-wicking shirts (to cover up with and/or for Sulphur Springs)
Men's Packing List:
1 pair of flip flops
Snorkel Gear
Reef-safe sunscreen and bug repellent (listed above)
7 casual shirts (listed above in basics)
I want to mention that if you plan to do the mud baths and soak at Sulphur Springs you want to make sure you're packing at least one older swimsuit that you don't mind getting dirty. It should wash off in the springs, but just in case. Basically, if this is your St Lucia honeymoon, I wouldn't wear a white swimsuit to the mud baths.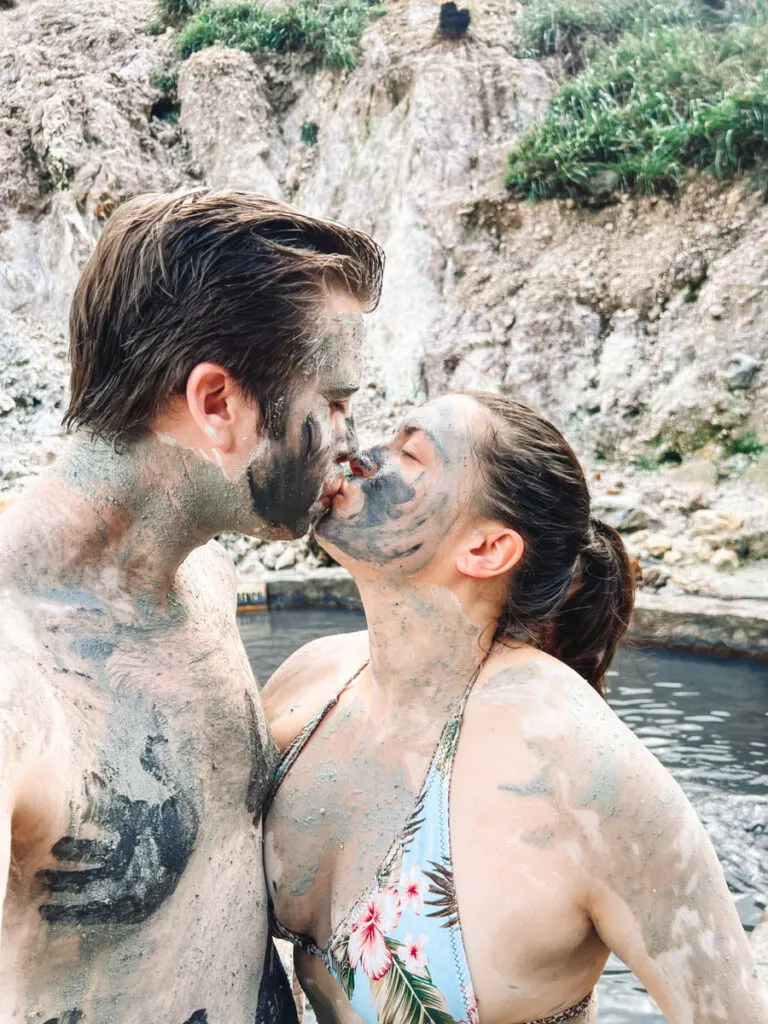 Also, many resorts have snorkel gear available to borrow, but if you snorkel a lot, I recommend just purchasing your own professional-grade goggles and snorkel piece. We packed it with us and enjoyed snorkeling on our own.
I also didn't include a towel, as your resort will likely let you borrow a towel to use for the beach.
What to Wear in St Lucia For Hiking: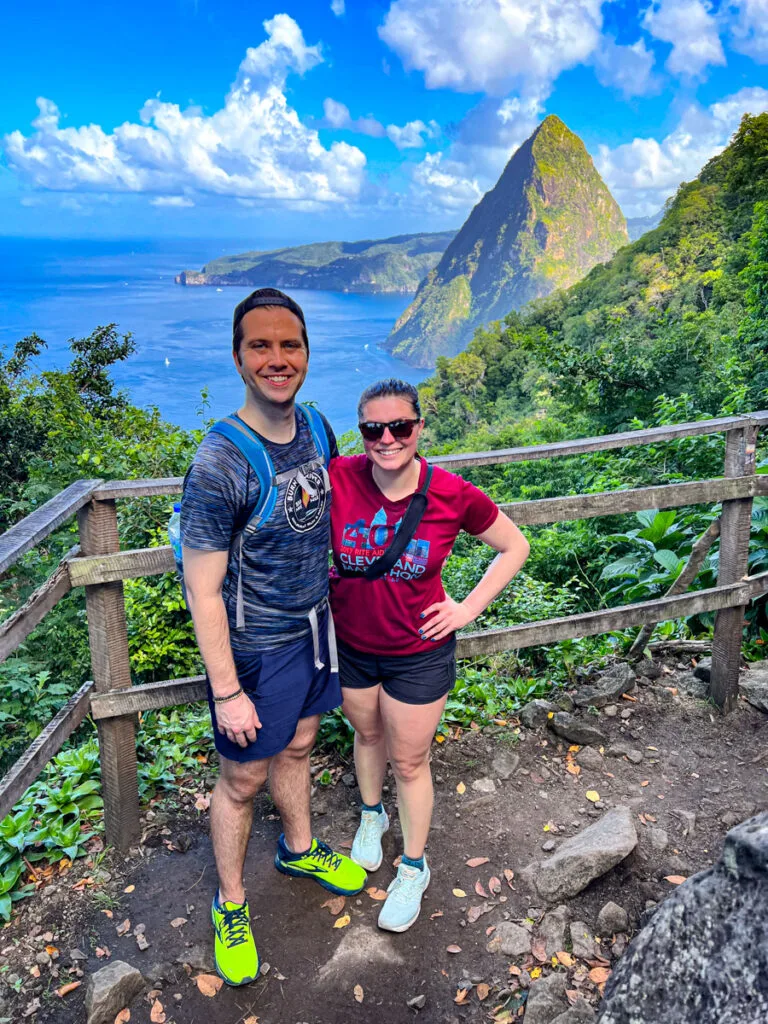 If you want to go for some exciting hikes in St Lucia, then you'll definitely want to pack the right clothes for that. It can get quite hot during the day, so sweat-wicking gear is so important. Here is what you'll want to add to your St Lucia packing list for a hiking adventure.
Women's Hiking Packing List:
1 pair of athletic shoes
2 pairs of hiking or athletic socks
2 pairs of sweat-wicking shirts (as listed above)
2 pairs of athletic shorts (as listed above)
1 pair of

leggings

2 pairs of sports bras
1 backpack to carry things like water, snacks, etc. for the hike (this will double as your personal item on the plane)
1 hat (if you wear hats)
Men's Hiking Packing List: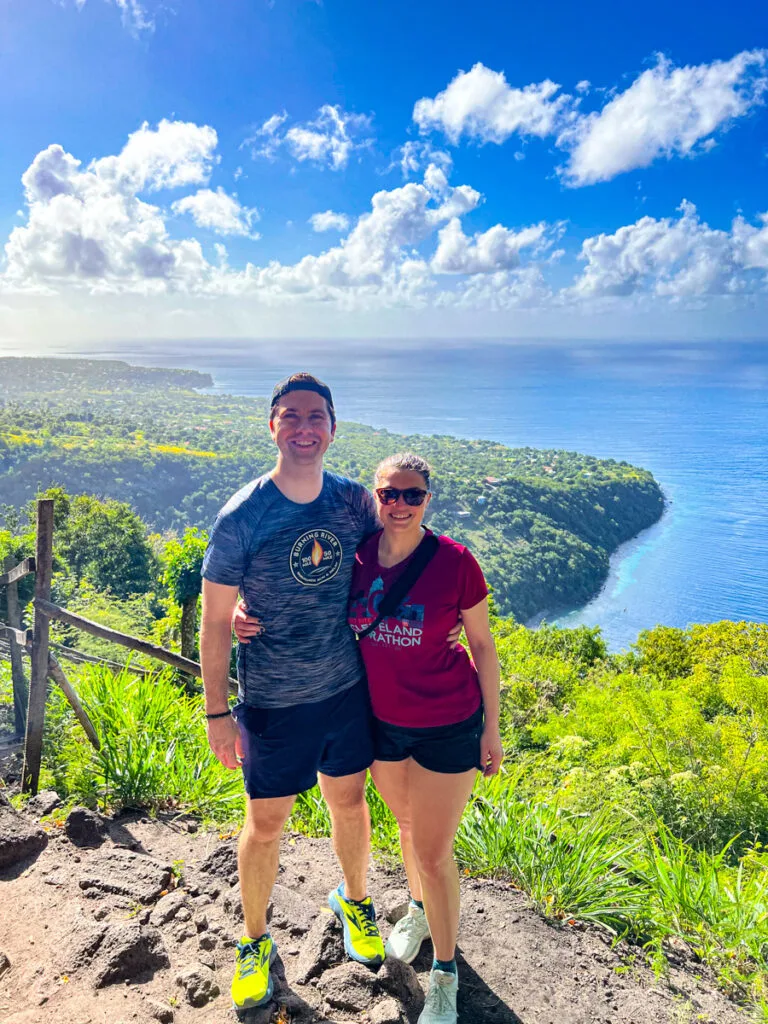 This is what you'll need for hiking. The resort should provide water bottles and you can pick up snacks while you're there. If you plan to hike up Gros Piton, you'll also have a guide, so be sure to bring some cash to tip!
Also, don't forget to wear sunscreen and bug repellent on the hike!
What to Wear For Dinner in St Lucia at Your Resort
If you're planning to stay at any all-inclusive resorts in St Lucia, chances are there is a bit of a dress code for dinner. Actually, many resort restaurants want you to dress up a little bit for your meal.
During lunchtime, it isn't as strict, but you definitely can't just roll up in just a swimsuit and expect service. You can wear more casual clothes during the day, but in the evenings, sundresses and sandals are good for women, and shorts and a nice polo are great for men.
Here is what to wear to dinner in St Lucia.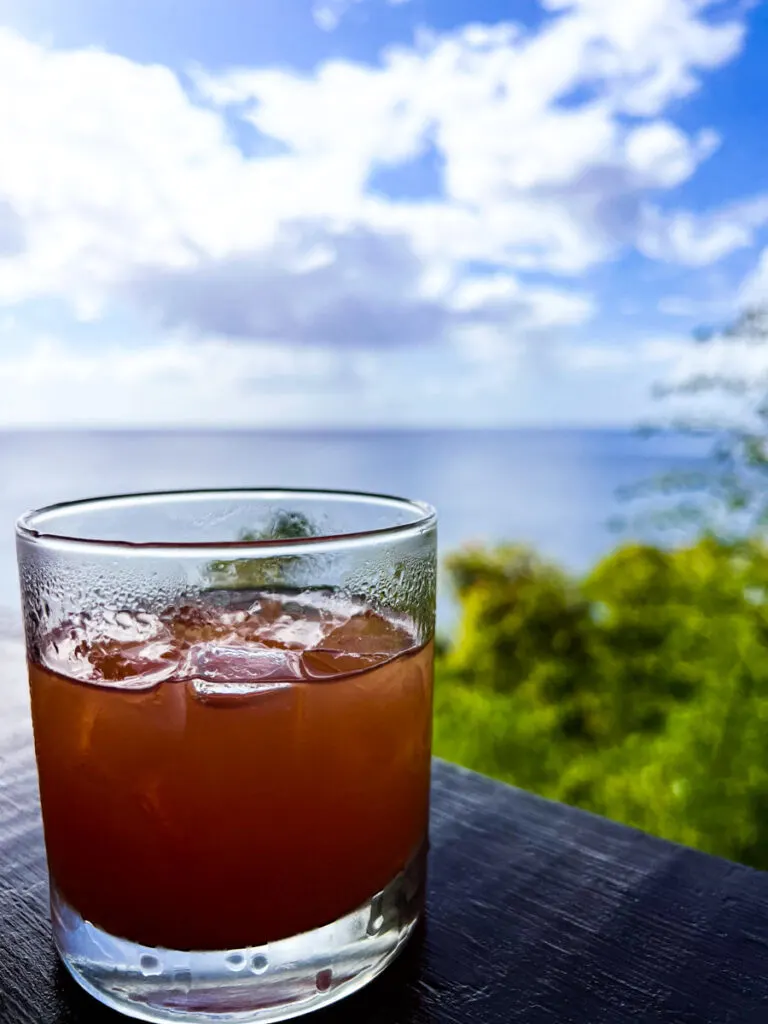 Women's Packing List For Dinner:
Men's Packing List For Dinner:
If you're hoping to pack carry-on only, you really don't need more than 3 outfits for dinner. You can re-wear some stuff a little as you're really only wearing it for your meal.
Toiletries to Pack For Belize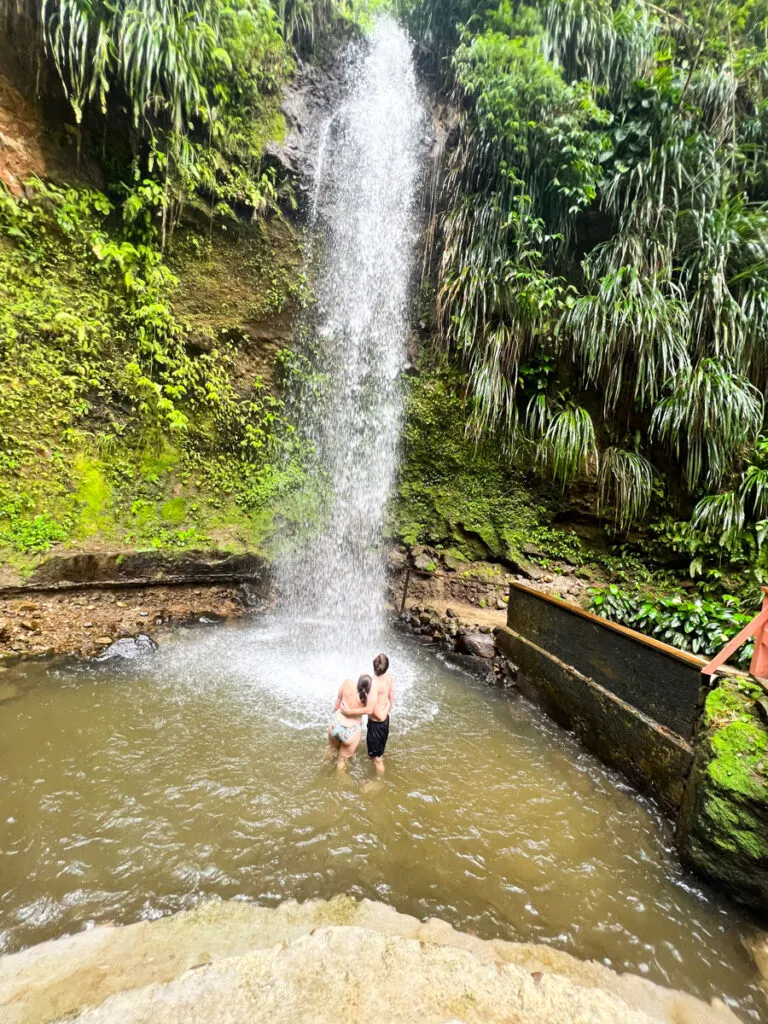 Now let's get into the necessities outside of clothing: your toiletries. This will vary for everyone depending on their needs, but here are some things to keep in mind that you may want to pack.
Women's Packing List:
Period products. Whether that be a cup, pads, tampons, etc. you'll want to pack period products if you know you're going to be on your period or about to start on the trip. Nobody wants to waste time on vacation trying to find period products at the store.
Deodorant
Brush
Travel-safe straightener or curling iron. This is up to you, and honestly, it can be quite humid so it may not be worth bringing if your hair acts crazy like mine in humidity.
Any makeup and skincare products under 100ml. I always pack things like my mascara, moisturizer, and Ole Henriksen Vitamin C Serum!
Men's Packing List:
Deodorant
Any under 100ml face or hair products
Toiletries For Everyone:
Shampoo, conditioner, and soap. Most hotels provide this so check first before packing.
Face wash
Razor
Floss, toothpaste, and toothbrush
Insect repellent. Badger Balm is our favorite and we've taken it all over the world from a safari in Africa to exploring the Amazon Rainforest. (This is mentioned above)
Sunscreen is key as always! (This is mentioned above)
Condoms
Gadgets to Pack For St Lucia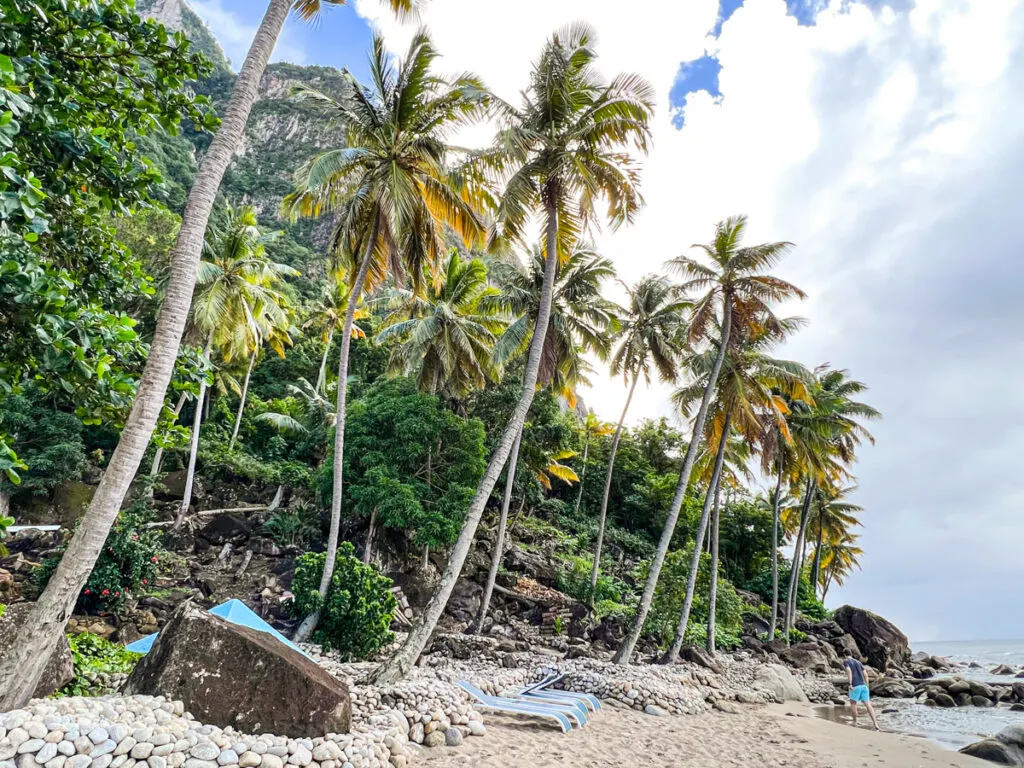 Want to capture all the memories? What about reading without carrying all your books around? Here are some helpful gadgets to pack for St Lucia.
Camera, charger, backup batteries, and memory cards. We love our Olympus camera and this lens to capture adventures!
GoPro, memory cards, and charger. You don't always need this, especially if you have a waterproof iPhone carrying case, but it is fun to use!
Phone and charger.
Headphones for the plane. I love my AirPods Pro! To connect it to the plane TVs be sure to get this adapter.
Kindle and charger
Belt Bag (make sure you can fit it into your small backpack for the plane)
Other Things to Include On Your St Lucia Packing List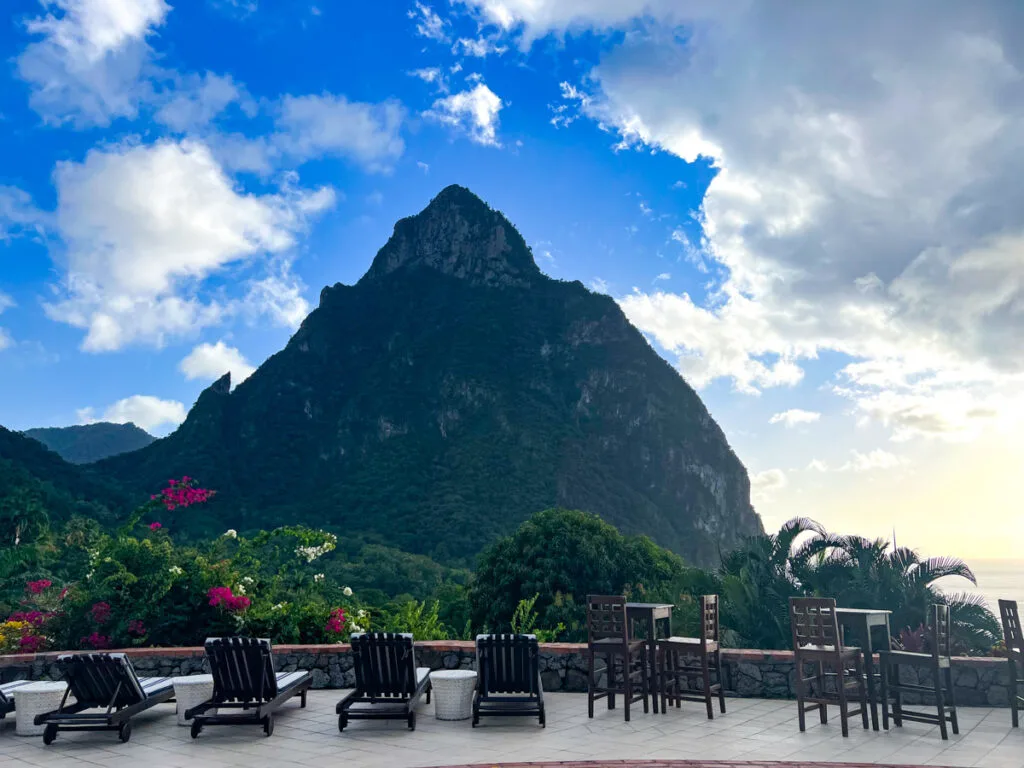 There are a few other things that you'll want to bring along with you to St Lucia. Check it out here:
First aid kit. I like to bring my own DIY first aid kit for every trip that includes things like bandages, OTC pain reliever, antacids, laxatives, anti-diarrheal, allergy pills, Emergen-C, Dramamine (especially if you plan to go boating), and any prescription meds.
Passport and a few copies of your passport to carry around (I usually leave my passport in the safe)
ID, travel insurance (if you purchase it), confirmations, tickets, and itinerary
Face mask for the plane
Hand sanitizer and cleaning wipes for the plane (because planes are gross)
Pro Tips For Your St Lucia Packing List In Just a Carry On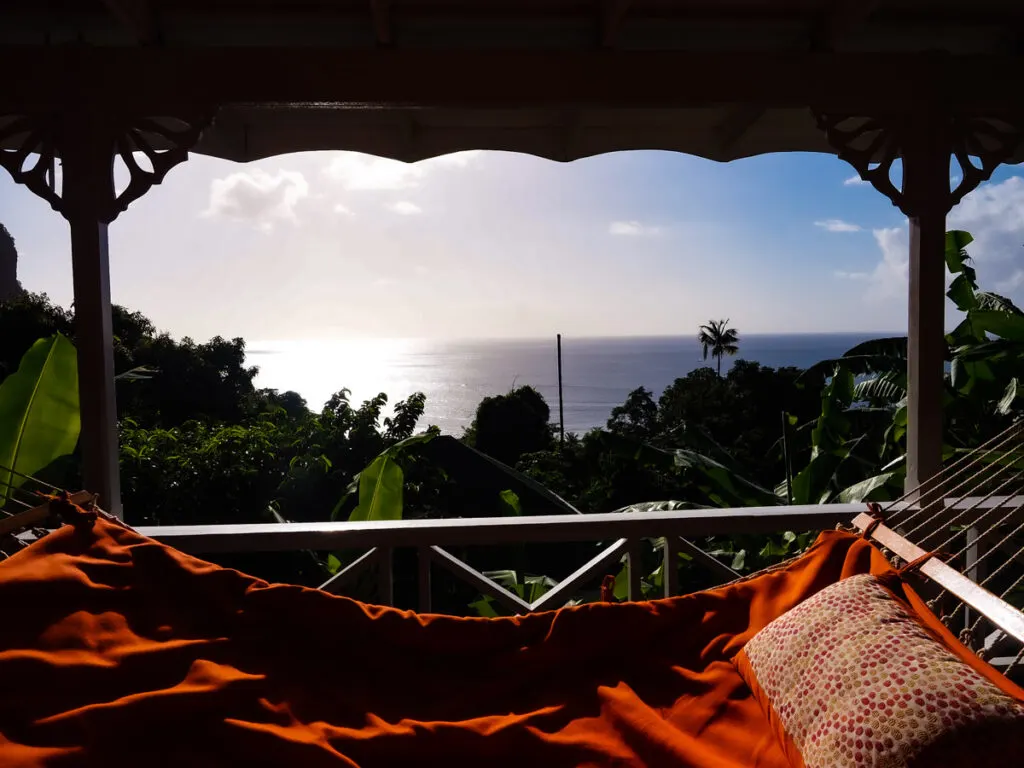 Okay, now that we've given you the ultimate St Lucia packing list, let's talk about some pro tips for packing it in a carry-on. Between a carry-on suitcase and your backpack as a personal item, this should all fit.
I brought my Level8 carry-on suitcase to St Lucia with me as well as my backpack for hiking that I listed above.
Here are some ways to make it all work:
Wear your bulkiest items on the plane. I wore my athletic shoes, a pair of socks, my leggings and a t-shirt on the plane. I also wore my jacket on the plane too. This saves room from packing those in your suitcase.
Rewear your clothes. If your clothes aren't dirty, it is okay to re-wear them. That is what I did with my sundresses for dinner.
Double-check airline requirements so that you know your bags will fit!
Only bring 7 days worth of clothing. Many resorts have laundry if you plan to stay longer.
Pack basics. I mostly pack basics for trips so they can be mixed and matched easily.
There you have it! That is what to wear in St Lucia and everything you'll need to pack. During the day, things are pretty casual so casual t-shirts and shorts are fine. Then, evenings at the resort are a little dressier, but by no means cocktail attire!
So this is how to pack for St Lucia from hiking to swimming to all things in between!
Want more packing guides? Check out these posts!
Want more Central America and Caribbean travel ideas?
Pin it here!