Some posts on this site contain affiliate links, meaning if you book or buy something through one of these links, I may earn a small commission (at no additional cost to you!). Read the full disclosure policy here.
---
If you are like us and are planning a long visit to this part of the world, creating a Southeast Asia packing list can seem daunting. Figuring out what to pack for Thailand, Vietnam, etc. in JUST a carry on can be super complicated, but it is doable!
If you know us, we are a carry-on only travel couple. We've packed in just a carry-on backpack for years, including a 10 day trip to Peru where we faced 3 crazy different climates, a 2 week trip to South Africa from cities to safari, and so much more.
So we knew we could do this for a 3-week trip to Southeast Asia. And you know what? We did it and had space for souvenirs! So now we want to show you our male and female Southeast Asia packing guide so you can do the same!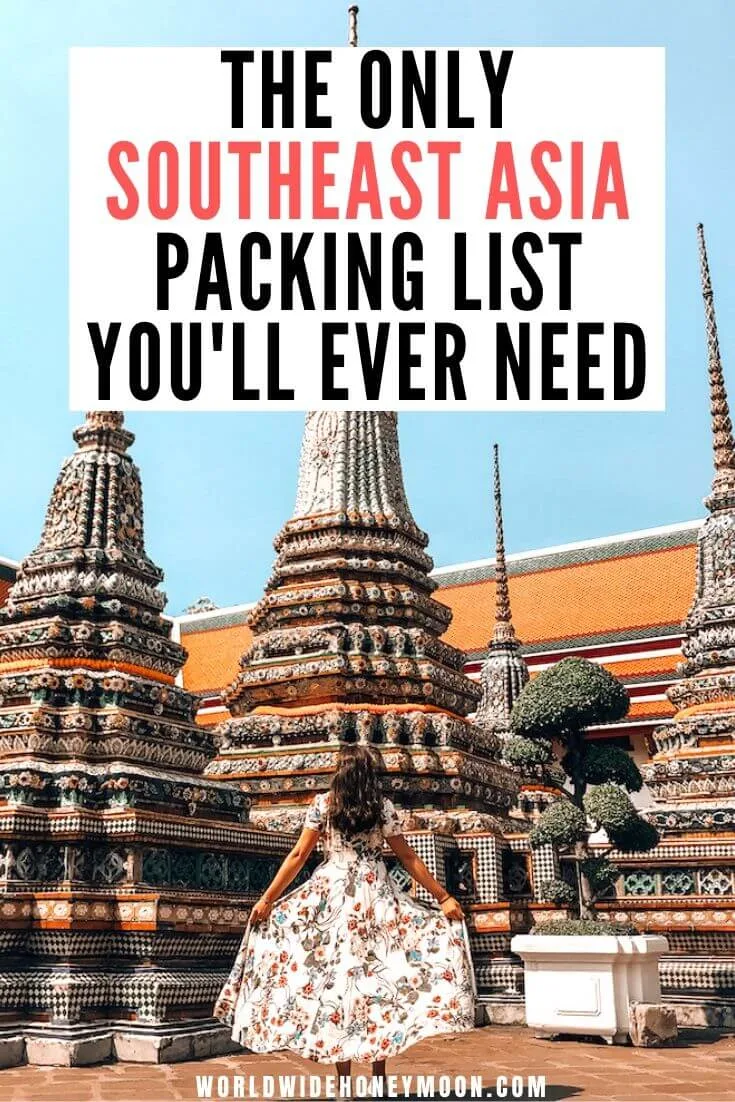 The Ultimate Carry-On Only Southeast Asia Packing List
To break this down, we're going to put this into categories like basics, the beach, jungles, temples, cities, and more!
But before we start, let's talk about the best backpack for traveling Asia or anywhere really. We've had our Osprey Farpoint 40 backpacks for years and it has been to 5 continents and countless destinations. It is our tried and true. It is roomy enough to carry everything you need and is side loading (like a regular suitcase) rather than top-loading which helps for getting your stuff out easily.
I also love packing cubes. They keep everything organized so you're not constantly organizing and reorganizing your things in your backpack. They are a lifesaver for me!
And to kick it off, let's start with clothes!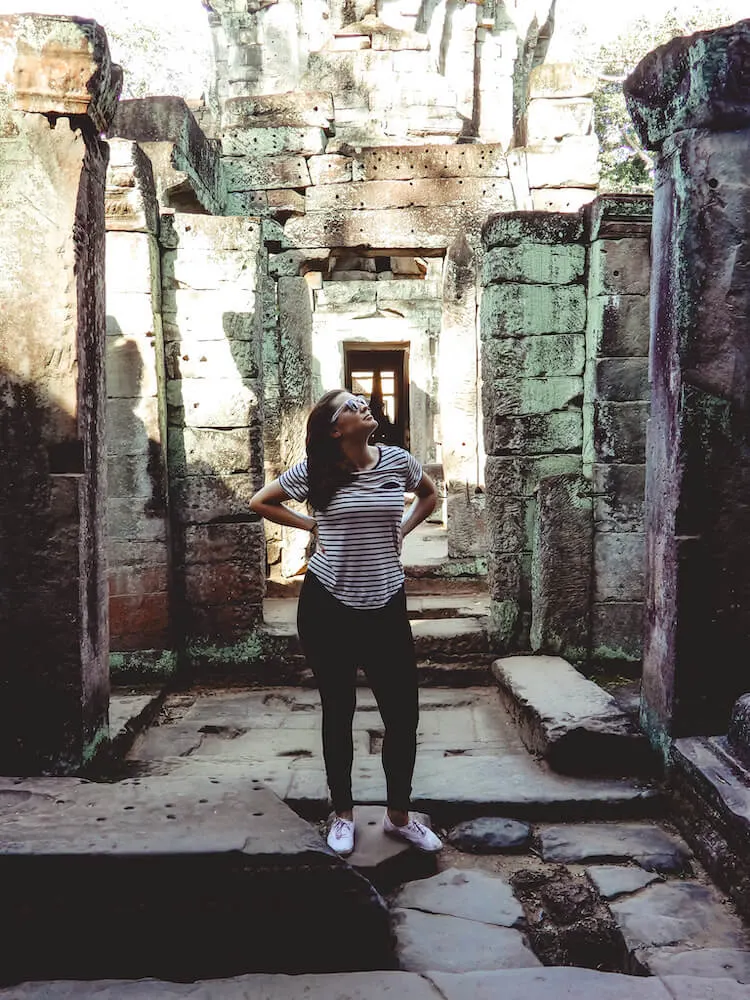 What to Pack for Thailand, Vietnam, etc. Basics
Whether you are creating a Thailand packing list or anywhere else in Southeast Asia, here are some basics for both men and women to pack.
Women's Basics for Traveling Southeast Asia:
Men's Basics for Traveling Southeast Asia:
And for both men and women, you'll want to pack Body Glide. I've used this for running on hot days, walking around during a heatwave in Paris, and more. But I made the terrible mistake of forgetting it on my SE Asia packing list. I chafed in places I didn't even know you could chafe. Just pack this to prevent chafing, as you'll likely be sweating constantly.
Also, for the best mosquito repellant for Southeast Asia, we LOVE Badger Balm. It's all-natural, DEET-free, and a roll-on stick so great for limiting liquids on your carry-on luggage. And the best part is it actually works! I've worn DEET filled mosquito repellants before and they didn't work, and I use this natural one and it works like a charm!
Lastly, sunscreen is essential, whether you're snorkeling in Koh Lipe or trekking with elephants in a jungle in Chiang Mai. We love this one that is environmentally friendly and safe for the coral reefs!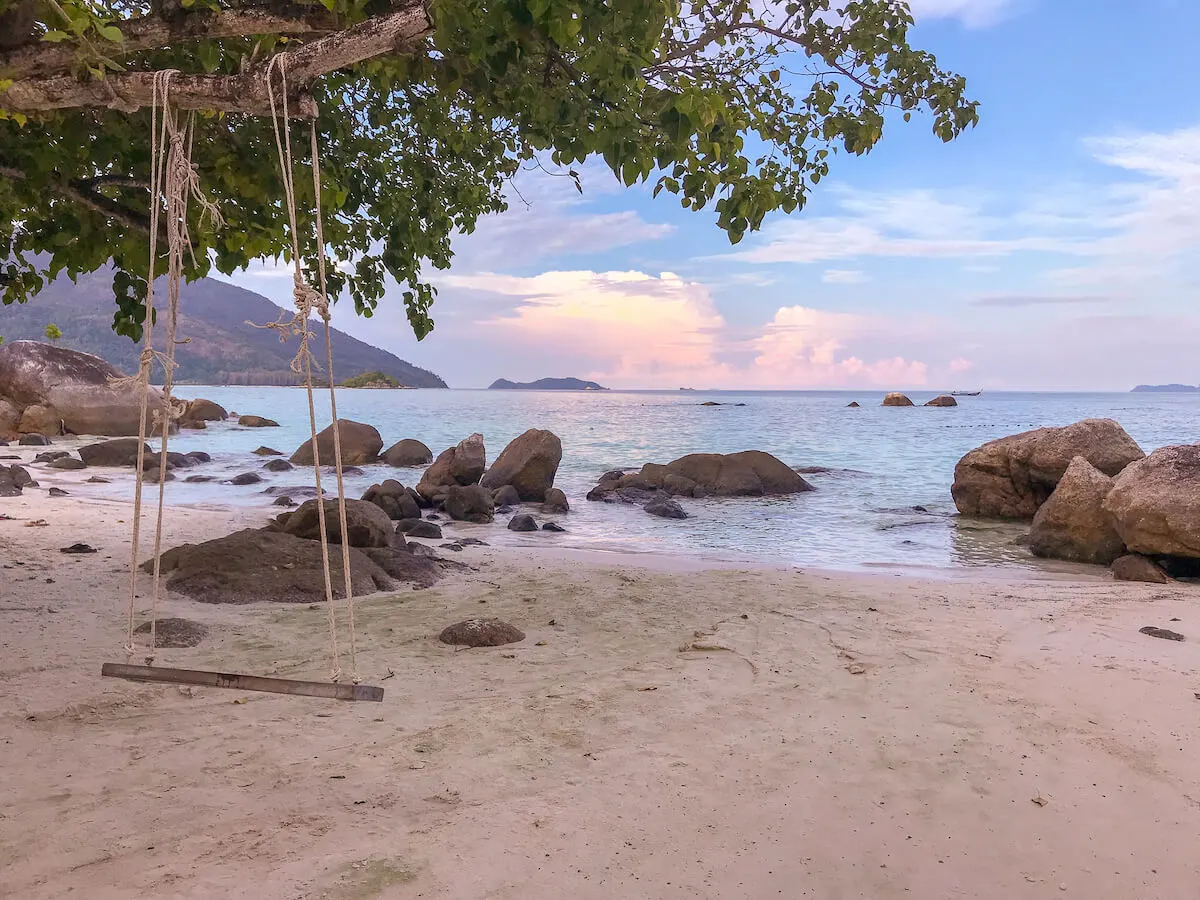 Southeast Asia Travel Packing List For Beaches
Who doesn't love beach days? And beaches in Southeast Asia can be super hot and humid. But with this Southeast Asia backpacking list, you'll be prepared for some of the best beaches in the world!
*We wore our sandals on the beaches and beach towns!
Beaches of Southeast Asia Packing List Female:
Beaches of Southeast Asia Packing List Male:
For both men and women, be sure to pack some microfiber towels that dry quickly to use as a beach towel! These also pack up tiny!
Basically, Southeast Asian beaches and beach towns are pretty casual places. No need to get too dressed up here, a standard cotton tee and running shorts are perfect for running around, and a bathing suit with sandals is great for walking along beaches!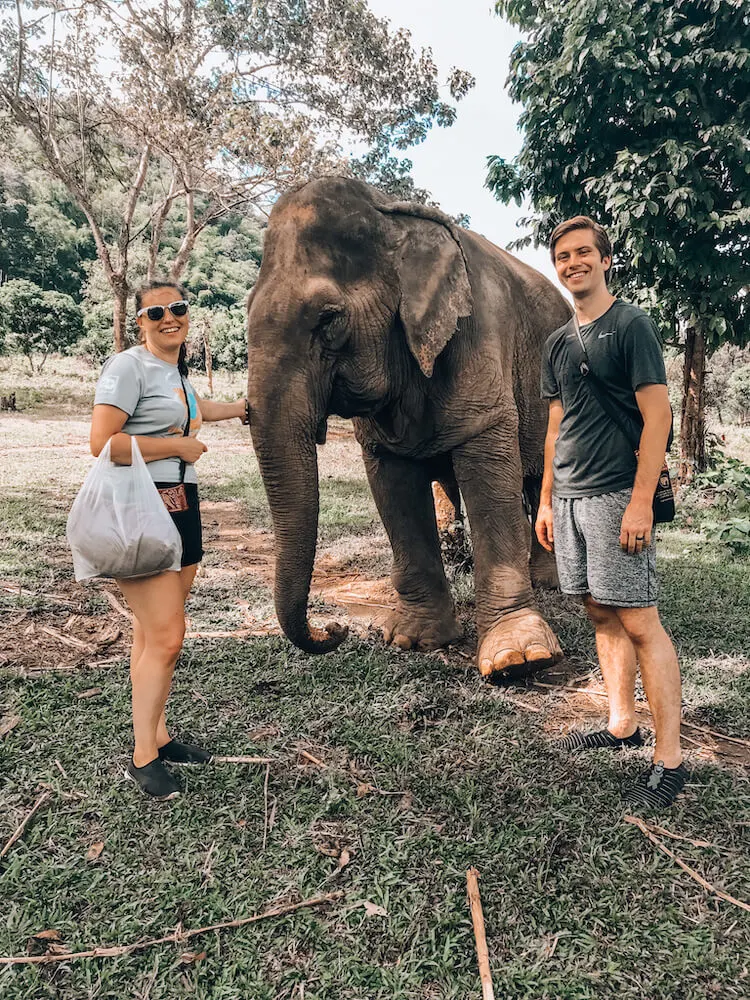 What to Pack for Jungles
When it comes to packing for Thailand or any other place in Southeast Asia where you'd potentially go to a jungle or other day trip, you'll want to pack accordingly. So if you end up frolicking with elephants on a day trip, aside from really laying on the Badger Balm and Sunscreen (pro-tip always put sunscreen on first), here is what you should wear.
Women's Packing Guide for Jungles in Southeast Asia:
Men's Packing Guide for Jungles in Southeast Asia: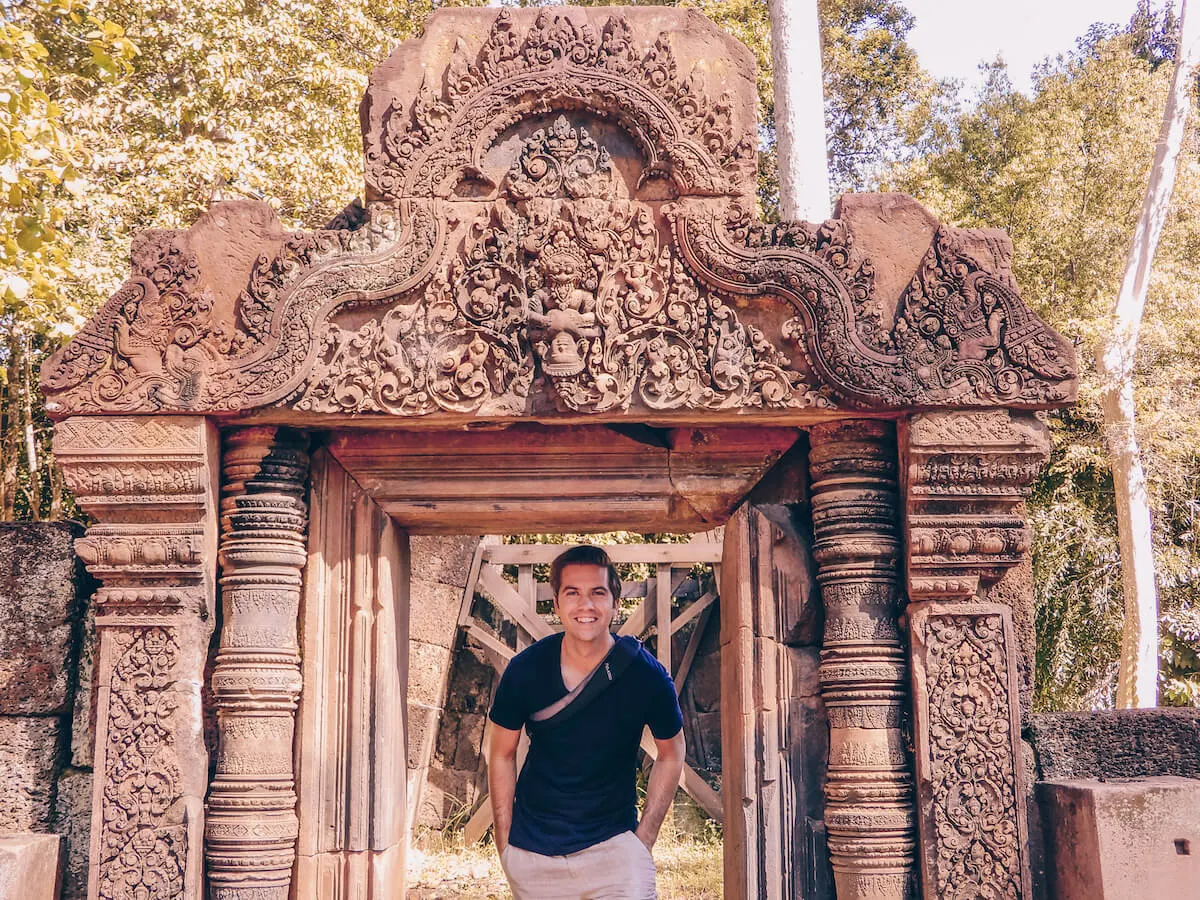 Southeast Asia Packing List for Cities & Temples
When it comes to what to pack for a Southeast Asia trip, in cities you can get a little dressier. Also, when it comes to visiting temples, you'll want to cover up your shoulders and knees out of respect. This is what we packed!
Women's Southeast Asia Packing List for Cities/Temples:
Men's Southeast Asia Packing List for Cities/Temples: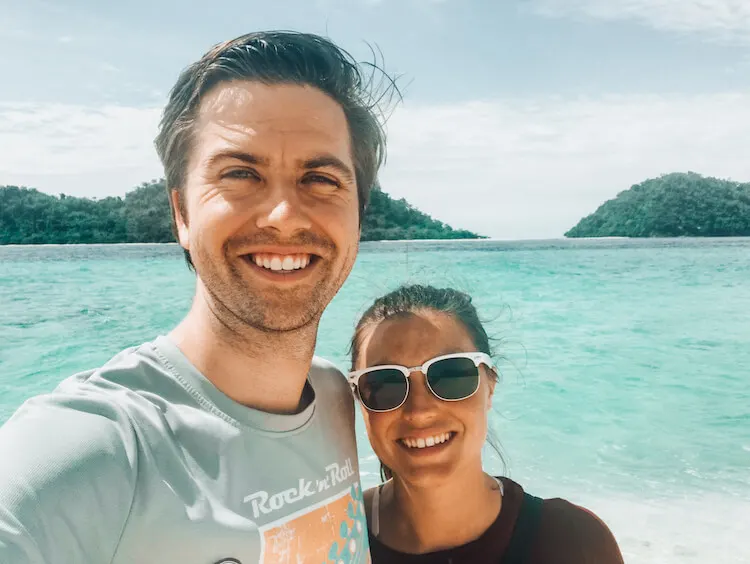 Other things to Pack for Southeast Asia
We've figured out your complete packing guide for Southeast Asia when it comes to clothes, but now let's talk about what to pack for in addition to that such as toiletries, first aid, gadgets, official stuff, and more!
Okay, so I wrote a HUGE packing list for Peru that includes all of these items that you should probably pack for every trip. I recommend checking out that list to see the remainder in detail, but here is a quick reference guide on what to pack for Southeast Asia:
All your toiletries. Keep the liquids under 100ml! Ladies don't forget period supplies! I usually bring my deodorant, face wash, face lotion, eye cream, mascara (or other makeup, but honestly don't wear much-you'll sweat it all off), razor, hair products, travel safe straightener, brush, etc. Chris packs his deodorant and stuff to shave. Remember that hotels have shampoo/conditioner and soap! And don't forget your toothbrush, toothpaste, and floss! Oh, and for those being sexually responsible, pack some condoms.
Pack hand sanitizer and extra tissues! Many bathrooms don't have toilet paper or soap.
For the plane: I bring cloth face masks to stay moisturized! I also love a good sleeping mask and headphones to tune out the world. I love my Audiotechnica headphones that I edit the podcast with!
First Aid Kit. This doesn't have to be huge, but be sure to include your prescription meds (have prescription on you), OTC pain relievers, antacids, anti-diarrheal, laxative, allergy meds, motion sickness meds, cough drops, immunity tablets, as well as bandages, antibiotic ointment, tweezers, antiseptic wipes, etc. I know it may sound silly, but we used ALL of our stomach medicines during our trip to Southeast Asia.
Gadgets: Be sure to pack your camera (we love our Nikon Coolpix A900 point and shoot for beginners or FujiFilm T-X20 for intermediate photographers)! Pack a GoPro to make awesome memories, phone, kindle, and ALL chargers plus memory cards for the GoPro and camera. Lastly, don't forget travel adapters to charge your things (we love this one that has 3 outlets for charging), an RFID blocking wallet, an anti-theft purse (I swear by this one and take it everywhere), and TSA-approved locks for your backpacks.
Don't forget to back your passport and copies of your passport, ID, insurance, tickets and confirmations, and itinerary!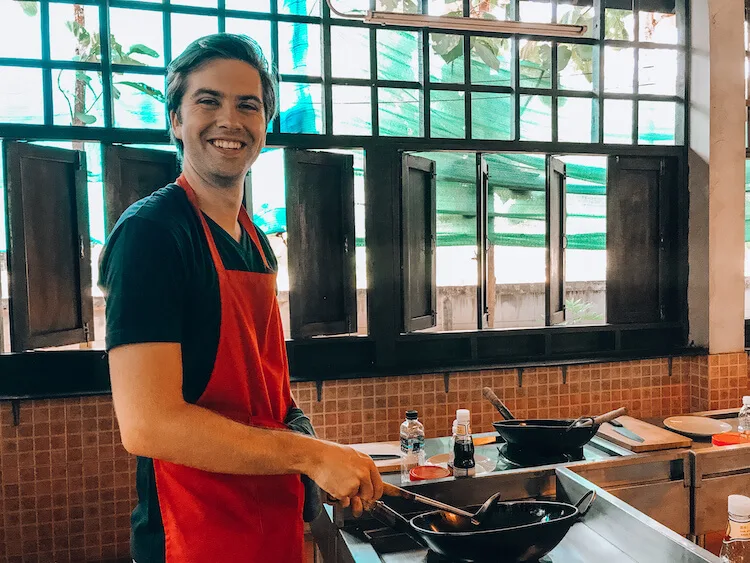 Pro-Tips for Traveling Southeast Asia in Just a Carry On
I know this looks like a lot, but trust me, we fit all of this in our two backpacks plus Chris's Daylite sling and my anti-theft purse. It really worked!
When you think about it, if you're a woman, you're really only packing 2 pairs of pajamas, undergarments for a week (4 pairs of socks, 8 pairs of underwear, 1 sports bra, 2 regular bras), 2 dresses, 4 pairs of shorts (2 sports, 2 jean), 2 bathing suits plus cover-up, 3 pairs of shoes (Keds, sandals, and water shoes), 1 sweater, 6 tops, 2 pairs of leggings, and 1 pair of jeans.
And you'll end up wearing jeans, a sweater, Keds, a shirt, and 1 pair of undergarments on the plane!
For men, you're packing 8 pairs of underwear, 2 pairs of pajamas, 2 pairs of shoes (1 pair sandals and 1 pair water shoes), 2 bathing suits, a quarter-zip, 4 pairs of shorts, 6 shirts, 2 linen pants, and 1 pair of jeans.
Again, you'll likely wear jeans, Oofos, t-shirt, and quarter-zip on the plane, so that saves space too!
Then, the rest is toiletries and the first aid stuff!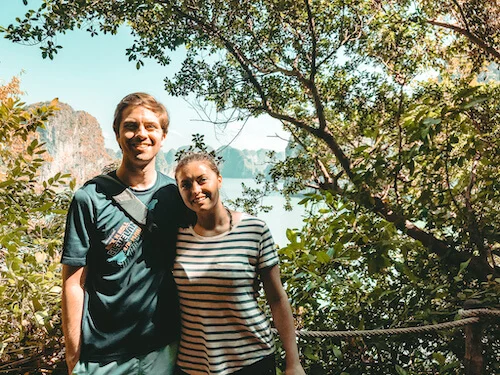 But here are some pro-tips when it comes to what to pack for a Southeast Asia trip in a carry-on:
Trust me guys, if we can pack carry-on only for a long trip to Southeast Asia, you've got this! From clothing items to toiletries and more, we hope you find this Southeast Asia packing guide helpful whether you're packing for Thailand or creating that perfect Vietnam packing list.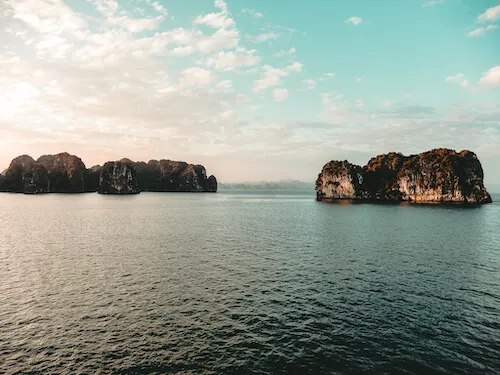 What would you pack for Southeast Asia? What are your favorite travel items? Let us know in the comments!
Want more Southeast Asia information? Check out these posts:
Want more packing guides? Check these posts out:
Pin it here!