Some posts on this site contain affiliate links, meaning if you book or buy something through one of these links, I may earn a small commission (at no additional cost to you!). Read the full disclosure policy here.
---
Trying to figure out your Belize packing list? Want to attempt to pack it all in a carry-on? You've come to the right place!
I hate packing. Seriously, I dread it. I am always afraid of forgetting something, and it is such a hassle to dig through my dresser drawers and closet to find exactly what to bring. But with a packing list, it is super easy!
Chris and I are carry-on only travel people, whether we're packing for 3 weeks in Southeast Asia, a 10 day trip to Peru, or even a European Christmas market trip. We've managed to pack for all of those and more in just a carry-on. So we know a thing or two about packing efficiently and are here to help you out!
So when it came to what to pack for Belize, we were easily able to make it all fit in a carry-on and are going to show you how!
If you're planning a week-long trip to Belize, this is what you need to bring.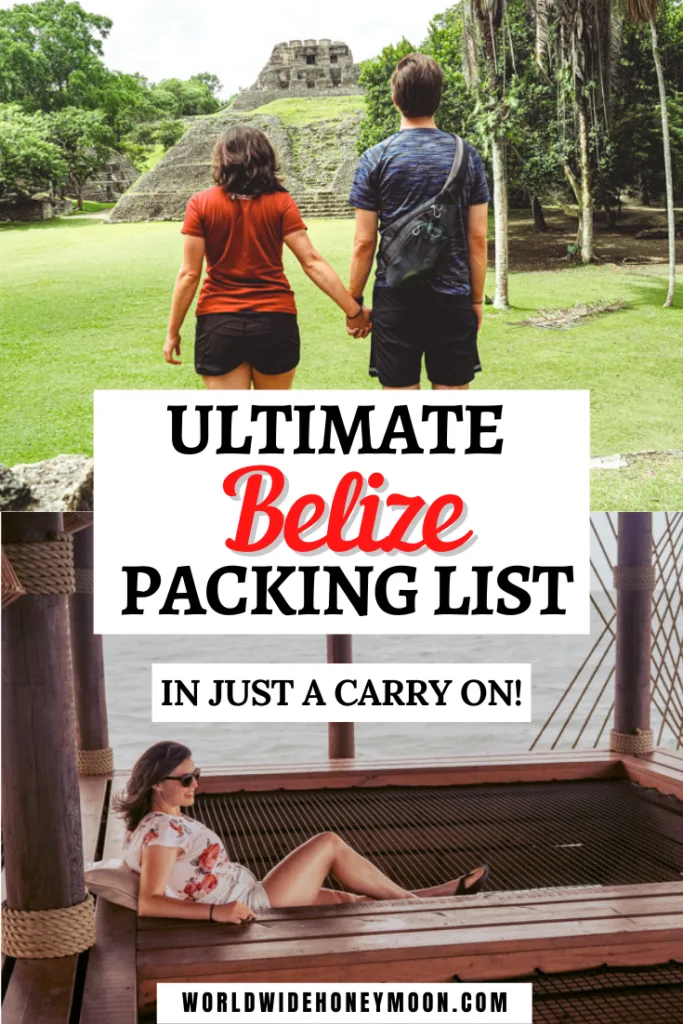 Ultimate Belize Packing List
To keep this packing list in order, this is organized by categories like basics, beaches, hiking/jungles, toiletries, and more!
Packing For Belize: Basics
To kick off this packing list for Belize, and pretty much most places, we need to talk about basics. Here are some things you'll need to pack for Belize.
Women's Basics For Belize:
Men's Basics For Belize: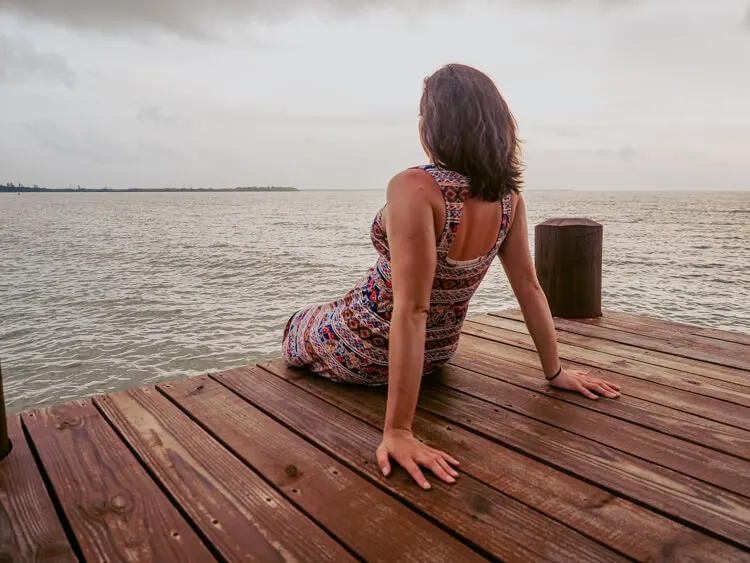 For everyone, it is a great idea to pack some BodyGlide too, especially if you have any chub rub. This part of the world can get very hot and you will get sweaty. So BodyGlide helps prevent chafing.
This part of the world also has ruthless mosquitos, so Badger Balm is your friend. Seriously, rub it on before swimming, hiking, etc. You'll need it!
And, of course, sunscreen is key. The sun is bright here and you don't want to burn. I like this reef-safe sunscreen that is great for snorkeling around the great barrier reef or enjoying a cenote.
Want more Belize content? Check these posts out!
What to Wear in Belize: Beaches/Snorkeling/Cave Tubing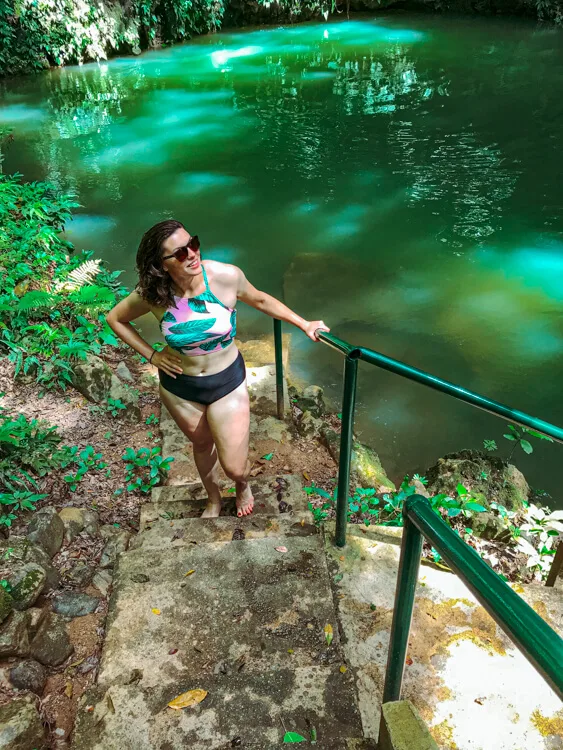 If you come to Belize, chances are that you'll want to do some swimming. With the second-largest great barrier reef in the world, plus stunning clear water to swim in, going for a dip is a must! There are even cenotes in the jungle that are perfect to cool off in!
Plus, if you stay in a resort like Hopkins Bay Resort, a swim in the pool is perfect on a hot day!
Here is what to pack for Central American beaches and water activities.
Women's Packing List:
3-4 bathing suits (listed above)
1 pair of flip flops (listed above)
1 pair of water shoes (for cave tubing)
1 bathing suit coverup or just use a pair of athletic shorts and casual shirt from the basics section
Snorkel gear (if not provided)
Reef safe sunscreen and bug spray (as mentioned above)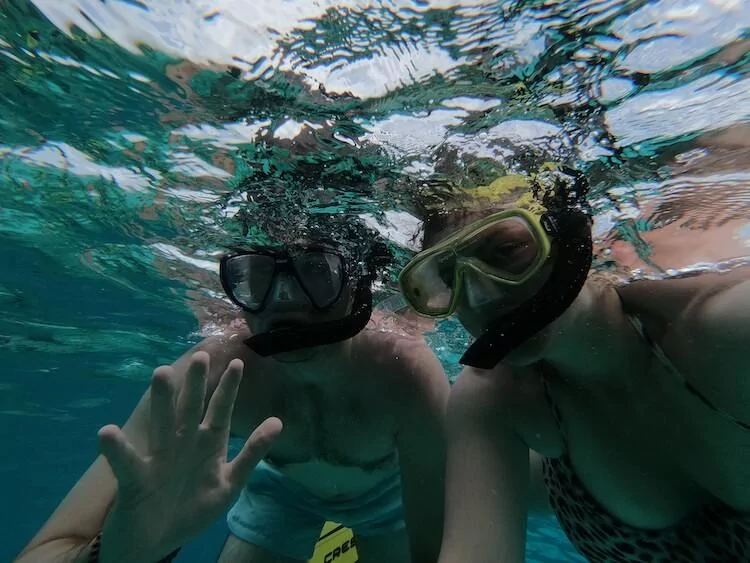 Men's Packing List:
3-4 bathing suits (listed above)
1 pair of flip flops (listed above)
1 pair of water shoes (for cave tubing)
Pair of athletic shorts and shirt for cover up (listed above)
Snorkel gear (if not provided)
Reef safe sunscreen and bug spray (as mentioned above)
Beaches around Belize are super casual, so no need to get dressy for a beach day or if you're chilling in a beach town.
And if you want to keep your phone safe while snorkeling, perhaps a waterproof case is a good idea!
Belize Clothing For Hiking And Exploring Jungles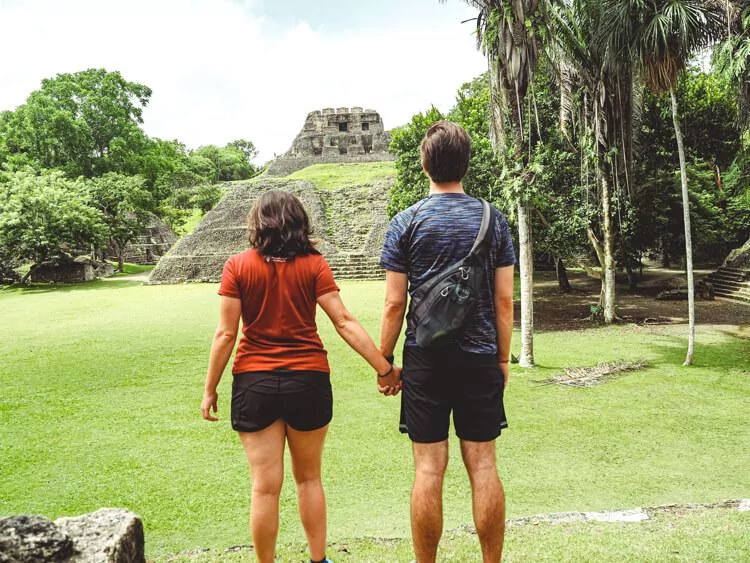 While there are several beaches and incredible islands to explore, don't forget the lush jungles and historic Mayan ruins around Belize as well!
Here is the packing list for a Belize vacation if you're planning to do some hiking and exploring some jungles!
Women's Packing List: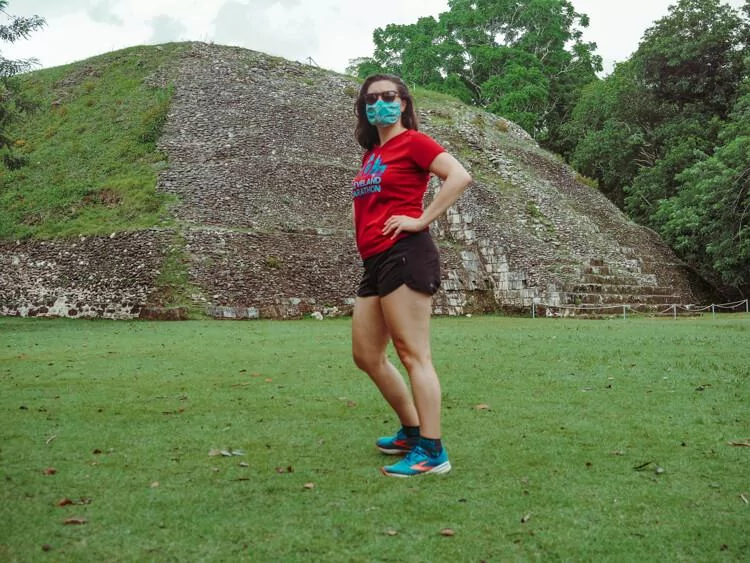 Men's Packing List:
These are all great things to have if you plan to do some hiking around Belize. As far as whether or not you need hiking boots is up to you. We did some lighter hiking, especially around Xunantunich and when we went zip lining. As such, we just wore our running shoes.
However, we've definitely needed to pack hiking boots for our trip to Peru, and if you plan to do longer day hikes, then hiking boots are a good idea to have.
Toiletries To Pack For Belize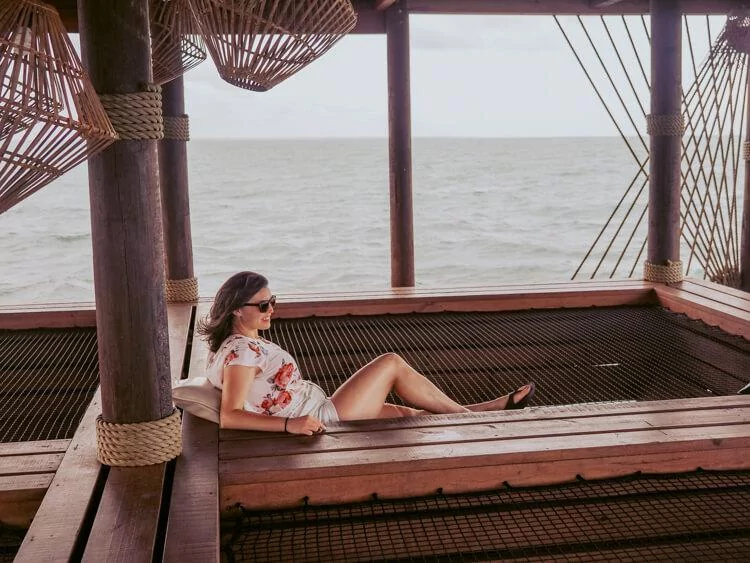 So now you know what to wear in Belize, let's talk about all the smaller items you should keep in your suitcase.
Women's Toiletries:
Period products. Whether it be tampons, pads, or a Diva Cup, having your period products on you will save time and money if you have a surprise during your trip. Even if you aren't sure you're going to start during your trip, you know periods can sneak up on you so it's best to pack a few things just in case.
Deodorant (y'all the sweating is real!)
Brush
Travel safe straightener or curling iron (honestly, if your hair hates humidity like mine, it is kind of pointless to try to straighten or curl it)
Any makeup or under 100 ml facial or hair products. I always pack my moisturizer, mascara, and Ole Henriksen Vitamin C Serum!
Men's Toiletries:
Deodorant
Any under 100ml face or hair products. Chris loves his Tresemme hair spray to keep that mane looking fine.
Toiletries For Everyone:
Shampoo, conditioner, and soap. Most hotels provide this so check first before packing.
Face wash
Razor
Floss, toothpaste, and toothbrush
Insect repellent. Badger Balm is our favorite and we've taken it all over the world from a safari in Africa to exploring the Amazon Rainforest. (This is mentioned above in the basics section)
Sunscreen is key as always! (This is mentioned above in the basics section)
Condoms
Gadgets For Belize: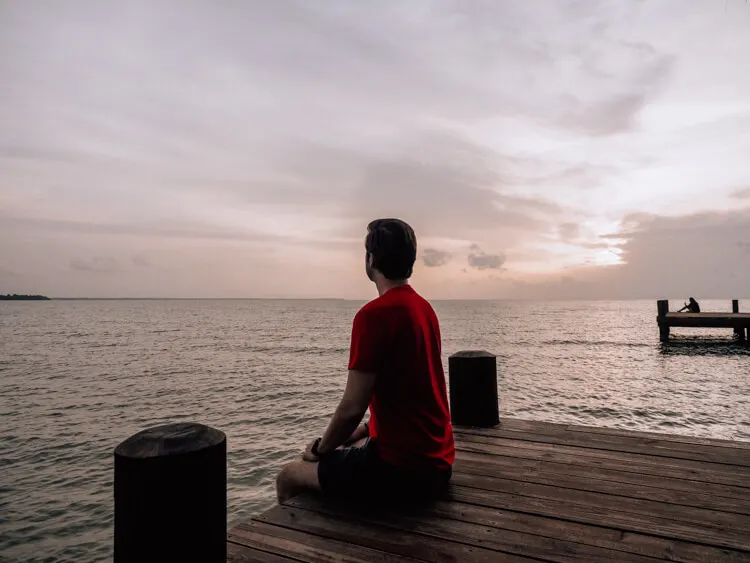 No packing list for Belize is complete without things to capture the memories or make it easier to travel around there!
Other Things To Pack For Belize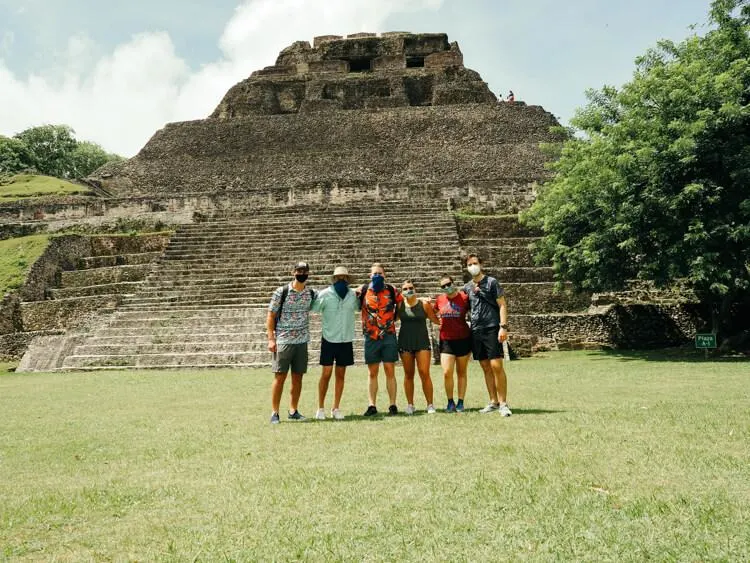 While you're packing for Belize, you won't want to forget these items!
First-aid kit. While we love this first-aid kit with a bunch of items for cuts and wounds, be sure to bring other things like OTC pain relief, antacid, laxatives, anti-diarrheal, allergy meds, cold medicine, motion sickness relief, Emergen-C tablets, and any prescription medications you have (be sure to keep it in its original bottle).
Passport. This is obvious, but you'll need this to get into the country.
Copies of passport, ID, travel insurance, confirmations, tickets, and itinerary
Face mask. This is key for 2020 and beyond travel for the foreseeable future. We fly with these K95 masks.
Hand sanitizer and cleaning wipes. I usually keep these in my purse. It's helpful for travel days and whenever you need to clean your hands.
Pro-Tips For Your Belize Packing List In Just A Carry-On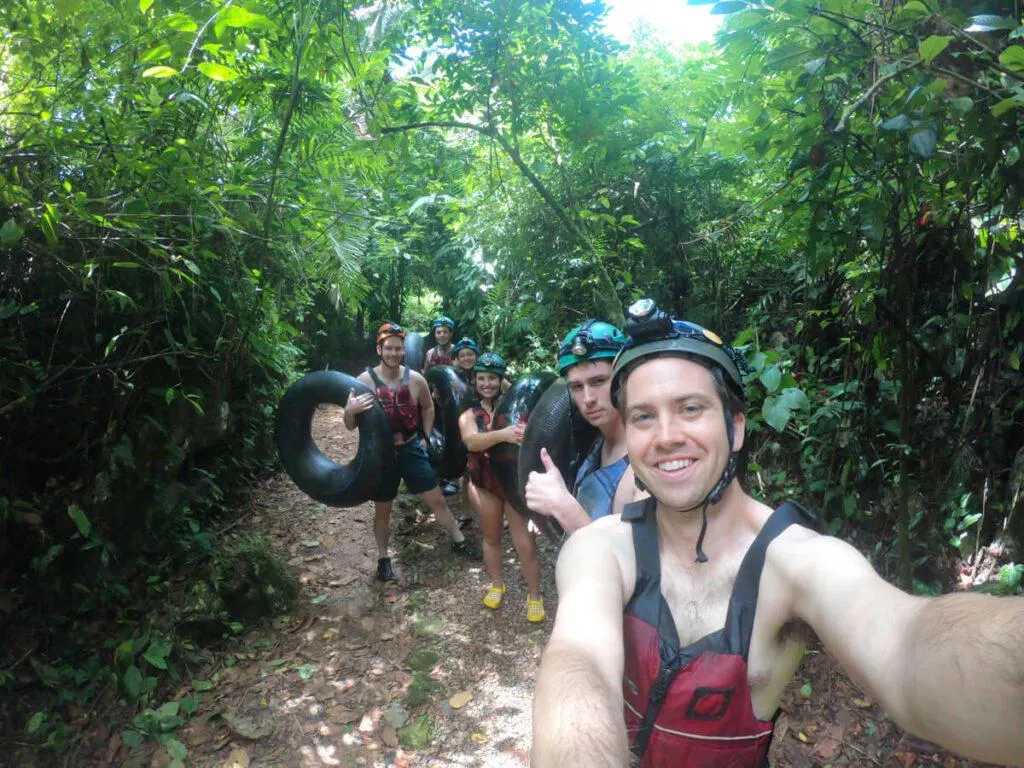 Now that you know everything you need to bring to Belize, let's talk about some pro-tips to pack it all in a carry-on!
I know that this seems like a lot of stuff, but trust me, it'll definitely fit! We managed to get all of this to fit into our Osprey backpacks and our personal items (I packed my anti-theft purse and Chris had his Daylite Sling) without any issues. Thankfully, as you're traveling to a warmer destination, you won't need loads of sweaters and bulky clothing.
We not only got all of this to fit, but we managed to have room to bring home souvenirs too! So here is how to do it:
Wear your bulkiest items on the plane. If you're bringing running shoes or hiking boots, wear those on the plane. Wear your jacket on the plane as well as leggings and larger clothes that would otherwise take up valuable bag space.
Rewear things. If they don't get dirty, or you didn't sweat much in them, they can definitely be reworn!
Pack basics. I mostly pack basics for trips so they can be mixed and matched easily. Don't plan for "what if" moments unless they may actually happen.
Check the weather. Always be prepared for the weather wherever you're going!
Bring only 1-2 nice things. Belize is a casual country, so only 1-2 nicer outfits is all that's needed if you plan to go to a fancier resort for dinner.
Be sure you know the proper airline carry-on luggage requirements and that your bag fits those!
There are things there! Seriously, if you forget your toothbrush or something, don't sweat. Just run to a shop there.
Travel Insurance! If your luggage is lost or stolen, travel insurance helps! World Nomads is our favorite.
Only bring 7 days worth of clothing. You can do laundry if needed. Now most trips to Belize are 7 days or less, so this shouldn't be a problem. However, if this is a bigger trip, just pack a week's worth of clothing and do laundry.
I know you can do it! Packing sucks, but having a packing list really helps you stay organized and not forget anything. We hope this packing guide for Belize helps you as you embark on your amazing adventure there!
Want more packing guides? Check these posts out:
Want more Central America/Caribbean travel ideas?
Pin it here!