Some posts on this site contain affiliate links, meaning if you book or buy something through one of these links, I may earn a small commission (at no additional cost to you!). Read the full disclosure policy here.
---
It may be a small island, but there is no shortage of romantic things to do in St Lucia! Whether you want to enjoy beach time, hike up mountains, or take in the most glorious sunsets, your St Lucia itinerary can be full of as many or as little of incredible things as you wish!
If you're planning the best honeymoon to St Lucia you'll definitely want to find some dreamy things to do as well as places to relax. That is why we have come up with the 31 most romantic things to do in St Lucia for the ultimate getaway!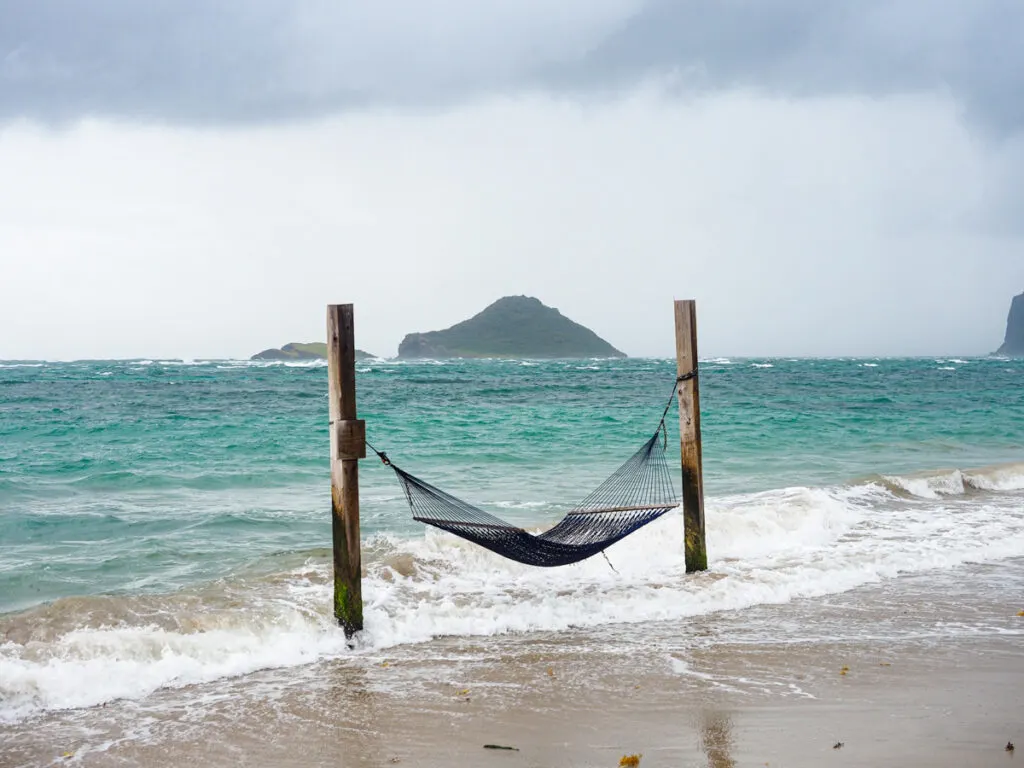 31 Most Romantic Things to do in St Lucia
From ziplining adventures to perfect beaches, these are the top things to do in St Lucia for couples!
1. Visiting Diamond Falls Botanical Gardens & Mineral Baths is One of the Top Things to do in St Lucia For a Honeymoon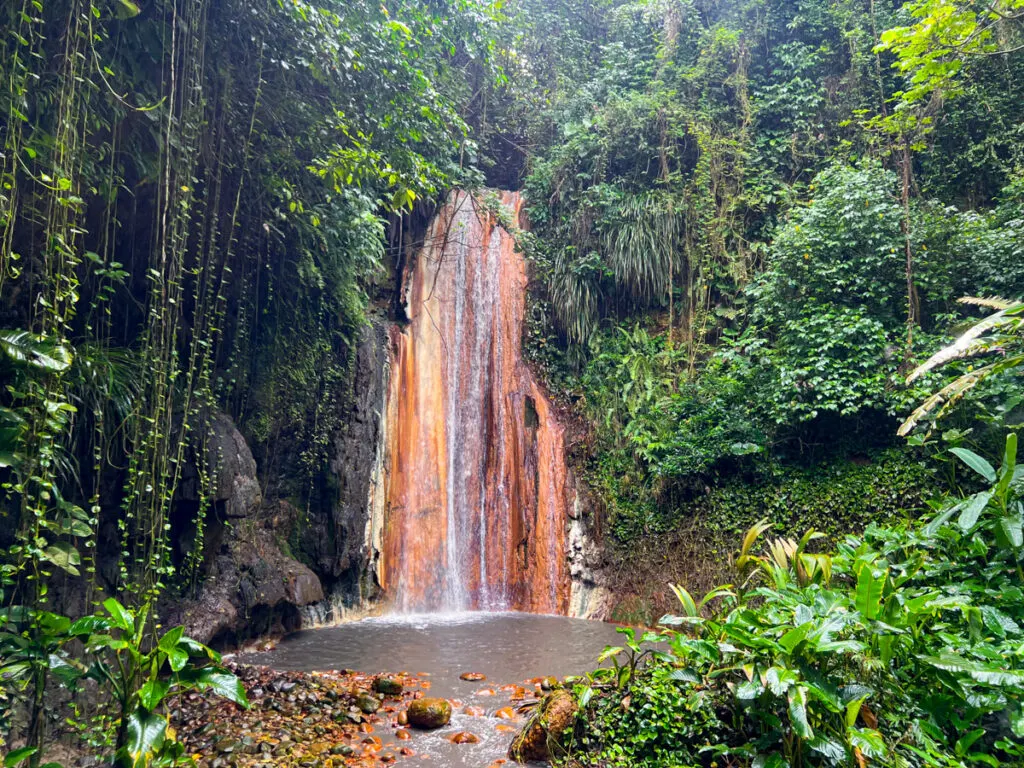 Diamond Falls is a dreamy waterfall set in the midst of a botanical garden. The waterfall itself is super colorful, as the water flowing down it is comprised of minerals, iron, sulfur, magnesium, manganese, calcium, and copper sulfate.
This gives the waterfall an almost rainbow-like appearance. It is a lovely spot to take photos in front of. Plus, afterward, you can wander through the botanical gardens as well as take a dip in the hot springs there.
2. Head to a Drive-In Volcano and Take a Dip at the Mud Baths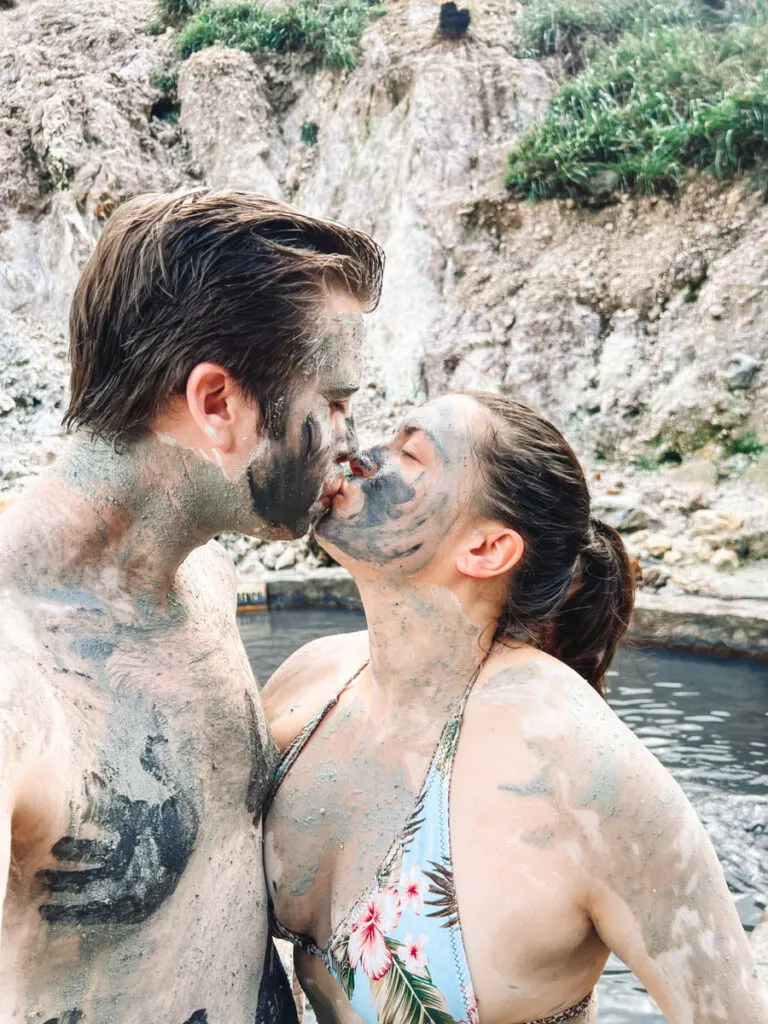 Home to the world's only drive-in volcano, Sulphur Springs is a great place to take a short tour to see the steamy volcano before enjoying the mud baths.
You'll first take a dip in the pool, then apply the dark-colored mineral-rich mud, wait until it dries, and then get into the water to rinse off and relax. These mud baths are super therapeutic and are said to help with detoxing the body as well as heal sunburns, eczema, sore joints, and more.
This is a popular thing to do in St Lucia for a romantic getaway, as you can take turns painting mud on each other and enjoy a relaxing soak in the baths afterward. Just be sure to come early in the day or in the late afternoon to have fewer crowds.
3. Visit the Most Beautiful Beach: Anse Chastanet Beach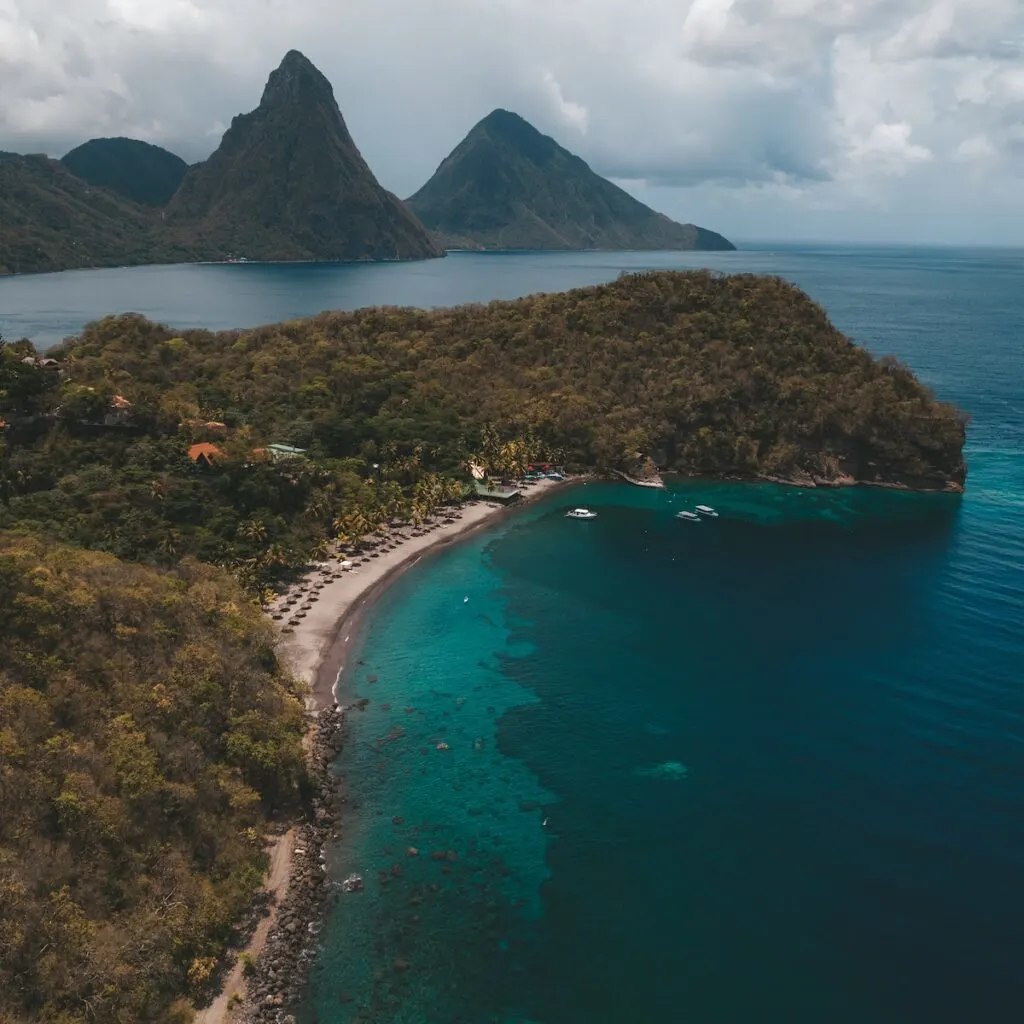 Known as one of the best beaches on the island, Anse Chastanet Beach, which is in front of Anse Chastanet Resort, is a public beach with free parking.
Aside from enjoying time sunbathing and walking along the sand, the big draw here is snorkeling. Thanks to its lovely reef system, you can spot many fish and aquatic creatures in just a short swim offshore.
4. Explore the Many Beaches of St Lucia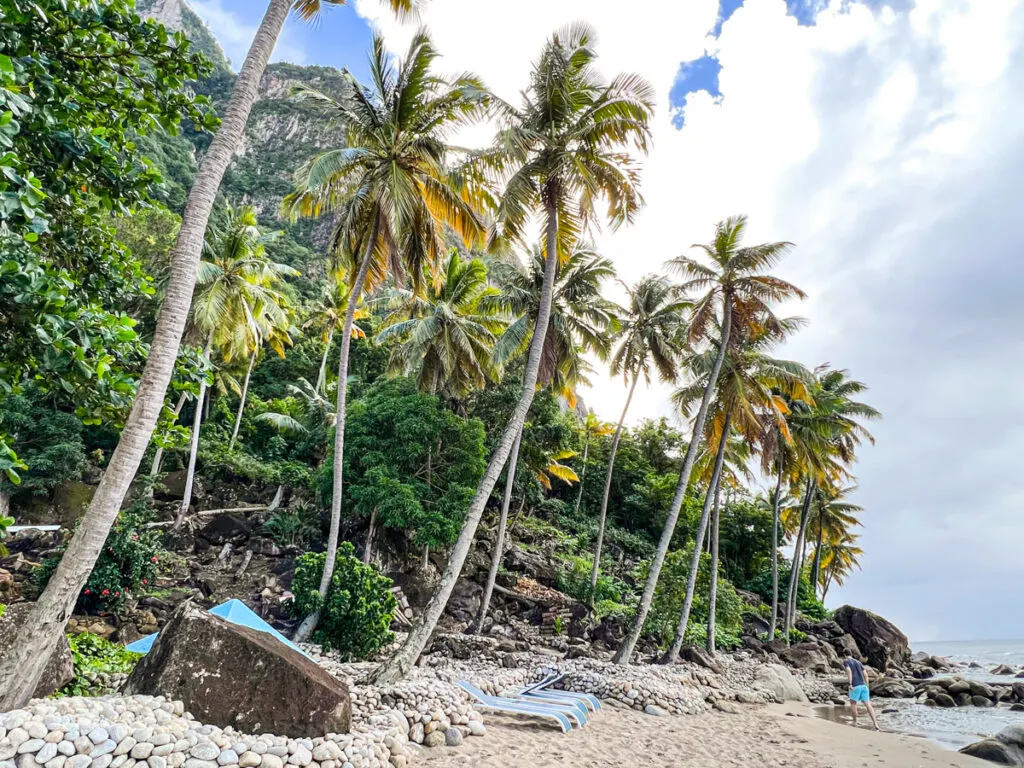 Being an island in the Caribbean, you know there are some epic beaches! Aside from Anse Chastanet, there are other incredible spots to check out together on your St Lucia honeymoon.
Jalousie, otherwise known as Sugar Beach, is the spot to enjoy views of the famous pitons as well as go for a swim. There are also great places to spot sealife here among the coral reef, so why not enjoy some time swimming here?
Some other great places include Reduit beach for those staying near Castries which has a ton of amenities nearby, Grand Anse beach for turtle spotting, and even off-the-beaten-path Malgretoute beach for fewer crowds.
5. What to do in St Lucia For a Honeymoon: Go Snorkeling!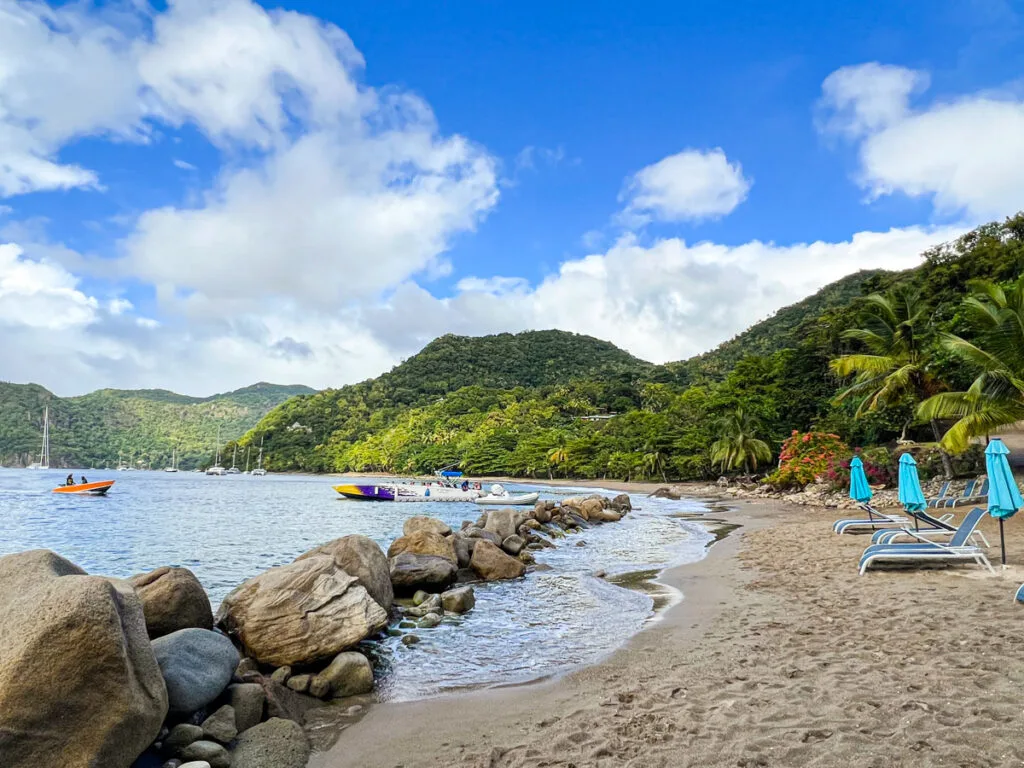 As I've discussed above, there are so many great coral reefs around St Lucia. So why not enjoy it by snorkeling?
We went snorkeling while in St Lucia and saw so much including several fish, a sea snake, and eels! It was incredible, and I highly recommend getting out in the water to see it for yourselves.
While you can just go to the beach and do this, especially if you're staying at a beachside resort, there are several snorkel tours you can take too.
6. Scuba Dive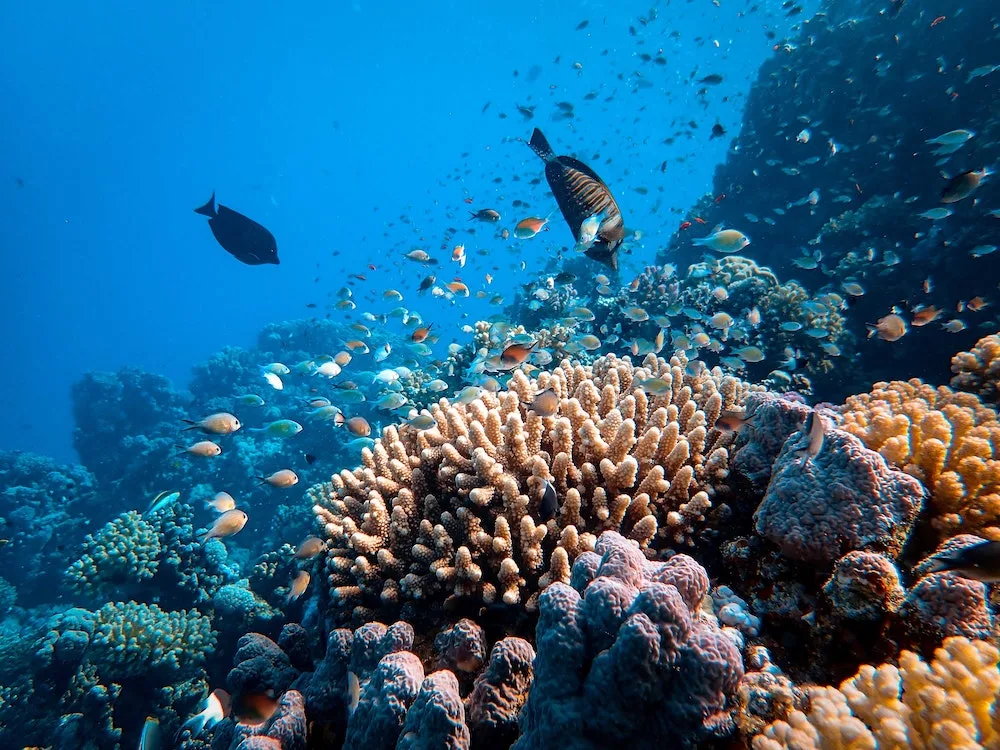 If you're a diver, there are Scuba tours as well. There are also places to get Scuba certified while you're on your St Lucia honeymoon like at Scuba St Lucia. And for the ultimate romance for lovers who are going diving together, why not sign up for the Romance Below and Beyond Discover Scuba Dive that includes a private photographer to capture you two together underwater?
7. Witnessing an Epic Sunset is One of the St Lucia Romantic Things to do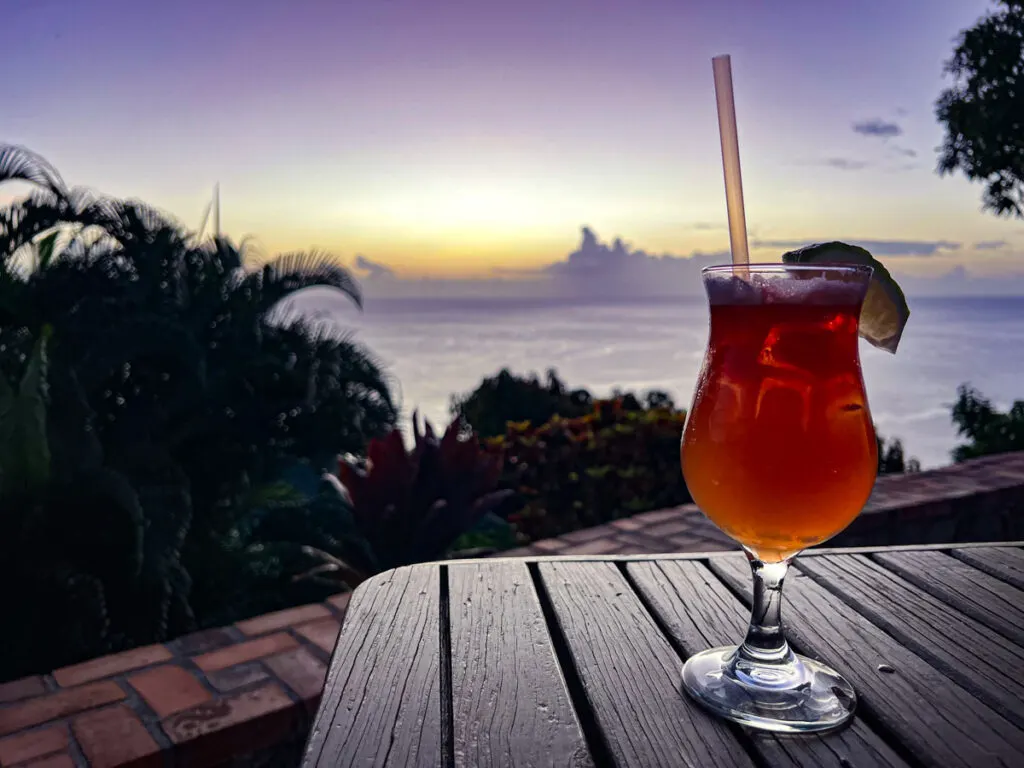 The more popular places to visit in St Lucia are on the Caribbean side of the island. That also means that you get some epic sunsets in that area. While you can enjoy a lovely sunset on the beach together, if you want the most romantic sunset views, staying at a resort near Soufriere in the mountains is ideal.
Ideally, stay at a resort like Stonefield Villa Resort and get the ocean view villa. Then, you can watch the sunset together from the comfort of your private balcony at your villa. We did this during our time in St Lucia and it was absolutely incredible.
8. Or…Take in the Sunset From the Water
For another romantic sunset idea, book a sunset sailing cruise. Complete with a glass of Champagne, you can enjoy the gorgeous sunset over the Caribbean and witness the stunning beauty of St Lucia from the water.
9. Indulge in an All-Inclusive Resort…With a Private Plunge Pool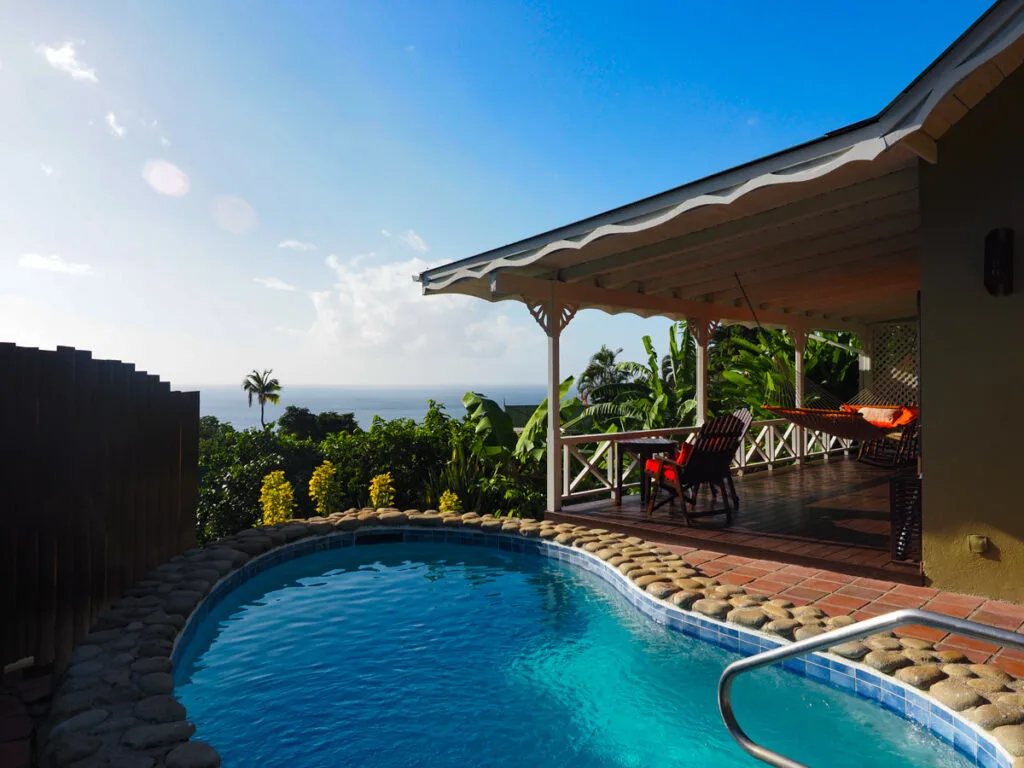 Nothing quite says romance like having your own private plunge pool. There are a few resorts in St Lucia that have this amenity.
We stayed at Stonefield Villa Resort as well as Serenity at Coconut Bay where each of the villas has its own private plunge pool. The one we had at Stonefield faced the sea, and we had epic views of both Petit Piton and the Caribbean.
The one at Serenity at Coconut Bay was on our private outdoor patio with a bar, and the pool had a lovely waterfall feature. Ladera Resort also has private plunge pools at every room.
Other resorts, like Sandals Halcyon Beach and Sandals Regency La Toc offer private pool suites, and Sandals Grande St Lucian even has overwater bungalows.
Enjoy a dip for just the two of you after a day of exploring St Lucia. These listed above are all-inclusive resorts in St Lucia or at least have an all-inclusive option.
10. Best St Lucia Honeymoon Idea: Beachside Massages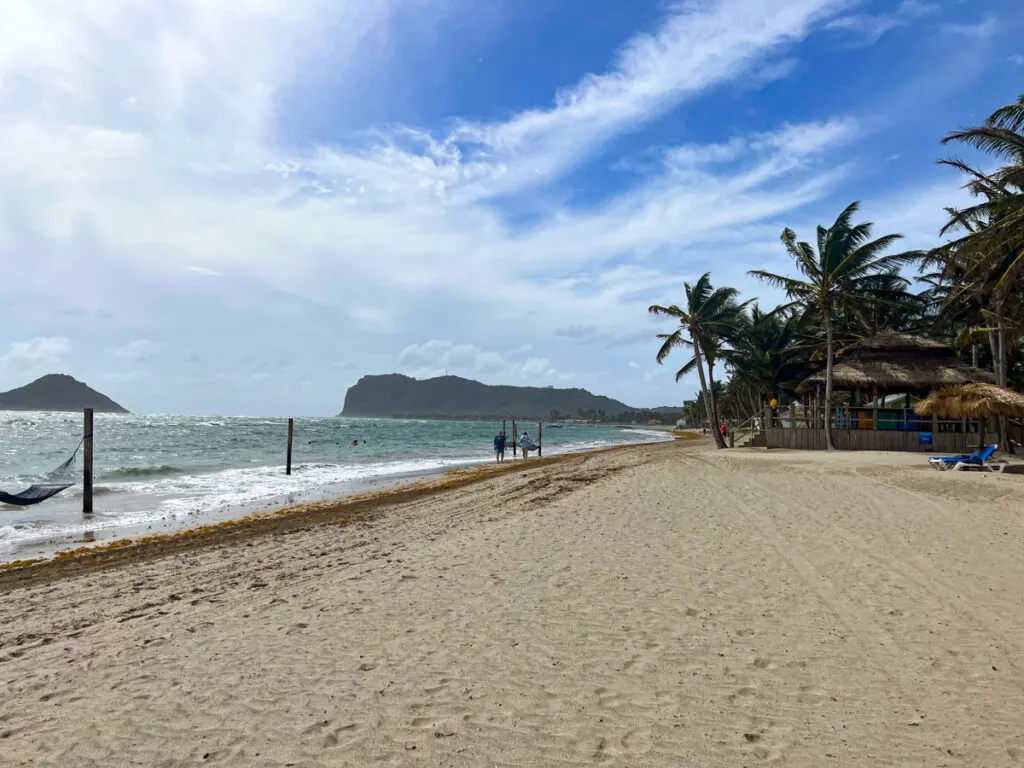 A visit to the spa is always a lovely thing to do in St Lucia on your honeymoon. But having it with the sounds of waves crashing on the shore makes it even better.
Serenity at Coconut Bay and Coconut Bay have a lovely spa where it is open to the outdoors with views of the beach. So you can enjoy the sounds of the sea while getting a couple's massage.
11. Explore the Tet Paul Nature Trail
For one of the best things to do in St Lucia for a honeymoon, definitely hike along the Tet Paul Nature Trail. With stunning views of the pitons, Martinique, and St Vincent, you'll be enthralled with the beauty of the Caribbean here.
It is an easier hike that takes less than an hour to complete, so you get some fantastic views for little effort. This is a great spot for an Instagram photo too!
12. For a Bigger Challenge Hike up Gros Piton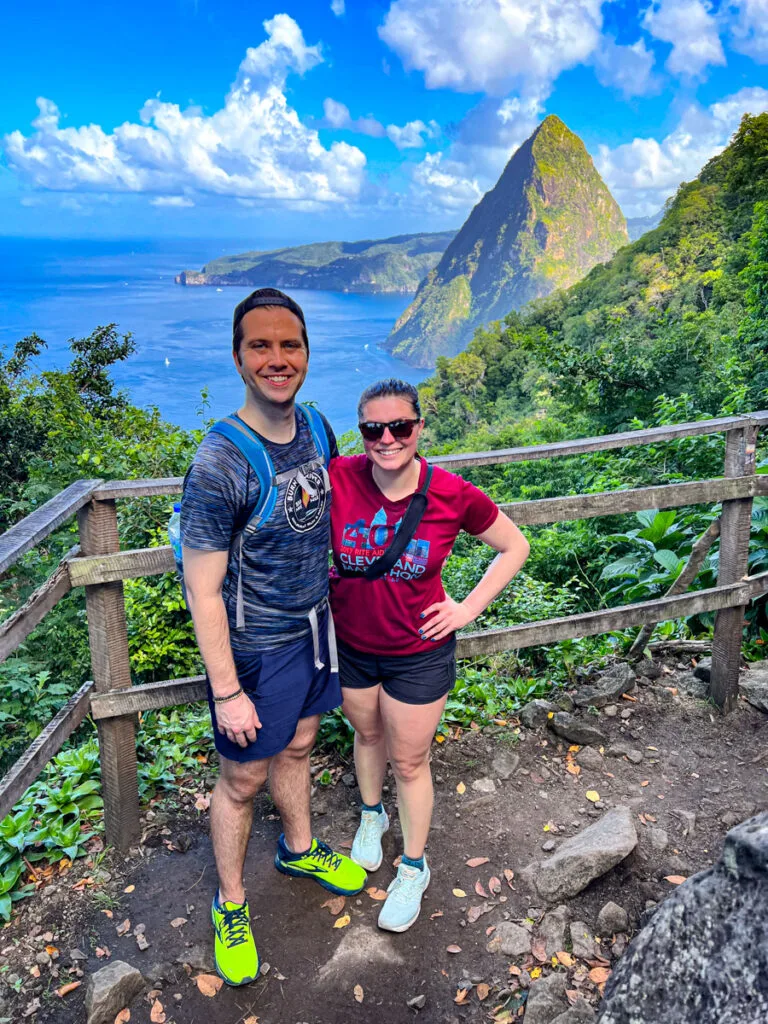 If you're up for a challenge, or you just love adventure, then opt to hike up Gros Piton. This isn't an easy hike, as most of it is climbing up a mountain and then turning around.
But the views along the way make it worth it. The halfway point of the hike also provides views of Petit Piton and the Caribbean Sea, so if you get tired at that point, you can always turn around after this.
However, if you want to go all the way to the top, you will be rewarded with both views of the island and the sea. Plus, on a clear day, you can even spot nearby Caribbean islands!
This hike requires a guide, and it is a lot of fun having a privately guided hike together as you challenge yourselves. The hike itself takes about 4 hours.
13. For an Even Harder Hike, Check Out Petit Piton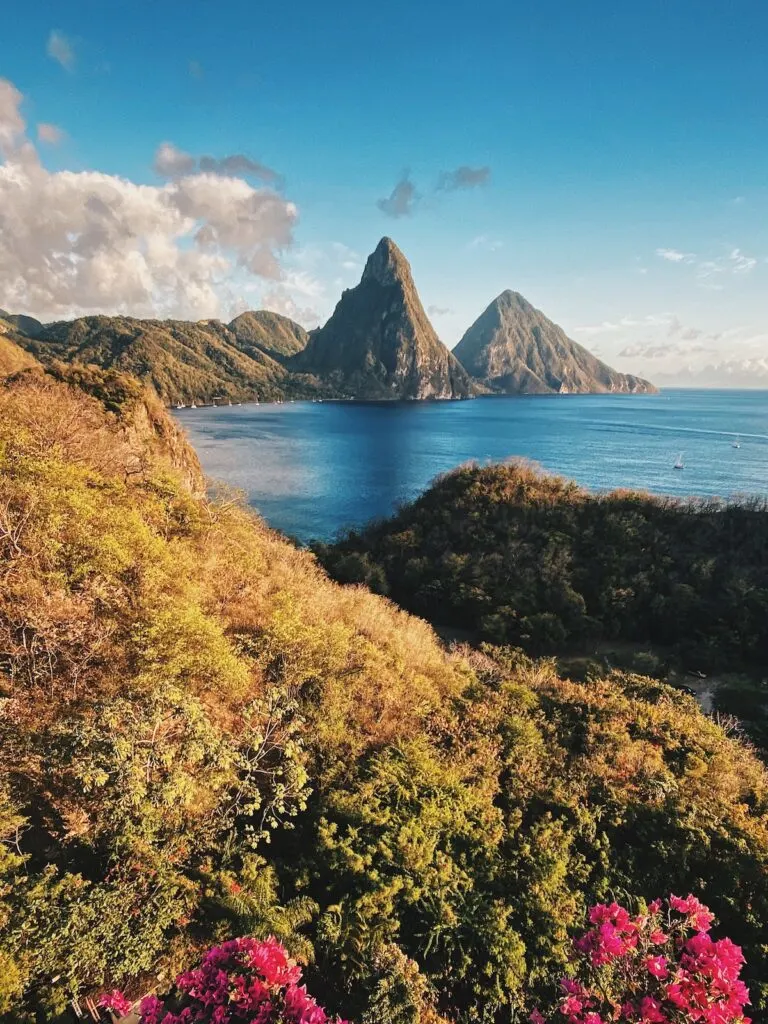 For an even more challenging hike together, check out Petit Piton. While it isn't as high in elevation as Gros Piton, the hike is actually harder.
This hike is very steep and has many challenging aspects. Plus, it isn't a guided hike, so you don't have the expertise of a local to help you navigate tricky spots.
However, if you both are big hikers and want the challenge, you can enjoy amazing views from the top. This could take about 5-6 hours to finish.
Plus, no matter the hike, you definitely want to reward yourself with a local Piton beer or cocktail afterward!
14. En Bas Saut Trail
For a nice trail in the rainforest where you can stop and swim in a waterfall, the En Bas Saut Trail is the way to go. Not only can you take a dip mid-hike in the waterfall, but you'll also enjoy views of the mountains, fruit trees, and beautiful flowers.
This hike may take a couple of hours depending on how much you stop to take in views and snap photos.
15. Explore Pigeon Island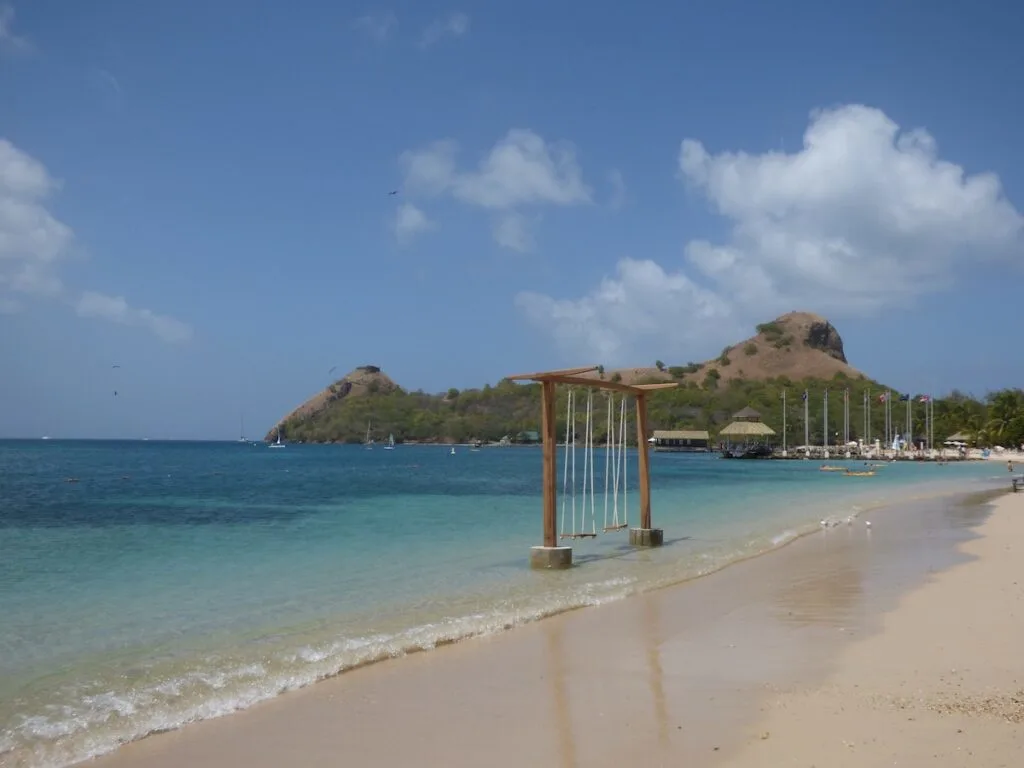 Up near Gros Islet in the northern part of the island is Pigeon Island National Park. This is a fantastic place to go on a hike together, explore the historic fort, and take in some spectacular views of the Caribbean Sea!
16. Aerial Tram Tour
Whether you're booking a St Lucia cruise ship excursion or want to explore more of the rainforest on your St Lucia honeymoon, you'll definitely want to do this.
Sit back and relax in your open-air gondola as you soar through the rainforest admiring the local flora and fauna of the area.
17. For Adrenaline Honeymooners, Opt for a Zipline Ride Through the Jungle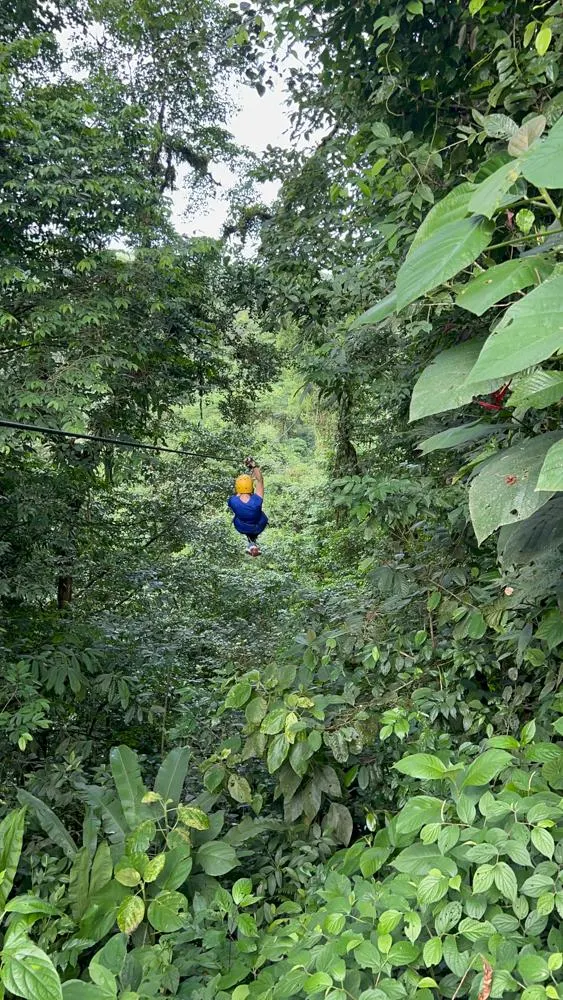 Take in the best views of the rainforest by ziplining 150 feet above the ground! Admire the pitons, and spot the local birdlife as you soar through the air on your adventurous trip to St Lucia.
A great place to do this is Treetop Adventure Park. With 12 lines, including the island's longest, highest, and fastest line, you'll definitely get the blood going during your time here.
18. One of the Most Unique Things to do in St Lucia: Try Kitesurfing Together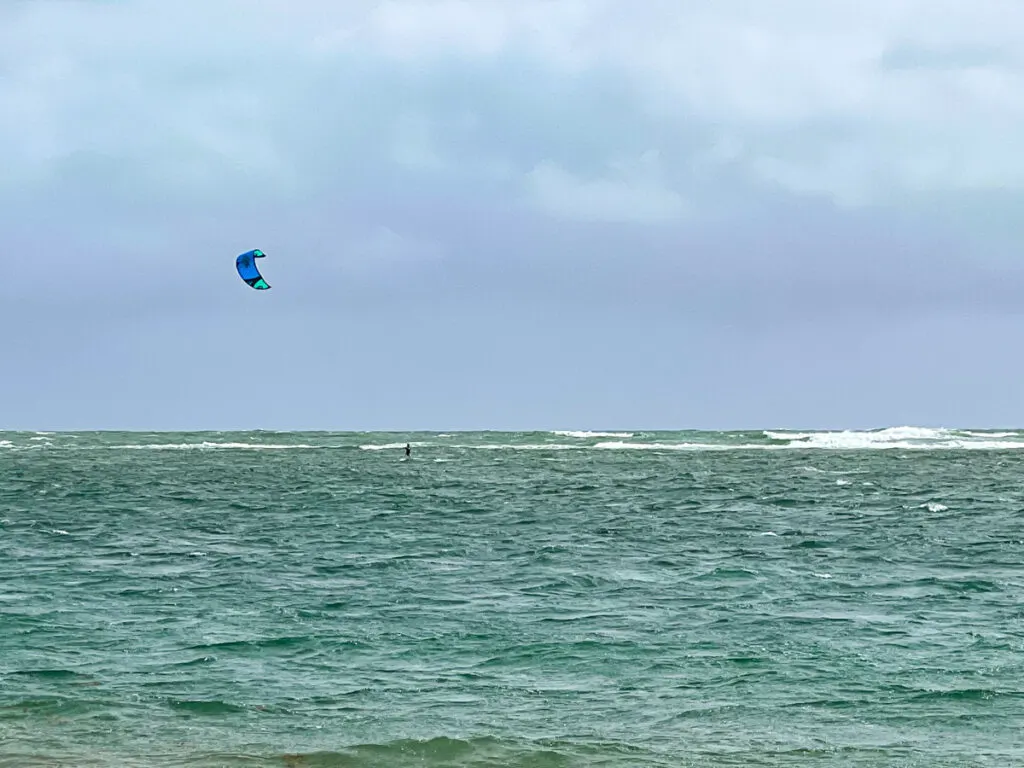 The Atlantic side of the island has much rougher waves and stronger winds, making it ideal for kitesurfing. So, if you're an adventurous couple looking for romantic things to do in St Lucia, why not learn how to kitesurf?
There is a kitesurfing shack, called Surf Shack at Coconut Bay, which is a great place to try this out. Also, on the northern part of the island, you can try kitesurfing at Aquaholics Kitesurfing School.
19. Get a Kayak For Two For One of the Most Romantic Things to do in St Lucia
Most resorts, especially all-inclusive resorts have kayaks you can use during your stay. So take full advantage of that as you paddle out and enjoy the stunning sea life below. If you're on the Caribbean side of the island, you'll be able to see a lot together as the water is so clear!
Work as a team as you kayak around together.
20. Take a Food & Rum Tour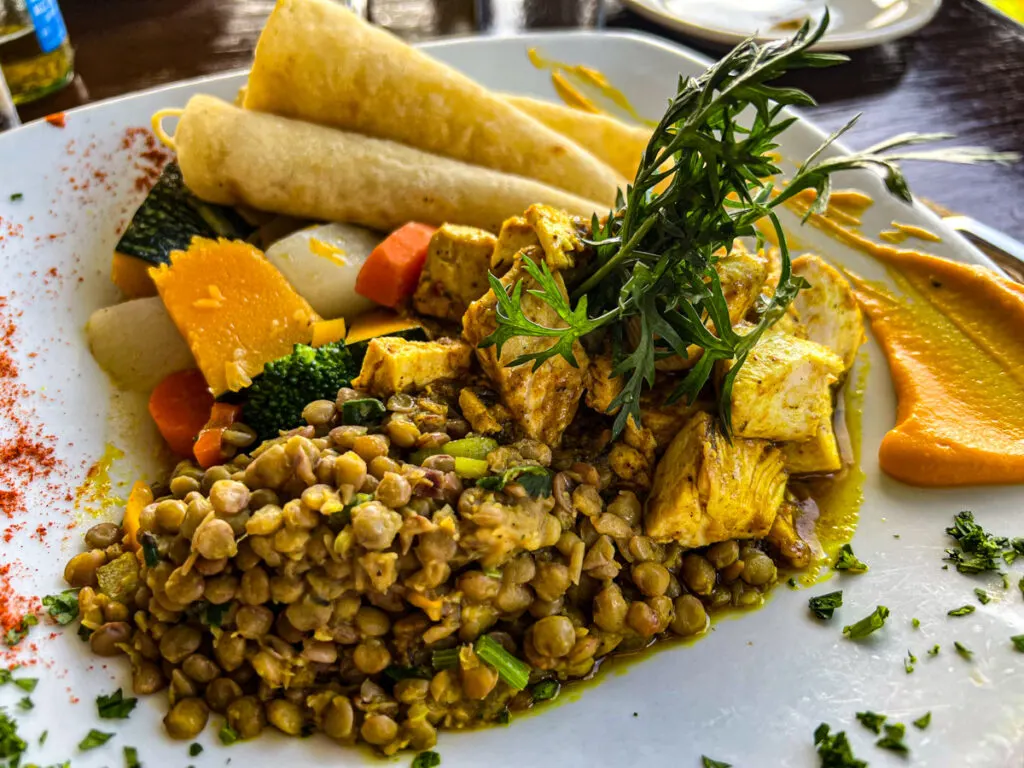 You're visiting an island nation with a rich culture and tasty cuisine. Why not take part in that while you're there?
This amazing food tour includes stops to try things like the local cocoa tea (their delicious version of hot chocolate), fresh bananas, spiced rum, chocolate, grilled pork, and more.
One of our favorite things to do in a new place for us is taking a food tour. Not only do you get to try the local flavors, but you get a bit more insight into the local culture.
21. Explore Soufriere
Honestly, my favorite area of St Lucia is Soufriere. Not only are there a lot of great things to see and do in the city, but the nearby area is full of adventure from the sea to the jungle!
You can enjoy the beaches nearby like Anse Mamin as well as taste the local flavors at spots like Zaka's Art Cafe and Martha's Tables.
22. Go Whale and Dolphin Watching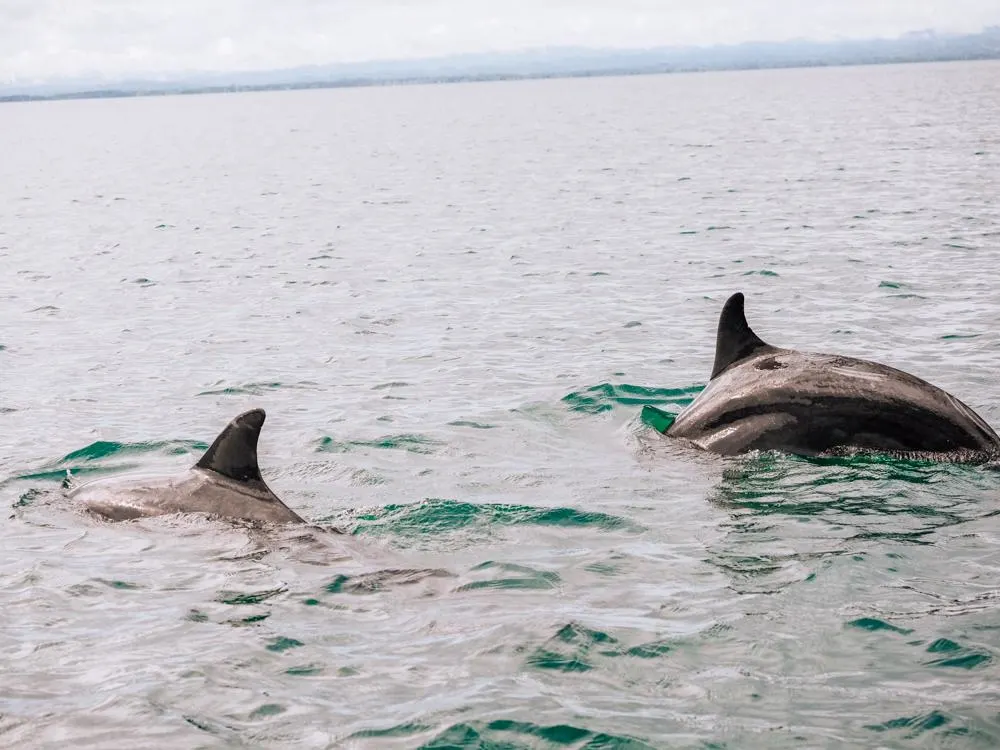 Book a whale and dolphin watching tour at Mystic Man Tours in Soufriere or Captain Mike's in Castries. Book this adventure together for one of the most romantic things to do in St Lucia for couples.
Hop on the boat and potentially spot 3 different species of dolphins as well as sperm, pilot, and humpback whales.
23. Enjoy Piton Falls
Piton Falls is a great place to admire a waterfall as well as take a dip in the hot springs. At the base of the waterfall is a pool to relax in that is nice and warm. While the water doesn't come from the pitons themselves, it is on the way to Petit Piton.
This could actually be a great stop after hiking Petit Piton to soothe any sore muscles. Or, if you would like to go to a lesser-visited hot spring, this is a great place to visit.
24. Take an Instagram-worthy Photo at Toraille Falls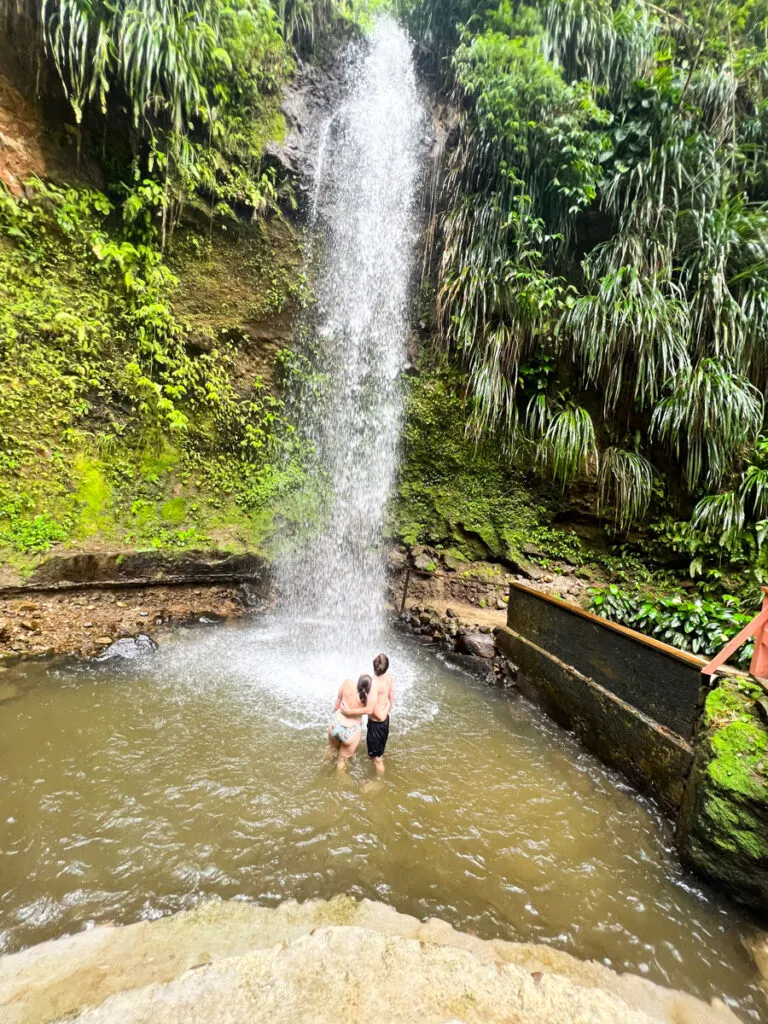 Located just outside of Soufriere is the lovely Toraille Falls. The pool below is a bit chilly, but it is shallow enough to wade in. This 50-foot waterfall is stunning to check out on its own, but you'll love snapping a photo for memory's sake here together.
25. Rent a Beach or Pool Cabana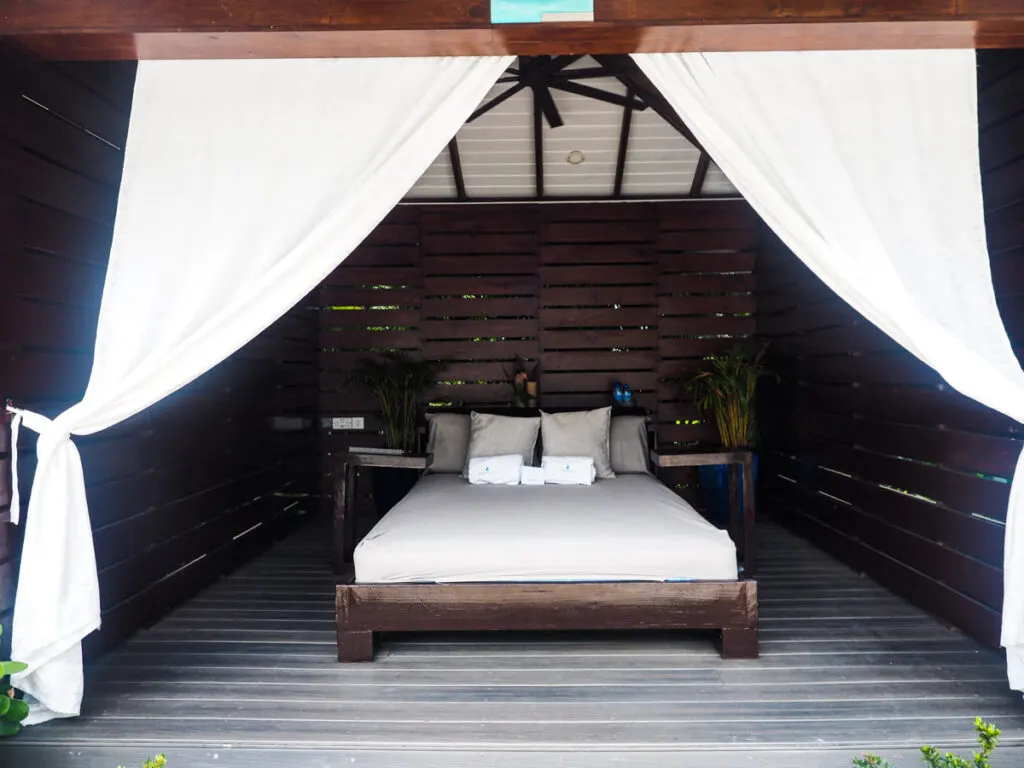 For one of the top romantic things to do in St Lucia, renting a beach or pool cabana is a must. Feel pampered as you enjoy the pool or beach with a private lounge area and stocked cooler.
Places like Serenity at Coconut Bay offer both poolside and beachside cabanas with butler service, and Sandals Grande St Lucian and Sandals Regency La Toc offers beach cabanas with butler service.
So sit back, relax, and enjoy the beach in style.
26. Arrange Dinner on the Beach
Most beachside resorts can arrange a private, romantic dinner on the beach. Definitely arrange for it to take place around sunset for the best views.
Sip bubbly and enjoy local cuisine together with your toes in the sand for the most romantic St Lucia honeymoon.
27. Visit the Capital City of Castries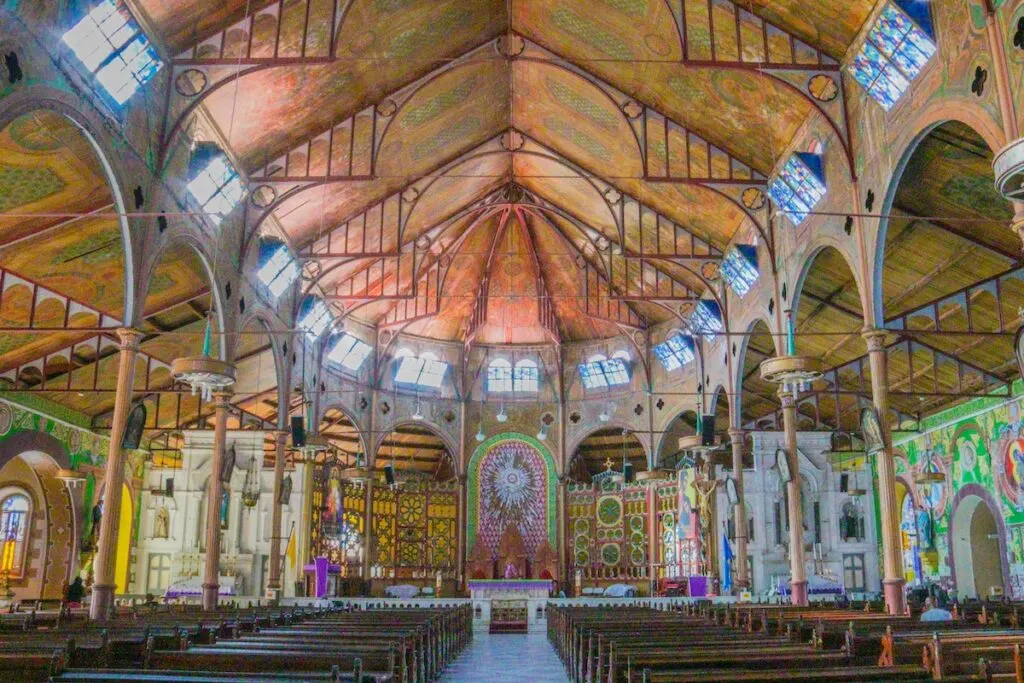 Many resorts are near the capital city of Castries, so why not take in the sights here? Taste some local flavors at many restaurants, and definitely stop by the Castries Central Market for a chance to purchase some local spices and fruits.
You can also visit The Minor Basilica of the Immaculate Conception, which is a stunning cathedral.
On top of that, if you want to visit other Caribbean islands, you can take the ferry from the Ferry Terminal here.
Also, nearby Castries is a ton of great beaches to explore like La Toc beach, Vigie beach, and Choc beach.
28. Go Horseback Riding
Want to go horseback riding together on the sandy beaches of St Lucia? You can definitely book this excursion through many resorts on the island. Enjoy a romantic ride together as you breathe in the sea air and take in the views.
29. Go on an ATV Tour
With plenty of ATV tour companies like Adventure Tours St Lucia and Island ATV Ltd, you can ride around the island and explore the jungles on a buggy or ATV.
Find private beaches, visit local spots on the island, or enjoy the rainforest as you get adventurous and zoom around on these vehicles.
30. Spot Birds Together On the Island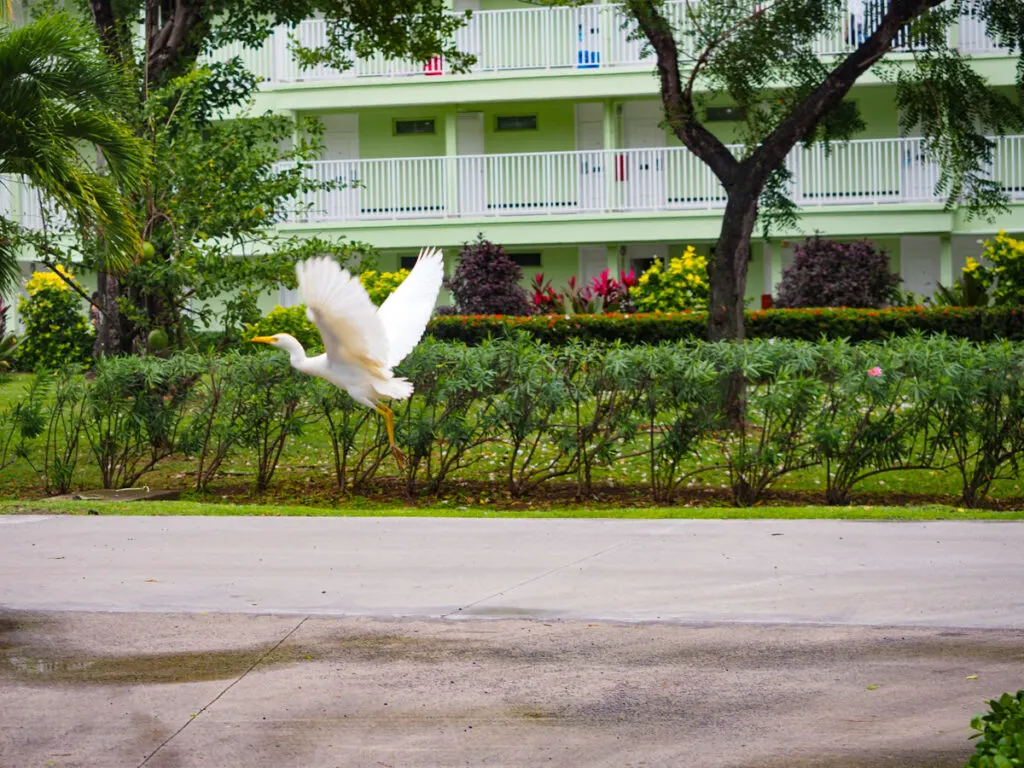 For a more relaxing and slow-paced tour for your romantic St Lucia getaway, go bird-watching!
Maybe some think this is something only retired folks do, but I heartily disagree. Chris and I are big fans of birding tours while on trips like Costa Rica and Uganda. With so many unique and colorful birds in St Lucia, including the Jacquot parrot, you'll enjoy this sunrise tour of the birds in the rainforest.
31. One of the Tastiest and Most Romantic Things to do in St Lucia: Go on a Chocolate Tour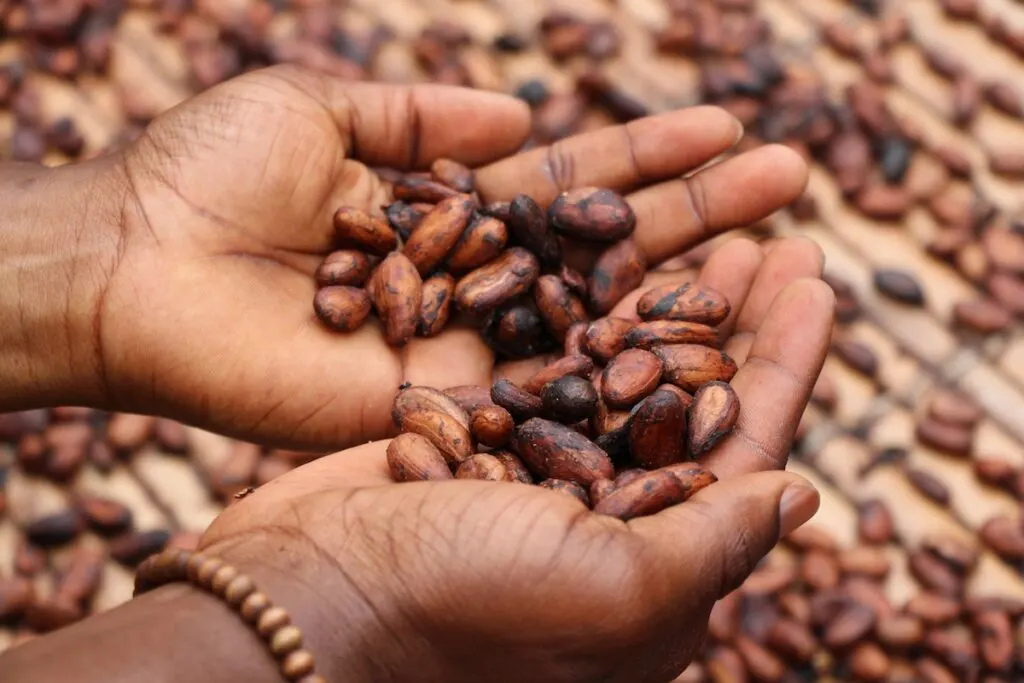 Last on the list of the St Lucia romantic things to do has to be to go on a chocolate tour together.
Did you know that St Lucia has a history in chocolate making? So why not see the process from bean to bar or explore the cacao tree groves before grafting a tree and making your own chocolate?
This is such a fun and delicious way to explore St Lucia. You can do this tour at Project Chocolat at Rabot Estate in Soufriere.
Where to Stay in St Lucia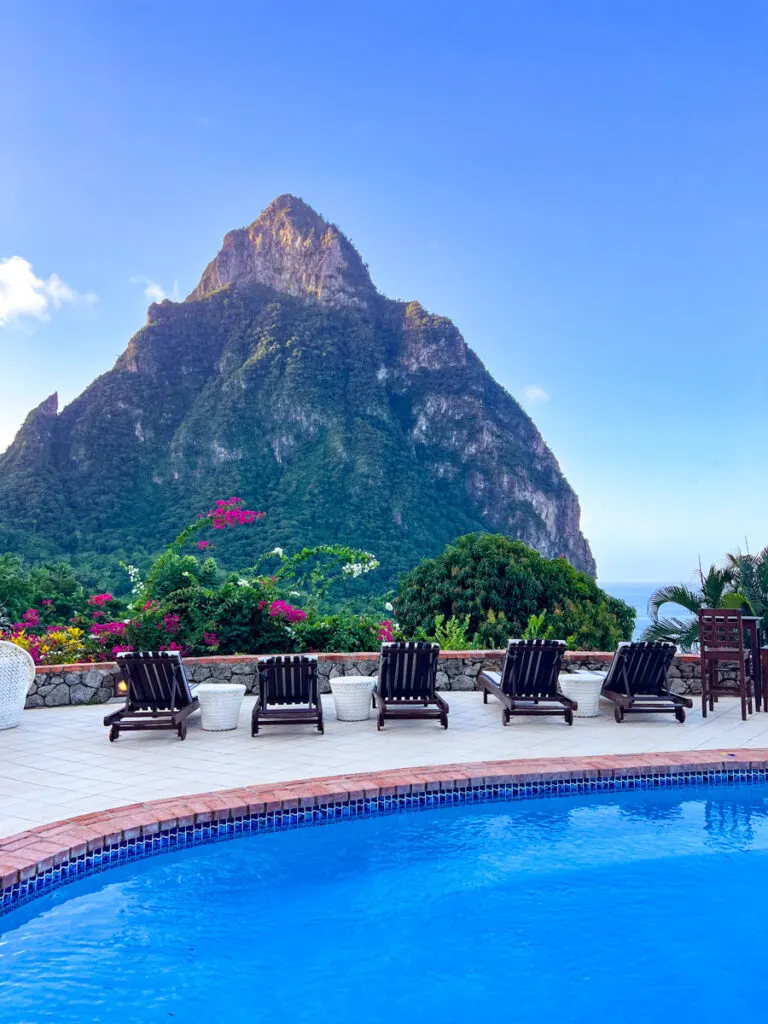 There are so many great places to stay in St Lucia. I have a whole article dedicated to the best all-inclusive resorts on the island, but here are a few favorites to check out:
Stonefield Villa Resort: We fell head over heels for this place. You can book the all-inclusive package so all your meals and most drinks are covered. But the best part of this resort is that it is super affordable and all the rooms are villas with a private plunge pool. And don't even get me started on the epic sea and piton views!
Serenity at Coconut Bay: Located in Vieux Fort on the Atlantic side of the island, the beaches here are alright, but you'll be absolutely spoiled at this resort. Serenity is an adults-only, couples-only resort off of Coconut Bay, and you get a villa with butler service, a private plunge pool, and the food and drinks here are top-notch.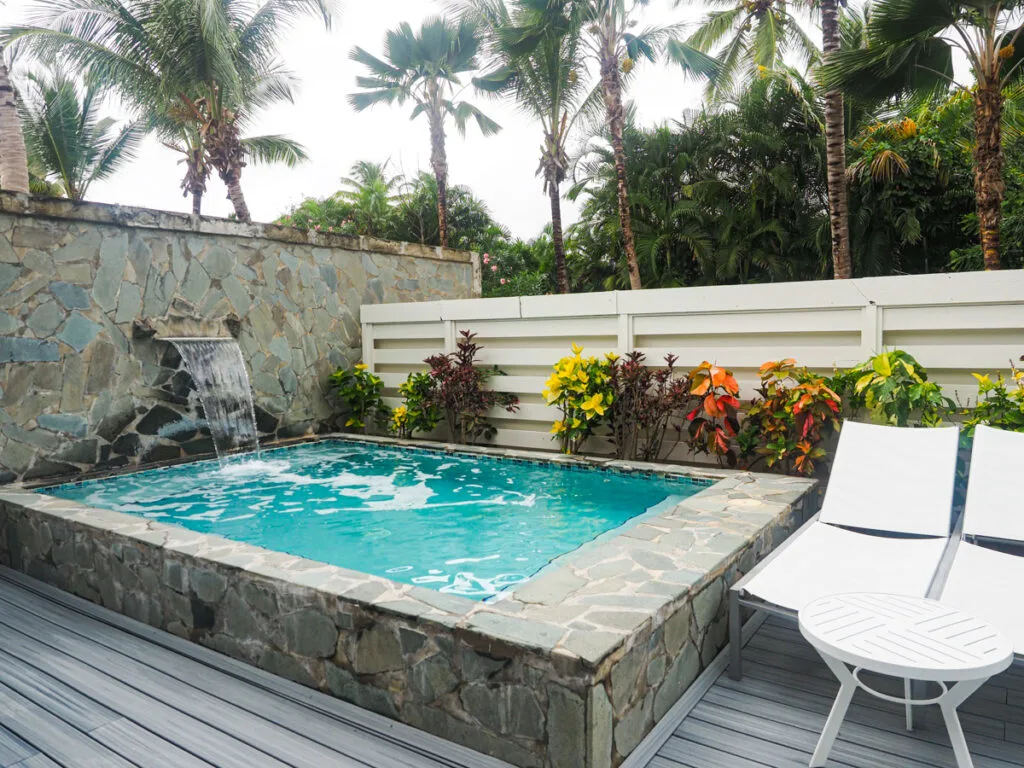 Sandals Grande St Lucian: For a typical Sandals experience with its all-inclusive perks, this is a great place to stay. Enjoy the stunning beach, and this place also offers overwater bungalows! Plus, there are beachfront suites with a private pool.
This is the ultimate guide to the most romantic things to do in St Lucia! Whether you're planning your dreamy honeymoon or a romantic getaway for two, this is everything you'd want to do during your vacation to St Lucia.
Want more Caribbean and Central America travel ideas? Check out these posts!
Pin it here!