Some posts on this site contain affiliate links, meaning if you book or buy something through one of these links, I may earn a small commission (at no additional cost to you!). Read the full disclosure policy here.
---
Check out our podcast episode all about Koh Lipe:
A Koh Lipe itinerary may be the perfect way to see Thailand's paradise. Picture the clearest blue ocean water slowly lapping up on the shore, bright and colorful coral reefs you can snorkel to right off the beach, and a laid back atmosphere where the only thing on the agenda is to plant your "toes in the water, ass in the sand." It's everything you need for a relaxing and romantic getaway. Consider this your ultimate Koh Lipe guide.
In this Koh Lipe guide, we'll be breaking down all you need to know before you go including how to get to Koh Lipe, when to visit Koh Lipe, getting around Koh Lipe, where to stay at on Koh Lipe, best things to do on Koh Lipe, where to eat and drink on Koh Lipe, and even a perfect 5 day Koh Lipe itinerary!
Rewind to several months prior to our little island getaway, and we were debating on which beach to choose for our three-week honeymoon across Southeast Asia. And while we had already planned on visiting Hanoi and Halong Bay, Siem Reap, Chiang Mai, and Bangkok, we couldn't decide which beach was the best beach. When I say it took me months to decide, I mean it. But, one day, I stumbled across some information about Koh Lipe, and I knew that we had to come here.
So today, I want to give you the details on everything you need to know about Koh Lipe including a Koh Lipe itinerary to give you all the wanderlust and help you plan your ultimate romantic getaway.
Who Shouldn't Visit Koh Lipe
Before we discuss the basics like where to stay and what to do on Koh Lipe, I want to lay it out there that Koh Lipe is not for everyone. It is a relaxing island and it is meant for… well, relaxing.
The bars on Koh Lipe do not stay open past 1 am, with many closing before that. There are no full or half-moon parties, no beach bonfire parties, it is calm and quiet at night and nothing blocks you from hearing the sounds of the ocean. It is truly bliss if you like relaxing, but if you're looking for a huge party, this is not your island.
Also, if you're looking for trekking, renting a scooter and getting around, and hiking to waterfalls, this may not be for you. Again, this is a small island. And, while you may find scooters to help you get to your hotel, there aren't many roads to scoot on and no places to truly hike for a long period of time. There are larger, remote islands you can rent a boat to and hike around, but as far as the island itself, you won't find much hiking.
Who Should Visit Koh Lipe
Okay, now that you know who should not come to Koh Lipe, let's talk about whom this island is perfect for. If you're looking to relax, swim, snorkel or dive around some AMAZING coral reefs and incredible marine life, this is your island.
Koh Lipe is low key, but there is certainly an adventure to be found, particularly in the water. It is the perfect place for couples, whether for a romantic getaway or a honeymoon. It is also fantastic for families as it is a safe island with a few family-friendly hotels (keep in mind that it is a rough ferry to get there, though). It is the place to enjoy the beach and all the things that come with it. So sit back, grab a piña colada, and enjoy this island paradise.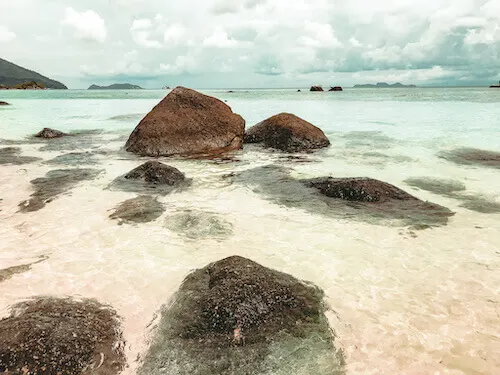 When to Visit Koh Lipe Guide
Like all places in Thailand, Koh Lipe has a dry and rainy season. This also correlates to the high and low season. The dry season is between December and April, where rainfall is very little, but prices are a little higher as more tourists come in. Wet Season is June through October with some days having heavy rainfall or multiple days of rainfall. It won't rain every single day, but it is much more likely to rain than the dry season. However, you can get great deals on hotels during this time of year.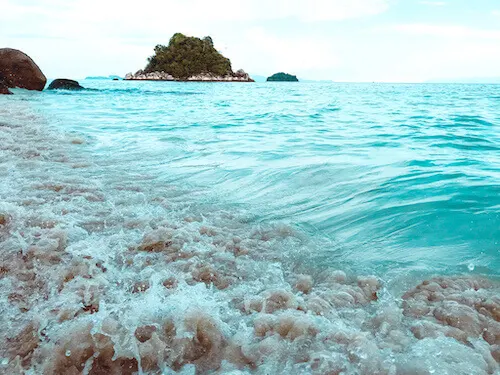 Shoulder season, or November and May, will have less rain than the rainy season but may get a few showers here and there. If you go during this time you'll have fewer crowds, prices are slightly lower than the high season, and the weather is pretty good. We went in November and noticed that it did rain for an hour or two in the morning, but cleared up before lunch. There were hardly any crowds too!
Getting to Koh Lipe, Thailand for Your Koh Lipe Itinerary
Koh Lipe isn't the easiest island to get to, but it is definitely worth it once you're there. It is a process, typically including a flight, shuttle bus, and/or ferry and takes half a day. Therefore, if you're planning to visit Koh Lipe, I highly recommend spending at least 3 days here to make the trip worth it. Here are the many ways to get here for your Koh Lipe itinerary:
Pro-Tip: For booking airport shuttles and the ferry to Koh Lipe, or ferries from other islands, use 12GoAsia. They have all the ferry times so you can book accordingly. And for flights from Bangkok to Hat Yai or Langkawi, we love checking Skyscanner for the best deals!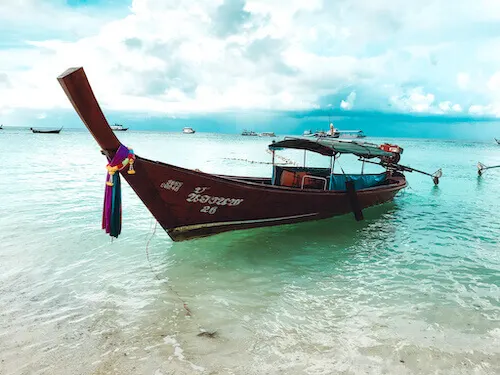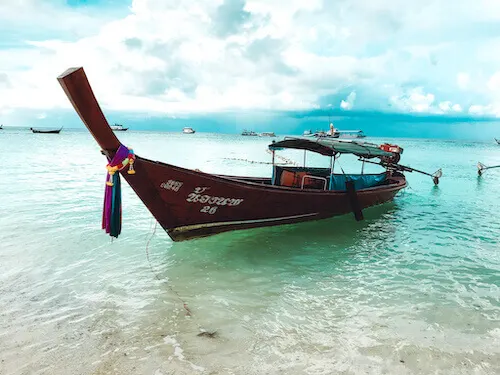 Fly/Shuttle/Speedboat Ferry From Hat Yai
ONLY OPTION DURING RAINY SEASON
Fly from Bangkok using Nok Air, Thai Smile, or Air Asia and land around 8 am. The flight is around 1.5 hours from Bangkok. (Note: Chiang Mai has flights here too, but none that land you with enough time to make the ferry). Cost is typically less than $100 per person.
Shuttle departs from the airport between 8:30-9:30 am, depending on which one you book
Arrive at Pak Bara Pier around 11 am
Depart for Koh Lipe around 11:30 am-12 pm
Koh Lipe's high-speed ferry takes about 1.5-2 hours and will make a couple of stops on other islands along the way
Arrival time between 2-3 pm
You will arrive at Pattaya Beach during the dry season and Sunrise Beach during the rainy season
Cost for shuttle & ferry: $24 per person each way, plus 200 Thai baht (approx. $6) each for entrance into the Tarutao National Park, where Koh Lipe is located, and 50 baht (Approx. $1.60) per person for a long tail boat to take you to your hotel from the ferry
Langkawi to Koh Lipe Ferry
Depart from Langkawi to Koh Lipe via the Kuah Jetty or Telaga Harbor Marina, with Kuah Jetty having an immigration desk
Speedboat ferries depart between 9 am and 2:30 pm and arrive between 10:15 am and 3 pm, based on when you leave
Total travel is about 1.5 hours to get there
You gain an hour going from Langkawi to Koh Lipe
You will have to go through customs on Pattaya Beach once you arrive
This is NOT an option during the rainy season
Only operates between October 20 through May 15
Cost: $32 per person each way, plus 200 Thai baht (approx. $6) each for entrance into the Tarutao National Park, where Koh Lipe is located, and 50 baht (Approx. $1.60) per person for a long tail boat to take you to your hotel from the ferry.
Book your ferry to Koh Lipe here!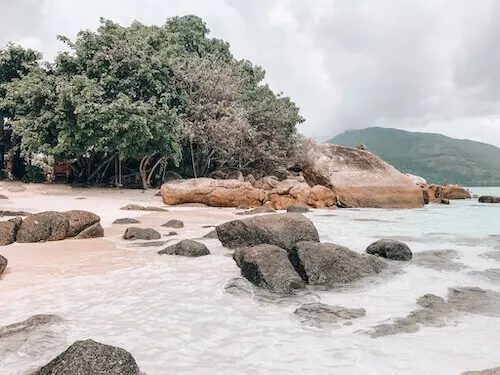 Train to Hat Yai from Bangkok
Take Thai Railways going to Hat Yai, then transfer to shuttle and ferry to Koh Lipe
Departs at 2:45 pm or 3:10 pm from Hua Lamphong train station in Bangkok
Arrives at 6:35 am or 7:20 am into Hat Yai the following day
Transfer to shuttle and ferry like in #1
Cost: $64-86 per person, plus 200 Thai baht (approx. $6) each for entrance into the Tarutao National Park, where Koh Lipe is located, and 50 baht (Approx. $1.60) per person for a long tail boat to take you to your hotel from the ferry.
Ferry from Other Islands in the Andaman Sea
Available from Phuket, Phi Phi Island, Koh Lanta, Koh Ngai, Koh Mook, Koh Kradan, and Bulon
Open between October 20 through November 15
Operates on even days from Koh Lipe and odd days from Phuket
Ferry schedule and costs below:
Ferry from the Gulf of Thailand to Koh Lipe
Available from Koh Samui, Koh Phangan, and Koh Tao
Ferry schedule and costs below: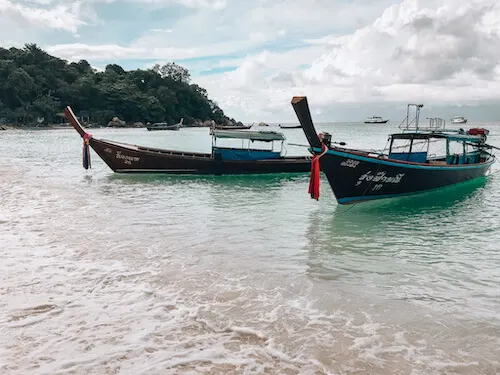 Navigating Around Koh Lipe, Thailand
Once you arrive for your Koh Lipe itinerary, you can pay 50 baht ($1.60) to get to your hotel via speedboat, have your hotel pick you up (if they offer this service), pay for a scooter to take you to your hotel, or just walk.
We ended up walking and probably should've taken a boat, as we got lost and it's too hot to carry around luggage while finding your hotel. But if you feel like stretching your legs after the long journey to get to Koh Lipe, you can walk to your hotel, especially if it is on Pattaya Beach.
The most common way to get around Koh Lipe is walking. The main street, appropriately called "Walking Street" winds its way across most of the island, with many guesthouses, restaurants, and bars located on this street. There are a few, smaller alleys that branch off from it, but it is easy to walk around this island.
The other option is hailing a motor scooter and having them take you around. It is easy to find them on Walking Street or Pattaya Beach.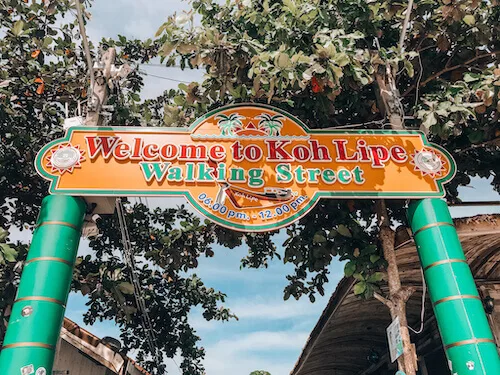 Where to Stay in Koh Lipe Guide | Koh Lipe Hotels | Koh Lipe Resorts
For an island that is relatively small, there are a lot of options for places to stay. From beach huts to luxury hotels, Koh Lipe has something for everyone.
There are three main beaches on Koh Lipe: Pattaya Beach, Sunrise Beach, and Sunset Beach. They all have their own personalities and features to enjoy.
Pattaya Beach Koh Lipe Guide
Pattaya Beach has the most bars and restaurants, but it is also the busiest beach. It is right off the main drag of Walking Street, and it is where all the ferries come in during the high season. This is a popular beach with a lot of options for accommodation and has late-night bars. So if you want to party, this is your beach, but if not, it can get noisy here. We did notice, however, that prices are more reasonable here per night than other parts of the island.
Where to Stay on Pattaya Beach
If you just want the basics: clean bed, air conditioning, coffee maker, and fridge, this is your place. While certainly not luxurious, for under $25 a night and 350 feet from the beach, it's not a bad deal.
Cost: $25 a night.
Read reviews and book on Booking.com | TripAdvisor | Agoda
Enjoy your own private villa on the beach here in Koh Lipe. The on-site restaurant includes free breakfast, and you have air conditioning, wifi, and you're on the beach for some amazing snorkeling. The bungalows are also gorgeous with large beds, cute artwork, and lovely, traditional, dark-wood floors.
Cost: $125 a night.
Read reviews and book on Booking.com | TripAdvisor | Agoda
Near the quiet part of Pattaya Beach, these villas have wifi, air conditioning, a pool with a bar, fitness center, free breakfast at their restaurant, a spa, and beach umbrellas to cool off under. For luxury in paradise, this is a great place to start.
Cost: over $200 a night.
Read reviews and book on Booking.com | TripAdvisor | Agoda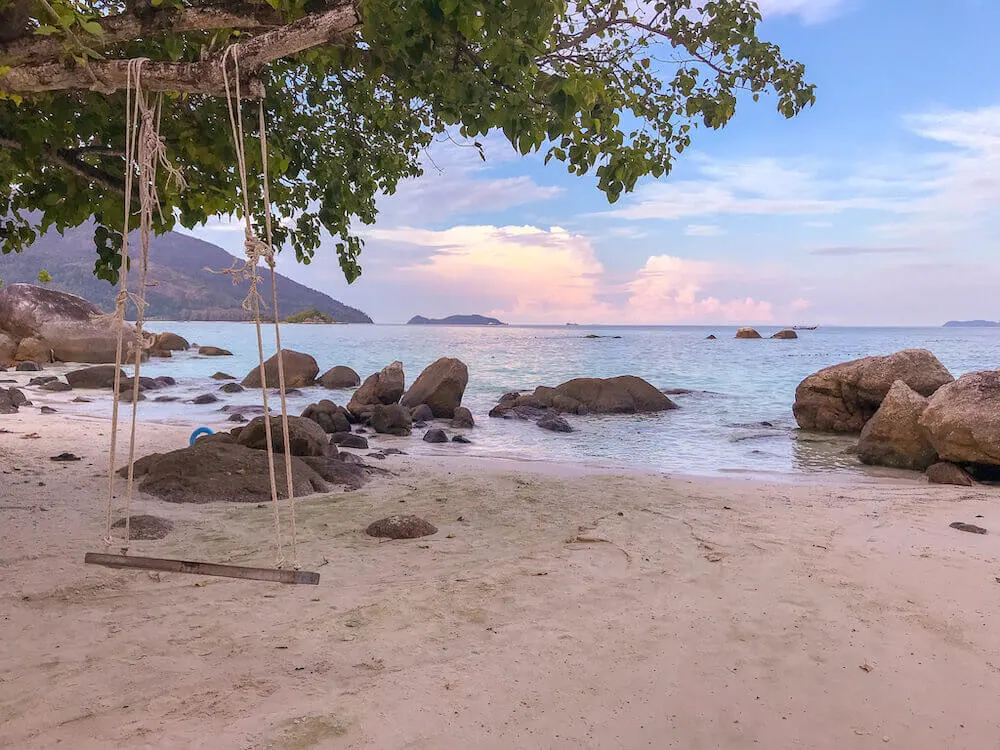 Sunrise Beach Koh Lipe Guide
Sunrise beach is our favorite. We stayed here during our honeymoon and loved how relaxing it was with the tiki bars nears the beach, the soft sands, and the stunning sunrises each morning. You can also witness the two little islands just off the shore, perfect for swimming or kayaking to and exploring. It's much more laid back and quiet on this part of the island, but the hotels are a little pricier.
Where to Stay on Sunrise Beach
If you'd like a beach bungalow on a budget, this is the place for you. While lacking in air conditioning, it is a two-story hut with the bed on the second floor, perfect for catching the midnight sea breeze. It also has a restaurant and bar and offers all of the comforts of home. They also have a dive shop and offer good discounts for divers who book through them and are staying at the resort.
Cost: $75 a night.
Read reviews and book on Booking.com | TripAdvisor | Agoda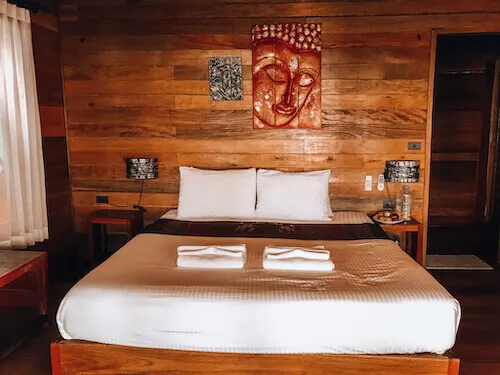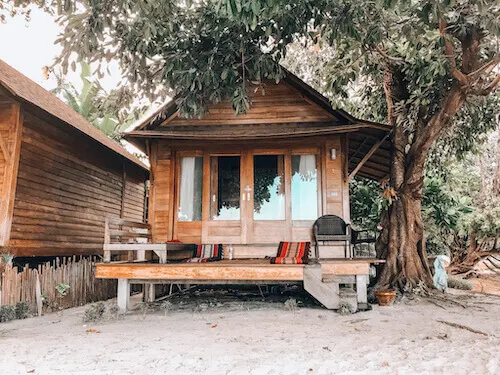 We loved Ten Moons Lipe Resort during our Koh Lipe itinerary. They offer bungalows that are directly on the beach and ones that overlook the whole scene and are built into the hillside. We stayed in both and couldn't decide which was better. The breakfast was amazing each morning, along with the cocktails that are buy one/get one half off during happy hour. They also had things for snorkeling, beach mats, and whatever we needed to play on the beach all day. It's also located on the quietest part of the beach, on the softest sand we felt.
Cost: starting at $175 a night.
Read reviews and book on Booking.com | TripAdvisor | Agoda
Another great option for a mid-range budget would be Idyllic Concept. More a hotel than beach bungalow, but the rooms are spacious and have stunning views of the water. There is also a pool overlooking the beach with a bar, another pool off the beach, a beach bar, and a restaurant to enjoy. They also have beach chairs and umbrellas for lying out, and luxurious suites with a balcony to relax on.
Cost: starting at $175 a night.
Read reviews and book on Booking.com | TripAdvisor | Agoda
Built into the hillside and next to Ten Moons on the quietest and softest part of the beach, this resort has some of the best views overlooking the water and adjacent islands. They offer spacious bungalows with plunge pools off the balcony, and even huge bungalows that are perfect for a family get together. They also offer room service and have an excellent, yet overpriced, bar. The breeziness of the hillside bungalows is perfect after lying on the beach all day.
Cost: starting at $300 a night.
Read reviews and book on Booking.com | TripAdvisor | Agoda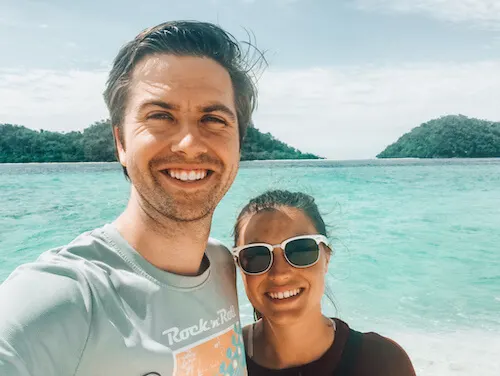 Sunset Beach Koh Lipe Guide
As they have a Sunrise Beach, they also have an appropriately named Sunset Beach. Located west of the island, this is the smallest and most remote beach. If you want to stay off-the-beaten-path where it is quiet, this is the place for you. The only issue with this part of the beach is that you'll have to walk a lot for bars and restaurants (unless you are fine with the same few during your stay), and there aren't a ton of options for accommodation. But if you really want to disconnect, this is a great spot.
Where to Stay on Sunset Beach For Your Koh Lipe Itinerary
These bungalows are pretty basic but do include air conditioning or a fan, clean beds, basic breakfast, small bathroom, and gorgeous views of the beach. It is within walking distance to the northern part of Sunrise Beach too, meaning you can go between the two easily and enjoy the best of both beaches.
Cost: $65 a night.
Read reviews and book on Booking.com | TripAdvisor | Agoda
Sawan Resort has gorgeous bungalows with all-wood everything. They also include air conditioning, free breakfast, a minibar, and all villas have a balcony with stunning beach views. You'll feel like you've got the whole island to yourself on this remote part of the beach. The resort includes beach chairs and umbrellas for perfect lounging or staring out across the sea at the neighboring islands.
Cost: starting at $115 a night.
Read reviews and book on TripAdvisor | Agoda
Stay on your own private beach just off Sunset Beach at this resort, complete with a swimming pool beachside, plus all the things you need for a beach day: snorkel equipment, kayak, and more. Enjoy the restaurant or order room service and enjoy the views from your own terrace. Some rooms even include a balcony tub, perfect for some soaking post-swim. Their front desk can also arrange tours and things for you while you relax and enjoy your beach time.
Cost: starting at $200 a night.
Read reviews and book on Booking.com | TripAdvisor | Agoda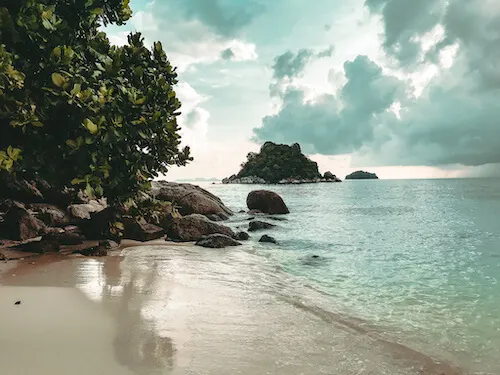 Best Things to do on Koh Lipe, Thailand
Now that you know where to stay, let's talk all about the things you can do on Koh Lipe.
Snorkel Tour
If you've got $40 you can rent a long-tail boat for the day and a captain to take you wherever you'd like to go. The Tarutao National Park is open until 5 pm, so bear in mind that you cannot stay out on the water or visit the islands after that time in order to protect the area. But you can go to various islands, or even select a snorkel tour that'll take you out to some of the best reefs around.
There are currently a few great snorkel group tour options you can book:
Snorkel Discovery:

Stay close to Koh Lipe and witness stunning coral reefs and abundant marine life
Visit these stops: Jabang, Koh Rawi, Koh Adang, and Koh Yang
Witness the island made of black stones that is Koh Hin Ngam
Cost: 865 baht ($28) per person
Includes mask, fins, snorkel, water, lunch, fruit, and life jackets
Departs at 9 am at the Golden Shrine
Ends at 5 pm
Far Island Explorer:

Visit some of the best snorkeling spots further from Koh Lipe
Also, visit neat areas like the strange rock formations at Koh Hin Sorn, see monkeys on Koh Dong, and the island made of black stones, Koh Hin Ngam
Visit 7 beaches and islands: Jabang, Koh Hin Ngam, Koh Hin Sorn, Koh Bulu, Koh Lugoi, Koh Dong, and Koh Pung
Cost: 1,400 baht ($45) per person
Includes mask, fins, snorkel, water, lunch, fruit, and life jackets
Departs at 9:30 am from Thai Beach Travelers Travel Shop
Ends at 4 pm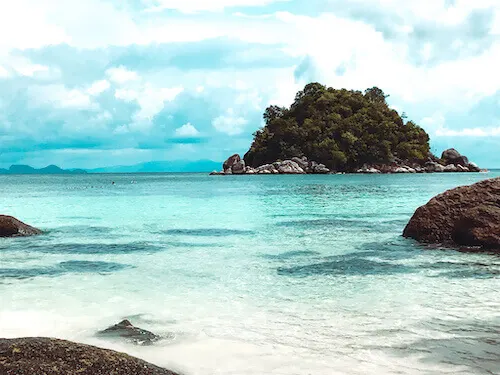 Snorkel Off the Beach
Grab some snorkel gear from your hotel and just snorkel right off the beach! There are corals everywhere and we found so much just by snorkeling here. Orange and white clownfish just bobbing between sea anemone, sea urchins tucked under coral, bright angelfish with scales that shone in the sun, and more! We loved spending the afternoons just exploring off our own beach.
Go Diving!
If you're a diver, this is the place to do it. With reefs that are still abundant and healthy, it is a treasure to be able to dive deep in these clear blue waters. Whether you want to go with a professional and try a fun dive or get full-on PADI certified, this is the best place to do it!
Some great dive shops include:
Sunrise Beach: Castaway Divers and Adang Sea Divers
Walking Street: Forra Dive and Liveaboard (3 locations including Sunrise and Pattaya beach) and Koh Lipe Diving
Pattaya Beach: Ocean Pro and Davy Jones Locker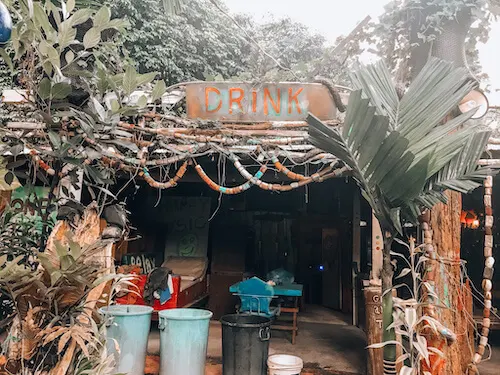 Explore the Island
Koh Lipe may be tiny, but there is plenty to explore! Try out all the amazing restaurants and bars, or wander the streets, finding tucked-away places.
Get a massage
If there is the perfect place to get a massage, this is it. Get beachside couples massages and feel utterly relaxed while listening to the sounds of the ocean during your massage. The prices for this are the same across the island and range from 300-500 baht ($10-16) per person based on what kind of massage you're getting (feet, whole body, etc.).
Koh Adang Viewpoint
Across from Koh Lipe is Koh Adang. Take a boat there and go hiking! Head up to the viewpoint and see this gorgeous marine park laid out before you. See Koh Lipe from above, and enjoy this slice of paradise.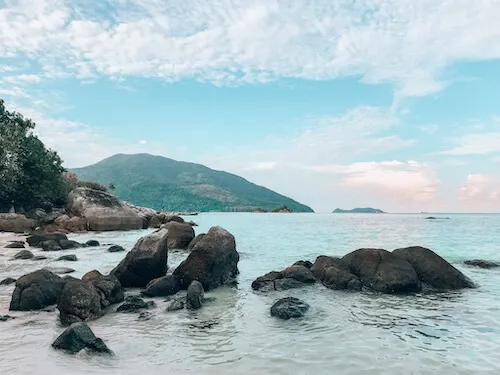 Beach Hop
Koh Lipe is highly walkable, meaning you can spend a day just exploring the beaches of the island. Start out the day on Sunrise Beach, taking in the gorgeous sunrise, snorkel near Ten Moons, and enjoy a great breakfast. Then, head to Pattaya beach for day drinking and beach lounging in the afternoon sun before popping over to Sunset beach for a sundowner cocktail and a gorgeous sunset.
Beach Clean-Up
Every Monday at 10 am starting on Pattaya Beach, you can join Trash Hero and make Koh Lipe beautiful. Over tourism around Southeast Asia has caused harm to coral reefs and the environment as a whole. Trash Hero not only makes the beaches cleaner but keeping the trash on the beaches from going into the ocean means these coral reefs are here to stay and stay healthy.
Where to Eat and Drink on Koh Lipe, Thailand
Something that surprised us was how much good food and drinks there were on Koh Lipe. While more expensive than mainland Thailand, the food was still fairly cheap and the drinks were amazing. Here is where to eat and drink on Koh Lipe:
Where to Eat on Koh Lipe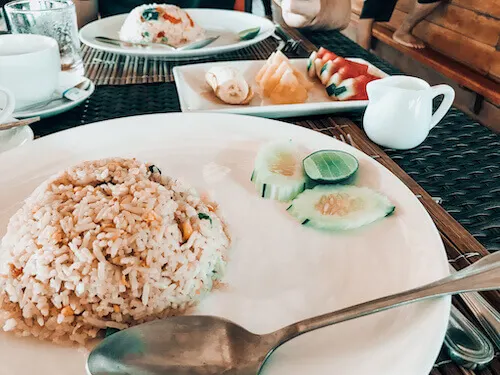 Ten Moons
Aside from its amazing breakfast including fresh juice, fried rice, eggs, fresh fruit, banana pancakes, and even more choices, it has great meals for lunch and dinner too. Since we stayed here, we did eat here often, but the food was really tasty! We ordered the paella the last night and it was divine and perfect for splitting as a couple. We also enjoyed their pizzas during the day, and they have a great buy one/get one half off happy hour special.
Castaway
Also on Sunrise Beach, we loved their veggie burger and crab pad Thai. We ordered the papaya salad too, and it was good but extremely spicy! We washed it all down with some Chang beers and enjoyed the views of the sea while eating.
Madame Yoohoo
This little restaurant on Walking Street has an extensive menu full of traditional Thai cuisine. We loved the shrimp pad Thai with an egg wrap and her famous crepe/roti pancakes! We ordered the banana and peanut butter pancakes and enjoyed each bite.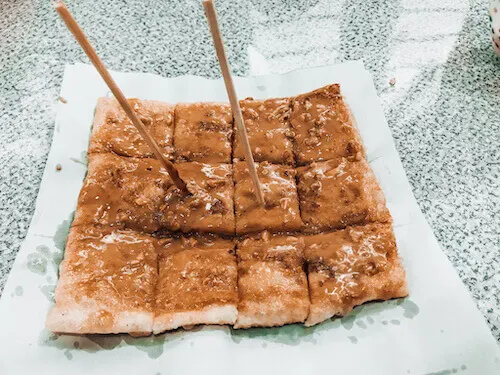 Sunrise Beach Restaurant
Maybe it was a theme of ours, but we ate a lot of Pad Thai. But this was the best… and I mean the best we had in Thailand, not just Koh Lipe. We also ordered their amazingly fresh tom yum soup and ate every last bit of it. Chris also got the Penang curry and it was divine!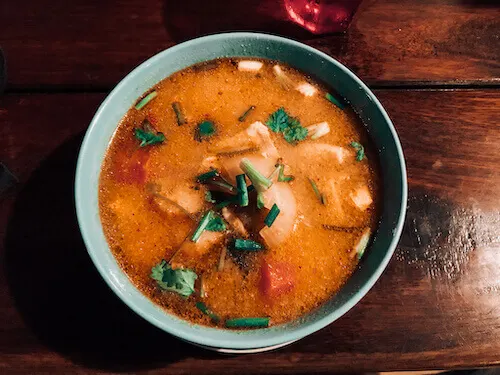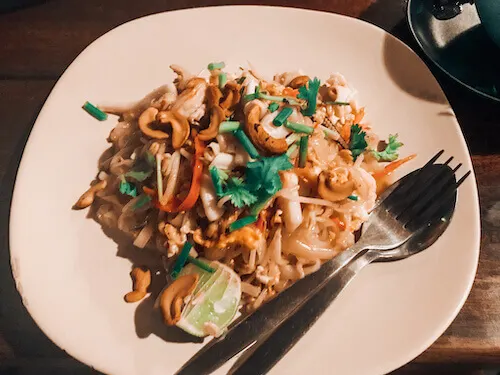 Bombay India
If you start getting sick of Thai food, a thing we did not think was possible until we ate nothing but Thai food for two weeks straight, this place is fantastic. Start with the samosas then get all the fresh made traditionally garlic naan. Pair it with one of their curry dishes and you'll be so thankful you took a break from all of the Pad Thai.
Where to Drink on Koh Lipe
Sea La Vie
For delicious drinks with a delightful bartender, head to Sea La Vie. This bar is made from an old long-tail boat and has all the tropical vibes that go with it. Order any tropical drink you'd like and have a chat with the bartender. He's lived here for several years to have a slower pace of life. While the island has changed over time, it still is a place to slow down.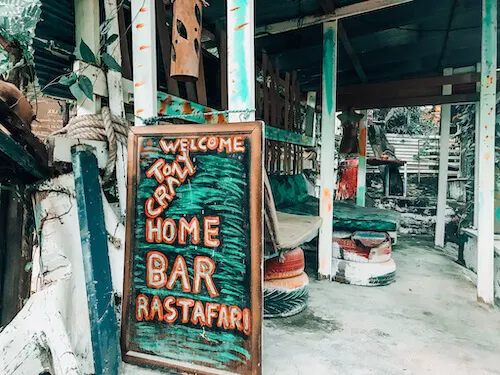 Home Bar
This was our absolute favorite bar on Koh Lipe. Located on the way to Sunset Beach, this bar is tucked away in what little jungle there is on the island. You definitely have to search for it, but it is so worth it. This open-air bar is full of junk that the owner and bartender, Nor, found around the island. Nor is a legend who has seen and done it all it seems. He will sit and tell you stories for hours in between making his killer cocktails. Learn some life lessons and advice from a man who was the third person on the island.
Serendipity Resort
While most of this place seemed overpriced, especially the subpar dinner, it is the best place for a drink and to take in the views. Order a few beers and watch the daylight turn into dusk while perched upon the hillside of the island.
Happy Vibe Bar
For a tiki bar with amazing drinks and on the beach, this is the place to go. Enjoy a drink during the day or party it up at night here.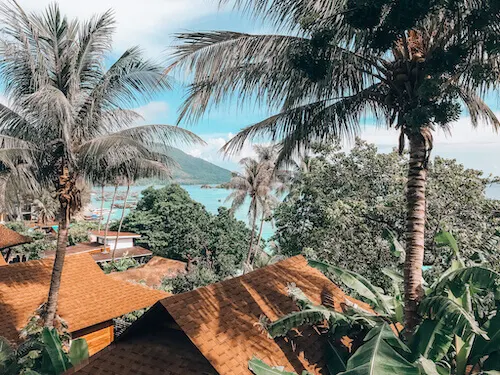 Budget for Koh Lipe Guide
Koh Lipe may not be a budget backpacker destination, but it certainly is perfect for those looking for a romantic getaway. With that being said, let's break down a perfect budget for a 5-day (4 days/4 nights plus getting to/from the island) trip to Koh Lipe, Thailand.
Transportation to/from Island: $80-$200 per person depending on just getting ferry or flight/ferry/shuttle round-trip.
Hotel: $50-250 per night
Activities: $25 per person per day
Food and Alcohol: $25 per person per day
Per Day Cost: $150-350 with a hotel for two people.
Total Cost with Round-trip to/from island: $760-$1,800 for two people, with $760 being on a budget, $1,200-$1,400 more mid-range, and $1,800 for luxury.
Some of these costs depend on what time of year you visit as well. If you visit during the rainy season, chances are the hotel and maybe even food prices will drop versus high season. The costs above are about average during that time.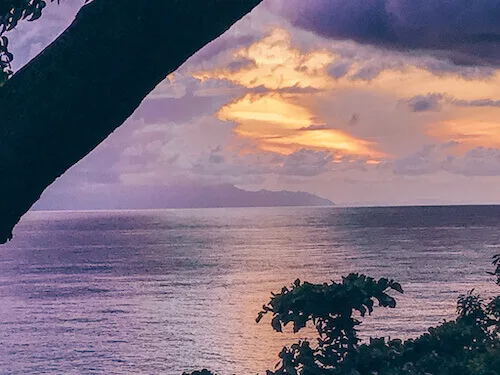 The Perfect Koh Lipe Itinerary for 5 Days
Now let's lay out a perfect Koh Lipe itinerary:
Day 1:
Depart Bangkok or your prior destination and arrive in Koh Lipe mid-afternoon
Take a boat to your hotel
Enjoy a good happy hour cocktail, dip your toes in the sand, and have a lovely evening taking in the sites from your hotel
Stroll along the beach
Dinner at your hotel or Ten Moons
Day 2:
Breakfast at the hotel
Borrow some snorkel supplies and start snorkeling right offshore! We loved the area by Ten Moons and Serendipity, as there were so many little fish to see!
Explore Walking Street for a tasty lunch at Madame Yoohoo's or Bombay India
Head back to the beach for some sea kayaking and exploring the islands close by (perhaps visit Koh Adang Viewpoint)!
Get an afternoon beach massage
Happy hour at Ten Moons
Drinks at Sea La Vie
Dinner at Sunrise Beach Resort
Drinks after dinner at any tiki bar on the beach
Day 3:
After breakfast, head out on a snorkel tour or dive tour
Arrive back mid-afternoon, in time for a little beach exploring
Head to the interior of the island to Home Bar for drinks before dinner
Dinner at Castaway
Get some final drinks at your hotel before turning in
Day 4:
Today is all about relaxation
Grab another beachside massage
Beach hop around the island
Happy hour on Sunset Beach and watch the sunset
One last dinner at your hotel or Ten Moons
An early night prior to departing
Day 5:
Enjoy one last gorgeous sunrise
Get one more banana pancake
Board your speedboat back to the mainland and off to your next destination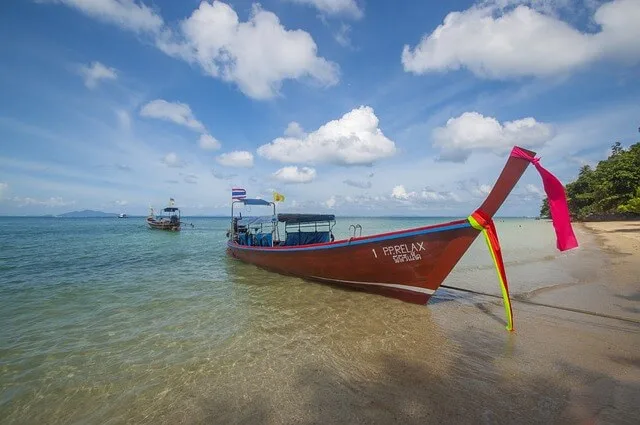 Other Items to Note About Koh Lipe
The biggest thing to note about Koh Lipe is while there are amazingly abundant coral reefs, they are also super delicate and vulnerable. Please follow the instructions on the beach and do not snorkel with fins during low tide, do not touch the corals, and just be careful around corals in general. Pick up your trash, and limit single-use plastics. Many hotels no longer provide plastic straws and also have drinking water provided in your room that you could fill up a water bottle with.
Lastly, it is so important to have reef safe sunscreen that doesn't harm coral reefs. We absolutely love Badger Balm, as their sunscreen is reef safe and all-natural. They even sell an all-natural mosquito repellant too for when mosquitos come out at night and it actually works amazingly! Purchase these here:
Also, don't forget about travel insurance. We love World Nomads for its easy to understand plans and covers a wide variety of activities! We don't travel internationally without it.
Koh Lipe has a lot to offer. If you're a fan of snorkeling or diving, or just lying on the beach all day, this is the perfect place for relaxation and enjoying the ocean. So whether you're coming here for a honeymoon or couples getaway, definitely add Koh Lipe to the top of your list. Rather than waste months trying to figure out where to go, go here. This slice of paradise is perfect for your dreamy island getaway.
Have you been to Koh Lipe? What questions do you have about it? Would you visit here? Let us know in the comments!
Love this post or want to save for later? Pin it here!