Some posts on this site contain affiliate links, meaning if you book or buy something through one of these links, I may earn a small commission (at no additional cost to you!). Read the full disclosure policy here.
---
Thailand is truly a beautiful country. From exciting cities and jungles to stunning, crystal-clear beaches, you'll find something to fall in love with here. And even if you only have 10 days in Thailand, you have plenty of time to see and do all of the main highlights! When it comes to the perfect Thailand itinerary in 10 days, we've got you covered!
During our 3 weeks in Southeast Asia, we made sure to carve out time to see the best of Thailand, and we're here to show you how to do the same.
In just that amount of time, you can spend a day or two in the capital city of Bangkok, visit an island, and even have time for a trip up north. We want to show you that yes, 10 days in Thailand is more than doable to get a great mix of food, culture, and fun!
Psst….check out an episode (or two) about Thailand on our podcast!

First Things First: Getting To Thailand
Thankfully, a 10-day trip to Thailand is not too difficult to manage, as Thailand is relatively easy to get to. With a huge international airport and hub in Southeast Asia, you'll likely fly into Bangkok's Suvarnabhumi Airport from various places around the world. This airport has thousands of flights per day with airlines including Thai Airways, Turkish Airlines, Etihad, KLM, Japan Airlines, Air France, China Eastern Airlines, British Airlines, and so much more.
If you're flying from other places in Southeast Asia or flying around Thailand, you'll likely fly into the Don Mueang International Airport. This serves airlines like Air Asia, Nok Air, Scoot, etc.
Pro-tip: We love checking Skyscanner for the best flight prices in and out of Thailand! And if you have airline miles, why not aim to fly business class? We saved up points thanks to 3 travel credit cards and flew round-trip from the US to Thailand in business class for only $60!
Getting Around Thailand
After that, getting around to various places in Thailand can include taking a discount airline like Nok Air or Air Asia to fly to Chiang Mai or to the beaches. As you only have 10 days and 10 nights in Thailand, I would suggest flying, as it is a much quicker option. Also, flights are super cheap! We managed to find flights on Skyscanner around Thailand for only $30 per person or less!
For those who would like to, you can also take the train to certain places in Thailand. I would suggest overnight trains if you can as you can sleep on the train versus wasting a day of travel if you only have 10 days in Thailand. Check train times and prices on 12GoAsia!
And lastly, for the really slow travelers, you can always take the bus around the country. Check bus times and schedules here. It is really cheap and slow, which I definitely don't recommend for a 10-day tour of Thailand, but if you have 2 weeks in Thailand or more, then go for it!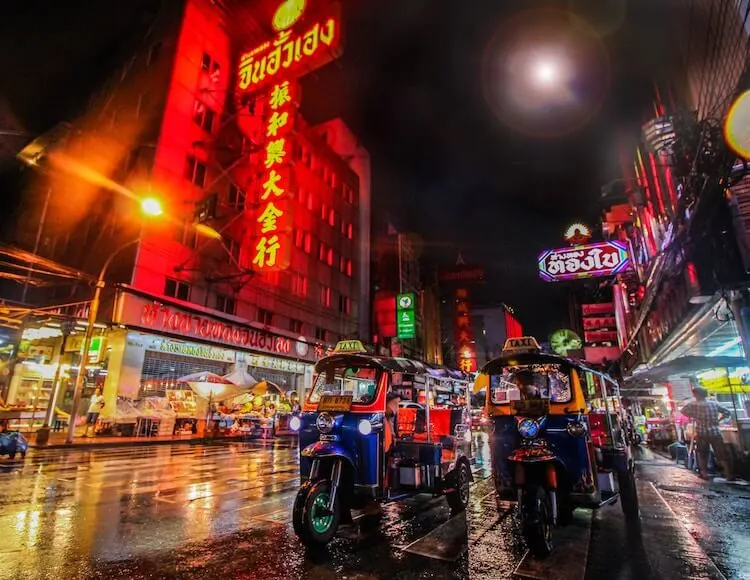 The Perfect Thailand Itinerary in 10 Days
When it comes to what to see in Thailand in 10 days, this is your ultimate Thailand guide including Bangkok, Koh Lipe, and Chiang Mai!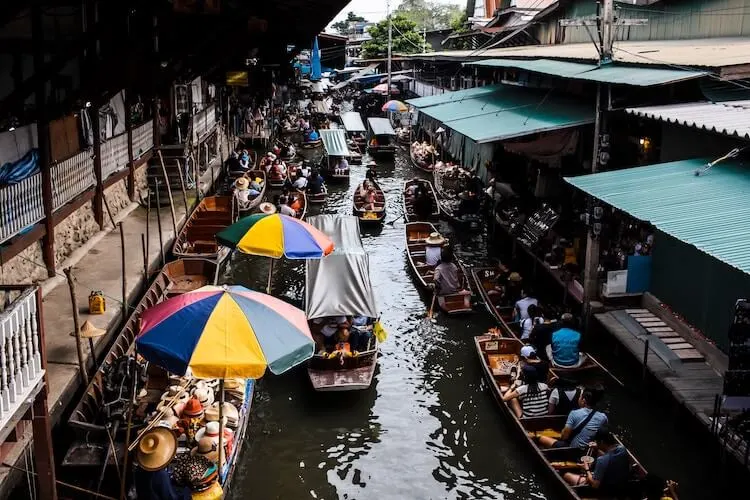 Days 1 & 2: Fly to Bangkok to Start Your Thailand Itinerary
Chances are if you are flying in from anywhere in the world, you'll likely find the best prices flying to Bangkok. So start off your Thailand travel itinerary with Bangkok!
Being the world's most visited city, a Bangkok, Thailand itinerary stop is necessary. I wouldn't suggest spending too much time here, though. If you have more than 10 days in Thailand, this would be a city to spend an extra day in to explore, but with a limited time frame, you'll want to save time for a beach destination as well as exploring Chiang Mai!
Pro-Tip: Bangkok is HUGE! Like it is likely you'll get lost and have no clue where to start in this overwhelmingly chaotic place. Which is why I highly recommend going with a guide. For $110 per group (up to 4 people), you can hire a guide from Get Your Guide that you can work with to have them show you around for 8 hours in Bangkok and guide you to the best sights. They are English speaking, and the tour includes a personalized tour from the guide and pick-up from your hotel. I mean just having someone show you where to go is pretty great enough, right?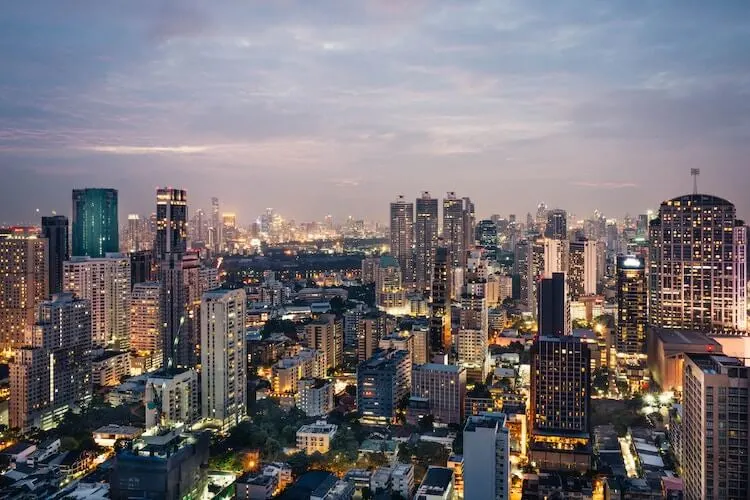 Top Things to do in Bangkok in 2 days:
Visit the stunningly beautiful temples like Wat Pho (Reclining Buddha) and Wat Arun (gorgeous around sunset), etc.
Head to the Grand Palace and see Wat Phra Kaew (Temple of the Emerald Buddha)
Adore the sunset on a Chao Phraya River cruise
Visit the amazing markets like Damnoen Saduak Floating Market and Maeklong Train Market on a fabulous guided tour for the best food!
Take a really fun food tour on tuk-tuk at midnight! This also includes a fabulous stop at a flower market!
Go to a ladyboy show on Khao San Road!
See a Muay Thai traditional boxing fight.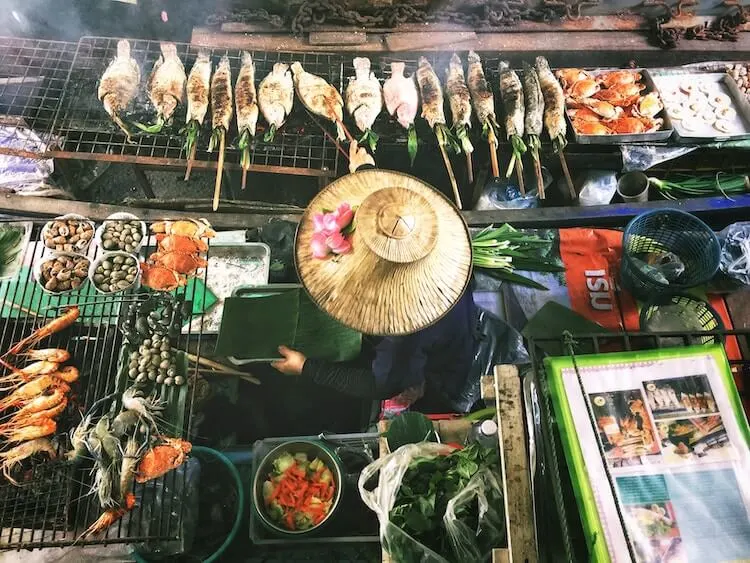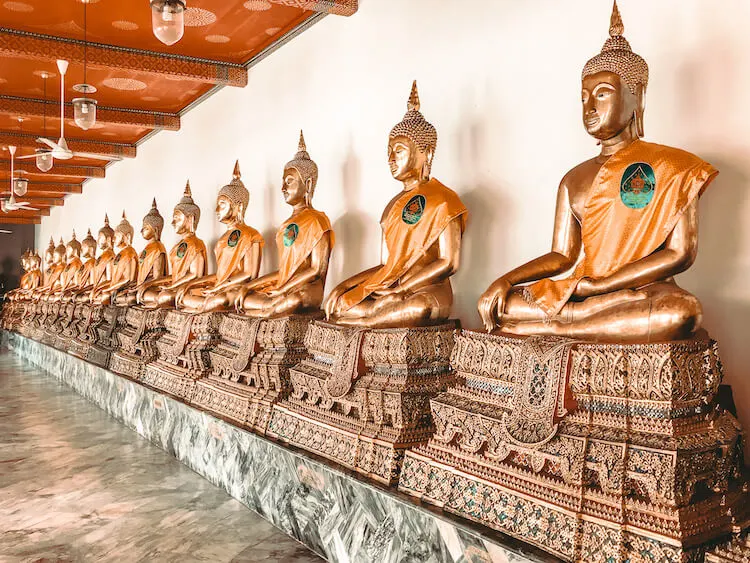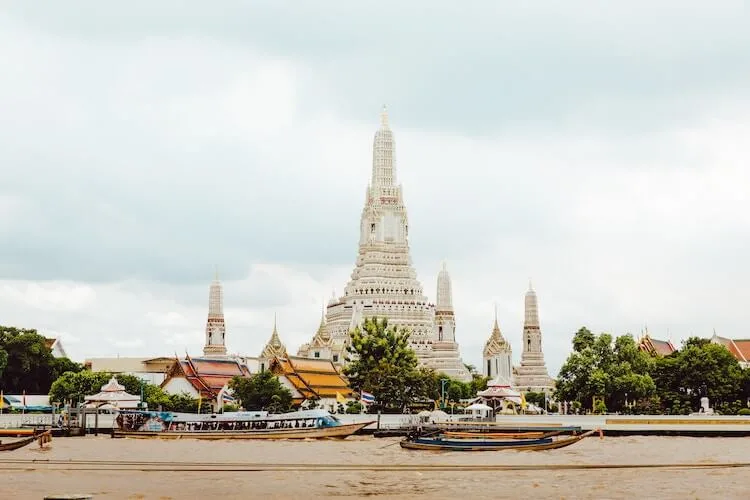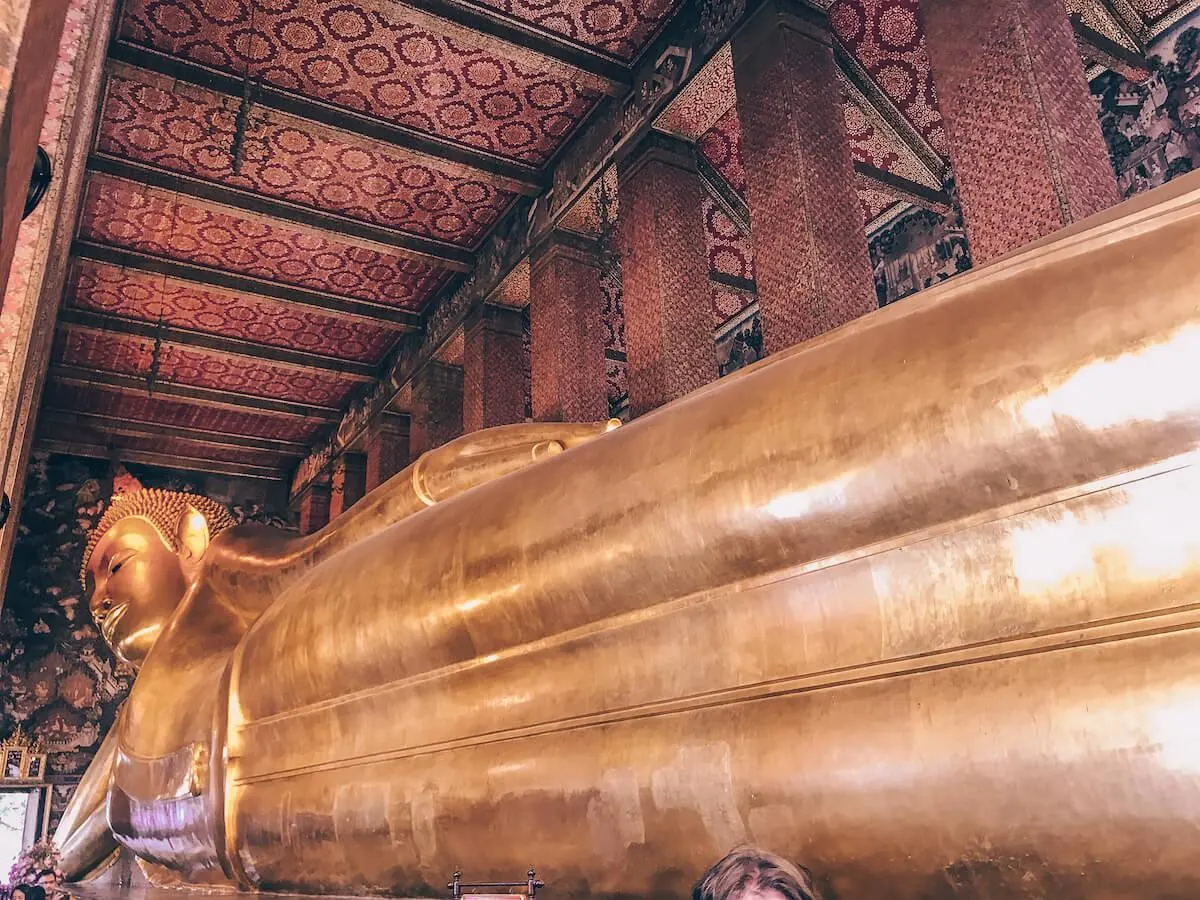 Practical Tips for Visiting Bangkok:
The Grand Palace hours are 8:30 am-3:30 pm daily and the cost of entry is 500 baht or $16.50 (this includes entry to the Temple of the Emerald Buddha).
Wat Pho hours are 8:00 am-6:30 pm daily and costs 200 baht ($6.60) for entry.
Wat Arun hours are 8:30 am-5:30 pm and entry is 30 baht ($1).
To avoid crowds at these super popular temples, go early! As soon as it opens early!
In temples, be sure to dress appropriately. This means covering shoulders and knees. I wore this fantastic maxi dress with Keds to wander around the city and Chris wore his linen pants and a t-shirt with Oofos. Note that you'll have to remove your shoes before entering temples so wear easy to get on and off shoes.
Beware of scams! Bangkok is notorious for people getting scammed. A popular one is someone telling you that the "Grand Palace is closed." They offer to take you elsewhere, drive you around town, and then bully you into buying gems or something absurd. Basically, yes Thai people are friendly, but be wary of any overly friendly locals who speak English perfectly coming up to you and offering help.
Why waste time in traffic? Take a boat! There are canals in Bangkok and it is so much quicker to take a boat ride around instead of sitting in traffic. We did this to get to the Grand Palace from the Sukhumvit area and it took far less time! Also, Bangkok has a Skytrain (BTS) to help you zoom around quickly!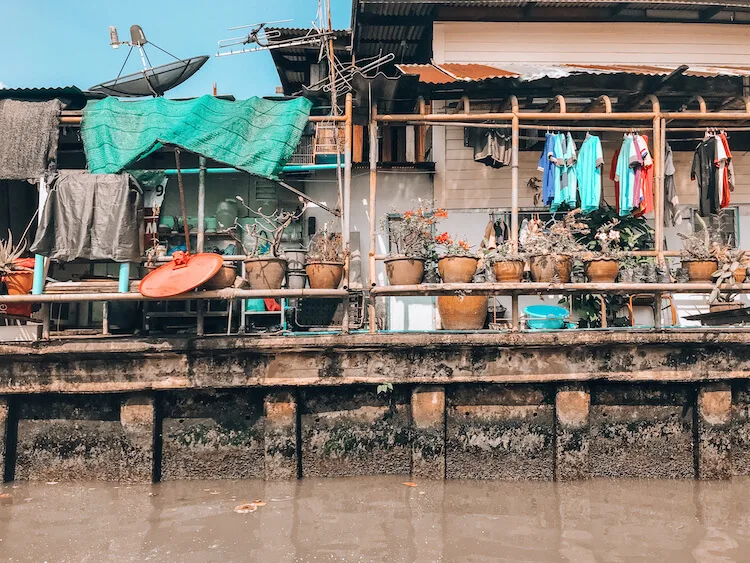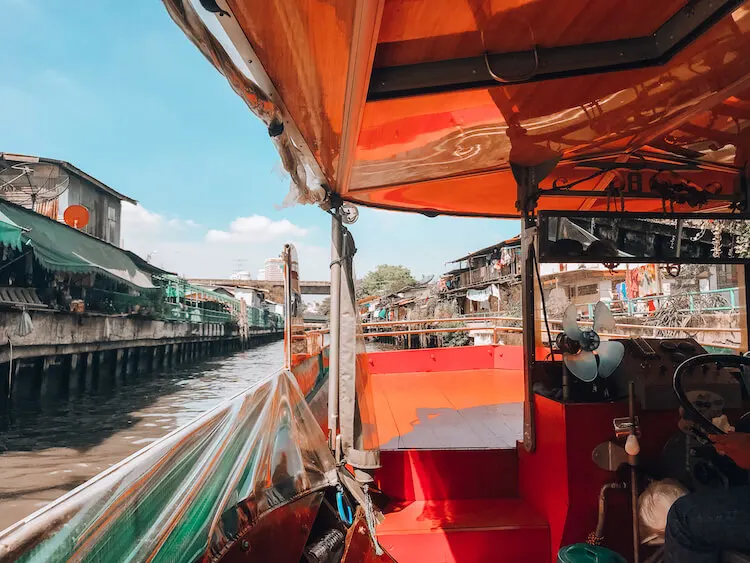 Where to stay in Bangkok:
There are tons of neighborhoods to choose from in Bangkok, but if you want to be near all the action, the Khao San road area is for partying and where the backpackers go. If you want to see a trendy neighborhood with malls and good eateries, check out Sukhumvit, and if you want the ultimate luxury, stay on the other side of the Chao Phraya River.
Budget: Tara Place
For only $30 per night, this place offers a lot. First of all, it is within walking distance to Khao San Road and Rambuttri Road, two popular spots, but far enough away that you aren't up all night from loud music playing on those streets. Also, they offer a free tuk-tuk to the Grand Palace and Wat Pho. This new hotel is clean and comfortable too with beautiful rooms and A/C.
Read reviews on TripAdvisor and book on Booking.com!
Mid-Range: Dream Bangkok
Dream Bangkok is dreamy. With impeccably designed rooms and lobby, you'll love this hotel in the heart of the trendy Sukhumvit neighborhood. They also have a lovely outdoor pool to cool off on those hot Bangkok days, a bar/lounge, and a spa. The cost is around $70 per night.
Read reviews on TripAdvisor and book on Booking.com!
Luxury: Chakrabongse Villas
Have your own luxury oasis in the middle of Bangkok along the Chao Phraya River. With great views of the city and Grand Palace, you'll enjoy the luxury villas, drinks or dinner along the river, and the peaceful pool and garden. For the cost of around $180 per night, this could be yours.
Read reviews on TripAdvisor and book on Booking.com!
Days 3-6 of Your 10 Day Thailand Tour: Get on Island Time on Koh Lipe
After the chaos of Bangkok, it is time to slow things down. And by that, I mean by going to the beach!
We fell head over heels for Koh Lipe during our time there, and this laid back tiny island off the coast of Thailand is perfect to unwind, snorkel or dive, and enjoy some rest and relaxation during your 10 day Thailand itinerary.
As far as getting to Koh Lipe, you'll fly from Bangkok to Hat Yai, the closest airport. The cost to fly is only around $30 whether you fly Nok Air or Air Asia. Either way, be sure to pick an early flight out, as you'll want to be able to catch the shuttle at 9:30 am and ferry over to the island.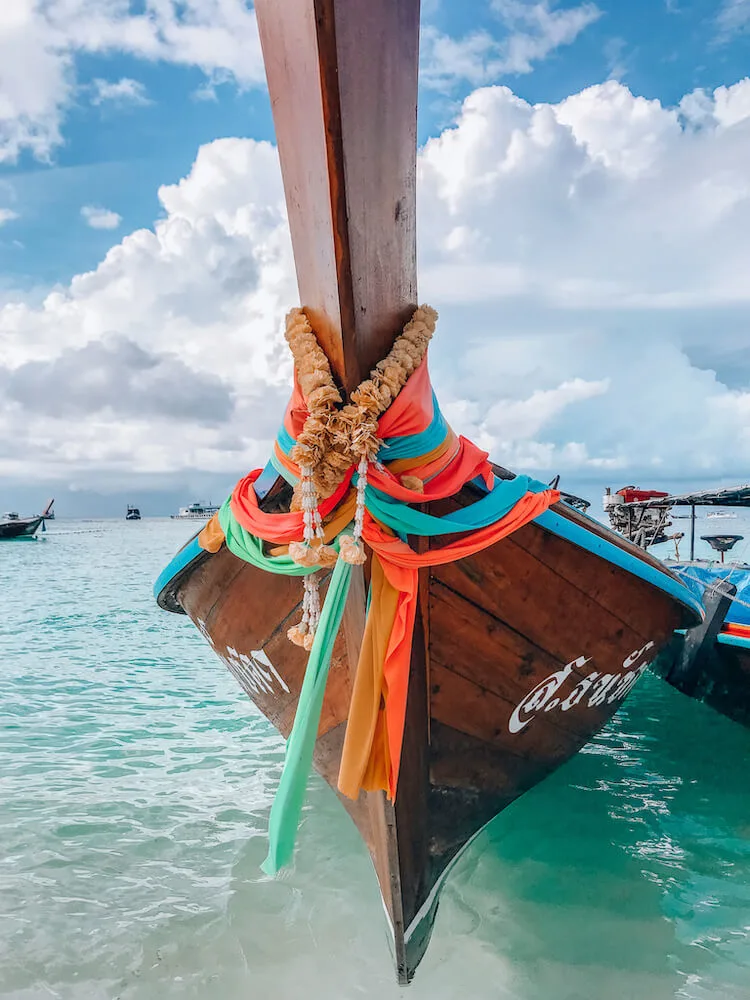 Pro-tip: Book your shuttle from the airport and ferry ahead of time on 12goAsia! The cost is about $30 per person, per way.
From the Hat Yai airport, you'll catch the early shuttle that takes about an hour and a half to get to Pak Bara Pier, and then you'll hop on a 3.5-hour ferry to Koh Lipe.
This should put you on Koh Lipe around 1:30-3 pm and you can enjoy the day with a bit of snorkeling and finding a fun happy hour!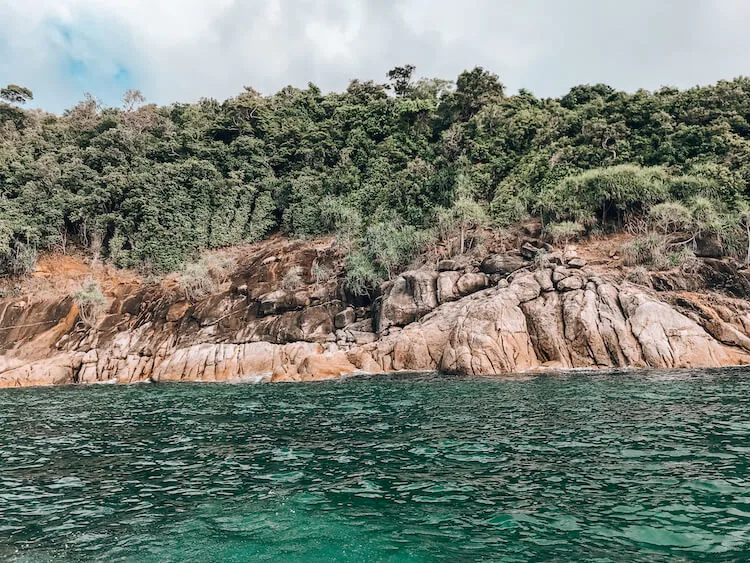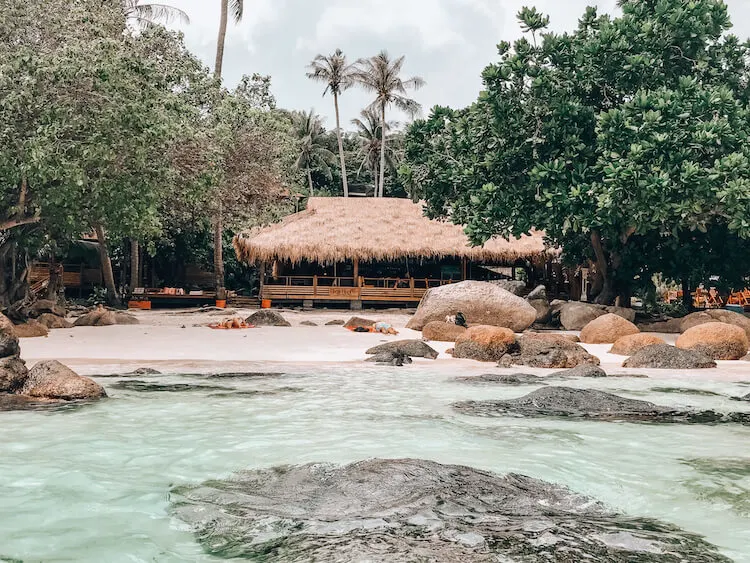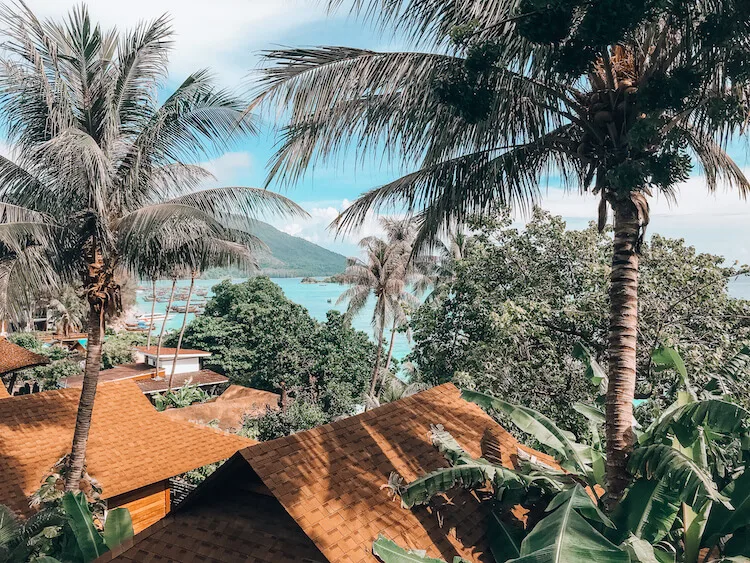 Top Things to do on Koh Lipe:
I have a whole blog post regarding the perfect itinerary for Koh Lipe and everything you'll want to do, but here is a quick reference list!
Take a snorkel tour of the surrounding islands and reefs!
Go diving along the gorgeous reefs
Kayak around the island and even the smaller islands
Explore the beautiful island, including the amazing eateries and beachside bars
Get a beachside massage
Visit Koh Adang viewpoint
Beach hop on Sunrise, Sunset, or Pattaya Beaches
Do the environment a favor and do a fun

beach clean up

!
Relax– it's a vacation after all!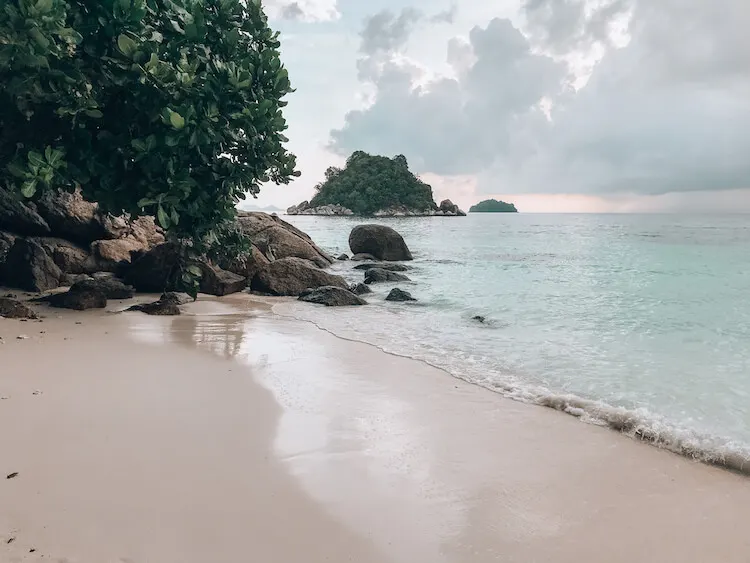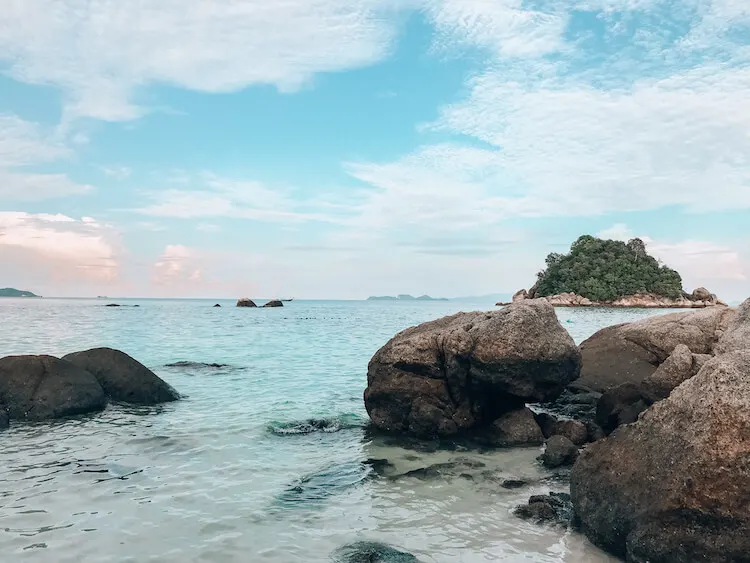 Practical Tips for Visiting Koh Lipe:
You cannot take a snorkel or dive trip past 5 pm as the Tarutao National Park is only open until then.
When you arrive, you'll have to pay 200 baht ($6) per person to enter the Tarutao National Park as Koh Lipe is located here plus 50 baht ($1.60) per person for a long tail boat to take you to your hotel from the ferry.
Pack your bathing suits! I love this one-piece that I wear all the time and Chris is a fan of his swim trunks.
Sunscreen is key. So is bug repellant. Don't forget these essential items during your time at the beach otherwise, you'll be itchy and burnt. The mosquitos are ruthless at night! I love this all-natural environmentally safe sunscreen to keep you safe from the sun's rays but also will keep the coral reefs safe. For mosquito repellant, get Badger Balm. This is our favorite all-natural and DEET-free roll-on repellant that we use from Southeast Asia to Peru.
This is not a party island. It is perfect for relaxing and having a few drinks by the beach at night, but if you're looking for a full or half-moon party, this is not the place.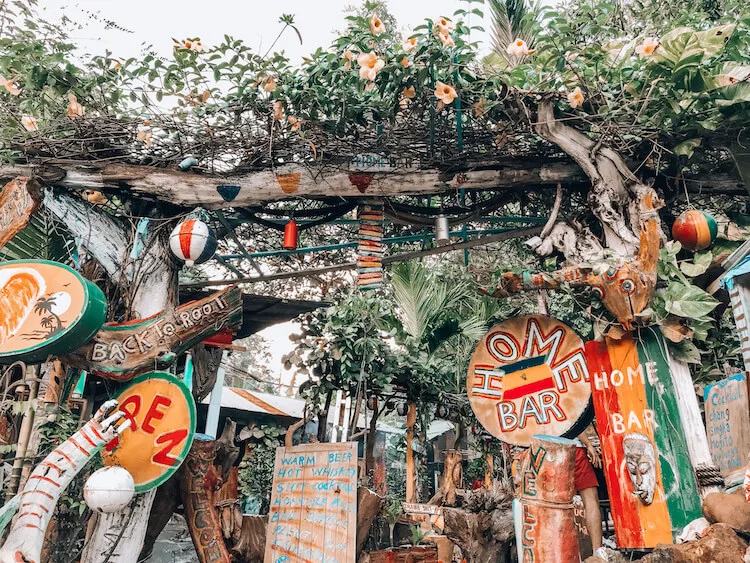 Where to Stay on Koh Lipe:
There are three main areas to stay at on Koh Lipe: Sunrise Beach, Sunset Beach, and Pattaya Beach. While I discuss all three beaches (and the best hotels to stay at on each) in my Koh Lipe guide, my favorite beach is Sunrise Beach for the softest sand and it is quiet.
Budget: Castaway Resort Koh Lipe
For those on a budget, these beach bungalows are absolutely perfect. The bedroom is on the second floor, so while there isn't A/C, you'll catch a big breeze here! And if you're here to dive, this place has great discounts for people staying with them! At only $75 per night, it is a great way to be right on the beach.
Read reviews on TripAdvisor and book on Booking.com!
Mid-Range: Ten Moons Lipe Resort
This is where we stayed and LOVED it. We had our own little beach bungalow, steps from the sea. We woke up and ran into the ocean each morning we were staying there! On the last 2 nights, we also stayed in the hillside bungalow that had incredible views. This place is located on the best part of the beach with its own private beach (shared with Serendipity Resort), free breakfast each morning with great food, and a killer happy hour. The prices were around $175 per night.
Read reviews on TripAdvisor and book on Booking.com!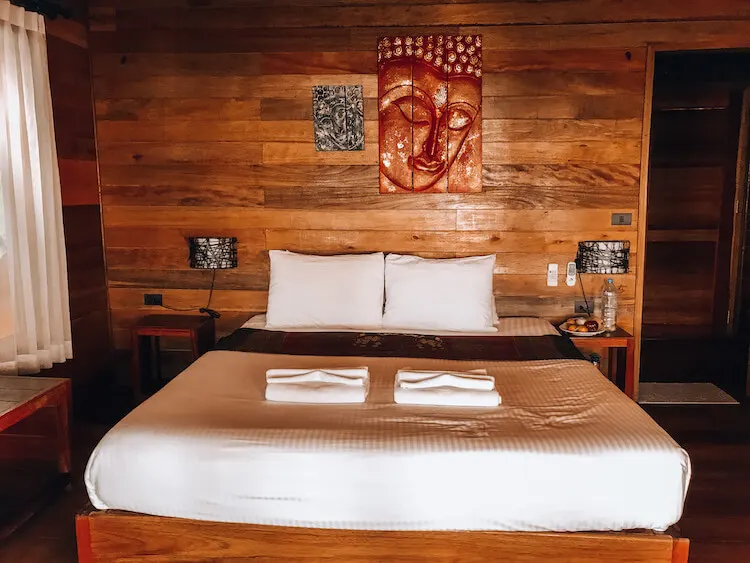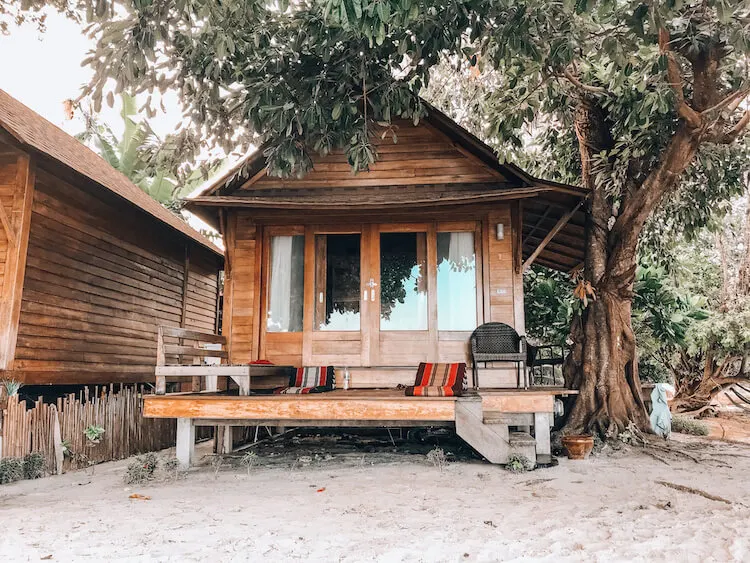 Luxury: Serendipity Beach Resort
Right next to Ten Moons is this place, where you can have your own private plunge pool when the beach just isn't enough. With room service, a great bar, and fantastic views of the Andaman Sea, you'll never want to leave. This is priced around $300 per night.
Read reviews on TripAdvisor and book on Booking.com!
Days 7-10 of Your Thailand Holiday: Explore the North of Thailand in Chiang Mai
On day 7 you'll find yourself slowly slipping into life in Thailand. But now it is time to check out Thailand's best city: Chiang Mai! I have a whole guide about Chiang Mai in 4 days, including where to stay, eat, and play, but here is a rundown for visiting Chiang Mai!
As far as getting to Chiang Mai from Koh Lipe, you'll take an early ferry (around 9:30 am) to the Pak Bara Pier, then the shuttle to Hat Yai airport. You should arrive around 1 pm, but be sure to schedule your flight around 3 pm or later just in case. The cost for the ferry and shuttle is around $30 per person and the flight on Air Asia is about $65 per person.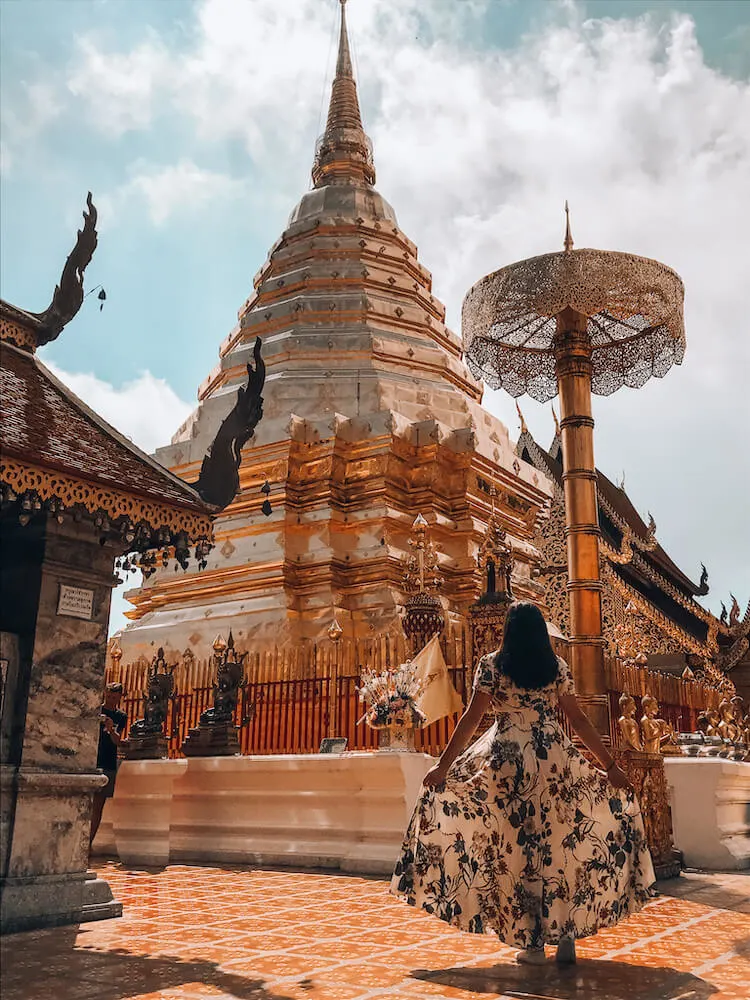 Top Things to do in Chiang Mai:
Again, refer to my post that talks about all things Chiang Mai, but here is a quick reference of things to do during your time here:
Explore the Old City with temples, eateries, bars, and more
Visit the Chiang Mai Sunday Walking Street market on Sunday for all the food and trinkets you could ever want
Check out the Chiang Mai Night Bazaar for souvenirs and tasty treats
Visit one of many adorable boutique shops in Chiang Mai
Get a massage
Enjoy all of the incredible cafes and coffee shops
Visit Doi Suthep
Eat all the Khao Soi!
Take a fantastic day trip! Our favorites included Elephant Nature Park and Thai Farm Cooking School.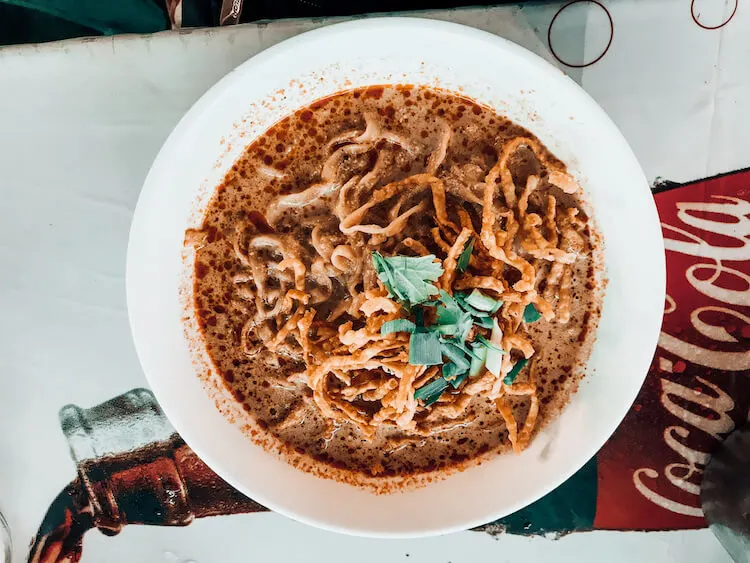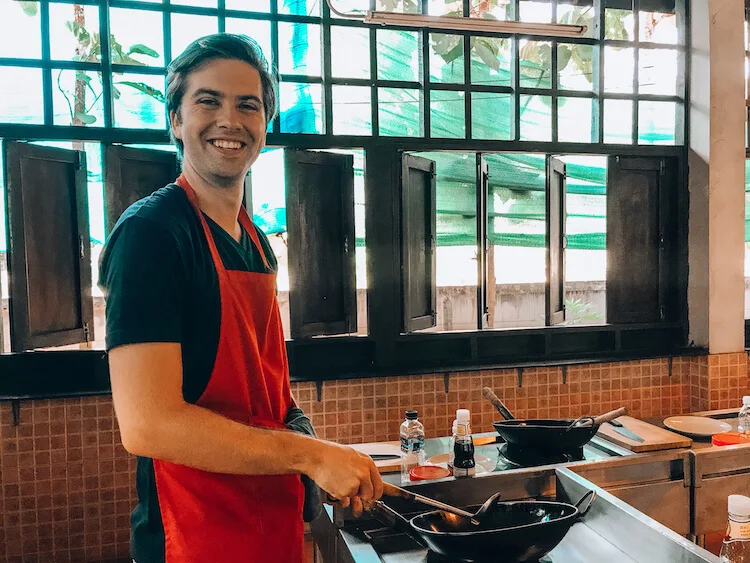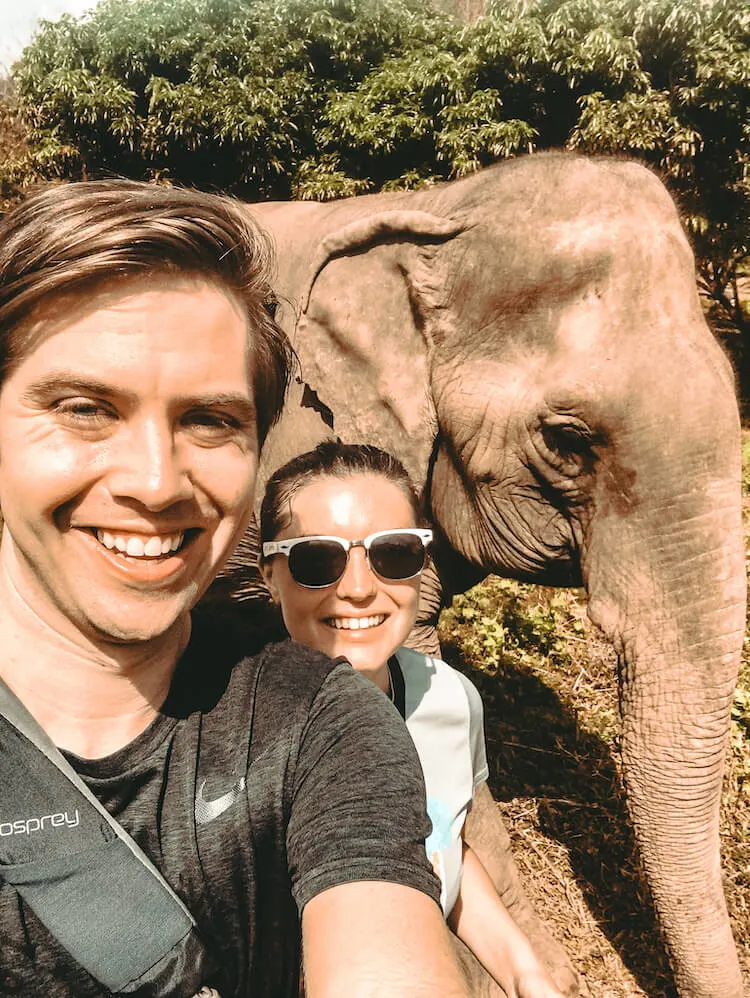 Practical Tips for Visiting Chiang Mai:
If you only have 3 full days in Chiang Mai, I'd opt to stay in town and explore for the first day, and then do Elephant Nature Park and Thai Farm Cooking School the following days.
Remember to dress appropriately for the temples during the day exploring the Old City.
Chiang Mai is super walkable, so you could get to many places on foot. However, tuk-tuks are super cheap to get across town!
The main dish to order in Chiang Mai is Khao Soi- and the best spots include Khao Soi Kad Gorm and Khao Soi Mae Sai.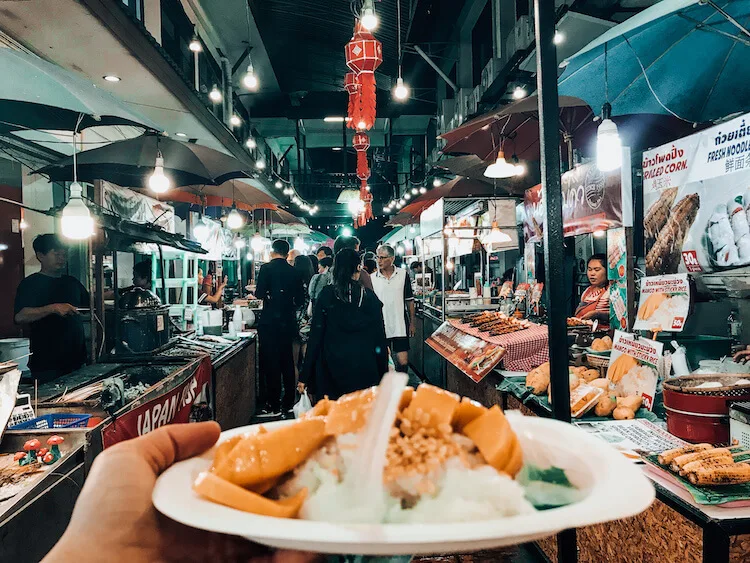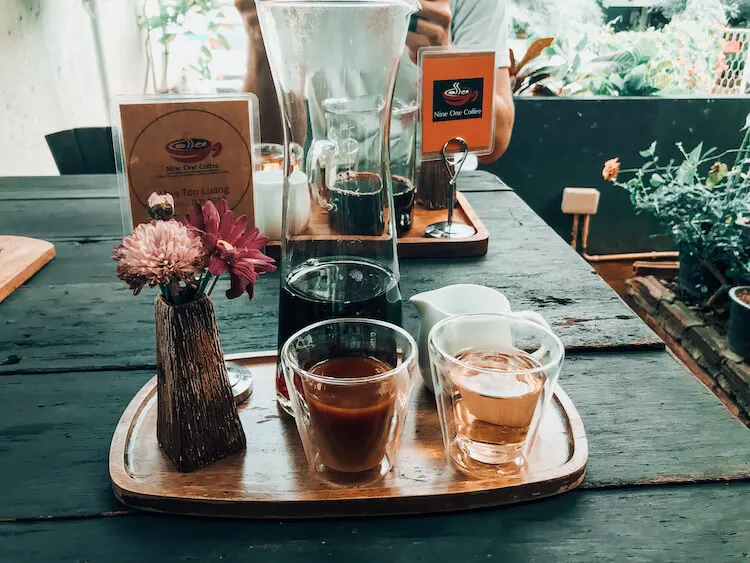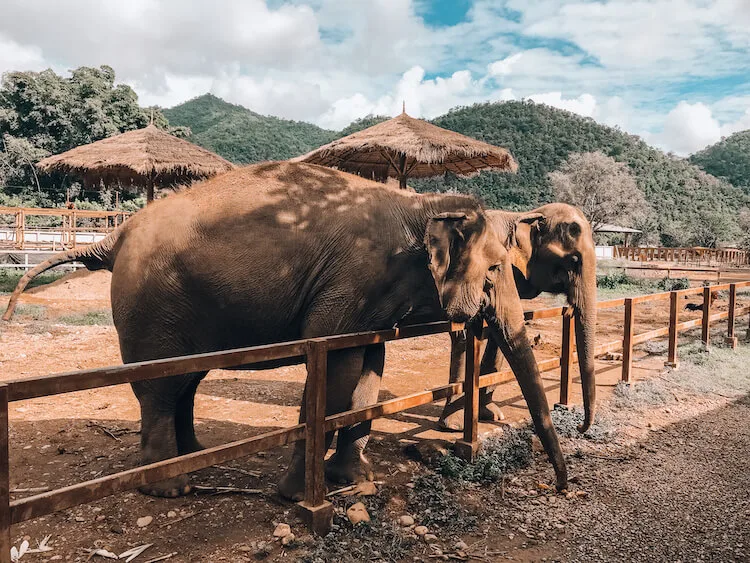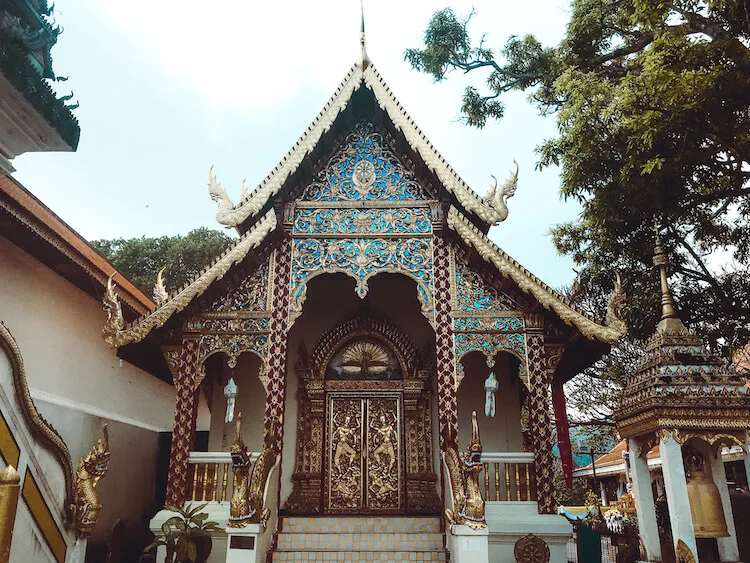 Where to Stay in Chiang Mai:
We stayed in the Nimman area and loved it. Known for its coffee shops and cute boutique stores, it is a fun neighborhood with a ton to do. It is also a quick walk from there to the Old City.
Budget: Varada Place
Close to lovely temples like Wat Phra Singh and Wat Chiang Man, you'll have no trouble getting around in this prime location. With air conditioning, airport transportation, and clean, beautiful rooms, you'll feel right at home here for around $10 per night.
Read reviews on TripAdvisor and book on Booking.com!
Mid-Range: Bed Nimman
Next to restaurants, cafes, and bars, you'll be close to the action in the Nimman area. You'll enjoy the comfortable and crisp design of the rooms, the A/C, and the gorgeous swimming pool to cool off on hot days exploring the city. For around $55 per night, you'll love this getaway in the heart of the city.
Read reviews on TripAdvisor and book on Booking.com!
Luxury: Akyra Manor Chiang Mai
This is where we stayed during our time in Chiang Mai and we absolutely fell in love. With huge suites complete with a soaking tub on the balcony overlooking the mountains, it was the perfect place to relax. We enjoyed the luxuries they gave including a pillow and pillow spray menu, make your own cocktails each day in the room, and the most amazing breakfast spread! If you want to splurge a little, this place is more than worth it. The price is around $200 per night.
Read reviews on TripAdvisor and book on Booking.com!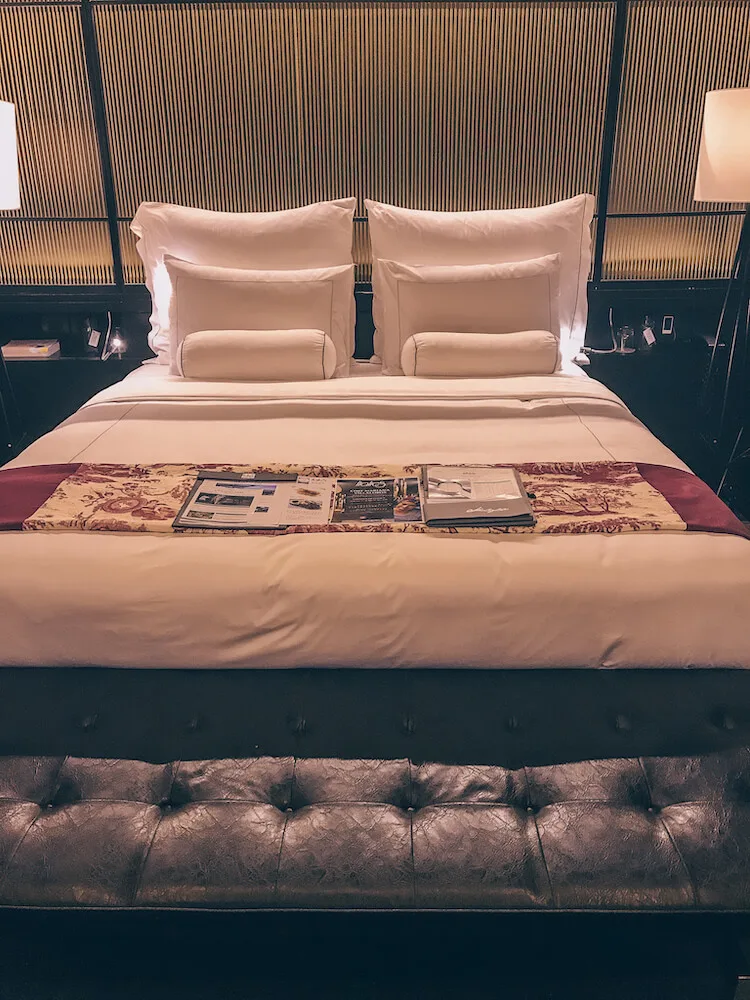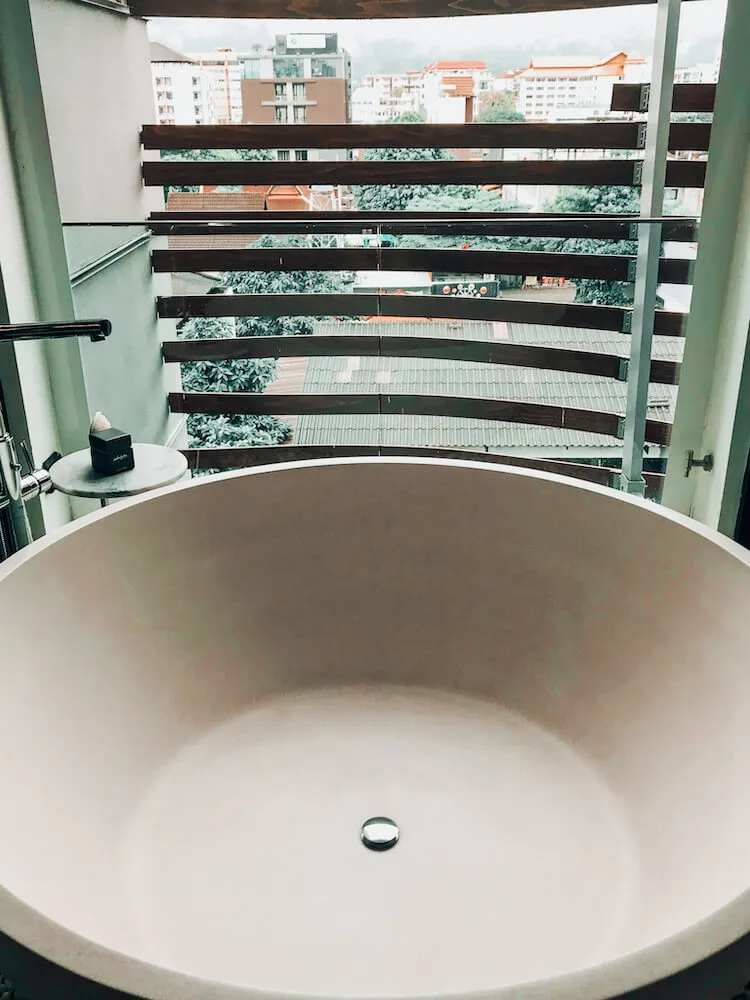 And after the incredible time in Chiang Mai, this concludes your Thailand itinerary in 10 days. After the 10th day, you'll take a quick flight to Bangkok (flight price is around $35 on Skyscanner with Air Asia, Vietjet, or Thai Smile) in the morning and board your flight back home.
Pro-tip: Be sure to fly into the same airport as the one you'll fly home from to avoid having to rush across town to make your flight!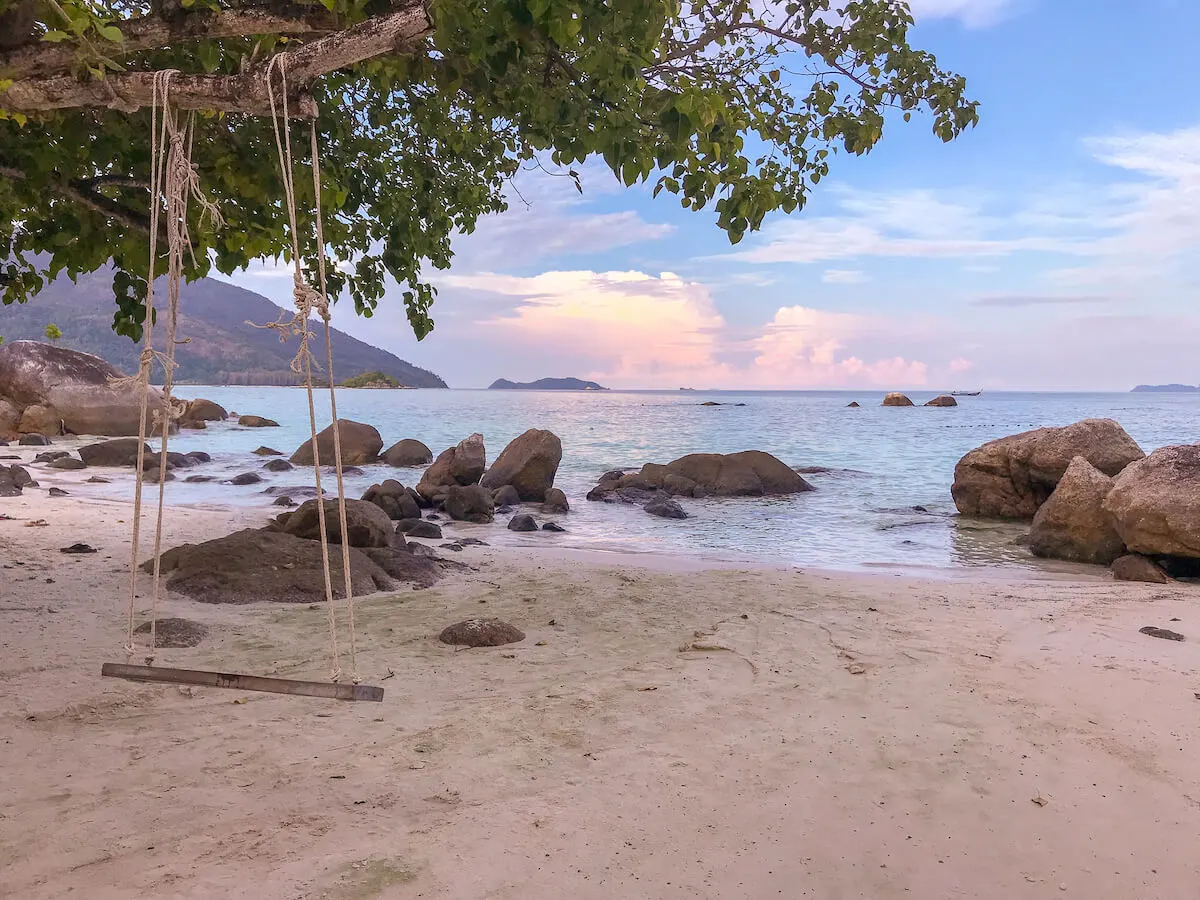 If You Have More than 10 Days in Thailand
If you have a little more time than a 10 day trip to Thailand, I suggest doing any of the following:
Visit more beaches! Head to Phuket and the Phi Phi islands to explore and snorkel.
Take a day or two extra to enjoy Bangkok and maybe take a day trip to visit Ayutthaya, the former capital of the Kingdom of Siam. Explore the ancient temple complex and take in the history.
Spend extra time enjoying Chiang Mai and do more day trips!
Head to Khao Sok National Park and stay on a floating bungalow on the lake!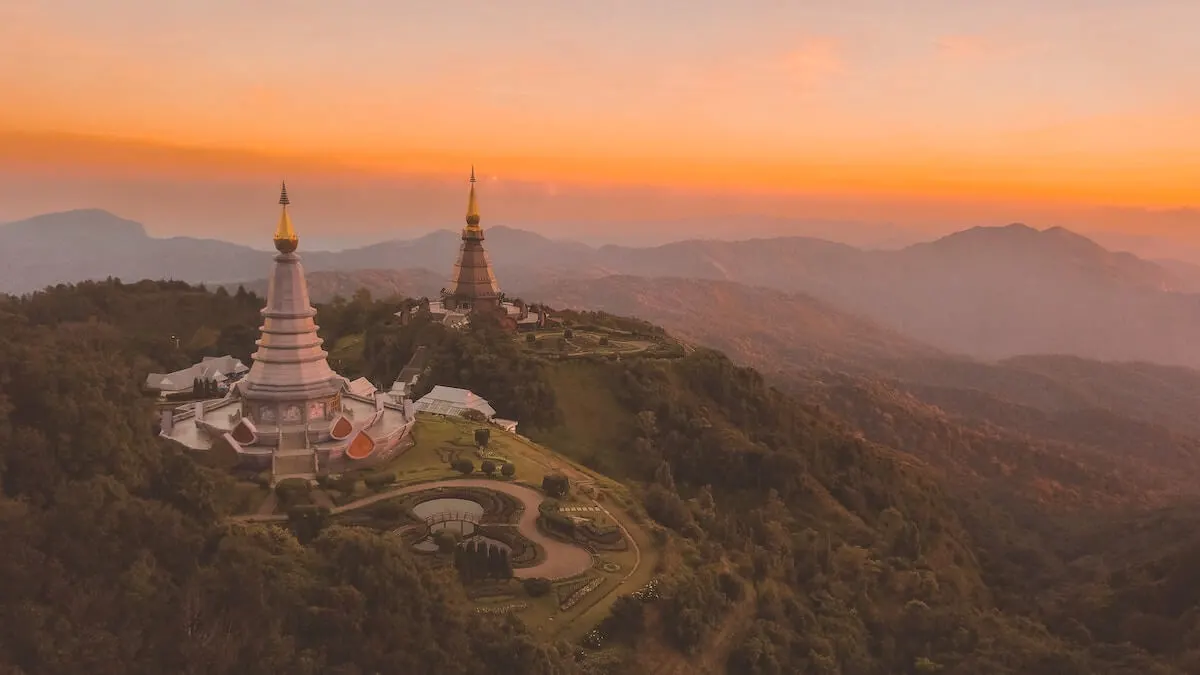 Other Travel Tips for Your 10 Day Thailand Itinerary
To have the most perfect trip to Thailand for 10 days, here are some practical tips for visiting:
You do not need a visa if you are a US citizen visiting under 30 days. However, make sure your passport is valid for 6 months from the date of entry and that you have space for stamps. This could change at any time, however, so be sure to check the Thailand travel page on the US government site for more information.
Vaccines for Thailand: According to the CDC website, they recommend all travelers have their routine vaccines and measles vaccines prior to going and recommend that most travelers get the Hepatitis A and Typhoid vaccines. Again, we are not medical professionals, so check the CDC website for more information as well as a Passport Health travel clinic to schedule any vaccines you may need.
Pack a first aid kit. I recommend doing this any time you travel, but a first aid kid including things for all kinds of tummy issues (antacid, laxative, anti-diarrheal, etc.), OTC pain reliever, band-aids, wipes, prescription meds, etc. is important to have on you. For prescription meds be sure to have your prescription on you.
Carry hand sanitizer and TP. Take extra toilet paper from your hotel to carry for the day in case you have to go. A lot of places won't have soap (hence the hand sanitizer) or toilet paper.
Consider travel insurance. Whenever we travel internationally, we get World Nomads. They cover a ton of things like emergency accident and medical, trip cancellation and interruption, etc. Check the full policy for more details. We feel better being covered in case something does happen and the price is super reasonable. The cost for us for 10 days was around $73 per person.
Thai Baht is the currency, and most places take cash only. There are ATMs readily available in cities, but we just got out what we thought we needed at the airport and kept most of it in the safe (only carry what you need for the day on you). The conversion is about 30 baht per $1. Hotels and such do usually take credit cards, but for dining out, have cash.
How much does a Thailand trip cost? We cover that in huge detail on our Thailand cost article!
Enjoy your 10 days in Thailand! Seriously, we fell in love with this country and cannot wait to be back! It is a fantastic honeymoon destination too!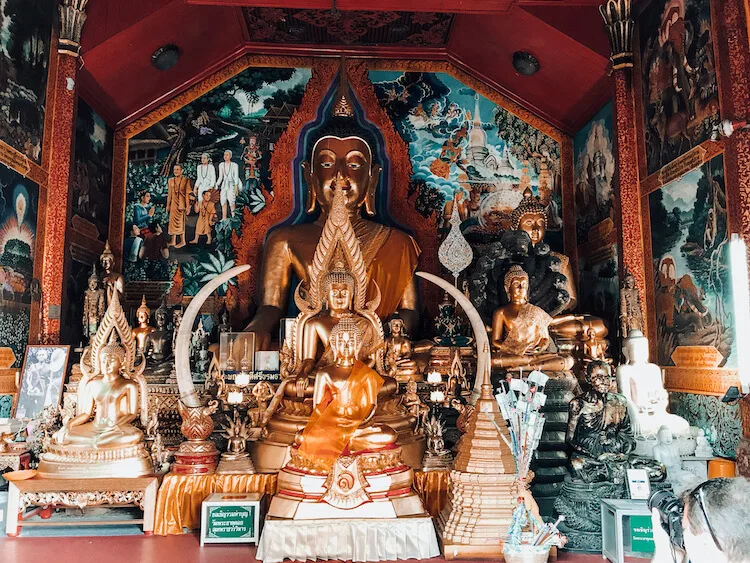 Thailand is a beautiful place that you'll wish you could visit time and again. But even if you only have time for a Thailand itinerary of 10 days, this is the perfect way to squeeze in the best to Thailand in a short amount of time!
Sick of reading and would rather listen to podcasts instead? Check out these episodes:
Would you visit Thailand? What is your favorite thing to do in Thailand? Let us know in the comments!
Pin it here!