Some posts on this site contain affiliate links, meaning if you book or buy something through one of these links, I may earn a small commission (at no additional cost to you!). Read the full disclosure policy here.
---
Thailand attracts people from around the globe, from solo traveling backpackers to honeymooners and everyone else in between. With miles upon miles of soft, sandy beaches, gorgeous jungles, friendly locals, and vibrant cities, it is no wonder that people fall in love with this beautiful country so easily.
If you are planning a Thailand honeymoon, like we were just a few short years ago, you'll definitely want to check out the most romantic things to do in Thailand!
I spent months and months researching and compiling our Southeast Asia itinerary, which included a significant amount of time in Thailand. So, to save you time while planning your own dreamy getaway to the "Land of Smiles," I have the perfect list of romantic things for couples to do in Thailand that you'll definitely want to save for your trip!
PS- For more fun information for your trip to Thailand, be sure to check out Fan Club Thailand!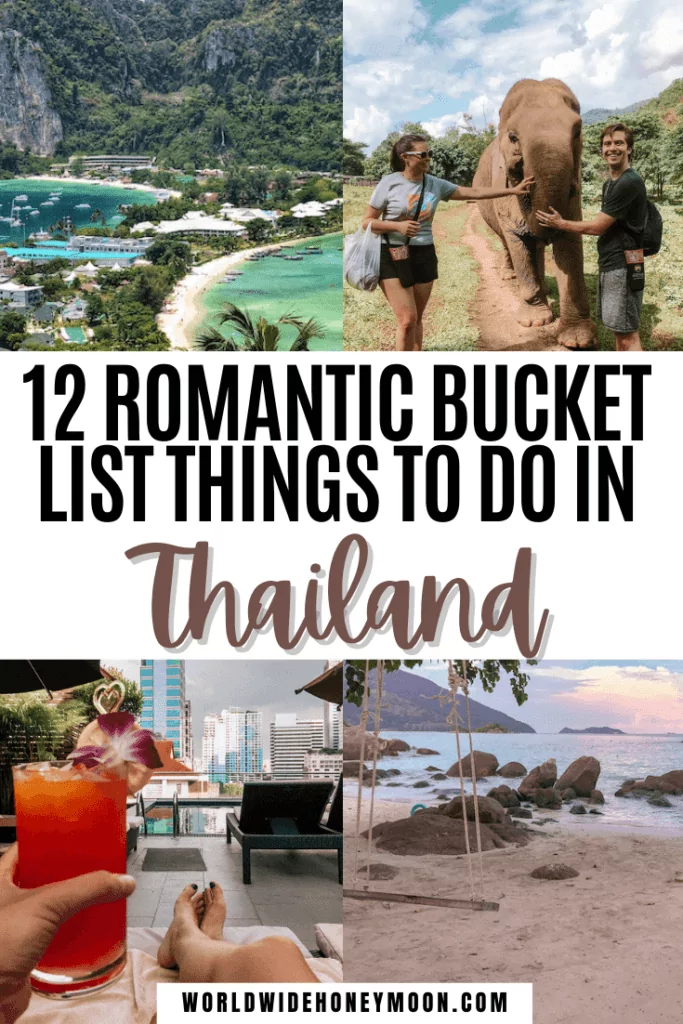 12 of the Most Romantic Things to do in Thailand
From exploring the jungles just outside of Chiang Mai to snorkeling off the shores of Koh Lipe, these are the most romantic things to do in Thailand for your perfect trip together!
1. Stay in a Beach Bungalow on a Romantic Thai Island
Relaxing on a romantic island in Thailand is always an ideal thing to do for couples! But, staying in a beach bungalow where you can literally run from your room into the ocean? That's the dream!
We fell head over heels for Koh Lipe in Thailand and highly recommend staying at Ten Moons Resort. This place has its own tucked away beach that they share with the hotel next door, and the beach bungalows were steps from the sea. I can't tell you how many times we jumped off our deck and ran right into the warm waters of the Andaman Sea.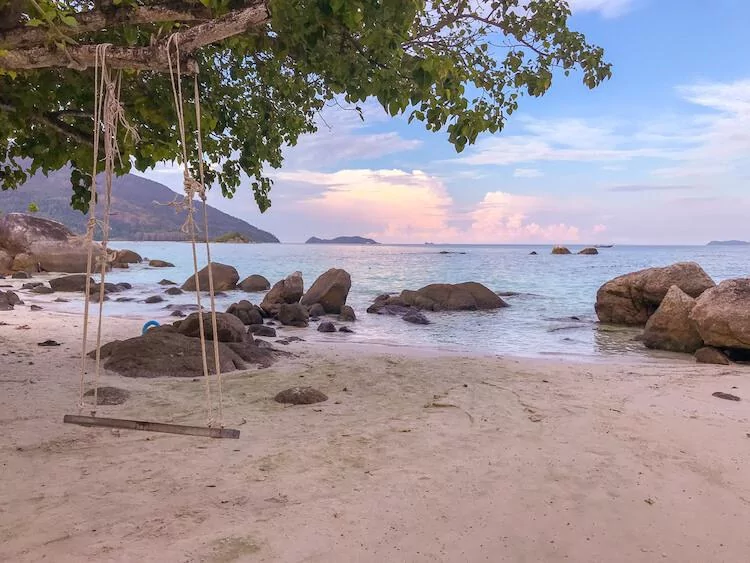 We snorkeled right off the shore, enjoyed listening to the sounds of the waves calmly lapping onto the beach in the evenings, and were in awe of the stunning sunrises.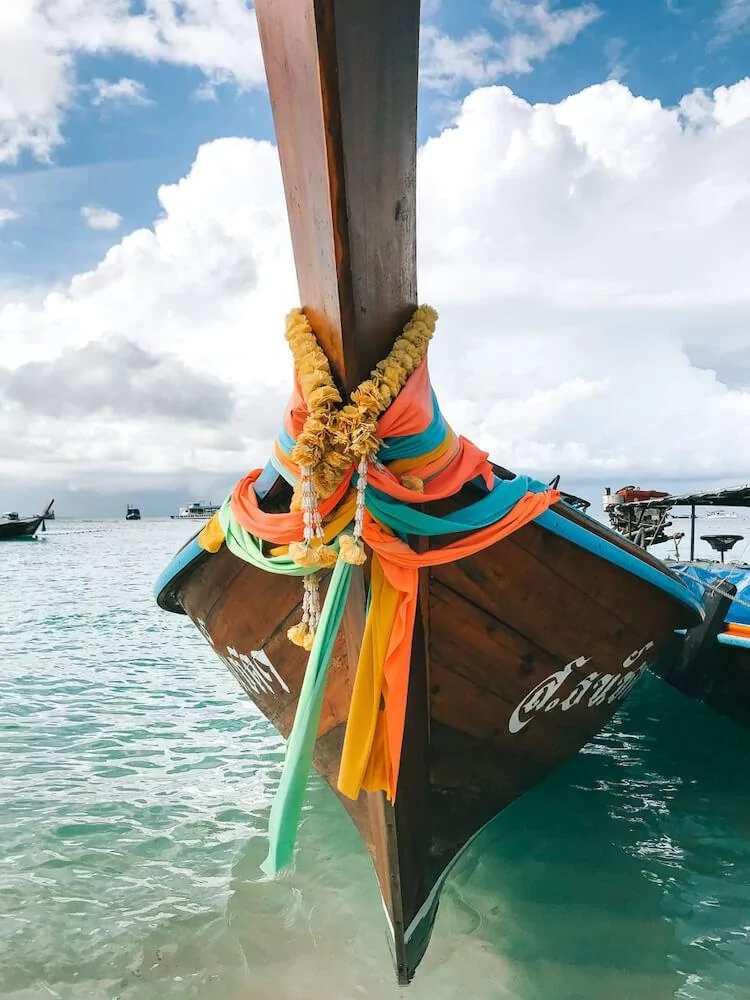 2. Rent a Private Boat for a Snorkel Tour
Want to get out and snorkel with your love? Renting your own boat with a captain to take you around to the best spots is a wonderful way to spend a day. We did this in Koh Lipe, and it was incredibly affordable at around $40!
You can also have this amazing experience in Koh Lanta, Phuket, Koh Samui, Koh Tao, and more! A private tour gives you much more flexibility to go at your own pace, and you can enjoy all the views to yourselves!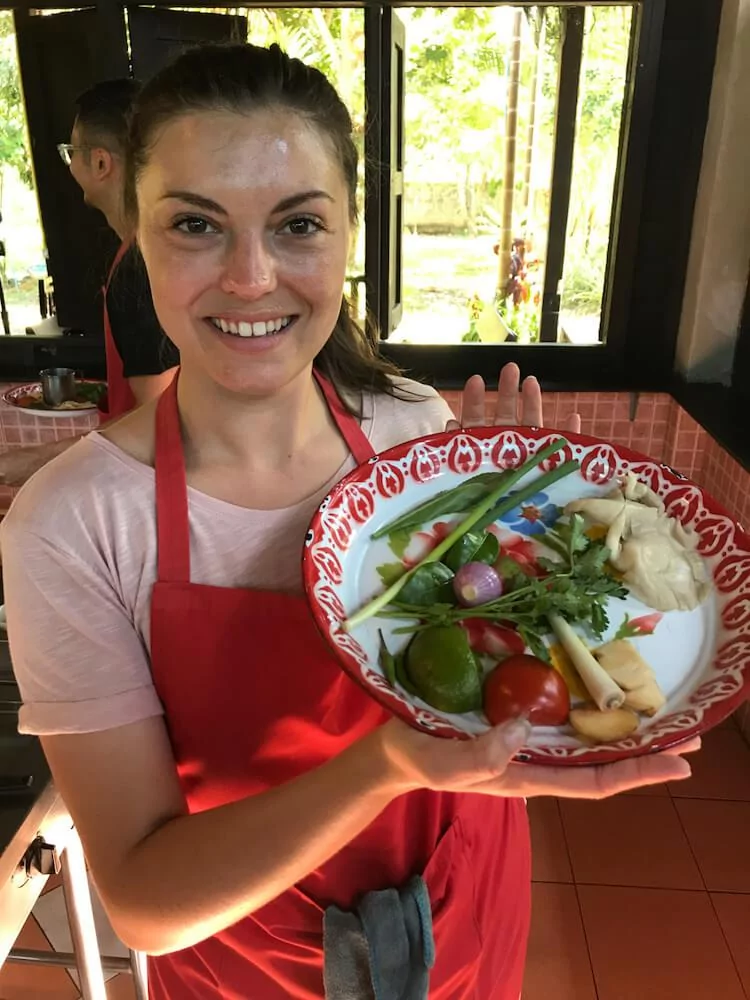 3. Take in the Local Flavors With the Best Cooking Class in Chiang Mai
Thai food is definitely one of the best cuisines in the world. The combination of salty, sweet, bitter, and spicy flavors combined into one delicious meal makes for an unforgettable experience.
This makes a cooking class easily one of the most romantic things to do in Chiang Mai! Thai Farm Cooking School, where you'll make many dishes from tom yum soup to red curry, is the best place to go for a cooking class! Plus, they also educate you about Thai flavors and ingredients.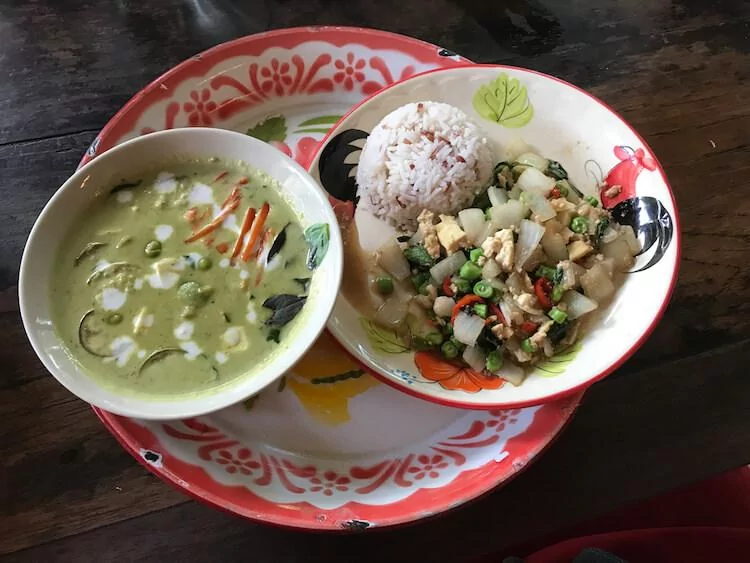 We spent a whole day at Thai Farm Cooking School and were able to see the gardens and the fresh veggies they grow, learn how to make a curry paste, and share stories with other couples about our cooking endeavors at home! It was a really fun experience that I recommend for all couples who enjoy cooking together!
Pro-Tip: Want a taste of Thailand at home? If you're in the UK, we highly recommend Rosa's Thai Meal Kits! Get fresh Thai meals on the go- perfect for at-home date nights and dreaming of that future trip to Thailand!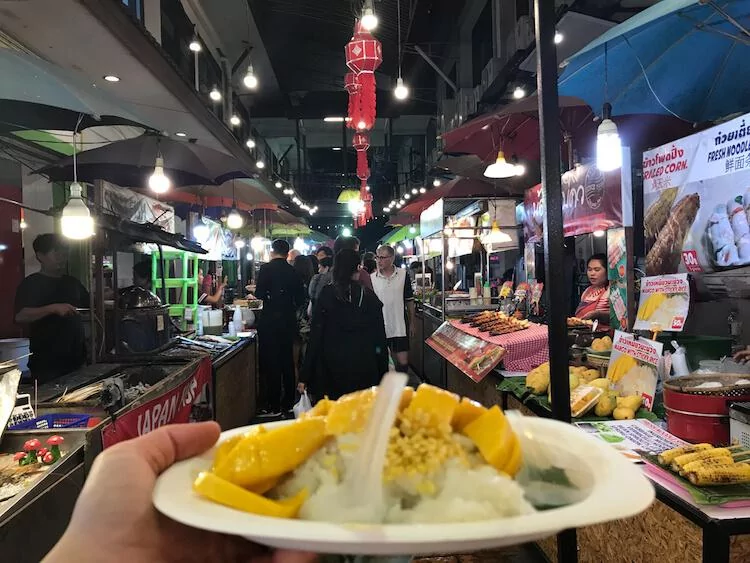 4. Enjoy the Local Cuisine of Chiang Mai
Chiang Mai is one of the best cities for food in Thailand (and the world)! So, I highly recommend, aside from taking an incredible cooking class together, that you also either take a food tour or make your own food tour by trying all the best khao soi in Chiang Mai!
What is khao soi? It is a magnificent northern Thai dish that consists of egg noodles in a curry-like sauce topped with meat or vegetables, pickled mustard greens, shallots, lime, ground chilis fried in oil, and fried egg noodles. You can find it all over Chiang Mai, and, at around $1 per bowl, it is super inexpensive.
Some of our favorite places for this dish include Khao Soi Loong Prakid Gard Gorm, Khao Soi Mae Sai, and Kao Soy Nimman.
Aside from eating all the khao soi, there are plenty of other places to enjoy food in Chiang Mai like the Sunday Walking Street market and the Night Bazaar. If you can go to both, definitely do it to enjoy music and food and to snag a souvenir to remember your time together in this incredible city.
What could be more romantic than enjoying some delicious food together?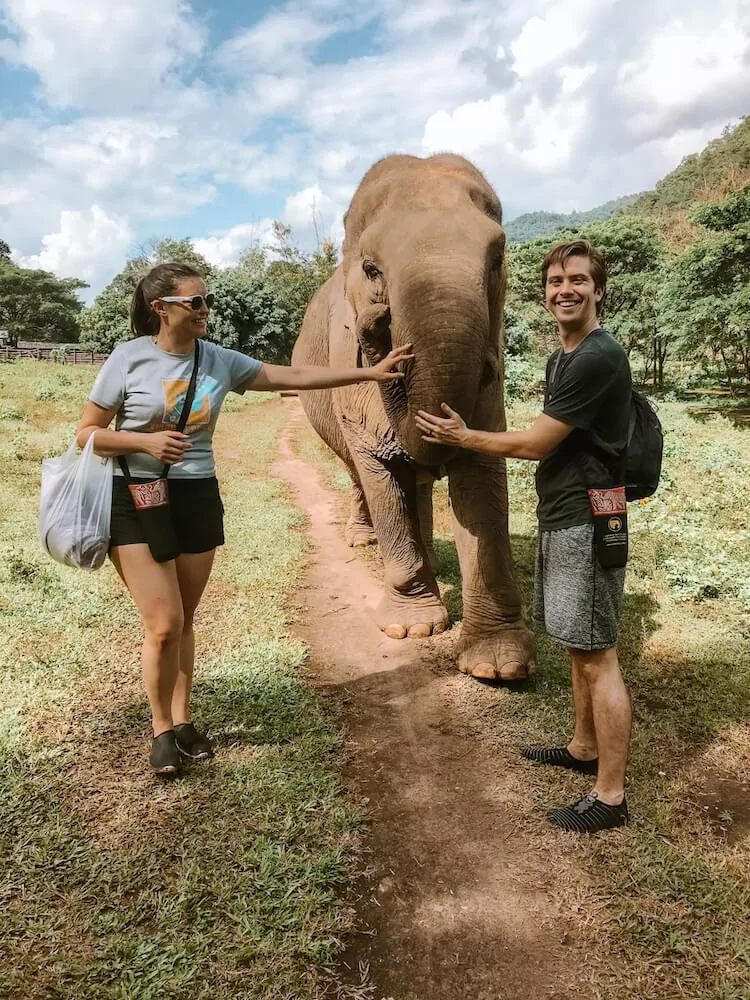 5. Walk with Elephants Together at Elephant Nature Park
One of the best days of our trip to Thailand was walking with elephants at Elephant Nature Park outside of Chiang Mai.
This place is a sanctuary and rescue for elephants that have been abused and forced to work in logging or riding industries. You can visit or volunteer during a trip to Thailand to see these beautiful elephants being rehabilitated and the good work this place is doing.
We fell in love with a lovely elephant named Sai Thong during our time there. We'll never forget our day walking, feeding, and bathing her as we explored the beautiful Thai countryside.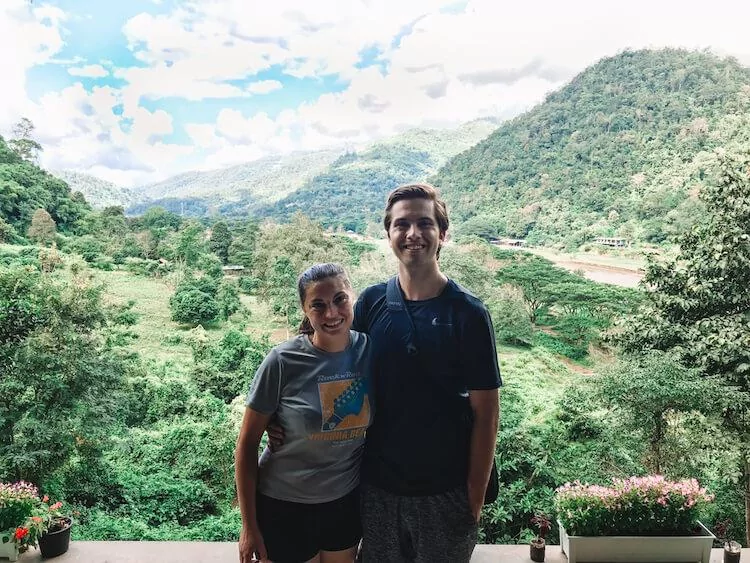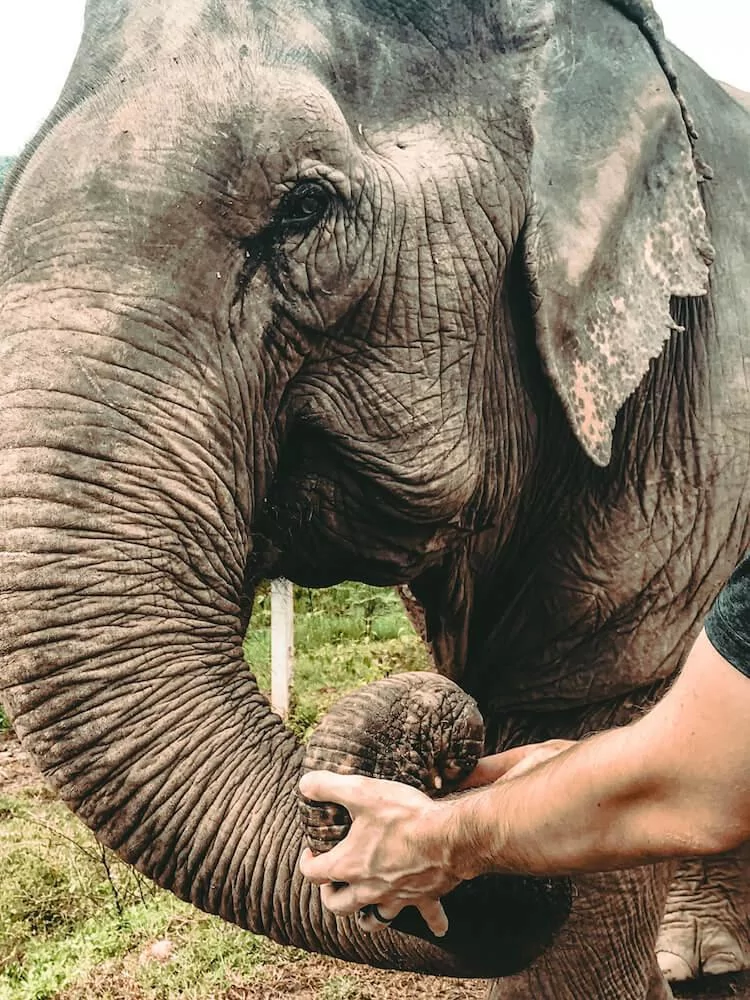 They also have many other rescue animals that you can visit including dogs, cats, chickens, and more! Getting out of the city for a day to enjoy the company of one of the world's most stunning animals is a truly lovely experience for couples in Thailand.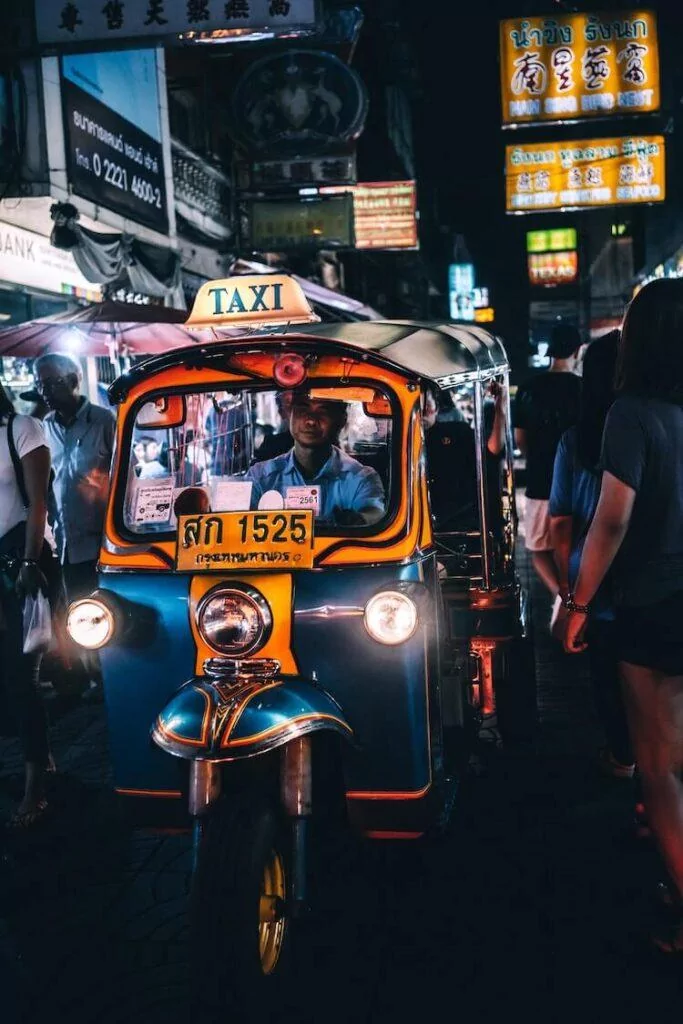 6. Riding in a Tuk-Tuk Together is One of the Most Romantic Things to do in Thailand
This is an extremely popular thing to do in Thailand, and it is a practical means of transportation. At first glance, it may not seem that romantic at all, but we beg to differ!
Sitting in the back of a tuk-tuk and watching the scenery whiz past as you zoom across the city is an exciting adventure for couples in Thailand!
Admire the action around you as you ride in the comfort of a tuk-tuk. It was our favorite way to get around the cities!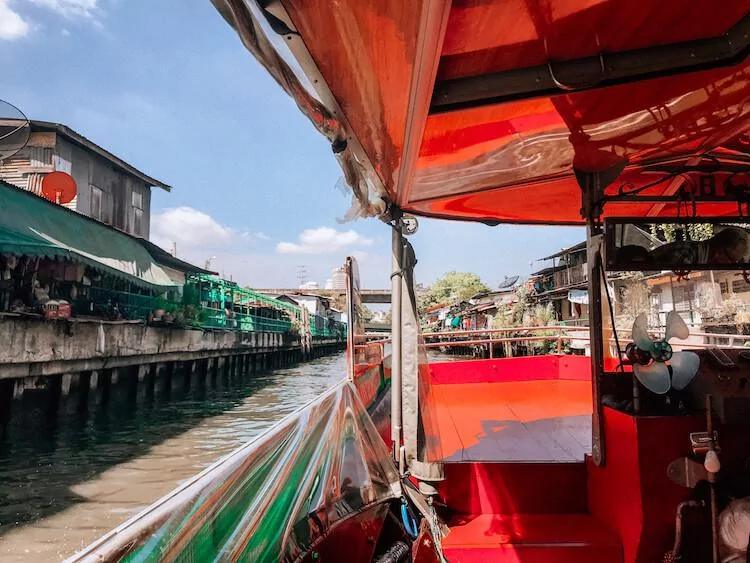 7. Cruising the Canals Together is One of the Most Romantic Things to do in Bangkok
Looking for romantic things to do in Bangkok? A canal cruise is a must! You can just hop on a regular boat or you can even take a private canal cruise to better appreciate the canals, and you can even sail along the Chao Phraya River!
Spot temples, see locals going about their day, and perhaps purchase food or a souvenir from a local vendor on their own boat!
For even more adventure, you can also take a tour of the floating markets like the Damnoen Saduak Floating Market! Cruise along and pick out lunch for two all from the comfort of your boat.
8. Treat Yourselves to a Couples Massage
A romantic getaway almost always needs to include a relaxing couples massage together. Thai massages are amazing and super affordable! We're talking like $5 for a fantastic massage!
Whether it is a rainy day and you're looking for a couples massage in Bangkok or you want to get massages on the beach in Thailand, we highly recommend getting as many massages together as possible!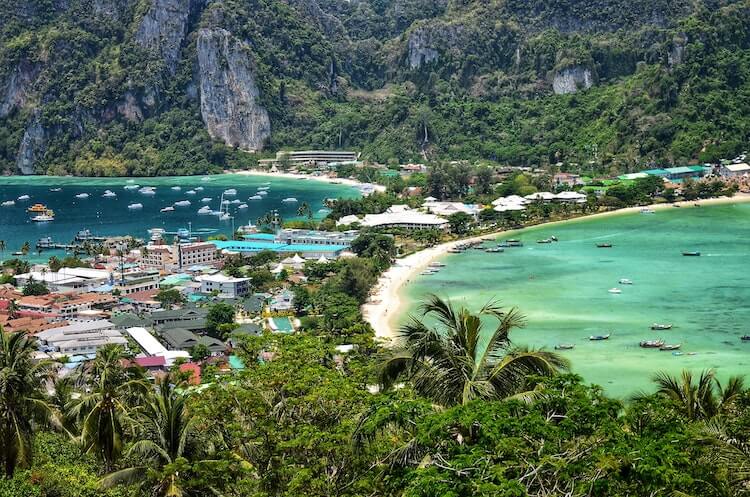 9. Going Hiking in Koh Phi Phi for Incredible Views is One of the Most Romantic Things to do in Phuket During a Day Trip
Koh Phi Phi is well known as being one of the most beautiful islands in Thailand. So, if you are visiting from Phuket, it is a must to hike around the island, especially to the Koh Phi Phi Viewpoint.
Koh Phi Phi Viewpoint overlooks the strip of sand that connects the island together, and it is an iconic photo opportunity that is perfect to remember your romantic hike as a couple.
PS- Phuket is reopening to tourists that are vaccinated! Read more about it here.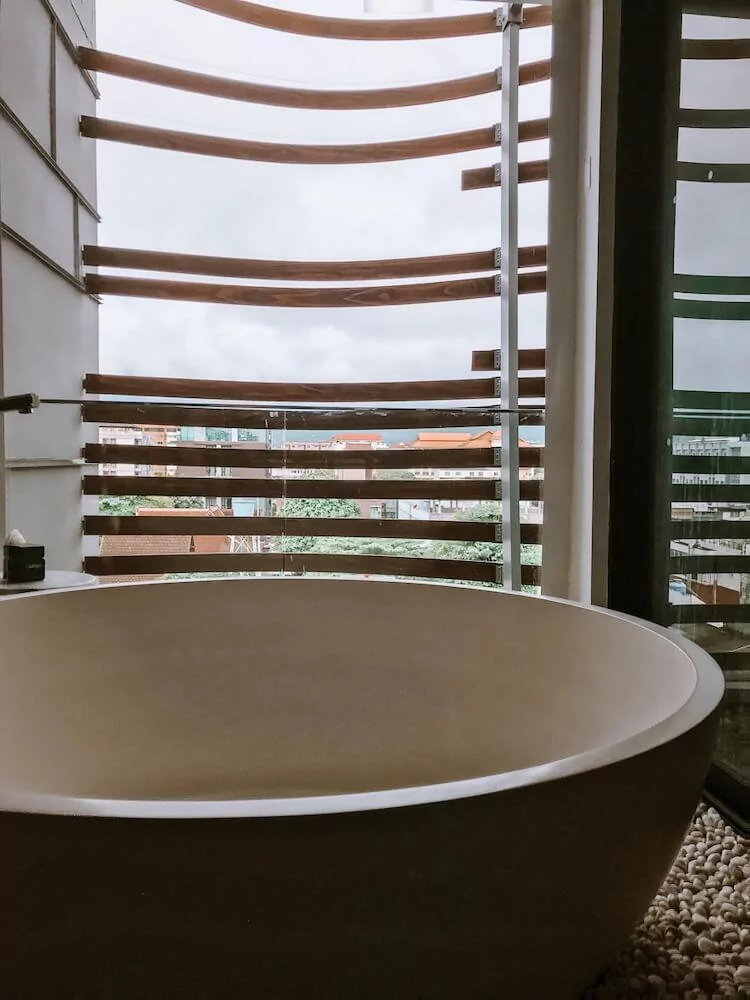 10. Staying in a Luxury Hotel is Romantic For a Couples Trip in Thailand
If there is one place to splurge on a luxury hotel, Thailand is it! You can stay in lavish, luxurious hotels for immensely affordable prices here!
Whether you are splurging on a Thailand honeymoon or a romantic 10 day holiday, prioritizing a hotel with a private plunge pool or giant soaking tub is perfect for cozy, romantic nights during your vacation.
A favorite hotel of ours is Akrya Manor Chiang Mai. The rooms were super spacious with touches of luxury including the giant soaking tub on the balcony!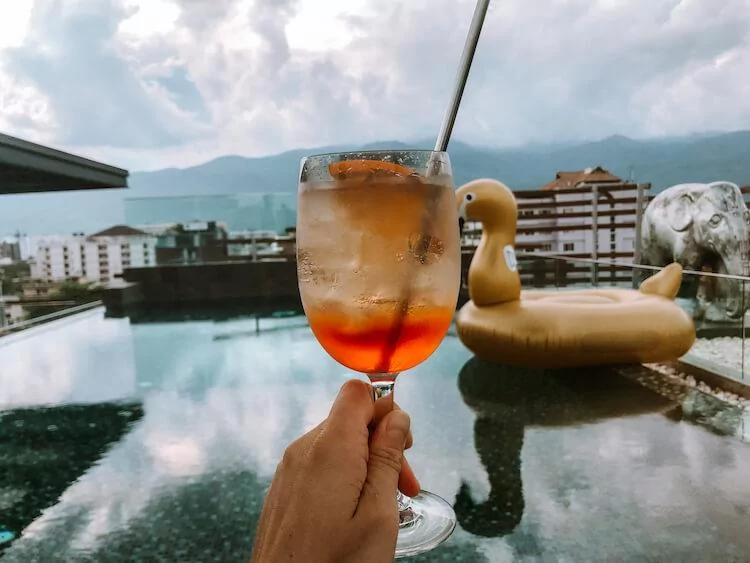 The Andaman Private Pool Villa at Mandarava Resort and Spa Karon Beach is a fantastic option with a private pool in Phuket, too.
Aside from the incredible pools or soaking tubs, many luxury hotels in Thailand have fabulous amenities like delicious restaurants, room service, pillow menus, cocktail kits, and more!
Plus, many of these hotels have prices under $200 per night, making luxury much more affordable for a romantic trip!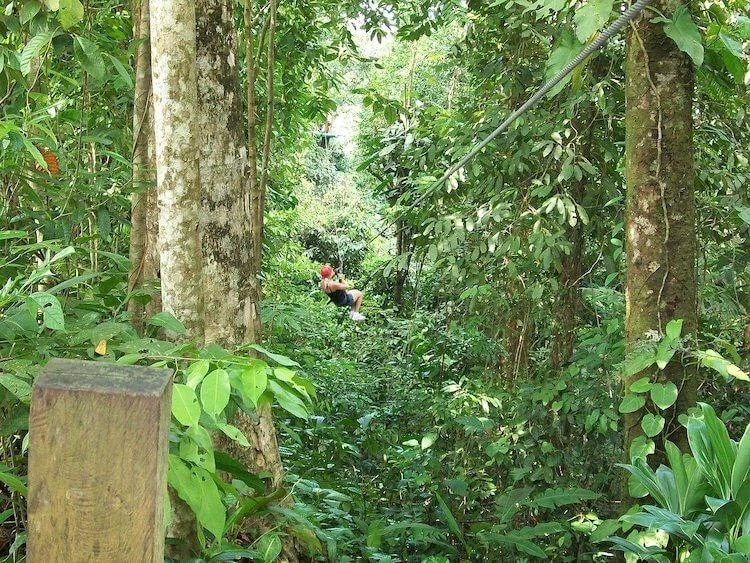 11. Get Adventurous and Go White Water Rafting or Zip Lining
Aside from pampering massages and heavenly food, if you want to be romantic but also adventurous, why not try white water rafting or zip lining?
Chiang Mai has several places to go zip lining, or you can take a tour to go white water rafting outside the city!
Admire the jungle around you as both of you get your adrenaline pumping together in this exhilarating experience.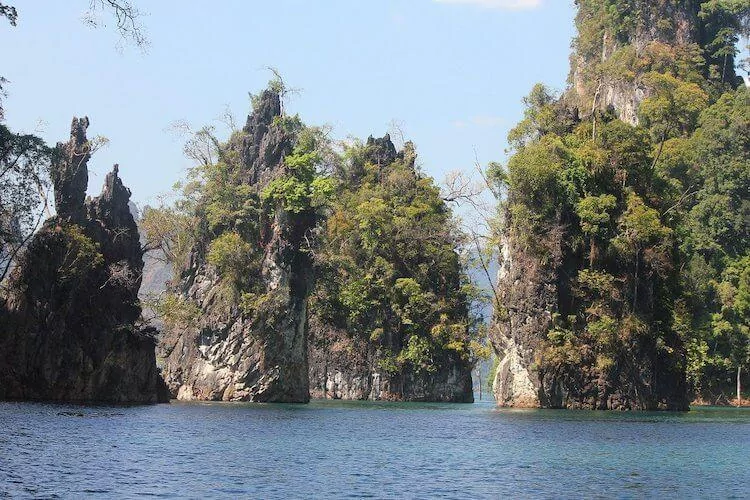 12. Stay in an Overwater Bungalow in Koh Sok National Park. It is Truly One of the Most Romantic Things to do in Thailand
Last, but not least, a stay in an overwater bungalow in Koh Sok National Park is truly one of the most romantic things to do in Thailand for couples.
This gorgeous lake in southern Thailand is surrounded by beautiful jungles and mountains, making it uber romantic.
Combine that with an overwater bungalow at a place like Panvaree Resort, and you're ready for a truly romantic getaway to Koh Sok National Park.
There are plenty of romantic things to do in Thailand, which is a huge reason why we chose it as the place we wanted to spend the majority of our time during our honeymoon! Whether you like to be pampered or you are searching for adventure for your trip together, Thailand has so much to offer for when you visit!
Which of the things to do in Thailand for couples do you most want to do?
** Thank you to the Tourism Authority of Thailand (TAT) and Fan Club Thailand for sponsoring this post! As always, all opinions and suggestions are our own.
Pin it here!