Some posts on this site contain affiliate links, meaning if you book or buy something through one of these links, I may earn a small commission (at no additional cost to you!). Read the full disclosure policy here.
---
Wondering what it is like to stay at Simbavati River Lodge? You've come to the right place!
For starters, my husband and I have stayed here twice! We experienced our first-ever safari here in September 2017 and recently returned during our 10-day trip to South Africa in May 2023.
So if you're searching for an honest review of Simbavati River Lodge, we've got you covered.
Without further ado, let's talk about all things Simbavati River Lodge including where it is located, amenities, accommodation, food, cost, and what we honestly thought of it.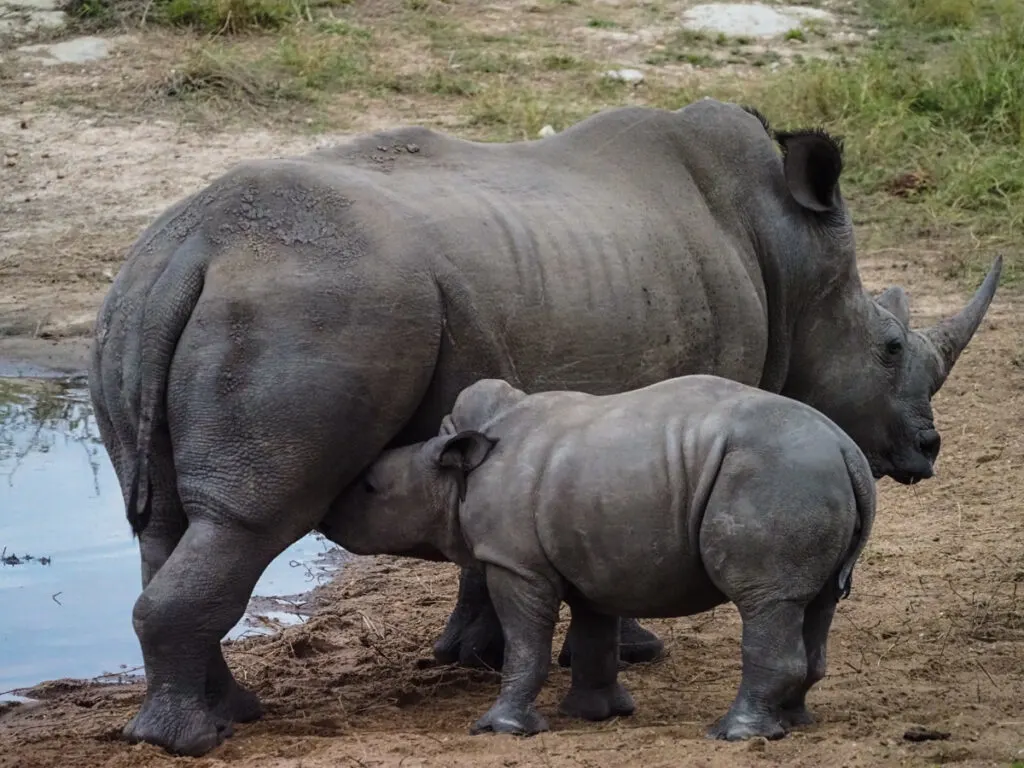 Simbavati River Lodge Location
Simbavati River Lodge is located near Kruger National Park in the Timbavati Game Reserve. The Timbavati is a private game reserve where a handful of safari game lodges are located. The great thing about this private reserve is that safari vehicles can go off-roading to get closer to sightings and there are far fewer people here than in Kruger National Park.
The Timbavati Reserve actually abuts Kruger National Park and there are no fences, meaning animals come and go as they please.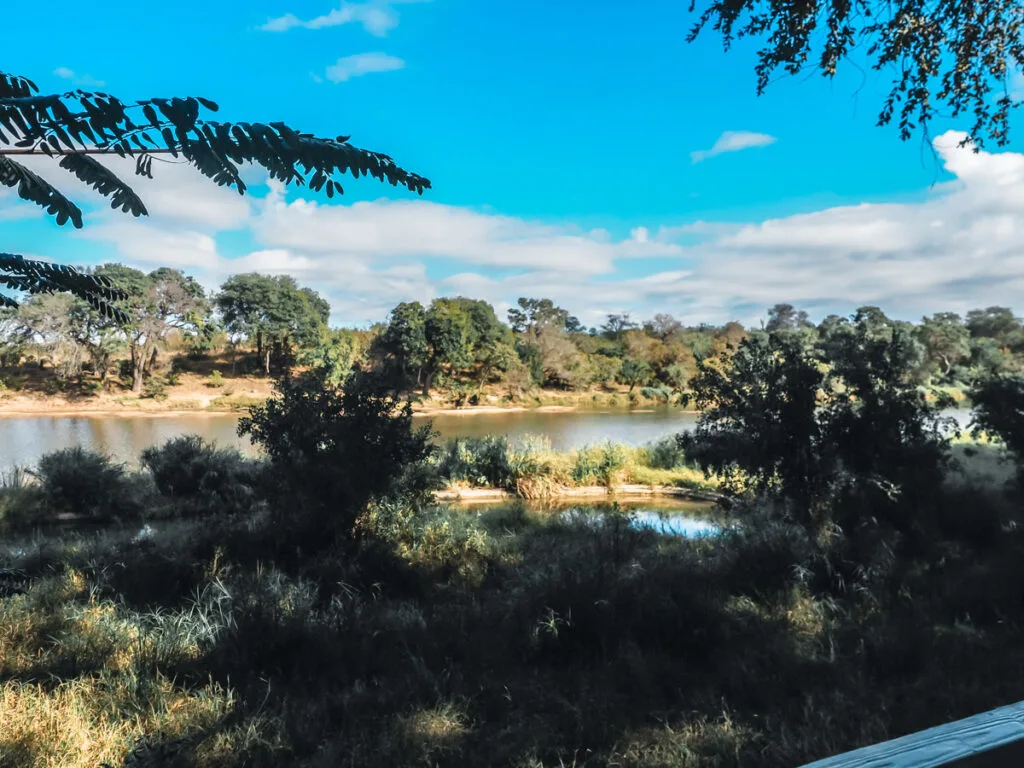 This Timbavati river lodge is located, of course, along a river. It sits right along the Nhlaralumni River, and the closest airport to get to the Timbavati would be Hoedspruit Airport. But expect to be rather remote here.
After landing at the Hoedspruit Airport, you'll be picked up by the lodge staff and driven for about an hour to get to the lodge itself. Thankfully, you'll likely spot many animals along the way! In fact, on our recent drive-in, we spotted elephants, giraffes, various antelopes, and even a couple of lions feasting on a hippo.
And being this far from a city means there is zero light pollution and stunning night skies!
Simbavati River Lodge Amenities
Now that you know where to find this Simbavati lodge, let's talk about amenities here!
For starters, at the main lodge itself, there is a huge game deck overlooking the river and a watering hole. Depending on the time of the year, the river can be flowing or completely dry. So having the watering hole is great for the dry season when many animals show up for a drink.
But even when the river is flowing there is a chance to spot several animals as they come by to cool off or get some water on a hot day.
The main lodge has plenty of places to sit and relax and spot local wildlife. Plus, there is a bar for any sodas or cocktails you may want and there are games to play during downtime.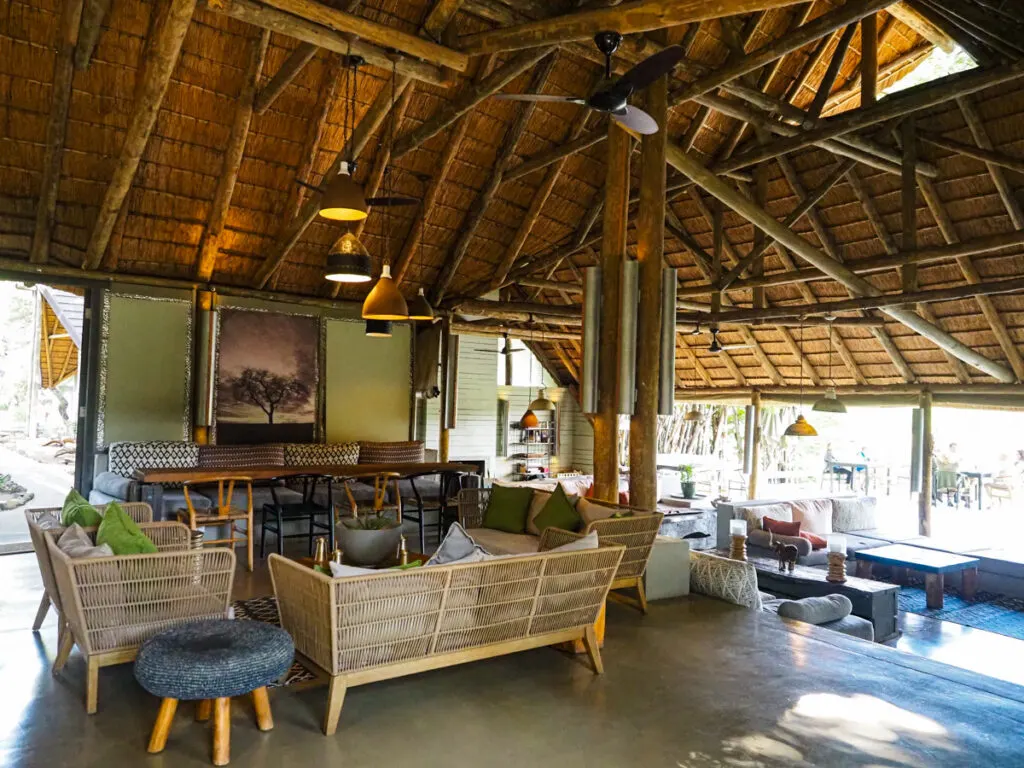 There is a curio shop to purchase souvenirs and a fire pit area where they host dinners every other night.
The property also has a spa to get a facial or massage when you're not on game drives as well as a refreshing fenced-in pool area.
Some of the luxury tents even have their own private plunge pools, and all accommodations have little game viewing decks.
For families, you'll enjoy the Kids Club where staff will watch the kids and entertain your children with various activities from making masks to learning archery.
For active vacationers, there is also a small fitness center to get a quick workout in.
All guests also have butler service no matter which type of accommodation you choose. This person waits on you during your stay.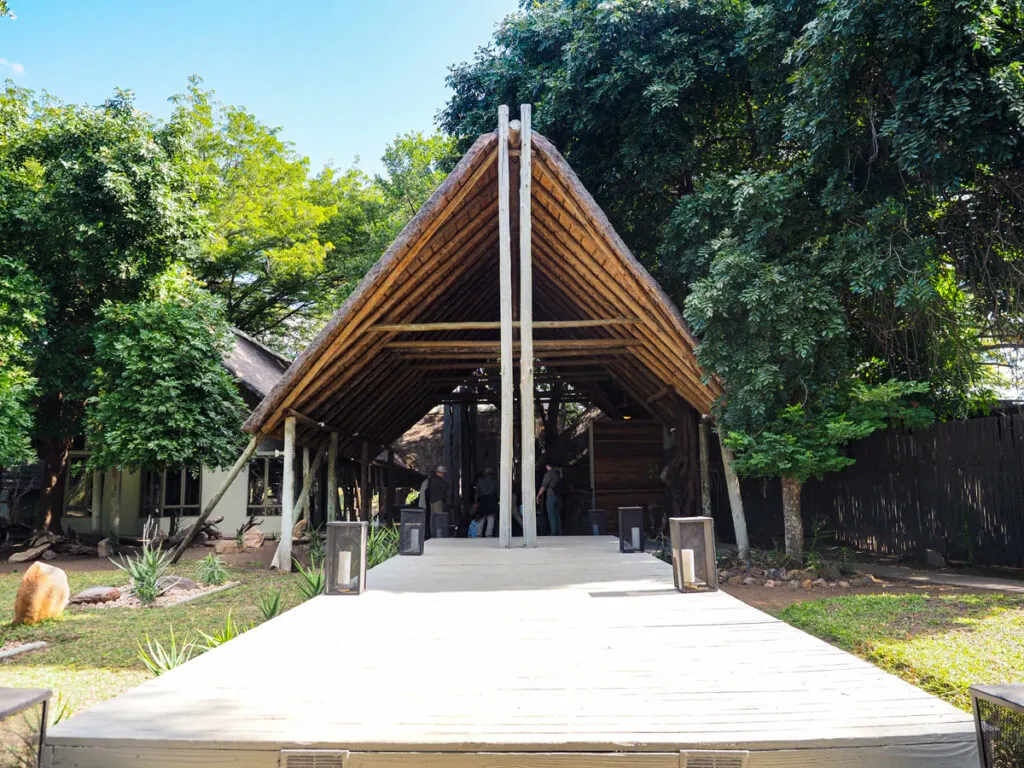 Also, if you need wifi, they have that at the main lodge only. The tents and chalets do not have wifi. Enjoy your surroundings instead!
And the most important amenity is that a stay here includes 2 game drives a day! These game drives are in the morning and late afternoon/evening and last for about 3 hours each. This leaves you with plenty of time to find the Big 5 and other wildlife.
Accommodation Types for Your Simbavati Safari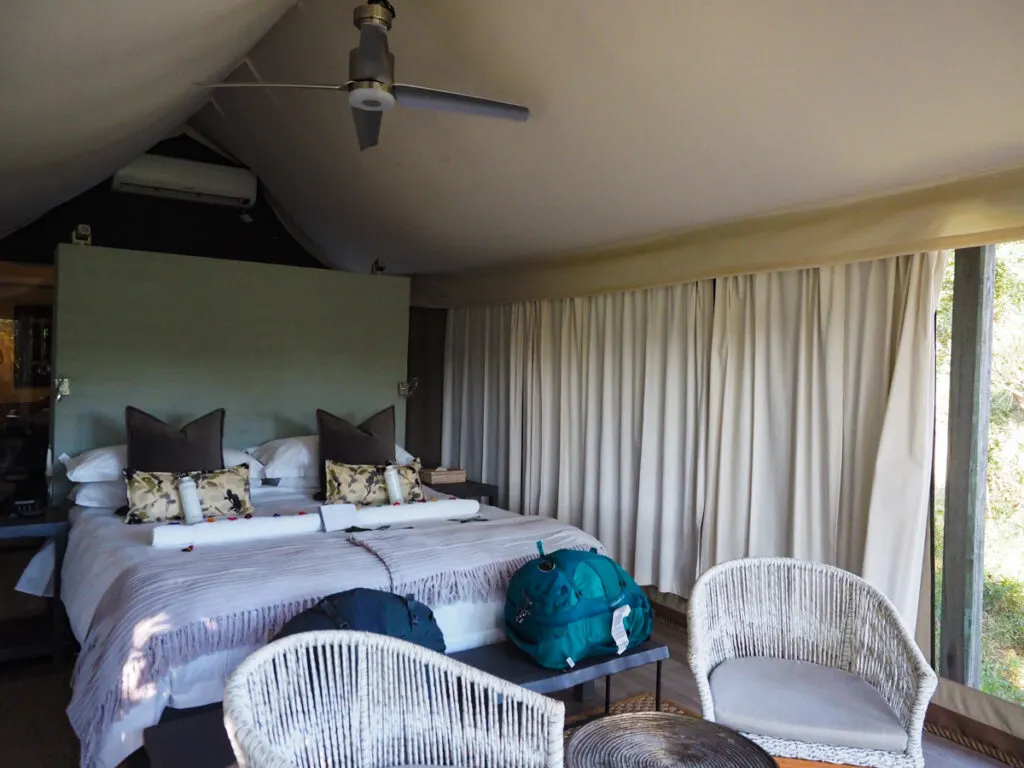 There are 3 types of accommodation at this Simbavati game lodge! The first is the Tented Luxury Suite. There are 6 of these Simbavati River Lodge luxury safari tents that have a king-size bed or two twin beds, a game deck, an ensuite bathroom with a shower and double vanity, and a private outdoor shower.
Next is the Tented Pool Suite. There are 2 of these at Simbavati River Lodge and they are more secluded for extra privacy. These suites offer the same things as the Tented Luxury Suite, but they have a private solar-heated plunge pool located on the private game deck.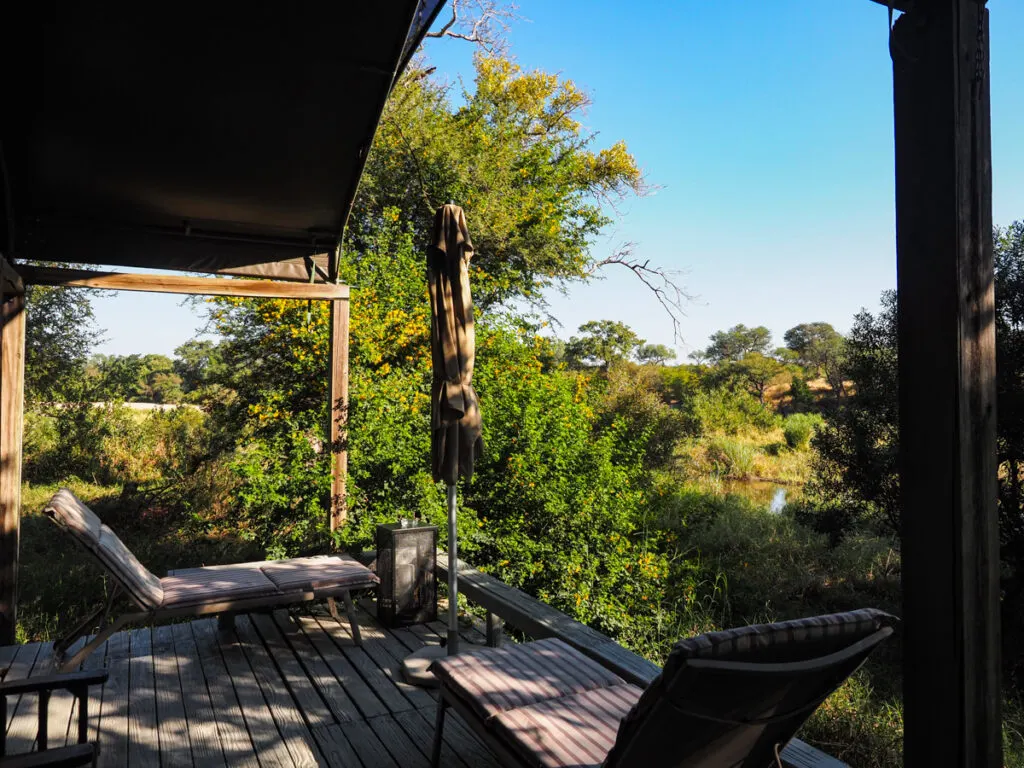 Lastly, there is the Two-Bedroom Family Chalet. There are 3 of these chalets, and they have a private game viewing deck, a main bedroom with a king-size bed, a second room with 2 twin beds, and a bathroom with a double rain shower.
All of the suites and chalets have air conditioning, a ceiling fan, a minibar, coffee and tea-making facilities, eco-friendly bathroom amenities, a hair dryer, a mini-safe, and electric blankets for chilly winter evenings.
Food and Drinks at Simbavati River Lodge South Africa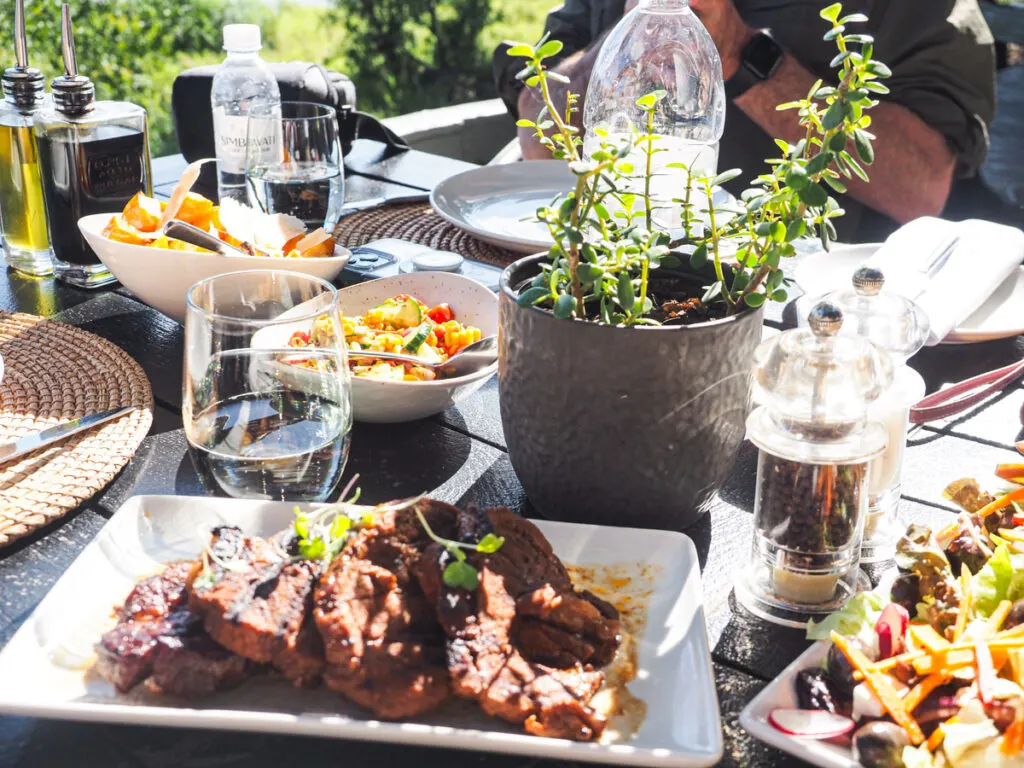 Something to note during your stay at Simbavati River Lodge is that it is all-inclusive! This means that meals and drinks are included (except premium brands and wines by the bottle).
And let me tell you that this place honestly had the best food of any safari lodge we've visited. Considering we've also visited safari lodges in Uganda and the Masai Mara in Kenya, that is saying something!
So every other night there is a buffet situation at the boma, or firepit, at the lodge. They set up tables and chairs and you pick various local dishes to try including pap and chakalaka, kudu, bobotie, boerewors, etc. Then, you pick a dessert to end your meal.
The nights dining like this are spent with your safari guide and the other people in the safari vehicle with you. So it is a fun opportunity to get to know your guide, ask questions, and get to know other people on safari at the same time as you.
Then, every other night you have a sit-down meal with just your party on the lodge viewing deck under the stars. Here, you'll select your meal from a menu that includes both vegetarian and meat meals. This is usually a 3-course dinner with an appetizer, main, and dessert.
Breakfasts are served after the morning game drive and consist of coffee, fresh juices, fresh fruit, and rolls, and you can select various dishes including a full English breakfast, oatmeal, an omelet, etc.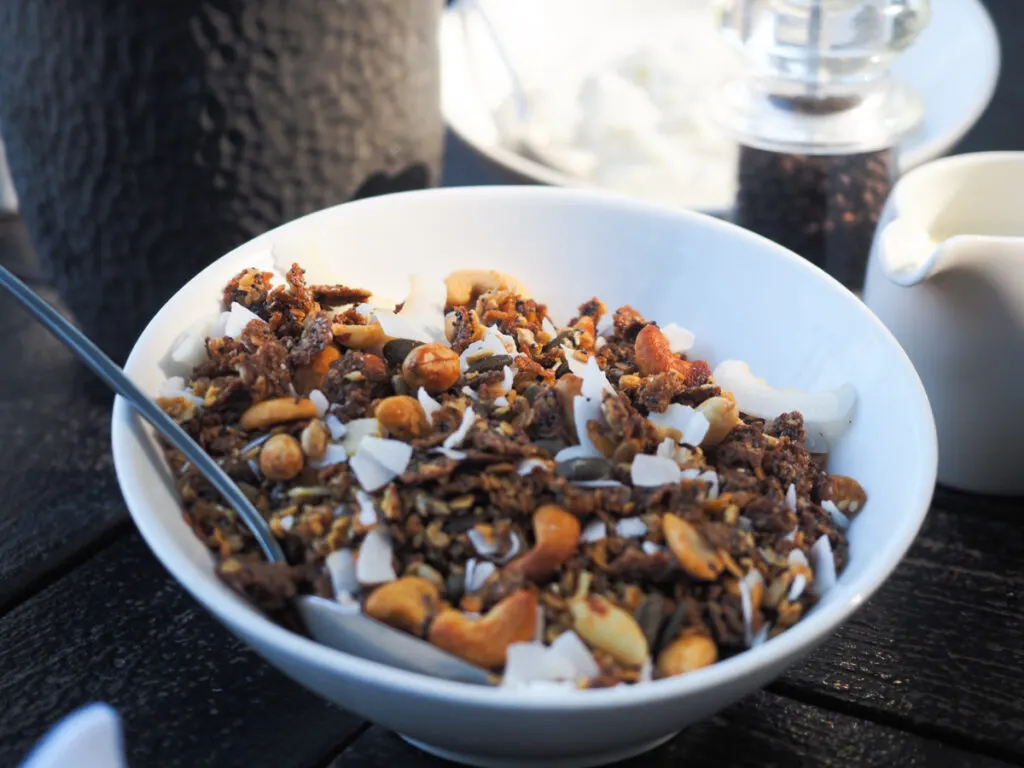 Lunch is served around 1 p.m. and is usually served family-style with a main course and several side dishes. The main can be steak, chicken, veggies, etc. and the sides include various salads, fruits, couscous, etc.
Also, as if they don't feed you enough, they serve afternoon tea with various teas, coffees, and pastries before your evening game drive as well as coffee, fruit, and pastries prior to the morning game drive.
Lastly, during the game drives, you'll stop for a coffee break for coffee, tea, and biscuits in the morning, and a sundowner break in the evening where they serve beer, wine, cocktails, and snacks.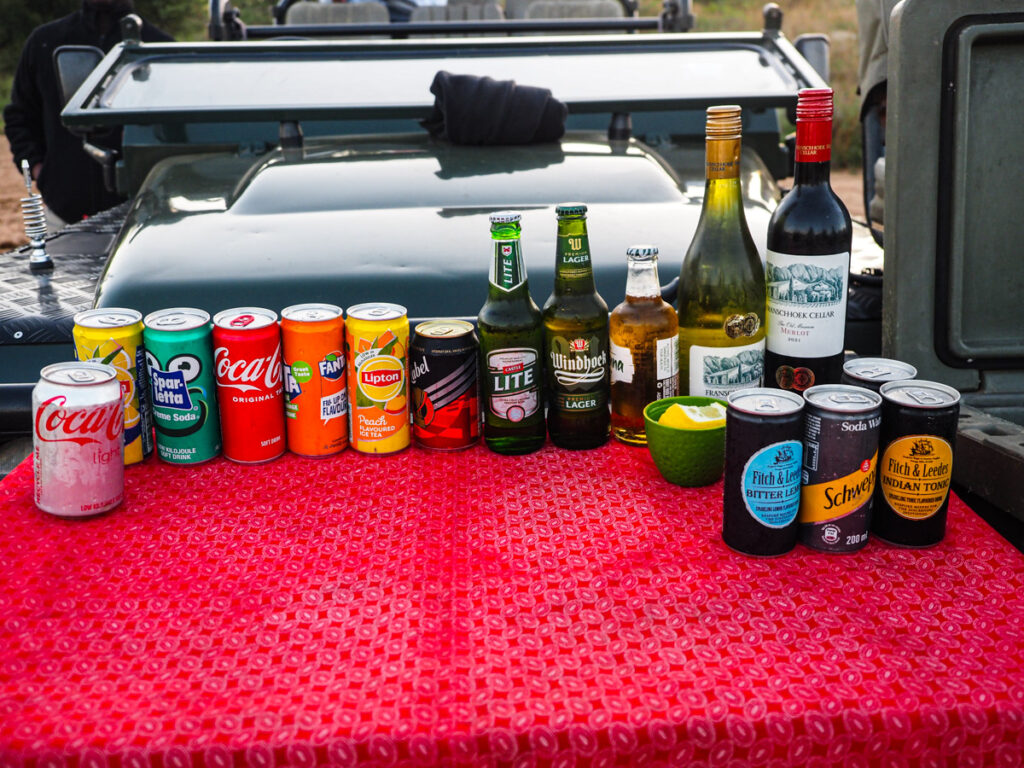 I loved the mix of both local South African specialties as well as favorites around the world including curries, pasta, etc. Everything tasted perfectly seasoned and delicious. And trust me, we never went hungry!
As for drinks, local beer and wine is included as well as cocktails on their drink menu that say they are included. If you want a specialty cocktail or a bottle of premium wine, that does cost extra.
PS- Be sure to try the local liquor- Amarula! This is a cream liquor made from the fruit of the African marula tree. It is a perfect aperitif!
How Much Does a Stay at Simbavati River Lodge Cost?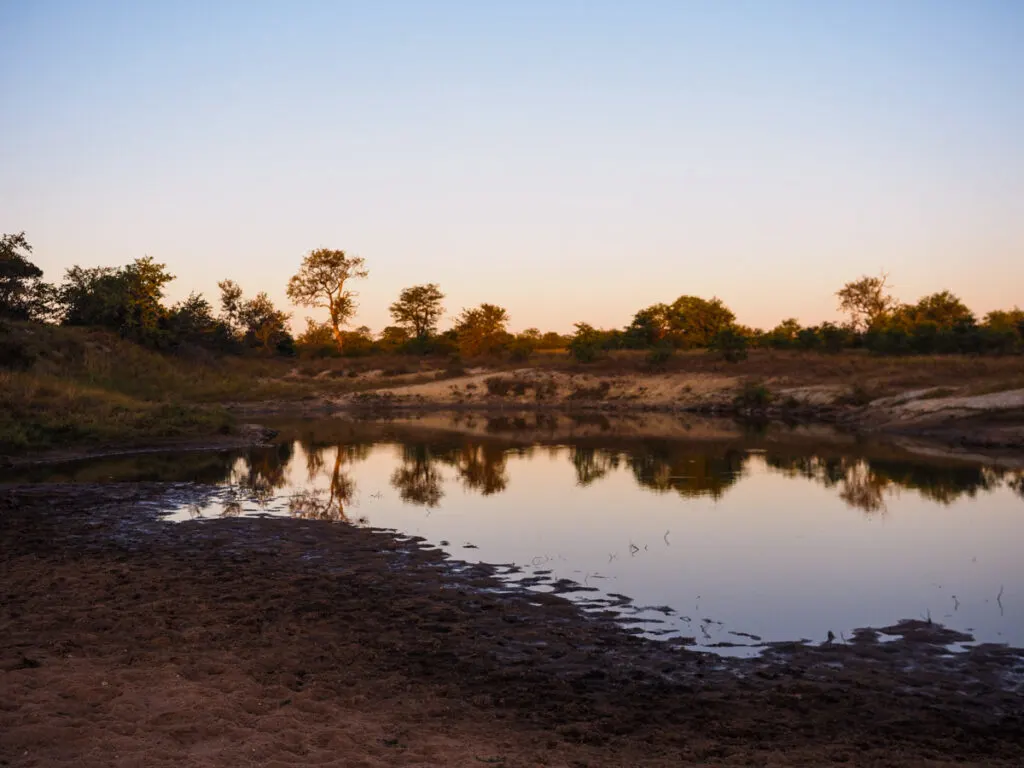 We have a whole guide on how much a safari in Africa costs as well as how much a trip to South Africa costs, but let's talk specifically about how much it costs to visit Simbavati River Lodge.
For the Luxury Safari Tent for 2 people, it costs R9,850 ($530) per person, per night. For a single traveler in the tent, it costs R13,100 ($705) per night.
The Luxury Pool Tented Suite for 2 people costs R10,525 ($565) per person, per night. For a single traveler in the tent, it costs R14,025 ($755) per night.
Lastly, when it comes to the Family Chalet, it starts at R9,850 ($530) for the first 2 people per person, per night. For a 3rd and 4th person, it is R7,375 ($400) each per night. For children 4-11 years old, it is R4,925 ($265) per person, per night. Children under 4 are free.
*Note that children under 6 are not allowed to go on game drives.
These rates include your accommodation, all meals, beverages (not premium brands and cellar wines), 2 game drives per day, and round-trip shared transfers from the Hoedspruit airport.
This does exclude other purchases such as premium drinks, babysitting, private airport transfers, tipping, laundry, curio shop purchases, massages, conservation levies, gate entrance fees, and additional reserve fees.
Timbavati Game Reserve Wildlife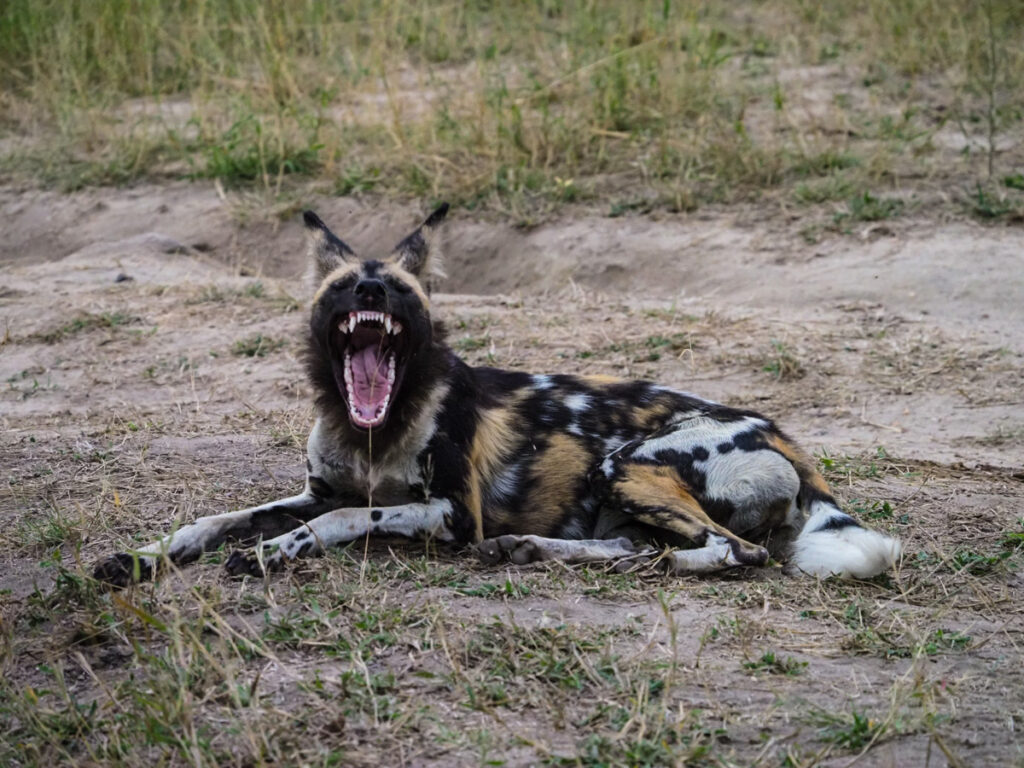 What kind of wildlife will you find at the Timbavati Game Reserve? Well, this area in particular is known for its leopard sightings, which are always exciting!
You can find all of the Big 5 (lion, leopard, rhino, buffalo, and elephant) on safari here as well as many antelopes like impala, kudu, and waterbuck. Other animals you can spot include wild dogs, giraffes, zebras, warthogs, hippos, crocodiles, and various bird species!
We saw all of this and more while staying at Simbavati River Lodge and going on game drives!
Best Time to Visit Simbavati River Lodge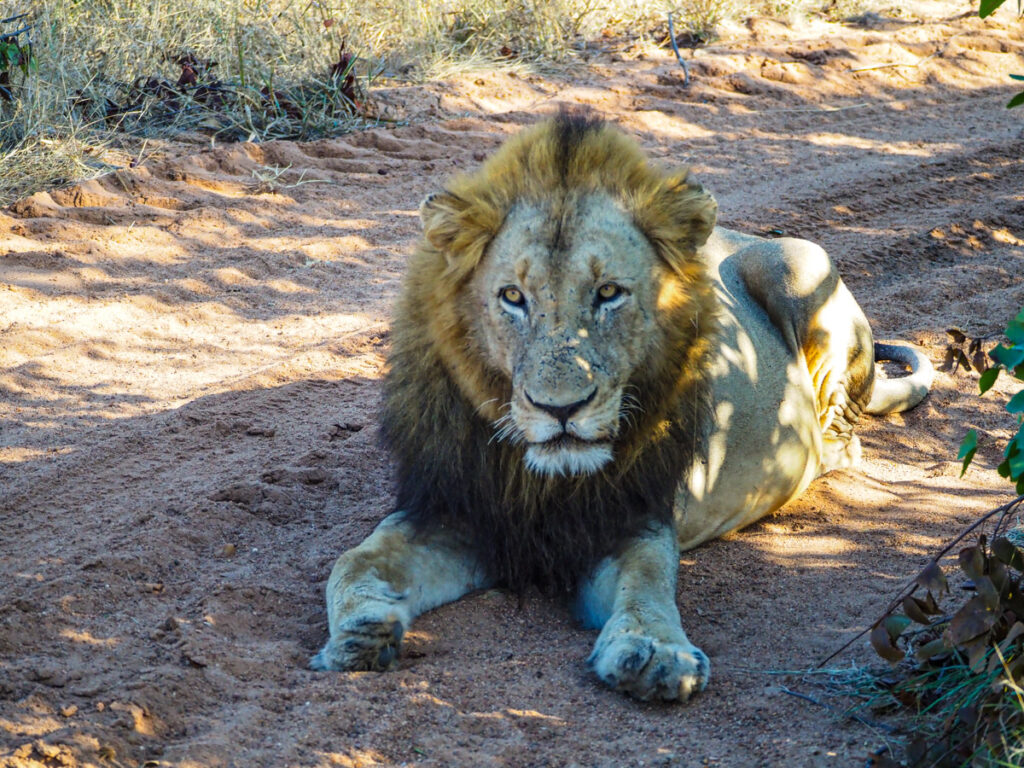 You can certainly visit year-round, as the animals are here! However, there are better times to visit than others. The best time to visit is between May and September. This winter season corresponds to their dry season.
This means plant life is sparse and animals are easier to spot. It is also chilly in the mornings and evenings and not too not in the afternoons.
November through December can be hot and humid, but game drives are still exciting as there are many young animals born at this time! This can be a busy time of year, however, as it is summertime in South Africa and the holiday season, meaning many people are on vacation. It is a great time to visit Cape Town, making this a lovely time to go on a safari and beach holiday.
January through April can be quite hot, but there are a lot of migratory birds to spot.
What to Bring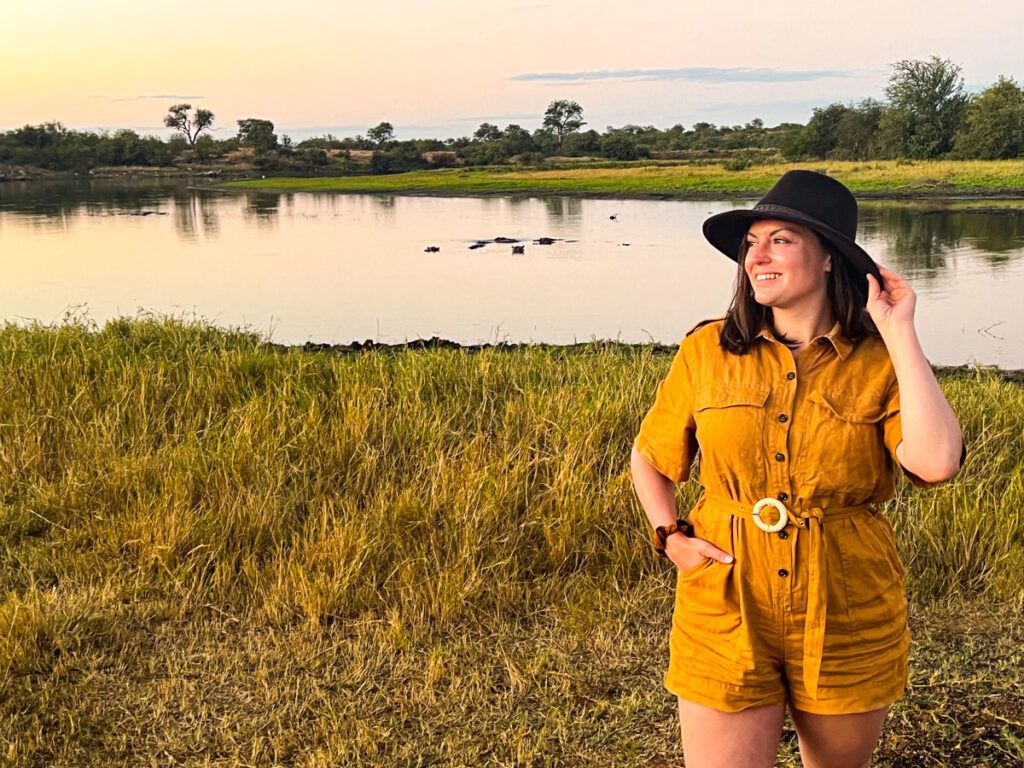 Be sure to pack things like bug repellent, sunscreen, a hat, etc.
Other things you'll want to pack include earth-toned tops and layers. Tennis shoes are great to have for the game drives, and you'll want gloves, a scarf, a jacket (I love my Northface tri-climate jacket for this), etc. for game drives in the winter when it can be cold.
But for warmer times of the year, you'll want to pack cooler items like shorts and a T-shirt.
You'll want the clothes that you wear on game drives to be comfortable, as you'll be sitting in the vehicle for a majority of the 3-hour drives. And around the lodge, I suggest comfortable sandals or flip-flops for lounging around.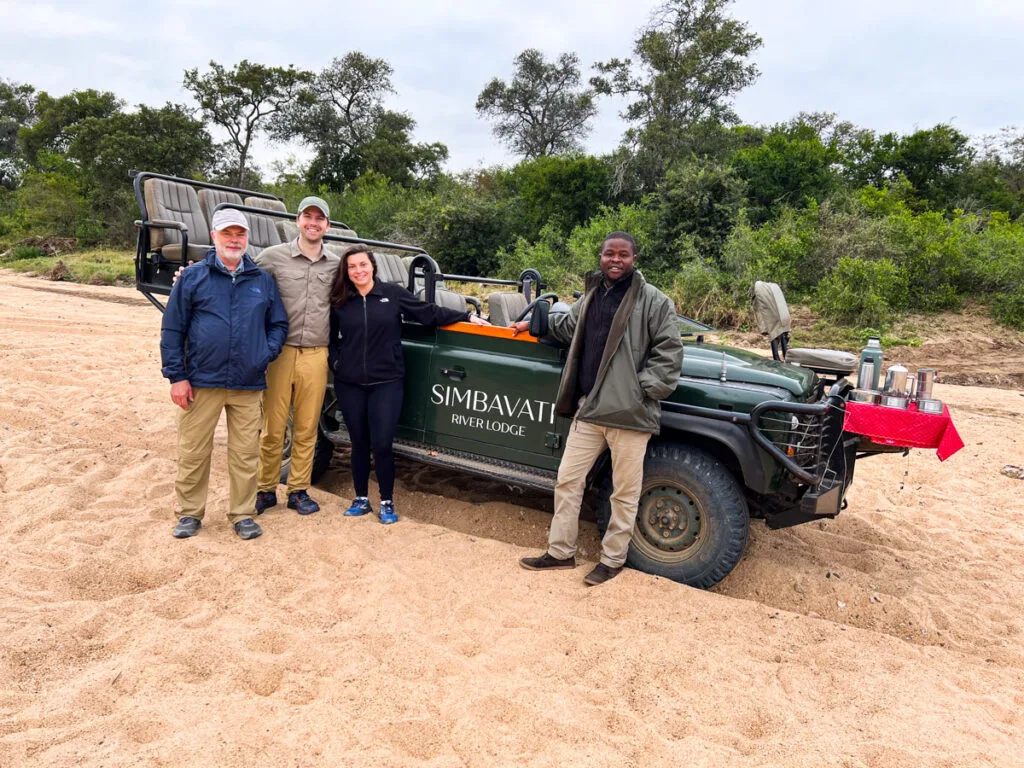 You'll also want to bring your swimsuit to lounge by the pool!
For the game drives, you'll also like having binoculars for bird spotting, and a camera for taking photos. We used my Olympus camera with my everyday lens and telephoto lens to get photos!
And for those who want to take video, you can just use your iPhone, but you can also use things like the Insta360 for 360º shots!
Other Things to Note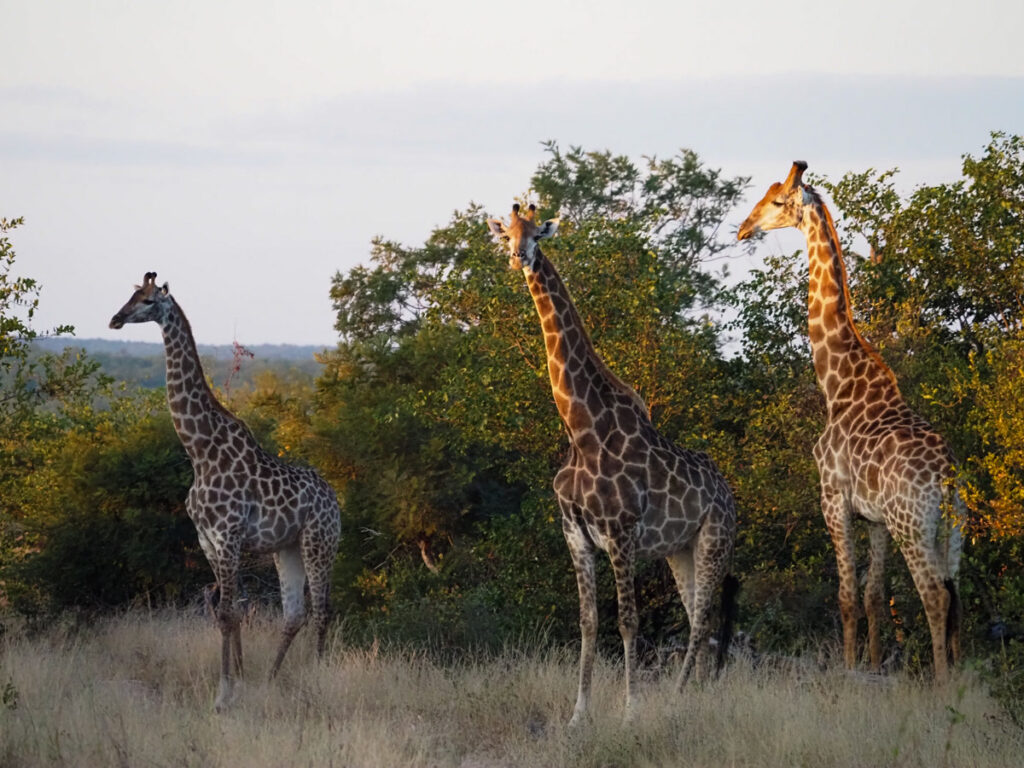 Other things to note include that check-in starts at 2:30 p.m. and check-out is before 11 a.m.
Conservation Fees for Timbavati Private Nature Reserve costs R575 ($31) per adult per night and R288 ($15) per child under 12 per night.
This area is also not malaria-free! Definitely talk with a travel clinic prior to coming for any additional vaccines and antimalarials that you may need.
You may want insurance! We like to use SevenCorners for big trips as you can purchase plans with Cancel For Any Reason Insurance!
Also, there are some great Simbavati River Lodge Specials including their stay 4 nights, pay for 3 nights deal, stay 7 nights and pay less, winter deals of 50% off the 3rd night, and more!
What a Typical Day Looks Like on Safari at Simbavati River Lodge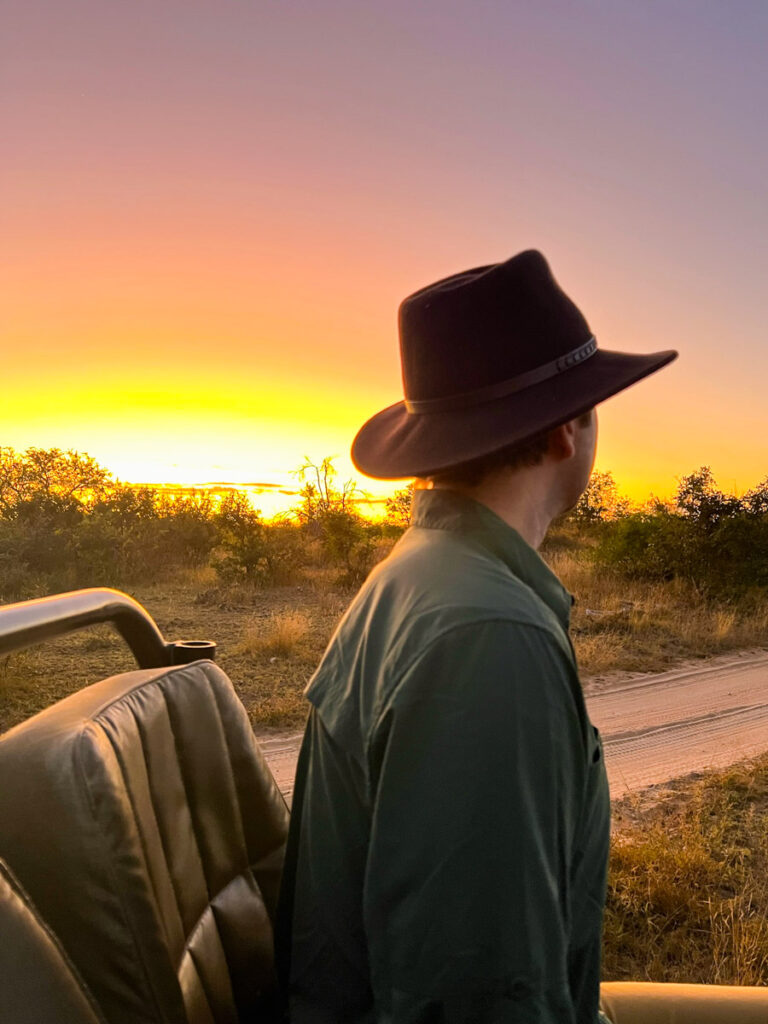 You'll typically be woken up with a wake-up call around 5:30 a.m. depending on the time of year. Then, there is coffee and light snacks to enjoy before the game drive begins around 6 a.m.
The morning game drive lasts about 3 hours with a stop about halfway through for coffee and a chance to stretch your legs. They also serve butter biscuits/cookies with the coffee which are SO good!
After the game drive, you arrive in time for breakfast and you have free time until lunch at around 1 pm.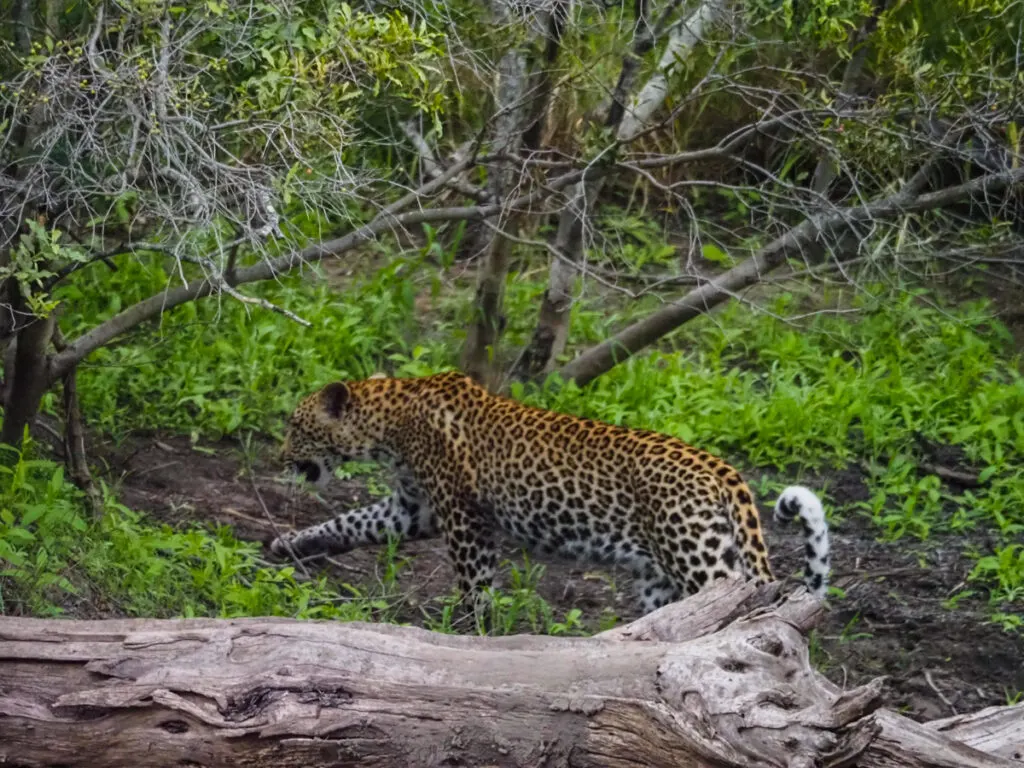 Then, after lunch, you have a couple more hours to spend as you please (at the pool, spa, reading, napping, etc.) before afternoon tea is served at the lodge.
Then, around 3:30 p.m., you'll begin your evening game drive. This also lasts 3 hours with a stop for a sundowner drink and a chance to stretch your legs.
After that, you'll have time to freshen up, grab a cocktail, etc. before dinner begins. After dinner, you can grab a drink or two, and then head to bed for the experience all over again.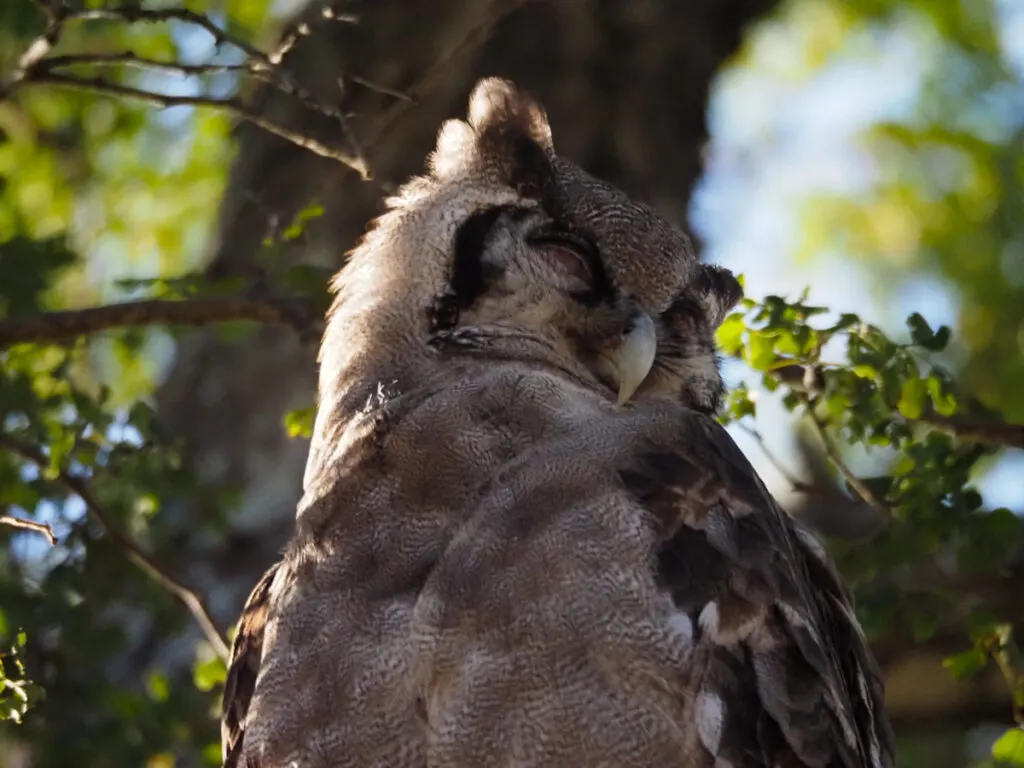 What is really great is that on the day of your arrival, if you arrive before 3 pm, you can go on the afternoon game drive. And on the day of your departure, if you are leaving after 10 a.m., you can participate in the morning game drive and breakfast!
What Did We Think of Simbavati River Lodge in South Africa?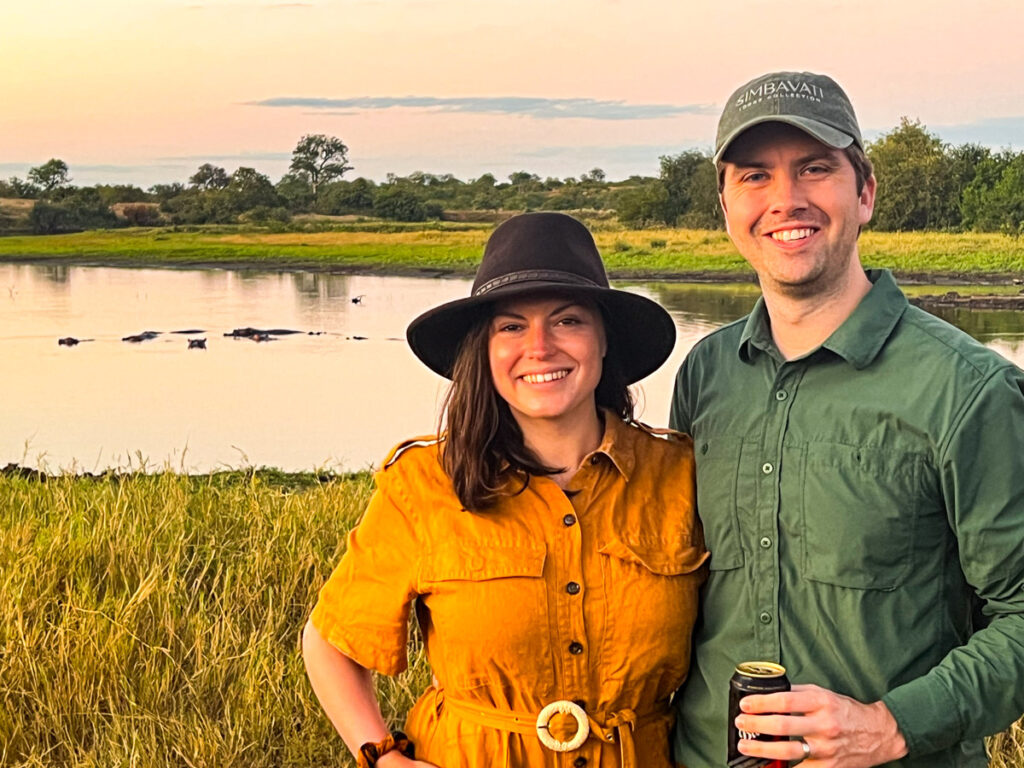 Honestly, I really don't have any notes. It was fantastic on both occasions we stayed there! The staff are friendly and helpful, the guides and trackers very knowledgeable and love to educate about the wildlife, and the luxury tents are very comfortable.
Yes, we did receive a discount to come here again on our recent trip, but we requested to come here, and we paid full price the first time and would do it again!
This place combines relaxation with the excitement of safari. And there is always a chance to spot wildlife whether you're on a game drive or just lounging around at your tent or the lodge.
The tents and lodge are very clean, and they really do handle everything. We felt safe and comfortable and had a great time each time we visited Simbavati River Lodge. We would do it again in a heartbeat!
Where are Other Simbavati Safari Lodges You Can Visit?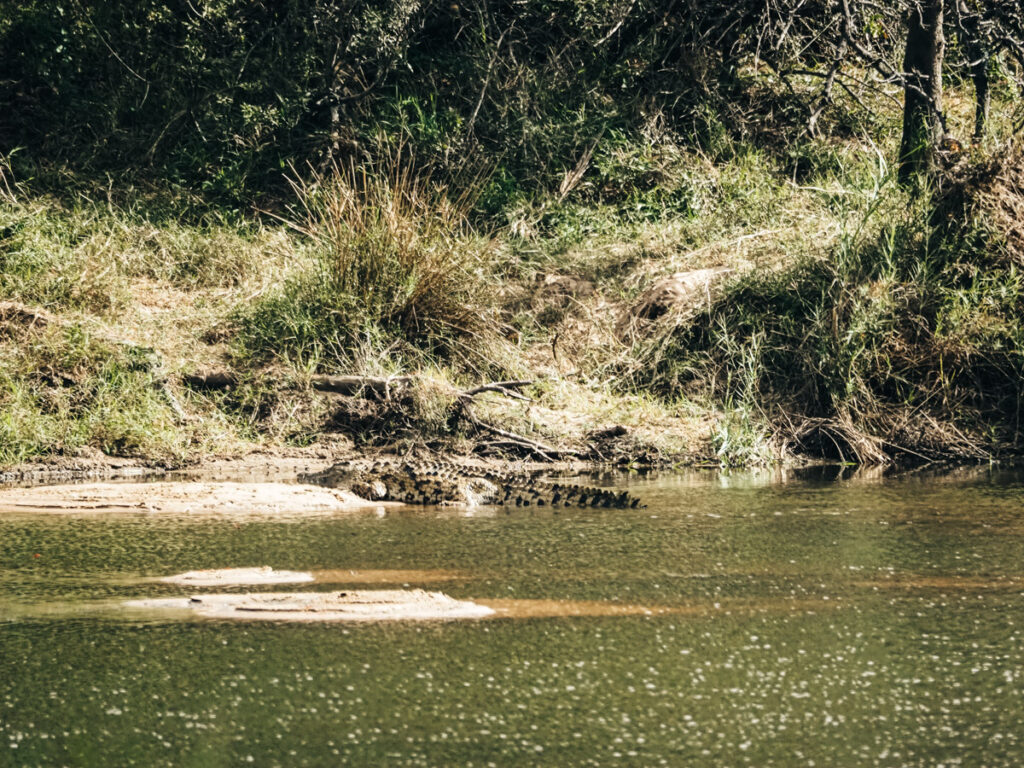 There are actually quite a few Simbavati Lodge Collection properties around South Africa and Tanzania. There are 5 properties in the Timbavati Reserve including the Simbavati River Lodge, Simbavati Hilltop Lodge, River Sands, Mvubu Cottage, and Trails Camp.
The Simbavati Hilltop Lodge is located on the hill overlooking the Nhlaralumi River. This place has lovely tented suites with a large deck with river and dam views.
River Sands is a private and luxurious villa which is along the Sohebele River. It has a pool that looks out over a watering hole, 2 spacious suites, and a large outdoor patio.
Mvubu Cottage is a private cottage with 2 bedrooms and 2 bathrooms, and the Trails Camp is more budget-friendly with 4 en-suite tents with furniture and mosquito netting. It is a little more rustic but still comfortable.
Other lodges in the Simbavati Collection include:
Klaserie Game Reserve near Kruger: Camp George, Homestead, Amani, Waterside
Cederberg: Cederberg Ridge
Garden Route: Fynbos on Sea
Tanzania: Grumeti and Migration Camp
Simbavati River Lodge has been one of the best places we've ever stayed in the world! Between the amazing service, beautiful lodgings, and exciting wildlife, we cannot recommend this enough.
We hope you have the best time on safari at Simbavati River Lodge!
Thanks to Simbavati River Lodge and Safari365 for discounting our recent stay. As always, all opinions are our own.
Want more travel ideas for Africa? Check out these posts:
Pin it here!