Some posts on this site contain affiliate links, meaning if you book or buy something through one of these links, I may earn a small commission (at no additional cost to you!). Read the full disclosure policy here.
---
Whether you're on a South African honeymoon or you are on a romantic getaway, there are several fun things to do in Cape Town for couples!
After a couple of visits to Cape Town, I can honestly say that it is amazing. Between the towering Table Mountain in one direction and the ocean in the other, there are some gorgeous sunrises and sunsets, great places to eat and drink, and, of course, ample romantic things to do in Cape Town.
So that is why I have a whole list of the 35 fun things for couples to do in Cape Town that'll make you want to plan a trip here ASAP!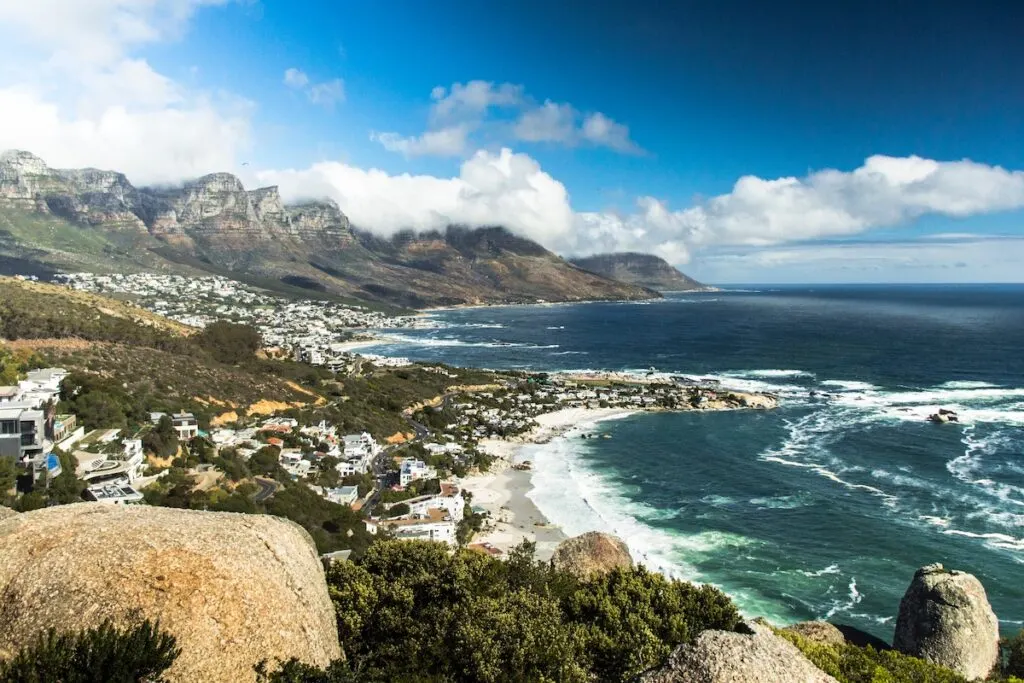 35 Fun Things to Do in Cape Town For Couples
From wine tasting to movies under the stars, these are the top things to do in Cape Town as a couple.
1. Explore Table Mountain Together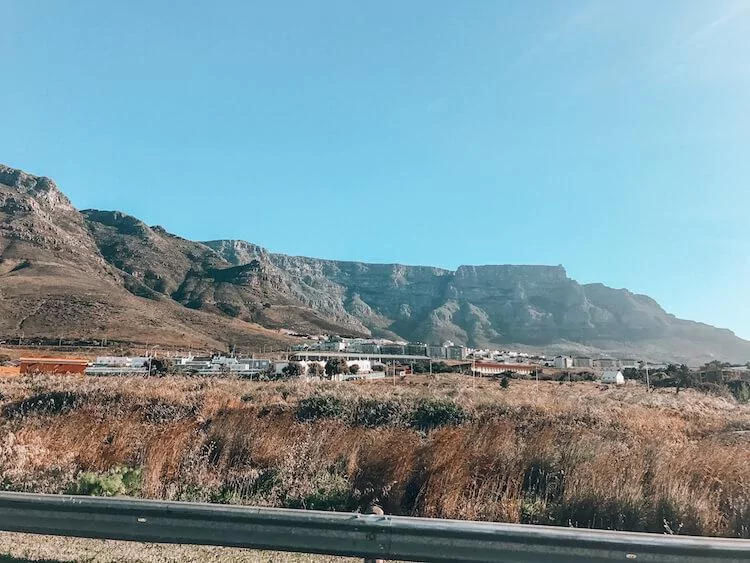 Table Mountain is one of the most prominent features in the city, so it makes sense that visiting the top of it is definitely one of the most romantic things to do in Cape Town.
The views from the top over the city and sea are incredible, so why not go on a fun adventure in Cape Town and hike to the top?
My husband, Chris, and I did this on our first visit to Cape Town and hiked up via Platteklip Gorge. The hike is about 1.8 miles (roughly 3 km) long and generally takes between 1.5-2 hours to complete from the Platteklip Gorge starting point to the top.
Oh, and expect about 2,293 feet (almost 700 m) in elevation gain. It certainly is a challenge. That is why it is absolutely necessary to bring enough water. I'm talking like 2 liters per person at least. And bring snacks.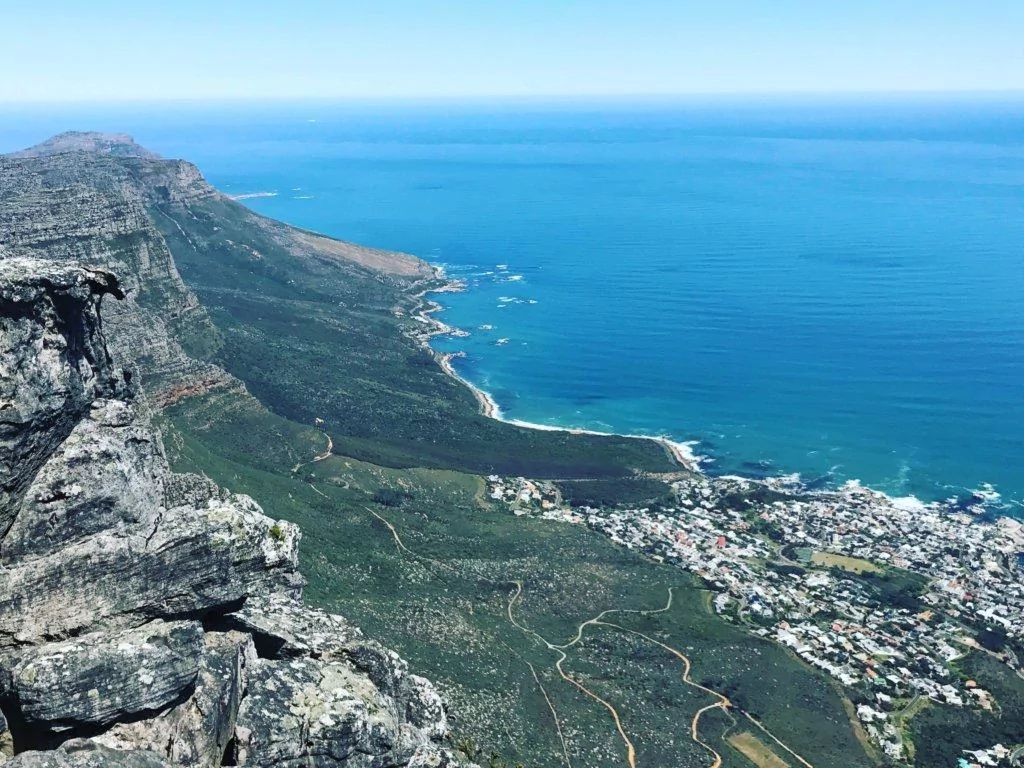 While less than 2 miles doesn't seem like a long hike, the elevation gain and direct sunlight on most of the path make it a challenge, especially if you don't bring enough water.
Unfortunately, that is what happened to us as we felt confident to only bring a small water bottle and thought that if we run half marathons with little water, how tough could this be?
We were quickly humbled and relied on the help of a good samaritan who gave us a large bottle of water that gave us enough strength to make it to the top… only to run to the concession stand and purchase several water bottles and snacks.
Basically, don't make our mistake, and pack enough water and snacks for the hike.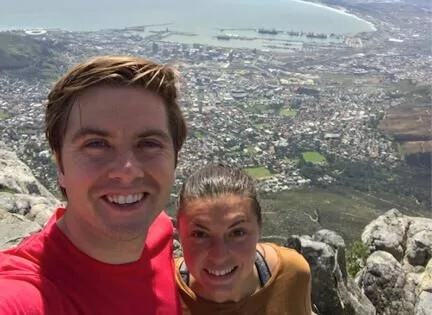 I will say that the views are stunning throughout the hike, especially in the gorge area. And it is all worth it once you reach the top and can take it all in! So if you're well prepared, you'll have an incredible time hiking up the mountain.
Also, most people who hike up tend to do their knees a favor and purchase a ticket on the Table Mountain Cable Car down.
For a one-way cable car ticket, expect to pay about R220, or, if you don't feel like hiking, you can purchase a round-trip cable car ticket for R340-395 per person.
2. Hike Up Lion's Head at Sunrise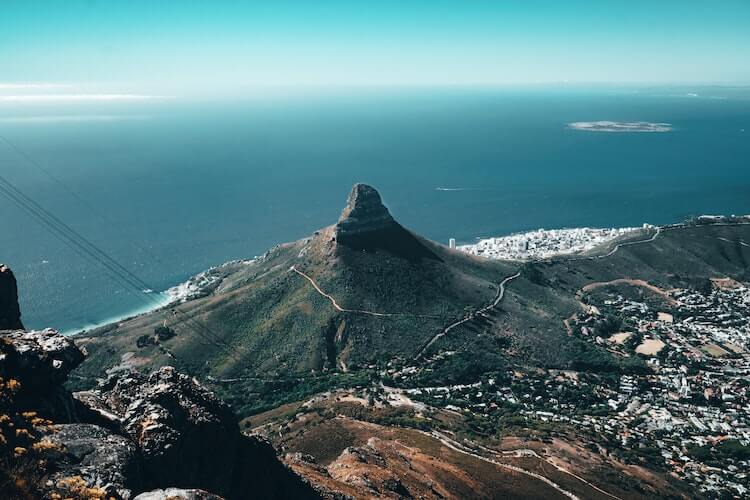 There are actually several hills in and around Cape Town other than the giant Table Mountain. And Lion's Head is a pretty popular hike, especially for the sunrise or sunset.
You can even book a guided hike if you like where you start early and arrive at the summit just in time to regard the stunning views as the sun rises.
There are a couple of paths to get to the summit, including one with chains and staples, and an easier route to avoid that. Either way, the 360º view from the peak makes it all worth it.
3. Visit the Seal Platform at the Two Oceans Aquarium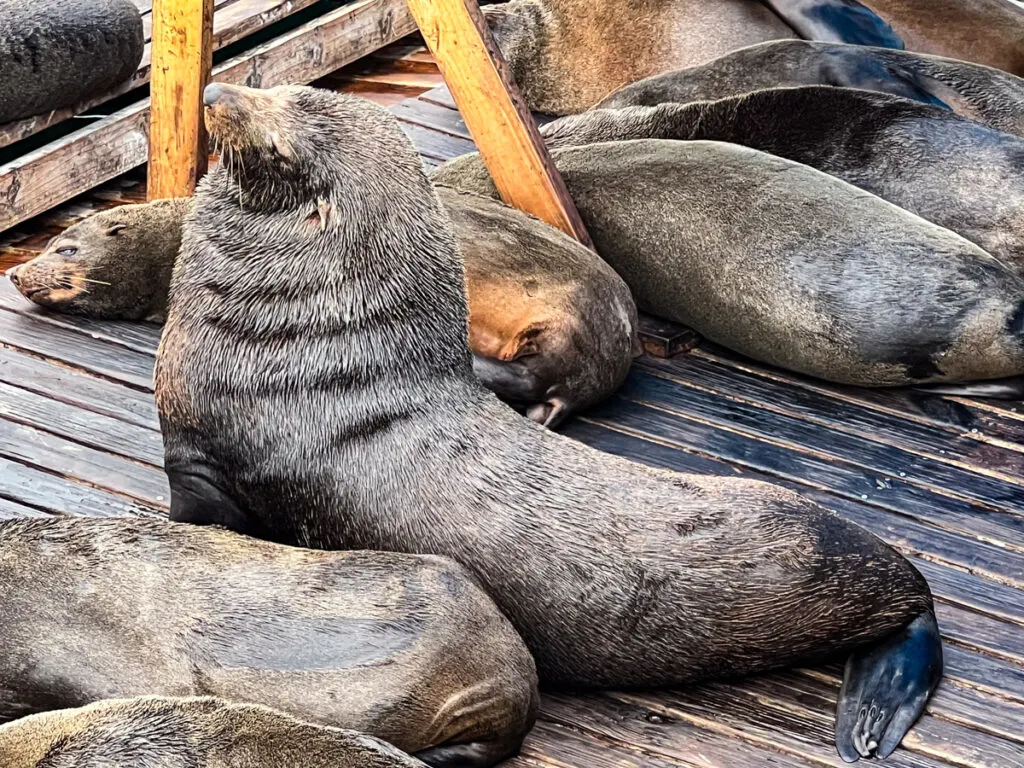 One of my favorite fun things to do in Cape Town for couples has to be to visit the seal platform at the Two Oceans Aquarium on the V&A Waterfront. This is a free attraction, as there is literally just a wooden deck on the waterfront outside of the aquarium that seals freely jump on and off of.
Both times I've visited I've seen seals hanging out on that platform, and it is a lot of fun to watch them interact with each other and hop in and out of the water.
And, if you want to see more aquatic life, check out the Two Oceans Aquarium next to the platform. Tickets cost R235 per person for adults.
4. Take a Helicopter Ride Over Cape Town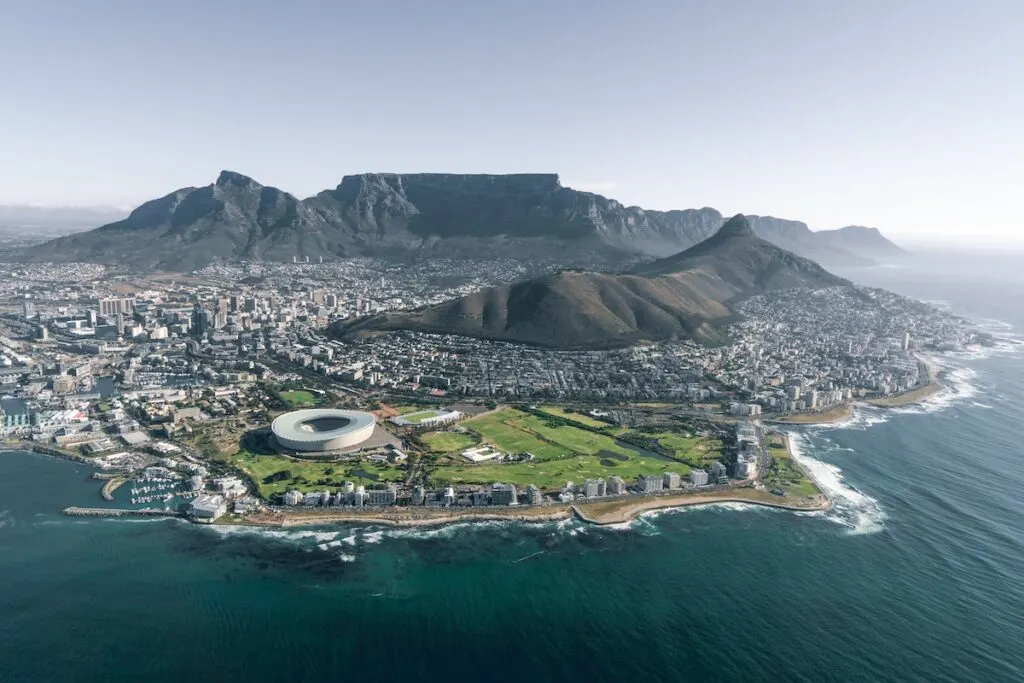 For those who aren't afraid of helicopters or heights, this is a really cool thing to do in Cape Town for couples!
Book a scenic helicopter flight over the city where you'll have endless views of Table Mountain, the city bowl, the coastline, Lion's Head, Signal Hill, and even the mountains of the Twelve Apostles.
5. For Thrill Seekers- Opt to Paraglide in Cape Town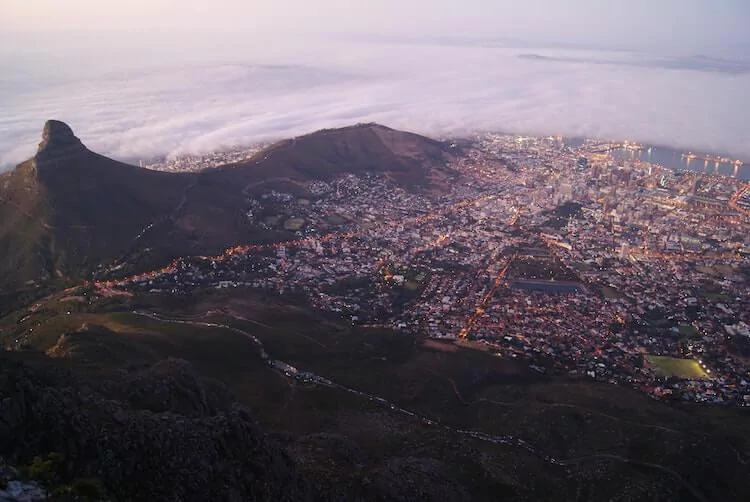 Really want to get your adrenaline pumping together? Opt for a paragliding experience with an instructor as you glide off of Signal Hill and admire the views of Camps Bay, Lions Head, Table Mountain, the V&A Waterfront, and more!
6. Want Some Secret Romantic Spots in Cape Town? Catch a Movie at the Galileo Open-Air Cinema
What is more romantic than watching a movie together under the stars? You can do just that during your romantic trip to Cape Town at the Galileo Open Air Cinema. With venues at Kirstenbosch Garden, Central Park, and Six Gun Grill Newlands Cricket Stadium, you can enjoy movies under the night sky in Cape Town between October and April.
They also have venues in the Winelands if you are planning a weekend getaway to the Cape Winelands as well!
Check here for dates, times, and prices!
7. One of the Best Couple Activities in Cape Town: a Sunset Cruise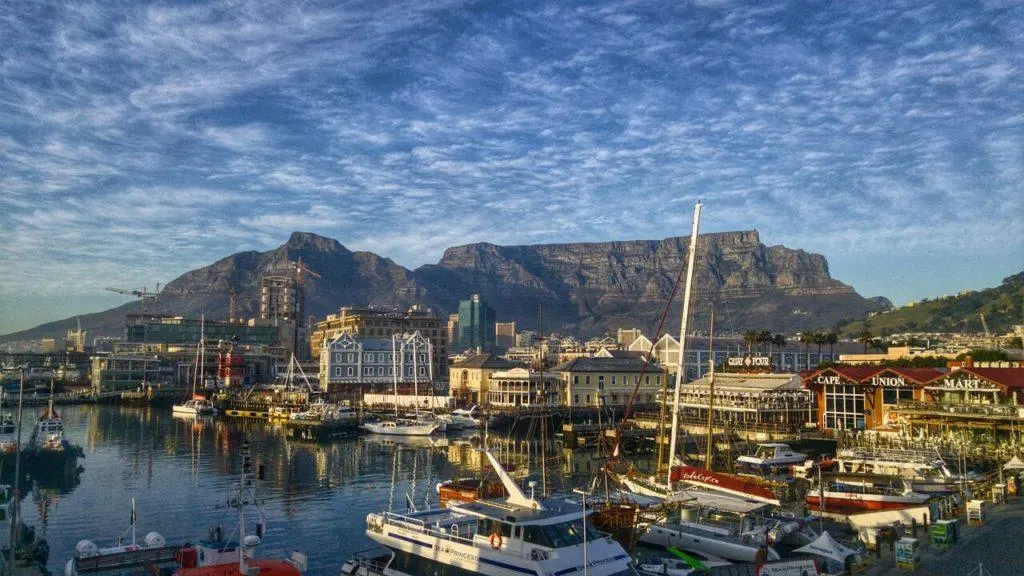 I mean, when you're in a city with epic sunrises and sunsets, you know you need to take advantage of both, right?
One of the romantic activities in Cape Town for couples has to be taking a dreamy sunset cruise. This 1.5-hour cruise includes 2 glasses of local sparkling wine, and you get the chance to spot wildlife including whales and dolphins!
Admire the views all around you as you sip sparkling wine, creating a romantic memory you won't soon forget.
8. One of the Romantic Spots in Cape Town has to be a Cafe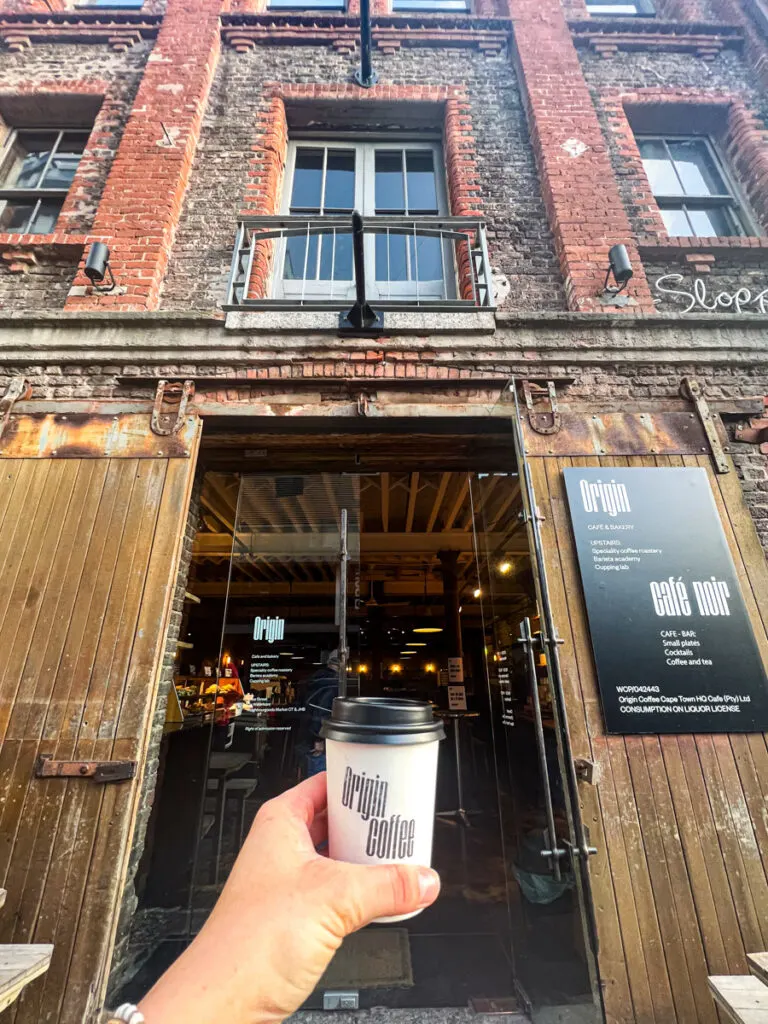 Coffee dates are perfect both for first dates as well as seasoned couples. And Cape Town has no shortage of incredible places to get a cup of brew.
I know that Truth Coffee gets a lot of attention, and rightly so, they make great coffee, but our personal favorite is Origin Coffee.
This place has several great single-origin and blended coffees, as well as tasty drinks including lattes and flat whites.
It is also in a fun renovated brick warehouse that isn't far at all from the V&A Waterfront.
So grab a pastry and cup of coffee together as you start a new morning in Cape Town.
Other notable coffee shops in Cape Town include Rosetta Roastery Cafe, Kamili Coffee on Long, Espresso Lab Microroasters, and Heaven Coffee Shop.
9. Dinner is Definitely on the List of Fun Things to Do in Cape Town For Couples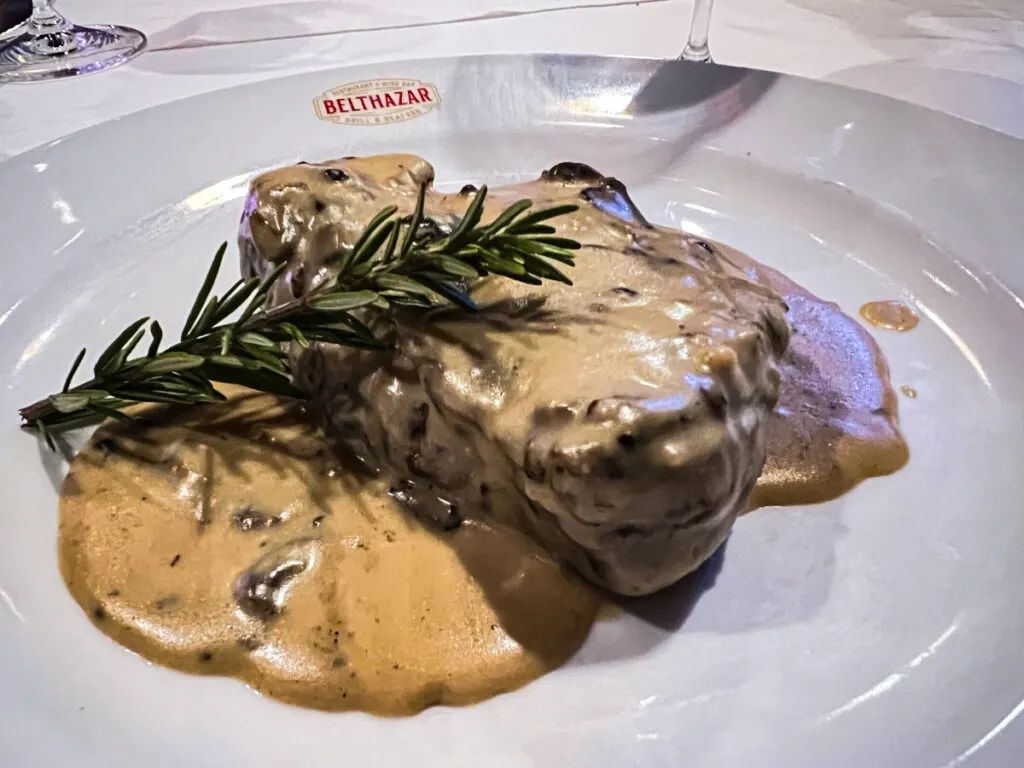 Who doesn't love a nice dinner date? There are plenty of phenomenal places to eat in Cape Town, whether you prefer local food or international alike.
One of our favorite places we always visit while in town is the CodFather. Located in Camps Bay, this is one of the best sushi spots in town, with its conveyer belt sushi.
But what we love is that there are no menus here. You just go to the fish counter and pick out what you'd like to eat. Then, they prepare it for you and give you sides and sauces to pair it with.
It is a lot of fun to split a bunch of seafood together and try some sushi as you sip some local wine.
For more upscale dining, there are also places like Nobu, and for a taste of South African game meat like ostrich or kudu, check out Belthazar. Also, for more local cuisine, you'll like Karibu and Marco's African Place.
10. V&A Waterfront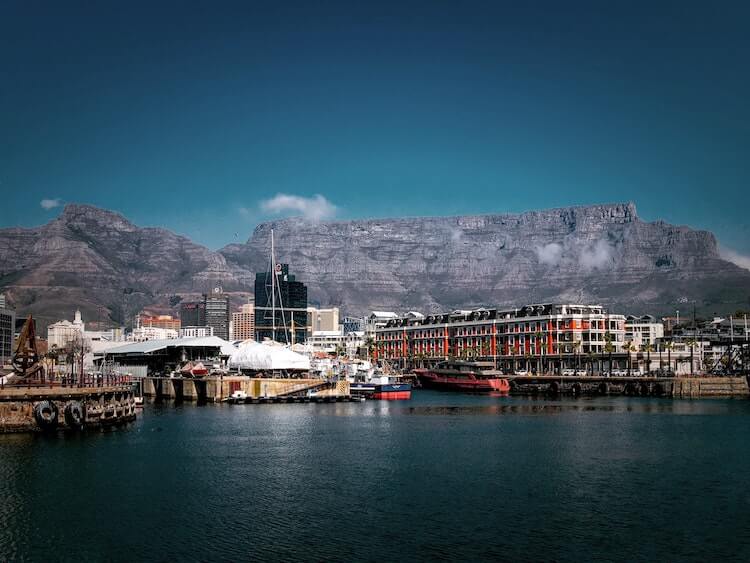 I can't forget to mention the V&A Waterfront while you're in Cape Town. For starters, it is a popular area for dining, shopping, sightseeing, and more!
There are fantastic places to eat, and you can shop for local goods at the Watershed as well as major worldwide stores at the mall.
It is a lot of fun to stroll around the waterfront, and you can enjoy more beautiful views of the city from the Cape Wheel.
11. Enjoy Art at the Zeitz Museum of Contemporary Art in Africa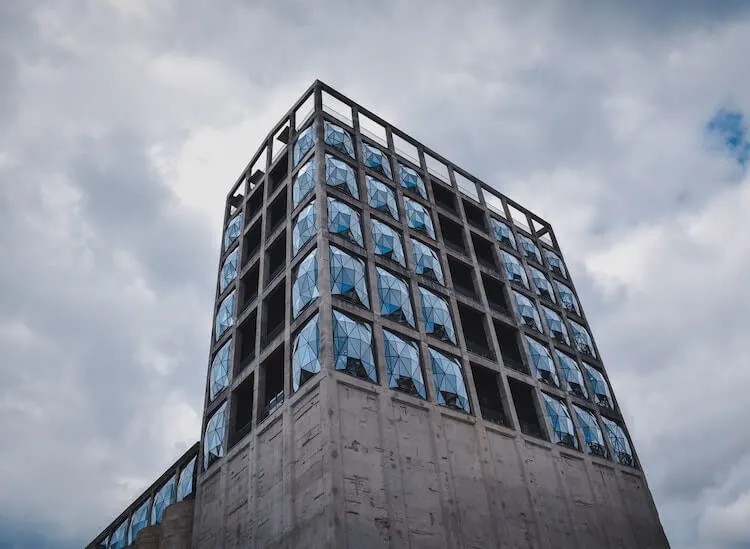 Located at the base of the Silo Hotel, you can visit this incredible art museum. This modern art museum features contemporary art from Africa and its diaspora.
Here you can find both permanent and rotating exhibits and the forms vary from paintings to sculptures and more.
If you're searching for fun couple activities in Cape Town for a chilly or rainy day the Zeitz MOCAA is a great place to go.
Tickets are R230 per adult.
12. Enjoy a Sunset on the Beach
Whether you're in Camps Bay or in Clifton, there are some fantastic beaches to catch an incredible sunset.
I mean, there are a ton of fantastic places to catch a sunrise and sunset in the city, but if you want to have a little picnic by the beach together and take it all in, definitely head to Clifton or Camps Bay as the sun sets for some colorful and stunning views.
13. Go on a Food Tour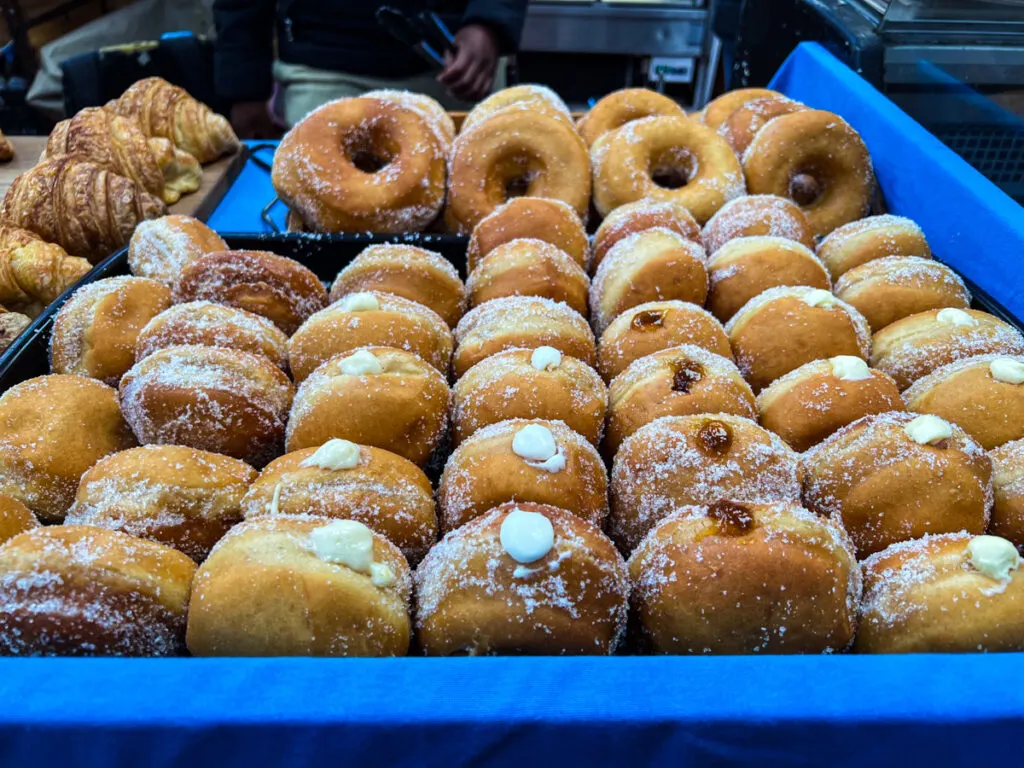 One of our favorite things to do in cities we've never been to is to take a food tour. It is a great way to get oriented with the place as well as try some local delights.
Eat Like a Local offers food tours of the City Bowl as well as plant-based tours, private tours, and even tours in Hermanus.
The City Bowl tour lasts for about 4.5 hours and includes 10 tastings. It starts at 9:30 am Monday through Friday.
14. One of the Best Places to Visit in Cape Town For Couples: the Old Biscuit Mill for the Neighbourgoods Market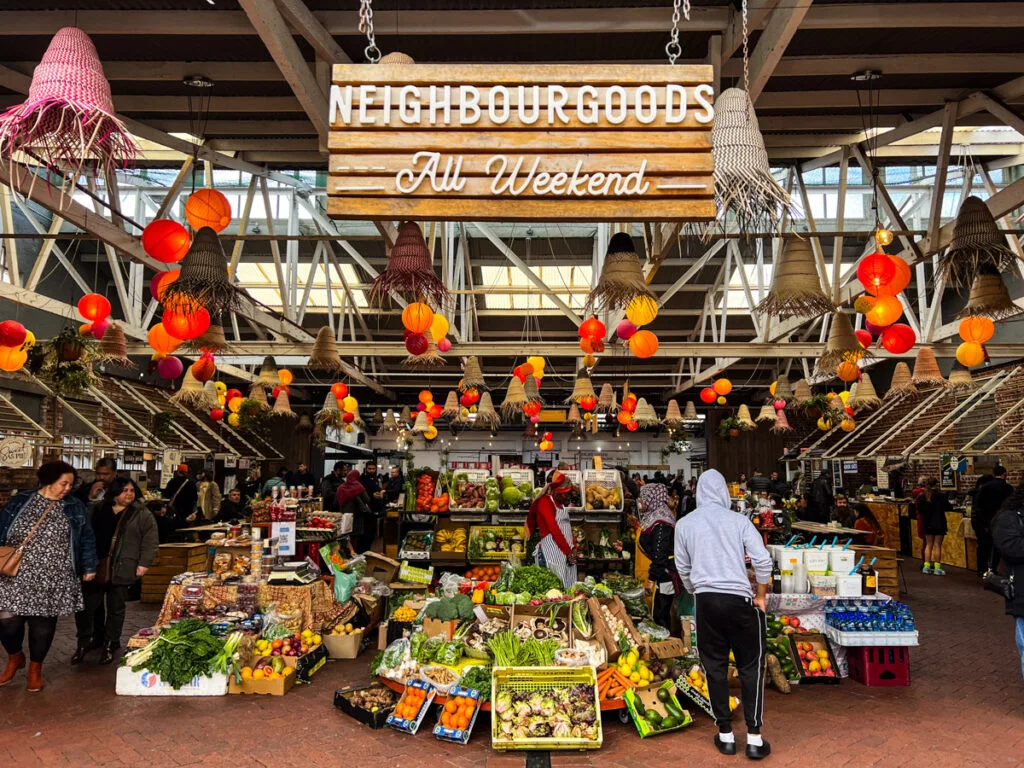 For a fun local experience in Cape Town, definitely head to the Old Biscuit Mill on Saturday or Sunday from 9 am-3 pm.
This place is fun to visit anytime, but on the weekends, it turns into an incredible shopping and dining experience. There are pop-up shops featuring local artisans, and a huge selection of food stands selling anything from local cuisine to Greek food, pastries, other African cuisines, Korean food stands, and so much more.
There are also stands to grab a local beer or glass of wine, and you'll love walking around, getting food, and listening to the live music!
15. Head to a Wine Bar Together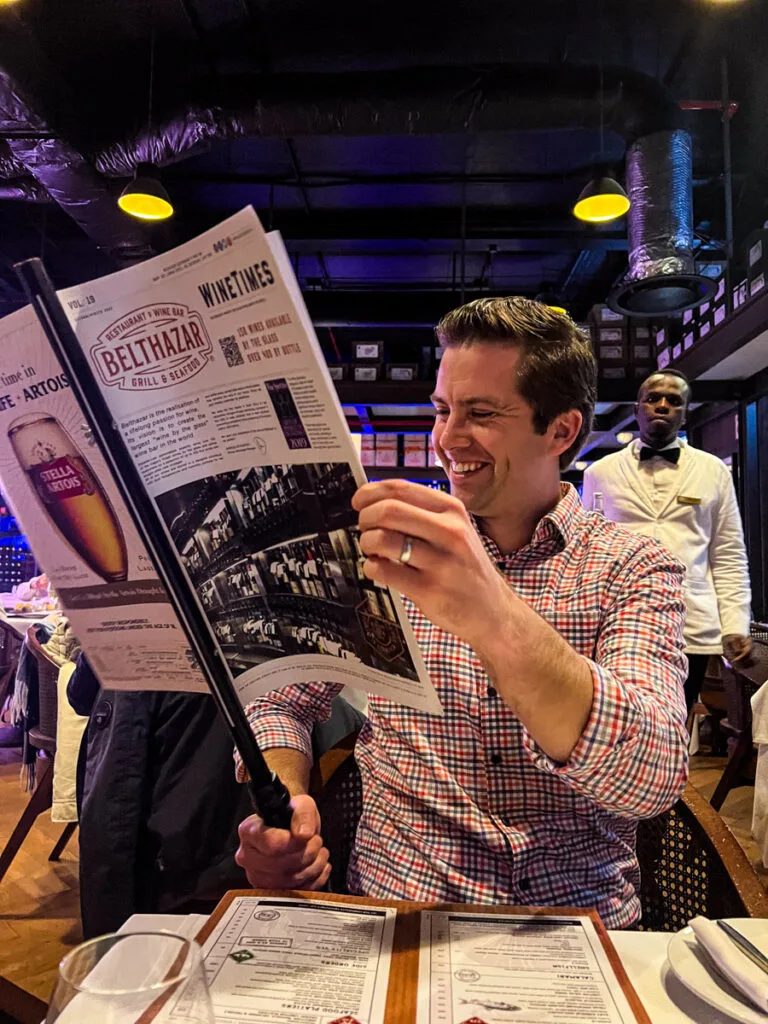 South Africa has certainly made a name for itself when it comes to wine. And if you want to try some local South African wine, but don't necessarily want to drive out to Wine Country, then a wine bar is a great option.
It's also just a fun date night idea in Cape Town overall! A great wine bar is Publik known for serving wines that are made sustainably by artisan South African winemakers.
They also have other wines from Europe as well as great music, and occasional dinners featuring chefs. Overall, it is just a fun spot to hang out and sample some really delicious wines.
If you want to have a nice dinner with ample opportunities to taste wine, then definitely head to Balthezar on the V&A Waterfront. It is the biggest wine-by-the-glass bar in the world! So if you want to try a lot of different wines together, this is the place. Also, their steak and game meat is a perfect pairing.
Other notable wine bars to check out include Culture Wine Bar with quite a large selection of both South African and wines from around the world, Openwine for a casual ambiance and live music, and La Boheme for great wine with delicious food near the ocean.
16. Check Out a Cocktail Bar (or Two) in Cape Town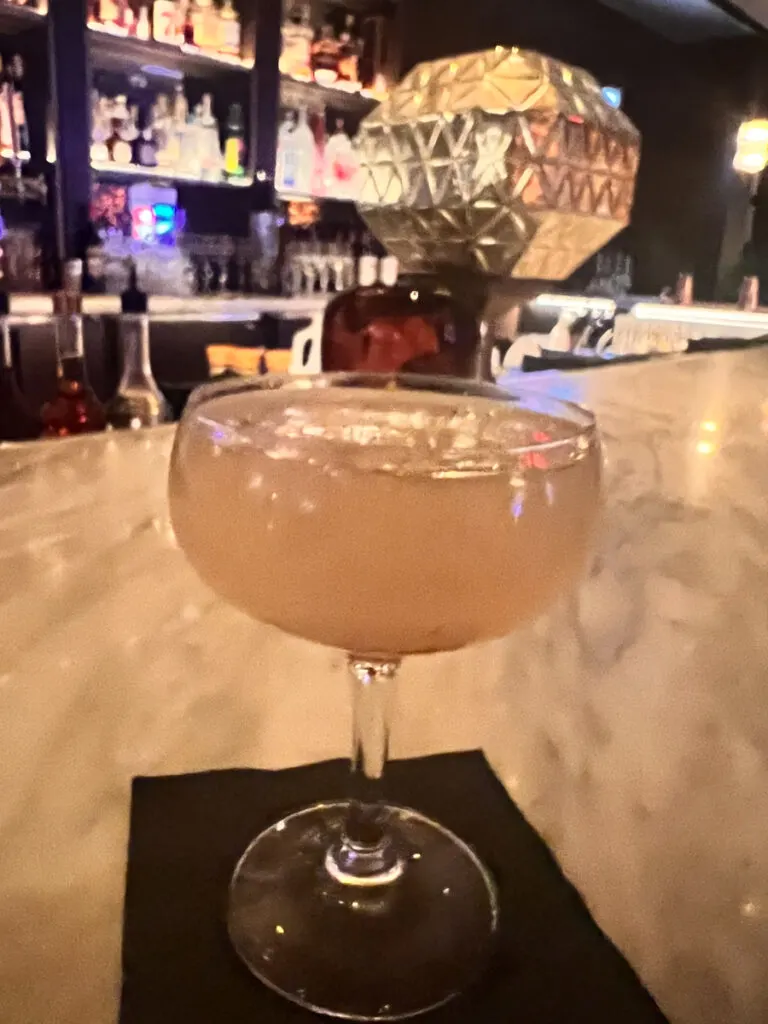 Not into wine or you've tried plenty during your South Africa trip? There are ample cocktail bars around the city too.
The Drinkery is known for its amazing cocktails, and for a place at the V&A Waterfront, Cause and Effect Cocktail Kitchen not only serves up bottomless mimosas with breakfast daily, but they have some incredible cocktails and Cape Brandies to try.
And you can't miss the chance to go out at Harrington Street. This place has a cocktail bar, a dive bar, a rum bar, and a live performance venue all in one location. So you can honestly spend a whole night out here if you want.
For cocktails specifically, head to Harringtons.
17. Take a Street Art Tour of Woodstock
Woodstock is full of engaging street art, and what better way to enjoy all these murals than on a guided tour?
Juma Art Tours takes you on a 60-90-minute tour around the neighborhood to learn more about street art.
The 60-minute tour costs R400 per person and the 90-minute tour costs R450 per person.
You can also go on more in-depth Woodstock tours that include art, culture, and history, or a cooking, art, and culture experience tour.
Check out Juma Art Tours here!
18. Explore the Colorful Neighborhood of Bo-Kaap Together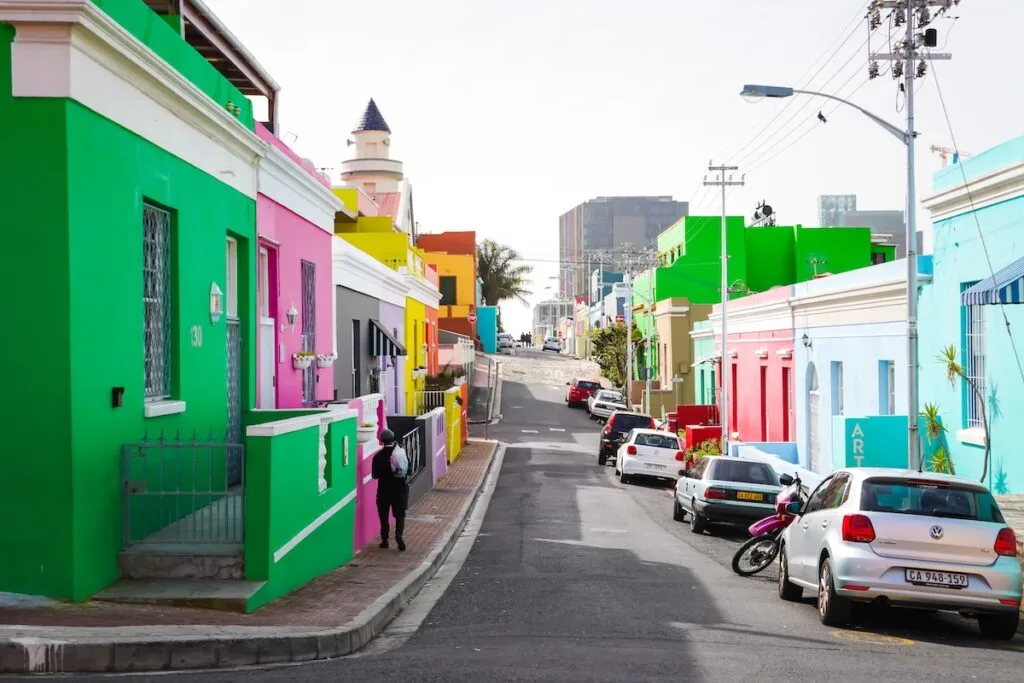 For a fun thing to do in Cape Town for couples, definitely wander around the colorful Bo-Kaap neighborhood together.
This hillside quarter is full of colorful houses, and aside from it being a photogenic spot, it is also full of history from the local Cape Malay culture.
So in between wandering past pastel homes, be sure to stop by the Iziko Bo-Kaap Museum to learn more, and definitely go get local Cap Malay food at a restaurant in the area.
19. Enjoy a Beach Day Together at Camps Bay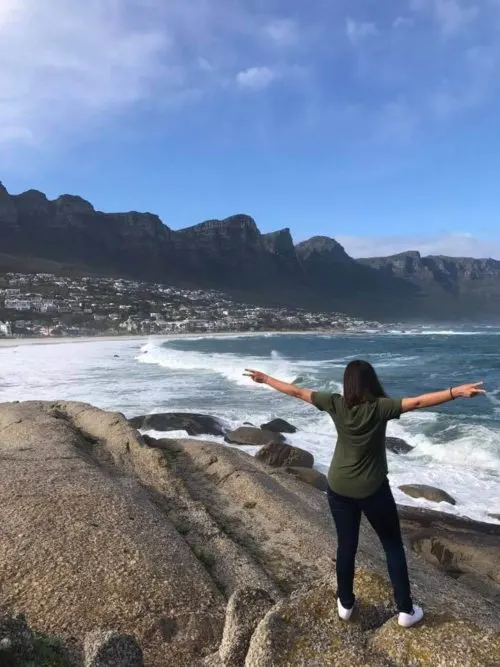 Sometimes a beach day is just the best. Head to Camps Bay Beach for a day to relax and get some sun and sand.
And if you want to grab some food and drinks, there are plenty of local bars, restaurants, and more where you can sit on a patio and enjoy the view too.
20. Couple Things to Do in Cape Town: Go Kayaking or Standup Paddleboarding
Whether you're in Clifton or the V&A Waterfront, you can rent kayaks or even standup paddleboards to get out on the water together and splash around!
For those who love to get active, and who want to see the city from the water, this is a great date idea in Cape Town!
21. Admire the Flora and Fauna at Kirstenbosch National Botanical Gardens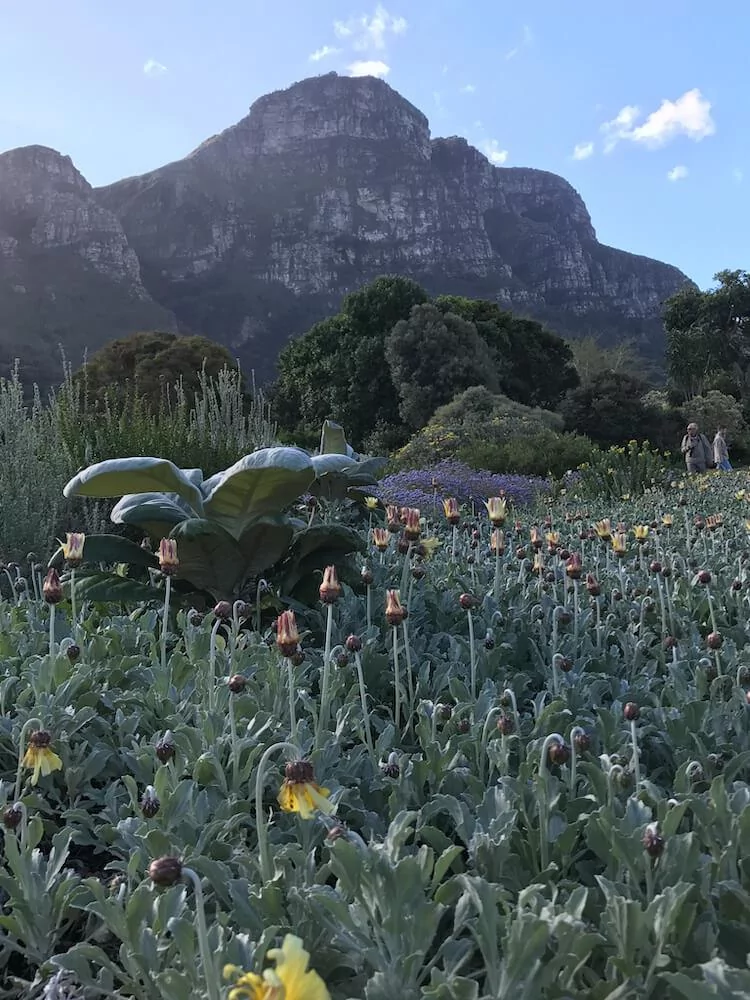 Kirstenbosch National Botanical Gardens is a must-visit in Cape Town for couples, especially during the spring months when many of the flowers and plants are in bloom!
I mean, there is something to see any time of the year in Kirstenbosch Gardens, but spring is certainly the most vibrant time to go.
Walk together hand in hand as you enjoy the many trails and paths at the garden, admire the many flowers, including several proteas, and spot some wildlife like birds and butterflies!
The price to visit is R220 per adult.
PS- This is a super scenic spot for a Cape Town proposal!
22. Visit Robben Island
For a more historical visit to Cape Town together, definitely check out Robben Island, an island most notable for its prison that once held former President of South Africa and apartheid activist Nelson Mandela.
You can take the ferry over to Robben Island and go on a guided tour of the museum on the island to learn more about the history and prison complexes.
Tours start at R400 for South African adults and R600 for non-South African adults.
23. Stroll Along Sea Point Promenade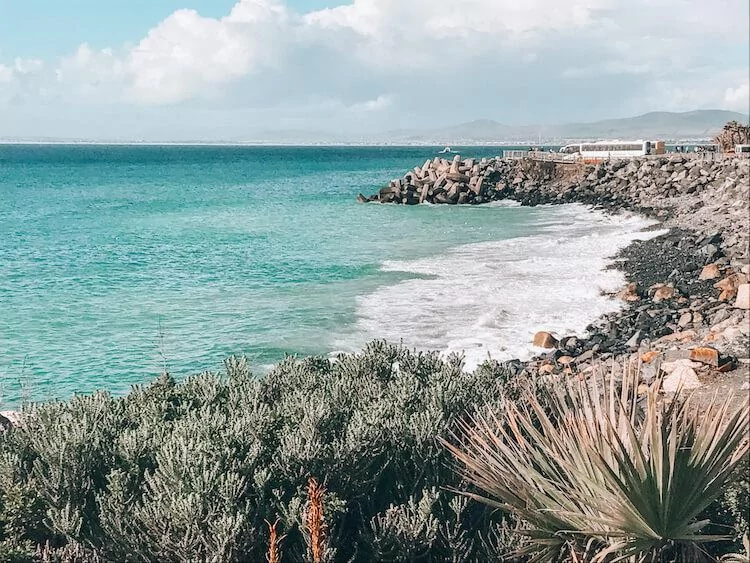 For a romantic stroll that boasts views of the Atlantic Ocean, the city, and the surrounding mountains, you'll definitely want to head to the Sea Point Promenade.
This place is known for walkers and joggers getting a little exercise in for the day, but it is a beautiful promenade to walk around and take in the views together during your couple's trip to Cape Town.
24. Staying in a Romantic Hotel in Cape Town is Certainly One of the Most Romantic Things to Do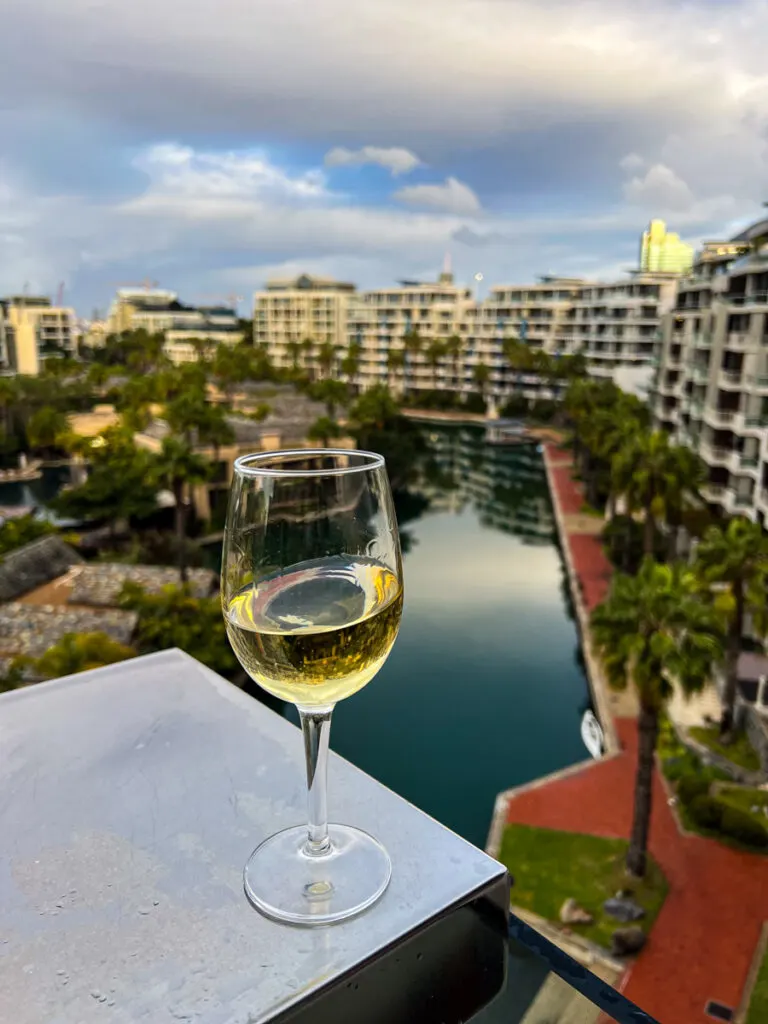 There are some great hotels in Cape Town for couples, especially along the V&A Waterfront or even in Camps Bay.
Here are a few romantic hotels in Cape Town for your stay:
–The Silo Hotel: I'll be the first to admit that this is certainly a splurge. With room rates over $1,000+ per night, it isn't easy on the pocketbook. However, the views from the floor-to-ceiling windows are nothing short of spectacular.
The hotel itself also has a luxurious spa, gym, a private art gallery, rooftop restaurant and pool, a sky terrace, and more to make it worth your while.
–One&Only Cape Town: Another fantastic 5-star hotel, this place is tucked away and along the V&A Waterfront, and offers great accommodation, a deluxe spa, and it also is home to Africa's only Nobu restaurant.
–POD Camps Bay: If you want to enjoy the Camps Bay area further, then you'll love staying here for a few nights. This hotel has impressive views over the ocean, and they offer in-room spa treatments, have a pool to cool off in during hot days, and even the Terrace Pool Room comes with its own sundeck and pool.
25. Chapman's Peak Drive
For a fun thing to do in Cape Town for couples, it is a lot of fun to rent a car and explore the nearby area!
Chapman's Peak Drive is well worth it for epic views of the Cape Peninsula and ocean. Note that this road can be closed if weather conditions are bad, but on a lovely day, it is so much fun to drive out there and take in the magnificent views together.
26. Wine Tasting in Nearby Constantia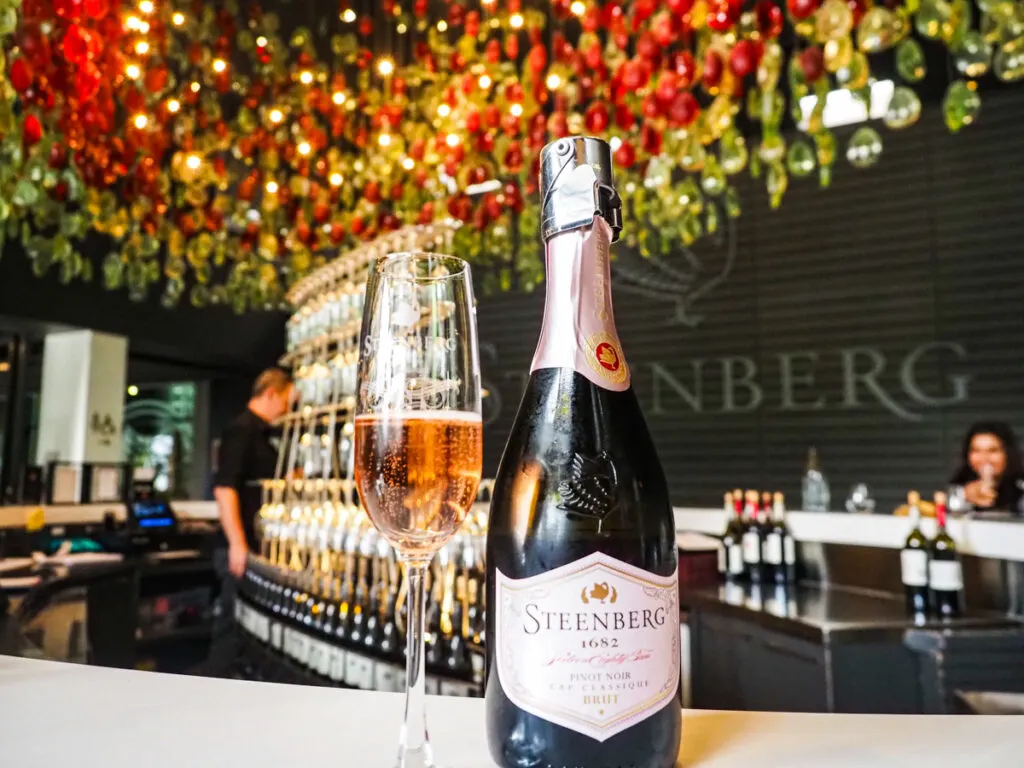 Can't make it all the way to Stellenbosch, Franschhoek, or Paarl for the weekend? No worries, Constantia is a suburb of Cape Town and happens to be the oldest wine-producing place in the country.
For the oldest wine estate in the country, definitely head to Groot Constantia. This large property has plenty of space to wander around as well as sip wine.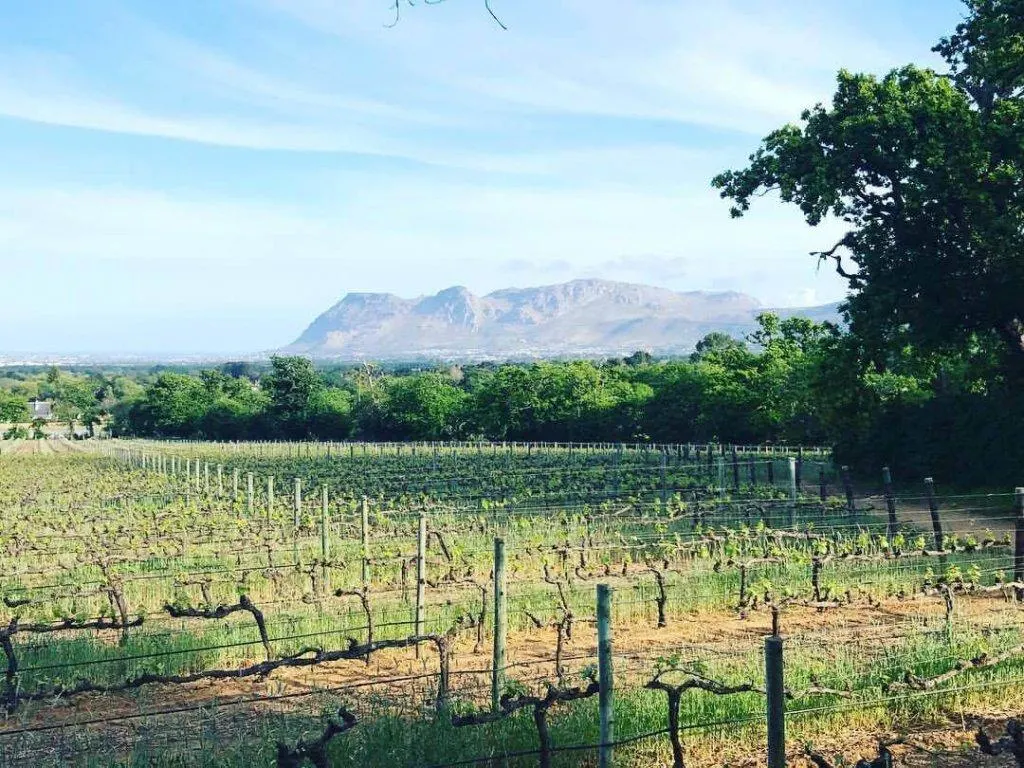 Enjoy a tasting of their delightful wines or perhaps have a wine and chocolate pairing. You can also visit the Manor House Museum and Cloete Cellar, admire the vineyards, and even dine at one of their amazing restaurants.
Klein Constantia is another popular estate, is popular for its beautiful views and for its natural sweet wine, Vine de Constance.
And if you love bubbly, definitely head to Steenberg. This estate is well known for its amazing Cap Classiques.
27. For the Adventurous Couple: Go Quad Biking at Atlantis Dunes
Cape Town's only real white sand dune is a great place to go quad-biking together! Go on a tour together and enjoy the scenery as you race around these beautiful dunes.
28. Snorkel With Seals in Hout Bay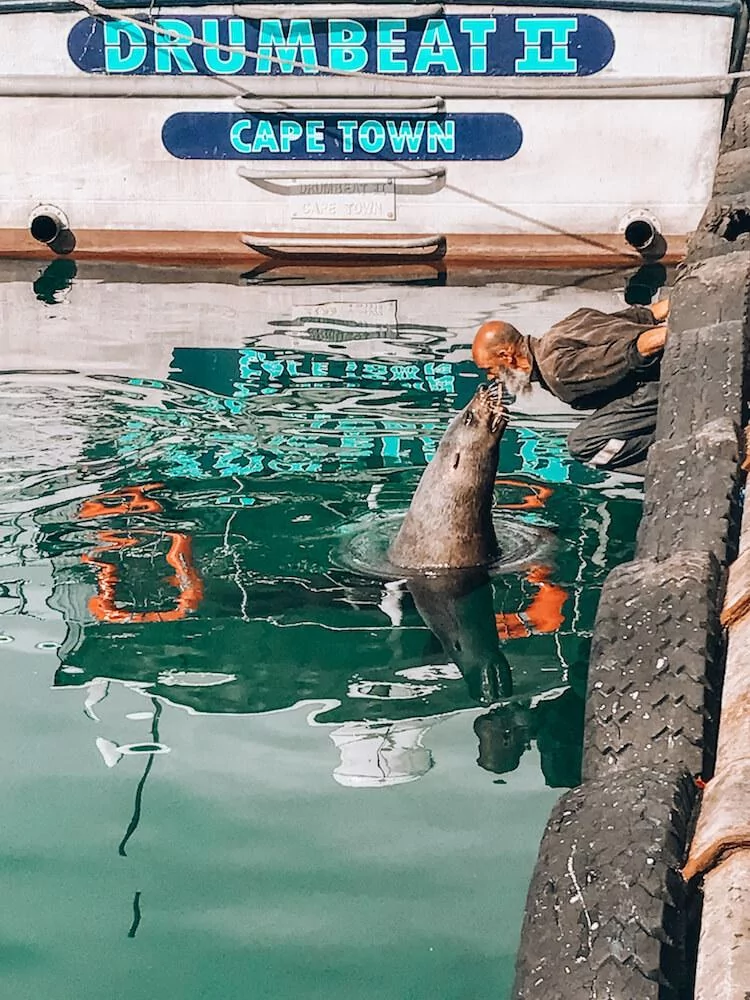 Seals are seriously the cutest sea creatures. And if you love swimming and snorkeling, you'll definitely want to sign up for this tour in Hout Bay.
Go with an experienced guide to see these creatures up close along Duiker Island known for its Cape Fur Seals.
Watch them frolic together in the water and capture photos and videos as you take it all in.
29. One of the Best Things to Do in Cape Town For Couples: Visiting the Penguins at Boulders Beach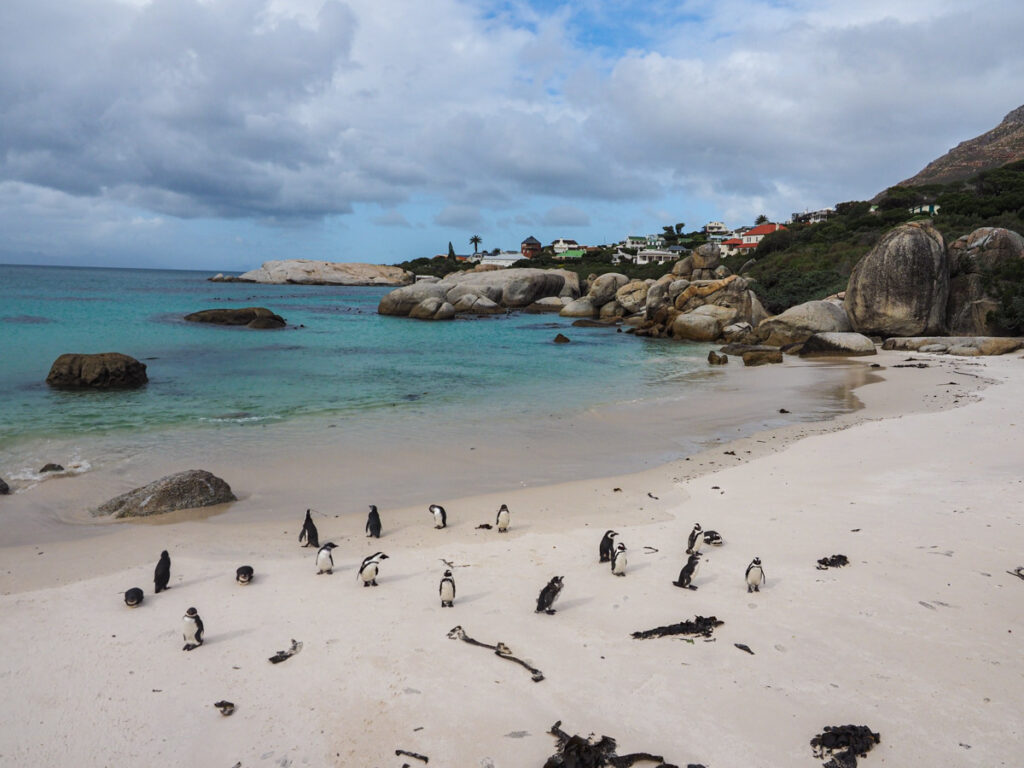 You've probably seen photos of people watching penguins running around the beach in South Africa. And if you've been hoping to do this yourself, then you're definitely going to want to head over to Boulders Beach in Simons Town.
The beach here is stunning with clear water, beautiful sand, and giant boulders (hence the name), but what is most notable are the little African penguins.
Watch them waddle around the beach or even swim in the water as you see dozens of them out and about at the beach.
30. Take the Franschhoek Wine Tram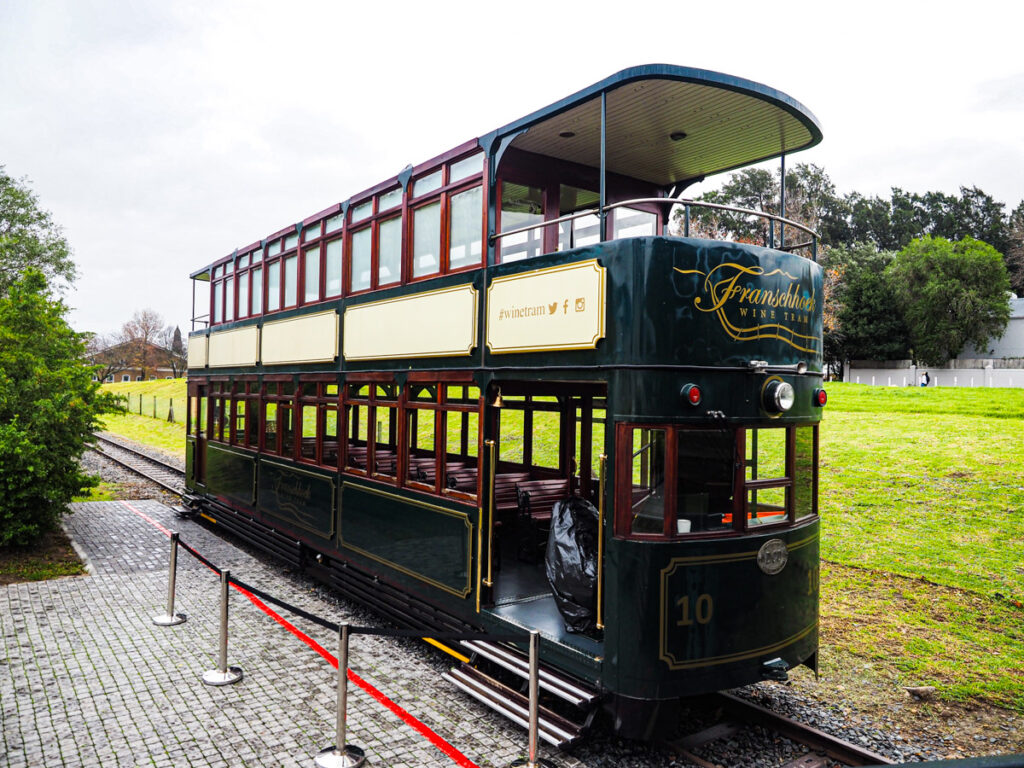 For a really fun day trip from Cape Town, or perhaps an overnight stay, you'll definitely want to book tickets for the Franschhoek Wine Tram.
This adorable tram has several colored lines that will take you to a variety of vineyards. Some are along the tram line, while others you'll need to take a bus at the tram stop to get there. It is such a fun way to spend a day, riding along the tram and admiring the scenery of the Franschhoek area as you hop from winery to winery.
On our last visit, we booked the orange line and stopped at Plaisir, Noble Hill, Bacco, and Solms-Delta where we enjoyed many wine tastings and laughs.
Check out the Franschhoek Wine Tram here!
31. Go Whale/Marine Big 5 Watching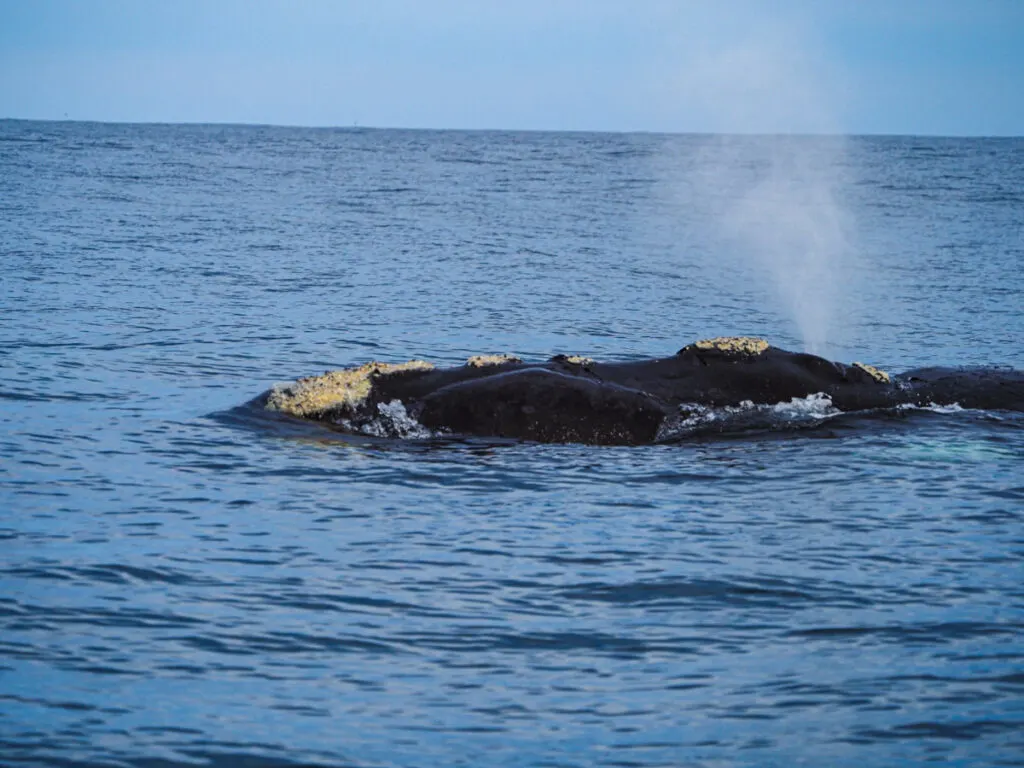 If you've already seen the Big 5 on safari, or you just love marine life, you definitely need to take a day trip over to Gansbaai for a Marine Big 5 Tour.
The Marine Big 5 includes sharks, dolphins, whales, penguins, and seals. I did this on my last trip and got to see southern right whales, bronze whaler sharks, penguins, and seals. Don't worry, you'll always see seals as you'll be visiting Dyer Island, which is home to 60,000 Cape Fur Seals.
It is such an incredible adventure to see sealife pretty close to the boat! Marine Dynamics has a great tour for whale watching and Marine Big 5 spotting.
PS- If you get prone to seasickness, definitely take something for it! The waves can be rough!
32. See Sharks Up Close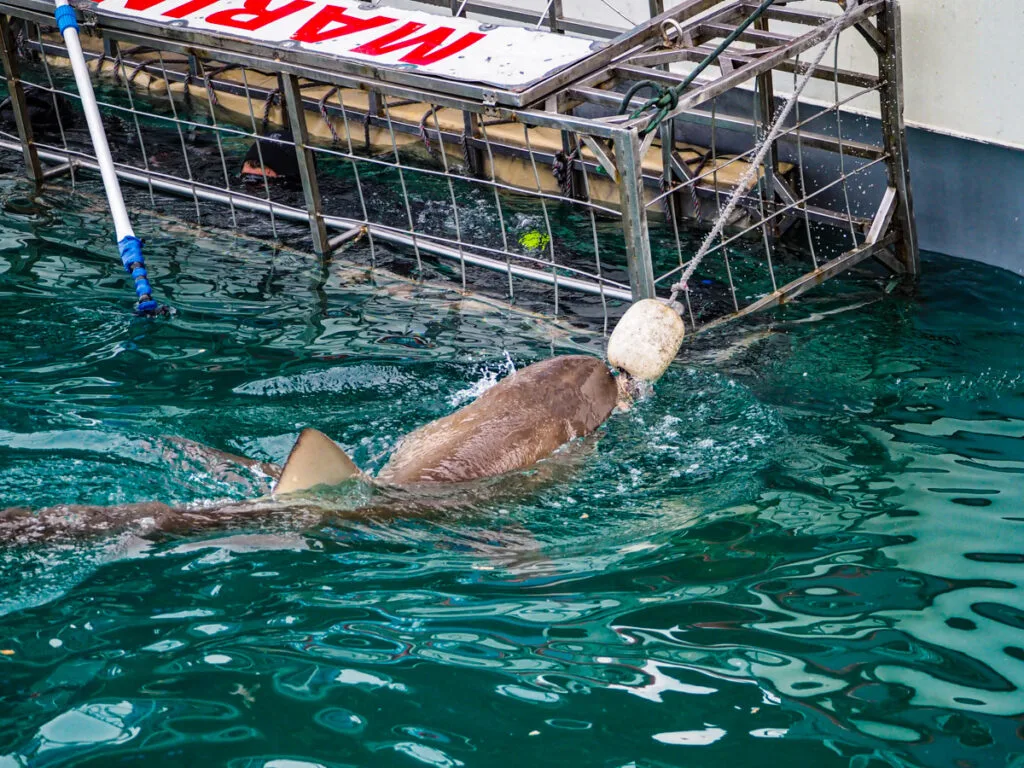 If you've always been a fan of Shark Week, then you'll love the chance to get up close and personal with sharks in Gansbaai. You can do this as a day trip from Cape Town if you wish.
Marine Dynamics is a great company to go through for shark cage diving, as they have a marine biologist on every trip.
You can go shark cage diving and see sharks up close, and perhaps even have a chance at seeing a great white shark!
For those who are adventurous, this is a great thing to do outside of Cape Town for couples.
Oh, and if you are prone to seasickness, definitely take something ahead of time!
33. Fun Things to Do in Cape Town For Couples: Take a Day Trip to the Cape of Good Hope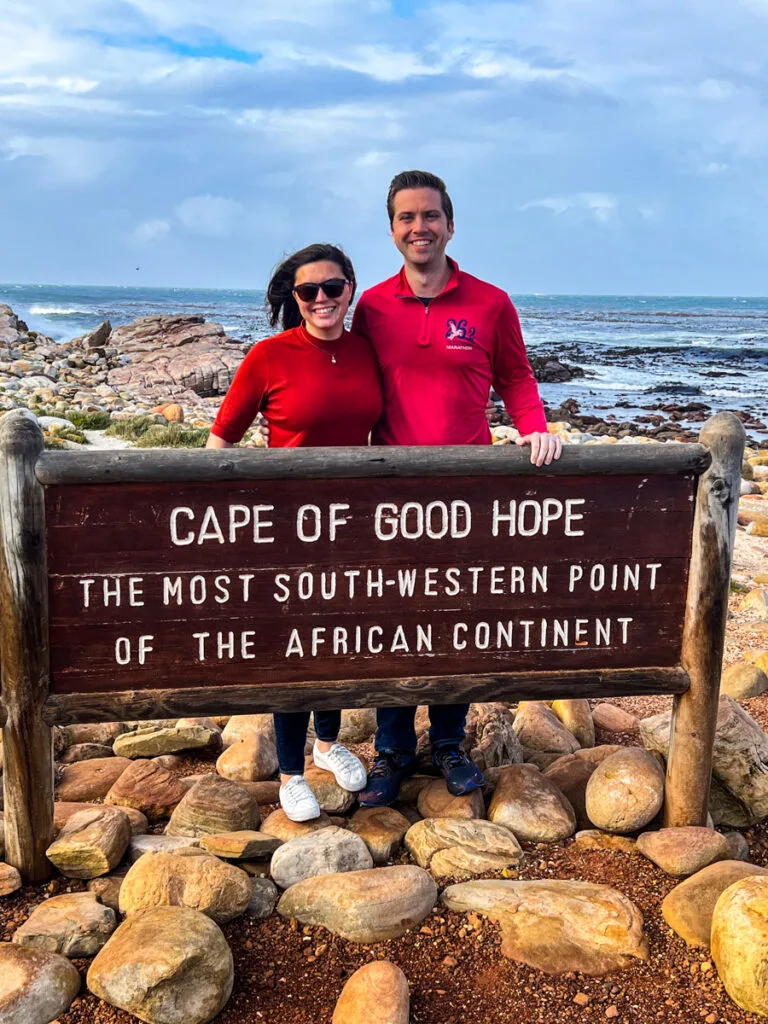 Whether you want to rent a car and drive down to the Cape of Good Hope or you take a tour, it is a really fun activity to do outside of Cape Town.
Hike up to the lighthouse at the Cape of Good Hope, spot ostriches in the area, and definitely get a photo at the Cape of Good Hope Sign.
34. Fun Overnight or Day Trip From Cape Town: Cape Winelands Tour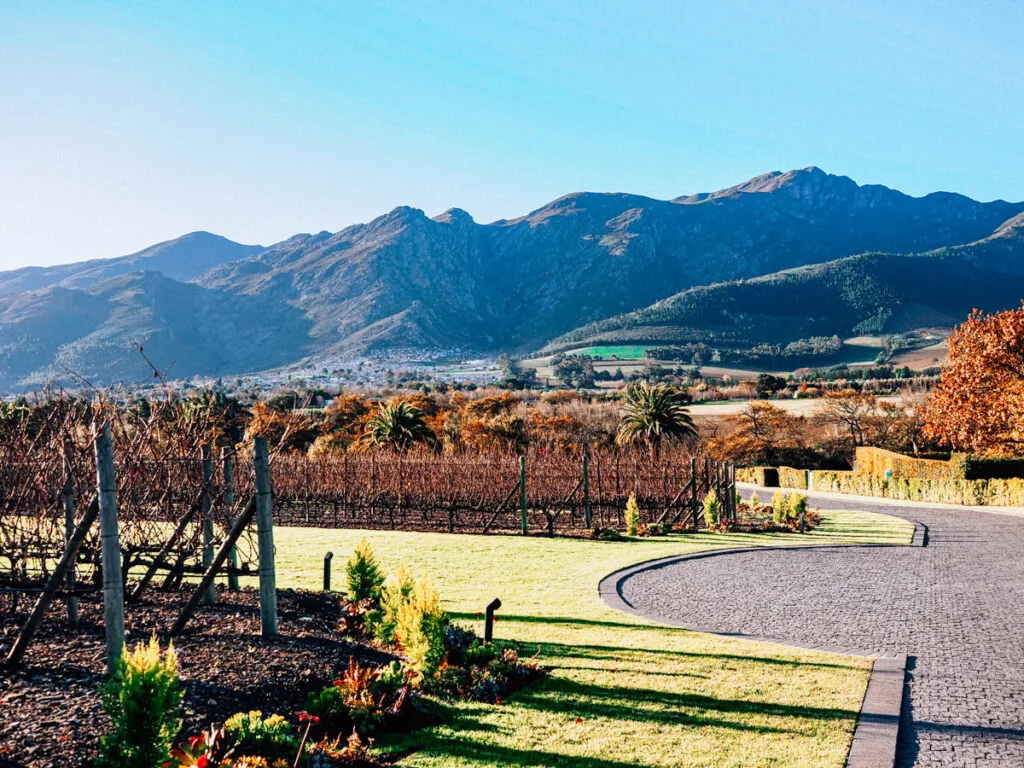 While I have already suggested taking the Franschhoek Wine Tram for a fun day of wine tasting, there are actually plenty of wineries in the Cape Winelands that aren't reachable by tram.
So, to see even more wineries, definitely take a tour. You could take a group tour and visit some of the great wineries of Stellenbosch or Franschhoek, or you could also take a more personalized, private tour.
On our first visit to Cape Town, we did a day trip to Stellenbosch and Franschhoek with a private driver. This past time, we spent 2 days exploring the Cape Winelands where we spent the first day on the Franschhoek Wine Tram, and the next day had a private tour.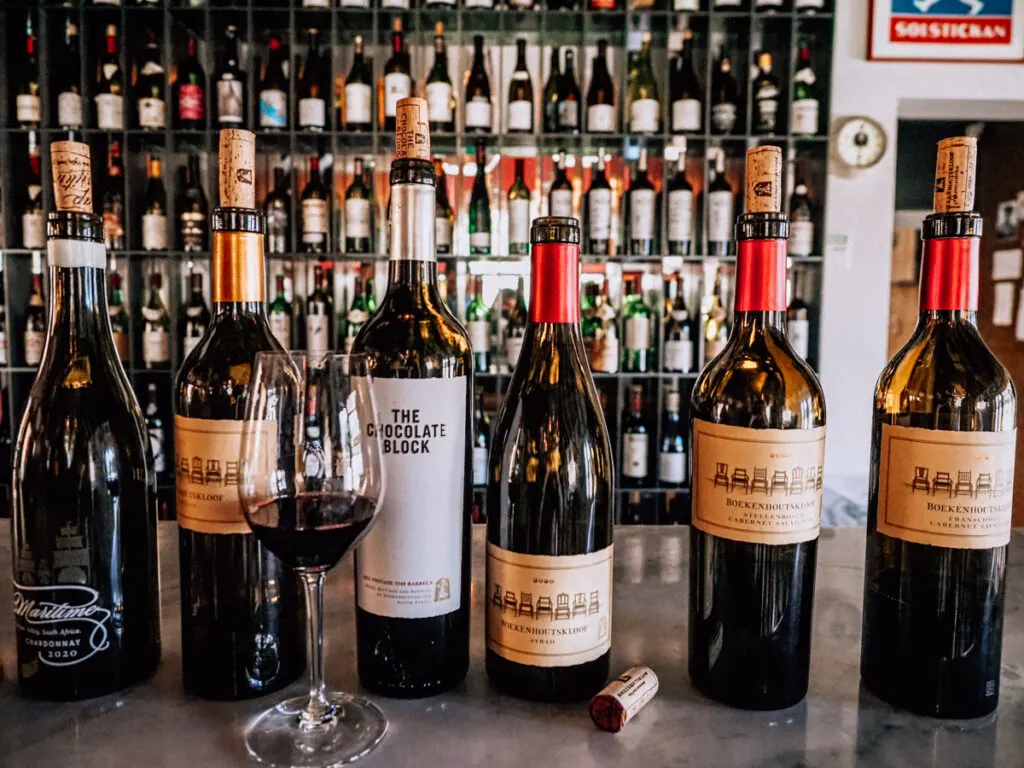 Safari365 helped arrange our private tour, and we got to pick and choose the wineries we wanted to visit. Some of our favorites include Annandale, Delheim, Colmant, Mullienux & Leeu, Boekenhoutskloof, Kanonkop, La Motte, and Haute Cabriere.
I suggest 3-4 wineries in a day at the most and perhaps stop somewhere for lunch. On our last visit, we really enjoyed Protege.
35. Fun Day Trip Idea From Cape Town: Go on a Safari Game Drive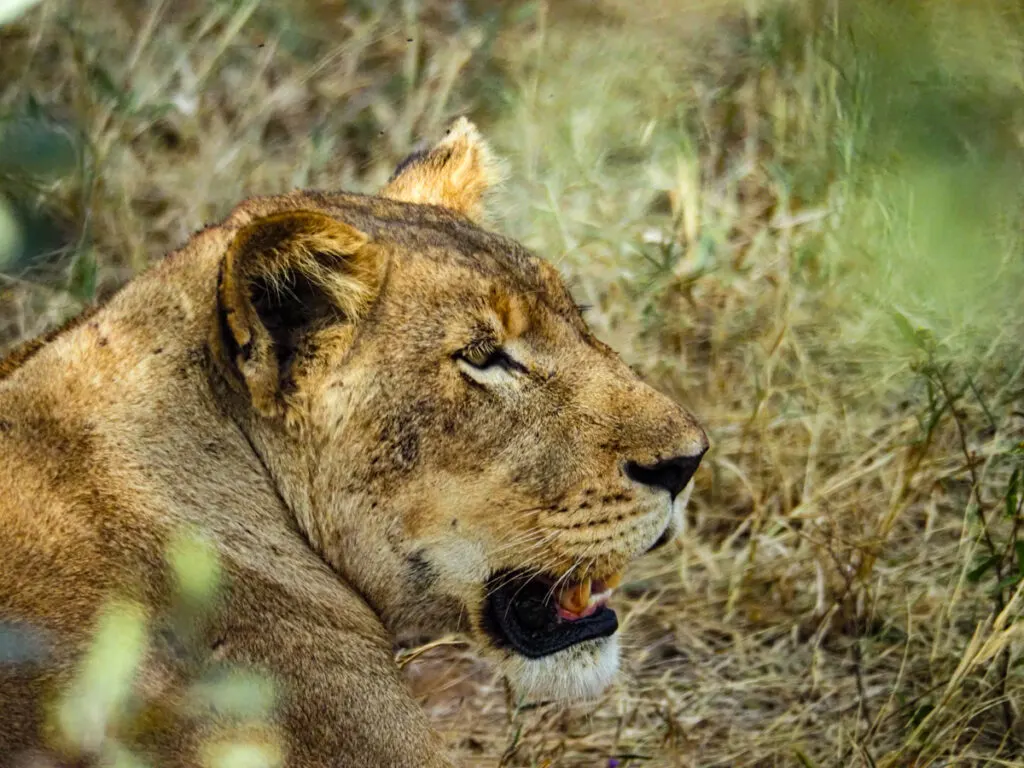 Okay, there aren't many game reserves around Cape Town, and the Western Cape of South Africa isn't exactly known for the Big 5. However, if you go 2 hours outside of Cape Town, you'll be at Aquila Private Game Reserve, which does offer safari game drives.
Here you can go on safari game drives as well as quadbike safaris and horseback safaris. You can book these on your own and drive there, or you could book this tour from Cape Town.
The tour includes transportation to/from Cape Town, a tour guide, your entrance ticket to the reserve, a game drive, and lunch.
Either way, animals you may see during your time on safari near Cape Town include the Big 5 (elephants, rhinos, lions, buffalos, and leopards), giraffes, zebras, baboons, ostriches, and more.
So if you don't have time to go on a traditional safari before or after your time in Cape Town, this is definitely a great option!
When to Visit Cape Town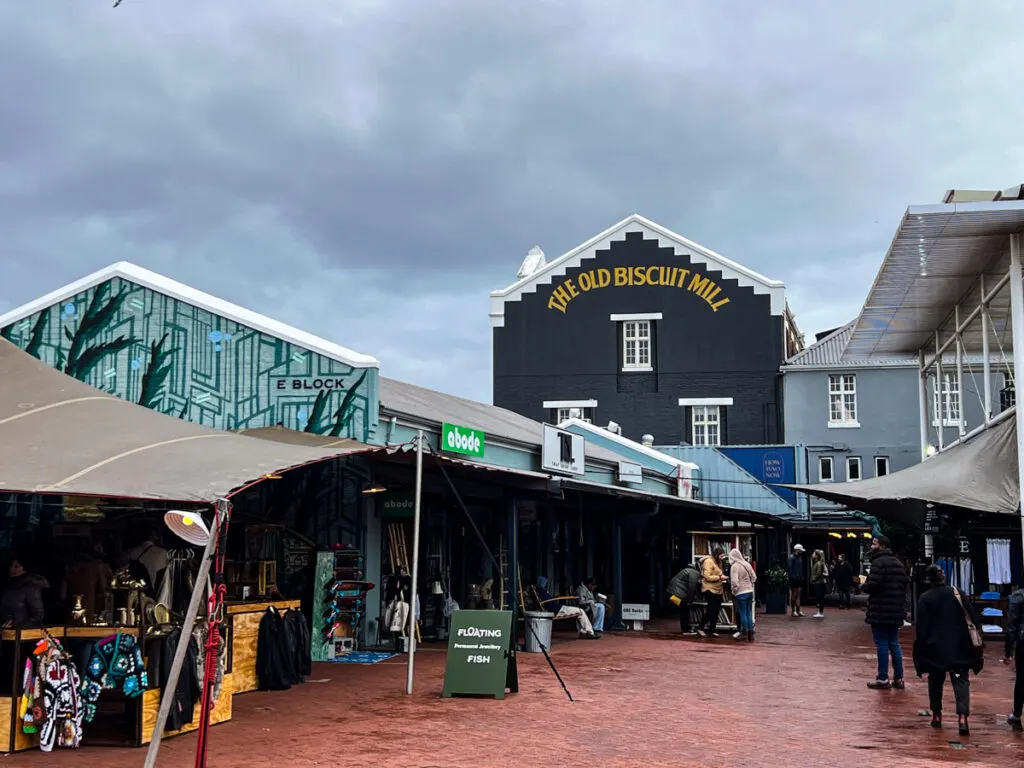 Cape Town is a year-round destination, but it does tend to have rainy and chilly winters. Conversely, Summertime is always a popular time to visit, especially as the days are typically sunny and warm. Summertime also coincides with the holiday season when many people are taking vacations.
However, spring is, in my opinion, one of the best times to visit, especially as flowers are in bloom everywhere, the crowds aren't as bad as in the summertime, and the weather is fair.
Even early autumn is a nice time to come, as the days aren't fully gray just yet.
The thing to note though, is that if you plan to visit Kruger National Park for a safari, it is better to visit around late autumn through early spring for the best chances at wildlife sightings.
We've been to Cape Town in both May and September, and I'll say that September felt like the perfect time to visit. It is spring so everything looks lovely and the weather is getting sunnier by the day, and it is a great time to go on safari around Kruger.
How to Get to Cape Town/Getting Around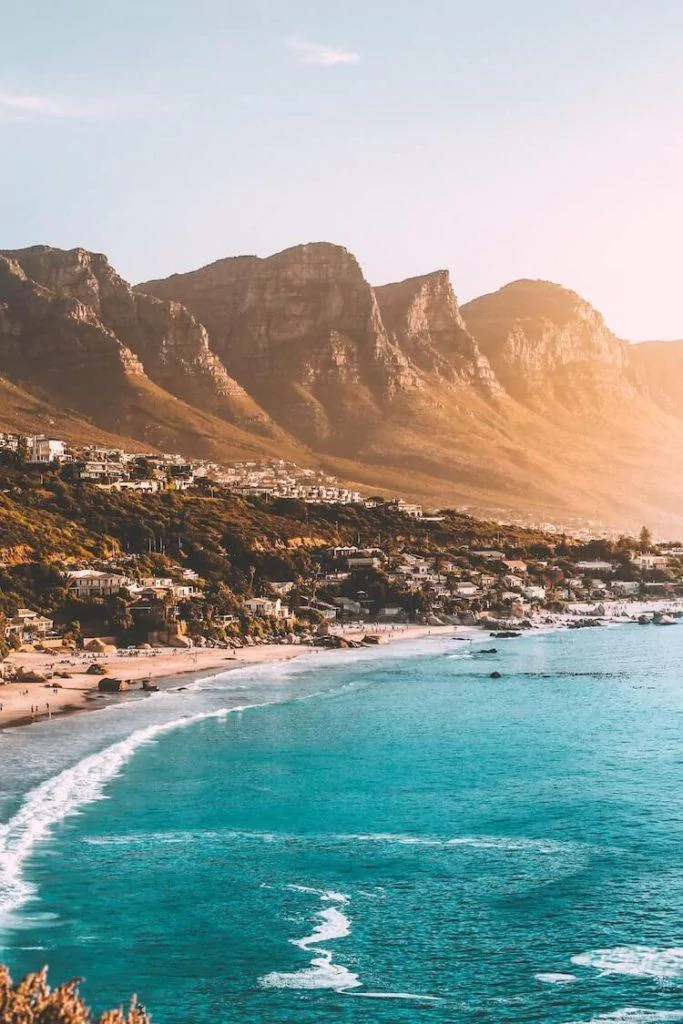 Getting to Cape Town is fairly easy, especially as there are several direct flights here from around the world on airlines like Delta, British Airways, United, Emirates, etc.
I like checking Skyscanner for the best flight prices!
There are also ample flights from other places around South Africa, including Johannesburg to get here.
Once you're here, though, having a car is a good idea if you want to get out of the city. However, if you plan to take tours and stay in the city, don't get a car. Parking can be tough to find at times and isn't always the best option as break-ins are common. If you want to really get out of town and explore further it's a good idea, but if you aren't, just Uber to places instead.
The locals we met told us that Uber Black is what you want to order so that you know you're going to get a good reliable car. It is also very inexpensive to take an Uber Black in Cape Town.
And, of course, you can arrange tours that handle transportation for you too.
Lastly, if you plan to see a lot of the tourist attractions in Cape Town, you can also book the Hop On/Hop Off Bus that'll handle much of the transportation for you!
Other Tips For the Fun Things to Do in Cape Town For Couples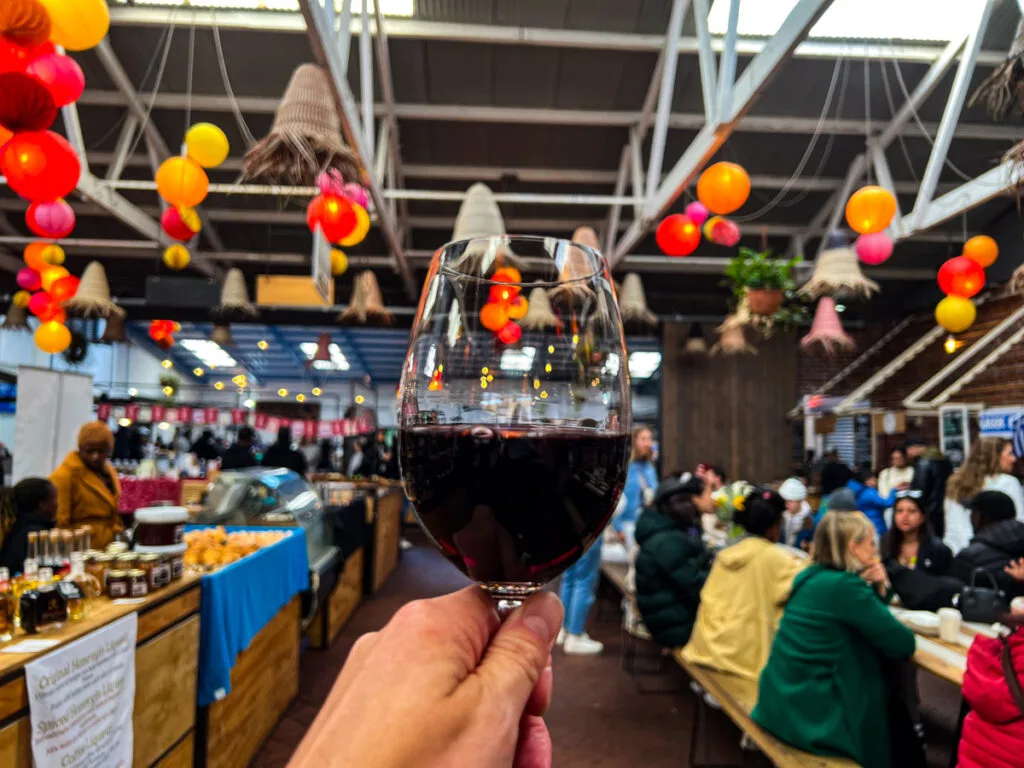 Here are some other tips so that you have the best time during your romantic getaway to Cape Town:
The South African Rand is the currency of South Africa. It is valued at around $0.05 USD. So about 19-20 rand is equal to about $1 USD. Note that prices above are quoted in South African Rand.
What languages are spoken in South Africa? Many people do speak English, so you'll likely be fine with speaking English. However, some local languages in South Africa other than English include Afrikaans, Zulu, Swati, Northern and Southern Sotho, Tswana, Xhosa, Tsonga, Ndebele, Venda, Pedi, and more. English, Afrikaans, and Xhosa are most commonly spoken in Cape Town.
How long should I spend in Cape Town? To really enjoy the city, 3 days in Cape Town is great! But for a relaxed stay and to go on a couple of day trips, definitely opt for a 5-7 day trip.
If you rent a car, keep some coins on hand. You'll need to tip gas station attendants and people who watch your car when you park it. This is about R2-10.
If you rent a car, do NOT keep anything in the car. Break-ins are super common, so don't leave anything in your car at all.
You need to know about load shedding. Load shedding is the name for the rolling blackouts all across the country. These last for a couple of hours at a time and multiple times per day sometimes. It has gotten worse over the years, and for updates, you'll want to download the EskomSePush App. Also, hotels will have schedules too. Note that many hotels and restaurants have generators in the city, but some don't.
Planning a trip to South Africa? Check out Safari365. We've worked with them to plan our perfect South Africa trips both times we've been and they go above and beyond to make sure it runs smoothly! They are also endlessly helpful when it comes to planning and answering questions.
This is the ultimate list of fun things to do in Cape Town for couples! Between wine tasting, adventure, and beautiful views, you'll fall in love with this city together!
Want more Africa travel ideas? Check out these posts:
Thanks to Safari365 for a discounted trip to South Africa on our most recent visit. As always, all opinions are our own.
Pin it here!