Some posts on this site contain affiliate links, meaning if you book or buy something through one of these links, I may earn a small commission (at no additional cost to you!). Read the full disclosure policy here.
---
There are few things as epic as a Masai Mara safari. The vast landscape, the incredible array of wildlife, and even the sunrises and sunsets are enough to bring a tear to your eye.
But…when it comes to planning the perfect Masai Mara safari, a lot of questions come to mind. How much time do I need? What can I do other than game drives? Where should I stay? These are among many questions you may be asking yourself. Luckily, this guide is here to help!
We are breaking down all the tips in this Masai Mara safari guide and giving you our itinerary so you can plan the best trip!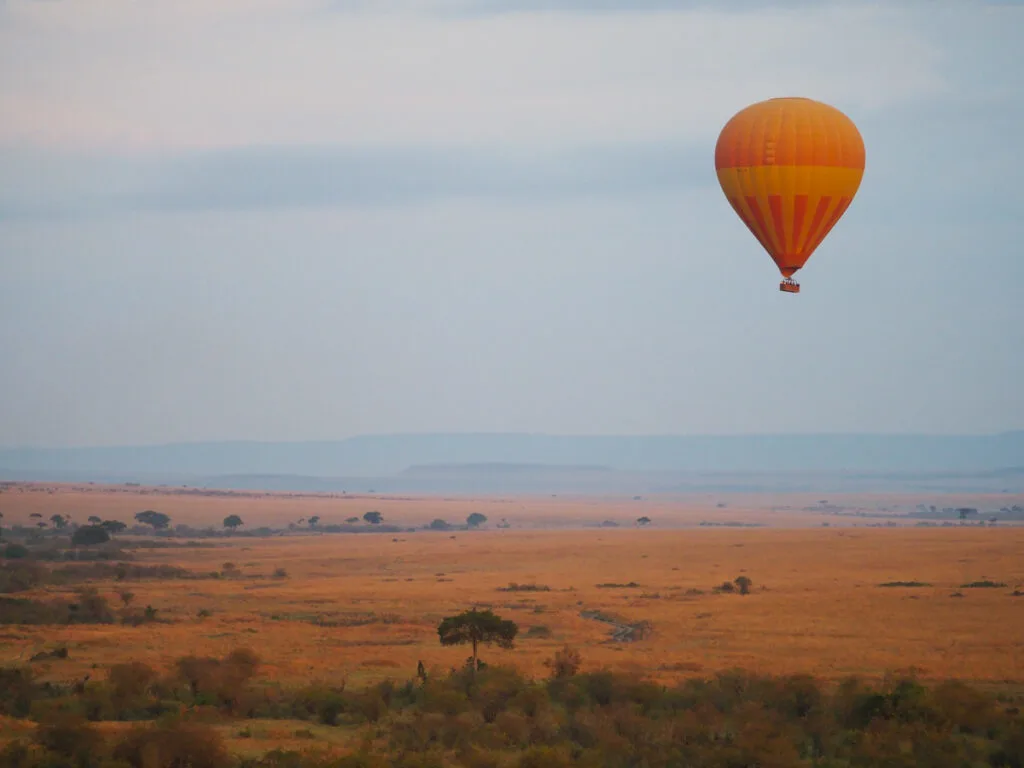 Ultimate Masai Mara Safari Guide
Let's talk all about the perfect trip to the Masai Mara.
First of All, What is the Masai Mara?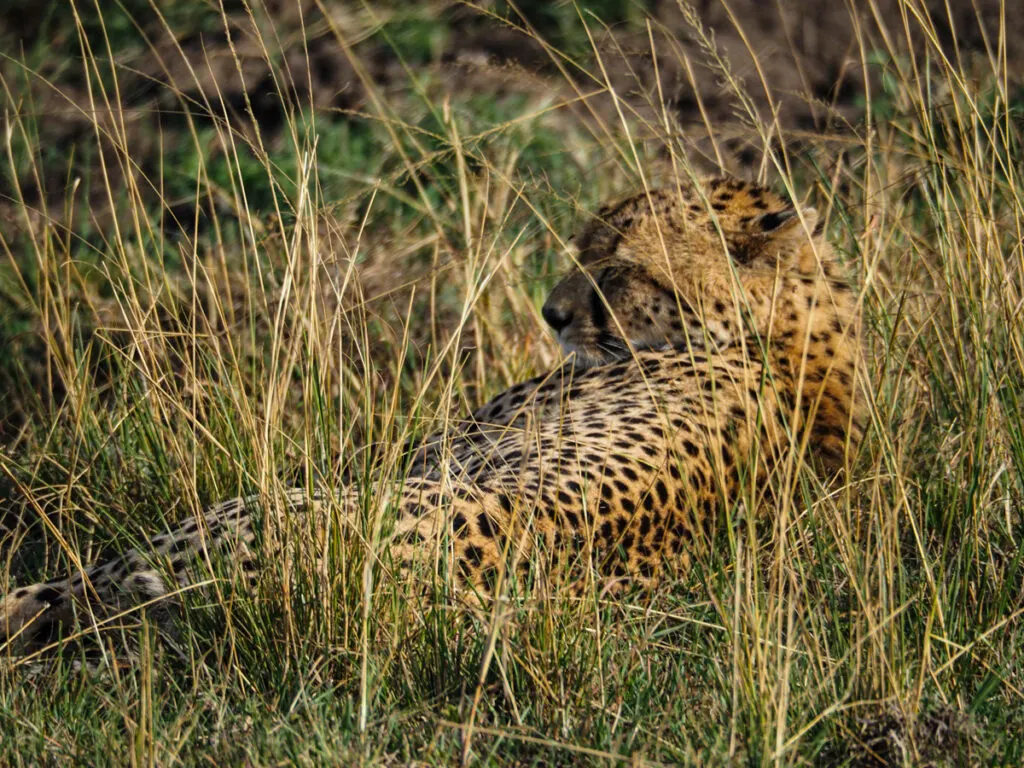 Okay, you likely already know of the Masai Mara if you're reading this. It is an epic safari destination in Kenya, right?
It is the most popular safari destination in Kenya, and it is located in the southwestern part of Kenya along the border with Tanzania. In fact, the ecosystem stretches from the Mara in Kenya and becomes the Serengeti in Tanzania.
This is what I knew before going there. But what I didn't know is that the Masai Mara is sort of built into 3 parts: Masai Mara National Reserve, Mara Triangle, and the Masai Mara Conservancies.
So what are each of these things, and where should you stay? Let's talk about it.
The Masai Mara National Reserve is the actual reserve. It is the largest part of the whole Masai Mara ecosystem, and where you'll find the most wildlife. Also, it is where you'll see the exciting river crossings during the Great Migration.
As this area is so large, it doesn't get as crowded as you think. But there are fewer things you can do in the national reserve itself such as night drives or driving off-road.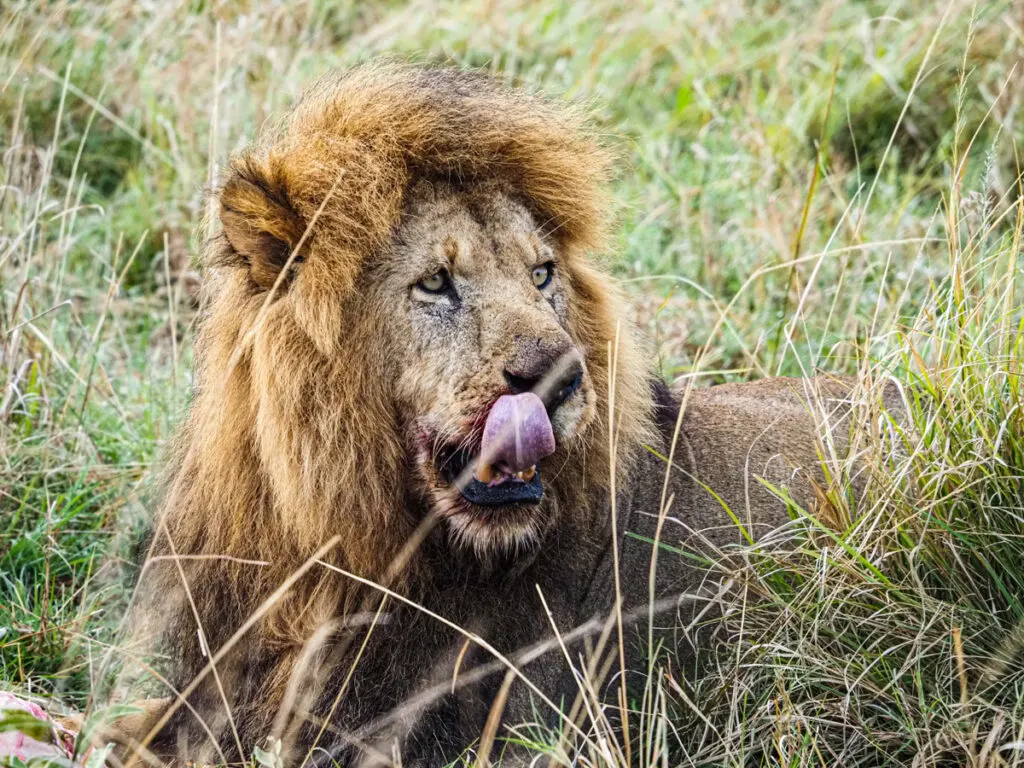 The Masai Mara Conservancies are part of the greater ecosystem and attract many of the same animals. However, the conservancies are owned by the Maasai and were created to help reduce tourism in the Masai Mara National Reserve itself as well as protect the Maasai's cattle from predators and give them plenty of land on which to graze.
The conservancies are rented out to safari companies, with the Maasai still using the land at times for grazing their cattle.
The big thing about conservancies, though, is there is a limit to the number of people allowed to stay there. This means you'll have fewer tents and lodging in conservancies, and fewer people during the day for game drives.
Also, as they are owned by the Maasai, they allow things like off-roading, night drives, various kinds of safaris, and a visit to a local Maasai village.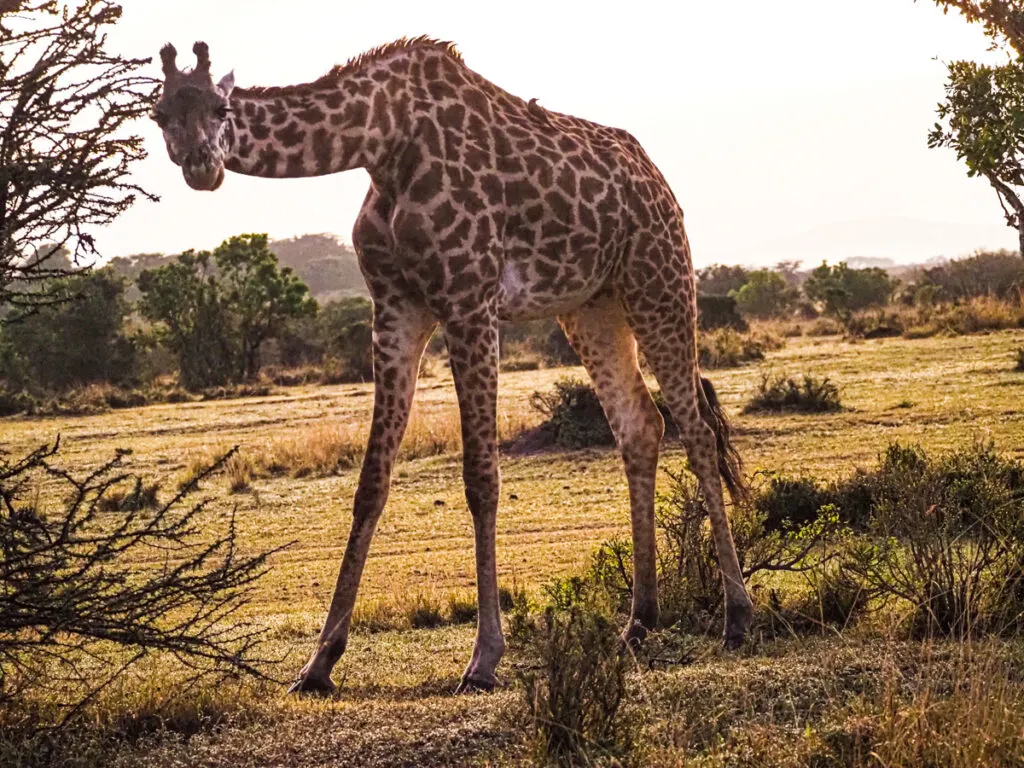 The Mara Triangle is within the reserve itself but is managed by a not-for-profit organization, so the rules are more like the conservancies. It is located in the southwestern part of the reserve and is known for river crossing sightings.
Where to Stay in the Masai Mara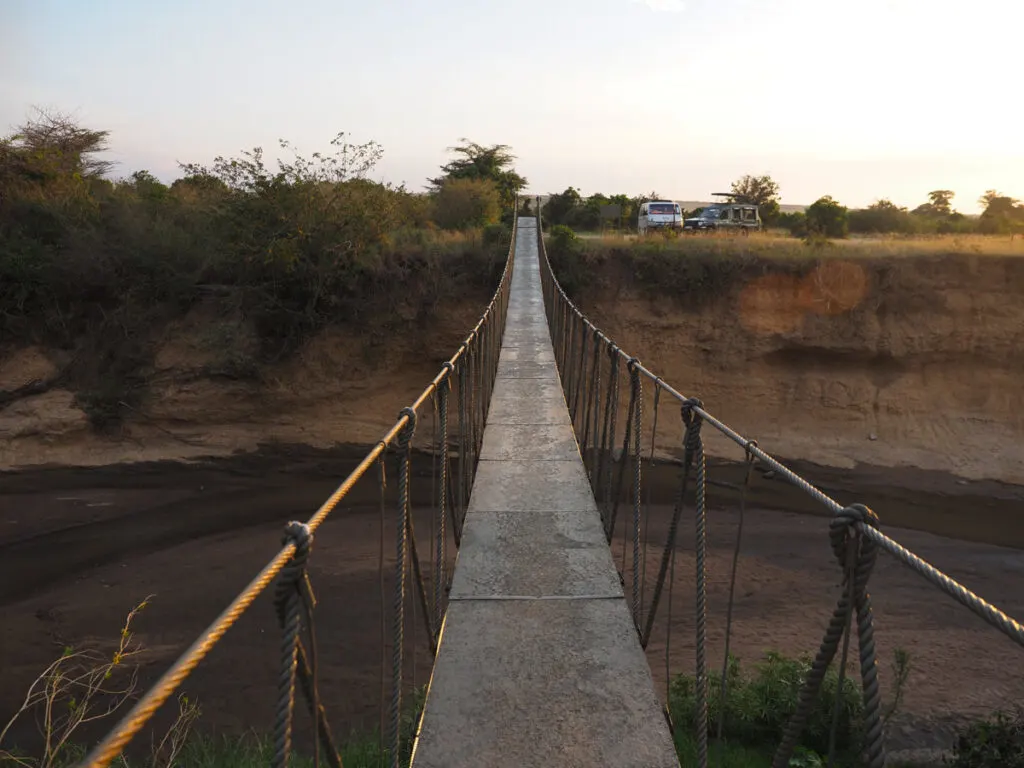 There are tons of great places to stay both inside the reserve and in the conservancies. In fact, many conservancies are known for certain animal sightings which is exciting.
But if you want to be up close to the Great Migration crossing sights, then staying in the reserve is best.
If you want to do night drives, go off-roading, etc. then the conservancies are the best. But note that if you stay in a conservancy, you can still visit the reserve during the day, which is something we did a lot. If you don't stay in a conservancy, then you don't get to visit.
So this means if you want to do a horseback ride or night safari, you'll want to stay in the conservancy.
Basically, it really all depends on your preferences!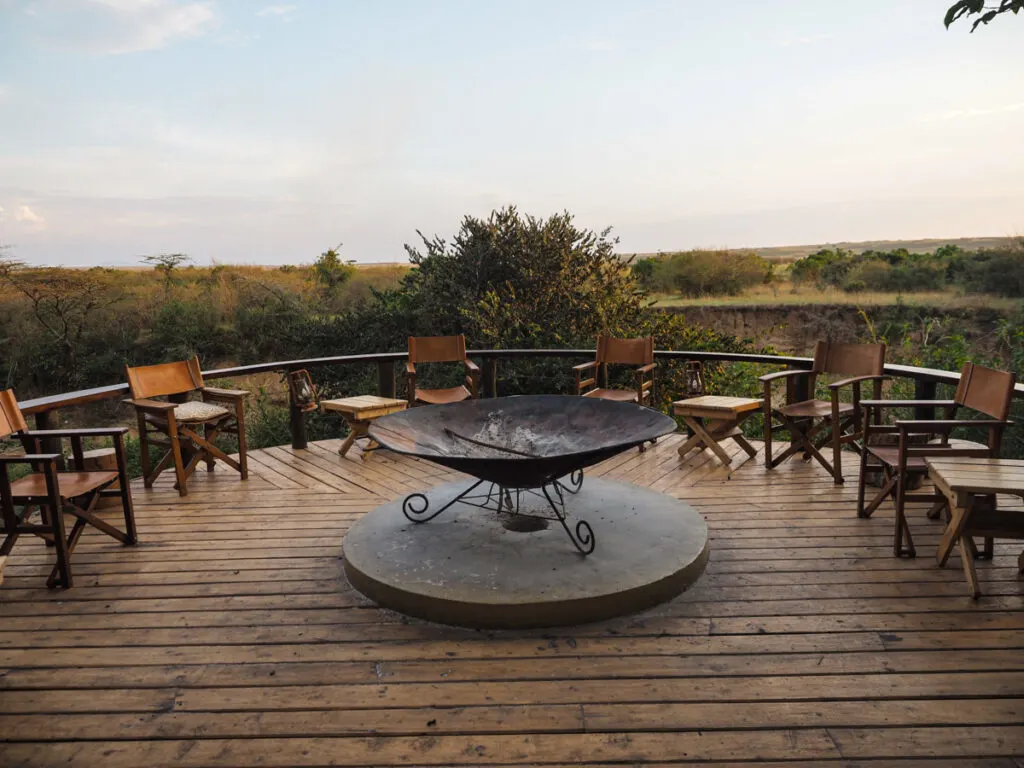 Best Masai Mara National Reserve Lodges:
Governor's Camp: The first permanent tented camp in Africa, Governor's Camp is always a popular choice for good reason. You'll be situated along the Mara river where you'll have plenty of opportunity for wildlife watching either along the river or the sweeping plains. Prices start at around $385 per person, per night, and includes all meals, twice-daily game drives, laundry, and transportation to and from the airstrip.
Elewana Sand River Camp: Located along the Sand River, this camp is a beautifully situated tented camp with spacious tents and incredible views. You also have the option here to just do full board and drive yourself or do the Game Package which includes game drives. For full board (including food, drinks, and laundry), it starts at $940 per night (for 2 people sharing). The Game Package includes all transportation to/from the airstrip, game drives, guided walking safari, and sundowners on top of what the Full Board package offers. This starts at $1,274 per night for 2.
Sala's Camp: One of the more luxurious camps, this is located along the Sand River and is super close to the Tanzanian border, meaning you'll even have views of the Serengeti. It is a perfect place to base yourself to witness the Great Migration crossings, and the luxury tents even have their own outdoor plunge pools. This starts at around $1,150 per person, per night sharing. This includes meals, drinks, transportation to/from the airstrip, game drives, laundry, sundowners, and walks.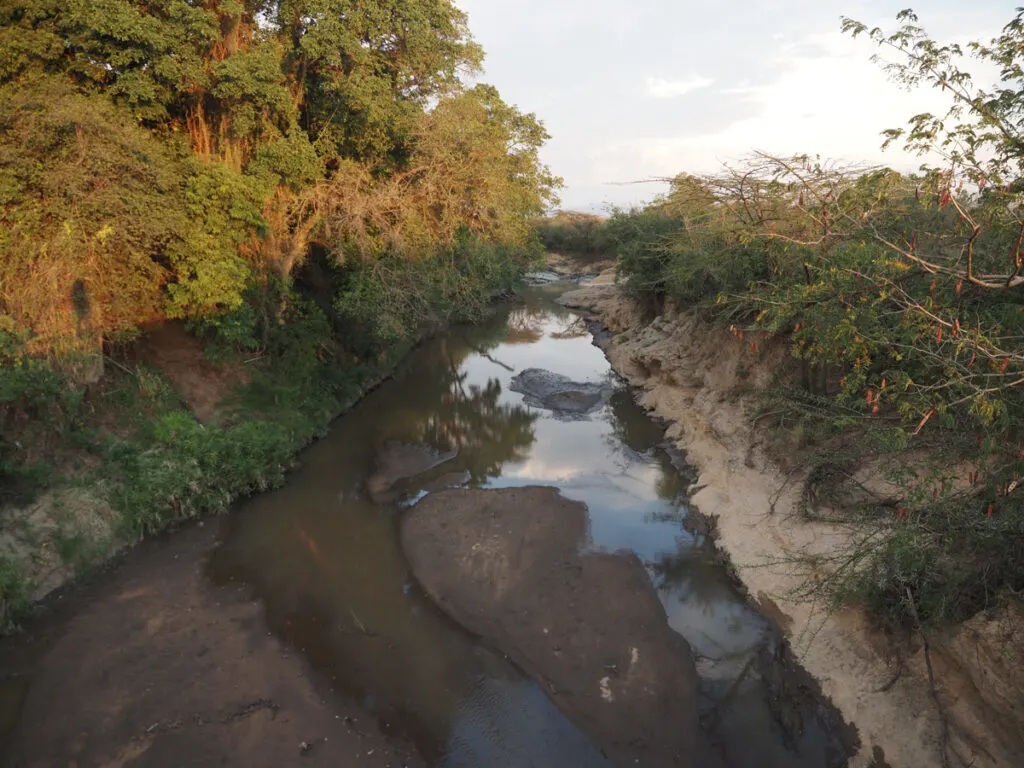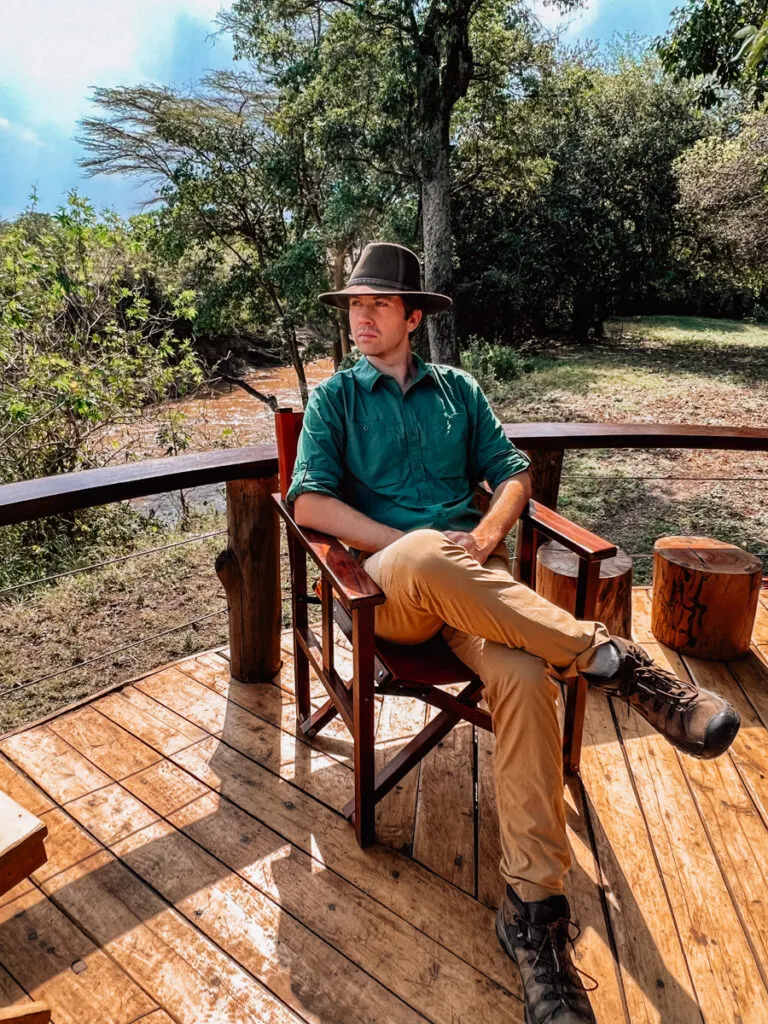 Other Great Lodges Outside the National Reserve:
andBeyond Kichwa Tembo Tented Camp: This beautiful camp sits along the Saparingo River and has several lovely tent options to choose from. The camp can also arrange things like a Maasai village visit, a bush walk, a night drive, or even an evening meal under the stars in the bush. Prices start at $385 per person, per night, and includes meals, drinks, laundry, game drives, transfers to/from the airstrip, and a pair of binoculars to use during your stay.
Ilkeliani Camp: This is where we stayed last time, and we loved it so much. Set against the Talek River, we enjoyed the dining tent and the lovely game-viewing platform overlooking the river and plains. We also had an elevated tent with its own balcony area to enjoy. The prices start at around $650 per person, per night and includes all meals, game drives, a guided walk, airport transfers, and transfers for village visits.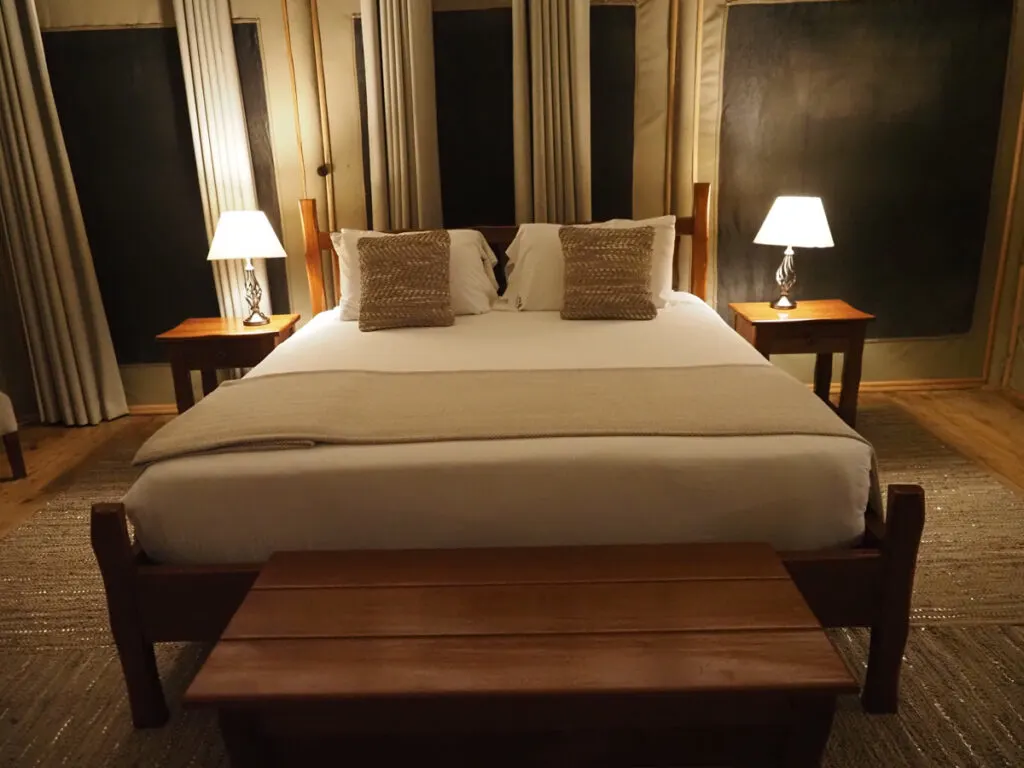 Mara Plains Camp: This luxury tented camp sits along the Ntiakitiak River and has only 7 tents. With views of the African savannah and the chance to see big cats near the camp, you'll feel the excitement from the moment you open your tent. Plus, the tents have things like big copper tubs and a private veranda. Prices start at around $1,300 per person, per night. This includes all meals and drinks, game drives, transfers, laundry, and reserve and conservancy fees.
Tours Versus DIY Versus Privately Planned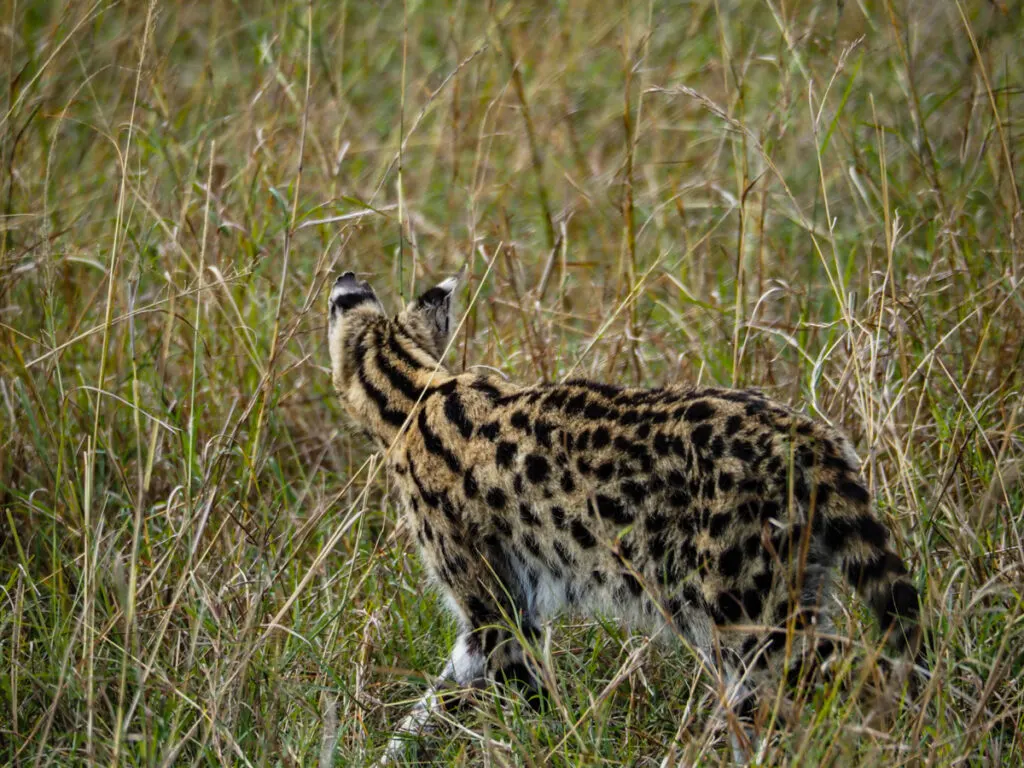 Obviously, this makes a huge difference in prices when it comes to going on a tour versus self-driving or having a company do this for you.
Group tours are likely the least expensive option, especially as they have economies of scale. So while some lodges listed above can be quite expensive, group tours can be super inexpensive.
We're talking about $200 for a 3-day tour or $900 for 4 days. However, this may include some more rustic camping facilities, and you don't get a lot of flexibility in your schedule as most of it is planned for you.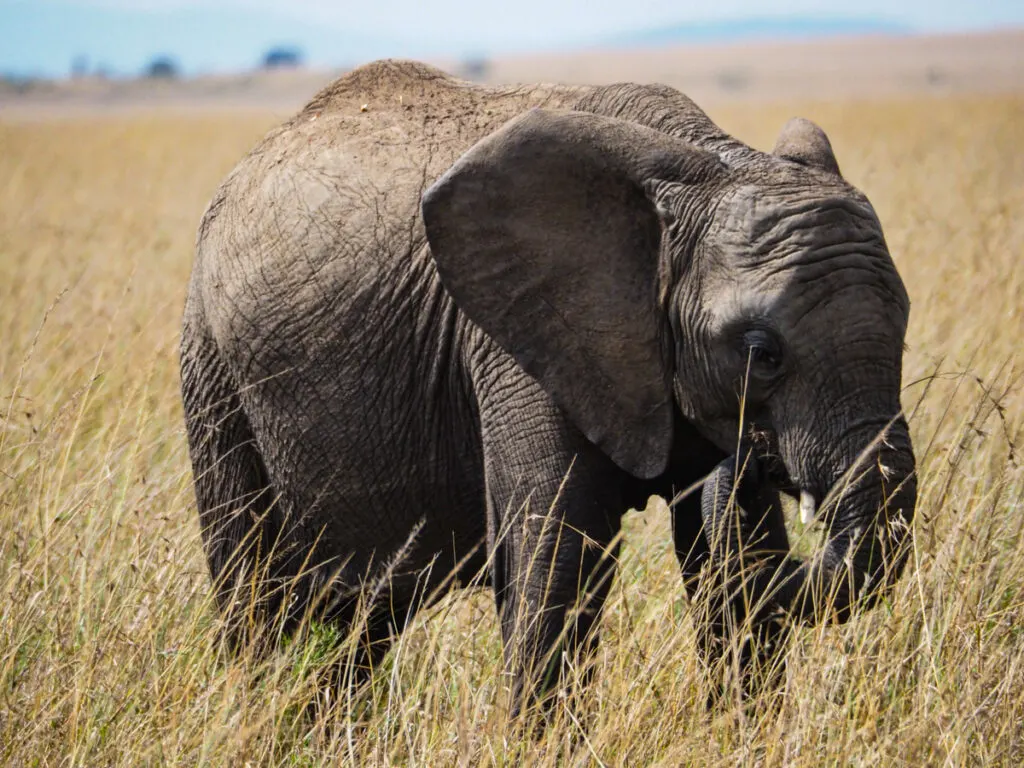 But, if you're just looking to go on a safari and enjoy the wildlife experience, then this is a great budget-friendly option. I like tours from GAdventures or IntrepidTravel.
However, you may also just want to do it yourself and self-drive your safari. You may save some money, but if you include your car rental, it honestly could add up a lot. I don't really recommend doing a self-drive thing, as the roads in the Mara can be confusing and many lodges already include game drives!
But if you want to DIY, then you certainly can in the Masai Mara National Reserve!
Honestly, though, there are a TON of details that go into booking a safari, including finding flights/transportation to get to and from the Masai Mara, park fees, conservancy fees, etc. It is more expensive, but definitely worth it to just have a safari company handle it for you.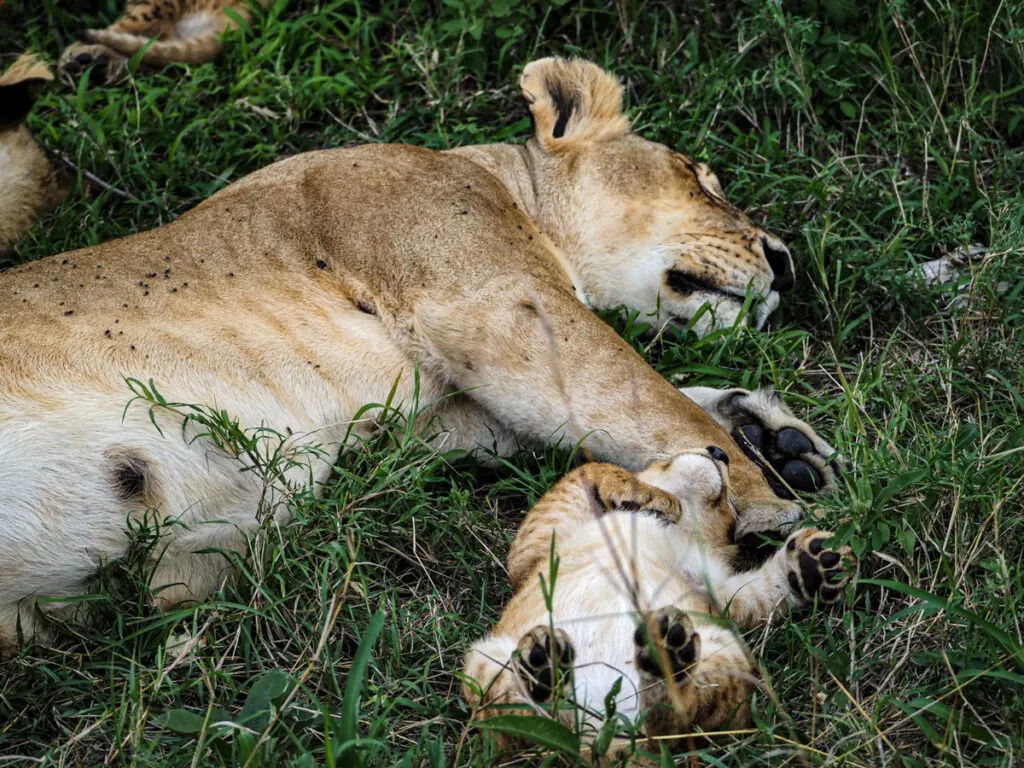 Plus, you get a customized experience doing it this way versus a tour. We went with Go2Africa during our trip to the Masai Mara and they did such a great job!
If you're okay with spending a bit of money on this bucket list-worthy experience, definitely go with a company.
How to Get to the Masai Mara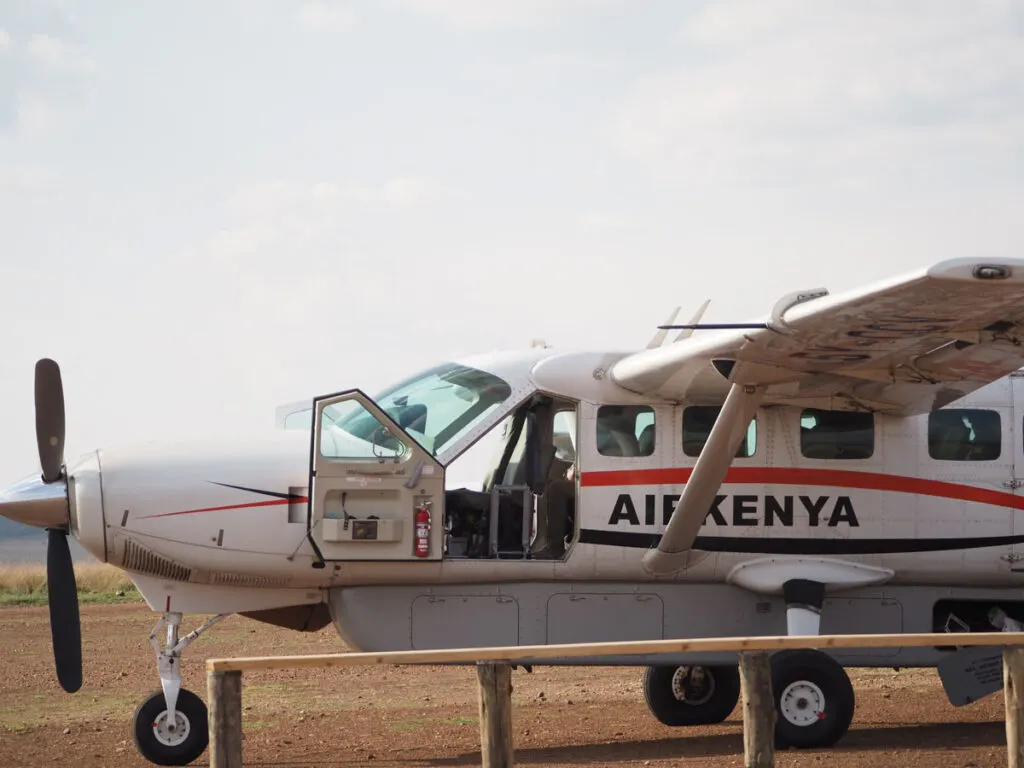 There are a couple of ways to get to the Masai Mara. Most of the time, however, you'll be coming in from Nairobi. From there, you can drive if you want. It is about a 6-hour drive.
Or, you could just book a bush plane flight to the Mara. This is what we ended up doing. It was quite the journey to get there, too, especially as we were coming from Uganda. We flew bush planes all day to get from Kibale National Park to the Masai Mara.
And just FYI, there are several little airstrips around the area. Your safari planner will book the correct one for you, but if you do this yourself, you just need to be sure to book the correct airstrip.
Air Kenya has a lot of flights to and from the Masai Mara.
Once you've landed, most lodges have transportation arranged for you.
When to Visit the Masai Mara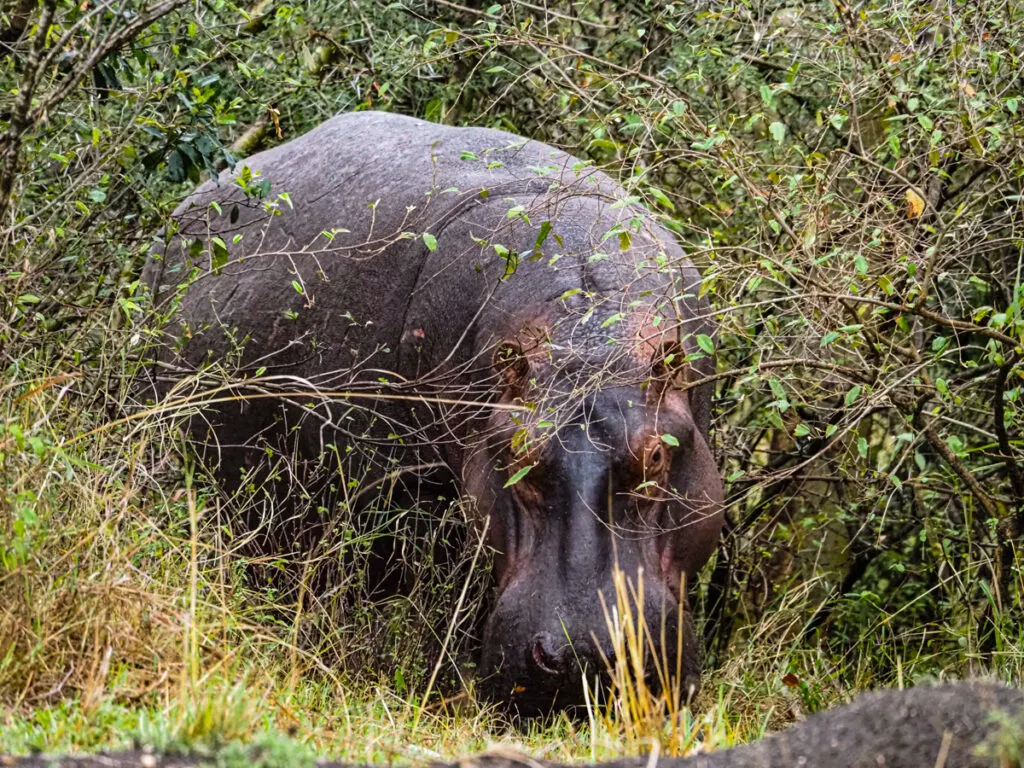 You can pretty much visit the Masai Mara year-round. However, there are better times than others to go.
The most popular time to visit is during the Great Migration. This occurs between July and September. So if you want to see the big river crossings, this is the time to visit. It is, however, the most expensive time to come.
January through February is a good time to visit for all the babies, and it is slightly more dry than the rainy season so visibility is pretty good.
However, March through May can be quite rainy at times, which could affect your trip. But you will find some of the best deals and the fewest crowds during this time.
Things to do in the Masai Mara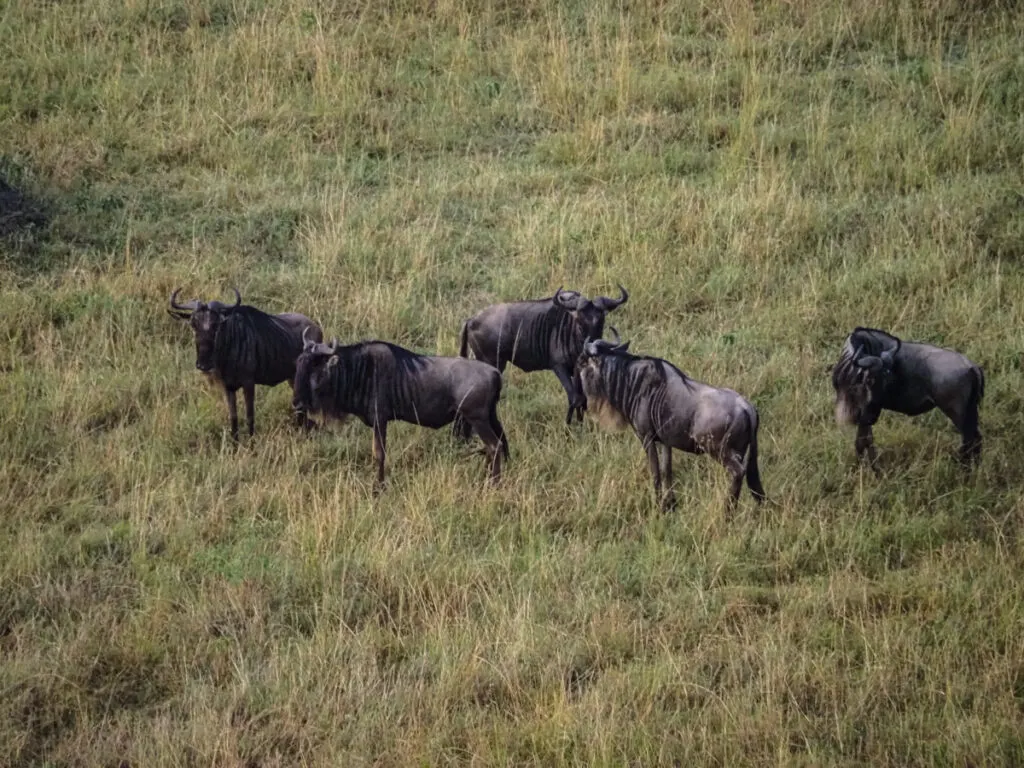 There are a ton of great things to do during your Masai Mara safari. Let's check it out:
Game Drives: Game drives are the best way to get up close to the wildlife and see them in action. They are usually twice a day (morning and evening when animals are most active). However, some places allow you to dictate the length and amount of game drives you go on.
Great Migration: If you visit during the Great Migration, watching the river crossings of the wildebeest is a crazy thing to witness.
Hot Air Balloon Safari: For a breathtaking sunrise over the Masai Mara, opt for a hot air balloon safari. You'll see several animals from the air and it is a gorgeous way to start your morning. Plus, there is a champagne bush breakfast afterward!
Horseback Safari: Some camps offer excursions like horseback riding safaris where you become one of the herd!
Maasai Village Visits: Learn more about the area and culture of the Maasai people.
Walking Safari: Take a bush walk with a guide to spot more wildlife.
Bush Meals: Whether it be a bush breakfast along a river or dinner, it is an incredible experience to have a meal amongst the wildlife.
Sundowners: For the coolest beer or cocktail of your life, opt for a sundowner. Have drinks with several animals nearby as you watch the sunset!
Bird Watching: Love bird watching? There are several bird species to spot on your safari.
Sample Masai Mara Itinerary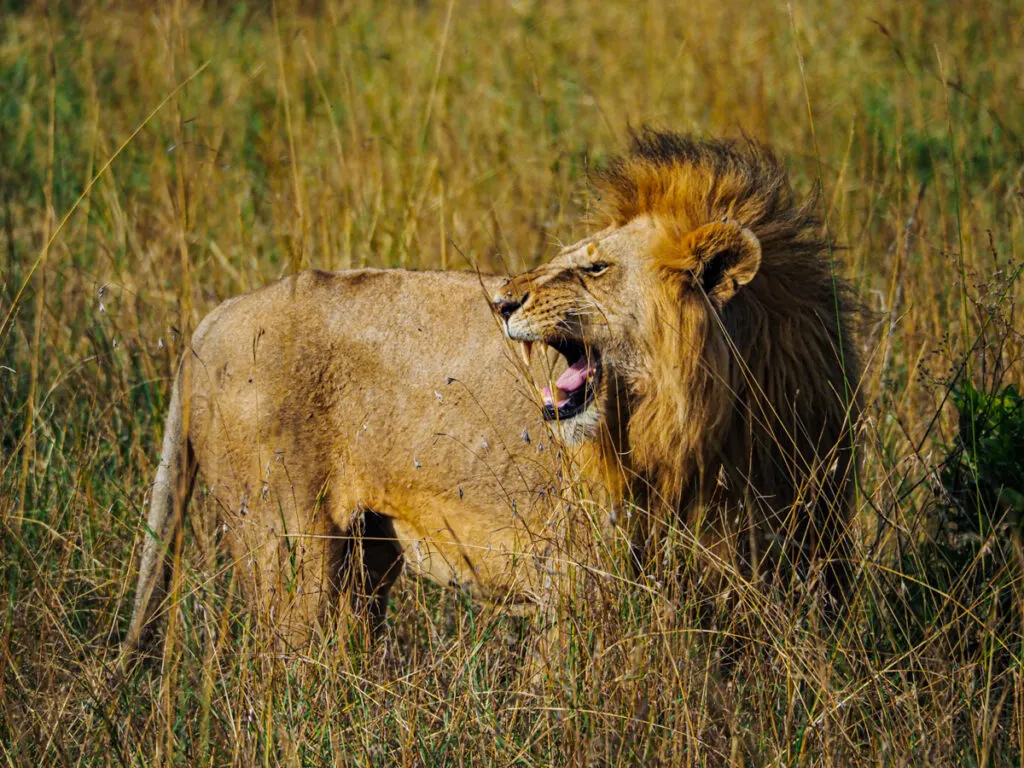 To help you create the perfect 3 days in the Masai Mara safari itinerary, we have our itinerary below.
Day 1: Arrive & Game Drive
Arrive to airstrip
Evening game drive on the way to the lodge
Drinks and dinner at your camp
Day 2: Hot Air Balloon & Safari
Early wake up
Hot air balloon safari at sunrise
Champagne breakfast in the bush
Relax and get a massage at camp
Lunch
Afternoon/evening game drive
Drinks and dinner at your camp
Day 3: Last Safari Day
Morning safari
Bush breakfast during your safari
Relaxation/nap before lunch
Lunch
Enjoy views from the tented camp
Evening game drive
Sundowner in the bush
Drinks and dinner at your camp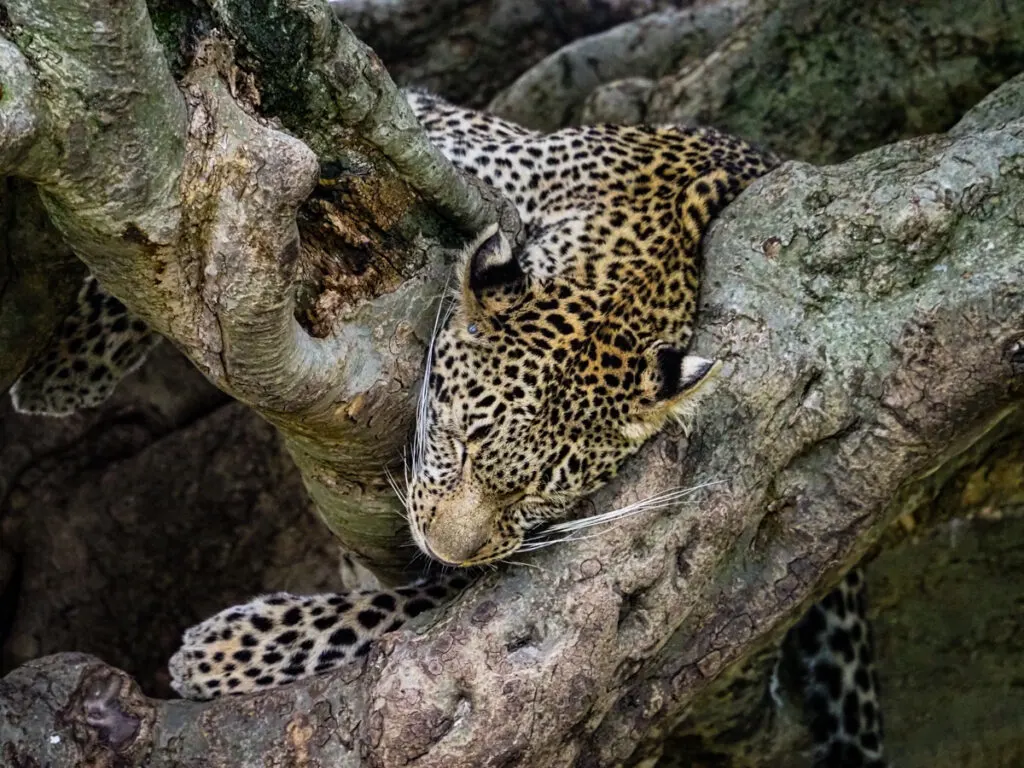 Other options instead of game drives include booking a horseback safari or a Maasai village visit too! But, as we only had 2 full days, we wanted to maximize our wildlife sightings on game drives.
If you have more time on safari, I do highly recommend visiting a local Maasai village if you have time!
Visiting the Masai Mara in Kenya is truly one of the most exciting and romantic experiences to have together. From dreamy hot air balloon rides to moments witnessing incredible wildlife, we hope this guide helps you have the best time in the Masai Mara!
Would you visit the Masai Mara in Kenya?
Want more African travel inspiration? Check out these posts:
Pin it here!