Some posts on this site contain affiliate links, meaning if you book or buy something through one of these links, I may earn a small commission (at no additional cost to you!). Read the full disclosure policy here.
---
When it comes to finding the best Victoria Falls activities, you're truly spoiled for choice. There are several things to do in Victoria Falls whether you're a romantic or adventure-seeker.
Between some of the most epic sunrises and sunsets I've ever experienced in my life, there is a plethora of fun to be had on either side of Vic Falls.
To help you figure out how to plan the most epic itinerary, here are the top activities in Victoria Falls!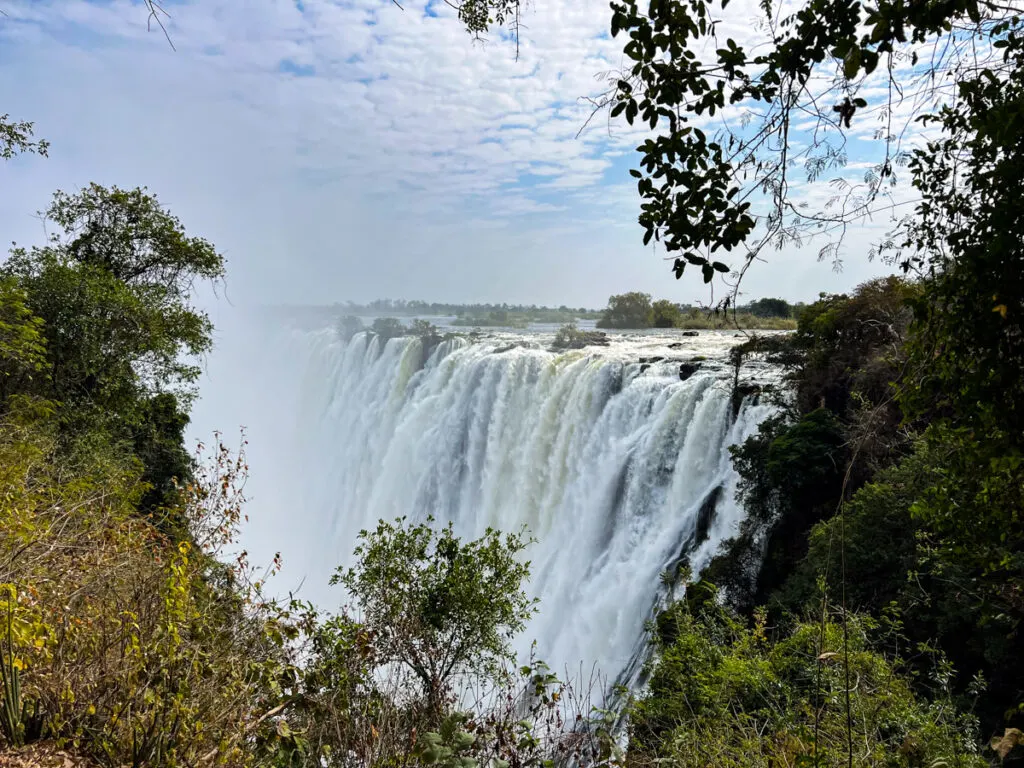 17 Best Victoria Falls Activities
Whether you're planning a romantic African honeymoon vacation together or you love action-packed trips, there is something for everyone here!
1. Catch an Epic Sunrise at Victoria Falls on the Zimbabwe Side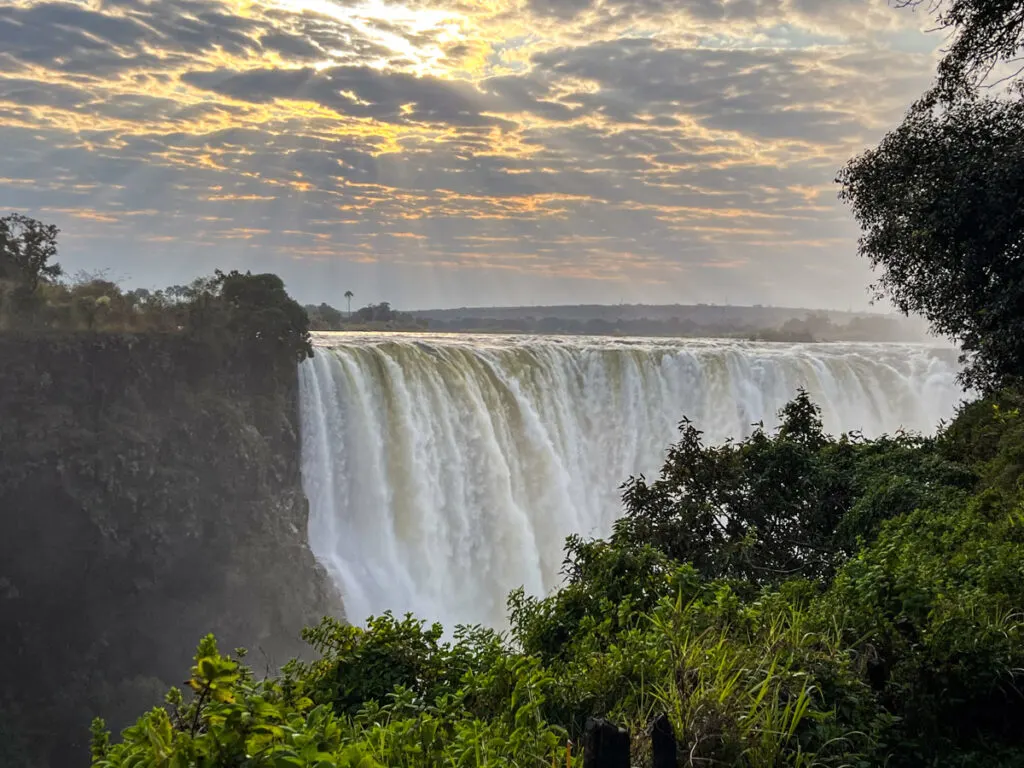 Cost: $50 for international visitors for the entrance fee if you go without a tour. Tours are around $27 per person not including the entrance fee for the Zimbabwe side. Book a tour here!
One of the best things to do in Victoria Falls in Zimbabwe is to, obviously, visit the epic falls!
Victoria Falls, also known as Mosi-oa-Tunya, or "the smoke that thunders," is the world's largest curtain of falling water. It is 5,604 ft (1,708 m) wide and 354 ft (108 m) at its highest point.
It goes without saying that this is most likely the biggest reason people visit this area. And one of the best things to do in Victoria Falls is to actually go view the falls itself.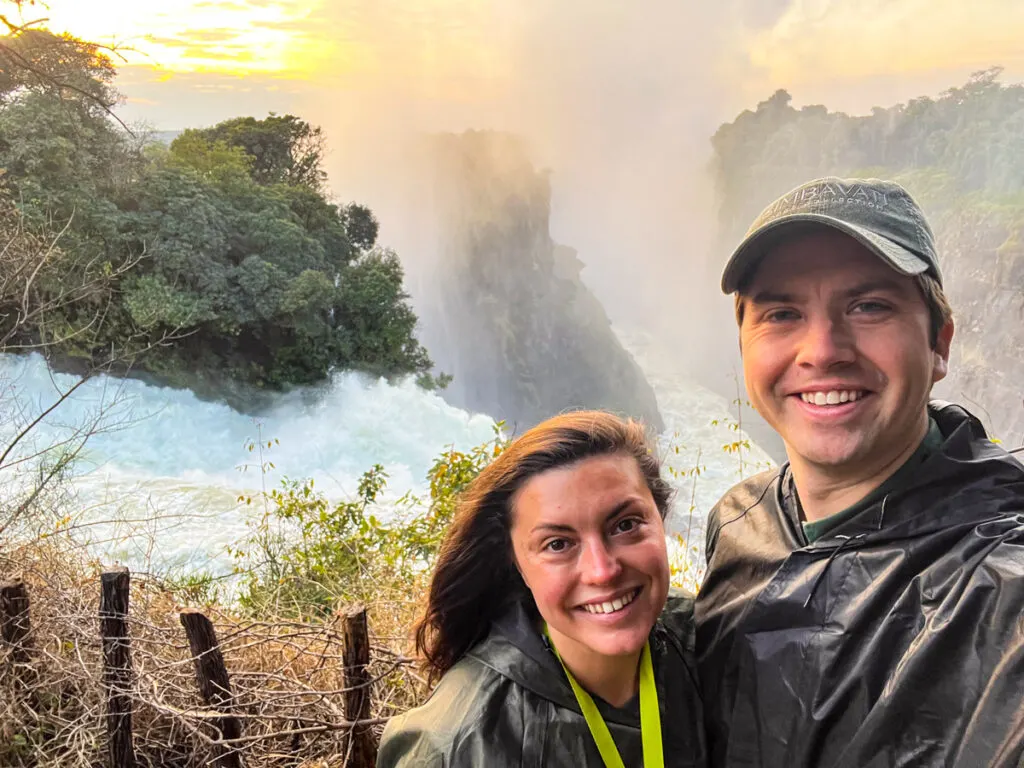 In our opinion, one of the best ways to do this is via a sunrise tour. We opted to do this through our lodge, and our local guide was super knowledgeable. He made sure that we also had appropriate clothing and ponchos because yes, you will absolutely get drenched at some places at the falls.
I suggest a sunrise tour for a few reasons. For starters, it is stunning to watch the sun rising into the morning sky with the misty falls in the foreground. Secondly, there are very few people at the falls at this time, meaning you'll be able to enjoy it almost completely by yourselves and get great photos.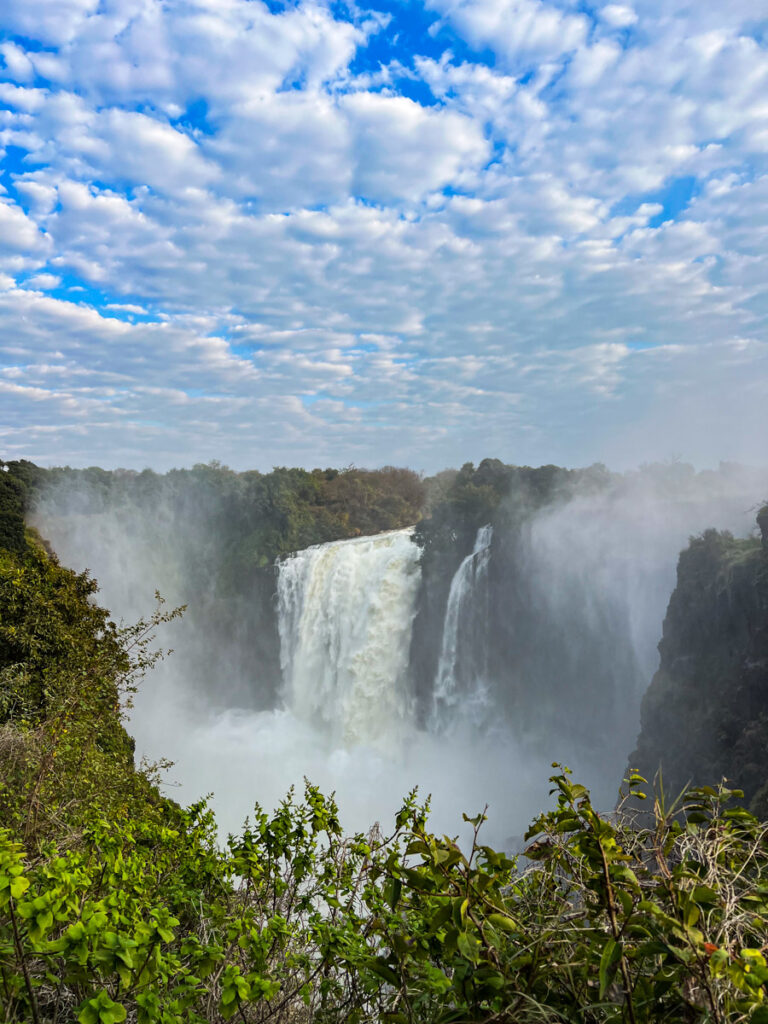 And thirdly, it is less hot and humid in the morning, so walking around the falls is much more comfortable.
Another great reason for having a guide is that he knew exactly where to go to see the best sunrise view of the falls!
The reason I suggest the Zimbabwe side of the falls for the morning tour is because out of all the 19 lookout points of the falls, Zimbabwe has 15 of them. This means you'll see more of the falls on this side.
Pro-tip: Pack a waterproof rain jacket or poncho. Otherwise, you can rent one for about $3 near the entrance. Be sure to pack shoes you don't mind getting wet, and be sure to have a dry bag to keep your things dry.
I also had a waterproof iPhone case to keep my phone dry while I took photos and videos. I would NOT recommend bringing an expensive camera to the falls as it will likely get wet if it isn't in the dry bag.
2. Visit the Zambia Side of Victoria Falls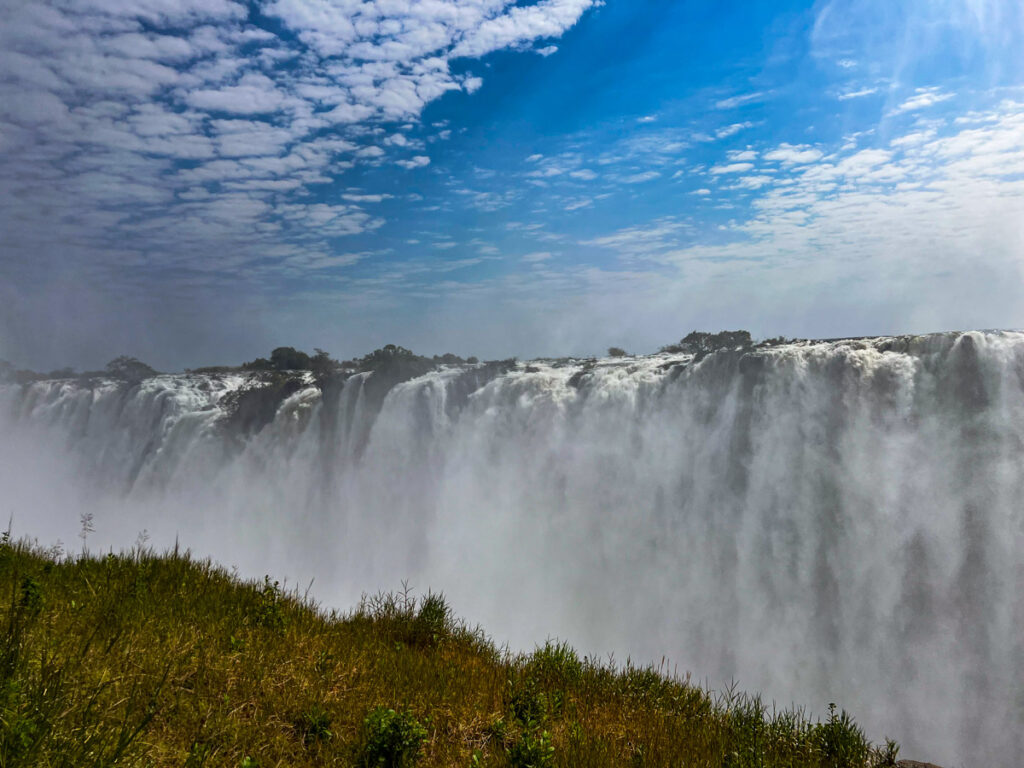 Cost: $20 entrance fee for international visitors.
Okay, if you're going all the way to Victoria Falls, you may as well walk across the bridge into Zambia. Most guides can't go with you over to the Zambian side, but it is easy to get to the falls as you just cross over the Victoria Falls Bridge, go through passport control, and then head over to the entrance to the falls.
Yes, you'll definitely need to bring your passport if you're going to do this. I highly recommend sealing your passport in a plastic baggie and then placing it into a waterproof bag like this dry bag. You'll have to go through passport control in both Zimbabwe and Zambia upon entering and leaving.
Check here for whether you need a visa or something for Zambia. For US citizens at the time we visited, we did not need a visa to enter Zambia, but we did end up getting the double entry visa upon arrival at the Victoria Falls airport when we arrived so we could reenter Zimbabwe after visiting the Zambian side of the falls.
Note that requirements could change at any time and definitely check on your own country's travel website to be sure of visa requirements.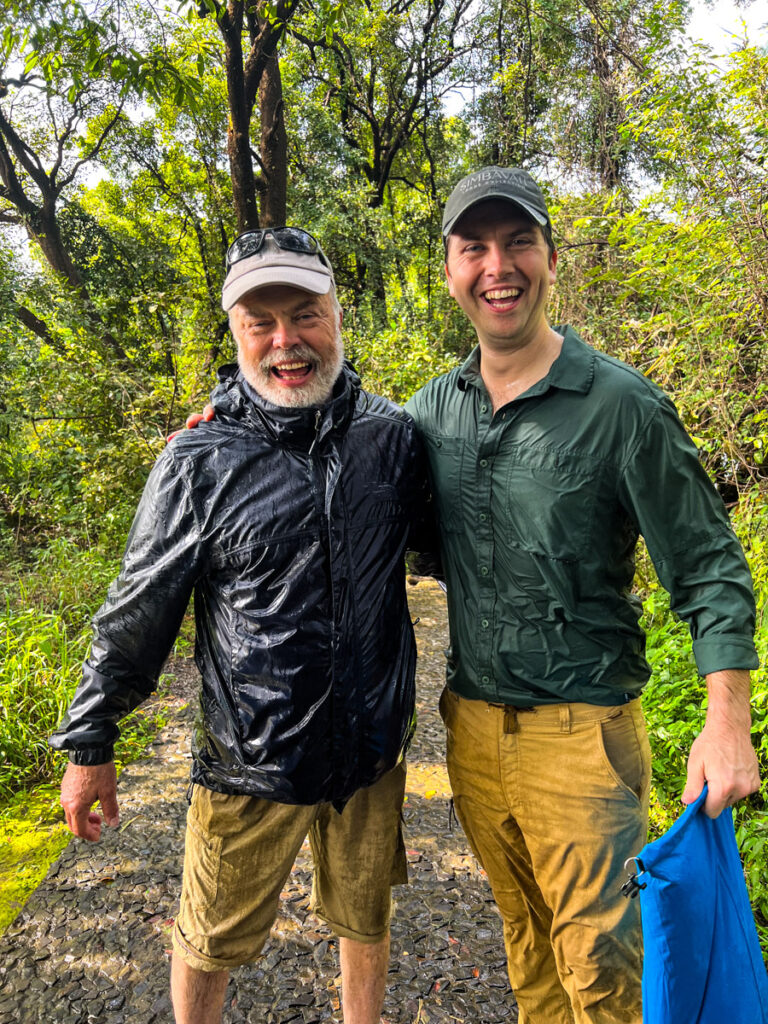 I highly recommend visiting both sides of the falls, especially as while the Zimbabwe side shows more of the falls, the Zambian side is closer. This means you'll truly feel the thunderous falls as you walk along to the viewpoints.
There is also a little bridge that you'll cross at one point where you'll get absolutely drenched but it's a ton of fun!
3. Take in the Views From the Victoria Falls Bridge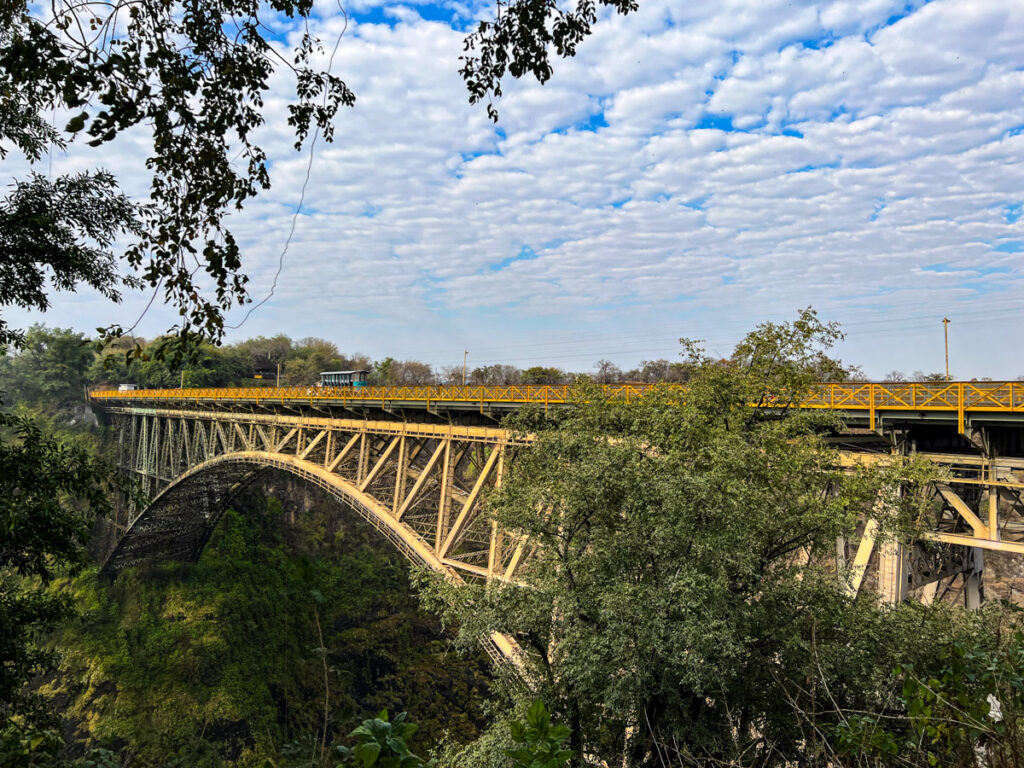 Cost: Free
The Victoria Falls Bridge is the main bridge where you cross from Zimbabwe into Zambia. And the views are epic! We're talking about views of the gorge, the falls, and the Zambezi River.
So be sure to stop along the bridge and admire the view!
Plus, you can snap a photo as you cross borders at the Zimbabwe and Zambia signs!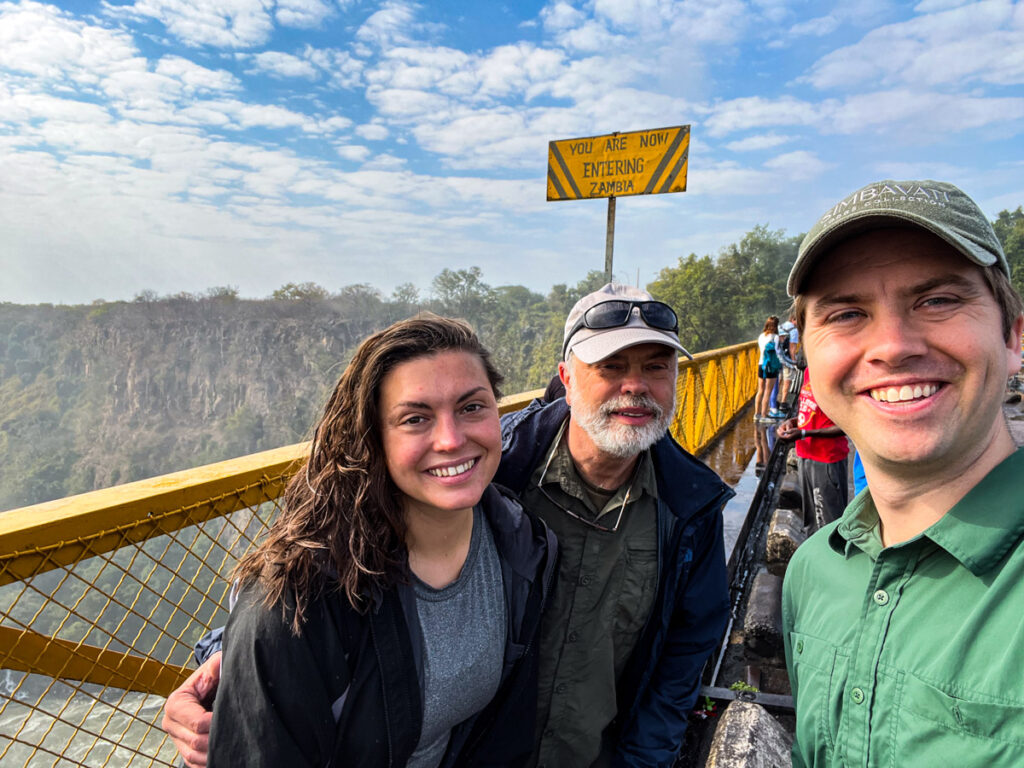 4. Victoria Falls Attractions For the Adrenaline Junkies: Bungee Jumping
Cost: $160 for a solo jump or $240 for a tandem jump. Book it here!
For thrill seekers, you can also take in the views of the area from Victoria Falls Bridge…by jumping off of it.
Yes, you can bungee jump from the middle of the bridge and fall about 364 ft (111 m). The minimum age to do this is 14 years old and the weight limits are a minimum of 40 kg (88 lbs) and a maximum of 120 kg (265 lbs).
If you love bungee jumping or want to see the falls from a different point of view, then you can check it out.
5. Activities at Victoria Falls: Gorge Swing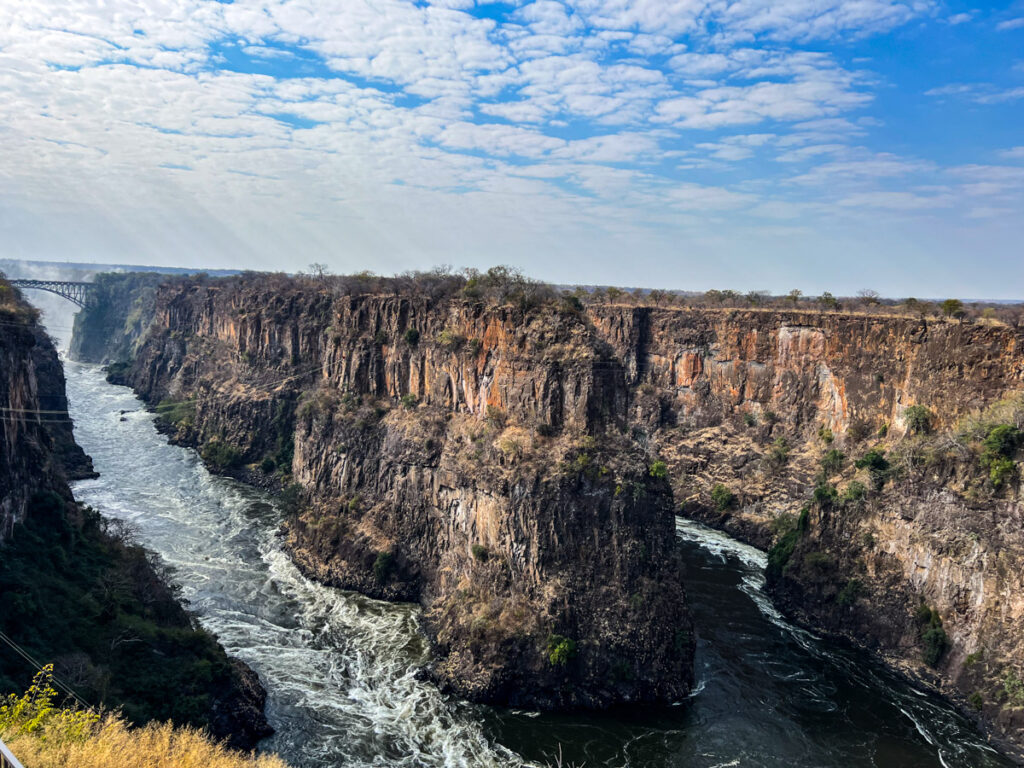 Cost: $108 for a single swing. Book it here!
Visit Batonka Gorge and do an incredible gorge swing through the canyon.
You drop about 230 ft (70 m) during your swing, and you'll get to see the incredible scenery of the Zambezi River and gorge as you swing through the canyon.
6. Zipline at the Gorge– One of the More Exciting Victoria Falls Activities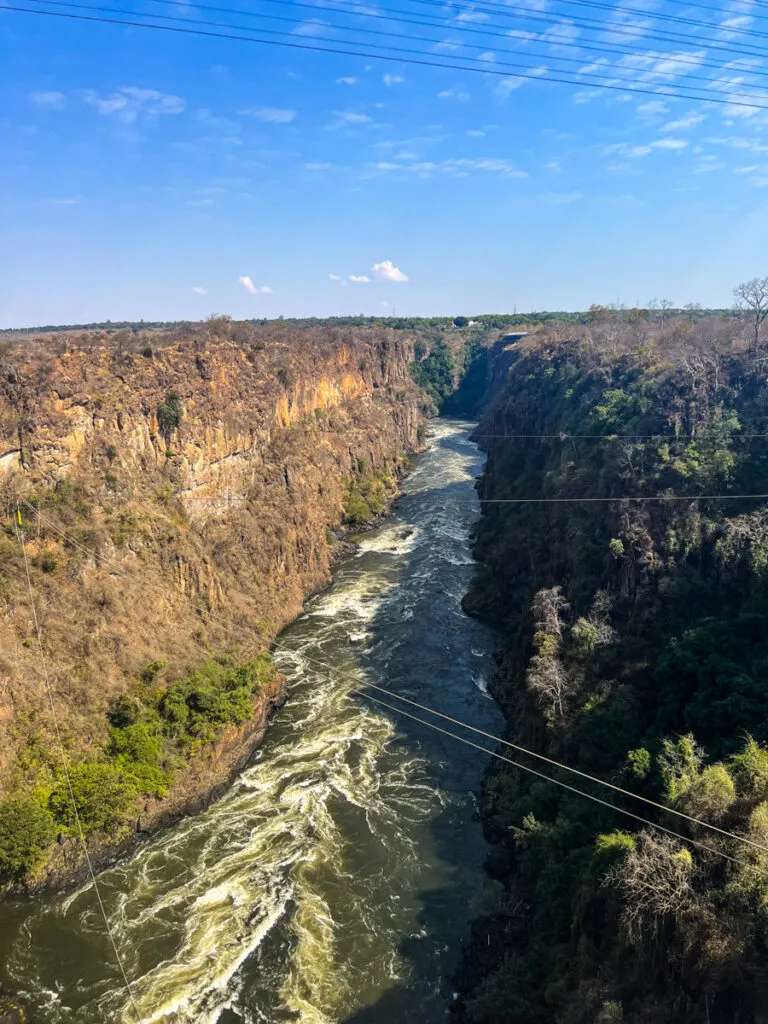 Cost: $87, plus a $3 park entrance fee. Book it here!
Now I'm not a big fan of the idea of jumping off something and plunging down at high speeds. So I prefer things like ziplining.
Thankfully, this is an activity you can also do at Batonka Gorge and get to enjoy the views as you zoom at around 65 mph (106 kilometers per hour).
There are no age limits for this, however, children under 16 must be accompanied by a guardian to sign the waiver. There is a maximum weight limit of 140 kg (308 lbs).
7. One of the Best Activities at Victoria Falls: White Water Rafting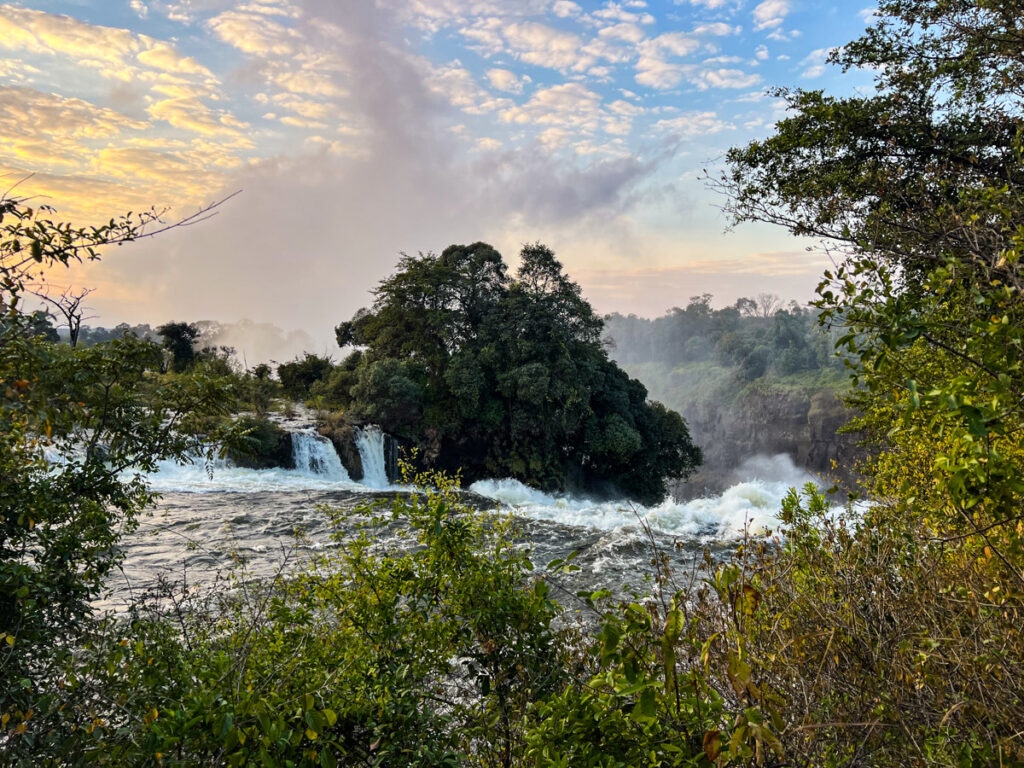 Cost: $140 per person, plus national park fees of $10. Book it here!
Depending on when you visit Victoria Falls, you can sign up to go white water rafting on the Zambezi River.
Enjoy views of the gorge as well as the falls from your raft. The rapids here are around class 4 and 5 year-round, and there is the chance to go high-water rafting between January-February and June-July. Note that they close down the first 10 rapids during this time due to safety.
For lower water rafting, opt for August through December. This is the more adventurous time to go.
They will typically close down white water rafting around April until June due to dangerous water levels. This varies by year depending on the levels.
8. See Victoria Falls From Above Via Helicopter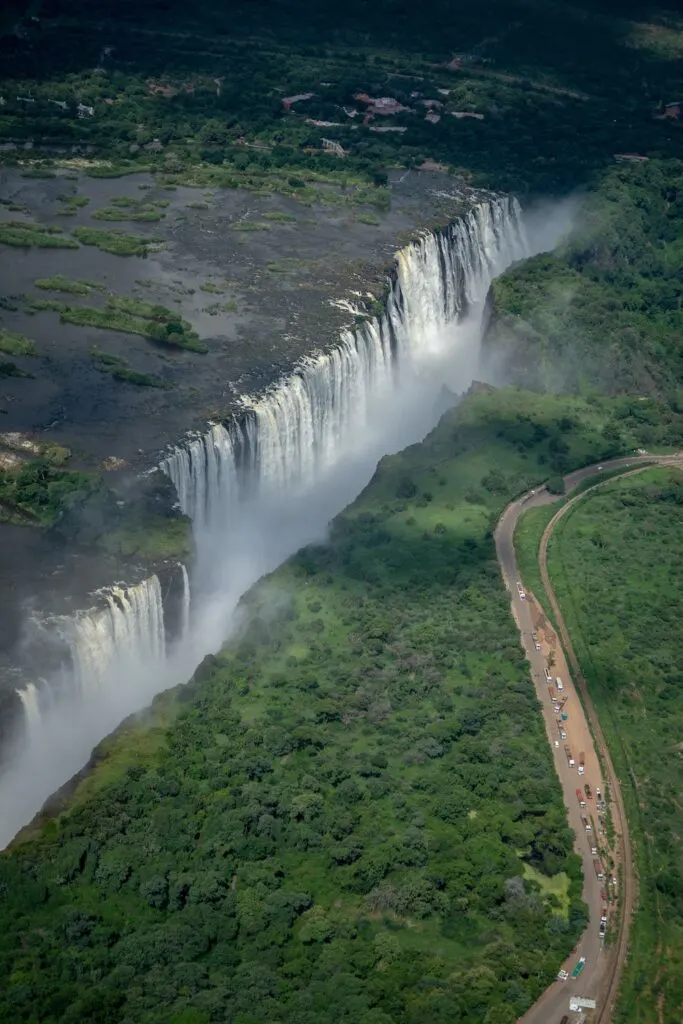 Cost: $189 per person, plus a $6 aviation fee per person. Book it here!
While I highly recommend visiting Victoria Falls up close on the ground, you can also enjoy the views from above.
This is a great way to see the falls when the water is too intense and you can't even see it on the ground. Luckily when we went in June, we were able to enjoy all the views from the national parks, but at certain times of the year, it can be too foggy to see.
Also, it offers the chance to see the falls from another perspective. I mean, on the ground you can't see the entirety of the falls all at once, whereas in a helicopter, you can!
9. Microlight Flights Over the Falls Are One of the More Adventurous Victoria Falls Activities
Cost: Starts at $185 for a short flight of 15 minutes. Book it here!
For the bold and daring, you can also opt to try a microlight flight over the falls. You basically fly over the falls in what looks like a mini airplane. Feel kissed by the smoke as you glide over the falls and get a fantastic view.
This isn't an activity for children under 12 and the weight limit is 100 kg (220 lbs).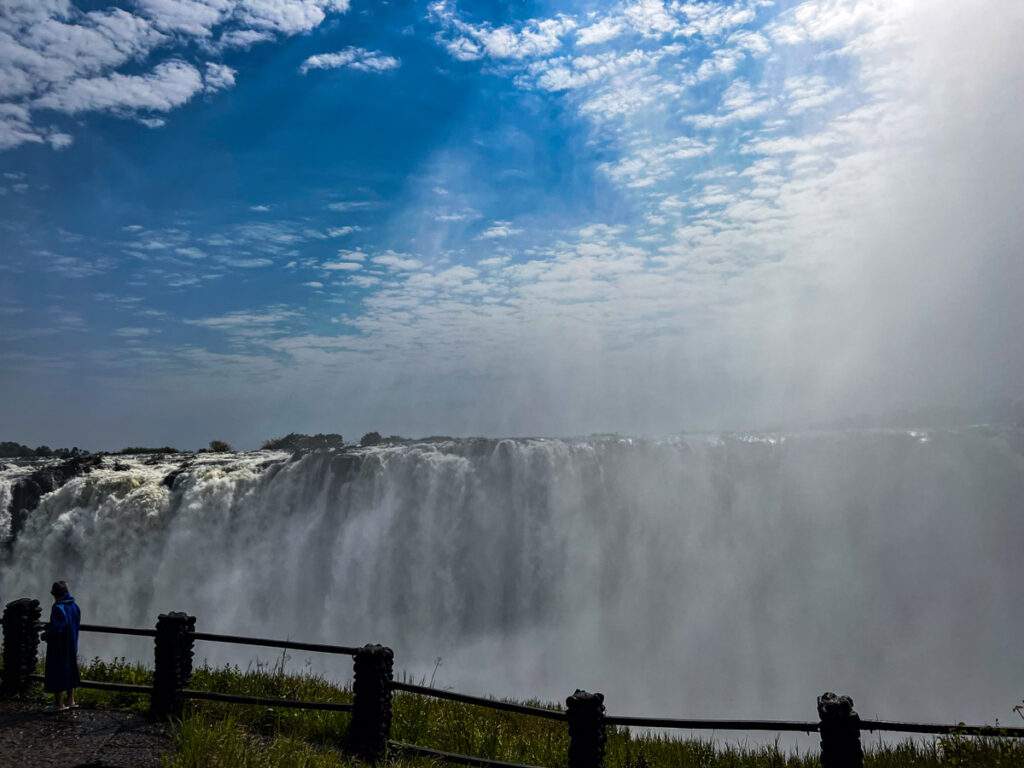 10. Visit Devil's Pool
Cost: $189 per person, plus a $20 fee for the shuttle to Zambia and back from Victoria Falls, Zimbabwe. Book it here!
Go on a tour of Livingstone Island and visit Devil's Pool along the falls. This pool is right along the falls and you get right up to the edge here! If you really want to get your blood pumping, then this is a Victoria Falls activity for you!
This tour also includes a bush breakfast, lunch or high tea, and guides.
Note that this isn't a suitable activity for children under 12, and Devil's Pool is closed from mid-January through mid-August depending on water levels.
If you wish to visit Devil's Pool, you'll need to visit when the Zambezi water is low so from mid-August through late December.
11. Explore Angel's Pool
Cost: Same as Devil's Pool.
While not as on the edge as Devil's Pool, this is still quite a thrilling experience to swim in Angel's Pool.
This pool is also generally open when Devil's Pool is not. Again, water levels and safety are considered when opening the pool to tours, but typically, Angel's Pool is open from January through February and July through August.
12. Going Canoeing on the Zambezi is Among the Victoria Falls Activities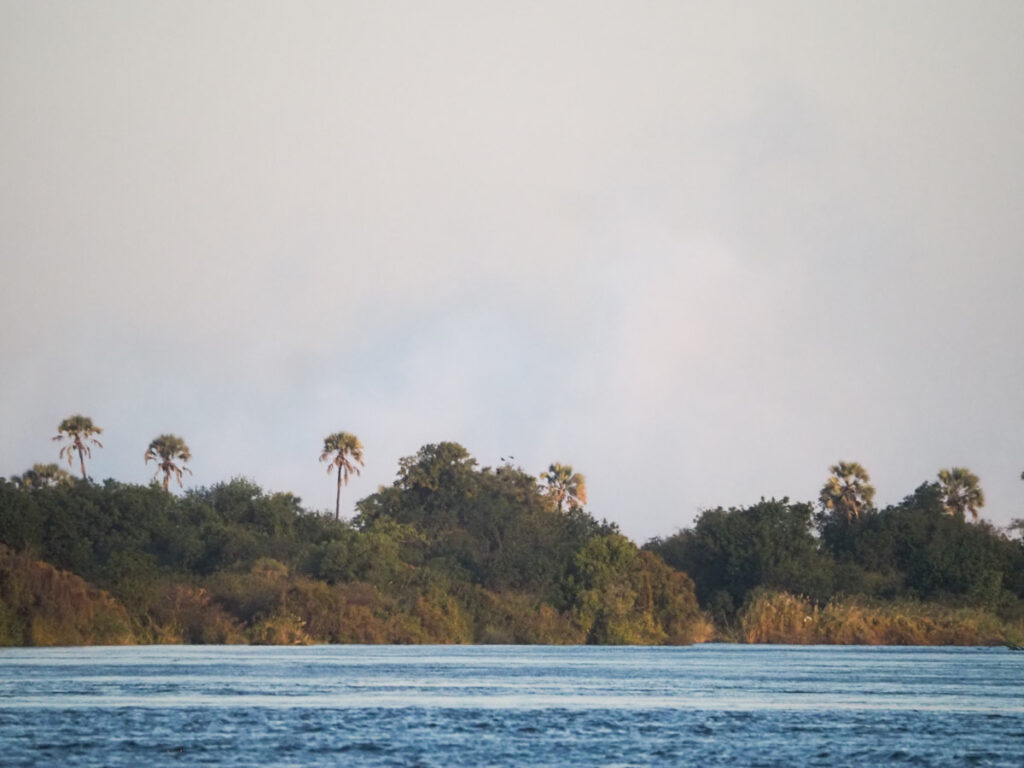 Cost: $160 per person.
Want to enjoy the wildlife and peacefulness of the Upper Zambezi River? Then, you'll love going canoeing instead of white water rafting on the Lower Zambezi.
Enjoy the chance to spot beautiful birds, hippos, crocodiles, and more as you glide along the river on a fun day trip.
There can be some white water rafting, but they are far less intense than the rafting below the falls.
13. Romantic Thing to Do in Victoria Falls: Sunset Cruise on the Zambezi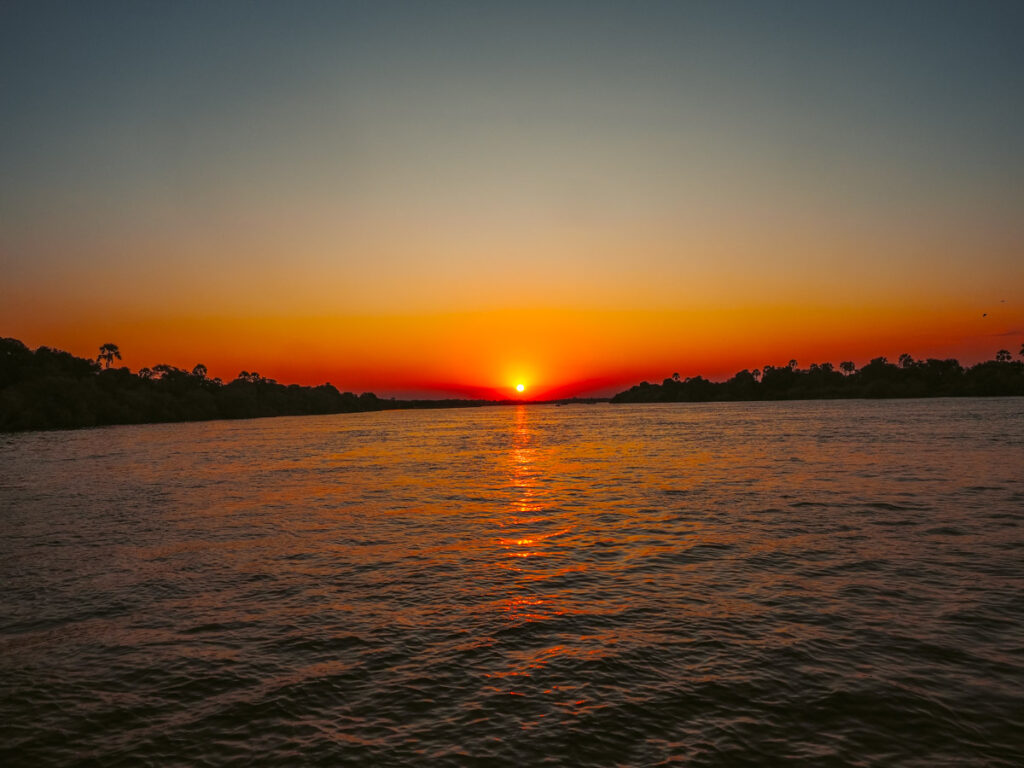 Cost: $60 plus a $10 national park fee. Book it here!
For one of the most beautiful sunsets, you'll definitely want to book a romantic evening cruise along the Zambezi River.
Get the chance to spot wildlife both in the water and along the river as you sail around the Upper Zambezi, enjoying drinks and appetizers during the journey.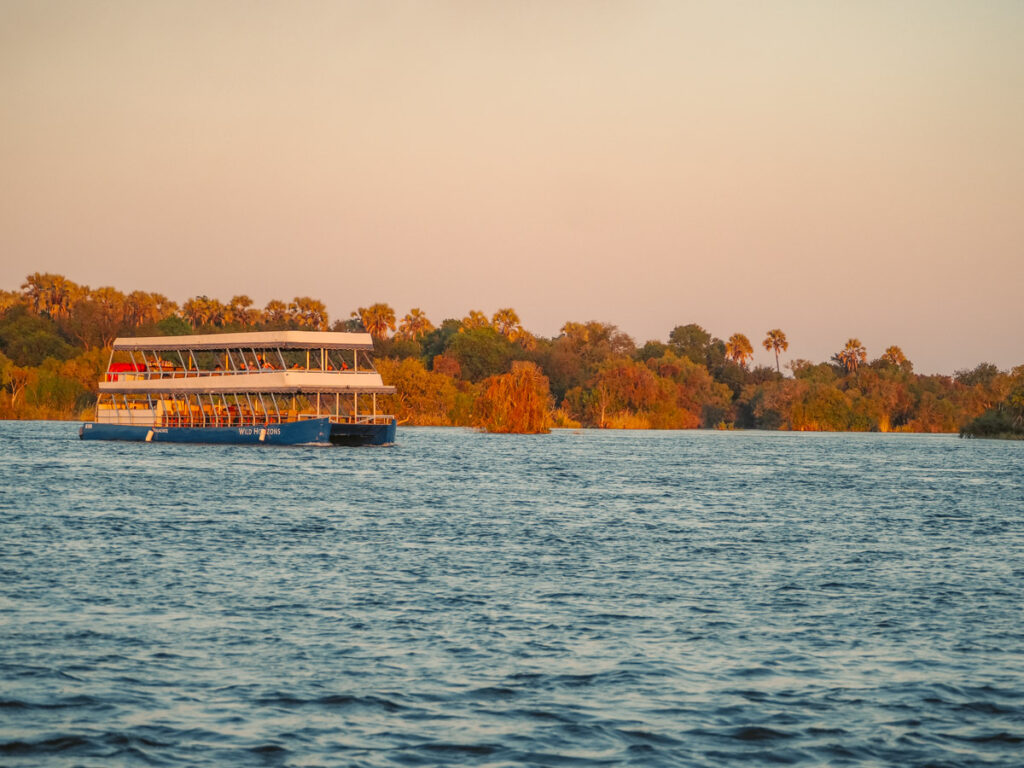 14. Try a Local Brew at a Brewery in Victoria Falls
We all know that South African wine is incredible, and you can certainly get a glass of it in many places in Victoria Falls. But we were pleasantly surprised to find that Victoria Falls also has some great beer.
The River Brewing Company has some pretty delicious beers on offer including their Kaza Blonde and Painted Dog Pale Ale. We enjoyed sipping these beers during our time here.
And you can visit the brewery to sample more beer as well as enjoy some live performances.
15. Go on a Safari Game Drive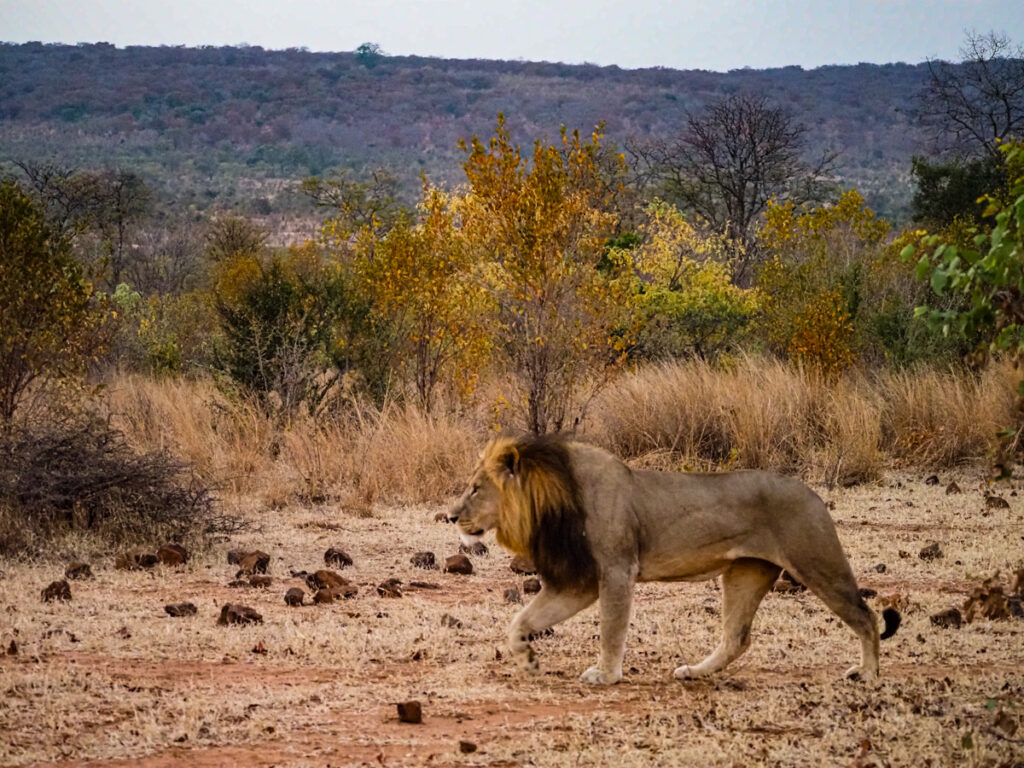 Cost: $116 for the game drive or $158 for a game drive and bush dinner and drinks. Book it here!
Want to enjoy an epic safari game drive not far from Victoria Falls in Zimbabwe? Then, you'll love going on a game drive and bush dinner at the Stanley and Livingstone Private Game Reserve.
We were able to arrange this with our hotel in Victoria Falls, but you'll be picked up in the safari vehicle around 3 pm and will embark on a 3-hour game drive at this reserve.
This area is unique as this reserve is currently helping the black rhino population. So this is a great chance to spot the rare black rhino.
Other animals you might see on your game drive include elephants, giraffes, zebras, buffaloes, baboons, and more!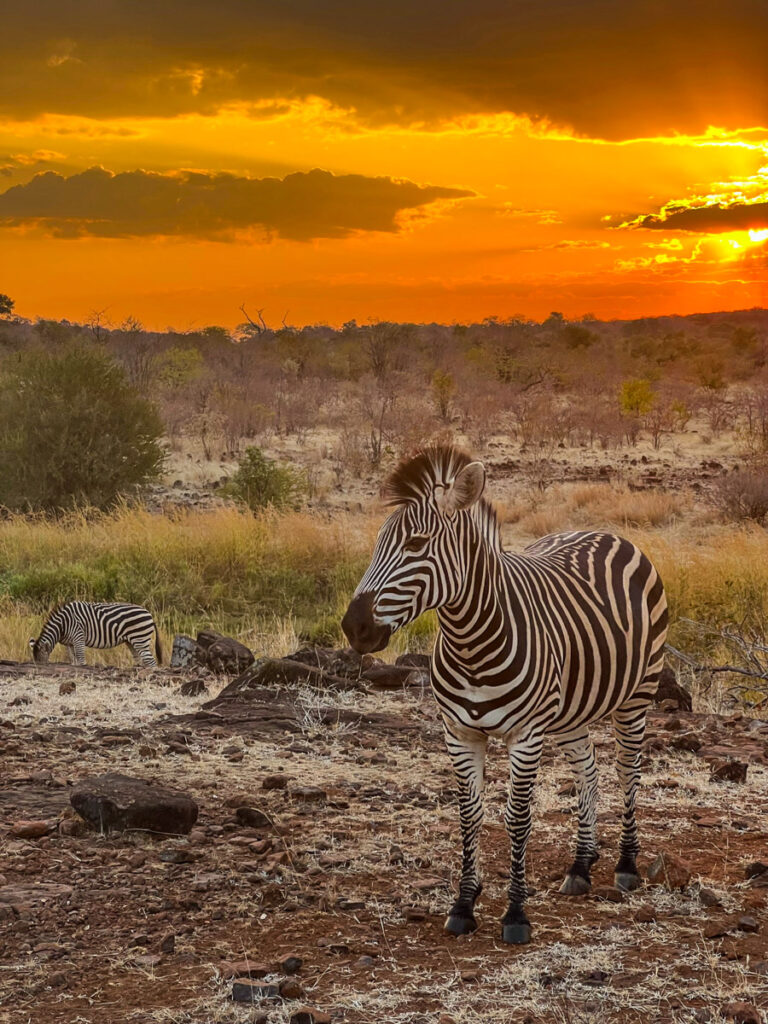 Then, you can wrap it up with dinner and drinks under the stars after an incredible safari sunset together.
If you want to really end your Victorica Falls itinerary with a bang, this is the way to do it. We ended up doing this on the last day of our trip and it was a great way to end it.
16. Visit Chobe National Park in Botswana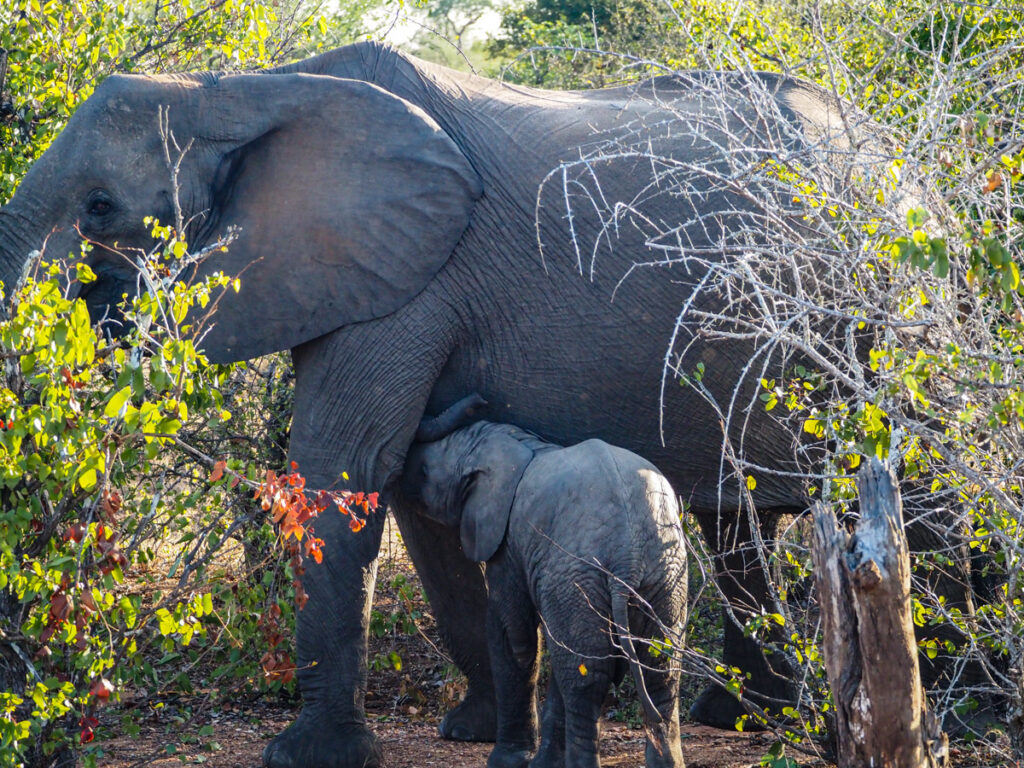 Cost: $170 per person. Book it here!
Yes, you have the chance to potentially visit 3 countries during your time in Victoria Falls. I highly recommend going to both sides of the falls in Zimbabwe and Zambia, and if you have more time, definitely book a day trip out to Chobe National Park in Botswana.
Don't forget your passport again, and this will also affect which visa you'll need for Zimbabwe to enter multiple times.
But this day trip includes a boat cruise on the Chobe River as well as a game drive in Chobe National Park. Spot amazing wildlife from land as well as on the river during a day on safari in Botswana.
17. Stay in a Nice Hotel in Victoria Falls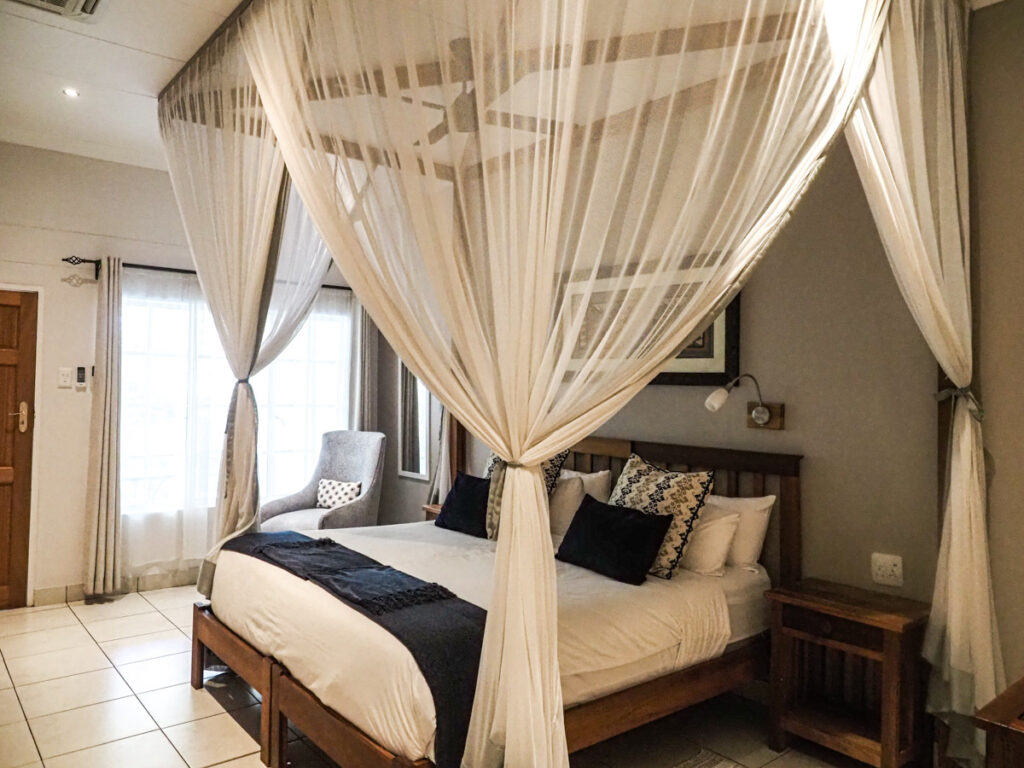 A great Victoria Falls activity has to be to stay in a nice hotel! Enjoy a delightful hotel to relax in between all of the other amazing Victoria Falls attractions you'll be visiting! Here are some great hotels to choose from.
Batonka Guest Lodge: This is where we stayed and loved it! They arranged a lot of things for us, including our safari game drive. The staff here is super nice and helpful, and we loved the restaurant for dinner as well as the refreshing pool on hot days. The rooms here were also spacious and lovely.
Shongwe Lookout: This lovely hotel has an incredible lookout tower for amazing sunrises and sunsets with views of the river, and they have delightful rooms and a bar and restaurant.
Victoria Falls Hotel: This 5-star resort has 24-hour room service, a stunning pool, multiple restaurants, several rooms and suites, and a spa.
Stanley & Livingstone Boutique Hotel: This is a bit further from the falls, but this is on the game reserve I mentioned above. This place has a pool, restaurant, and more opportunities to enjoy epic views of the reserve and wildlife.
Getting to Victoria Falls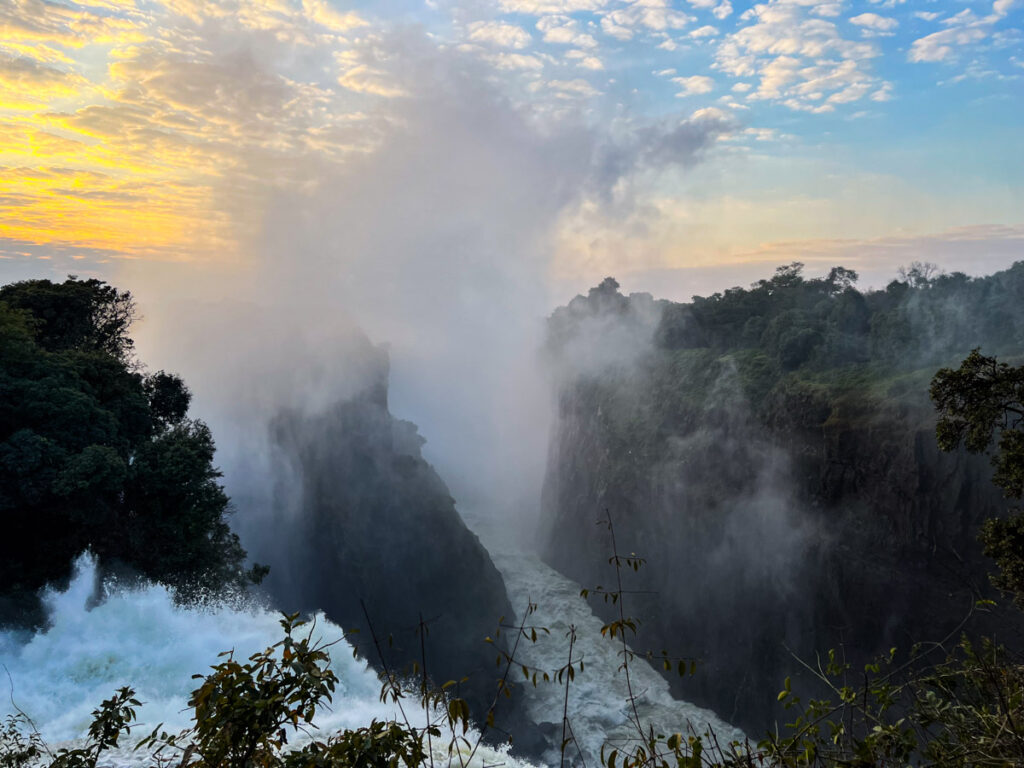 I recommend staying in Victoria Falls, Zimbabwe, and it is easy to get to thanks to its nearby airport.
We were able to fly here directly from Cape Town, and there are flights available from Johannesburg as well as other cities in Zimbabwe.
Once you're here, you can either arrange transportation with your hotel or if you're going with a safari planner like Safari365 as we did, they'll handle it for you!
When to Visit For These Victoria Falls Activities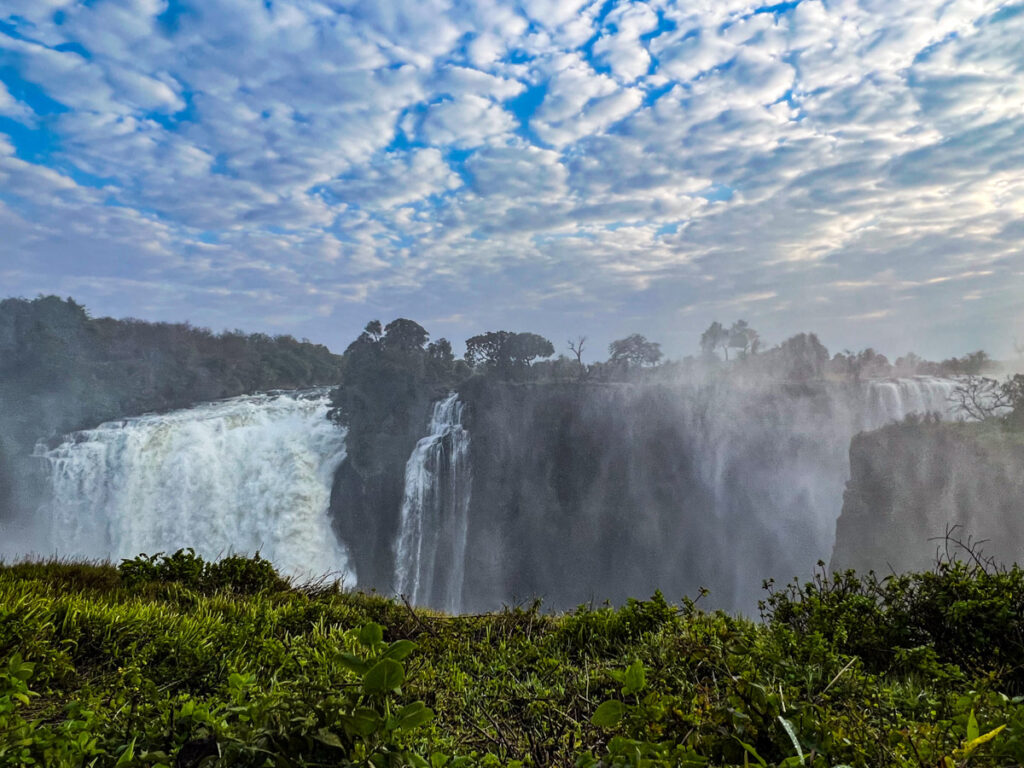 You could visit Victoria Falls year-round, but it all depends on what you want to do. If you want to see the falls at its most powerful, opt for February through May.
We visited in June and it was incredible! The falls were definitely powerful during that time!
However, note that there are certain activities that you can't really do during this time based on water levels.
I think May and June are great times to visit as the dry season is starting and temperatures cool off a bit. This makes it fun to explore the falls as well as go on a safari drive.
Other Tips to Know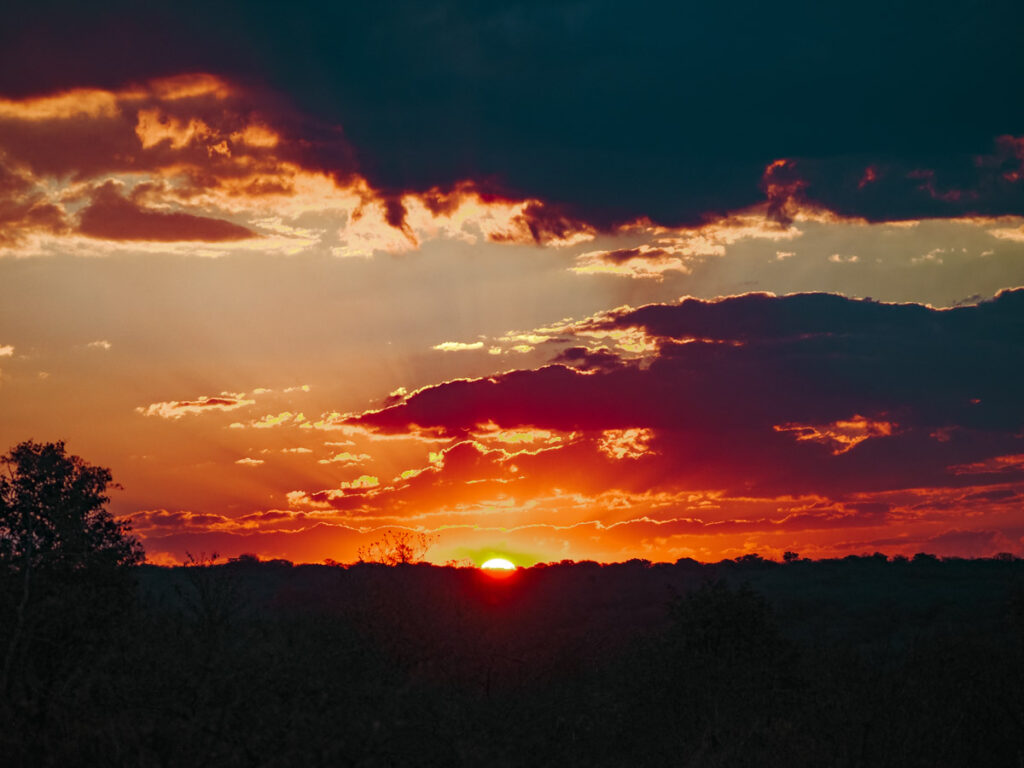 USD is accepted in Victoria Falls. You can bring USD with you and use it here, as it is widely used in Victoria Falls, Zimbabwe. In fact, it is the official currency of the country. Credit cards are accepted at many hotels and such too.
Get cash out ahead of time. It can be tricky to find ATMS, so be sure to get cash out ahead of time if you can.
Need help with safari planning? Check out Safari365! This was our second trip planned through them and they do a fantastic job every time! When it comes to planning trips on safari and things, it helps to have someone else handle the logistics!
Pack sunscreen and bug repellent. Mosquitos can be a pest at night and the sun can be strong during the day.
This is the ultimate guide to the best things to do at Victoria Falls! Between romance and adventure, this is a fantastic destination.
Thank you to Safari365 for discounting our trip to Southern Africa. As always, all opinions are our own.
Want more African travel inspiration? Check out these posts!
Pin it here!