Some posts on this site contain affiliate links, meaning if you book or buy something through one of these links, I may earn a small commission (at no additional cost to you!). Read the full disclosure policy here.
---
Witnessing the mountain gorillas in Uganda is quite a bucket list experience. To spend an hour observing a family of gorillas as they lounge, play, and climb is such a breathtaking adventure that I cannot recommend it enough. But, as you are in the planning stages of your journey, you're probably wondering what to wear gorilla trekking in Uganda.
Fear not, because we too asked ourselves this question in the months leading up to our trip to Uganda.
We were a bit nervous and did a ton of research on what to pack for a gorilla trek simply because this was new territory. Sure, we've been hiking a ton in the US national parks, but those are on well-marked trails.
In Bwindi Impenetrable National Park, you're only on the trail for a little bit before trekking through the woods behind a guide who is using a machete to create a rough path.
So you'll need a lot more than running leggings and sneakers. But no worries, as we have the perfect gorilla trekking packing list for you!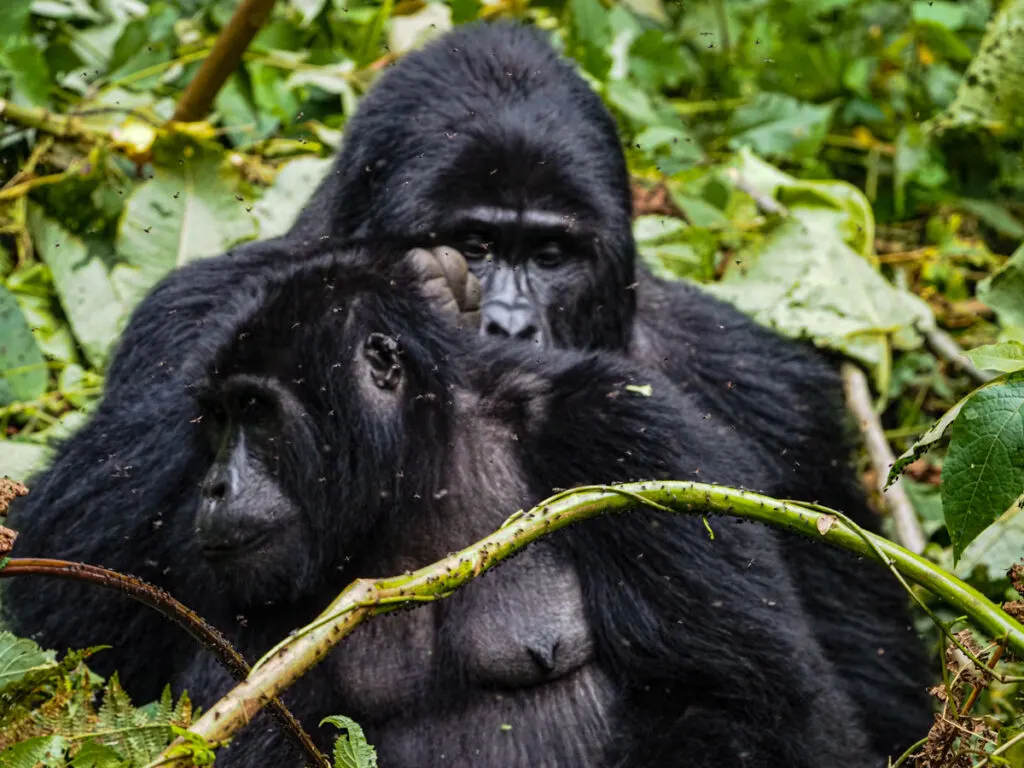 What to Wear Gorilla Trekking in Uganda
Let's get into everything you'll want to wear while gorilla trekking as well as what to pack.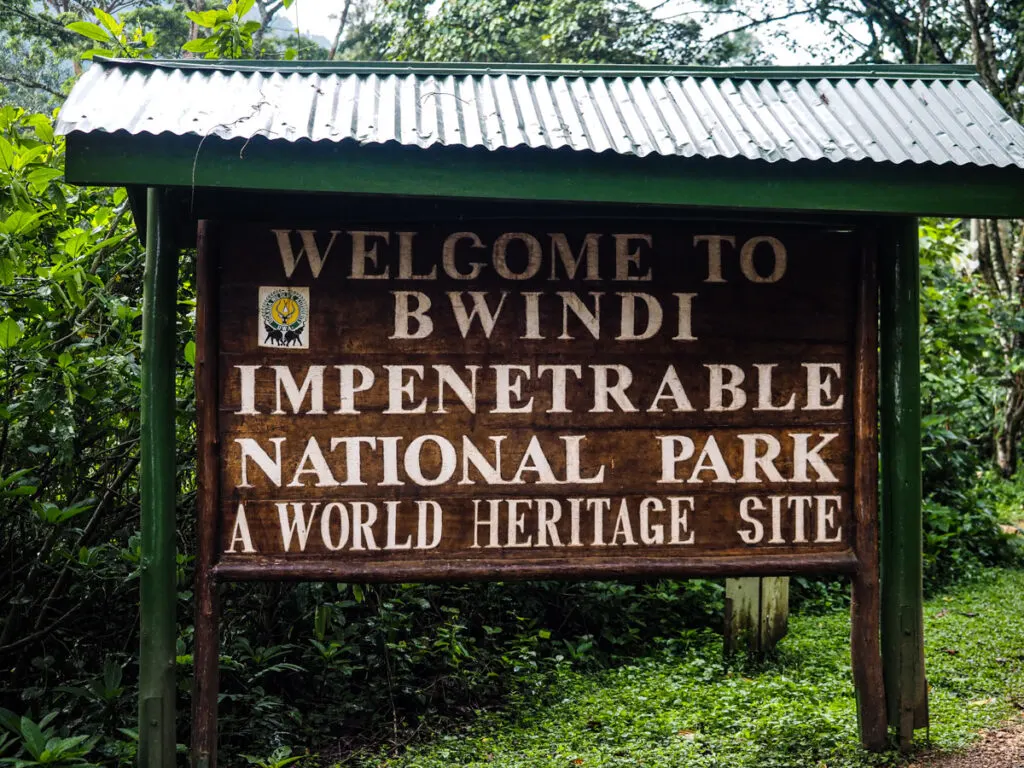 But first things first, let's talk about a big consideration:
Weight & Size Baggage Limits on Airlines
If you plan to fly to where you'll be gorilla trekking, you'll be taking a bush plane, like Aerolink Uganda. These smaller planes usually seat up to 12 people, and they have strict weight limits on baggage.
Their weight limits are 15 kg, or 33 lbs, for all luggage, including carry-on and checked combined. Hand luggage can only weigh up to 5 kg (11 lbs) and is included in the overall weight limit.
To top it off, you can't bring too large of luggage too. Checked luggage size restrictions are 24X18X13 inches (60X45X33 cm). Hand baggage is 12X21X9 inches (30X53X23 cm).
These sizes aren't much larger than a normal economy carry-on bag and personal item. Also, luggage must be soft-sided rather than hard. We just used our Osprey carry-on backpacks as our checked bags and our hiking backpacks as our personal items.
So that makes your gorilla trekking packing list a bit more complicated, as you'll want to pack only the necessities.
Now that you are aware of this, note that many lodges in and around Bwindi Impenetrable National Park include free laundry, so that you can get some clothes cleaned before continuing your journey.
What to Wear Gorilla Trekking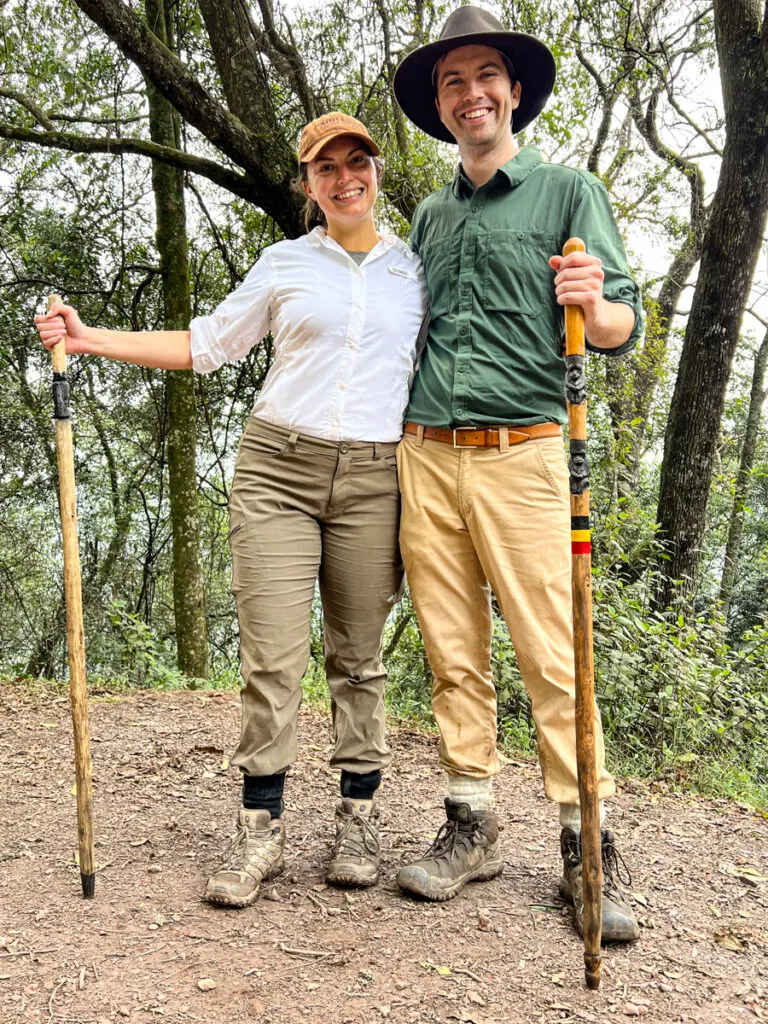 Knowing what you can take on the plane to and from the gorilla trek, let's talk about what gorilla trekking clothes you'll want to wear.
1. Hiking Boots
When it comes to the best shoes for gorilla trekking, you're going to want hiking boots. Again, as you'll only be on a trail for a little while before being in the middle of the forest, you'll want something sturdy.
Those tree roots and vines are no joke. If you already have a pair of trusty hiking boots, those should work fine. You'll just want boots that have a lot of traction and are comfortable.
If you choose to buy new boots for the gorilla trek, make sure to break them in first. You don't want aching feet when you're still 2 hours out from the start of the hike.
I personally love my Merrell Moab hiking boots that I've used on hikes from Shenandoah and the Smoky Mountains to Glacier National Park and Vermont. Chris is a fan of his Keen hiking boots.
Make sure they are waterproof as it could rain at any time!
Note: I've seen some blogs recommend gaiters sometimes. This is more of a thing in Rwanda I think, but in Bwindi Impenetrable National Park, we didn't need it as we weren't really crossing rivers and things. Just waterproof hiking boots should do the trick!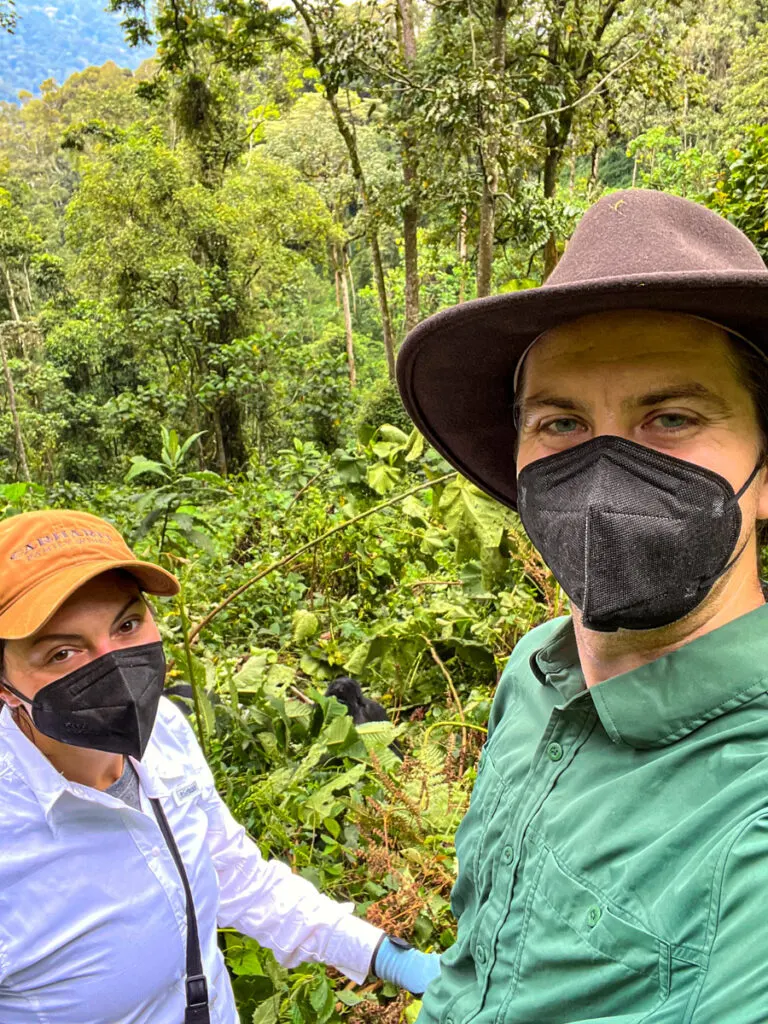 2. Hiking Socks
Merino wool hiking socks are always a good idea. They keep your feet dry and comfortable during your hike.
3. Hiking Pants
Running leggings are NOT sufficient for gorilla trekking. Yes, I've hiked in running leggings all over the US national parks, but when you're going off trail where there is stinging nettle and thorny bushes, thin leggings won't hold up.
Instead, opt for sturdy hiking pants that are breathable but won't snag. This took me the longest to find. Chris easily found these sturdy men's hiking pants.
Don't get me started on how hard it is to find sturdy women's hiking pants. But after a long time of chatting online with various hiking stores, these Eddie Bauer Women's Guide Pro Pants were what I landed on and they worked like a charm!
They repel water and held up in the forest.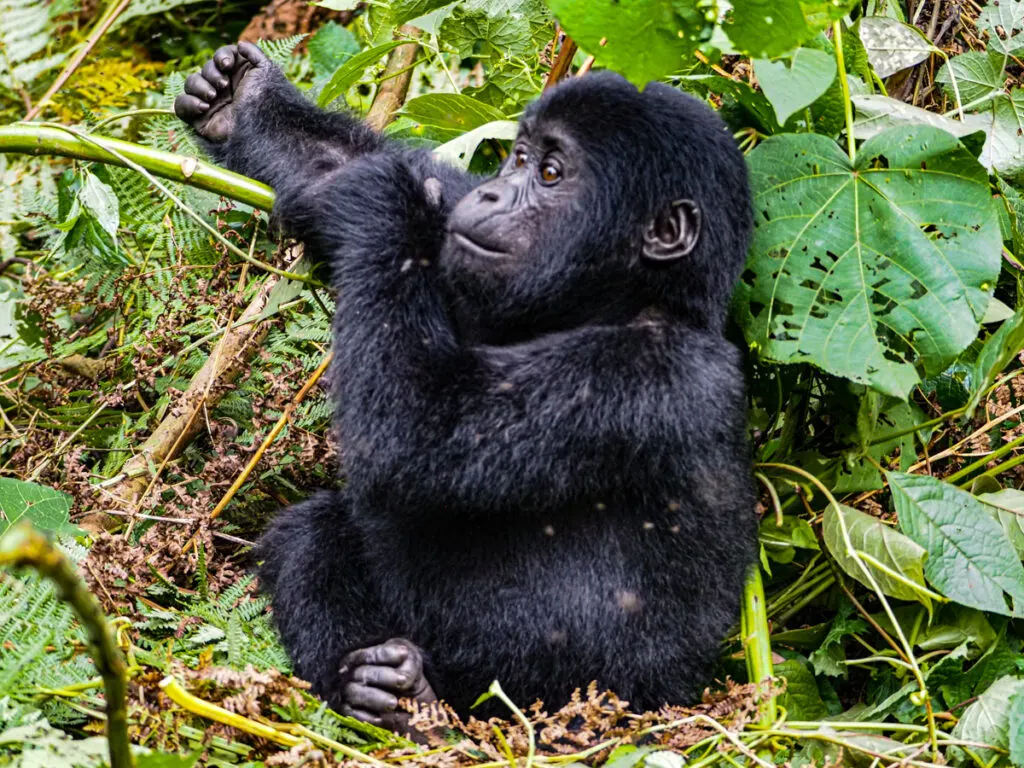 4. Layered Shirts
Bring lots of layers. While yes, the equator runs through Uganda, in the mountains of Bwindi, it can get quite chilly.
So I recommend wearing layers. I wore both a short sleeve and long sleeve sweat-wicking shirt. Chris did the same.
We wore our long sleeves the whole time, especially as there were stinging nettle and bugs to avoid during the trek. Having as much covered as possible is a good idea.
Note that you'll want to wear more earth-toned colors like light brown, green, and khaki.
5. Fleece/Waterproof Jacket
Bwindi Impenetrable National Park is a rainforest climate, so no matter when you choose to visit, definitely bring a waterproof/rain jacket.
I brought my The North Face Triclimate jacket that has both a warm layer and a rain jacket. Chris brought his Columbia rain jacket.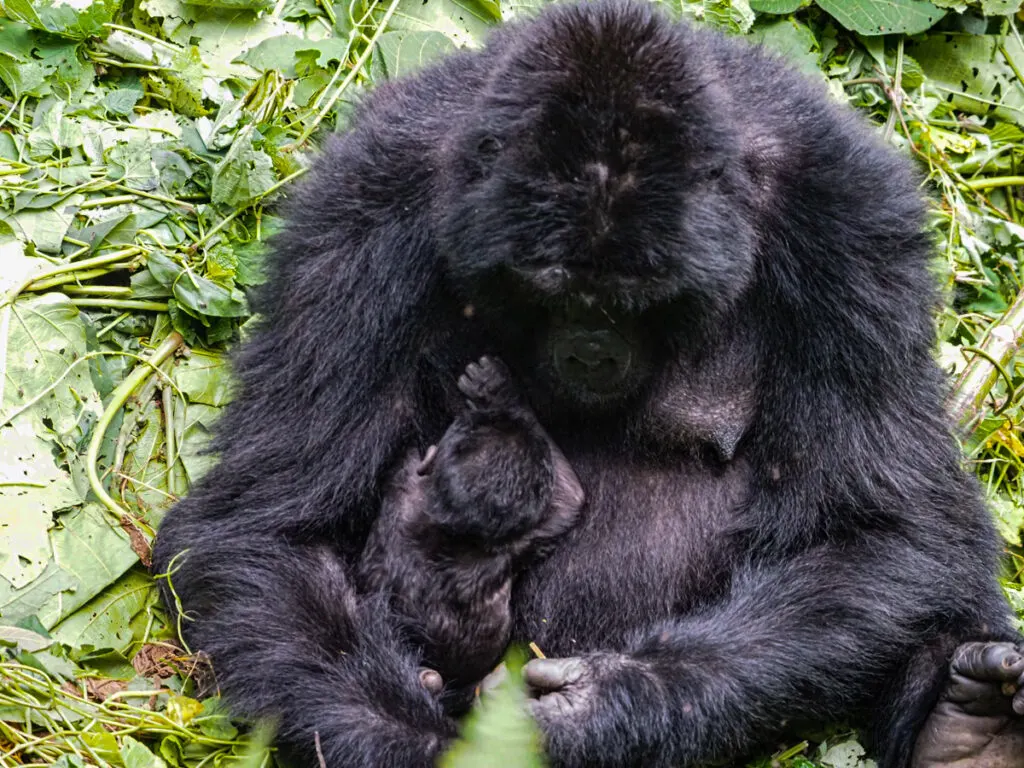 6. Gardening Gloves
I mentioned stinging nettle earlier, and beforehand, I wasn't sure how much of a problem it would be.
The literal second we got off the trail we were shown what stinging nettle looked like and to not touch it because it stings (obviously). It was all over the place. And, as you'll need to grab quite a few vines and roots during your hike, having gardening gloves is helpful.
We both got textured gloves to give us a better grip while hiking.
7. Hat
For starters, it could be rainy or sunny during your trek, so covering your head is a good idea for protection against the sun and rain.
But, the main reason to wear a hat is the fact that once you're off the trail, you're bumping into all kinds of things as you push your way up the mountain to find gorillas. As such, there are a lot of bugs that you may want to protect yourself from.
I just wore a thick baseball cap, but Christopher loves and is still obsessed with his Stetson.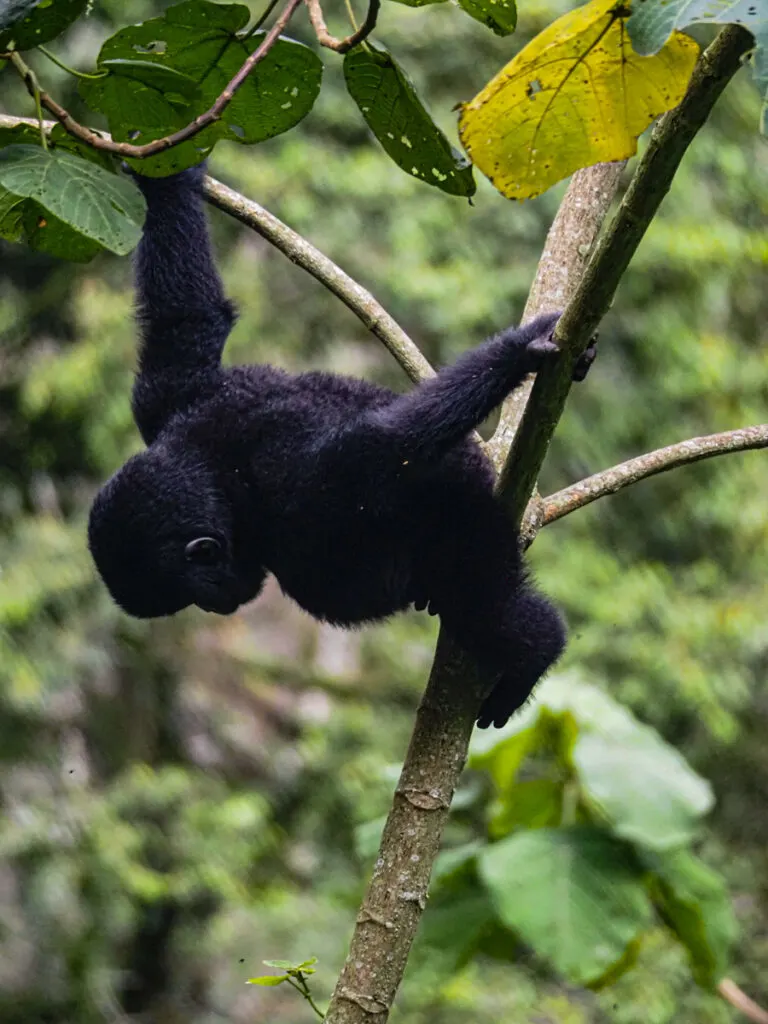 8. Undergarments
Of course, you'll want to wear undergarments during your trek. For women, a sports bra is necessary to be supported during your hike.
Also, wearing sweat-wicking underwear is a good idea too. Sweat-wicking underwear for men is a good call as well.
Gorilla Trekking Gear To Pack With You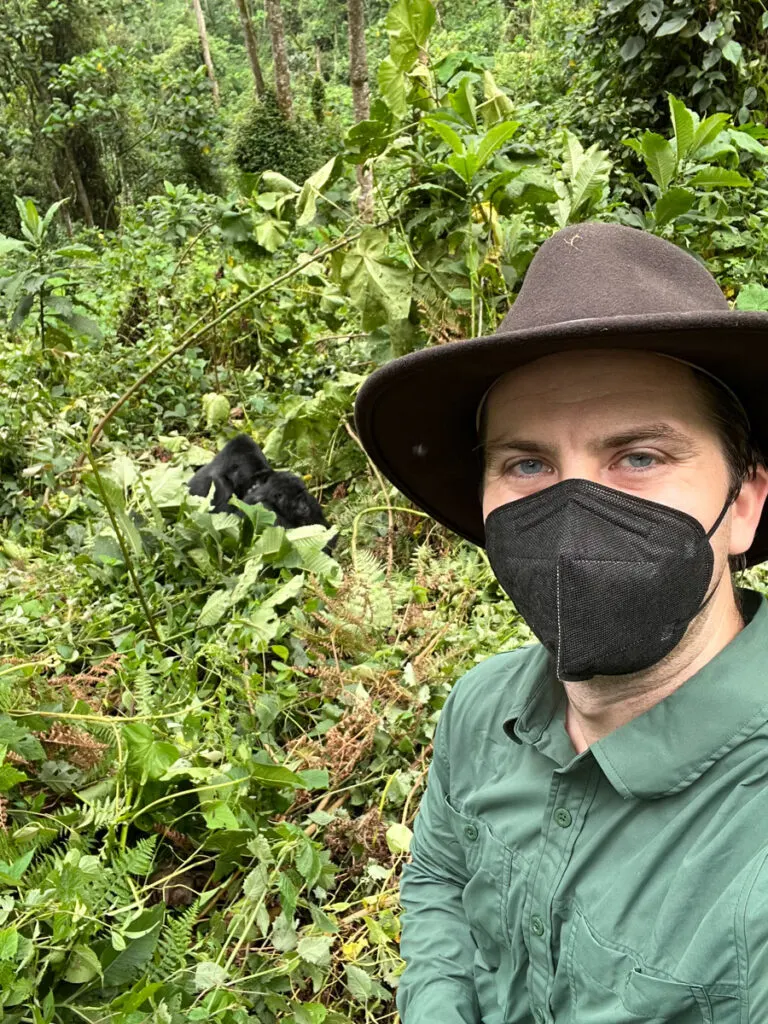 So you know what to wear on a gorilla trek, but what should you bring with you? We're here to show you what to bring along for your trek as well!
1. Hiking Backpack with Raincover
This is super important, as you'll want to pack things along for the hike. We love our Osprey Hikelite backpacks that we have used all over. It also has a built-in rain cover to use when it rains.
PS- This will double as your hand luggage on the plane too!
2. Water
You'll want to pack plenty of water for the day. The amount you'll need depends on the length of hike you end up going on, but we did about a 5-hour trek in total (including time with the gorillas), and our 3L water bladders were plenty.
You can also opt for water bottles too!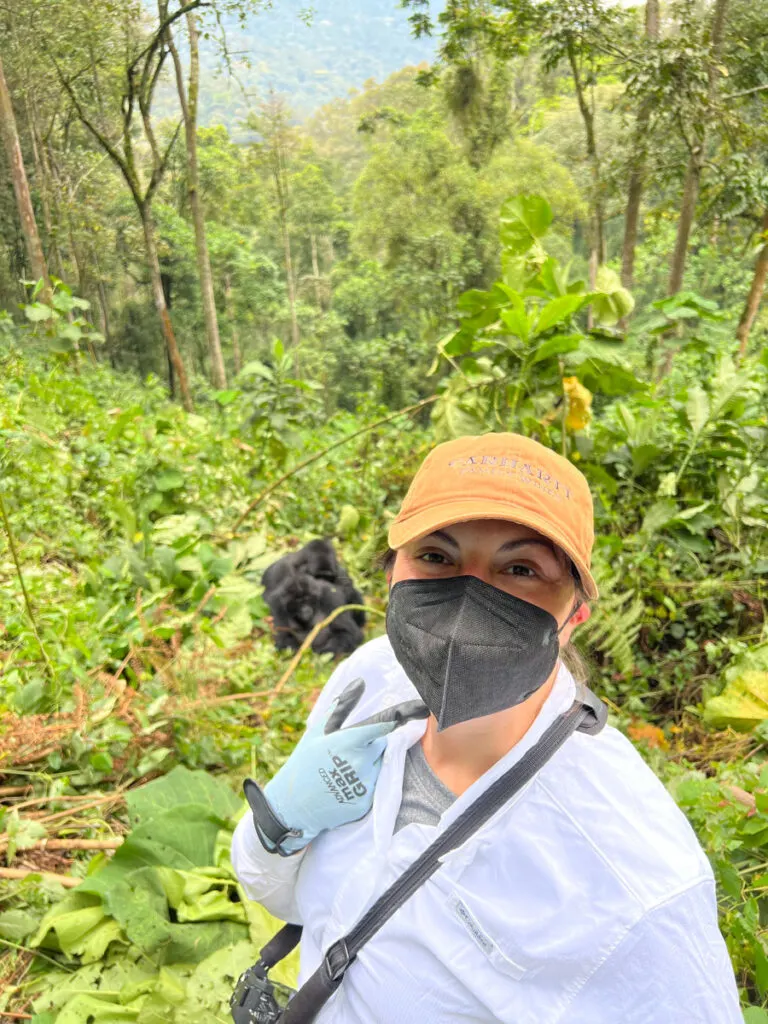 3. Extra Socks
Always pack extra socks on a hike. Even if you have waterproof boots, if it is raining hard, chances are your socks will still get wet. Bring an extra pair of hiking socks to replace your wet socks if needed on a rainy hike.
4. Lunch
Chances are that your lodge will provide you with a packed lunch for your trek. So just pack that along with you for the day.
5. Walking Stick
This was super helpful when going down the mountain in Bwindi. Again, your lodge will likely provide this for you, so no need to bring one unless you usually like to hike with hiking poles.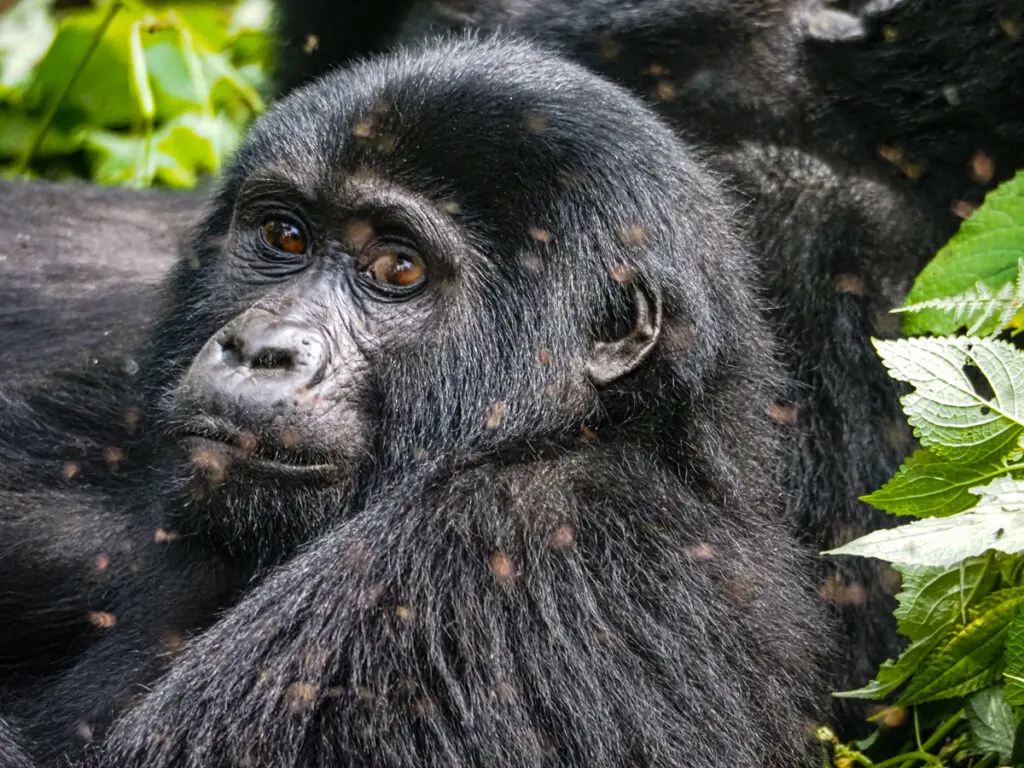 6. Sunscreen
Again, you're in the mountains and sometimes you may be in the sun. Sunscreen is always a good idea to keep your skin safe!
7. Bug Repellant
This varies depending on where you're trekking, as some places have a higher elevation so mosquitos aren't as much of a risk.
However, it is a good idea to at least put on some bug repellent before your hike. I liked Sawyer's lotion that I put on ahead of time.
8. Camera
For taking memories that will last a lifetime, pack your camera! I used my Olympus OM-D E-M5 Mark III camera and brought both the telephoto lens and the regular lens. The telephoto lens was super helpful to get close up shots of the gorillas.
Don't forget to bring an extra battery and a memory card!
9. Camera Cover
I got these very inexpensive bags to cover my camera with just in case it was raining while we were with the gorillas. They protect the camera from getting wet while shooting.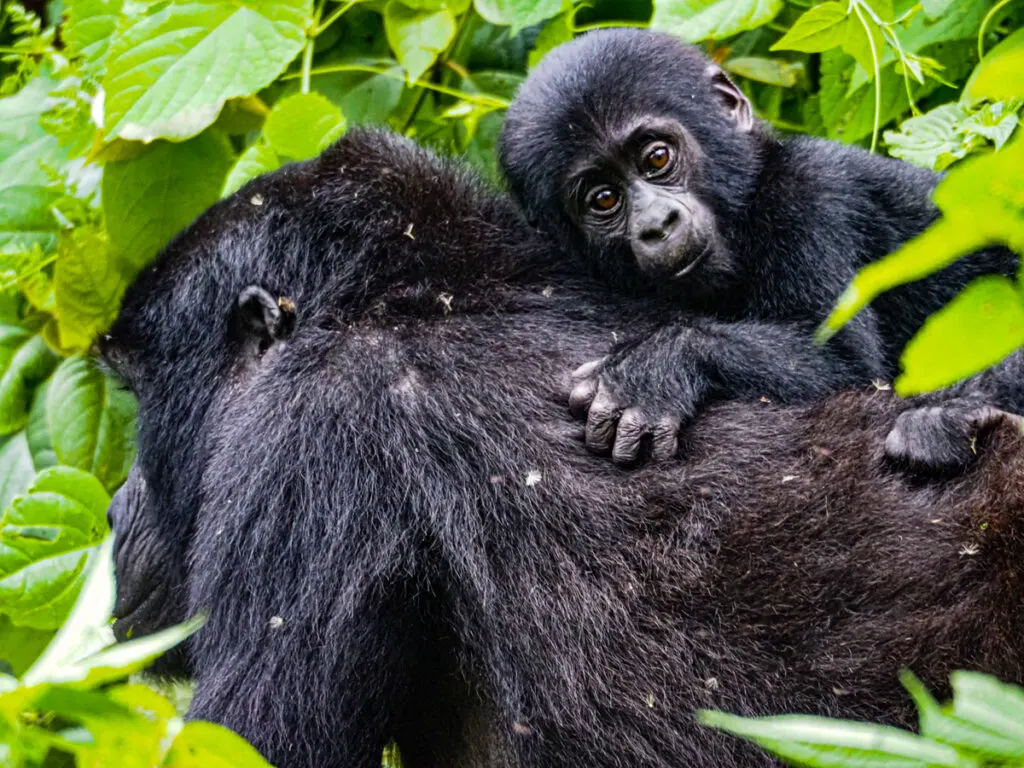 10. Waterproof Dry Bag
I got this for a little extra protection, but to make sure my valuables (especially the camera) were protected, I put it inside of this dry bag and put that inside of my backpack.
11. First Aid Kit
A mini first aid kit with things like bandages, alcohol pads, etc. is great to bring with you just in case.
12. Phone
Phones these days also take pretty photos and videos. So Chris had the phone to take videos during our trek.
13. Waterproof Phone Cover
Again, as it could rain, definitely put your phone in a waterproof cover so you can film without issues.
14. Cash
You'll be tipping a lot of people during your gorilla trek. I mention everyone involved in my blog post talking about how much a gorilla trek costs, but you'll want to carry cash.
USD is preferred, and it has to be printed after 2006. Pack multiple small increments of cash to be able to tip your guide, trackers, guards, porters, etc.
And if you hire a porter, make sure you have plenty of money to pay them and tip.
We brought about $170 for hiring our porters plus tipping everyone. For an individual, bring about $85 in small denominations.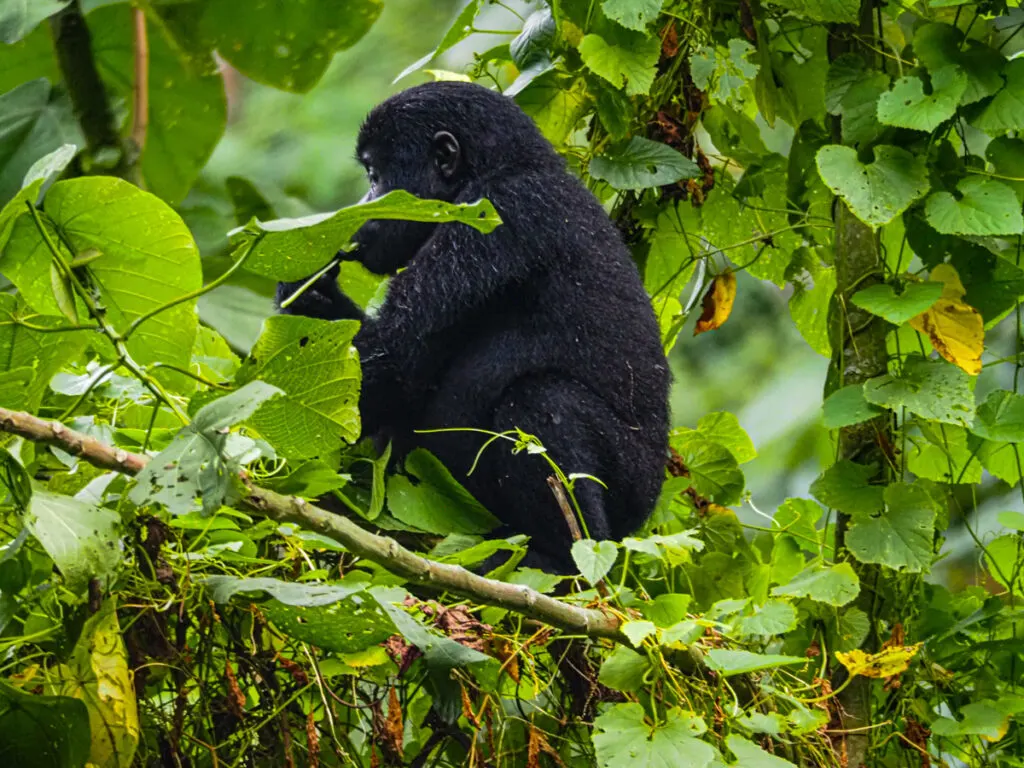 15. Face Mask
As we share a huge chunk of DNA with gorillas, we can easily spread diseases back and forth. So, you will need to pack your face mask and put it on when you get near the gorillas.
16. Extra Stuff
While none of us had to go to the bathroom during our trek, you never know. So we packed hand sanitizer, toilet paper, and a baggie to take out our trash just in case.
Either way, hand sanitizer is a must since you'll be eating lunch after all of that trekking and gorilla-watching.
And for menstruating people, be sure to pack period products if it's that time of the month as well.
Lastly, you may not take this with you during your trek, but you'll want to take your antimalarials with you during your trip as Uganda is a high-risk area.
This sounds like a lot, but it is definitely manageable to fit into your backpack.
Plus, you can also hire a porter for the day to both carry your bag and help you in tricky spots. We both hired a porter and they were so nice and helpful!
This is the ultimate Uganda packing list for gorilla trekking. From what to wear to what to take with you, we hope you feel more prepared for your memorable day hiking to the gorillas!
PS- Want to plan this trip? We loved Go2Africa for all of their help in creating the perfect vacation!
Want more Africa travel ideas? Check out these posts:
Pin it here!