Some posts on this site contain affiliate links, meaning if you book or buy something through one of these links, I may earn a small commission (at no additional cost to you!). Read the full disclosure policy here.
---
During the fall, there are few things better than a Vermont road trip itinerary. With colorful fall foliage, deliciously crisp beer (similar to Portland, Maine!), and all the excuses to wear flannel and do all of the fun autumn activities, it is no wonder that a Vermont fall road trip is increasingly popular.
So when Chris and I were determined to take a week off of work in October, we immediately knew we wanted to explore the charms of Vermont.
With the help of Moon Travel Guides and their new book The Open Road: 50 Best Road Trips in the USA, plus our own little research, we created and had the best road trip to Vermont that you'll want to copy.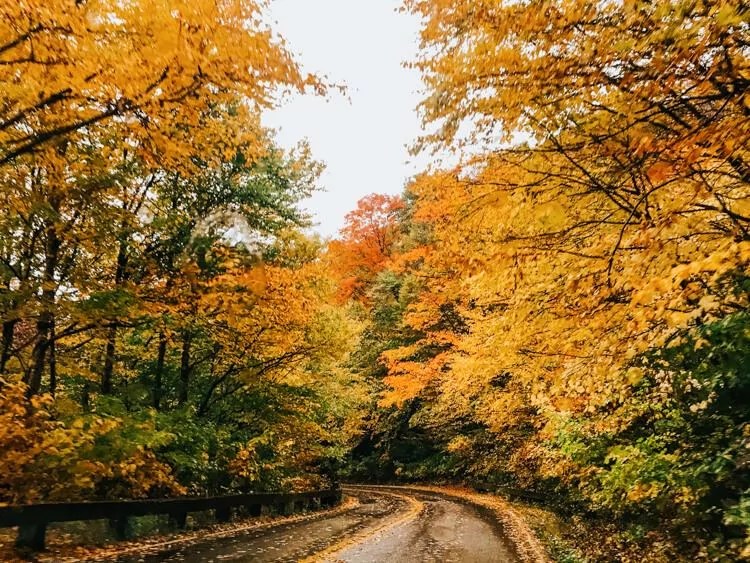 The Ultimate Vermont Road Trip Itinerary
When it comes to planning the ultimate Vermont fall road trip here is everything you want to do and the best Vermont vacation spots!
Here is a quick list to refer back to. For more details, keep reading below!
Day 1: Road trip to Stowe, Vermont
Days 2-3: Hiking and Exploring Stowe
Day 4: Day Trip to Burlington
Day 5: Road Trip to East Burke Stopping at Covered Bridges, Waterbury, and Montpelier
Day 6: East Burke
Day 7: Hike Mount Pisgah and Road Trip to Killington, Vermont
Day 8: Hike Mt Killington and Visit Rutland
Day 9: Day Trip to Woodstock
Day 10: Travel Home
Day 1: Road Trip to Vermont and Stowe, Vermont
First things first-you've got to get to Vermont! So the first day is just finding a way to get here. For us, coming from Cleveland, it was an early morning wake-up time to drive the 10 hours to Stowe, Vermont.
While that long car ride sounds boring, it was stunning! We were lucky enough to drive through upstate New York and through the Adirondacks for a big chunk of our trip and didn't mind the long drive with the gorgeous fall foliage everywhere.
Crossing the bridge into Vermont was dreamy as well! There were so many cute towns we passed along the way before finally ending up in Stowe.
For many states in the northeast area, renting a car or driving your own vehicle is the best way to get to Vermont and around the state. If you are coming from further away, the closest airport is Burlington, Vermont. Check prices for flights on Skyscanner for the best deals! Then, you can begin your road trip by renting a car and driving to Stowe.
However, if you only plan to spend a few days in Stowe and you're coming from the northeast, then you can certainly take the Amtrak to Waterbury and a taxi to your hotel or lodging.
Once in Stowe, it is time to check in to your accommodation, grab some dinner, and get excited for your week-long trip to Vermont!
Luckily there are many great restaurants in Stowe. We ended up grabbing some pizza from Piecasso, stocked up on beer from The Alchemist (definitely try some Heady Topper and Focal Banger), and sat around the fire at our Airbnb taking in a beautiful Vermont sunset.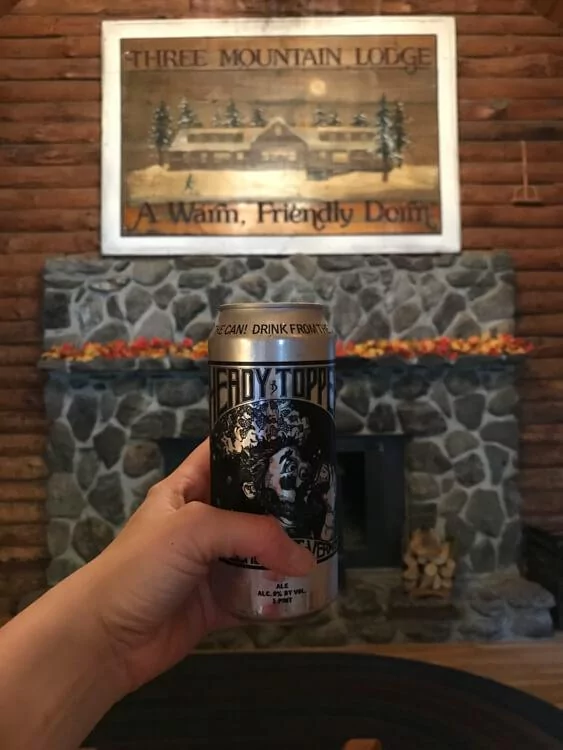 Where to Stay in Stowe, Vermont:
There are plenty of accommodation options available in Stowe, ranging from large mountain resorts to vacation rentals and charming bed and breakfasts. Here are a few options to choose from:
Budget: VRBO
VRBO always has a lot of great options. Check out some great VRBO options in and around Stowe here.
Mid-Range: Edson Hill
Who doesn't love a boutique hotel with that personal touch? This inn offers free breakfast, is close to everything, and has its own trails for snowshoeing and exploring!
Read reviews on TripAdvisor and book!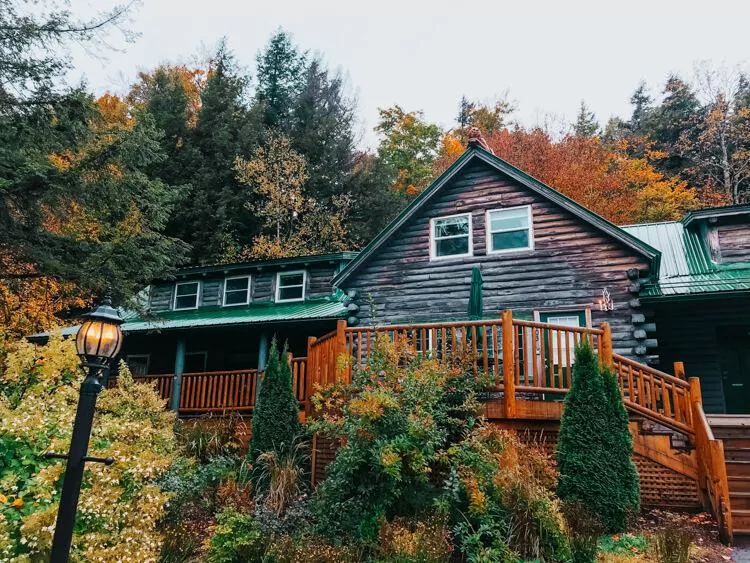 Mid-Range: Mansfield Suite at the Lodge
This lodge, bookable on Airbnb, was where we stayed during our visit to Stowe. We fell in love with this lodge, from its charming ski lodge decor on the inside to the sugar shack on the premises! The owner, Tom is also a solid guy who gave us a tour of the sugar shack, let us taste some homemade maple syrup, and he lights a fire for his guests outside each night for them to enjoy after a long day! We can't wait to stay there again!
Book this on Airbnb!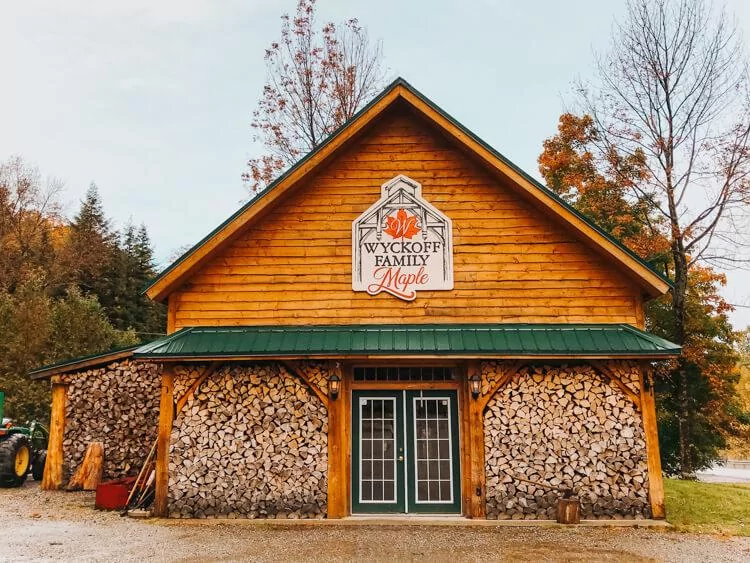 Luxury: Trapp Family Lodge
Picturesque mountain views, a lodge rooted in history, and loads of trails to explore are exactly what you're going to get at the Trapp Family Lodge. Learn about the famous Trapp family (that inspired the Sound of Music) and see how they made their own version of Austria right here in Vermont. It is one of the most romantic spots in Vermont!
Read reviews on TripAdvisor and book here!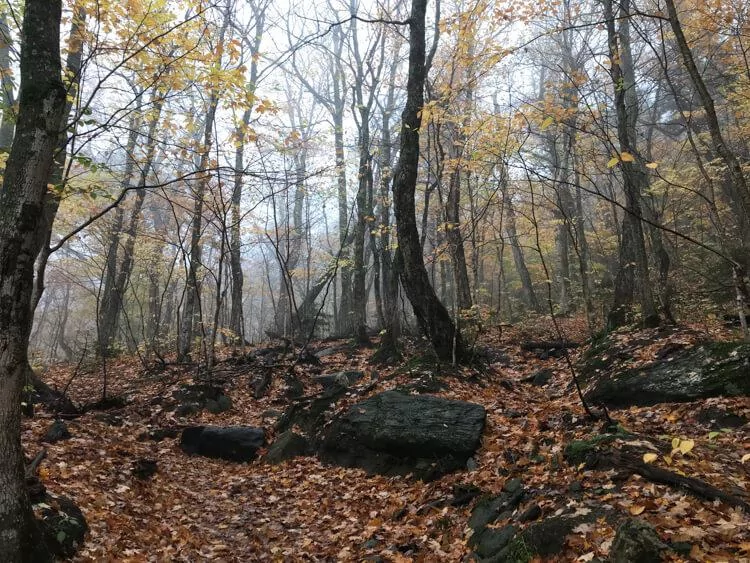 Days 2-3: Hiking and Exploring Stowe
If you plan a Vermont fall foliage road trip, then Stowe is an idyllic stop. The best part of driving through Stowe is going through Smugglers Notch. Luckily, as our Airbnb was just outside of Stowe and past the Notch, we had to drive through here daily. With the jagged rocks that cut through narrow roads and stunning colorful foliage, it was absolutely an incredible sight to see!
But if you really want to enjoy the fall foliage and get out in nature, just like during a visit to the Smoky Mountains, then hiking is a must! So during your two full days in Stowe, I recommend hiking in the mornings and exploring the charming town and surrounding area in the afternoons.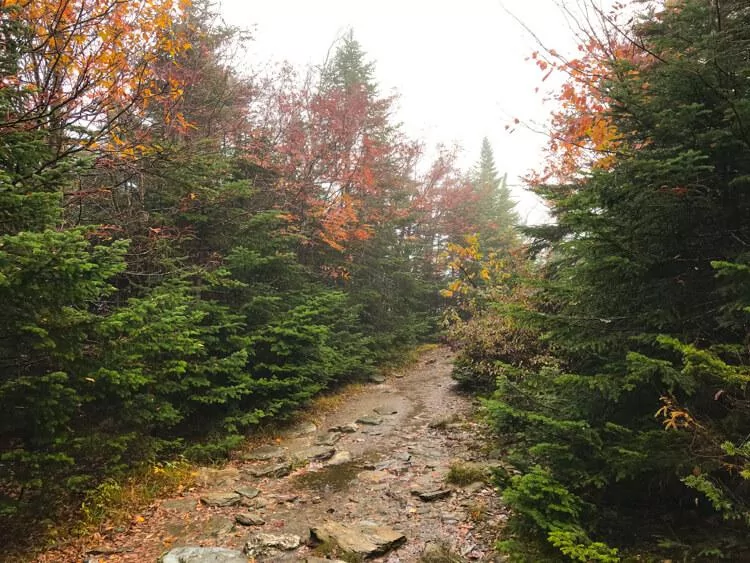 Day 2 of your Vermont Road Trip: Sterling Pond and Trapp Family Lodge
Start the day early with a hike up to Sterling Pond and Long Trail. This trail, especially to the pond and back, can get quite crowded during the day, particularly on weekends. So arriving early will help you avoid crowds!
That's exactly what we did, as we parked in the trail parking lot along Route 108. We had the trail mostly to ourselves and even had the pond to ourselves for about 20 minutes as we took photos and had our breakfast before continuing on the Long Trail.
Sterling Pond is the highest-elevation pond that is stocked in the state, and watching the mist rise off the water in the morning as the fog starts to clear is truly breathtaking and worth the steep hike.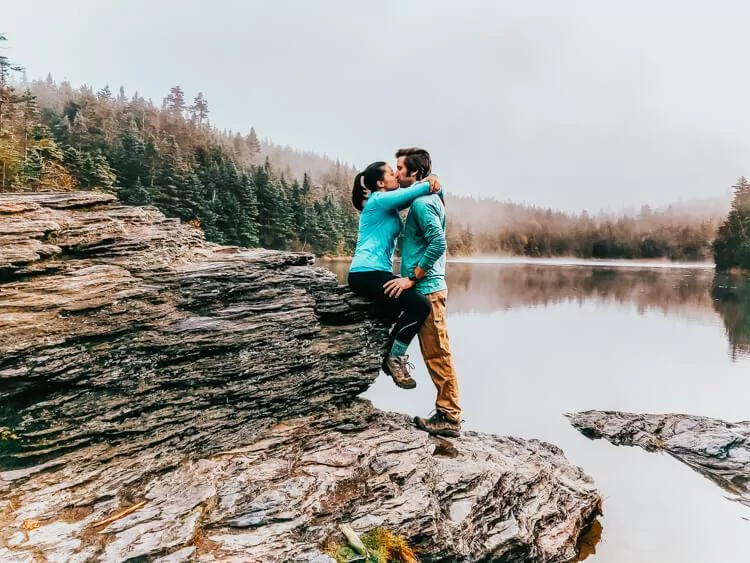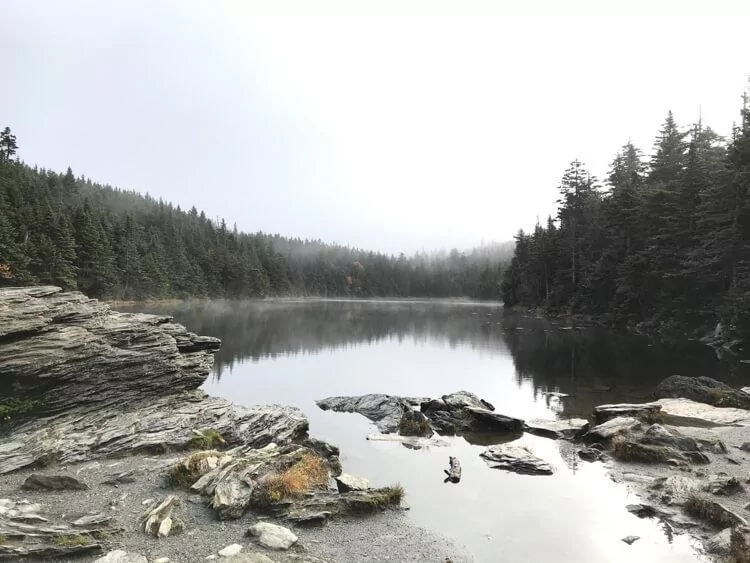 While many people tend to turn around after the pond, I recommend continuing along the Long Trail! This trail starts in Massachusetts and goes through Vermont, ending in Canada, and is popular for many backpackers. So getting to hike a portion is really cool!
Plus, it is pretty empty for the most part, and allows you the opportunity to see the ski lifts in the mountains too! Just be sure to follow the blazes, and downloading a map from AllTrails is helpful too, especially as we got a little lost and that app really helped us to stay on the trail.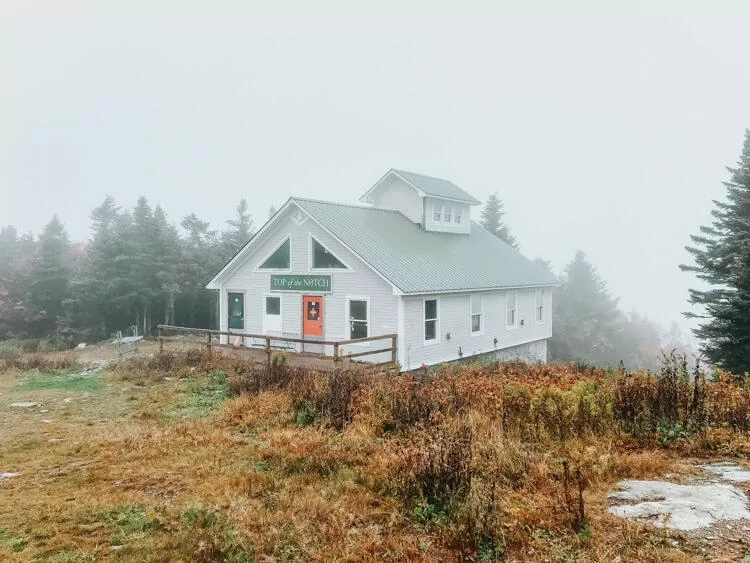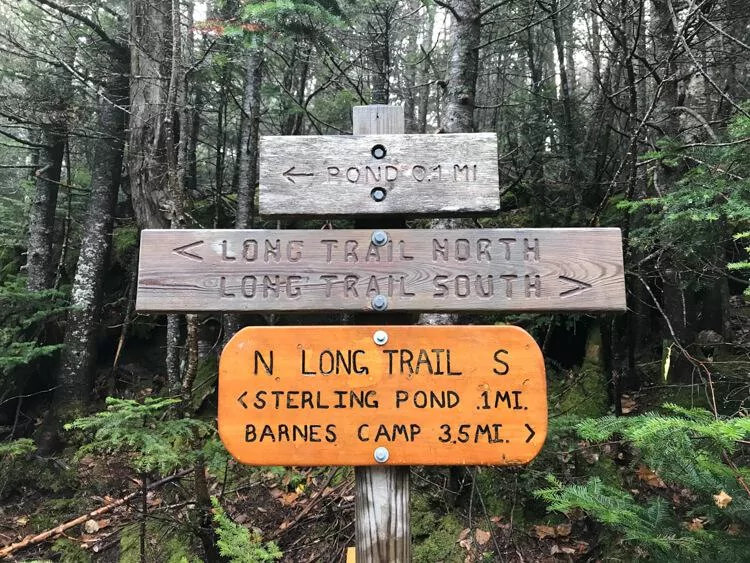 Just be sure to wear hiking boots, as this trail can be very challenging and rocky.
After that hike, grab a cup of coffee at Stowe Bee Bakery and Cafe before enjoying a tasty lunch and flight of beer at Idletyme Brewing Company.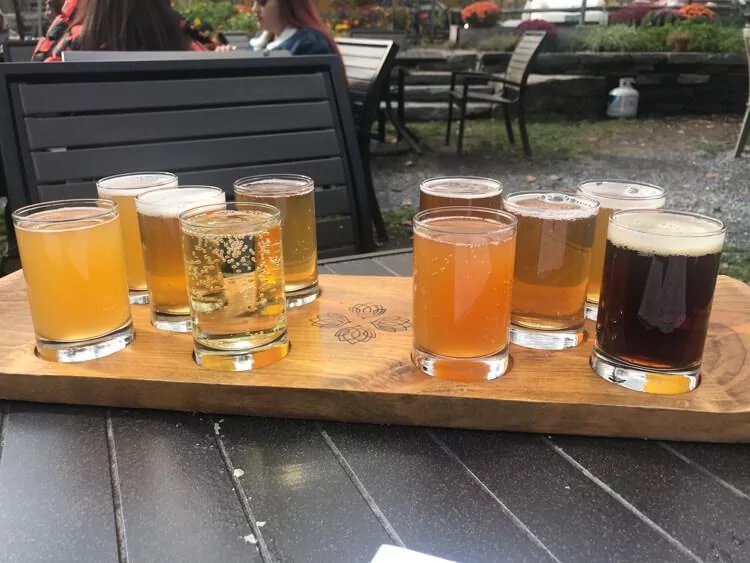 To top off your first full day in Vermont, I highly recommend visiting and getting dinner at the Trapp Family Lodge. While you can also stay here during your time in Stowe, if you choose not to like us, a visit is still a must.
The views are absolutely incredible of the mountains and there are ample trail systems and so many things going on at the lodge. Plus, there is a brewery down the road.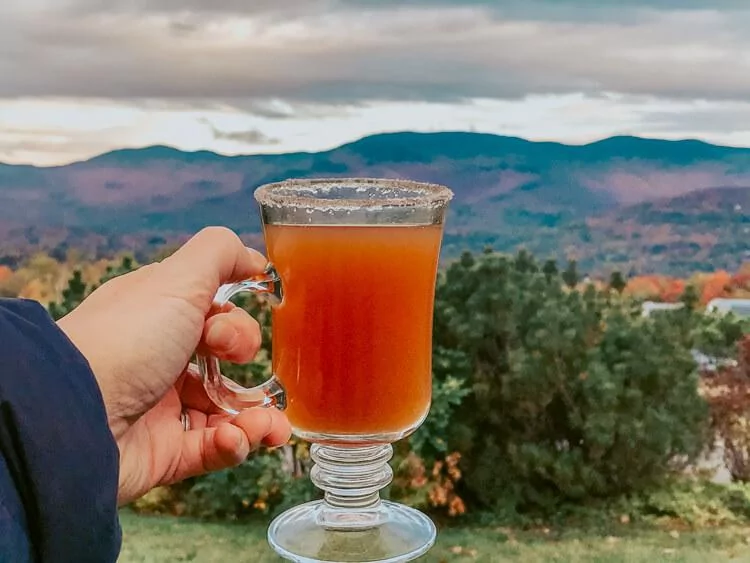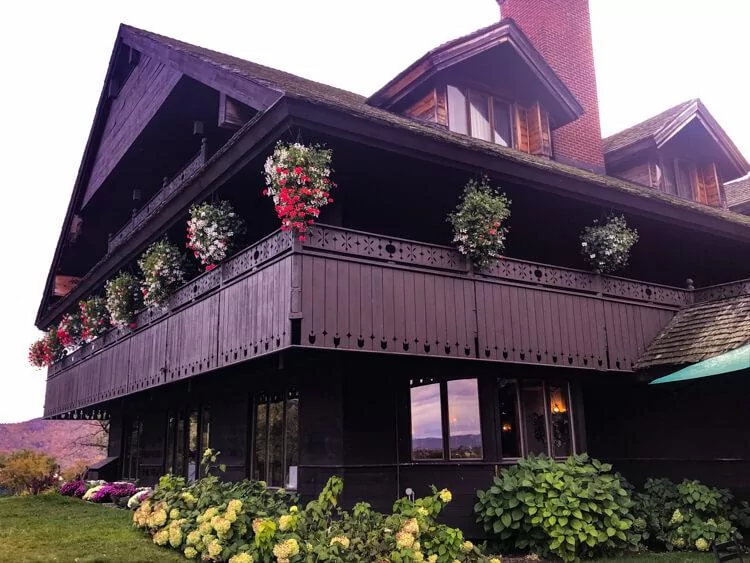 We enjoyed exploring the lodge and had a lovely dinner while we watched the sunset over the mountains, feeling a little bit like we were in the Austrian Alps!
Trail passes for the Trapp Family Lodge can be purchased at the lodge itself or save some money and get it online here for $16.05 for a day pass.
Don't forget to check out our Vermont road trip guide on the podcast!
Day 3 of the Best Road Trip Through Vermont: Stowe Pinnacle and the Scenic Route
Stowe is way too beautiful, so another morning hike is the perfect way to start the day! I highly recommend the Stowe Pinnacle Trail. It was easily one of our favorite hikes this year along with Mt Cammerer in the Smoky Mountains. Start this popular hike earlier in the morning to avoid crowds, and you'll be rewarded with stunning views of the valley floor at the top!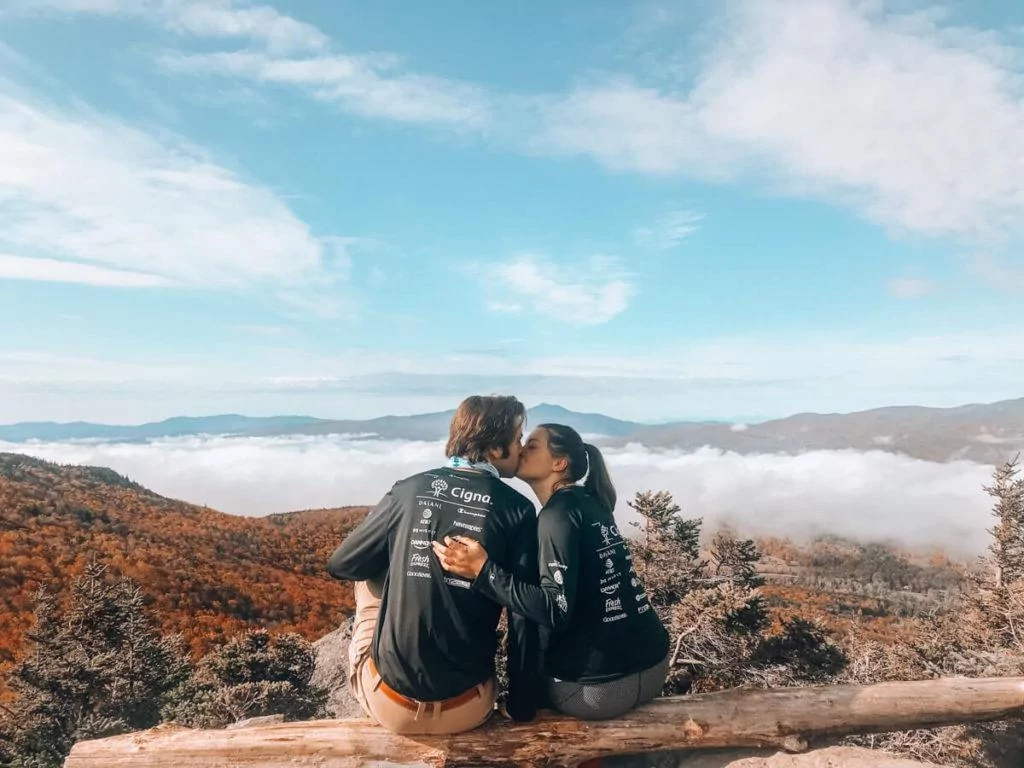 In the fall, this hike is gorgeous from the colorful leaves at the bottom of the trail to the red tree-covered mountain views at the top! This 3.7-mile out-and-back trail is definitely a challenging hike at times and a scramble at the top, but the views make it completely worth it. It is definitely one of the more romantic things to do in Vermont!
We really lucked out on our hike as it was a sunny beautiful day and the fog started clearing from the valley as we got to the top, so the combination of sunshine, fog clearing, and vibrant foliage was truly a thing of wonder!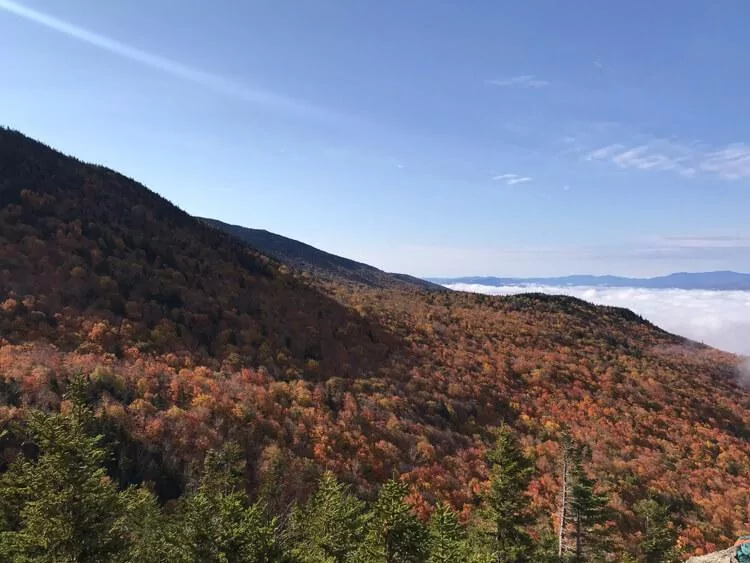 Then, the rest of the day is meant for taking the scenic route and exploring the charming town of Stowe. We took the long way around to see the small towns along Route 108, Route 15, and, of course, the famed Route 100.
The towns are simply charming, and we enjoyed finding places like the Foote Brook Farm Stand, Lost Nation Brewing, and the Red Covered Bridge before ending our journey in downtown Stowe.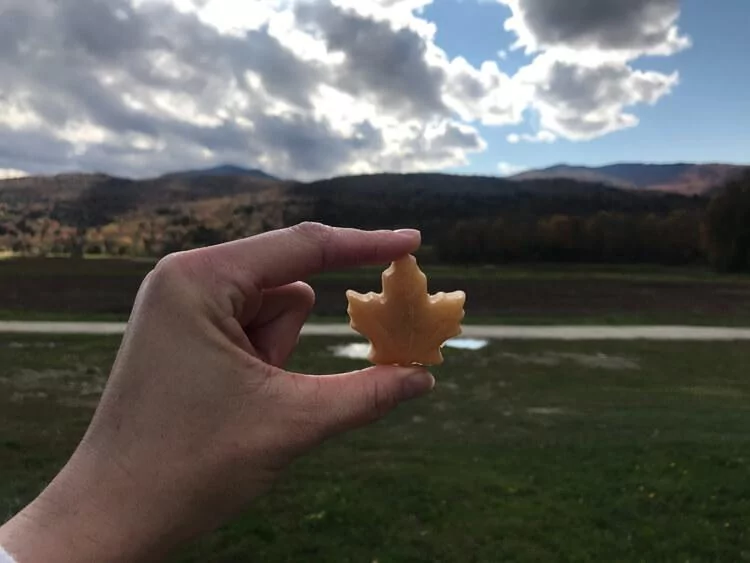 Take a walk around Stowe, enjoy some live music and crisp cider at Stowe Cider (try Apple Haze and Brainwaves), and end the evening by sipping dry wine and tucking into tasty halibut at Cork.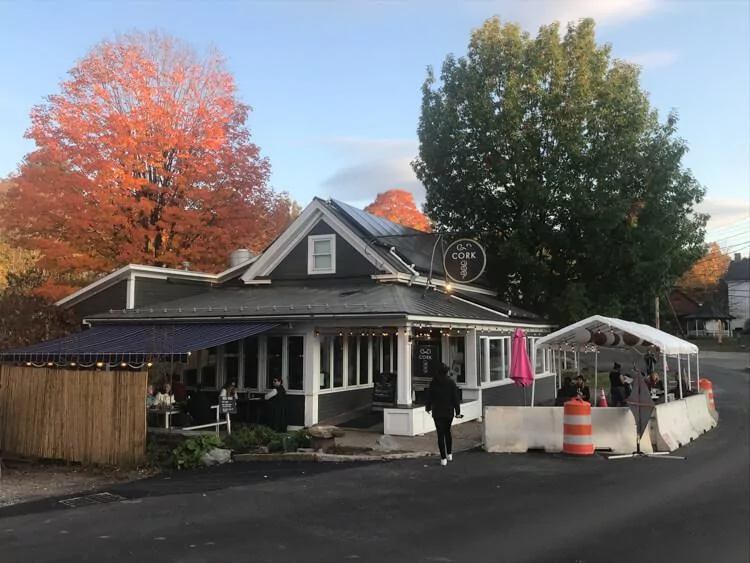 Day 4 of the Best Vermont Itinerary: Day Trip to Burlington
While we could've easily enjoyed a full week just exploring the ins and outs of Stowe, Vermont, today is a fantastic day to add Burlington to the Vermont road trip itinerary as a day trip!
Located only about an hour from Stowe, Burlington is Vermont's largest city, and it butts up against the stunning Lake Champlain.
A full day is plenty of time to check out this exciting city, and Moon Travel had a lot of suggestions on what to do in Burlington!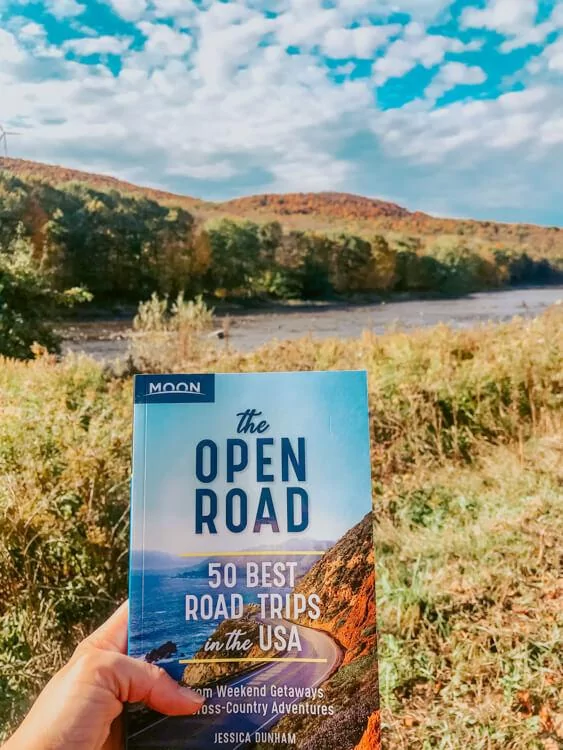 To kick off the day, grab a delicious maple latte at Onyx Tonics and Speciality Coffees. Then, wander over to Lake Champlain for a stroll and to take in the views. There is a maple creemee stand that you'll also want to check out while you're there for a cone of this tasty soft-serve ice cream. This combines the two most amazing things Vermont does well: dairy and maple and it is blissful.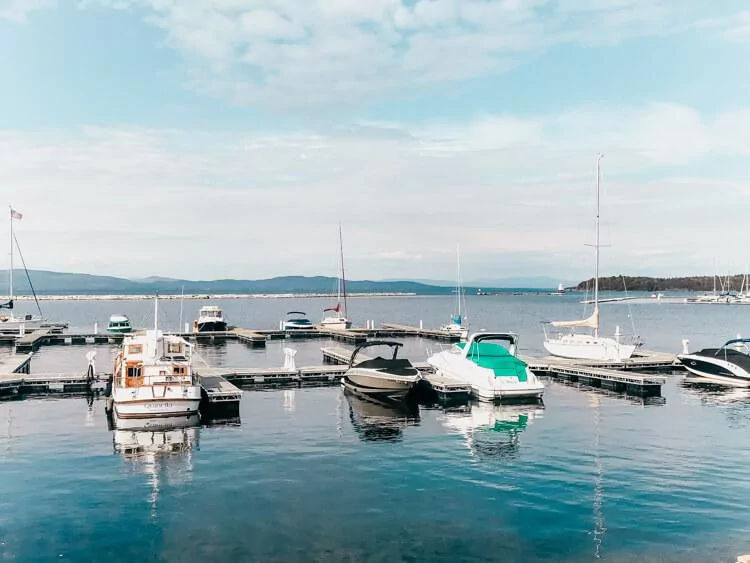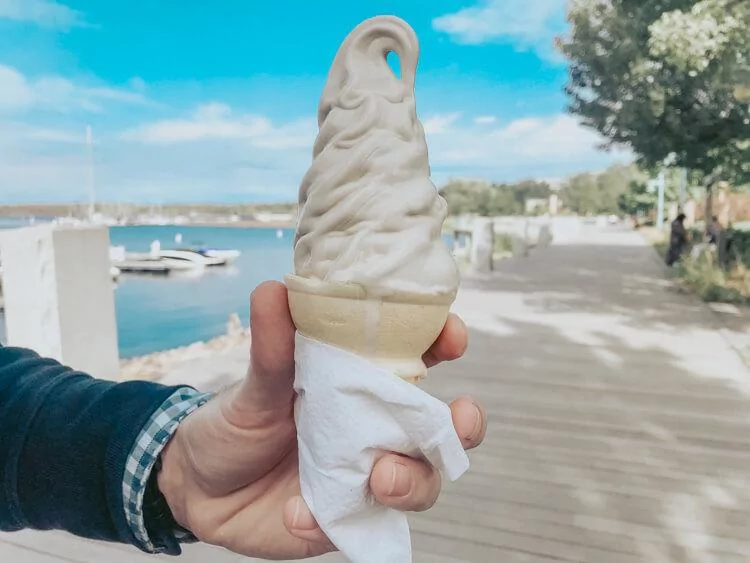 After that tasty treat, it is a great idea to take the Lake Champlain Byway over to Shelburne, Vermont, where, if you're visiting in October, you'll be greeted with many "leaf peeple." These guys are fancy-looking scarecrows that are all over the place and are kind of an inside joke to poke fun at the people that visit this time of year.
Once you're in Shelburne, if you are a wine lover, then a visit to Shelburne Vineyards is perfect. Sample their wine flights, named lovingly after the cast of Friends. We enjoyed the Ross flight full of robust reds and split a cheese platter full of tasty Vermont cheese!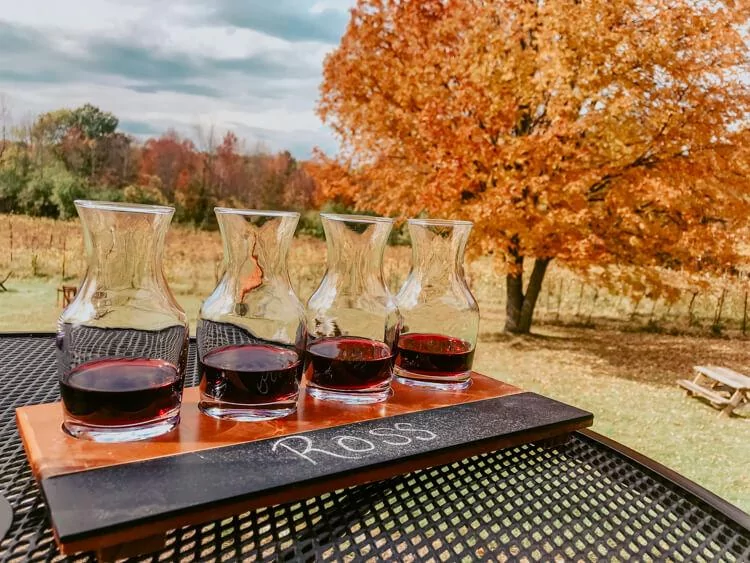 After a relaxing afternoon enjoying some wine and cheese, I recommend stopping over to Shelburne Orchards for the ultimate fun fall activity: apple picking! The apples that are available will vary based on your visit, but it is a lot of fun to grab some apple cider donuts and frolic in the orchard finding the perfect fruits!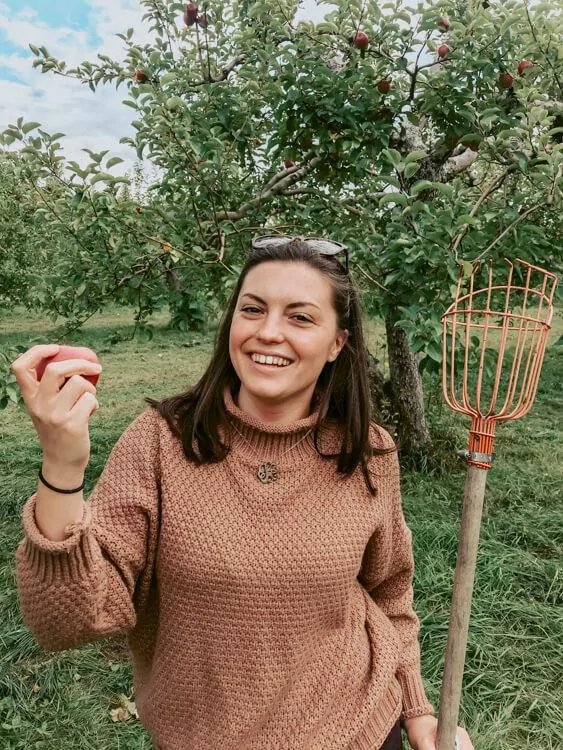 Once you've picked far too many apples then you'll know what to do with, it is time to head back to Burlington and walk off the donuts, cheese, and wine over at the Ethan Allen Homestead. No, this isn't the furniture brand, we're talking about the famous Vermonter who fought in the French and Indian War and the American Revolution.
The homestead is beautiful this time of year with the fall foliage and a great place to stroll around in the afternoon.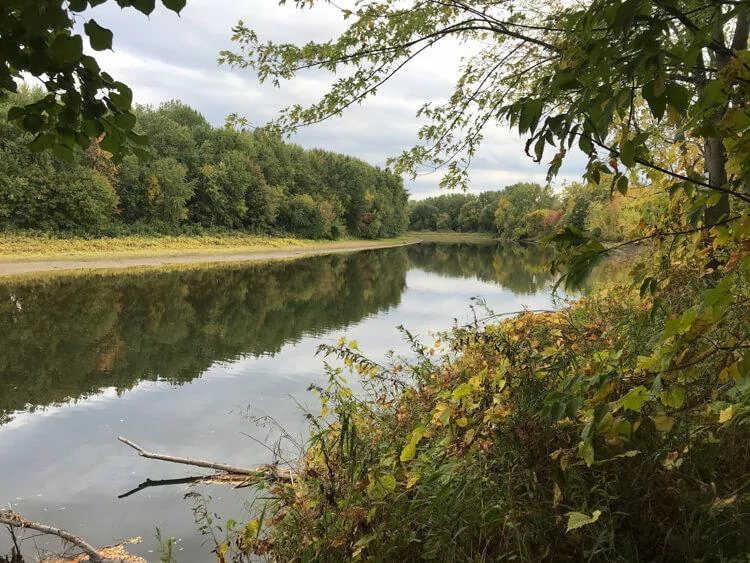 To wrap up the day, head back to Burlington and walk around the famous pedestrian street, Church Street, to explore the shops, including Ben and Jerry's, and then grab some dinner at the Skinny Pancake!
And it wouldn't be a great end to the day unless you watched a scenic sunset along Lake Champlain! After that, it is time to pack up and head back to Stowe to continue on your Vermont road trip itinerary.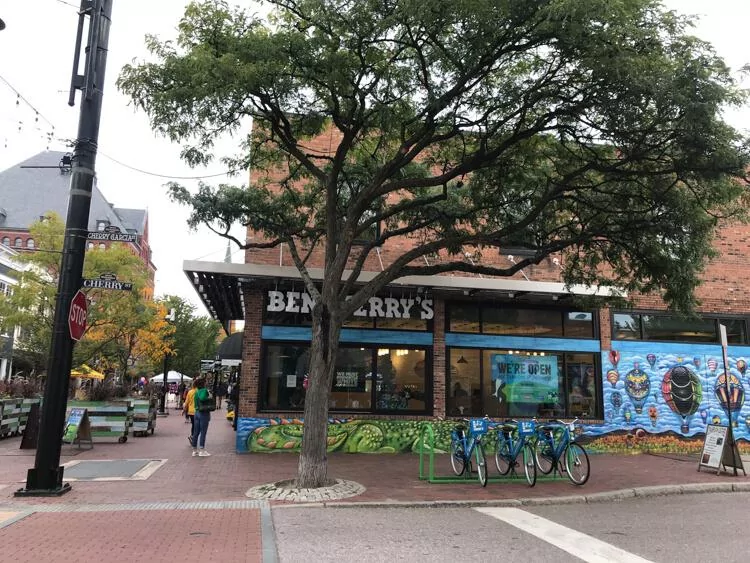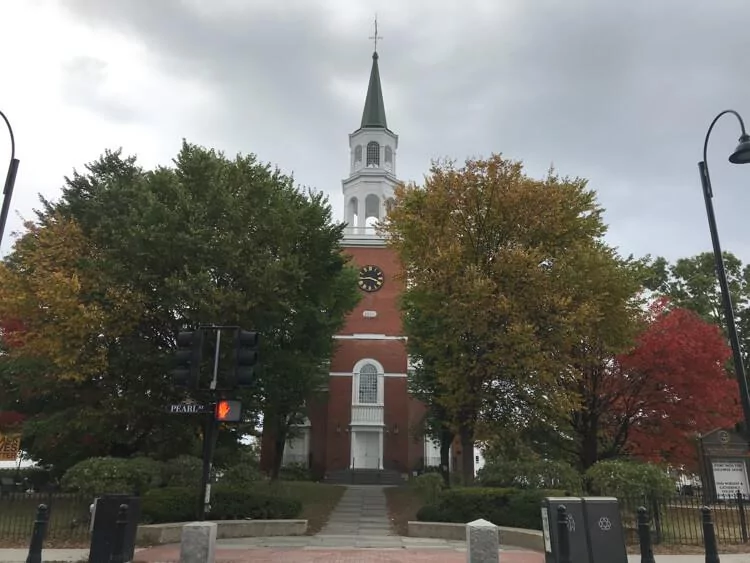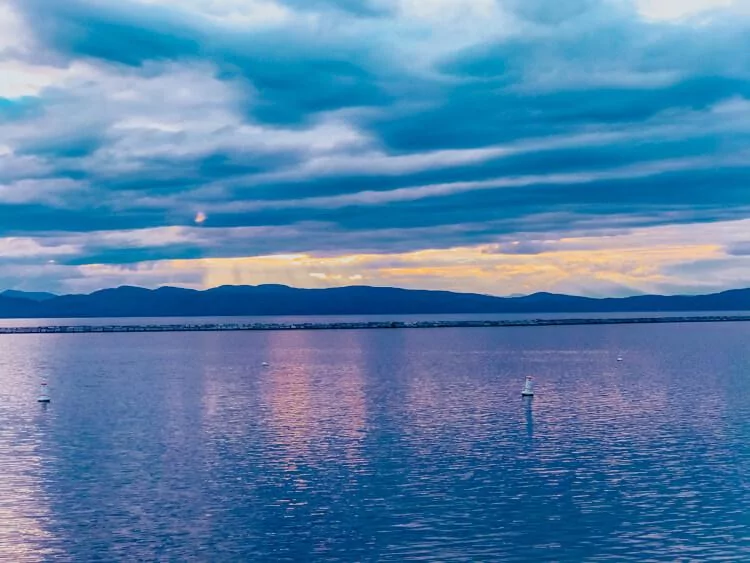 Day 5: Road Trip to East Burke Stopping at Waterbury, Montpelier, and Finding Covered Bridges
So far on this road trip through Vermont, you've mostly stuck around Stowe and had a day trip to Burlington. However, this day is all about taking the scenic route in Vermont. It is about stopping at fun attractions on the side of the road and enjoying the surrounding scenery.
A Vermont road trip, after all, isn't just about getting from Point A to Point B, it is about enjoying the journey.
That's exactly what you're going to do today as you embark on a trip to East Burke located in the Northeast Kingdom of Vermont.
Start off the day by saying goodbye to the beautiful Stowe and head to Waterbury. Along the way, you'll want to check out Gold Brook Covered Bridge, or Emily's Bridge, a scenic bridge with some spooky history. A poor girl named Emily fell in love with a man from a rich family. They disapproved and he told her to wait for him at the bridge at midnight. When he didn't show up, Emily was so upset that she jumped off the bridge to her death.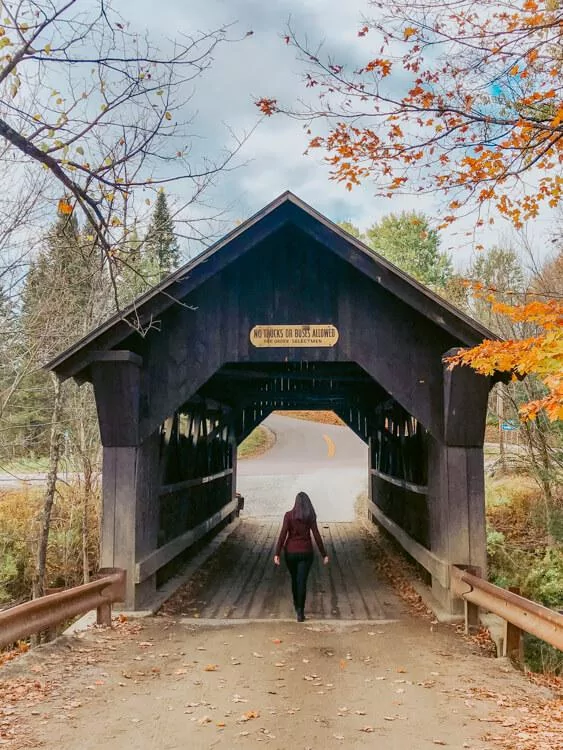 Locals still say her ghost can be spotted. So if you're visiting October like we were, you'll definitely want to walk along the bridge.
To warm up after that, head over to Vermont Artisan Coffee and Tea Company for a maple latte before going to the famed Cold Hollow Cider Mill for hot apple cider and their popular apple cider donuts!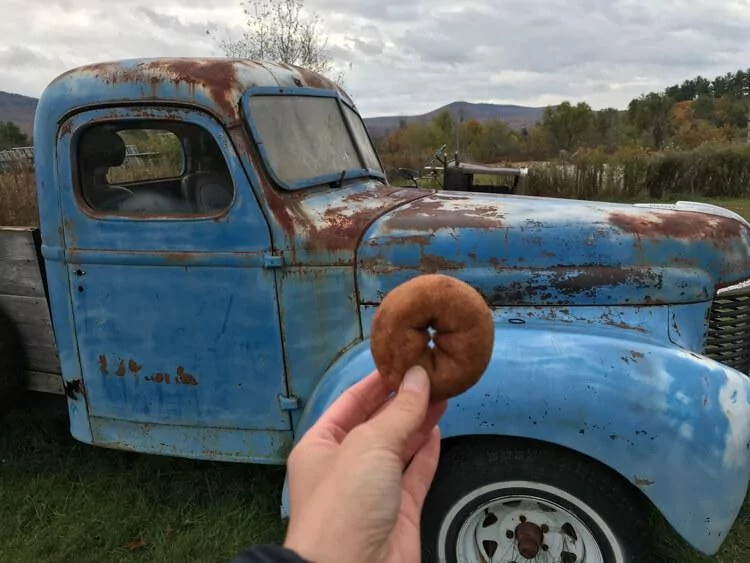 This place was huge and we stocked up on maple products ranging from maple cotton candy to maple candies and more! We also had to get a bag of their donuts! These cake donuts aren't too large and served plain. However, they were full of apple cider and cinnamon flavor! Pro-tip: Dip it in your hot cider for the best results!
Continue your road trip through Waterbury by wandering around Waterbury Village Historic District. A must-see shop in the area is the Craft Beer Cellar. This place is the spot for all the tasty Vermont craft beer. We found some incredibly delicious brews here like Lawson's Sip of Sunshine and multiple Zero Gravity IPAs.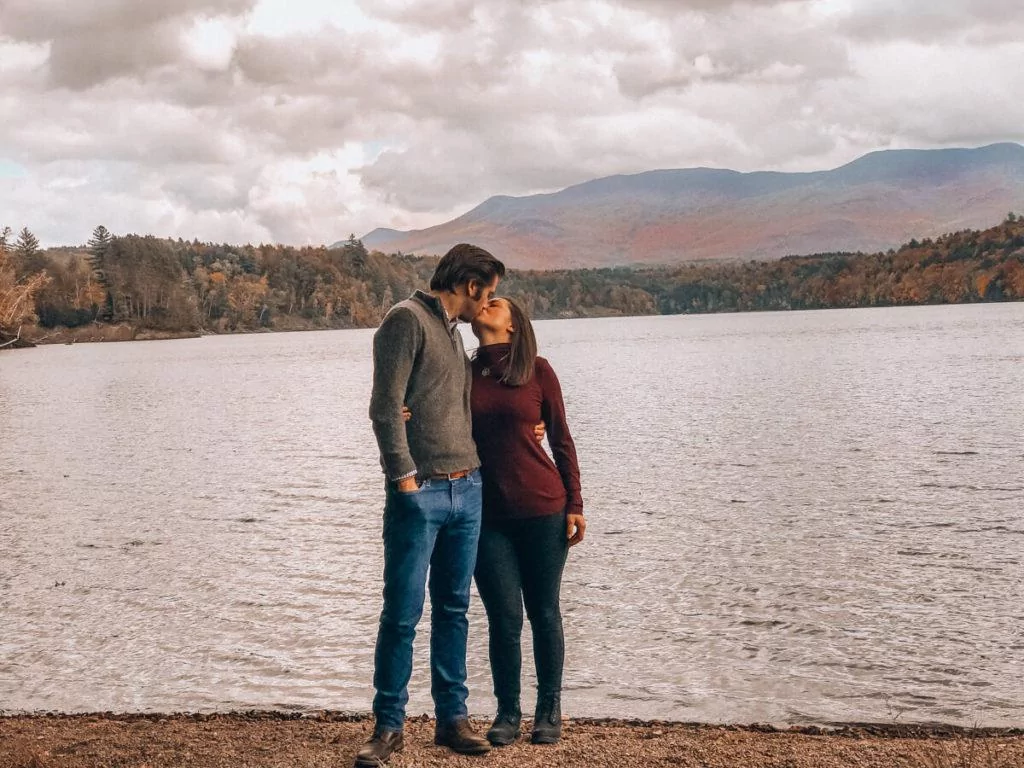 After passing through Waterbury, check out Waterbury Reservoir. This place boasts stunning views of a mountain lake, perfect for photography lovers and SUP enthusiasts alike! Wander this area for a bit before stopping in Montpelier for lunch.
If you are passing through Montpelier, it is worth a stop to grab lunch and walk around!
After a short stop in Montpelier for lunch and an afternoon stroll, it is time to check out Bragg Farm Sugar House for more creemees, maple candy, and perhaps a souvenir or two.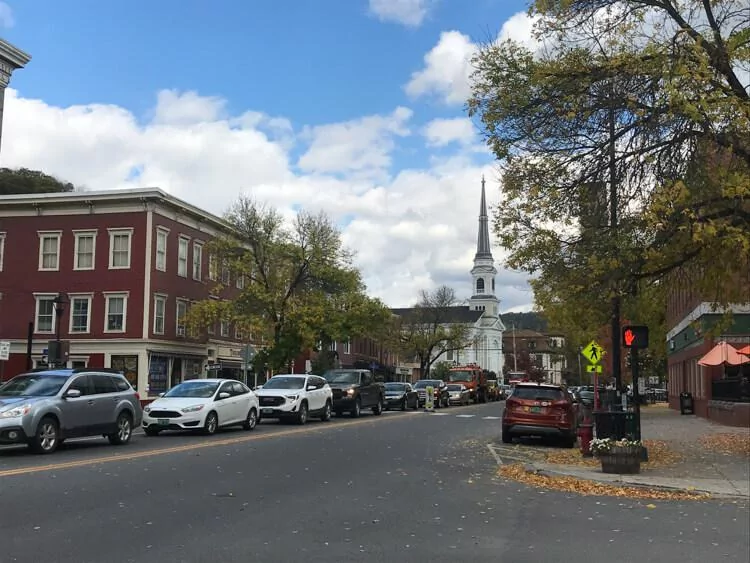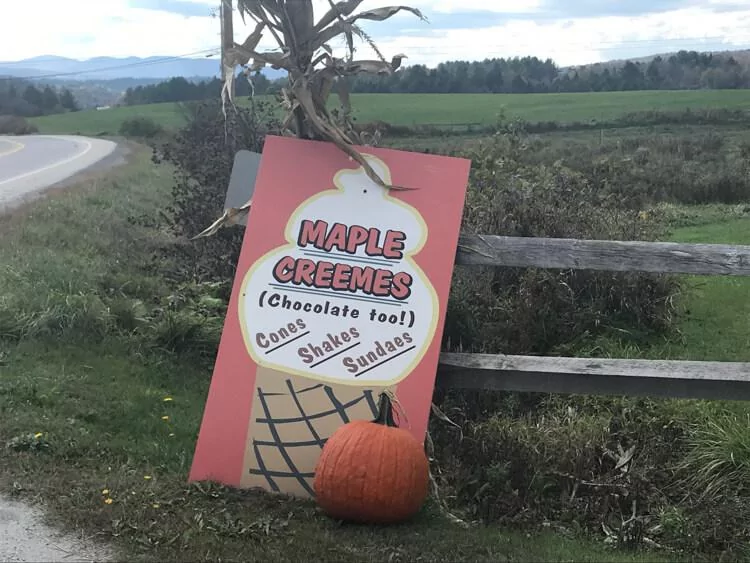 And before you finally make it to East Burke, another covered bridge stop is necessary. Maybe we're just really into covered bridges, but we sought out SO many during our trip! With Vermont having over 100 covered bridges, they were everywhere and so beautiful! So stop by Coburn Covered Bridge for a photo opp before finishing the day in East Burke.
Once in East Burke, you'll want to relax at your VRBO and grab some tasty pizza from the Northeast Kingdom General Store.
Where to Stay in East Burke:
Lodging in this part of the state is slightly limited, but a stay in this area is totally worth it! I recommend checking out VRBO for a place to stay.
We love this charming cabin complete with gorgeous views of the surrounding area.
Another great option for some beautiful mountain scenery and is a ski-in/ski-out place is the Burke Mountain Hotel & Conference Center. This place is great for those wanting to access the Kingdom Trails for hiking and biking as well as skiers!
Read reviews on TripAdvisor and book here!
Day 6 of the Best Vermont Fall Road Trip: East Burke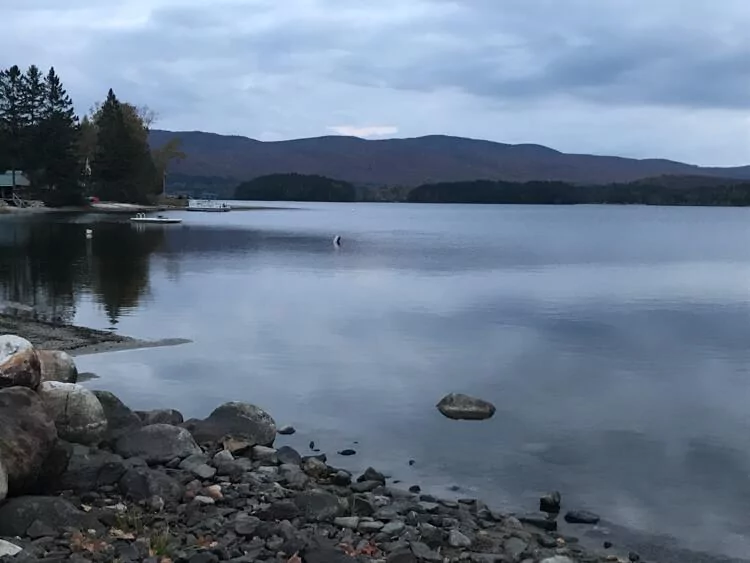 So many people understand visiting places like Stowe, Burlington, and Woodstock during a trip to Vermont, but why visit the tiny area of East Burke? Two reasons. The first is that this area is well known for its trail system called the Kingdom Trails and is perfect for day hikes and mountain biking. You can either purchase a day pass for this or an annual pass to access the trails.
Also, hiking around Burke Mountain is totally stunning, as are the many other areas around the Northeast Kingdom.
Second, the Northeast Kingdom is a great place to spot moose. As this area isn't full of big cities, and it is further north and close to the Canadian border, moose tend to frequent the area and can be spotted occasionally. Also, the fall is moose rutting season (when they are searching for mates).
This brings us to day 6 of our Vermont road trip itinerary: moose searching. Did you know that the Northeast Kingdom has a moose map? You can do your own driving tour around the Northeast Kingdom to search for moose. This is the map we found!
Here are some moose-searching tips:
You're more likely to spot them at dawn and dusk.
Keep your eyes peeled for muddy and boggy spots near the road.
Don't be dumb. Moose are gigantic animals and can be much faster than you think. Keep a safe distance if you spot one and stay in your car.
Moose eyes don't reflect light like deer do. So you may not spot them as easily as deer with your headlights.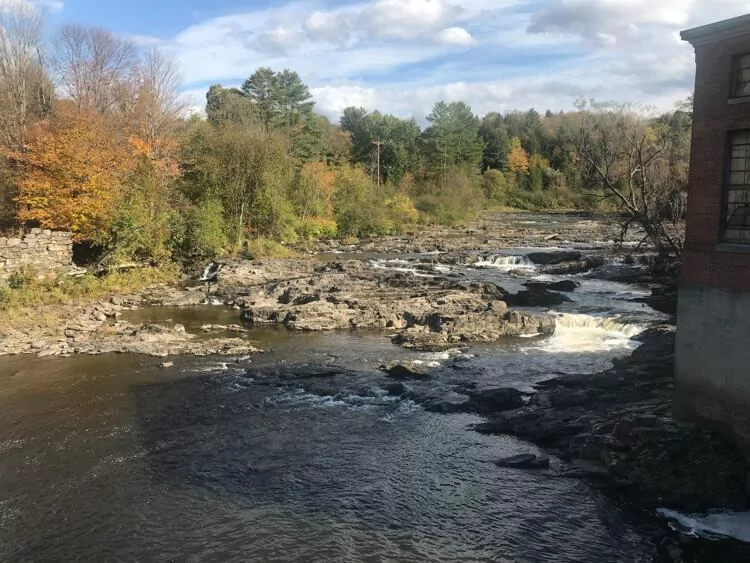 So we spent the morning this day driving around Island Pond and the area in hopes of finding a moose. Sadly, and while we heard a female moose calling on multiple occasions in the woods outside our cabin, we didn't spot one.
Also, unfortunately for us, it rained the whole day and we didn't get to enjoy the Kingdom Trails like we wanted to. But if it is a pretty day, I highly recommend renting a mountain bike or hiking and exploring the many lovely Kingdom Trails or hiking up to Burke Mountain.
After a day of moose searching and hiking, grab some drinks at Mike's Tiki Bar before enjoying a delightfully tasty dinner at The Freight House Cafe. This place has a lot of great veggie options too like buffalo cauliflower, falafel salad, a peanut wrap, and a hummus wrap.
Enjoy your dinner before having a few beers back at your cabin!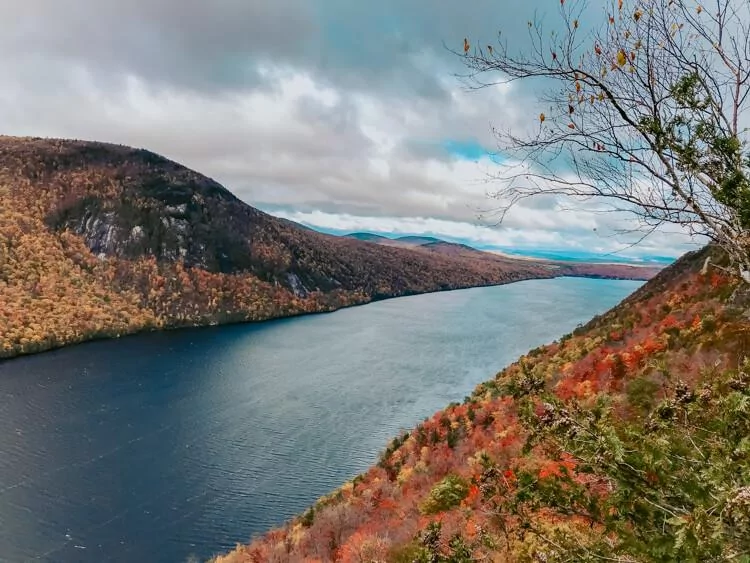 Day 7 of the Best Road Trip Through Vermont: Mountain Lake Hike & Road Trip to Killington
It is time to drive to the next spot in your Vermont road trip itinerary. But first, a quick hike over a scenic mountain lake is needed.
If you're in the Northeast Kingdom, Lake Willoughby is a gorgeous mountain lake that you'll want to see during your stay. Known as "America's Lake Lucerne," this lake is surrounded by mountains and has a couple of beaches for the hot summer months. Just be sure to pick the right beach for you if you visit during the summer- the South Bay beach is clothing optional!
This morning you'll take the hike up to Mt. Pisgah, where you'll see stunning views over the lake on your way to the top. Admire the fall foliage along the hike and the beautiful views before driving to the beach for some photos looking out over Lake Willoughby.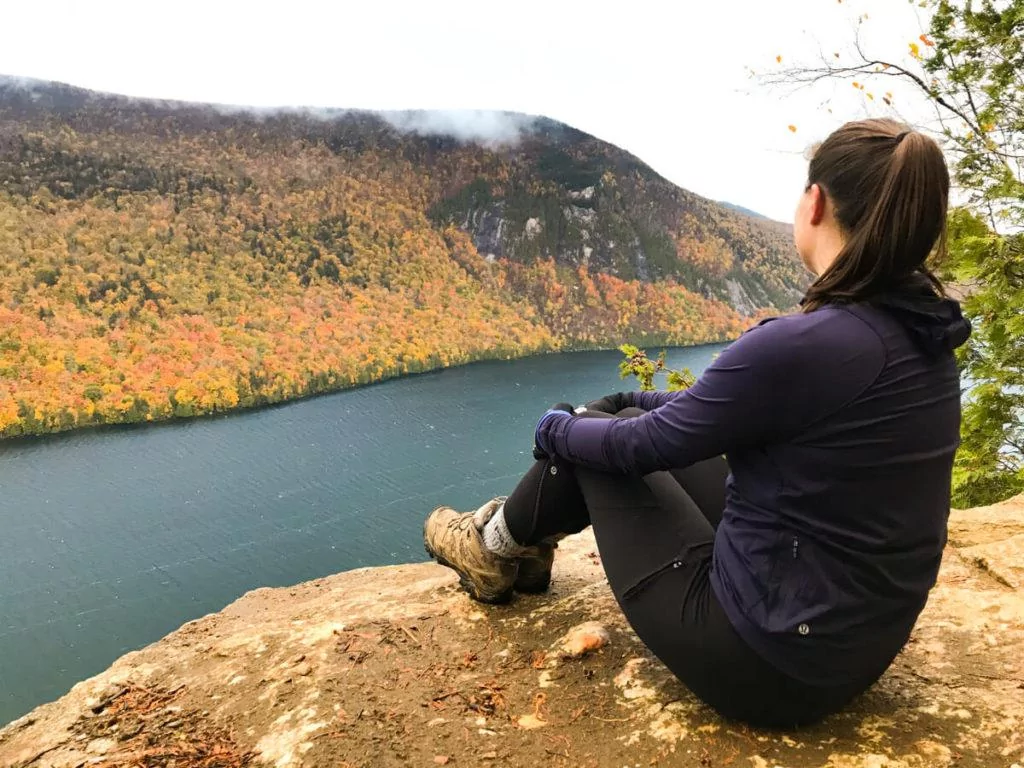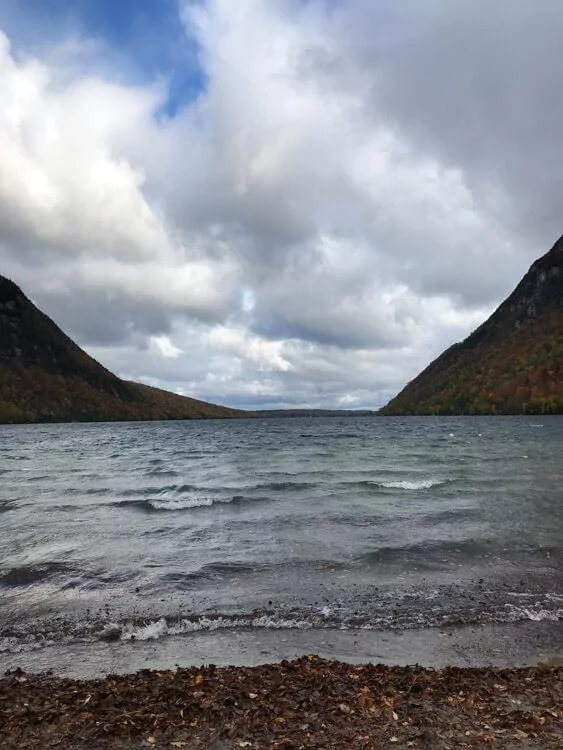 After that, I recommend cleaning up and hitting the road down to Killington. We loved getting coffee at Cafe Lotti in East Burke before stopping in St. Johnsbury to the famous Dog Chapel.
Located on Dog Mountain, this area has a lot of great trails but is most famous for the chapel that is dedicated to deceased dogs. You'll find many dog statues around the property and the chapel itself has letters to dogs that have passed from their owners as well as photos. This is a touching tribute to man's best friend and a beautiful place to visit for animal lovers.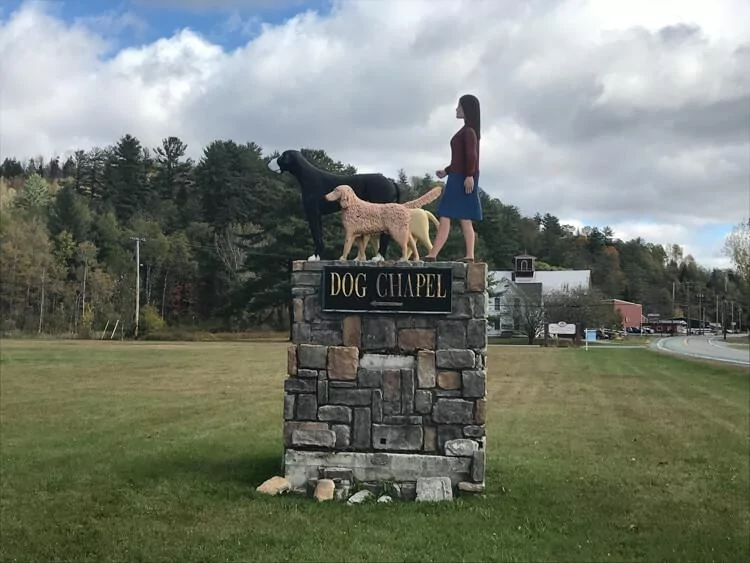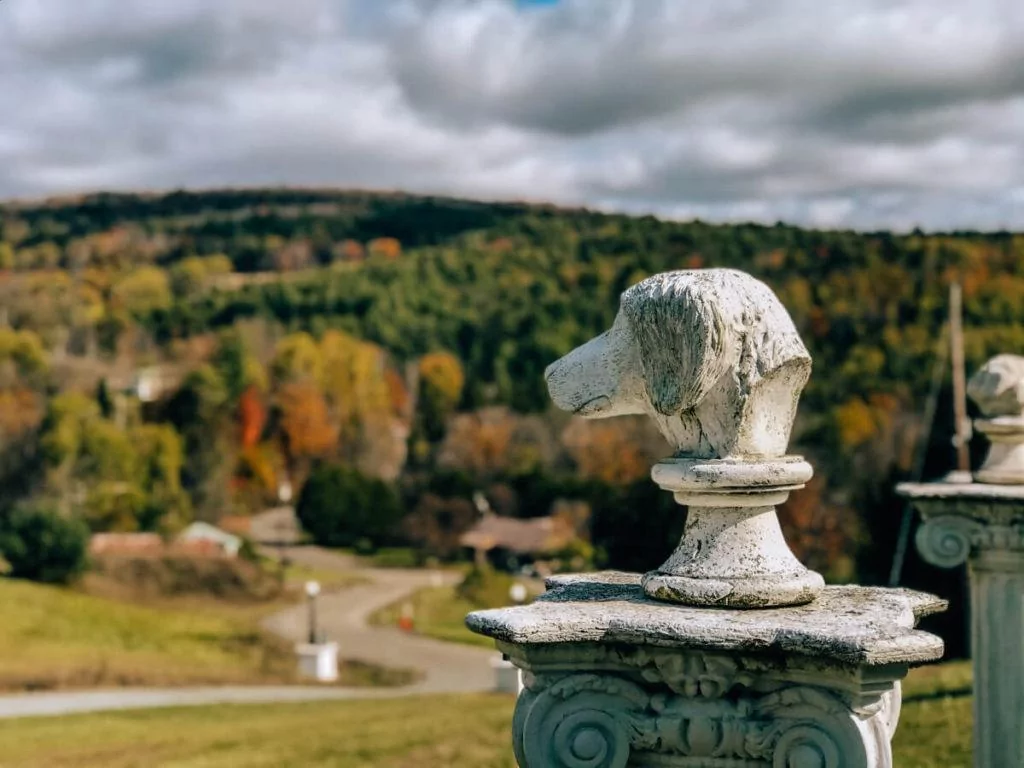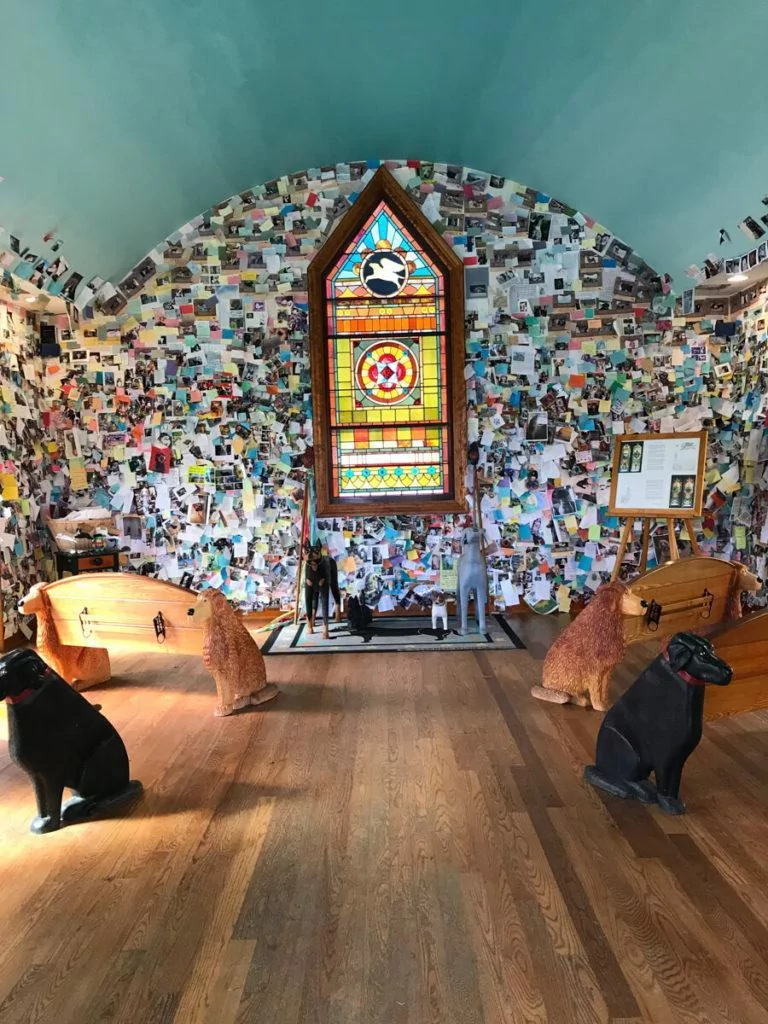 And before you reach Killington, there is a fantastic spot off the road with a brewery, distillery, and so many great shops you'll want to check out too in Windsor, VT! We ate lunch here at Harpoon Brewery Riverbend Taps and Beer Garden before wandering around to the cheese market, Silo Distillery, and other little shops.
After this whole day of adventures, a relaxing night in at your place in Killington with some takeout is a great idea.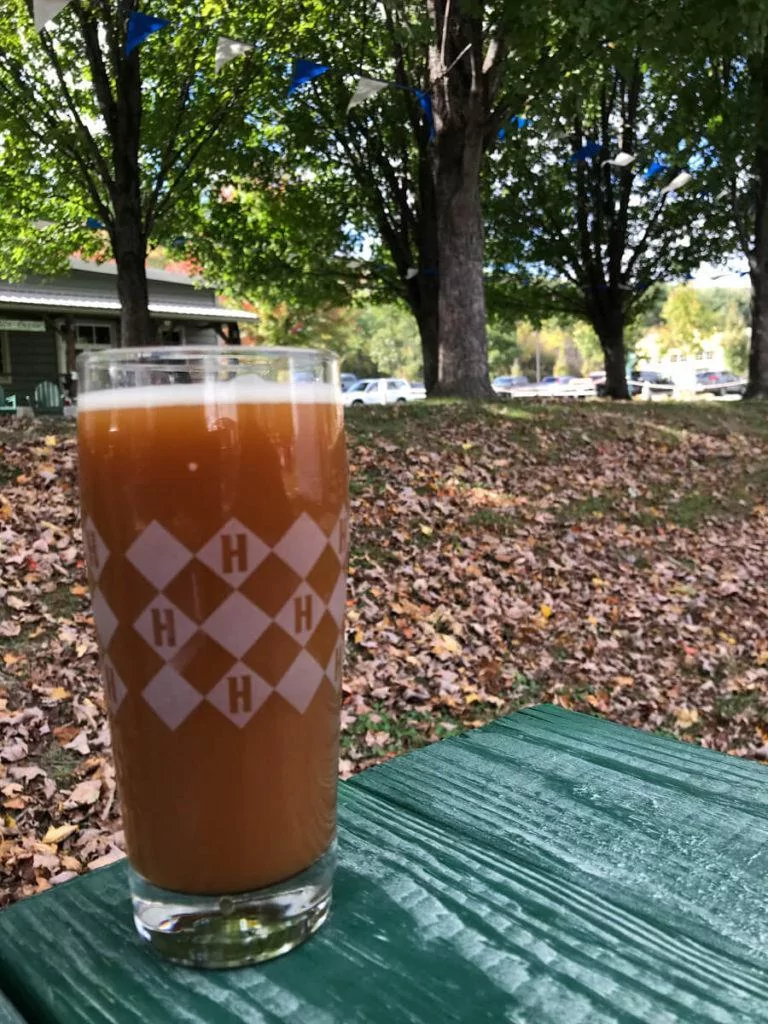 Where to Stay in Killington:
Killington is definitely a ski town and very popular during the ski season, however, it is a great spot for hiking during the summer and fall and the perfect spot to base yourself for exploring nearby towns like Woodstock and Rutland!
We love this condo. It is spacious with a beautiful balcony with stunning views of the mountains. Check out the place here!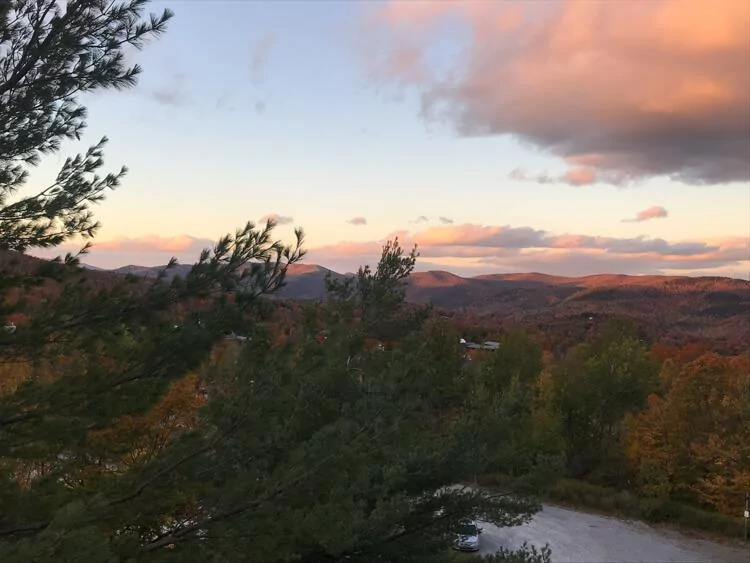 Located along the Appalachian Trail and Kent Pond, this lodge is beautifully renovated and has lovely views. It is also off the beaten track so you'll be able to enjoy the scenery without the noise from the town.
Read reviews on TripAdvisor and book here!
Day 8 of the Vermont Itinerary: Hike Mt Killington and Explore Rutland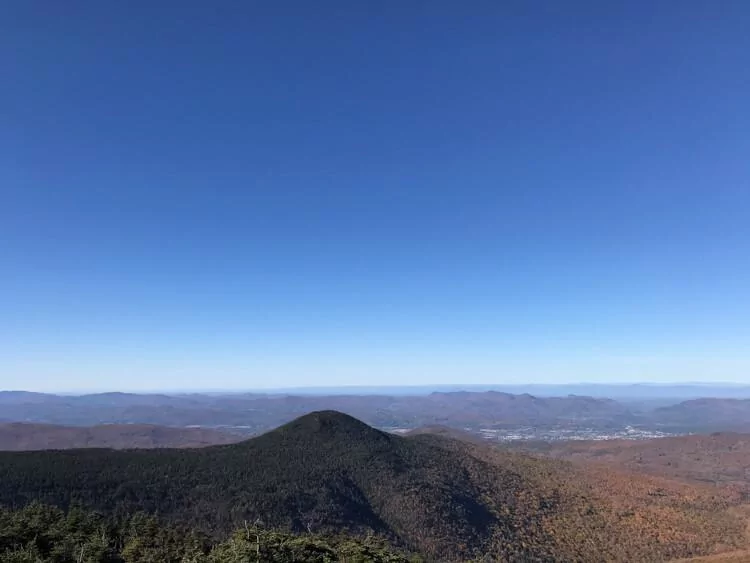 On your first day in Killington, a hike up to Mt Killington is perfect. Take the Killington Peak via Bucklin Trail. This 7.2-mile out-and-back trail can certainly be a challenge, especially the scramble at the top, but is so worth it! Also, be sure to pack layers as it is much colder at the top!
On a sunny day, you can see the Green Mountains in Vermont, the White Mountains in New Hampshire, and even the Adirondack Mountains in New York! We were lucky to have a sunny day when we hiked it, and we got to the trail at sunrise making it easy to avoid crowds. There is a lift that can take you to the top of the mountain as well and opens at 10 am, so be sure to get there ahead of time to avoid the crowds coming from the lift.
You also may pass some hikers on the Long Trail on this hike as well! The first 2 miles are relatively flat before rapidly increasing in elevation. Even in early October, there was some ice and snow at the top, but that didn't stop us from enjoying the views and taking our time eating breakfast!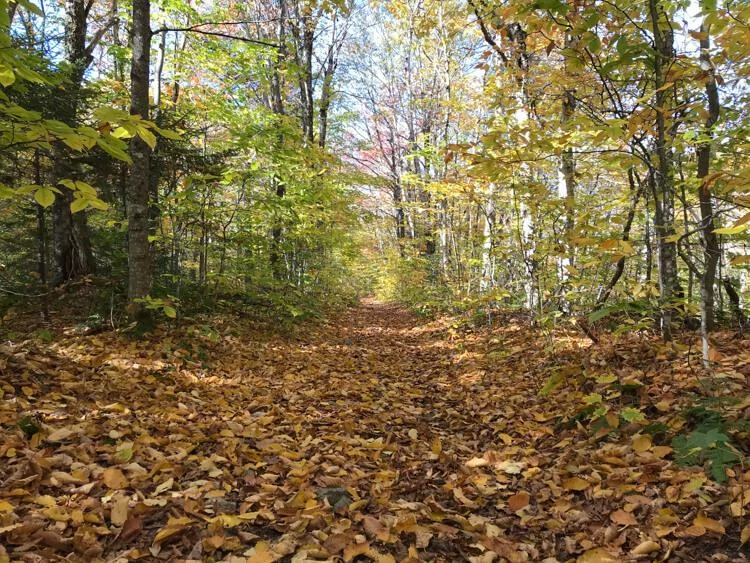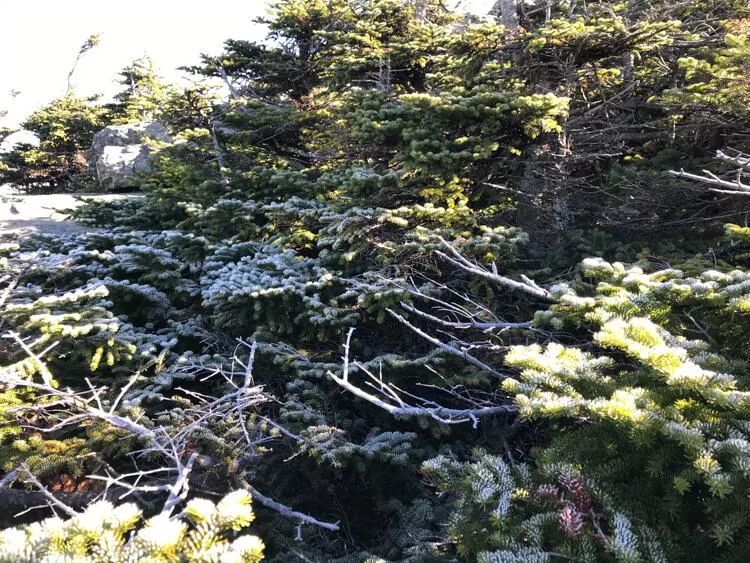 After the hike, you'll want to warm up with lunch and coffee at Liquid Art back in Killington. I loved their maple latte and we also enjoyed some ciders to reward ourselves after that difficult hike.
Then, I recommend checking out a town many people overlook during a Vermont road trip: Rutland. This place is known for its art scene ranging from elaborate murals to its sculpture trail, as well as many galleries in the town.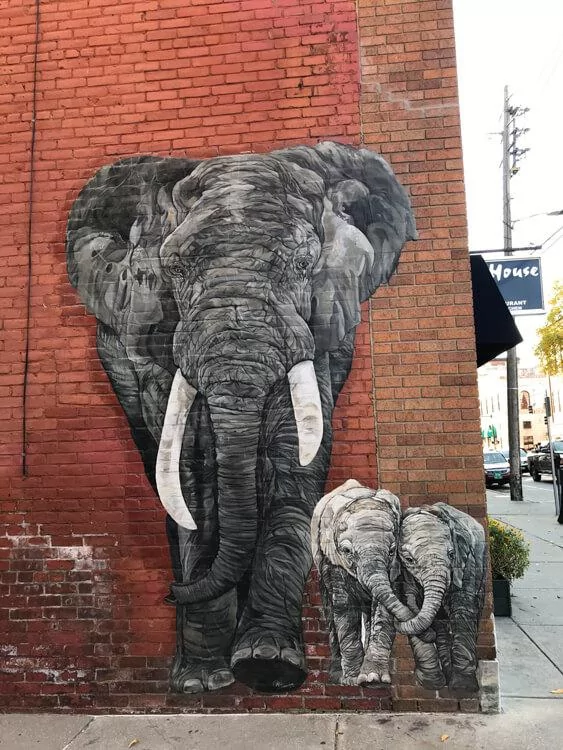 After exploring this city's art scene, check out Rutland Beer Works at Hop 'N Moose. They're serving up some great brews like their Pumpkin Ale, Super Star IPA, and their Raspberry Kettle Sour.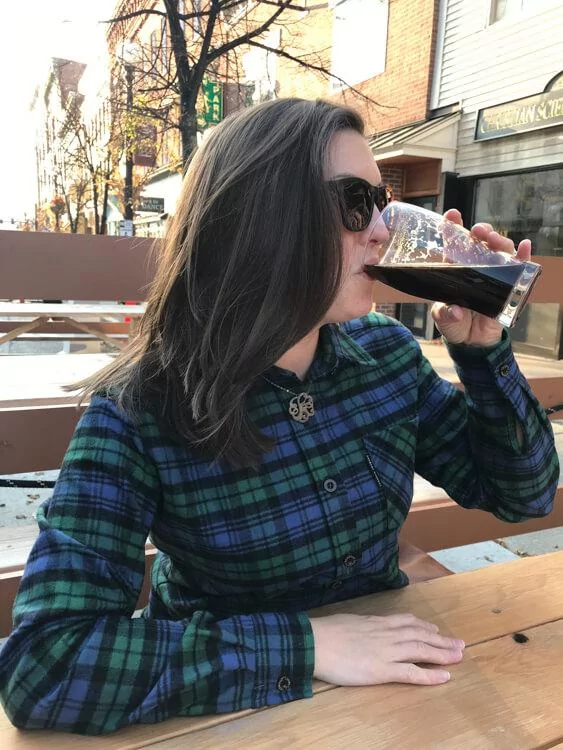 Then, it is time to soak up that beer at the tastiest restaurant we visited in Vermont: Roots. This hidden gem in Vermont had some of the best food we had on our entire trip! They had Vermont cheese fondue, a mushroom puff with marinara, and so much more! It was all incredibly good and I recommend coming to Rutland for this!
After a nice hearty dinner, it is time to kick back and relax at your accommodations in Killington before your last full day during your Vermont fall road trip itinerary.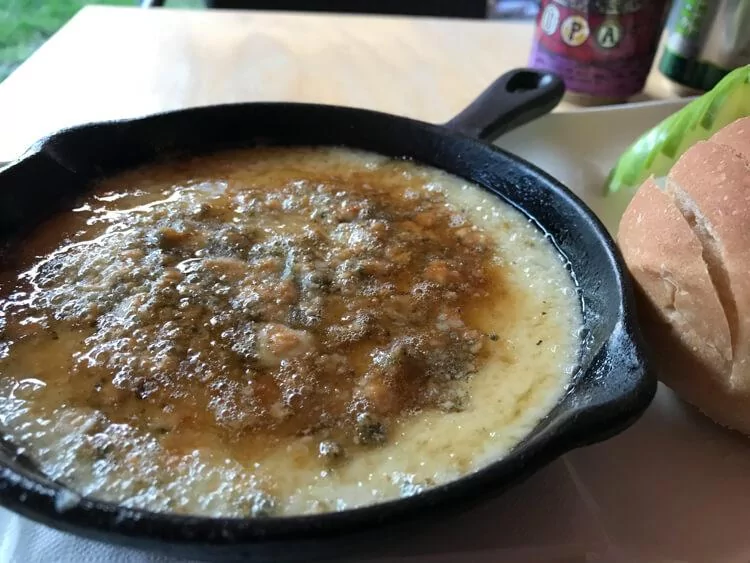 Day 9: Day Trip to Woodstock to Wrap Up Your Vermont Fall Road Trip Itinerary
During your last day in Vermont, you have to check out one of the best towns for autumn: Woodstock. This little town is charming and full of shops, beautiful houses, and plenty of farms.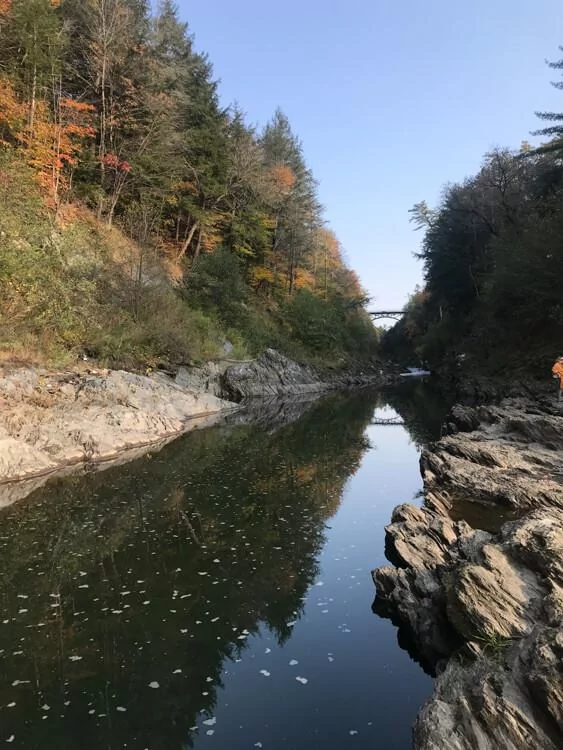 Start your day off driving out to Quechee Gorge, or Vermont's Grand Canyon. There are a few easy trails to walk along for some great views over the gorge. Then, snap a few photos of the lovely Taftsville Covered Bridge.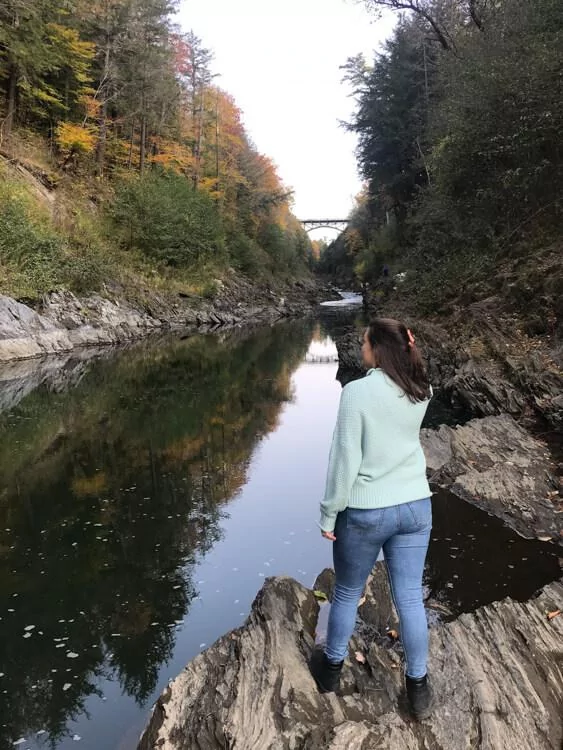 Next up drive to Sugarbush Farm to learn more about how they make maple syrup and sample some delicious Vermont cheese and maple syrup. We ended up purchasing some souvenirs here, having a picnic outside with their cheese for breakfast, and wandering around their trails to spot the maple trees.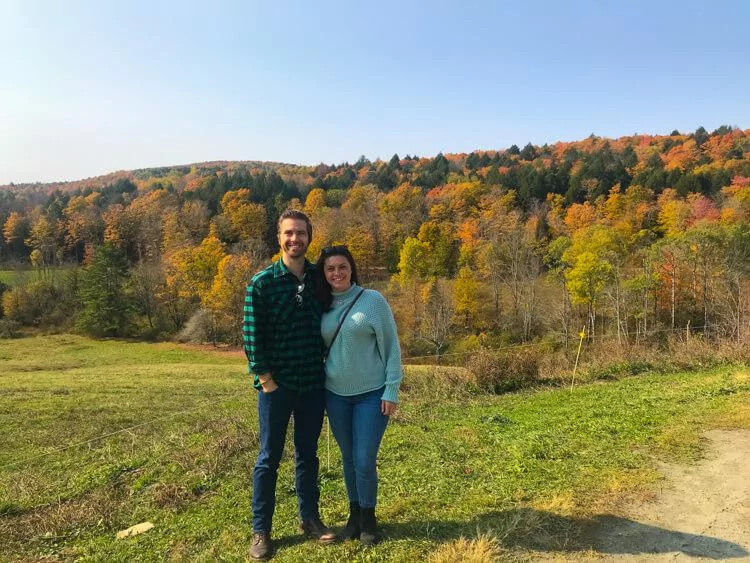 After a fun time exploring the farm, I recommend driving to another famous farm in the area: Billings Farm & Museum. This place is a working dairy farm where you can meet the cows and other animals, go through their museum and learn about their history, and sample some of their products like cheeses, creemees, and snag an apple cider donut or two. Wander around the farm and hang out with the animals before driving into Woodstock itself.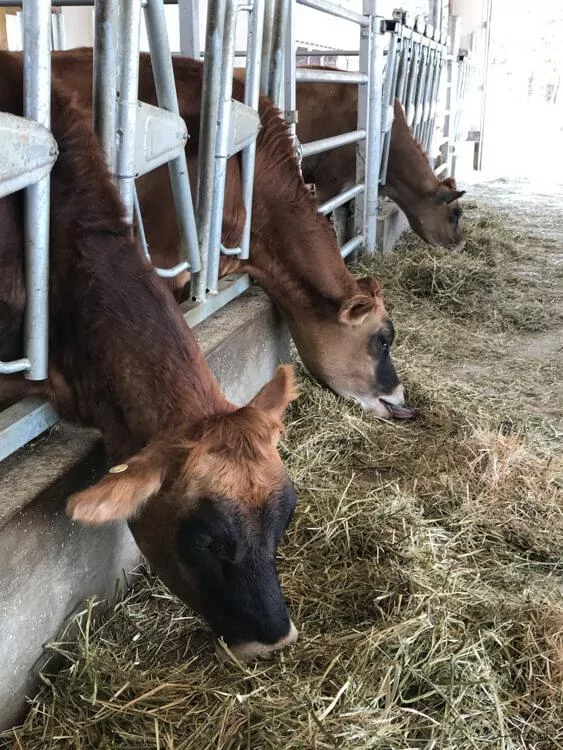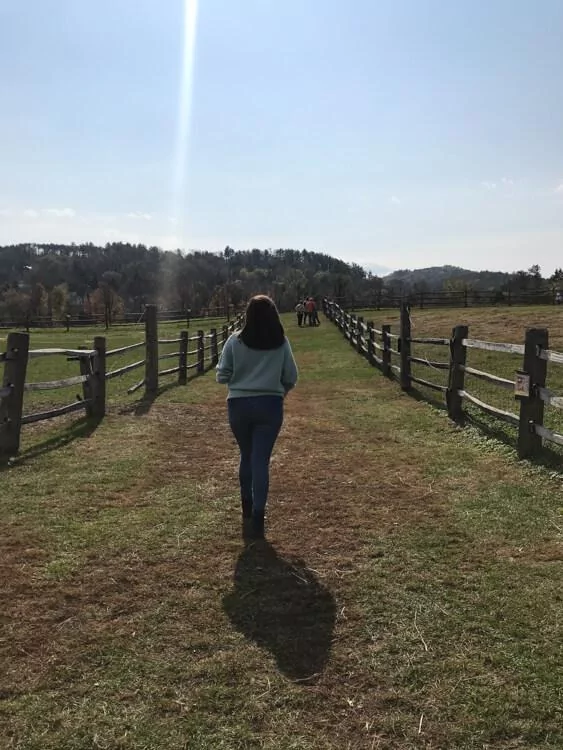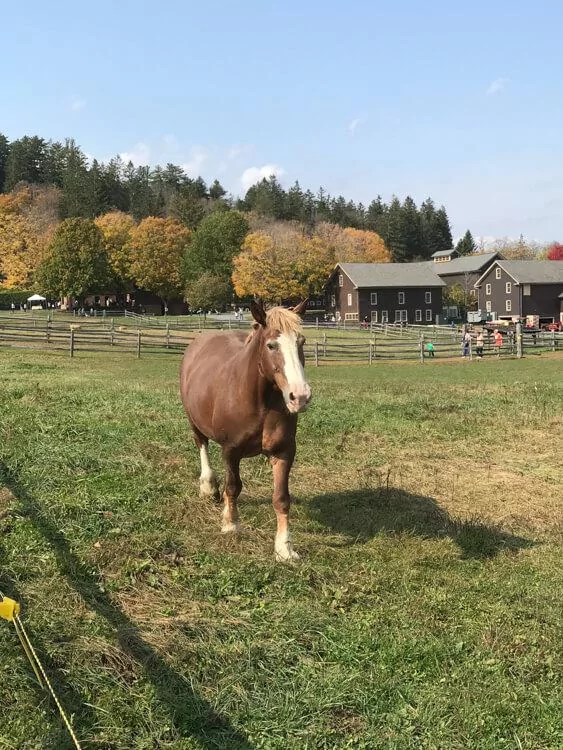 On your way to downtown Woodstock, stop at Woodstock Farmers Market for snacks and drinks! We grabbed lunch here and made sure to try some Long Trail Brewing Company IPA (as the brewery had closed for the season already).
Then, once in downtown Woodstock, the city is perfect for wandering around and getting lost. It is a small city, so you won't really get lost, but you'll be instantly charmed by the lovely parks, houses, and churches all around, especially as they are surrounded by fall foliage. Check out the Woodstock Town Crier for a photo, go shopping at small boutiques and galleries in the town, pick up a cozy flannel shirt from the Vermont Flannel Company, and pop into a bookstore or two.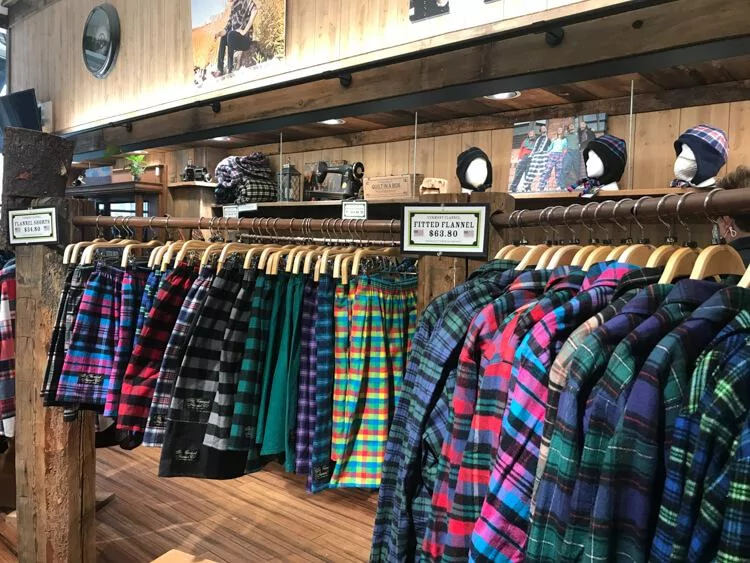 Then, grab some snacks and beers at Worthy Kitchen. This place had some fantastic live music so sitting on the lawn drinking beer was a fun way to pass the time this day!
And lastly, after a fun-filled day exploring this town and surrounding attractions, grab dinner at Melaza Bistro, a Caribbean restaurant serving delicious seafood, empanadas, plantains, and guacamole.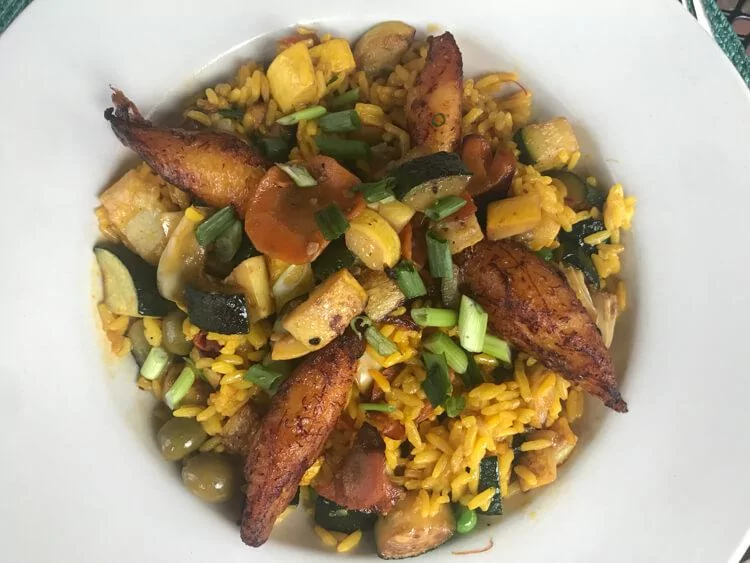 Woodstock is the perfect little Vermont town you can't miss during a fall road trip to Vermont!
Pro-tip: Avoid Woodstock on the weekends during the fall. It is super crowded. If you can, definitely visit on a Thursday or Friday during the day. We quickly visited on a Wednesday and came back on Saturday for the day and it was super packed and parking was a nightmare. If you can't avoid the weekend, there are definitely places we mentioned that weren't that crowded, but get to the town early enough for parking.
Day 10: Drive Home
Alas, your Vermont road trip itinerary has come to an end. It is time to go home and enjoy all the memories of this beautiful fall road trip to Vermont.
However, after 8 full days exploring Vermont, we really felt like we left the state knowing it extremely well. We certainly want to come back to visit again, but a week in Vermont is a lot of time to see all that this little state has to offer!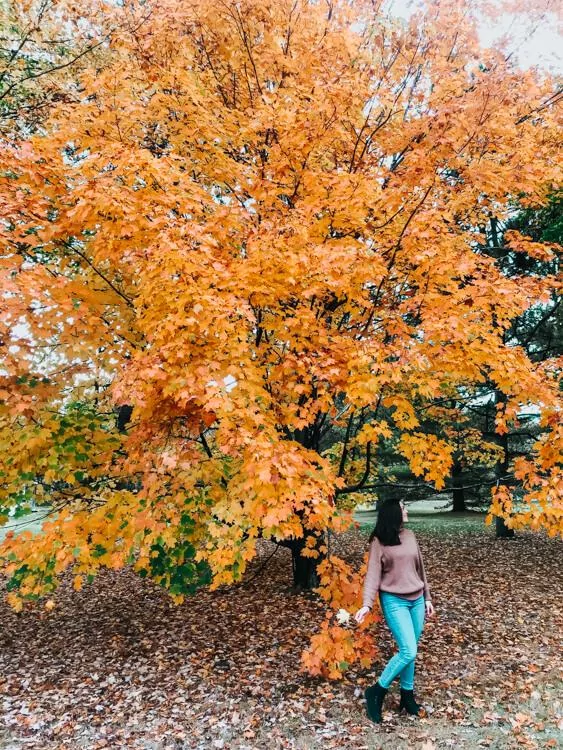 When to Visit Vermont
Vermont is a great place to visit year-round! For purposes of this Vermont road trip, I recommend the fall for scenic fall foliage drives and hikes, and the ability to explore and eat outside. We had a blast during our Vermont road trip and fall is definitely a popular time of year to visit for a reason.
As far as when to visit for peak foliage, that depends on where you're going. We hit peak foliage in both Stowe and Killington but had just missed it in East Burke. It all depends on the elevation and latitude of the area you're visiting. Also, peak foliage can happen anytime between mid-September through early to mid-October depending on the year. I found the Fall Foliage Reports on Vermont's website super helpful in planning our trip!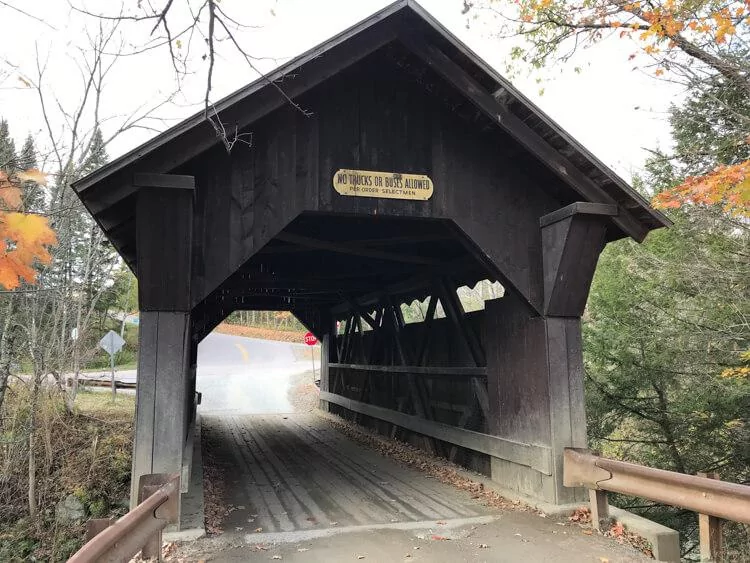 Winter, while maybe not the best time for road-tripping, is also popular in Vermont because of ski season! In Killington especially, it is very popular with some places still being closed until the start of the ski season. Some great places to visit during the winter in Vermont include Stowe, Killington, Okemo, and Sugarbush. Be prepared for some chilly weather though.
Summer is also a popular time to visit as the weather usually isn't terribly hot and there are plenty of outdoor activities available! From kayaking, canoeing, swimming, floating, and SUP on the water to hiking and mountain biking in the many state parks, there are tons of places to enjoy the outdoors in the summer!
Lastly, spring is the least busy time of year, but you can still possibly catch the tail end of the ski season, it is the perfect time for maple syrup, and you can still do some hiking in many of the state parks across the state. Bundle up, though, as it can be chilly in the spring.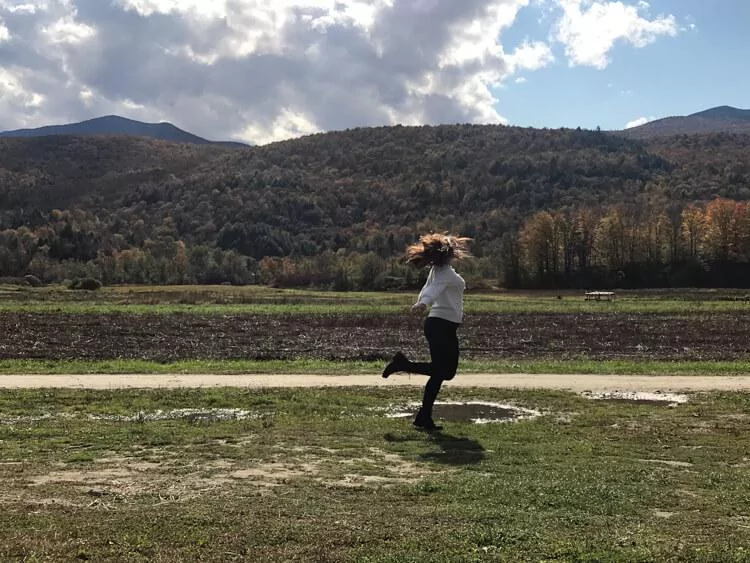 What to Pack for Vermont
For a fall road trip in Vermont, layers are key! A warm jacket, gloves, and a scarf are a must for chilly evenings. While cute boots, jeans, and these perfectly cozy sweaters are fantastic for exploring cities and covered bridges during the day.
If you plan to do a lot of hiking, hiking boots are a must. Some trails are a scramble at times, and with wet fall leaves, things can be slippery. I love my Merrell Moabs and Chris loves his Keens for day hikes. Be sure to wear lots of layers and a jacket for some chilly hikes!
I love Osprey day packs that we bring with us along with our water bladders, snacks, a LifeStraw Water Bottle, a first aid kit, and extra socks.
For taking great photos, we used our tripod and iPhone to capture shots of the two of us! This tripod is adjustable and has a remote to make selfies much easier and more natural.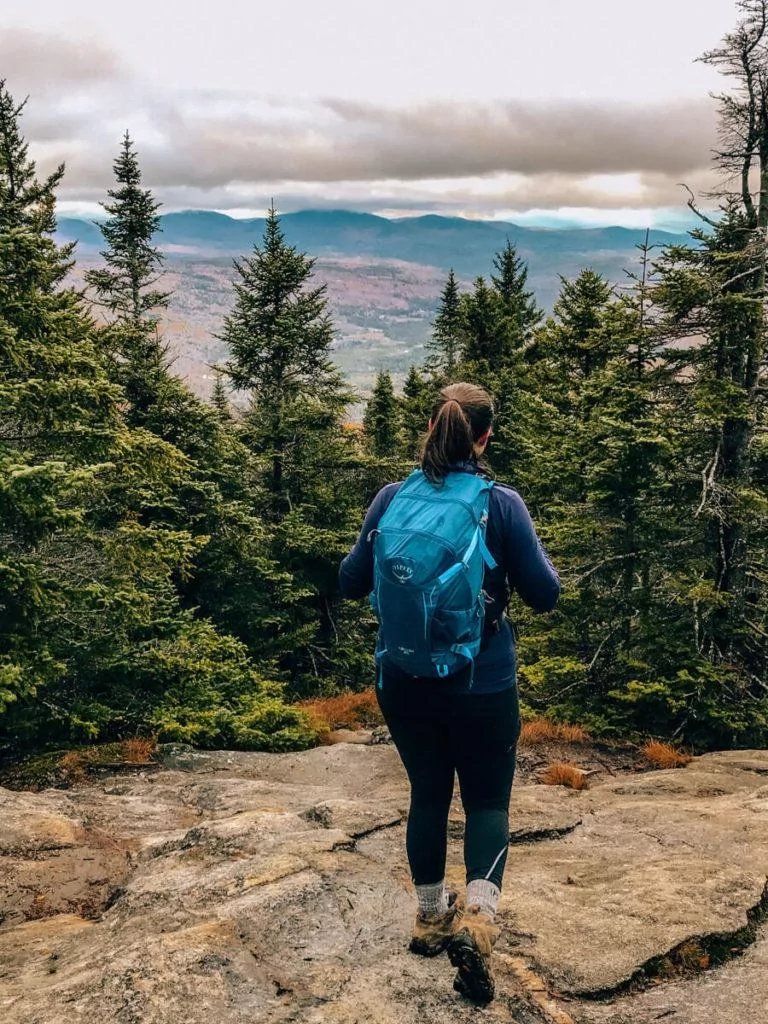 And for carrying all of your things, I always bring my Osprey 40 backpack and these great packing cubes.
Lastly, for all of your road trip needs and wants, check out The Open Road: 50 Best Road Trips in the USA for incredible road trip tips across the country including in Vermont!
A Vermont road trip is the best way to see the Green Mountain State. The fall here is incredible with the vibrant foliage and crisp mountain air. Whether you take the scenic routes in Vermont or explore off-the-beaten-path towns, this little but mighty state is well worth a visit!
Would you take a road trip through Vermont? Let us know in the comments!
This post is sponsored by Moon Travel Guides. As always, all opinions expressed are our own.
You may also be interested in:
Pin it here!