Some posts on this site contain affiliate links, meaning if you book or buy something through one of these links, I may earn a small commission (at no additional cost to you!). Read the full disclosure policy here.
---
Of the many US states known for their thriving beer scene (California and Oregon come to mind), Vermont beer must ultimately be right there among them.
While this smaller state may have fewer people than most, it certainly makes up for it in its breweries per capita. In fact, Vermonters and visitors alike have a plethora of sudsy stuff to choose from.
So to help you make the most of your trip to Vermont, whether for a Vermont fall road trip or a romantic getaway, we have the ultimate Vermont beer guide to help you thoroughly enjoy your visit to the Green Mountain state.
What Makes Vermont Beer So Special?
While California is known for bringing back the popular IPA, Vermont is credited to not only creating the first Black IPA, but most notably, they created the sometimes controversial but very popular New England IPA.
New England IPA (NEIPA), also known as Northeast IPA, Vermont IPA, Juicy IPA, or even Hazy IPA, began its roots when John Kimmich moved to Vermont to learn from another famous brewer, Greg Noonan (the creator of the Black IPA and who literally wrote the book on brewing beer).
John then went on to open his own brewpub with his wife in Waterbury named The Alchemist Pub & Brewery. This is where he created Heady Topper, a new type of beer (NEIPA) that would quite literally take the beer world by storm.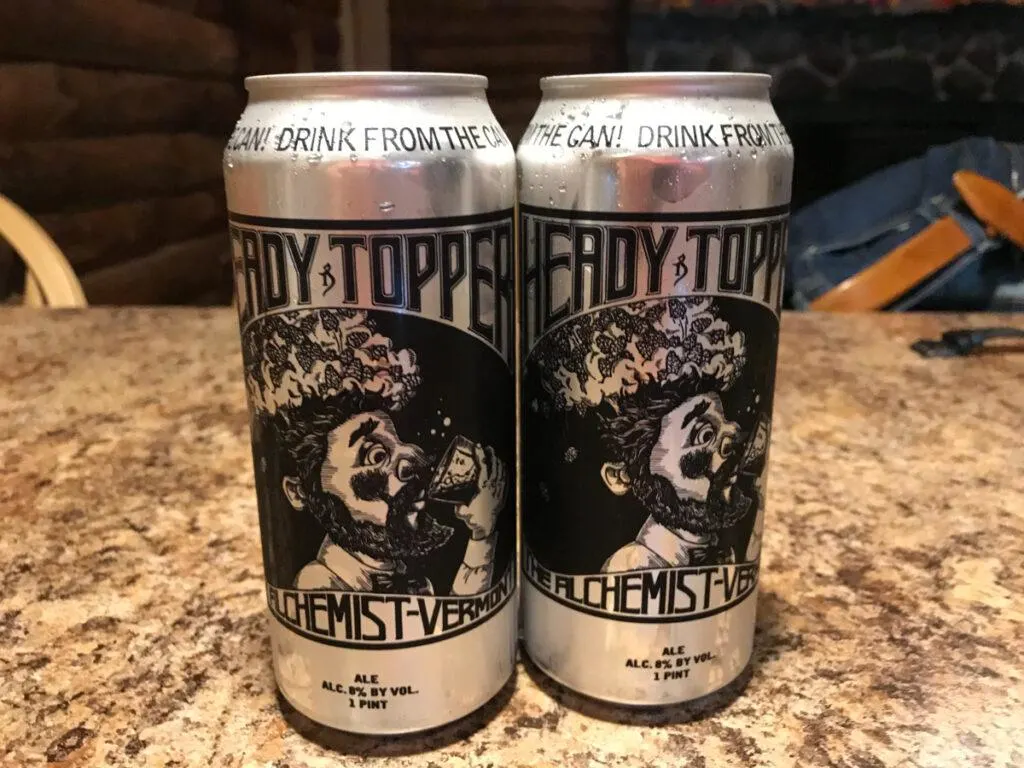 It is a double IPA with an 8% ABV and has delightful hoppy flavors without the crazy bitterness. Thanks to the whopping 6 types of hops in the beer, you'll likely taste flavors of citrus, pine, tropical fruit, and some spice.
While the original brewpub was destroyed by Hurricane Irene, their cannery survived, where they continued to make Heady Topper. The demand was so much that they limited the number of 4-packs that people could purchase at a time.
In fact, the beer became so popular that even a person from South Africa flew their private jet in to get their allotted amount of 4-packs and leave. Crazy, right?!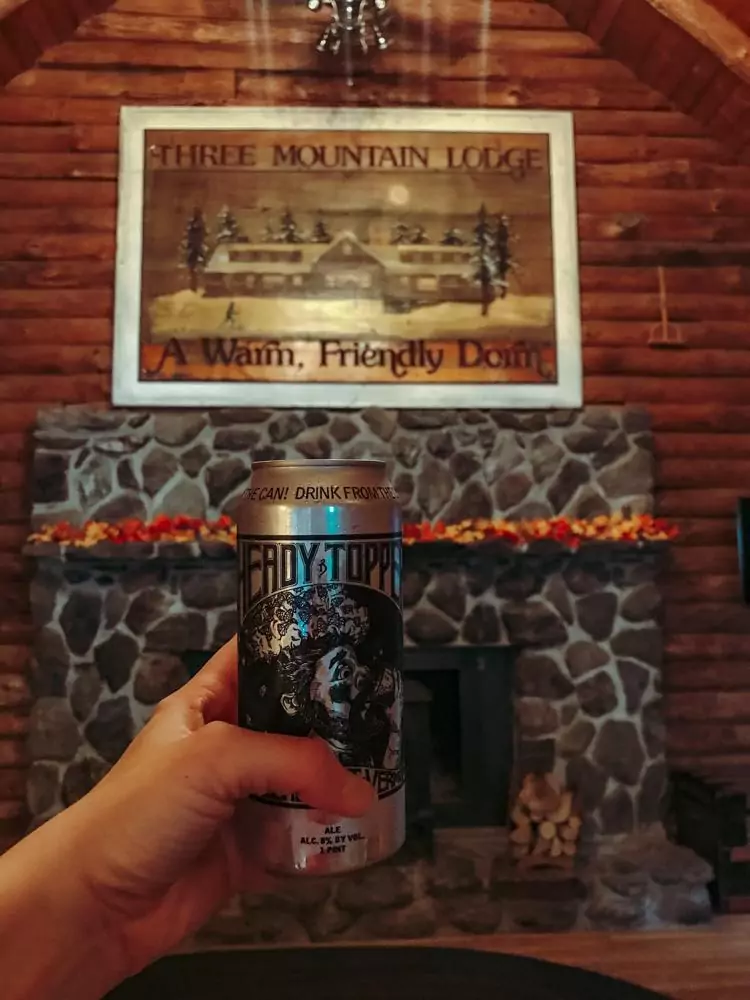 In the end, they've amped up production, with a bigger brewery and visitor center now in Stowe. They no longer limit beer sales, at least not to our knowledge. And trust us, we literally packed coolers to pick up A LOT of this stuff to take home.
Even today, it is still a bucket list beer for many aficionados.
However, The Alchemist isn't the only notable brewery in Vermont. In fact, there are several! Many brew up fresh and delicious NEIPAs as well as other fantastic brews. So whether you're celebrating finishing up a tough mountain hike or want a good apres-ski, you'll want to drink some of the best Vermont beers below.
Love Beer? Check out these posts!
Best Breweries in Vermont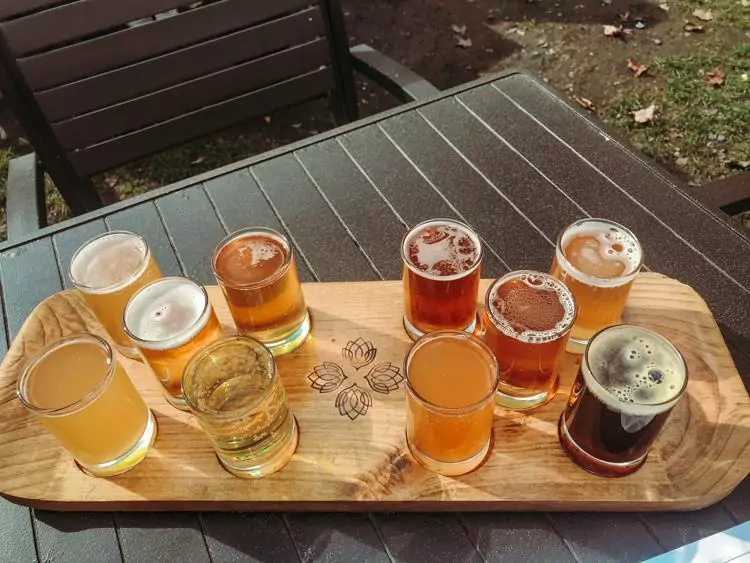 If you're visiting Vermont, chances are you'll happen upon several Vermont breweries. So of course, you'll want to try all the Vermont IPA beer.
Here are the best Vermont microbreweries serving up delicious VT IPA and more!
1. The Alchemist Makes Some of the Best Vermont Beers
Address: 100 Cottage Club Rd, Stowe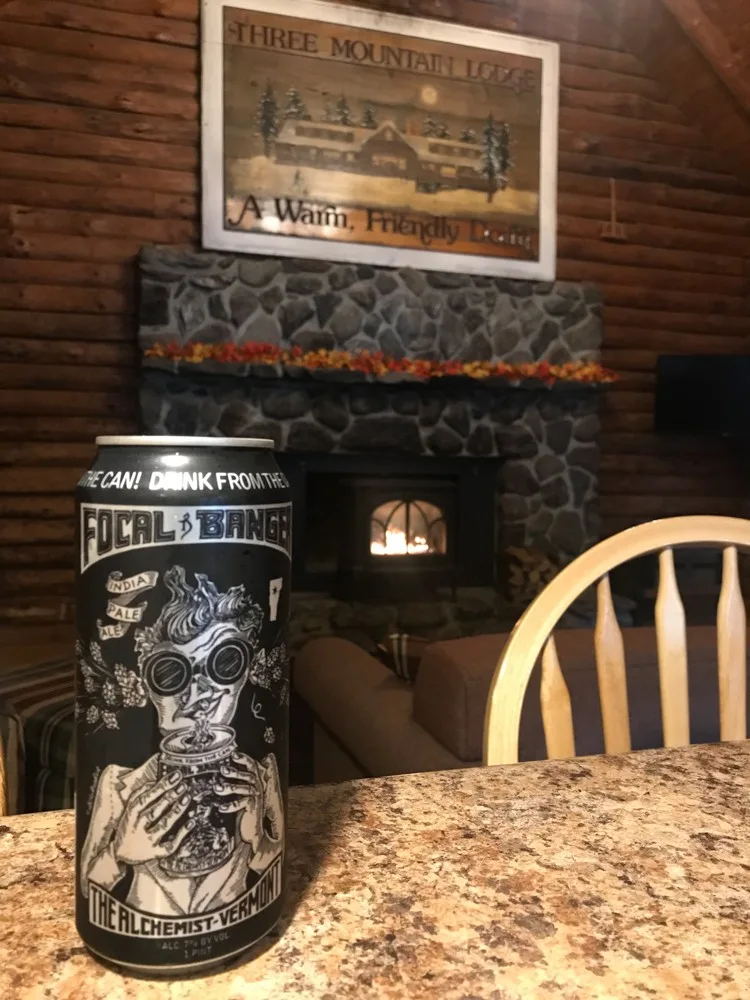 After all of the talk above, of course, you know The Alchemist tops the list. This place brings in people from all over the country to sample its delightful Heady Topper.
Heady Topper is truly a delightful double IPA with all of the smooth, citrusy, and tropical fruit flavors. However, while Heady Toppers gets all the attention, don't forget their other beers.
My personal favorite is Focal Banger. Their other flagship beer is also smooth, sweet, and hoppy with pine and citrus. But I think it also has a delicious caramel flavor. I really love it. Another notable beer is the Farmer's Daughter, a Belgian-style Saison.
PS- Want to learn more about Belgian beer? We have a whole beer guide to Belgium too!
2. Lawson's Finest Liquids Nails the Vermont IPA
Address: 155 Carroll Rd, Waitsfield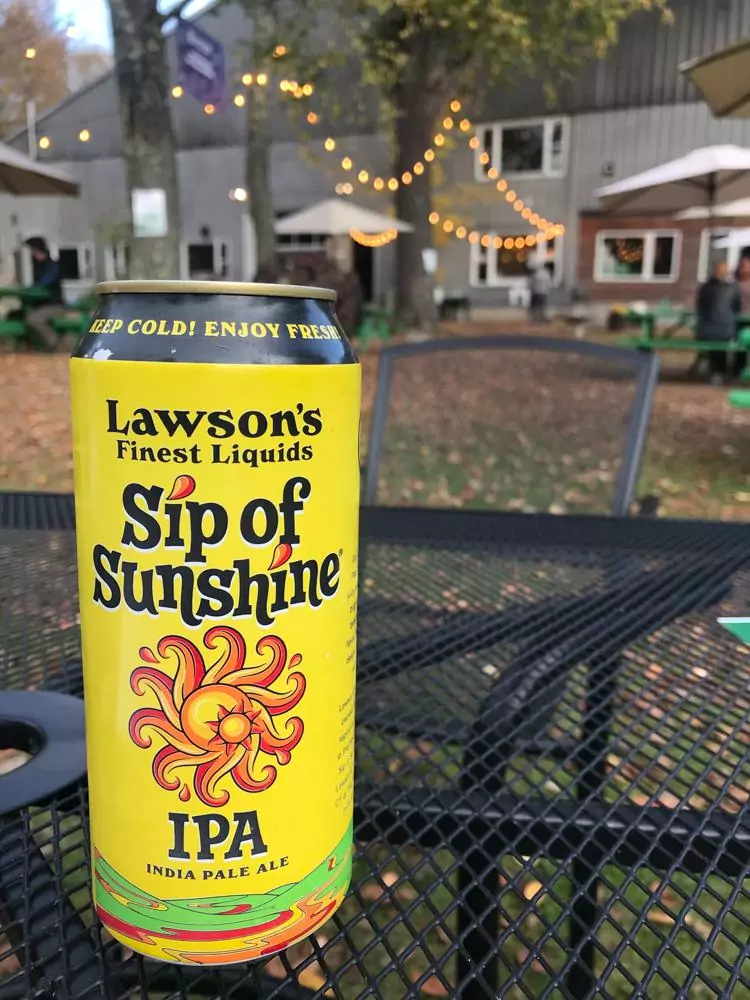 Ahh, Lawson's. IYKYK, right? This place is also known for their NEIPAs, mostly notably Sip of Sunshine and Little Sip.
Sip of Sunshine feels bright from its vibrant yellow can to its juicy and floral flavors. Little Sip is also incredibly juicy and has tropical fruit-forward flavors.
And if you're in the area in April during their anniversary, try to snag a Maple Tripple. This beer is brewed without water but rather sap. Oh, Vermont, I love you.
3. Fiddlehead Brewing Company
Address: 6305 Shelburne Rd, Shelburne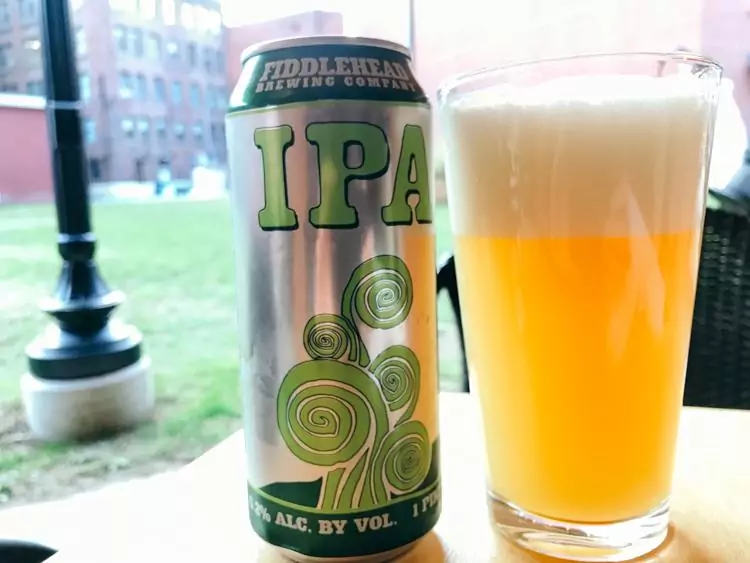 If you're searching for one of the best breweries near Burlington, VT, this is the place. Located in scenic Shelburne, Fiddlehead makes some great IPAs.
They are known for their flagship beer called Fiddlehead, a balanced hazy IPA that is mellow and citrusy. It is also known for Second Fiddle, a dry-hopped IPA that is very flavorful and aromatic.
4. Hill Farmstead Brewery Is One of the Best Breweries in Vermont
Address: 403 Hill Rd, Greensboro Bend
Located in the Northeast Kingdom of Vermont, this award-winning brewery makes several different kinds of beer!
Seriously, if you visit their website, the list is long! However, they are most known for a beer named Edward, in honor of their grandfather who owned the land the brewery sits on. This Pale Ale is unfiltered and dry-hopped and has aromas and flavors of citrus and pine.
And if a traditional German Helles is your thing, then opt for the Marie, named for their grandmother. This smooth and light beer makes for easy day drinking.
5. Zero Gravity Brewery Makes Some of the Best Vermont Beers
Address: 716 Pine St, Burlington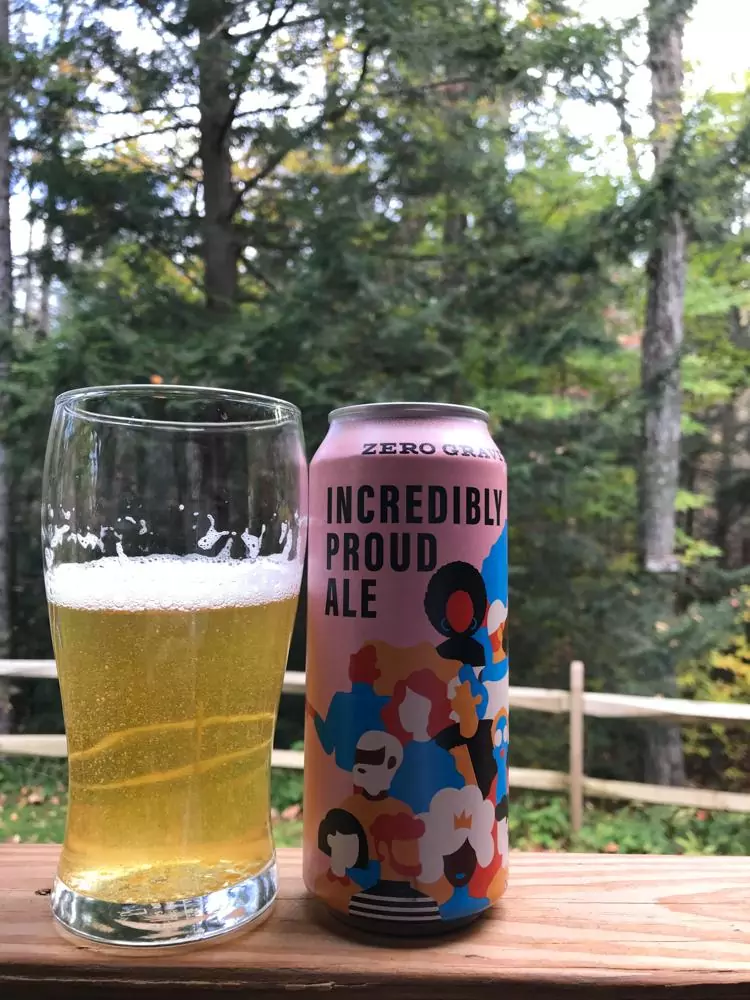 There are quite a few breweries in Burlington, VT so of course, a few had to make this list. Zero Gravity not only has some incredible can art but fantastic beer to back it up.
One of my personal favorites is the Incredibly Proud Ale. This isn't around all the time, but is a very delicious beer brewed to celebrate the 50th anniversary of the Stonewall riots; they donate $1 per 4-pack sold to the LGBTQIA Alliance of Vermont.
This Vermont-style IPA has 3 different kinds of hops to create an incredibly flavorful, crisp IPA.
Another popular everyday beer is the Conehead, a Citra-hopped IPA that is hazy, juicy, and bright. And, definitely try the Madonna, a Vermont double IPA with tropical and grapefruit flavors and aromas.
6. Long Trail Brewing Company
Address: 5520 US-4, Bridgewater Corners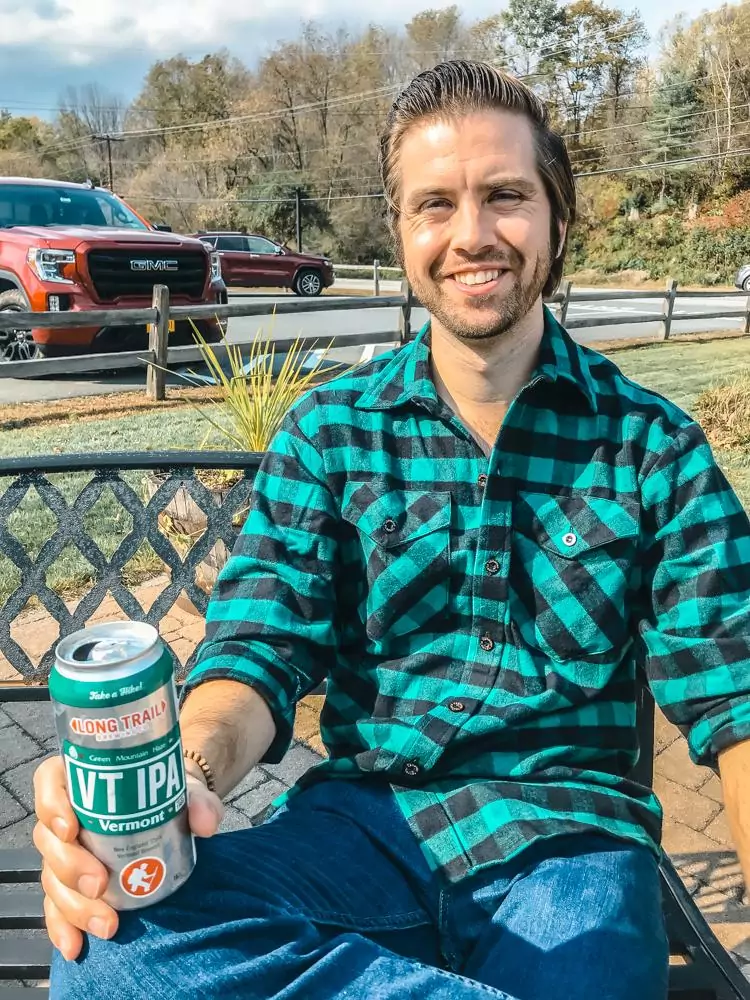 Long Trail Brewery in Vermont is definitely one of the oldest breweries here. Started in 1989, they get their name from the famous 273-mile Long Trail that runs through the state.
Long Trail Ale is their longest-selling beer that began while they were still known as Mountain Brewers. This amber ale is malty, light, and sweet.
The VT IPA has tastes of pineapple, mango, and orange, with a low amount of bitterness. It certainly resembles more of the popular NEIPAs that Vermont is now famous for.
7. Burlington Beer Company Is One of the Great Vermont Craft Breweries
Address: 25 Omega Dr #150, Williston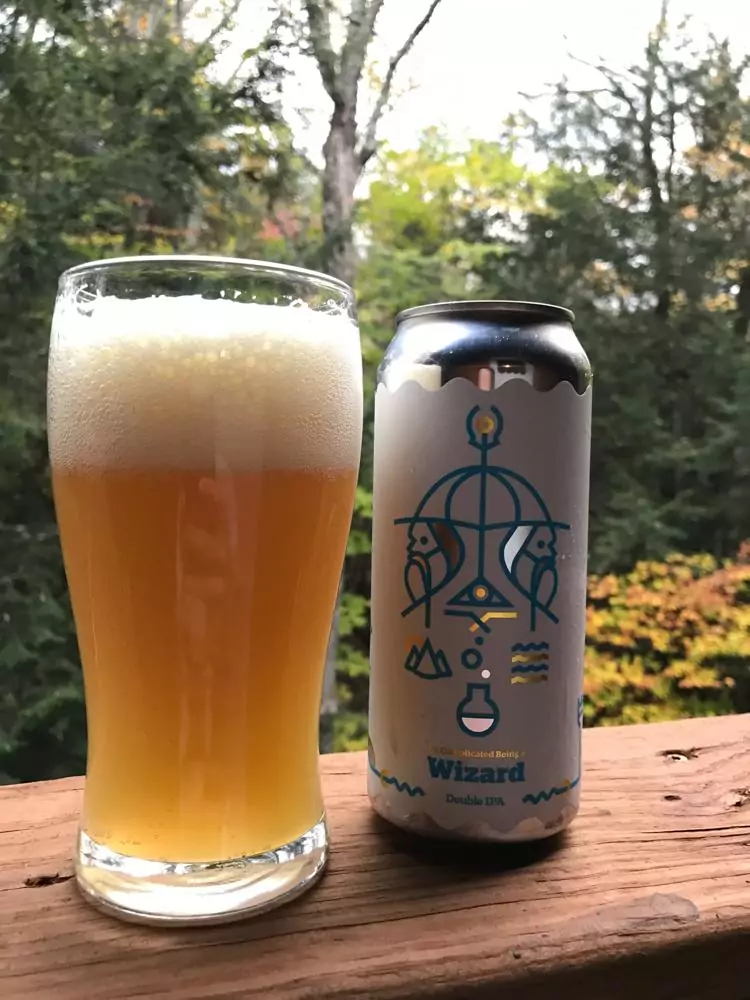 With beers ranging from sours, goses, stouts, and many kinds of IPA, you're bound to find a delicious brew here.
One of my faves is It's Complicated Being a Wizard. This Double IPA is bold and hoppy with flavors of papaya, citrus, and even dank cannabis.
If you need a kick, the Intangible Tides should do the trick at a whopping 10% ABV. It is juicy, hoppy, and dangerously smooth.
For an interesting Cream Ale, try the Black Raspberry Whale Cake. This soft, sweet treat feels like dessert and sips like a beer.
8. Lost Nation Brewing
Address: 87 Creamery Rd, Morrisville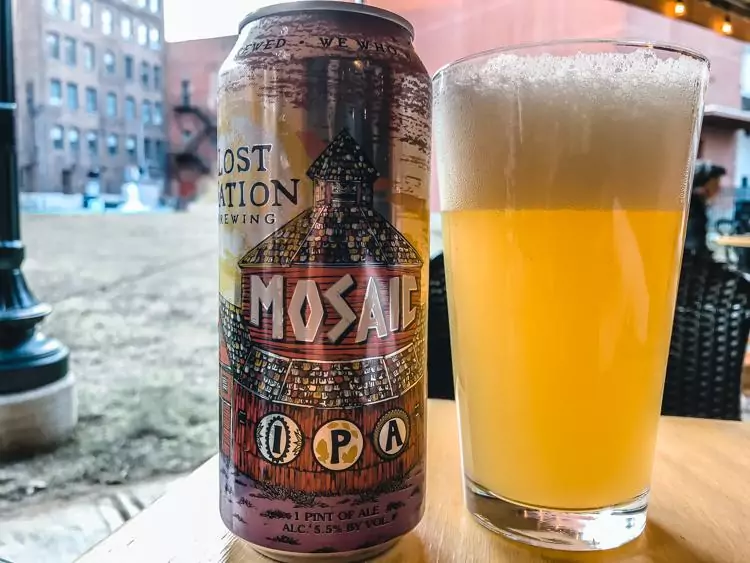 I'll be honest, we just happened upon this beer because the Airbnb we stayed in up in Smugglers Notch was blocked heading to Stowe (because another tractor-trailer got stuck up there..smh). However, we made it into a fun road trip to get to Stowe and passed this place on the way in!
Their Gose with sea salt and coriander just works. It is super refreshing. Their Mosaic IPA is also worth trying with its clean, crisp, and refreshing taste.
9. Foam Brewers Is One of the Top Vermont Breweries
Address: 112 Lake St., Burlington
There are several Vermont craft breweries in Burlington! And Foam Brewers makes some fantastic Vermont-style IPAs!
Sample the Dystopian Dream Girl, an IPA serving up creamsicle tastes. Feeling a Double IPA instead? Why not try Pavement, a mango, passion fruit, and citrus-flavored beer, or The Shining, a delightful smoothie mix with aromas and flavors of pineapple and mango.
10. River Roost Brewery
Address: 230 S Main St, Hartford
River Roost is one of the Southern Vermont Breweries and is known for its NEIPAs. But they do them quite well! Their aim is to create flavorful, hoppy, and aromatic beers, a task they've succeeded in here.
Try their Mas Verde IPA with juicy melon and citrus notes or their Glimpse Double IPA that is hoppy, fruity, and delightful all around.
Where to Drink Beer in Vermont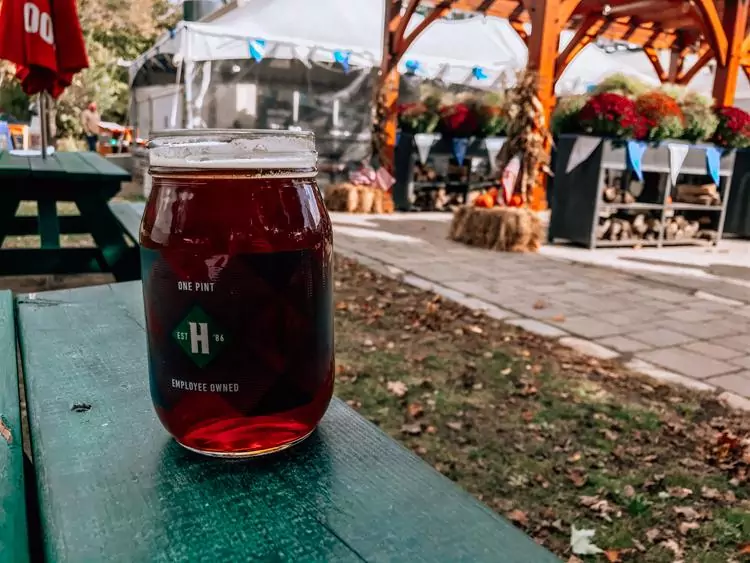 Now that we've discussed the best breweries in Vermont, let's talk about where to drink beer in Vermont.
I mean, the short answer is: everywhere. Seriously, all bars, restaurants, beer shops, and grocery stores pretty much have Vermont beer. However, I'm talking about some great breweries to still check out around the state!
So here is where to drink beer around Vermont:
Best Burlington Breweries:
Zero Gravity Brewing (mentioned above)
Burlington Beer Company (mentioned above)
Foam Brewers (mentioned above)
Switchback Brewing Company (Address: 160 Flynn Ave): Try the Switchback Ale
The Vermont Pub & Brewery (Address: 144 College St): Vermont's oldest craft brewery and opened by Greg Noonan! Try the Burly Irish Ale and Bombay Grab IPA
Queen City Brewery (Address: 703 Pine St): Try the Old Monty Barlywine-Style Ale and Munich Dunkel
Simple Roots Brewing (Address: 1127 North Ave #8): Try the American Dream Cream Ale and Good Neighbor IPA
Best Breweries in Stowe, VT
The Alchemist Stowe (mentioned above)
Idletyme Brewing Company (Address: 1859 Mountain Rd): Try the Idletyme Double IPA and Pink n' Pale Pale Ale
Von Trapp Brewery and Bierhall (Address: 1333 Luce Hill Rd): Try the Dunkel and Helles
Stowe Cider (Address: 17 Town Farm Ln): Try the Brain Waves Cherry Gummy Bears and High and Dry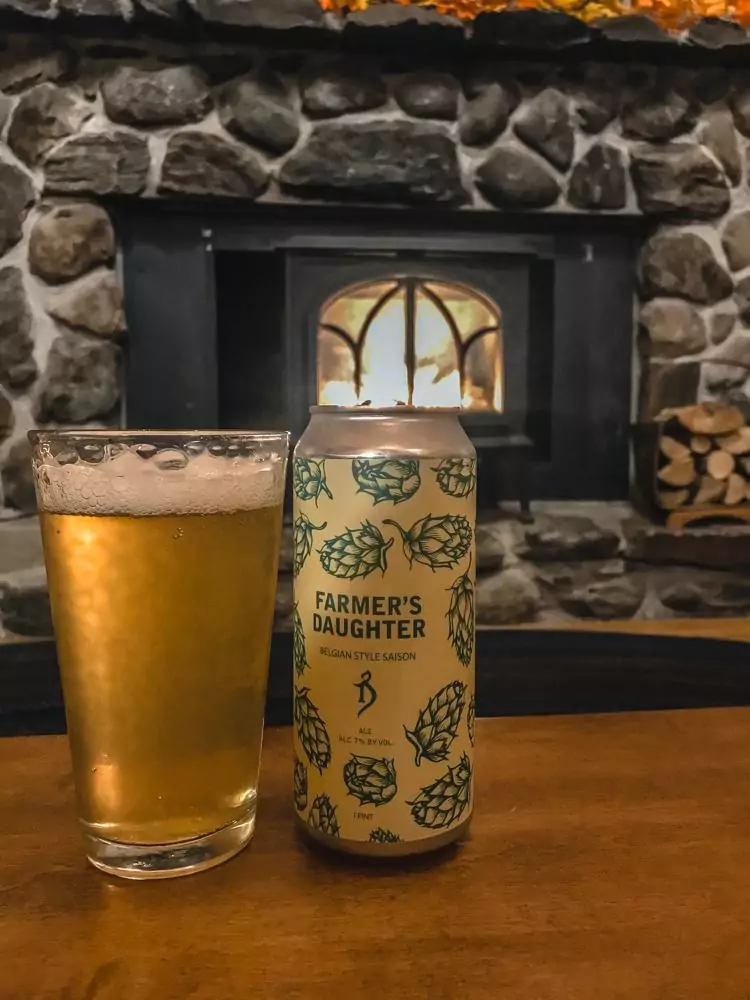 Best Breweries in the Northeast Kingdom, VT
Hill Farmstead (mentioned above)
Kingdom Brewing (Address: 353 Coburn Hill Rd, Newport): Try the Bear Mountain Mocha Nut Fudge Coffee Stout and Maple Nut Brown
Next Trick Brewing (Address: 2370 US-5, West Burke): Try the NEKIPA and Sugarhouse Road Ale Pale Ale
Red Barn Brewing (Address: 2211 Route 2 East, Danville): Try the Evil Angel Double IPA and Little Devil IPA
Eden Specialty Ciders (Address: 150 Main St, Newport): Try the Deep Cut and Peak Bloom Ciders
Best Breweries in Southern Vermont
Long Trail Brewing Company (mentioned adobe)
River Roost Brewery (mentioned above)
Snow Republic Brewery (Address: 33 Route 100, West Dover): Try the Hop Avalanche NEIPA and Silver Trail Porter
Outer Limits Brewing (Address: 60 Village Green, Proctorsville): Try the Atmosbeer Dark Mild and Ground Control Pale Ale
Harvest Brewing (Address: 201 South St, Bennington): Try the Clutch NEIPA and Space Wrangler Maple Stout
Rutland Beer Works (Address: 41 Center St, Rutland): Try the Better Dayz Double IPA and Superstar IPA
Harpoon Brewery (Address: 336 Ruth Carney Dr, Windsor): Try the Camp Wannamango Pale Ale and Flannel Friday Amble Ale
Hermit Thrush Brewery (Address: 29 High St #101c, Brattleboro, VT 05301): Try the Party Guy and Brattlebeer sour beers
I think you get the idea. From the best Burlington breweries to the best breweries in Stowe, VT, there are a ton of breweries in Vermont to choose from!
While I wish all these beers were readily available across the country, unfortunately, most are not. In fact, some beers you can't even get outside of Vermont!
The Alchemist and Lawson's just recently started distributing to select spots in the northeast, and Harpoon is a Boston-based brewery. But for us living outside of the northeast area, and especially outside of Vermont, you'll have to buy it before you head home.
And trust me, you'll want to purchase a ton before you head home!
That wraps up this Vermont beer guide and the best breweries in Vermont! We hope you enjoy it, and that it inspires you to visit Vermont soon!
Love Vermont? Check out these posts!
Pin it here!