Some posts on this site contain affiliate links, meaning if you book or buy something through one of these links, I may earn a small commission (at no additional cost to you!). Read the full disclosure policy here.
---
Hiking in Stowe, Vermont is a dream. The Green Mountain State has no shortage of stunning vistas, challenging mountains, and placid lakes to enjoy. And if you're visiting from spring until autumn, Stowe is the perfect place to see them all!
Chris and I were lucky enough to go hiking in Stowe during our Vermont fall road trip, and let me just say, Stowe was our favorite stop! From the charming downtown to the incredible mountains we were always astounded by the beauty of this part of the state.
We were eager to get up early each morning to explore more of the hiking trails in Stowe, VT and now we're sharing with you the top 8 best hikes!
Check out our Stowe Podcast episode!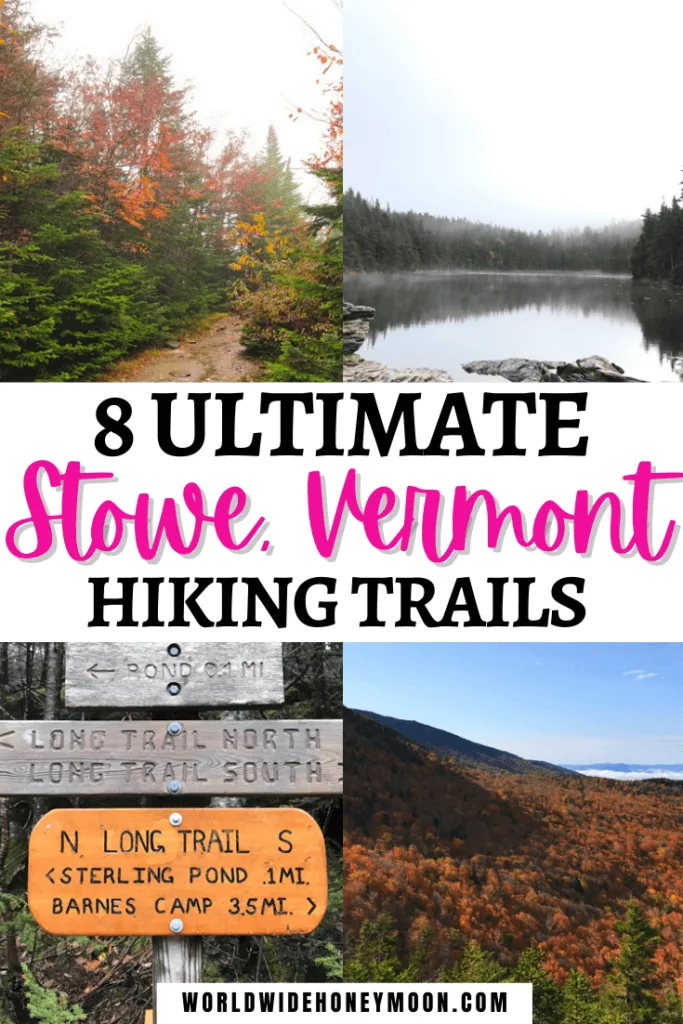 Hiking in Stowe, Vermont: 8 Best Hiking Trails
Whether you're a fan of a challenging day hike or easy, brisk hike, these are hands-down the best hikes in Stowe, VT that you'll want to add to your bucket list!
1. Stowe Pinnacle is Easily One of the Best Hiking Trails in Stowe, VT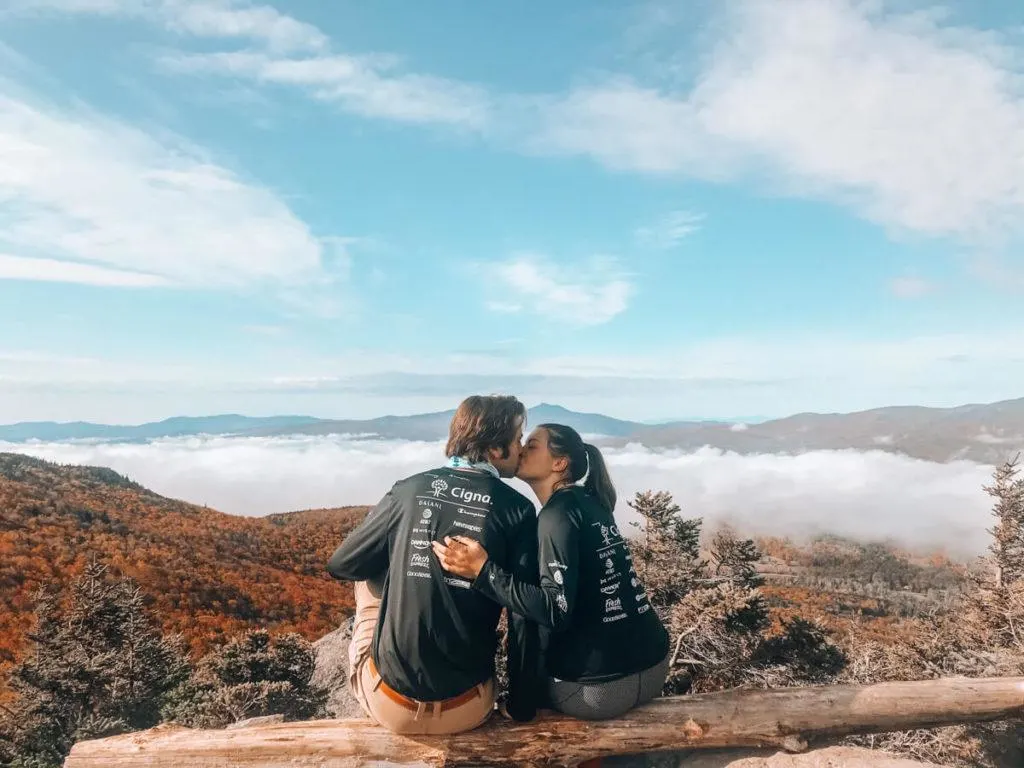 Let's start off this Stowe hiking list with a bang with our personal favorite: Stowe Pinnacle.
Maybe it was perfect timing-a crisp autumn morning with the fog just starting to clear from the valley floor, or maybe it was the fact that it was a shorter yet challenging hike, but Stowe Pinnacle was well worth the effort!
This out-and-back trail starts from a little parking lot that feels as if it is in the middle of nowhere. However, it is a hike located within Putnam State Forest. You make your way up Stowe Pinnacle Trail as the elevation keeps climbing until you've reached the summit. To get to the very top, though, there is a bit of a scramble.
I mean, compared to hiking Old Rag in Shenandoah National Park, this hike was a breeze as far as scrambles go, but it can certainly be slick if you go on an icy or wet morning.
However, your efforts are rewarded upon reaching the top as you have mountain views and charming farms in the valley below. We lucked out and, having gone early, it wasn't terribly crowded yet, and the fog was starting to clear, giving an ethereal view of us above the clouds!
Distance: 3.7 miles
Elevation Gain: 1,604 feet
Crowds: Can get very busy and crowded- go early!
Difficulty Level: Difficult
Time to Complete: 2.5 hours
2. Stowe Pinnacle and Hogback Mountain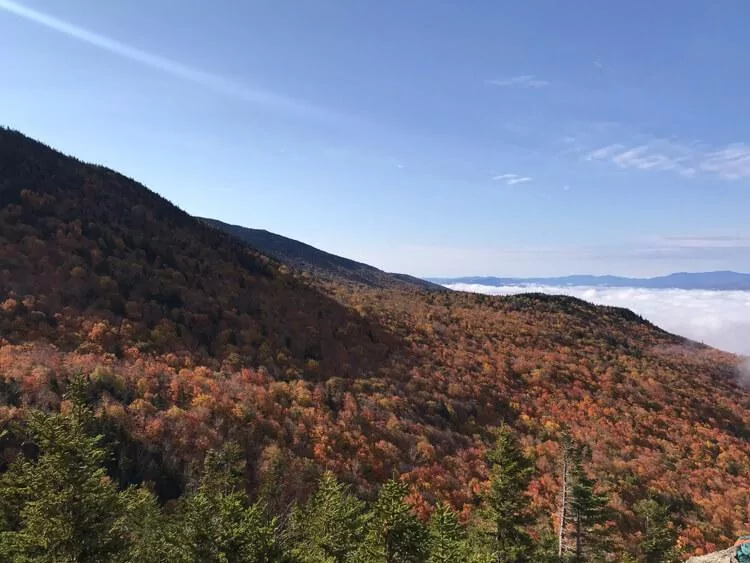 For stunning Stowe Pinnacle views without as many crowds the whole hike, this is another great option.
This hike is also a bit less strenuous than the original Stowe Pinnacle hike as the incline is a bit more gradual, and you get two mountains for the price of one!
Start on the Pinnacle Meadow Trail and then merge onto the Stowe Pinnacle Trail after about a mile. That'll take you up to Stowe Pinnacle, and then you can continue on to Hogback Trail until you've reached the summit of that as well.
Then, you just turn back the way you came. Both offer stunning views and lovely wildflowers. And, as only a portion of the hike is on the popular Stowe Pinnacle Trail, you'll be met with fewer crowds during your hike!
Distance: 4.9 miles
Elevation Gain: 1,794 feet
Crowds: Moderate, but more crowded along the Stowe Pinnacle Trail portion
Difficulty Level: Moderate
Time to Complete: 3 hours
3. Mount Mansfield Loop Trail is Certainly One of the More Challenging Stowe, Vermont Hikes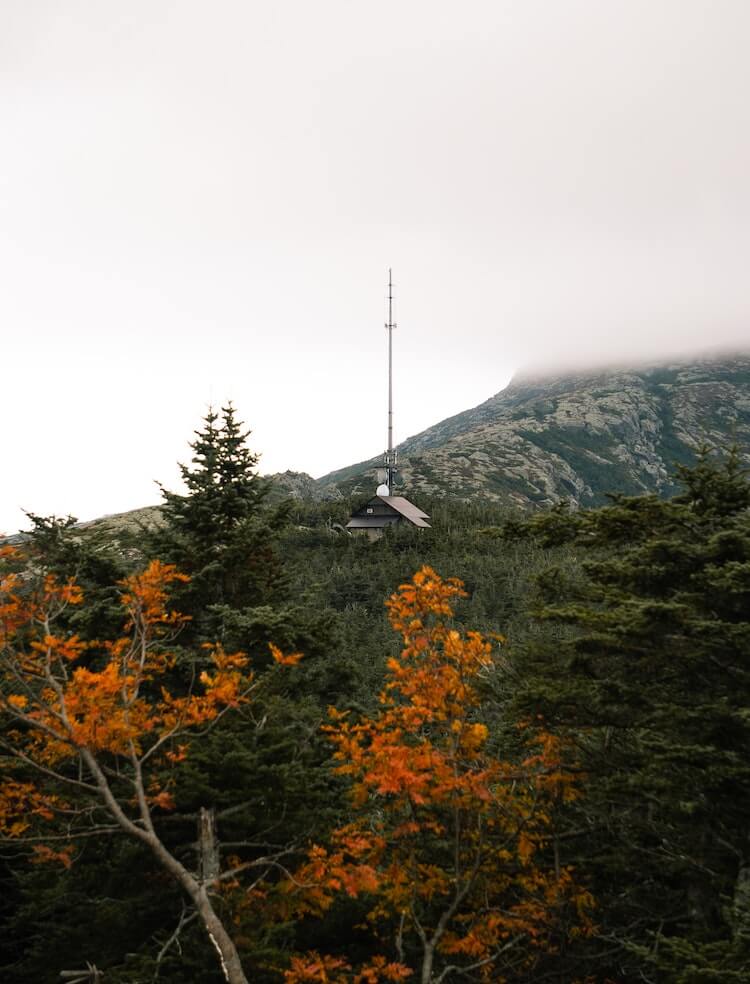 The hike to Vermont's tallest peak isn't for the faint of heart. It is definitely more for the adventurous who have some good rock climbing or scrambling skills, as there is a rock wall portion that can be dangerous, as well as a chasm you'll need to leap over.
Do not attempt this hike on a wet or icy day. This is best to do during fair weather conditions.
If you're up for the challenge, then you'll park in the parking lot at Underhill State Park off of Mountain Road for $4 and start at the CCC Road.
Then, you'll reach Maple Ridge where things get dicey as you scramble/rock climb up that rock wall as well as leap over a 6-foot-deep chasm.
After that bit, you'll take the Long Trail north where you'll pass the peaks known as the Forehead, Nose, Upper Lip, and Lower Lip before you hit Mount Mansfield (the Chin).
The views here are next to none, and you'll have the opportunity to witness an alpine tundra! After your hike to the summit, you'll go down Sunset Ridge Trail until you hit the CCC Road, where you'll head back to the start.
Distance: 7.3 miles
Elevation Gain: 2,880 feet
Crowds: Busy, so be sure to go early!
Difficulty Level: Difficult
Time to Complete: 5 hours
4. Cady Hill Trail is Perfect For Easy Hiking Near Stowe, VT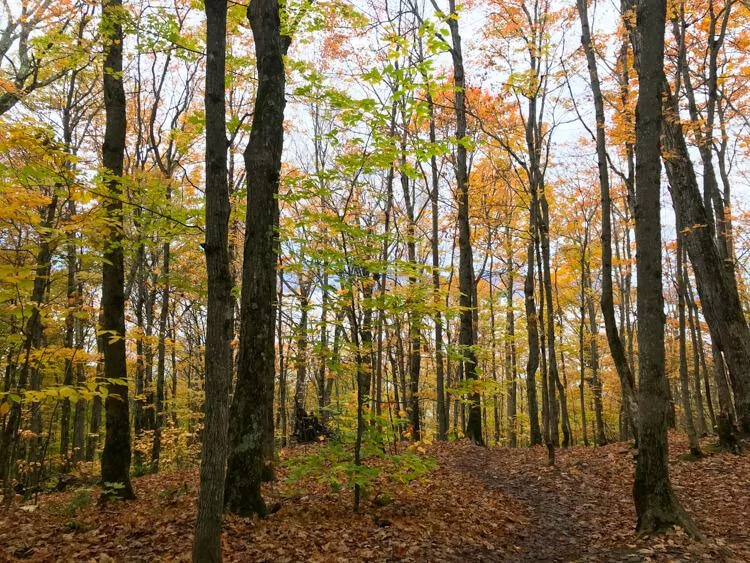 Searching for family friendly hiking in Stowe? This hike, located in Cady Hill Forest fits the bill with its beautiful wildflowers and not so steep grade.
It is great for people of all skill levels and is also popular for mountain biking. You may want to get here earlier in the day, though, to avoid mountain bikers.
Start at the parking lot and take the Cady Hill Climb Trail until you reach the Cady Hill Connector Trail. Then, you'll continue onto Florence, then Charlie's, then Bridgey before you merge onto Town Loop and head up to Green Chair Overlook. Then, you'll take the Bear's trail back to the start to complete the loop.
Distance: 3.8 miles
Elevation Gain: 521 feet
Crowds: Moderate, but beware of fast mountain bikers!
Difficulty Level: Easy
Time to Complete: 2 hours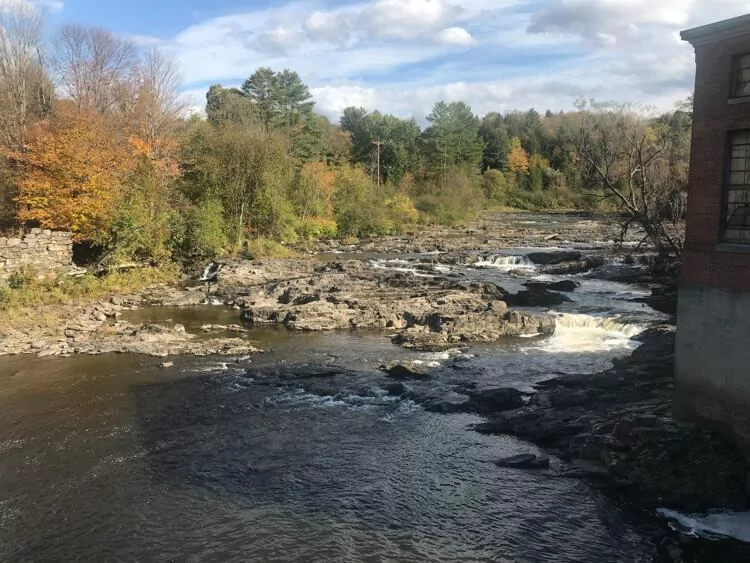 5. Mill Trail Makes for Great Stowe, VT Hiking
For a stunning waterfall hike near Stowe, then the Mill Trail is a wonderful hike!
Whether you're here for fall foliage or want an easy hike on a hot summer day, the Mill Trail goes past the West Branch Little River and Bingham Falls.
Start in Smugglers' Notch State Park and head up the trail until you reach the falls. Then, around 0.8 miles turn around before you hit the private property signs.
This short and sweet trail is known for its beautiful wildflowers, waterfall, and the chance to maybe spot wildlife!
Distance: 1.6 miles
Elevation Gain: 175 feet
Crowds: Moderate
Difficulty Level: Easy
Time to Complete: 1 hour
6. Sterling Pond Trail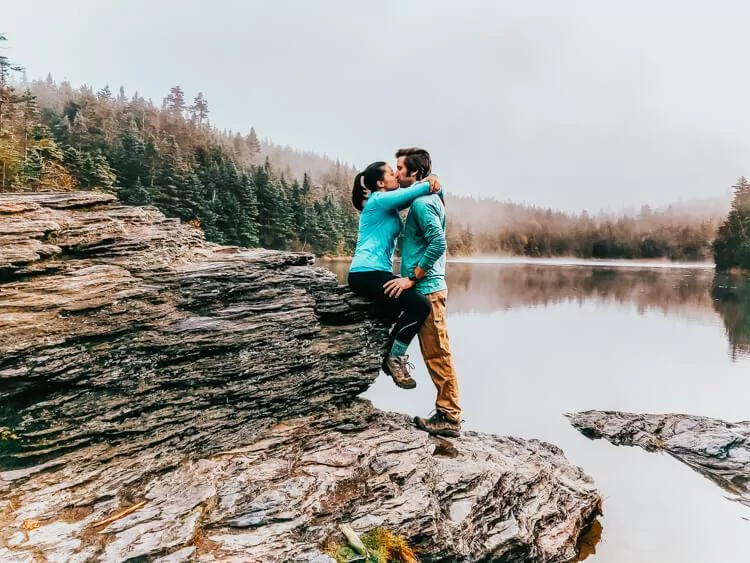 A visit to Vermont's highest elevation stocked pond is well worth it for gorgeous pond views and crisp evergreens!
This hike is fairly moderate, but there are a lot of rocky steps involved that can get slick in the rain and ice.
Park near the Smugglers' Cave Information Booth and head up the Sterling Pond Trail until it hits the Long Trail at about 1 mile in. Take a left and you'll reach the pond in about a tenth of a mile. Then you just turn back around and head to where you started.
While there are some steep steps to climb, this isn't a bad hike at all and is short and simple. However, it is very popular, especially in the autumn months. So be sure to come early!
Distance: 2.3 miles
Elevation Gain: 908 feet
Crowds: Busy- go early!
Difficulty Level: Moderate
Time to Complete: 2 hours
7. Sterling Pond and Long Trail is Very Scenic of the Best Stowe Hiking Trails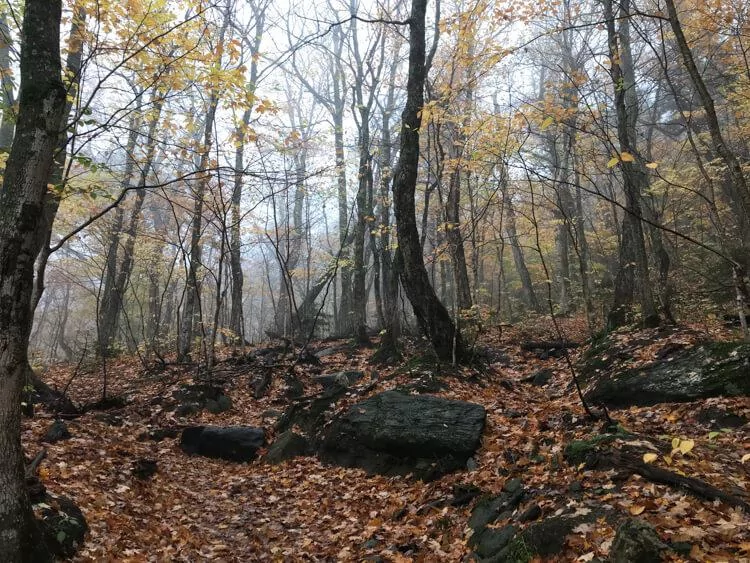 If you want to enjoy the tranquil Sterling Pond but also want to avoid more crowds, consider the slightly more challenging Sterling Pond and Long Trail.
This takes a bit longer than the usual Sterling Pond hike, but the second you pass the pond and continue onto the Long Trail, you'll be met with serene views without crowds. Plus, you'll get to see the top of the ski lifts!
We did this on a Saturday morning in October and got up early enough to have Sterling Pond to ourselves for a bit before having this trail completely to ourselves! It is a bit of a challenge with the tree roots but totally worth it!
You start the same way you did for the original Sterling Pond hike, only you continue onto the Long Trail past the pond itself. The trail winds its way around the pond, merges onto Elephant's Head Loop Trail, and then you turn left to stay on the Long Trail again.
The Long Trail will then hit a connector trail that'll take you to Route 108, where you'll walk back to the parking lot.
I highly recommend having a GPS and map for this hike, as there were a few times we almost got lost. AllTrails has a good map that'll track you too.
Distance: 5.6 miles
Elevation Gain: 1,889 feet
Crowds: Few crowds once you pass the Sterling Pond Trail.
Difficulty Level: Hard
Time to Complete: 4 hours
8. Stowe Recreation Path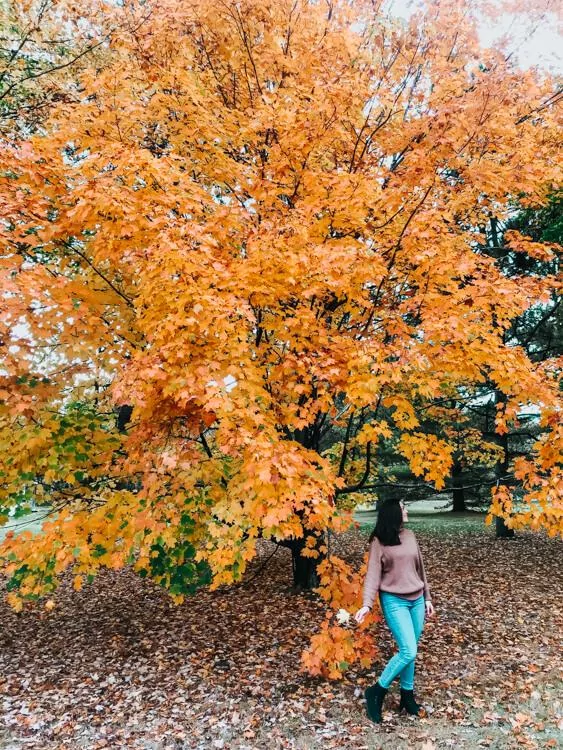 The city of Stowe itself is absolutely lovely. With mountain views, a cute little river, and charming meadows, the Stowe Recreation Path is great for anyone who wants to go for a long walk or jog in and past the town.
This out and back path starts at the Stowe Congregational Church and crosses West Branch River 11 times via adorable wooden bridges and cuts through the town where you'll see many shops and restaurants along the way!
While it is a 5.3-mile path, you can hike on it for as long as you'd like before turning around. So if you want to walk for 10 miles you definitely can! But if you want an easy walk on an autumn afternoon, this is perfect!
Distance: 10.5 miles out and back
Elevation Gain: 255 feet
Crowds: Moderate
Difficulty Level: Easy
Time to Complete: 4 hours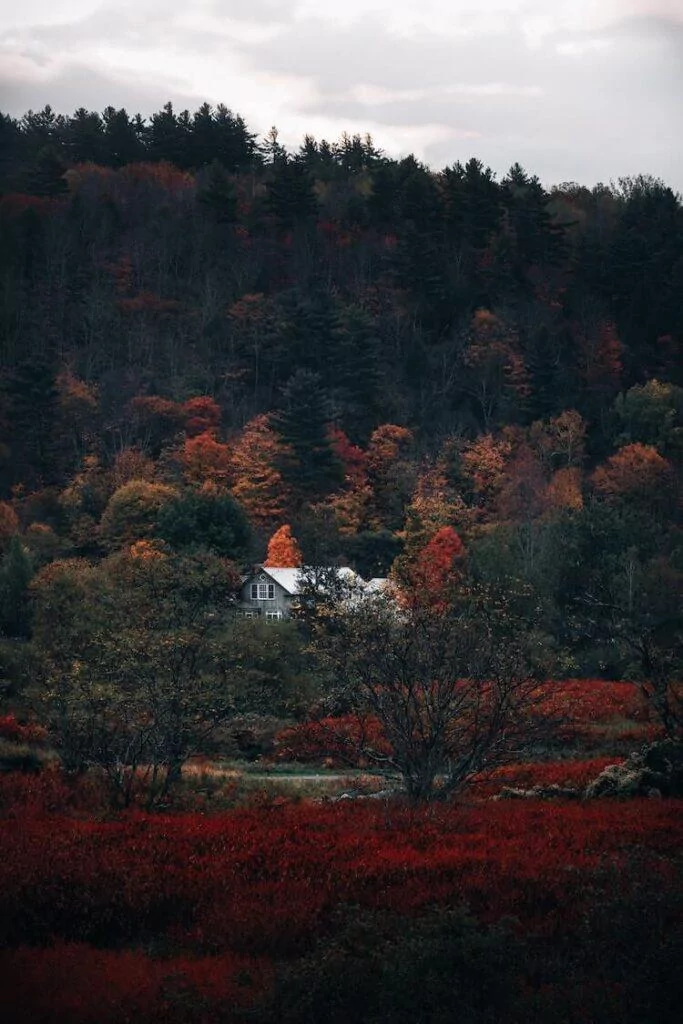 When to Visit For Stowe Hiking
While the city of Stowe is perfect to visit any time of year, winter may be lovely for skiing, but not for hiking as much.
Route 108 to Smugglers' Notch, where many of these trails can be found, is closed in the winter months, making it more challenging to access these trails. Also, with cold, wintry conditions, hiking may not be as pleasant and is certainly more dangerous.
I recommend visiting between late May and mid-October for hiking near Stowe. This will also ensure you see lovely sights from colorful wildflowers to crisp autumn foliage!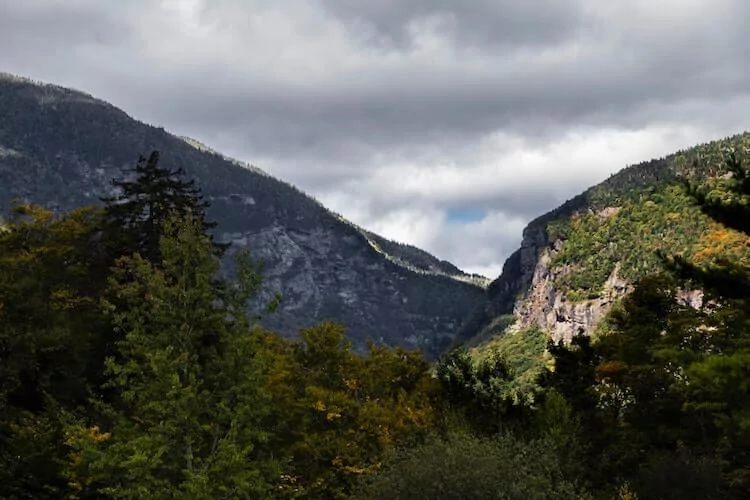 What to Pack For Stowe Hiking
When it comes to what to pack for hiking in Stowe, you definitely want to be prepared.
First of all, for slick spots and higher elevations, hiking poles are a great idea! I wish we had these in Vermont because we certainly struggled at times.
Also, be sure to have a hiking backpack (we love our Osprey HikeLites) with these 3L water bladders. It can also be helpful to carry a LifeStraw Waterbottle just in case as well.
No matter when you hike, always pack sunscreen and bug repellent. And definitely bring a tick key to safely remove ticks should one become attached.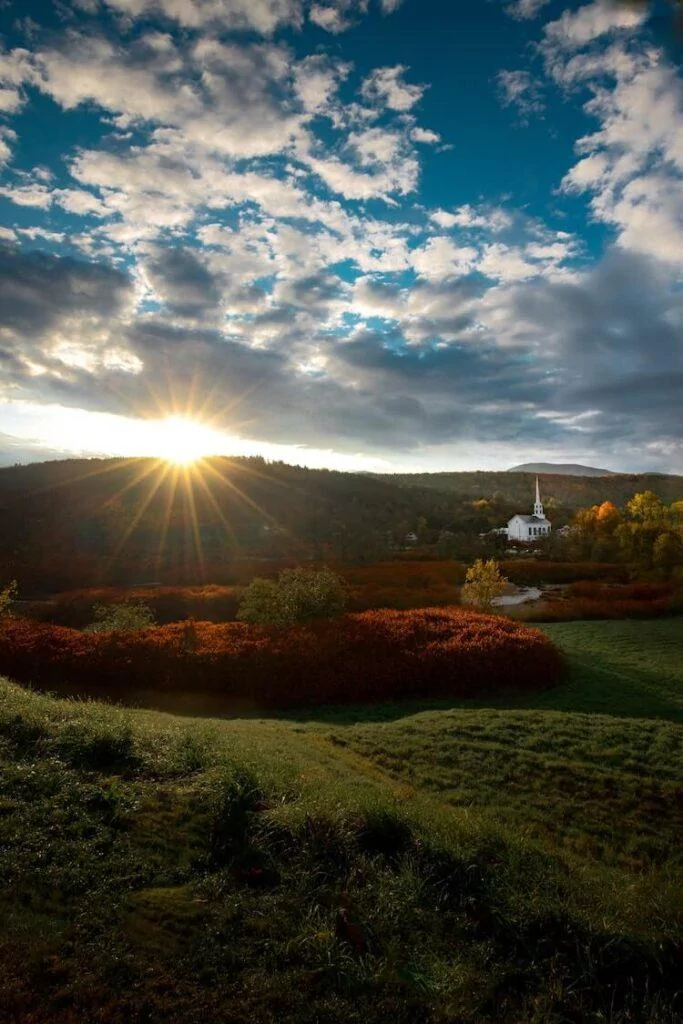 I also pack a quick-dry towel, plenty of snacks and enough food in case you get lost, and a first aid kit.
Chris also always carries his GPS watch to help us stay on track as well as a utility knife. And for hot days, definitely pack some electrolyte tablets.
As for what to wear, hiking boots are an absolute must with wool hiking socks. I wore sport leggings and sweat-wicking shirts that layered if it was cold as well as my Northface Triclimate jacket (which I packed up in my backpack if I didn't need it).
On colder hiking days, gloves, ear muffs, a hat, and fleece-lined clothes may be necessary. And waterproof clothing is a must for rainy days.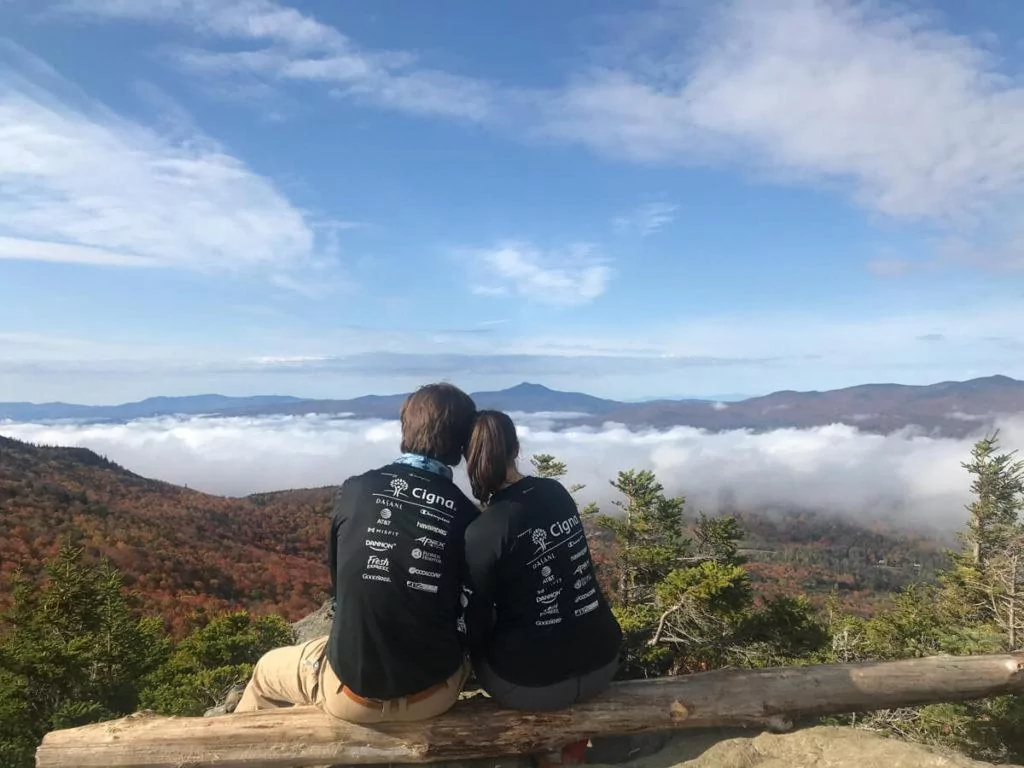 Where to Stay For Hiking in Stowe, Vermont
While I have a whole article about awesome rentals in Vermont which includes Stowe, here are some great spots to stay at before hitting the trails in Stowe, VT.
We loved the Mansfield Suite at the Lodge with all the ski-lodge vibes. The owner, Tom, has a sugar shack on the property where you can taste fresh Vermont maple syrup and purchase some bottles. It is also close to hiking trails like Sterling Pond.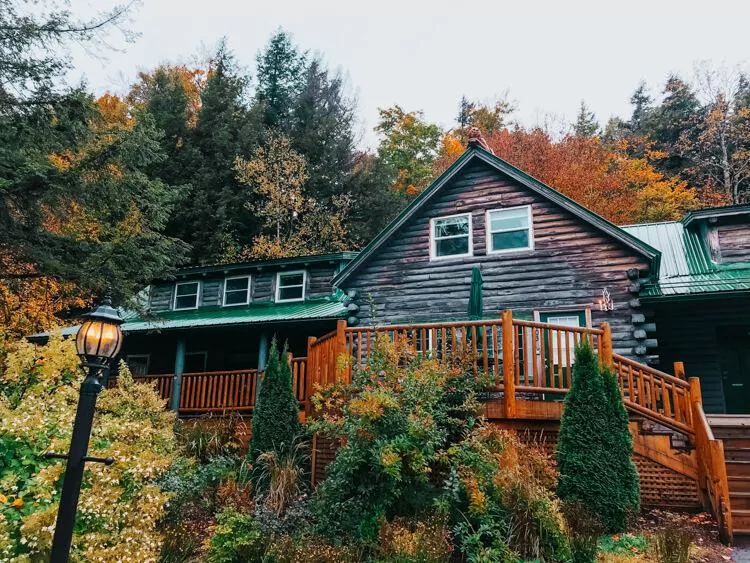 The Green Mountain Inn is another charming place that is a historical inn. After a day out on the trails, you can relax and feel pampered at the spa.
Lastly, the Trapp Family Lodge is the alpine lodge of your dreams! Nestled in the mountains outside of Stowe, this charming hotel has its own trails to discover and the rooms offer stunning views of the mountains! It is a great idea for a Vermont honeymoon!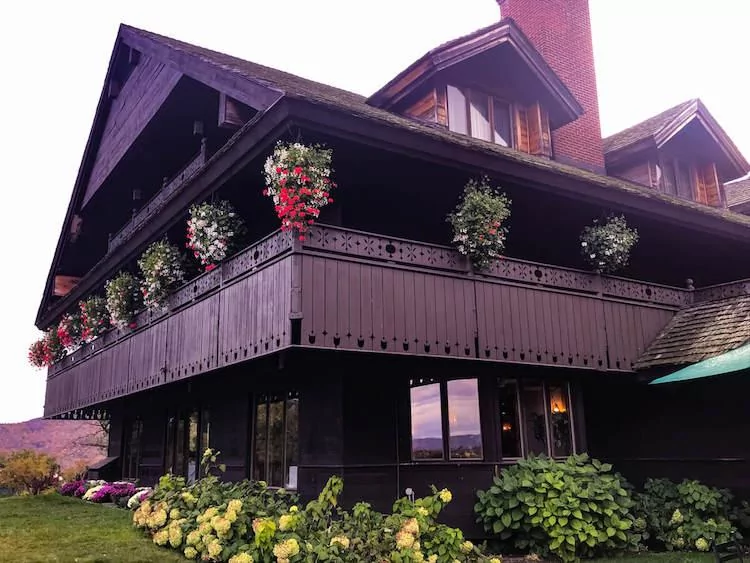 Hiking in Stowe, Vermont is something I highly recommend to everyone. We spent a week in Vermont last fall, exploring the ins and outs of this lovely state, from the beer to the trails. However, Stowe stole our hearts from the beginning and we can't wait to return. Hiking here is definitely one of the more romantic things to do there!
We hope you enjoy the best hiking trails in Stowe, VT!
Which trail would you most like to hike?
Want more hiking destinations? Check these out!
Pin it here!